Hearty bowls at Bowl & Grill Simei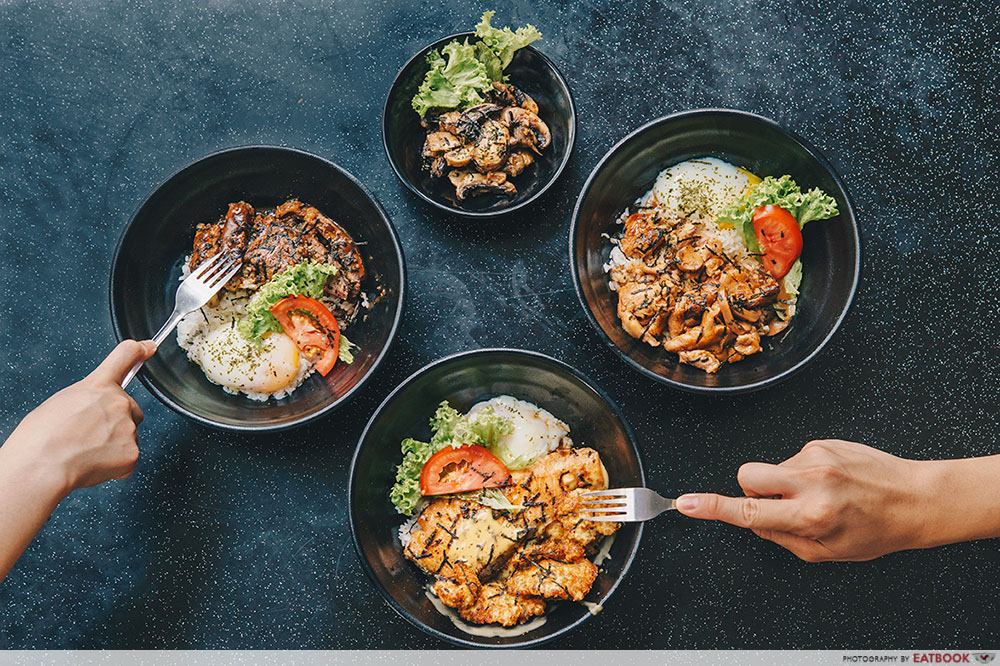 Choice, though liberating, can prove to be an odd conundrum. The simple issue of having too many choices constantly permeates our daily lives, with problems such as finding it hard to decide where to eat. Customisable bowls are exciting, but with a myriad of ingredients to choose from, it can get confusing. Using Japanese and Western ingredients in their bowls, Bowl & Grill Simei takes the guesswork out of the equation. Their two-step selection is concise, and you'll be able to choose from a wide array of comforting, fresh ingredients. 
All their bowls come with an onsen egg, just select a carb base and a main. Similar to opening a box of surprises, you never know if a combination works until you try. 
Food at Bowl & Grill Simei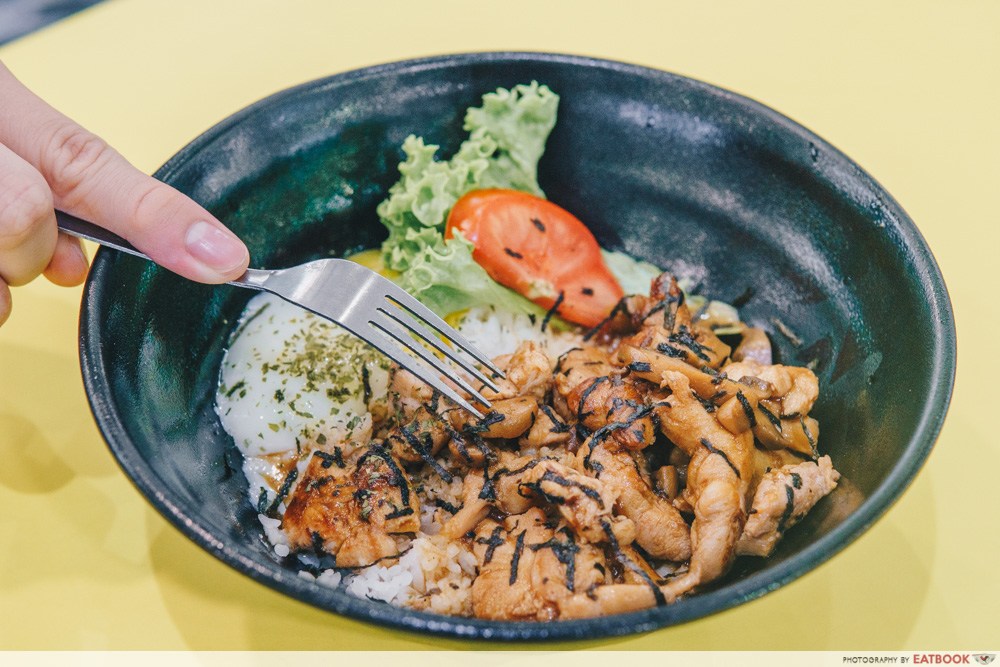 It was a pity that rice was the only carb available when we visited, as the stall usually also offers pasta. Chicken chop is a classic dish from Western stalls that most Singaporeans love, so we started with the Chicken Chop With Mushroom Sauce Rice Bowl ($5.50). 
6 Western Food Stalls At Kopitiams Or Hawker Centres With Huge Portions Under $7
Sebastian, the owner of Bowl & Grill, is a proud Hainanese. He shared with me that the chicken chop was prepared with Hainanese influences, and was made in-house with a special marinade. I was not disappointed. The bite-sized pieces of chicken were soft and tender, and the marinade was rich and full-flavoured. The mushroom sauce tasted earthy and comforting, which was not surprising as they were made with fresh mushrooms.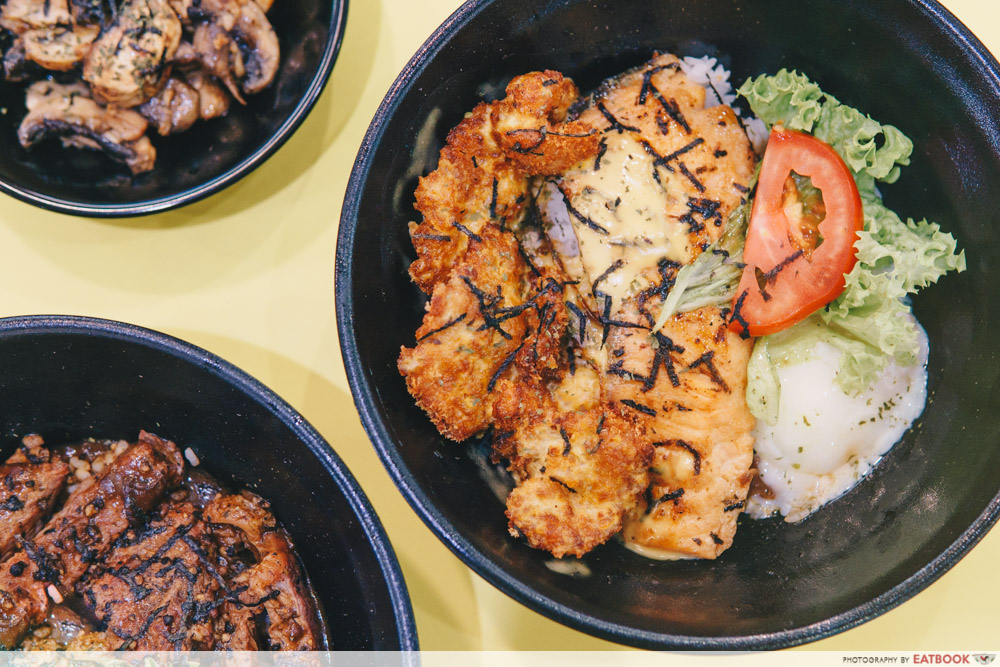 I love salmon. Hence, I went for their Grilled Salmon With Teriyaki Sauce Rice Bowl ($6.90). Upon Sebastian's recommendation, I also topped the dish with a Chicken Cutlet With Nacho Cheese ($2 for add-on).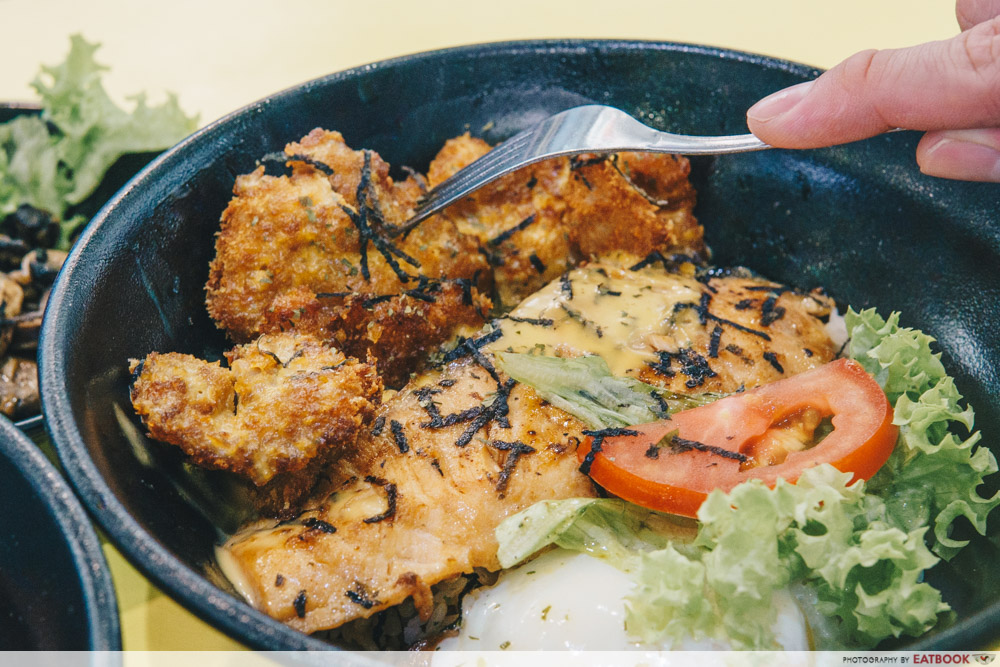 At first glance, the portions of salmon and chicken cutlet were sizeable, and I couldn't wait to dig in.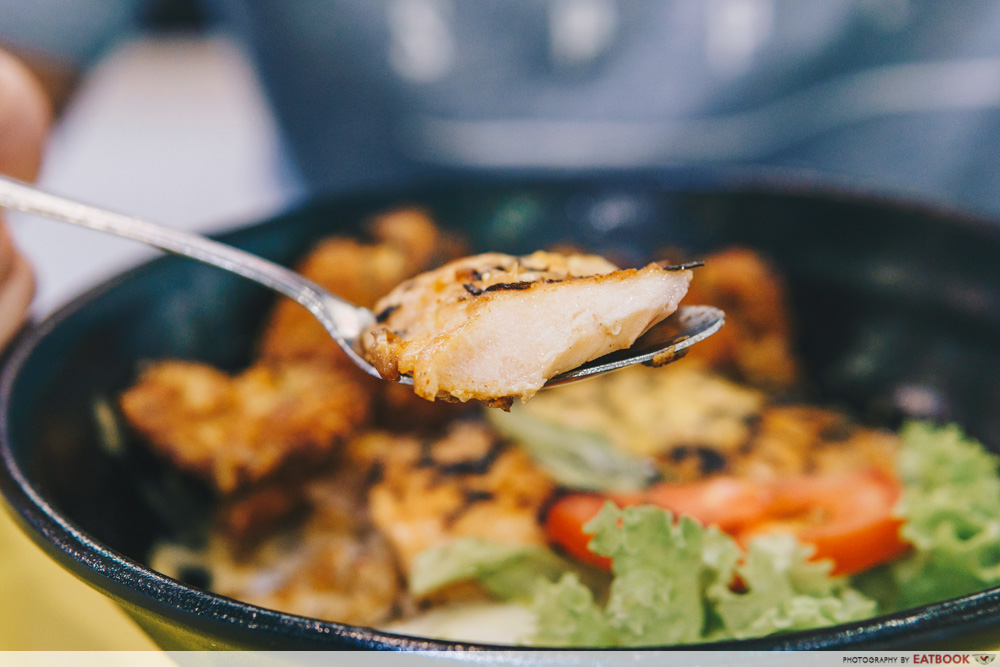 The top layer of the grilled salmon was crisp and beautifully glazed. Each bite of salmon was luxurious. Its freshness was evident, as the plump pink meat was soft, juicy, and tasted mildly sweet.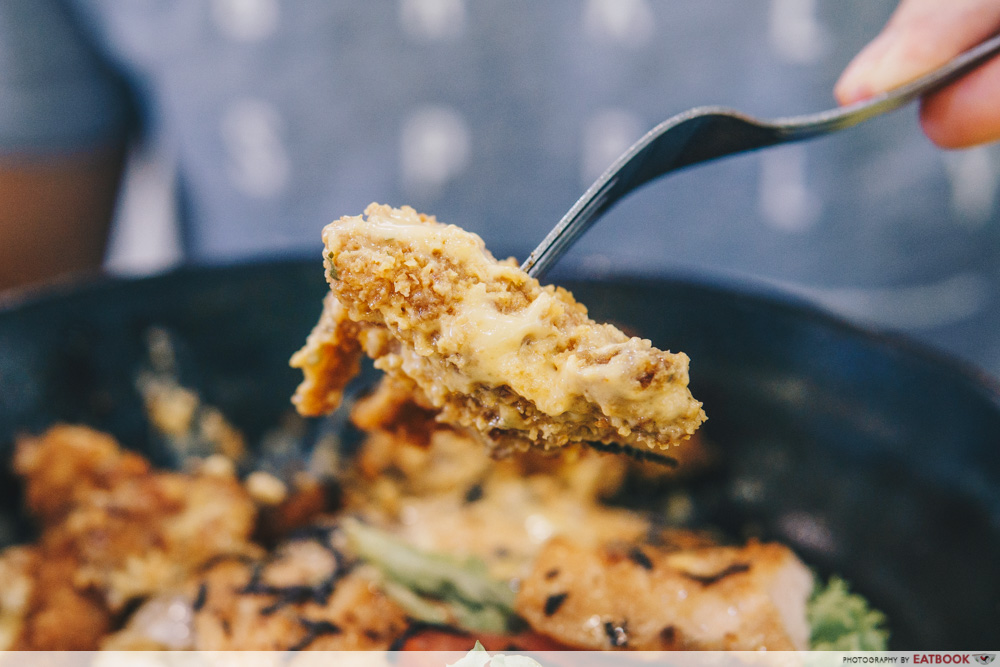 A good chicken cutlet is crispy on the outside, yet retains a moist and warm centre. I was glad that this chicken cutlet possessed all of these qualities. Each piece of chicken was succulent, and it was nicely encapsulated by a crisp exterior. 
Many Singaporeans are cheese lovers, and I was glad that the nacho cheese was creamy, savoury, and delightfully cheesy. It gave the chicken cutlet a smoother mouthfeel while significantly deepening the flavour profile of the dish. However, I would've preferred more nacho cheese on the chicken cutlet.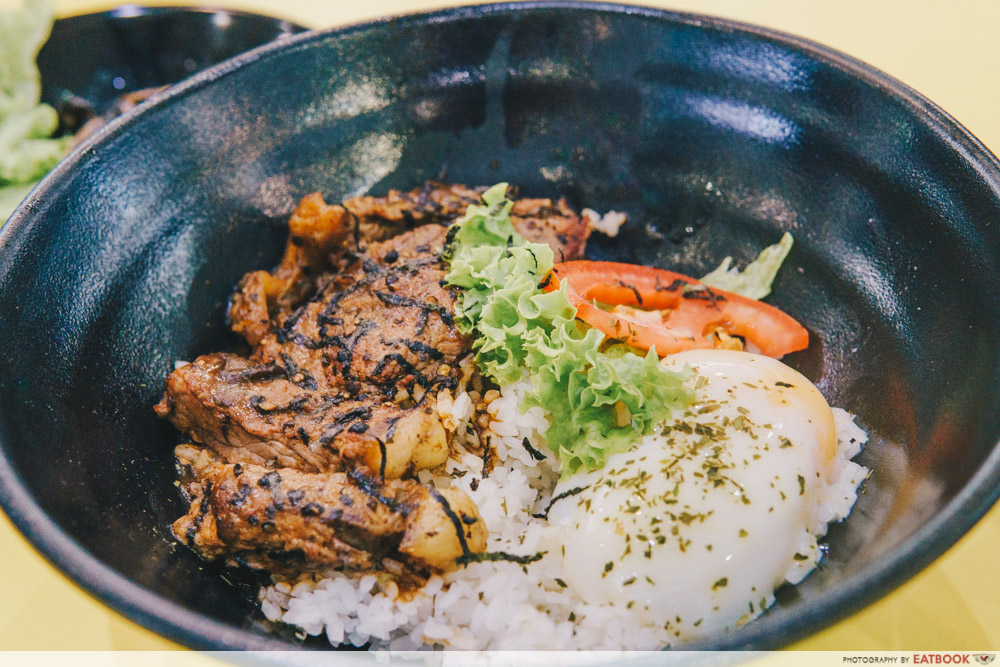 Beef is my typical meat of choice for rice bowls. As such, I had to get their Teppanyaki Steak With Black Pepper Sauce Rice Bowl ($8.90). After knowing that Sebastian uses the prized striploin cut, my expectations for the beef were high.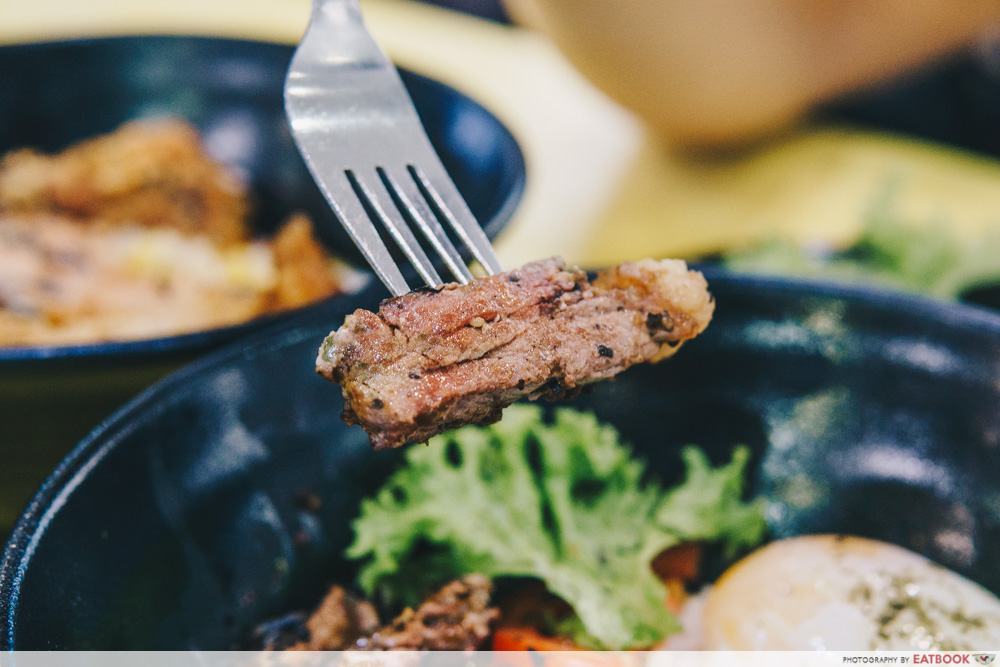 Unfortunately, the steak tasted a tad bit tough. Perhaps it was overcooked. The black pepper sauce tasted slightly sour, and was missing a kick of pepperiness.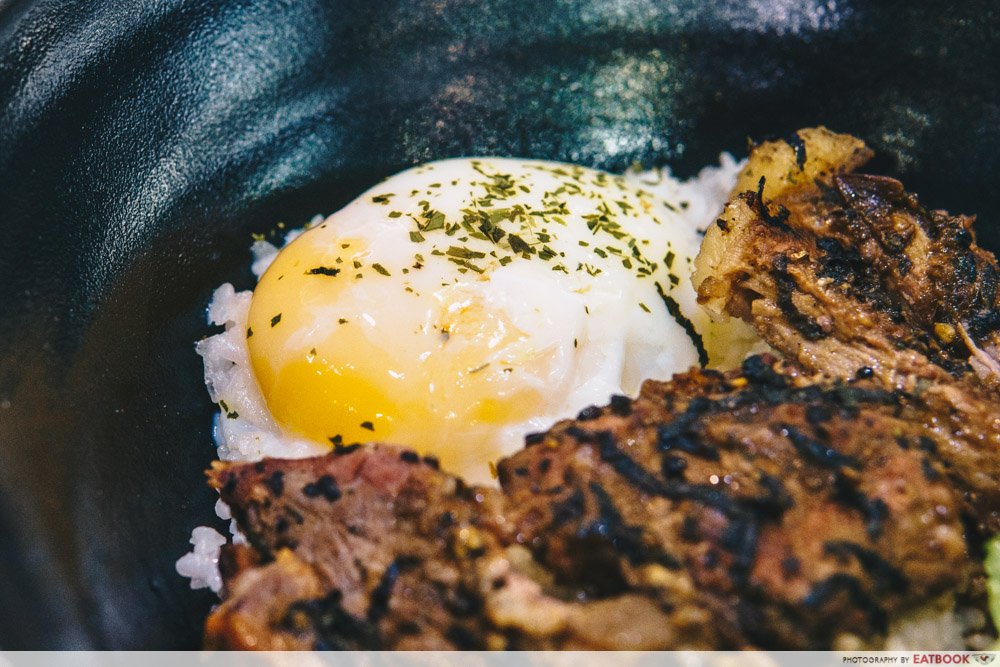 The onsen egg was a welcome addition to every bowl. Its luscious, runny yolk gave the Japanese rice a creamy texture, and enhanced the flavour of everything else.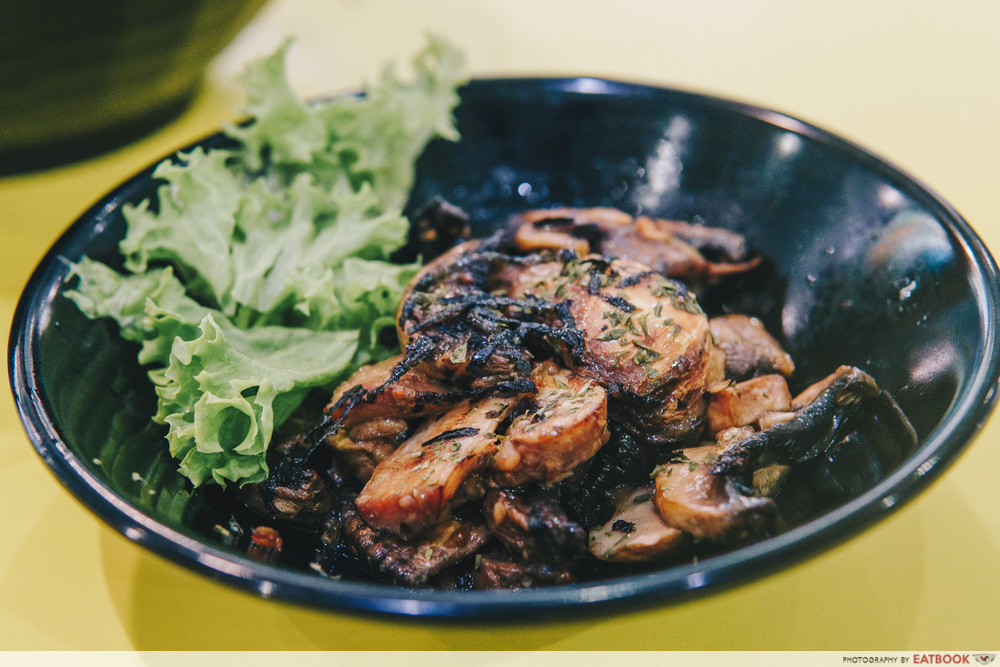 Add the word "truffle" behind any dish and it instantly gets twice the attention. Like many truffle 'branded' dishes, the Truffle Wild Mushrooms ($2 for add-on) were lacklustre. The earthy flavour of truffle was subtle. Sadly, they tasted like regular mushrooms. 
Ambience at Bowl & Grill Simei
 
The stall is situated in a laid back coffee shop in Simei. Many diners could be seen reading newspapers or having a nice meal. With many fans placed strategically around the coffee shop, you will be able to enjoy your meal comfortably in a cooling environment. 
The verdict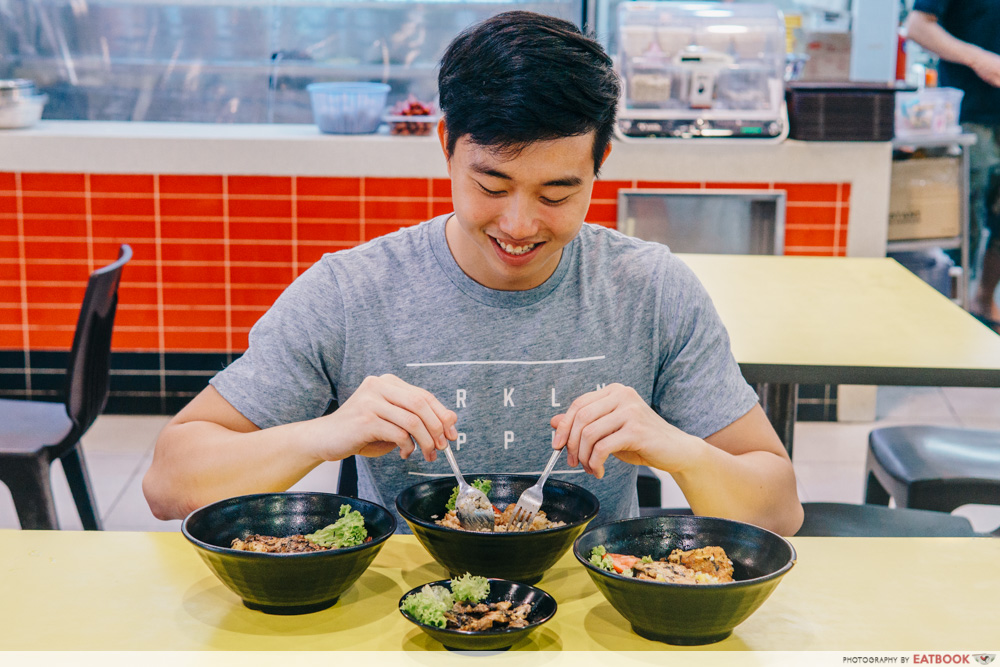 Bowl & Grill's rice bowls proved to be delicious, and I'll be back to get a taste of their soba and pasta carb bases. Be sure to visit their flagship stall at Yew Tee, as it has a more extensive menu that includes Chilli Crab Pasta and Pesto Soba. 
If you're an Eastie looking to get Bowl & Grill's food delivered to you, check out their GrabFood and Deliveroo pages.
For those who are in the mood for more Western grub, our lists of pasta and steak delivery options will strike your fancy!
Address: 248 Simei Street 3, #01-136, Singapore 520248
Opening hours: Mon 11am to 9pm, Tue-Sun 11am to 2am
Website
Photos taken by Kurtis Ma.
This is an independent review by Eatbook.sg, and was written before the Circuit Breaker measures.
Summary
Pros
– Delicious chicken chop
– Moist and tasty salmon
– Succulent chicken cutlet
– Generous portions
Cons
– Steak was tough
– Black pepper sauce was odd
– Truffle mushrooms lacked the taste of truffle
– Too little nacho cheese on chicken cutlet
Recommended dishes: Chicken Chop With Mushroom Sauce Rice Bowl ($5.50), Grilled Salmon With Teriyaki Sauce Rice Bowl ($6.90), Chicken Cutlet With Nacho Cheese ($2 for add-on)
Opening hours:Mon 11am to 9pm, Tue-Sun 11am to 2am
Address: 248 Simei Street 3, #01-136, Singapore 520248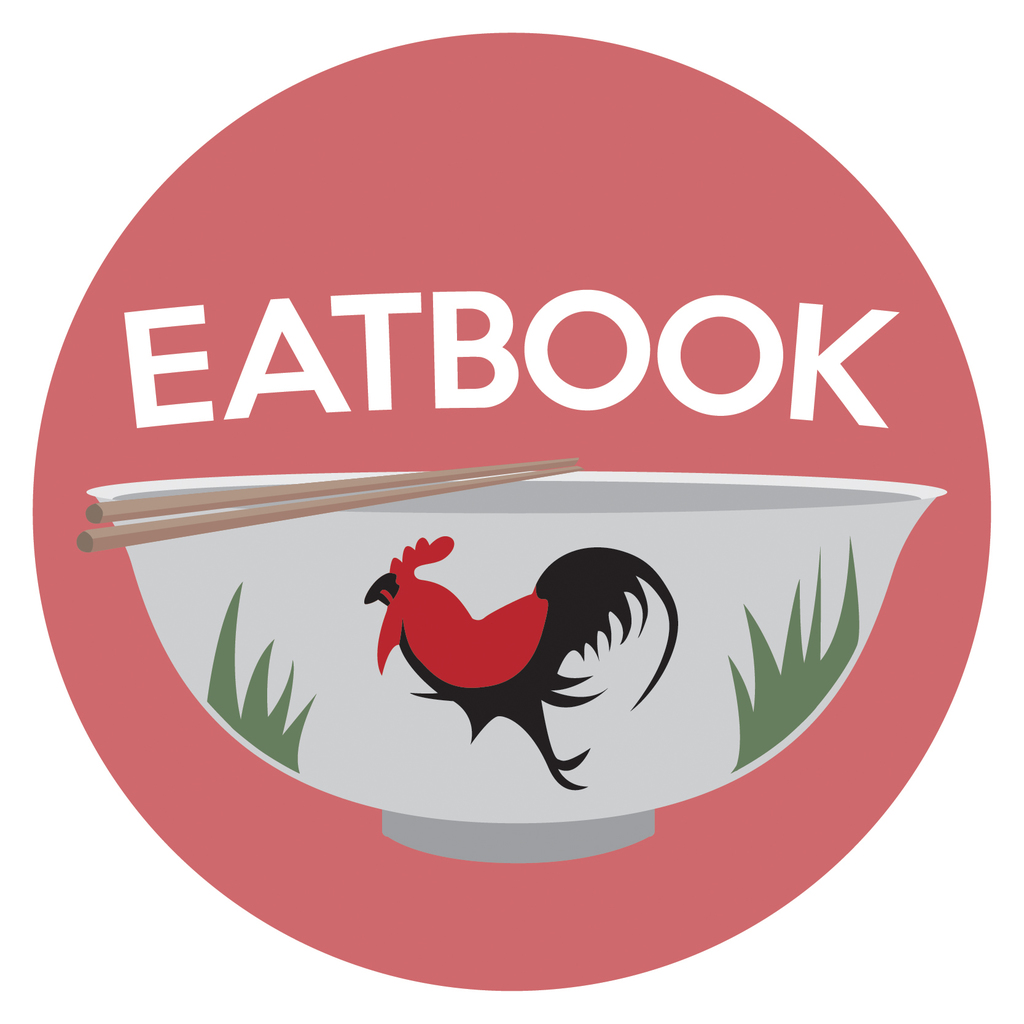 Drop us your email so you won't miss the latest news.