Xiao Ji Ji Hotplate in Aljunied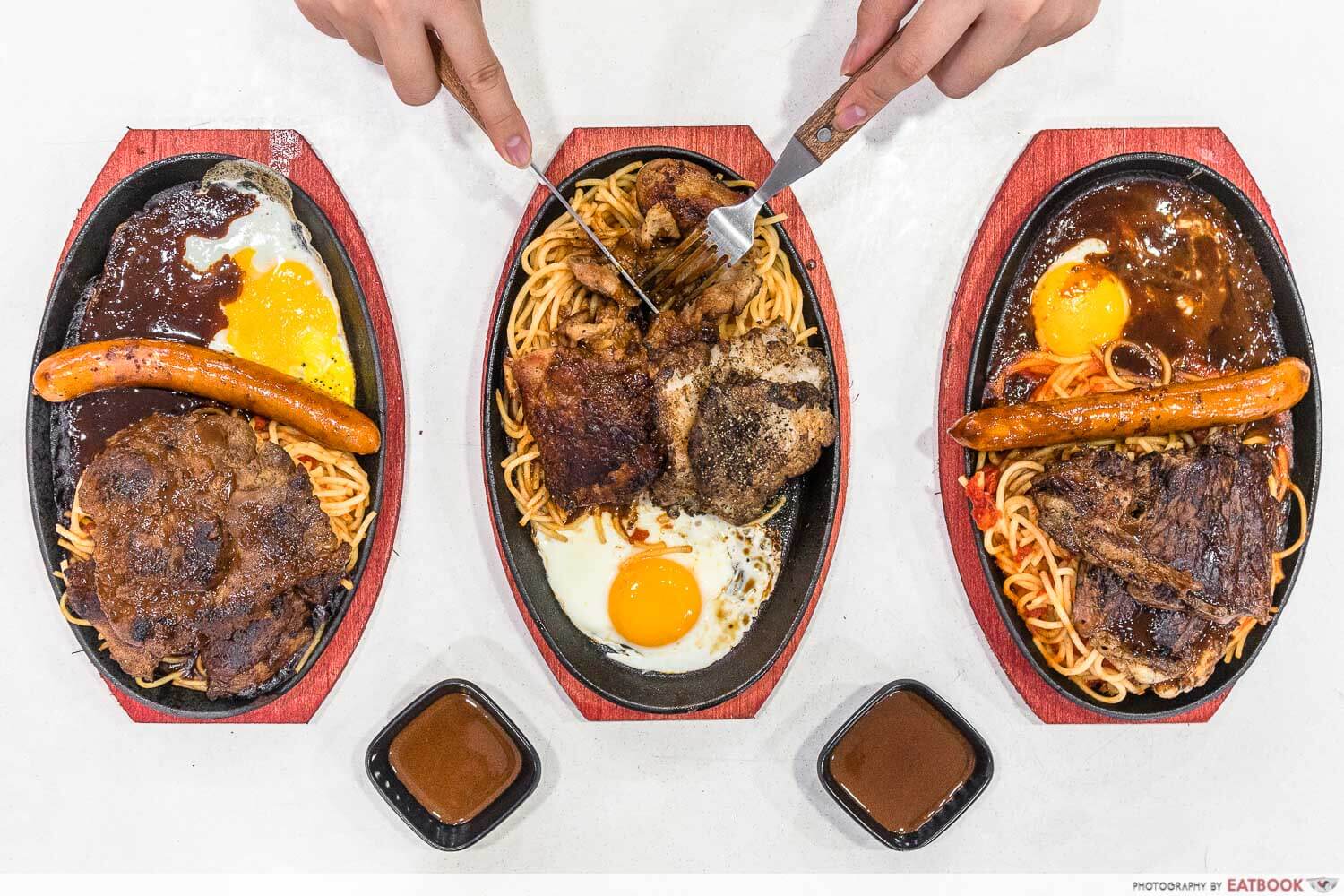 COVID-19 may be seen as a disadvantage by some, but it can also be a new beginning for others. Despite several closures in the F&B industry, there has also been an upsurge in openings such as the return of Chin Mee Chin Confectionery or totally new concepts such as Xiao Ji Ji Hotplate.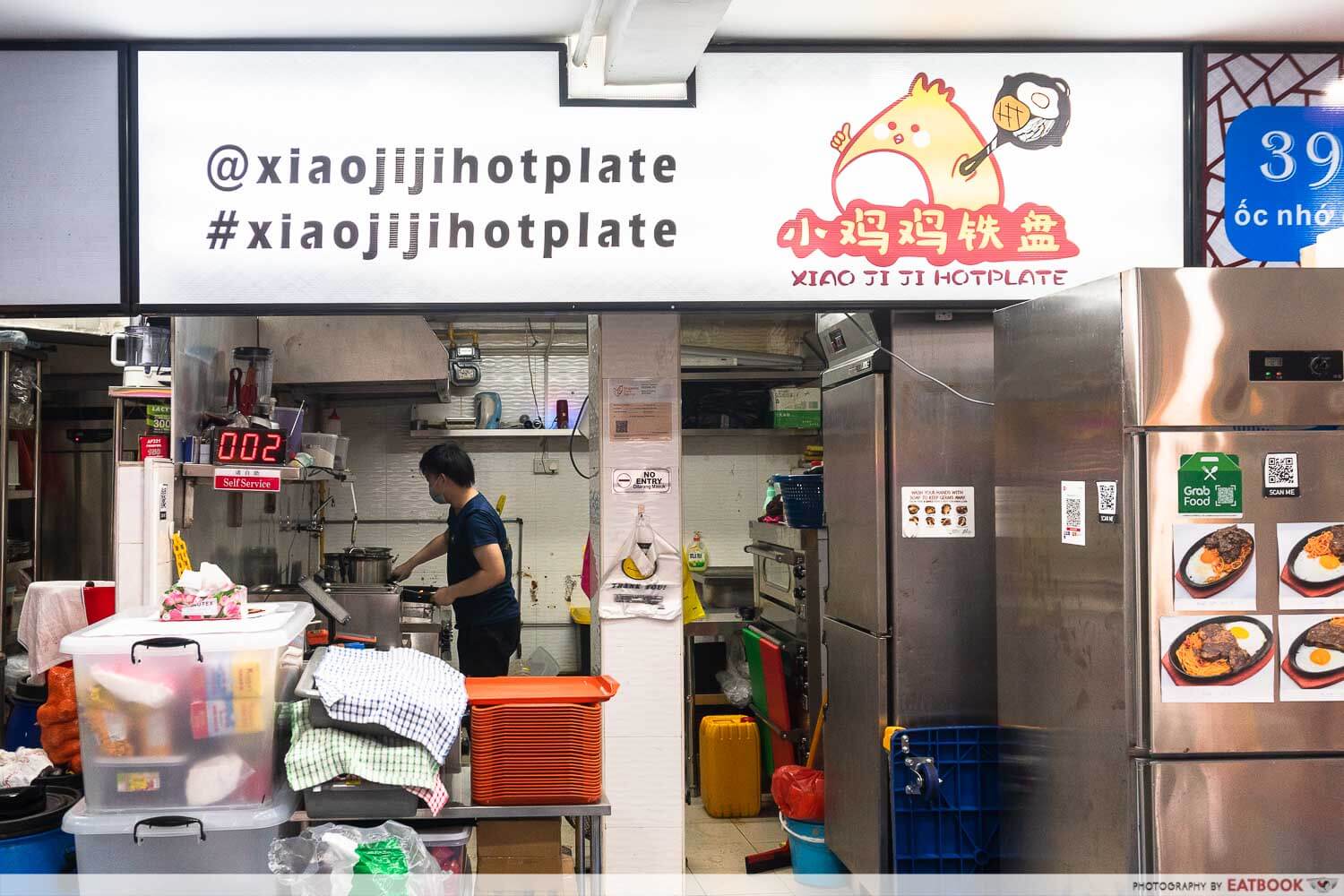 Xiao Ji Ji Hotplate, which opened in September, was an idea that came to life when a group of friends noticed a gap in the market for a Taiwanese-style hotplate. Furthermore, given the present travel limitations, they believed it was the perfect time to bring this popular Taiwanese street dish to Singapore. Enticed by their idea, my colleague and I head down to Xiao Ji Ji Hotplate to give them a try.
Daun Bistro Review: Ribeye Indomie, XXL Meat Platters And More In Bugis
Food at Xiao Ji Ji Hotplate 
Xiao Ji Ji Hotplate's menu was rather simple. Each hotplate comes with a portion of spaghetti, a fried egg on the side, topped with a protein of your choice, and finished off with a ladleful of gravy. With only four proteins available, we decided to try all of them.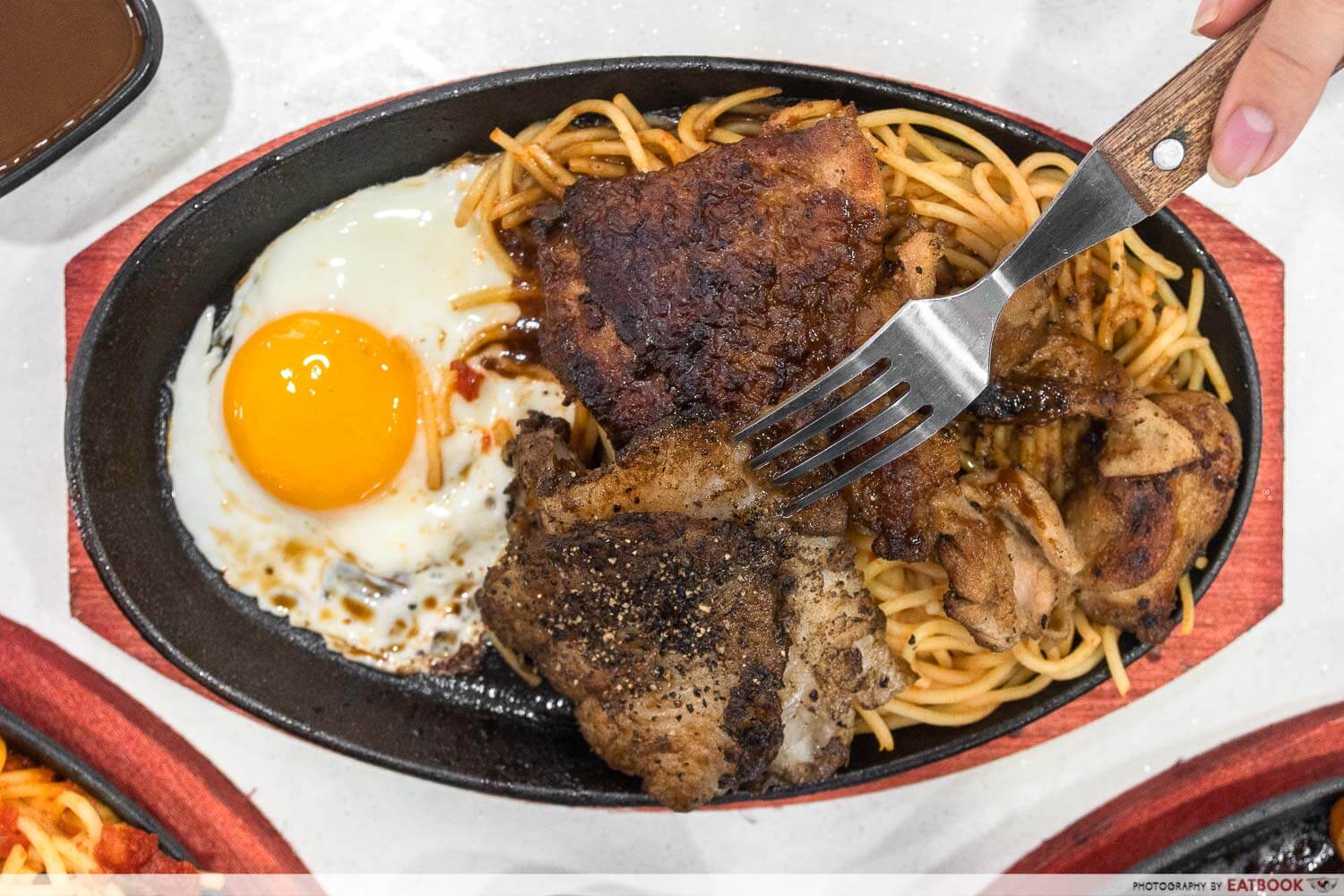 The first protein I went for was the Chicken ($7.90). It featured a beautiful brown exterior, with specks of black pepper all around.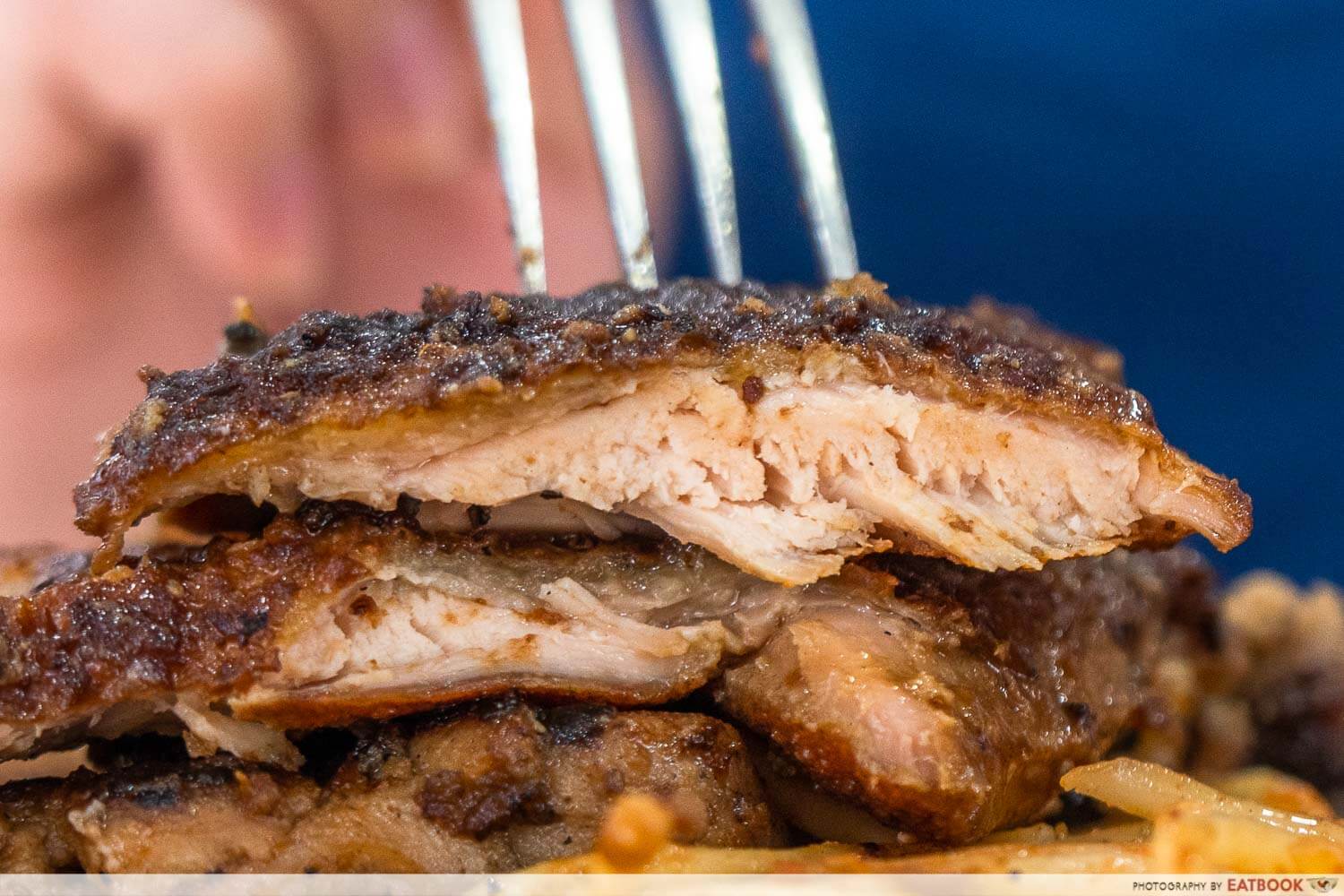 The meat was cooked to perfection as it was soft and tender. Moreover, it was relatively thick,  making it pleasantly juicy with every bite. The chicken itself was lightly seasoned, which paired well with the rich and buttery gravy.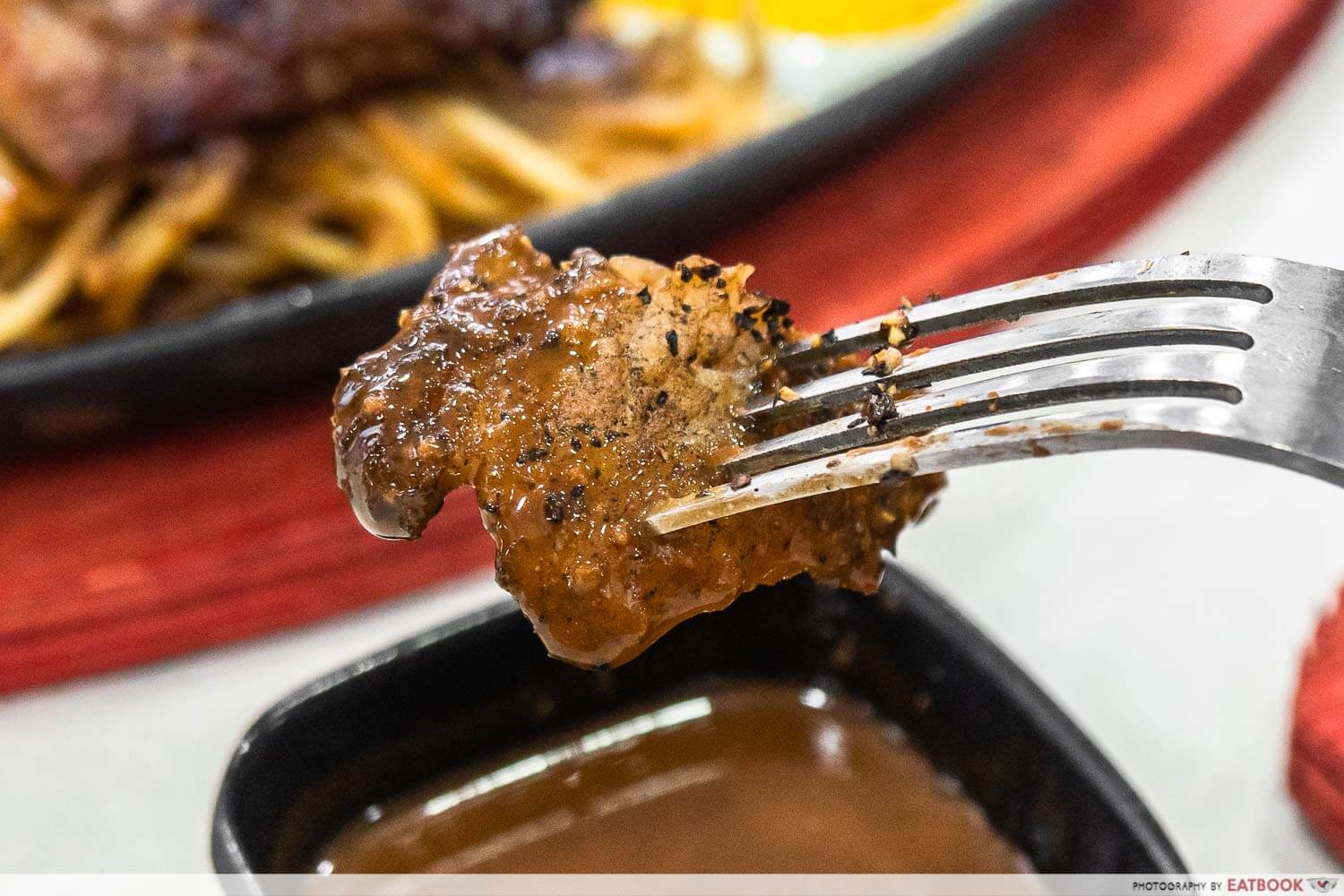 For this dish, we also added a portion of dory fish ($4.90) on the side. Similar to the chicken, this was simply seasoned with salt and pepper to allow the natural flavours of the fish to shine. However, when the fish was paired with the dipping sauce, a whole new layer of buttery flavour was introduced. I would suggest going easy on the gravy as it is quite salty on its own.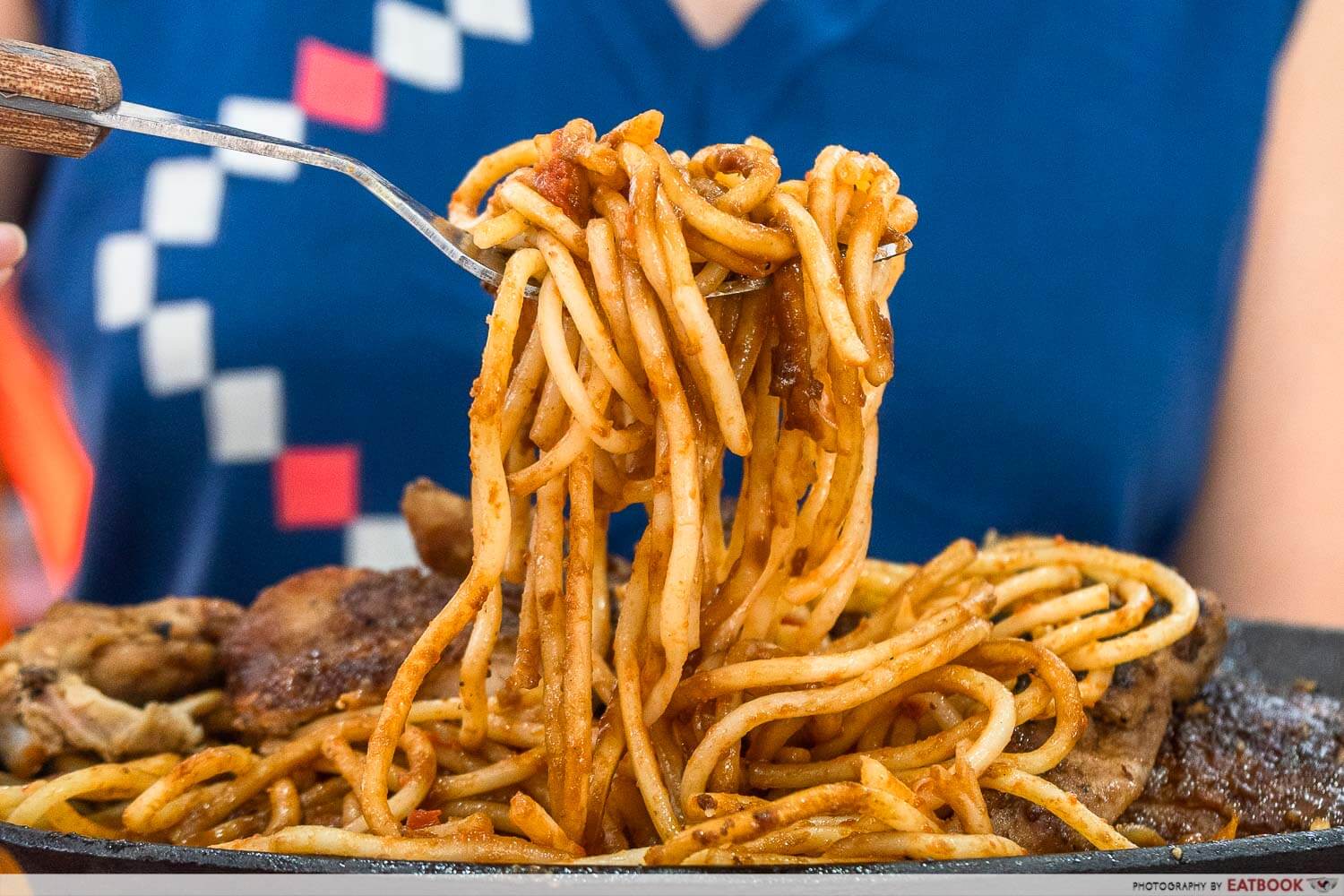 The spaghetti, on the other hand, was a slight letdown. It was dressed in a tomato-based sauce, which was light in flavour, and skewed towards a sour note. Unfortunately, I felt that the pasta was a little bland and simple as the flavours felt one-dimensional. Moreover, it slightly missed the al dente mark and was a little overcooked.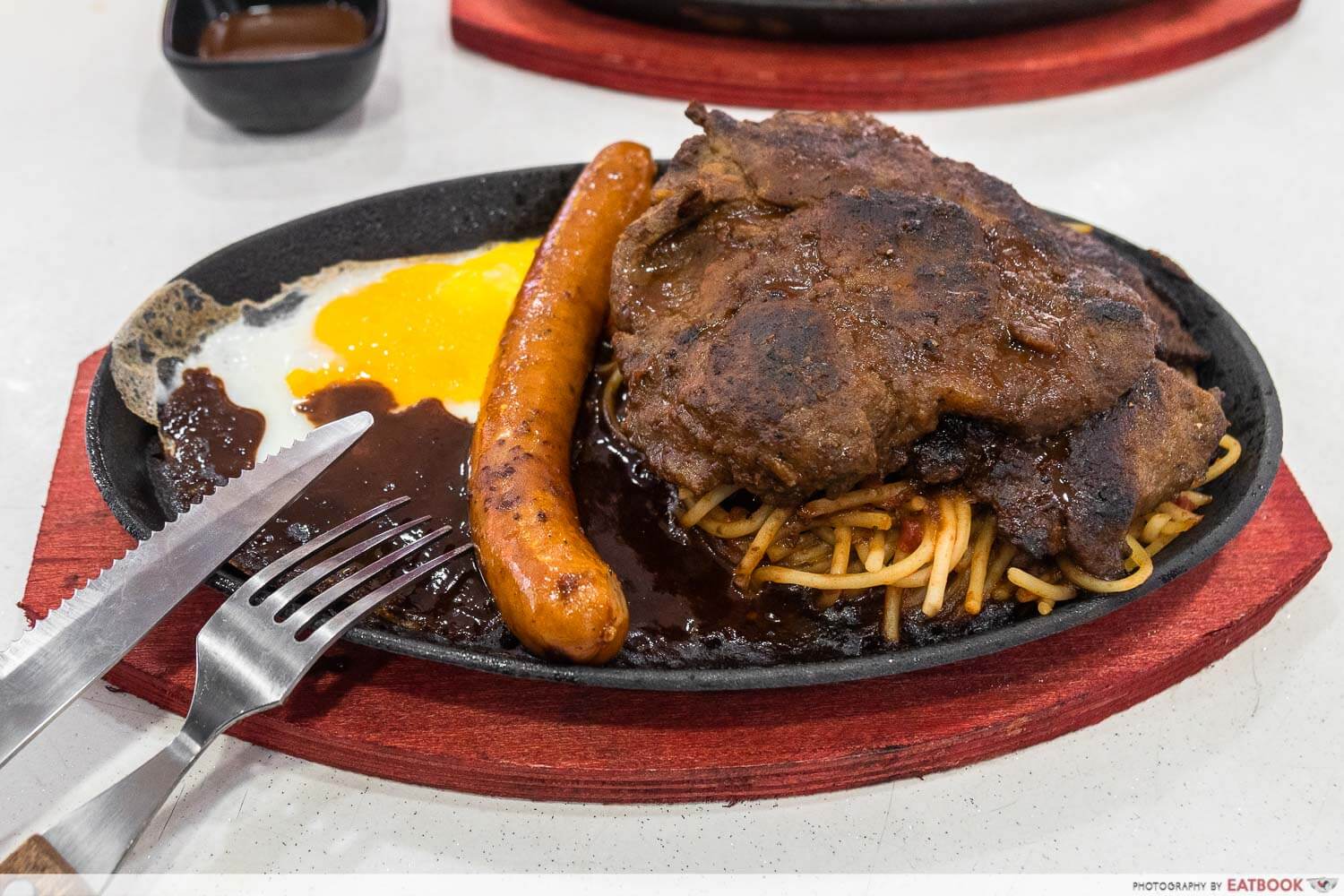 Next, we moved on to the Pork ($7.90), with an add-on sausage ($1.90) on the side.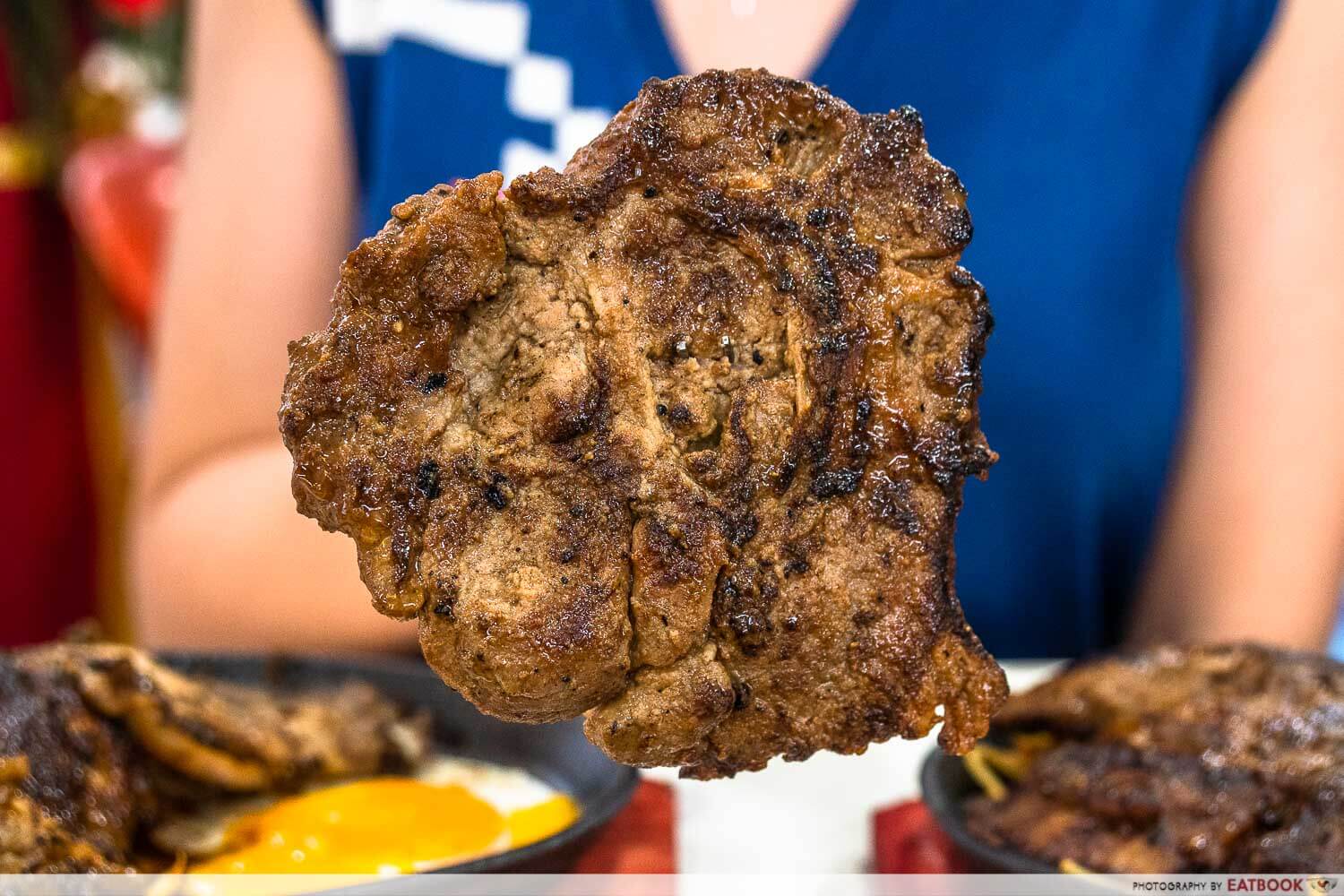 This hotplate came with two, big pieces of pork, pan-fried to a dark brown colour. Compared to the chicken, these pork discs were relatively thin which resulted in slightly dry meat. However, the thinness of the meat gave it a pleasantly soft bite. My only gripe was that there were some connective tissues in this particular cut of pork, which made it unpleasantly chewy in some areas.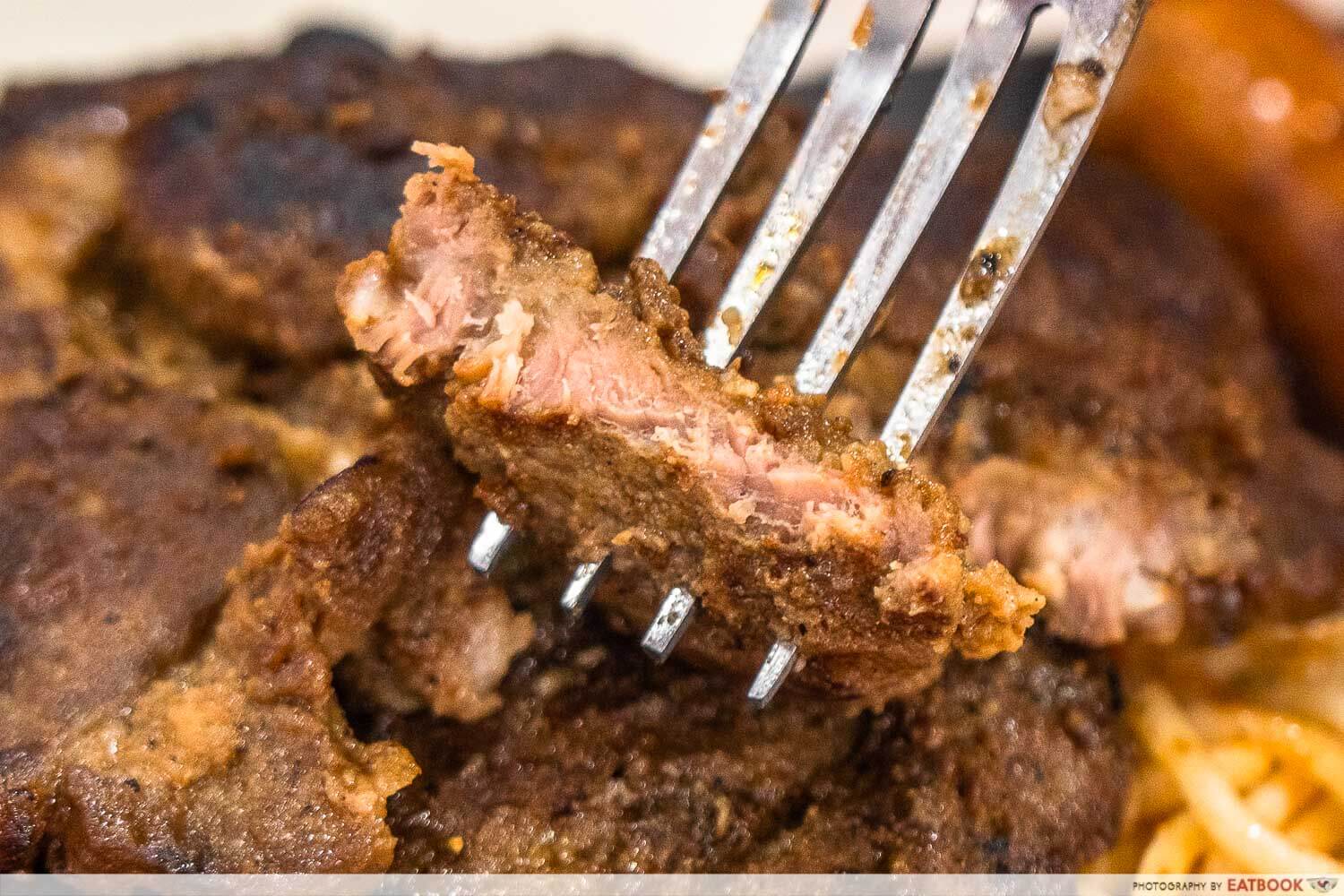 In terms of flavour, the meat itself had a natural hint of sweetness and umaminess. Thus, I felt that the simple seasoning of salt and pepper was aptly done. But, I have to point out that the seasoning was slightly inconsistent as some areas were saltier than others.
Although the sausage was nothing out of the ordinary, it added a smoky, savouriness to the dish which I appreciated. Moreover, the spaghetti in this hotplate was surprisingly cooked to al dente this time round.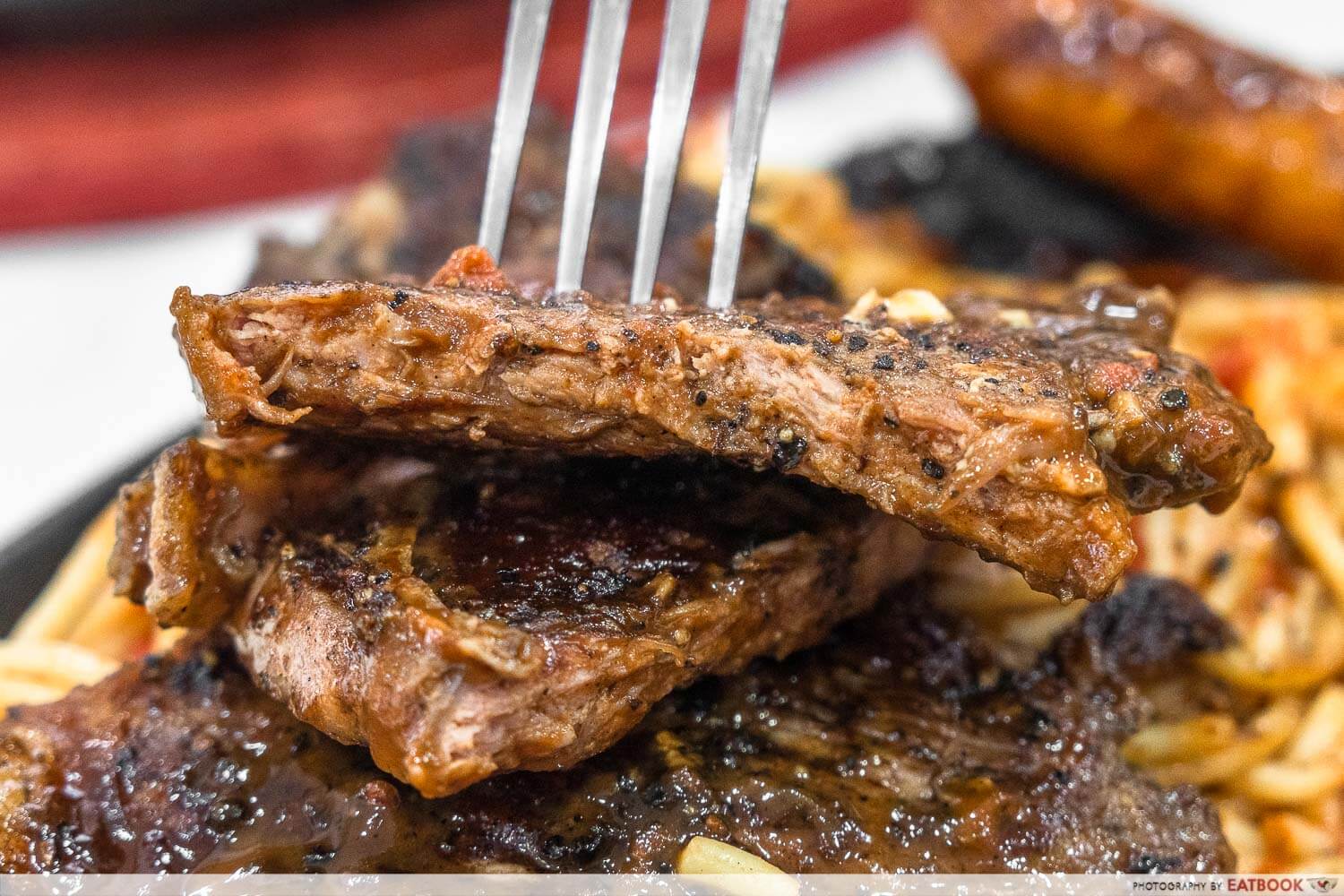 Visually, the Beef hotplate ($10.90) looked the most appealing as it sported a lovely charred exterior, with bits of black pepper, suggesting that it was more peppery than the previous meats. Slicing through the beef revealed a well-cooked centre, which is a doneness I tend to avoid due to its lack of juiciness. Sure enough, the beef was lacklustre, lacking in flavour. Moreover, it was slightly chewy and dry—a letdown as the taste did not match the mouthwatering visuals. 
Ela Review: Homely Greek Restaurant In Bukit Batok With Mains Under $20
Ambience at Xiao Ji Ji Hotplate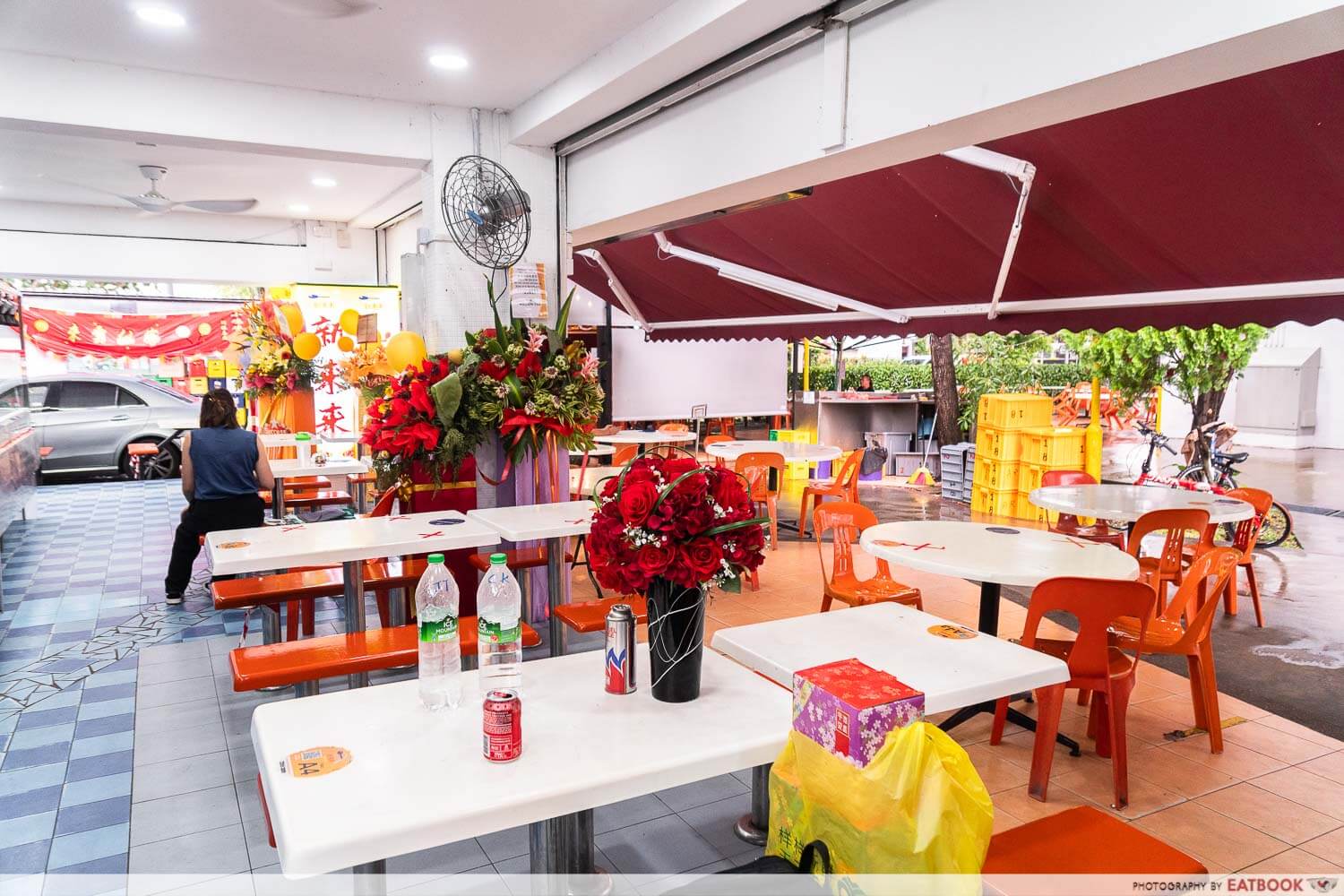 Xiao Ji Ji is tucked away in a small coffeeshop along Upper Aljunied Road. If you don't live near the area, alight at Woodleigh MRT Station and take a 5-minute bus ride from there. Other MRT stations near the area are Potong Pasir and Tai Seng, which is a 15-minute bus ride to Xiao Ji Ji Hotplate.
The coffeeshop is rather small, with only a few indoor seats available. However, if it does get crowded, fret not, as there are lots of outdoor, sheltered seating up for grabs. The whole area was well lit and ventilated, making the dining experience pleasant. 
The verdict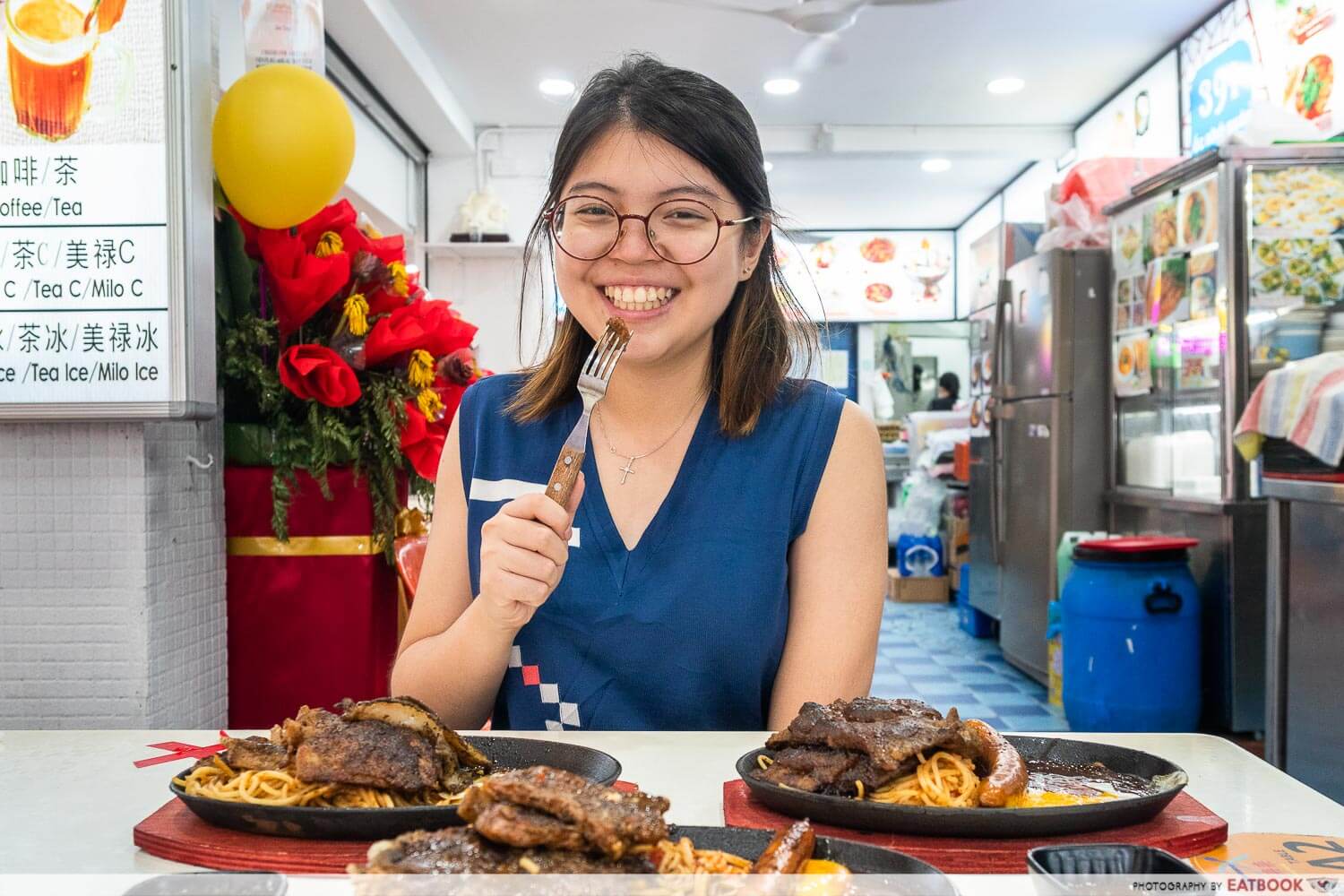 Based on my colleague who has lived in Taiwan for several years, this hotplate is rather popular for being cheap and large in quantity. I believe that Xiao Ji Ji has ticked both of these categories as portions here were more than generous for its price point. However, its quality and flavours missed the mark for me. In my opinion, Xiao Ji Ji Hotplate definitely has potential as it has a unique concept that is not seen in Singapore. They are only a month into their opening, so I believe that through their enthusiasm and love for food, Xiao Ji Ji Hotplate will continuously improve along the way and will soon be the next hot thing!
If you are looking for more international cuisine options, check out our Ela review for a homely, authentic Greek restaurant that has mains priced below $20! Alternatively, read our Mama Diam review as we check out a nostalgic and IG-worthy dining experience.
Address: 391 Upper Aljunied Road, #01-02, Singapore 367876
Opening hours: Daily 5pm to 11pm
Website
Xiao Ji Ji Hotplate is not a halal-certified eatery.
Mama Diam Review: Speakeasy Bar With Secret Entrance Behind Retro Mama Shop
Photos taken by Lim Yu Hui.
This is an independent tasting at Xiao Ji Ji Hotplate.
Xiao Ji Ji Hotplate Review: Taiwanese-Style Hotplate Noodles In Aljunied
Xiao Ji Ji Hotplate Review: Taiwanese-Style Hotplate Noodles In Aljunied -

6/10
Summary
Pros
– Unique concept
– Very generous portions
Cons
– Inconvenient location
– Inconsistent seasoning
– Dishes were rather simple
Recommended dishes: Chicken Hotplate ($7.90)
Opening hours: Daily 5pm to 11pm
Address: 391 Upper Aljunied Road, #01-02, Singapore 367876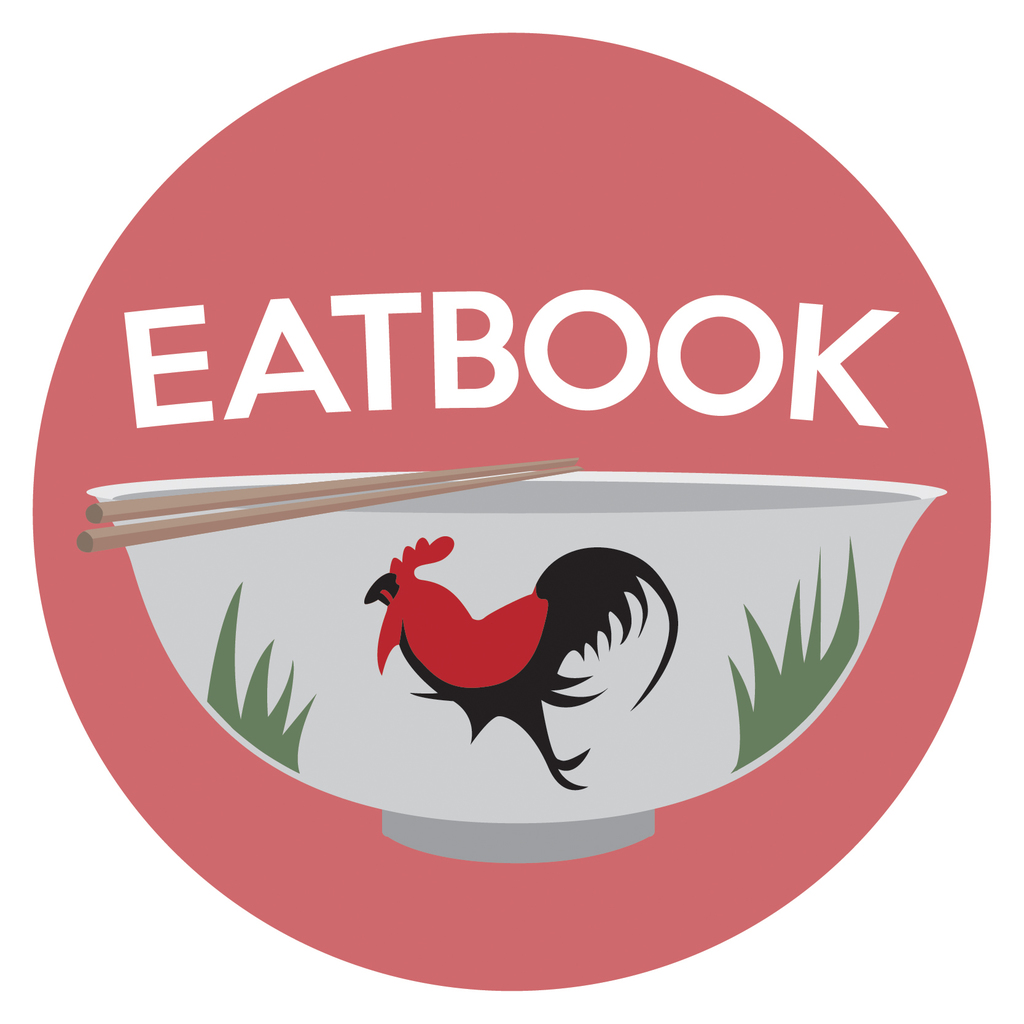 Drop us your email so you won't miss the latest news.