Daun Bistro at Purvis Street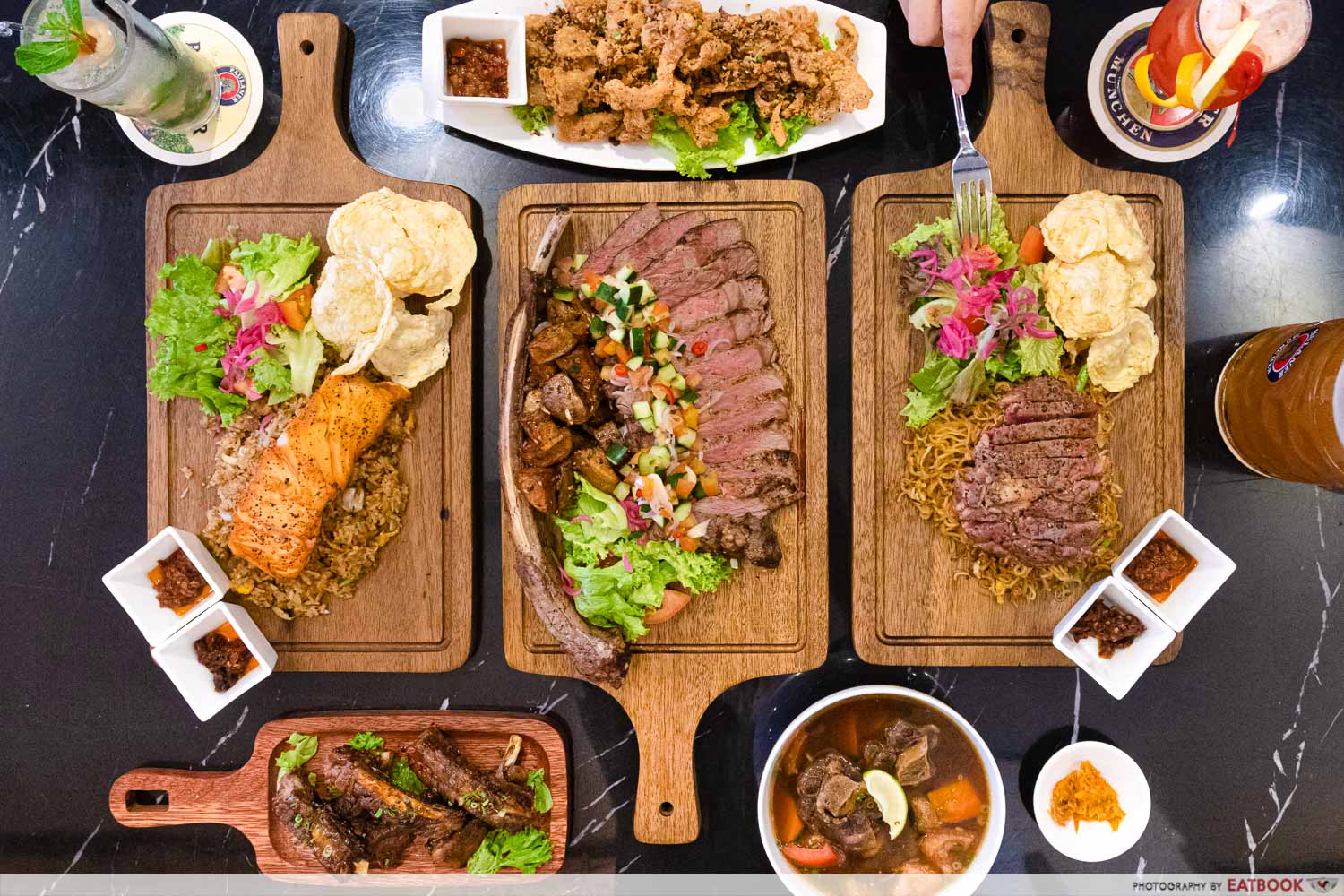 Indonesian food as bistro fare is not widely enjoyed in Singapore, which is a pity, because the flavours that abound in the cuisine are plentiful and varied. Daun Bistro on Purvis Street claims to be the first of its kind here, taking the myriad spices of Indonesia's 17,000 islands and transforming them into dishes that are novel, yet familiar at the same time.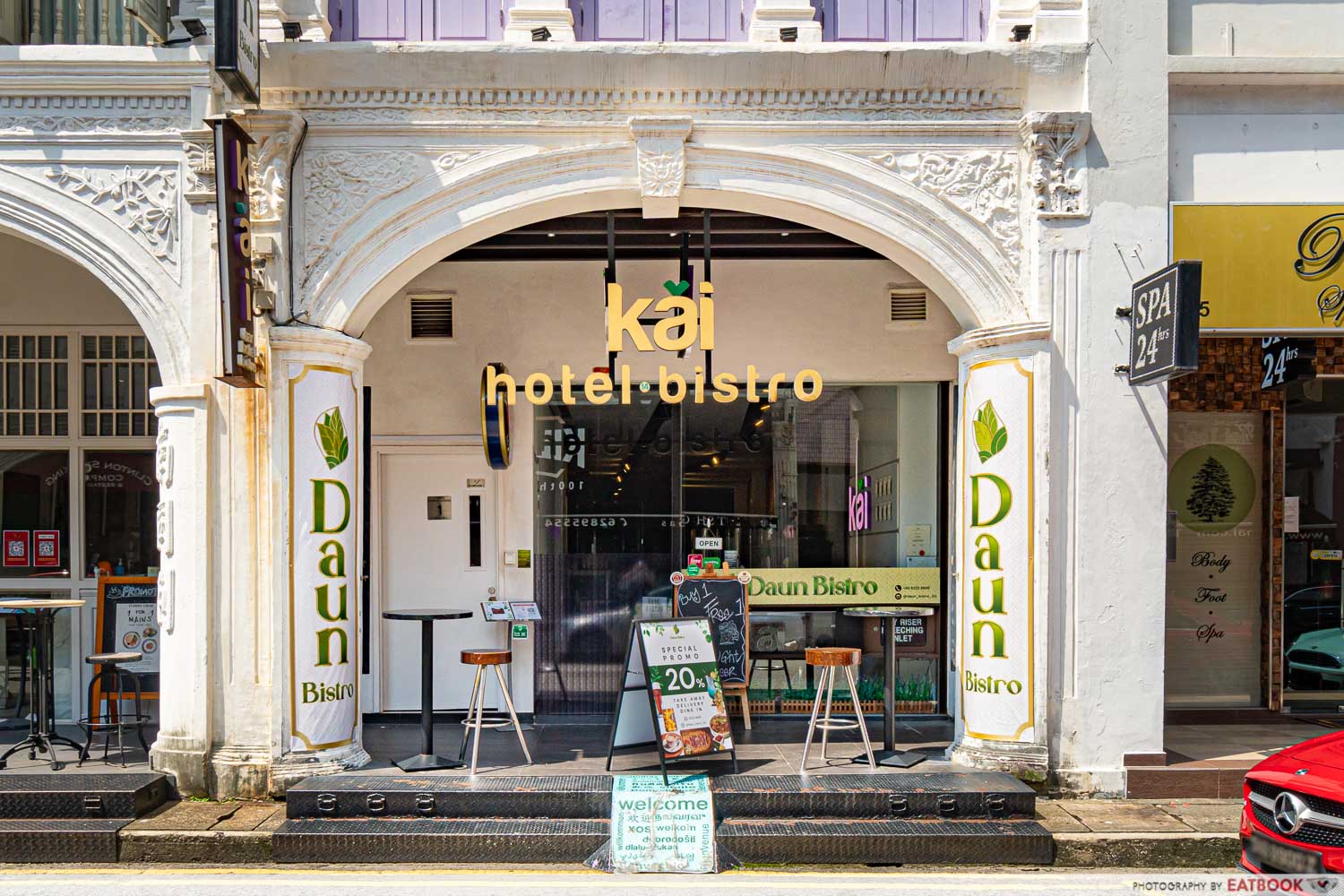 Blink, and you may miss Daun Bistro, because it's on the first floor of the Hotel Kai. When you walk in through the glass doors, you're greeted first by the reception-slash-check-in counter of the hotel, before you spy the Indonesian bistro and its bar counter behind. 
Food at Daun Bistro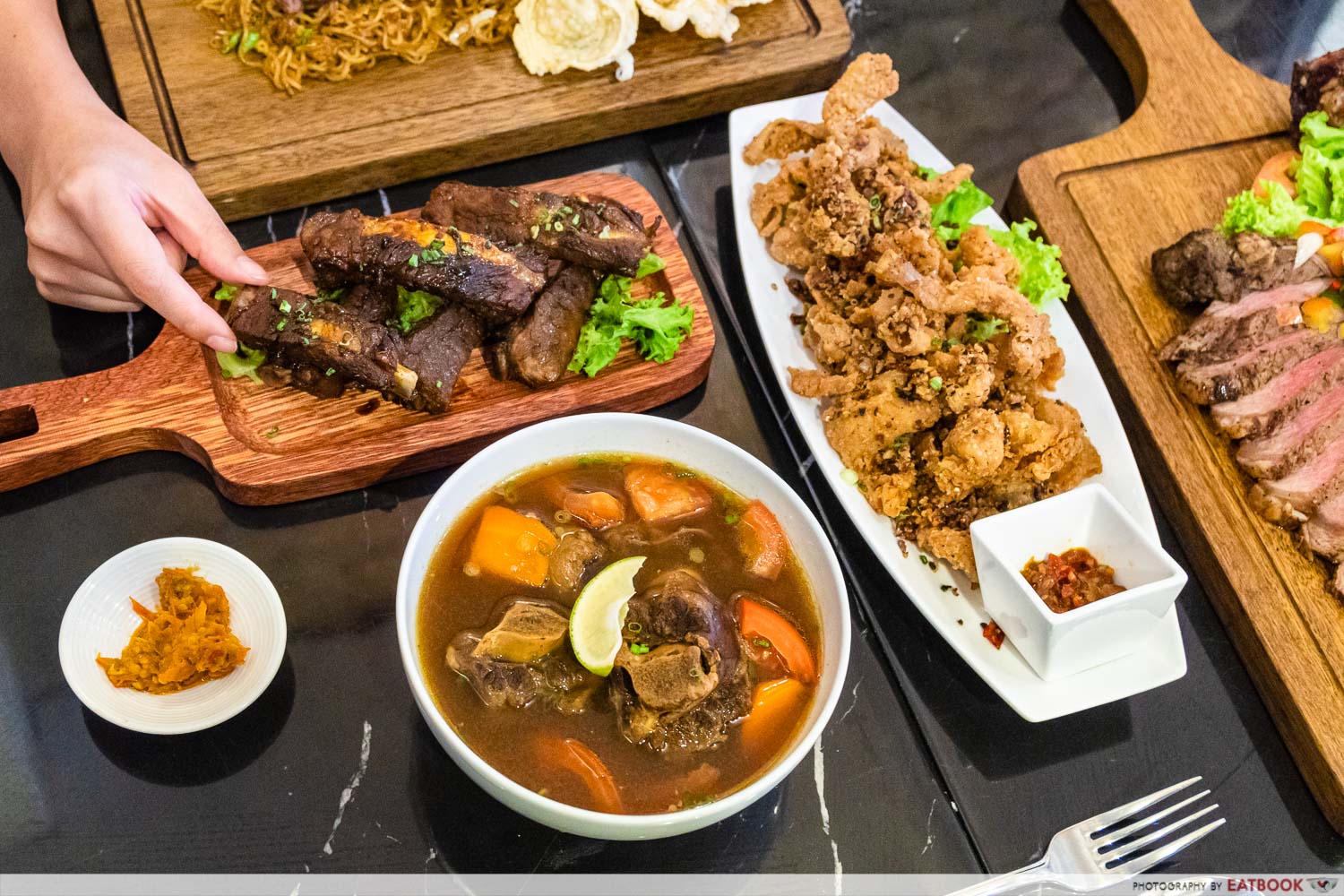 We began our lunch affair with a trio of starters━Babi Bali ($15.80+), Chick & Skin ($8.80+), and Daun Bistro Special Soup Buntut ($12.80+). The first of these brought back fond memories of a certain famed pork rib bar in Bali, with a smoky-sweet glaze, and meat that peeled off the bones with ease.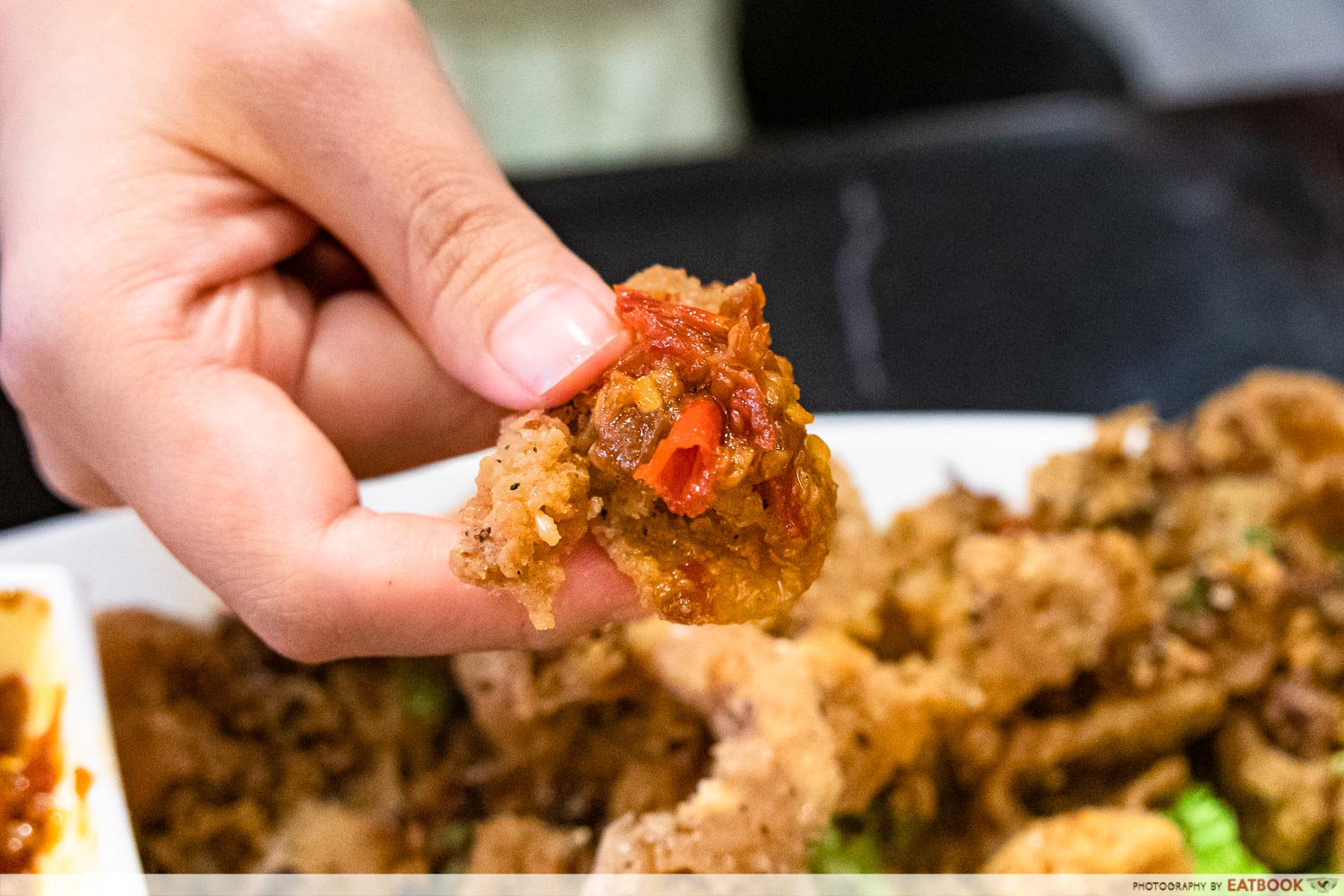 Served with Sambal Bawang, a shallot-based chilli paste, the Chick & Skin came as a platter of splendiferously light and crispy chicken skin. There's a little sweetness to the savoury seasoning it's tossed in, and I can't decide if I prefer it better with the sambal, or without.
I liked that the chicken skin was cut in good-sized pieces, and remained crunchy even after a long shoot. They go great with the XXL mug of Paulaner Lager ($26.80+), which is available on tap.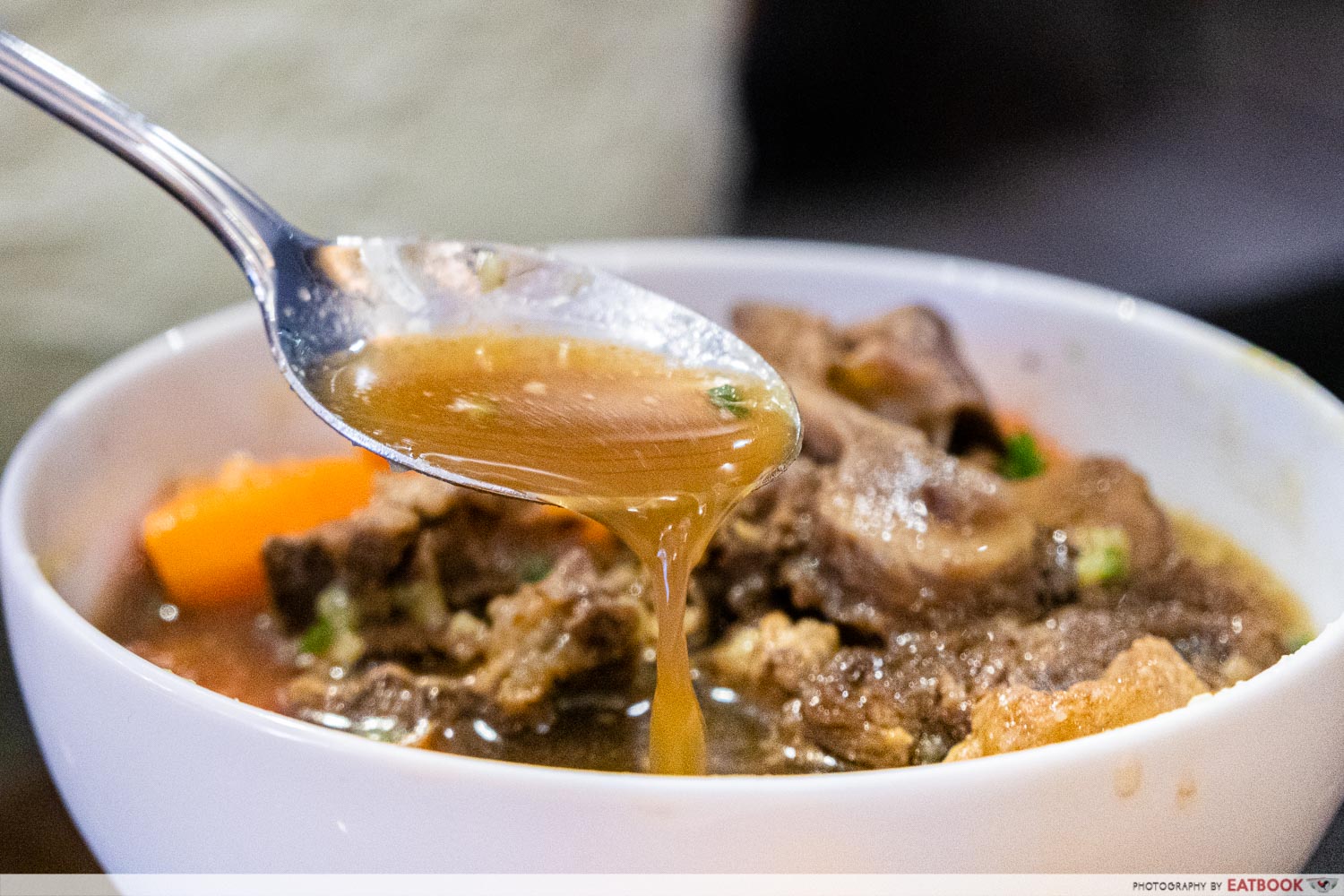 The dish I liked the most out of everything we tried at Daun Bistro was the Soup Buntut━a Javanese oxtail soup that here takes four whole days of slow simmering with a multitude of spices. The broth was no watery slop, packed with deep, robust flavours. 
You'll get another sambal variant with this, which the fall-apart meat goes well with. There are more than five house-made sambals at Daun Bistro, all of which go with different dishes. The one that goes with the Soup Buntut has the bright, light flavours of orange peppers, which balance out the richness of the soup.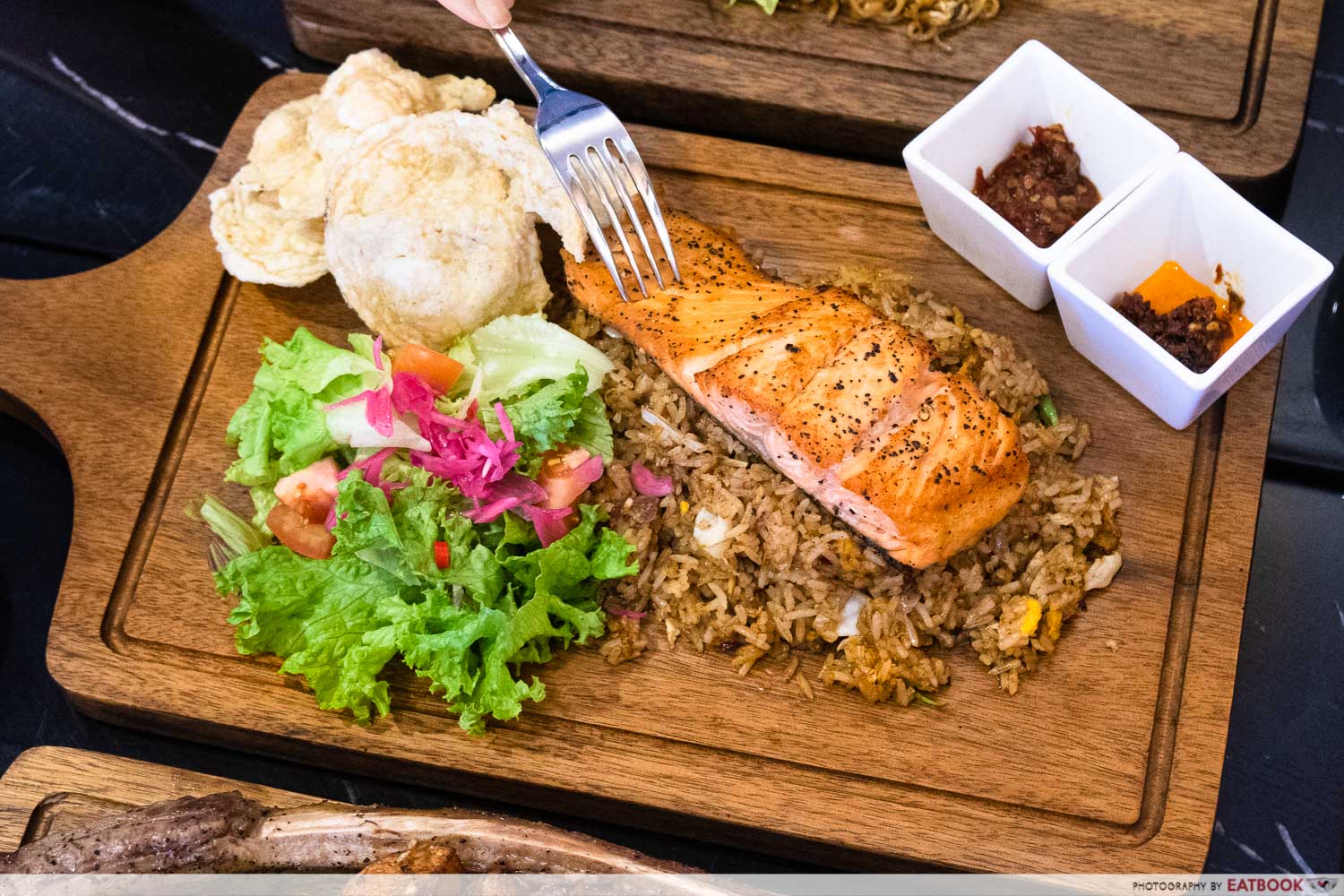 There's nasi goreng, and there's Salmon Crazy Fried Rice ($18.80+). This is served on a wooden platter that one would typically associate with a Western eatery, in a portion that's good for at least two to share.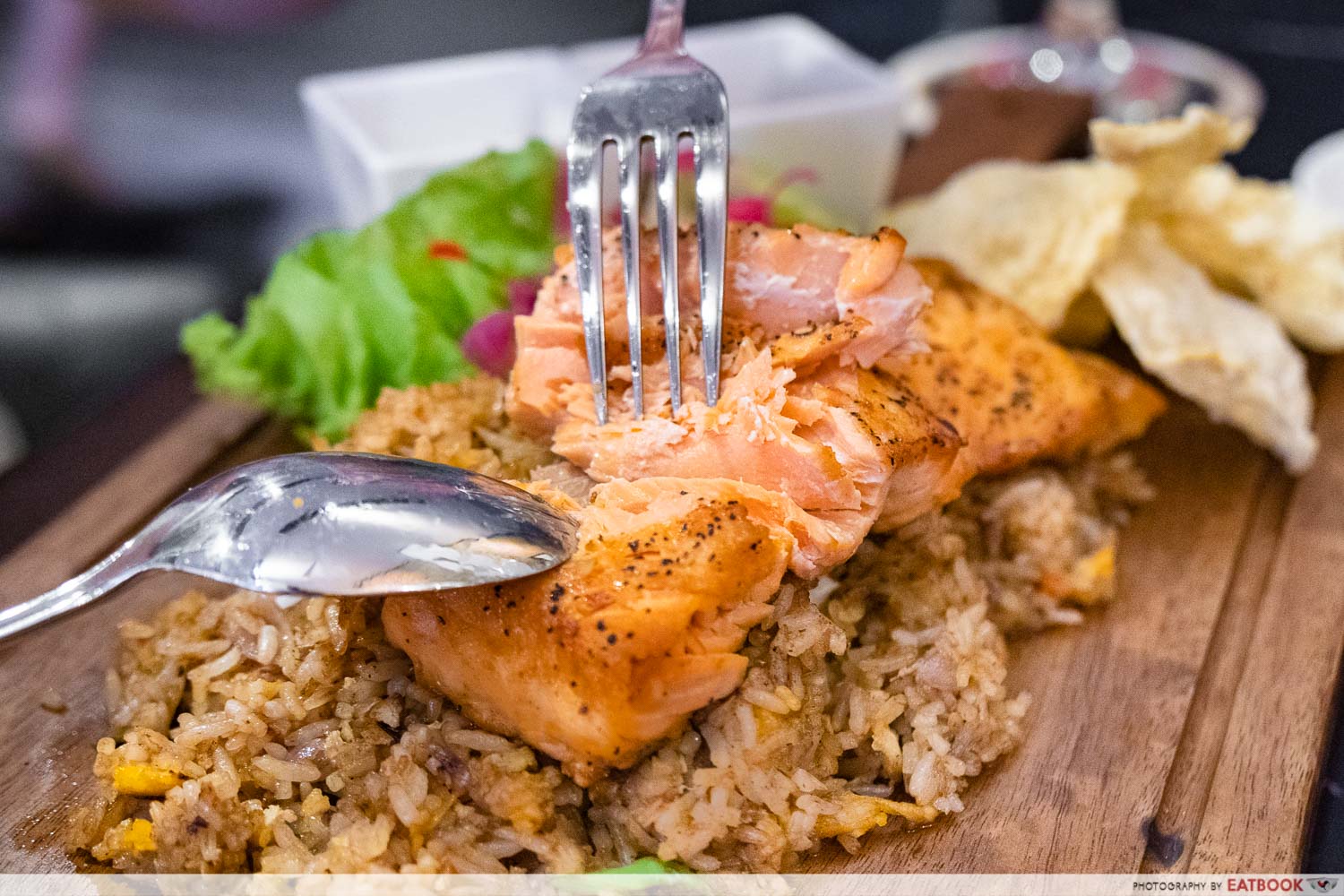 Cutting into the crusty, pan-seared slice of salmon, I would have preferred a less-cooked doneness, even though the fish flaked apart easily. However, it could have continued cooking in residual heat, since we had left it out for a while. It was also not overly seasoned, which allowed the Crazy Fried Rice to stand out.
All the spices used at Daun Bistro are specially imported from Indonesia, and we were told that most of the recipes used are treasured family legacies. The Crazy Fried Rice is deliciously smoky and addictive, especially when you top it with the sambal that comes with this.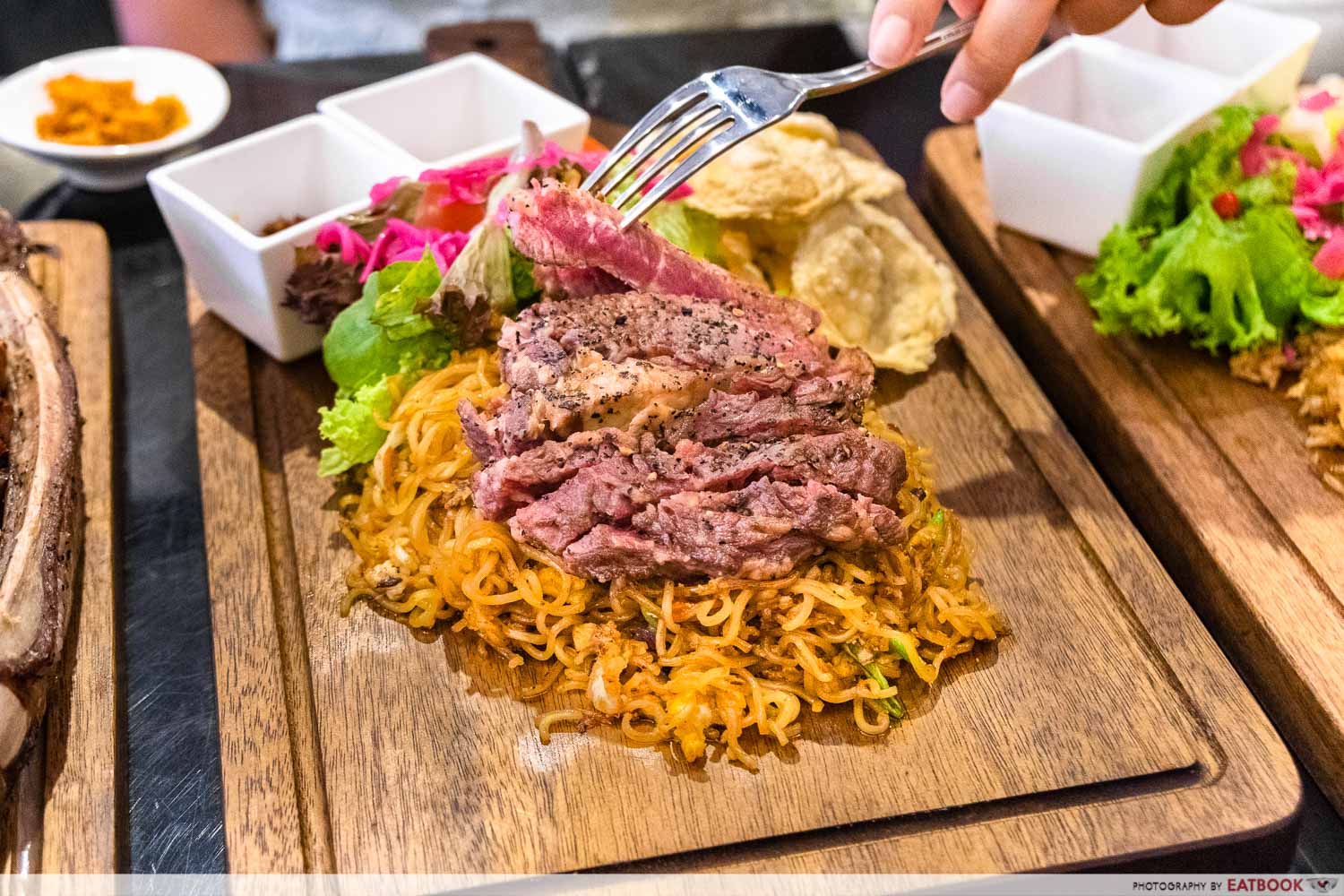 If you live for options, choose to have Indomie with your choice of protein instead! Besides salmon, there's also Ribeye Indomie ($18.80+), and Oxtail Crazy Fried Rice/Indomie ($19.90+), the latter featuring tender, braised oxtails. We went for the ribeye, which came perfectly medium-rare, and tender.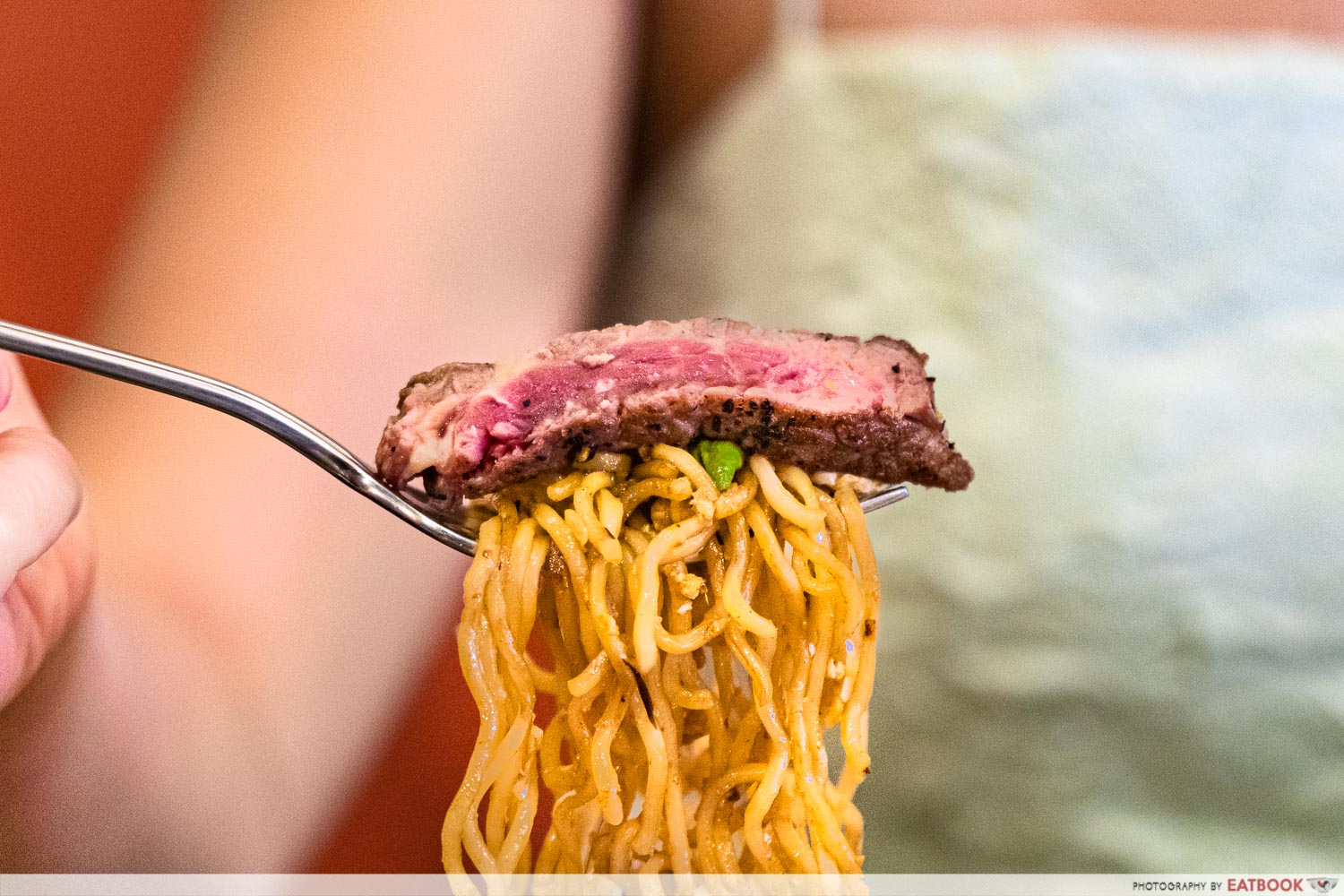 Over 15 billion packets of Indomie are produced each year, and they're well loved all over the world for that unmistakable Indomie taste. Here, though, Daun Bistro shakes up the flavours with a house-concocted sauce mix that tastes somewhat like the classic instant noodles, yet isn't quite it. What's noteworthy also is that no MSG is used in the food at Daun Bistro!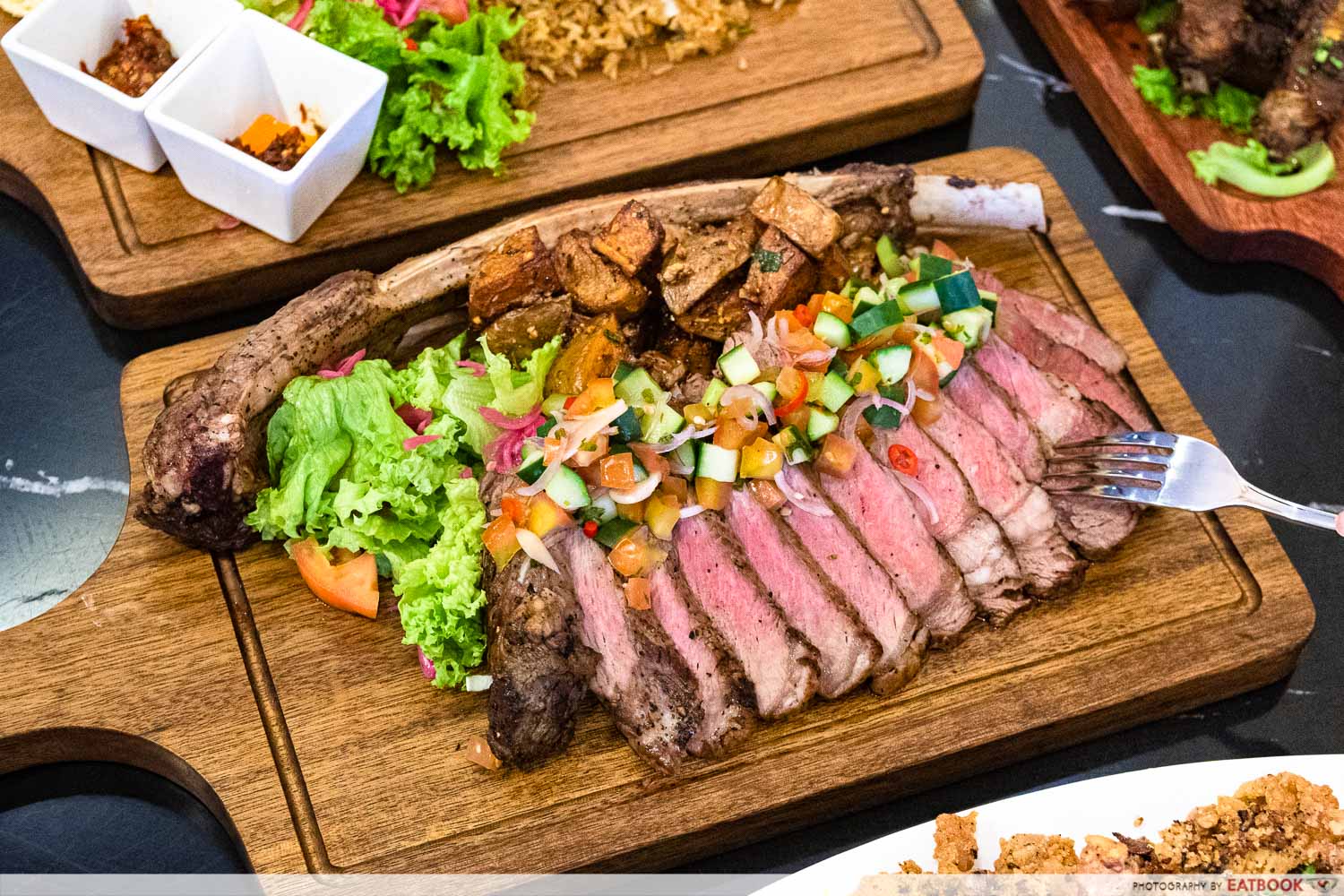 The showstopper platter of Daun Tomahawk Dabu ($75.60+, U.P. $108+) is one that's fit for the 'gram. Featuring a whole Australian tomahawk steak, served with Mesclun salad, roasted potatoes, and sambal dabu dabu, it's the best of both worlds, in a serving that's good for three.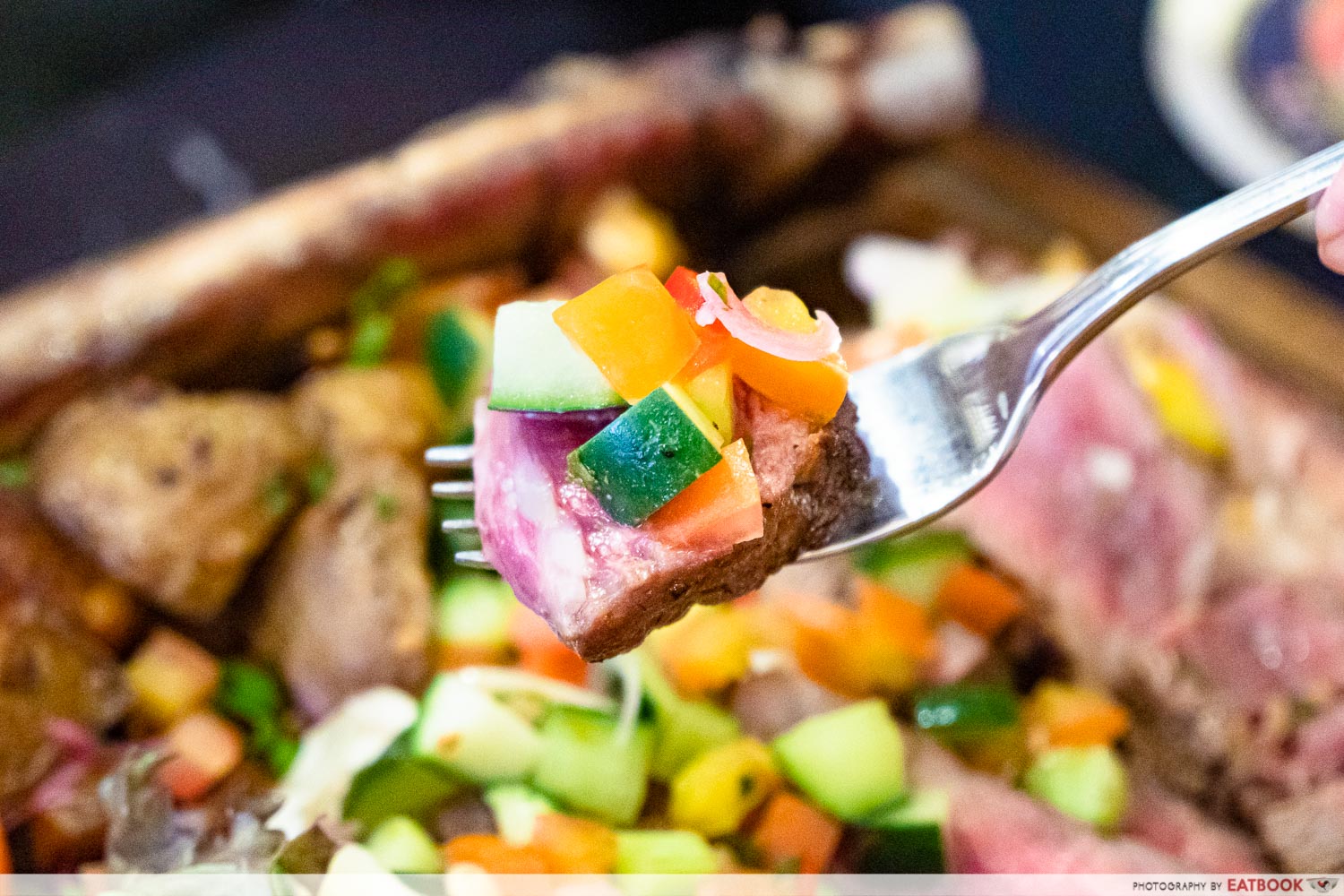 Sambal dabu dabu is an Indonesian condiment that hails from Manado, an Indonesian city in North Sulawesi. It's almost like a salsa in that it features chunky-cut vegetables including tomatoes and onions, jazzed with limes, chillis and such. This served as a great accompaniment to the beef, cutting through any jelakness and heaviness.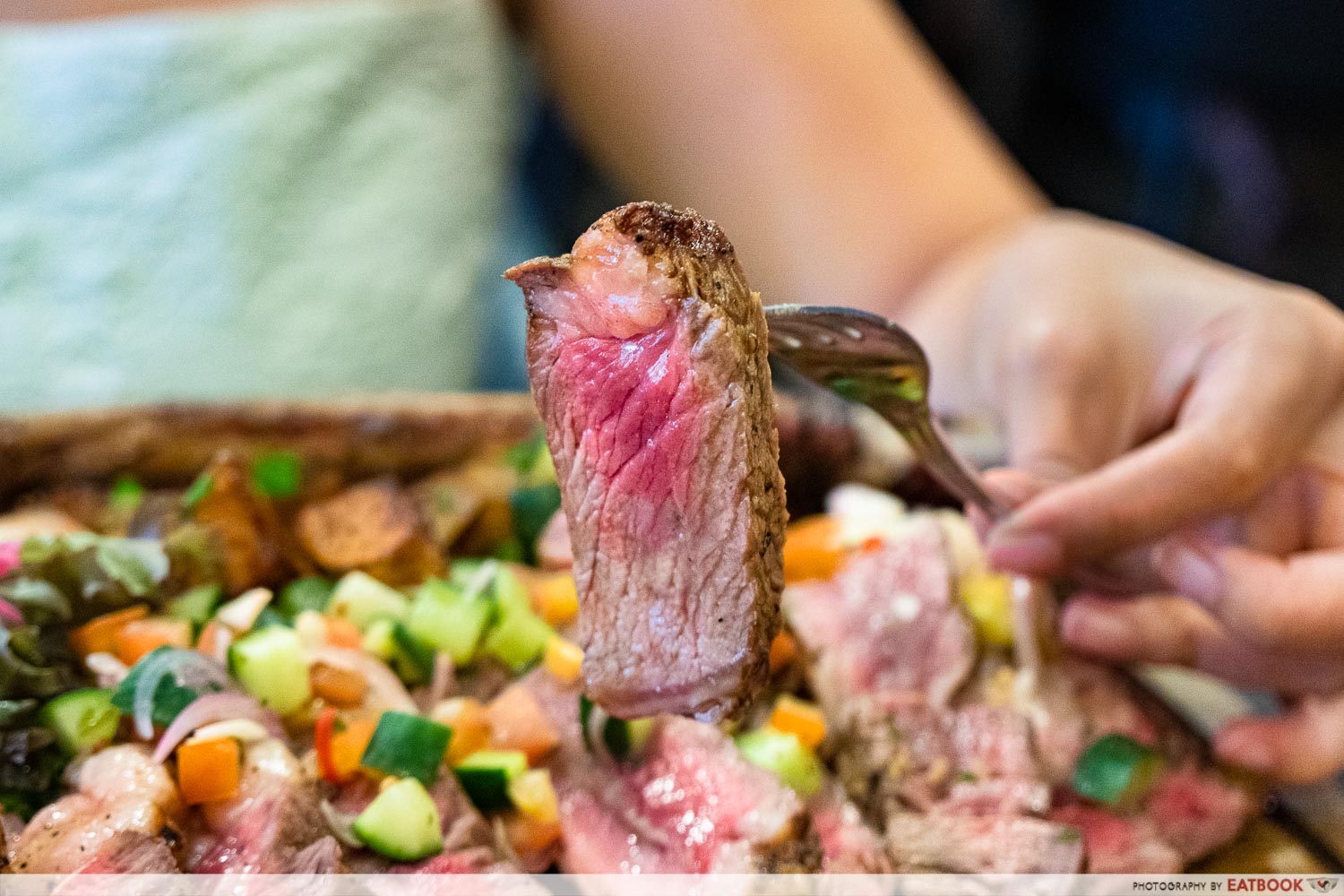 As for the ribeye, you can let the staff know how you'd like your beef done. We went for medium-rare, for maximum juicy, beefy goodness.
Apart from the beer, Daun Bistro also serves up cocktails and mocktails, all of which go very well with the dishes on offer! Go for the Singapore Sling ($17.80+), or a Virgin Lychee Mojito ($8.80+) for a refreshing sip alongside your meal here.
Ambience at Daun Bistro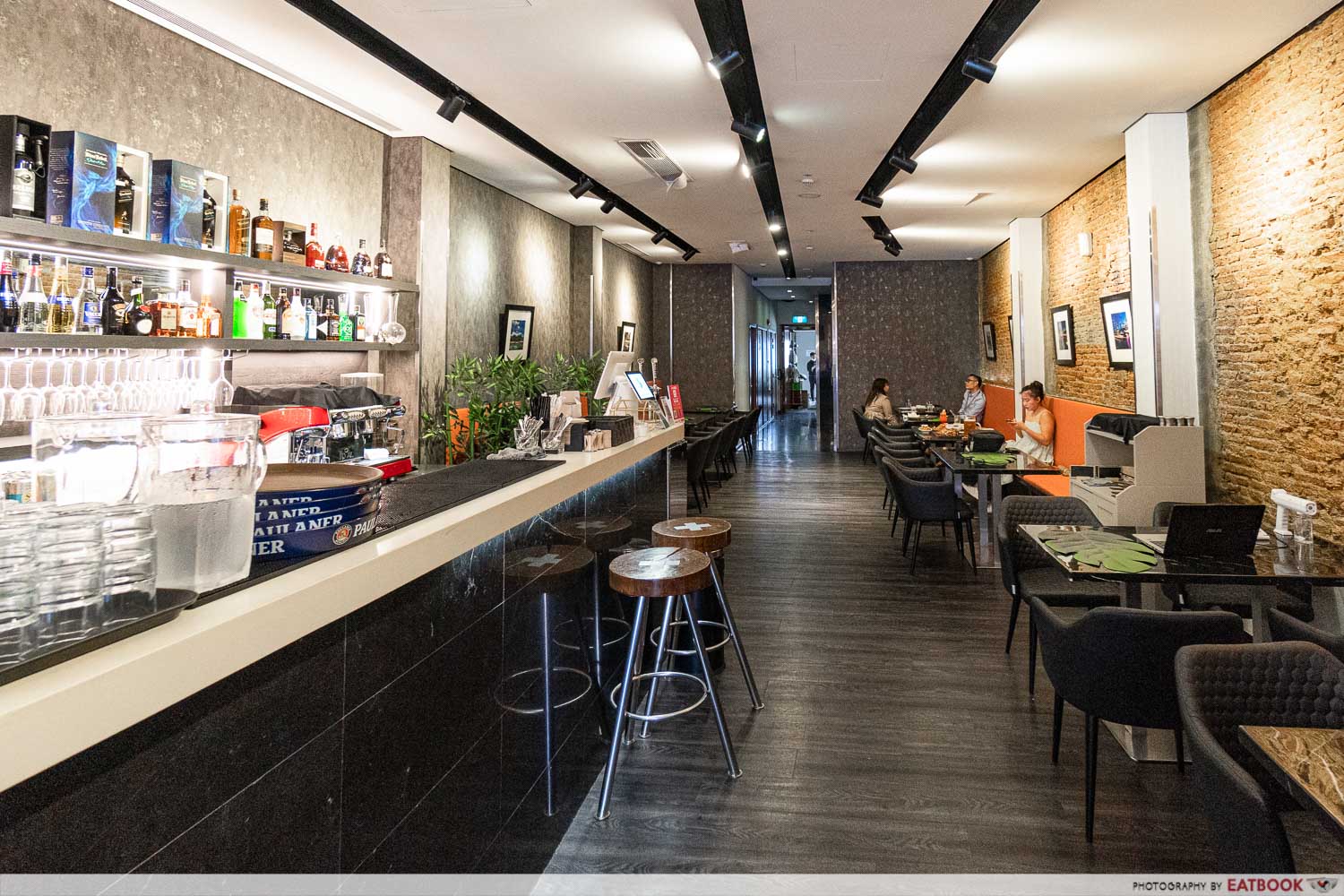 Daun Bistro is located on Purvis Street, a four-minute walk from Bugis MRT Station, or eight from Bras Basah MRT Station, and 10 from City Hall MRT Station. It takes up the first floor of the Hotel Kai, a restored conservation shophouse. 
Due to the nature of the building, the space is elongated and stretches deep in, leaving the restaurant pretty dim, although this is typical of such heritage units. They've compensated by installing lots of spotlights, and adding splashes of colour in the finishings.
The verdict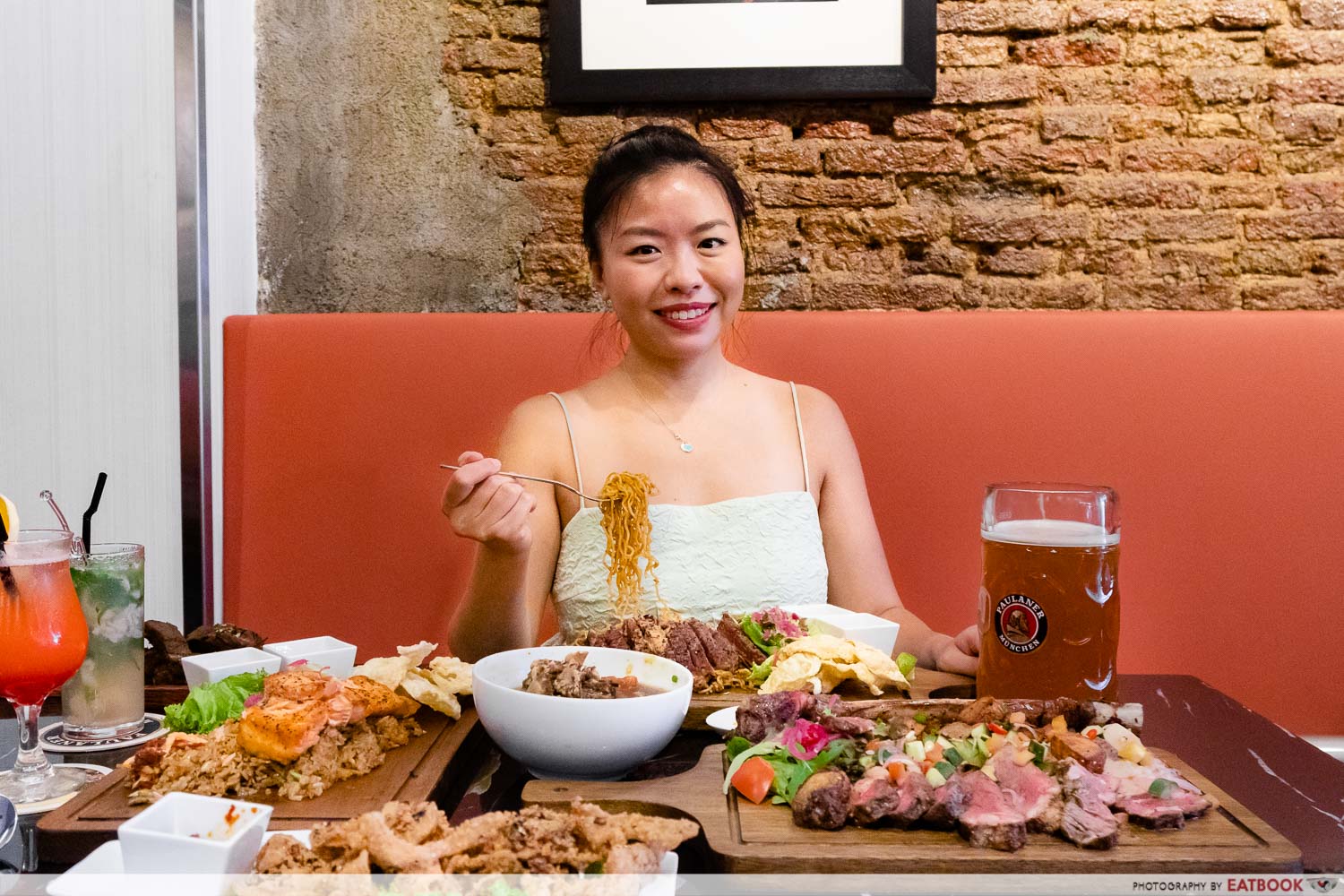 I don't know when's the next time I'll get to hop on a plane to Bali or anywhere else in the Indonesian archipelago, so heading to Daun Bistro might be the best option I've got for now. The fare is hearty and reasonably priced for what you get, and the flavours are pretty legit. What's more, they're centrally located, so it's a great spot to hit up for your next gathering of five!
From 24 September till 31 October 2021, get 30% off all meat platters at Daun Bistro, and celebrate Oktoberfest in style with a 1-for-1 deal on Paulaner draught beer too!
Address: 14 Purvis Street, Hotel Kai, Singapore 188593
Opening hours: Tue-Sun 12pm to 10:30pm
Tel: 8222 9959
Website
Daun Bistro is not a halal-certified eatery
Photos taken by Melvin Mak.
This post is brought to you by Daun Bistro.
Daun Bistro Review: Ribeye Indomie, XXL Meat Platters And More In Bugis
Daun Bistro Review: Ribeye Indomie, XXL Meat Platters And More In Bugis -

7.5/10
Summary
Pros
– Authentic Indonesian flavours
– Big portions, reasonably priced
Cons
– Limited seating available
– Salmon was a touch overcooked
Recommended dishes: Chick & Skin ($8.80+), Daun Bistro Special Soup Buntut ($12.80+), Ribeye Crazy Fried Rice/Indomie ($18.80+)
Opening hours: Tue-Sun 12pm to 10:30pm
Address: 14 Purvis Street, Hotel Kai, Singapore 188593