Braise Lu Zhi Jia at Bugis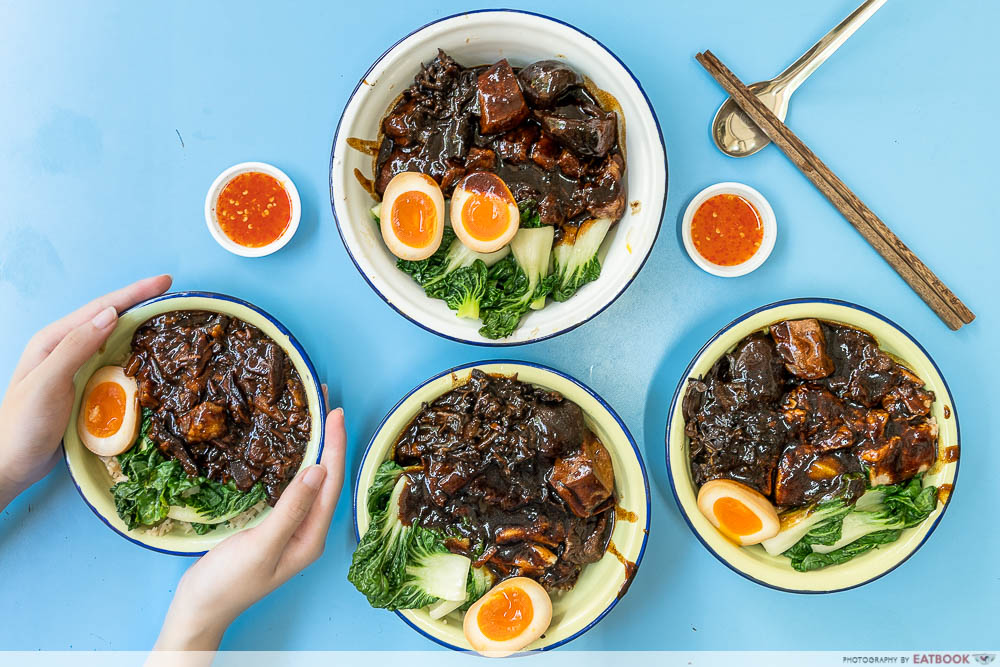 The best memories I have from my trip to Taiwan in 2019 definitely revolve around their lu rou fan. With delicious, fatty cuts of pork on a bed of white rice, I loved it so much that I made it my mission to find one in Singapore that could compare. After many misses, I read about Braise Lu Zhi Jia's $3.50 lu rou fan online, and was delighted to find a possible worthy contender.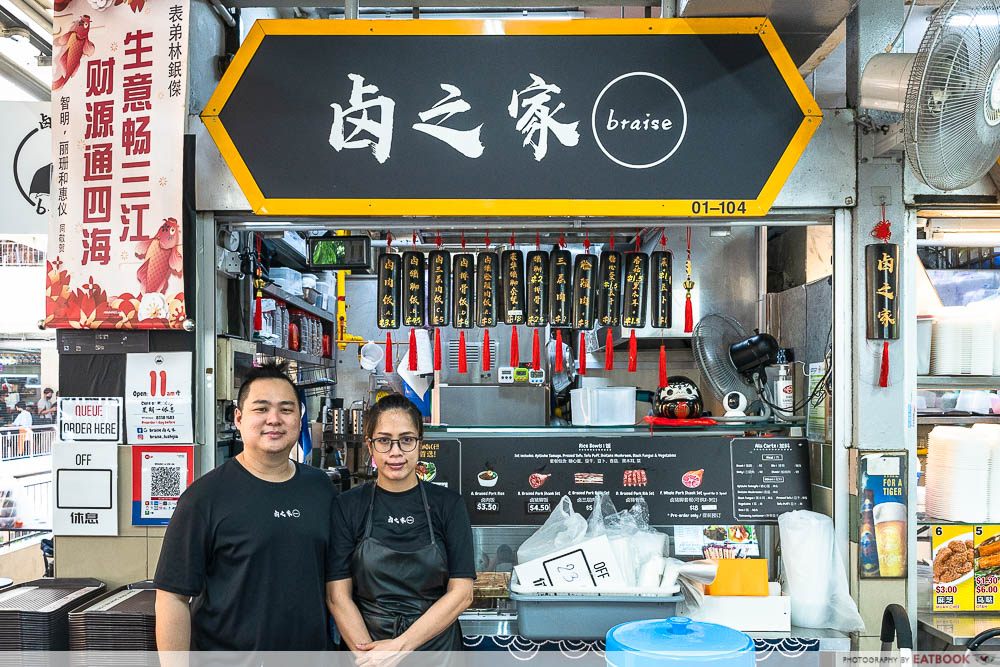 Braise Lu Zhi Jia is run by MJ and his wife, Amy. The both of them wake up as early as 5am to start preparations for their 11am opening time. They sell out as early as 1pm, so we decided to play it safe and pre-order our food, which you can do by contacting MJ on WhatsApp. 
Food at Braise Lu Zhi Jia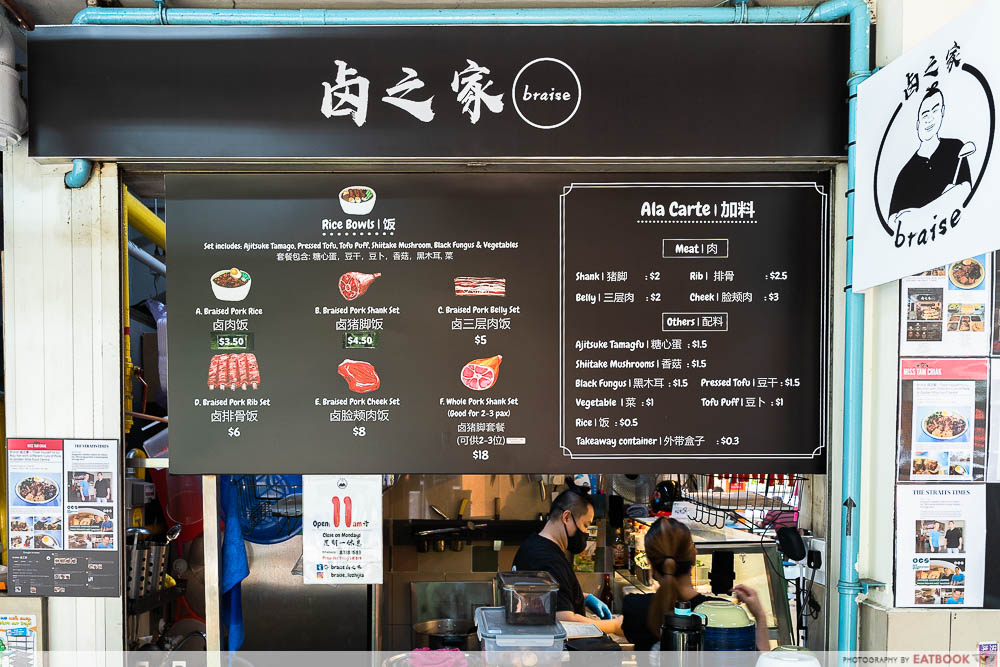 Besides the lu rou fan that we came here for, Braise Lu Zhi Jia's menu focuses on serving various cuts of braised pork with rice.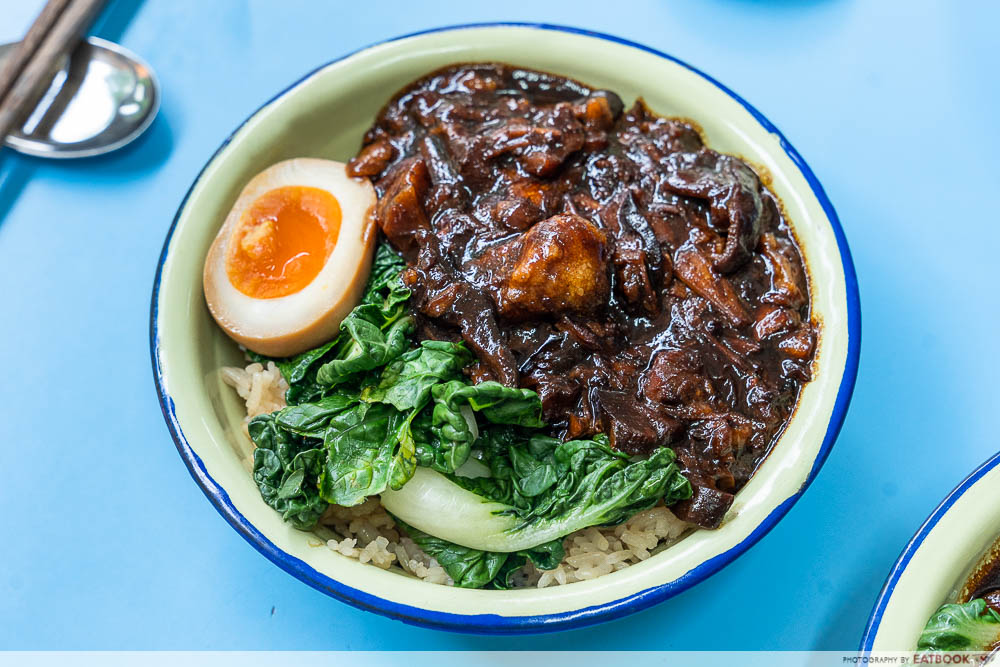 I immediately dove for the very dish I came here for—the Braised Pork Rice ($3.50). Although $3.50 is already considered insanely cheap for a bowl of lu rou fan in Singapore, it actually used to be $3—what a steal! 
At first glance, you can already tell that their Braised Pork Rice looks almost nothing like the traditional bowls of lu rou fan you have in Taiwan. We brought this up to MJ, who explained that he had never intended for his Braised Pork Rice to be known as lu rou fan.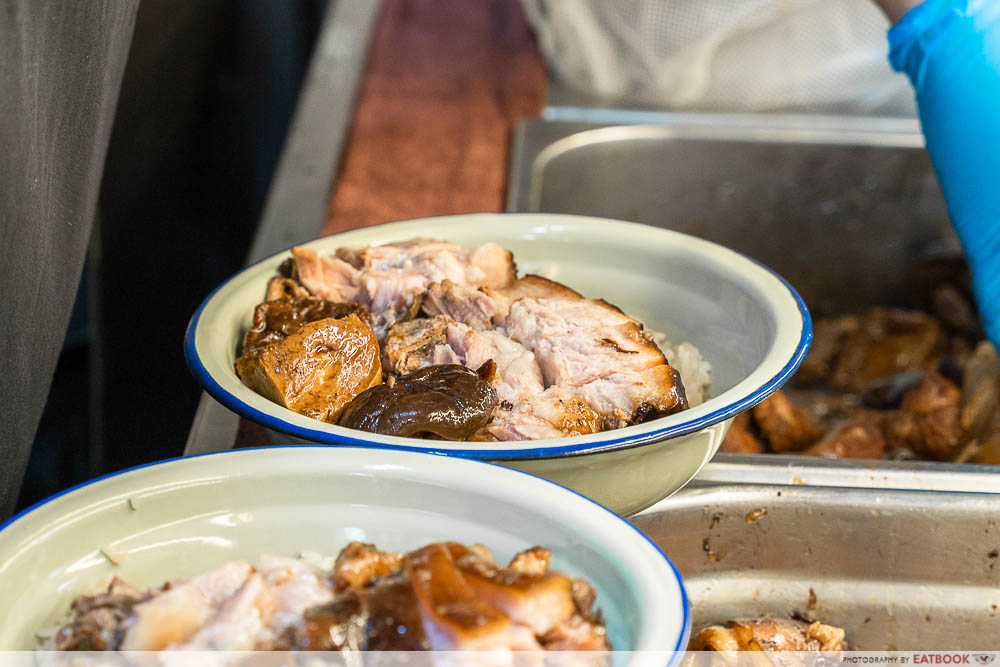 When asked how his yummy recipes of braised pork over rice came to be, MJ cited his mother's lor mee as inspiration. Having helped out at her now-defunct lor mee hawker stall since he was young, he aspired to create rice bowls featuring a thick gravy with a consistency similar to that of lor mee.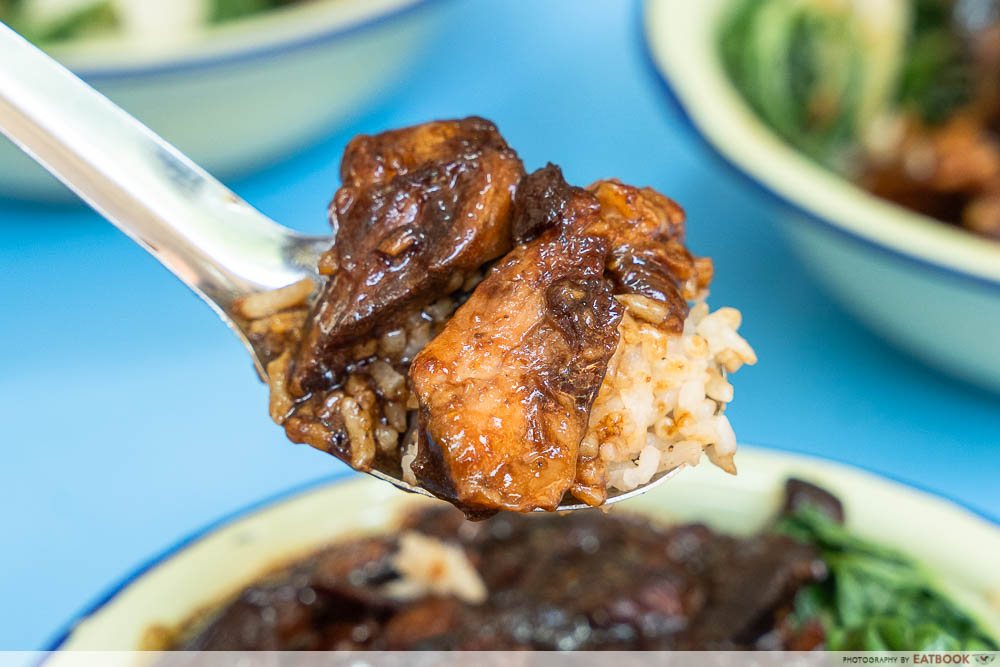 Indeed, the "lu rou fan" here is nowhere near similar to the traditional Taiwanese renditions. The cuts of pork belly were less fatty, and came in bigger, heartier chunks. Each bowl was also served with an ajitsuke tamago and a fairly generous share of vegetables: something rarely, if not never, seen in the bowls that are so popular in Taiwan.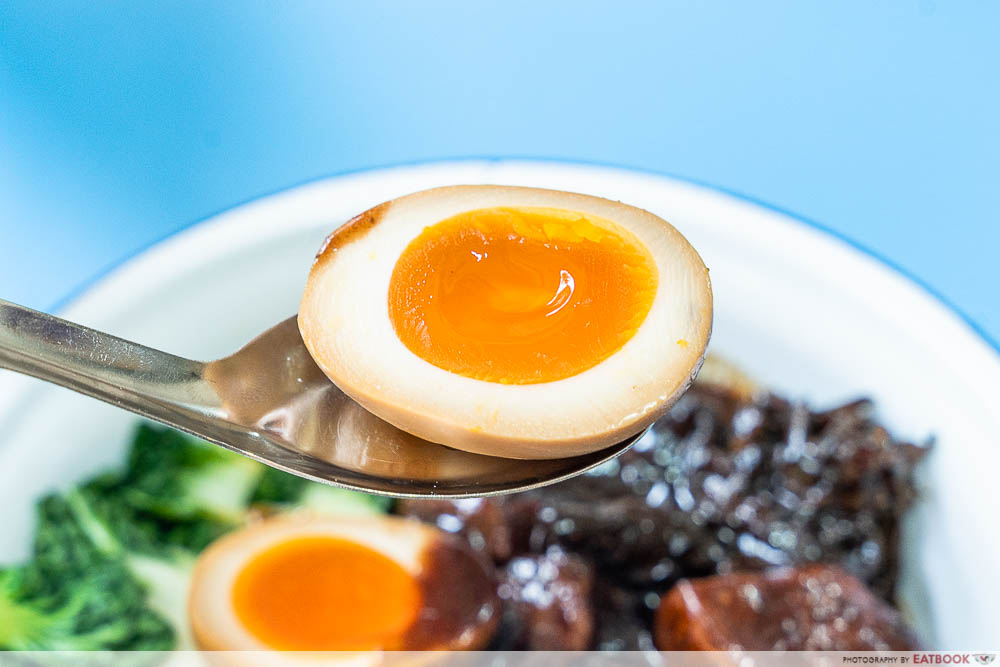 Though veering from the norm, I liked the addition of the marinated, molten-yolked egg. It was the perfect complement to the thick sauce, and its creamy yolk balanced out the savouriness and sourness on the plate.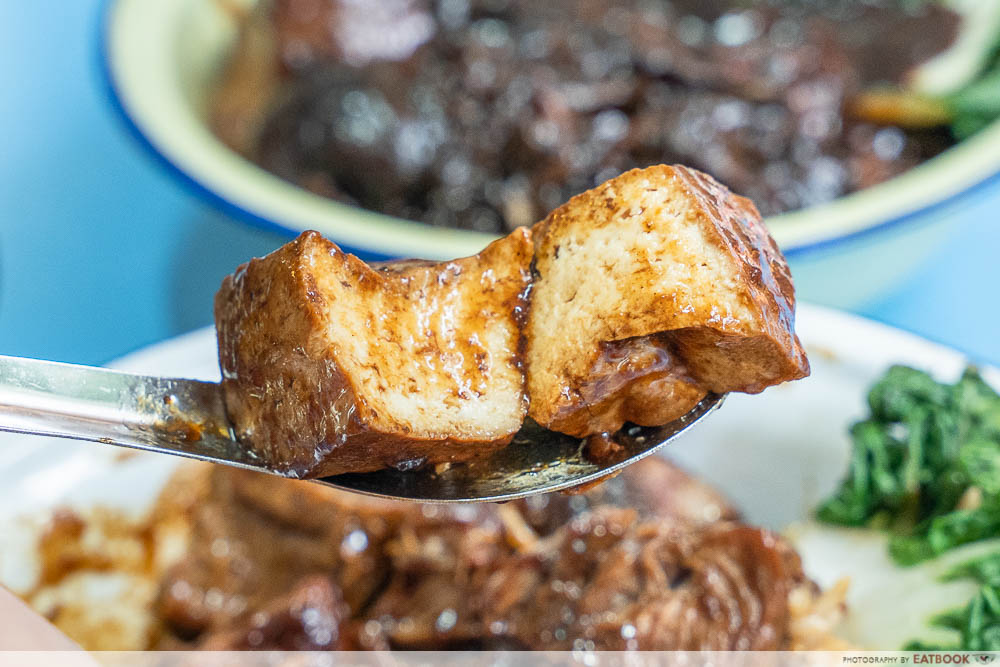 Of the five non-meat items served with each set—black fungus, xiao bai cai, shiitake mushrooms, pressed tofu, and tofu puffs AKA tau pok, my favourite would have to be these chunks of tau kwa. 
Beancurd is usually relatively neutral in flavour, which allowed it to act as a good carrier for the sauce the pork was braised in. Its firmer texture also provided a contrast to the softer cuts of pork.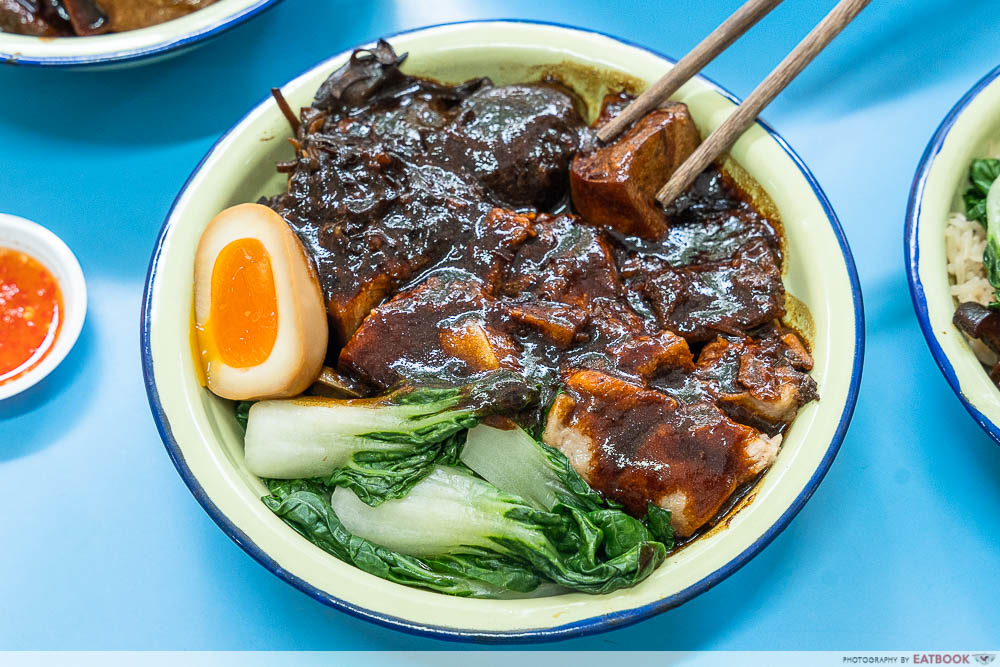 Admittedly, my bias towards pork belly made me the most excited to try the Braised Pork Belly Set ($5).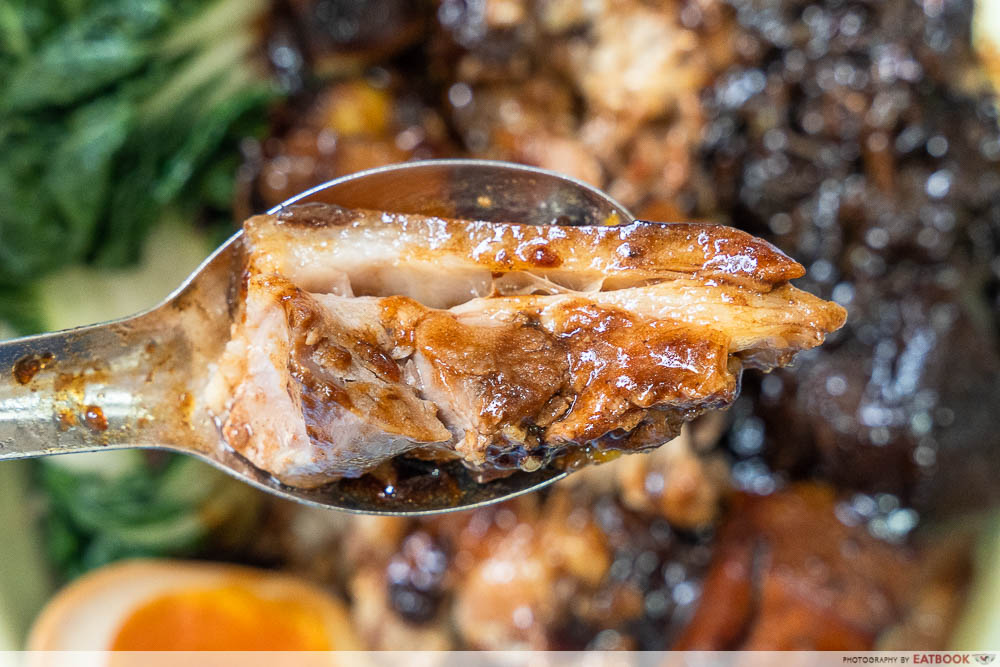 Nothing could have prepared me for how fatty and melt-in-your-mouth this was. Biting into the pieces of fat was absolutely sinful, but oh, so indulgent. 
I was curious as to how MJ managed to make his cuts of pork belly so tender—a consistency I had never encountered before. He revealed that he braises the pork belly for 24 hours before it lands in your bowl. At that point, I instantly knew I would be back for more━that's a lot of time and effort to prepare this, that I'm not willing to put in.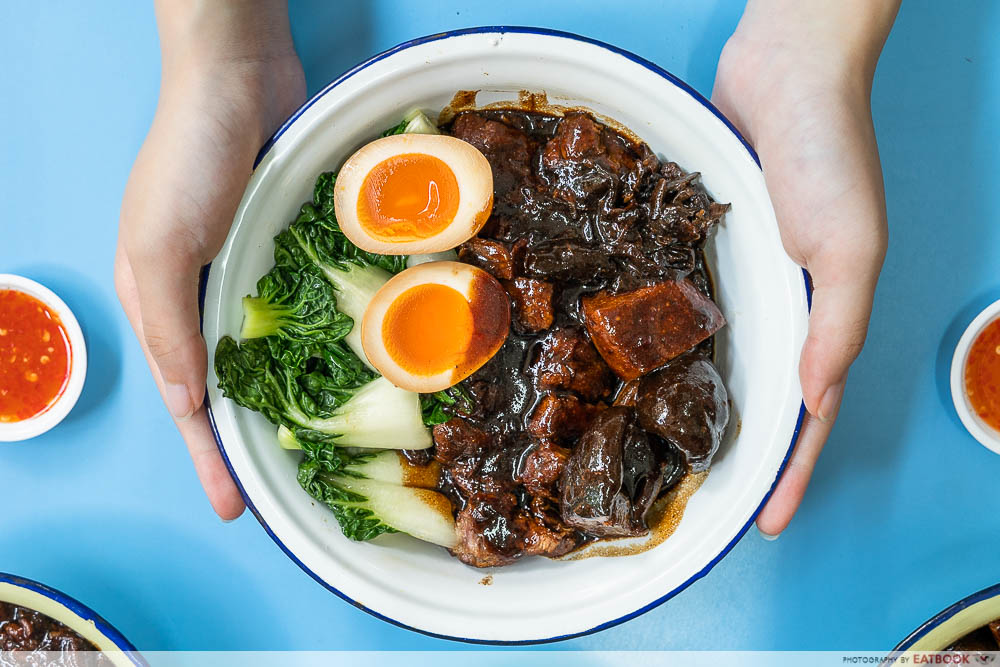 After that impressive item, I dug into the Braised Pork Cheek Set ($8) with high hopes. This is the priciest item on the menu, mainly because pork cheek is more expensive. It's also a cut that's not often found in hawker fare. Considering that all of MJ's cuts of pork are imported directly from Brazil, Australia, and USA, I'm glad that he has figured out a way to keep his food affordably priced.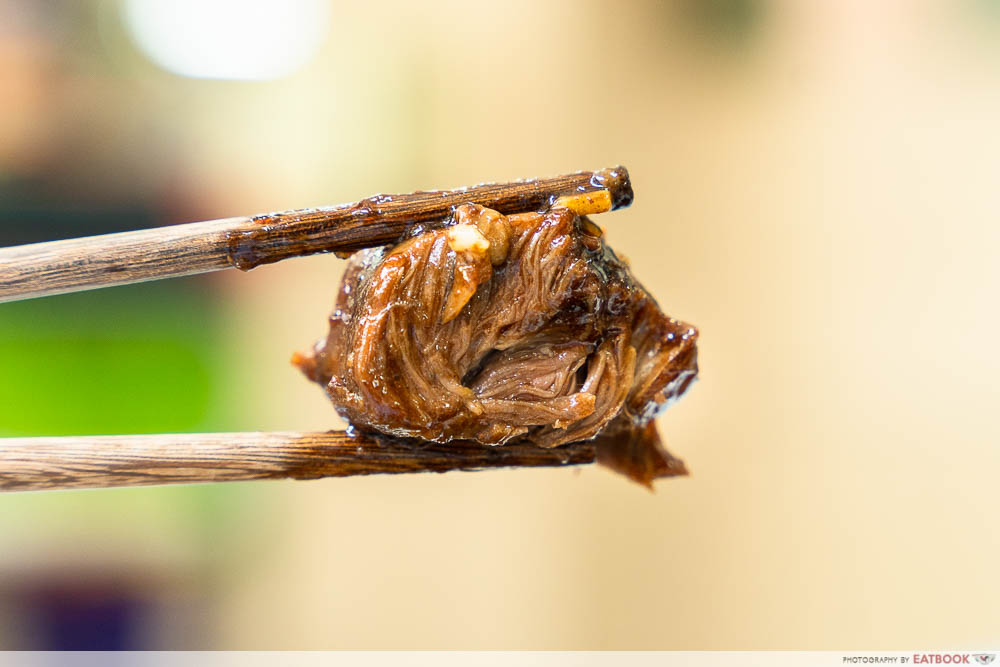 Once again, Braise Lu Zhi Jia surpassed my expectations. Each bite of the pork cheek was utterly soft and fork-tender, and, in my opinion, justified its higher price point.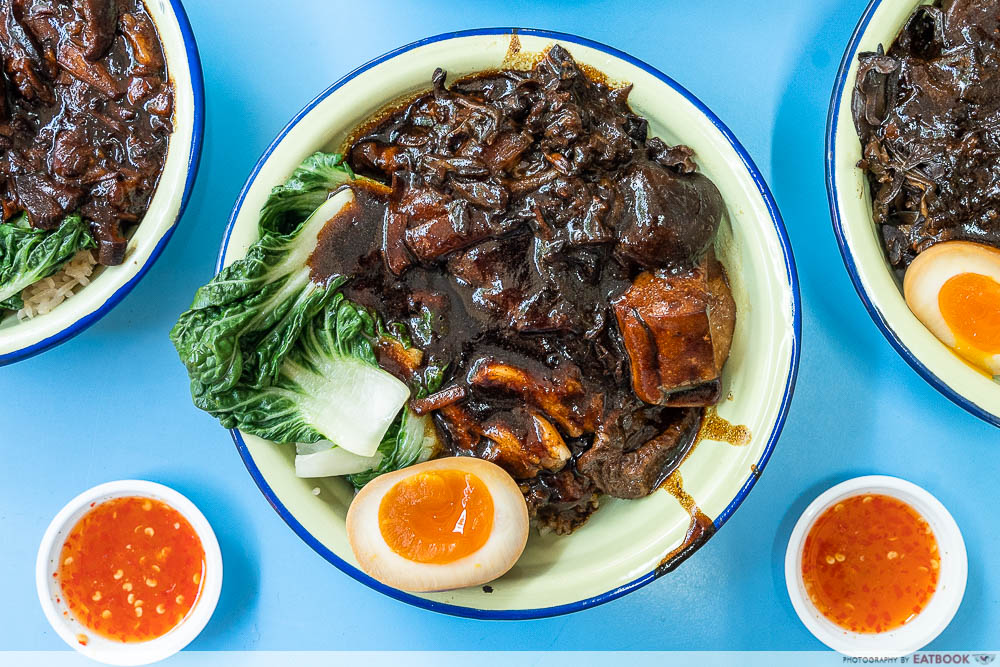 The last bowl we tried was the Braised Pork Shank Set ($4.50). Pork shank can sometimes be a tad too tough, but the pieces here were so tender and not chewy at all, despite how thick of a cut they were.
The connected fatty skin, in particular, was especially soft, and immediately melted into a sinfully oily coating in my mouth when I had it separately from the rest of the meat. 
Ambience at Braise Lu Zhi Jia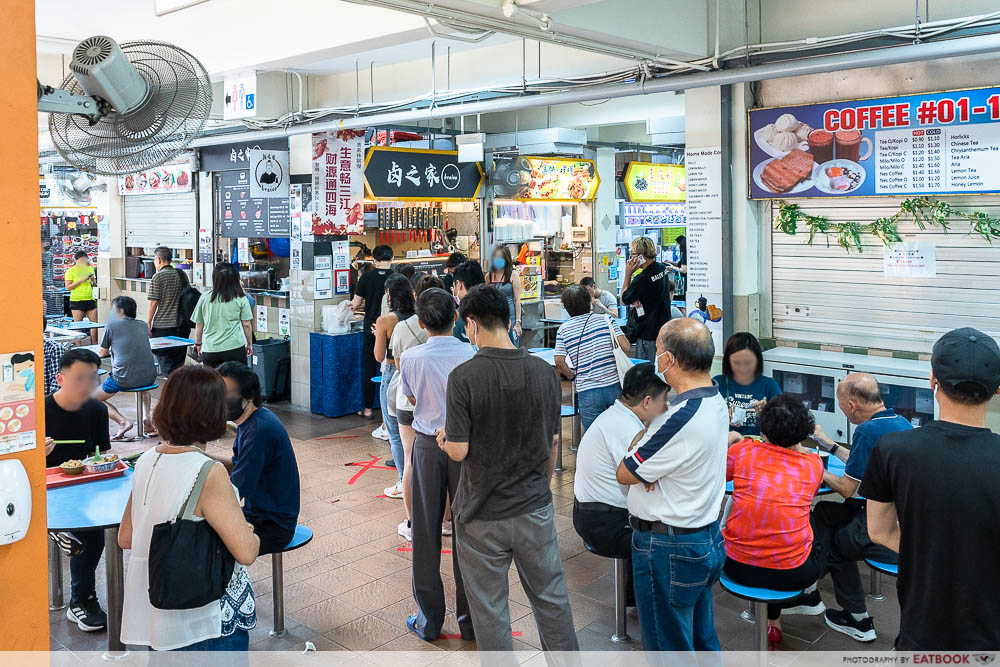 Braise Lu Zhi Jia started out as a home-based business, but they opened their doors to the wider Singaporean community in late 2021. Now, they can be found on the first floor of Golden Mile Food Centre, at the corner nearest to the carpark.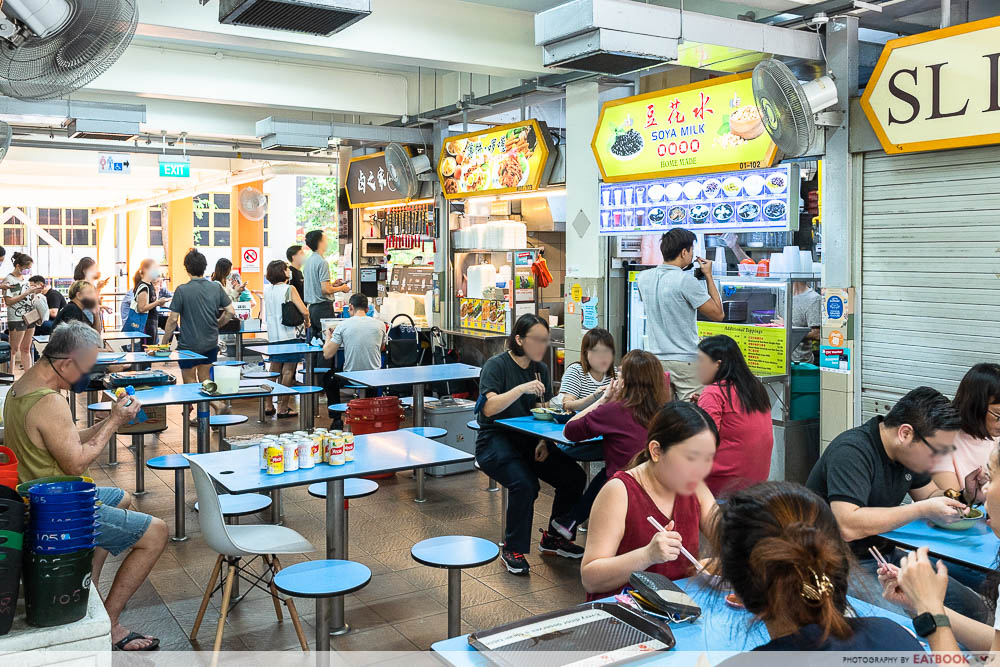 Despite the fact that the nearest MRT station, Bugis MRT Station, is a long 15-minute walk away from Golden Mile Food Centre, the stall always seems to be host to a snaking long queue that never stops growing. While we were shooting, there were many times when passersby stopped to ask where we had bought the glistening bowls of braised pork rice from. 
I would recommend digging into your orders at the hawker centre itself, so you can enjoy their food at its freshest. There are ample seats, with lots of strong fans keeping the humid heat at bay. 
The verdict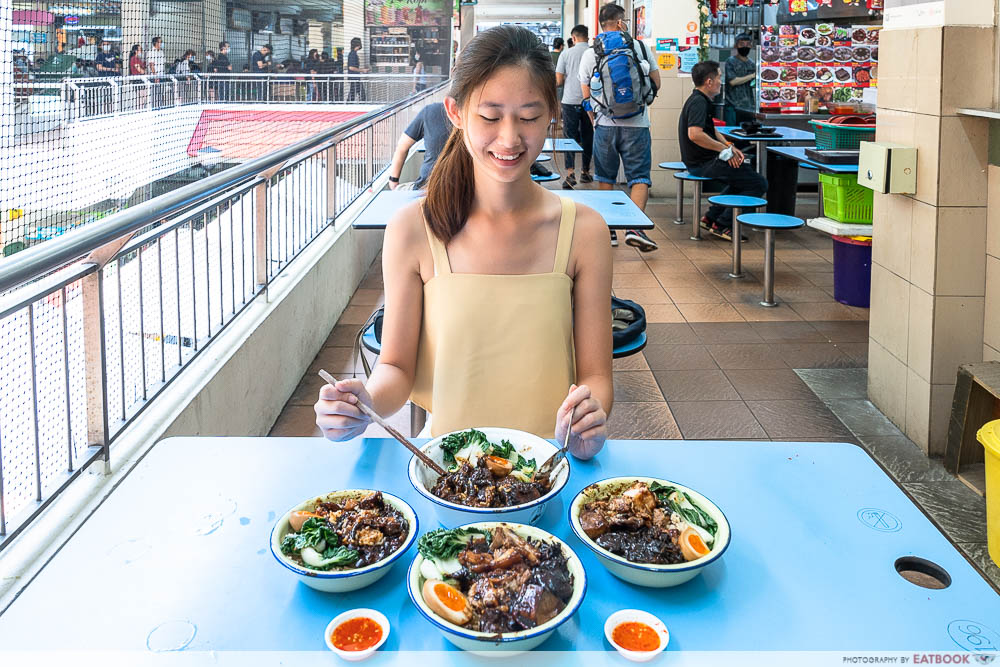 Needless to say, Braise Lu Zhi Jia has won me over with their tasty and affordable bowls of braised pork rice. I was so impressed that I went back again with my family, who enjoyed their fare as much as I did. I have a feeling that we're going to be regulars here.
I was pleased to find out that they make everything in-house too, from the savoury sauce that covers each bowl all the way down to the spicy chilli. To me, that just proves the amount of effort and passion that goes into each bowl of braised pork rice. 
If you're looking for a true Taiwanese lu rou fan to try in Singapore, check out our Want Food Taiwanese Delights review and Eat 3 Bowls review, located in Chinatown and Lavender respectively. 
Address: 505 Beach Road, #01-104, Golden Mile Food Centre, Singapore 199583
Opening hours: Tue-Sun 11am to 3pm
Tel: 8338 1583
Website
Braise Lu Zhi Jia is not a halal-certified eatery.
Want Food Taiwanese Delights Review: Cosy Cafe With Lu Rou Fan And Oyster Mee Sua Below $10 In Chinatown
Photos taken by Zadelin Wong.
This is an independent review by Eatbook.sg.
Braise Lu Zhi Jia Review: $3.50 Lu Rou Fan And Braised Pork Bowls At Golden Mile
Braise Lu Zhi Jia Review: $3.50 Lu Rou Fan And Braised Pork Bowls At Golden Mile -

8.5/10
Summary
Pros
– Braised pork was tasty
– Meat was was tender and well-cooked
– Affordable prices 
Cons
– Short opening hours
– Sells out fast
Recommended dishes: Braised Pork Belly Set ($5), Braised Pork Shank Set ($4.50) 
Opening hours: Tue-Sun 11am to 3pm
Address: 505 Beach Road, #01-104, Golden Mile Food Centre, Singapore 199583