Ipoh Zai Prawn Noodles for Ipoh-style prawn mee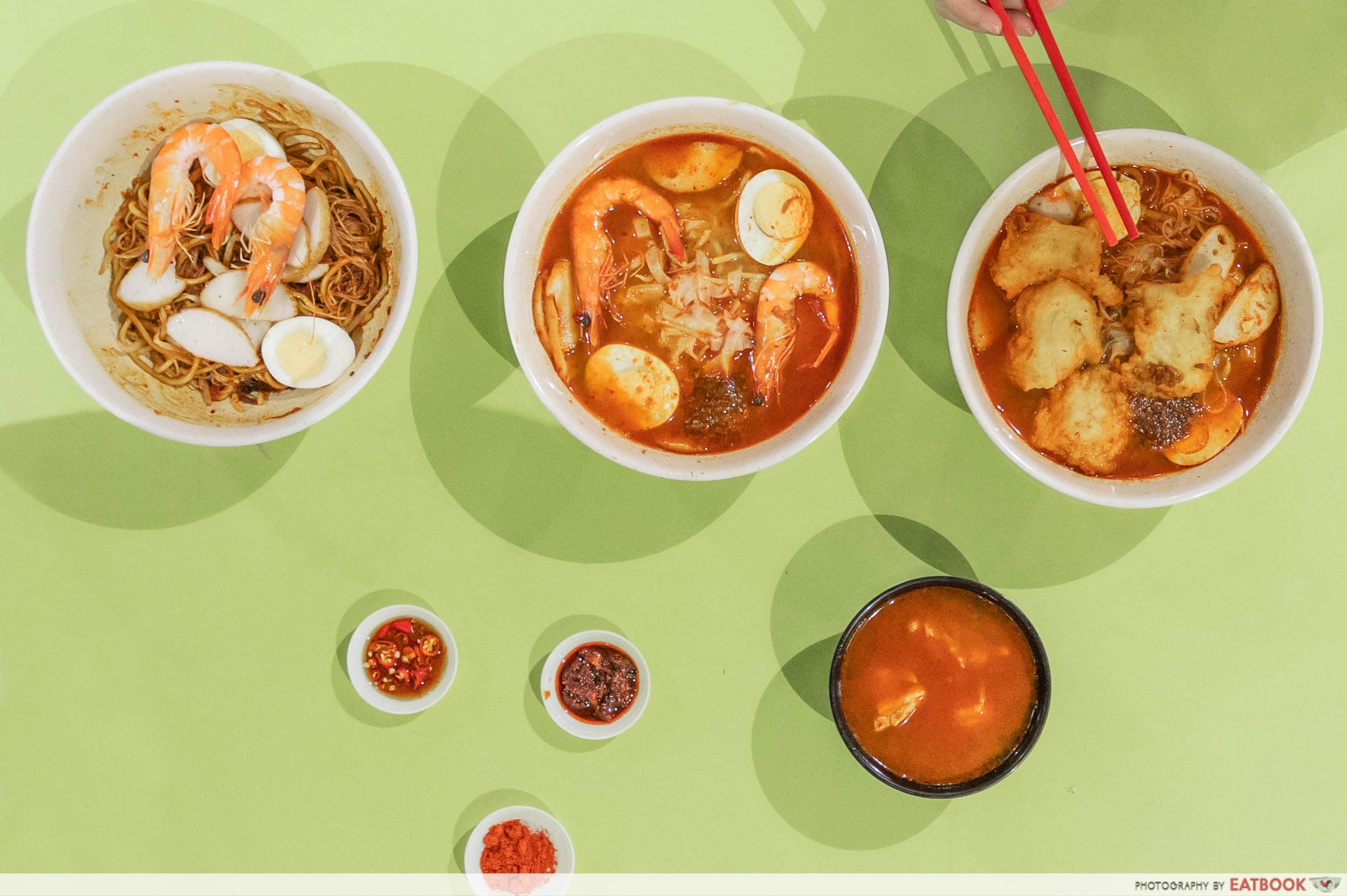 If you ask my family, they'll tell you that I love eating prawns━you might assume then that I like prawn mee a lot. In theory, yes, but I've only ever found one prawn mee stall that hit the right spot for me. When I heard about Ipoh Zai Prawn Noodles which recently gained popularity for their Ipoh-style prawn mee, I jumped at the chance to visit them, hoping to discover another good bowl of hae mee.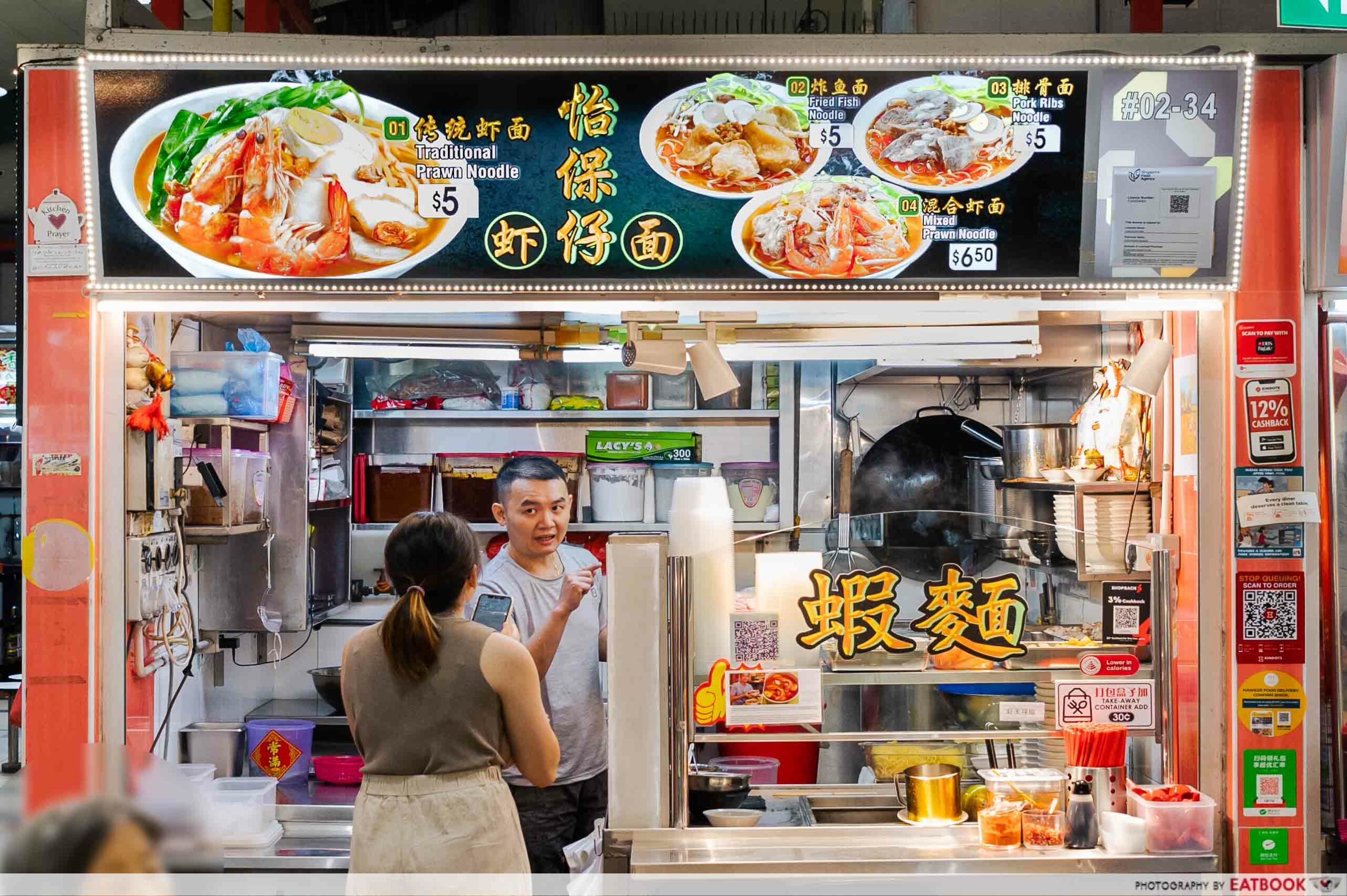 Despite being a relatively new stall in Tanjong Pagar Plaza, Ipoh Zai Prawn Noodles had actually been around for a year in Tanglin Halt Market before they relocated to Tanjong Pagar early this year, where they recently gained media coverage for their Ipoh-style prawn mee. The stall is run by Mr Ng, who hails from Ipoh and has accumulated experience in various F&B jobs since his arrival in Singapore over 20 years ago. 
Food at Ipoh Zai Prawn Noodles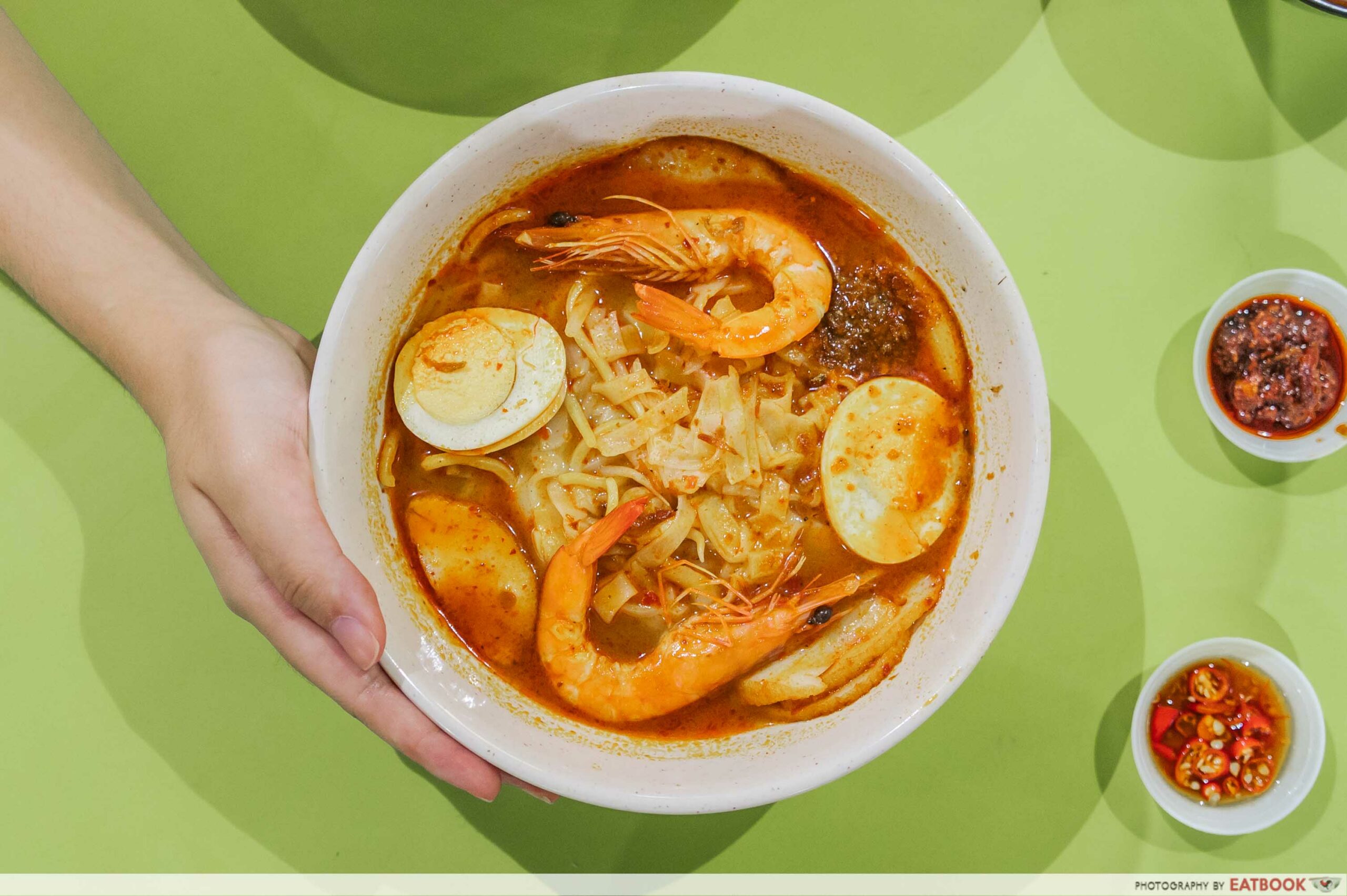 We started with the Traditional Prawn Noodle ($5). Having been simmered with blended prawn heads, pork ribs, and sambal chilli, the broth had a pleasant brininess, rich flavour and smokiness,  along with a hint of sweetness that was just right for me. I added a spoonful of their house-made hae bee hiam to the soup, which elevated its flavour and gave it an extra punch.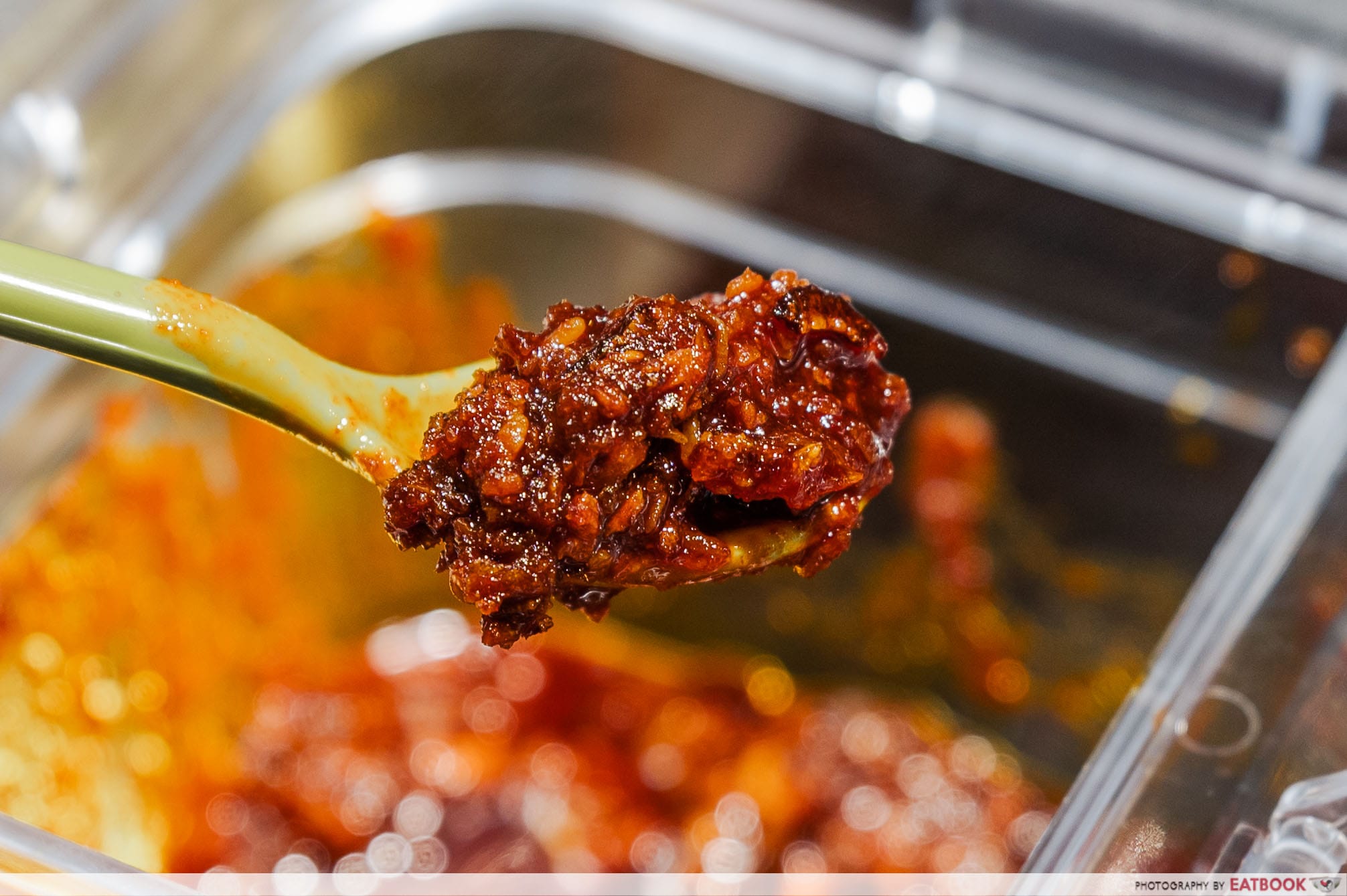 The chilli was already uber flavourful and umami, packed with crunchy bits of dried shrimp, which made it easy to enjoy on its own.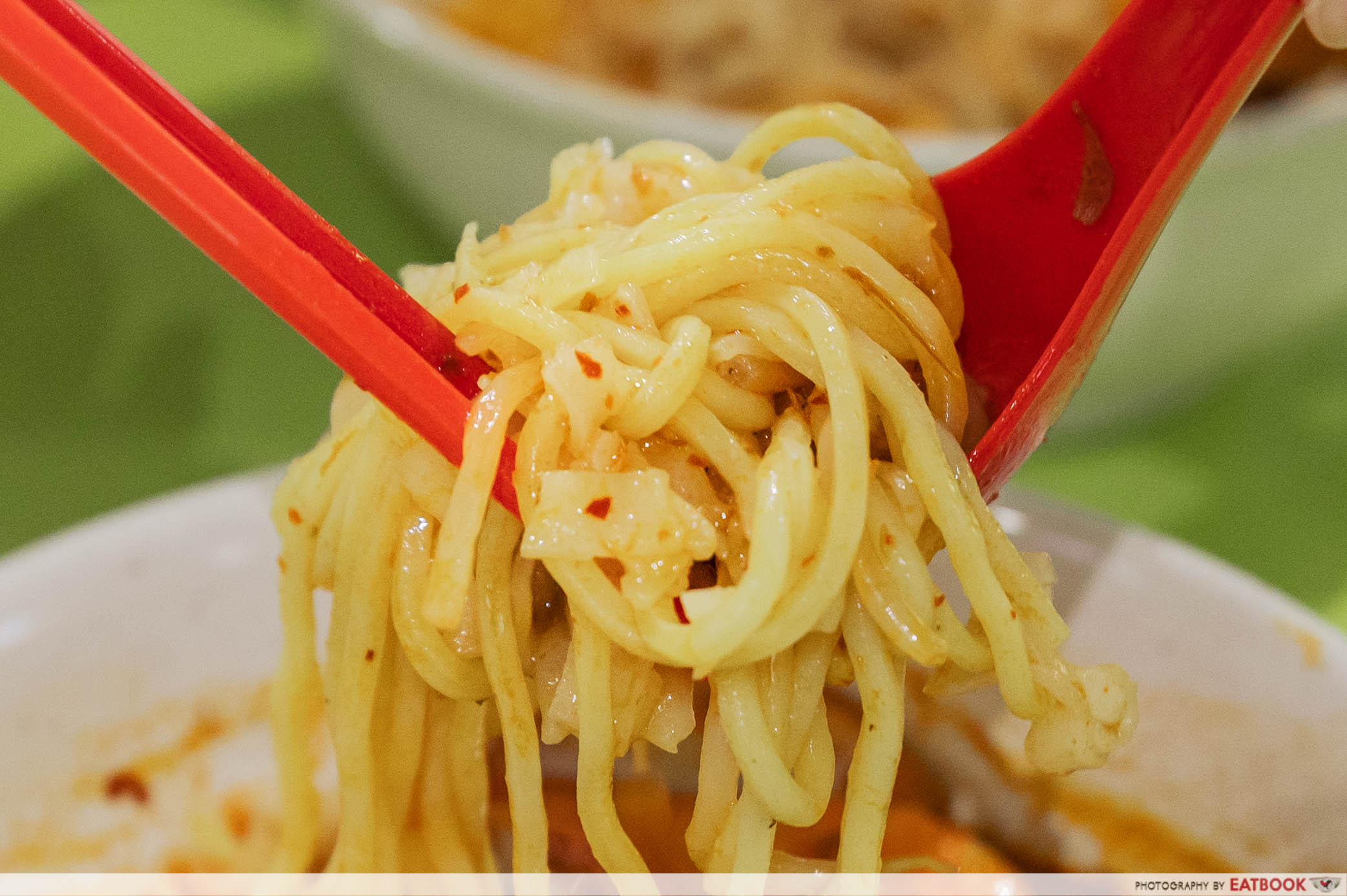 I also liked the noodle combination I picked for this bowl the most: the chewy yellow mee paired well with smooth kway teow for a fun contrast of textures. Slurping up the broth-soaked noodles was quite addictive. While seeing the pre-peeled prawns made me quite happy, I was disappointed that they tasted neither fresh nor sweet.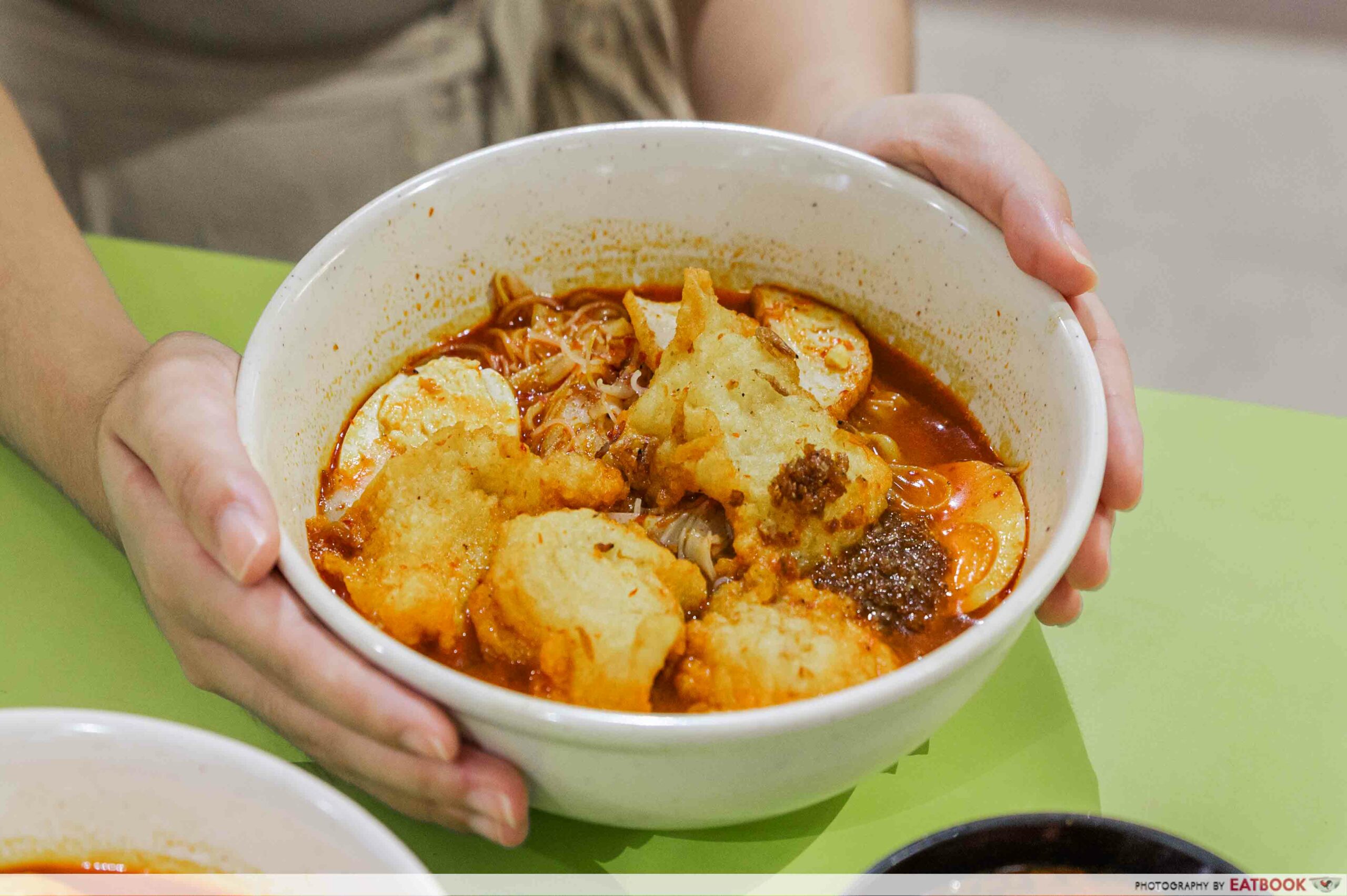 Next, we tried the Fried Fish Noodle ($5). It's worth noting that the broth in this bowl is the same as that of the other menu items. This isn't the signature dish at the stall, but it turned out to be a dish that I'd return for.  I usually prefer for my fried fish to be crispy, but this soaked up the broth, lending it extra flavour and covering up the mild fishiness in the pieces.
For this bowl, I picked a mix of bee hoon and kway teow, but the bee hoon didn't soak up the broth as well as the yellow mee, resulting in a less satisfying experience. In the future, I'd just stick to yellow mee and kway teow.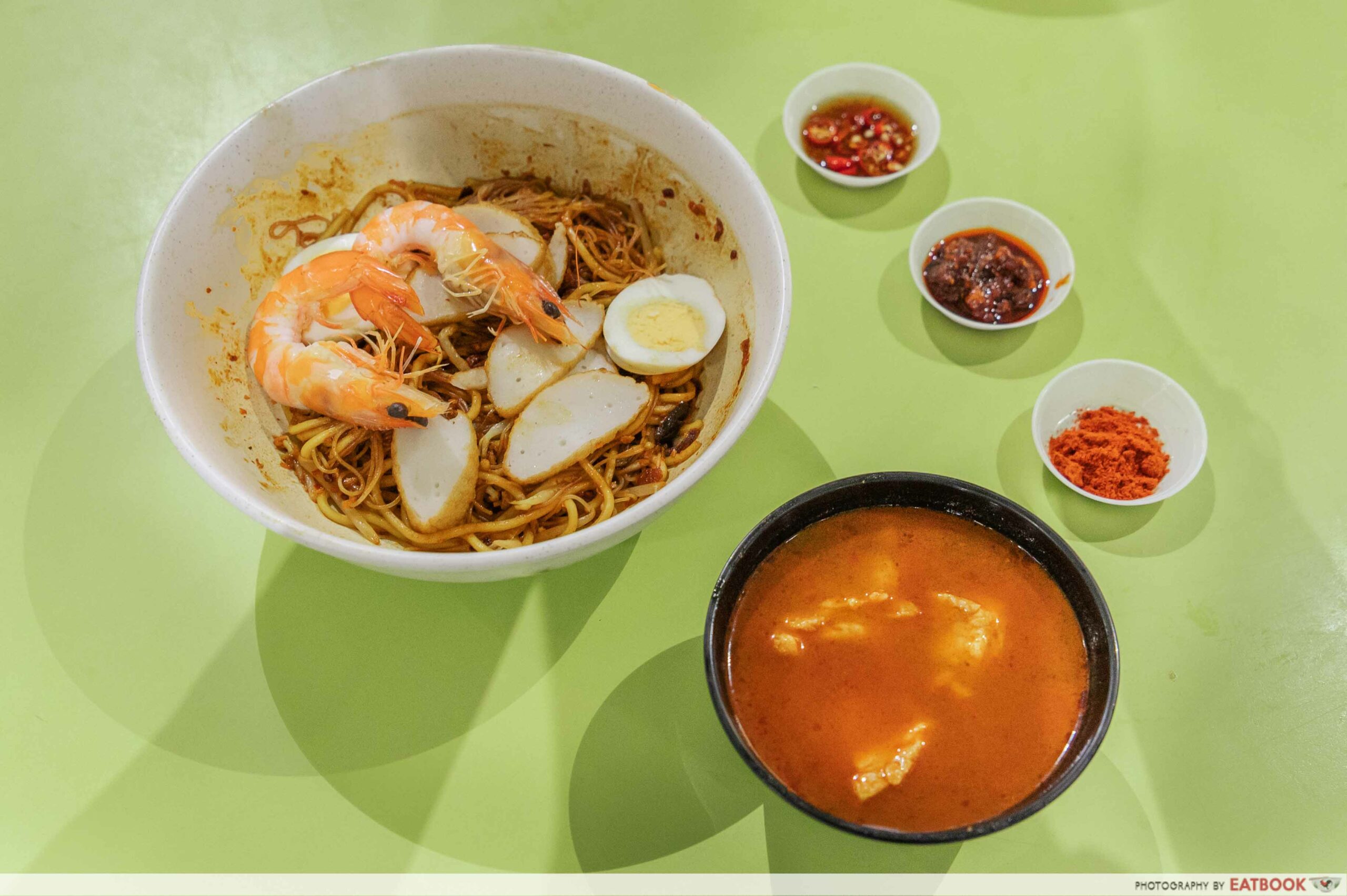 We ended with the Pork Ribs Prawn Noodle ($6.50), which we ordered dry, with chilli.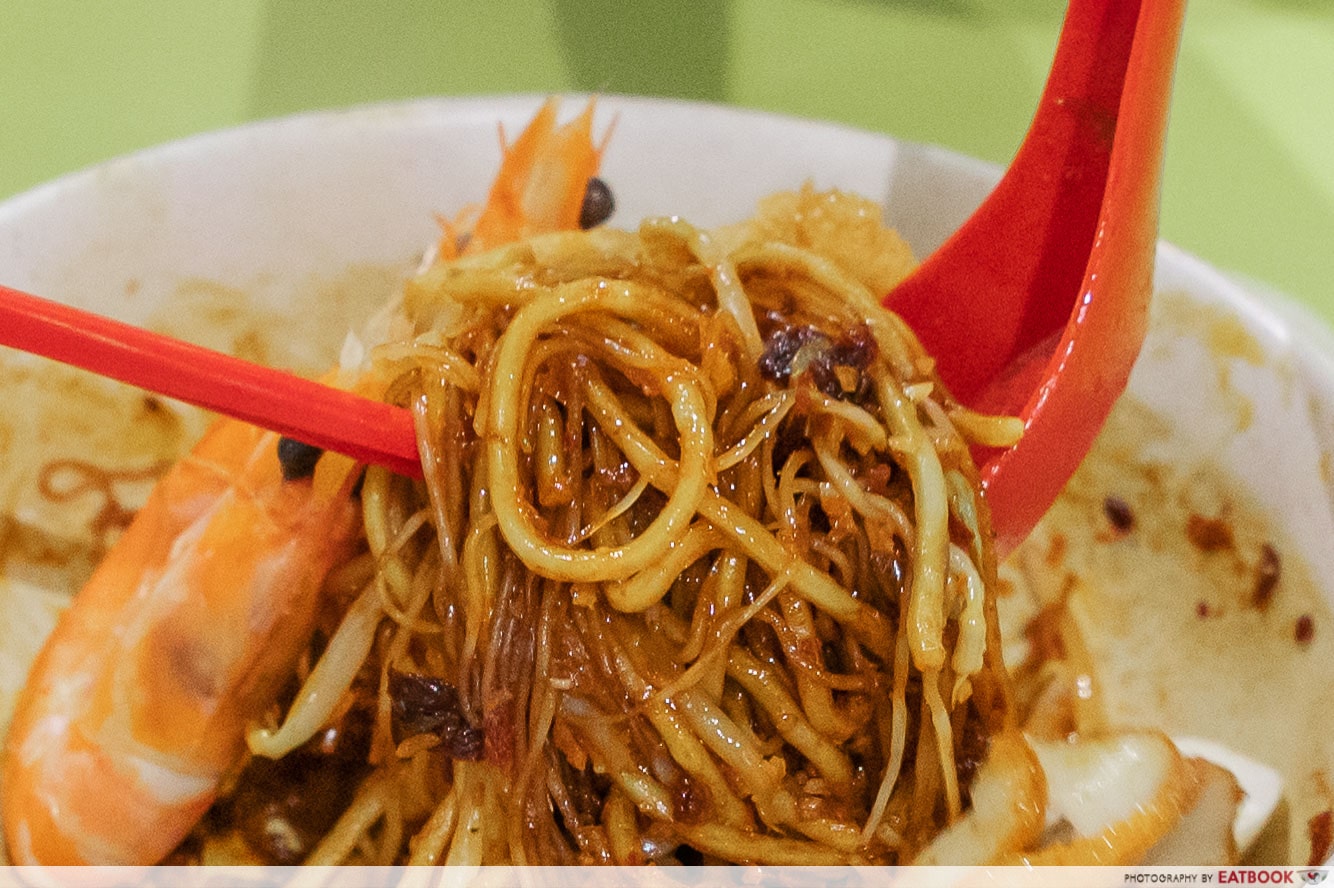 The combination of bee hoon and yellow mee tossed with the sauce mix was deliciously flavourful, without being too oily. Besides the tasty smooth noodles, the occasional crunchy bits of dried shrimp made the dish super addictive, making up for the absence of the fried shallots commonly offered at other prawn mee stalls. 
In spite of being a mala xiao la kind of person, I didn't find this spicy at all. However, if you're a huge fan of spicy food, feel free to load up on the chilli. There's tau gey in these noodles, whose taste I felt interfered with the flavours of the dish, so I would recommend asking for them to be excluded━especially if you hate tau gey.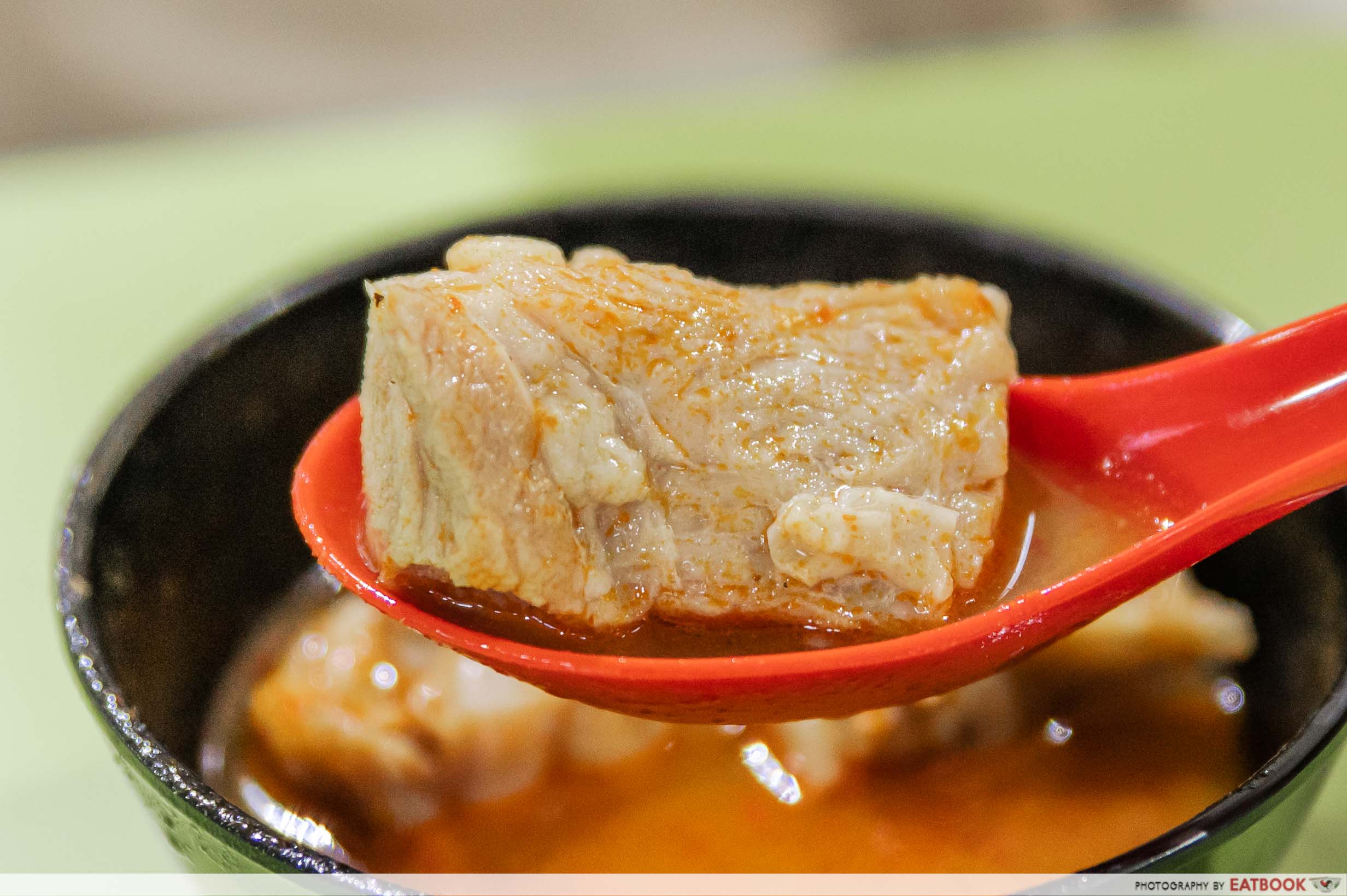 The pork ribs came in a bowl of the prawn broth on the side and were tender with gelatinous fatty bits that added a burst of flavour. While observing Mr Ng's food preparation, I noticed that the pork ribs were pre-soaked in broth, which probably contributed to the pork's rich flavour. 
Ambience at Ipoh Zai Prawn Noodles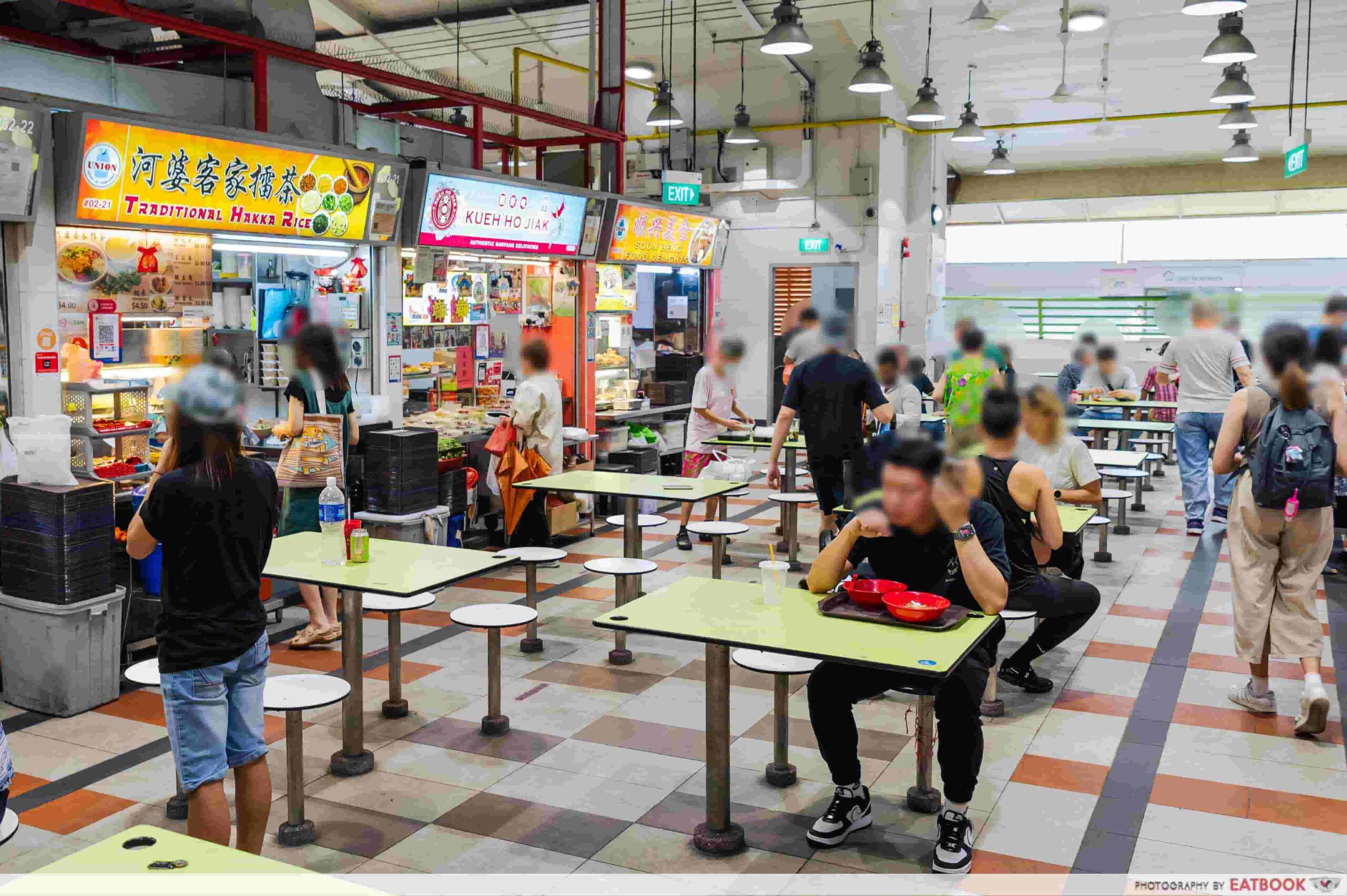 Ipoh Zai Prawn Noodles is located at Tanjong Pagar Plaza, which is just a four-minute walk from Tanjong Pagar MRT Station. When we arrived at 10am, we didn't encounter a queue, so I could take my time to order. They close pretty early, so do plan your visit here accordingly.
The hawker centre has plenty of seats, but we found that many seats were already occupied by breakfast-goers when we were there. Nevertheless, the space is clean and well-ventilated, making for a comfortable dining experience. 
The verdict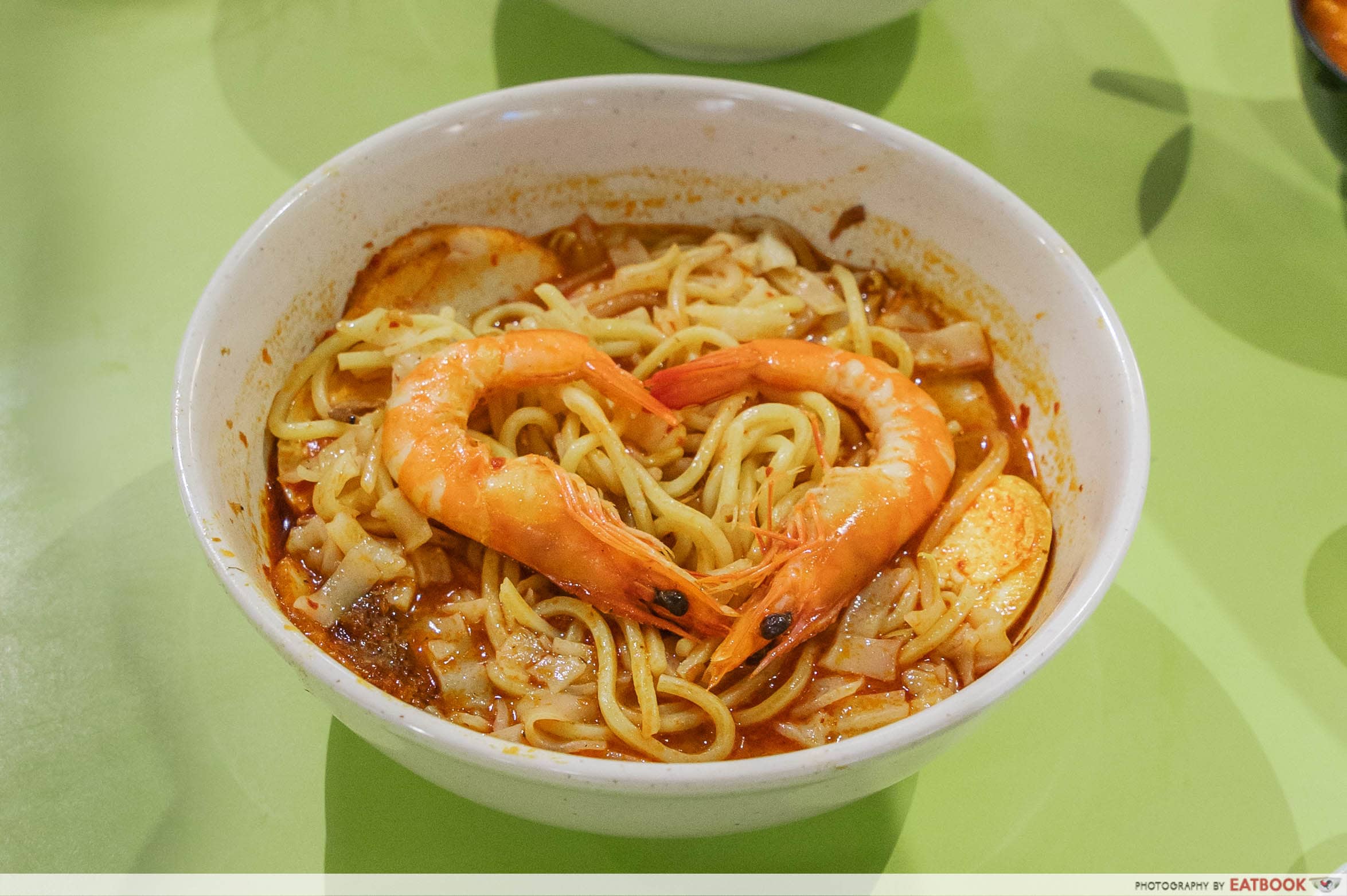 I thoroughly enjoyed the dry prawn noodles and broth-soaked fried fish, though my favourite stall had much tastier prawns. The prawn noodle soup was overshadowed by the dry version, but I would still recommend it for those who like prawn mee soup. Remember to add lots of their chilli if you can take the spice!
If you'd like more prawn mee, read our guide to the best prawn mee stalls in Singapore! Otherwise, for more food in the hood, check out Cake Spade for strawberry tofu cheesecake and more desserts!
Address: 6 Tanjong Pagar Plaza, #02-34, Tanjong Pagar Plaza Market & Food Centre, Singapore 081006
Opening hours: Daily 8am to 1pm
Tel: 8157 8089
Ipoh Zai Prawn Noodles is not a halal-certified eatery. 
​​Cake Spade Reopens In Tanjong Pagar With Strawberry Tofu Cheesecake And More
Photos taken by Ke-ian J Leong.
This was an independent review by Eatbook.sg
Ipoh Zai Prawn Noodles Review: Ipoh-style Prawn Mee In Tanjong Pagar With Shiok Sambal
Ipoh Zai Prawn Noodles Review: Ipoh-style Prawn Mee In Tanjong Pagar With Shiok Sambal -

8/10
Summary
Pros
– Dry prawn mee has flavourful and well-cooked noodles
– House-made hae bee hiam elevates flavour of broth
– Convenient location
Cons
– Prawns were tasteless
Recommended dishes: Traditional Prawn Noodle (dry) ($5), Fried Fish Noodle (soup) ($5)
Opening hours: Daily 8am to 1pm
Address: 6 Tanjong Pagar Plaza, #02-34, Tanjong Pagar Plaza Market & Food Centre, Singapore 081006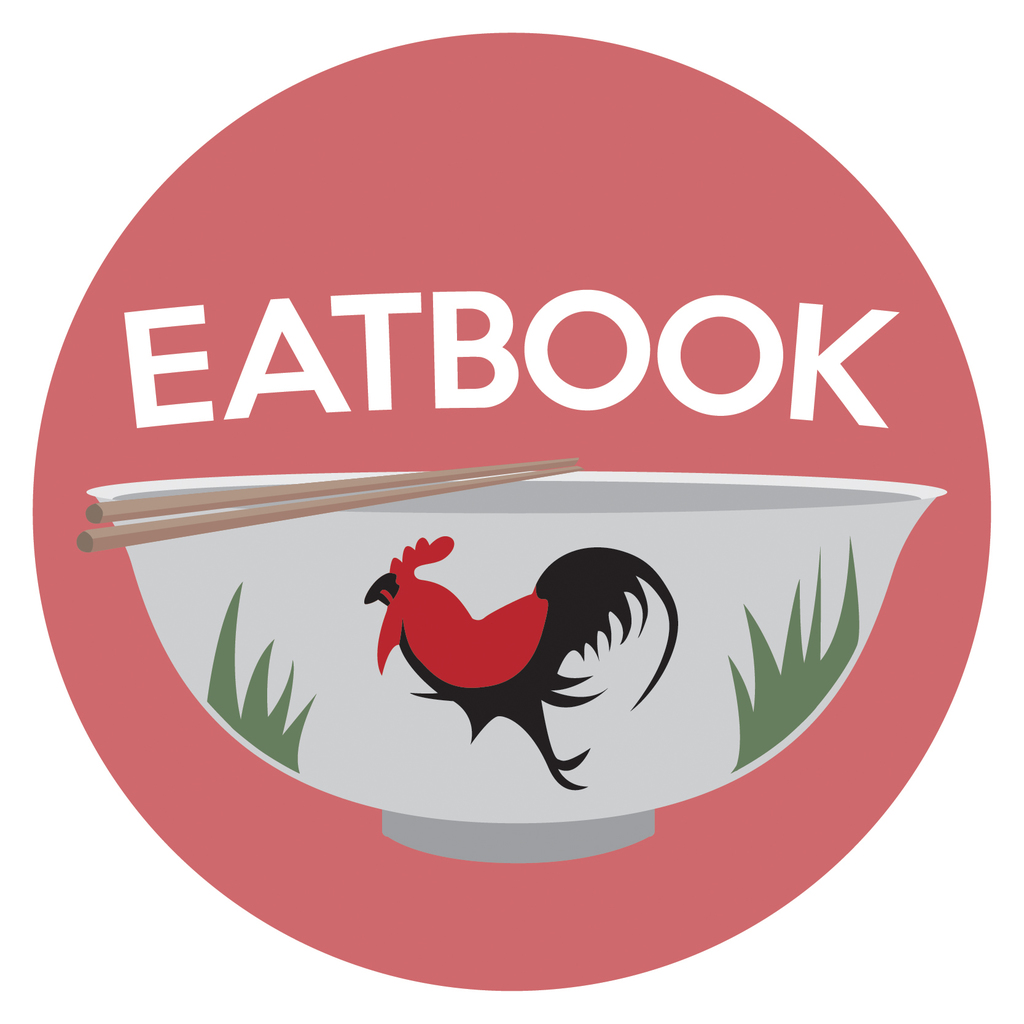 Drop us your email so you won't miss the latest news.