Mr. Bready has unique spins on traditional huat kueh in Queenstown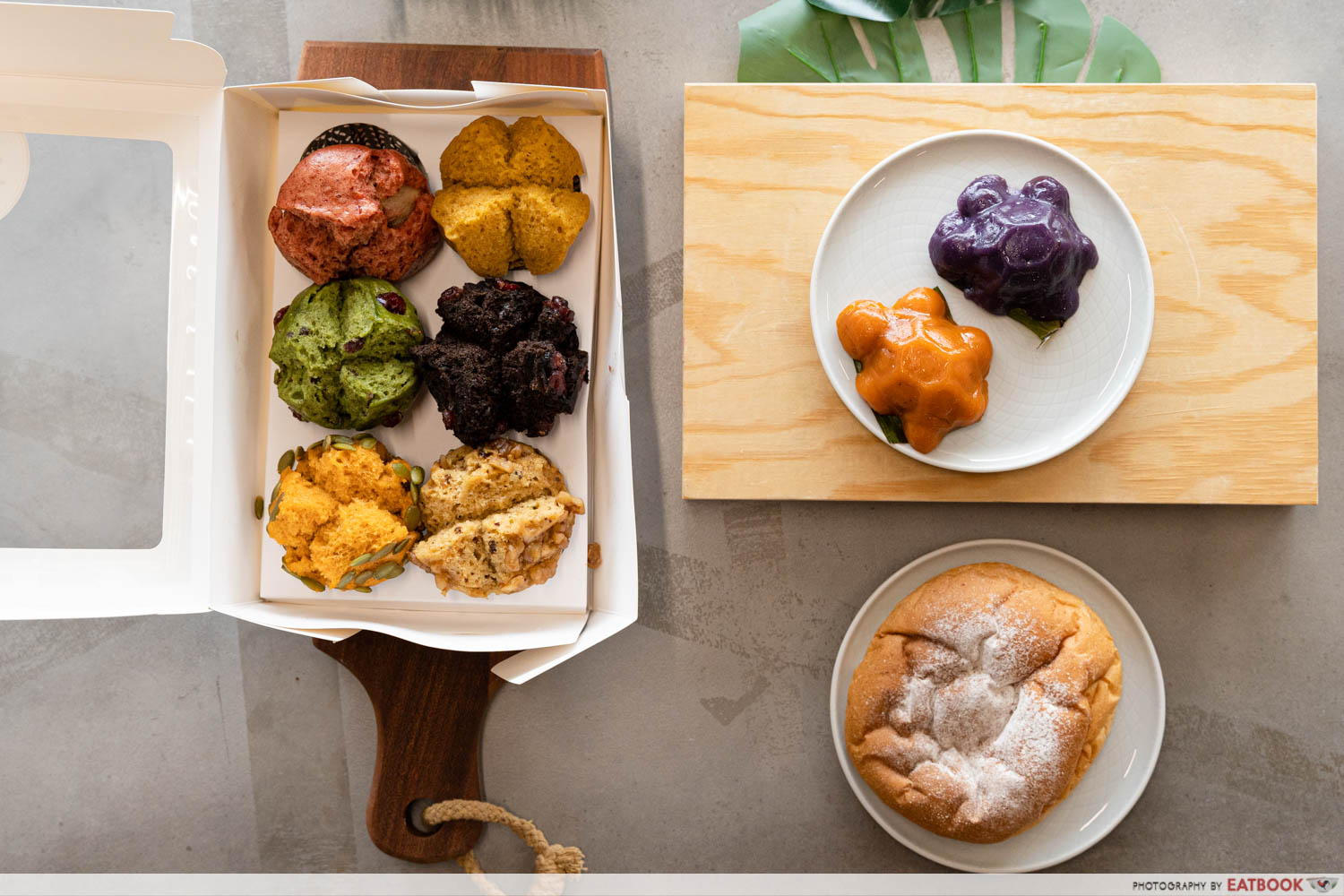 As a child, I always thought huat kueh was reserved solely as altar offerings. Turns out, they were edible—my mother just never told me otherwise because she didn't want to handle me on a huat kueh-induced sugar high. Luckily for her, the uniquely flavoured, colourful huat kueh we tried from Mr Bready were not sugary sweet, making them a perfect, if unusual tea time snack.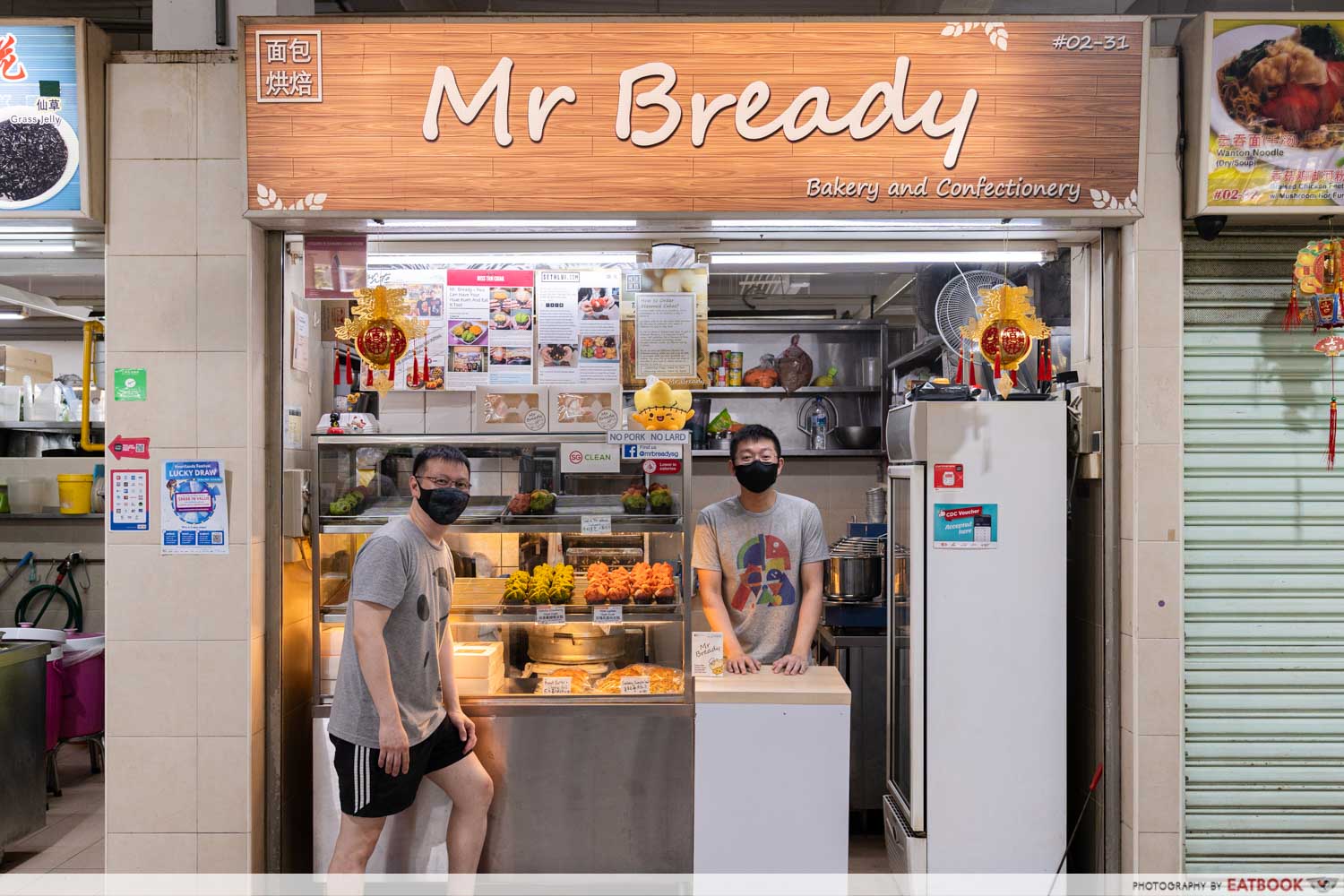 Mr Bready was started by two friends, Rodney and Jason, almost eight years ago! They first sold only bread—hence the name, but expanded to include their famous huat kueh by request of their elderly patrons. Chatting with them, I noticed that it's not just the elderly stopping by for kueh to eat and pray with though, but a rather diverse mix of adults and schoolchildren as well. 
I was impressed to hear that huat kueh making was something they picked up on the job and not a family recipe. Keeping their older customers in mind, the huat kueh here is much softer and more palatable. Plus, it's less sweet owing to the use of sweet potato in place of sugar, a healthier alternative they discovered by experimenting with a surplus of sweet potato they had one day.
Beulah Kitchen Review: Unique XXL Mushroom Chwee Kueh, Har Cheong Chicken Pasta And More In Chinatown
Food at Mr Bready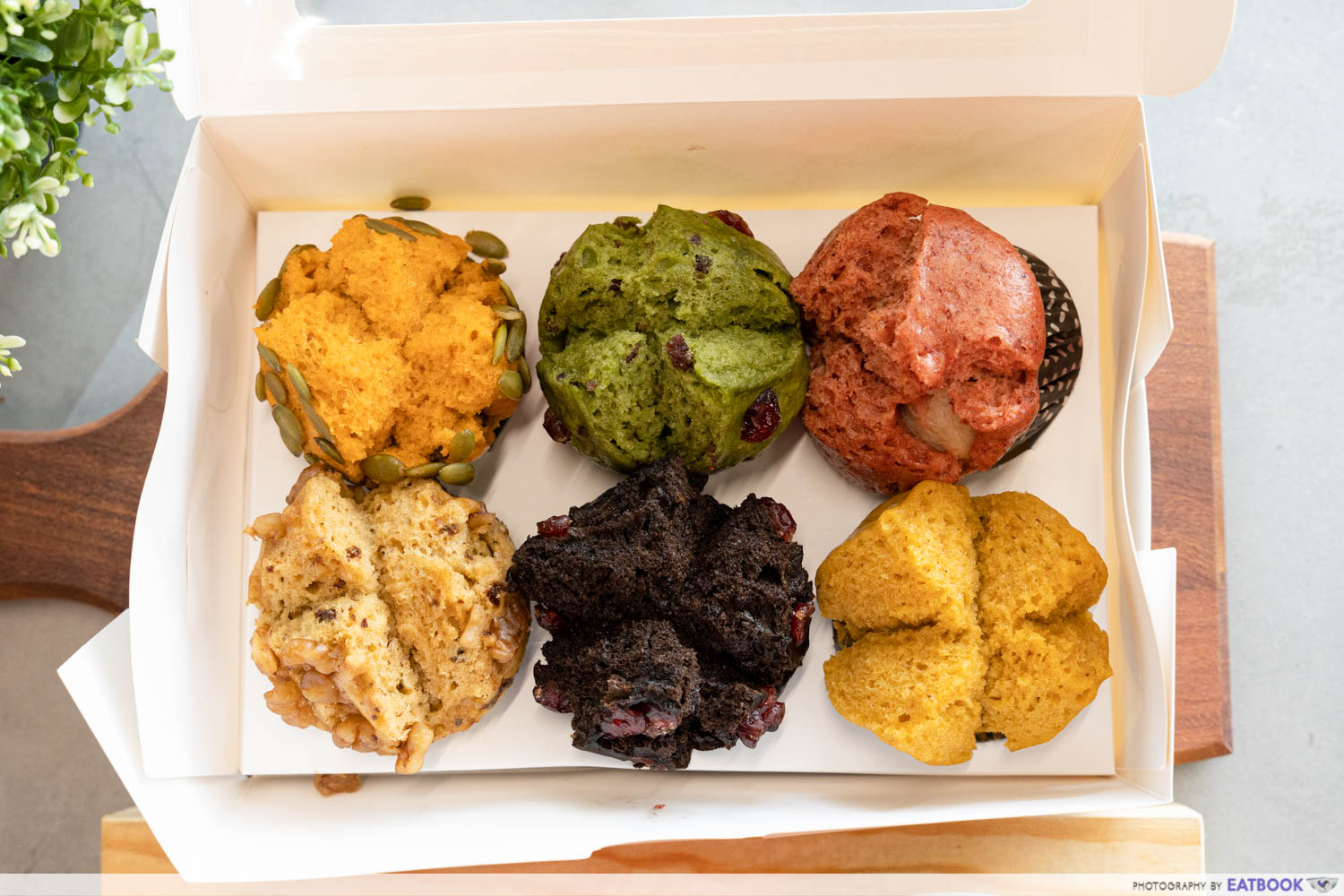 Mr Bready's huat kueh were all soft and extremely fluffy, looking very much like a cross between a muffin and a steamed cake. They have some 30-odd flavours of huat kueh available throughout the year, and we decided to try all six flavours they were making on the day we visited. 
It's advisable to contact them beforehand on Whatsapp or social media to know and reserve what bakes they have the next day, as they can sell out in the early afternoon.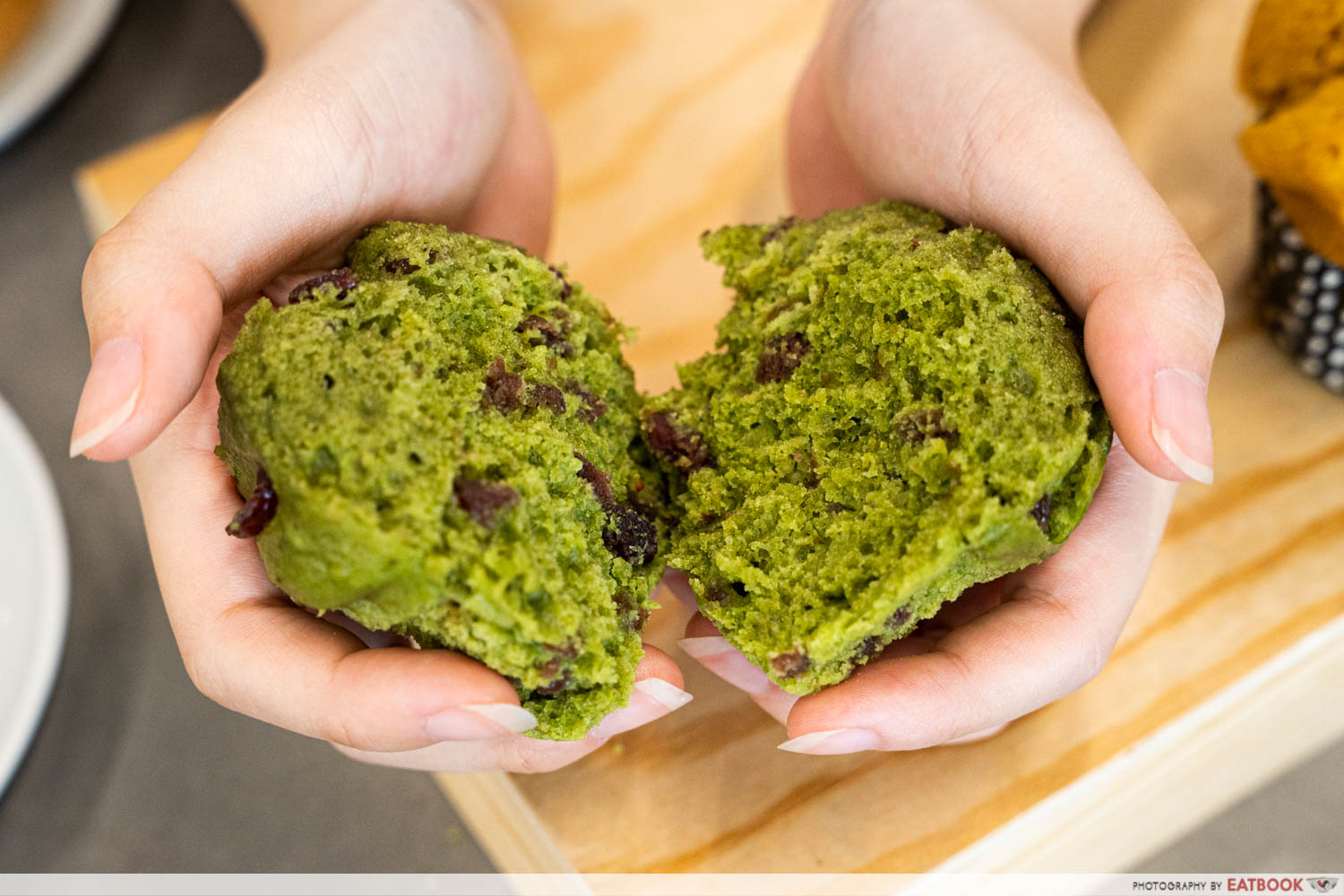 As I'd never eaten huat kueh in my life, I figured that the best way to give an objective tasting (and to finish the huge amount we bought) was to invite some of the elderly women in my neighbourhood to share the kueh with me. 
First off, the Sweet Potato Dried Longan ($2). This was my personal favourite, due to the many varied subtle flavours I could taste in this kueh, from the sweet potato, to the longan and pumpkin seeds. It was also one of the less sweet kueh, which was appreciated by all of us.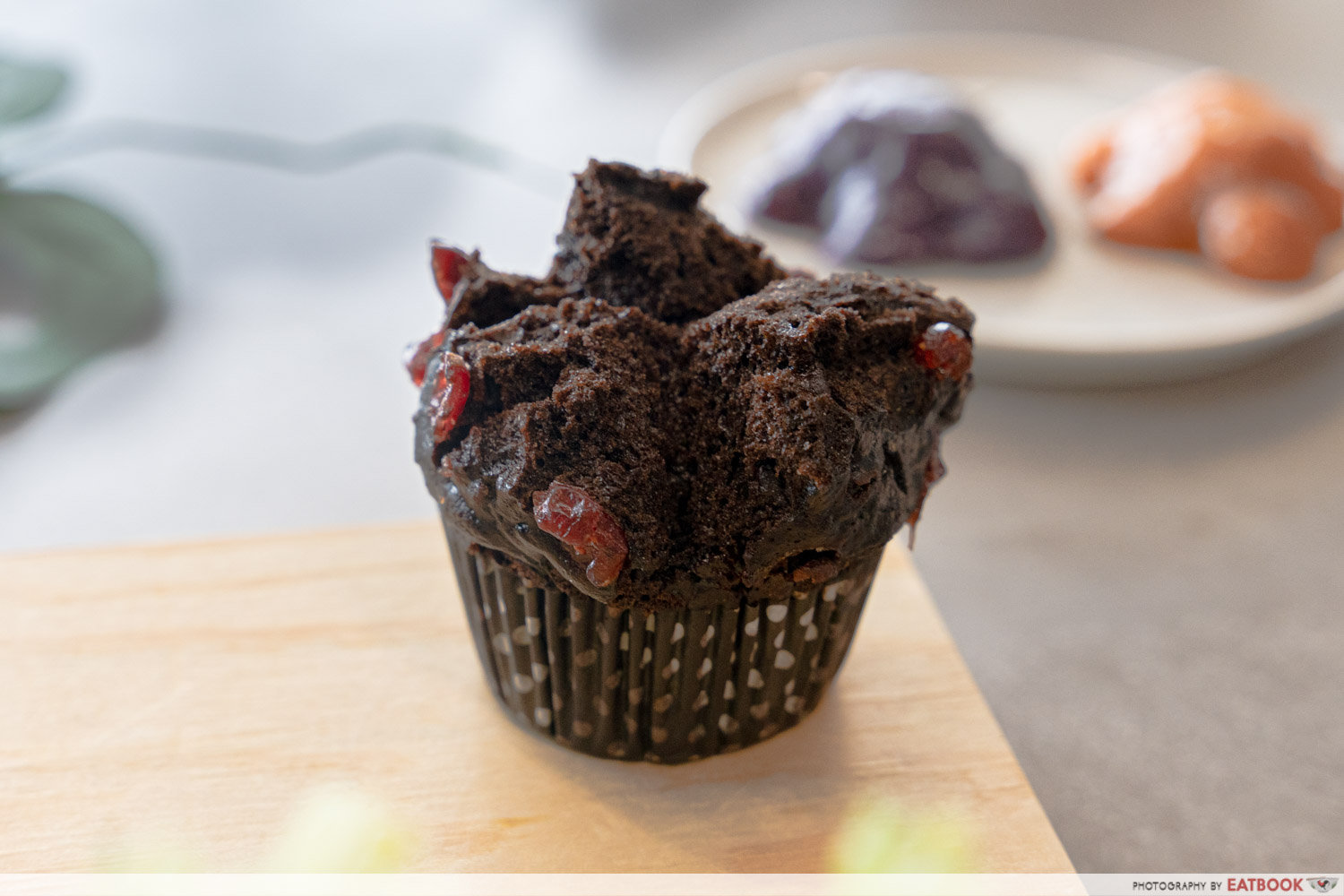 The Dark Chocolate Cranberry ($2) was one of the most popular flavours of huat kueh at the stall, and was the most memorable kueh among the elderly aunties. It was also the closest to a muffin out of all the kueh, a particularly moist dark chocolate sponge with chocolate chips and sweet cranberries for texture. If you were to introduce someone to huat kueh, this would be the most palatable option.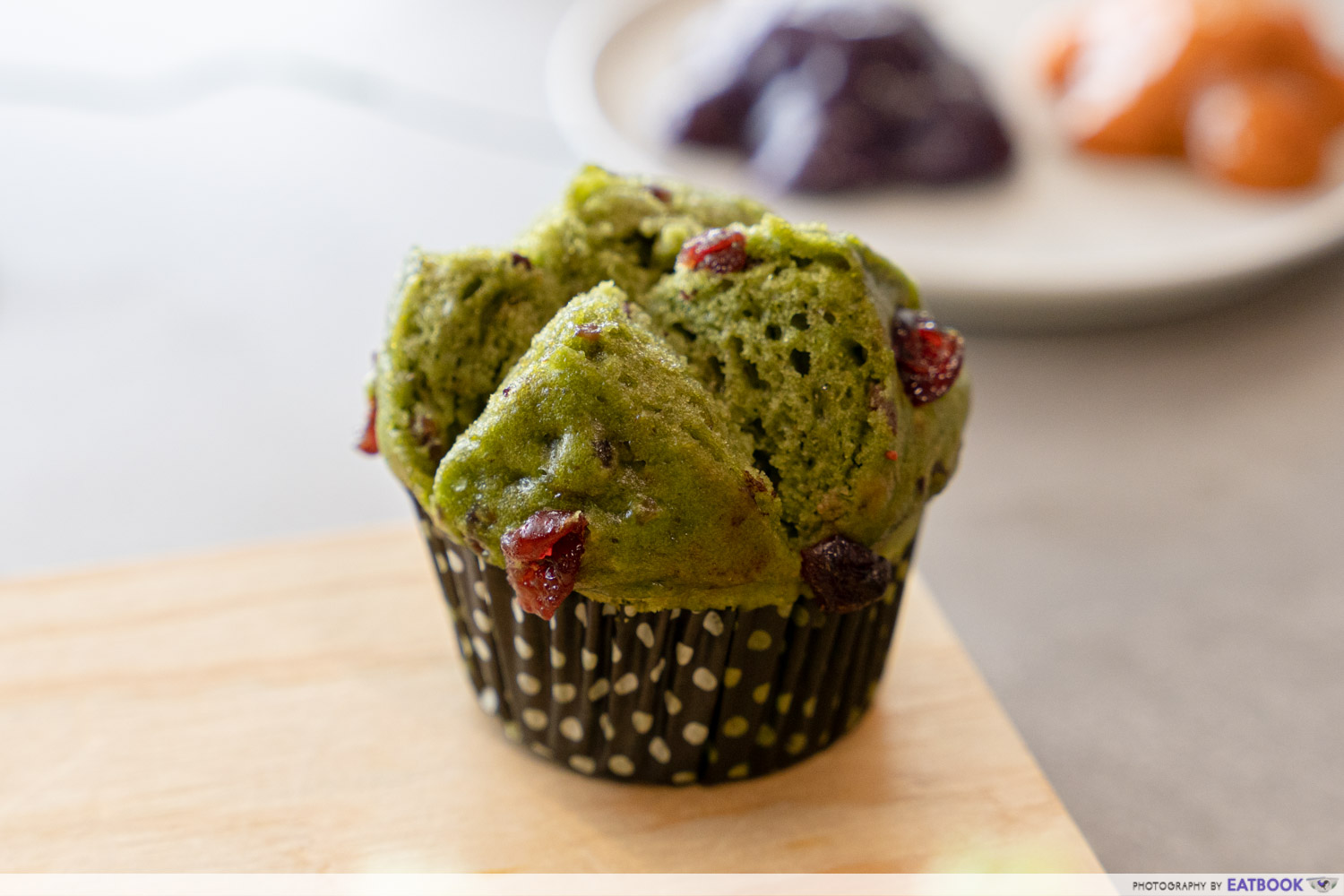 On the other hand, Matcha Cranberry ($1.80) was the least favourite. Personally, I thought it had a slightly funky taste, and it was possibly a little too bitter and dry due to the matcha powder. Other than the pops of flavour from the cranberry, this was the least sweet huat kueh. One of the aunties said that if it was conventionally paired with a moist red bean paste, she would have liked it better.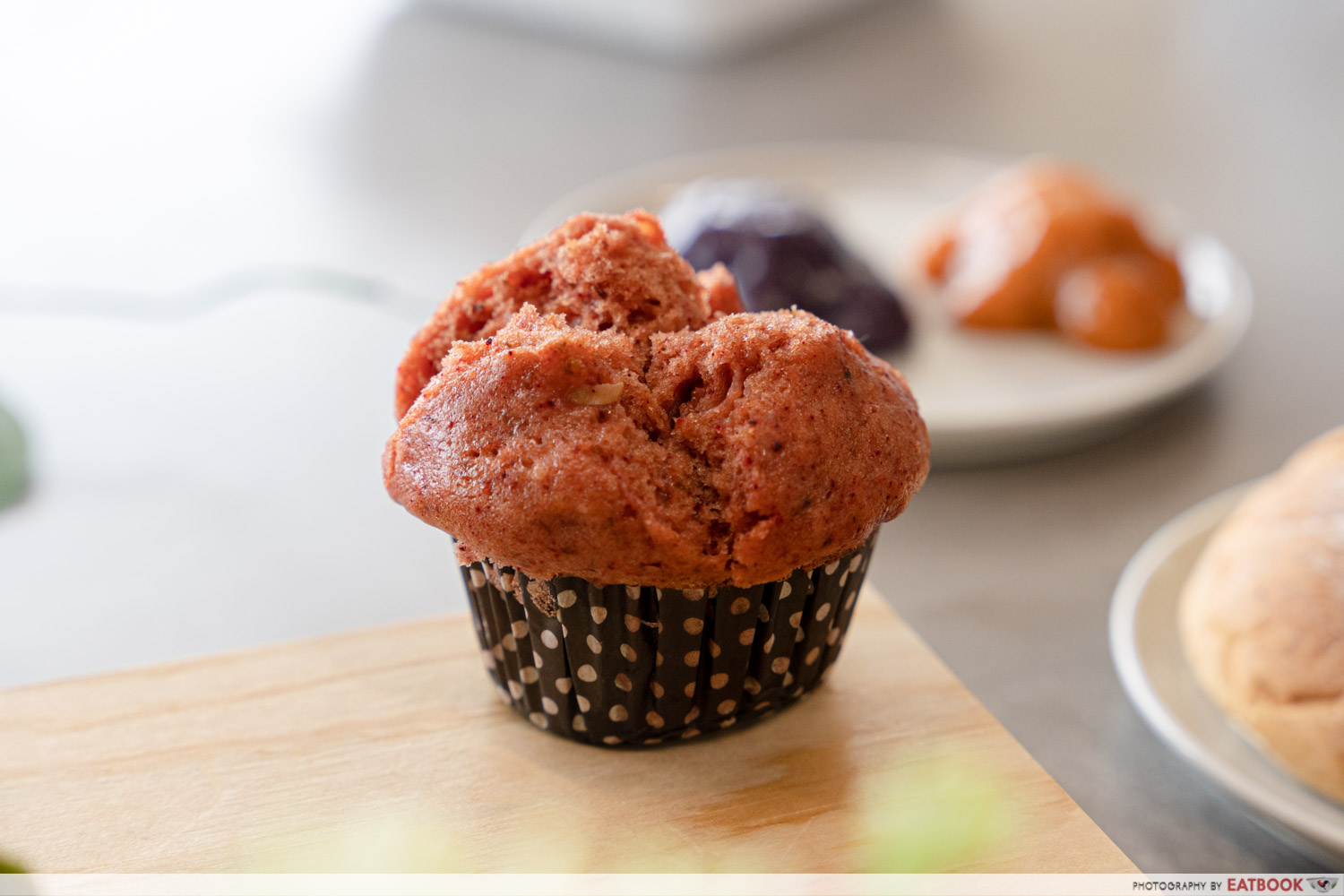 The Rose Lychee ($2) was one of the most striking kueh we tried due to its vibrant pink colour and floral aroma. It was also the sweetest of the lot, which was not to my liking but was popular with the group of 80 and 90-year-olds, who enjoyed the unique bandung-flavoured kueh. If you like floral notes and sweet lychee, you'd enjoy this one.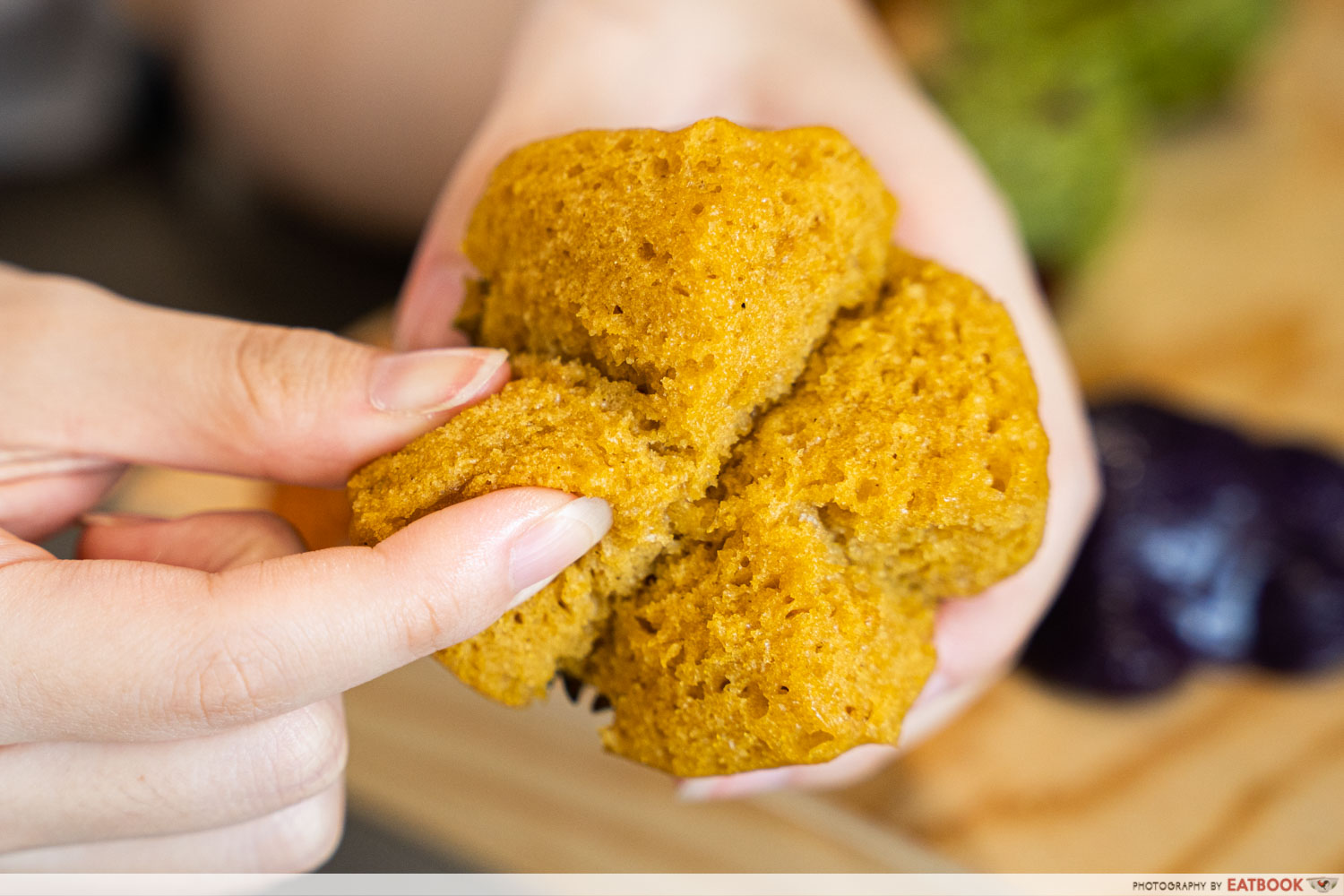 The Gula Melaka ($1.80) looked like the plainest of the lot, but had a fragrant scent and wasn't as sweet as expected. Oddly enough, the ladies couldn't really differentiate the taste between it and the Raisin Walnut ($1.80), aside from the walnuts on the top of the raisin walnut huat kueh. 
I wasn't a raisin fan, and preferred the simpler gula melaka flavour, which I could see myself having for a light breakfast or quick snack while working.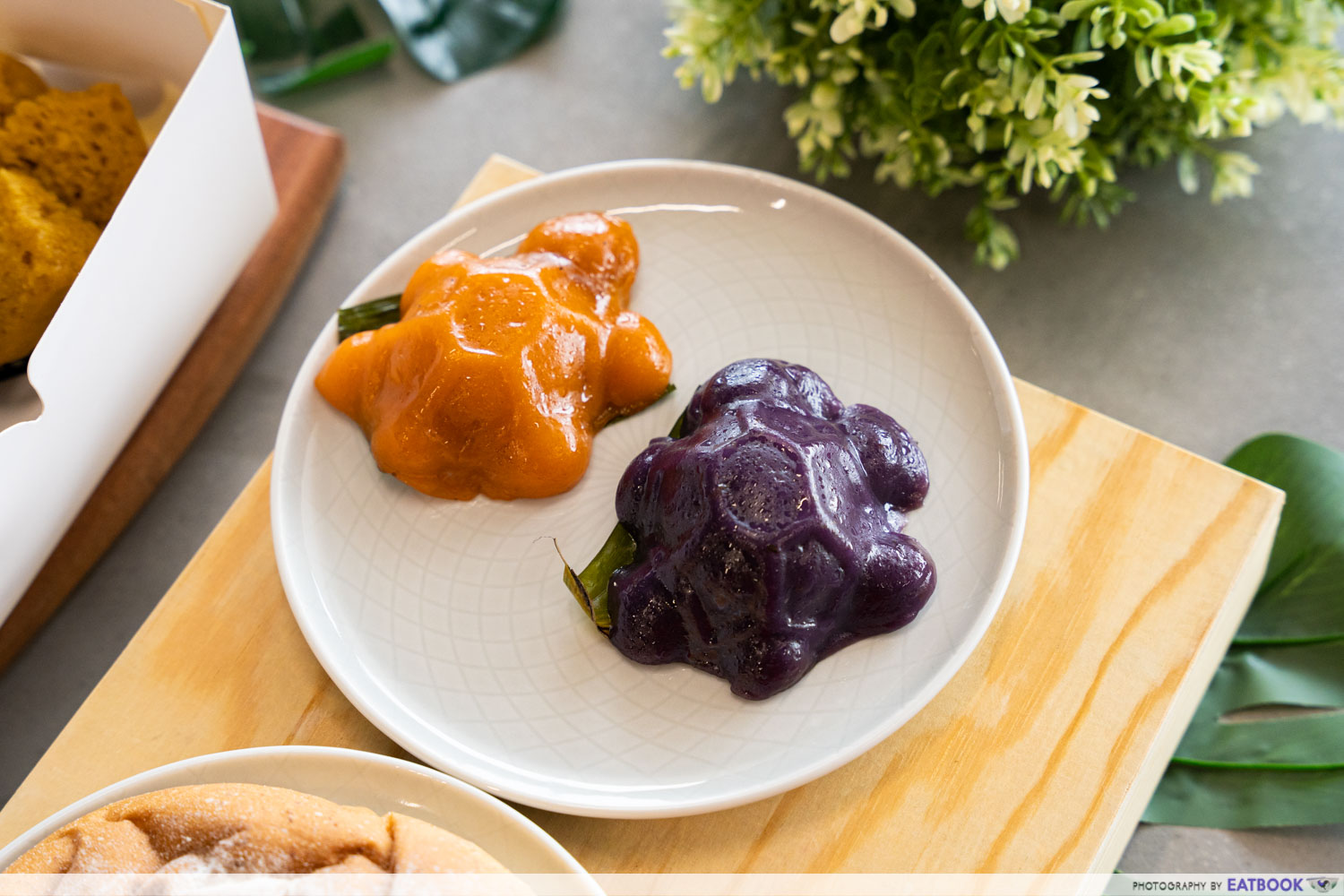 Mr Bready also sells other products such as ang ku kueh, though these are made in tortoise shaped moulds for a fun change. We got the Purple Sweet Potato Ang Ku Kueh ($1.60) and a more orange-red Peanut Ang Ku Kueh ($1.60).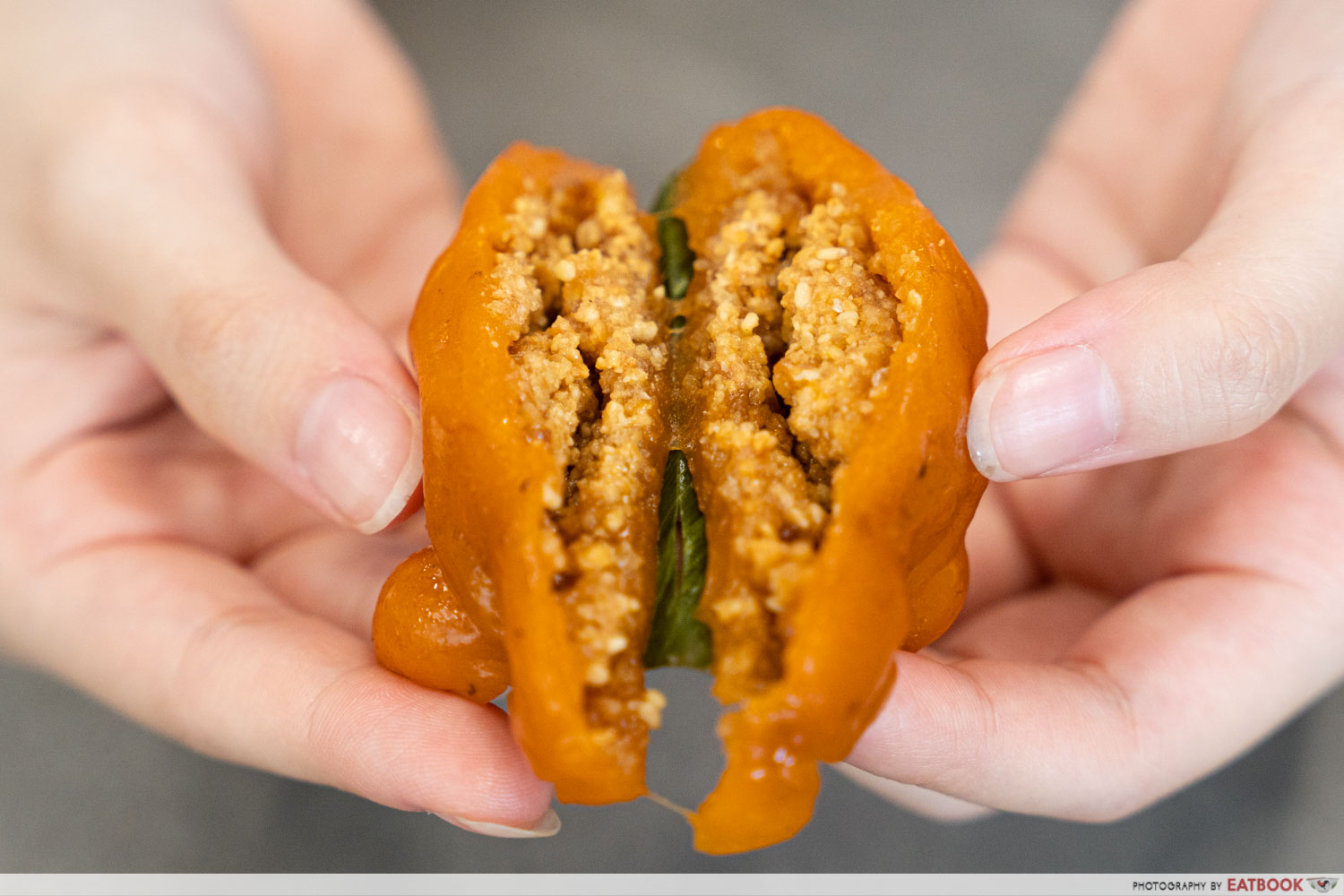 I preferred the peanut ang ku kueh due to the gritty peanut filling providing some varied texture in the kueh, but that's just a personal preference. The filling was not too dry in both cases and there was a generous ratio of filling to thin, stretchy skin. 
If I had any criticism, it's that there was a little too much oil brushed over the ang ku kueh skin—my fingers came away all shiny and slick touching them. But otherwise, I really enjoyed the ang ku kueh here.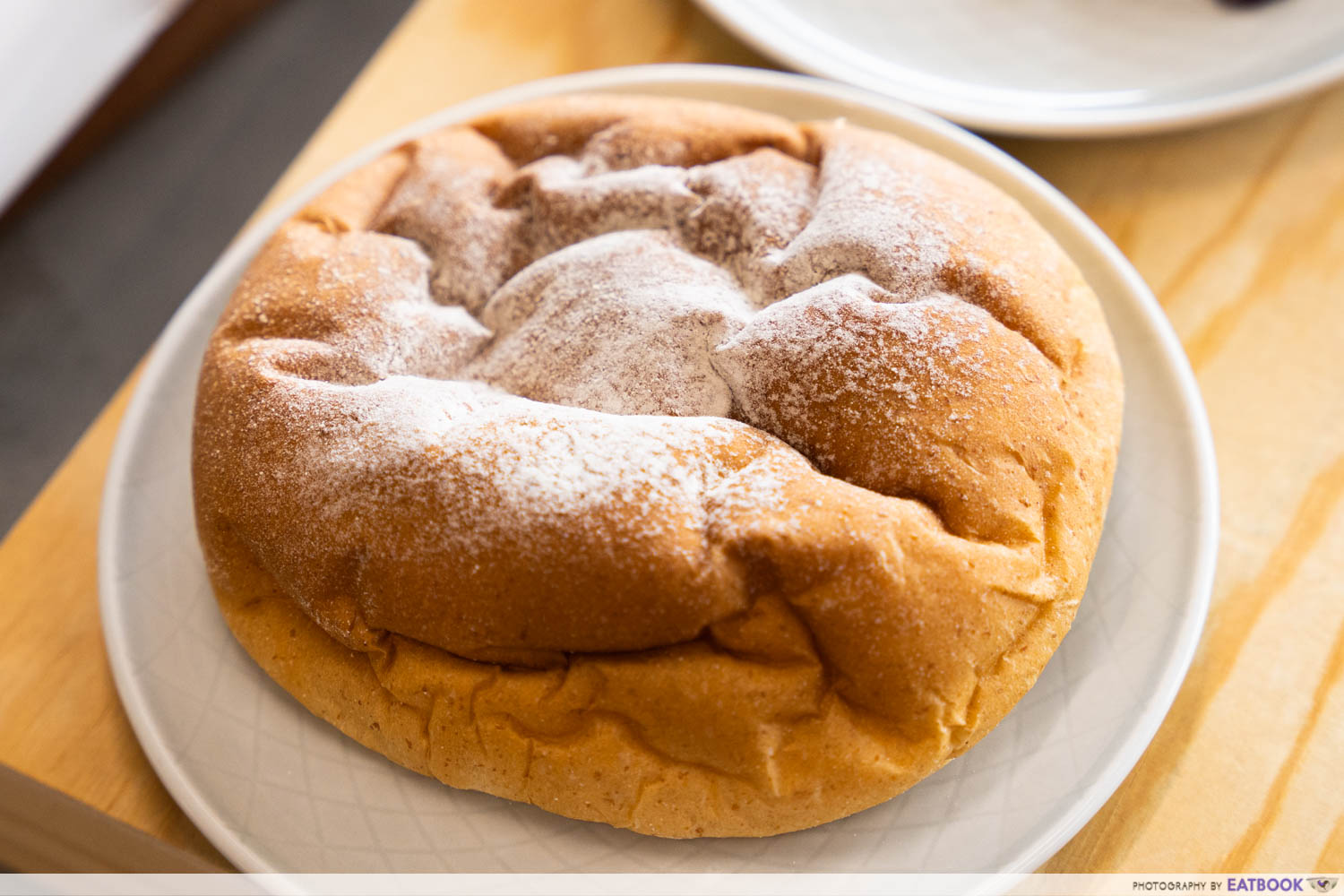 Finally, we got their signature Wintermelon Mochi Wholemeal Bun ($2), which was also known as the Lao Po Wholemeal Bun. My colleague and I had marvelled over how soft to the touch it was, bouncing back after every gentle poke.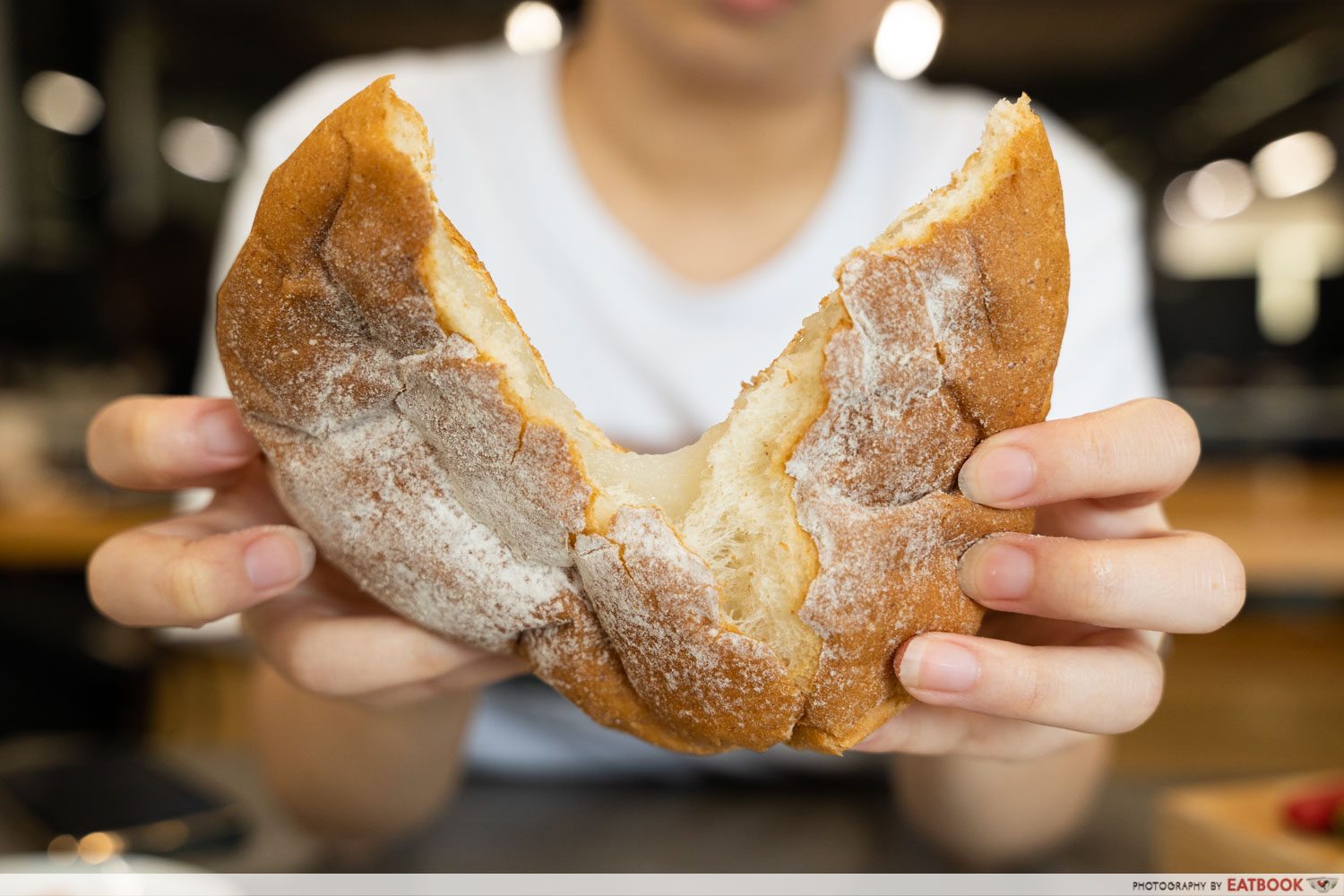 Made with premium Japanese flour, this was a large bun with a sweet, stretchy mochi filling that made it a delight to chew. It also wasn't very sweet, and I enjoyed the subtle melon taste within the bun. Most people come for the huat kueh, but I think their bread and other offerings are definitely worth a taste. 
This Golden Mile Hawker Makes Old-School Nyonya Kueh Including Ginger Ang Ku Kueh For $2
Ambience at Mr Bready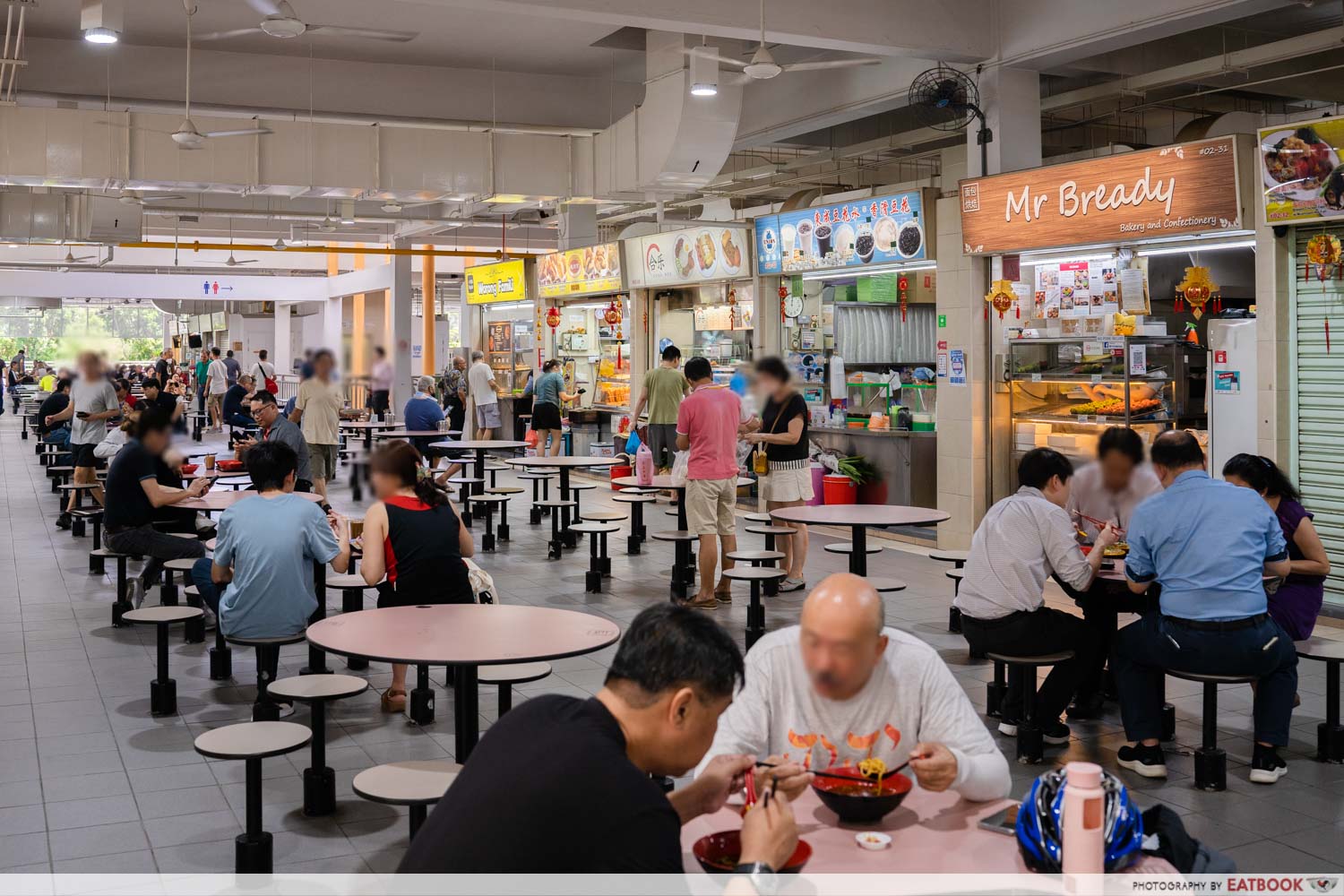 Located in Mei Lin Market, the hawker centre is nestled within an older HDB estate roughly an eight minute walk from Queenstown MRT Station. It's a little hard to get to, but there are large signs on the way that let you know you're in the right direction. 
The hawker centre itself is a little dim and small, but even around lunchtime it's not extremely crowded and you'd be able to find a seat if you wish to eat your kueh there and then. Otherwise, all the items sold at Mr Bready come in takeaway boxes or plastic bags, so you eat them in the comfort of your own home. 
12 Nyonya Kueh Stores Serving Traditional Handmade Treats Your Grandmother Will Love
The verdict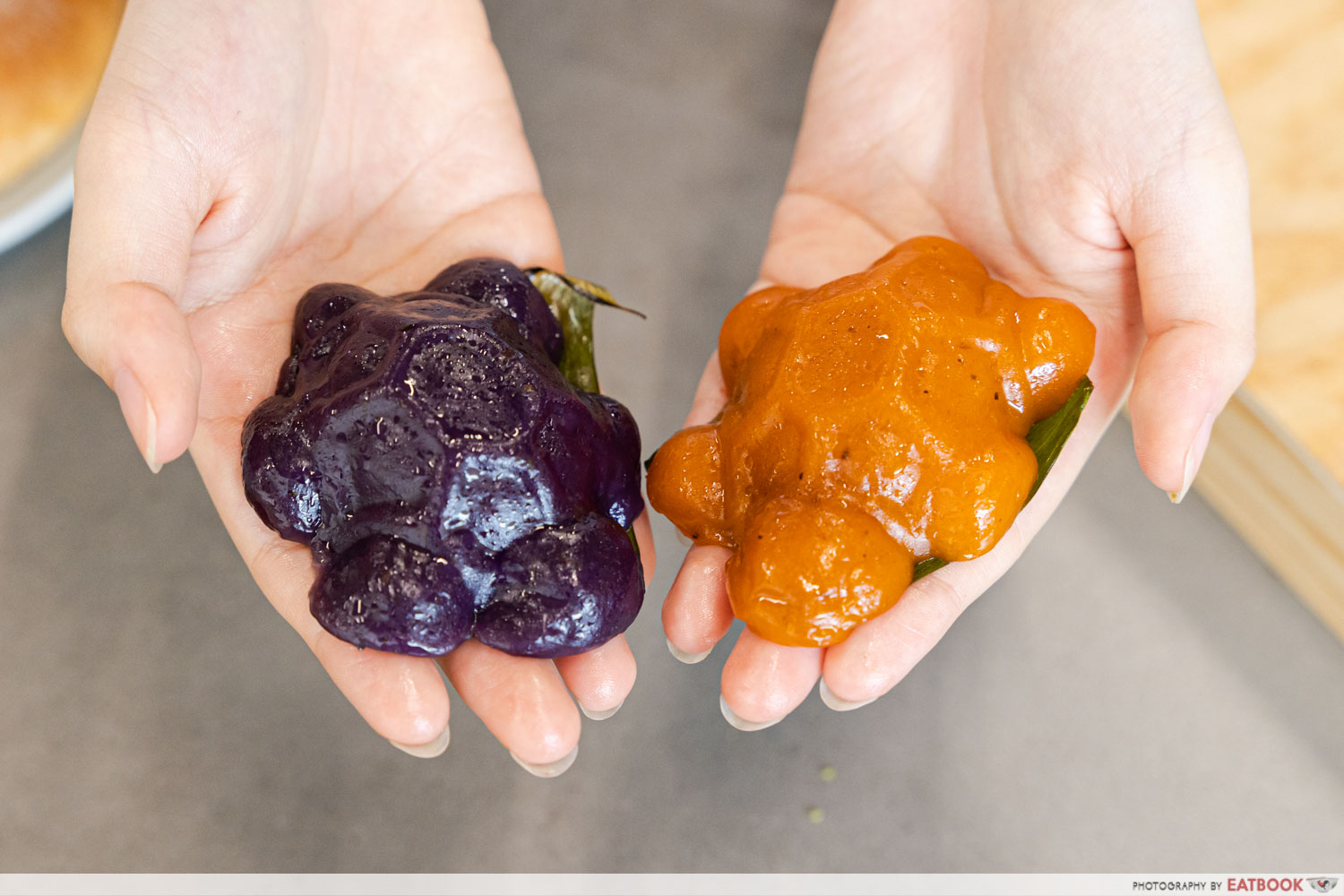 For my first time trying huat kueh, the ones made at Mr Bready had set my standards sky high, while their ang ku kueh and mochi bread was incredibly yummy. Best of all, my friendly neighbourhood aunties test group were all rather delighted by the bakes I got, so I imagine I'll be back to try their other bakes and play delivery girl too. 
For more delicious yet unconventional kueh, read our Beulah Kitchen Review for savoury fusion versions of kueh. Otherwise, check out Kueh And Snacks in Bukit Merah for some more traditional kueh offerings. 
Address: 159 Mei Chin Road, #02-31, Mei Ling Market, Singapore 140159
Opening hours: Wed-Sun 9am to 3pm
Tel: 9018 3083
Website
Mr Bready is not a halal-certified eatery but uses no pork or lard.
Kuehs And Snacks: Handmade Teochew Kueh With Over 30 Years Of History
Photos taken by Rifdi Syafir
This was an independent visit by Eatbook.sg 
Mr. Bready Review: Colourful Sweet Potato Huat Kueh, Mochi Bread, And Tortoise Ang Ku Kueh in Queenstown
Mr. Bready Review: Colourful Sweet Potato Huat Kueh, Mochi Bread, And Tortoise Ang Ku Kueh in Queenstown -

8/10
Summary
Pros
– Very creative bakes
– Delicious
Cons
– Matcha Cranberry Huat Kueh was a bit dry
– Might have to wait a while if they haven't finished preparing what you wanted
– Close to MRT on the map, but not the easiest location to find on foot
Recommended dishes: Wintermelon Mochi Wholemeal Bun ($2), Assorted Huat Kueh ($1.80/$2)
Opening hours: Wed-Sun 9am to 3pm
Address: 159 Mei Chin Road, #02-31, Mei Ling Market, Singapore 140159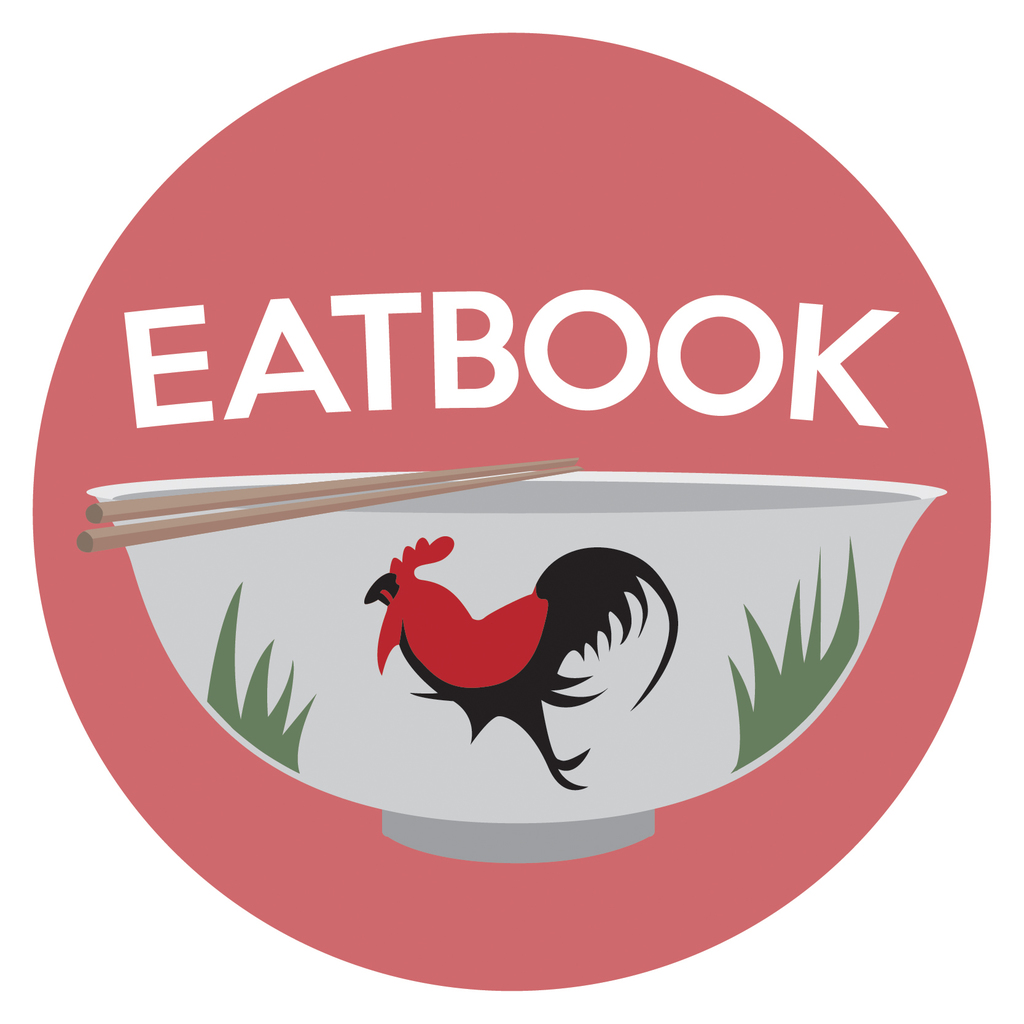 Drop us your email so you won't miss the latest news.