Beulah Kitchen in Chinatown for unique kueh and more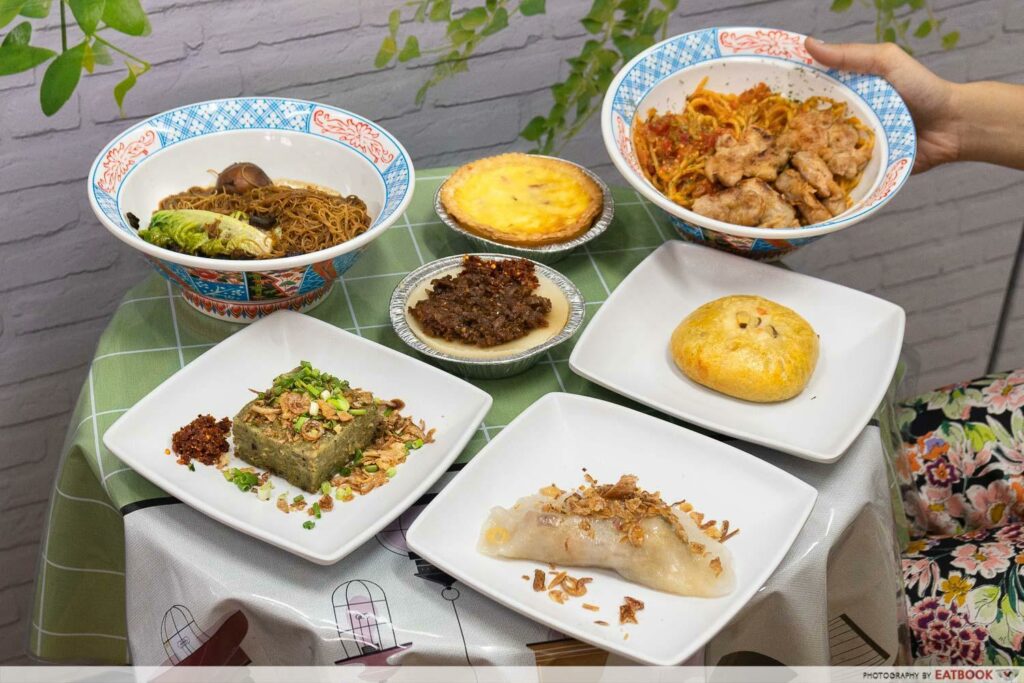 In my six years of writing about food in Singapore, I've come to the conclusion that anything termed as 'fusion' is either a hit or a miss. Yet, there's always something so interesting and satisfying when flavours from different cuisines work well together. One place that has done just that is Beulah Kitchen, known for their unique range of savoury kueh in unconventional iterations.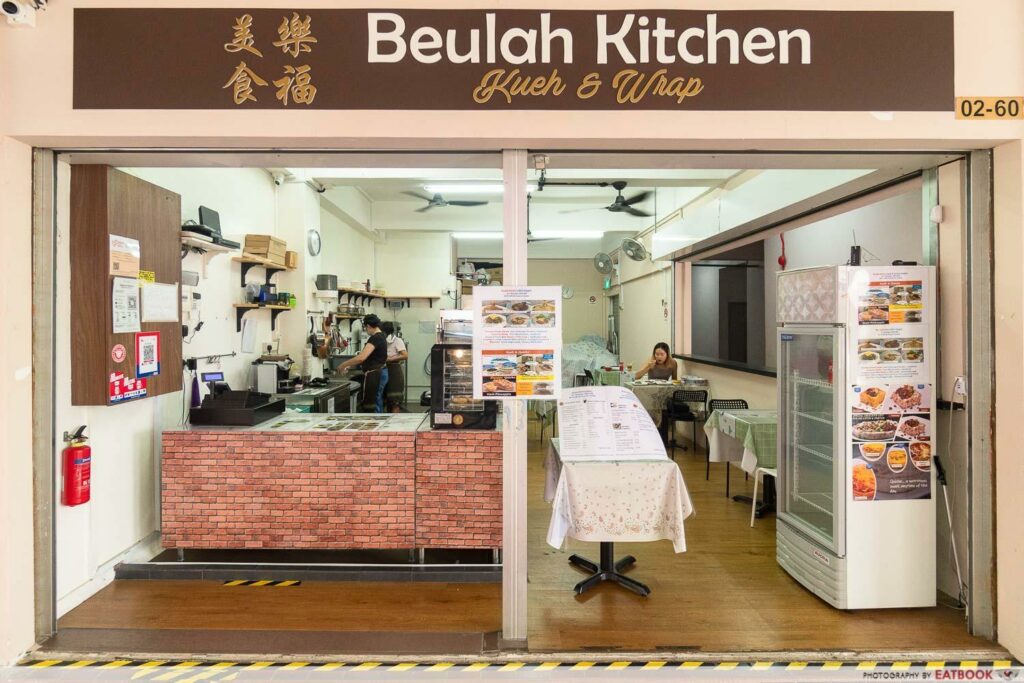 The cosy and homely cafe is founded and run by May Tan, an ex-pharmaceutical executive who's had over 20 years of experience in the industry. She decided to turn her passion from bringing good medicine to doctors and patients, to developing delightful dishes for those who enjoy good food. 
It's tucked in a quiet corner along Upper Cross Street, right across from Hong Lim Food Centre. 
Food at Beulah Kitchen
Handmade kueh is the forte here, as seen from the array of options shown on the menu. Everything is made in-house, from traditional kueh options to Western-style quiches. Purists can go for the popular Yam Kueh or Pumpkin Kueh, available by the slice at $3.50 or as a whole 7.5" round from $20. 
Beulah Kitchen also serves a decent variety of innovative lunch mains, including Stew Pork Bee Hoon ($9.80), Har Cheong Chicken Pasta ($8.90), and Cheesy Pork Roll Pao Fan ($9.80).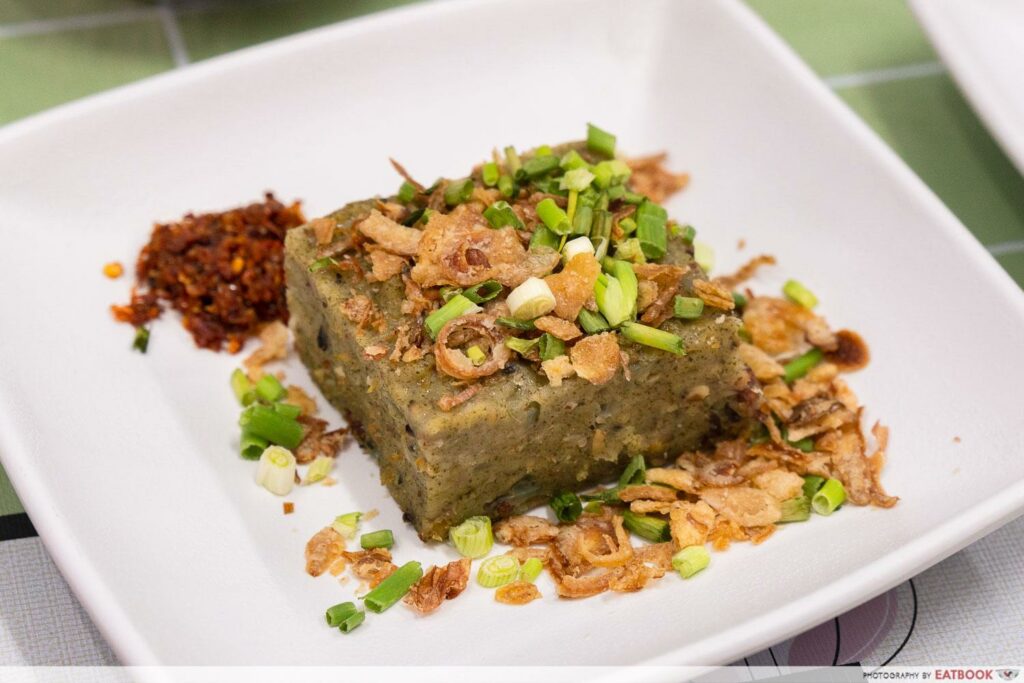 We wanted to try something different, so we got the Spinach Kueh ($3.50) to start. The green-tinted kueh was steamed to a perfectly soft and bouncy texture, topped with a heaping spoonful of fried shallots for added crunch and sweetness. 
This kueh boasted a unique flavour that's unlike any other kueh I've tried. You get the sweetness and aroma of the vegetable, without any bitterness. Made without MSG or artificial preservatives, this is one must-try kueh to add to your list.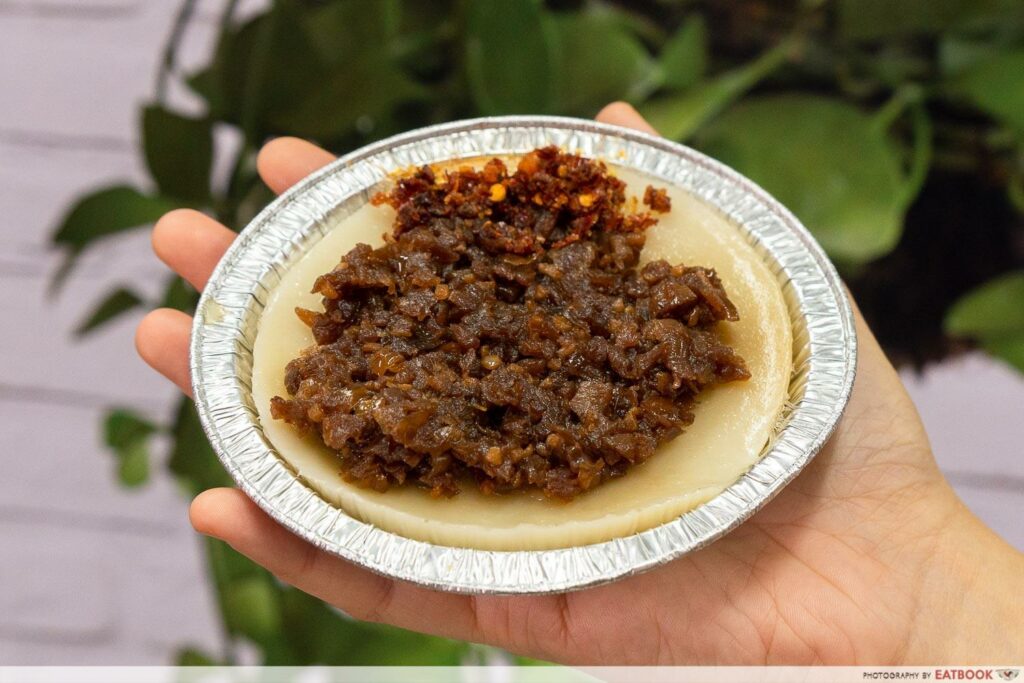 Another must-try is the Sumo Chwee Kueh ($3.50), a zhnged-up rice cake filled with a mushroom middle, topped with a generous serving of chye poh, and served with a fragrant chilli paste. Formulated to be vegan-friendly, the preserved radish was flavourful, yet not too oily.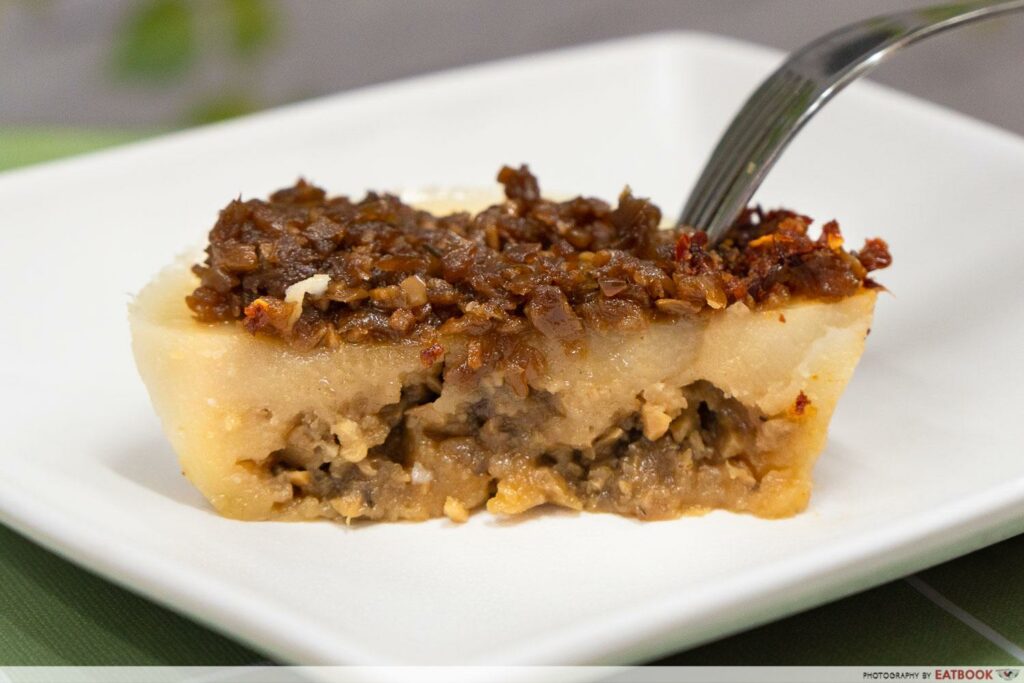 I loved the juicy bits of mushroom hidden in the centre of the kueh, which added texture and umami to the tender rice cake base and sweet chye poh. Although the kueh texture was a little more dense than what I'd associate with chwee kueh, I didn't mind it that much as the flavours worked well.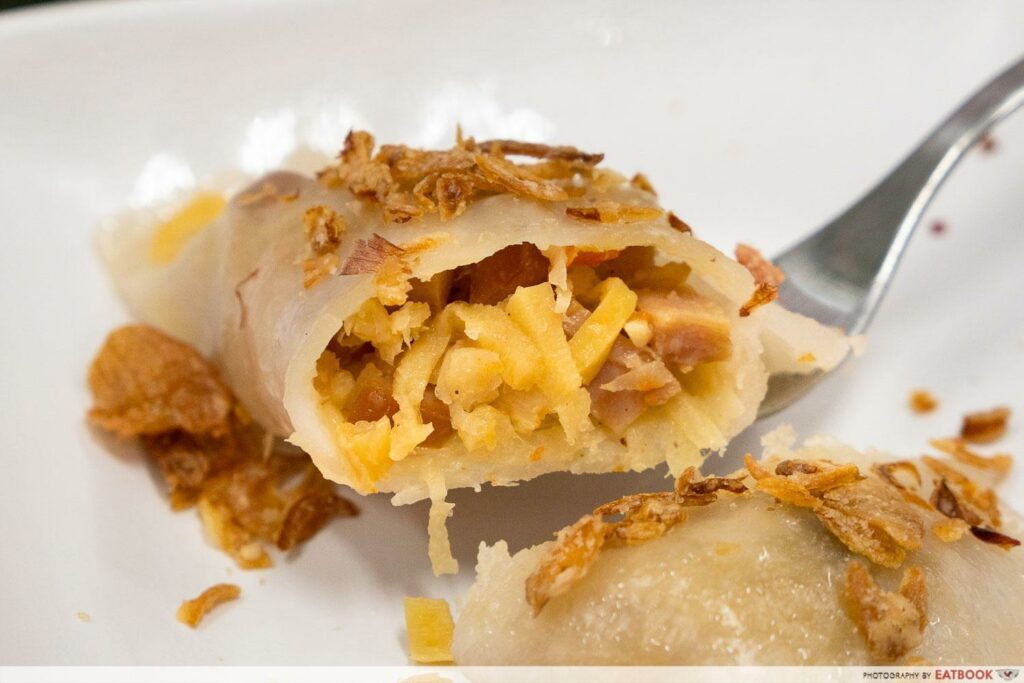 Speaking of fusion, one item that caught my eye was the Honey Ham Soon Kueh ($3.50). Soon kueh ranks high on my list of favourite eats, so I was excited to sample Beulah Kitchen's rendition.
The savoury ham was a welcome addition to the sweet and crunchy turnip strips, but the handmade skin was a little too thick for our liking.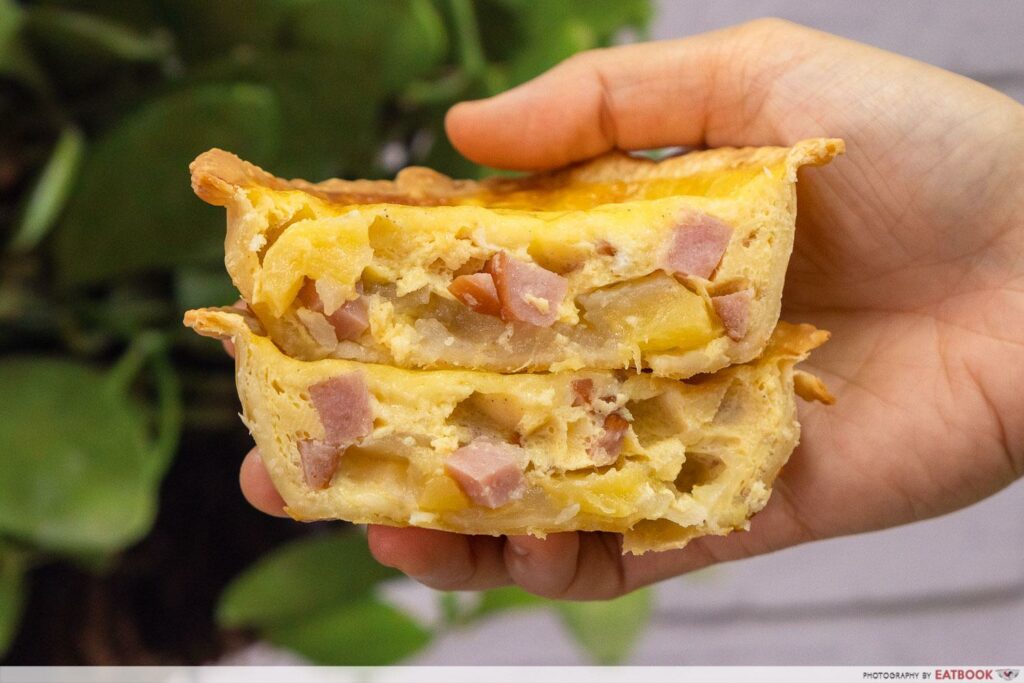 Beulah Kitchen also offers Western-style bakes such as the Ham Pineapple Quiche ($6.50) and Cheesy Chicken Mushroom Pie ($4.80). 
The former was of a sizeable portion, filled with a savoury and custardy filling that's spiked with bits of ham and pineapple chunks. Though I wasn't a fan of the sweet canned pineapple pieces, I enjoyed the smooth and eggy filling, and liked how the quiche wasn't too salty.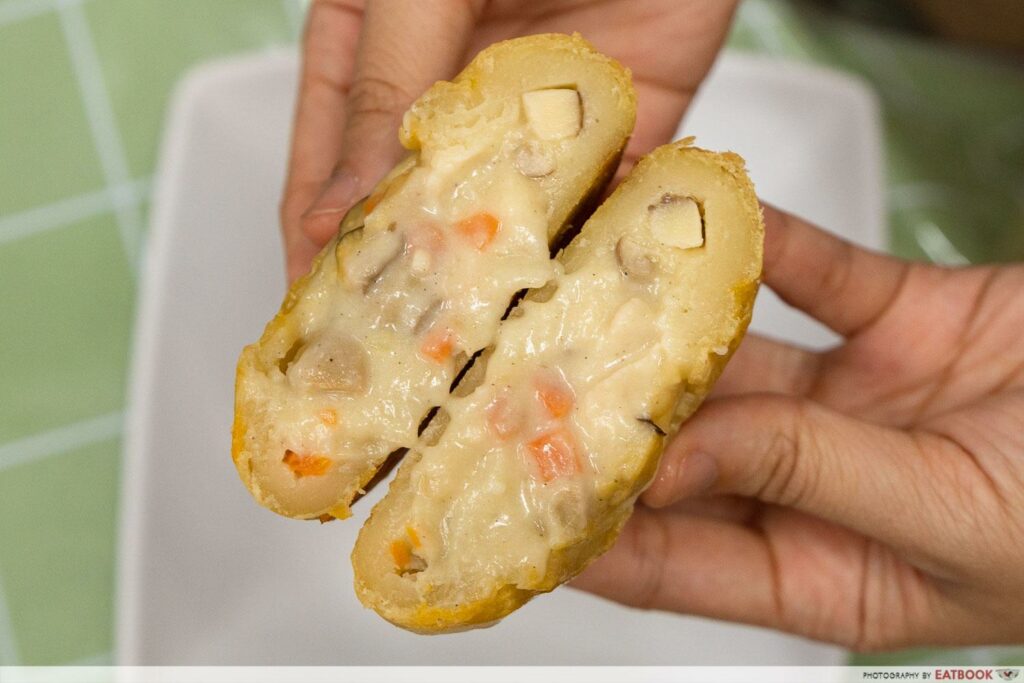 Cutting into the Cheesy Chicken Mushroom Pie revealed a creamy filling that oozed out immediately, befitting for the 'gram. We utterly enjoyed the rich and cheesy filling, which was studded with chicken and mushroom bits, but felt that the pie crust could be made a little thinner and crispier.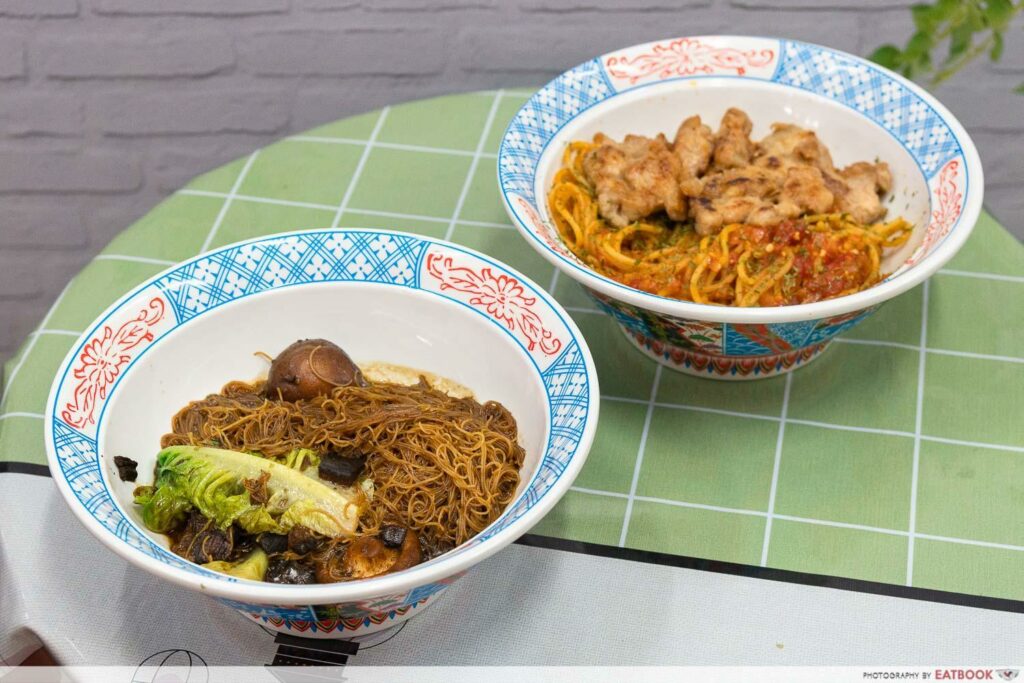 If you're visiting for lunch, do fill up on comforting mains, including the Stew Pork Bee Hoon. Featuring bee hoon doused in a house-made sauce of stewed pork and braised mushrooms, this dish was the clear winner for us.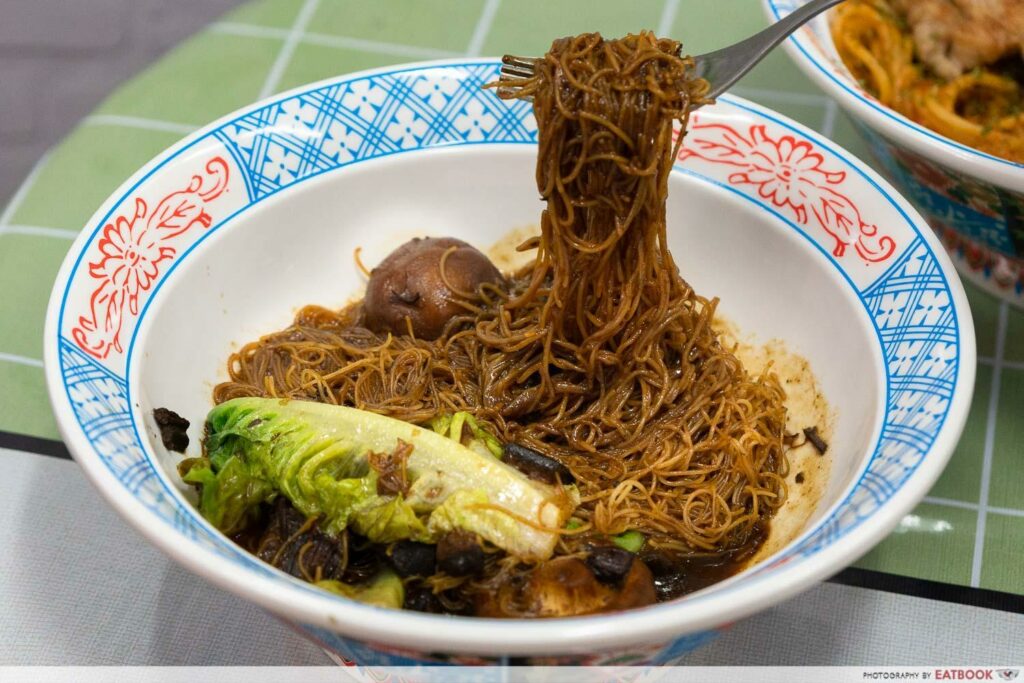 The rich and flavourful sauce boasted fragrant notes of spices, notably star anise, which made every mouthful super appetising and addictive.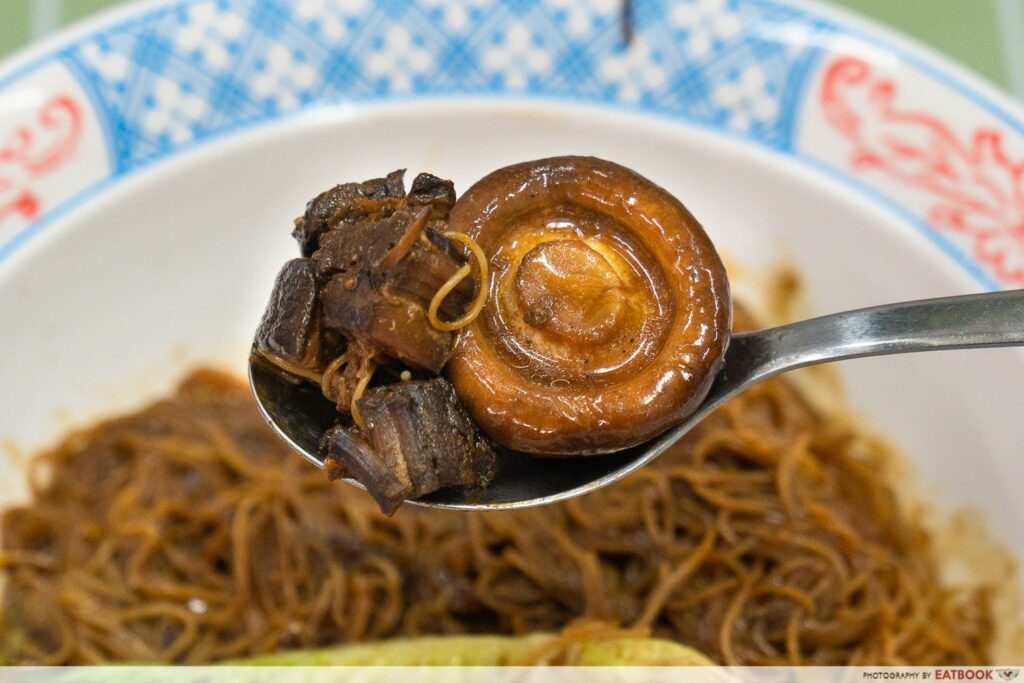 The pork belly, braised till melt-in-the-mouth, paired with the juicy whole mushrooms, were delightful accompaniments to the thin rice noodles, which soaked up all the zhup.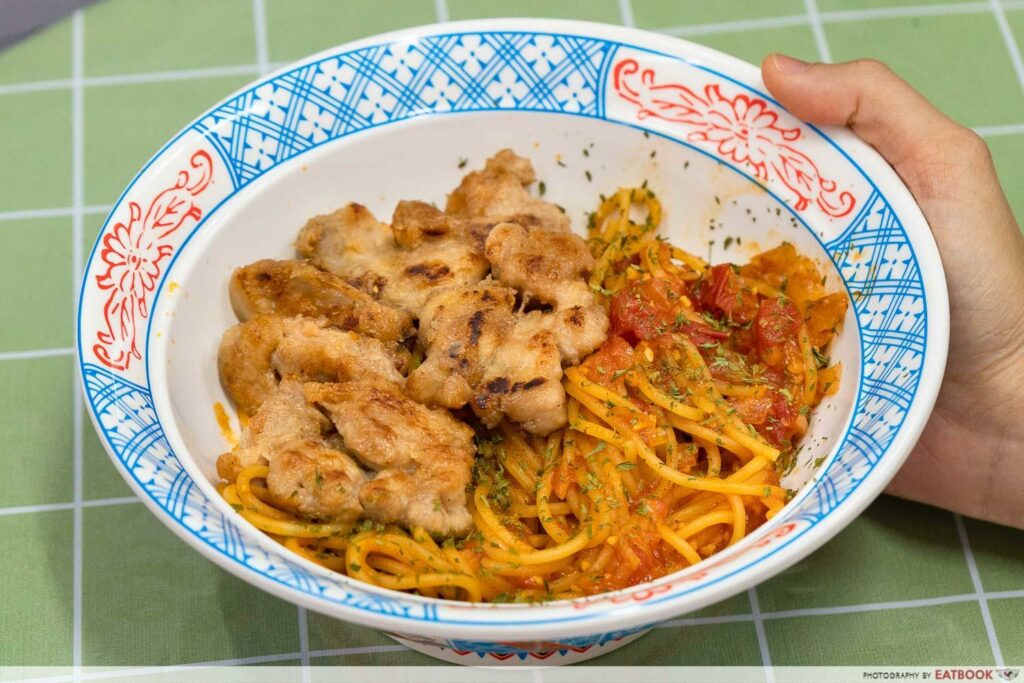 We also enjoyed the Har Cheong Chicken Pasta: al dente spaghetti in a house-made tomato sauce, topped with prawn paste-marinated, boneless chicken thigh.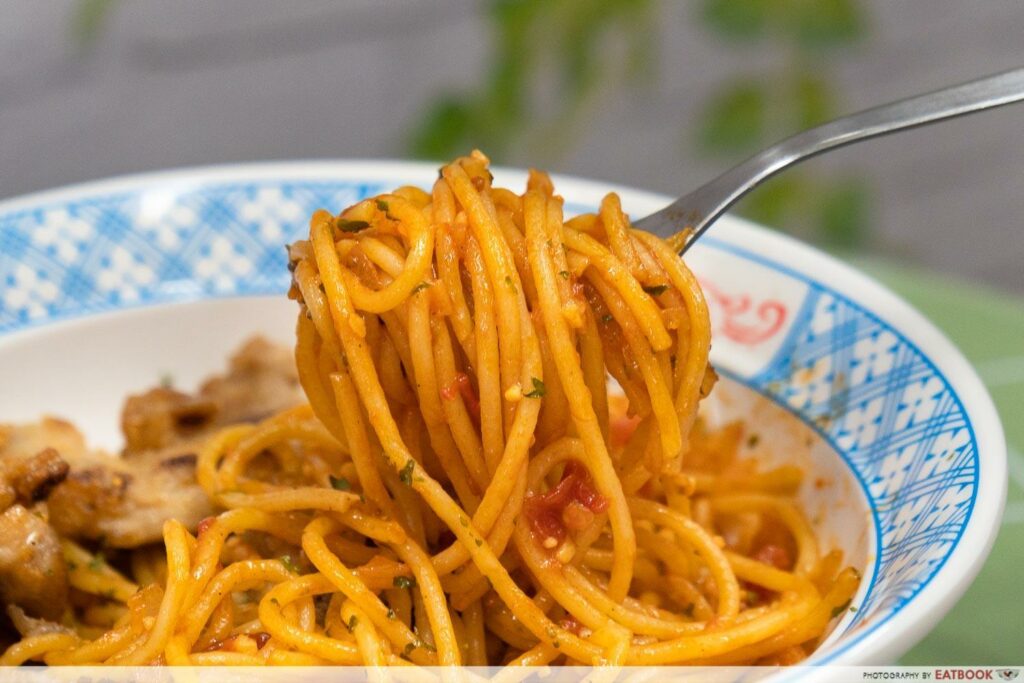 The pasta sauce was garlic-heavy, with bits of onions and visible chunks of tomato. It leaned on the sweeter side, but was uber flavourful, pairing well with the meaty chicken slabs. The noodles were also cooked to al dente doneness, and well-coated with the savoury sauce.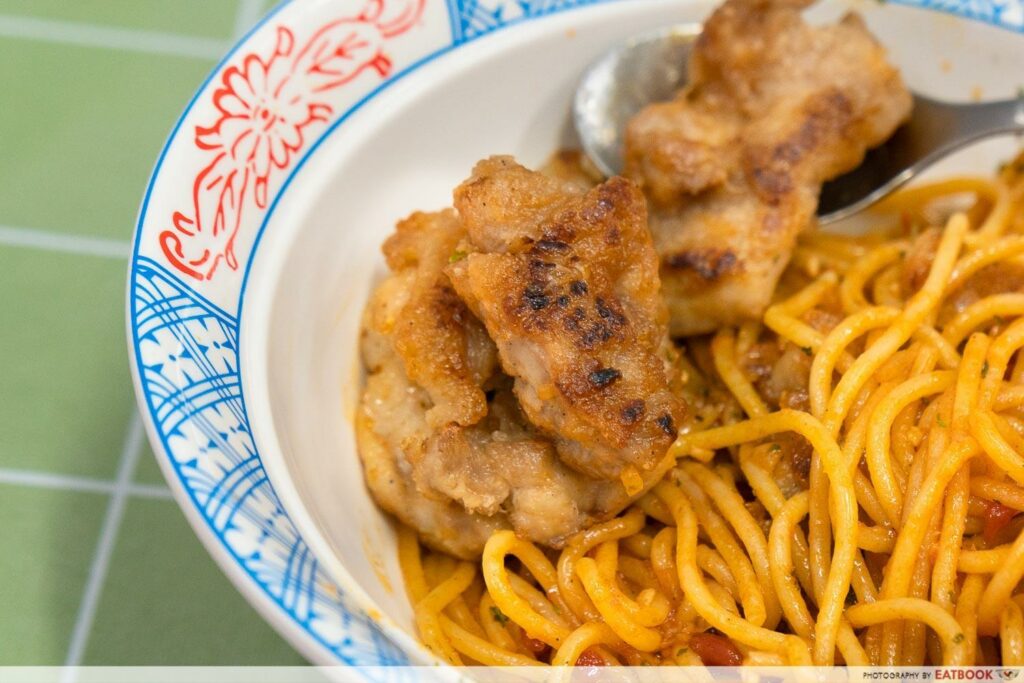 While I felt that the meat could have a more prominent har cheong flavour, it was nonetheless well-seasoned, boasting a tender texture and slightly crispy skin on the outside. 
Ambience at Beulah Kitchen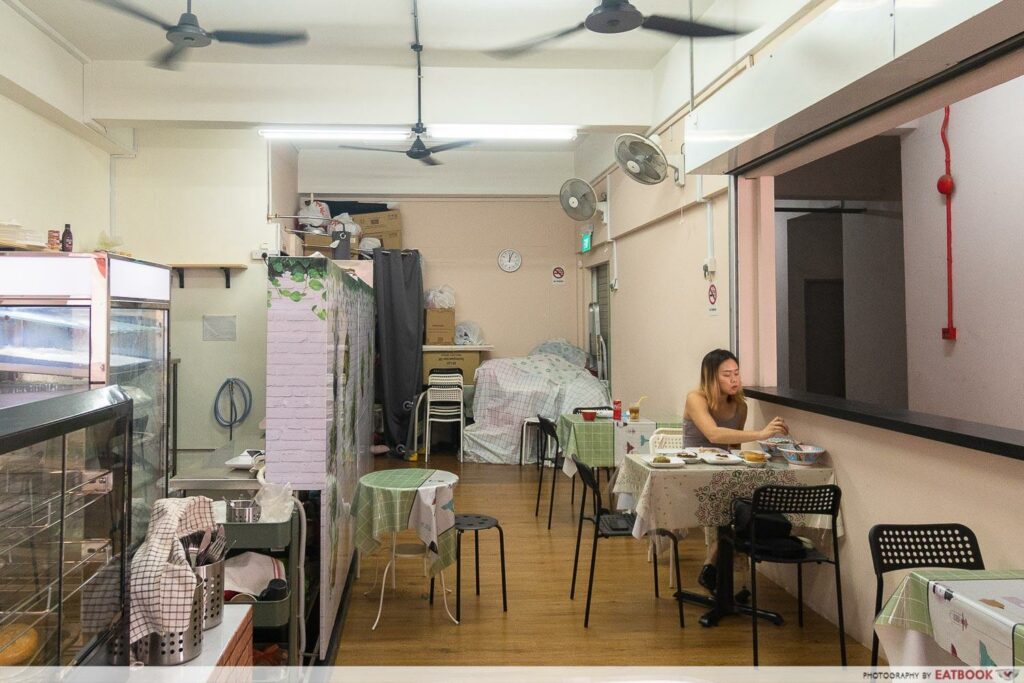 Beulah Kitchen is a convenient two-minute walk from Chinatown MRT Station. The nearest MRT exits are F and G, the latter of which passes through the basement of Chinatown Point.
Most folks opt for takeaway as there are only 10 seats currently available. As soon as the safe distancing rules are removed, there are plans to increase the seating capacity to 18 diners. If you'd like to snag a table, try to visit around 11am before the lunchtime madness begins. Dining is semi-alfresco, as there's no air-conditioning, but it was relatively breezy when we were there as the eatery is on the second level.
The verdict
It's hard to find handmade kueh that ticks all the boxes: taste, quality, and freshness. While there were a few minor misses during our visit, we were impressed with the selection of unique kueh flavours and well-executed mains, which were all affordably priced for a central location like Chinatown. Throw in the warm and homely vibes reminiscent of Ah Ma's house, and you get Beulah Kitchen.
I'll be back for my kueh fix with my family—I'm certain my kueh-loving parents will be spoiled for choice here! 
Address: 531 Upper Cross Street, #02-60, Singapore 050531
Opening hours: Mon-Fri 11am to 5pm
Website
Beulah Kitchen is not a halal-certified eatery.
Photos taken by John Lery Villanueva.
This post is brought to you by Beulah Kitchen.
Beulah Kitchen Review: Unique XXL Mushroom Chwee Kueh, Har Cheong Chicken Pasta And More In Chinatown
Beulah Kitchen Review: Unique XXL Mushroom Chwee Kueh, Har Cheong Chicken Pasta And More In Chinatown -

7.5/10
Summary
Pros
– Unique and good variety of handmade kueh
– Mains were delicious
– Affordable prices
– Convenient location
Cons
– Limited seats
– Not all items were available 
Recommended dishes: Spinach Kueh ($3.50), Sumo Chwee Kueh ($3.50), Stew Pork Beehoon ($9.80)
Opening hours: Mon-Fri 11am to 5pm
Address: 531 Upper Cross Street, #02-60, Singapore 050531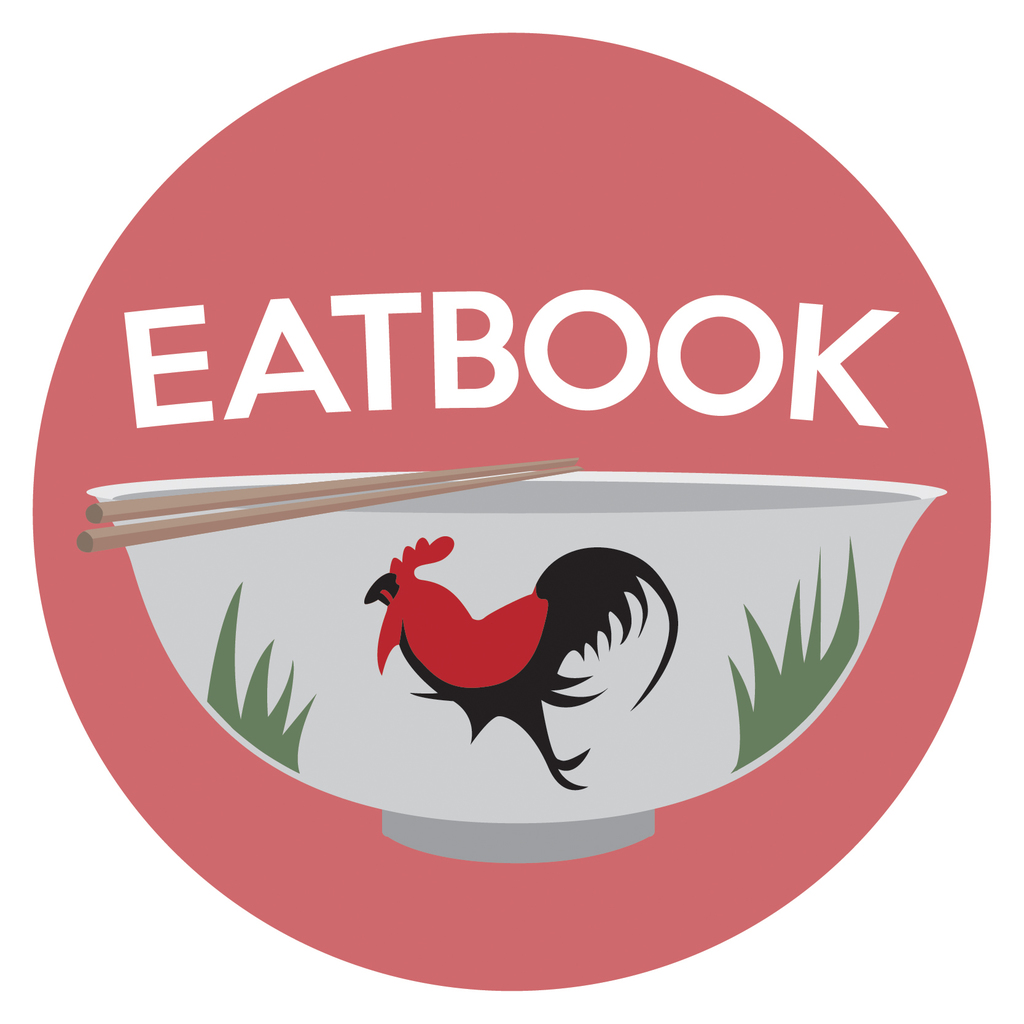 Drop us your email so you won't miss the latest news.