Fried seafood platter by Project Penyek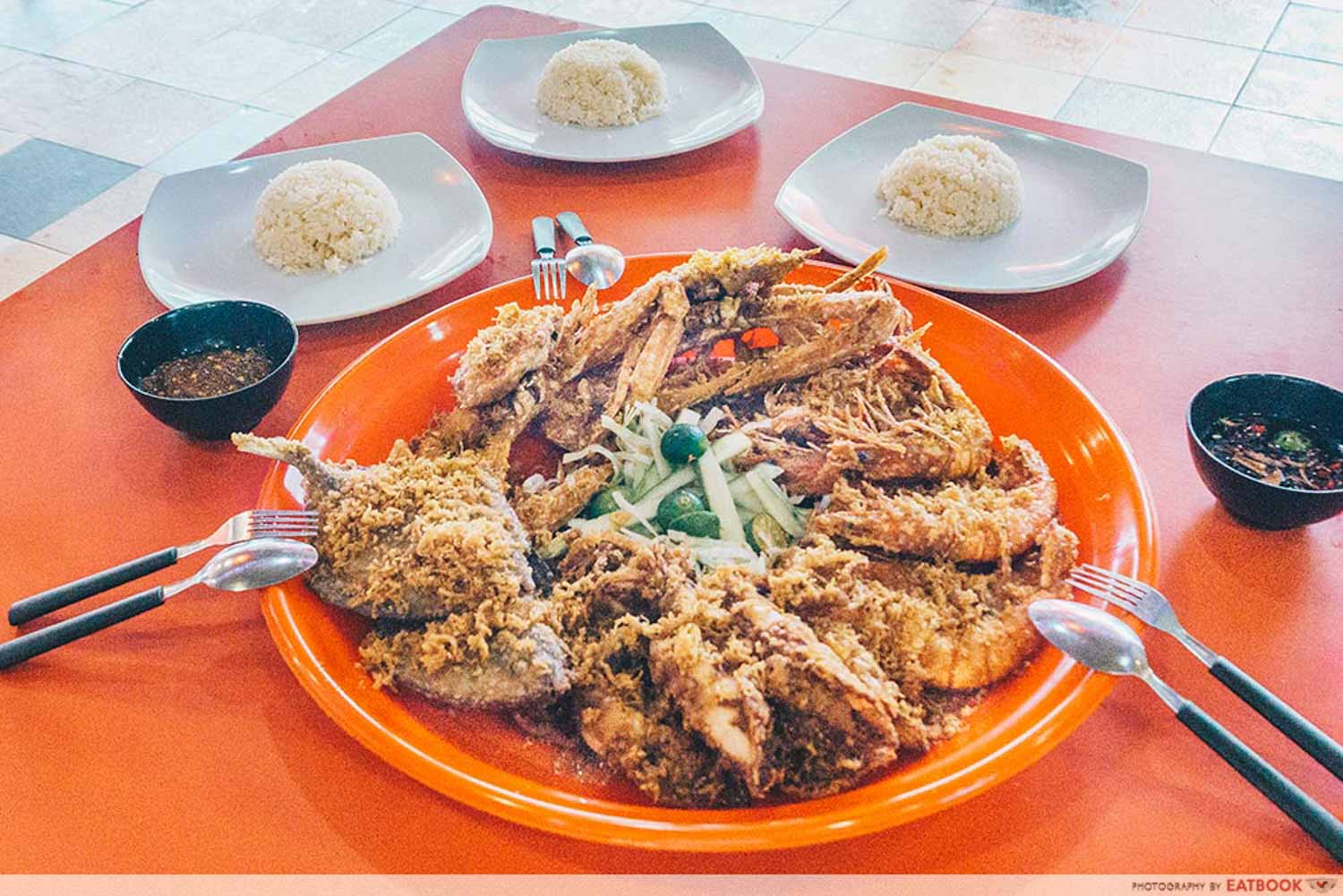 I was first introduced to ABC Brickworks Food Centre by my father when I was a boy. Despite being very far from my house in the East, we kept coming back to their myriad of food stalls serving delicious food. Since then, I have discovered many more hidden gems in this food centre, and Project Penyek is one of them.
Food at Project Penyek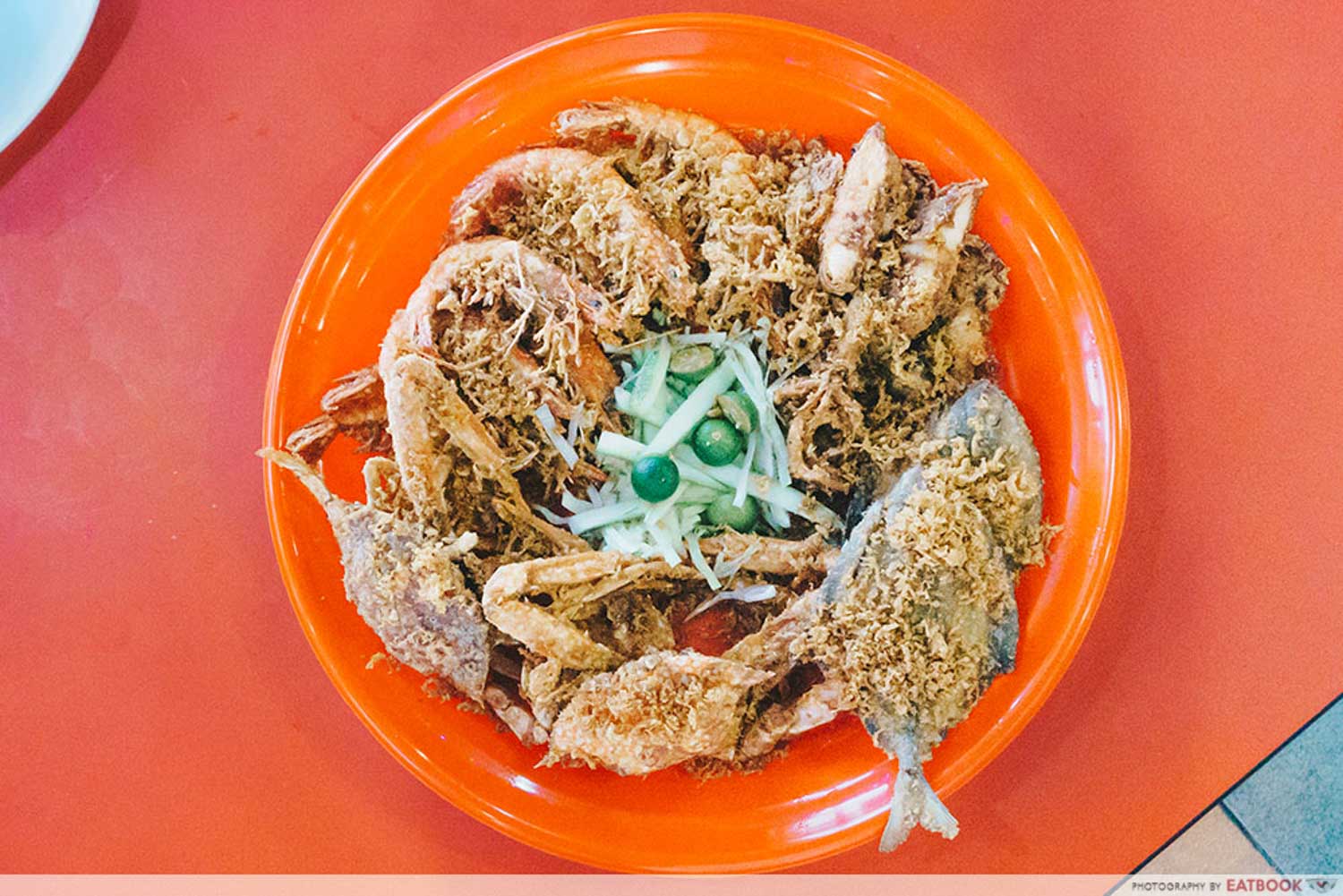 Although Project Penyek is known for their Ayam Penyet, we came here for the huge Seafood Platter ($49.90) that serves about five people. We had to pre-order it one day in advance from the ever jovial chef-owner, Harry. It comes with five plates of flavoured rice, and each additional plate of rice costs $1. 
There is also an option for islandwide delivery too. The first two platters have a flat delivery fee of $15. If you order three or more platters, the delivery fee would be waived.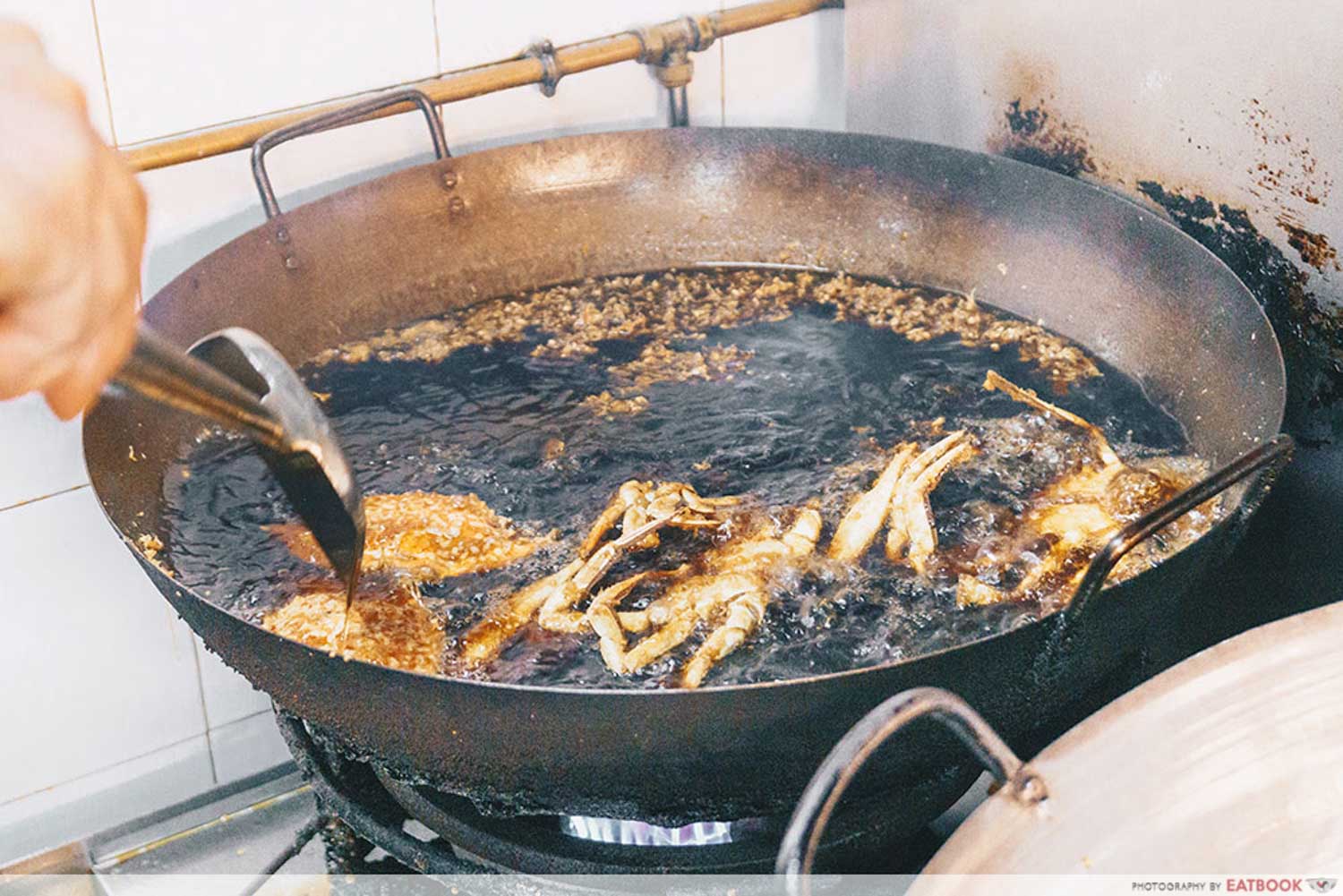 Every morning, Harry personally makes a trip to the market nearby to source for the freshest seafood possible. Like clockwork, he would skilfully fry the resulting produce in a vat of oil. 
The unmistakable aroma of deep-fried food seamlessly permeated through the air. Coupled with the intense bubbling of oil and sizzling of the seafood, all it did was make me hungry.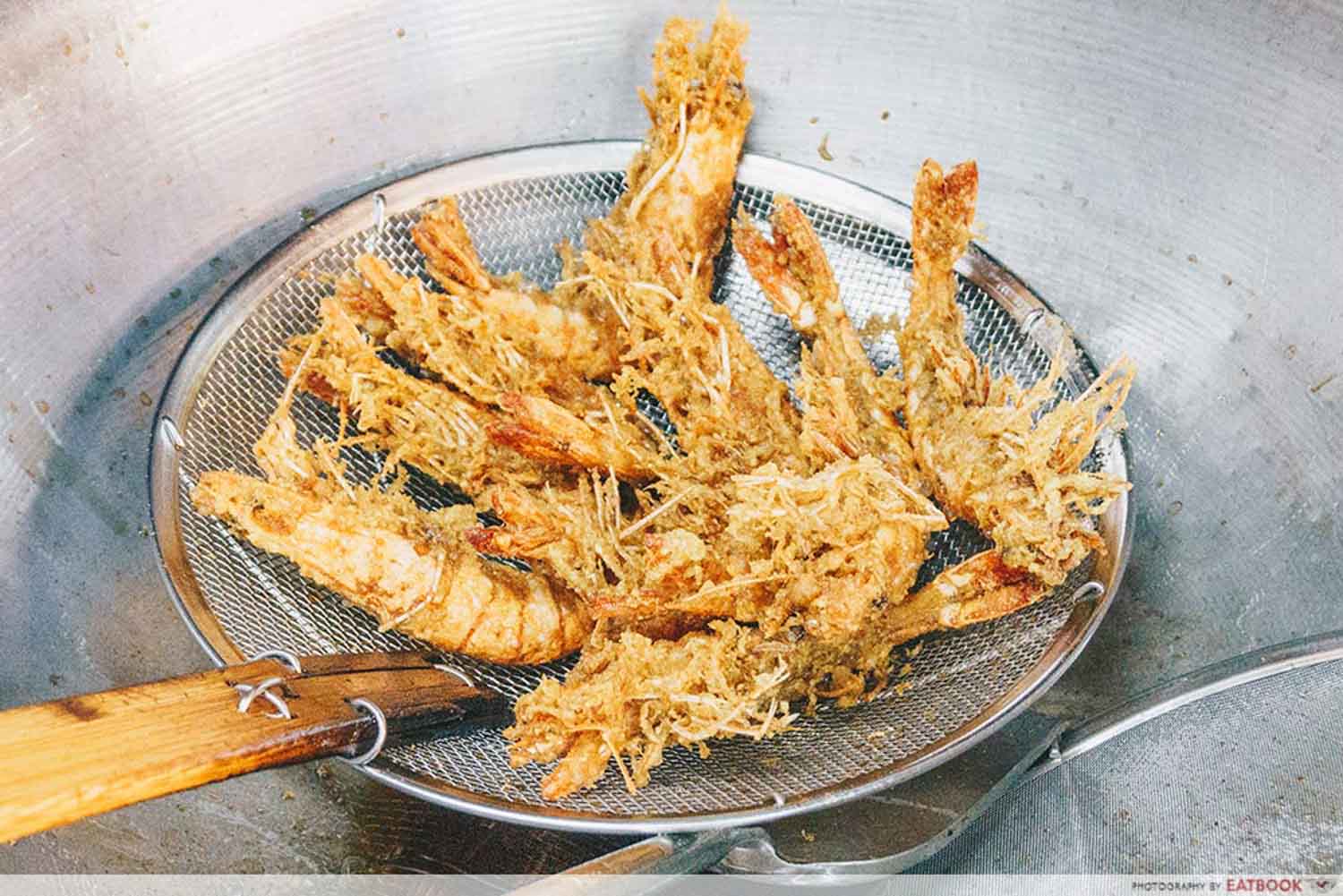 After being taken out from the oil, the seafood produced a beautiful distinct golden hue. They are left to drain for a short while so they don't get too greasy.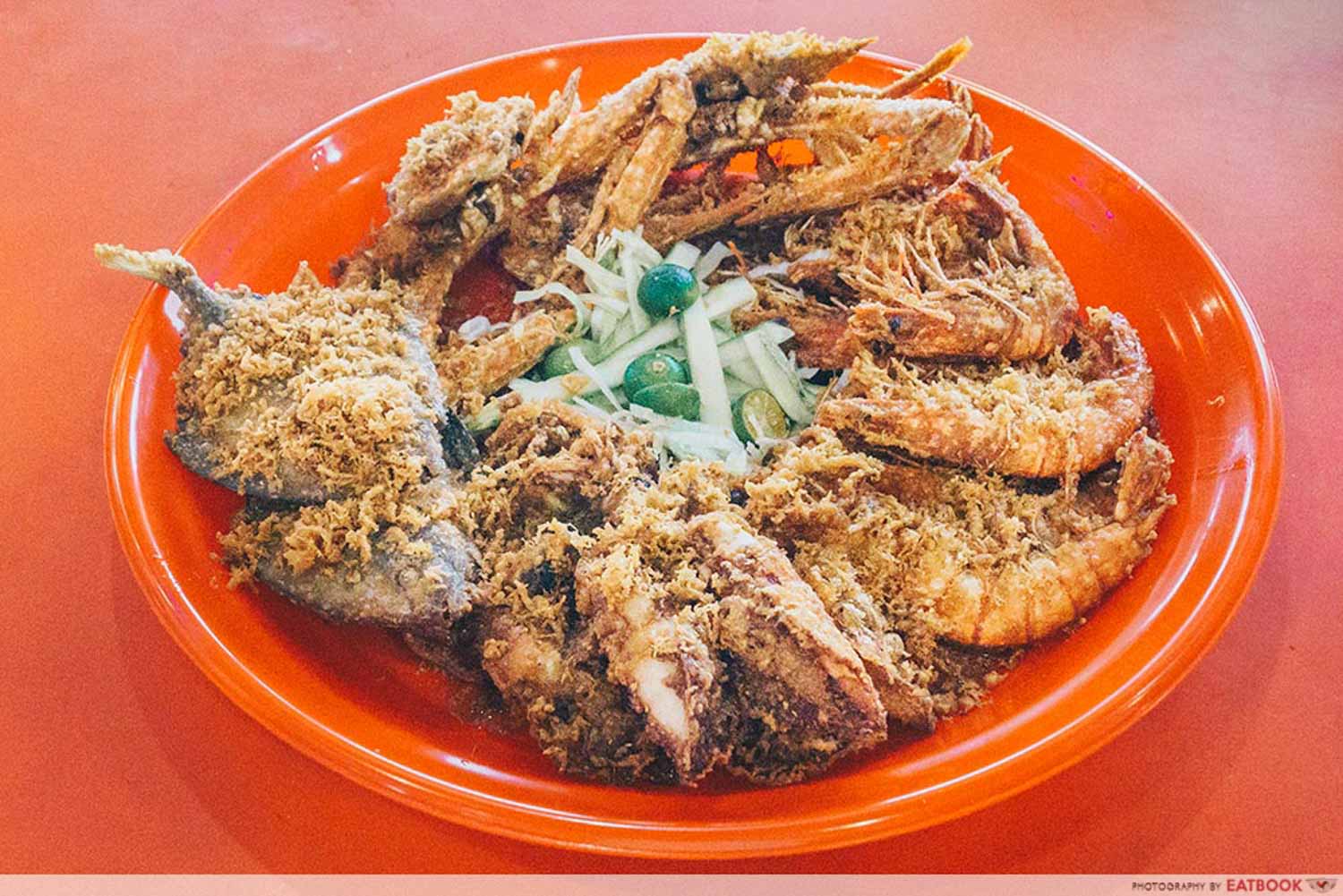 When the seafood platter was set down in front of us, we couldn't believe our eyes. The platter of seafood is served on large plates that look exactly like the kind yu sheng is served on. The sheer size of this dish amazed us. 
The platter was filled with huge deep-fried portions of squid, a whole pomfret, massive tiger prawns, and flower crabs, all covered majestically by crispy batter. Along with them came plates of steaming hot rice and two bowls of their famous chilli. 
All eyes were on the seafood platter, and its sheer size drew many onlookers from the busy lunchtime crowd. Many people came up to ask us where we ordered this huge dish. It was truly a sight to behold.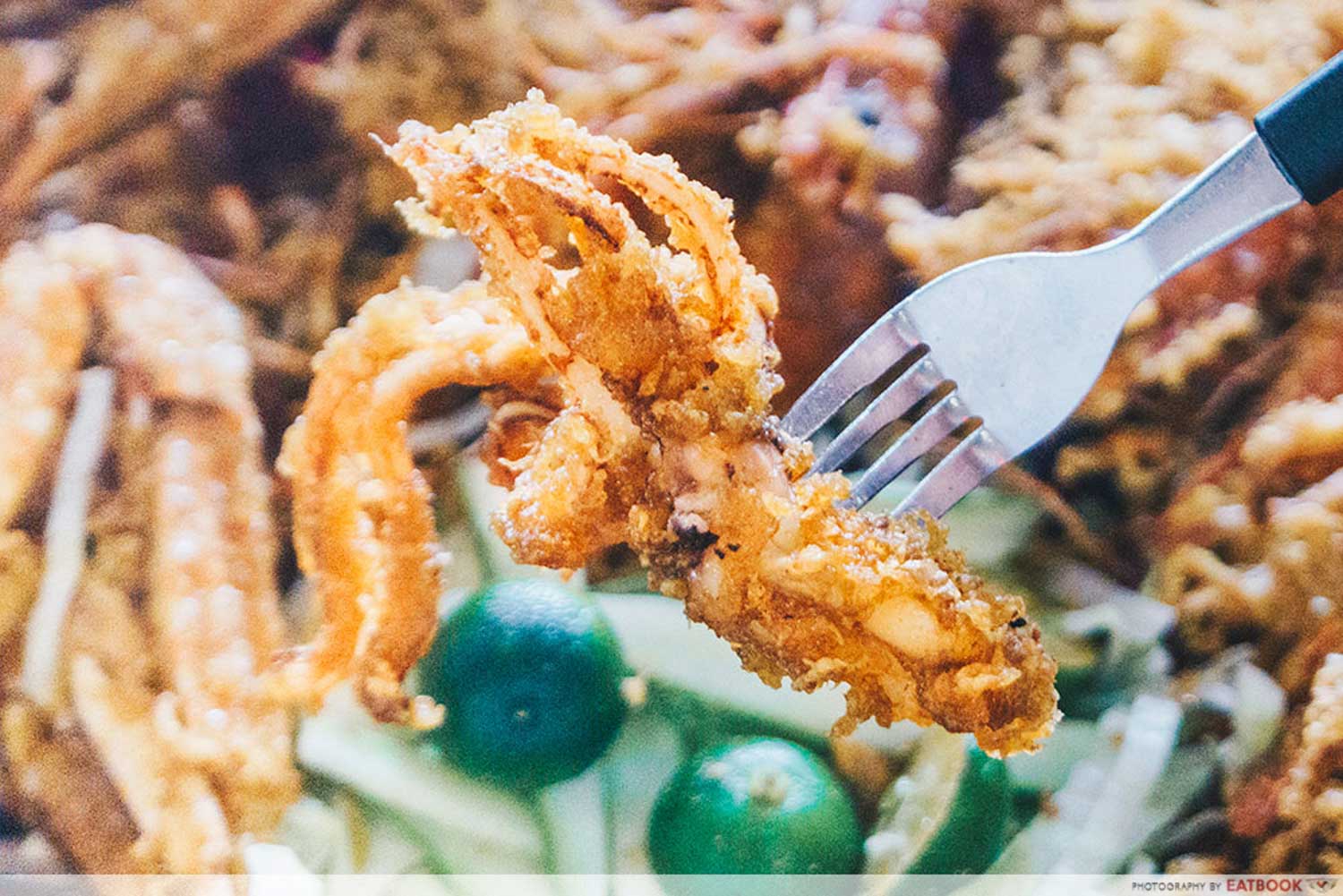 My favourite component was the deep-fried squid. Great squid must pack a good chewy texture, but not until it gets overly rubbery. 
The squid ticked all these boxes, and it was extremely flavourful. Each bite of the squid filled my mouth with delicious juices. The deep-fried exterior provided a good crunch that made me feel like I was eating a crispy savoury snack.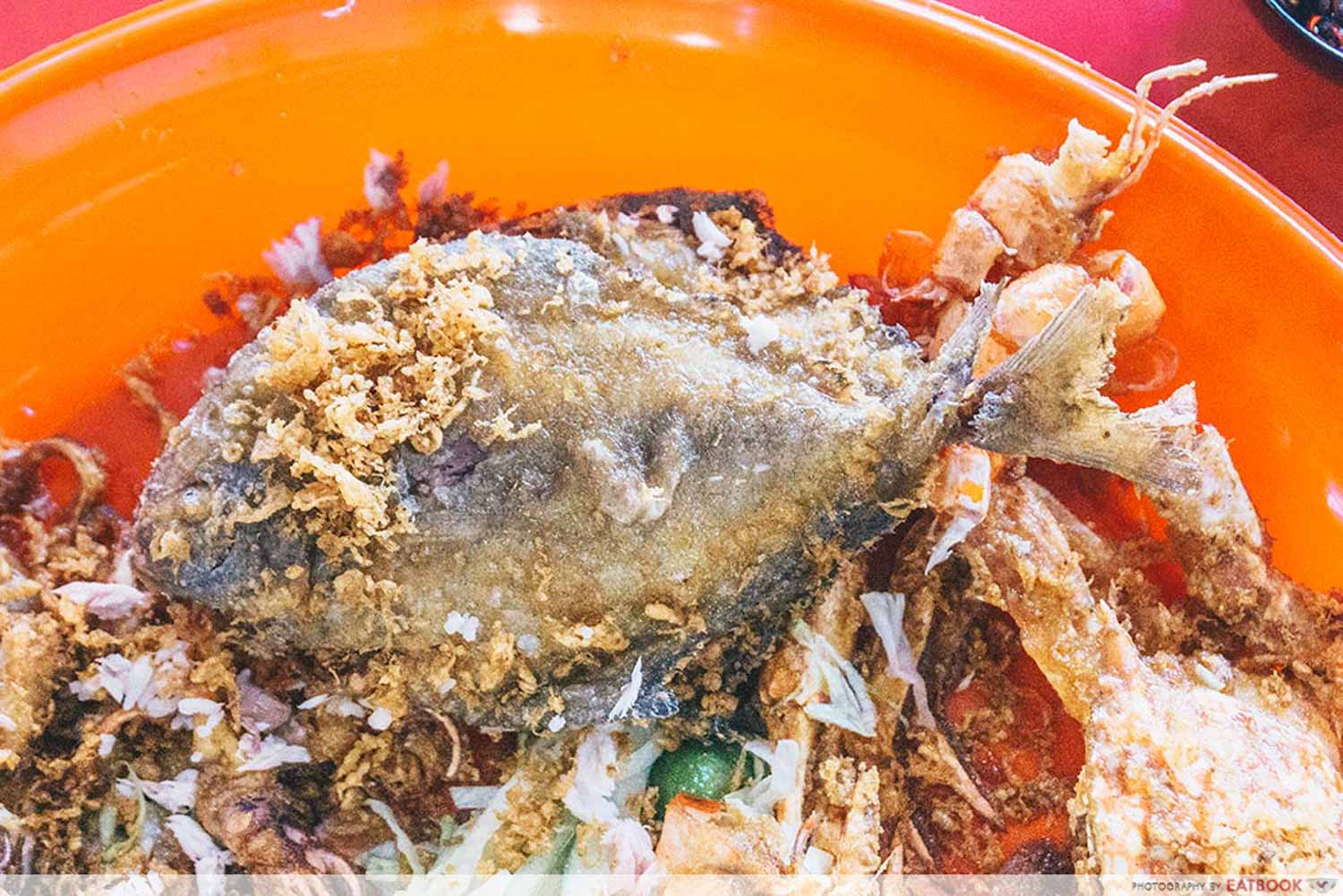 Moving on to the pomfret, its skin was crisply fried, which made savouring the oily skin uber satisfying. The white meat was succulent and moist, and didn't taste too fishy for my liking.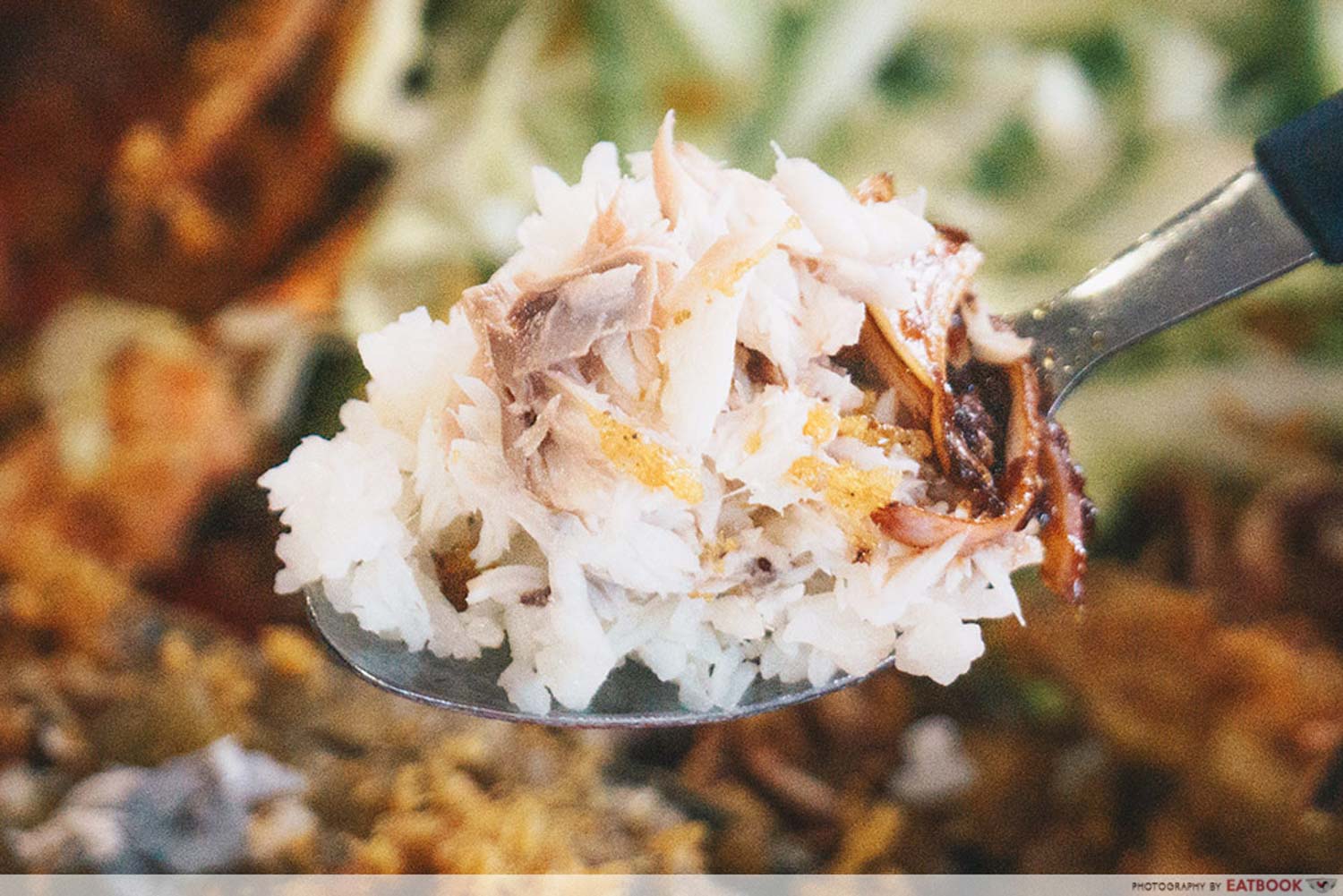 When paired with the piping hot rice and sweet chilli, the combined flavours of each spoonful had me craving for more.
Having been cooked in good amounts of chicken stock and fat, the rice was flavourful. Its taste coated my tongue beautifully. The rice grains were moist, making every mouthful so addictive!
There are two types of chilli sauce served. The sweet sambal chilli relish came with a little zest, and packed a fiery kick at the end. The other chilli was sweeter, less spicy and had a smoother consistency. Compared to the other seafood, the taste of the pomfret was rather mellow, and the sweetness of this chilli helped bring out the collective flavours of the fish.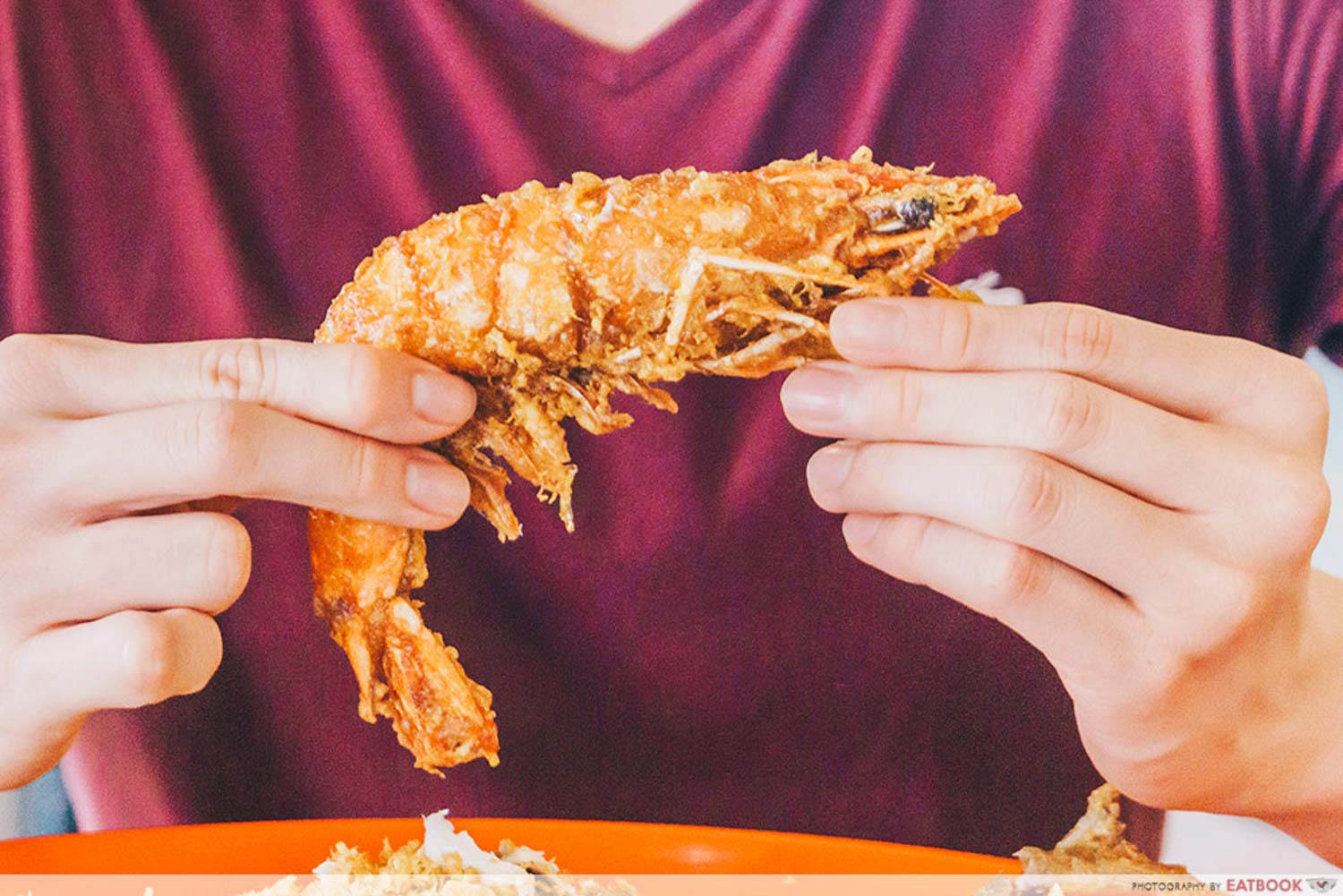 We did not expect the prawns to be tiger prawns, and it was a pleasant surprise. They looked majestic, and were truly a feast for our eyes and mouths. The meat came off the shell easily after a few gentle tugs, which emphasised how fresh the prawns were. It was juicy and tender, with the right amount of firmness. 
Chef Harry recommends eating the heads of the tiger prawns for maximum flavour.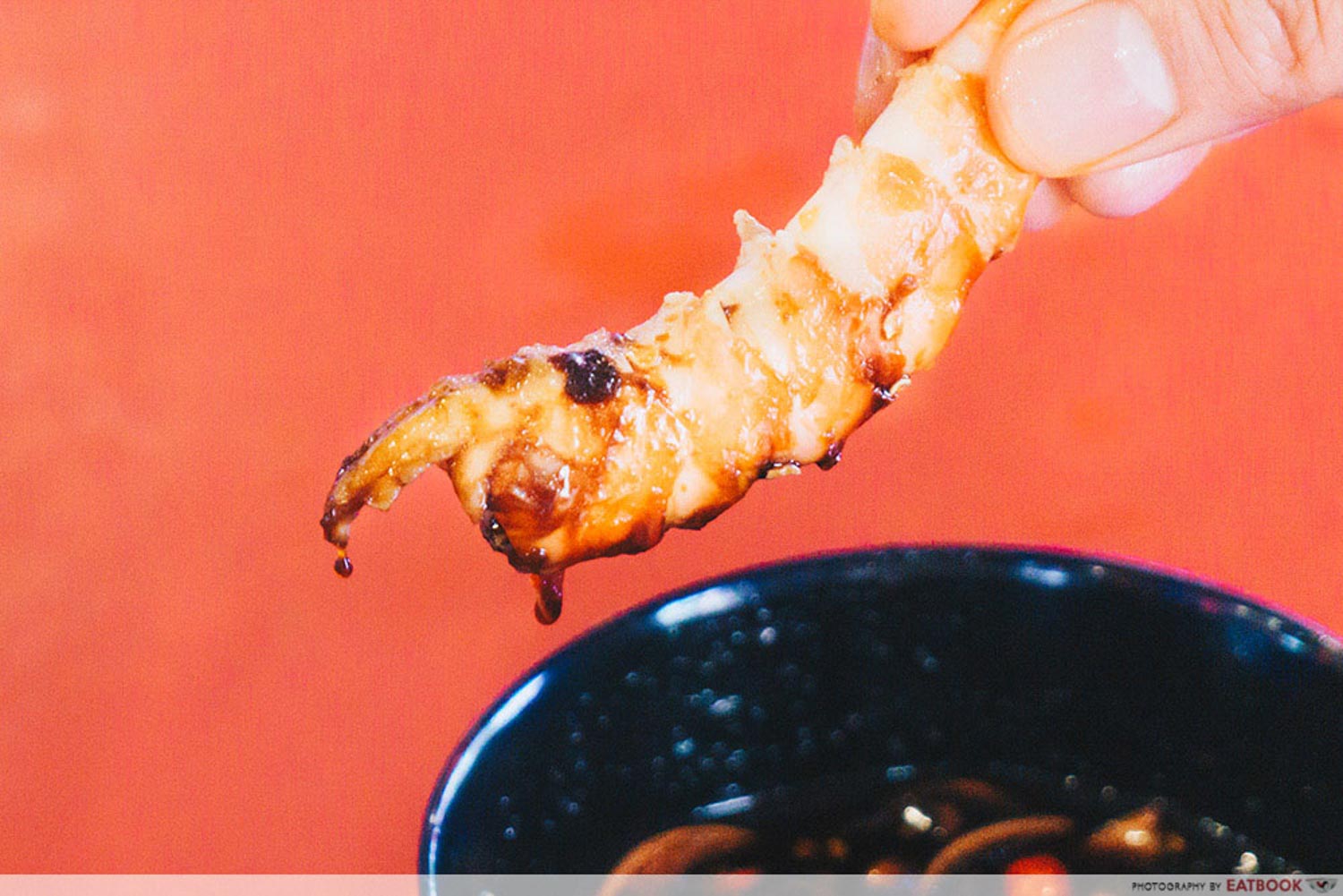 When dipped into the zesty and spicy sambal, the prawn meat combined beautifully with the sauce to become a match made in heaven.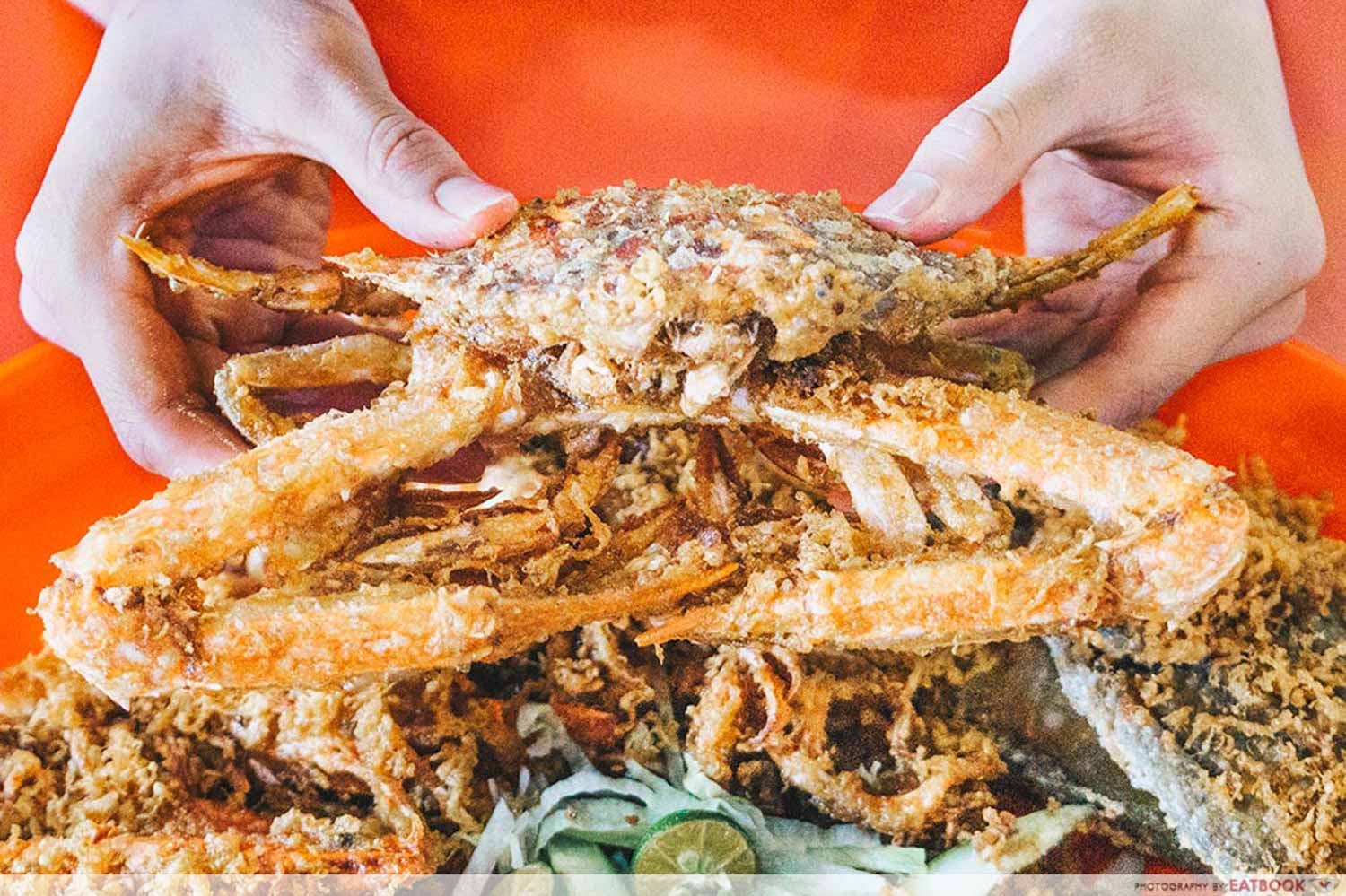 Unfortunately, the flower crabs were a bit of a letdown. Prying open the crab to obtain the precious meat did not prove to be an easy task. Chef Harry intended for the crab's exterior to be broken by hand, which we failed to do a few times. 
For the parts where we did manage to obtain the crab meat, the meat was juicy but not as flavourful as we had expected. Though magnificent looking, the crab was not as impressive as the rest of the seafood. 
Thankfully, there's an option to swap out any seafood you don't fancy to another meat, and options even include the stall's classic smashed chicken.
A final note about the food. It can get a bit jelak due to how rich and oily it is, so I would recommend getting a drink to refresh yourself as you go about your meal.
Ambience at Project Penyek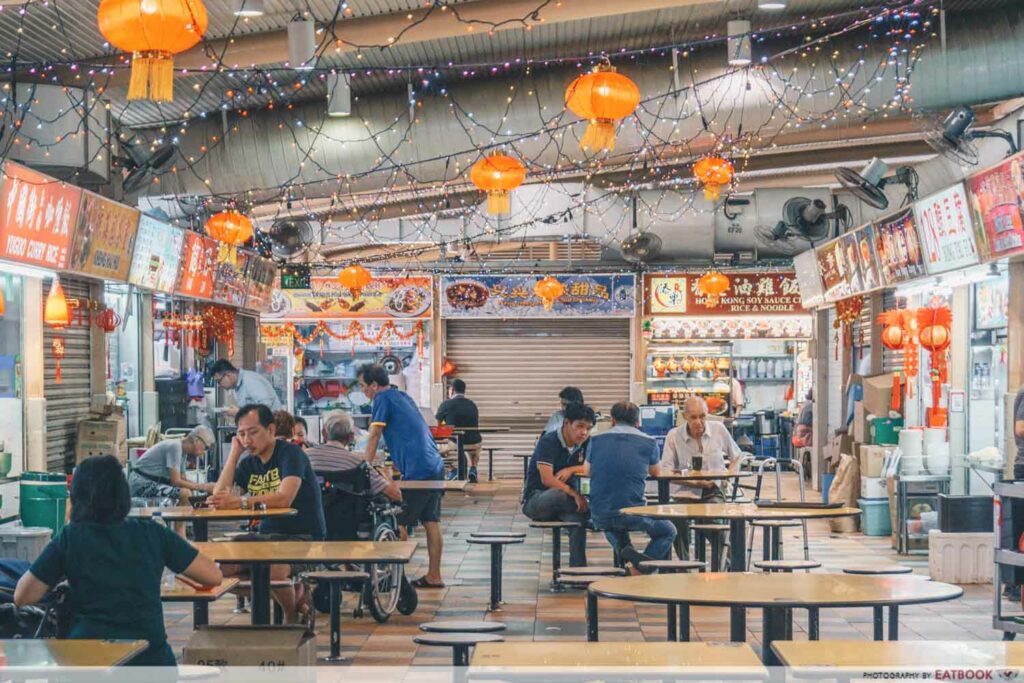 The hawker centre is very popular with nearby residents, and can get really crowded during meal times, especially during the weekdays. Thankfully, it has good ventilation and didn't feel too stuffy when we visited during a busy lunchtime on a weekday. Hence, you should be able to enjoy a hearty plate of rice and deep-fried seafood comfortably.
The verdict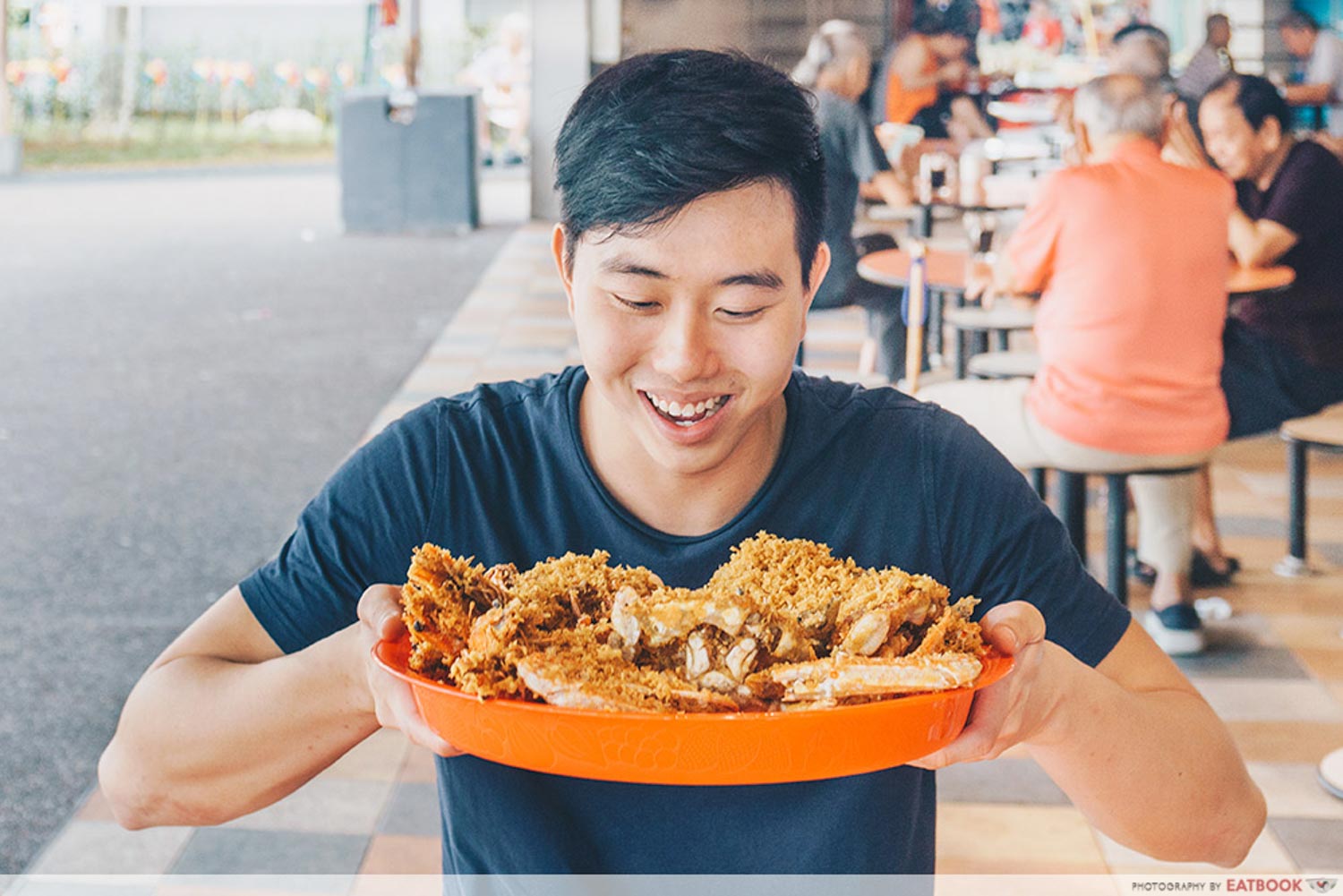 Project Penyek serves tasty and fresh seafood at a great price. Having to pre-order at least one day in advance is a testament to Harry's attention to detail, as once he receives an order, he will head down to a nearby market before dawn to personally select the freshest catch for his customers.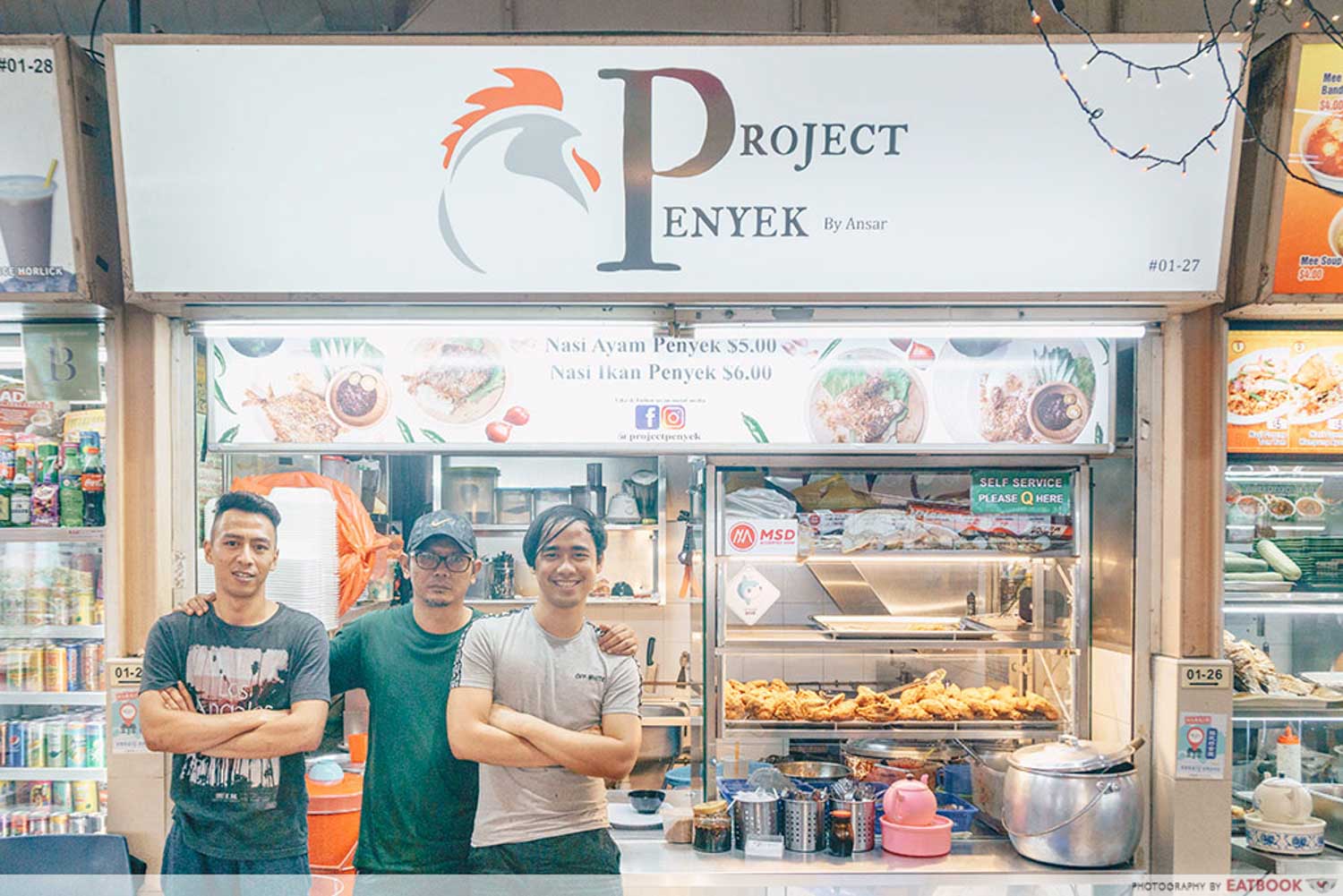 Quality ingredients and honest cooking methods are his top priorities, and this has led him to continue serving good food to the residents of Bukit Merah for the past 10 years. 
Address: 6 Jalan Bukit Merah, #01-27, ABC Brickworks Food Centre, Singapore 150006
Opening hours: Daily 10am to 8pm
Tel: 8689 3747
Website
Project Penyek is a halal-certified eatery.
Photos taken by Kerrianne Goh.
This is an independent review by Eatbook.sg.
Project Penyek Review: XXL Fried Seafood Platter At ABC Brickworks Food Centre
Summary
Pros
– Fresh seafood
– Delicious rice
– Tasty chilli
Cons
– Hard to eat crabs
– Expensive for hawker food
Recommended Dishes: Seafood Platter ($49.90)
Opening hours: Daily 10am to 8pm
Address: 6 Jalan Bukit Merah, #01-27, ABC Brickworks Food Centre, Singapore 150006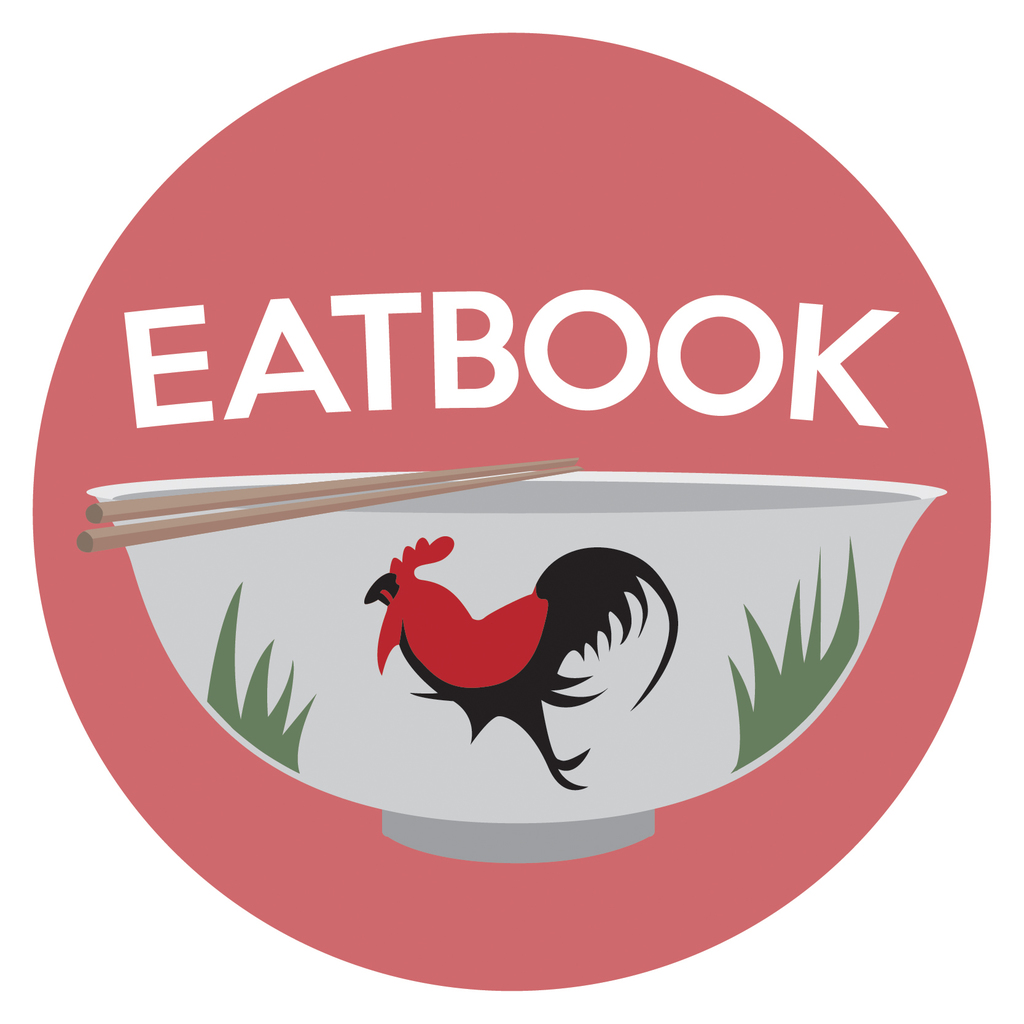 Drop us your email so you won't miss the latest news.