SoupCup in Raffles Quay for hearty fish soup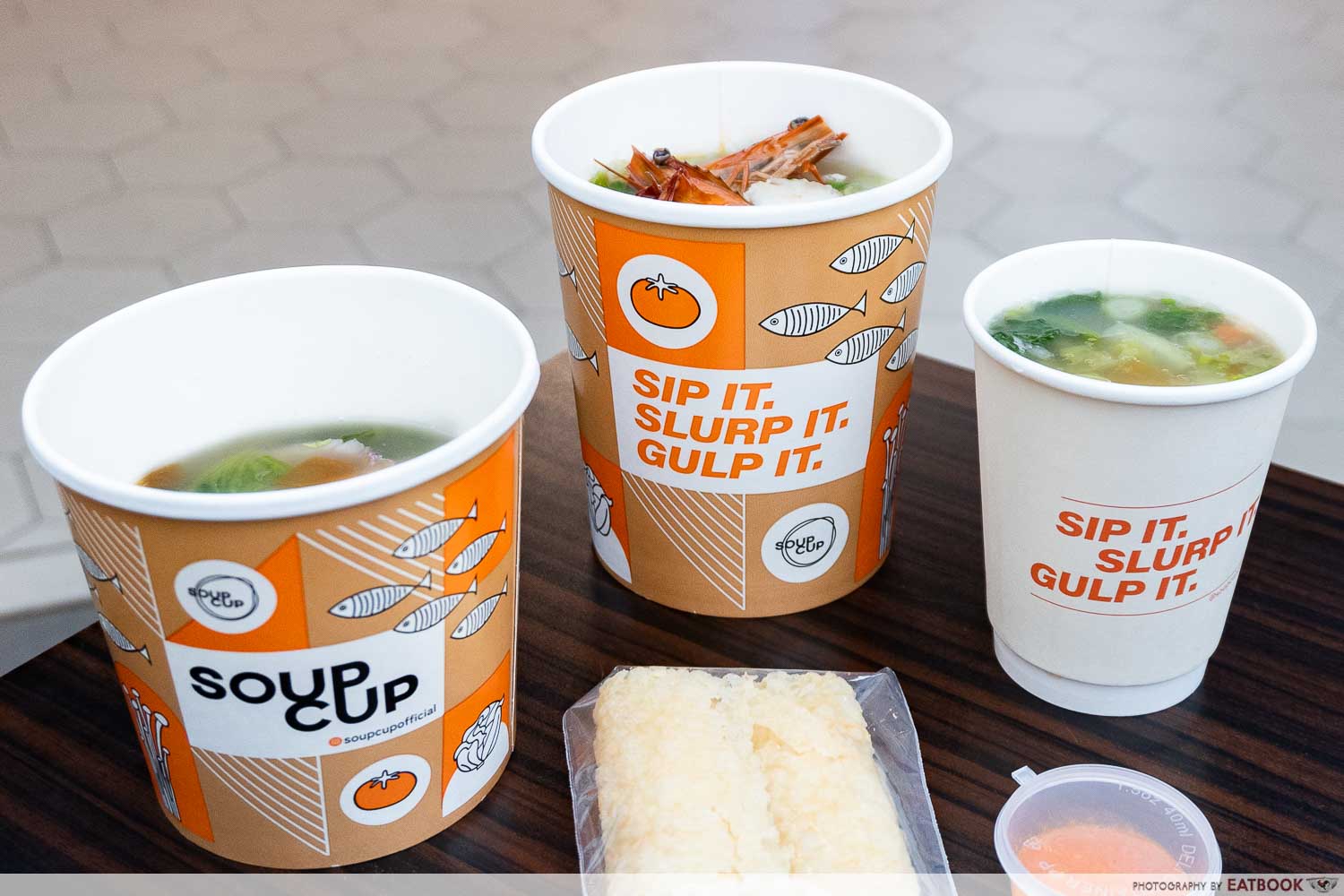 There's a new lunch spot in town for those working in the CBD! SoupCup is the latest addition to the plethora of food options in Raffles Quay, bringing to you Singapore's beloved fish soup served in a cup. One of the co-founders behind SoupCup is Sharon Gonzago, a finalist in Masterchef Singapore Season 1, who also manages a restaurant in Bali. To be honest, I'm not a big fan of fish soup, but the hype around this new grab-and-go kiosk piqued my interest.
Tipsy Flamingo Review: Actor Pierre Png's Wes Anderson-Style Bar Has Lobster Rolls And Fried Beef Rib
Food at SoupCup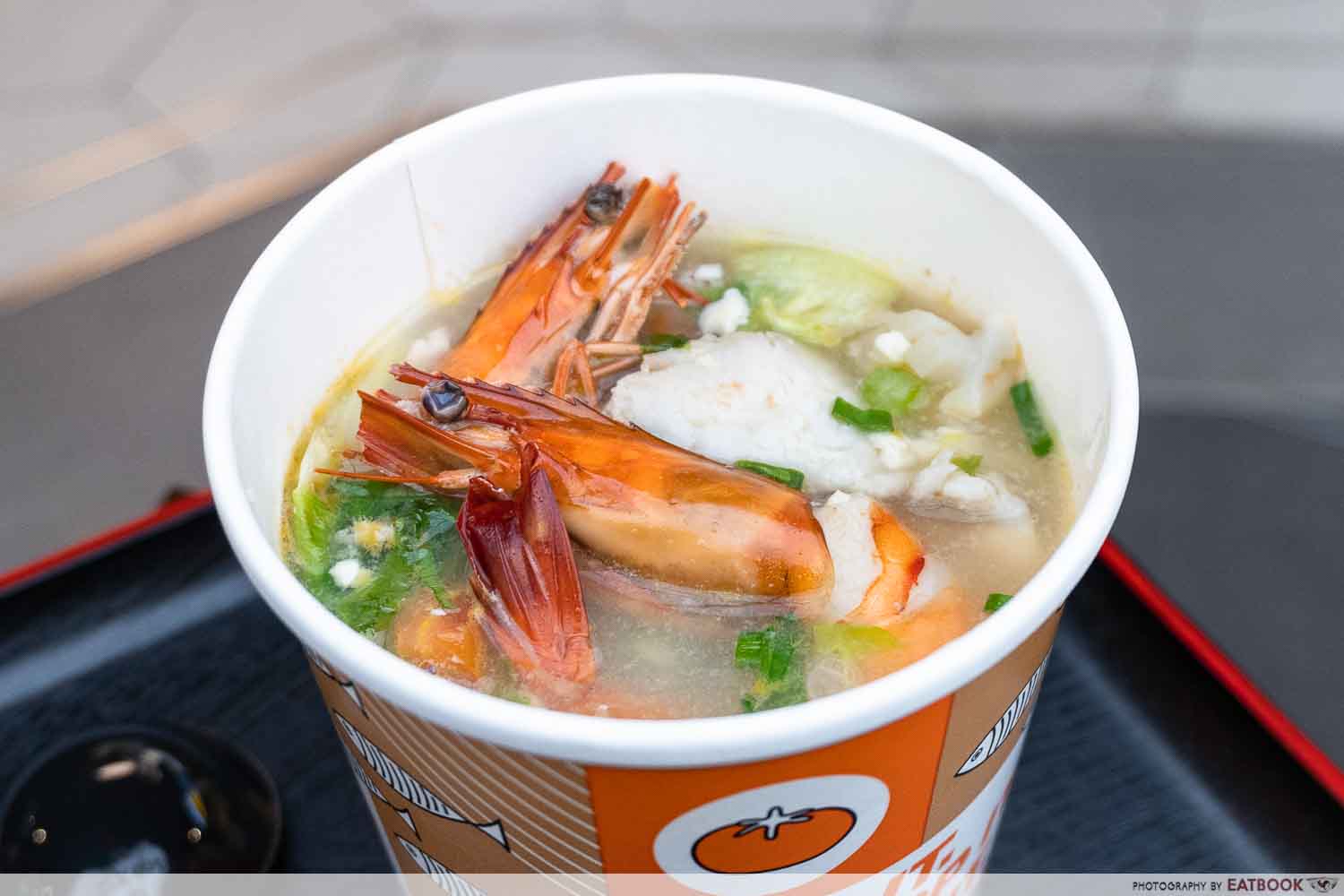 My colleague and I arrived at SoupCup with different appetites, so we ordered the hearty SoupCup Signature ($13) for myself while she got the Piccolo ($4), their soup-in-a-cup.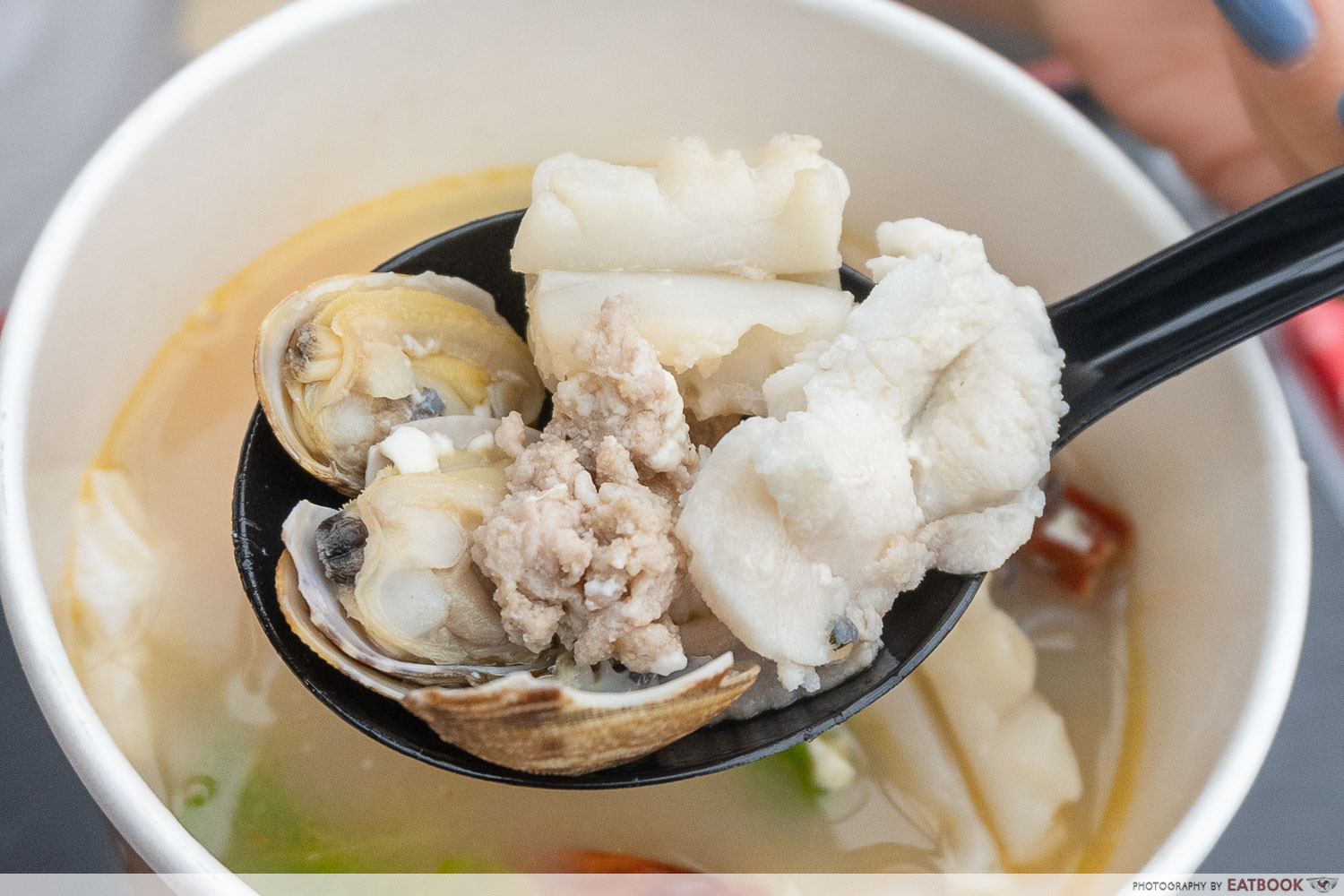 The Signature comprises a large bowl of fish soup topped with grouper, clams, pork, prawns, and squid. It is also served with konjac noodles. At first glance, the bowl was packed to the brim with ingredients, which seemed to justify the higher price point. The fish soup was also served on a tray, which reminded me of the ones you see at Yoshinoya or other fast food restaurants.
Upon taking a sip, my eyes widened at how flavourful the broth was. The soup was sweet, probably due to the prawns, vegetables, and minced pork. Sharon mentioned that the broth undergoes eight hours of slow boiling, which results in its rich, umami taste. And if you're feeling a little thirsty after drinking the soup, that's not because of MSG—it's MSG-free—but rather, due to the high collagen content.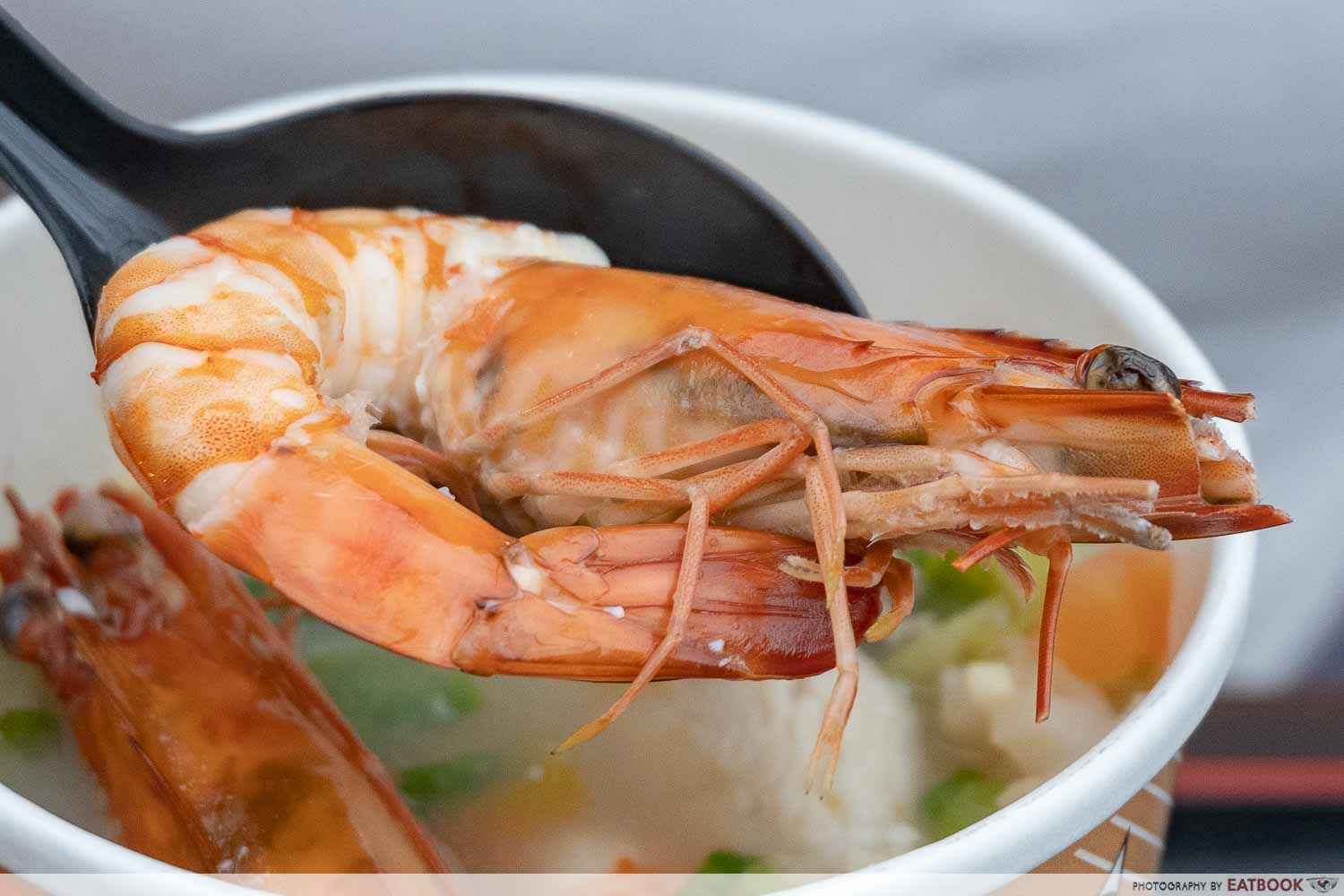 The prawns were also quite firm, and while not the softest, they were easy to chew and added a sweet and meaty taste to the soup. As for the grouper, it soaked up the broth well. Being a milder-tasting fish, it allowed the flavours of the other ingredients to shine.
I don't usually go for konjac noodles as they tend to have a distinct fishy smell, but the ones at SoupCup did not. These noodles were slick and slippery, making them easy to slurp up.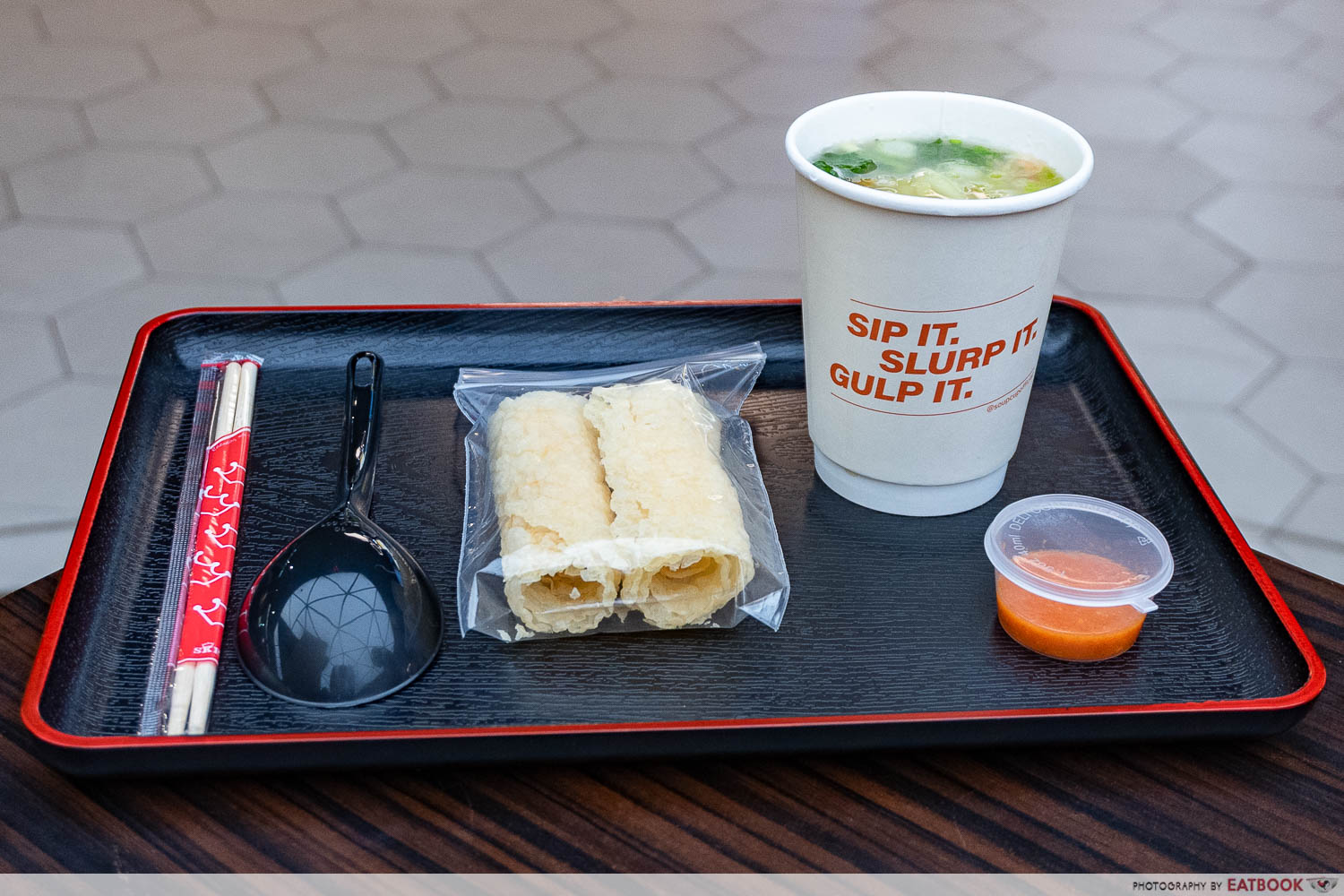 My colleague had the Piccolo, which is a simple fish soup served in Soupcup's iconic coffee cup. While the cup was small, it was packed with pork and fish slices. It also came with a tofu skin roll that you can dip into the thick soup and enjoy as a snack.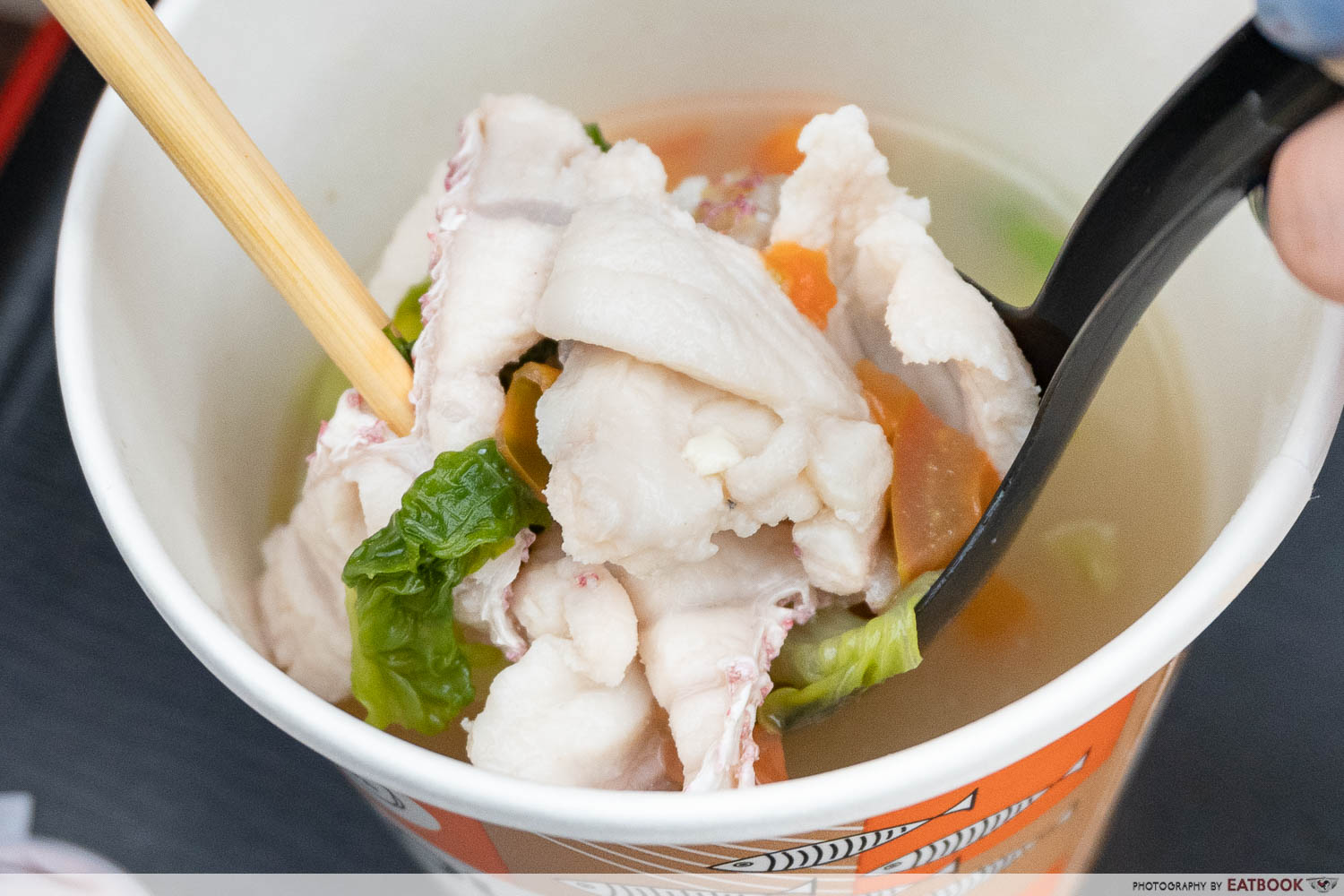 Sharon insisted that we try the Build-Your-Own-Soup, which allows you to customise your own fish soup from $7.50. We chose the red snapper for our protein and furikake rice to make it a more filling meal. According to Sharon, the snapper is their most popular fish, selling out as early as 12:30pm.
While the Signature had a sweeter broth, the BYOB was on the savoury side. The snapper was soft, and it did not take much effort before it disintegrated in my mouth. As the fish is delivered fresh every morning, it did not have a strong odor or a briney taste.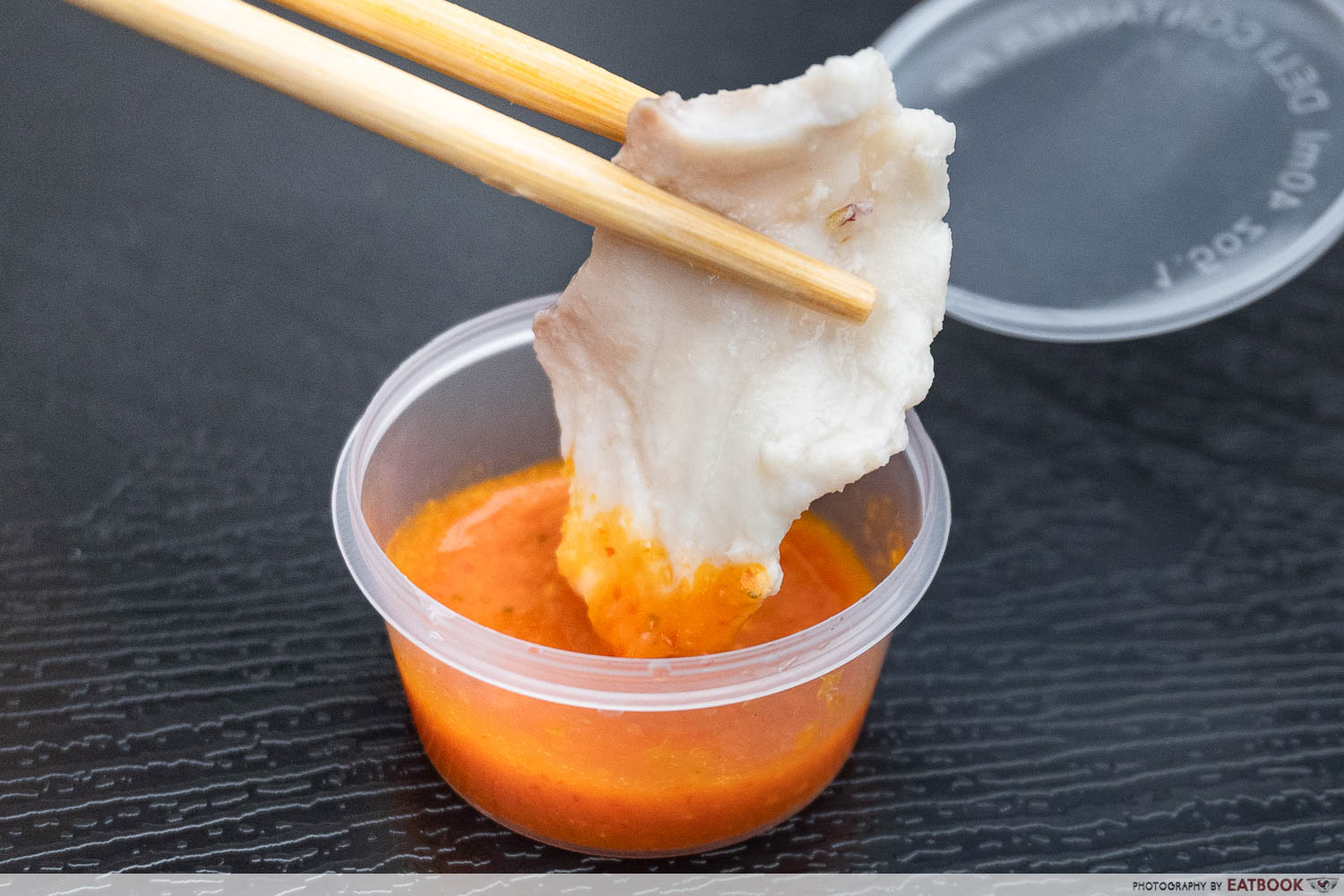 I also dipped the fish in SoupCup's signature chilli sauce, which had a spiciness that hit me immediately. While the chilli sauce was flavourful, I thought it could be a tad overpowering, though that may be due to my poor spice tolerance.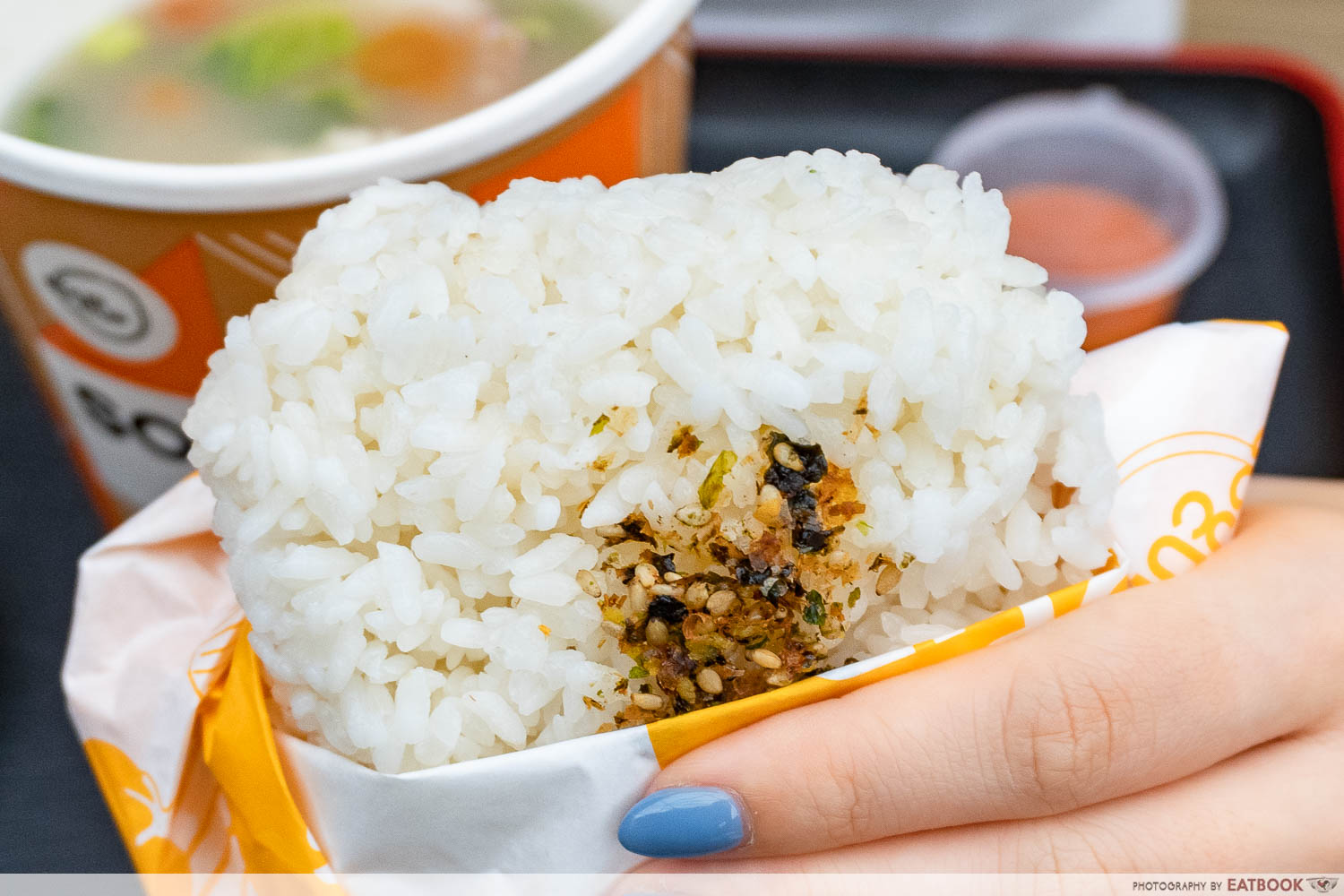 As for the furikake rice, I dumped it into the soup and mixed it in. This mixture made the dish "taste hearty and comforting like paofan, but soupier", according to my colleague.
First Street Teochew Fish Soup Review: Old-School Fresh Fish Soup From The 1980s
Ambience at SoupCup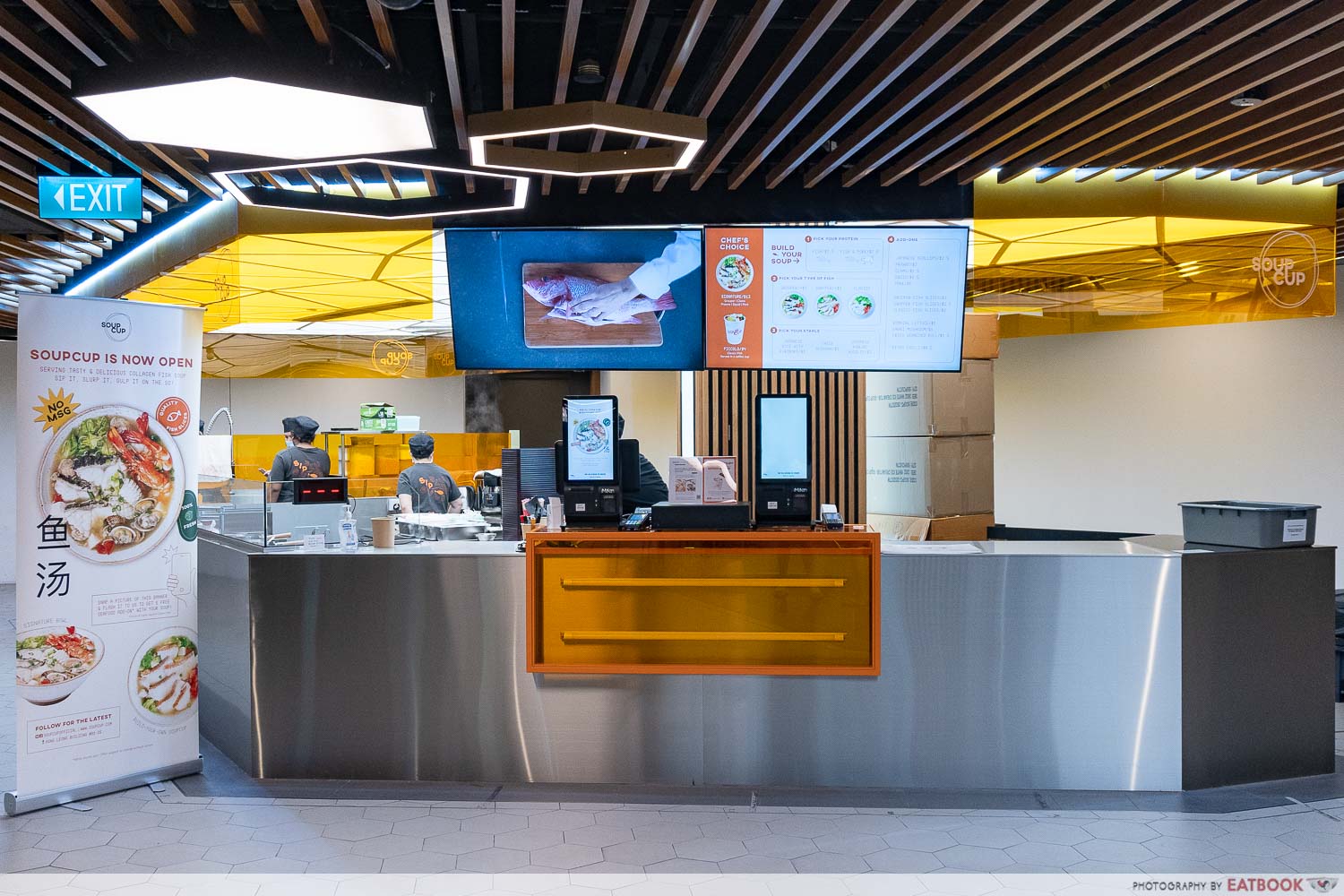 SoupCup sits in The Basement—the food hall of Hong Leong Building. The stall is located right beside one of the escalators, making it a prime location to draw in customers looking for a lunch spot. SoupCup has a few counter seats at their kiosk, but those lunching with a group may want to opt for a table at the hall's communal dining space.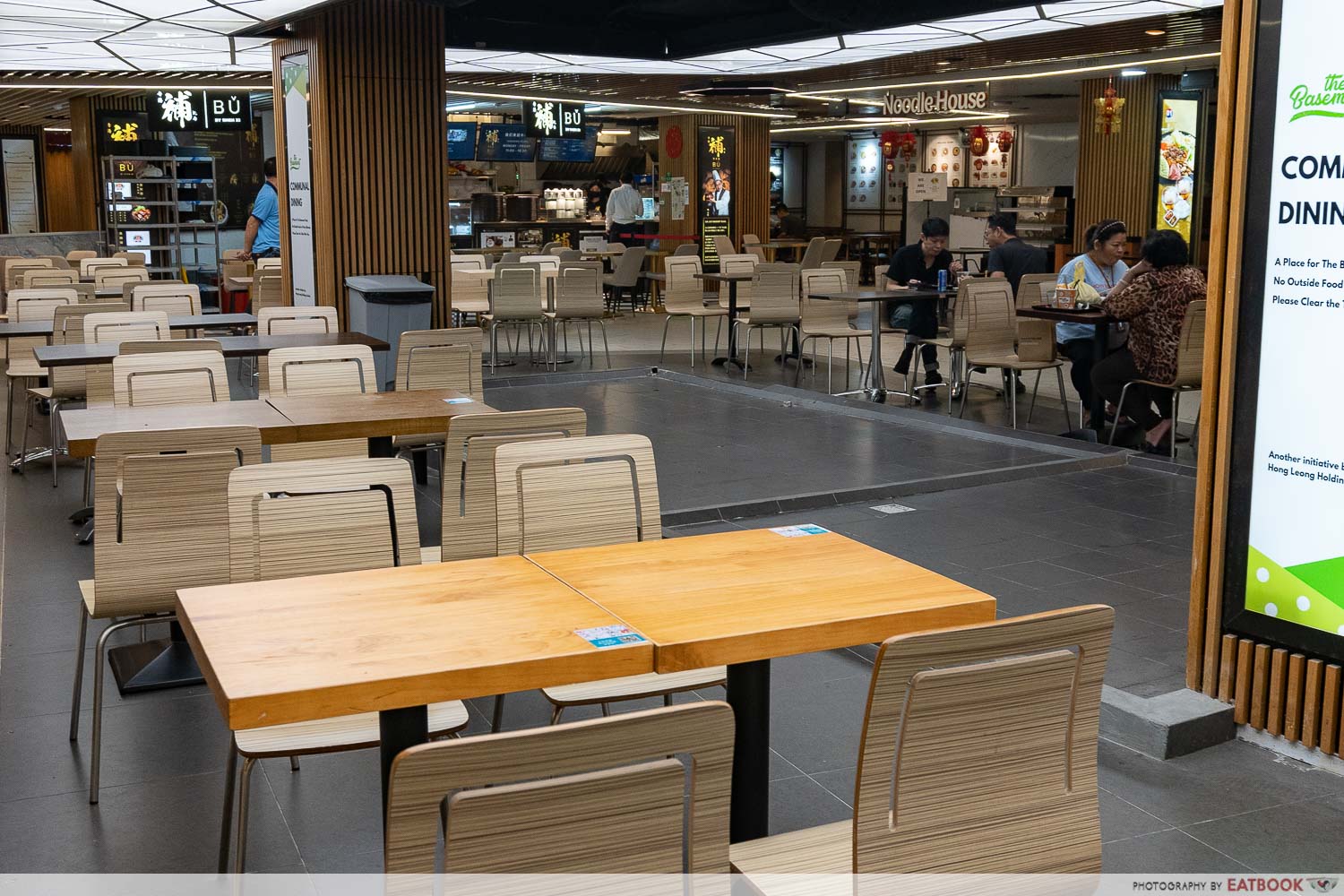 While the lunch crowd started pouring in at about 11:15am, it wasn't until 12pm that almost 80% of the seats were filled up, so be sure to come down early.
SoupCup is a six-minute walk from Raffles Place MRT Station.
The verdict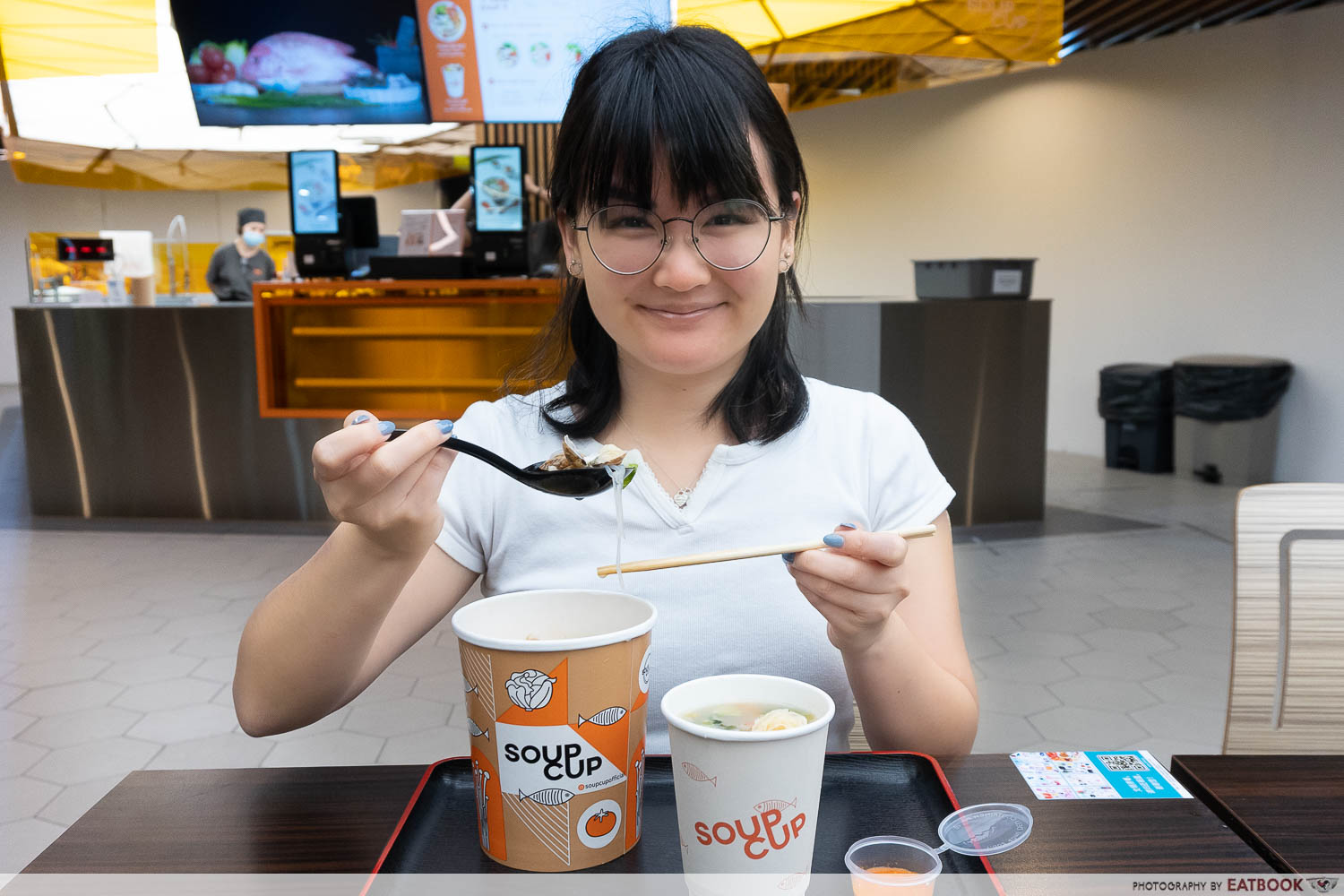 SoupCup has successfully converted me—someone who did not particularly like fish soup—into a fan of the dish. I even finished both the Signature bowl and the BYOB because they were so addictive and easy to drink.
We've been informed that SoupCup is opening a second outlet in White Sands Shopping Centre sometime in November this year, so be sure to look out for that as well!
For more good food in the CBD, check out our 18 Raffles Place food places guide. If you're looking for more delicious fish soup, read our Tang Kay Kee Fish Head Bee Hoon review.
Address: 16 Raffles Quay, #B1-26, Singapore 048581
Opening hours: Mon-Fri 9am to 3:30pm
Website
SoupCup is not a halal-certified eatery.
Tang Kay Kee Fish Head Bee Hoon Review: Famous Fish Soup And Zi Char Lunch Bowls From $5 By 4th-Gen Hawker
Photos taken by Casandra Nicholas and edited by Jasper Juay.
This was a media tasting at SoupCup.
SoupCup Review: Get Fish Soup In A Cup By A MasterChef Finalist In The CBD
SoupCup Review: Get Fish Soup In A Cup By A MasterChef Finalist In The CBD -

8/10
Summary
Pros
– Delicious fish soup with flavourful broth
– Generous ingredients and fresh seafood
Cons
– Hard to find seats during the lunch hour
Recommended dishes: Signature ($13) and Piccolo ($4)
Opening hours: Mon-Fri 9am to 3:30pm
Address: 16 Raffles Quay, #B1-26, Singapore 048581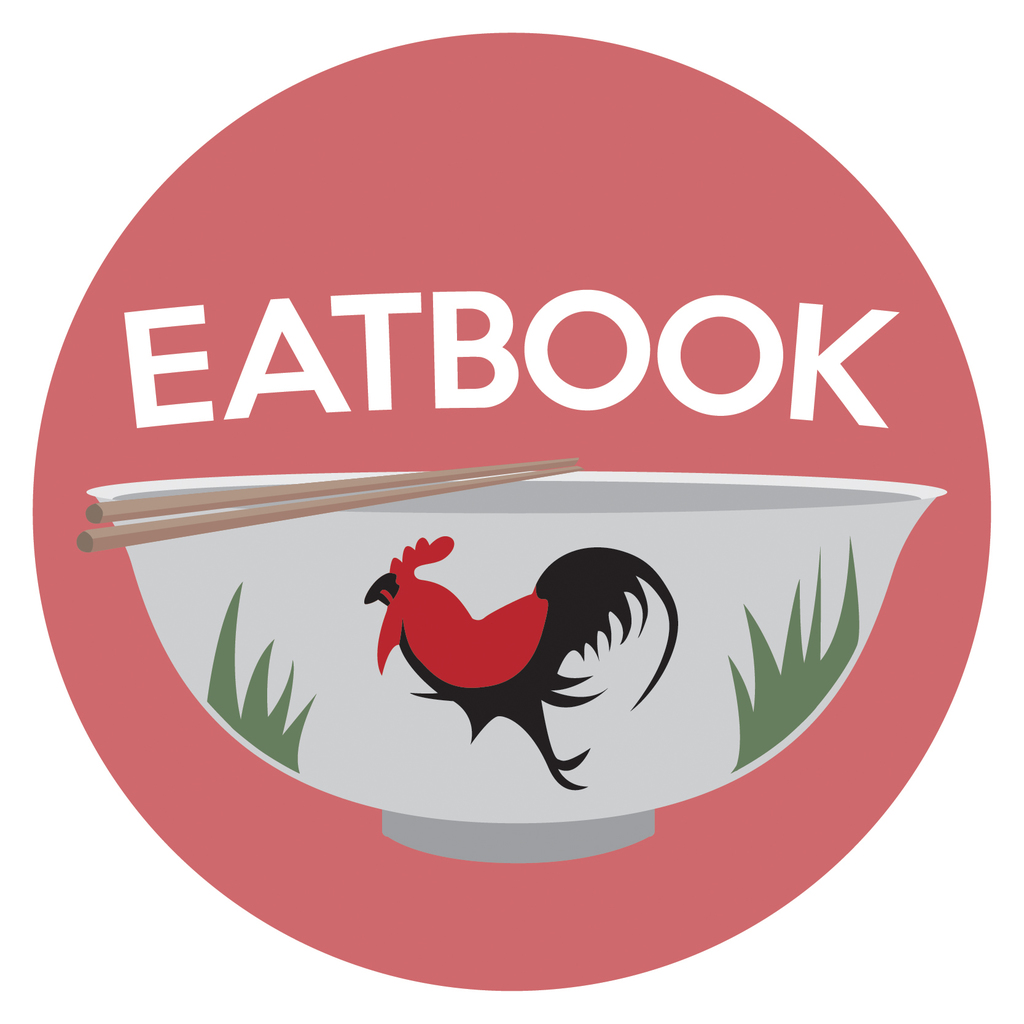 Drop us your email so you won't miss the latest news.