Phat Fingers is a new Korean fried chicken restaurant in Telok Ayer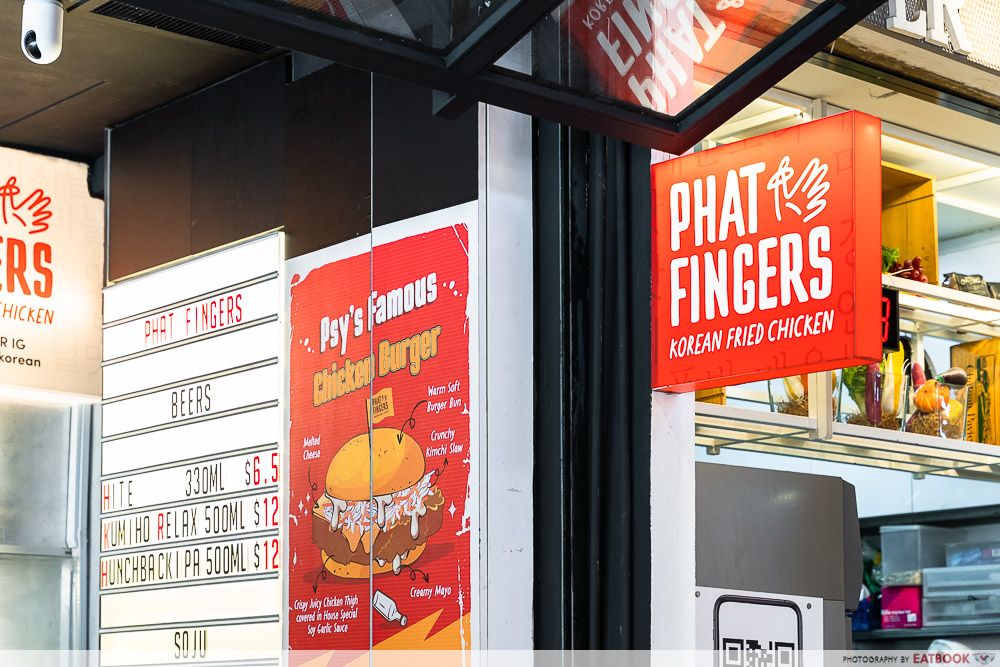 Korean fried chicken is one of those comfort foods many swear by, though admittedly, I don't consume it much as it often leans too sweet for my liking. Nonetheless, I decided to make an exception for Phat Fingers, which caught my eye for their affordable prices and variety of KFC dishes on offer.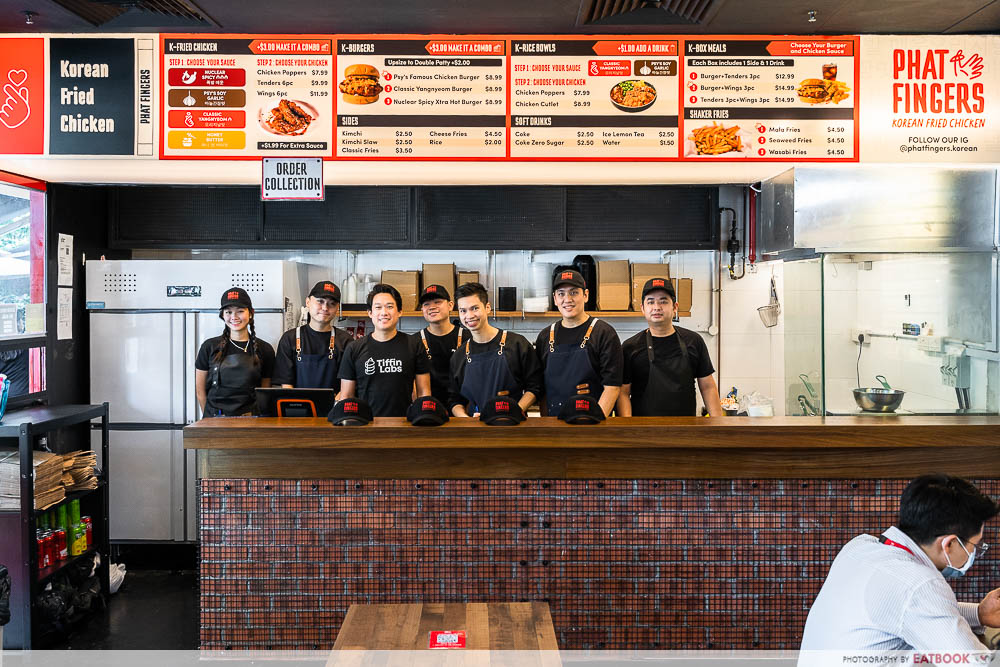 The fried chicken chain was originally a cloud kitchen-only concept, which meant their dishes were available purely for delivery and pickup at selected locations. After gaining much popularity since launching in 2021, Phat Fingers has upgraded to their first-ever physical space: at China Square Food Centre, right smack in the CBD.
Food at Phat Fingers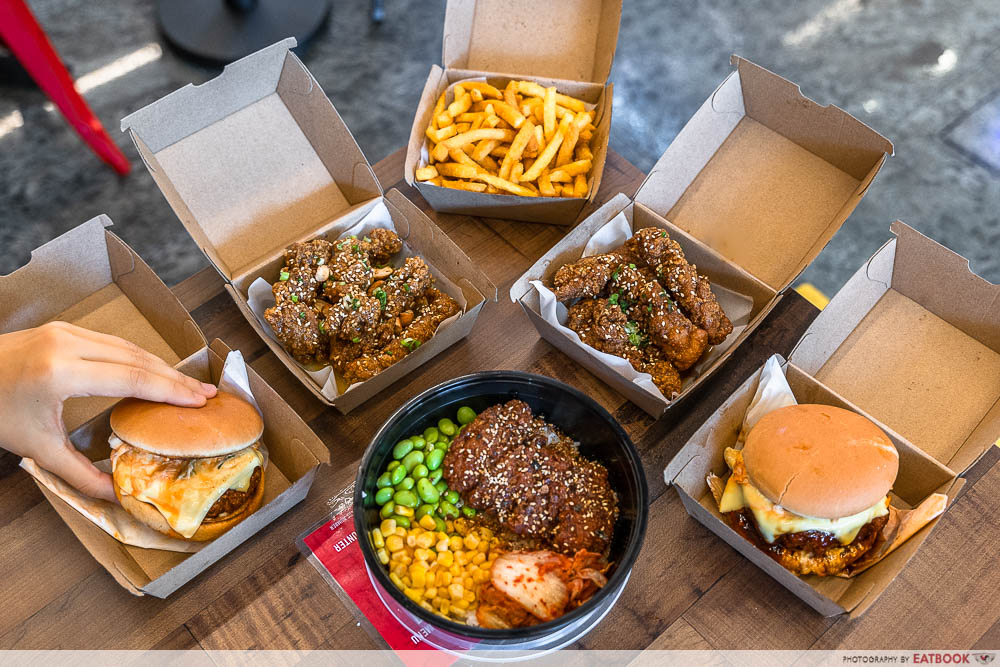 The menu is fairly extensive; patrons can get a taste of their Korean-style fried chicken in the form of burgers and rice bowls, or alone with fries.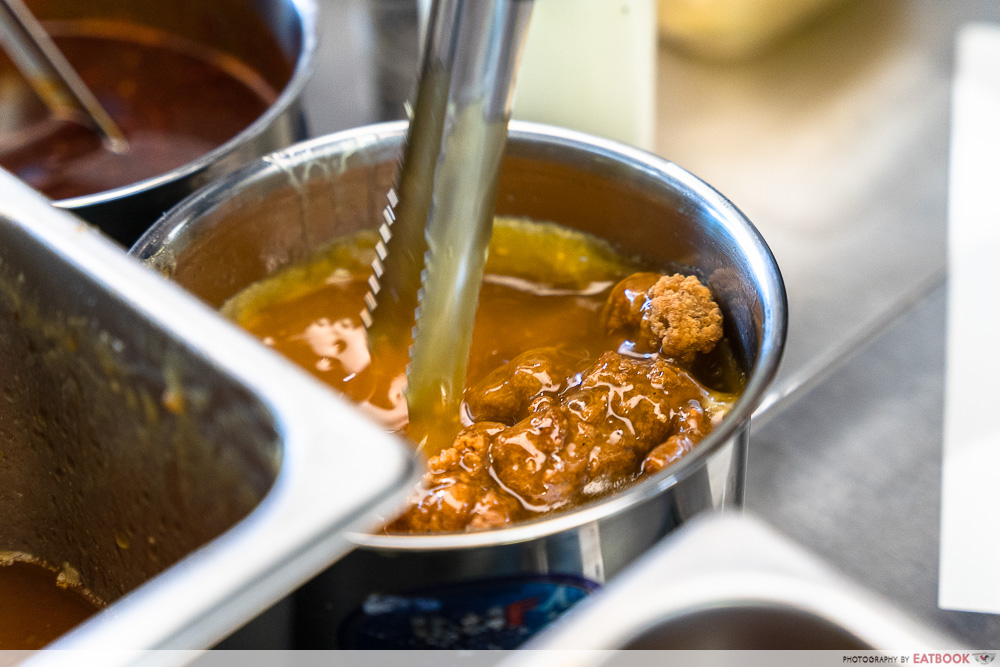 Everything is prepared to order. The chicken is deep-fried and then dunked into your sauce of choice right before it reaches your table. We're also told that the sauces are made fresh daily every morning.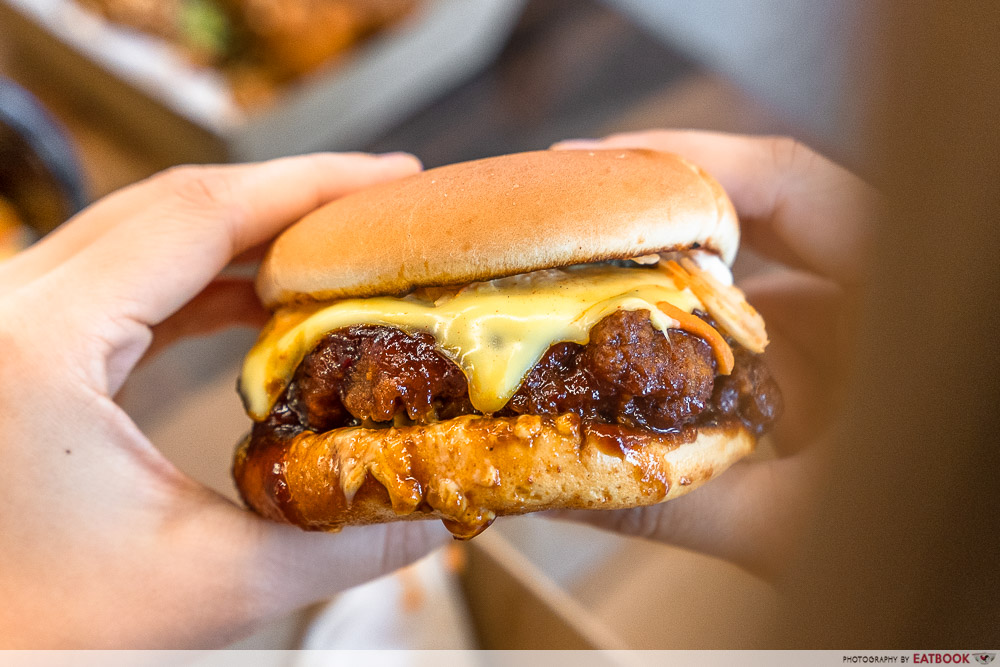 A standout during our lunch was the Nuclear Spicy Xtra Hot Burger ($8.99), a chunky number comprising a generous slab of deep-fried chicken thigh, drenched in a mouth-numbingly spicy-sweet sauce. It's topped with melty cheese and a house-made kimchi slaw to cut through the grease.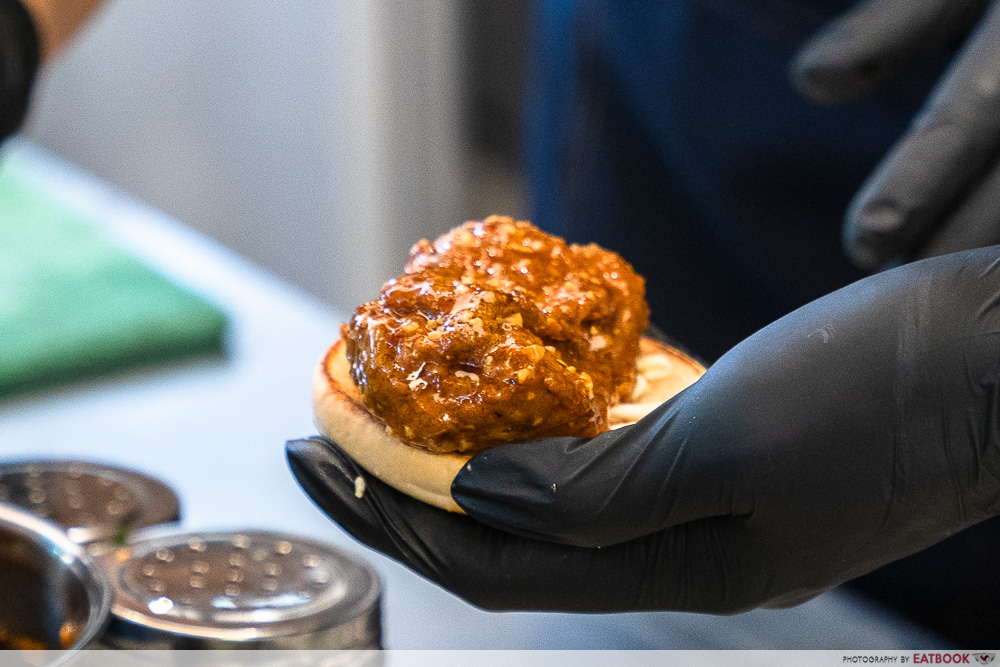 This turned out to be one of my top picks. It was sweet, spicy, and savoury all at once, balanced with that creamy kimchi-spiked slaw to offset the heat. I could do without the sliced cheese though, as I felt it didn't add much flavour to the burger. The buns were also a tad dry, but thankfully, the spicy sauce helped to add back some moisture.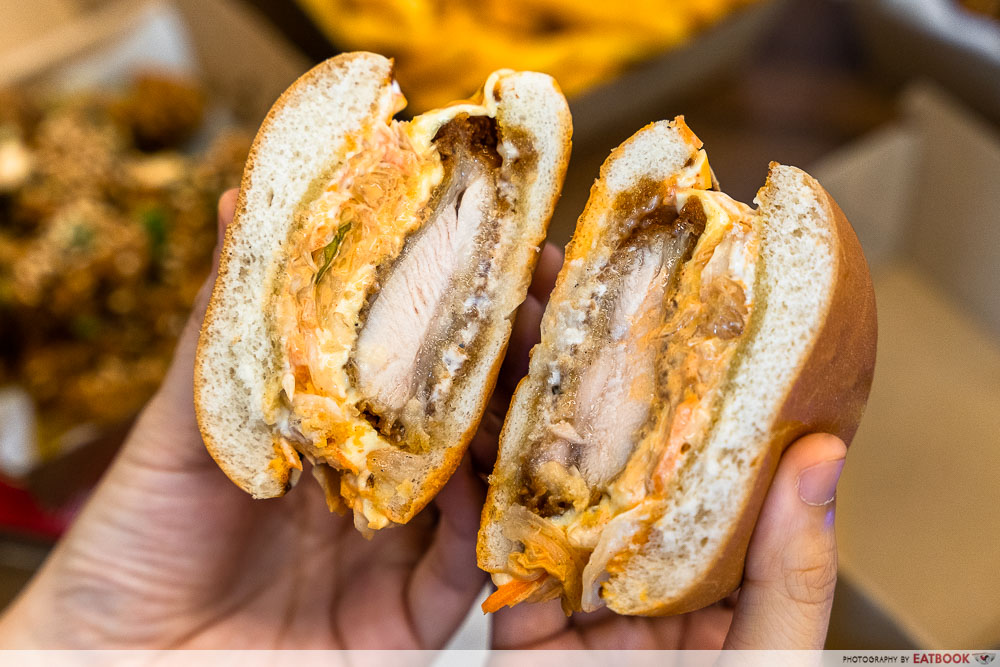 I can see why Psy's Famous Chicken Burger ($8.99) is another crowd favourite. You get a thick chicken thigh piece twice-fried to juicy perfection, complete with a bulgogi glaze, melted cheese, and the same kimchi slaw.
The flavours went well together, but again, the buns here were pretty lacklustre and leaned dry. Perhaps brioche would've worked better instead.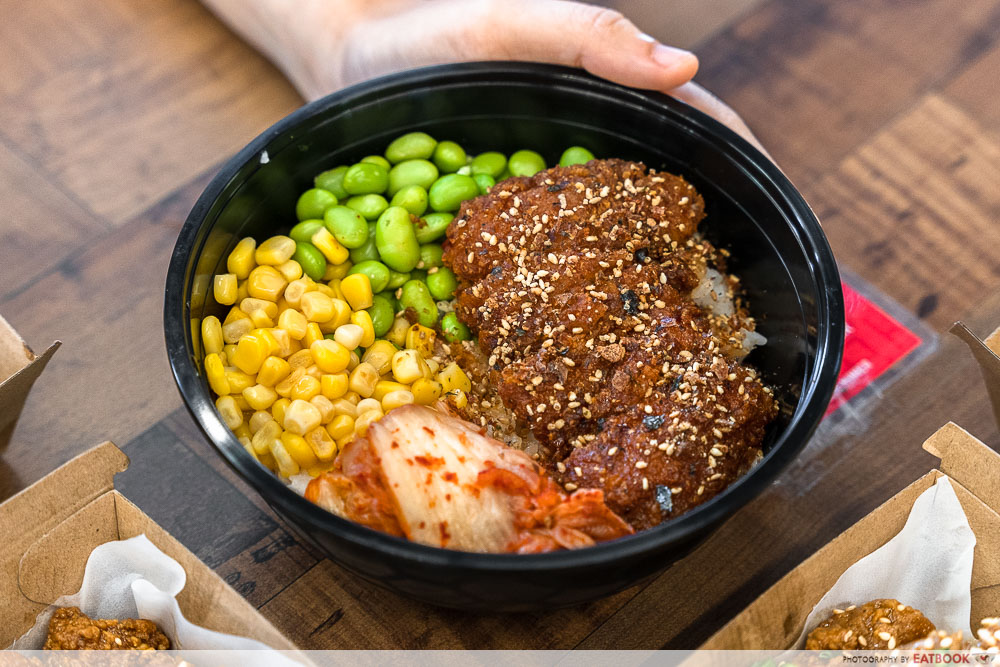 If you want something less sinful, try the Chicken Cutlet Rice Bowl ($8.99). You get a substantial serving of short-grain rice served with house-made kimchi, assorted veggies, and a sizeable portion of fried chicken cutlet.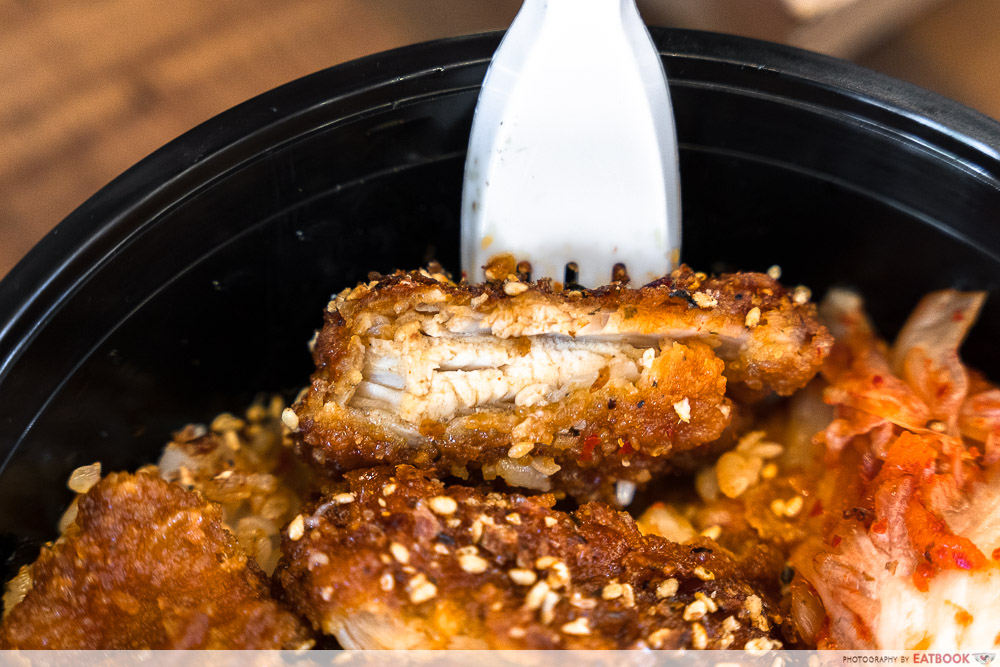 The juicy meat was sandwiched between crispy layers of deep-fried crust, glazed with your choice of Classic Yangnyeom or Soy Garlic sauce for added umami. I particularly enjoyed having this with the tangy kimchi to cut through the richness.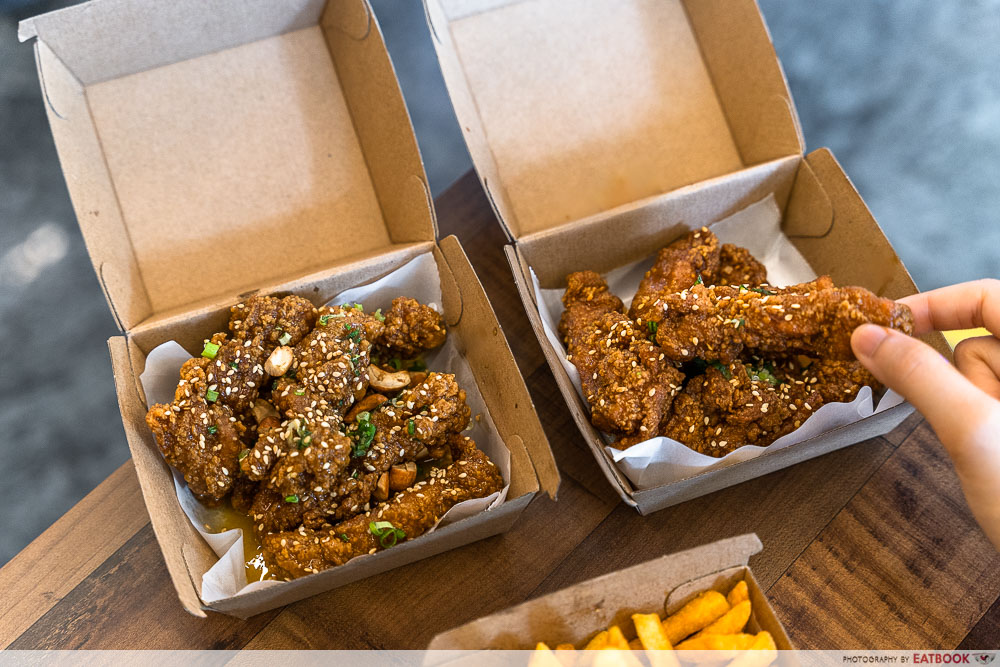 But since Korean fried chicken is, more often than not, a cheat meal, I'd much rather indulge in its purest form, sans unnecessary fixings. The Honey Butter Chicken Tenders ($9.99) came highly recommended, and boy, it didn't disappoint.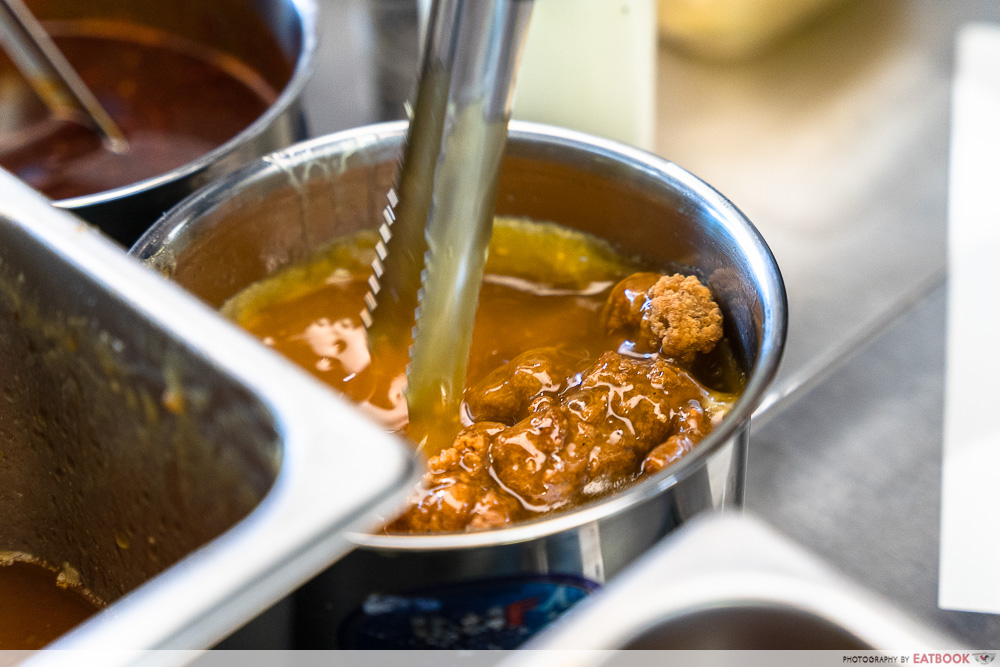 Each piece was coated in a sticky-sweet sauce reminiscent of the addictive honey butter almond snack that was first popularised in Korea. Topped with crunchy cashews, each bite had the ideal proportion of sauce, meat, and batter. If you need more proof of just how good it was, we nearly finished the whole box in one sitting,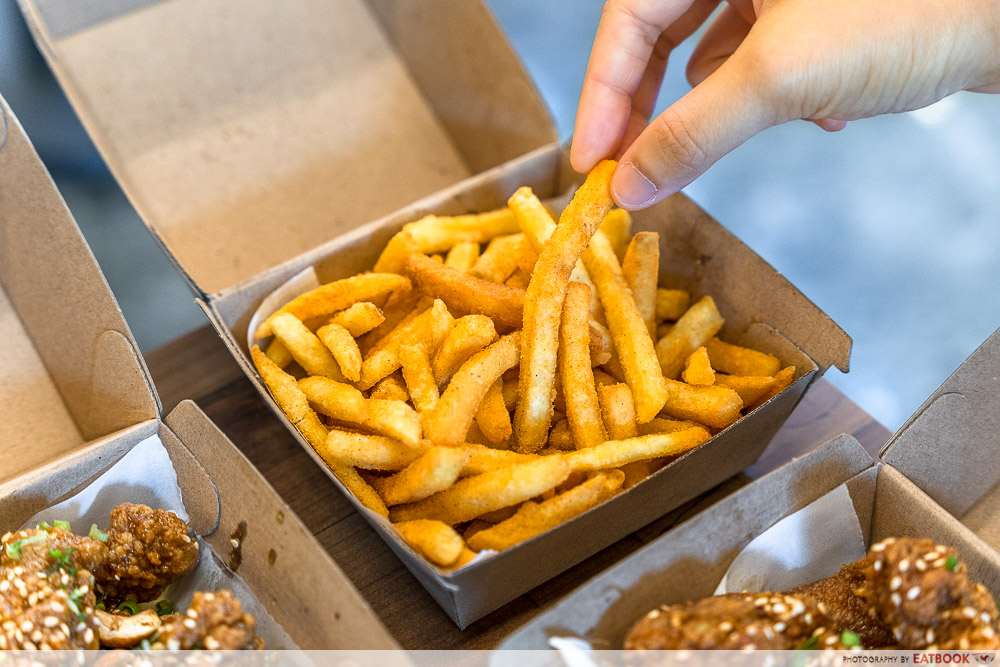 Should you want to fill up on carbs, Phat Fingers has Shaker Fries ($4.50) in three flavours: Mala, Seaweed, and Wasabi. The mala fries tasted mild as compared to the Nuclear burger I tried earlier, but that also means you can enjoy it even if you're not spice tolerant.
You can also complete your burger or fried chicken with a side of fries and a drink for a top-up of $3.
Ambience at Phat Fingers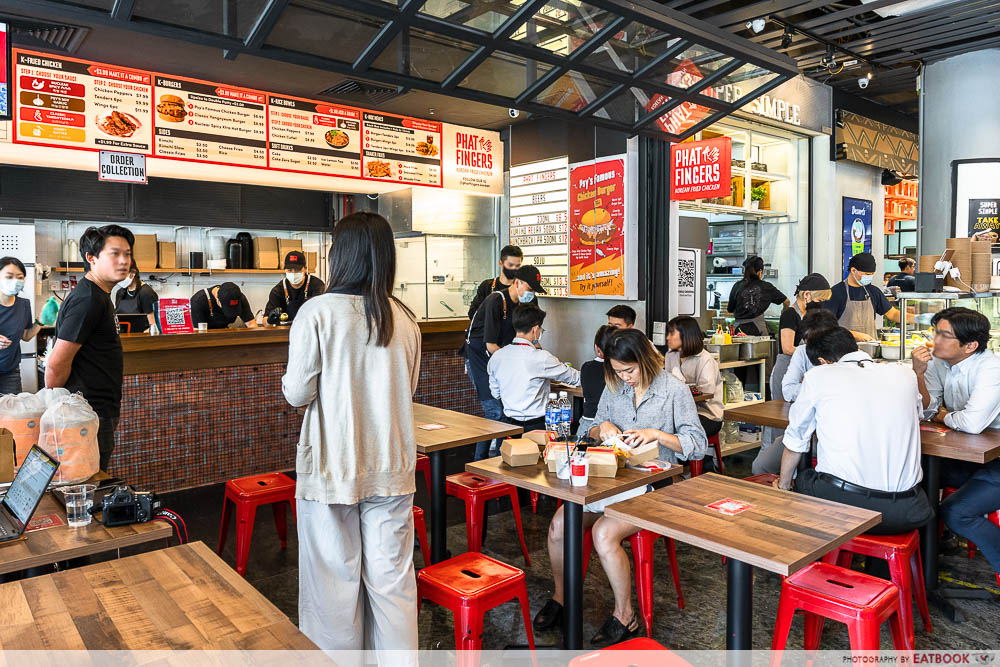 Phat Fingers sits right by the entrance of China Square Food Centre, a two-minute walk from Telok Ayer MRT Station. Seats are on a first-come-first-served basis, so I'd recommend you visit before the lunch crowd streams in at 12pm as that's when it's the most hectic.
The verdict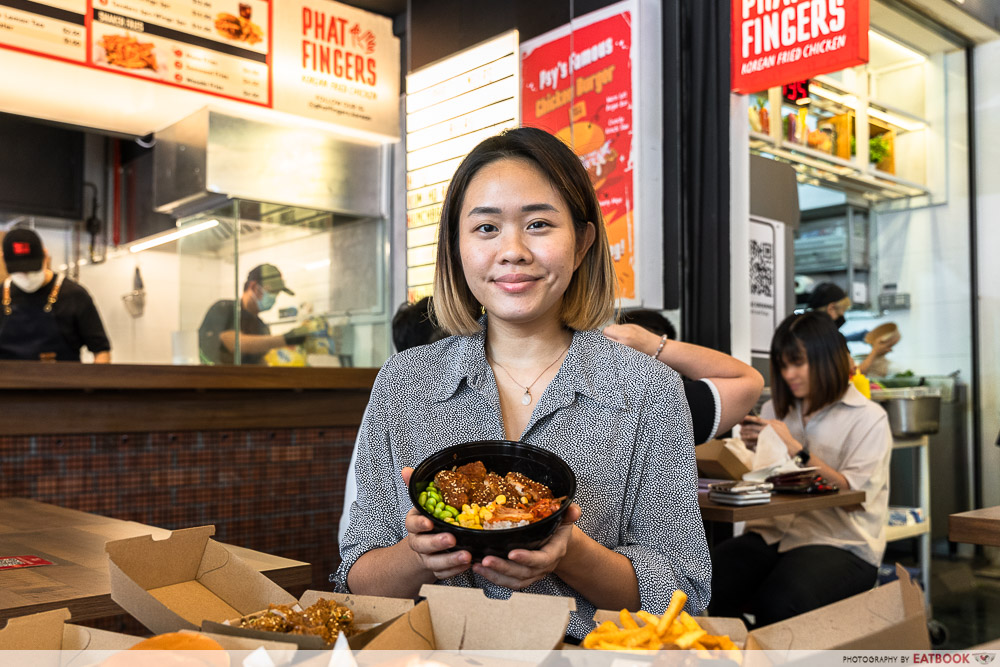 We came hungry and left satisfied. On the whole, I was impressed with the range and quality of Korean fried chicken served here. It's hard to find a place that's so conveniently located, offering a wide range of delicious yet affordable fried chicken. For that, Phat Fingers deserves a return visit on my list.
For more affordable Korean fare, read our NiuNiu Tea & DuDu Rice review, where we try handmade tteokbokki and more in Whampoa! Otherwise, there's also our Um Yong Baek review if you're up for hearty Busan-style pork soup and rice right around the corner at Boon Tat Street.
Address: 51 Telok Ayer Street, #01-03, China Square Food Centre, Singapore 048441
Opening hours: Daily 11am to 9pm
Website
Phat Fingers is not a halal-certified eatery.
NiuNiu Tea & DuDu Rice Review: Legit Lu Rou Fan And Handmade Tteokbokki From $3.30 In Whampoa
Photos taken by Chew Yi En.
This was a media tasting at Phat Fingers.
Phat Fingers Review: $8 Honey Butter Korean Fried Chicken And More Near Telok Ayer MRT
Phat Fingers Review: $8 Honey Butter Korean Fried Chicken And More Near Telok Ayer MRT -

8/10
Summary
Pros
– Affordable prices
– Convenient location
– Honey Butter fried chicken was delicious
Cons
– Hard to find seats during the lunch hour
– Burger buns were dry
Recommended dishes: Honey Butter Chicken Tenders ($9.99), Nuclear Spicy Xtra Hot Burger ($8.99)
Opening hours: Daily 11am to 9pm
Address: 51 Telok Ayer Street, #01-03, China Square Food Centre, Singapore 048441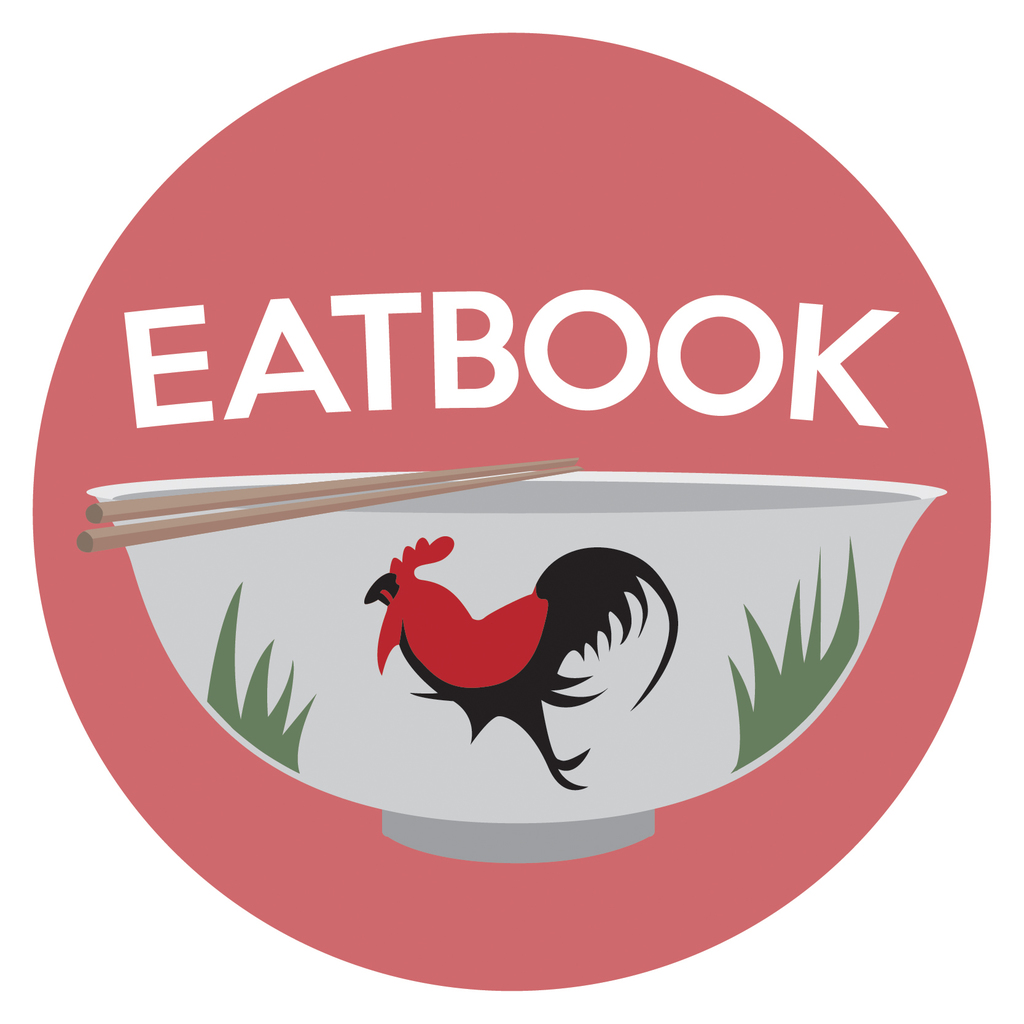 Drop us your email so you won't miss the latest news.