Tsukimi Hamburg has Wagyu beef hamburg don in Raffles Place
When Tsukimi Hamburg first opened in Jurong Point last year, I wanted dearly to go—but Boon Lay is rather out of the way for me. Then, they opened in Hougang Mall, and that was still too far away. Finally, their third location landed in Raffles Place, on the first floor of CapitaSpring, and I, at long last, had my opportunity to try their famous hamburg steaks and rice bowls.
In case you were wondering, a hamburg steak, AKA ハンバーグ (hanbāgu) in Japan, is similar, but not entirely the same as, a hamburger. They both gained popularity in Japan thanks to the introduction of Western influences: the hamburg steak during the Meiji era of the 19th century, and the hamburger courtesy of US military presence in Japan after World War Two. Where the hamburger patty is usually just seasoned minced beef fried and served in a bun, the hamburg steak sees the addition of pork, eggs, panko, and seasoning. It's also typically served on a hotplate or bowl of rice, and can be found in most yōshoku, or Western-influenced eateries in Japan.
Food at Tsukimi Hamburg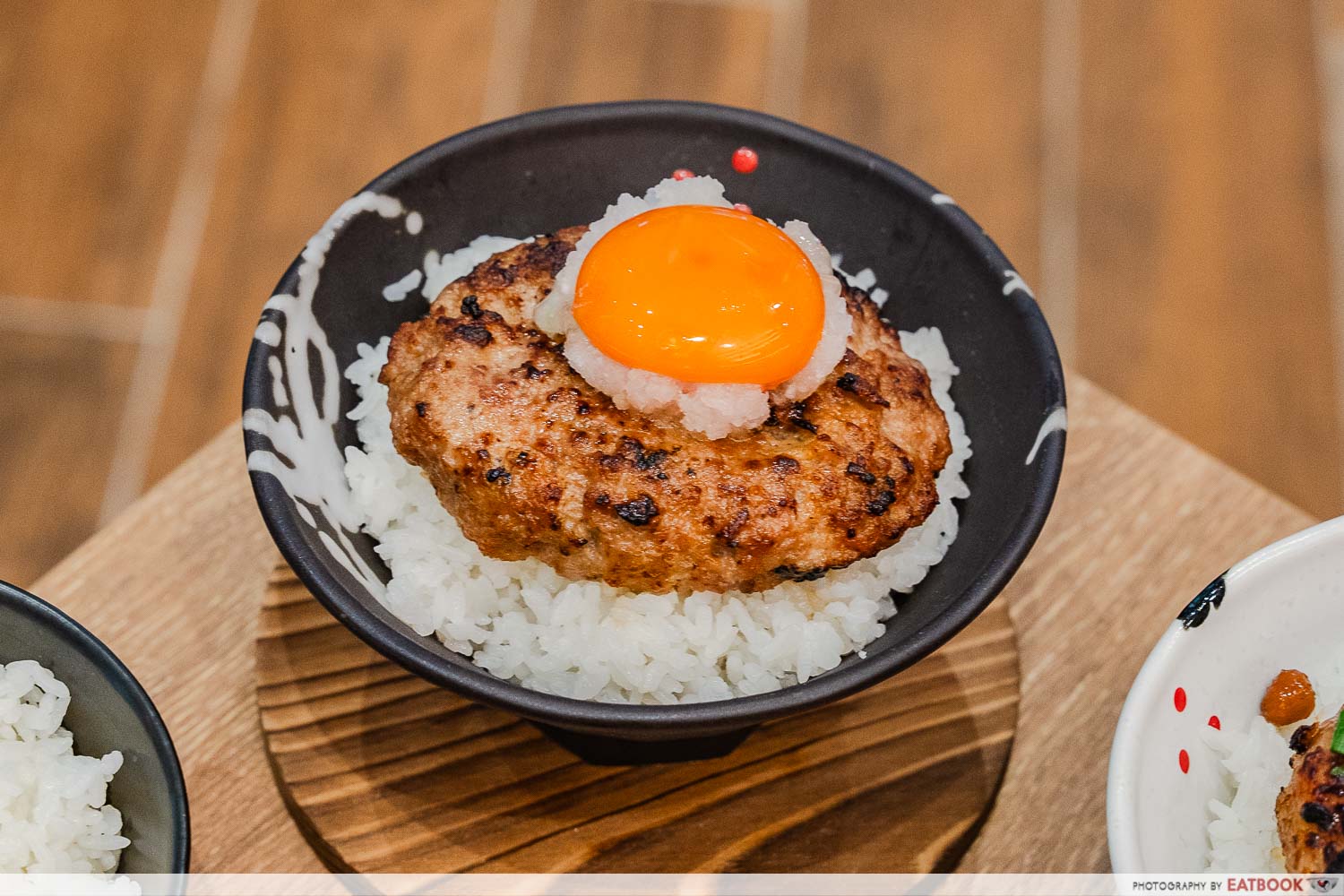 We started with their signature Tsukimi Hamburg Don ($14.80), which comes with a bowl of Homemade Tamago Soup on the side. It's a classic don that's elegant in its simplicity—it starts with Hitomebore rice from Tohoku in Japan, on which sits a 180g, handmade patty made of US beef, pork, and Miyazaki Wagyu. This is topped with oroshi daikon, or grated radish in simpler terms, and a raw Japanese egg yolk.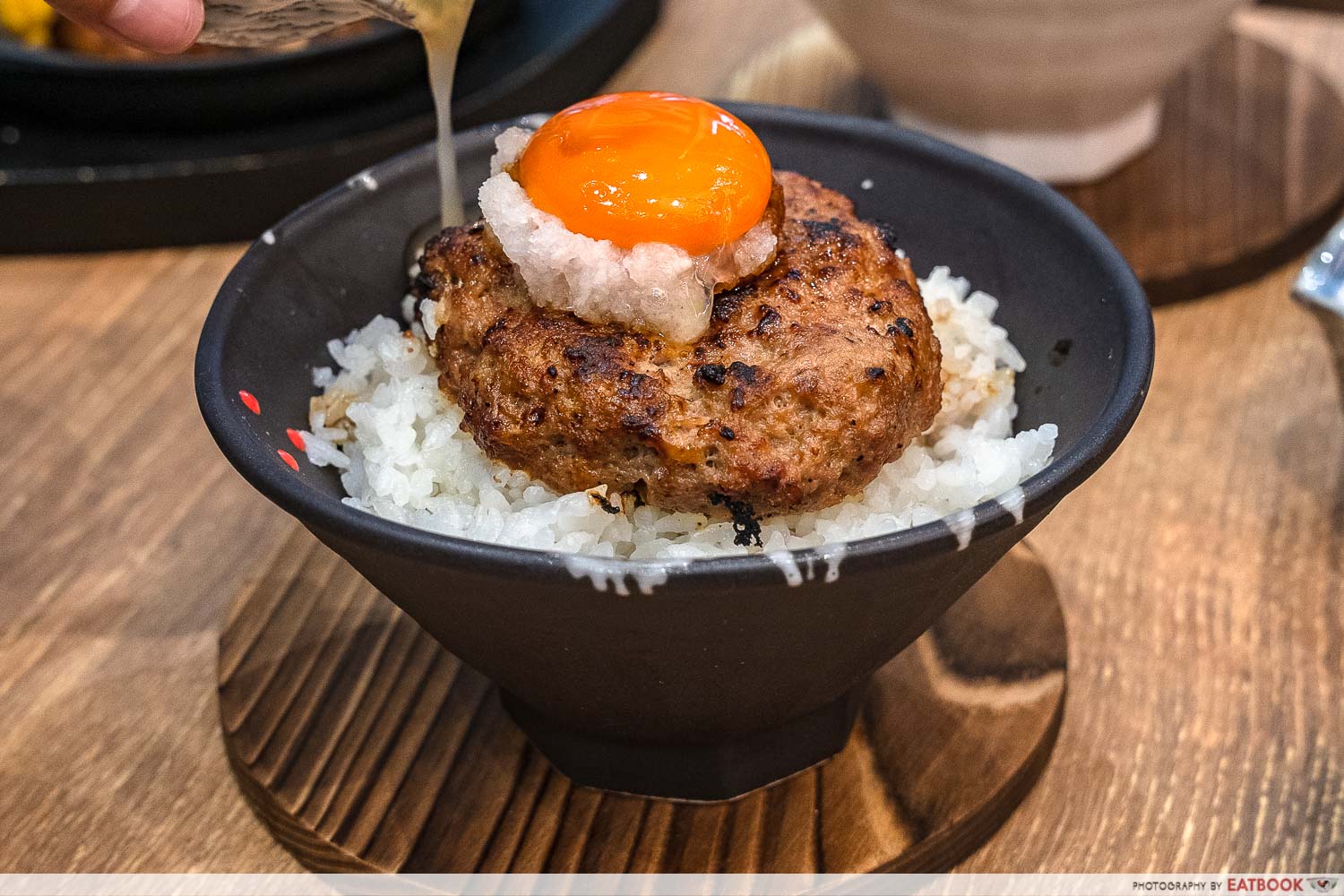 You're given a small spray bottle of shoyu, or light soya sauce, which you're meant to spritz on the egg before digging in. There's also bowl of bonito-kombu gravy that you can pour over the rice to lend the dish a subtle umami flavour.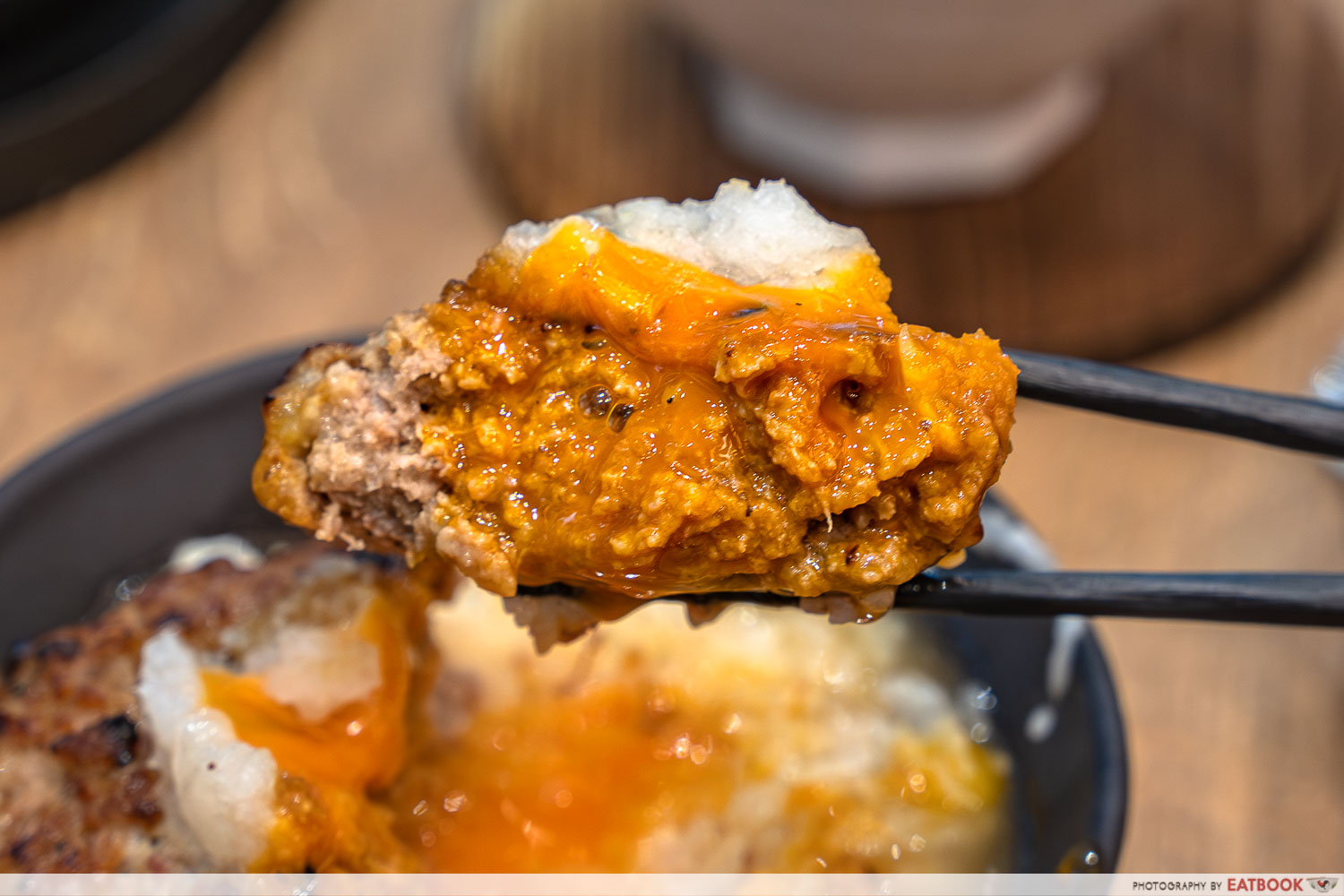 Break into the yolk for that oozing #eggporn shot. You get to choose between beef, and their newly added pork hamburg. We opted for the beef, and found it juicy, without being too dense or firm. Seared, then finished in the oven, the hamburg steak didn't feel greasy in the mouth, nor did it taste overly meaty.
For a non-egg option, go for Classic Hamburg Don ($13.80), where the grated radish is sauced up with ponzu; otherwise try Spicy Sakura Ebi Hamburg Don ($13.80) for a topping of garlic chilli oil and sakura ebi, rather than the egg yolk.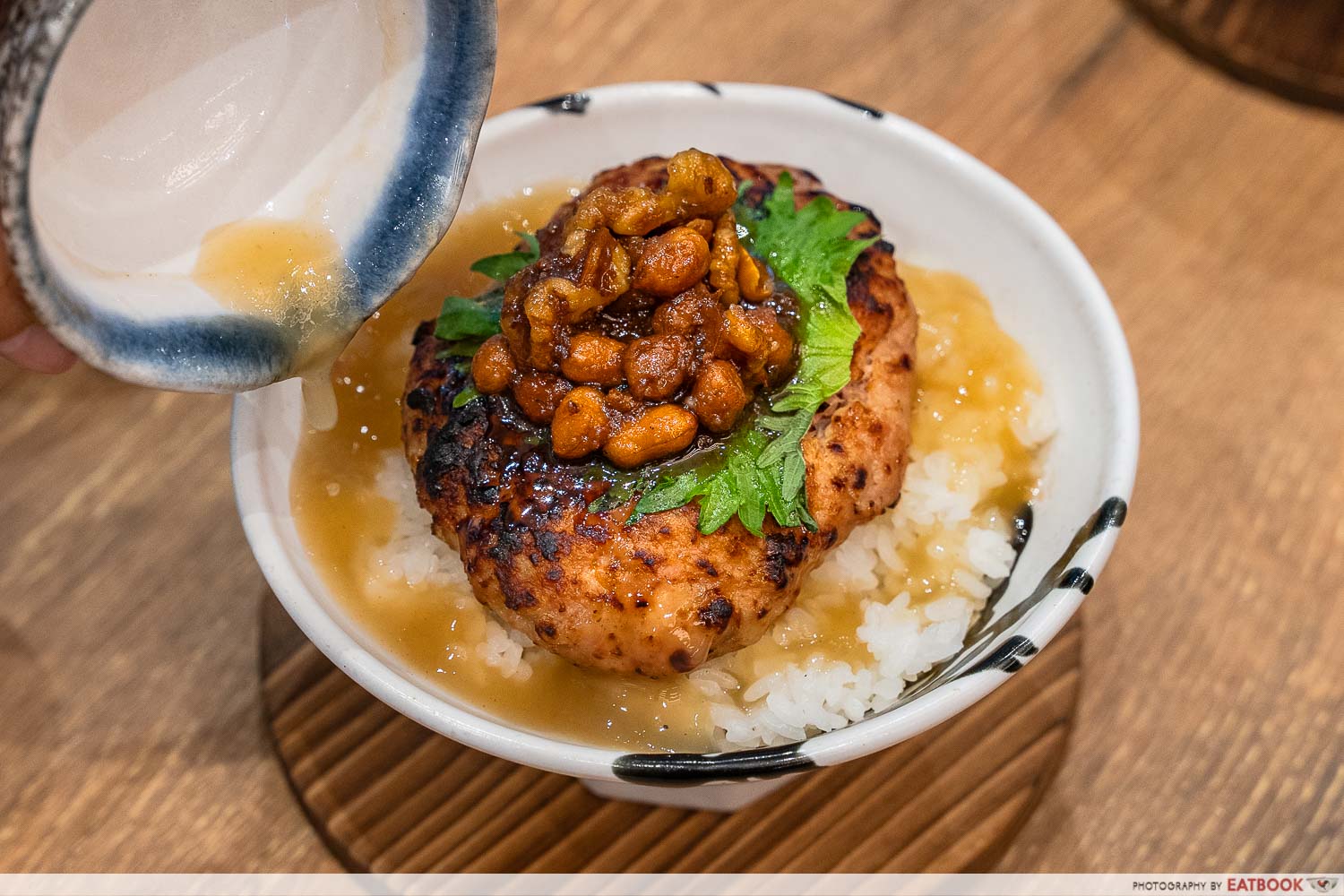 New to the Tsukimi Hamburg menu is Miso Nuts Hamburg Don ($13.80), featuring miso-glazed peanuts and walnuts on our choice of pork hamburg.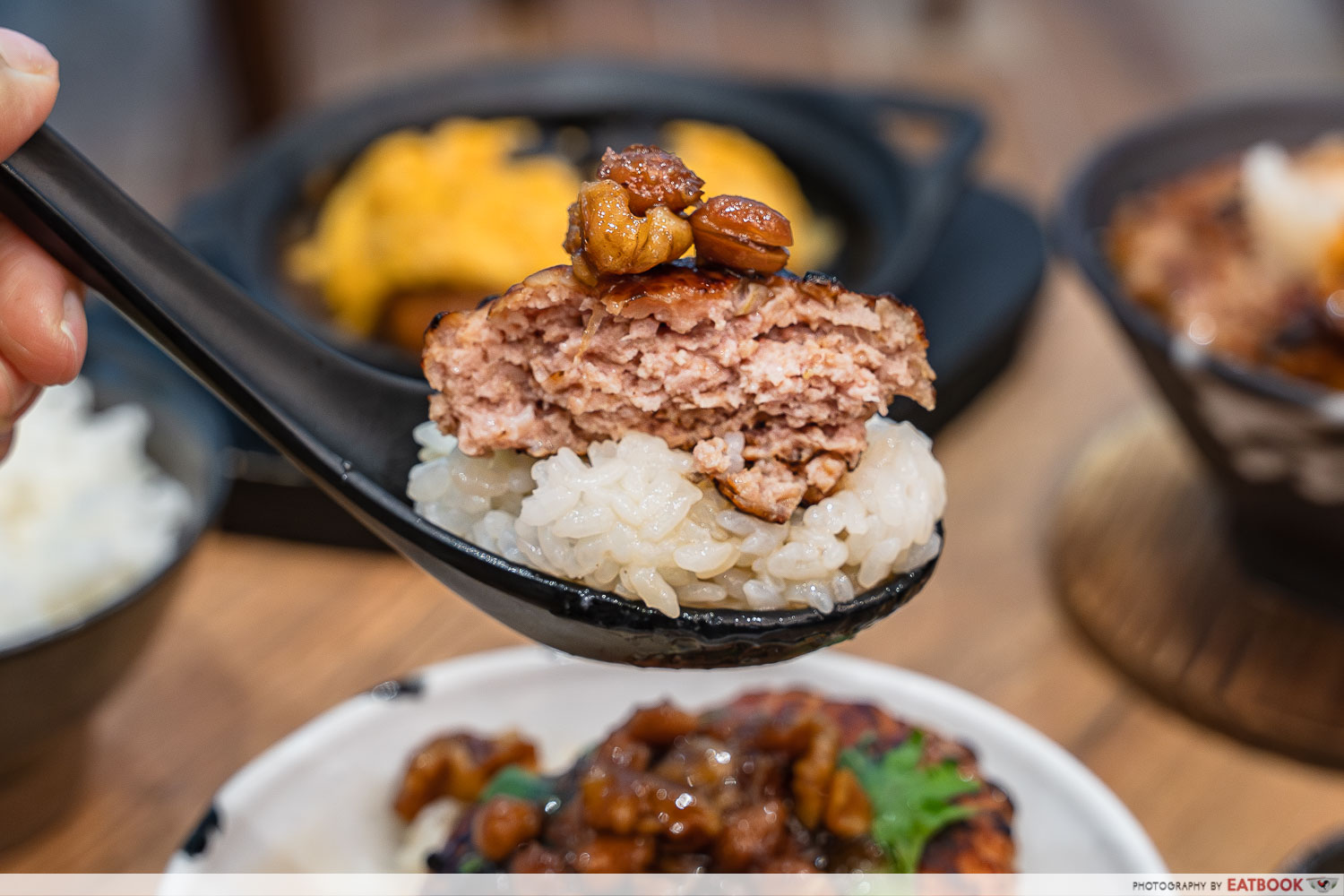 Where the beef hamburg had a more pronounced buttery flavour from the Wagyu mince and fat, the pork hamburg tasted a little more subdued but no less tasty. Made with a blend of chicken and pork, it was also a touch firmer. If you enjoy stronger flavours and texture in your food, go for the Miso Nuts Hamburg Don, because you get both here.
Should you find that a single hamburg patty isn't enough for you, top up $8 for a second, and $2.50 for another Japanese egg.
The last item we tried was Truffle Omuburg Teishoku ($19.80), which sees a pork hamburg steak blanketed in an omelette, topped with truffle cream on a hotplate. Zhng up your hamburg with Avocado ($3.50), Raclette Cheese ($4.50), Foie Gras ($9), Sauteed Mushroom ($4.50), or even Thick-Cut Bacon ($5.50), which is said to add an extra savoury, smoky flavour to the dish.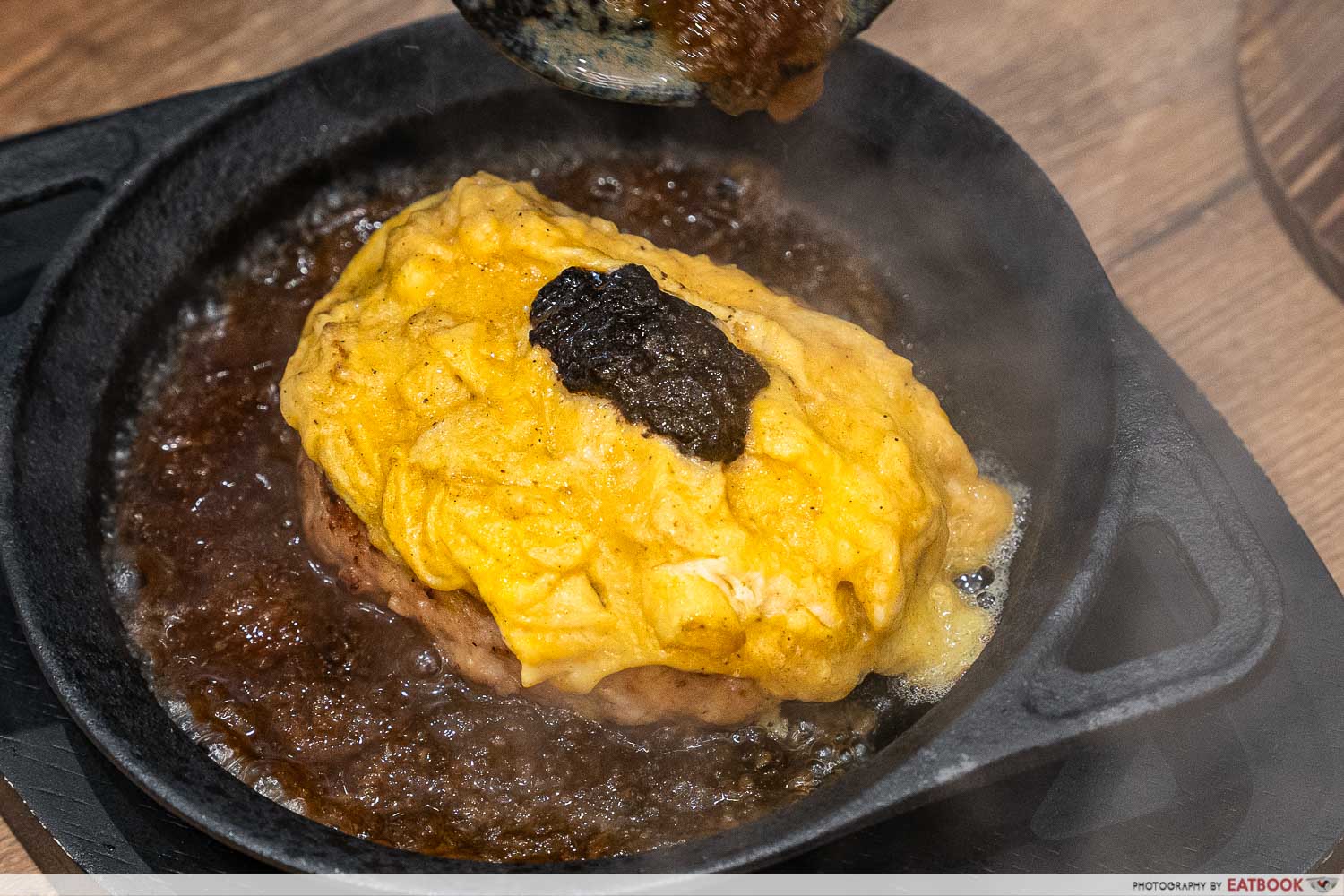 Served on the side is Wafu Mizore An, a Japanese-style sauce of grated radish and ginger, pickles, salad, rice and tamago soup. It's recommended that you pour the gravy onto the hotplate ASAP for that sizzling action.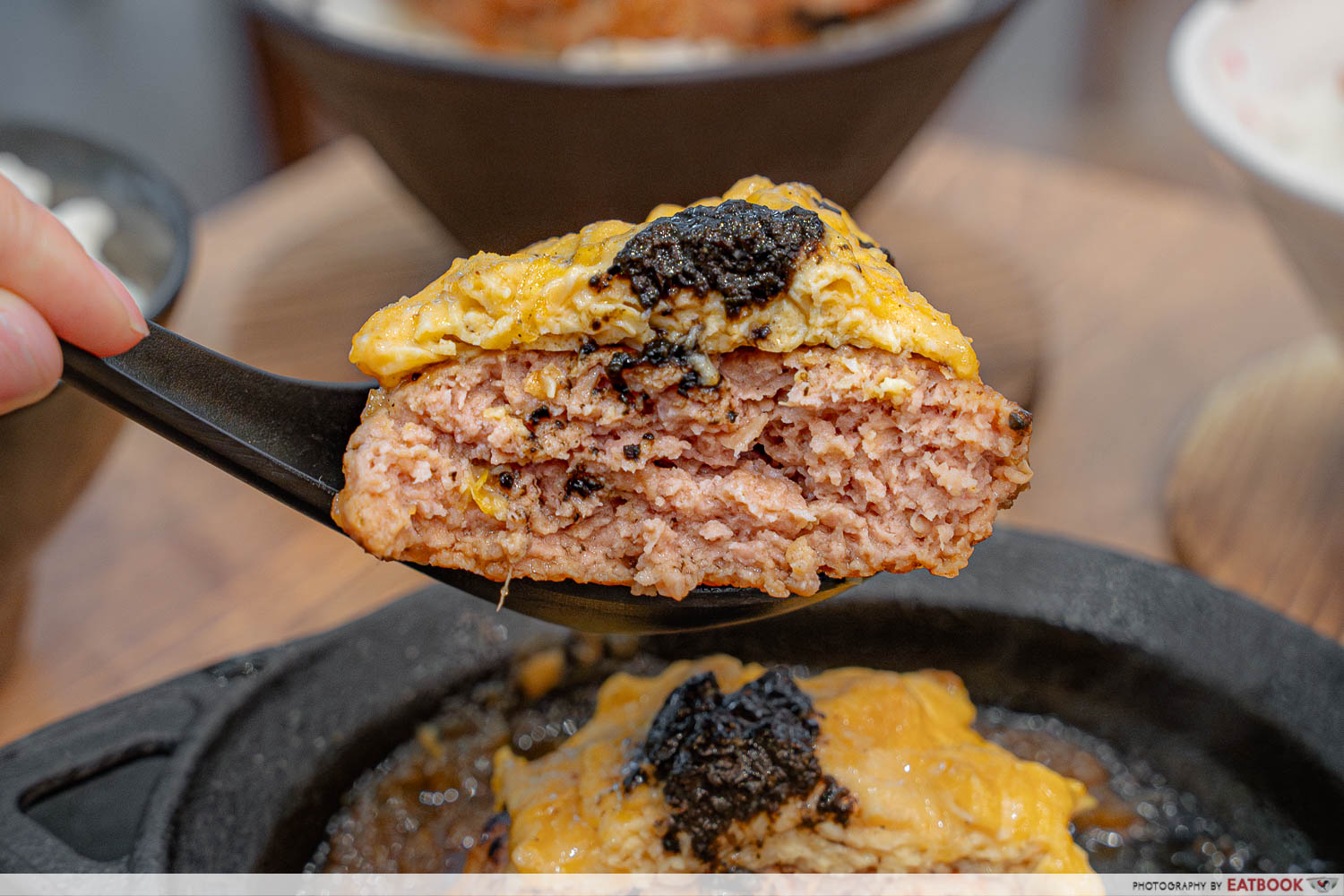 We thoroughly enjoyed the combination of silky scrambled egg on hamburg steak, mixed in with the slight tart-savouriness of the gravy. Truth be told, it could have done without the truffle, but I think I would have loved a thicc slice of foie gras here for the ultimate indulgence. If you prefer the foie gras without scrambled egg, there's Foie Gras Hamburg Steak Teishoku ($21.80), which comes with a demiglace sauce.
Ambience at Tsukimi Hamburg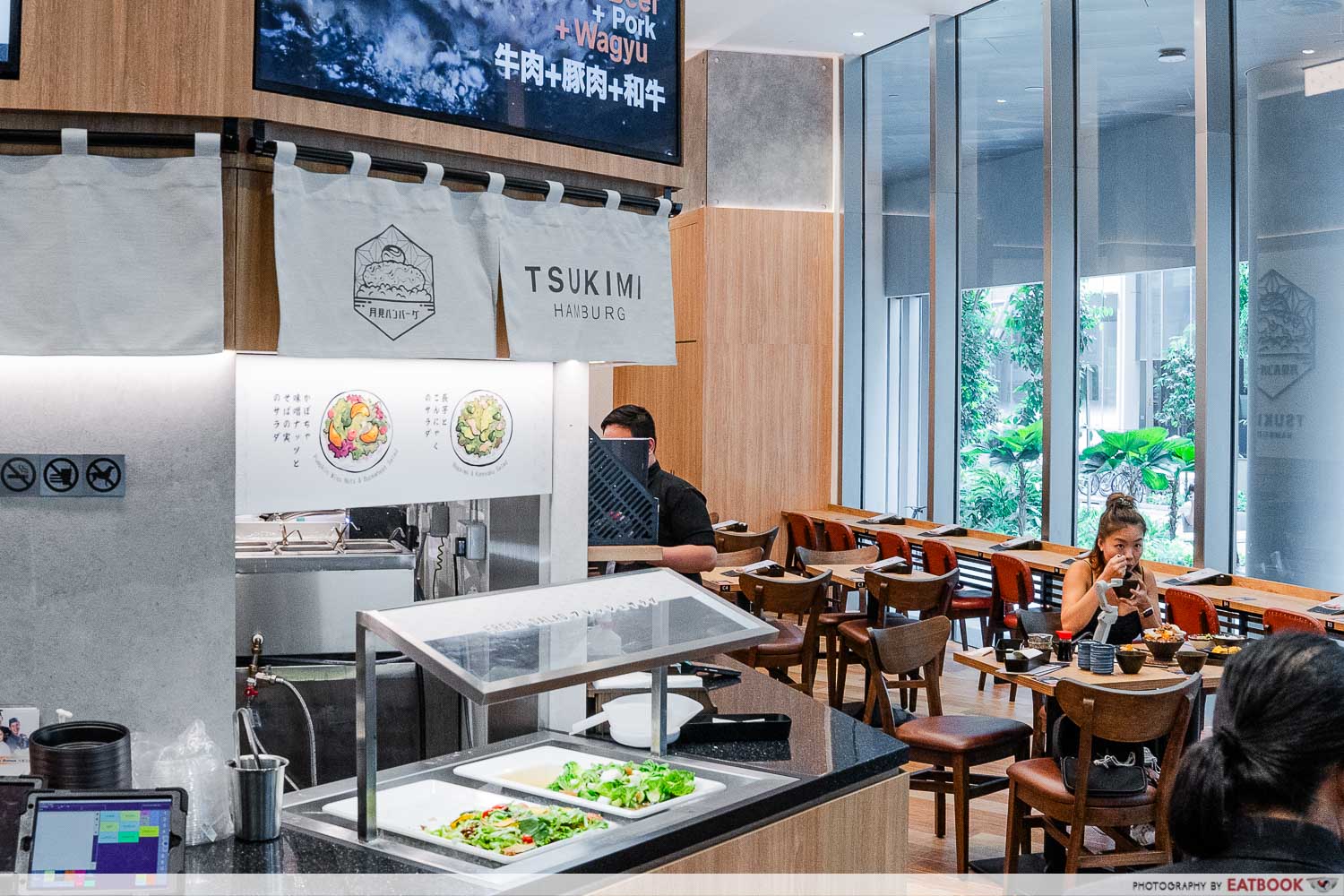 Tsukimi Hamburg is a casual eatery for easy, quick meals, even if you're dining alone—lining the full-height windows of the eatery is a row of seats that would be perfect for couples looking for a cosy meal, or individual diners. Located just 160m, or two minutes on foot, from Raffles Place MRT Station, this spot is sure to be extra popular with the CBD office crowd for its affordably priced, hearty hamburg meals.
The verdict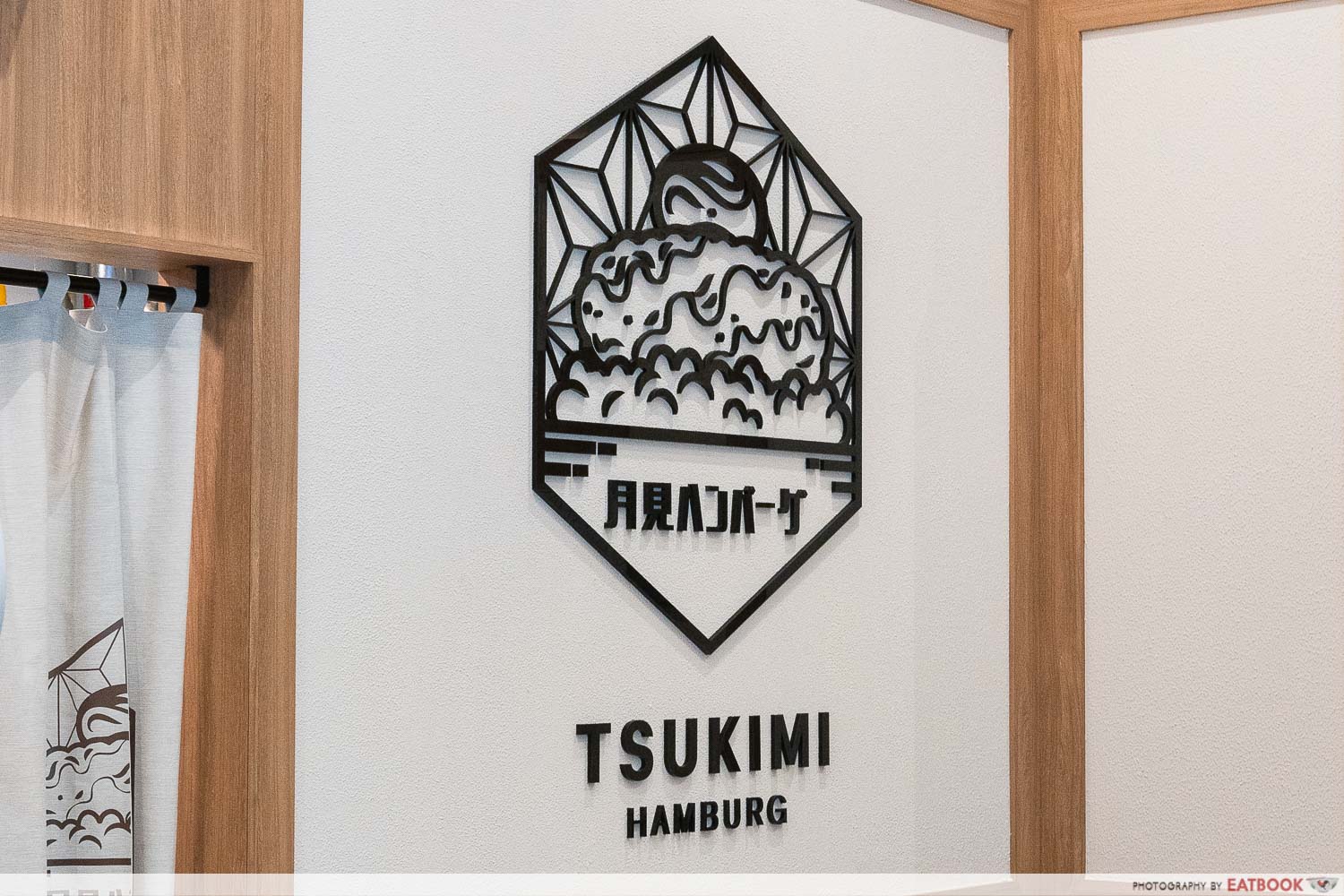 My dining companion and I thought hard and long, and couldn't find anything to critique about our meal at Tsukimi Hamburg. We loved both the beef and pork patties, and for the price, there really isn't much to complain about. With outlets in Hougang, Jurong West, and now in the CBD, one can hope that they continue to expand so it's more accessible for everyone on the island!
For more Japanese nosh, check out our list of Japanese buffets in Singapore. Alternatively, Inochi at Shaw Plaza has affordable chirashi bowls!
Address: 86 Market Street, #01-05, CapitaSpring, Singapore 048948
Opening hours: Mon-Fri 10:30am to 9pm, Sat 10:30am to 3pm
Tel: 6980 8798
Website
Tsukimi Hamburg is not a halal-certified eatery
Photos taken by Casandra Nicholas.
This was a media tasting at Tsukimi Hamburg.
Tsukimi Hamburg Review: Famous Wagyu Hamburg Don And More Under $20 In Raffles Place
Tsukimi Hamburg Review: Famous Wagyu Hamburg Don And More Under $20 In Raffles Place -

8.5/10
Summary
Pros
– Affordably priced
– Hearty portions
Cons
– Pork hamburg is not as buttery tasting as the Wagyu hamburg
Recommended dishes: Miso Nuts Hamburg Don ($13.80), Tsukimi Hamburg Don ($14.80), Truffle Omuburg Teishoku ($19.80)
Opening hours: Mon-Fri 10:30am to 9pm, Sat 10:30am to 3pm
Address: 86 Market Street, #01-05, CapitaSpring, Singapore 048948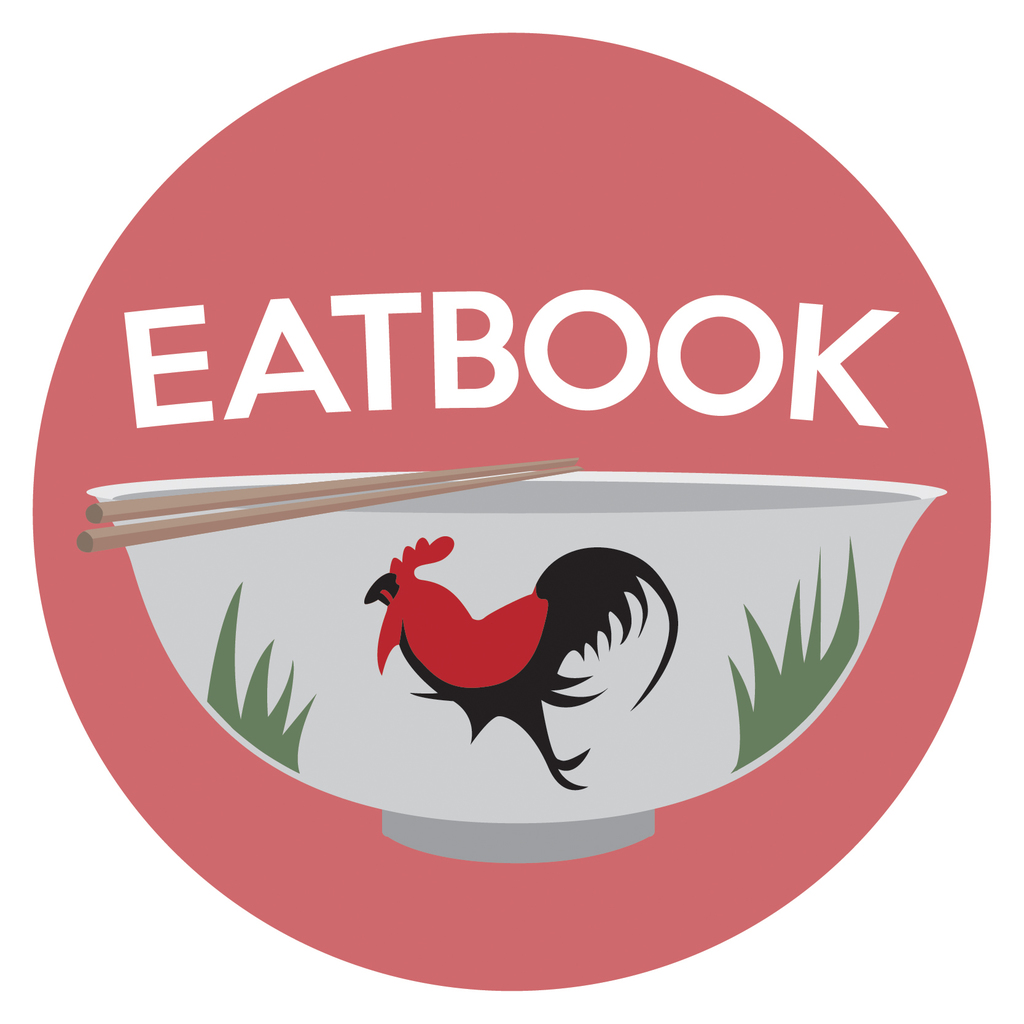 Drop us your email so you won't miss the latest news.