Micro Bakery & Kitchen packs massive flavour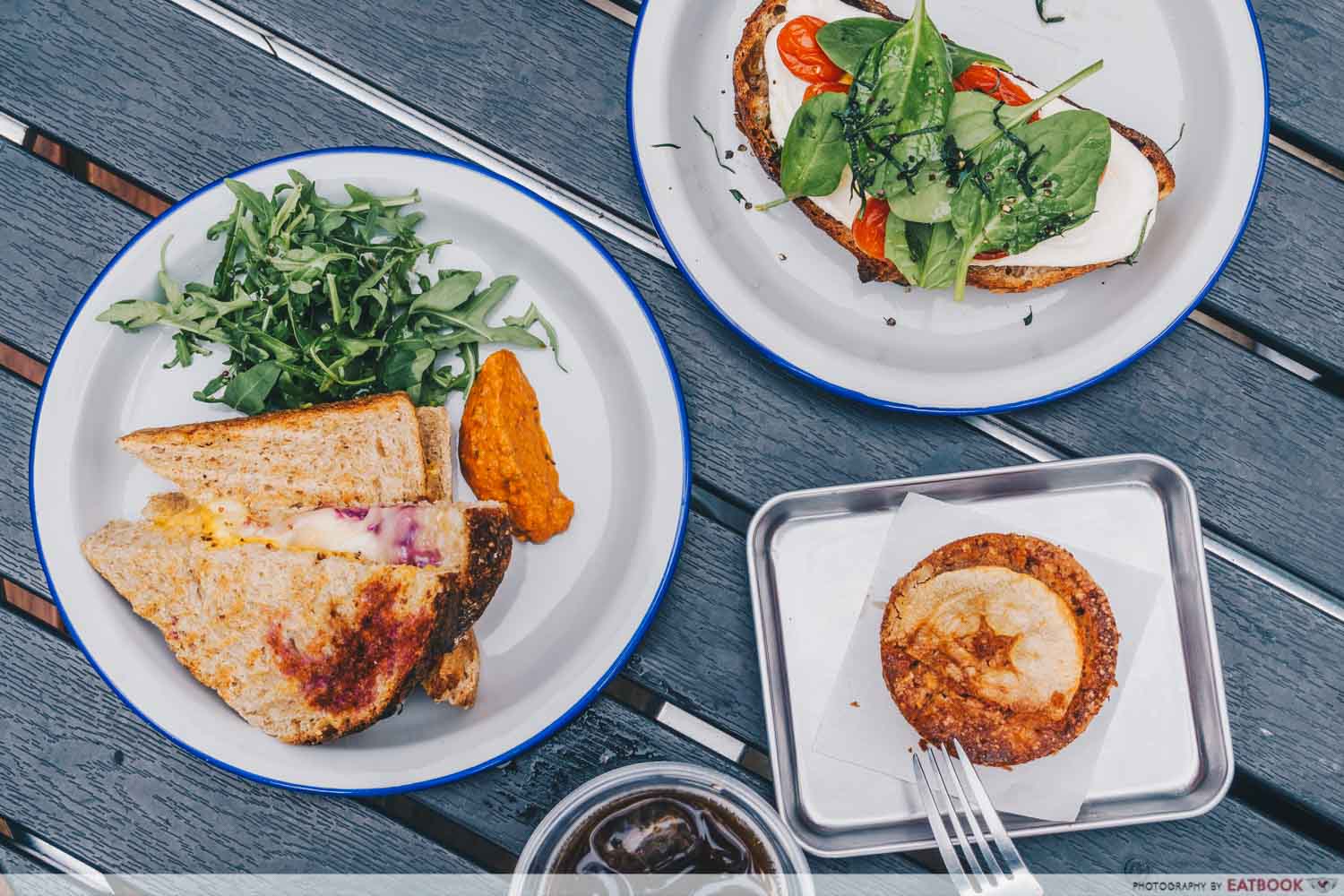 Baking bread is a painstaking process, especially for small-scale bakeries. Kneading, proofing and baking dough takes plenty of hours and elbow grease – long past the opening hours indicated on the door.
Bakers experiencing burnout is common, and that's why Bukit Timah's darling The Bakery By Woodlands Sourdough closed its doors after two years of loaves flying off the shelves.
While the principal bakers and owners departed, their business partner, Bridget, resurrected the hole-in-the-wall bakery under a new name: Micro Bakery & Kitchen. Make no mistake, this isn't some second-rate imitation, but a different take on the same ethos: a humble neighbourhood bakery doling out original pastries and honest, straight-up delicious loaves of bread.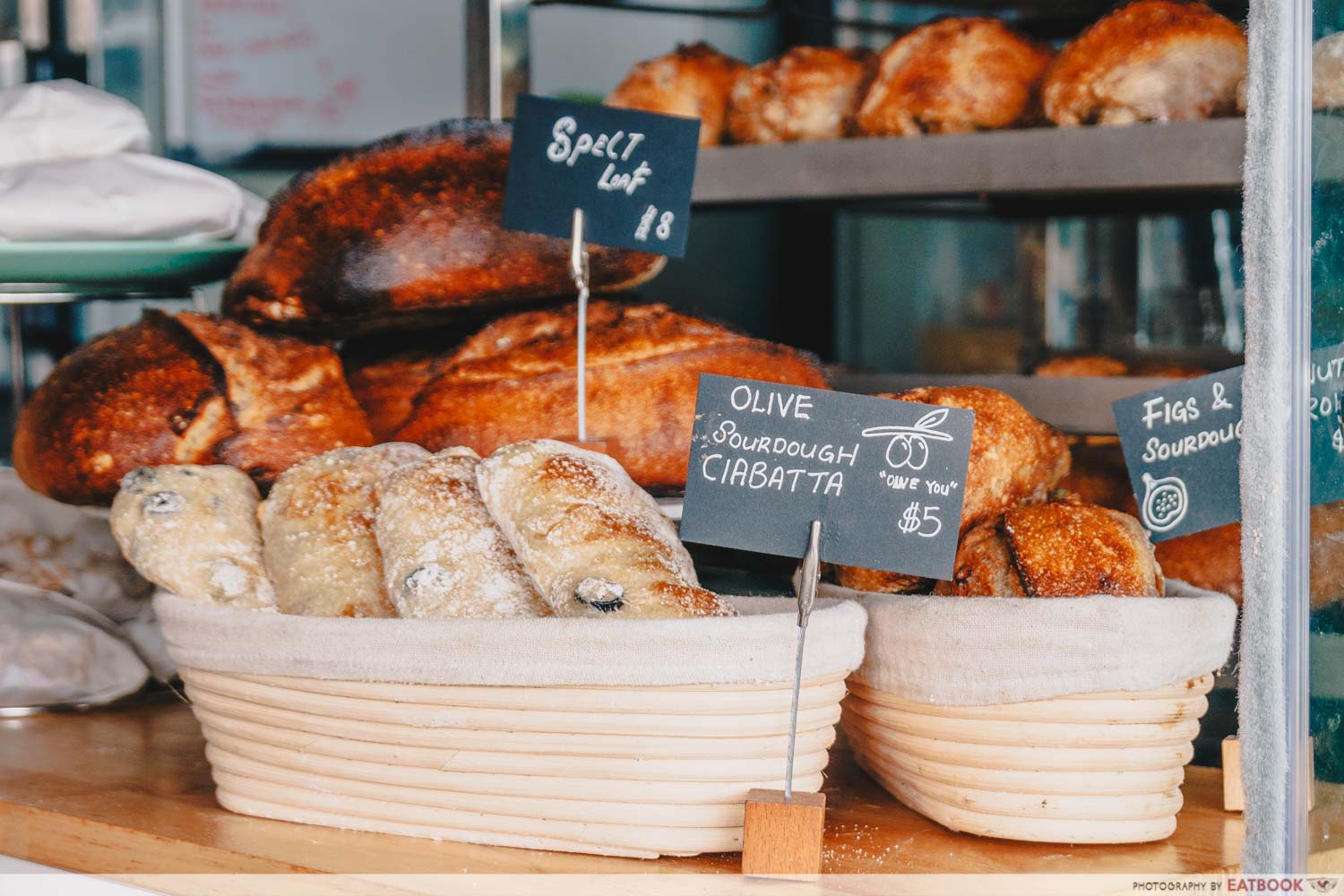 The routine is tough: the bakers come in at 6am and leave around dinnertime. They only make things harder for themselves, as nearly everything here is house-made.
It's gruelling work for any team to take on, let alone for a brand new head baker. It's an impressive feat, considering she was previously a home baker on Instagram. But more importantly, it marks their commitment to making quality food for the community.
Food at Micro Bakery & Kitchen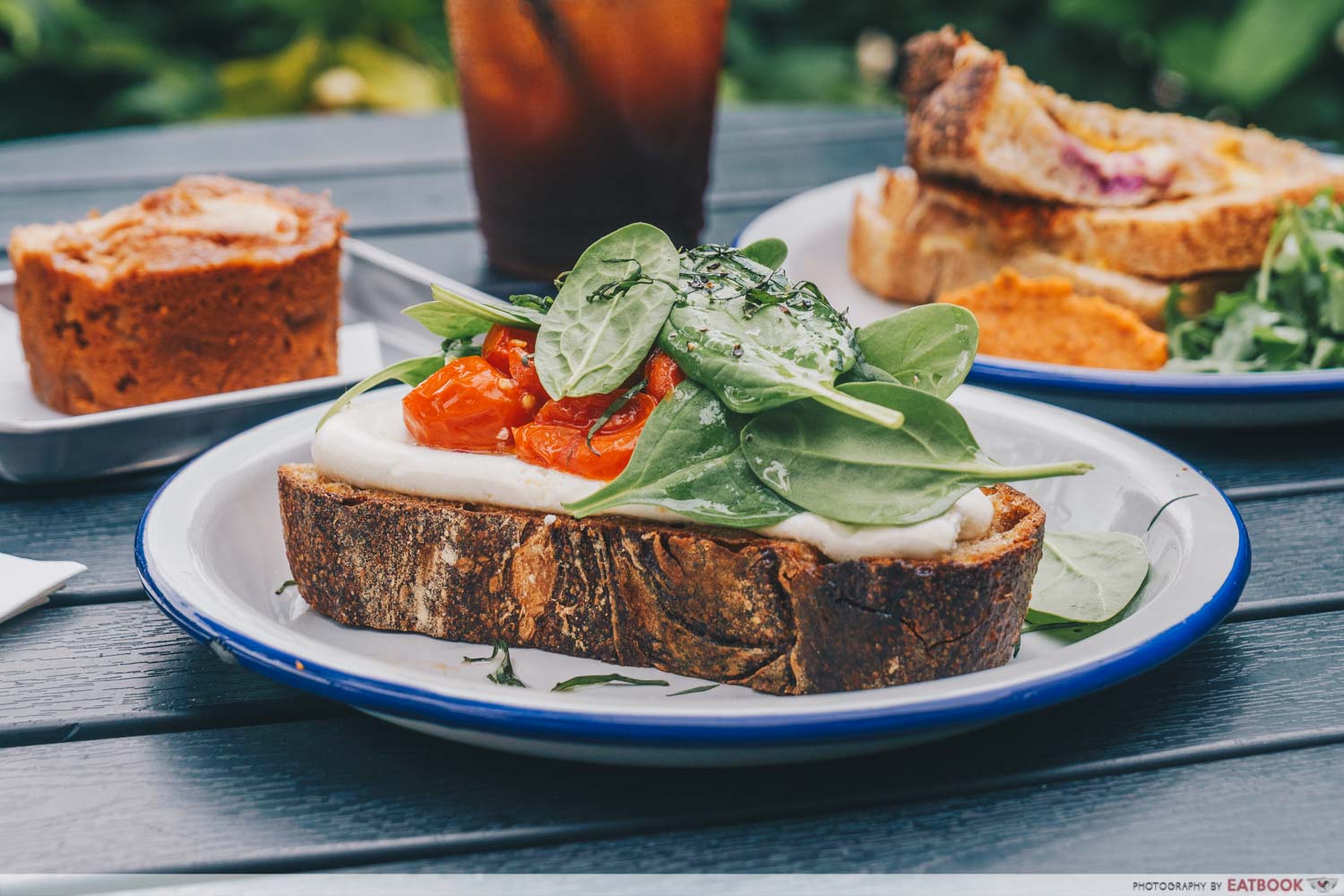 The changing of hands also signalled the introduction of a small hot food menu. A rotating selection of tartines, or open-faced sandwiches, is always on it, and the House Ricotta Tartine ($12) is a fan favourite.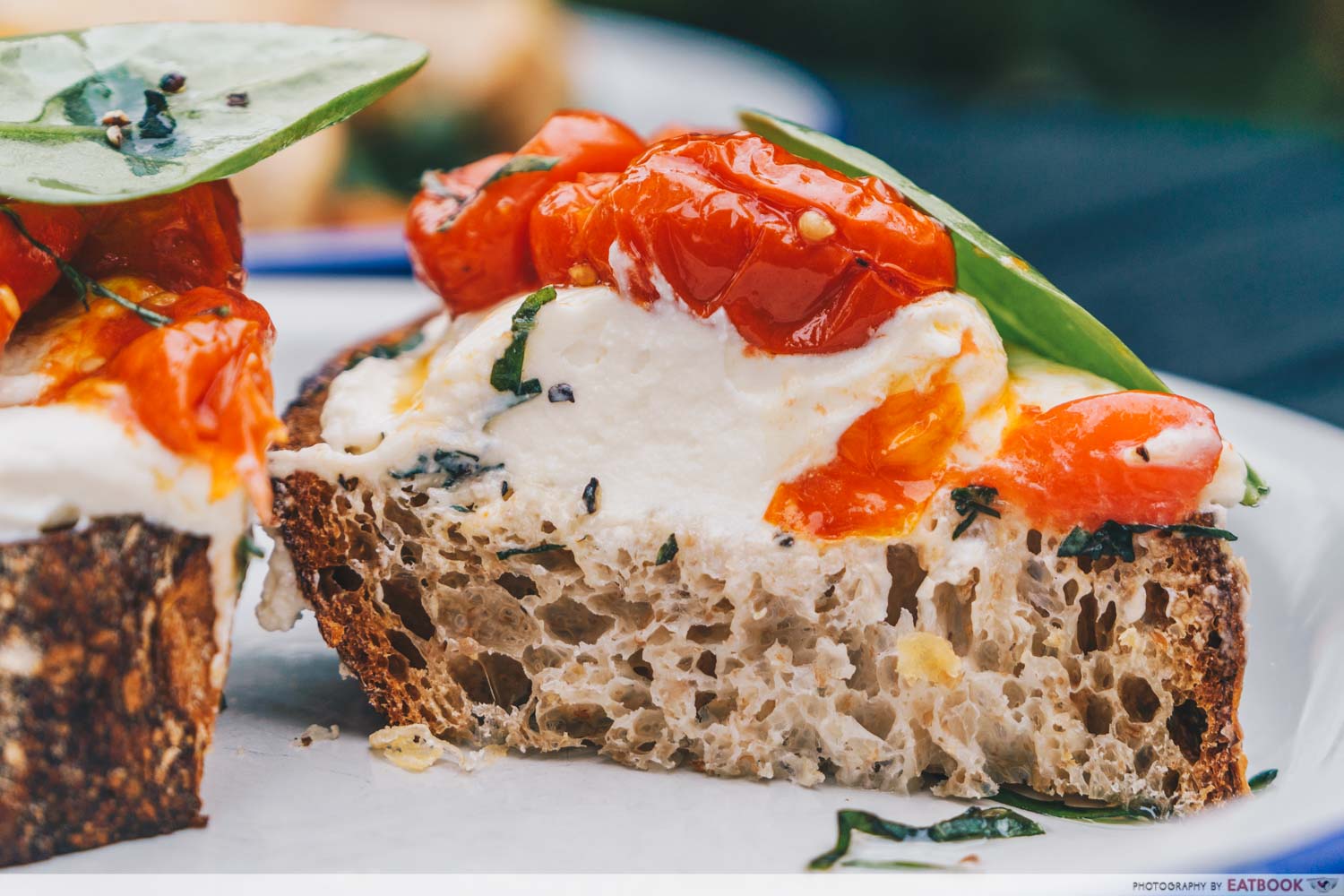 The ricotta didn't look like any I'd ever bought from a supermarket. It's completely devoid of lumps, and was silky smooth and sparkling white. That's because it's house-made.
Restaurants making their own cheese is rare in Singapore, let alone from tiny neighbourhood bakeries. Yes, it's laborious, and probably unnecessary. Yet, Bridget wants to do it, because it really makes a difference in quality.
That mentality pays dividends. The fluffy cloud of cheese is an ultra-creamy dream while remaining gentle and light. Despite how thick the layer of ricotta is, it was easy to chomp it all down.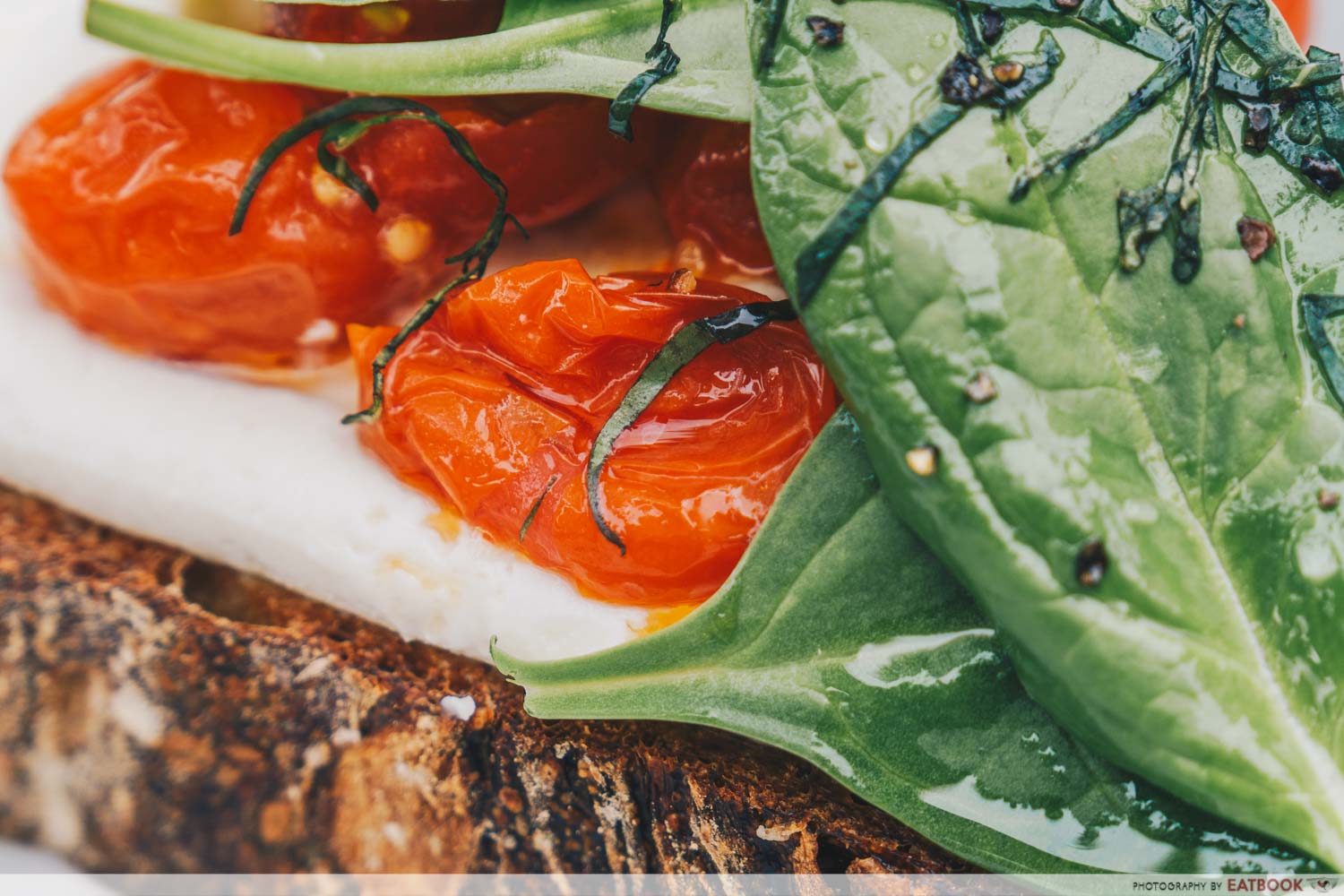 Once we got over the cheese, we were struck by the intricate balance of flavours on our simple slice of bread. Cherry tomatoes bring lush sweetness, while spinach leaves provide crunch and freshness. Shreds of basil lend their distinctive aroma and the sourdough itself grants subtly tangy foundation.
What's remarkable is the attention-to-detail. The cherry tomatoes are gently roasted to draw out their sweetness, and a sprinkling of flaky salt finishes the plate to combat the vegetal flavours of spinach and basil. These are touches that diners often take for granted, but they make the difference between a good and great dish.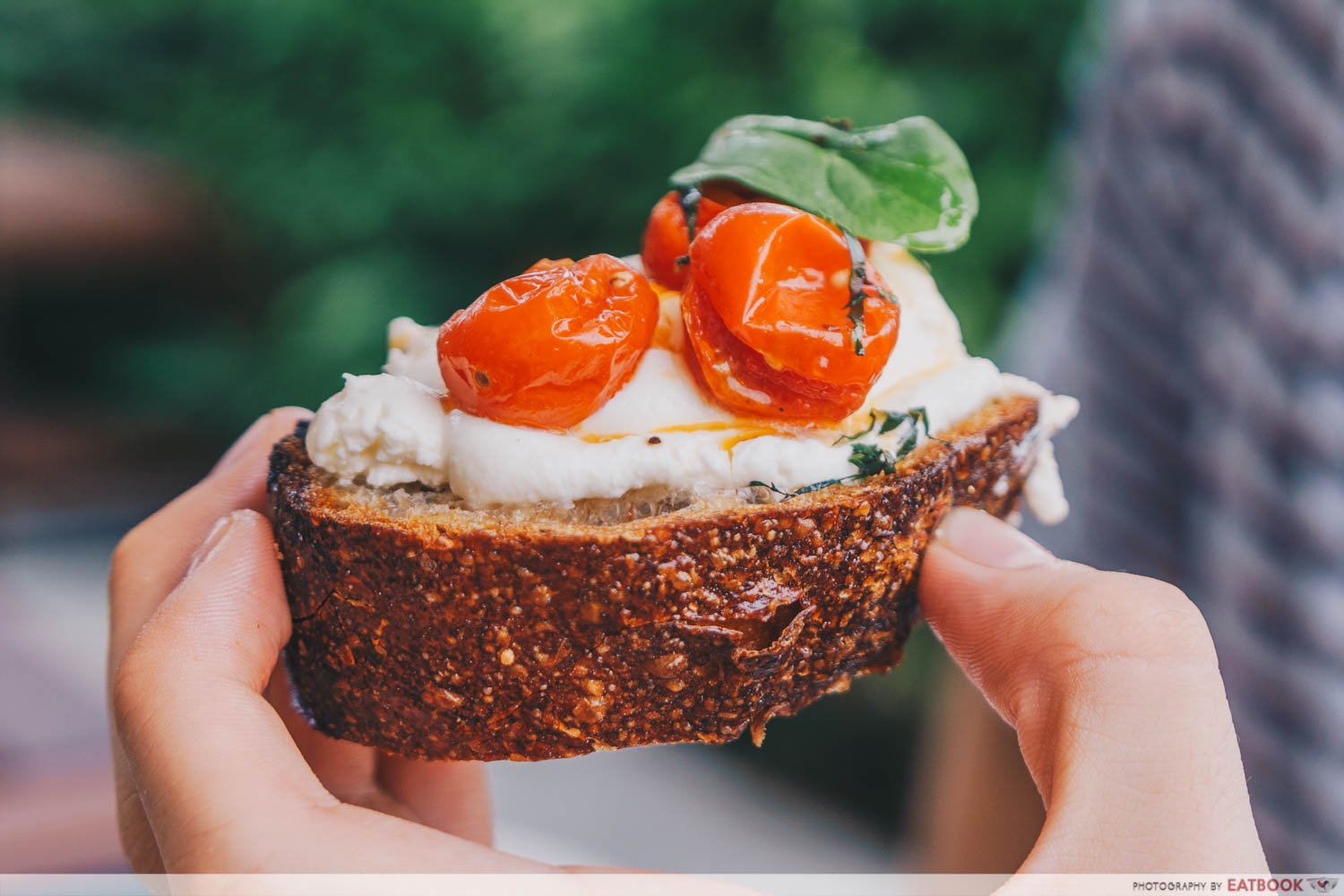 I generally avoid buying commercially baked sourdough. It's often dry and dense, with a hard crust you can barely chew through. Our thick plank of sourdough was nothing like that. Even though it was astoundingly thick, the crumb was soft, airy and lightly chewy, blessed with a touch of sourness.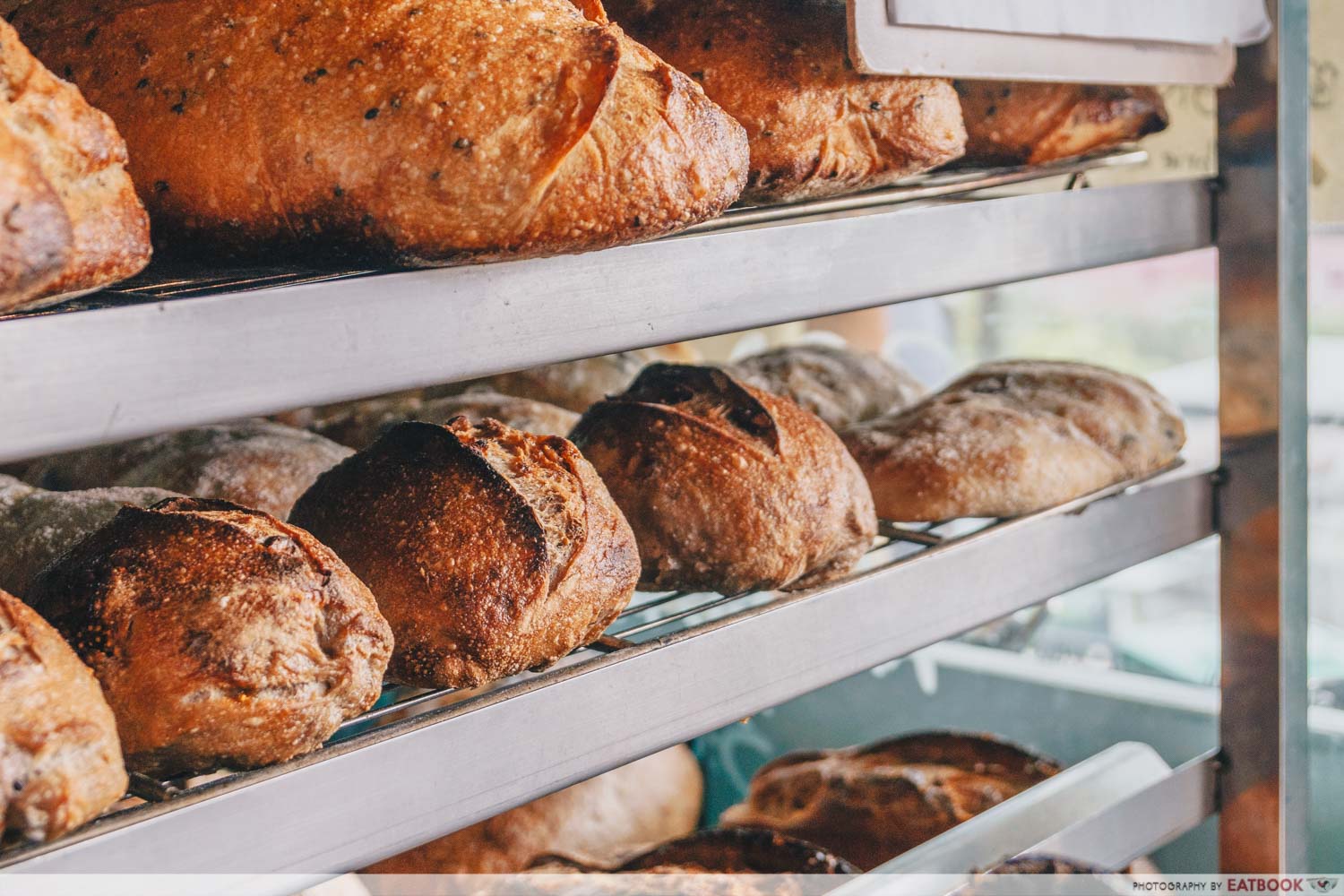 If you're a regular, you might notice that it's less sour than it was at Woodlands Sourdough. The key component of any sourdough is the starter, which causes the bread to rise while giving it a sour bite. Each baker has their own starter with a slightly different character, and the new guard's version is slightly lighter on the tang than its predecessor.
I know it seems strange to pay $12 for cheese and veggies on bread. But considering their scale of operations, how time-consuming it is to make ricotta and sourdough, as well as how darn delicious it is, we reckon it's well worth it.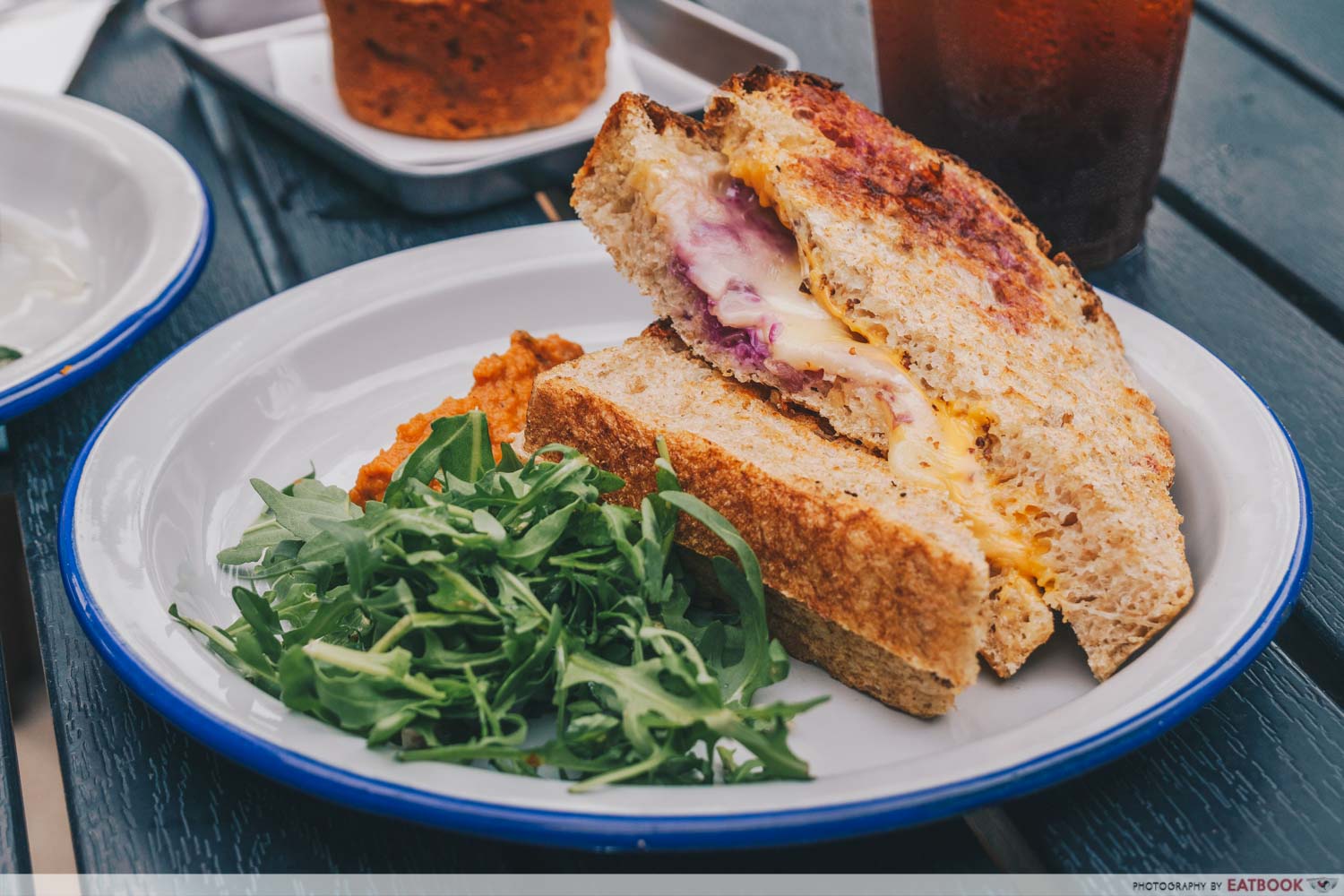 Grilled Cheese Sandwiches ($12) are the darling of food Instagram accounts everywhere, but we hoped for more than just a good cheese pull here. Punctuated by purple strips of sauerkraut and a dollop of home-made tomato jam, we were served a gooey mess of cheese and bread.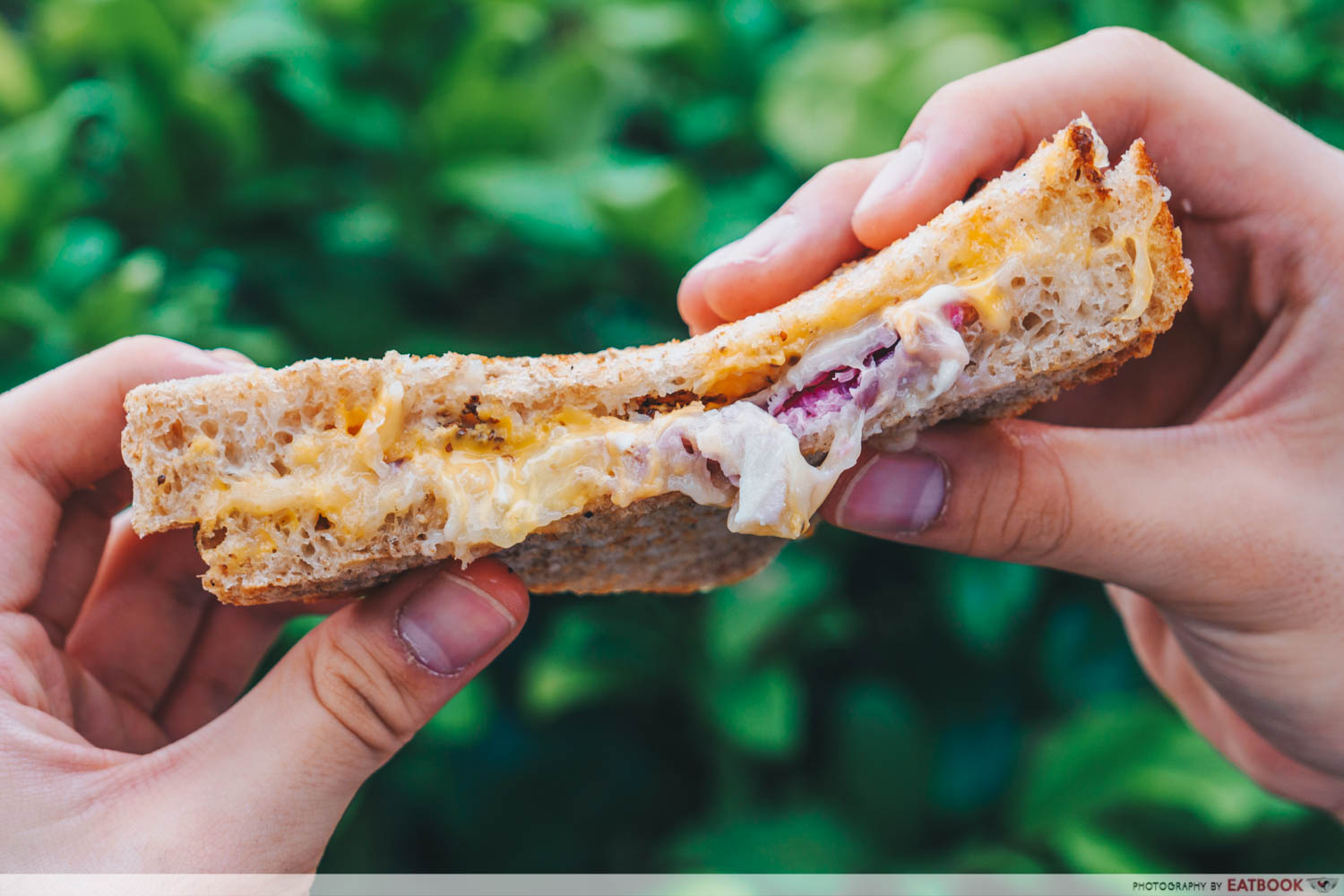 Frankly, the cheese pull was underwhelming. Thankfully – and more importantly – the cheese flavour was the opposite of that. The blend of Brie de Meaux, mozzarella and cheddar struck the right balance, juggling creaminess, nuttiness and sharpness in equal measure.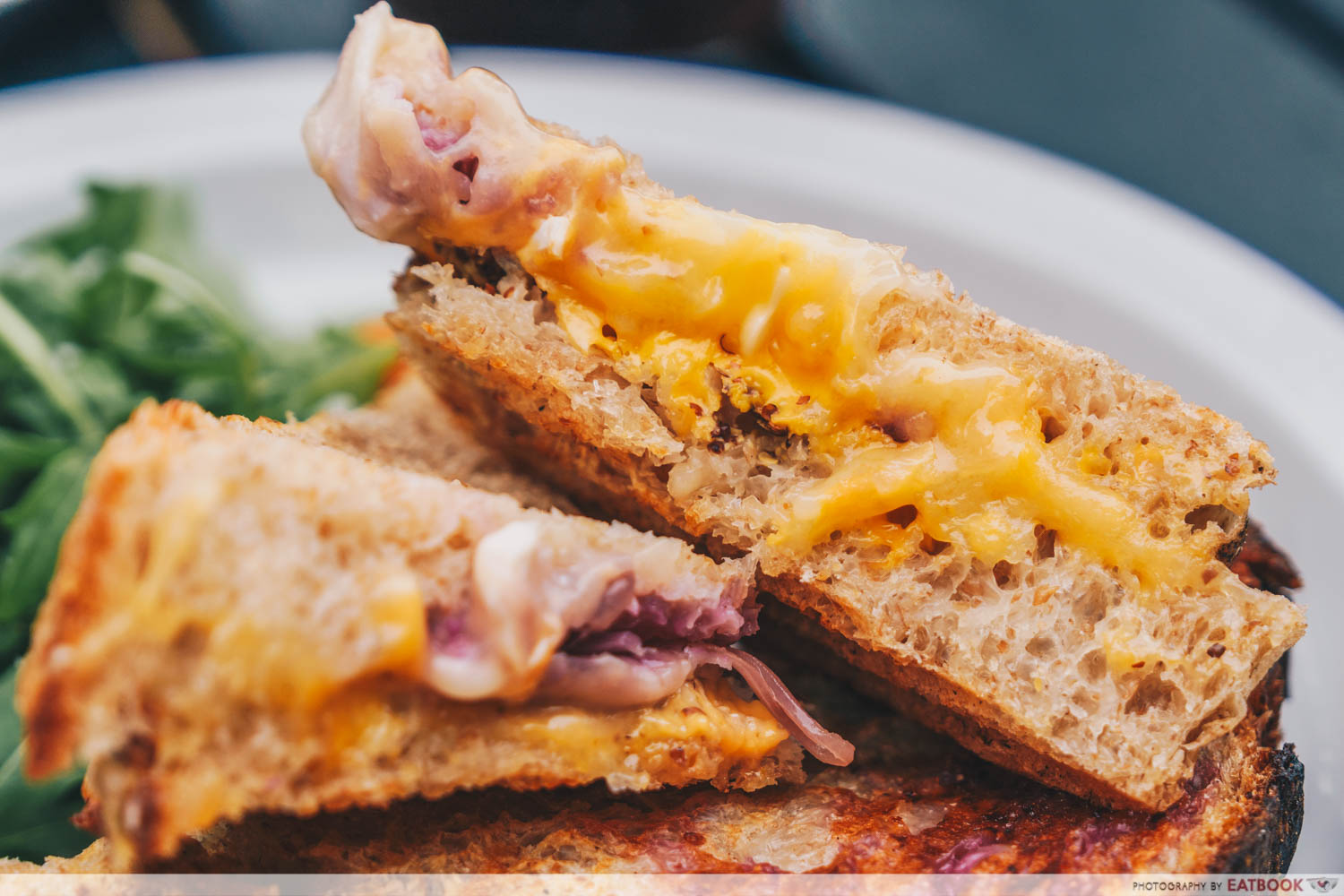 The cheese still left room for the signature sourdough to shine. This was a thinner, less crusty, wholegrain variant compared to what we had in the tartine, but it preserved that compelling sourdough kick. Impressively, our bread remained airy and bouncy, somehow staving off sogginess from the melted cheese.
That sourdough tang was accentuated by sauerkraut bits tucked among the cheese. The German staple was an unsung hero, imparting pickled zing and mild crunch to contrast the creamy Brie and mozzarella. However, there simply wasn't enough, with large portions of our sandwich missing cabbage.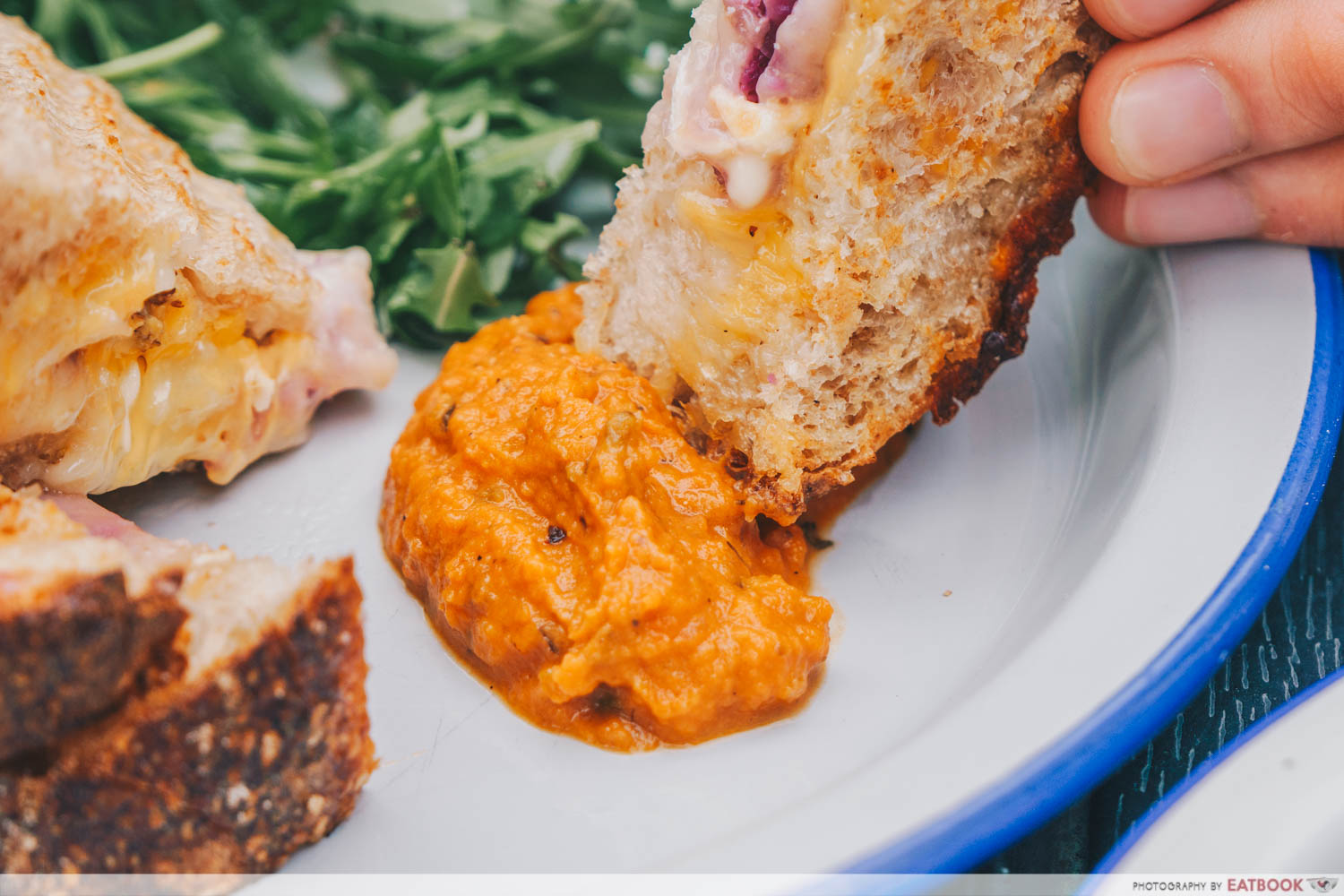 Grilled cheese sandwiches aren't usually served with sauces, but the neat blob of home-made tomato jam is a welcome addition here. It tasted like tomato soup in jam form, made fragrant by an array of spices that complemented its mellow sweetness. Was it necessary? Bridget freely admits that it probably isn't; people will order a grilled cheese sandwich regardless. But, they'll make it anyway, because the dish is better with it.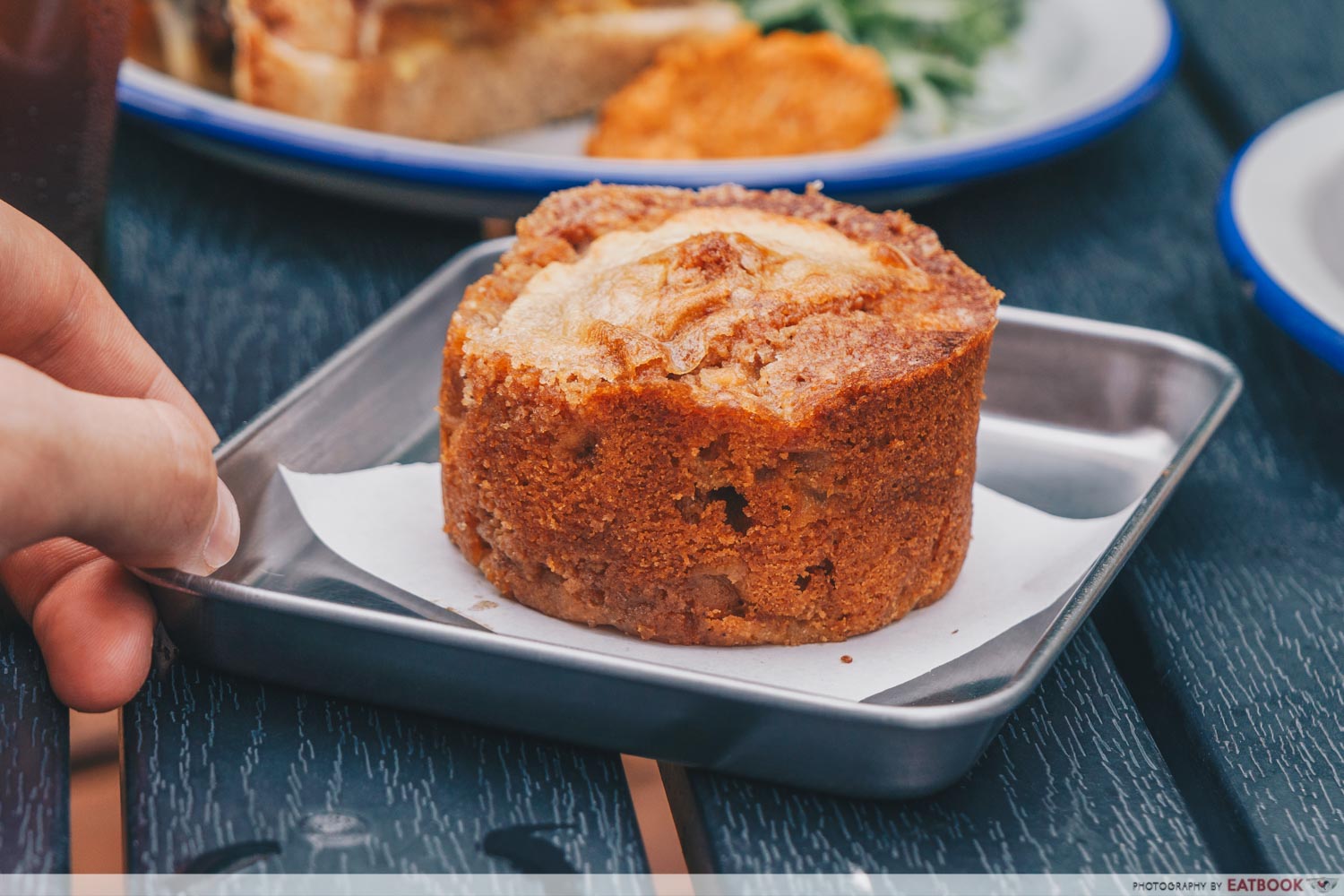 While the Spiced Apple Miso Cake ($6) looks vaguely like a muffin, it stays truer to its "cake" label. The crumb is moist and dense, like a rich chocolate cake. However, we didn't quite like the gritty granules of brown sugar and ground spices that dotted our cake, interrupting that decadent texture.
We felt shades of salted caramel in the cake. While the flavour has lost its novelty factor, the sweet-salty combination is as attractive as ever. Adding miso to cake batter certainly is an eye-catching way to invoke it.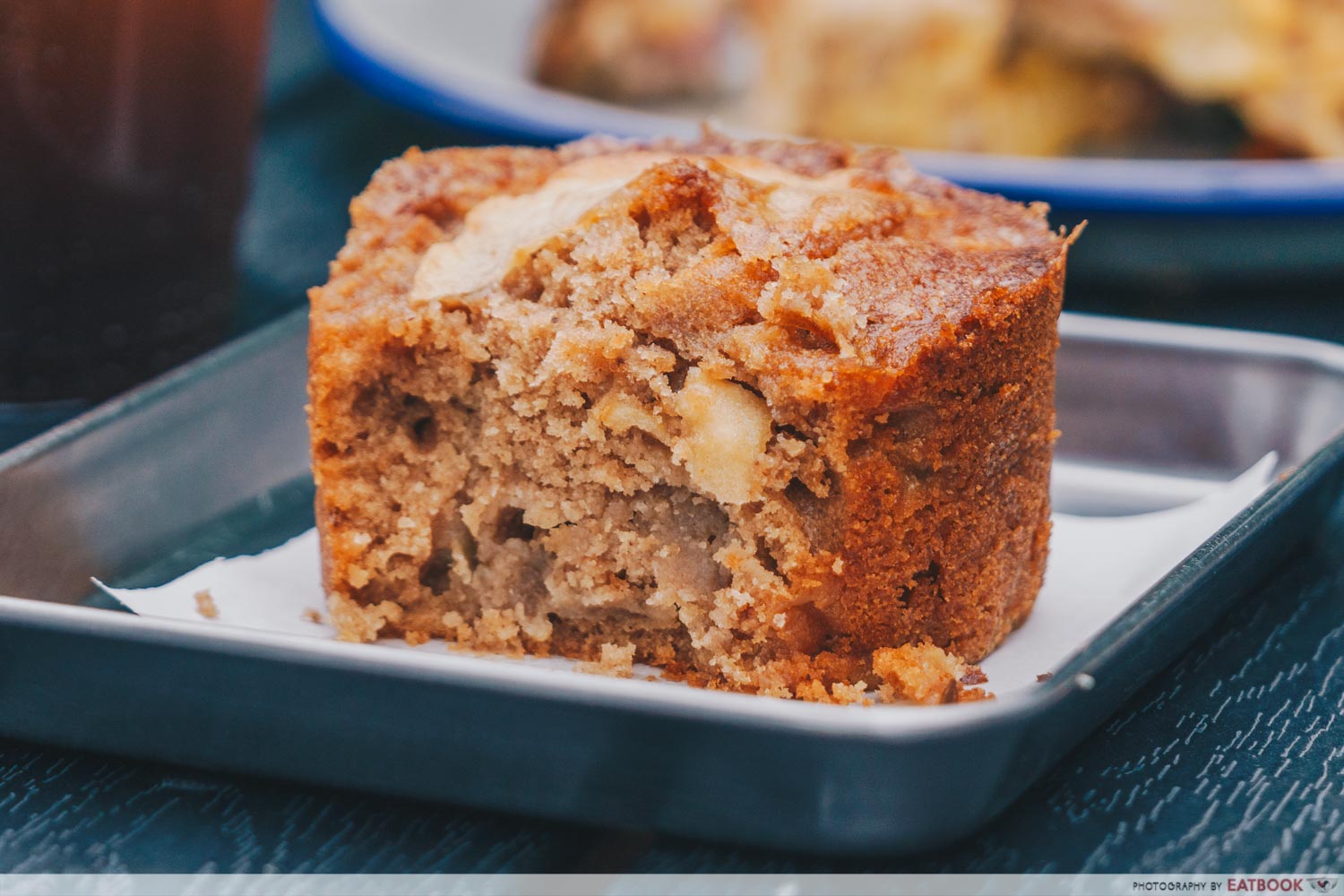 The miso doesn't smack you in the face with salt or fermented umami flavour. It's more of a foundational flavour, adding depth to the cake, as well as a fascinating salted aftertaste. The festive sweetness of apple and cinnamon is at the forefront instead, supported by warm brown sugar tones and earthy cardamom. It may have been late April, but eating this felt downright Christmassy.
Ambience at Micro Bakery & Kitchen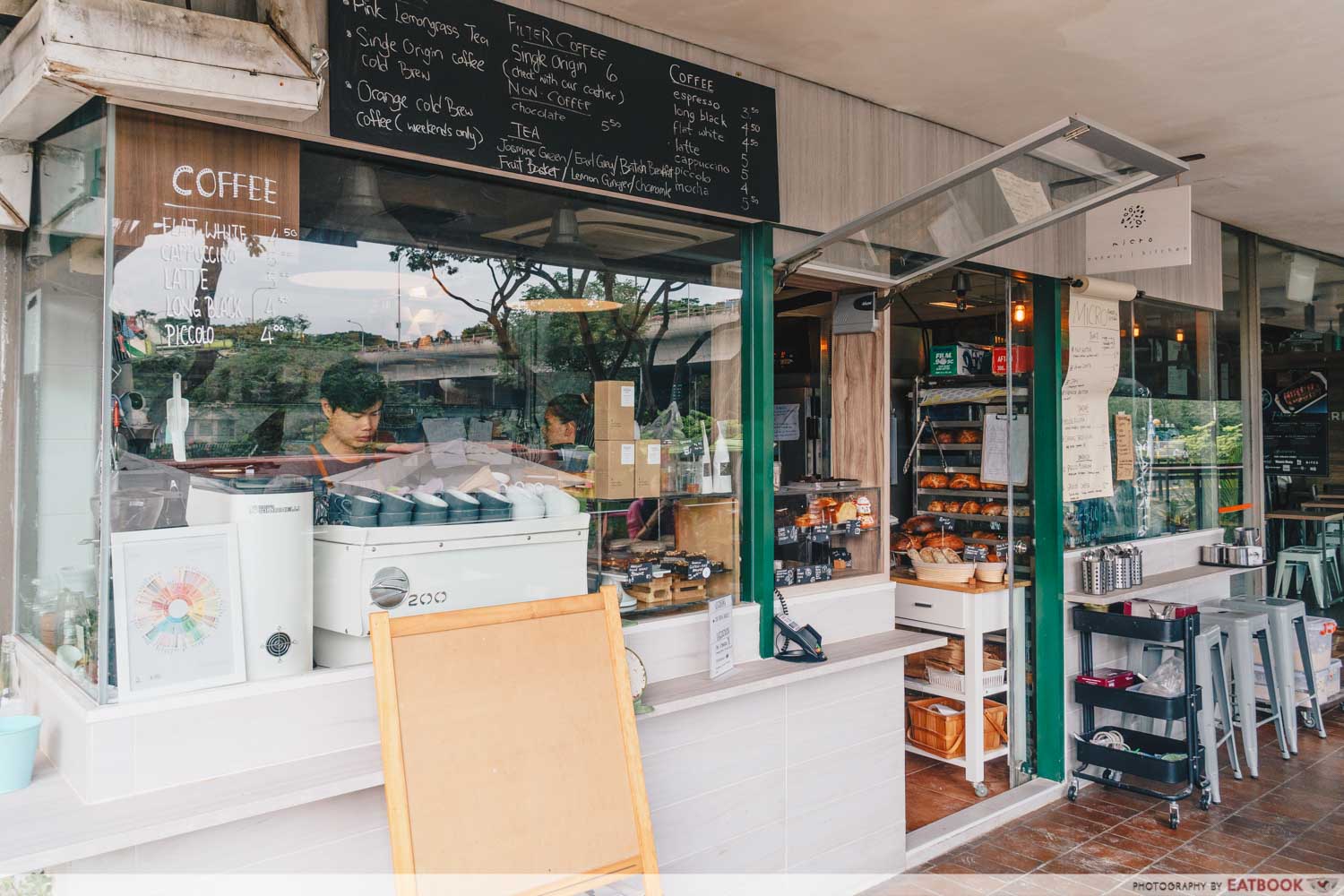 Slotting in at the edge of Serene Centre, this bakery is so small that you can see the entire operation just by standing outside. We'd argue that it's part of the charm. Watching their team working like a well-oiled unit crammed into the tiny space – brewing coffee, baking bread, taking orders – it's clear that you're getting honest food made by people who're passionate about it.
Fortunately, there's a good amount of seating space, with seats along the mall corridor as well as a larger open area downstairs. Air-conditioning and fans don't exist here though, unfortunately, so be ready to sweat it out.
The verdict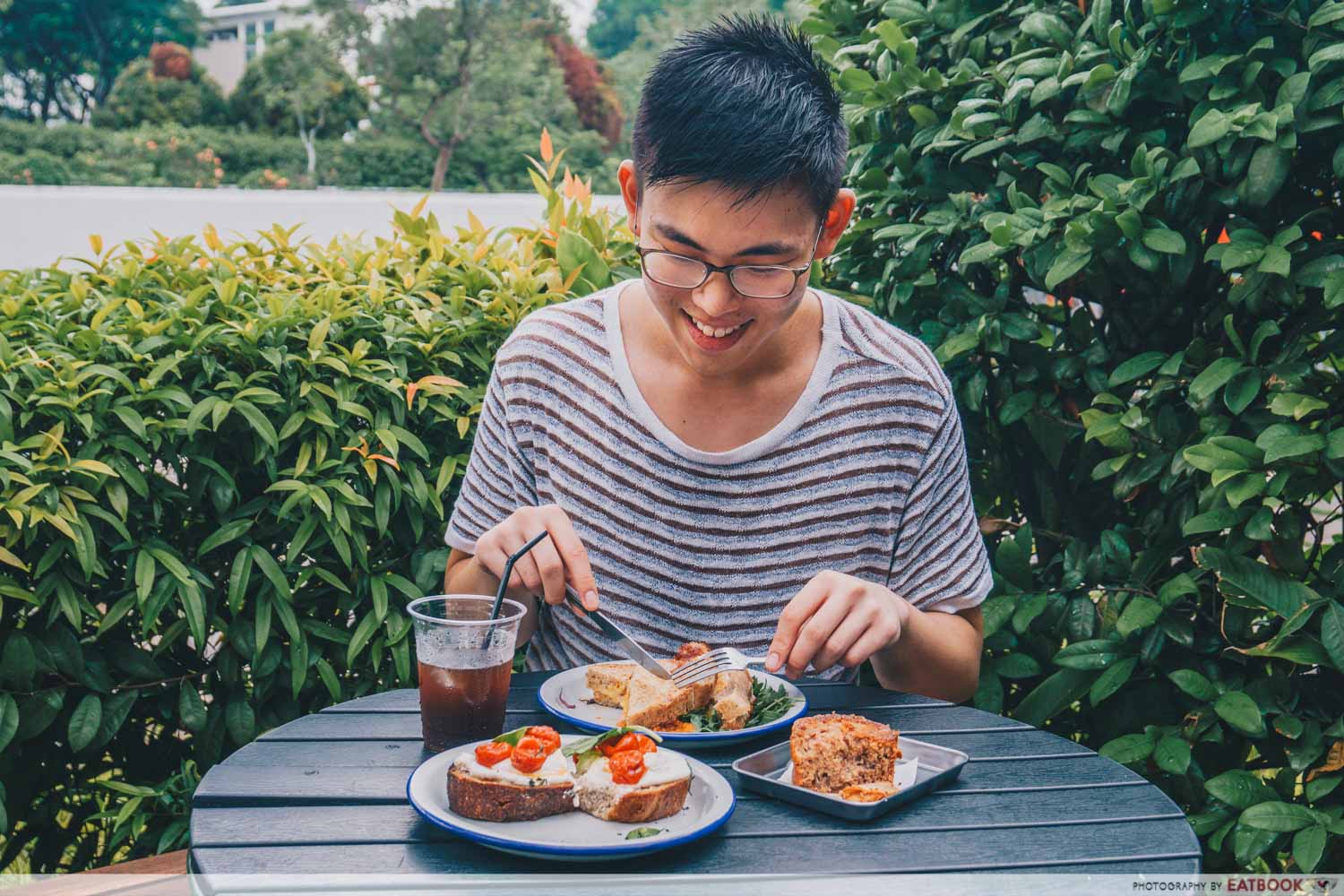 There's something so inexplicably charming about a homely neighbourhood bakery. The scent of freshly baked dough draws you in and puts you at ease, like a big hug from someone you love. Every neighbourhood wants one, and Bukit Timah residents are lucky to have one as good as Micro Bakery and Kitchen.
I haven't mentioned that everything on the menu is vegetarian. Frankly, the first few times I came here, I didn't notice, let alone miss my beloved meats. That's a testament to how satisfying their food is.
Sure, it's not cheap for a literal hole-in-the-wall bakery with no indoor seating. But you're paying for quality, originality and passion that's missing from so many cafes these days. That's enough reason for us to recommend you to make your way down for a casual afternoon hangout or a quick bite before work.
Treat yourself with more mesmerising baked goods by checking out our list of 10 artisanal bakeries or our reviews of Bakery Brera and Brotherbird Milk & Croissants.
10 Artisanal Bakeries To Get Macaron Croissant, Chocolate Cruffins, And Fluffy Tom Yum Bread
Let us know your favourite bakeries in the comments below!
Address: 10 Jalan Serene, #01-05, Serene Centre, Singapore 258748
Opening hours: Wed-Sun 8:30am to 5pm
Tel: 8339 4133
Website
Photos taken by Leong Kit Shan.
This is an independent review by Eatbook.
Micro Bakery & Kitchen Review: Neighbourhood Bakery Serving Artisanal Bakes And Hearty Sandwiches At Bukit Timah
Summary
Pros
– Amazing sourdough bread
– Original pastries
– Passion and effort in every dish
Cons
– No air-conditioned seating
Recommended dishes: House Ricotta Tartine ($12), Grilled Cheese Sandwich ($12)
Opening hours: Wed-Sun 8:30am to 5pm
Address: 10 Jalan Serene, #01-05, Serene Centre, Singapore 258748