The Gyu Co at Jurong East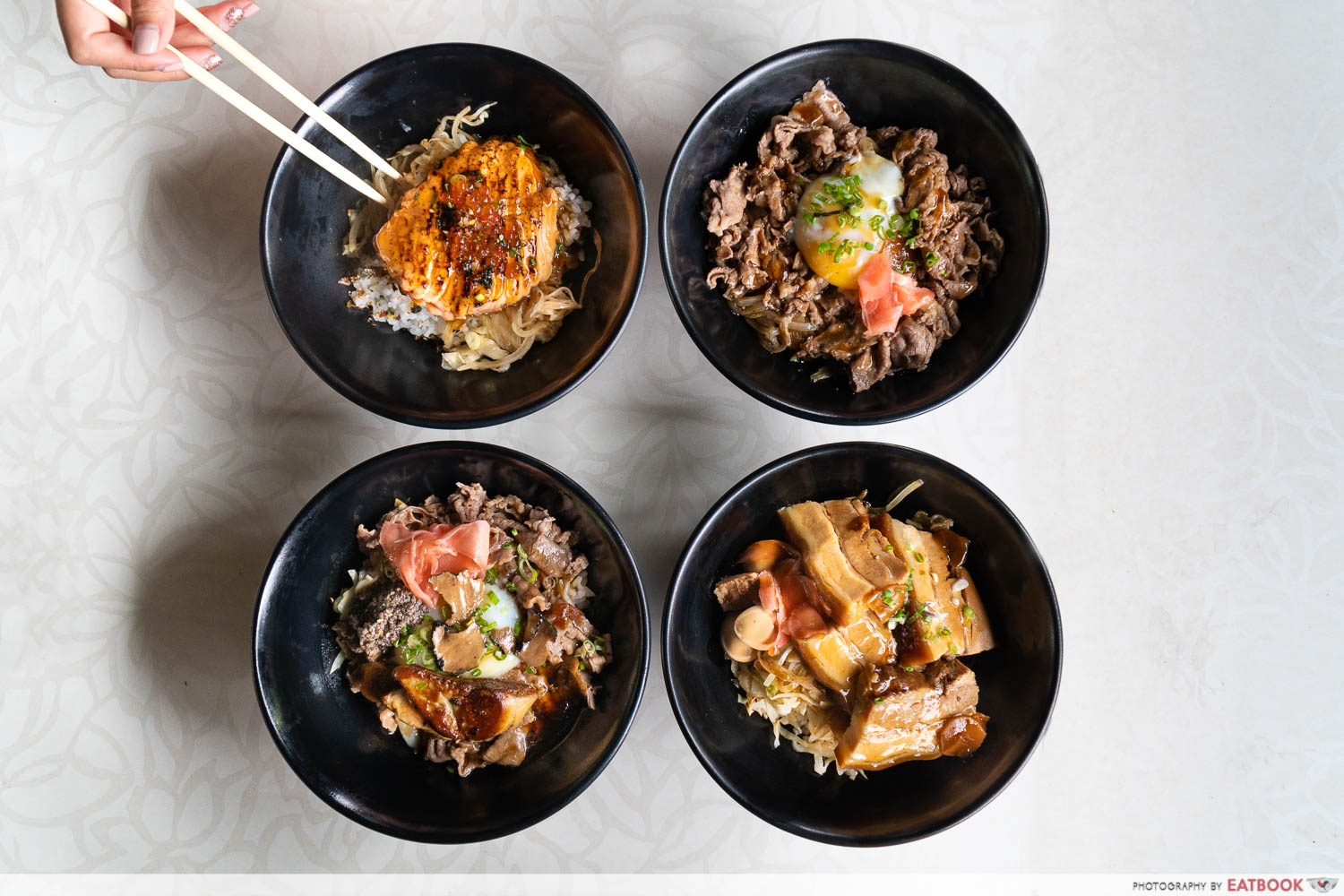 When I heard that an ex-DB Bistro chef had opened a new gyudon spot, The Gyu Co, in Jurong East with truffle and foie gras, my ears perked up. It might be a long stretch, but one of the signatures on the menu at DB Bistro is a beef burger that encases red wine braised short ribs and foie gras—so it stood to reason that a chef with such a pedigree knows his way around beef.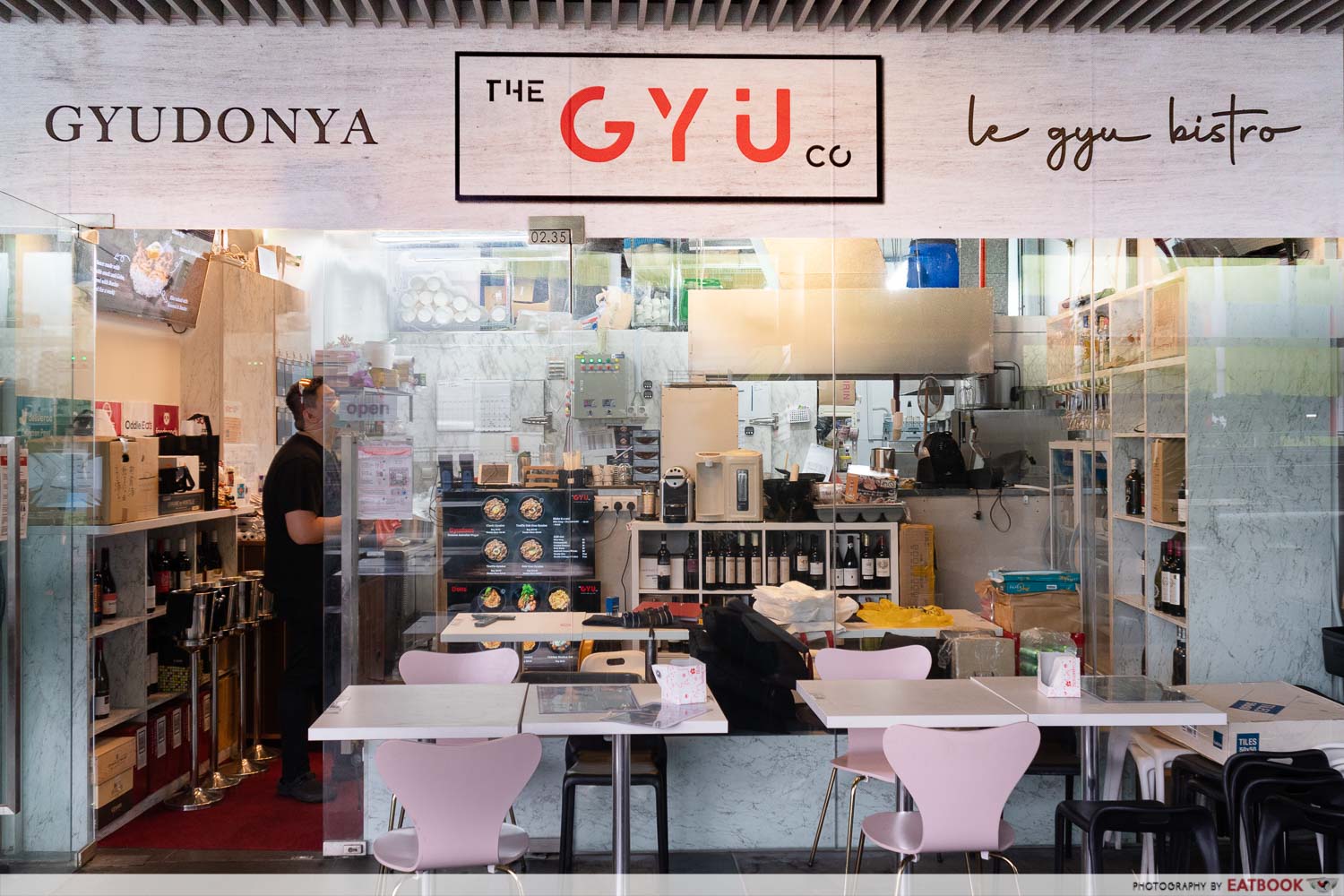 This brand new opening just minutes away from Jurong East MRT Station serves Wagyu beef dons and other Japanese-style rice bowls from just $7.90, which further caught my attention. I wondered how they could churn out premium-sounding bowls at prices that seemed more aligned with that of fast-food chains, so I headed down with a colleague to sample their fare.
Tempura Makino Review: Freshly Fried Tempura From $1.50++ Including Uni, Hiroshima Oyster And More
Food at The Gyu Co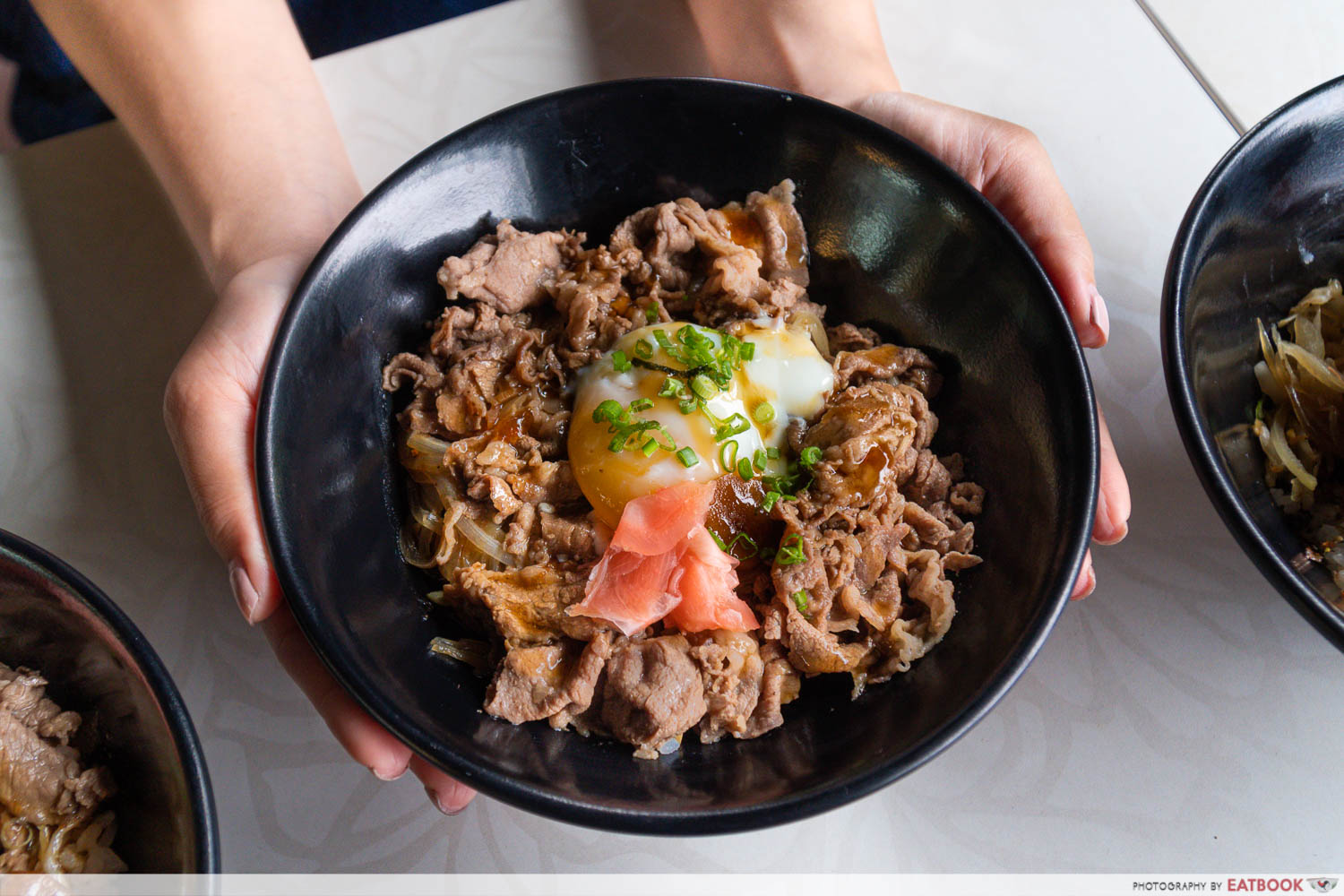 We started with the Classic Gyudon ($9.90/$15.90), which is available in two sizes. The lower-priced bowl comes with 100g of sliced Australian Wagyu, while the latter is a double portion, on a bed of Japonica rice, cabbage, and onions. You can request double portions of these on the house, if you're hungry. Otherwise, simply top up $3.50 for a bowl of miso soup ($2), chawanmushi ($2), and a drink.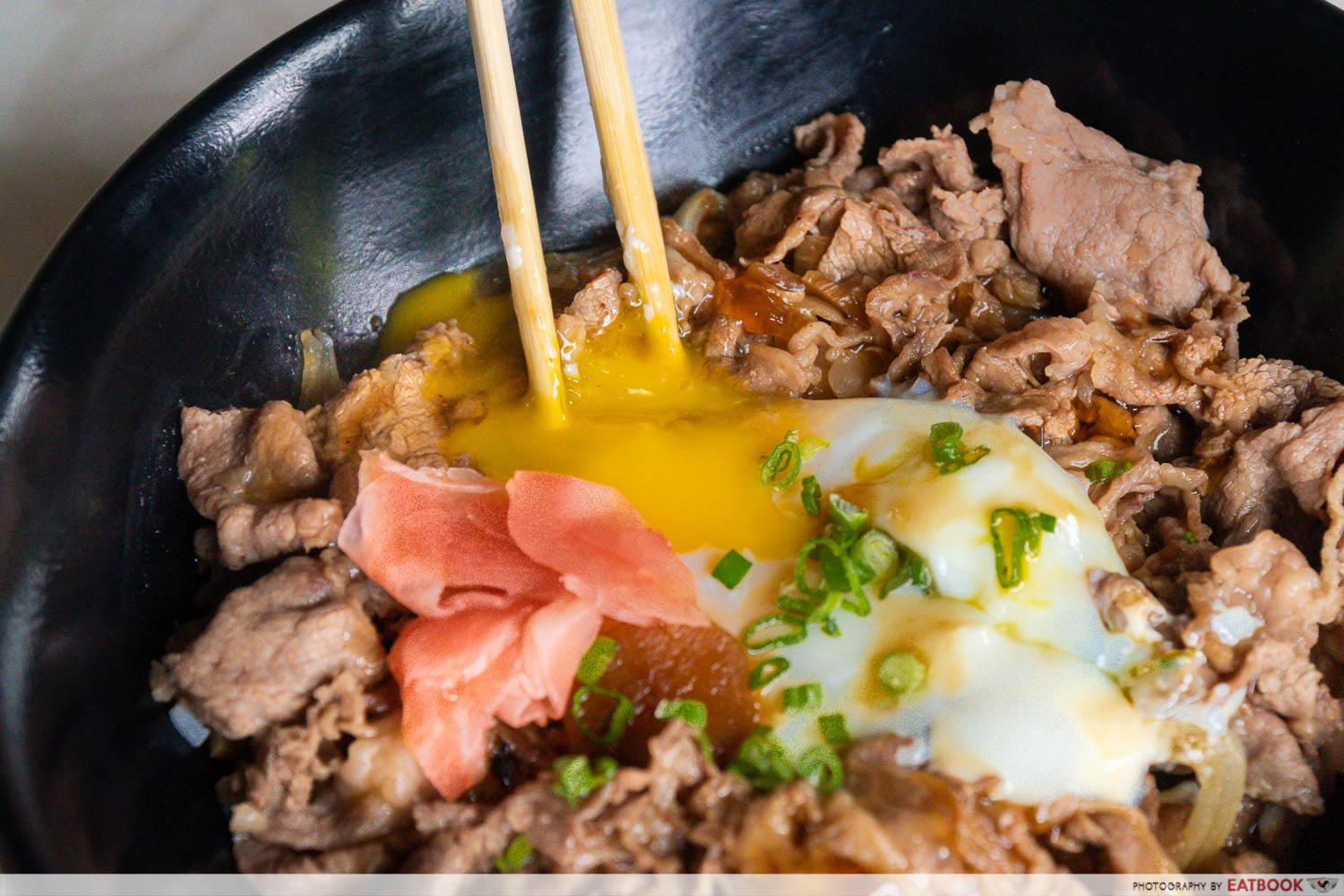 There's also a sous vide onsen egg nestled amidst the beef, the yolk adding extra creaminess to the don.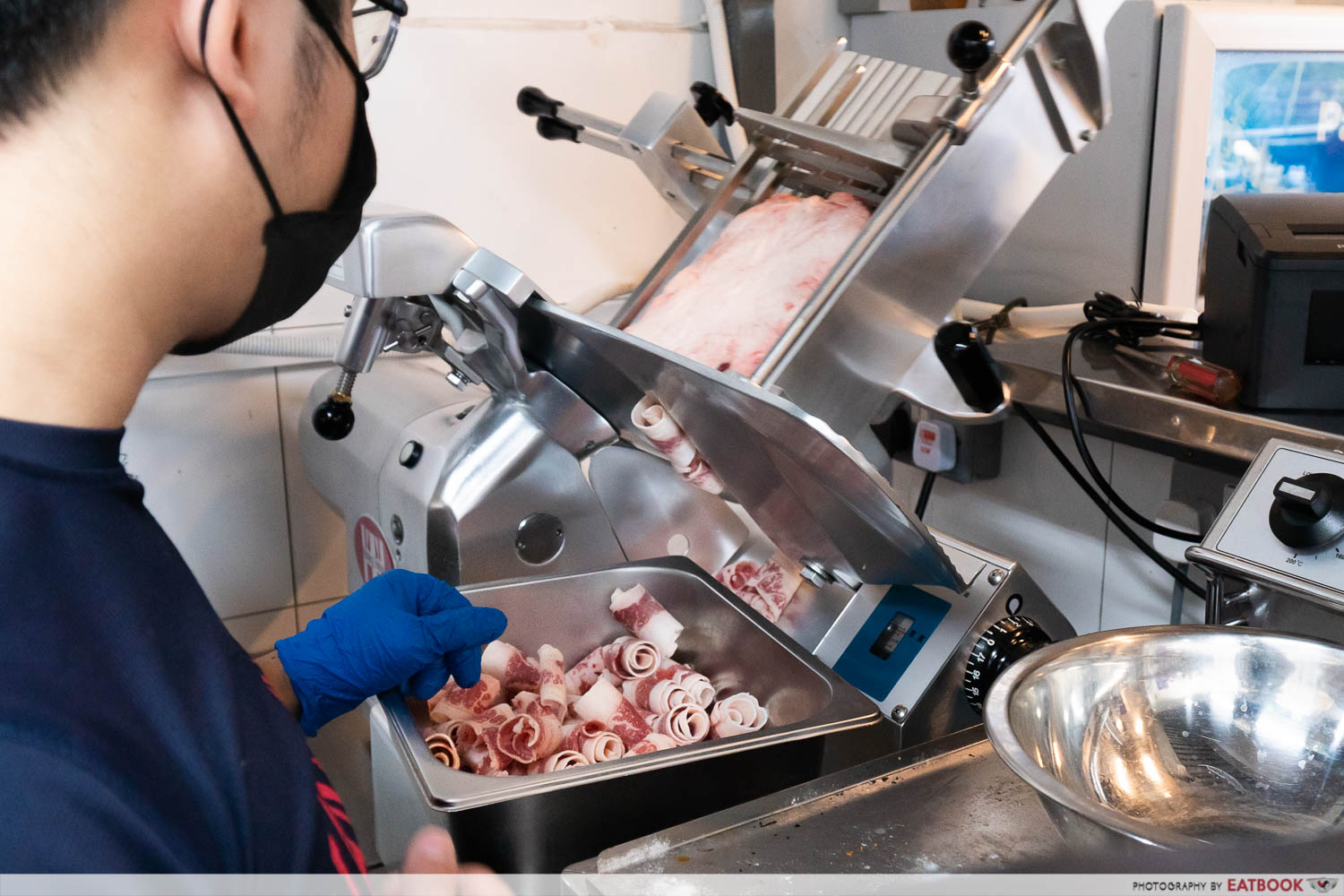 The beef is sliced in-house, which you've got to give them credit for doing, since it's extra work. This way, however, they get to control the thickness of the slices. While the beef isn't as marbled as I'd like, the price tag on this bowl makes it nothing to complain about.
What I did enjoy, though, was the nuanced flavours in the sauce. Unlike your usual gyudon kiosk, the sauce here is 100% made in-house with a vegetable-based stock that's enriched with bonito for that classic umami taste. I was also surprised to see slices of burdock root, AKA gobo—an earthy-tasting root that's not commonly seen in casual joints.
If you're looking for something fancy, The Gyu Co offers zhnged-up donburi bowls, including a Truffle Gyudon ($13.90/$19.90), Foie Gras Gyudon ($14.90/$20.90), or you can get the best of all these with the Truffle Foie Gras Gyudon ($17.90/$23.90).
The Truffle Foie Gras Gyudon was an easy highlight of the meal for me, simply because of what it comprised, and at such a wallet-friendly price.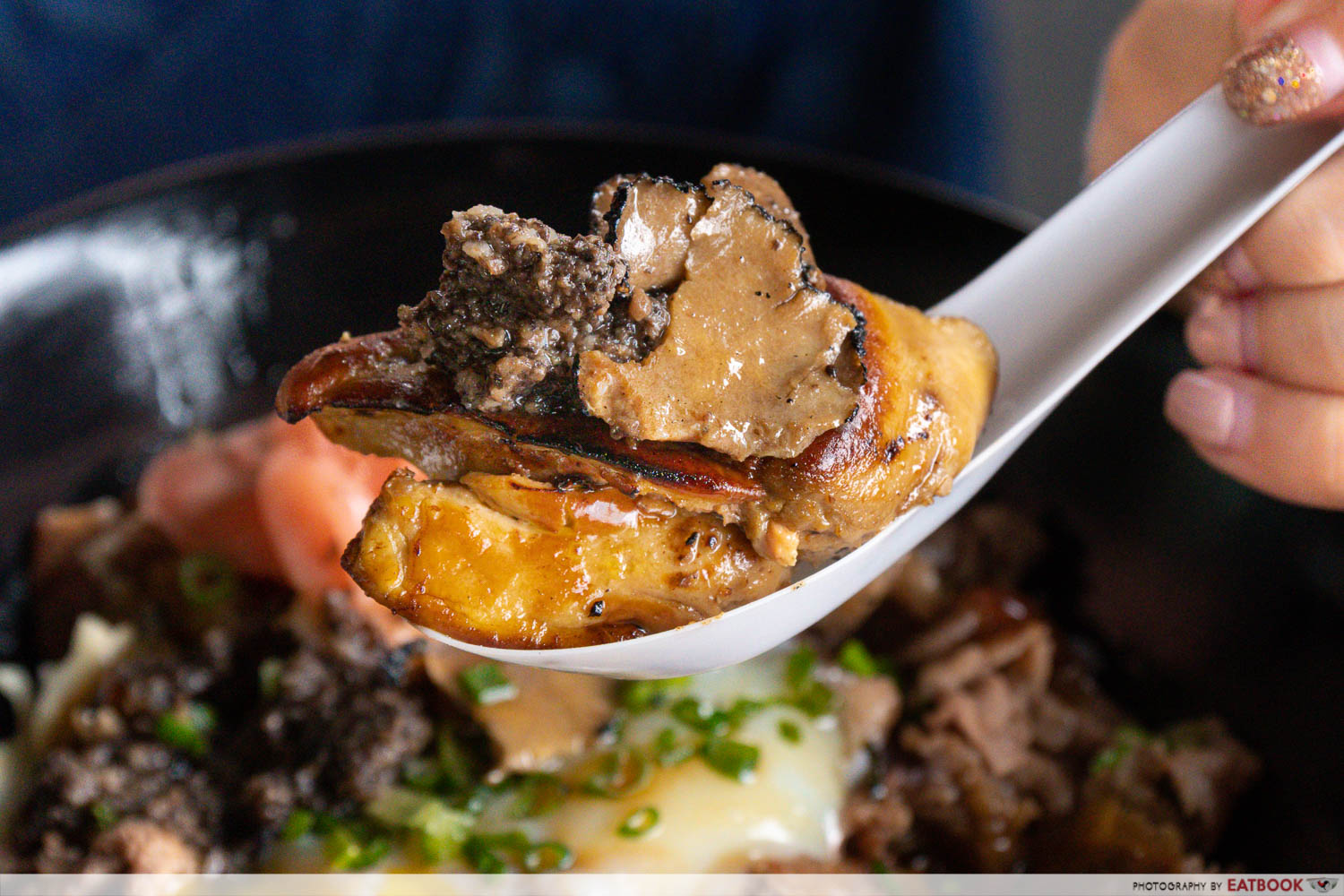 You're greeted with the heady perfume of truffle when this gyudon arrives, and I was pleasantly surprised to see both truffle carpaccio and truffle paste in the bowl.
There's also the thick lobe of pan-seared foie gras, which sported a crisp, brown exterior and melted in our mouths, adding that luxuriously fatty touch to the gyudon which the beef lacked.
My complaint would be with the rice, which was a little lacklustre in terms of texture. It comes with bonito and seaweed for flavour, much like furikake.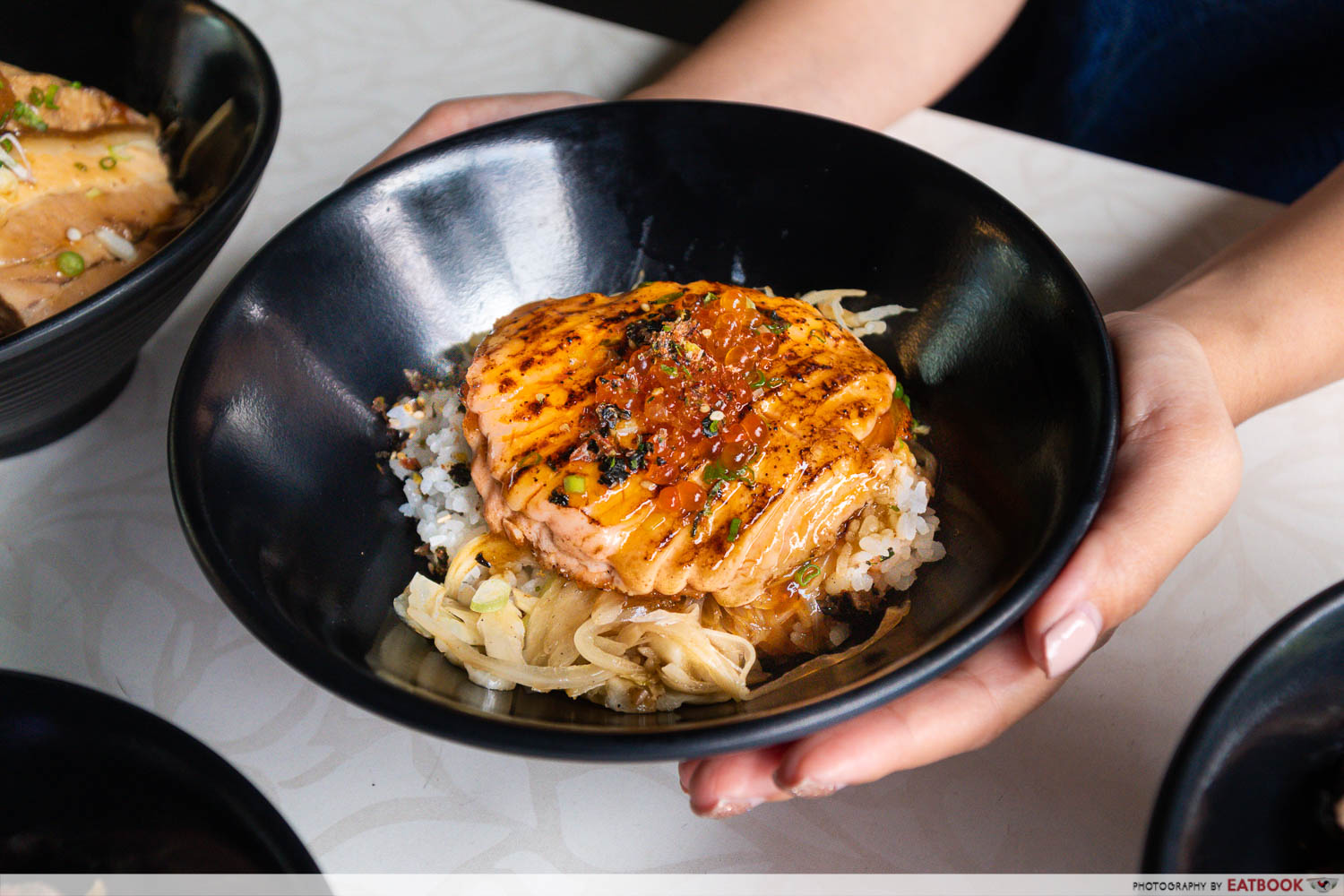 The menu at The Gyu Co also has non-beef options including a Mentaiko Rainbow Trout Don ($12.90/$18.90). This was an easy hit, other than the fact that they use leaner fish, rather than salmon, which meant a less fatty, slightly drier mouthful.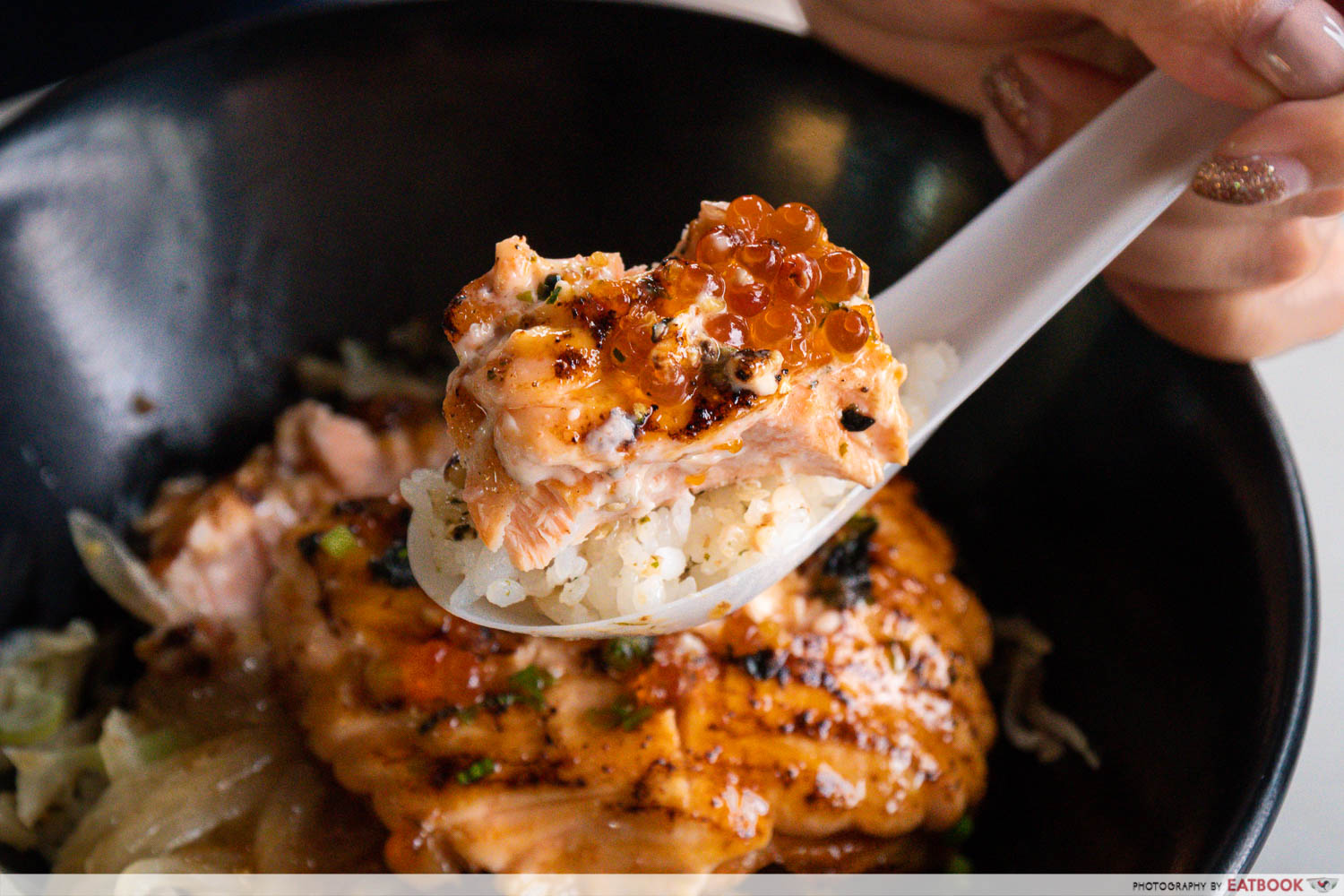 They were generous with the torched mentaiko dressing, and their winning factor for me was the topping of tobiko and ikura—this latter ingredient being a rather less common one in your run-of-the-mill eateries. There's also the option to go without the mentaiko dressing when you order the Grilled Rainbow Trout Don ($10.90/$16.90).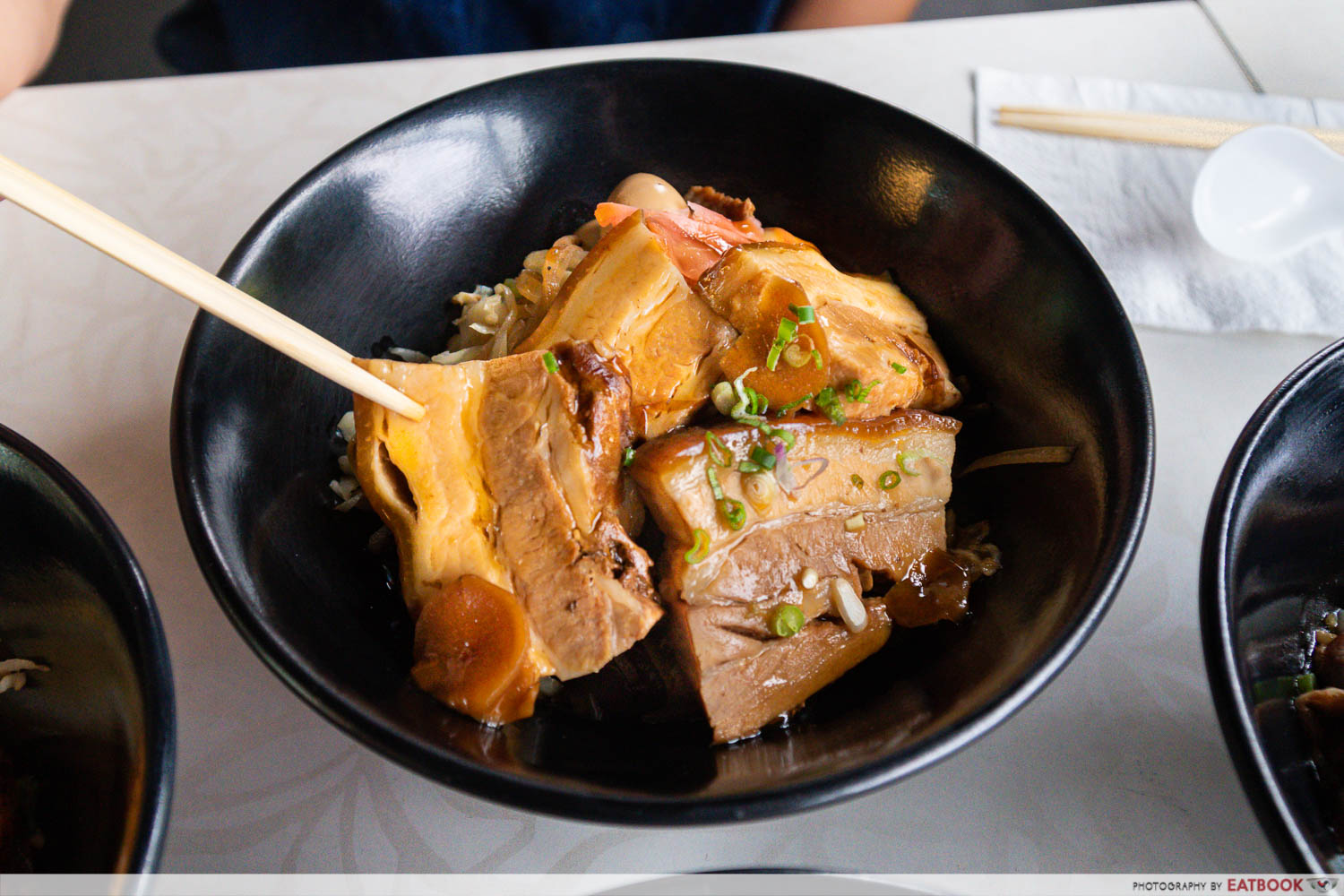 Another option that you could consider is the Buta Kakuni Don ($9.90/$15.90)—even the regular portion is served with four seriously thicc slices of tender, braised pork belly, and a couple of cute little braised quail eggs. The bowl we got seemed a little haphazardly put together, unlike the picture on the menu, and we had differing opinions on the taste. My colleague thought it was tasty, while I had expected more robust flavours to match the thick cuts of meat.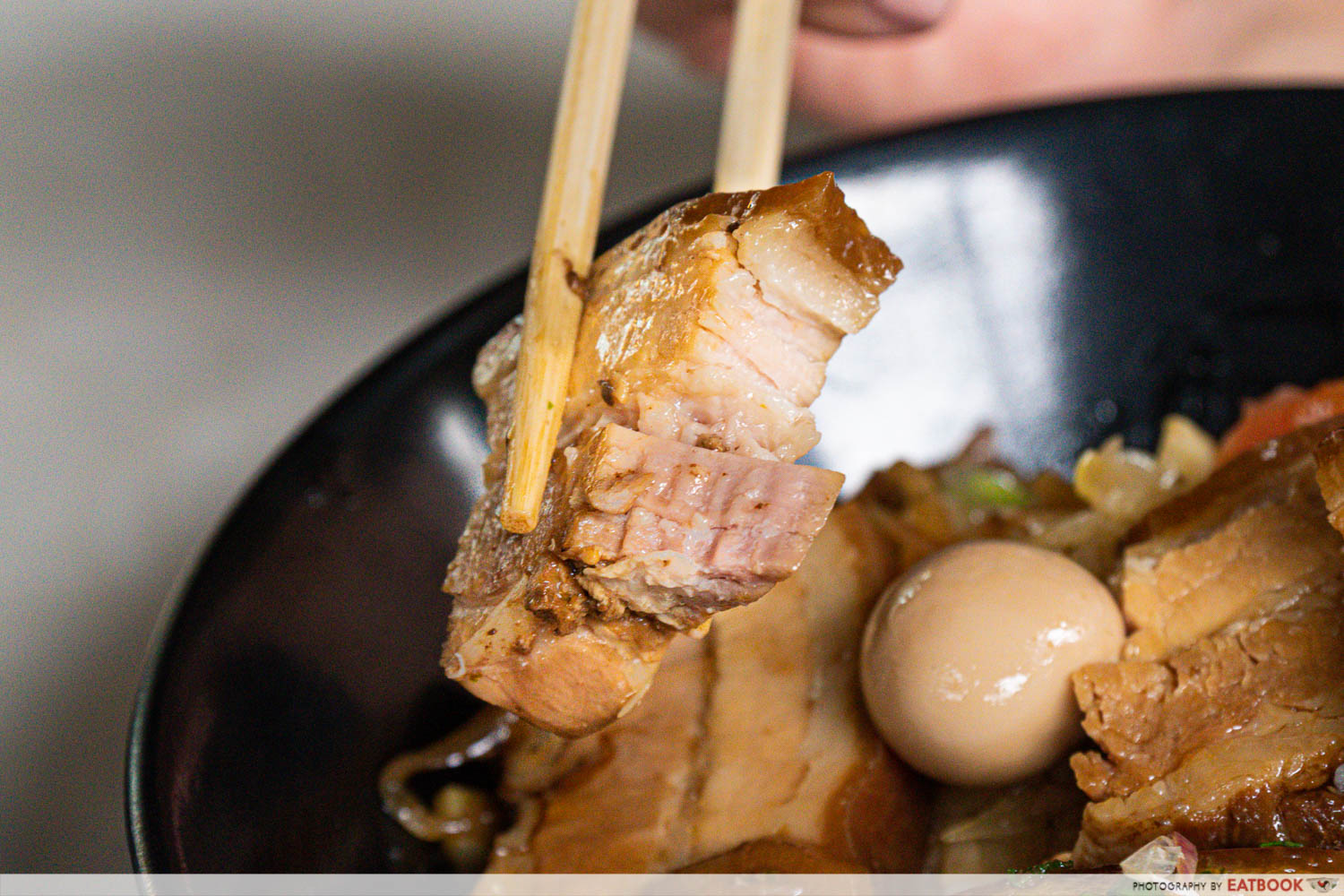 Personally, I would also have preferred if this had come with the sous vide egg, and if they had given the pork belly a light torch, just for that extra touch of smokiness.
The Gyu Co also has other rice bowl options: the Chicken Nanban Don ($8.90), Oyakodon ($7.90), and Katsudon ($10.90) are other kid- and wallet-friendly choices that we didn't try, but you could get.
Miam Miam Review: French Japanese Cafe With Truffle Striploin Foie Gras Donburi And Souffle Pancakes
Ambience at The Gyu Co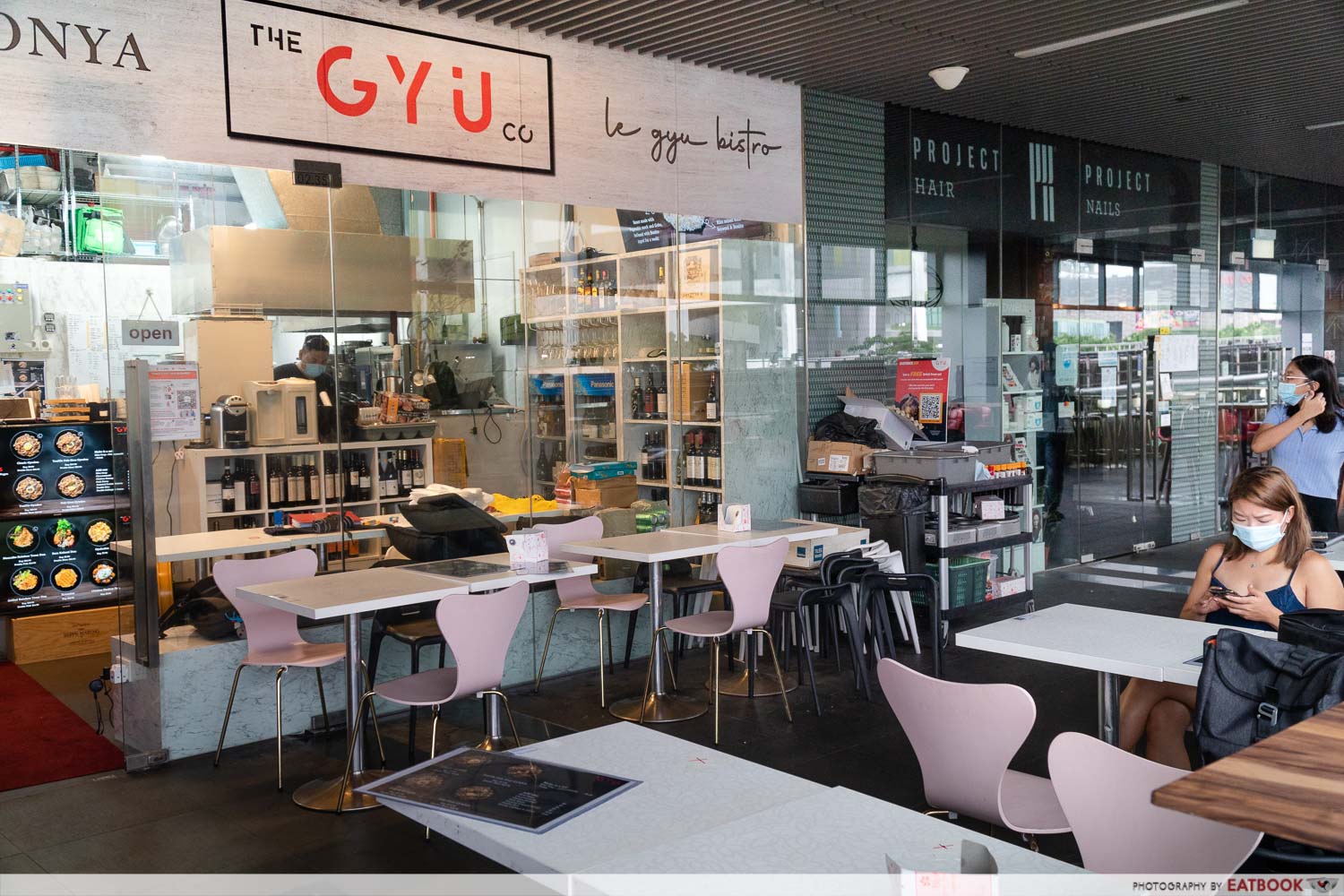 The Gyu Co is situated on the second floor of Vision Exchange, which is a short 600m sheltered walk from Jurong East MRT Station. The bulk of their seats are alfresco, and get a strong breeze blowing in. There's also a very limited number of indoor seats, which aren't open at the moment. We were there when they opened, and the tables filled up pretty quickly, even with most of the office crowd working from home—it'll definitely get more crowded when people switch back to working in the office.
10 Bugis Restaurants For Affordable Unagi Don, Wagyu Buffet, Mala Tang, And More
The verdict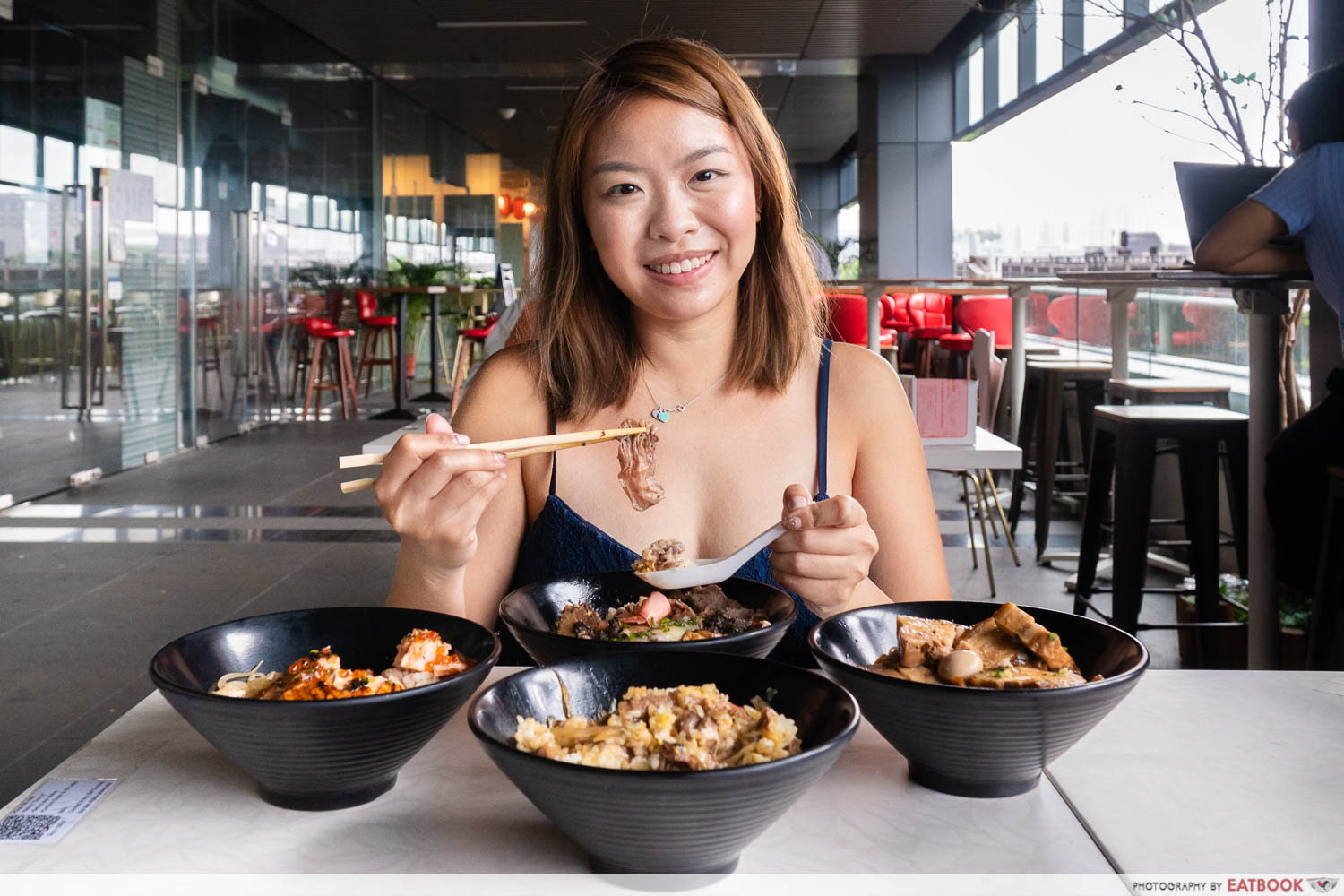 Credit goes to The Gyu Co for keeping prices affordable, with well-portioned servings, and a variety of menu options that cater to basic diners, as well as those looking for additional frills in their meal. At $9.90 a serve for their most basic beef bowl, you'd be getting a meal that's pretty satisfying, while knowing that you're putting quality food in your belly.
If you're a Wagyu aficionado, check out our Bugis restaurants guide for a number of Wagyu options, including Wagyu buffets, yakiniku, and more! Mrs Pho's new Ngee Ann City spot also has a Wagyu hotpot!
Address: 2 Venture Drive, #02-35, Vision Exchange, Singapore 608526
Opening hours: Mon-Sat 11:30am to 2pm, 5pm to 9pm
Tel: 8233 9138
Website
The Gyu Co is not a halal-certified eatery.
Mrs Pho House Review: Vietnamese-Style Hot Pot And Grill Restaurant In Orchard
Photos taken by Melvin Mak.
This was a media tasting at The Gyu Co.
The Gyu Co Review: Wagyu Beef, Mentaiko Salmon Don And More From $7.90 By Ex-DB Bistro Chef
The Gyu Co Review: Japanese Rice Bowls With Mentaiko Salmon, Wagyu Beef And More From $7.90 In Jurong East -

7/10
Summary
Pros
– Affordable prices, generous portions
– Convenient location
– Tasty fare
Cons
– Buta Kakuni could have more robust flavours
– Rice was a little stodgy
Recommended dishes: Truffle Foie Gras Gyudon ($17.90), Mentaiko Rainbow Trout Don ($12.90)
Opening hours: Mon-Sat 11:30am to 2pm, 5pm to 9pm
Address:2 Venture Drive, #02-35, Vision Exchange, Singapore 608526