Creation Cafe pasta in Bugis Cube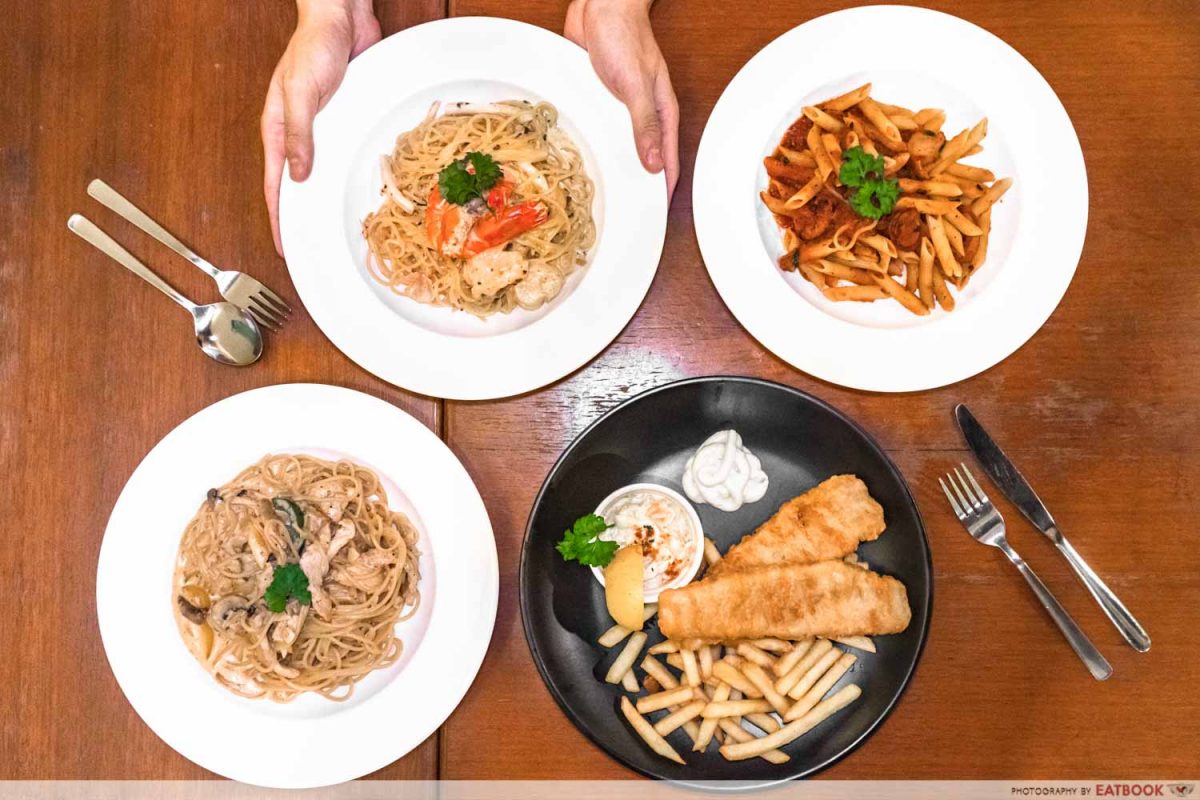 Like most of us here, I often find myself overwhelmed by the multitude of food options available whenever I visit the Bugis area, which often gets overpopulated during peak hours. My proudest discovery as of late would have to be Creation Cafe, tucked neatly in the Bugis Cube mall. The eatery has been dishing out wallet-friendly pasta dishes with unique flavours all at nett prices.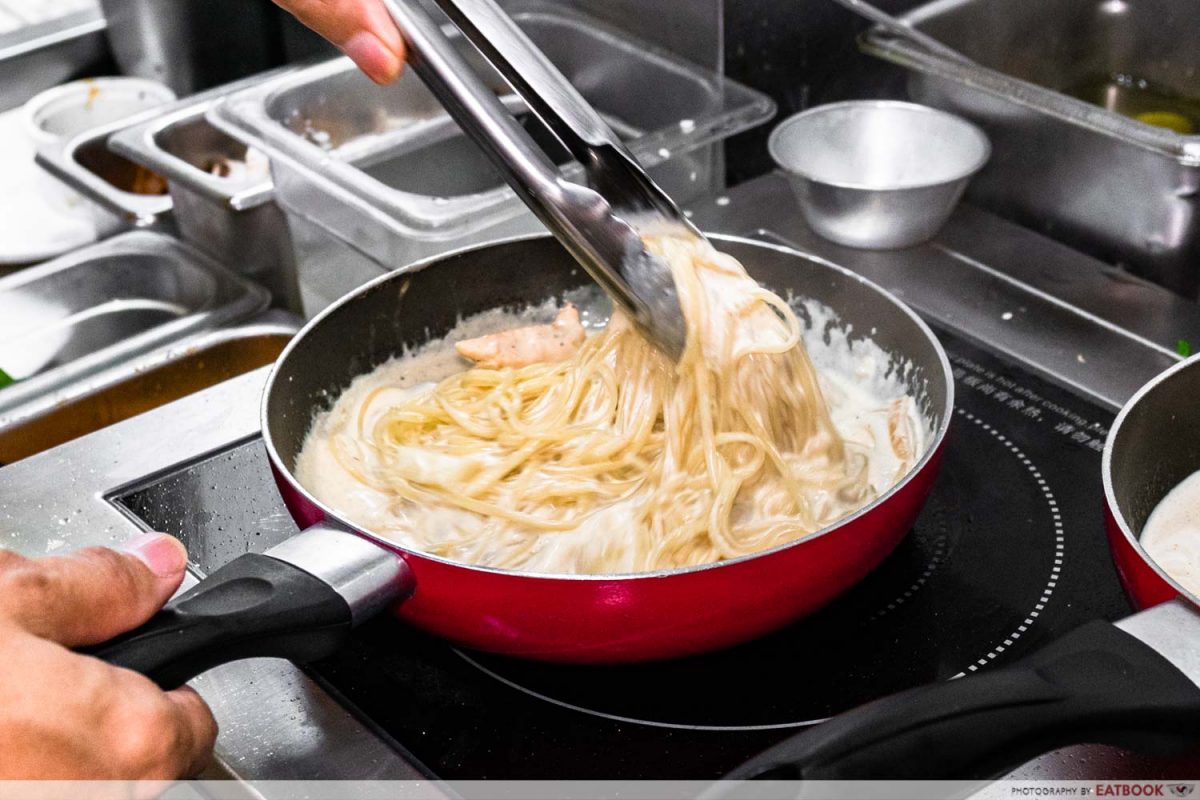 If the name somehow rings a bell, it's actually because they're better known for their longer-serving outlet at Shaw Towers formerly, that was around for 25 years previously. Curious as to whether their pastas could be considered restaurant-quality, I headed down excitedly to judge for myself, together with a dining companion.
In light of the new restrictions implemented, it's worth noting that Creation Cafe is available for physical take-away or delivery on GrabFood.
20 Bugis Food Places In Singapore Including A Halal Thai Restaurant And Vietnam Pho
Food at Creation Cafe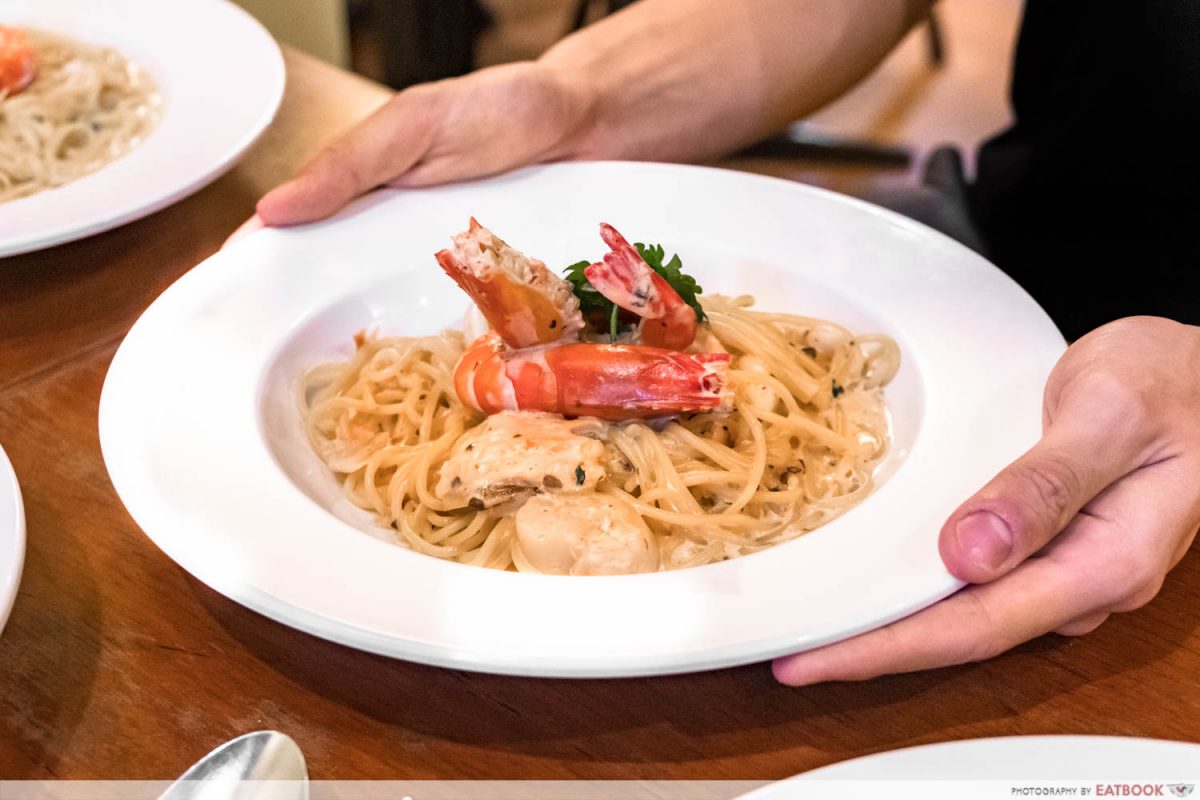 Since I'm all aboard the truffle hype train, the Seafood Black Truffle Pasta ($11.50) immediately caught my eye in the menu, especially since it was priced so reasonably. It's packed full-on with ingredients, as I saw huge prawns, scallops, sotong rings, and mushrooms among others.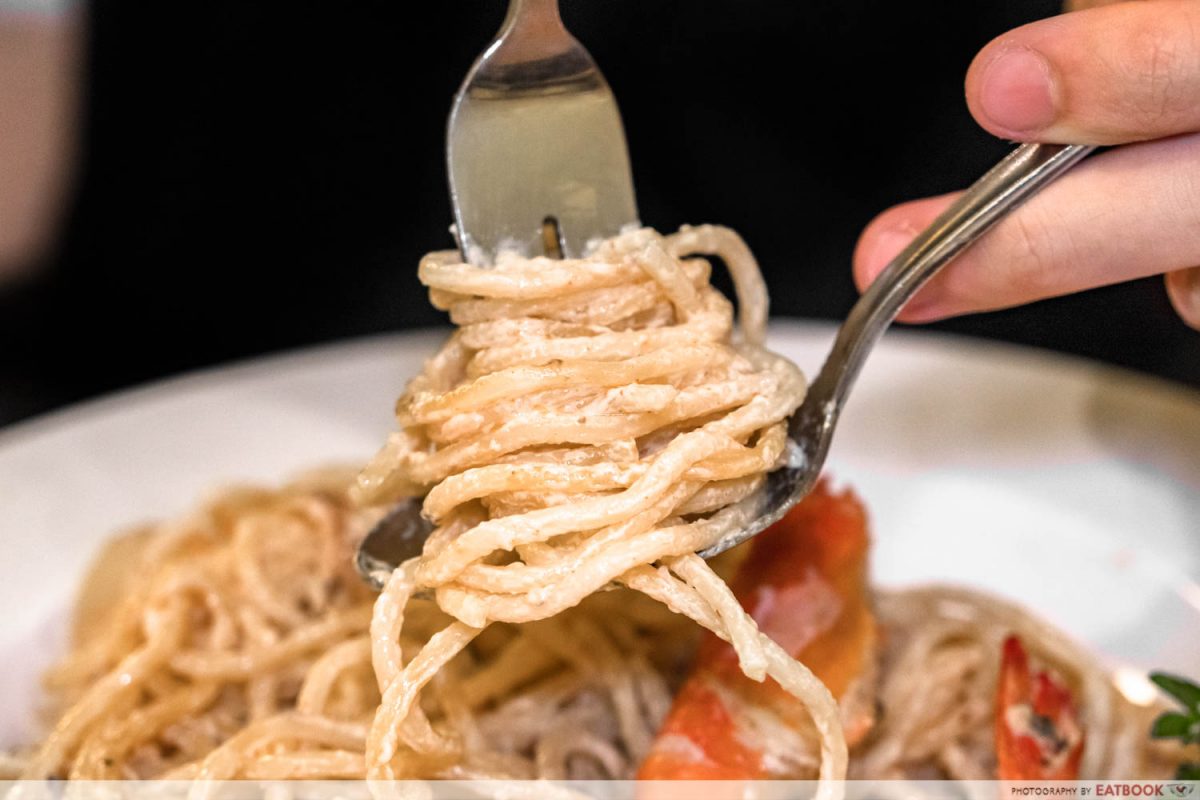 The spaghetti was al dente. Furthermore, it went well with the truffle-infused cream sauce, which wasn't too thick and had a light savoury flavour, though I spent quite some time trying to detect any sliver of truffle with each bite.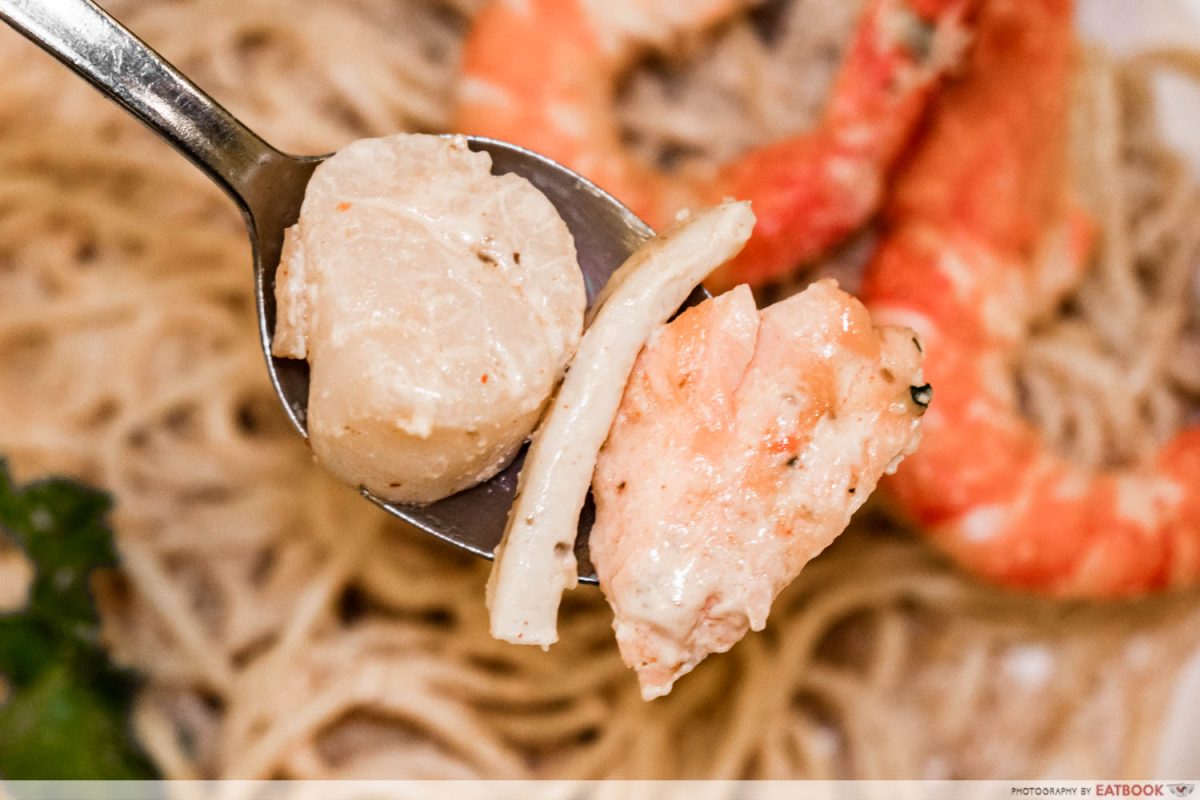 Yet, the fresh seafood made up for it, with the prawns and scallops, in particular, impressing me. The meaty prawns were done really well, as the chef was able to bring out their sweet and umami flavours well, while the scallops were pleasantly tender and mildly buttery, ideal for a seafoodie like myself.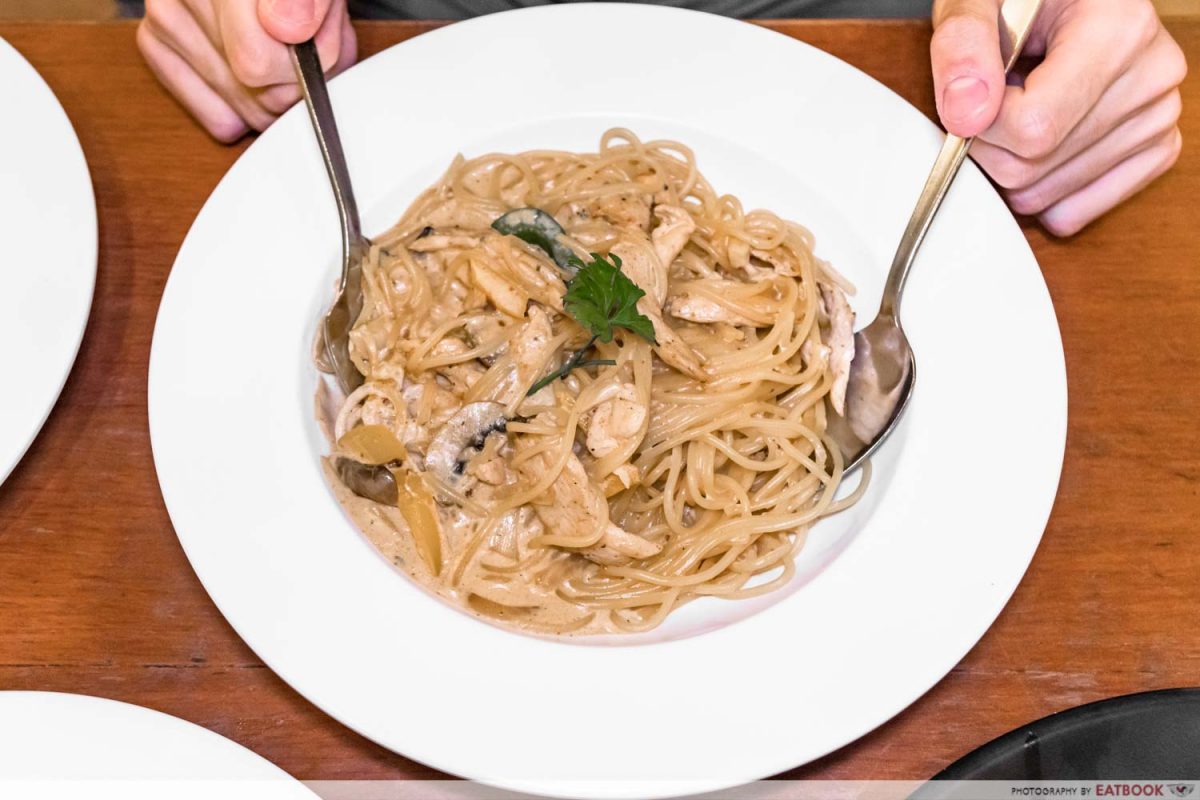 Curious as to how Japanese curry would blend with pasta, the Chicken Java Curry Pasta ($9.80) was an interesting fusion. With generously large chunks of chicken breast, green capsicums, and mushrooms, the spaghetti is drenched in a creamy curry sauce mixture that's mild and savoury, though some might find that it lacks the spicy kick they crave.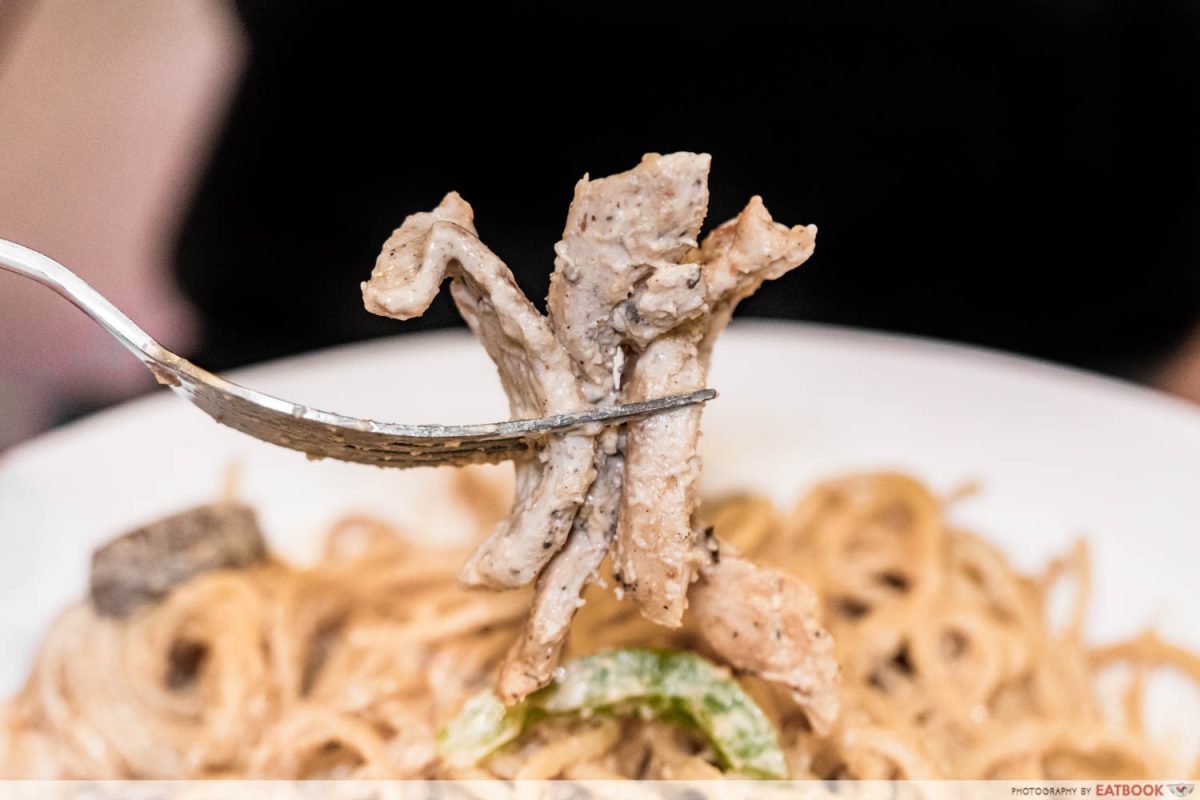 To their credit, what's usually difficult to swallow in chicken breast was made a lot more palatable, as their version was well-seasoned and lacked the rubbery texture that usually makes chicken breast unpleasant. The capsicums added crunch to the dish and injected depth by providing a slightly bitter aftertaste with each mouthful, though their compatibility with curry and pasta was a little questionable.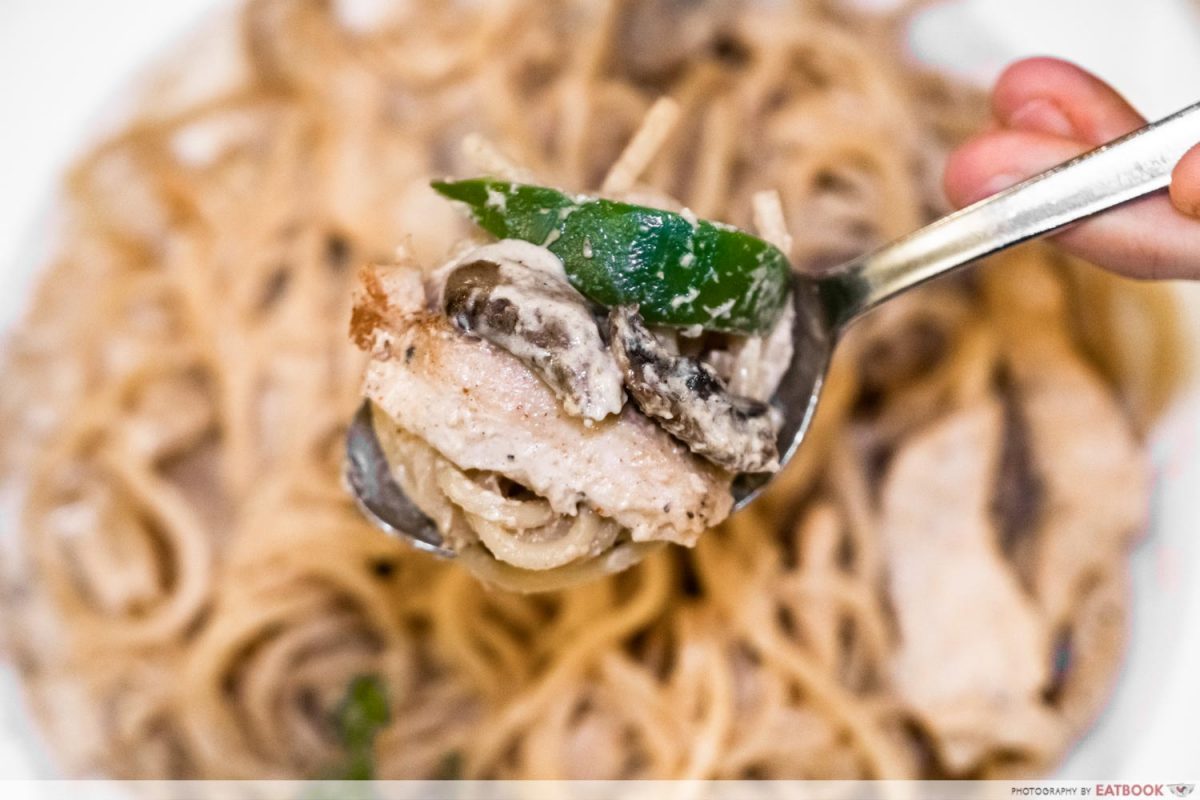 I felt the mushrooms complemented the pasta better, as they brought an earthiness and sweetness that was enjoyable, more importantly enhancing the taste of the Java curry sauce.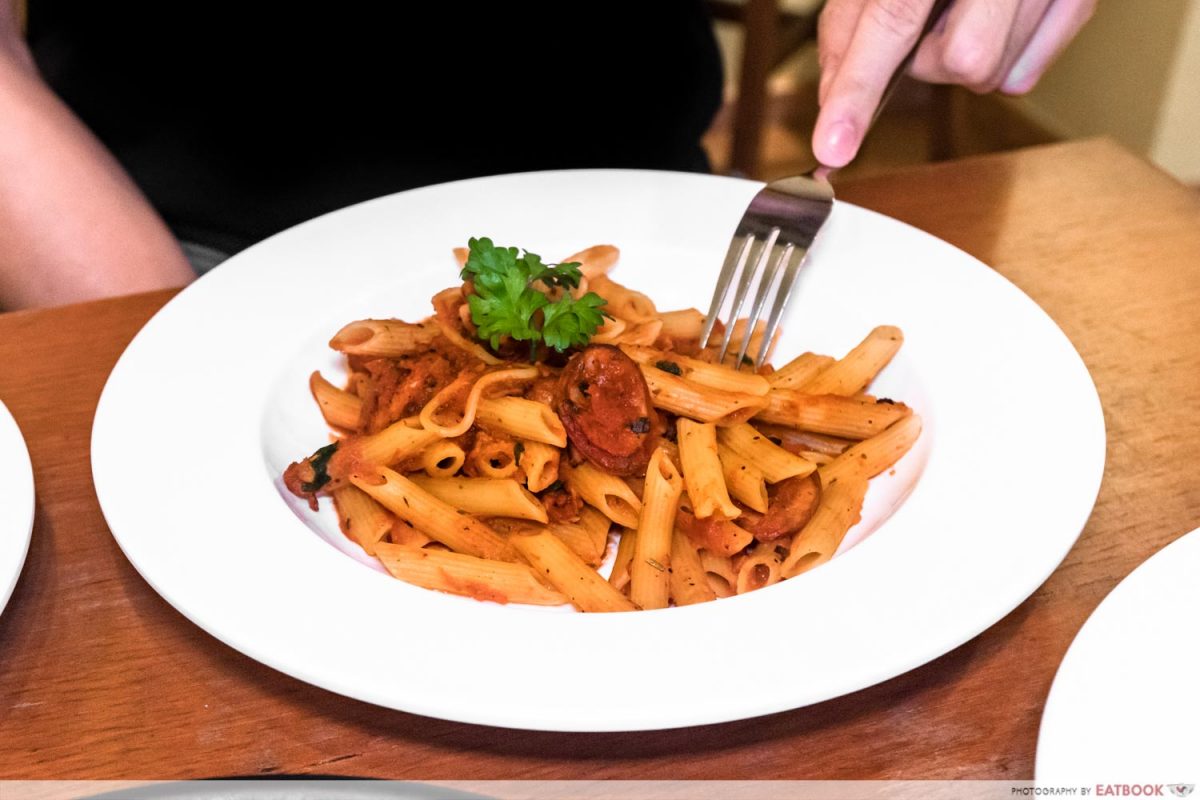 I can't really call myself a decent judge of their Italian cuisine if I don't dig into the essentials, so I had to go for the Italian Sausage Tomato Pasta ($9.80). For this dish, we opted for the penne choice, as it's my champ at holding and absorbing the tomato pasta sauce compared to other pasta types.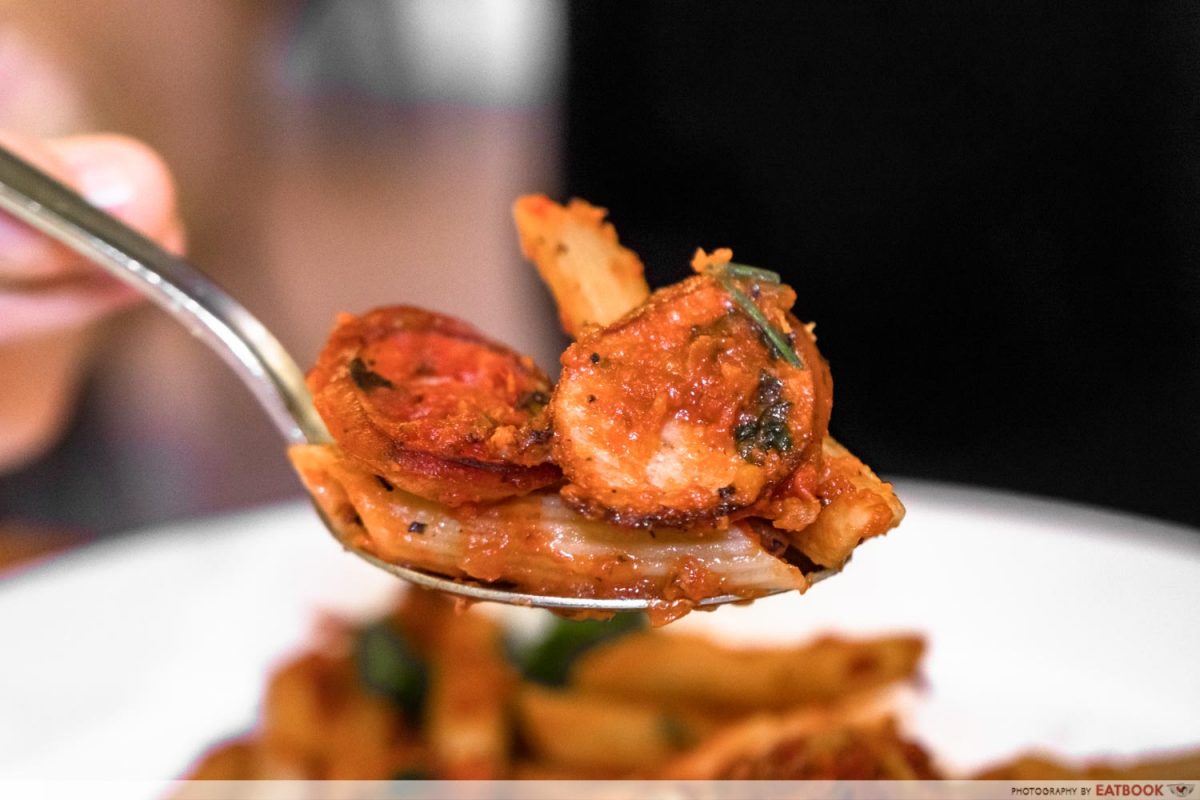 Chopped into bite-sized pieces, the sausages weren't very plump but robust enough to leave me wanting for more. I especially liked the slight herbaceous notes in the sausages too, pairing well with the tangy tomato sauce and penne pasta. The chef's tomato sauce had a predominant sugariness that overpowered the tartness of the tomatoes, not exactly ideal for those who love their pasta sauce balanced.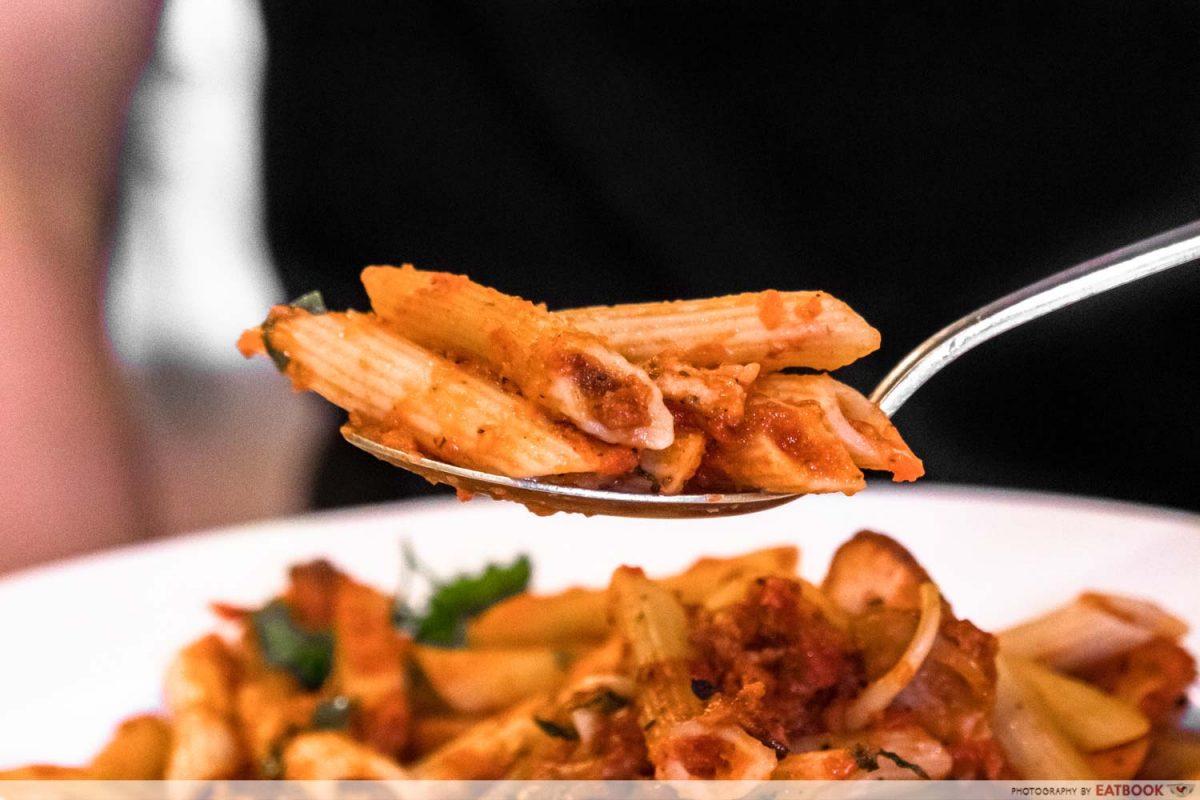 The penne pasta was chewy and true enough, soaked up the pasta sauce nicely, providing a full burst of flavours in my mouth with each forkful.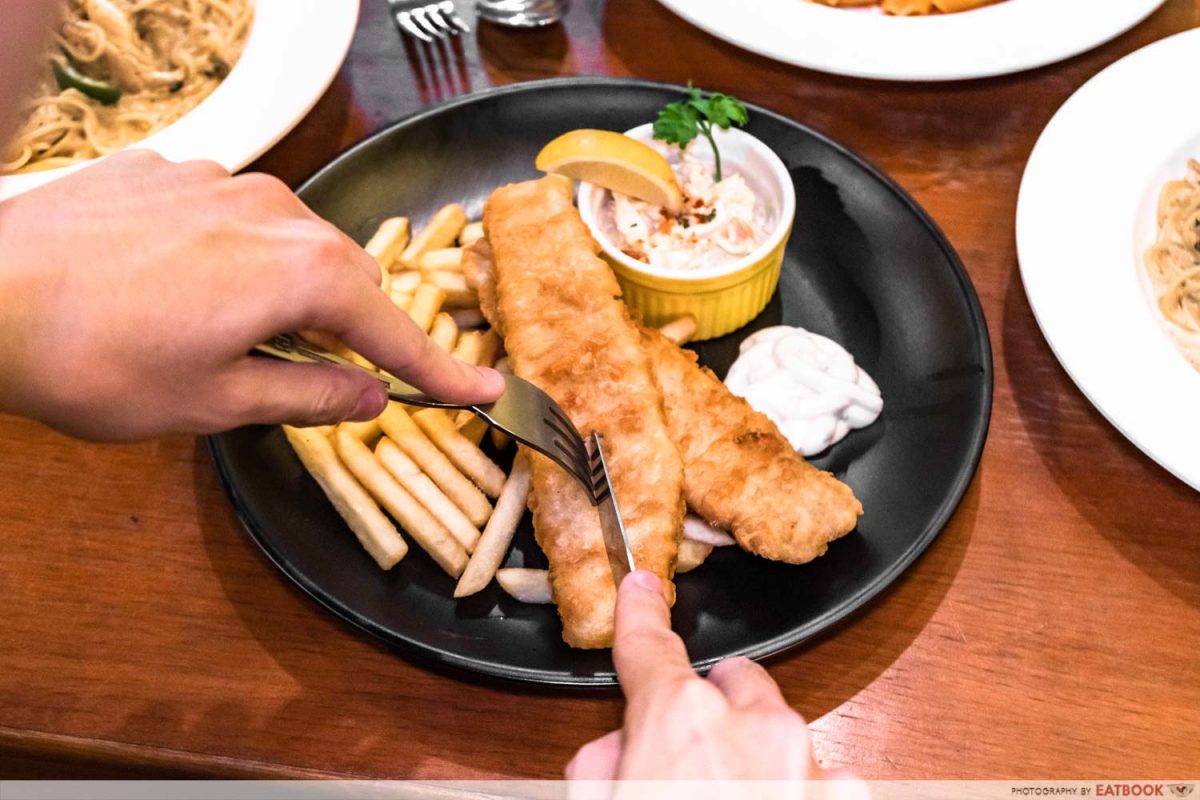 Our first and last non-pasta dish of the day would be the Fish And Chips ($11.80), as I do love myself a deep-fried delicacy every now and then. Two sizable fried fish fillets are served alongside a portion of fries, together with a side of coleslaw and tartar sauce.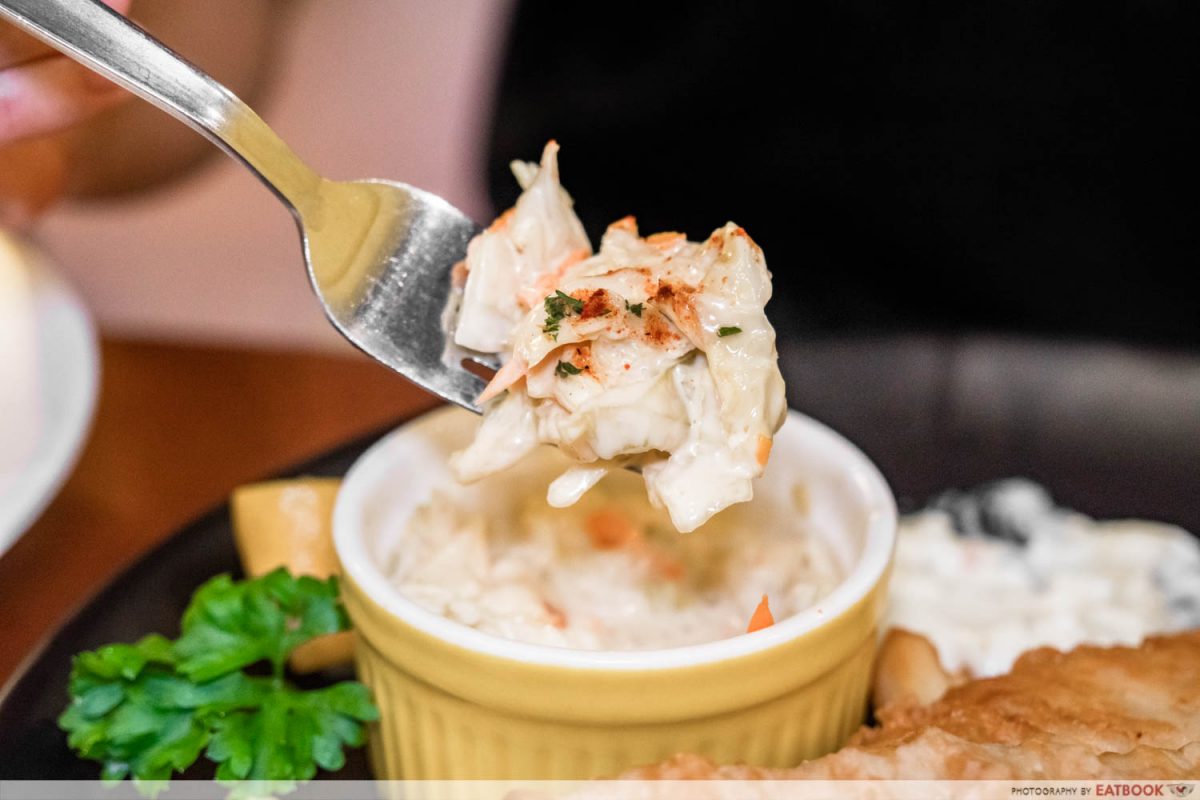 They say simplicity is the ultimate form of sophistication and so I liked how I was able to truly appreciate the quality of each component of this simple dish, down to even the freshness of the coleslaw.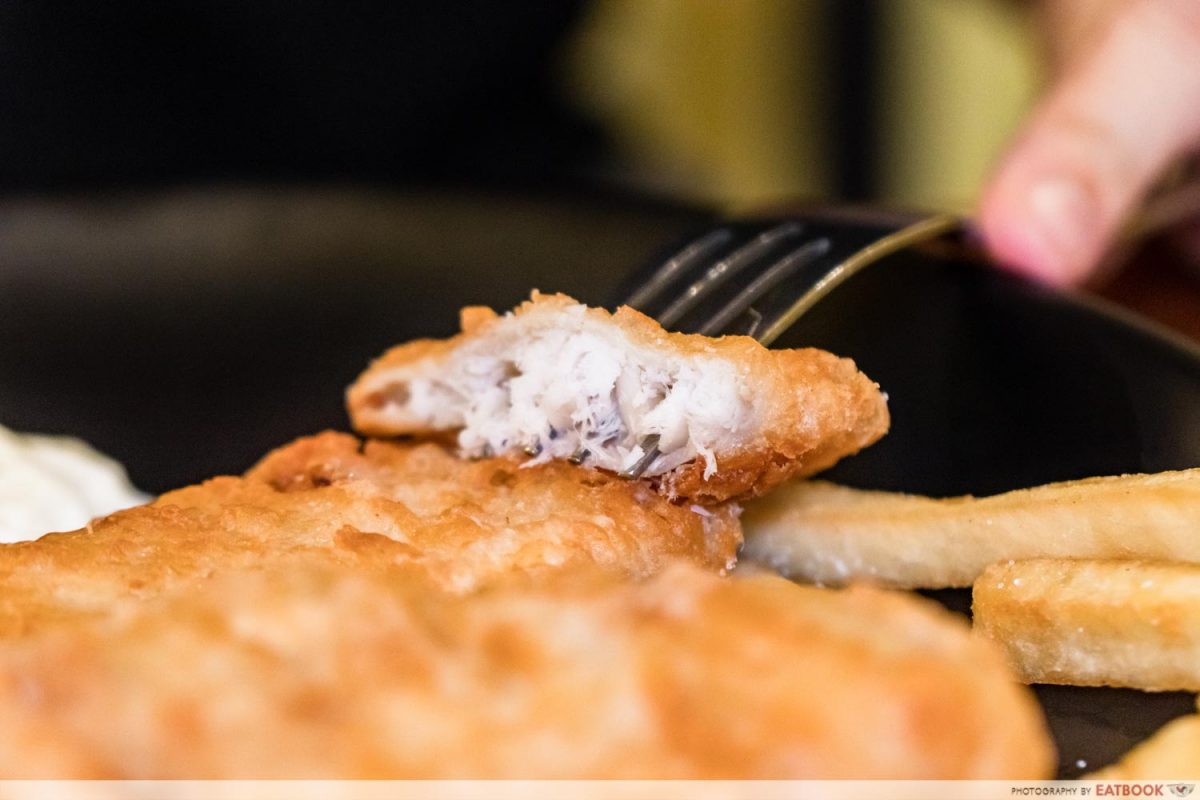 The fish was battered and fried to a delicious golden crisp. What really had me sold was how the fish wasn't greasy or soggy in any way, retaining its crunch even after a while of taking photos, without any sign of oiliness whatsoever. 
13 Pizza Delivery Services For All Budgets, Including Truffle And Halal Pizzas
Ambience at Creation Cafe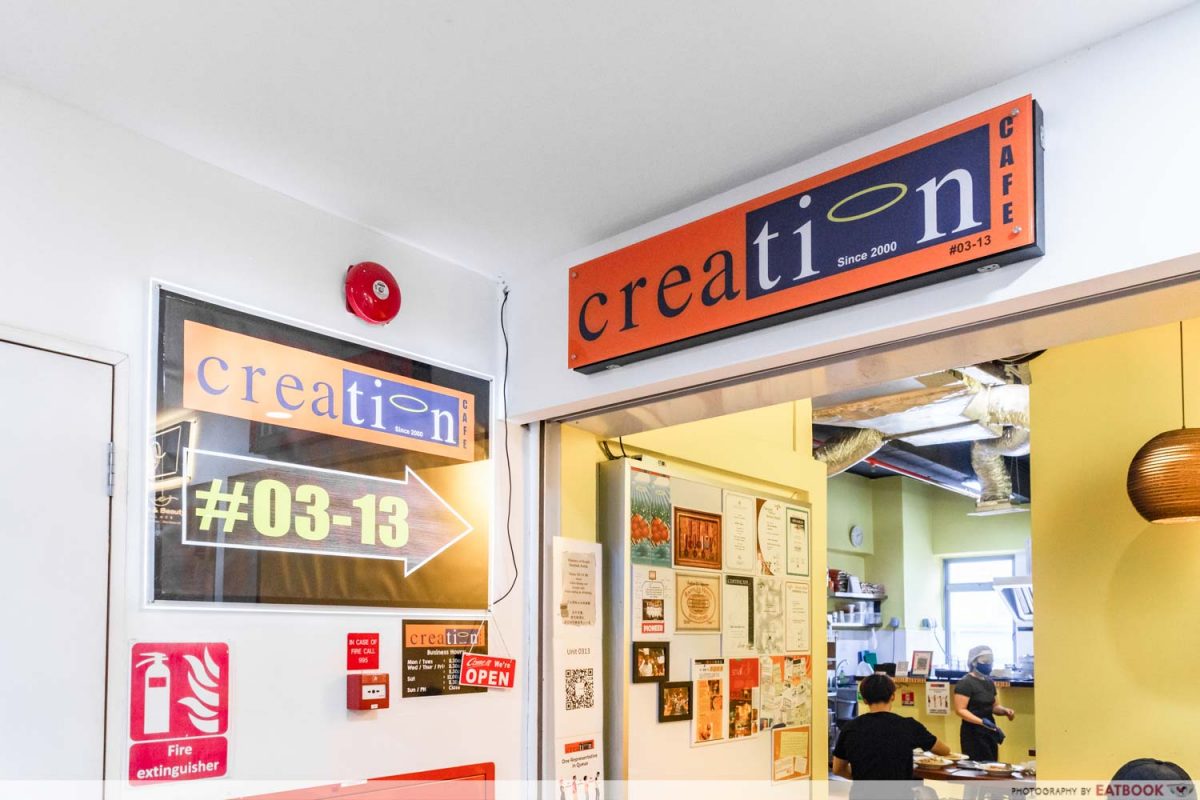 The aptest word to describe Creation Cafe also starts with a "C" and that's cosy. It's located right at the far corner of the third level of Bugis Cube, requiring a walk through a whole row of shops to get there, despite the mall being practically a five-minute walk from Bugis MRT Station.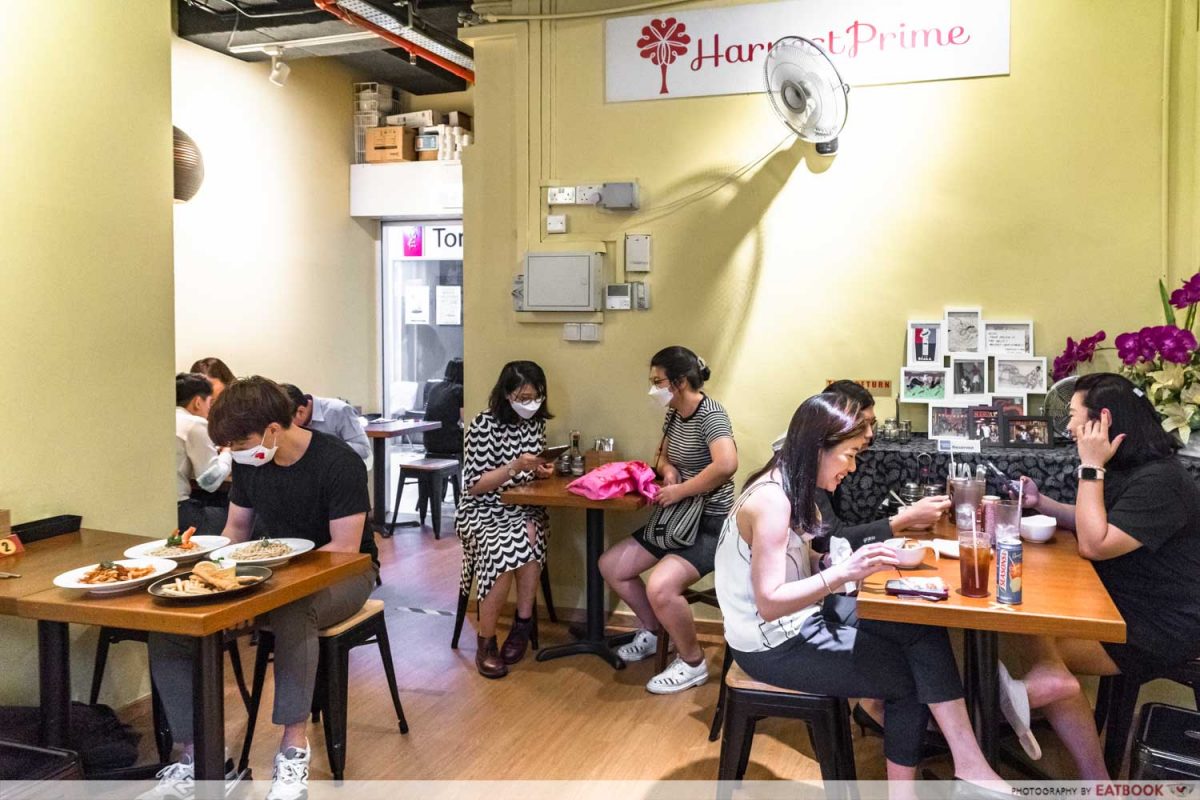 I can safely say that the eatery only seats about a maximum of 20 to 25 people at one time, and it can get crowded fast due to its stream of office workers and students on weekdays or families on weekends. Their open kitchen concept makes your dining experience just that bit more interactive, as you get to witness the chef owner whip up your pastas while paying at the counter.
10 Hawker Stalls Opened By Ex-Hotel Chefs In Singapore Selling Steaks, Cakes, And More
The verdict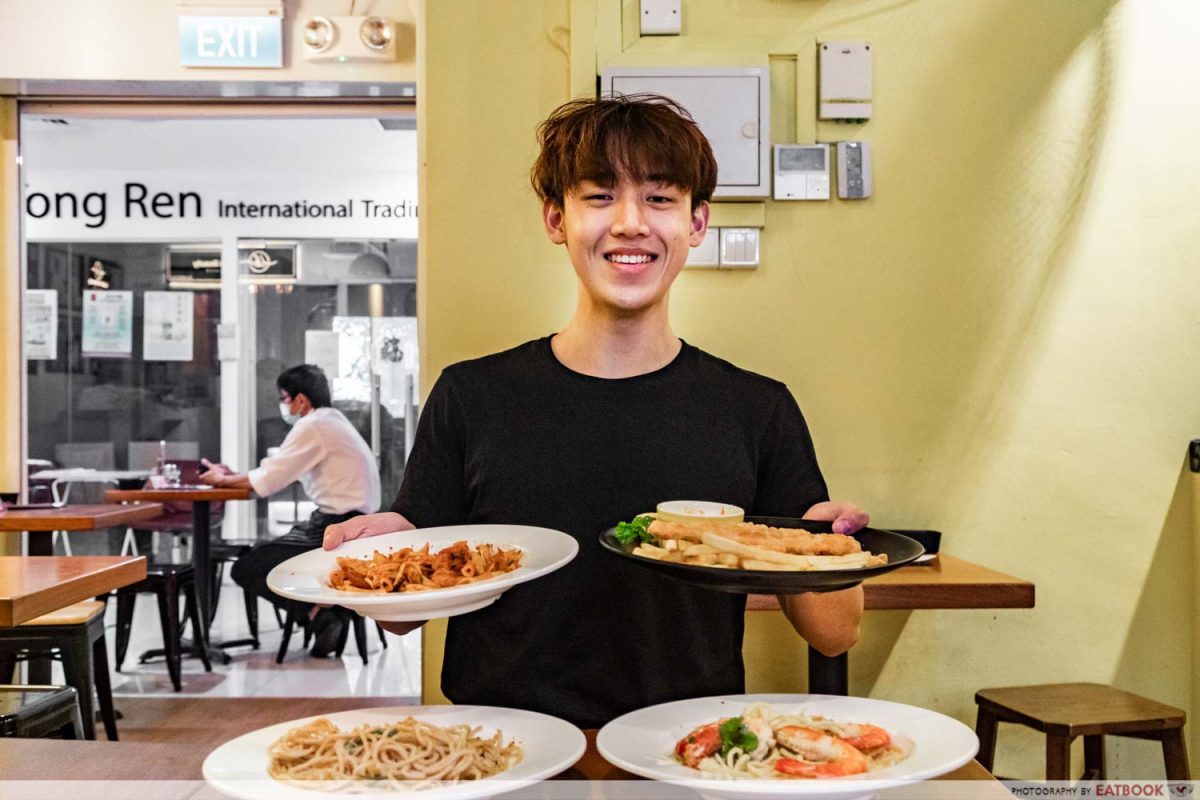 Honestly, I feel Creation Cafe deserves a lot more recognition than what it's been getting, because it has all the makings of a successful local eatery, serving high-quality Italian fare at a fraction of the usual restaurant prices at such an accessible central location. 
With a treasure trove of experience honing his craft at the likes of Raffles Hotel and the former Glass Hotel in River Valley, it's no surprise that the chef-owner holds himself to a high standard, shown by the popularity of his pasta dishes with his dining crowd. 
Nowadays, it's indeed rare to find eateries that insist on keeping their prices rid of any additional charges, but Creation Cafe has vehemently stuck to this all the way since their days at Shaw Tower, so it really demands our respect. Next time you choose to complain about how crowded your usual Bugis dining options always get, don't say I never jio you to this hidden gem.
For more Italian food options, check out our guide to pizza delivery in Singapore, as well as our Italian Osteria X review, for another hidden gem in Bugis.
Address: 470 North Bridge Road, #03-13, Bugis Cube, Singapore 188735
Opening hours: Mon-Tue 11.30am to 3pm, Wed-Fri 11.30am to 2.30pm, 5.30pm to 8.30pm, Sat 12pm to 2.30pm, 5.30pm to 8.30pm
Tel: 6259 7080
Website
Creation Cafe is not a halal-certified eatery.
Italian Osteria X Review: Hidden Italian Restaurant At Bugis By An Ex Chef Of A Michelin-Starred Restaurant
Photos taken by Chew Yi En.
This is an independent review by Eatbook.sg.
Creation Cafe Review: Affordable Italian Pastas At Nett Prices By Ex-Hotel Chef In Bugis
Summary
Pros
– Generous and fresh ingredients used in their pastas
– Wallet-friendly prices
Cons
– Chicken Java Curry Pasta lacks any kick
– The Italian Sausage Tomato Pasta sauce might be a little too sweet for some
Recommended dishes: Seafood Black Truffle Pasta ($11.50), Italian Sausage Tomato Pasta ($9.80)
Opening hours: Mon-Tue 11.30am to 3pm, Wed-Fri 11.30am to 2.30pm, 5.30pm to 8.30pm, Sat 12pm to 2.30pm, 5.30pm to 8.30pm
Address: 470 North Bridge Road, #03-13, Bugis Cube, Singapore 188735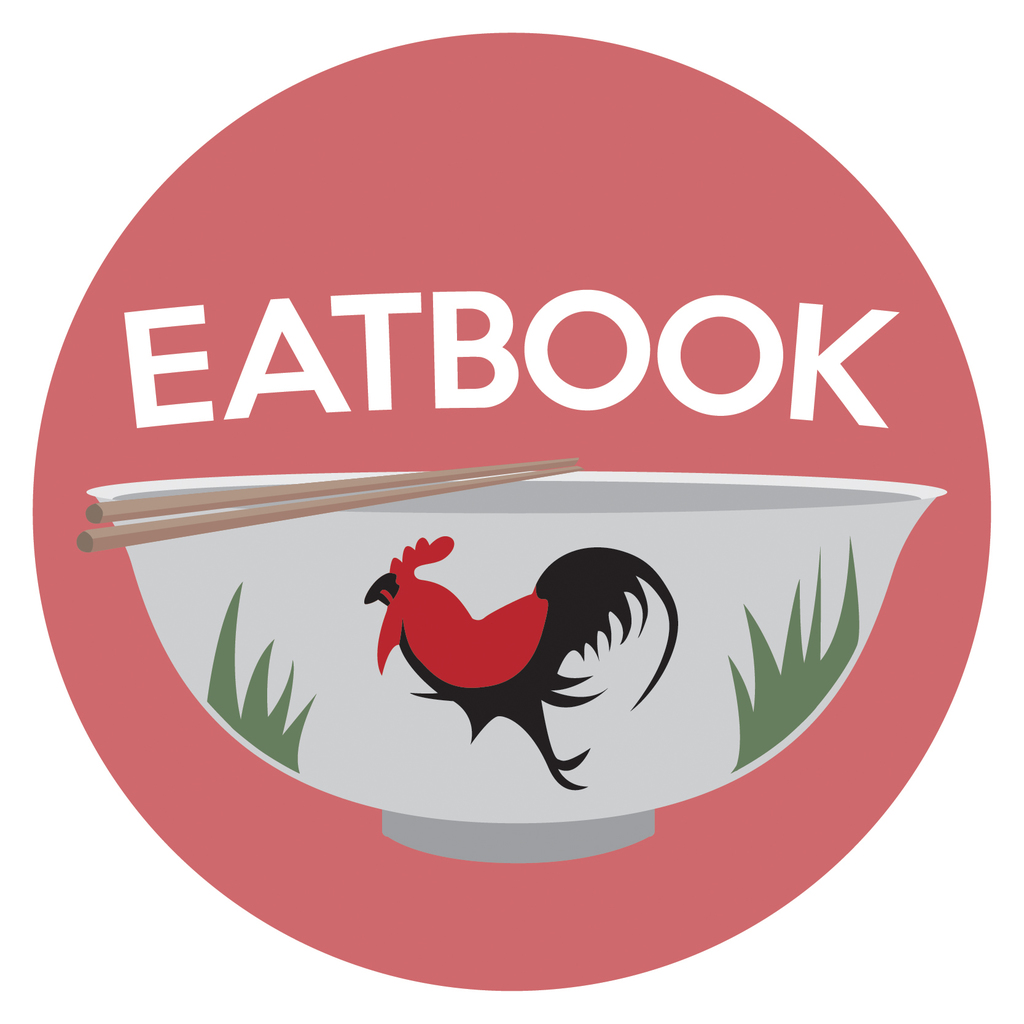 Drop us your email so you won't miss the latest news.