YUN NANS Stonepot Fish in Northpoint has collagen hotpot and more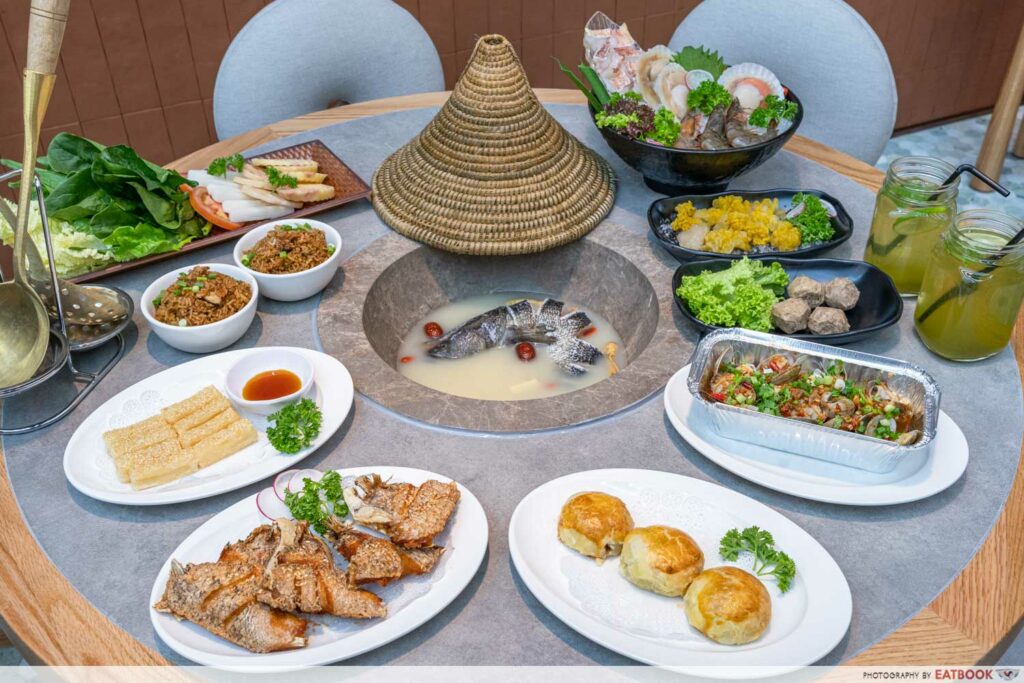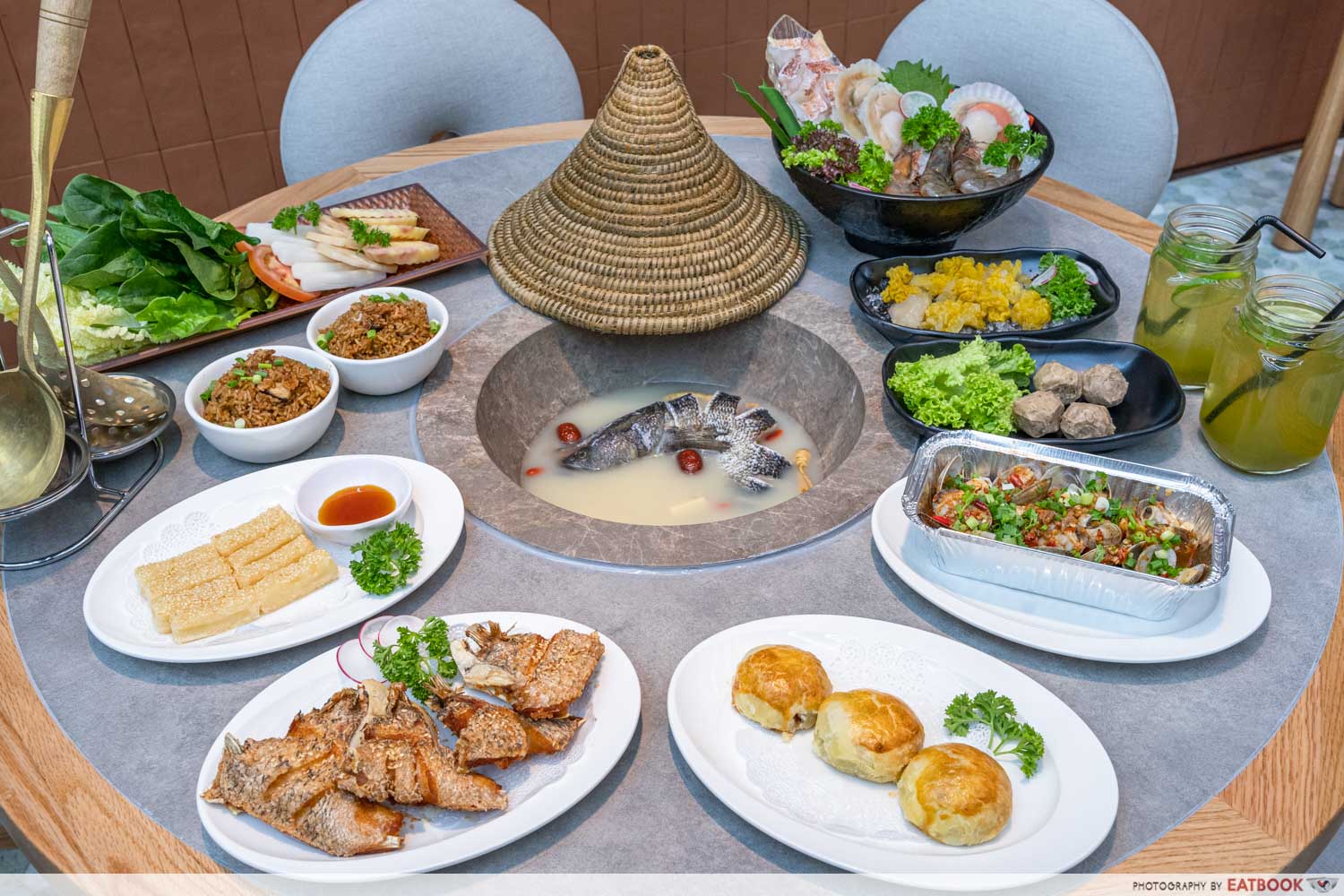 I love steamed fish and hotpot, so when I heard of a new opening that combines both, it sounded like music to my ears. YUN NANS Stonepot Fish is the latest and hottest addition to Northpoint City in Yishun, serving up unique pressure-steamed live fish, fresh seafood and more in a collagen-rich hotpot soup.
The restaurant is said to boast a four-hour-long queue when it first opened in China, so we went down for a sneak peek to see if it's worth the hype.
10 Legit Sichuan Hotpot Restaurants In Singapore For Fiery Mala Broth, Including Buffets
Food at YUN NANS Stonepot Fish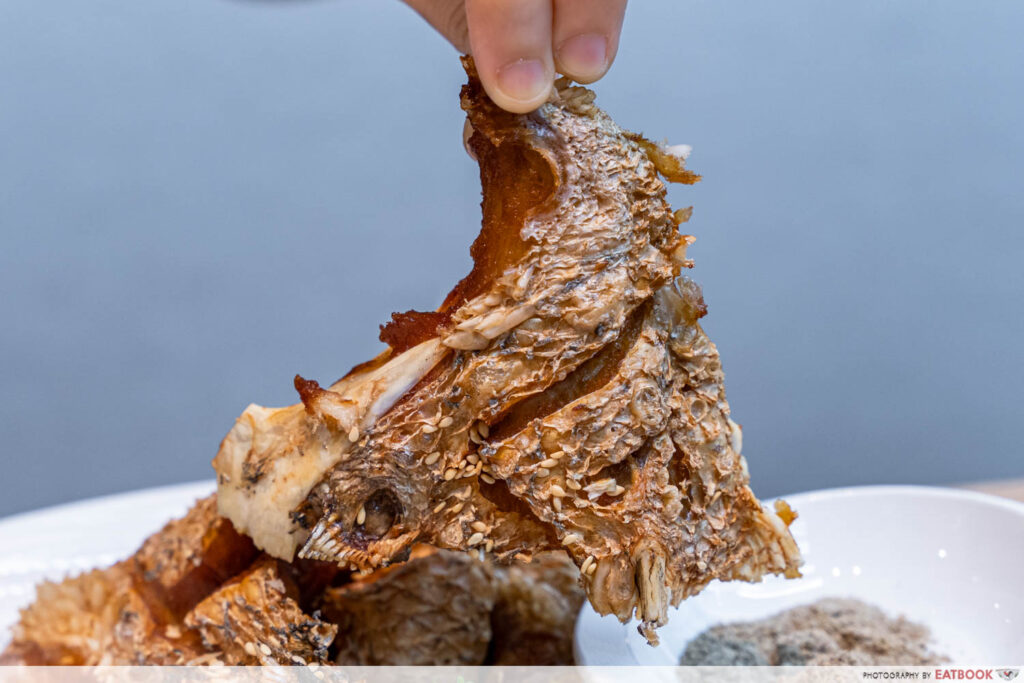 YUN NANS fans can look forward to new and exclusive starters here, including the Crispy Barramundi Collar ($9.80++).
Served with a salt and pepper dip for additional flavour, each palm-sized piece of deep-fried fish was addictively crispy. They were well-seasoned, and despite being particularly boney, came with generous chunks of meaty flesh.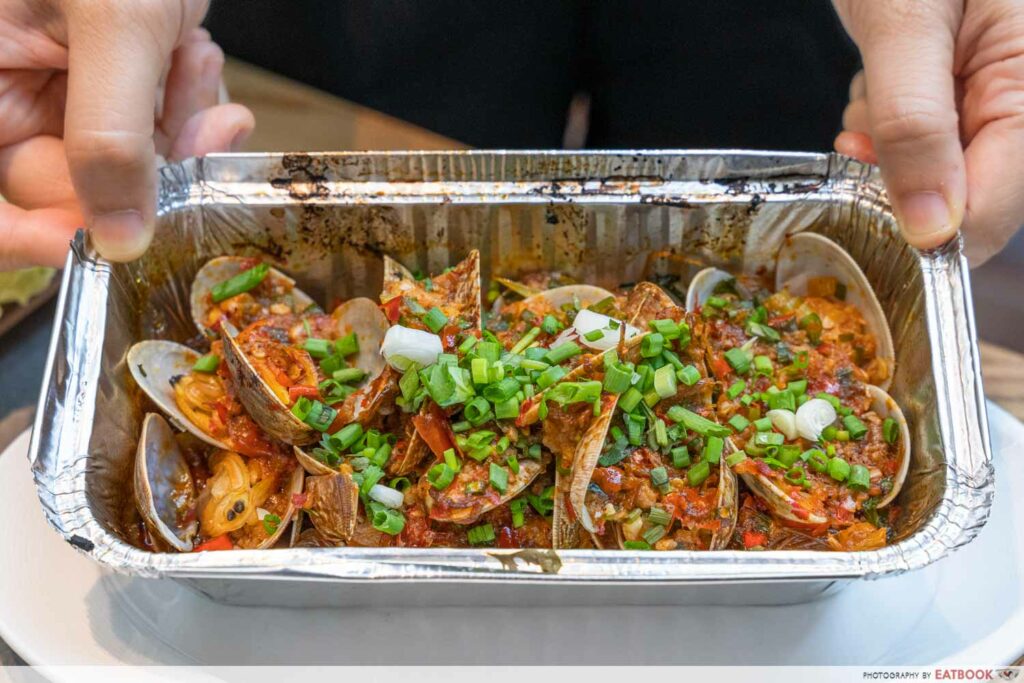 The Grilled Clams with Spicy Garlic Sauce ($12.90++) is another must-order if you can take spice.
Inspired by the classic Yunnan way of cooking, where the ingredients are packed in an aluminium foil tray and grilled over charcoal, this fragrant starter was a flavour bomb. You get the natural sweetness from the fresh clams, combined with the garlicky goodness of the sauce, topped with a spicy kick. The best part was the tang hoon, which served its purpose of soaking up all that wonderful zhup.
It did get rather jelak towards the end though, as the dish leaned greasy.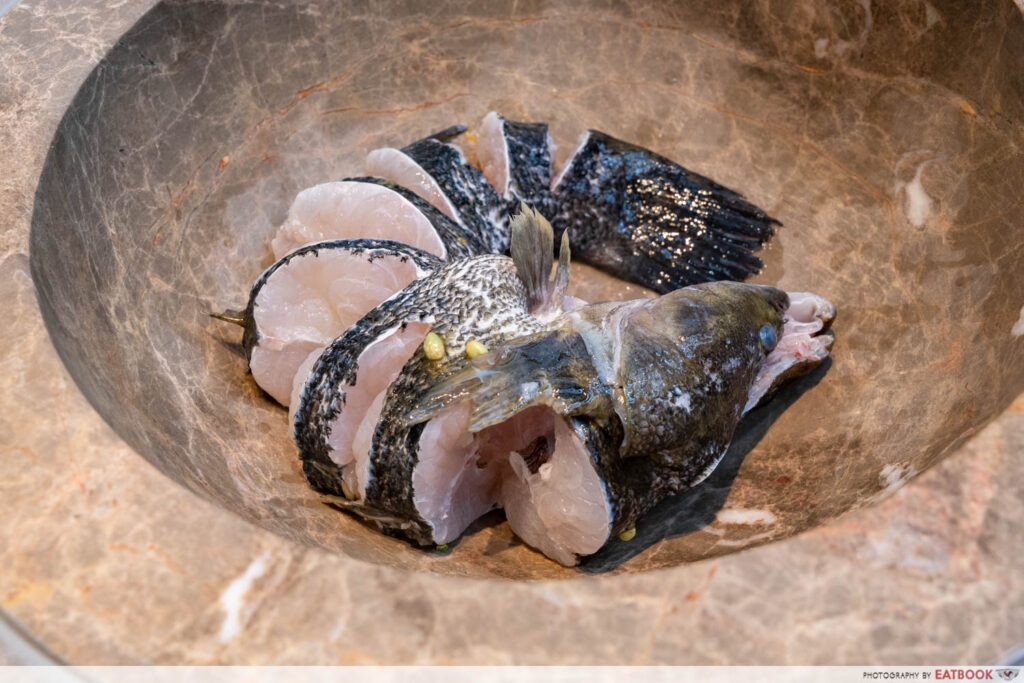 On to the mains: the Live Soon Hock ($8.80++ per 100g) with Collagen Fish Soup ($18++) is what everyone is here for. Live seafood doesn't come cheap, but you're paying a premium for top-notch quality and freshness after all.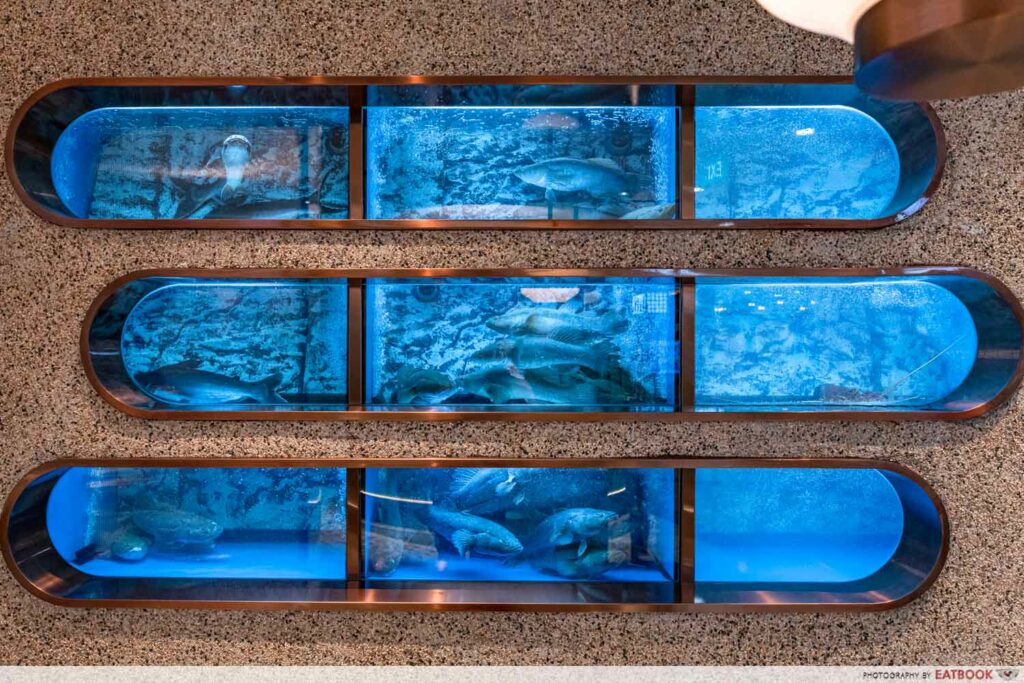 Upon entering the restaurant, you'll notice a lineup of live fish on display, so you know you're getting nothing but the freshest here.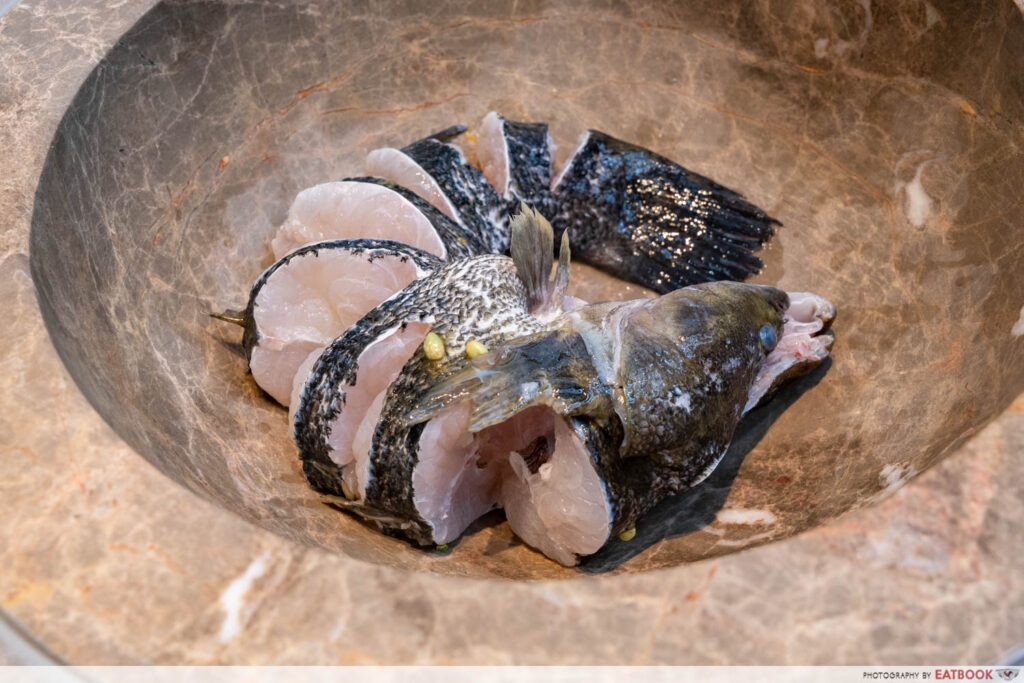 The hotpot contraption is a unique one that requires a specific series of steps to set up. First, the granite pot is disinfected with a clean, single-use-only towel. Then, the whole pre-cut fish is placed in the pot and fresh lime is squeezed in to lift the flavours.
Your choice of soup—Collagen Fish Soup or Wild Mushroom Soup ($18++)—is poured over the fish.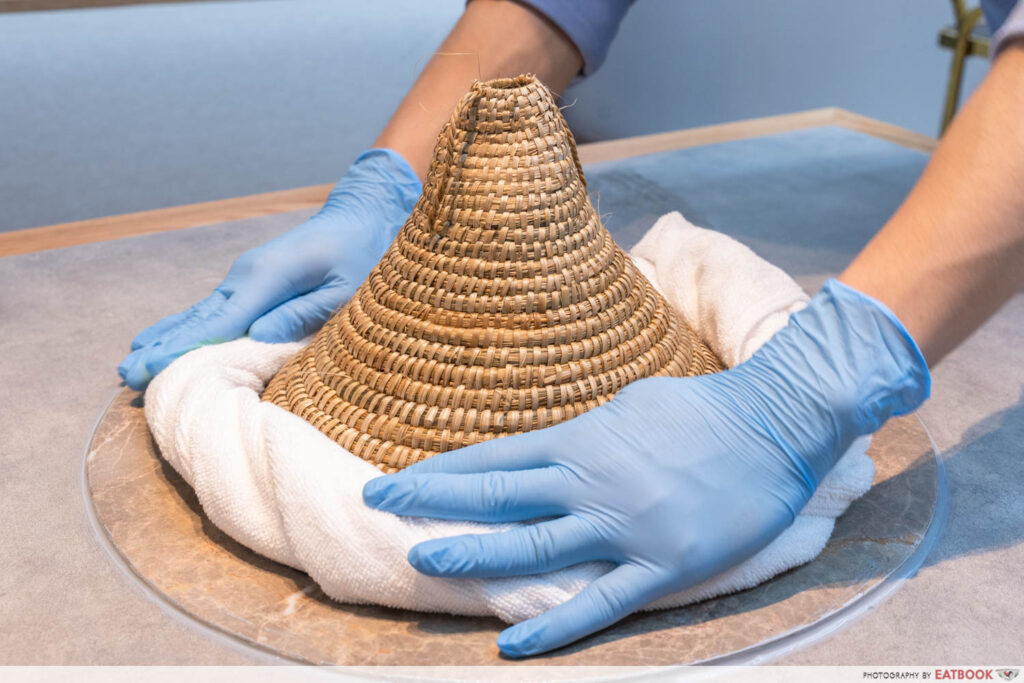 Thereafter, a straw cone-like lid is placed over the pot and the fish is left to steam over high pressure for exactly four minutes. This achieves perfectly cooked fish each time, without much waiting involved.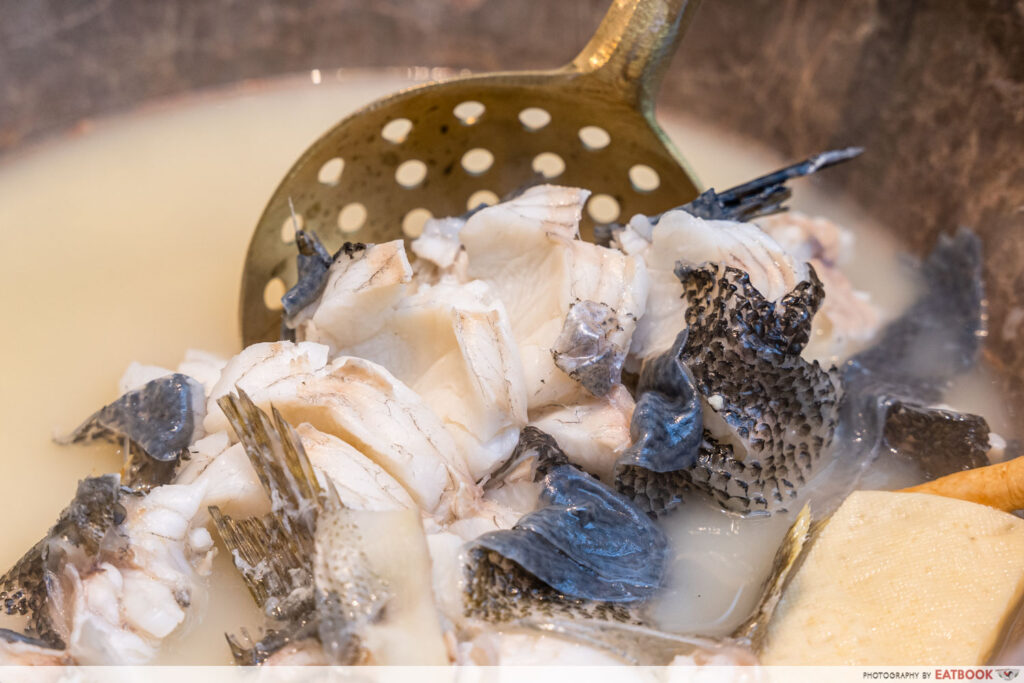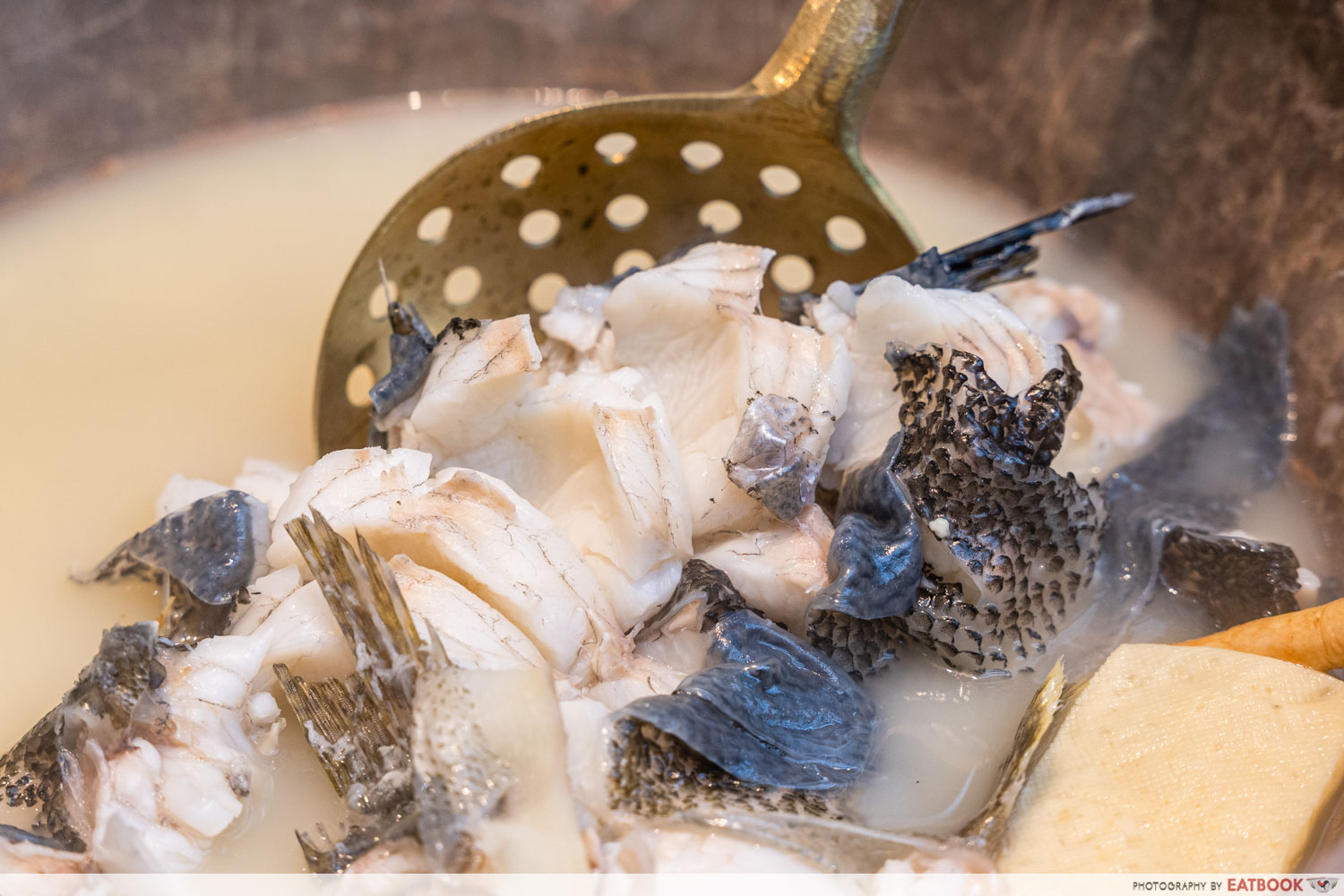 It was love at first bite with the soon hock, which was impeccably fresh and clean tasting. The chunks, which fell off the bones without much effort at all, were tender with a bite, boasting a mild sweetness you can only get with live fish.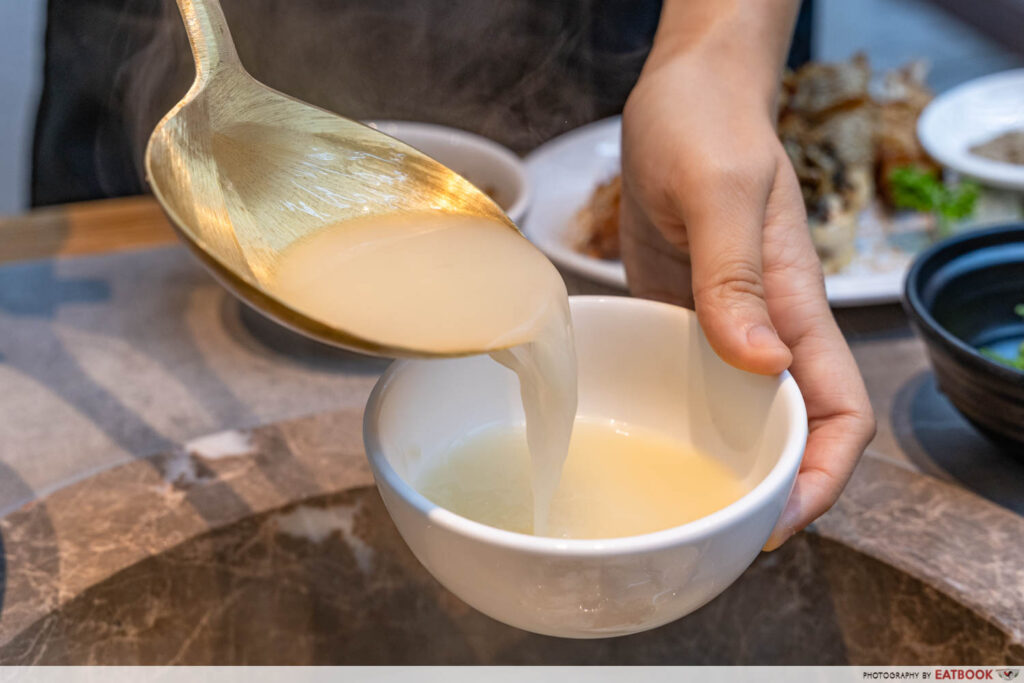 Salmon bones, old hen, and dried scallops are some key ingredients in the collagen-rich soup that's brewed for six hours, resulting in a hearty and flavourful broth that's not overly salty.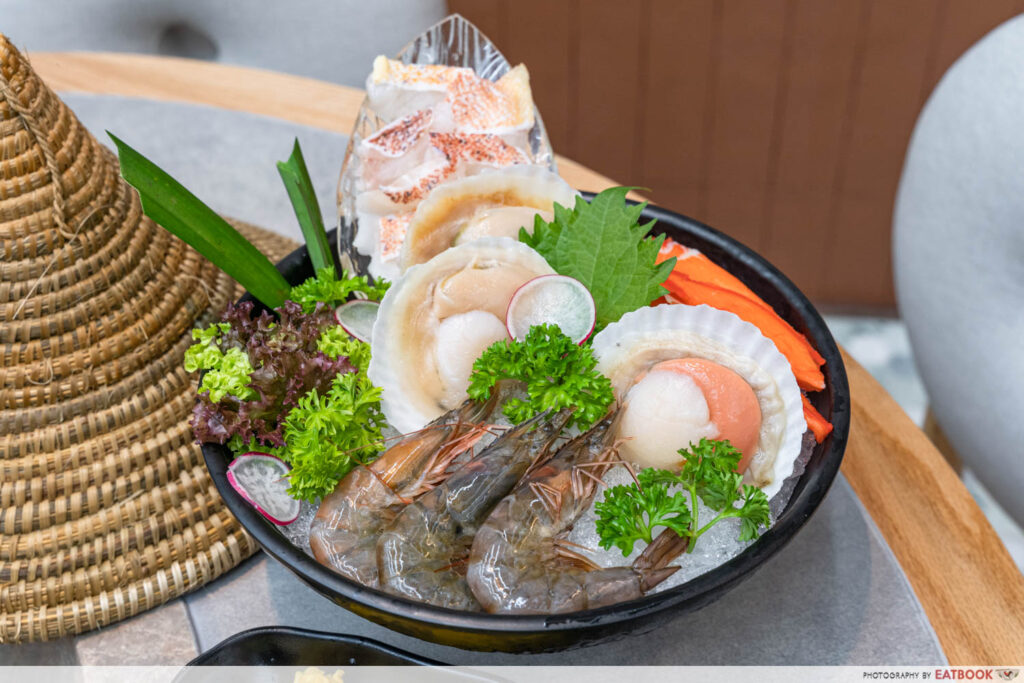 If you're not willing to pay the premium for live seafood, the restaurant also has more affordable options such as Fresh Seabass ($28++). You can also zhng up your hotpot with other add-ons, including Seafood Platter (from $32.80++), Beef Balls ($8++ for half portion), and Yunnan-imported Golden Fungus ($10++ for half portion).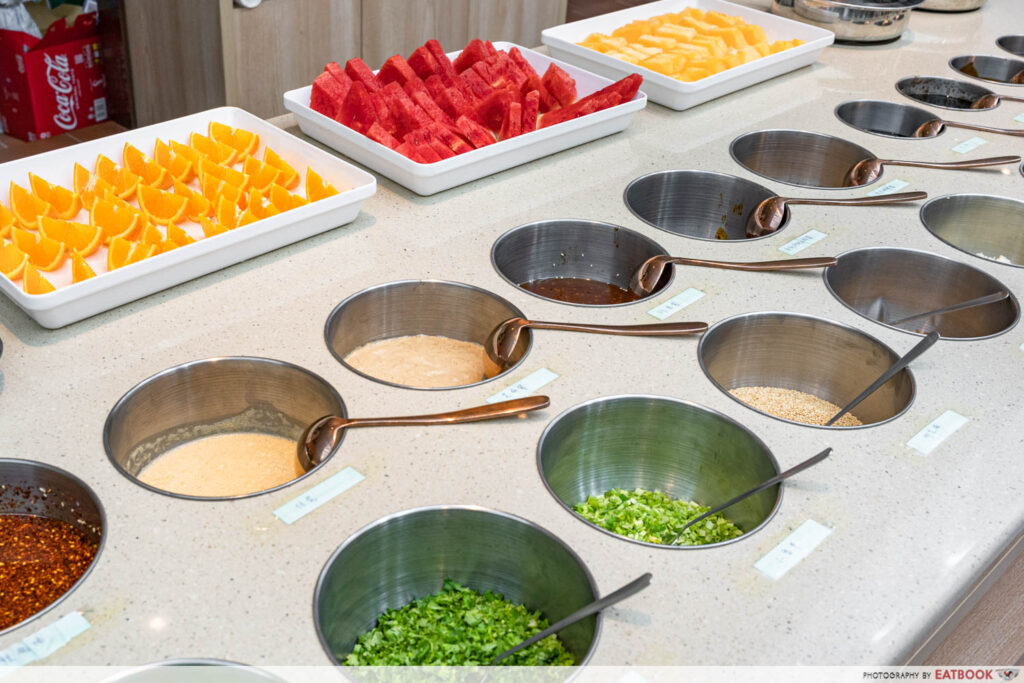 Amp up your experience with your own concoction of sauces over at the condiment section! Otherwise, request for the staff to prepare their signature dip instead.
This Hotpot Restaurant In Orchard Has Unique Lobster And Fish Maw Soups, A4 Wagyu And More
Ambience at YUN NANS Stonepot Fish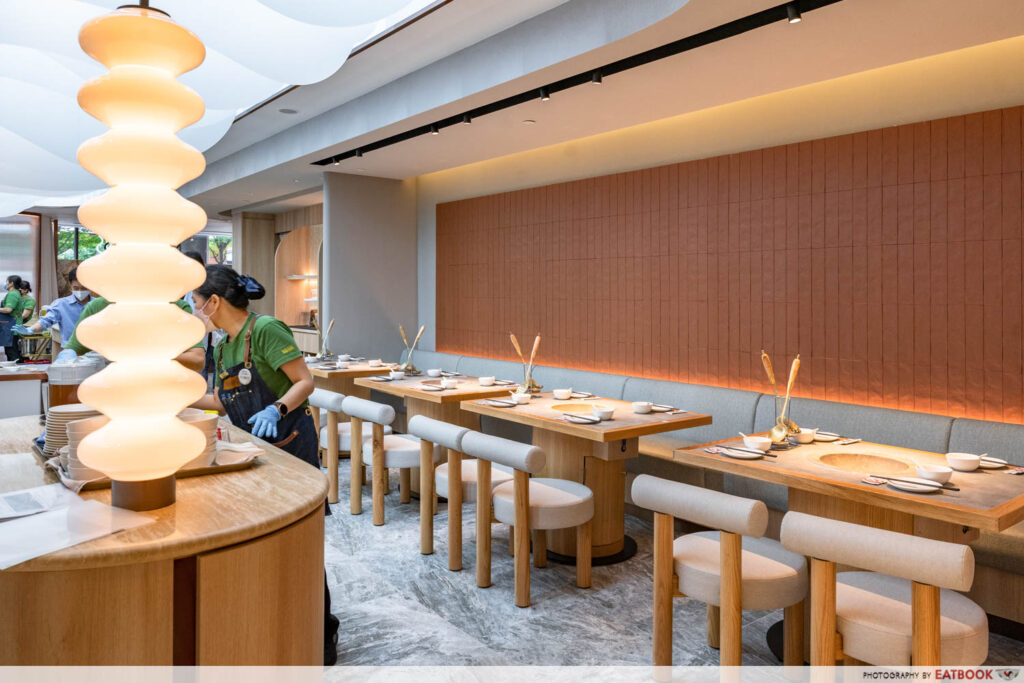 The spacious 124-seater is one of the biggest YUN NANS outlets in Singapore. Decked in chic grey and pink tones, complemented by light wood accents, the sleek restaurant stands out from the surrounding F&B establishments. Each table is fitted with a customised granite stone pot that's specially flown in from China, elevating the dining experience and the look of the space.
It's located on the first floor of Northpoint City, in the South Wing. You can easily get there via the direct underpass from Yishun MRT Station.
The verdict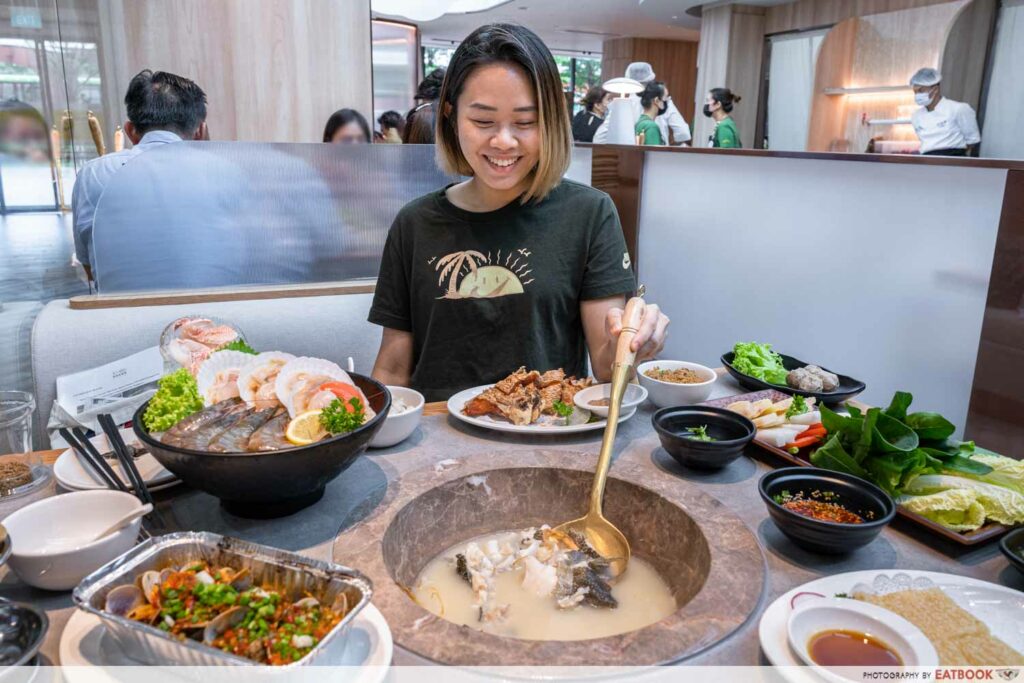 YUN NANS Stonepot Fish scores for its aesthetically pleasing interiors and cosy ambience, but what truly steals the show is its unique pressure-steamed fish. Even if you can't find reason enough to splurge on live seafood, there are plenty of other wallet-friendly alternatives on their menu that are no less delicious.
This is one place I'll bookmark for my next special occasion since I love fish—IMO it's worth the extended journey to the North!
Also located within the vicinity is Orchid Live Seafood, known for their fresh lobster porridge and steamed fish. If you're up for more steamboat recommendations, read our Uncle Fong Hotpot Restaurant review, famous for their Chongqing-style mala hotpot with pig's heart, ox liver and more.
Address: 930 Yishun Avenue 4, #01-103, Northpoint City, Singapore 769098
Opening hours: Daily 11:30am to 10pm
Website
YUN NANS Stonepot Fish is not a halal-certified eatery.
Orchid Live Seafood Review: Teochew-Style Lobster Porridge And Salted Baked Crab At Yishun
Photos taken by Hui Hui Lau.
This was a media tasting at YUN NANS Stonepot Fish.
YUN NANS Stonepot Fish Review: Unique Pressure-Steamed Live Fish And Collagen Hotpot In Yishun
YUN NANS Stonepot Fish Review: Unique Pressure-Steamed Live Fish And Collagen Hotpot In Yishun -

8.5/10
Summary
Pros 
– Ingredients were fresh and of high quality
– Elegant and comfortable dining space
– Near to the MRT
Cons
– Location isn't central
– Live seafood items are pricey
Recommended dishes: Collagen Fish Soup ($18++), Live Soon Hock (price TBC), Crispy Barramundi Collar ($9.80++)
Opening hours: Daily 11:30am to 10pm
Address: 930 Yishun Avenue 4, #01-103, Northpoint City, Singapore 769098