---
Best Sichuan hotpot places in Singapore
---
While the mala xiang guo craze has come and gone, there's little doubt that the Sichuanese flavour has become something of a mainstay in Singapore's food scene. Apart from hawker stalls selling DIY xiang guo tailored to your favourite spice levels, there are a number of Sichuan restaurants in Singapore bringing us authentic, fiery mala hotpot to feed our steamboat lovin' appetites. While most hotpot restaurants have mala broths on the menu, these eateries just take things a notch further.
Jio your zhong la dining buddies to any of these best Sichuan hotpot restaurants in Singapore. A few of these don't just do hotpot, but chuan chuan (skewers) as well!
---
1. Mala Kong Jian 
---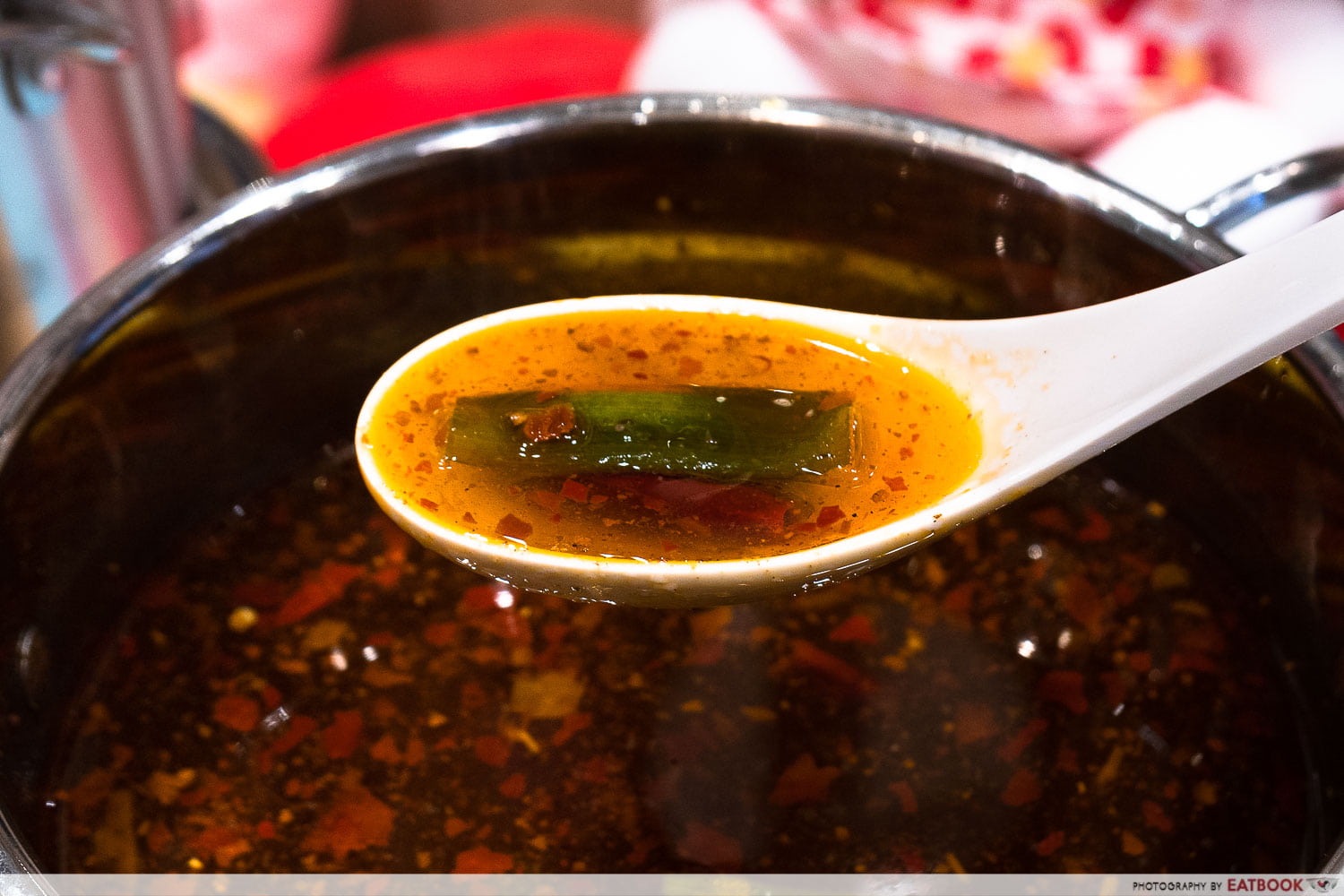 Ma La Kong Jian offers diners a two-in-one experience: Sichuan hotpot and chuan chuan. There are over 70 different ingredients diners can choose from at the restaurant, including a variety of fresh seafood, such as mud crab and scallops. The soup bases here are particularly noteworthy, including a Super Spicy signature broth that is slowly boiled with a number of eye-watering spices. As for the skewers, choose between seven different meats, all well-marinated with the usual medley of aromatics.
Expect to pay around $30 a person here. They're also open till 3am!
Address: 269 Geylang Road, Lorong 13 Geylang, Singapore 389323
Opening hours: Daily 11:30 am to 3am
Tel: 6747 8623
Mala Kong Jian is not a halal-certified eatery.
---
2. Tong Xin Ru Yi Traditional Hotpot
---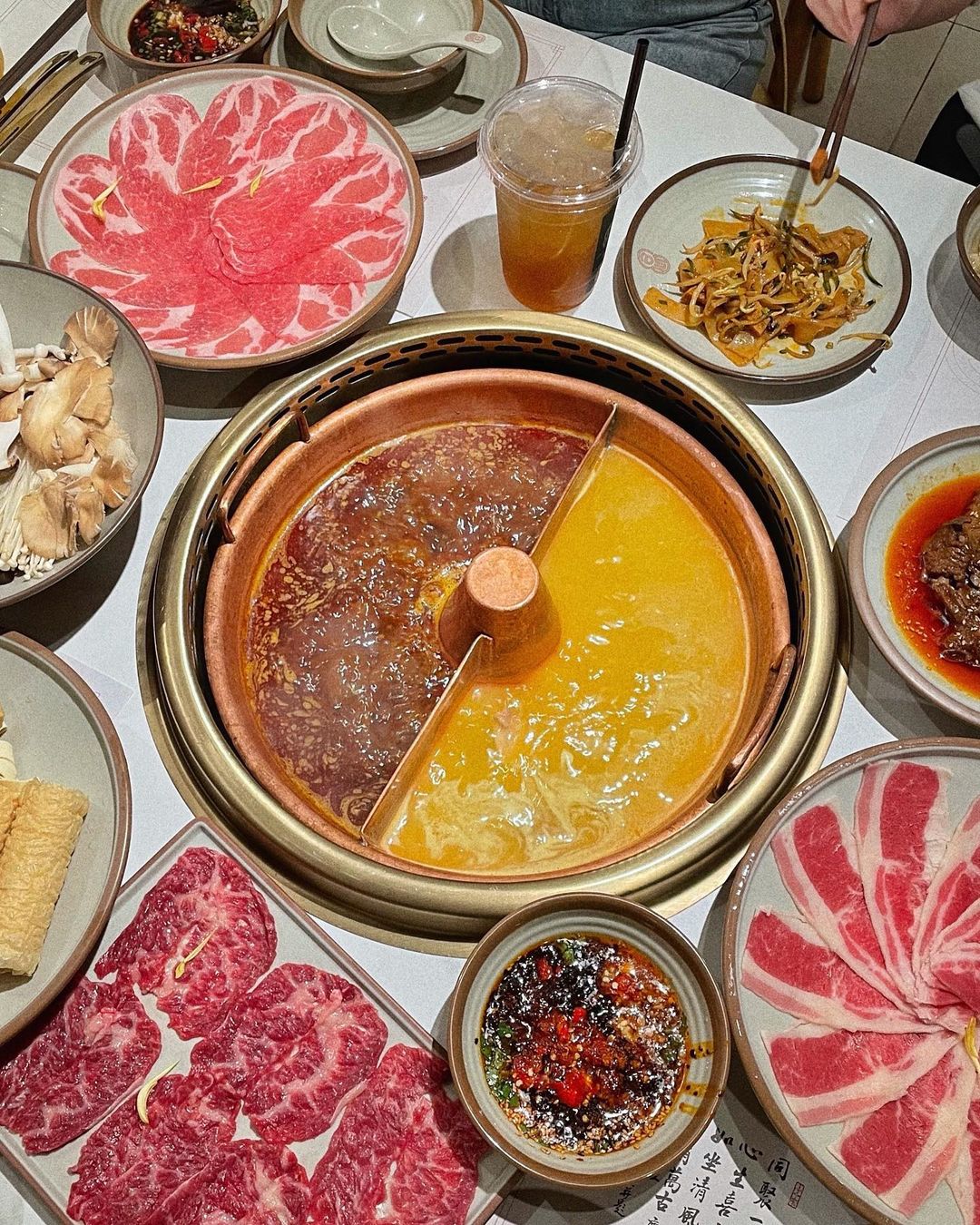 Image credit: @latereatwhere
Tong Xin Ru Yi Traditional Hotpot is a gem of a Boat Quay dining destination, thanks to their extensive steamboat broth menu, totalling 15 different flavours. Definitely go for the Stewed Marinated Beef with Spicy Soup ($48++), made with beef tallow, and three different cuts of cow in the mix. Unlike other hotpot joints, your broth here already comes packed with ingredients, though there are options to add on any of their other ala carte items if you'd like.
Read our first look at Tong XinRu Yi.
Address: 6 Lorong Telok, Singapore 049019
Opening hours: Mon-Fri 11:30am to 3pm, 4pm to 10:30pm, Sat-Sun 12pm to 10:30pm
Tel: 6536 8058
Website
Tong Xin Ru Yi Traditional Hot Pot is not a halal-certified eatery.
Tong Xin Ru Yi: Next-Level Hotpot Restaurant In Boat Quay With Beef Mala And Tomato Oxtail Broth
---
3. Qi Li Xiang Hot Pot Restaurant 
---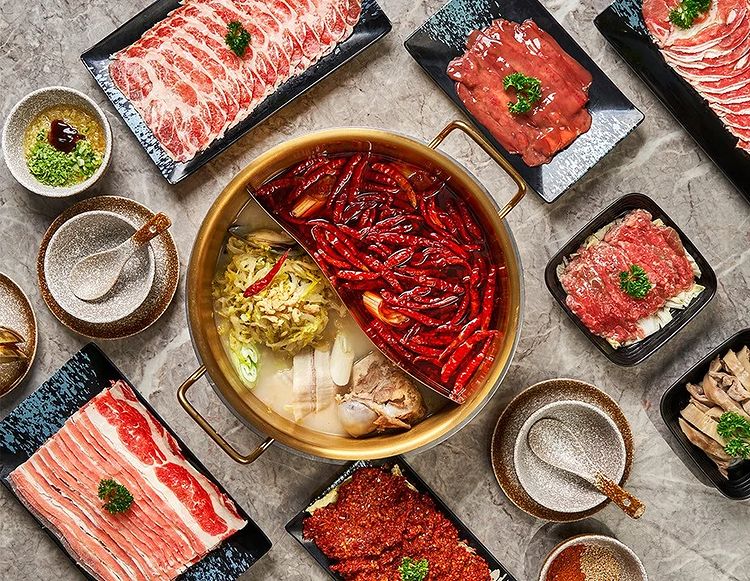 Image credit:  @qilixianghotpot 
Tanjong Pagar is known as a Korean restaurant haven, but there are a fair few Chinese eateries in the area worth scouting out. Qi Li Xiang Hot Pot Restaurant is one of them, and they specialise in two classic Chinese-style broths: Sichuan Spicy Soup (from $15.80++), and Coconut Chicken with Bamboo Fungus Soup ($34.80++), the latter of which is inspired by a classic Hainanese soup. Come for the mala, though, which is delightfully spicy, loaded with dried chillies and Chinese spices.
Address: 49 Tanjong Pagar Road, Singapore 088470
Opening hours: Daily 11:30 am to 3pm, 4:30pm to 11pm
Tel: 8030 9928
Website
Qi Li Xiang is not a halal-certified eatery.
---
4. LaJiangShan Hotpot 
---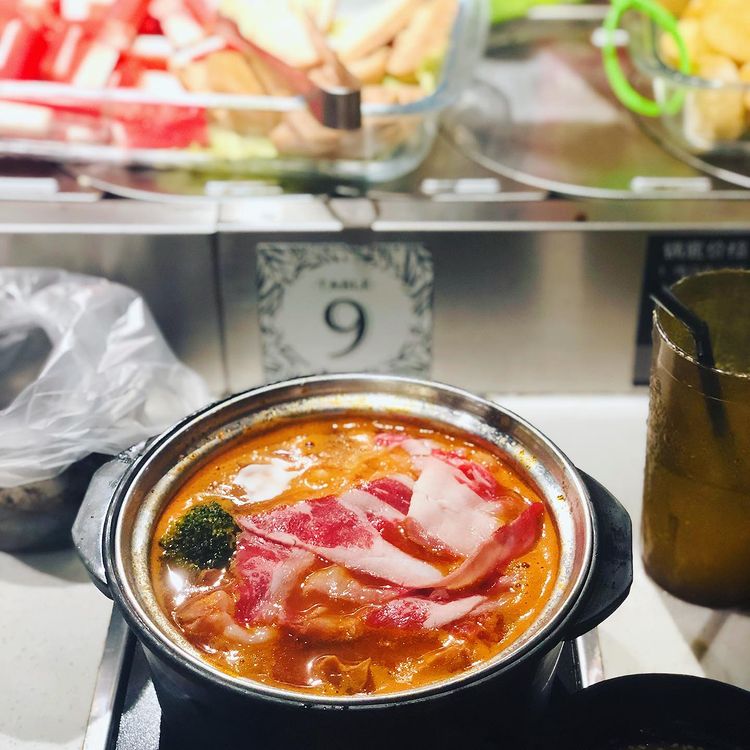 Image credit: @yephao
LaJiangShan is known for having Singapore's first solo hotpot and BBQ buffet, with prices starting at just $18.80++ for lunch on Monday to Friday. There are dozens upon dozens of ingredients to choose from, so you're definitely spoilt for choice when picking what you'd like to have to accompany your mala hotpot. Highlights include their Handmade Pork Balls, and Beancurd Puffs.
The broth here is mellow, but still packs quite the punch—great for cosy, rainy days where you just want a satisfying meal to warm you right up. They're also open from 11am to 6am daily, which is great for late-night suppers.
Address: 35 Selegie Road, #01-06, Parklane Shopping Mall, Singapore 188307
Opening hours: Sun-Tue 11am to 6am, Mon 11am to 12am
Tel: 6265 8995
Website
LaJiangShan is not a halal-certified eatery.
---
5. Upin Hot Pot 
---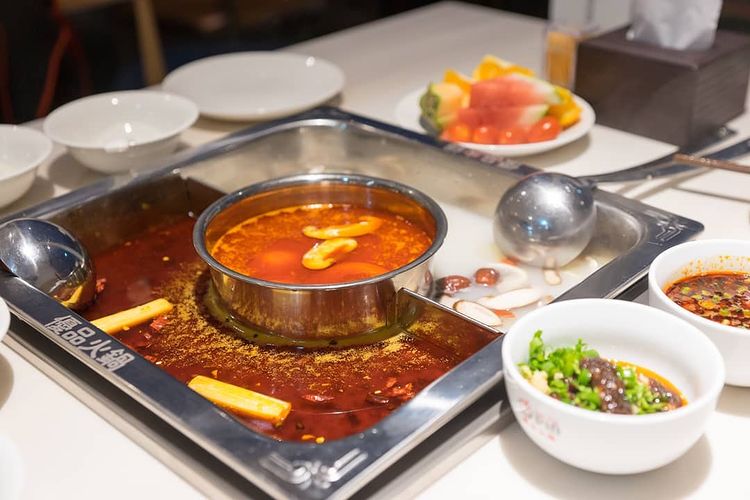 Image credit: @orchardgatewaysg
Upin Hot Pot has three outlets islandwide, located in Clarke Quay, West Coast, and Orchard. The CQ and West Coast branches are both offering a seriously affordable lunchtime hotpot buffet, where you get to enjoy their signature mala soup with free-flow drinks, and your choice of meat, for just $16.80++.
Else, swing by their Orchard Gateway eatery for a buffet that runs seven days a week, priced at $22.80++ per adult for weekday lunch. Here, you get a wider array of ingredients to pick from and enjoy with their broths. We highly recommend either the Sichuan Spicy or the Butter Soup Pot. The latter uses butter to add extra richness to the mala base.
Website | Full list of locations
Upin Hotpot is not a halal-certified eatery.
---
6. Si Wei Xiao Chuan Chuan 
---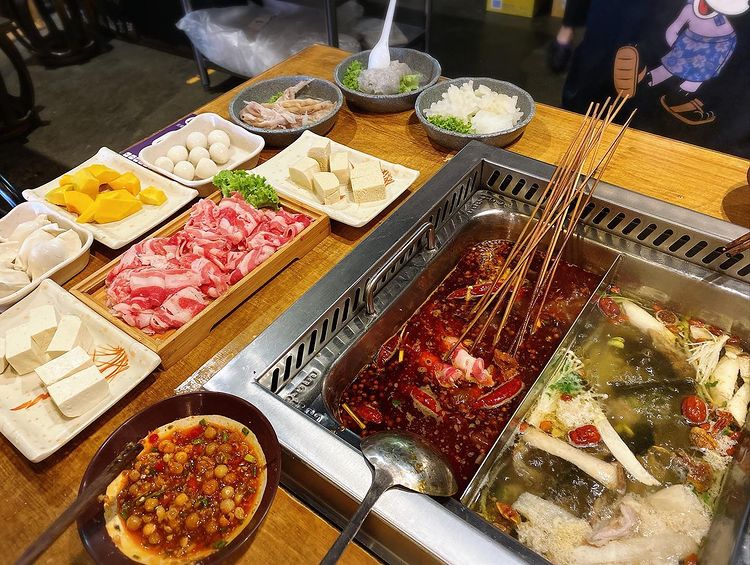 Image credit: @sheepmehmehh
Si Wei Xiao Chuan Chuan offers three types of spicy Sichuanese soups on their vast hotpot menu: the rich and piquant Sichuan Spicy Soup with Butter ($12++), the light, bit no less punchy Sichuan Spicy Soup with Vegetable Oil ($12++), and the Local Favourite Spicy Soup ($12++), made milder to suit Singaporean tastes. Enjoy your spicy hotpot with portions of Chinese ingredients, including the likes of duck tongue, frogs, eel, pig's brains, and more. They also sell chuan chuan at $0.50 a stick, with options such as Beef with Coriander and Marinated Gizzard. 
Address: 31 Mosque Street, Singapore 059509
Opening hours: Daily 12pm to 10pm
Tel:  6926 1630
Si Wei Xiao Chuan Chuan is not a halal-certified eatery.
---
7. Xin De Lai 
---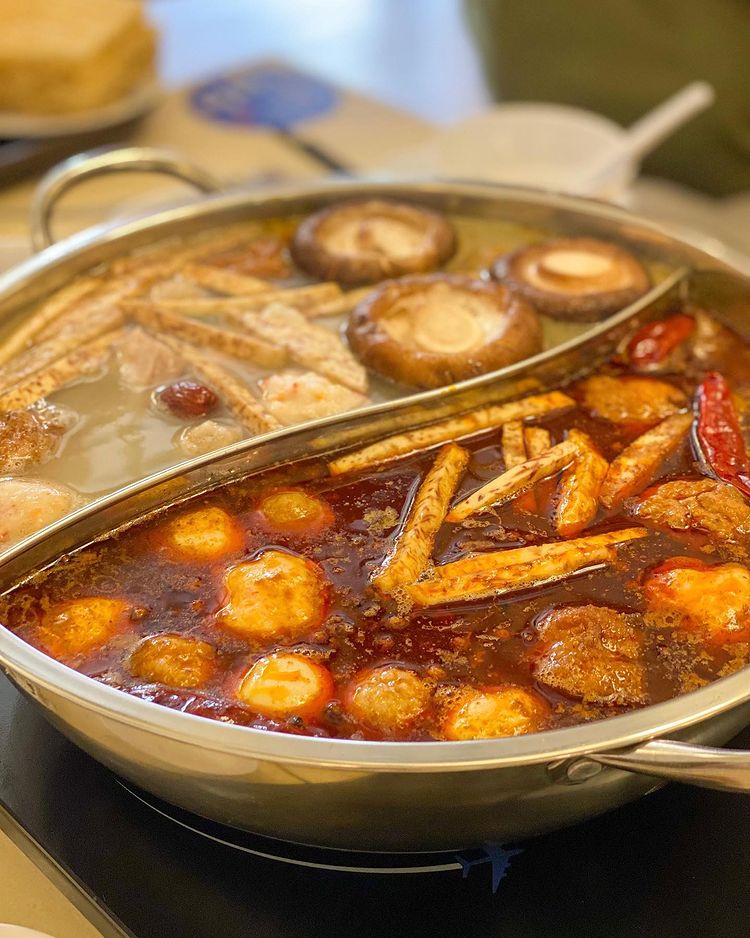 Image credit: @jiamtaorotee
Housed along Bugis's Liang Seah Street is Xin De Lai, a Shanghainese hotpot, BBQ, and grilled fish restaurant that has been operating out of the locale for almost two decades now. They are best known for their ultra-wallet-friendly hotpot buffet, which is priced at $25.80+ for weekdays, and $28.80+ for weekends. Mala lovers should hone in on their signature Sichuan Spicy Soup, boiled for eight hours with more than 10 different spices, including fried dried Sichuan chillies. Do note there's an additional $8+ charge for the broth, but the amount of ingredients you can enjoy as all-you-can-eat more than makes up for it.
Address: 18 Liang Seah Street, Singapore 189039
Opening hours: Daily 10:30am to 4am
Tel: 6336 7505
Website
Xin De Lai is not a halal-certified eatery.
---
8. DaLongYi Hotpot 
---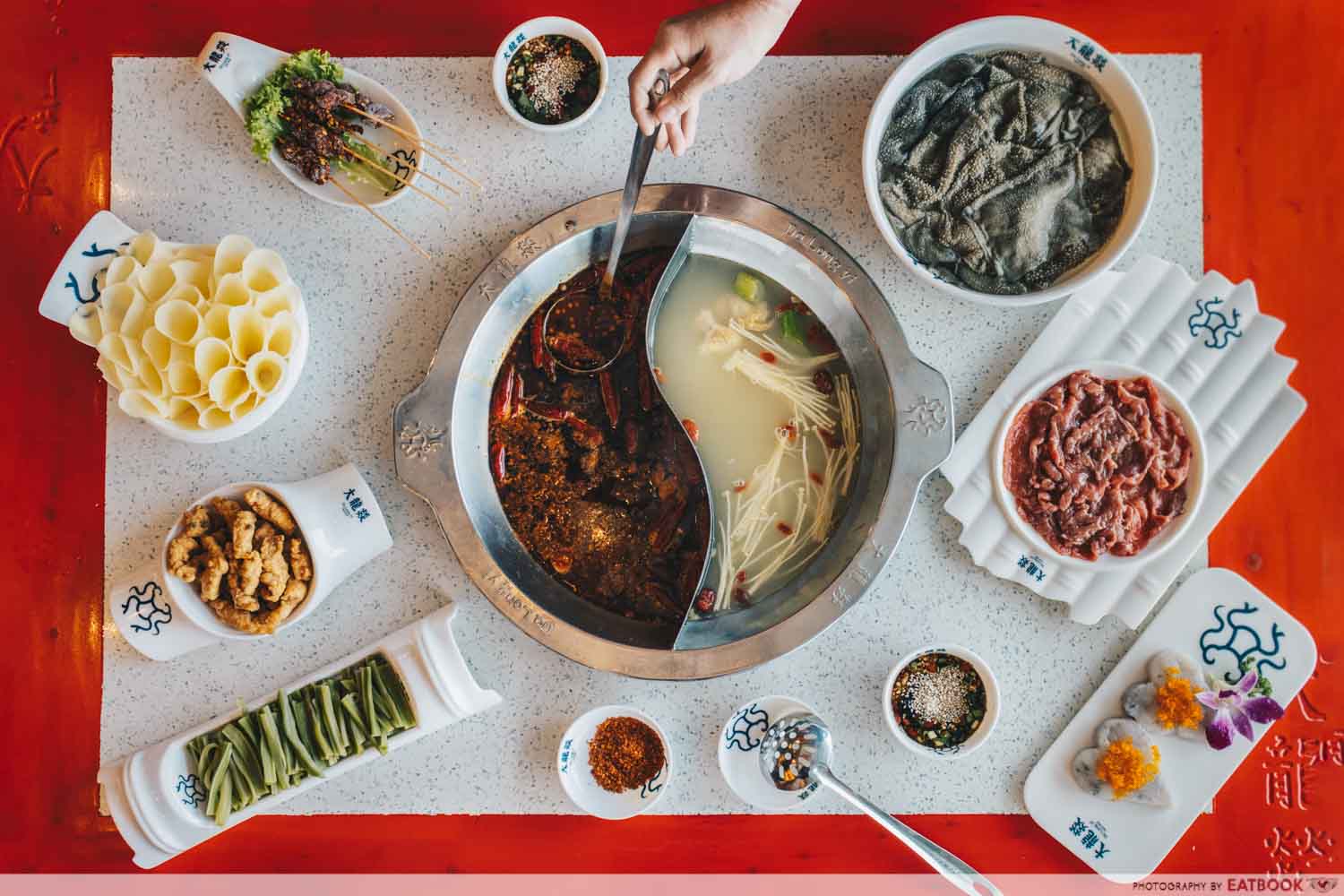 DaLongYi Hotpot is as authentic as it gets if you're craving Sichuan fare in Singapore. The eatery hails from the region's capital, Chengdu, all the way back in 2013. Its Singapore expansion has seen the eatery transform into quite the hidden gem along Orchard. Not only do they serve a fiery mala broth that's made with beef tallow instead of vegetable oil—the proper way, some would say—but they've also got a fair number of native Chinese hotpot ingredients rarely found elsewhere, from fresh tripe to Sichuan greens, cow aorta to house-made shrimp paste. Expect to spend $50 to $60 overall.
Address: 181 Orchard Road, #08-08, Orchard Central, Singapore 238896
Opening hours: Daily 12pm to 11pm
Tel: 6509 0002
Website
Da Long Yi is not a halal-certified eatery.
---
9. Uncle Fong Hotpot 
---
Hailing from Hong Kong is famed Chongqing hotpot restaurant Uncle Fong, known for counting celebs like Anita Yuen and Carina Lau as fans. Their eye-catching nine-grid copper hotpot is designed so that you can enjoy cooking different ingredients across the squares, and not dramatically change the flavour of the broth overall. Opt for the Signature Chongqing Soup Base, a one-of-a-kind mala broth made with airflow Chinese spices, including Shizhuzhong chilli, Pixian bean paste, Yunnan yellow ginger, and Hanyuan pepper. Beef tallow gives the soup its moreish layer of spiced oil. The soup is priced at $7 a person, and capped at $28 for the pot. Order from an array of premium meats and native Chinese hotpot ingredients to go with your mala soup.
Read our Uncle Fong review.
Address: 1 Kim Seng Promenade, #B1-108/109, Great World, Singapore 237994
Opening hours: Daily 11:30am to 3pm, 5:30pm to 10pm
Website
Uncle Fong Hotpot Restaurant is not a halal-certified eatery.
Uncle Fong Hotpot Restaurant Review: Famous HK Chongqing Mala Hotpot With Ingredients Such As Pig's Heart And More
---
10. Xiao Long Kan 
---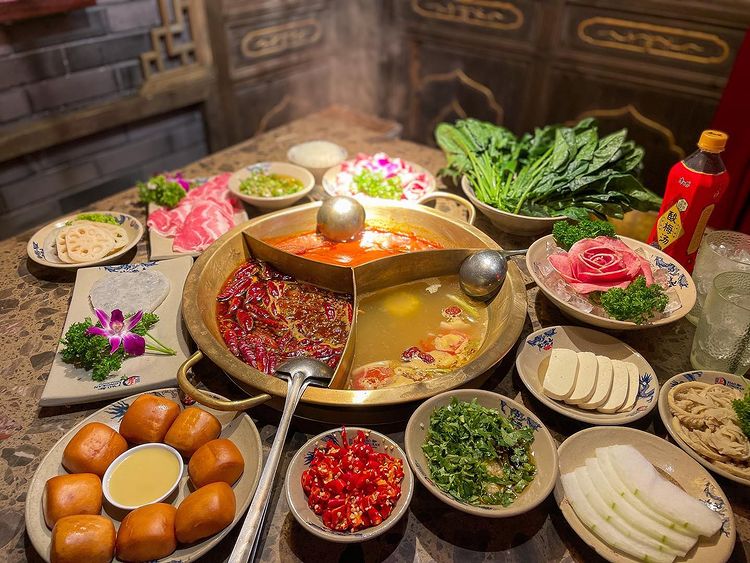 Image credit: @tonguee___
Arguably one of the most well-known options for spicy mala hotpot in Singapore is Chengdu's Xiao Long Kan, with four outlets spread out across the city, most of which open till 6am. They're known for their three-flavoured hotpot, comprising your pick of soups, though popular picks include the Tomato, and Mushroom, all to quell the burn of the spicy Butter Mala. A pot starts at $18++, which you can enjoy with a wide array of meat and seafood, ranging from $6++ to $8++. Don't skip their house-made sauce mixes, which take your hotpot experience just that notch up.
Website
Full list of locations
Xiao Long Kan is not a halal-certified eatery.
---
Must-try Sichuan hotpot restaurants in Singapore
---
The next time you're craving Sichuan mala hotpot, head down to these restaurants! Most of them open till late, offering diners supper options rife with spice. 
For other local eateries to take your palate on a trip abroad, check out our best Thai food and best Vietnamese food guides.
15 Best Thai Food Places In Singapore For Legit Tom Yum, Crab Fried Rice And More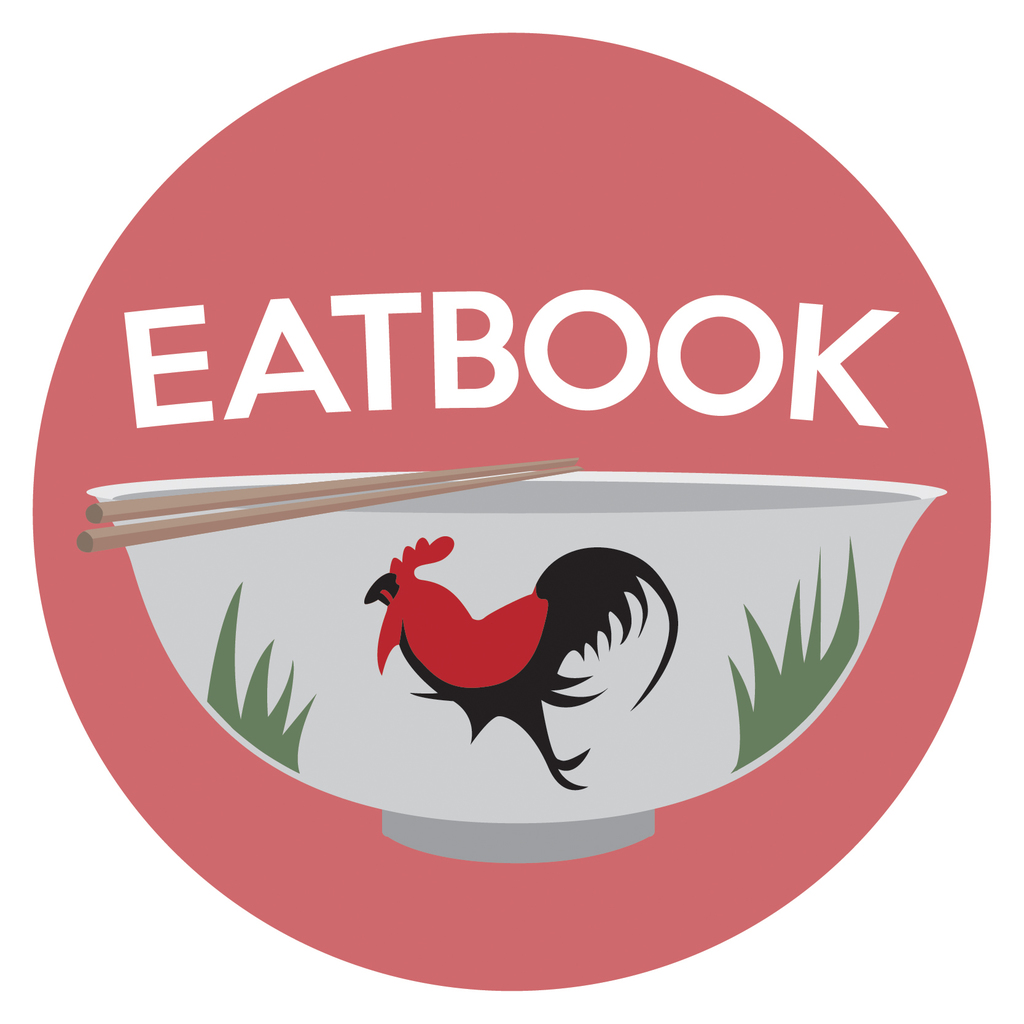 Drop us your email so you won't miss the latest news.