Uncle Fong Hotpot Restaurant at Great World
Mala xiang guo's entrance into mainstream dining in Singapore has made us hungry for more flavours the Sichuan region has to offer. Enter Uncle Fong Hotpot Restaurant, a Chongqing Hotpot eatery from Hong Kong and China that counts Carina Lau and Anita Yuen as loyal fans, according to 8days.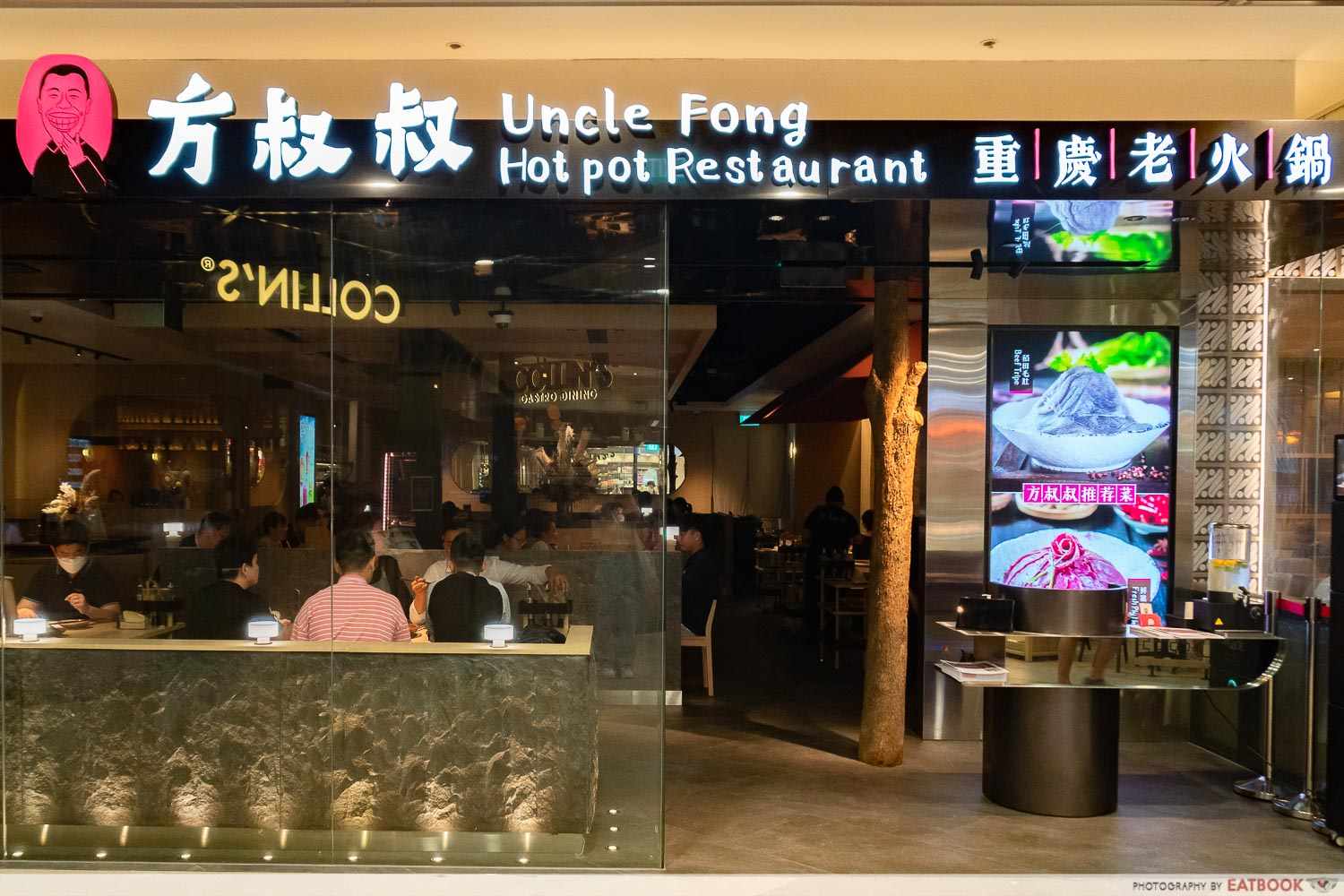 Uncle Fong Hotpot Restaurant began in Hong Kong's Causeway Bay in 2016, and was founded by the same restaurant entrepreneur as the one behind PUTIEN. PUTIEN, as you may be familiar with, has multiple outlets islandwide, including a Michelin-starred eatery at Kitchener Road.
After hearing plenty of good things about its ultra fiery soups and unusual ingredients, we headed down to the restaurant at Great World to try out the fare for ourselves.
10 Ma La Xiang Guo Spots All Over Singapore That Serves Ma La Worth Queuing For
Food at Uncle Fong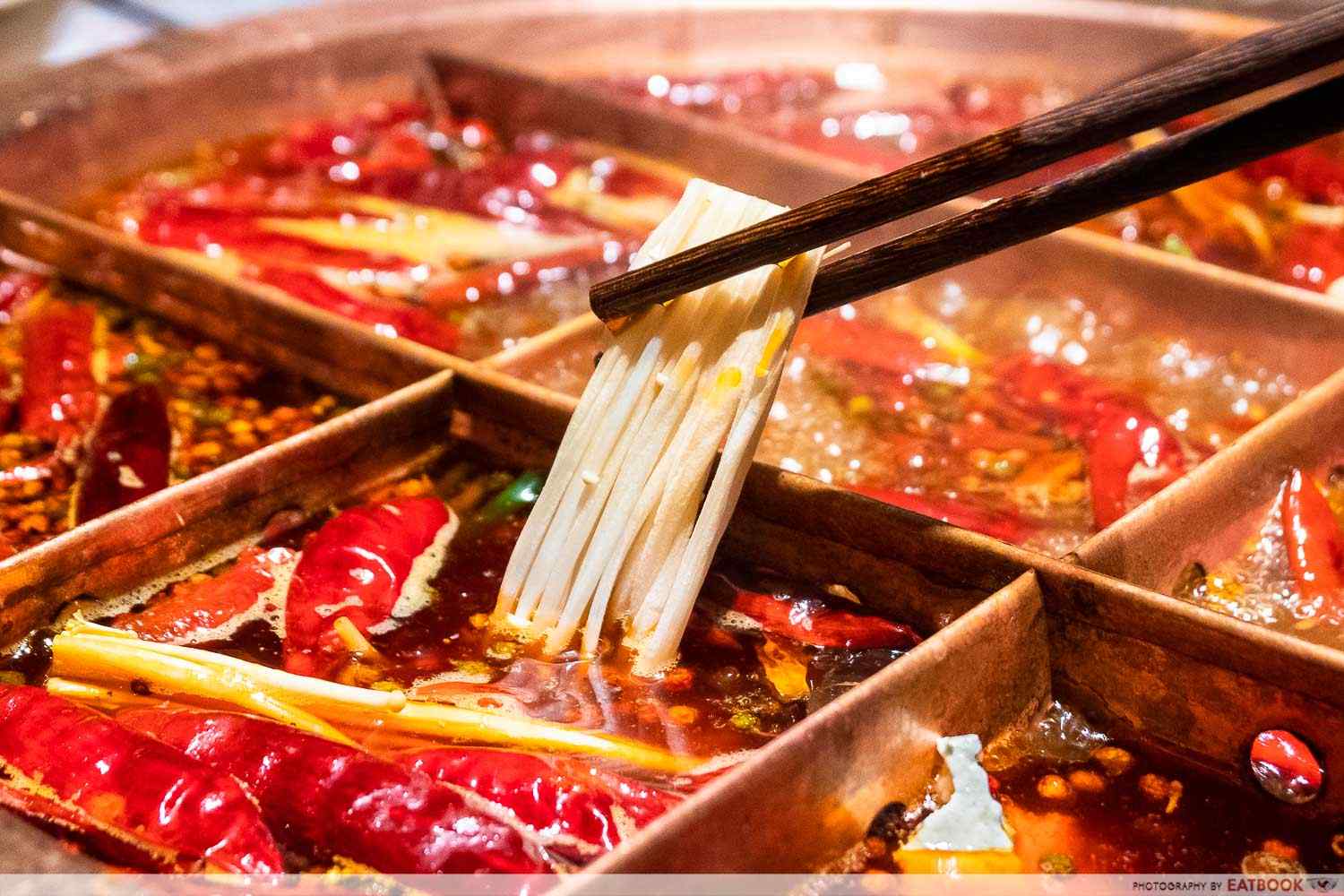 First, let's talk about the most crucial element of any hotpot experience: the soup base. Uncle Fong's Signature Chongqing Soup Base is, as you'd expect, devilishly spicy and remarkably tangy. It's the product of five specially curated ingredients, namely Chongqing Shizhuhong Chilli, Sichuan Hanyuan Pepper, Beef Tallow, Sichuan Pixian Bean Paste, and Yunnan Yellow Ginger.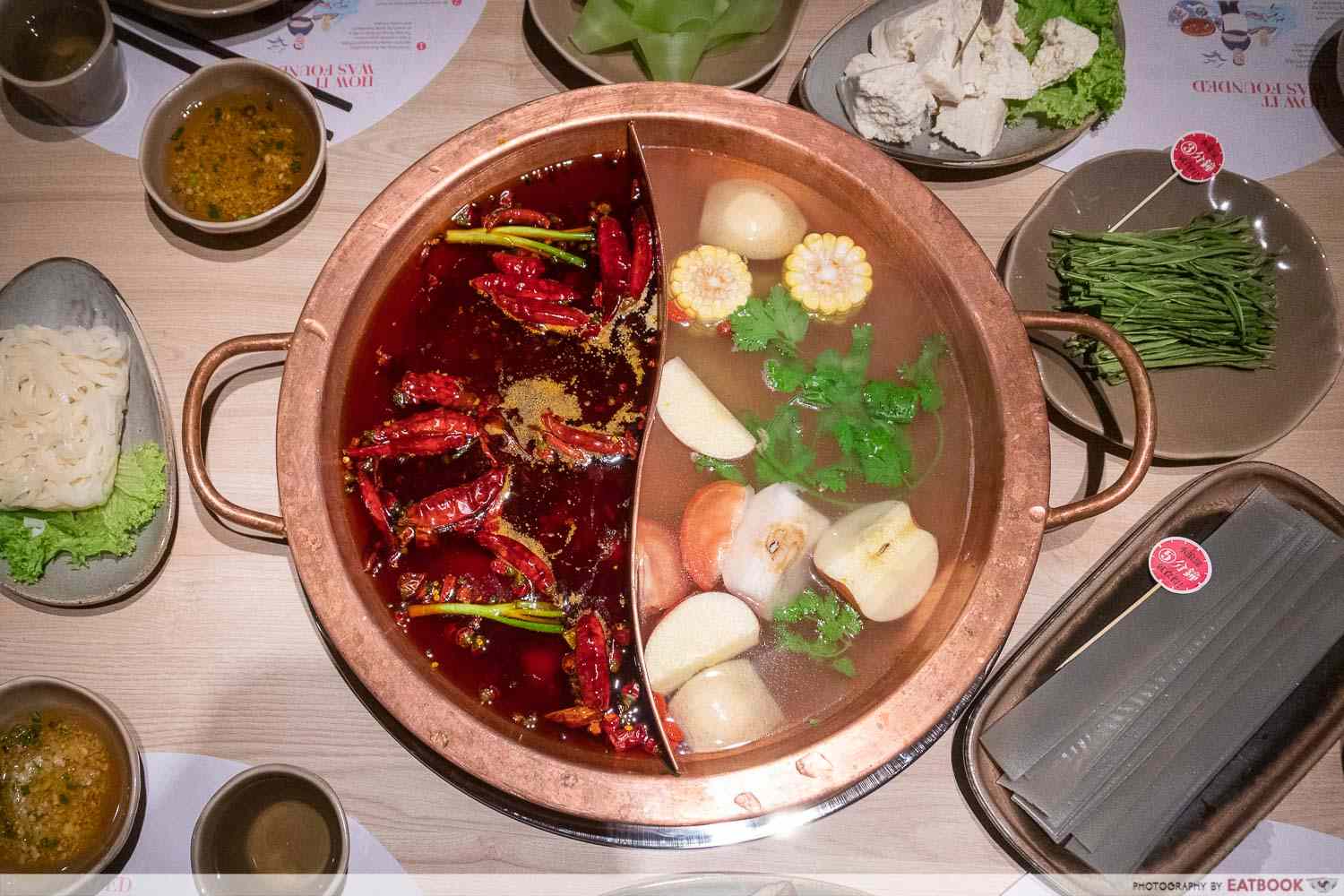 For the spice-averse, we recommend you go for the Fruit and Vegetable Soup. A savoury chicken broth boiled with ingredients such as apple and pear slices, sugar cane, sweet corn and many more, this soup base is exclusive to Singapore.
Regardless of which soup base you get, they are priced at $7 per person, with a maximum cost of $28 per pot.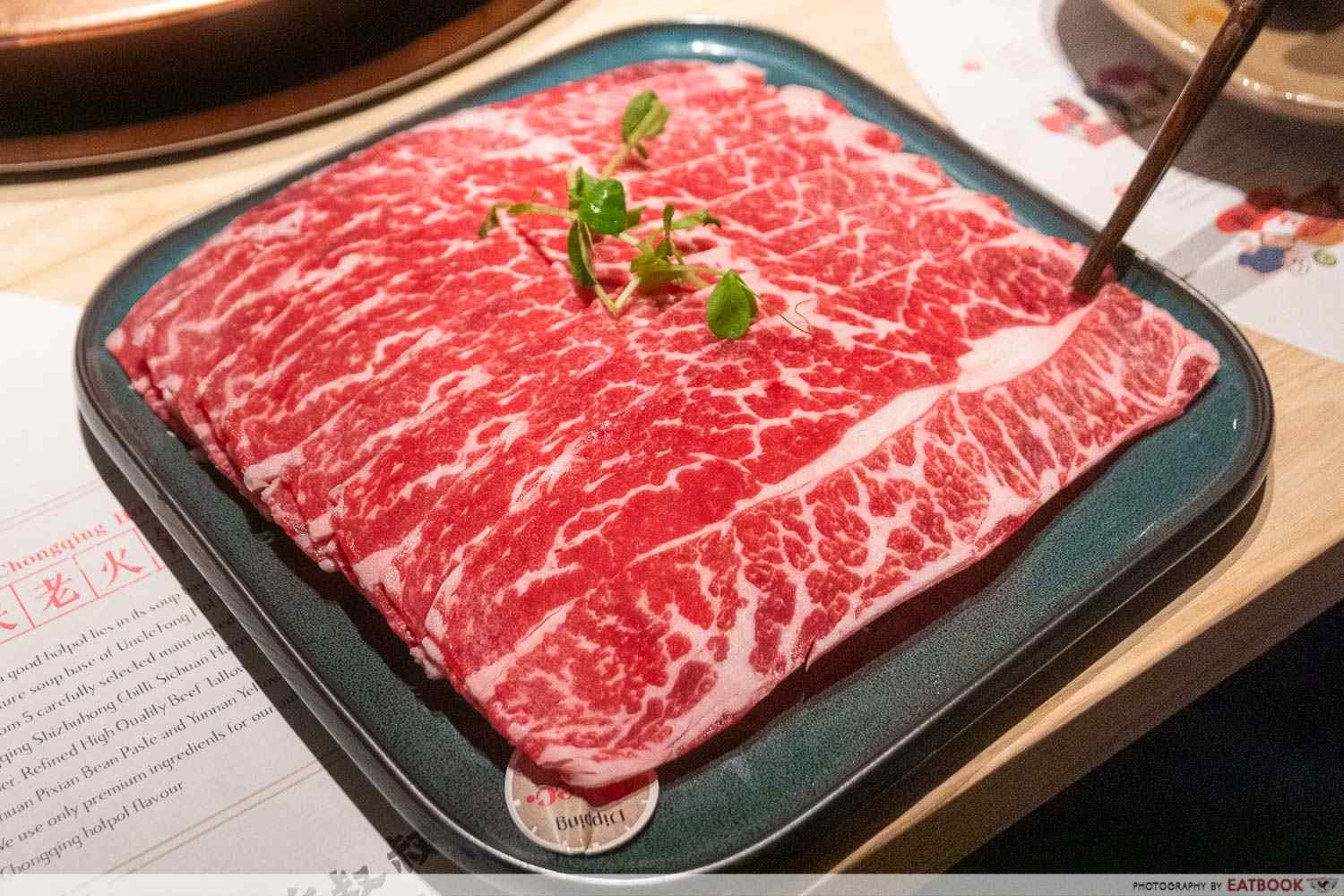 We were excited to try some of Uncle Fong's premium cuts of meat, and the best of these was the US Prime Beef Short Ribs ($21.50 for half portion, $42 for full portion).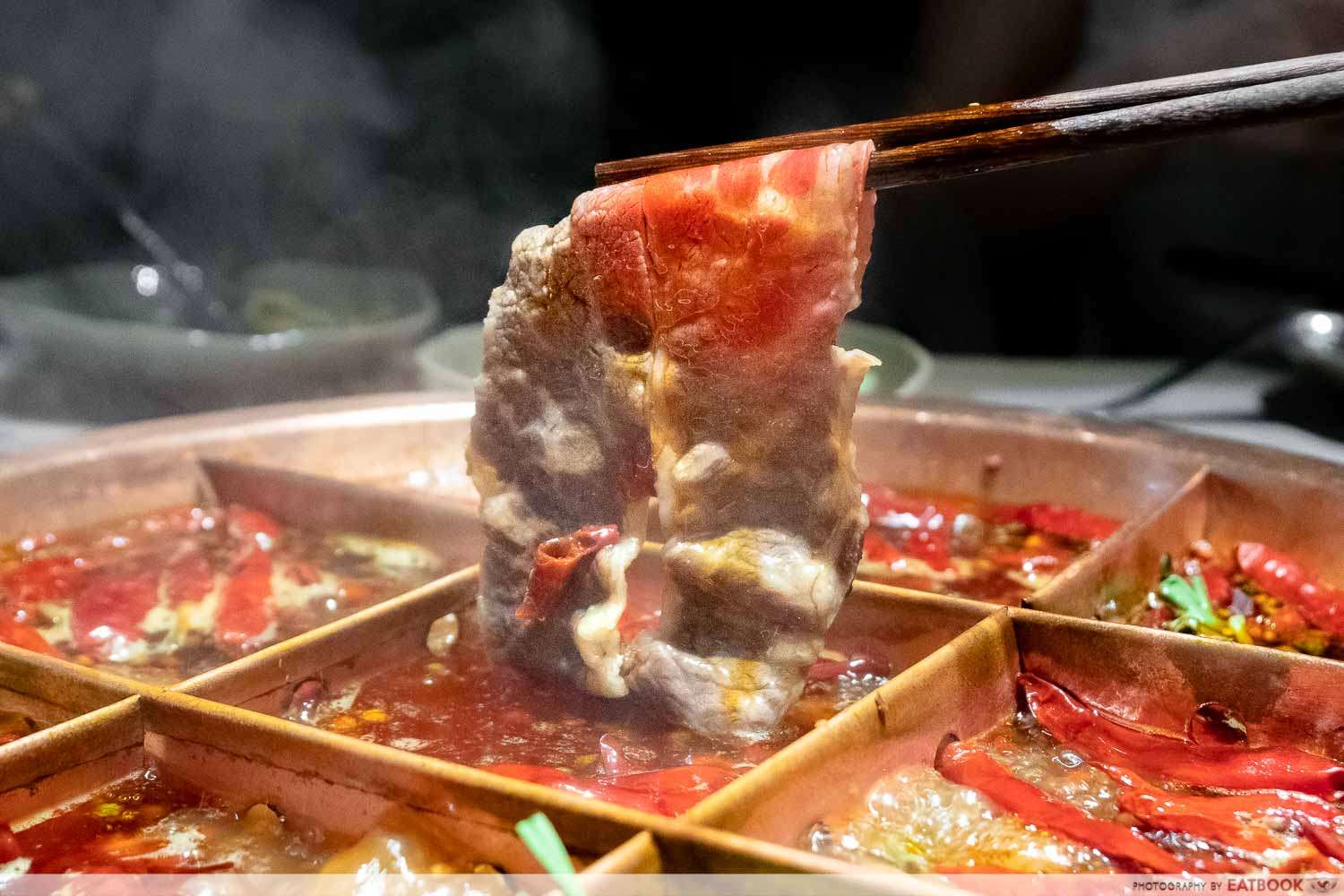 These slices of well-marbled meat were tender, succulent, and had an excellent feat to lean meat ratio. With the rich aroma and fiery kick of the Chongqing soup infused into the beef, it was hard to stop myself from devouring slice after slice—I only managed to do so out of consideration for the other hungry diners at my table.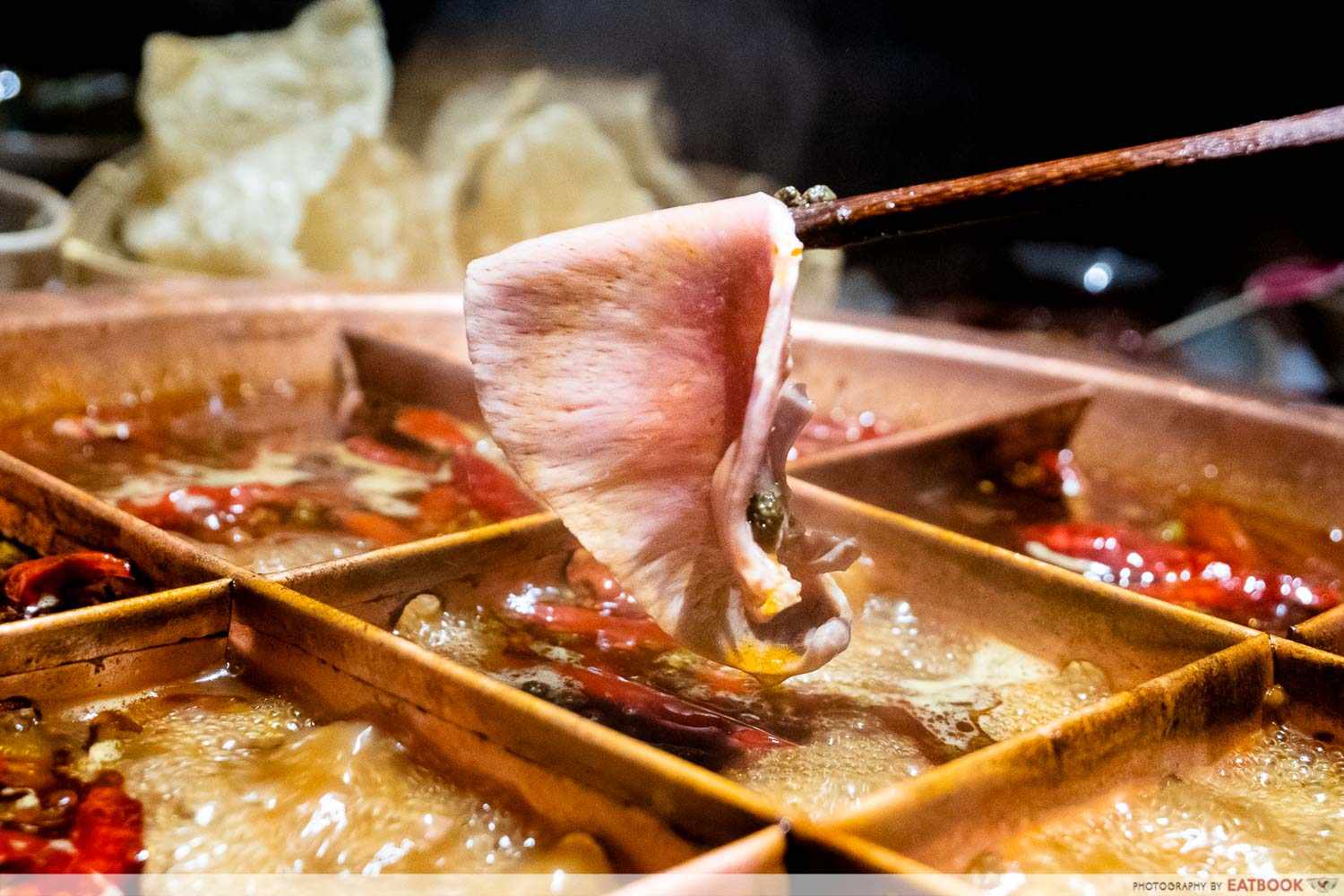 While the previous dish is a definite crowd-pleaser, some of Uncle Fong's more unique ingredients are not for the faint of heart. These include the Fresh Ox Liver (from $8.50), Pig Throat (from $9.50), and Red Sea Cucumber Intestine (from $19.50), but my personal favourite was the Fresh Pig Heart (from $6.50), pictured above.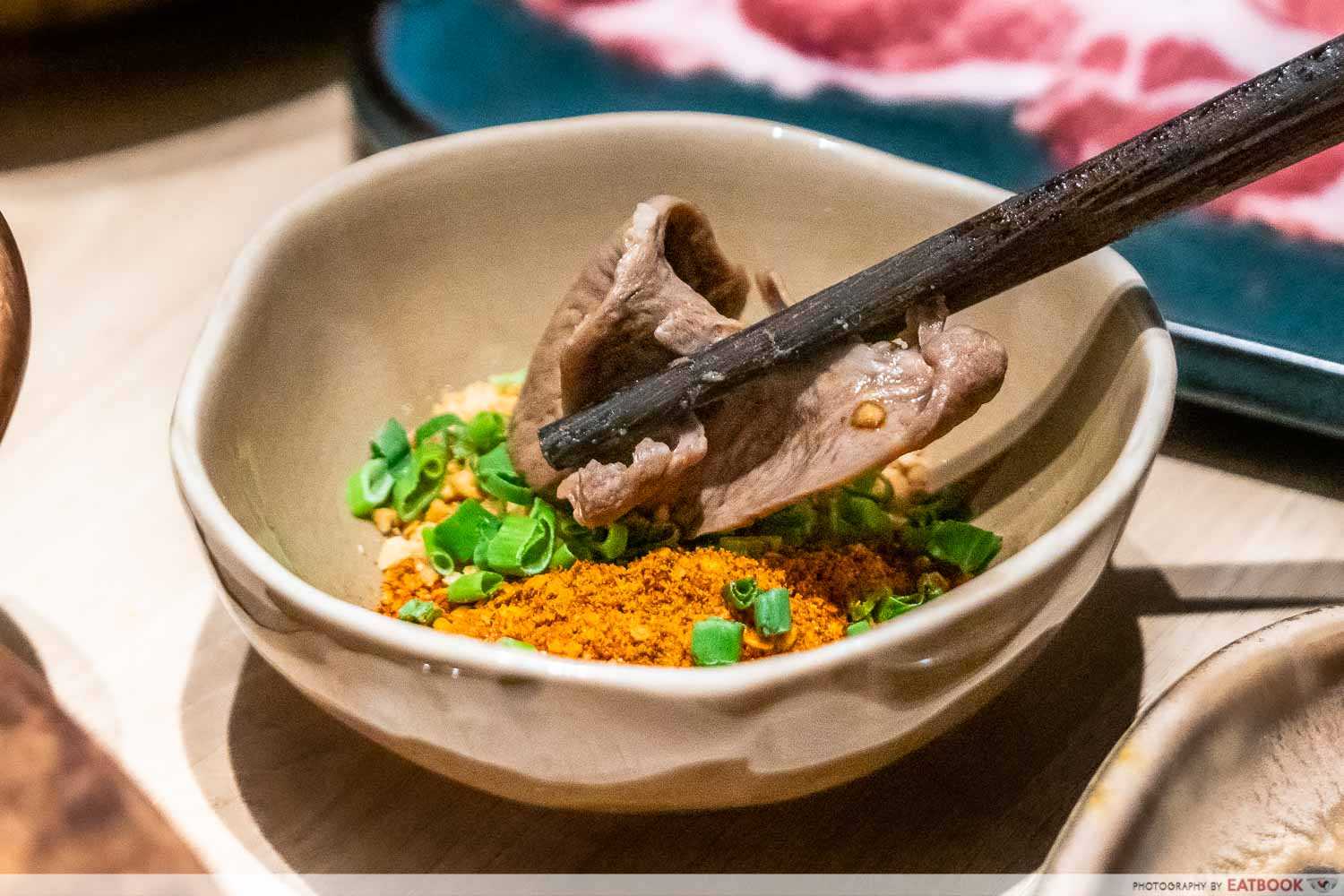 This exotic cut of meat tasted like a smoother, more tender version of pork liver, but with less of the latter's gamey taste and more flavour. Given that this was my first time trying a pig's heart (quite the morbid statement, I know), I was thoroughly impressed by how good it was.
You may have noticed by now that the hot pot has a peculiar nine-grid layout. No, it's not to play tic-tac-toe with the ingredients—the grids essentially create three different heat zones, allowing for better control over the cooking process.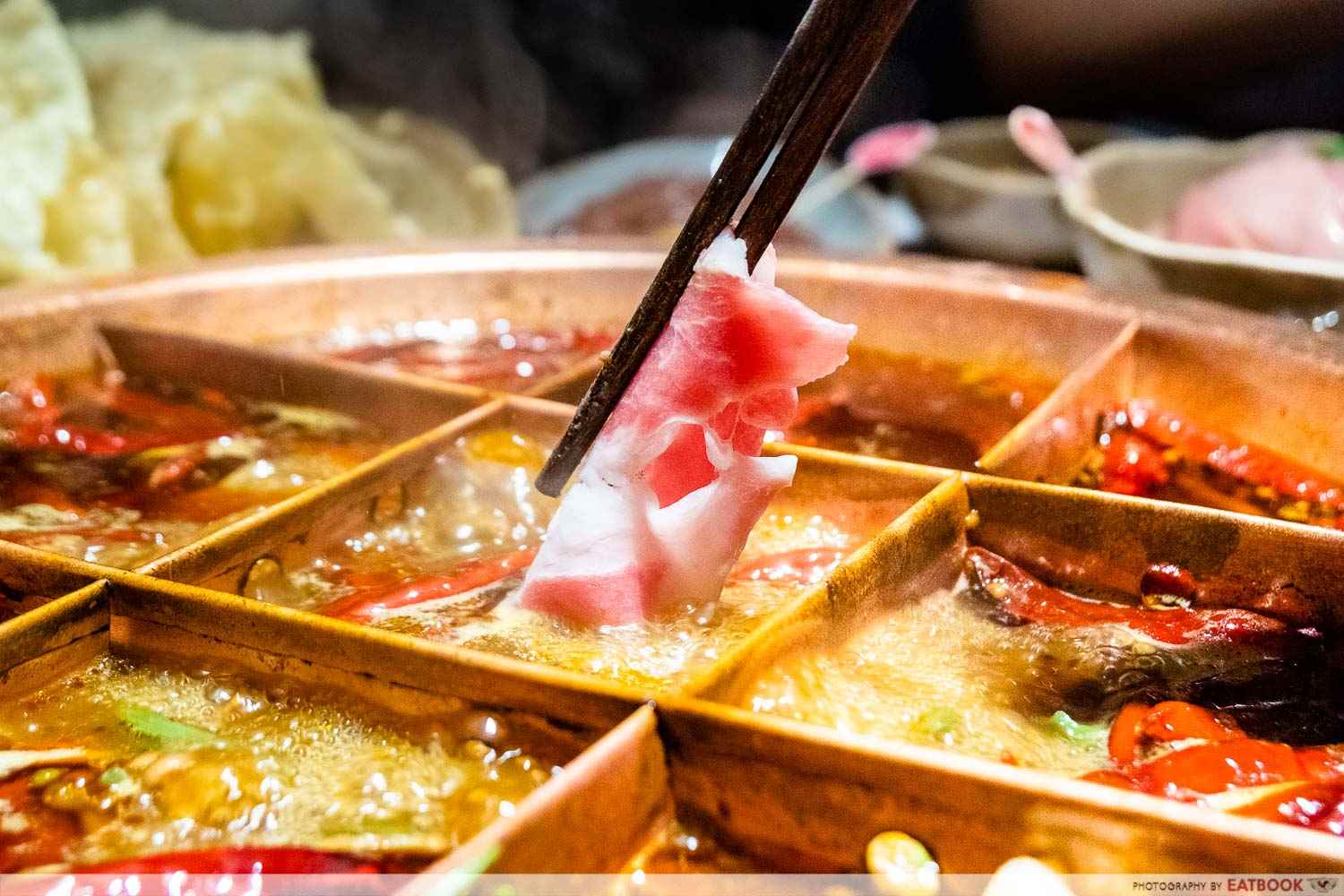 The middle square has the most intense heat, so it's perfect for quickly cooking your meats. The four grids around the centre, meanwhile, are less hot, making them great for poaching foods. Corner grids have the weakest heat, so you should stew your ingredients there.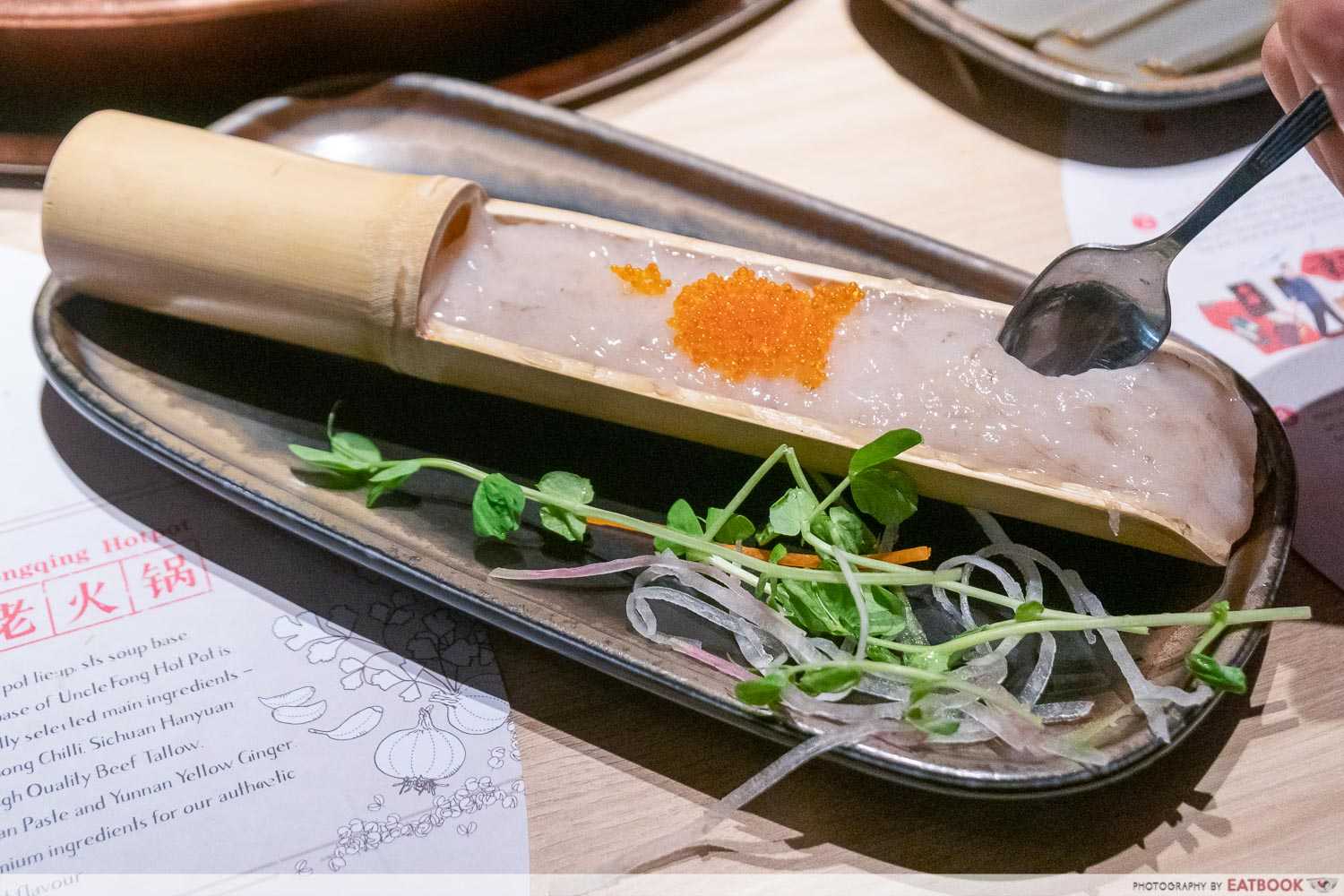 Hotpot isn't complete without seafood. The Home-made Ebiko Prawn Paste ($8.50 for half portion, $18 for full portion) was an absolute treat, with its fresh and creamy flavour that had hints of umami. FYI, these are made from hormone-free white prawns that are hand-minced into a silky paste.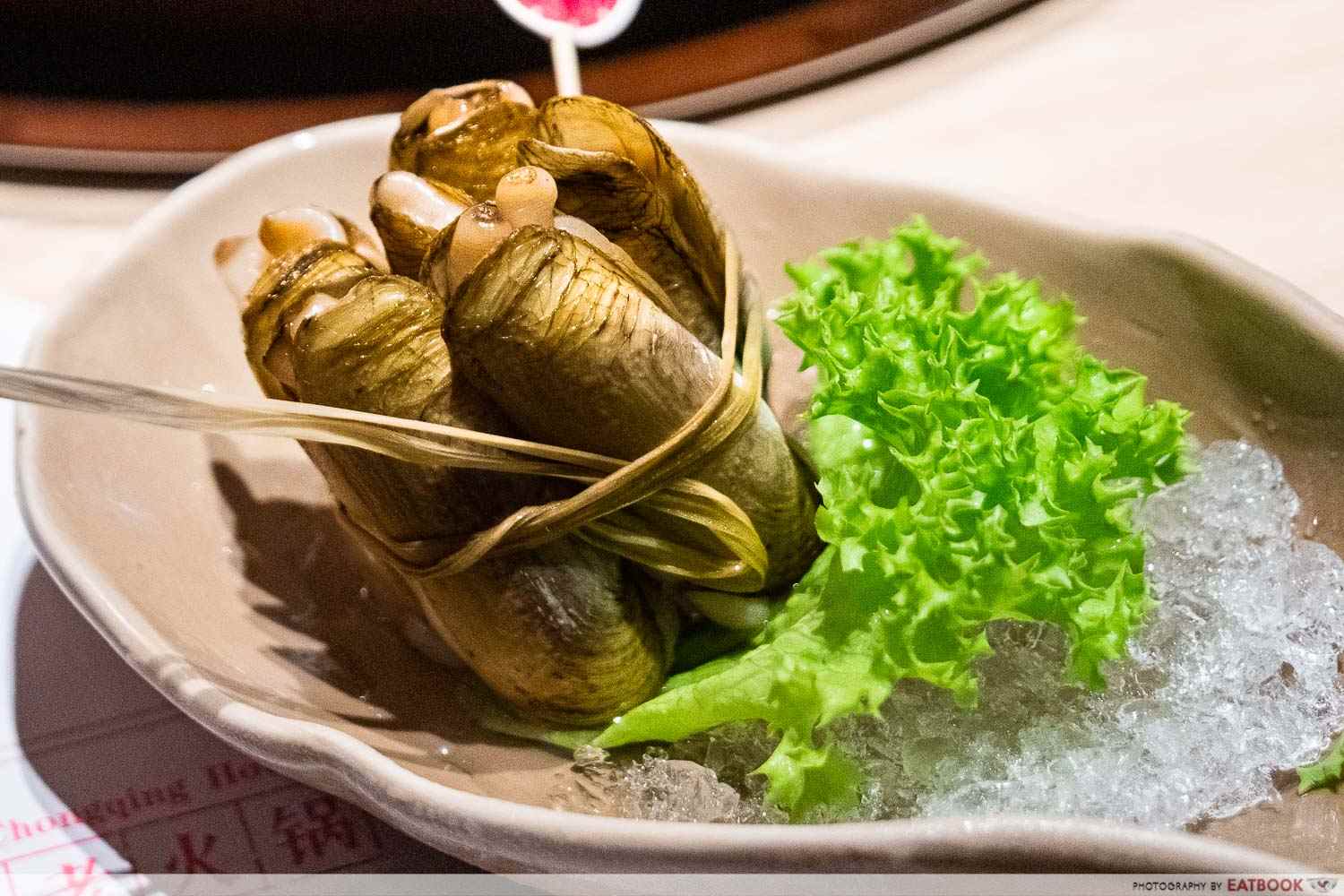 Uncle Fong's seasonal ingredient, the Razor Clams ($12.50 for half portion, $24 for full portion), are sure to delight as well. Available from now till August 2022, the ingredient is airflown into Singapore directly from Putien each week—no wonder they were really fresh and succulent.
Ambience at Uncle Fong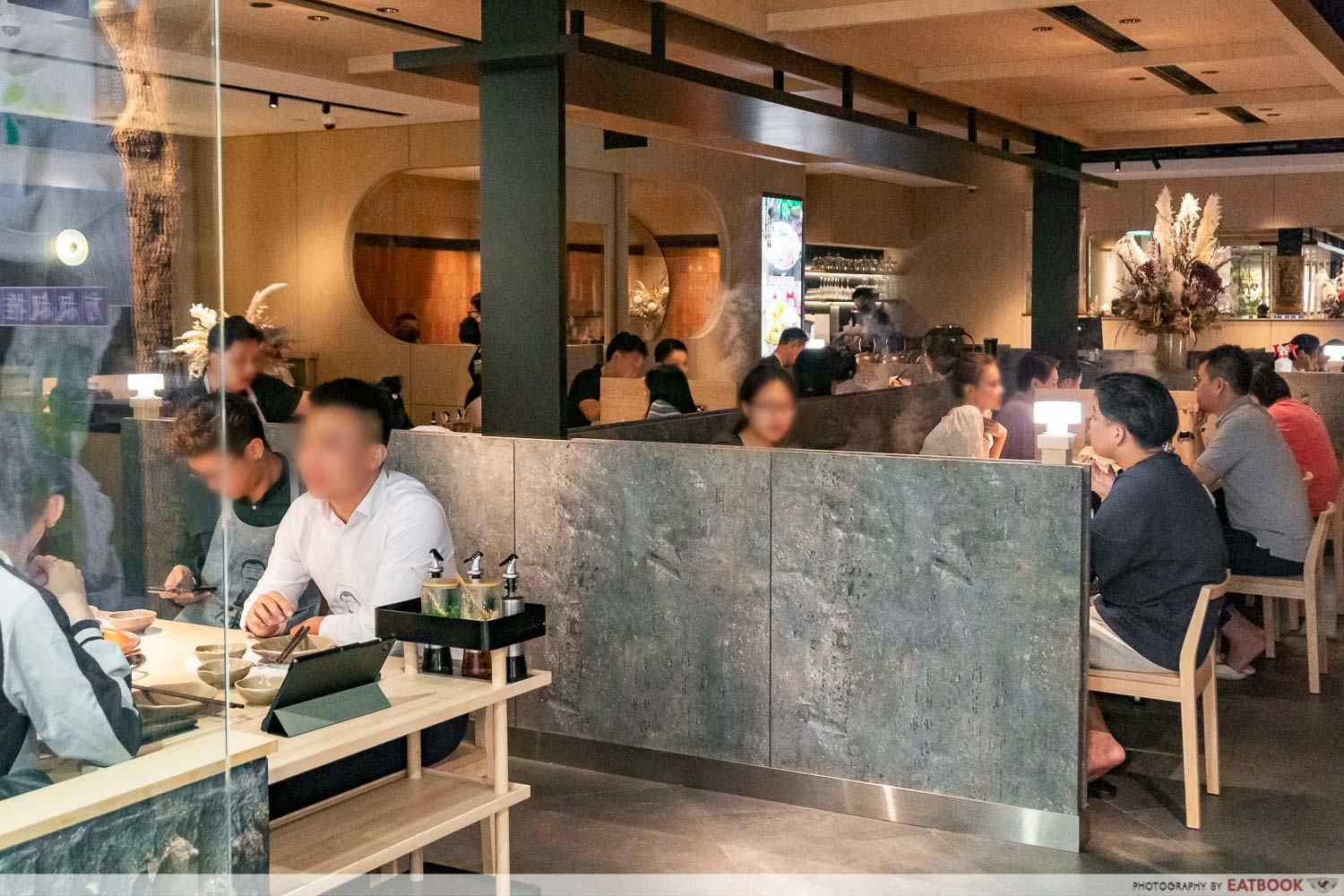 Unlike the brightly lit interiors of many hotpot restaurants, Uncle Fong's dimmer lighting, accentuated with backlights, is decidedly atmospheric. This 80-seater is also plenty spacious, complete with private rooms that each seats up to eight people.
Great World, the mall that Uncle Fong is located in, is a six-minute bus ride from Tiong Bahru MRT Station.
The verdict
Uncle Fong offers excellent Chongqing hotpot with plenty of tricks up its sleeve. This makes the dining experience here more refreshing compared to other hotpot places in Singapore that some of us are now awfully familiar with. If you like dunking your meats, seafood, vegetables and more into a fiery hot broth, then Uncle Fong comes highly recommended.
For another hotpot place to check out, have a look at our Qi Xiang Hotpot review. For affordable high tea in town, read our Ohayo Mama San review.
Address: 1 Kim Seng Promenade, #B1-108/109, Great World, Singapore 237994
Opening hours: Daily 11:30am to 3pm, 5:30pm to 10pm
Website
Uncle Fong Hotpot Restaurant is not a halal-certified eatery.
Qi Xiang Hotpot Review: Hotpot Restaurant Open Till 3AM In Jurong, Has All-Day Breakfast And Rosti Too
Photos taken by Tanya Tham.
This was a media tasting at Uncle Fong Hotpot Restaurant.
Uncle Fong Hotpot Restaurant Review: Famous HK Chongqing Mala Hotpot With Ingredients Such As Pig's Heart And More
Uncle Fong Hotpot Restaurant Review: Famous HK Chongqing Mala Hotpot With Ingredients Such As Pig's Heart And More -

8/10
Summary
Pros 
– Chongqing soup was super spicy and aromatic
– Ingredients were all high quality
Cons
– Some may not appreciate the more exotic cuts of meat
Recommended dishes: US Prime Beef Short Ribs ($21.50 for half portion, $42 for full portion), Fresh Pig Heart (from $6.50), Razor Clams ($12.50 for half portion, $24 for full portion)
Opening hours: Daily 11:30am to 3pm, 5:30pm to 10pm
Address: 1 Kim Seng Promenade, #B1-108/109, Great World, Singapore 237994