Chao Yue Xuan Dim Sum At Junction 9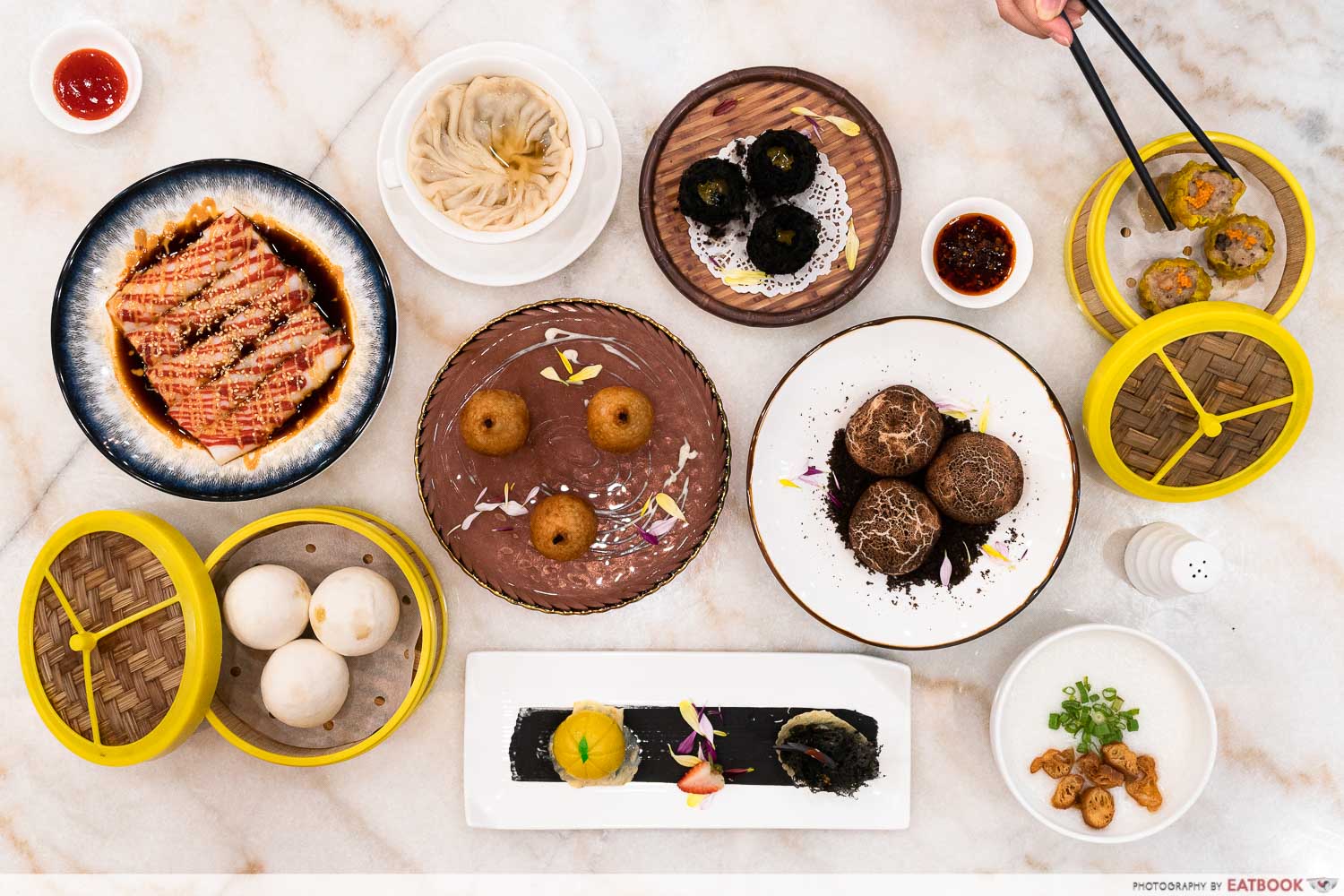 Dim sum has always held a special place in my heart. Whenever I am out for a meal with a group of friends, dim sum would be the first thing I'd think of eating. Recently, I found myself frequenting the same old dim sum places, and thought of trying someplace new. That was when I chanced upon Chao Yue Xuan Dim Sum.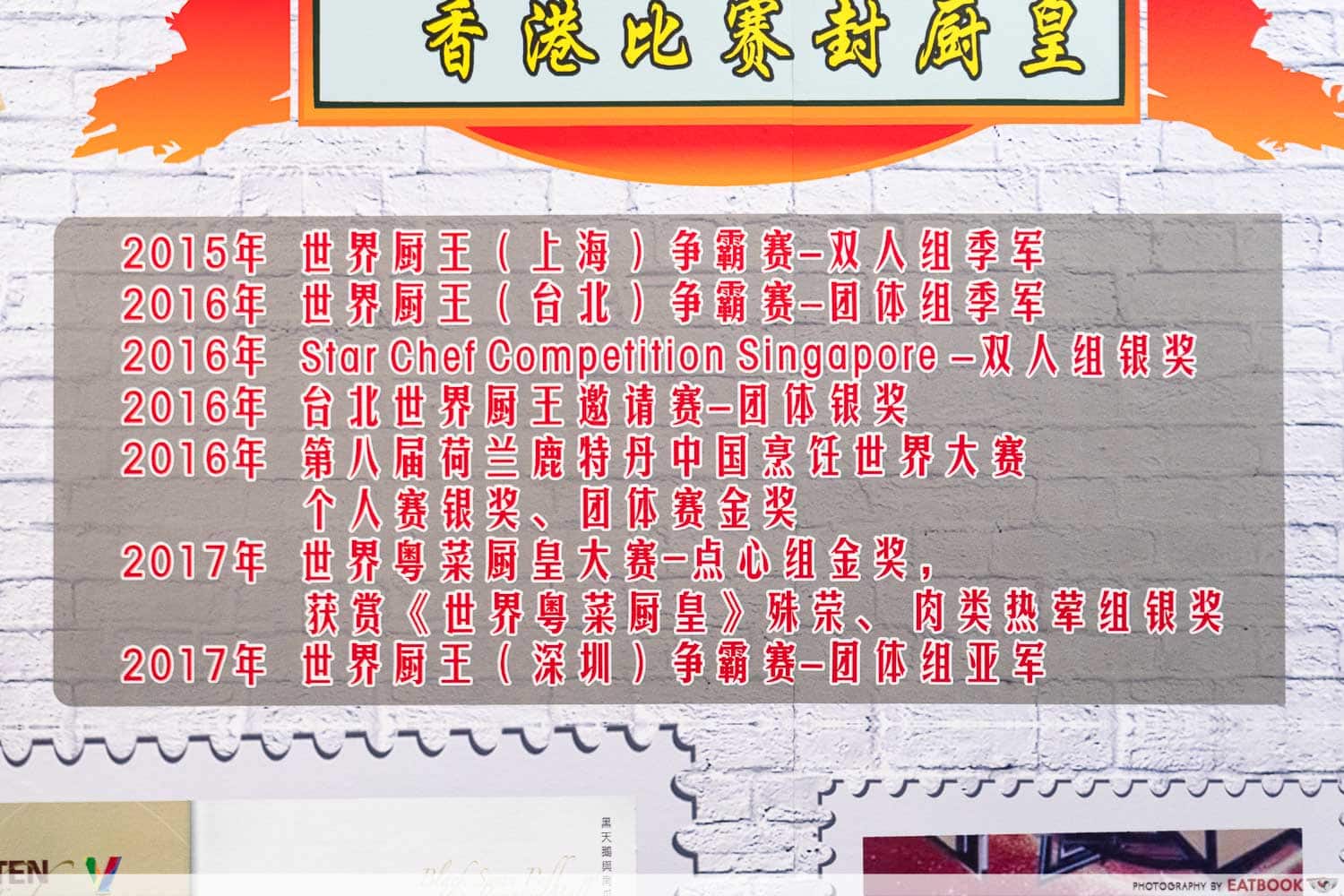 Chao Yue Xuan Dim Sum has been the talk of the town as it's headed by Chef Vanness Chai, who formerly cooked at the St Regis Hotel. Chef Vanness is also an award-winning chef who's been lauded by juries around the world. The menu here features a variety of dim sum items, some of which I've never seen before, so I was enticed to head to Junction 9 with my colleague to check it out.
7 Yishun Food Places Including Green Tea Pizza And Har Cheong Gai Wings
Food at Chao Yue Xuan Dim Sum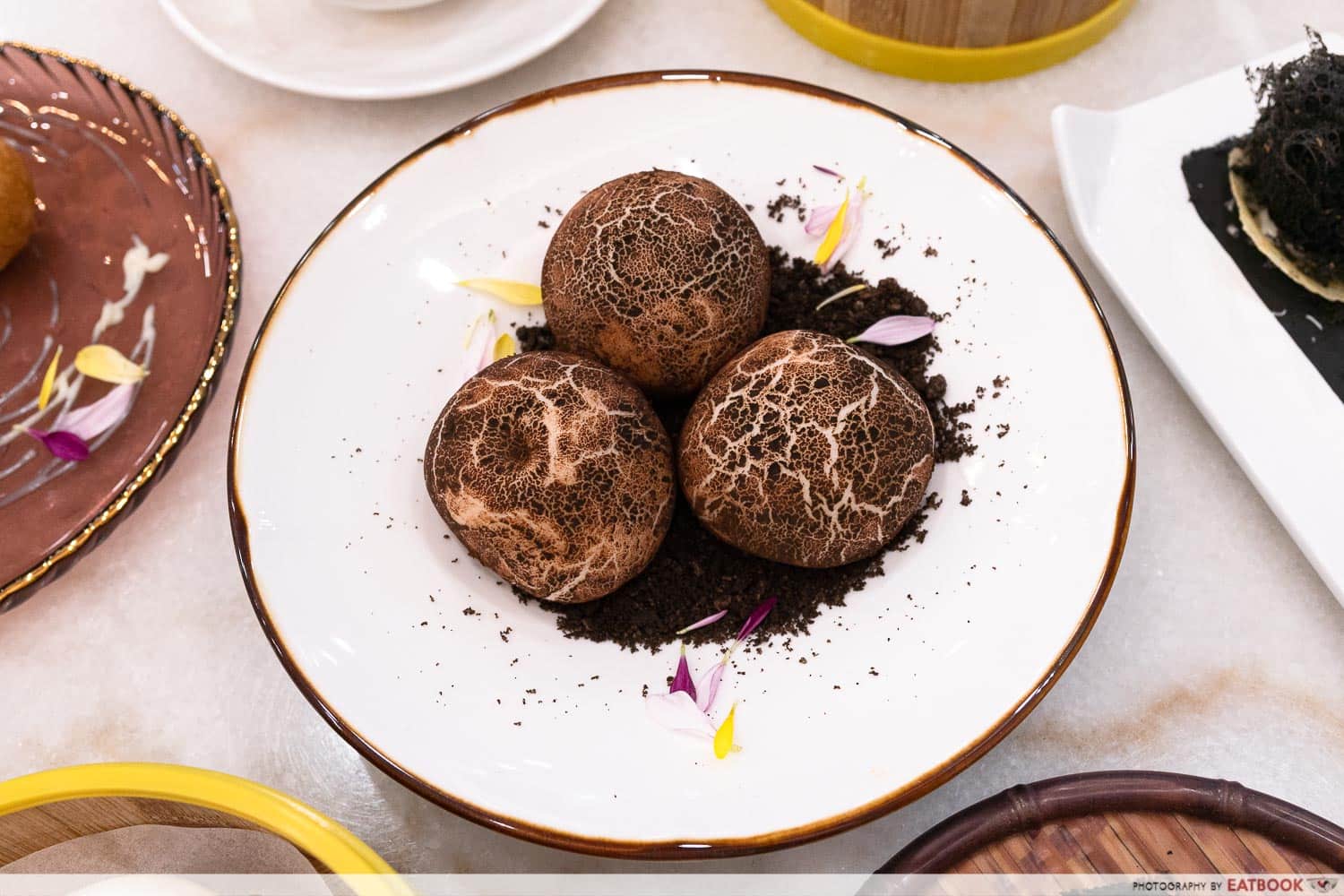 When the food arrived on the table, my colleague and I were immediately drawn to the Steam Yam Ball Stuffed with Coconut Cream and Mushroom Bun ($4.50+). This beautifully plated dish came with three palm-sized bao with cracked-top exteriors that resemble mushrooms. To further emulate the fungi, these bao sat atop a bed of crushed Oreos as a visual representation of soil. This dish looked so realistic that my colleague mistook the bao for ordinary shiitake mushrooms.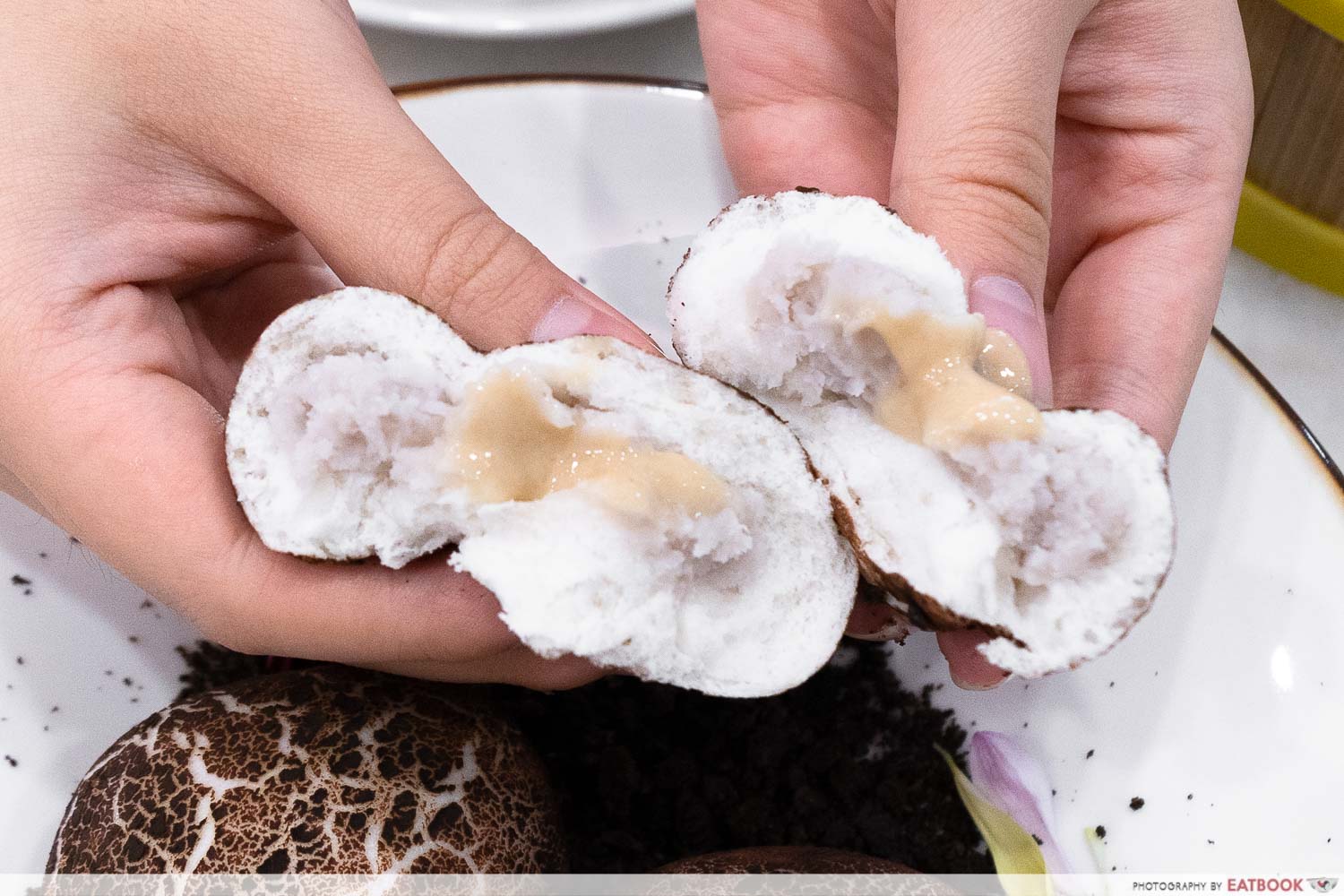 Tearing into these buns revealed a lilac-coloured centre, with a lava-like cream. This filling had faint aromas of shallot and coconut, with a tinge of sweetness from the Oreo cookies. Unfortunately, the flavours were not as spectacular as the dish's presentation. We felt that the fragrance of the orh nee could have been more prominent, as the bao tasted rather bland to us. Flavours aside, these buns had a light and fluffy texture, despite having been left out for a while during the shoot.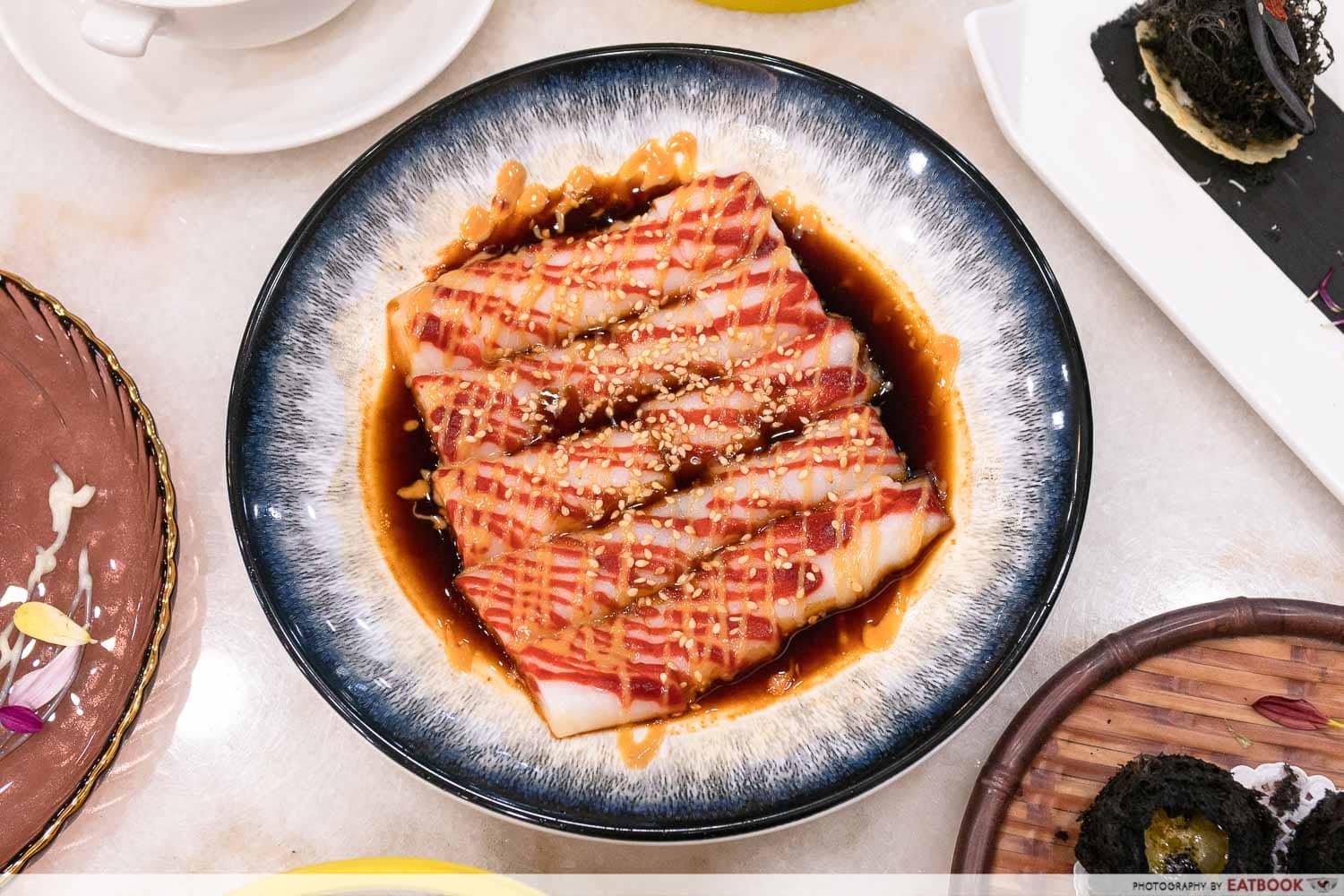 Next, we moved on to my all-time favourite Traditional HK Rice Roll ($4.20+), AKA chee cheong fun. This dish came with rice rolls swimming in a bowl of light soya sauce, drizzled with sweet sauce and peanut sauce, and sprinkled with sesame seeds.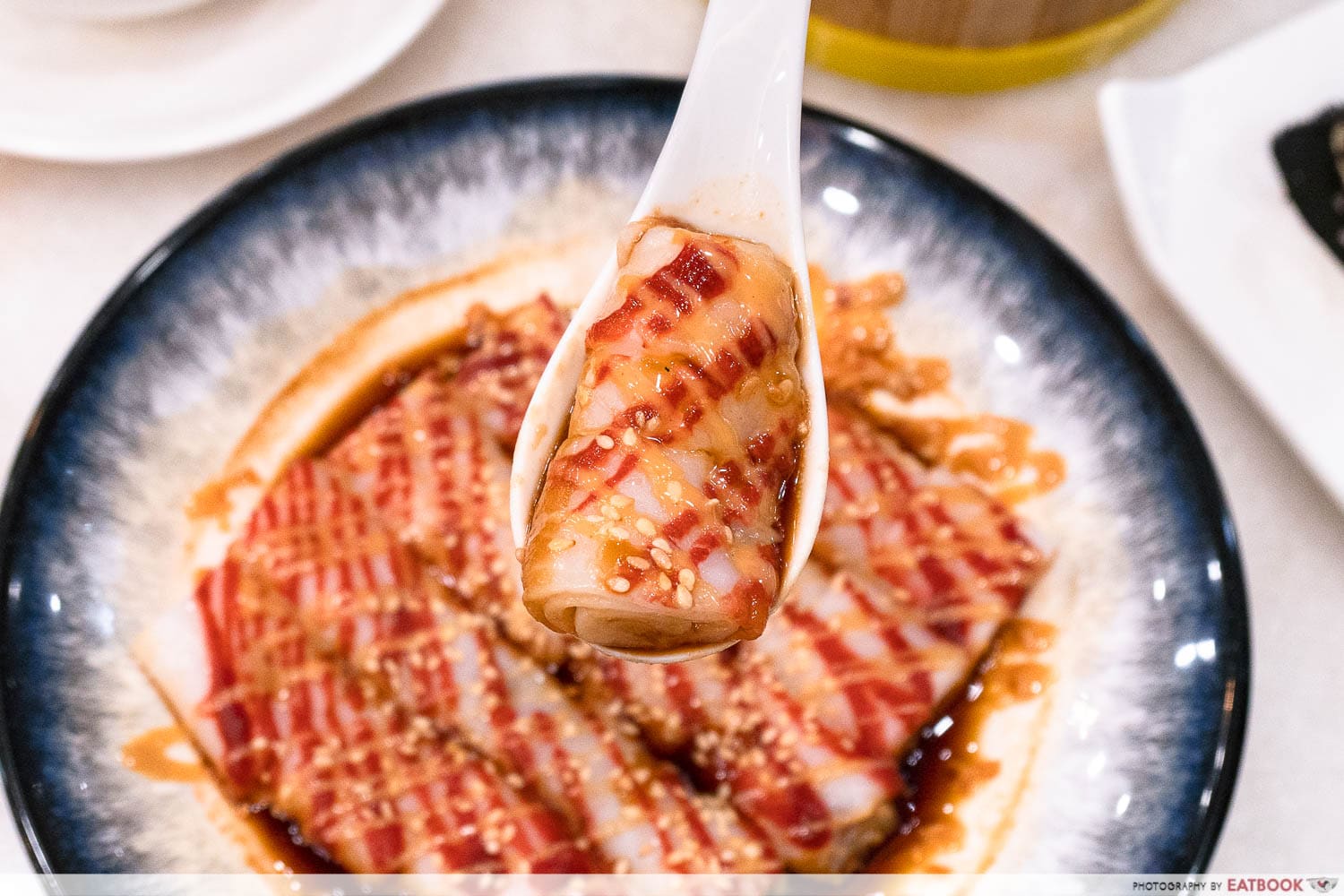 As a huge fan of chee cheong fun, I knew exactly what I was looking for: a silky and thin rice roll served in a lip-smacking sauce. 
Sadly, Chao Yu Xuan's version did not tick all the boxes for me as it was slightly thicker and rougher in texture. However, I was totally hooked on the sauce as it had a lovely toasted flavour, with a hint of sweetness from the red sauce to balance out the lightly savoury soya sauce base.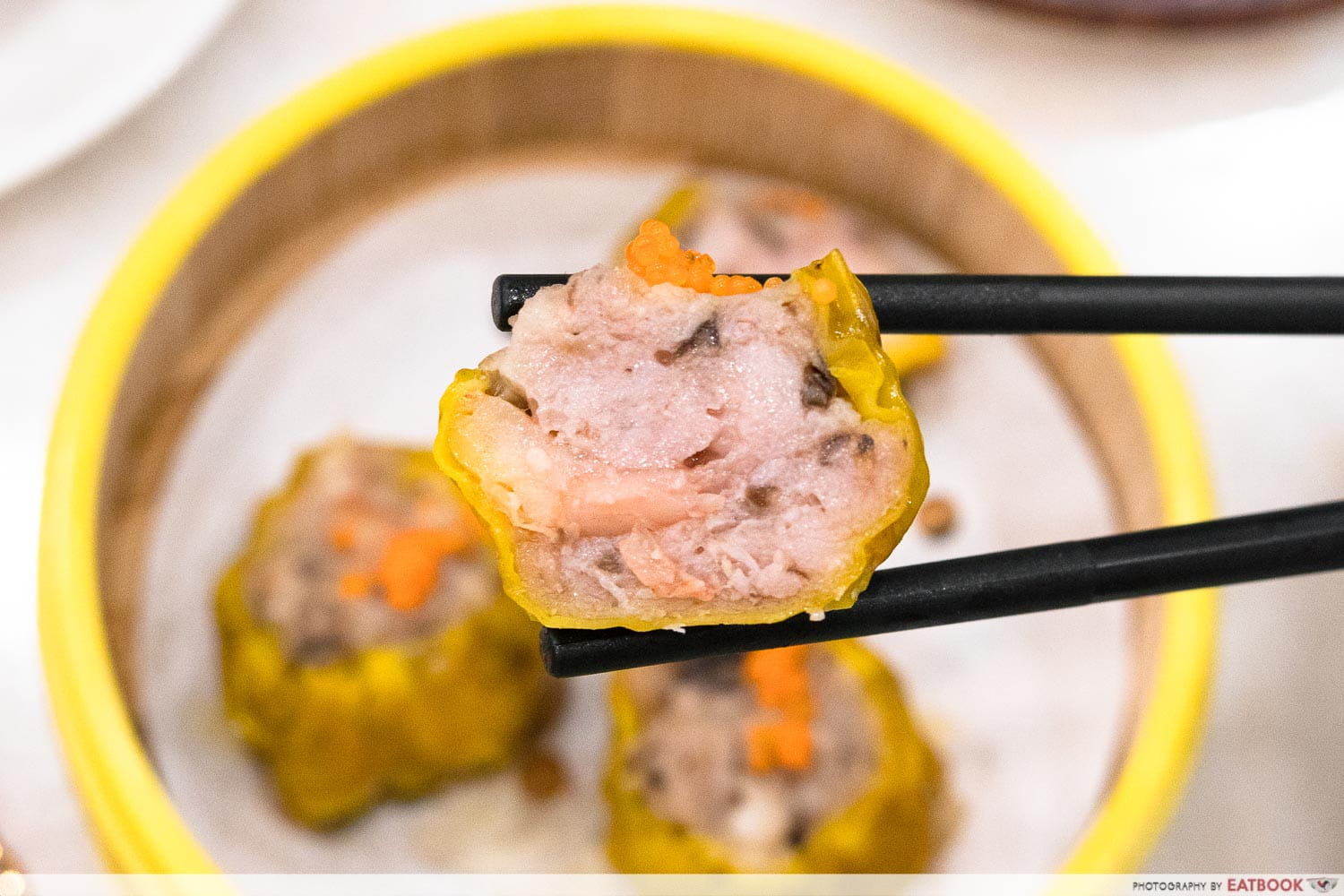 Other dim sum classics that we tried were the Steamed Siew Mai With Fish Roe ($4.20+), and Steamed Salted Egg Yolk Custard Bun ($4.20+). The former had a dense minced meat filling, with bits of mushrooms and prawns. 
What stood out to me was its texture—plump, chewy, and QQ to the bite. I also loved how each bite burst with umami notes from the minced meat and mushrooms, with a hint of sweetness from the prawns. To spice things up, I would recommend pairing the siew mai with the sweet chilli sauce on the side.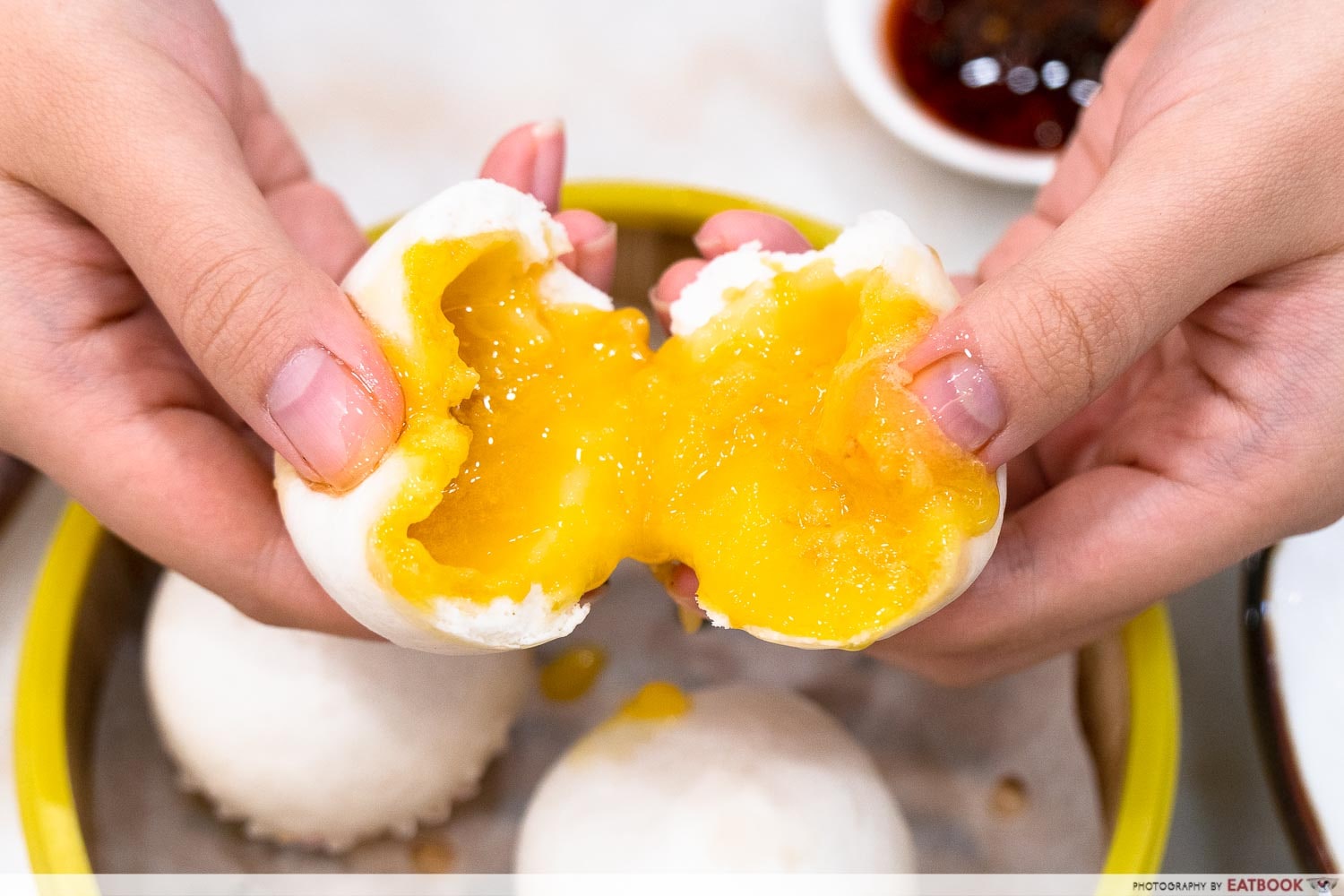 The custard buns came in three tennis ball-sized bao, packed with a runny custard filling. As with the mushroom yam buns, these buns were a hit due to their soft and fluffy texture. However, the filling miss the mark as it was rather greasy.
Do be warned: this liu sha bao literally exploded with its custard filling when I tore into it, so be careful with it especially since it is served hot.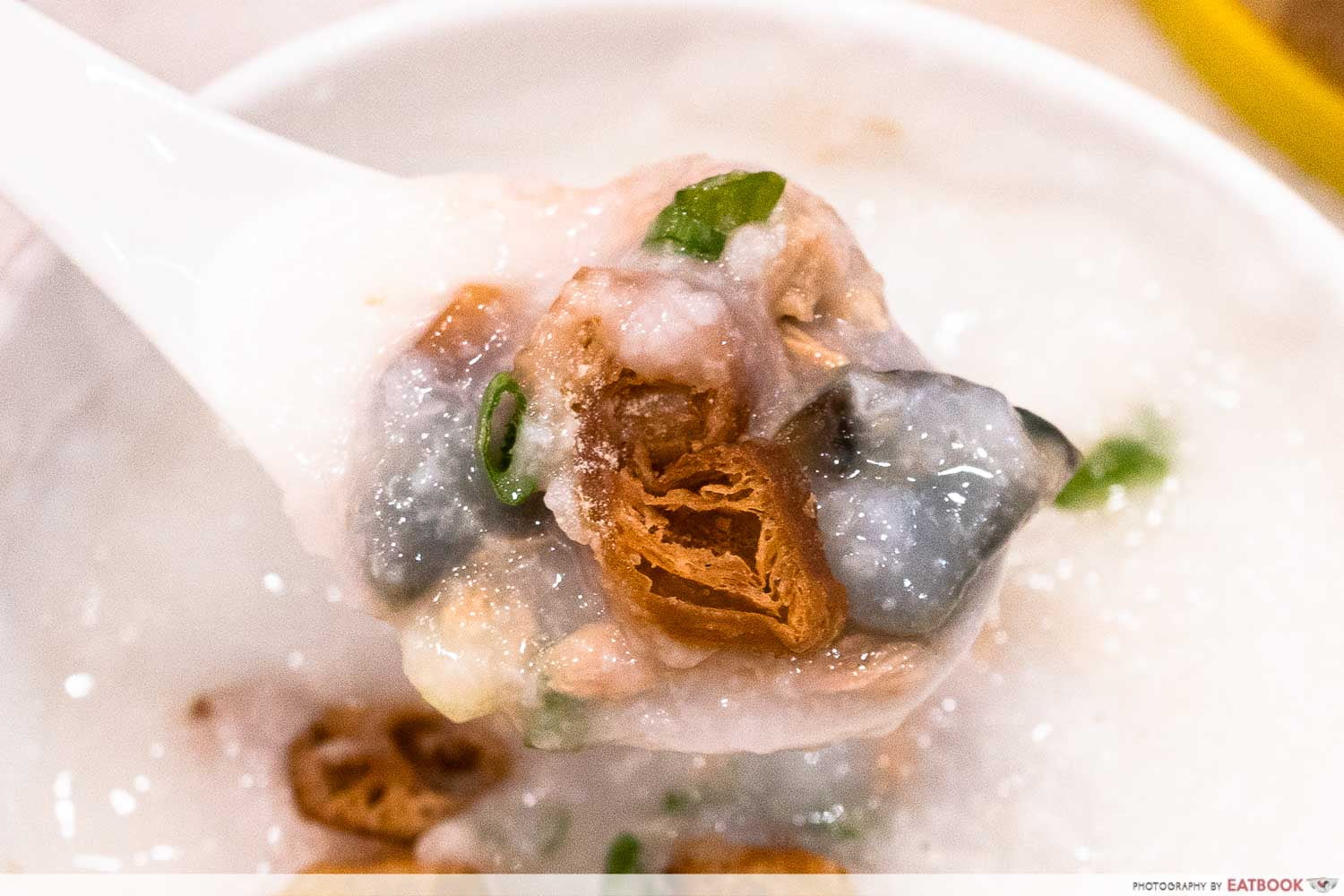 We took a break from the dim sum dishes and tried a more substantial dish, the Lean Meat With Century Egg Congee ($4.50+). I was delighted to find a bountiful amount of ingredients hidden within like a treasure trove: shredded meat, roughly cut century egg, and deep-fried you tiao.
Each ingredient elevated the texture of this dish. There was a crunch from the you tiao, a slight chew from the lean meat, and a jelly-like bite from the century egg. Rounding off the dish was the light and smooth porridge, which tied the whole dish together. 
As I prefer things on the lighter palate, I felt that this porridge was rather rich in flavour, with a heavy umami note lingering at the back of my throat. On the other hand, my colleague felt that this porridge was rather standard, and that there was nothing to shout about. Nevertheless, it was a well-executed dish and we finished it with gusto.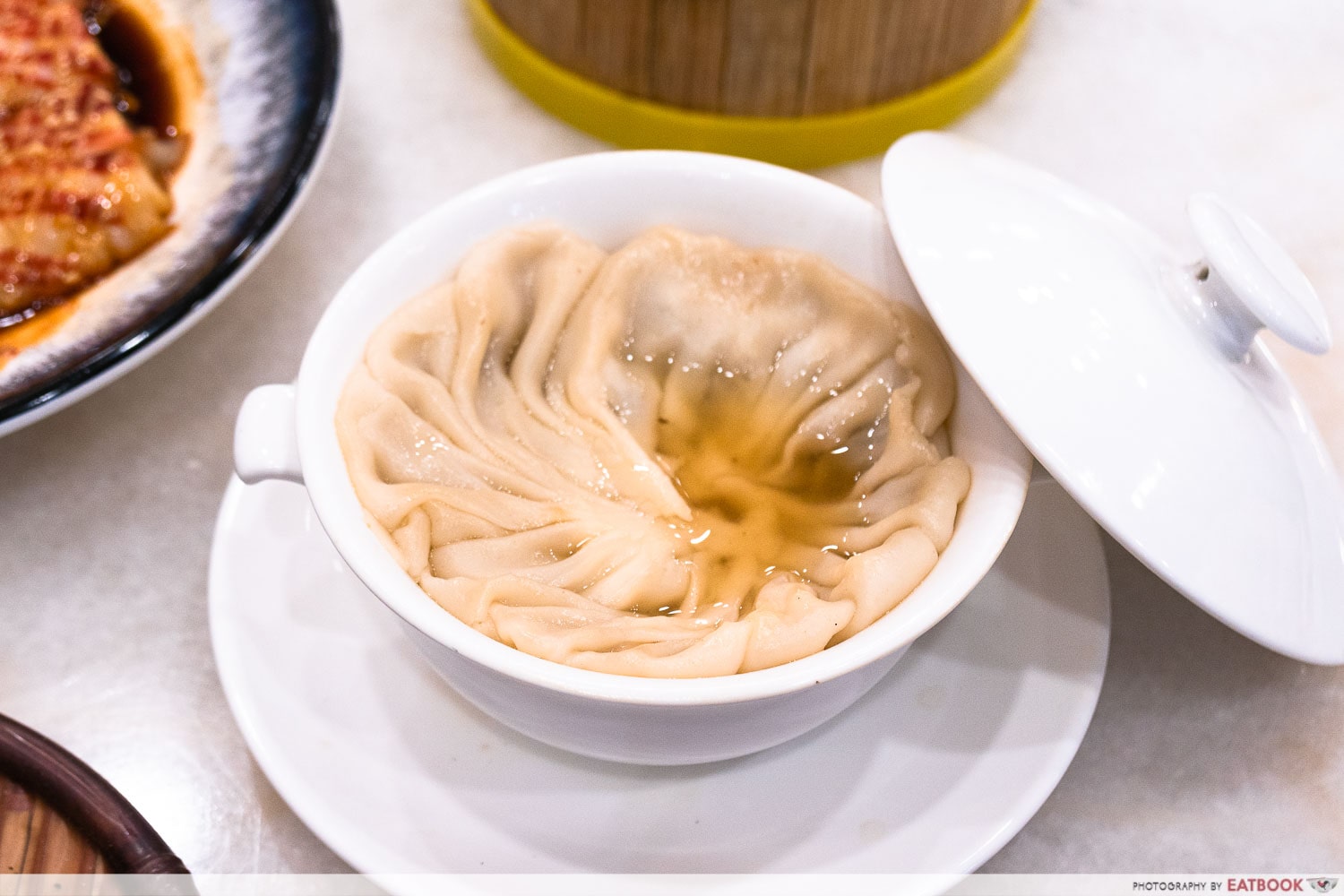 Moving on, we went for the Steamed Abalone With Seafood Dumpling In Superior Soup ($8.80+). I had been looking forward to trying this dish as it reminded me of my visit to Shanghai. This XXL xiao long bao is usually served individually in a bamboo basket, with a straw punched through its delicate skin. 
In Chao Yue Xuan's rendition, the soup dumpling was served in a porcelain bowl, with soup spilling out of the dumpling.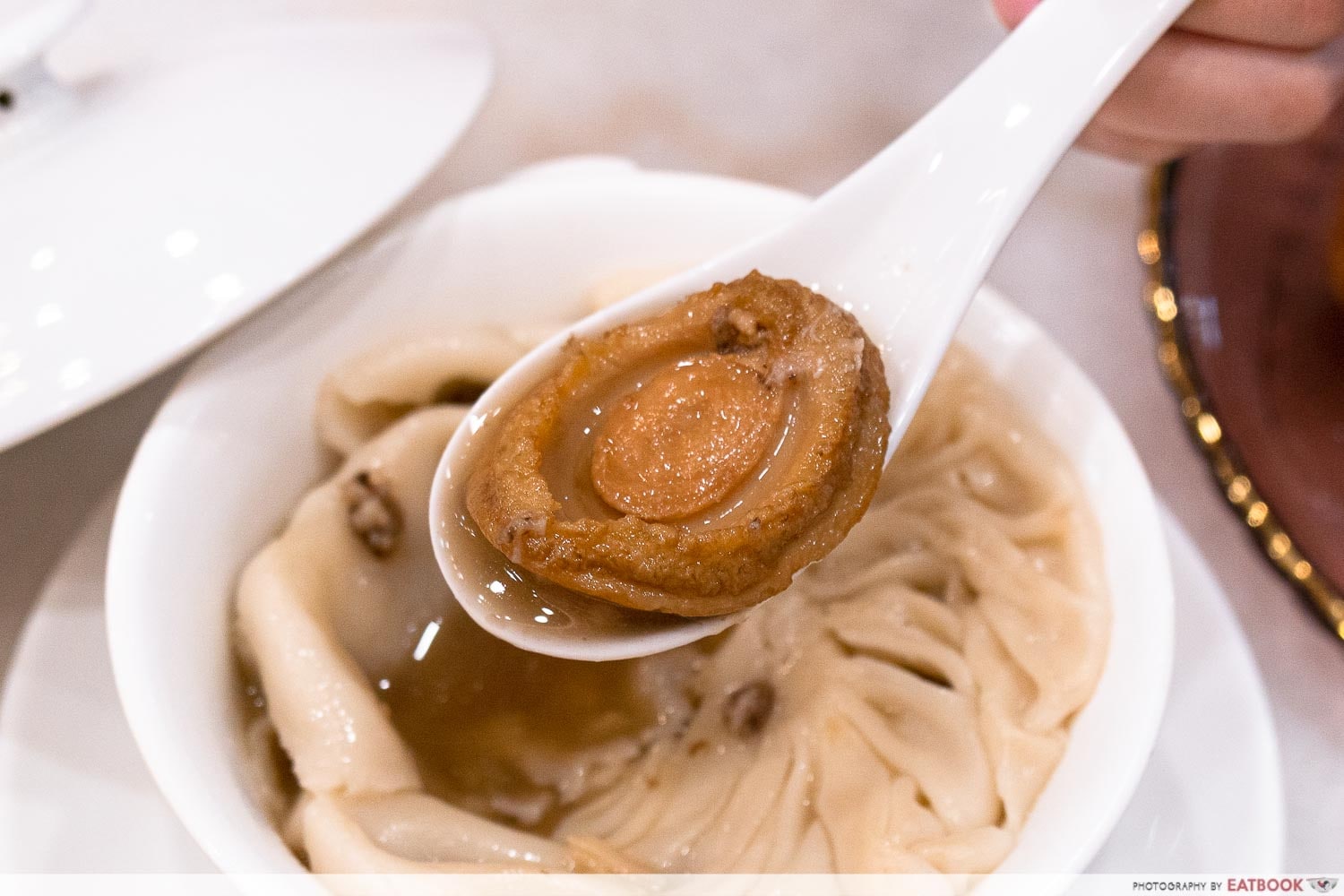 Based on its name, I'd expected a seafood flavoured soup. Instead, it was packed with a strong mushroomy taste. The longer the dumpling sat, the deeper the flavours developed. Within the sea of ingredients, we were only able to find one spoon-sized abalone, which was plump, chewy, and had a nice bite. 
The skin, however, was slightly too thick and mushy for my liking, although the mushiness was probably due to us taking some time to photograph the dish. Even though it was a slight disappointment, I can imagine how warm and comforting this dish would be if it was consumed immediately!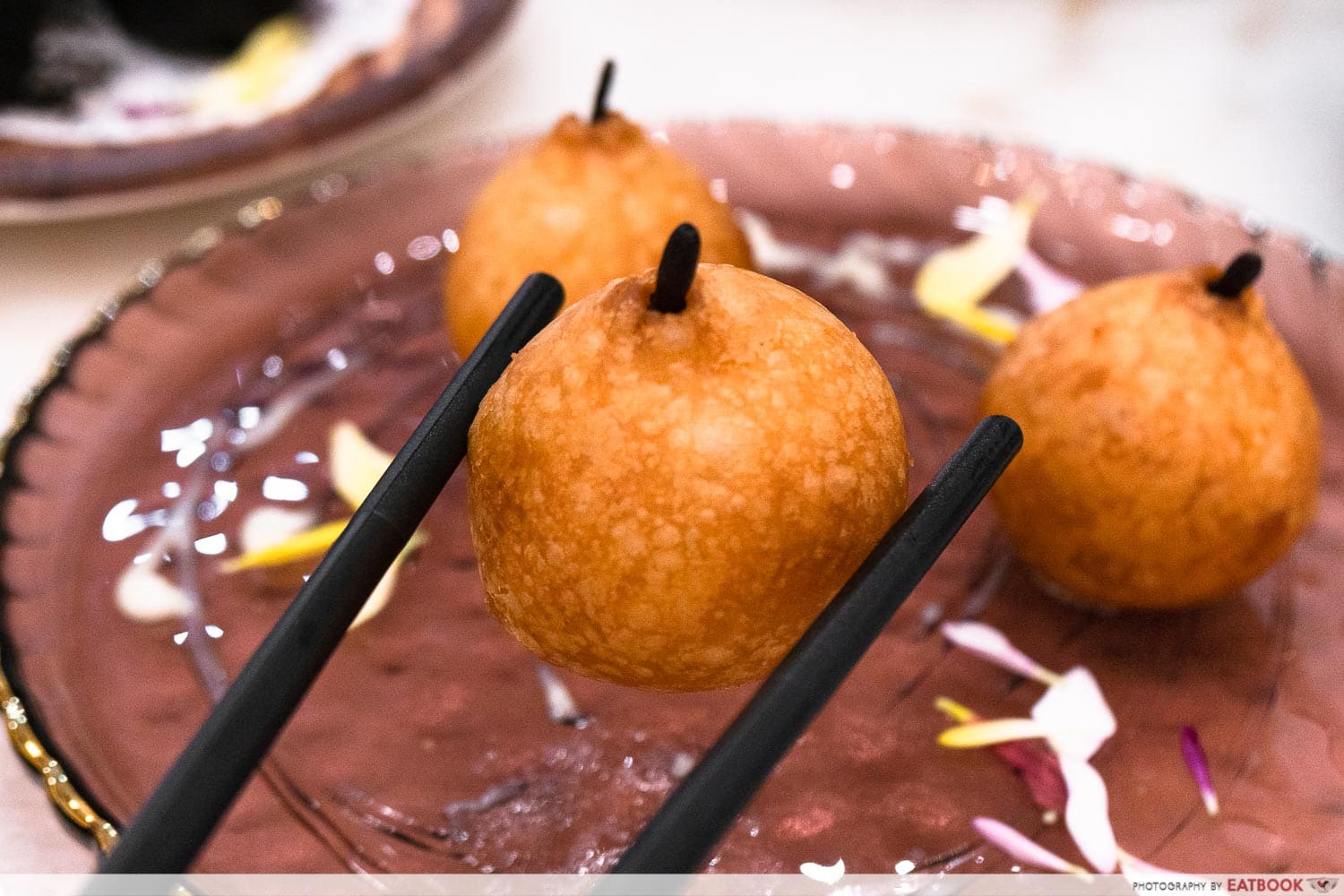 We then proceeded to some classy, fine dining-like items. First up was the Snow Pear Dumplings with Dried Shrimp & Minced Chicken ($4.50+). I was intrigued by the presentation of this dish as it had a striking similarity to golden pears.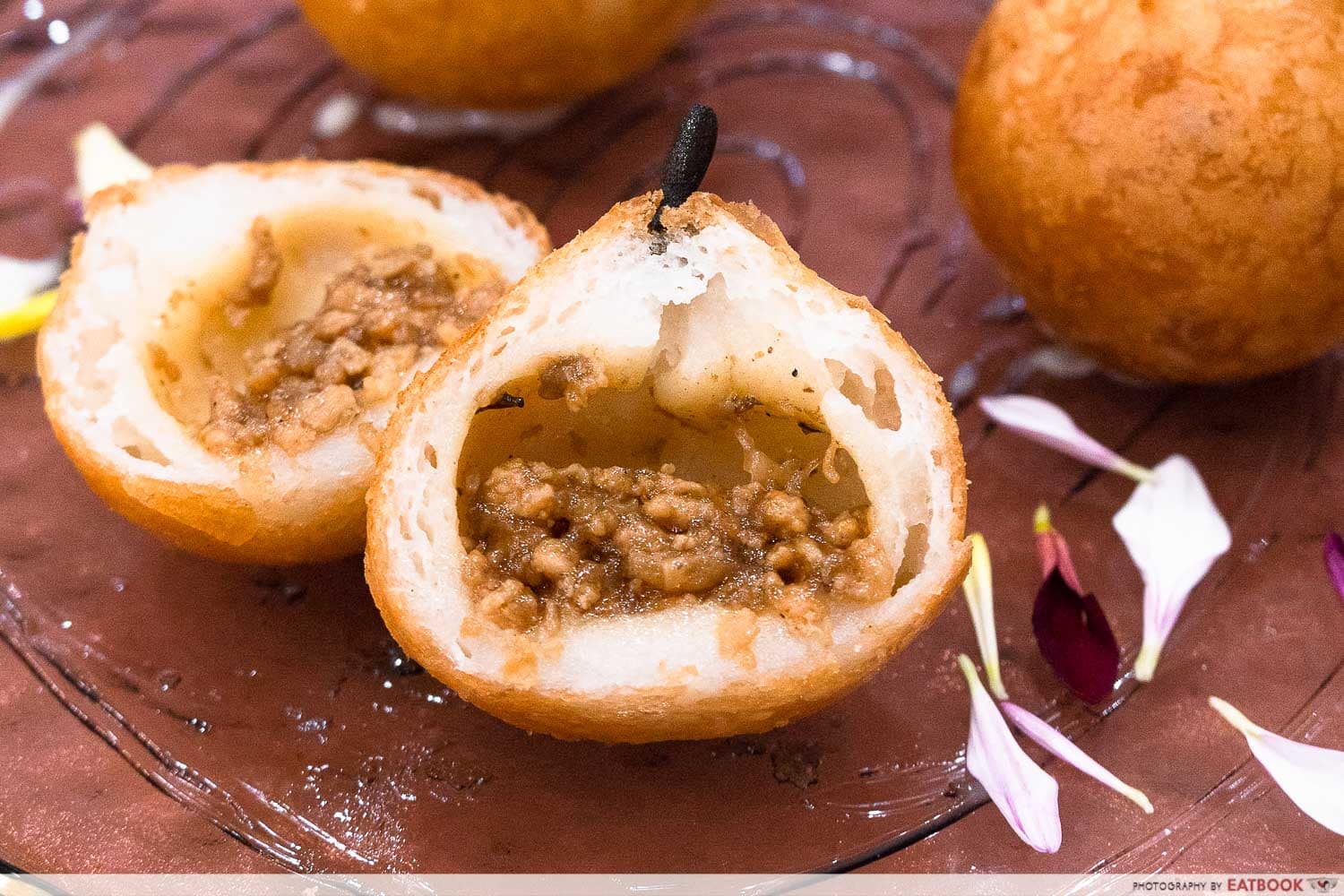 When I took my first bite, I was immediately captivated. It had a crispy exterior to contrast against the mochi-like dough, along with a soft minced meat centre. To get a better understanding of this texture, think of jian dui, a popular snack of fried sesame ball with red bean filling. Instead of a sweet, dessert-like flavour, the dumpling was rich and savoury. This was hands down my favourite item.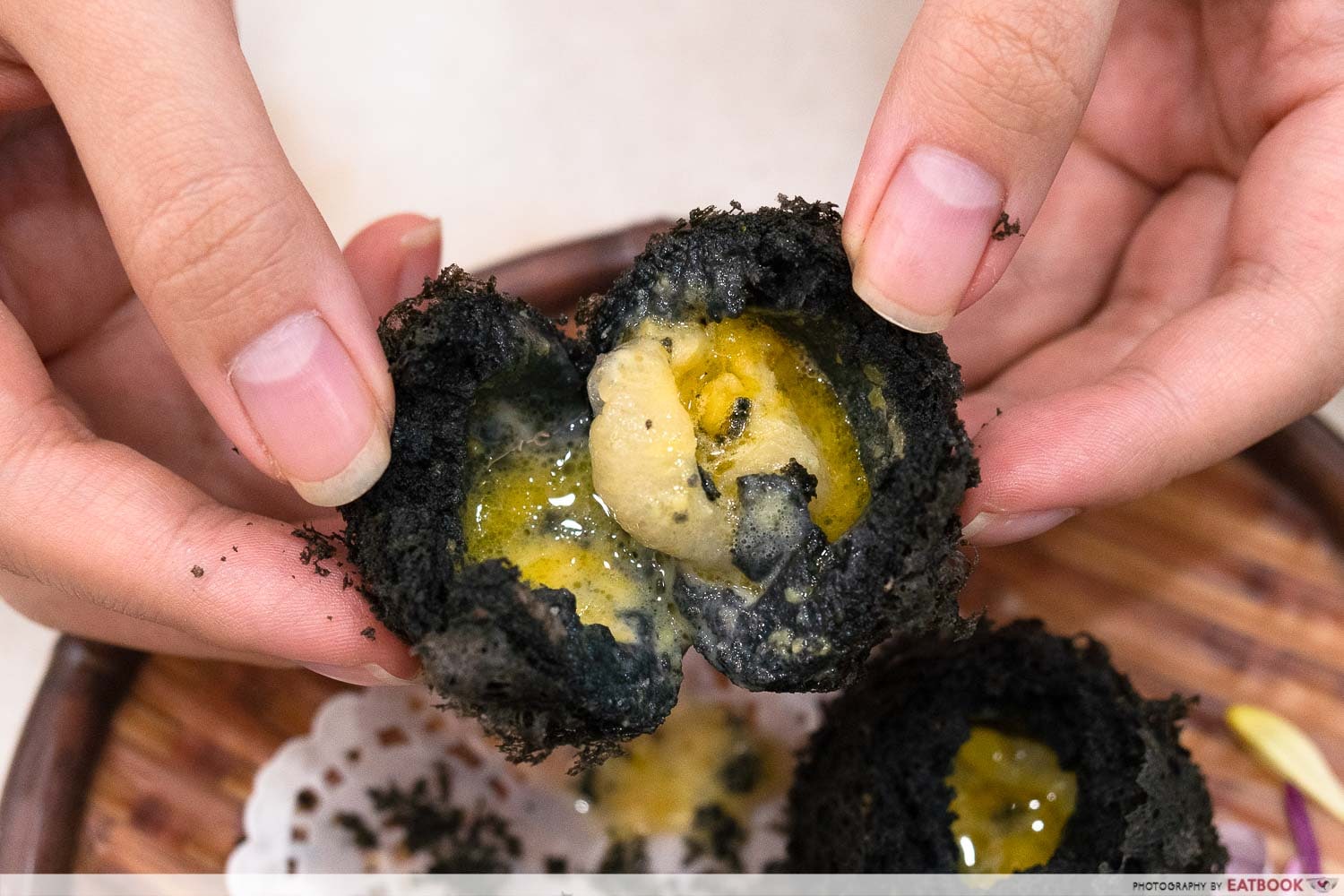 Another chef's recommendation was the Charcoal Pastry With Salted Egg Yolk Custard & Longan ($4.50+). These coin-sized pastries were shaped like a bird's nest, holding custard and longan within. Although they look small, I think they were the perfect size as you can easily pop them in your mouth, making them relatively mess-free.
Taking a bite into the charcoal pastry released a burst of sweet juices from the longan and a savoury note from the salted egg yolk custard. The custard used here was the same as the custard buns, which also splits with a significant layer of oil after being left out for a while.
The pastry was very similar to the traditional fried taro dumplings. The web-like exterior was flaky, with a melt-in-your-mouth like texture. However, I would highly recommend consuming these bite-sized pastries immediately, as they turn soggy quickly.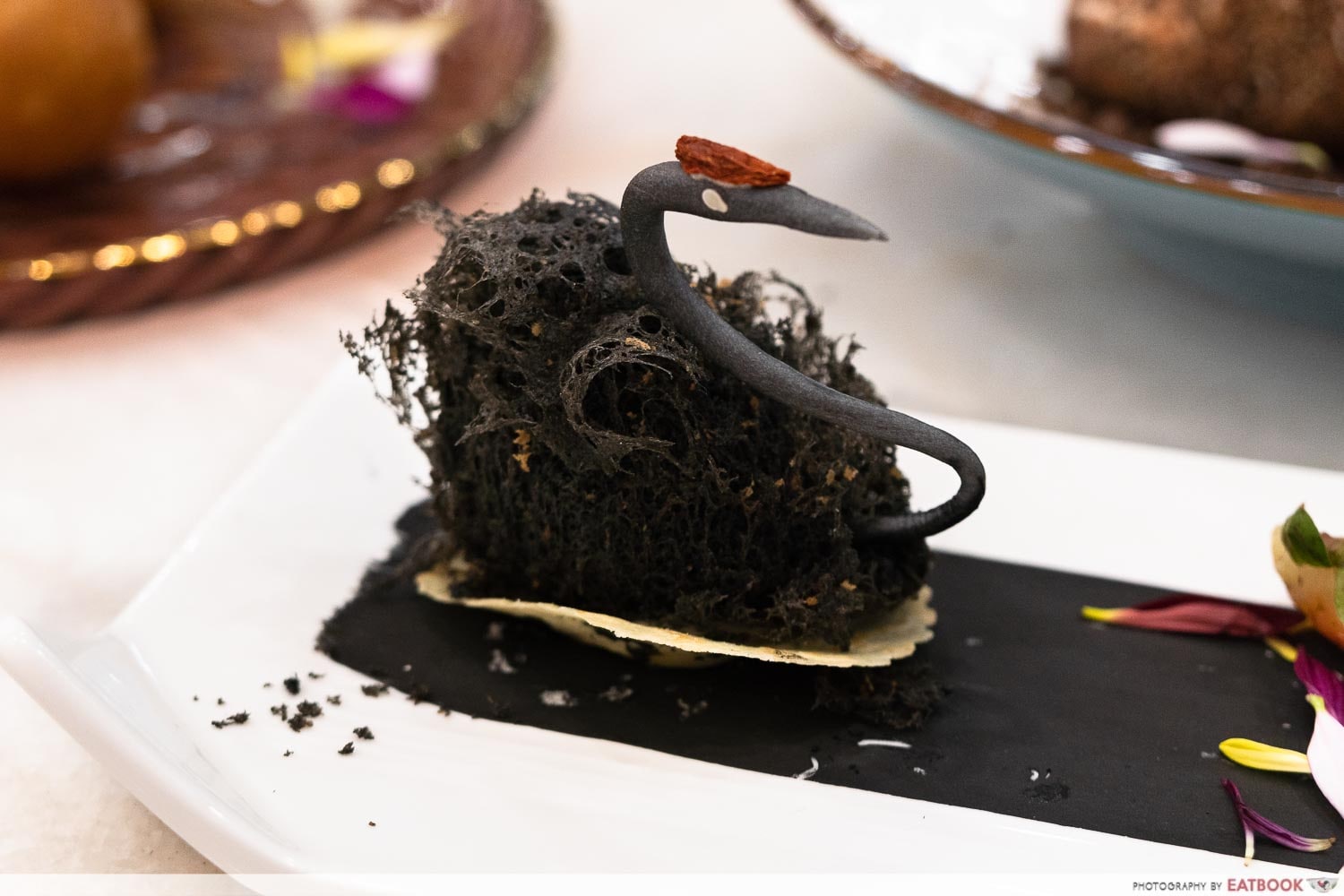 To end our meal, we saved the award-winning Swan Crisp and Pumpkin Ball ($5.50+) for last. Chef Vanness Chai had won the 2017 World Cantonese Cuisine Master Chef Competition with this dish, so our expectations were sky-high.
There was an element of surprise as this was the only dish on the menu that had an elusive name. Not knowing what to expect, I eagerly sliced into the swan, revealing a crushed, nut-like centre.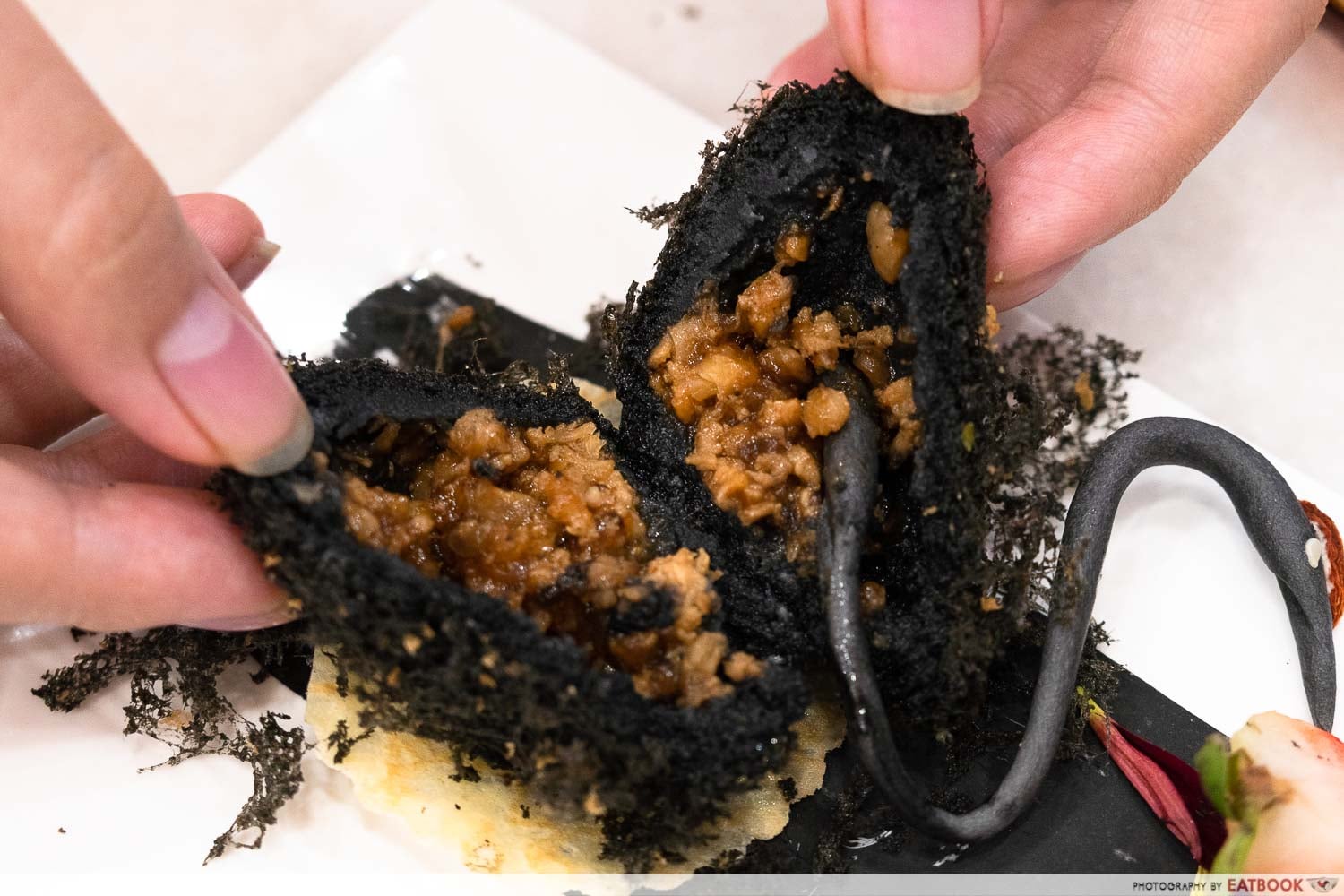 To my surprise, this filling was meat-based instead! It only hit us later that this dish was a marriage of two items we'd previously tried—the webbed charcoal pastry shell, and the filling from the Snow Pear Dumpling. Although we were slightly let down by the repetition of flavours and techniques, it was still an elegant and creative dish overall.
The Pumpkin Ball, on the other hand, had a crunchy black sesame filling wrapped within a chewy mochi skin. Out of all the elements in this dish, I felt that the black sesame filling stood out the most for me, with its roasted, nutty filling and bittersweet notes.
15 Dim Sum Places In Singapore From $1.30, Including Halal Dim Sum And Buffets
Ambience at Chao Yue Xuan Dim Sum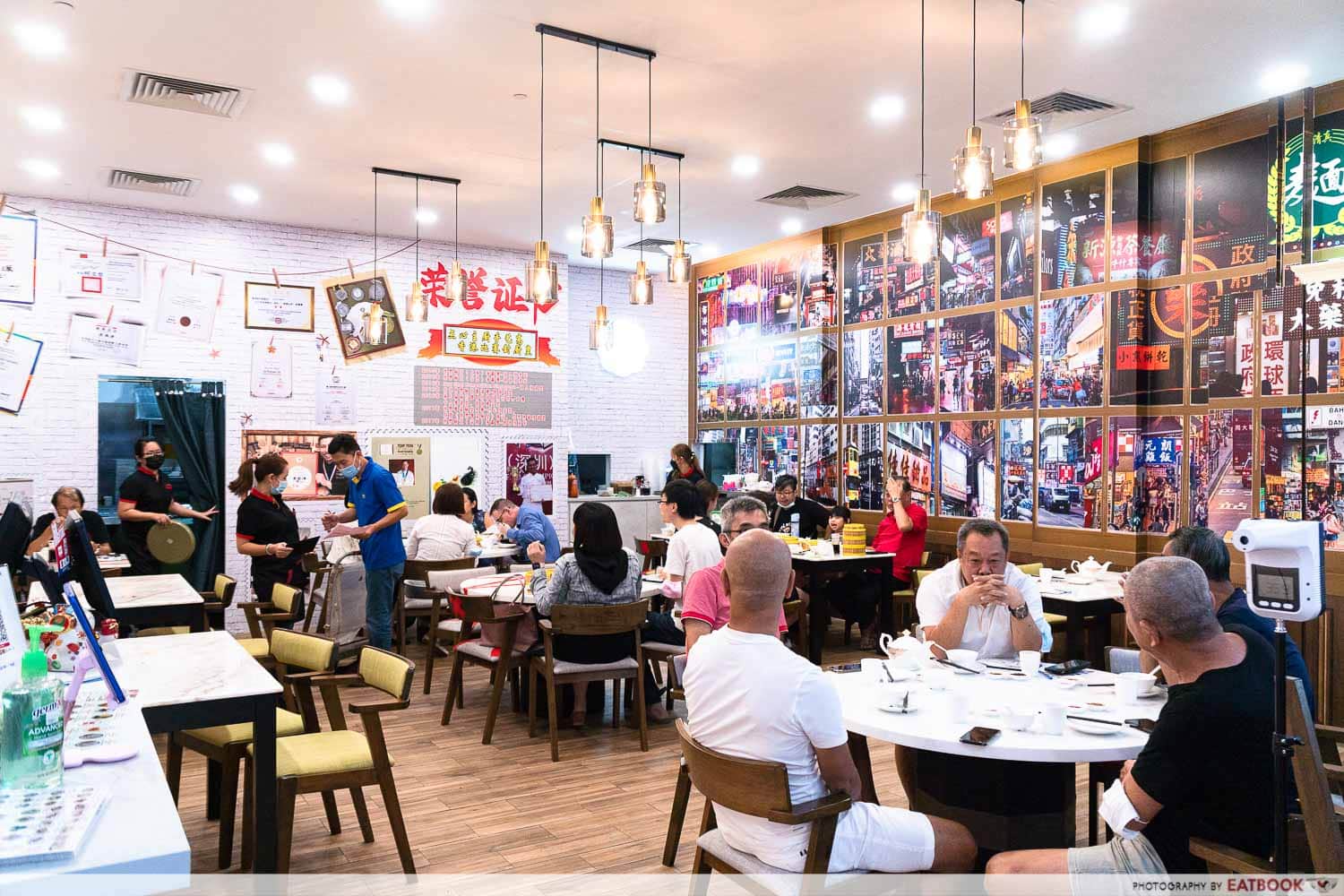 Chao Yue Xuan Dim Sum is situated in Junction 9, a 15-minute walk from Yishun MRT Station. Compared to Northpoint City, Junction 9 is more run-down and less lively. I was slightly lost when I stepped into the mall as the ground level was filled with individual pop-up stalls. Thankfully, Chao Yue Xuan was brightly lit, making it stand out from its surrounding stores. 
I was able to beat the morning crowd by arriving a few minutes after they opened, allowing me to pick my choice of table. Soon, the place was quickly filled up with an unrelenting flow of diners. I would recommend making your way down early to avoid having to queue. 
The verdict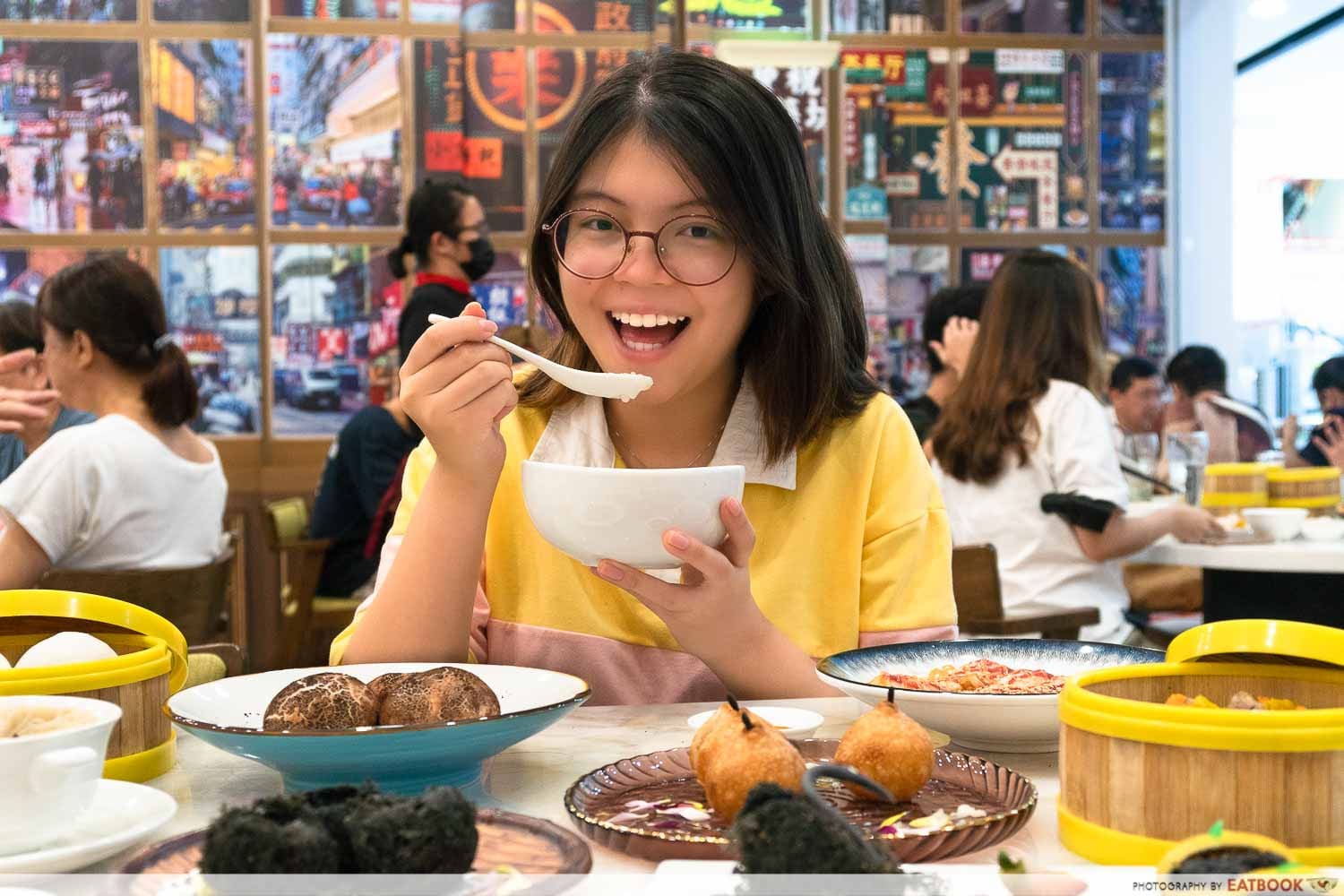 If you are looking for a modern version of dim sum, Chao Yue Xuan Dim Sum is the place to visit. Even though I did find some of the dishes to be slightly pricey for the portion size, you could justify paying a premium for the technicality and creativity behind them. I think it was a bummer that we only got to enjoy the food after the photoshoot, which left most of the items cold and soggy. So if I am ever in the area, or if I'm looking for a classier dim sum spot, I will definitely return and enjoy the meal while it is piping hot!
If you are looking for more dim sum restaurants, check out our list of dim sum places that includes halal and buffets options, or have the dim sum delivered right to your doorstep. 
Address: 18 Yishun Avenue 9, #01-23, Junction 9, Singapore 768897
Opening hours: Tue-Sun 9am to 5pm
Website
Chao Yue Xuan Dim Sum is not a halal-certified eatery. 
23 Dim Sum Places Offering Delivery And Self-Collection During This Stay-Home Period
Photos taken by Lim Yu Hui.
This is an independent review by Eatbook.sg.
Chao Yue Xuan Dim Sum Review: Ex-St Regis Chef Opens Dim Sum Restaurant In Yishun
Chao Yue Xuan Dim Sum Review: Ex-St Regis Chef Opens Dim Sum Restaurant In Yishun -

7/10
Summary
Pros
-creative and classy dim sum dishes 
Cons
-Inconvenient location
-Slightly pricey
Recommended dishes: Snow Pear Dumpling With Dried Shrimp & Minced Chicken ($4.50+), Steamed Yam Ball Stuffed With Coconut Cream & Mushroom Bun ($4.50+)
Opening hours: Tue-Sun 9am to 5pm
Address: 18 Yishun Avenue 9, #01-23, Junction 9, Singapore 768897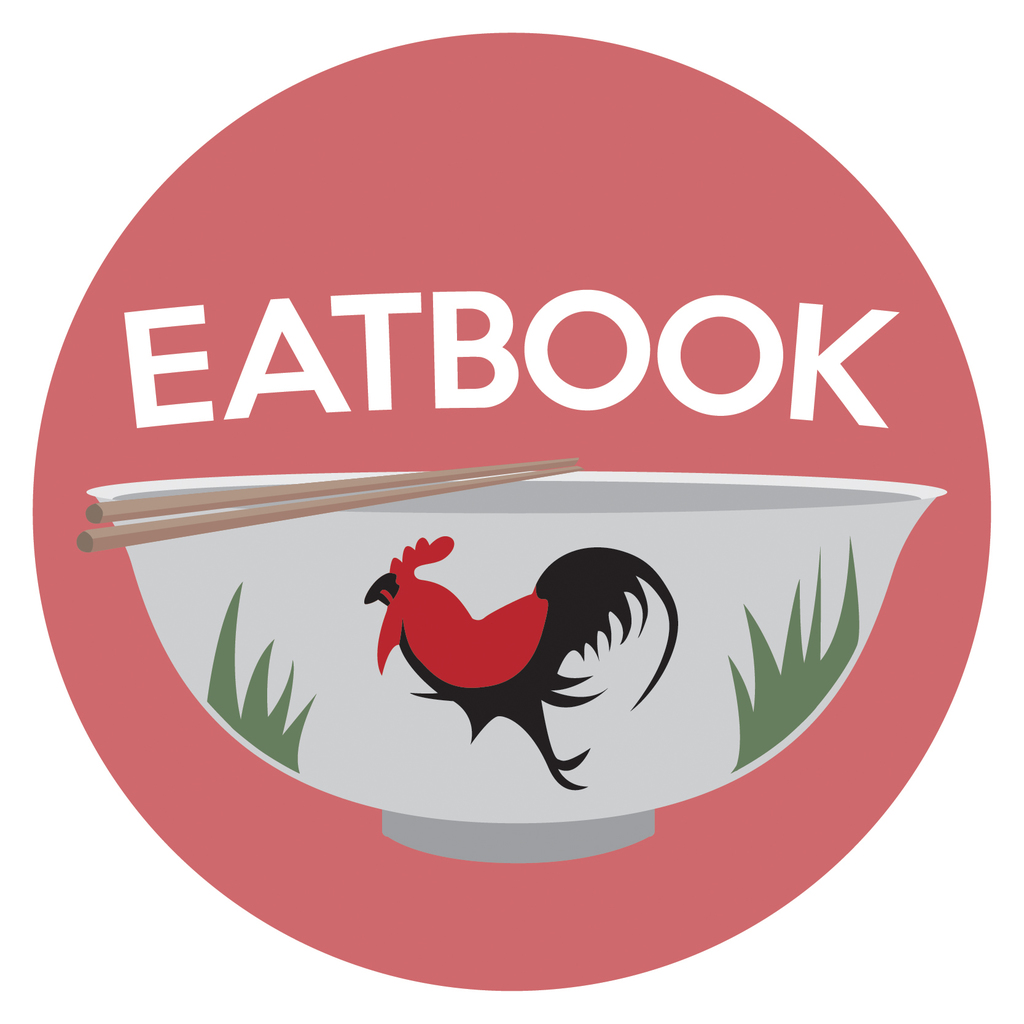 Drop us your email so you won't miss the latest news.