Claypot fried mee sua BKT from Kee Hiong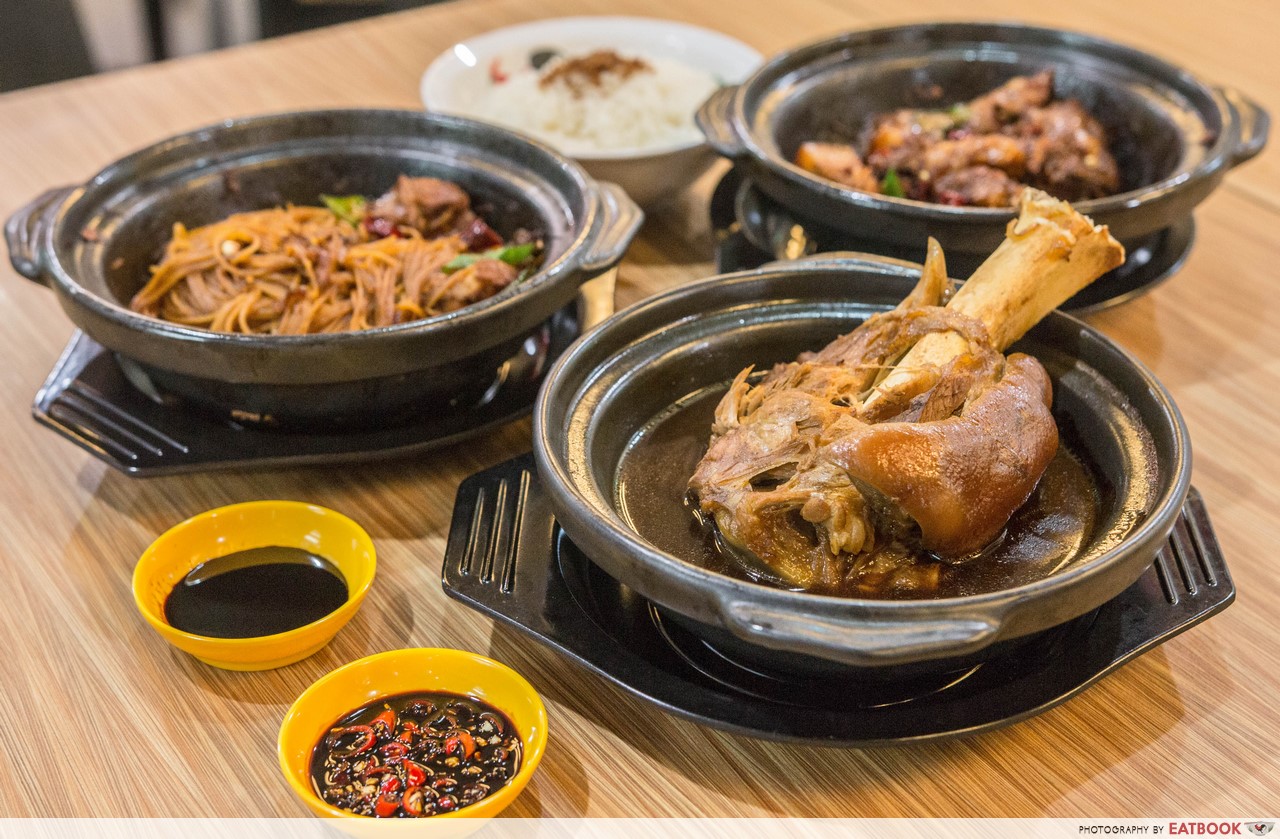 As the city starts to sleep, overnight meetings with my friends tend to delve into politics, religious debates, our uncertain future, and come full circle to reminiscing old times. Often, the talk trails off-topic, sparking off random questions, until 3am gets us hungry for after-beer supper. Last week, someone asked how bak kut teh got its name since it literally translates to "meat bone tea" though the dish itself doesn't involve tea. I've heard several versions of its origin but this story behind the dark herbal style was a first:
Klang, Malaysia, is renowned for being the place for herbal bak kut teh – or BKT in short – after Lee Boon Teh first brought it in from Fujian in the 1940s. Word has it that the dish was then known as bak kut (pork bone) but it's been called bak kut teh over time after his name. Established stalls in Klang are more often than not run by a Lee and Kee Hiong Klang Bak Kut Teh, run by a third-generation Lee, has several outlets in Malaysia. A month ago, they opened their second Singapore outlet in Alexandra Garden Cafe, and the outlet includes an exclusive special menu of BKT noodles.
Food at Kee Hiong Klang Herbal Bak Kut Teh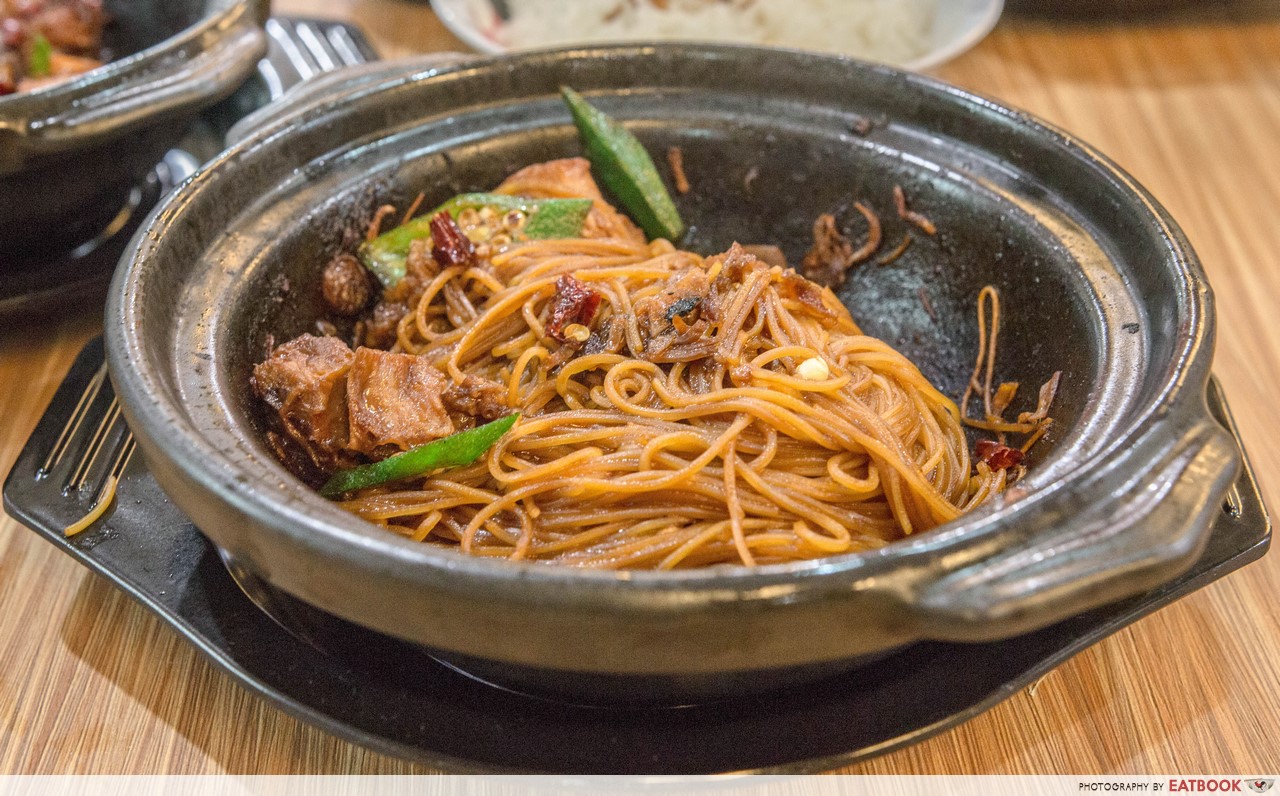 Their new BKT noodles with mee sua or mee pok are served dry or with soup, and Fried Mee Sua Bak Kut Teh ($3.80 for staff, $4.80 for public) sounded terrific. A bundle of mee sua fried with sticky brown sauce, dried chilli, okra, and pork, was served in a hot clay pot with a side of herbal soup.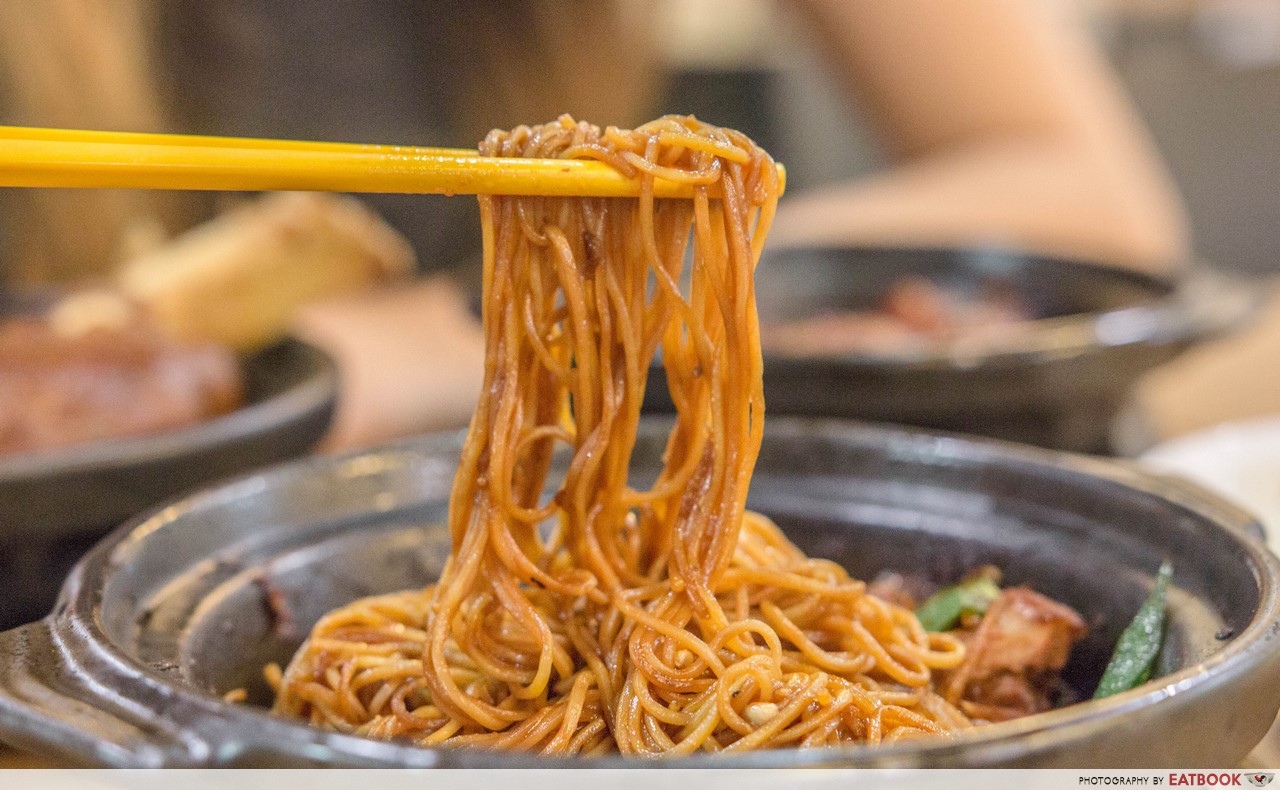 I picked up a spoonful of noodles in one smooth pull and bit into a texture that reminded me of thin soba. They were cooked till soft without falling apart, and the strands weren't gooey though they absorbed the sauce.
The small chunks of pork that were tossed in added umami depth to my mouthfuls. The side of soup that came with was sweet with slight herbal flavour, though it was not thick or intense.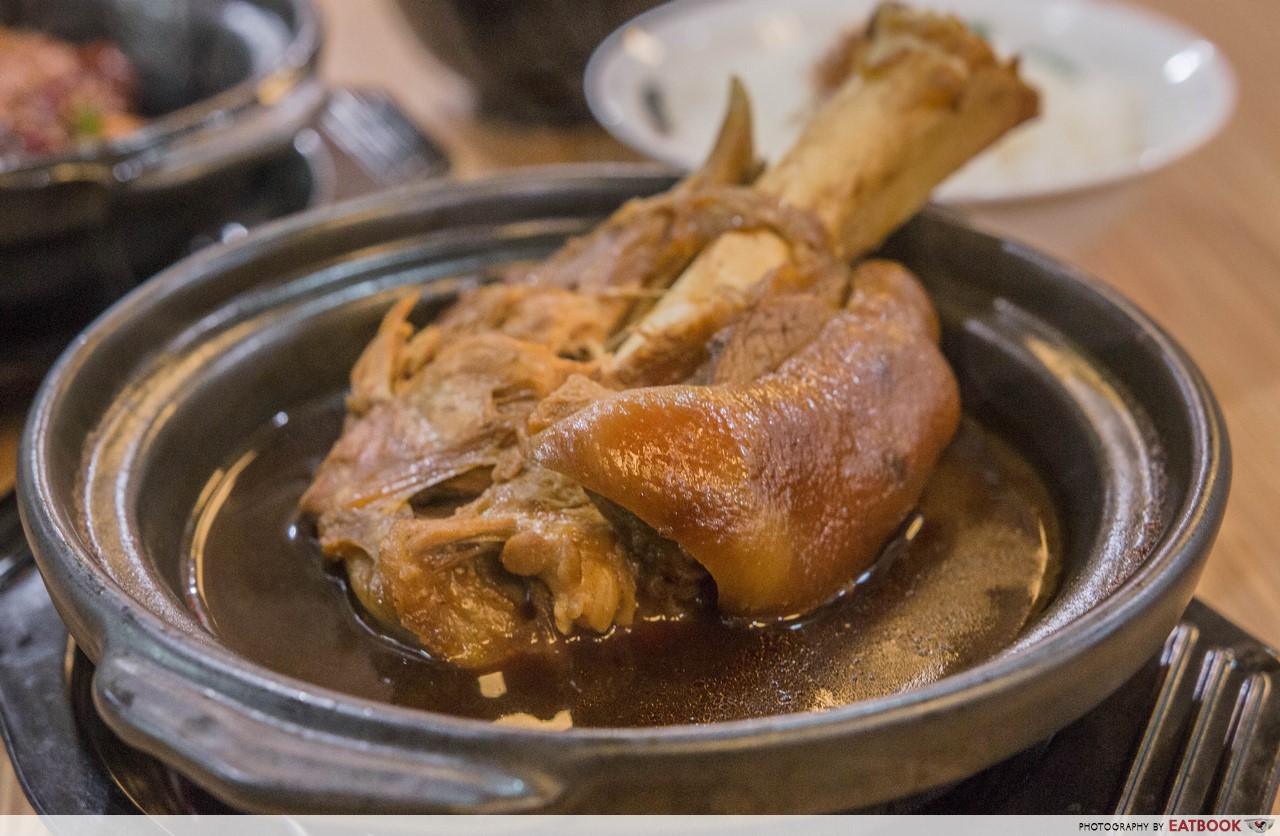 I called in to reserve a Tua Kut (Big Bone) Soup ($9.50) because there are only about eight portions available per day, since BKT meat isn't sold in parts and each pig only has a pair. The chef pulled out a huge bone from the central broth to put into a clay pot with ladles of soup. He heated it over a strong fire, letting it bubble fiercely.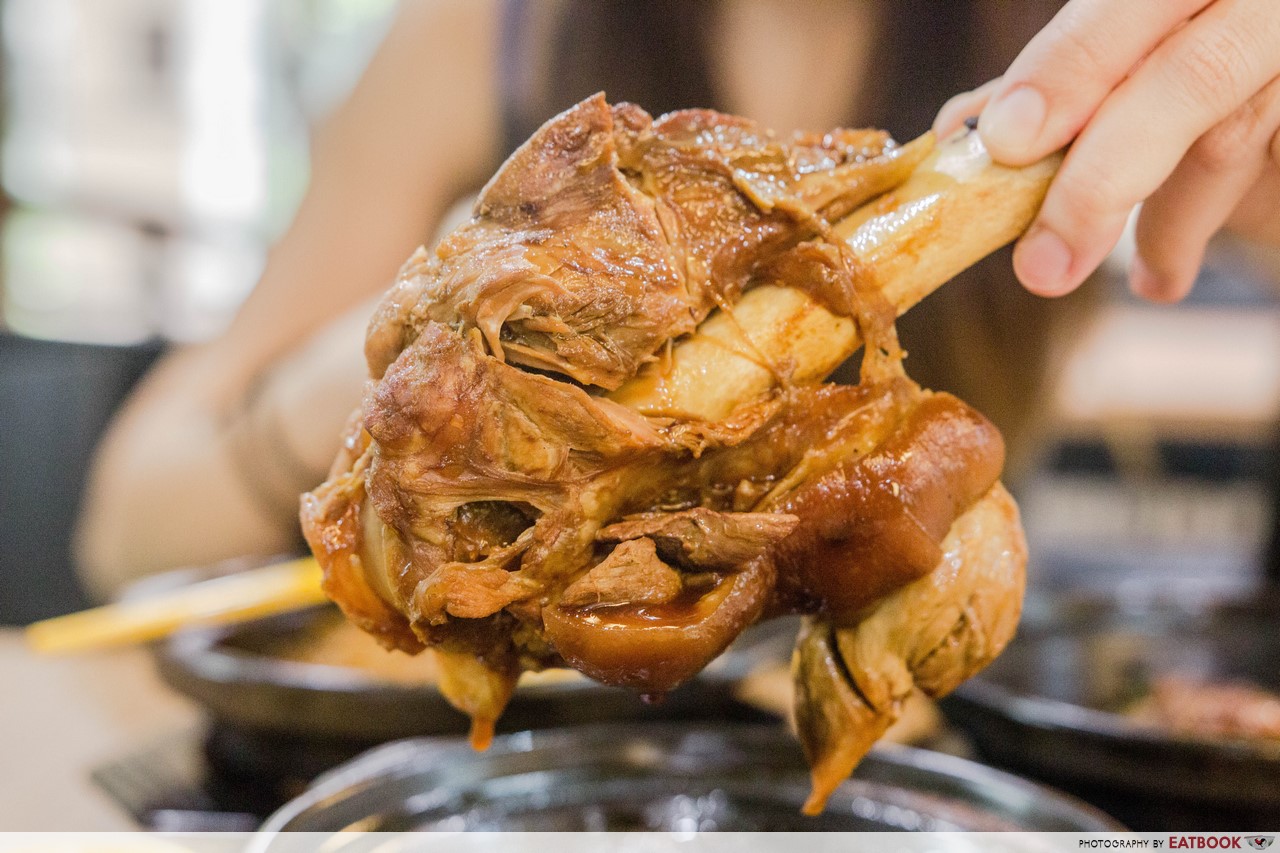 What arrived was a weighty piece of meat that the clay pot couldn't fully contain. Half of it was gloriously thick fats and the other half was pork chunks that looked ready to fall off the bone. For added sensory satisfaction, forgo your fork to tear into it with your teeth and hands.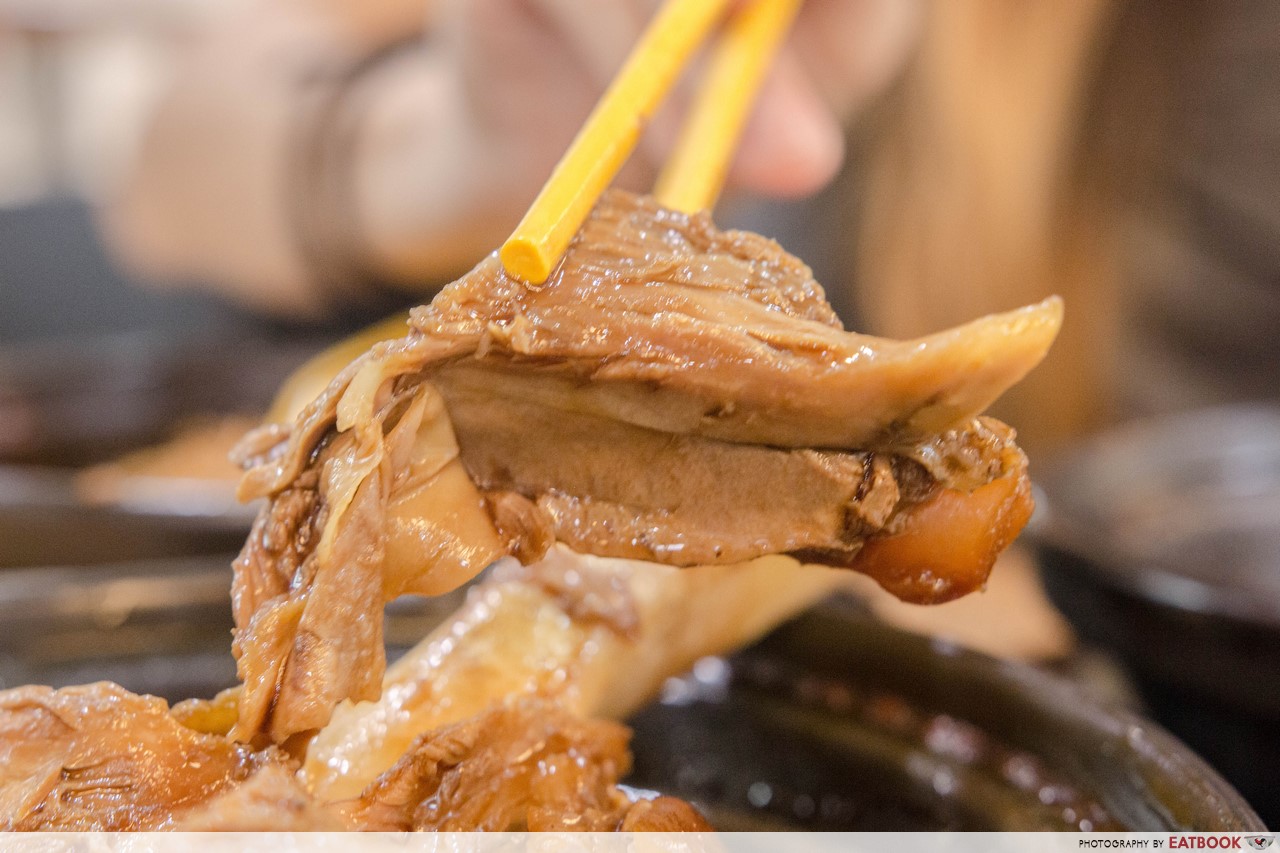 The fresh meat was tender though lean and meaty, and a dab of their chilli padi with black sauce intensified it with spiciness. I'll always confidently declare my preference for fats over meat, so eagerly, I sank my teeth into the thick and heavy chunk. They were soft enough to tug off with some chewiness to make an impression.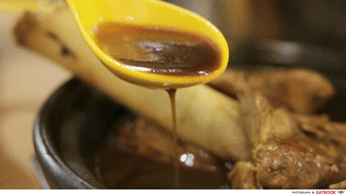 The clay pot retained the heat of the soup, which came from the same pot as the side to our fried mee sua. The broth boasts over 16 traditional Chinese herbs but had less herbal flavour than I expected. It wasn't sticky thick but it was definitely addictively umami after being fired with the tua kut.
There are 15 sides on the menu and we added on a bowl of Dough Fritters ($1.60) which were freshly fried and cut. With satisfying crisp on the outside and a soft, airy centre, they were the way I wished every you tiao could be. Drenching them in tua kut soup soaked them in moreish deliciousness, and I had to get myself another order.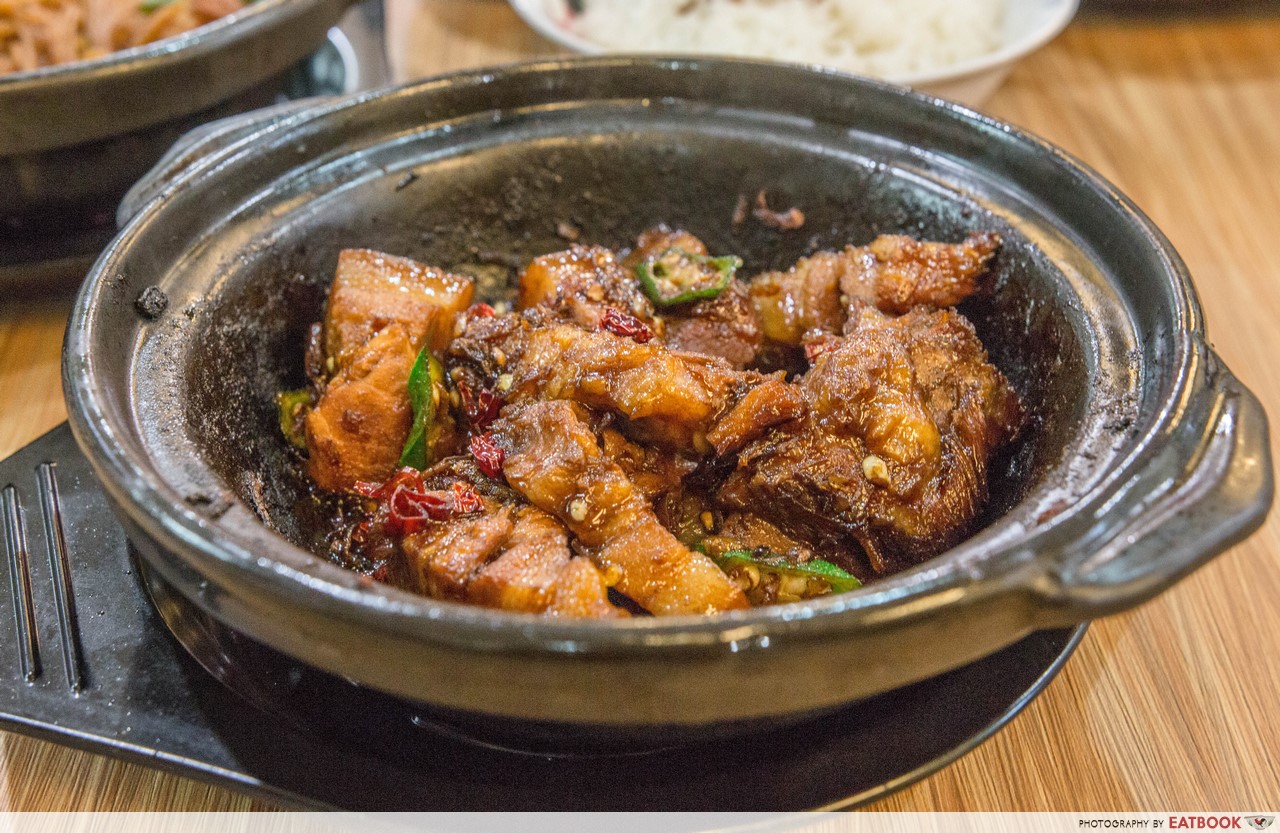 Dry Bak Kut Teh ($8.80) was a slab of fatty pork belly taken from the central broth and chopped into chunks. Put into a clay pot with dried chilli, cuttlefish, okra, and sauces, it was fired up till it got extra fragrant with a glazed finish.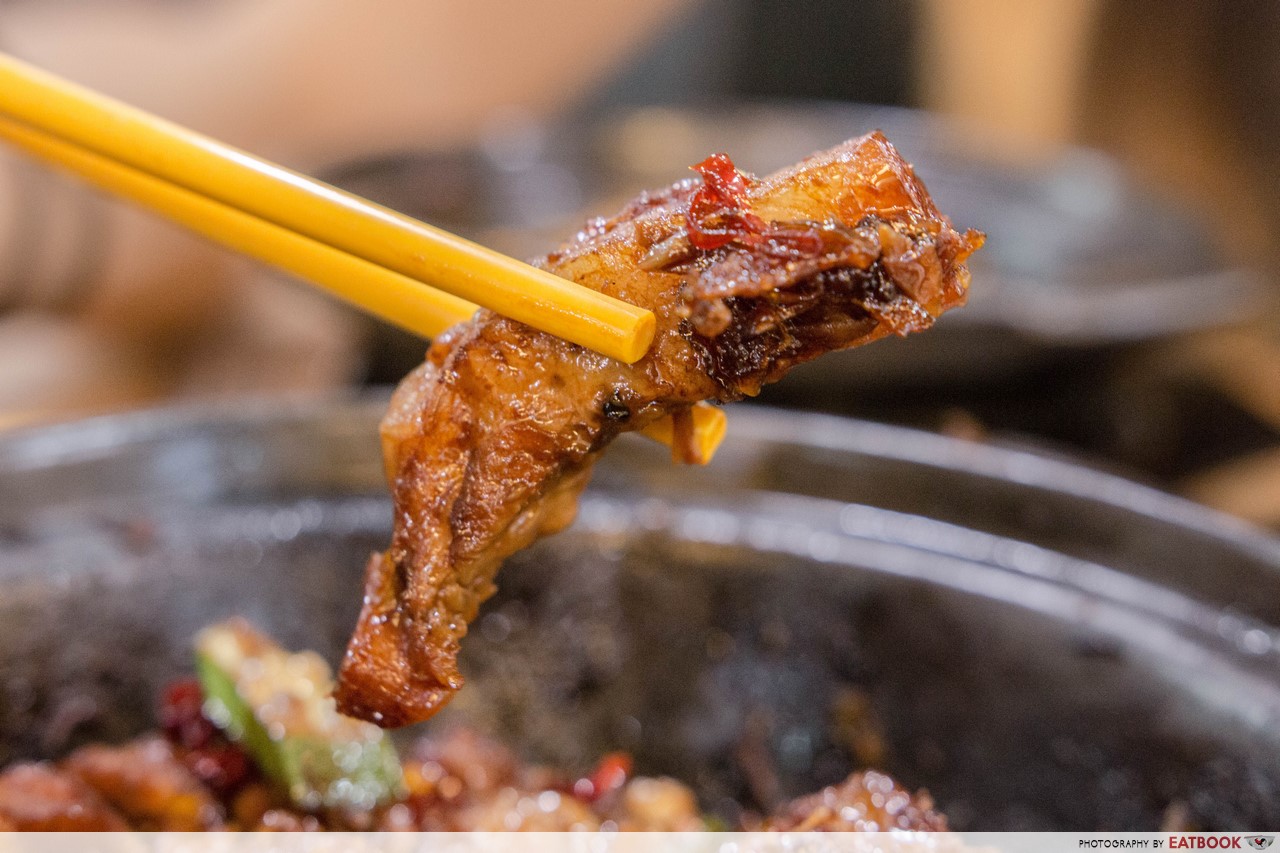 The sauce was a mix of reduced BKT soup and Chinese white wine imported from Malaysia, tasting similar to the fried mee sua bak kut teh but richer and more intense with an added caramelised flavour. It had a complex flavour from the cuttlefish and the fattier cut of meat.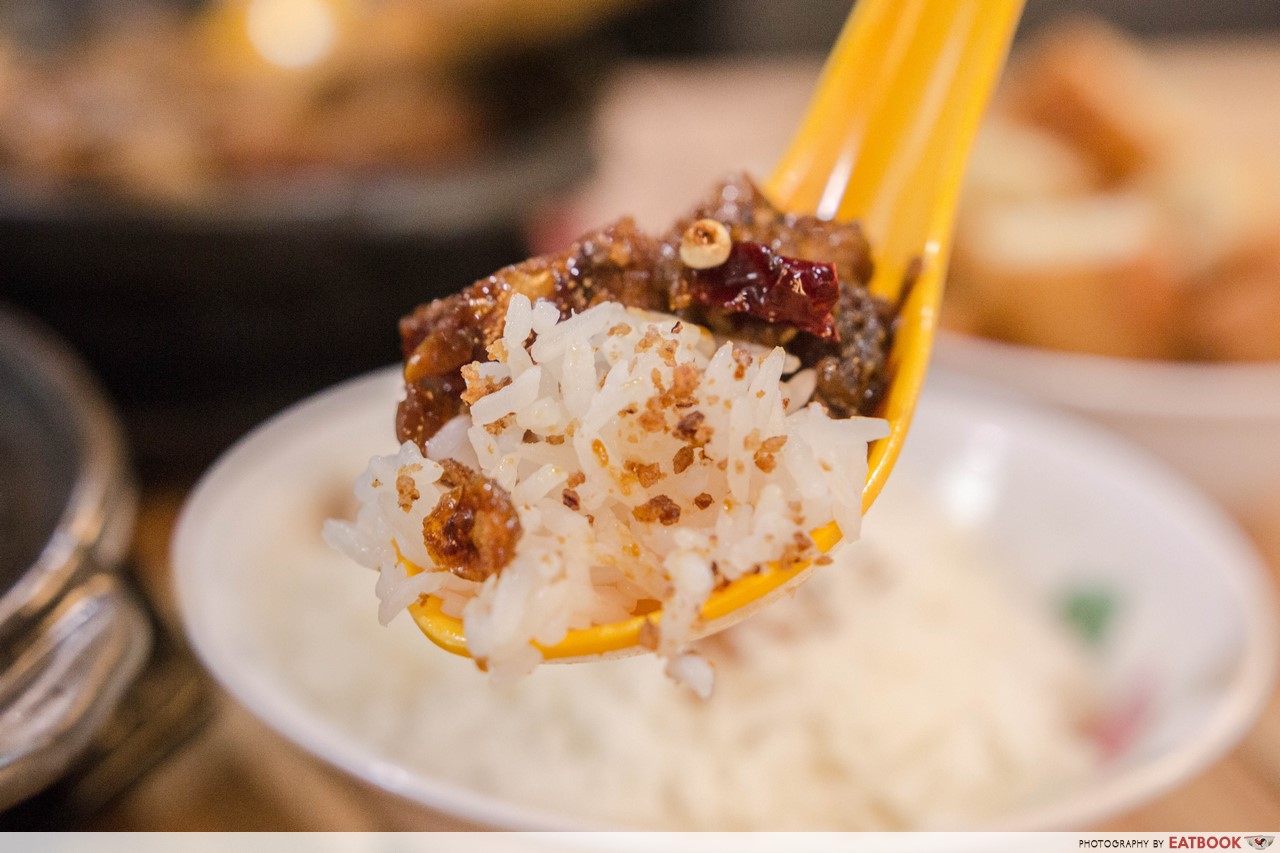 Pair it with Fragrant Garlic Rice ($0.80) which is white rice with a centre garnished with bits of browned garlic. Though it wasn't super strong, the bowl was distinctly infused with garlic flavour which complemented the intensity of the Dry Bak Kut Teh and blunted its spicy heat.
Ambience at Kee Hiong Klang Herbal Bak Kut Teh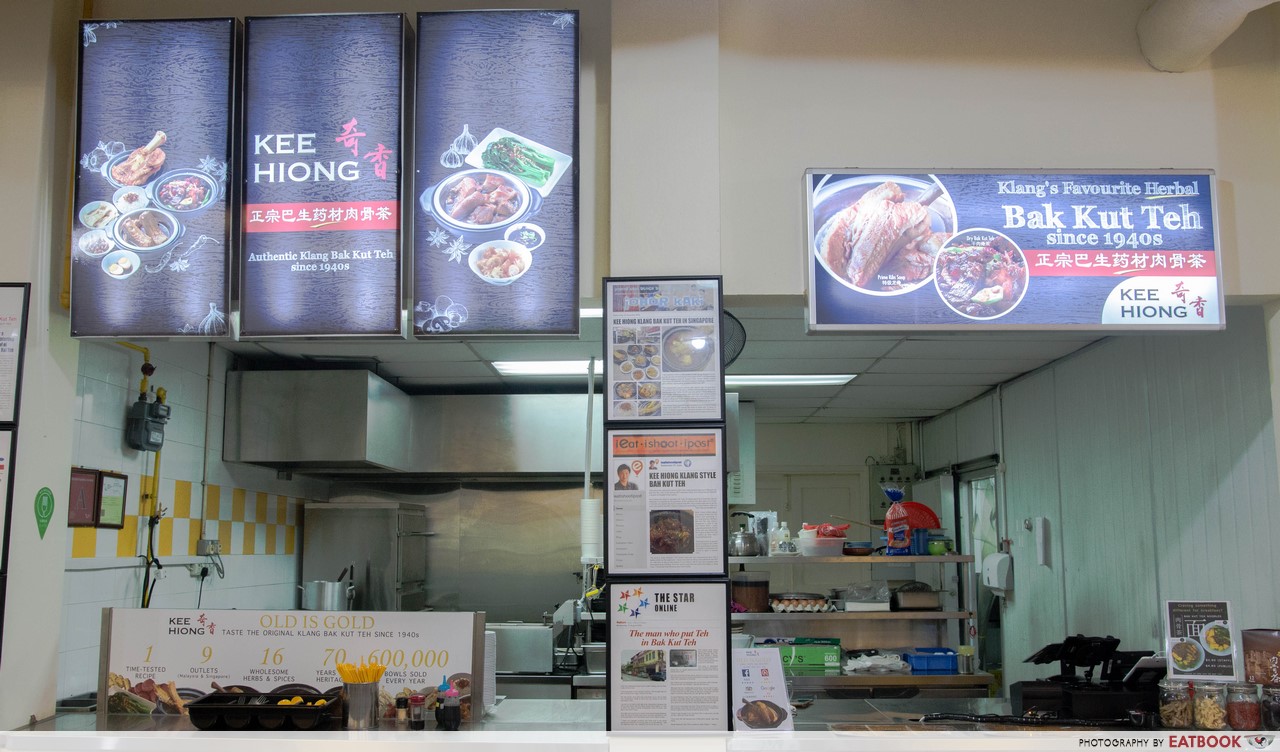 It wasn't hard to locate Kee Hiong in Alexandra Hospital with clear sign boards directing us once we entered from the bus stop. The garden cafe was like a small food court with air-conditioning that was strong enough to quickly cool us off from the heat.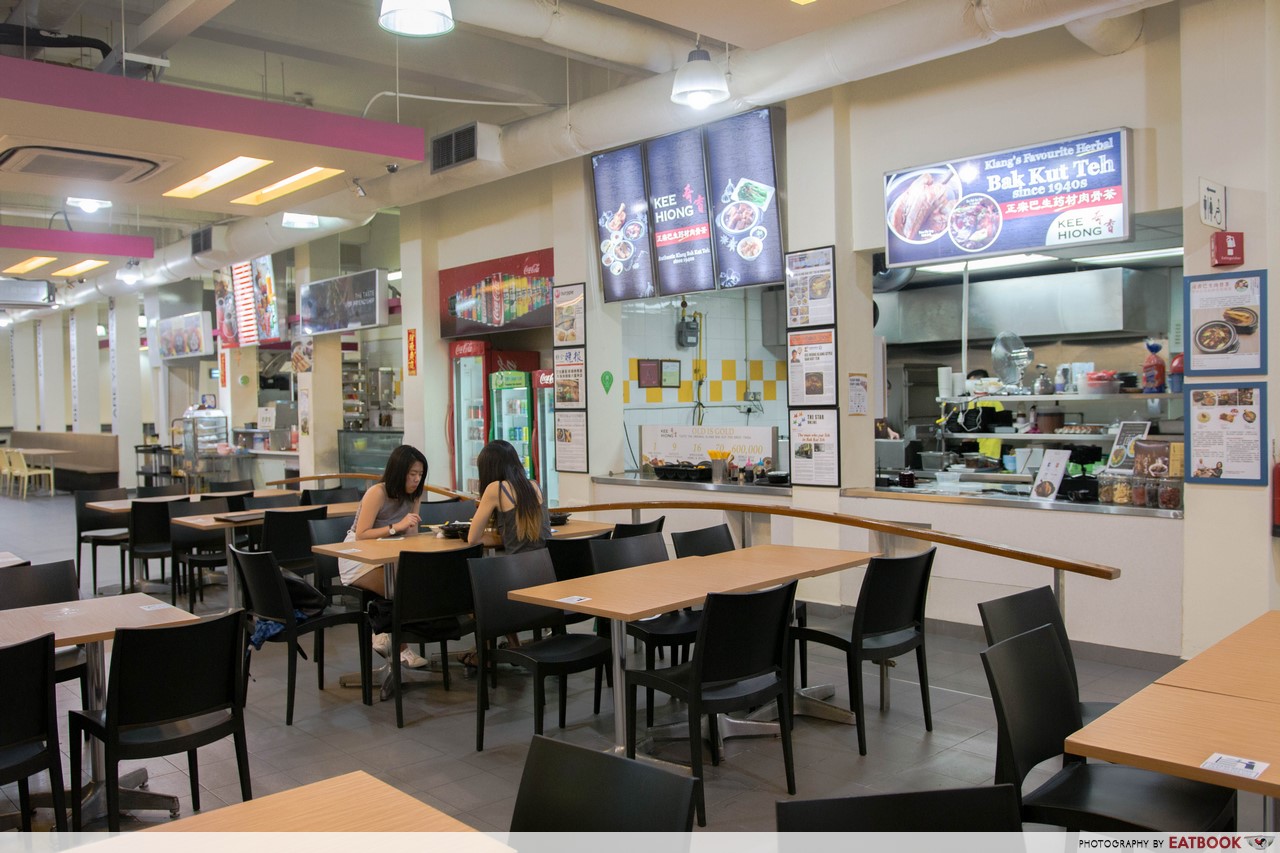 We made sure to go down in the late afternoon after the crowd had gone because the queues can get long during lunch. The owners got the idea to open an outlet here as a side job because they wanted a good eating spot close to the offices they worked in nearby. They had to drive out for meals due to the lack of food in the area and the convenient parking here was a draw. Do note that their outlet in Chinatown opens later, from 11am to 8:30pm daily.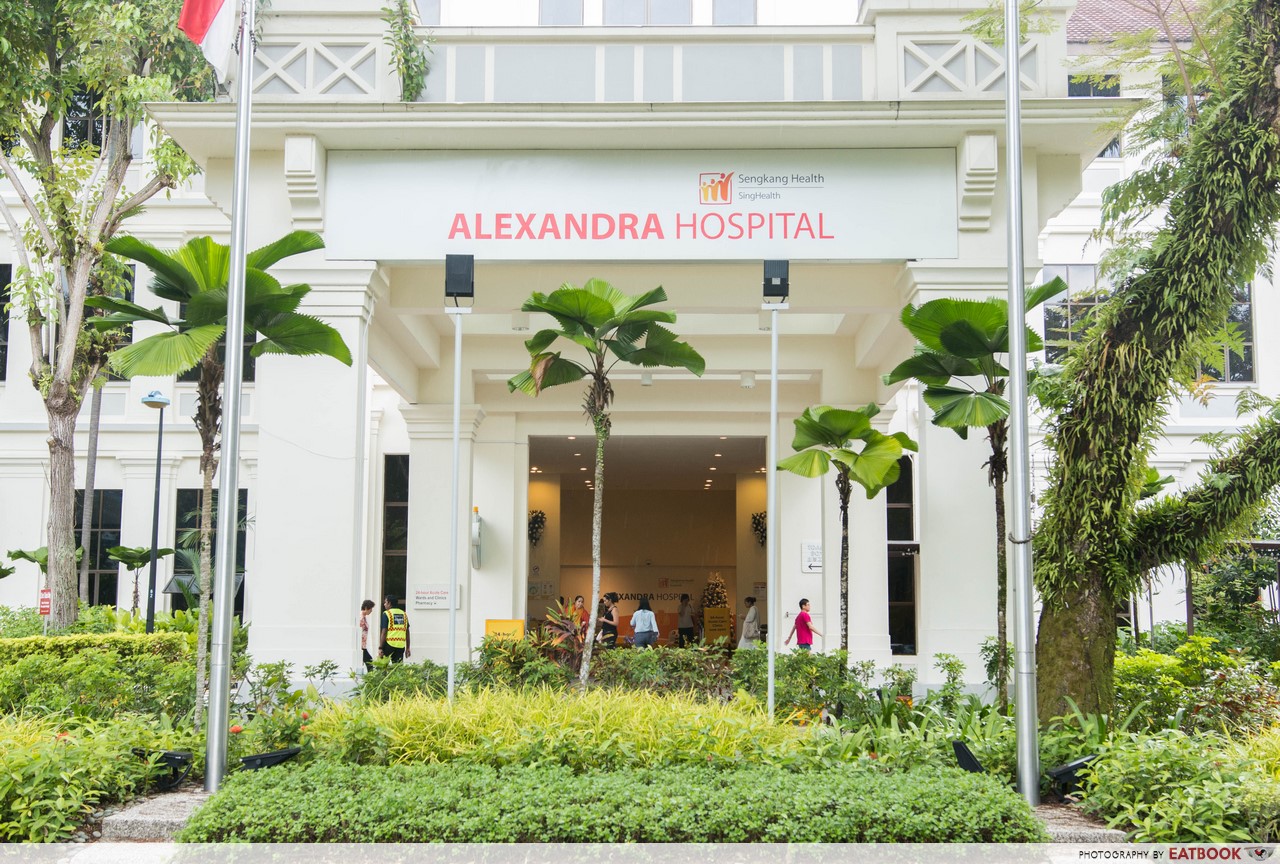 We had to take a short bus ride from Commonwealth MRT Station but once we stepped into the hospital grounds, I was quite enthralled by the greenery. It scarcely resembled the cold clinical image I had of hospitals even as I walked in, down the steps that connected the bus stop to it. There was a koi pond with a fountain, a playground for kids, and even a butterfly garden.
The verdict

It's really not easy to find decent bak kut teh and it's gotten so much harder over the years I don't even really bother trying to hunt down gems. They're so rare I decided that home-cooked ones would do and since my mum finds it troublesome, I kinda just gave up on it. Kee Hiong, though, most definitely saves me from surrender. For more tasty Malaysian-style dishes, check out this list of Malaysian-style dishes you can get in Singapore! If bak kut teh is your thing, Hong Ji at Thomson is worth a try as well.
Address: Blk 29, 378 Alexandra Road, Alexandra Garden Cafe, Singapore 159964
Opening hours: Daily 7:30am to 8:30pm
Tel: 9628 8719
Website
This is an independent review by Eatbook.sg
Summary
Pros
– Friendly service
– Air-conditioned
– Convenient parking
– Well-flavoured dishes
Cons
– Inconvenient by public transport
Recommended Dishes: Fried Mee Sua Bak Kut Teh ($3.80 for staff/$4.80 for public), Tua Kut (Big Bone) Soup ($9.50), Dry Bak Kut Teh ($8.80), Fragrant Garlic Rice ($0.80)
Operating Hours:
Daily 7:30am to 8:30pm
Address: Blk 29, 378 Alexandra Road, Alexandra Garden Cafe, Singapore 159964