Affordable Korean BBQ buffet at Seoulid Korean BBQ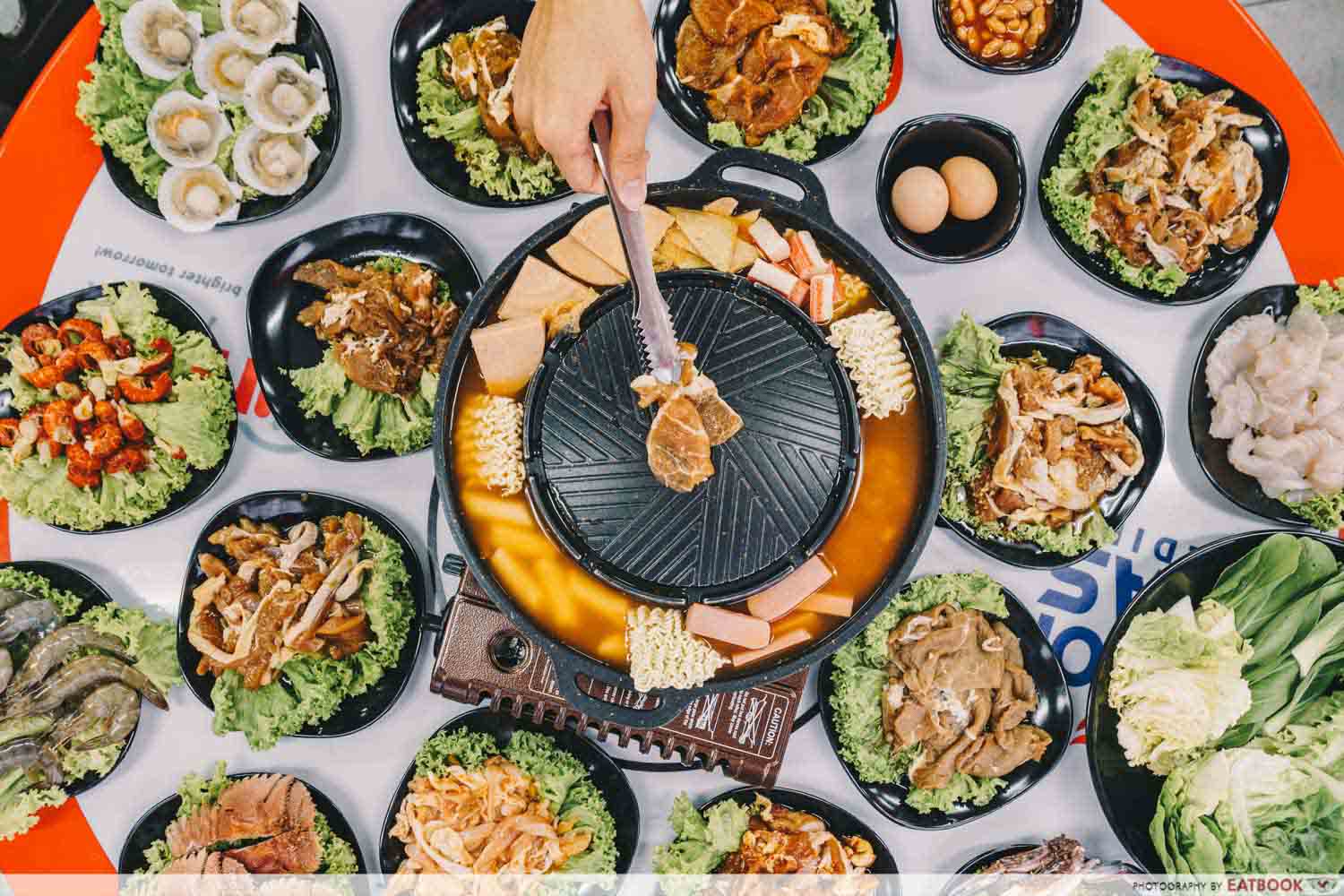 When I read about what Seoulid Korean BBQ had to offer, and looked across their expansive menu, I thought it was too good to be true. Seafood, army stew, a full spread of meat, all below $20 and in a coffee shop? There had to be some kind of catch or deal-breaker waiting to spring out. 
There wasn't.
Alfie, one of the stakeholders and owners of Seoulid, greeted us with a friendly smile when we arrived. Plenty of hawkers have interesting stories to tell, and many were in unique industries before moving on to food and beverage, but Alfie's last workplace caught my attention the most.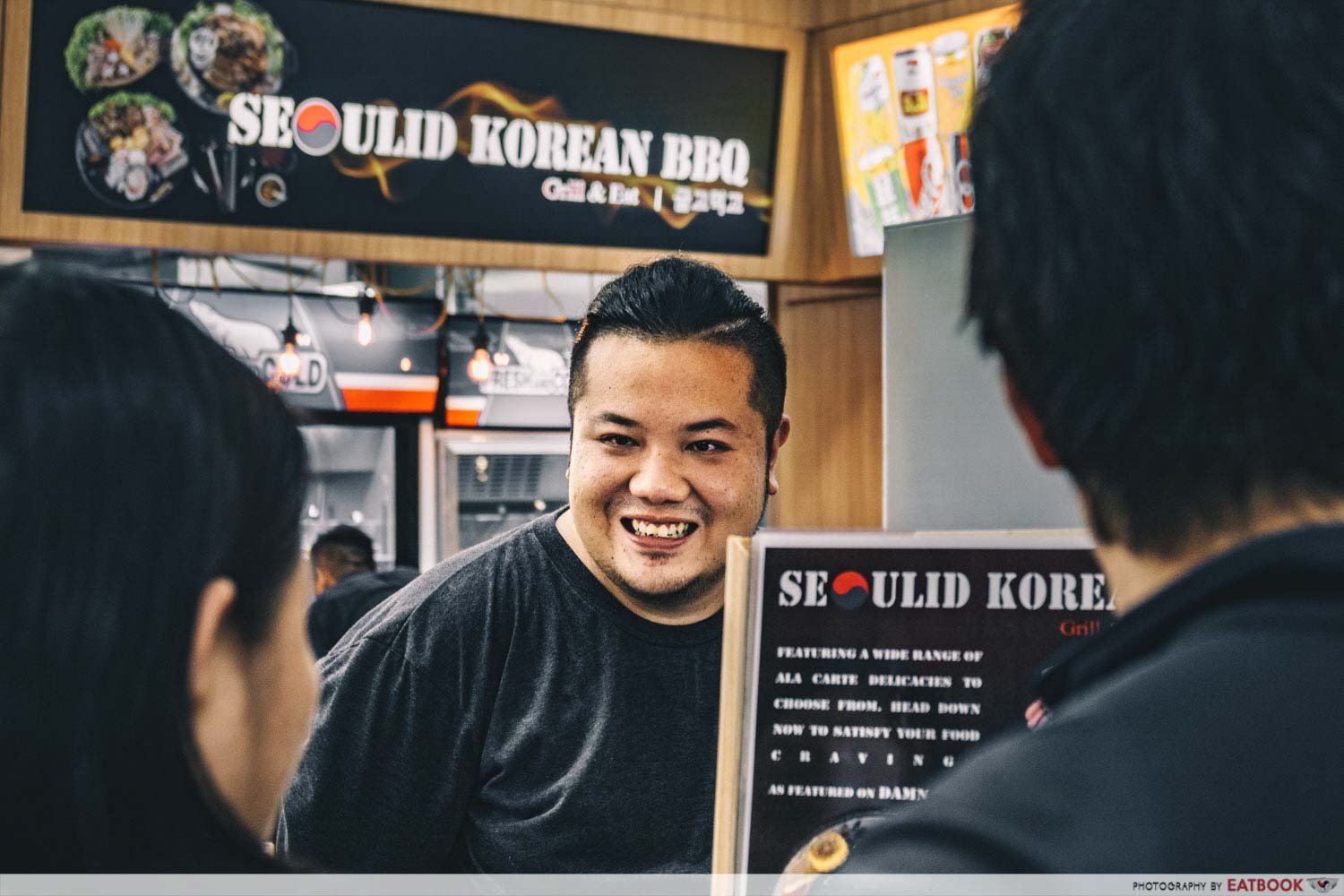 Before he started up the two-month-old stall, Alfie was one of the founders of Rabbit HQ. While wrangling bunnies and cooking Korean barbecue couldn't be further apart, both were passion projects that were born from a genuine interest in the field. 
Seoulid, Alfie's most recent endeavour, was made to provide affordable Korean BBQ to residents of the West. The stall is open till late at night, and Alfie intends on it being a go-to supper option for hungry groups of friends.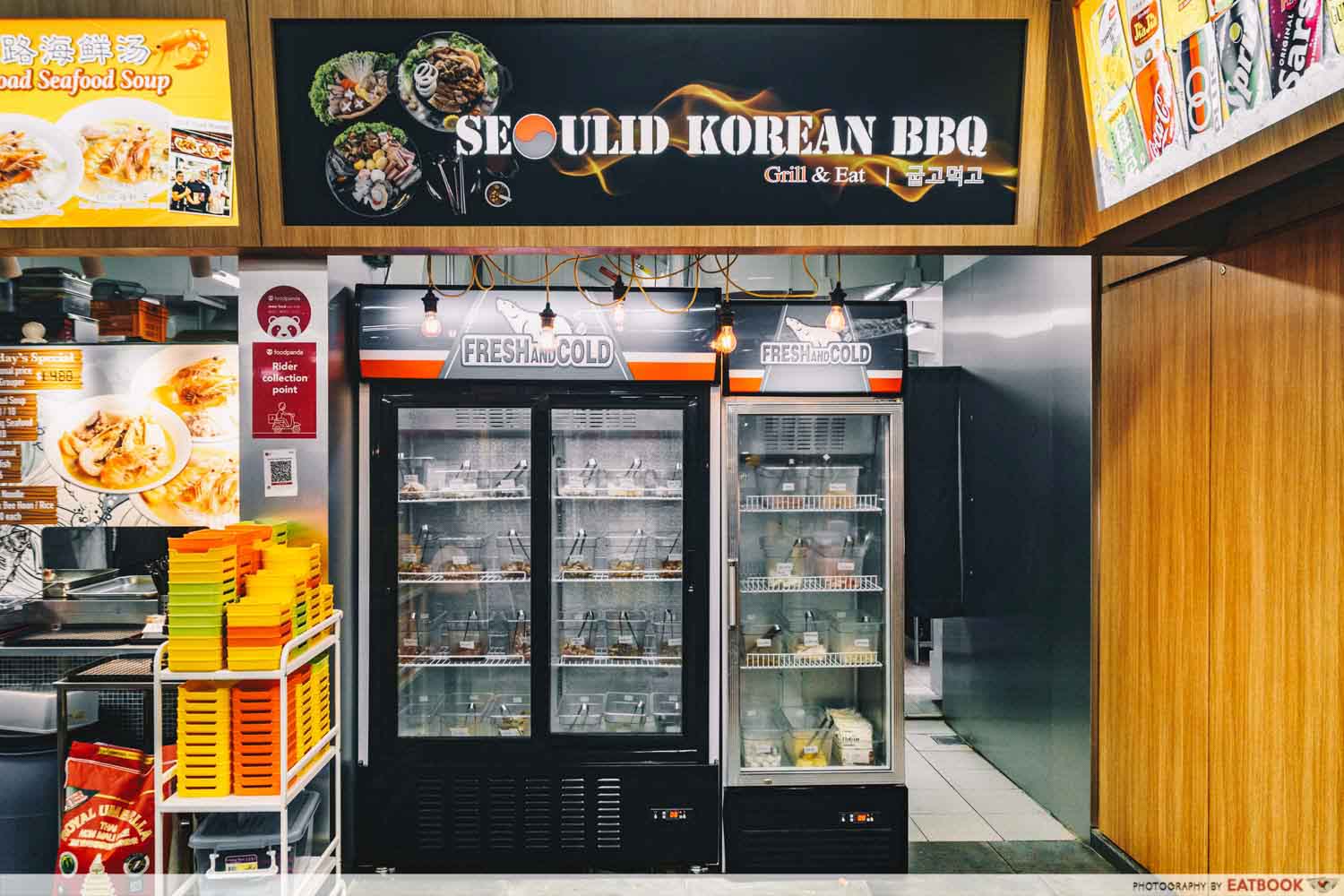 The storefront is unassuming, with the payment counter being in a completely separate spot. However, a lot of work goes on behind the scenes, and the staff are always busy preparing the food in the kitchen and refilling the trays of meat in the chiller. 
The smaller fridge on the right contains everything included in the army stew buffet, while the seafood and meat are to the left. There's also a sauce station and a fridge for vegetables a few steps away.
Food at Seoulid Korean BBQ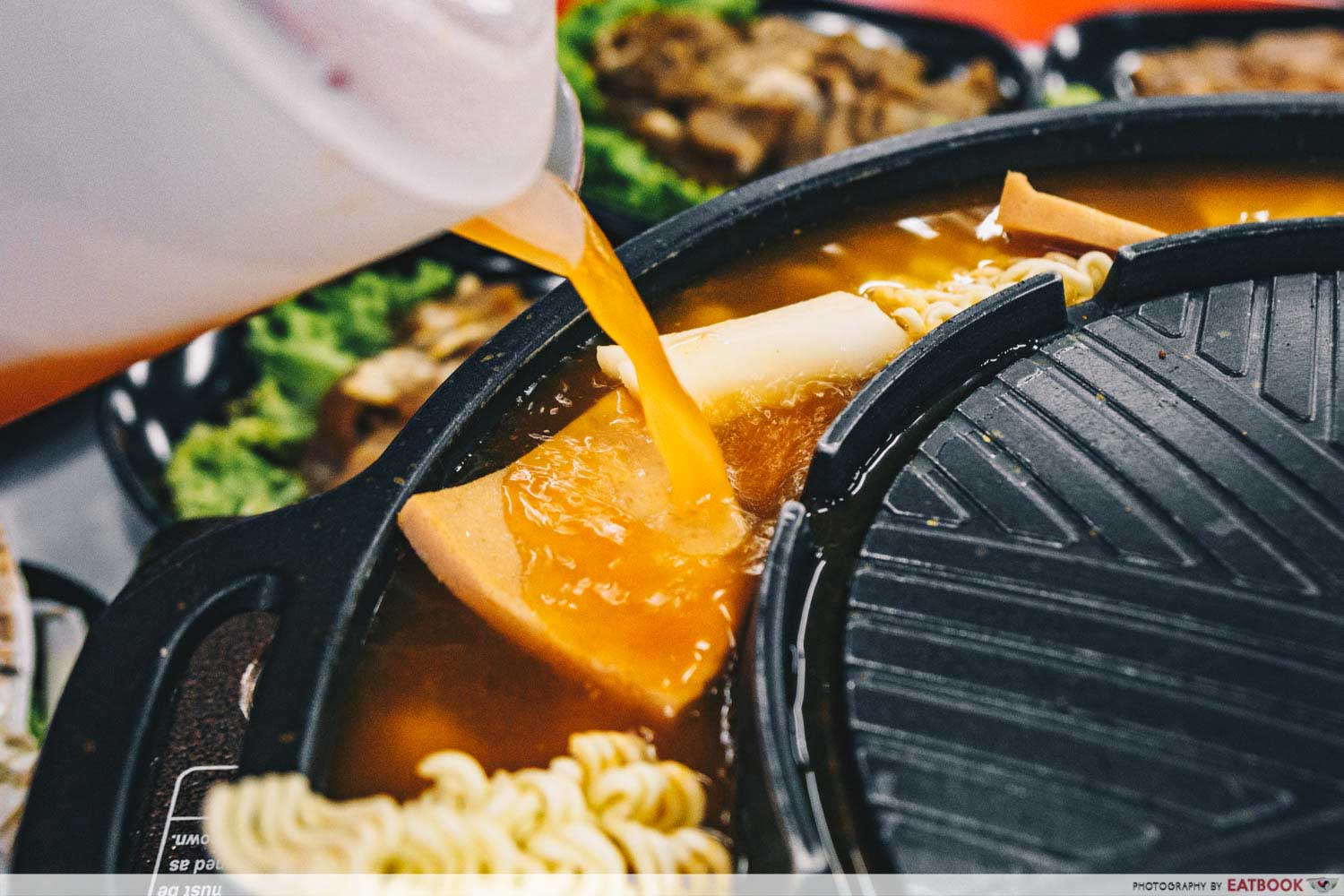 We ordered the Army Stew Buffet ($11.80), and it came free-flowing with army stew essentials: luncheon meat, slices of Korean fishcake, tteokbokki, baked beans, chicken sausage, crabsticks, ramen, and a jug of soup with a scoop of army stew paste within. The buffet comes with a 90-minute time limit, which was more than enough time for us to eat our fill.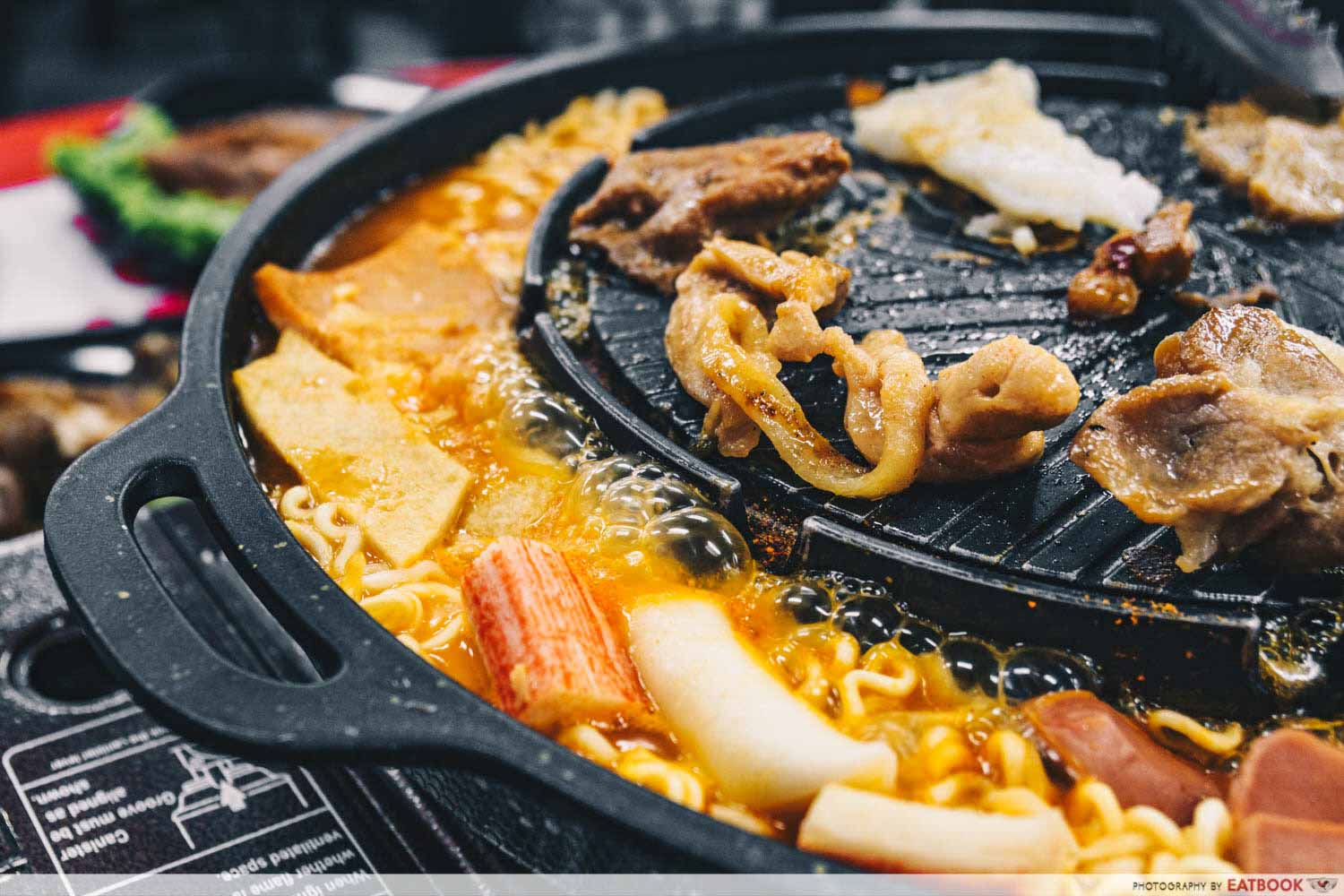 The soup was spicy and rich, with the piquant notes of kimchi present. Each refill came with more of the paste, so it didn't become watered down even as we poured more soup in. The moat of orange soup was constantly boiling, letting its flavours seep into the various ingredients.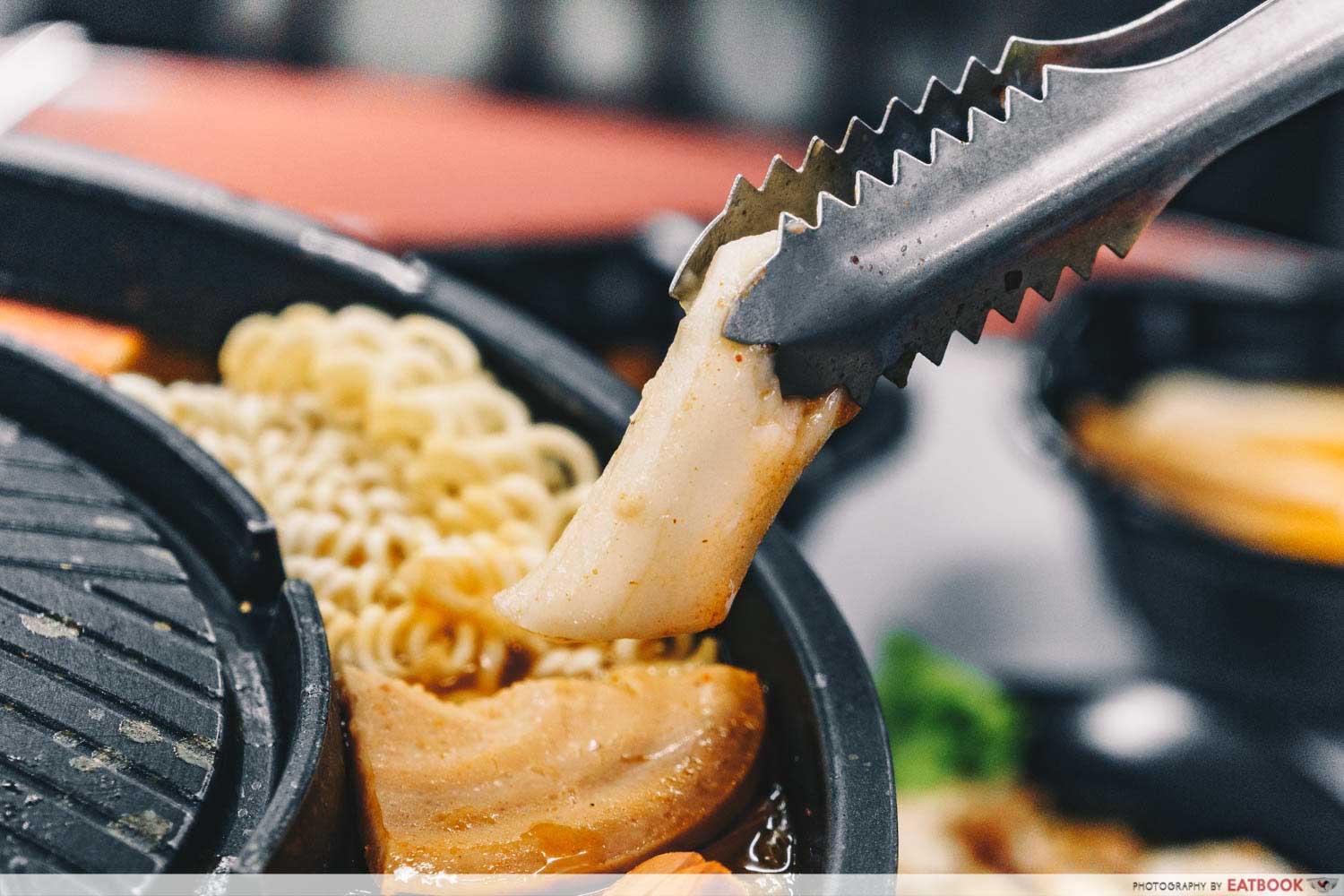 The tteokbokki was soft and had a QQ mouthfeel after being boiled in the soup. It had a mild but starchy taste that contrasted against the strong-tasting army stew.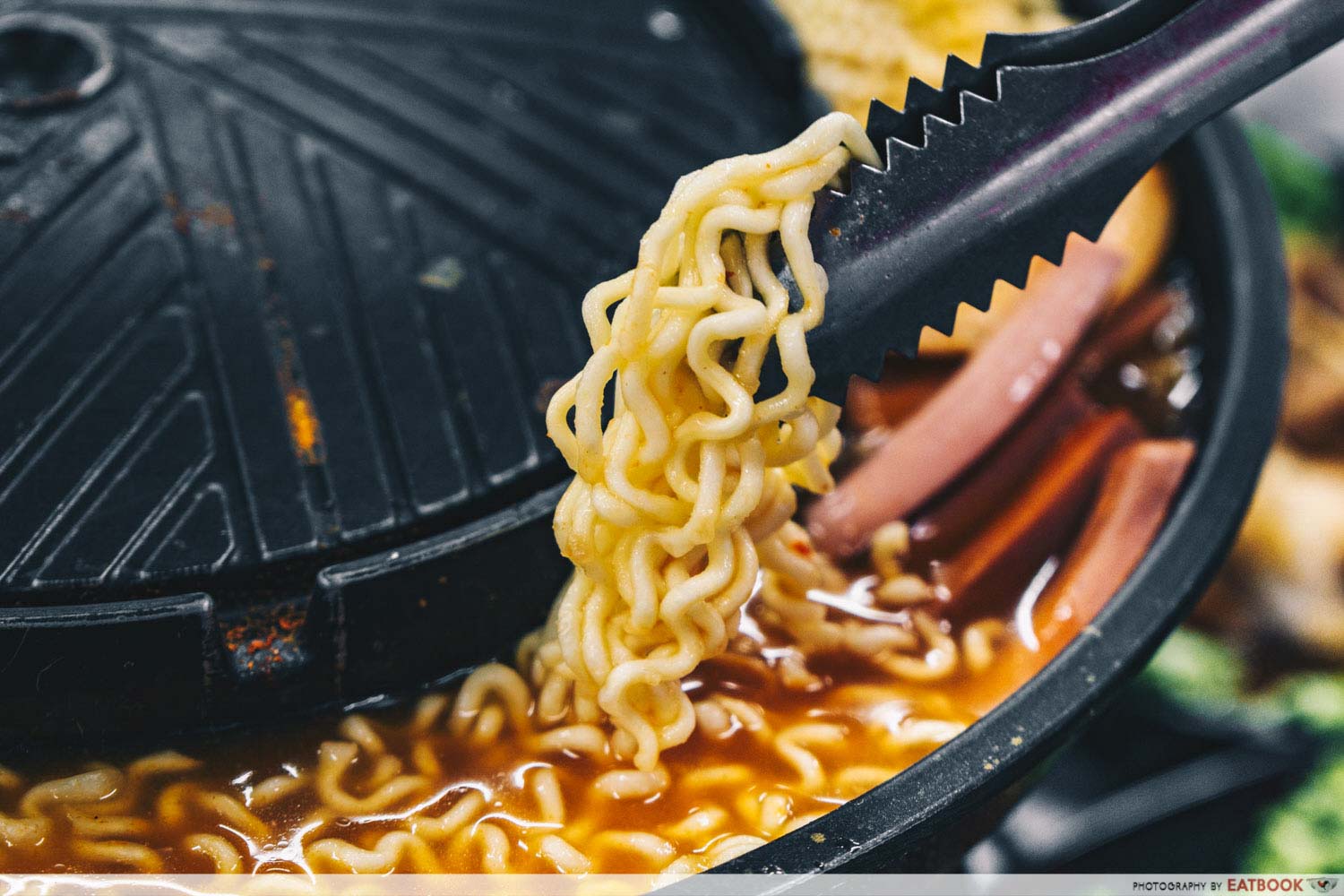 The noodles were springy and soaked up the flavour of the surrounding broth. I preferred mine a little undercooked, and loved slurping them up with mouthfuls of flavourful soup.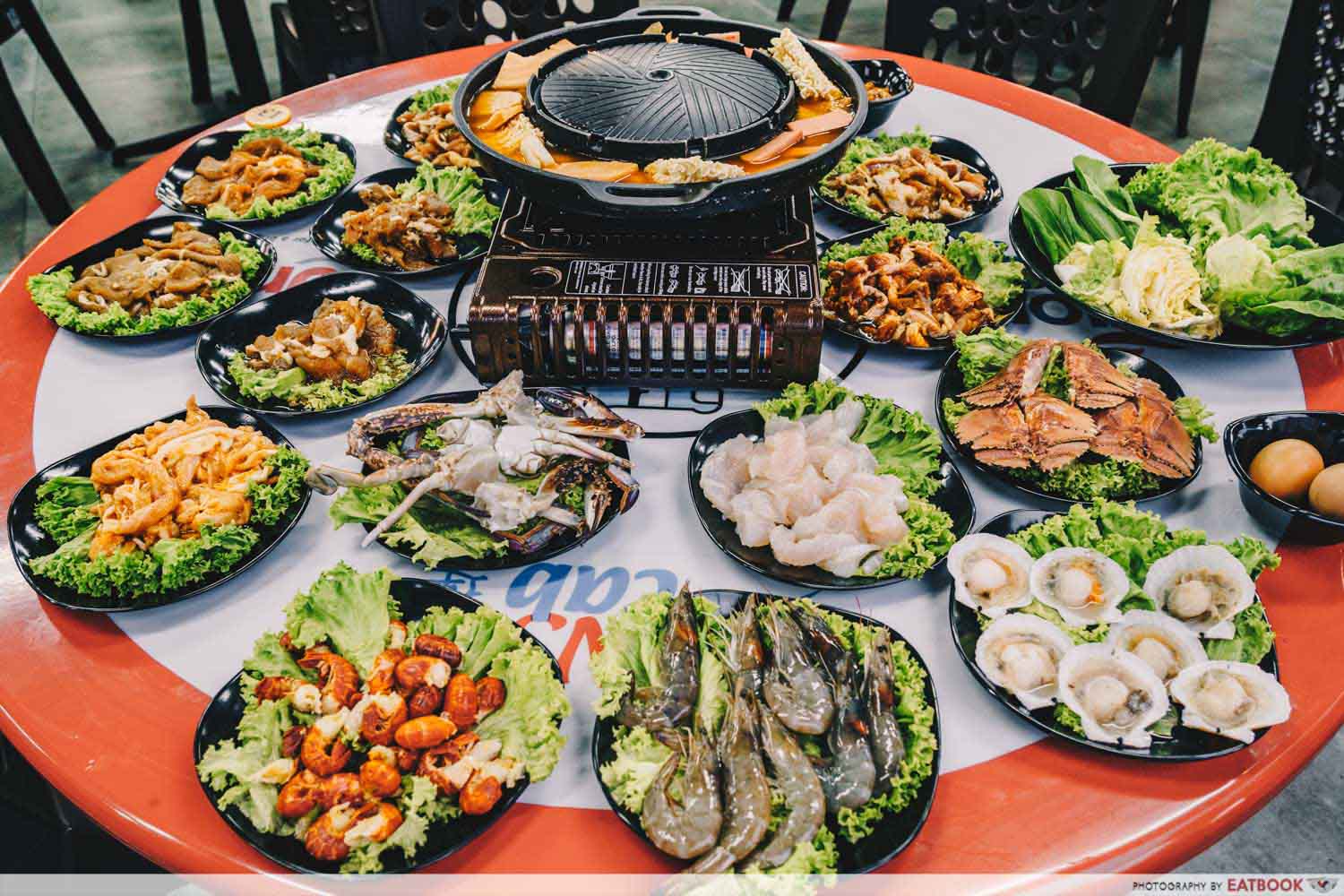 While the army stew buffet already had an incredibly good value at $11.80, we were drawn in by the Premium Upgrade ($7). My skepticism was washed away once Alfie brought out plate after plate of marinated meat. One after another, platters of chicken, pork, beef and seafood were set down in front of us, and soon occupied the entire table.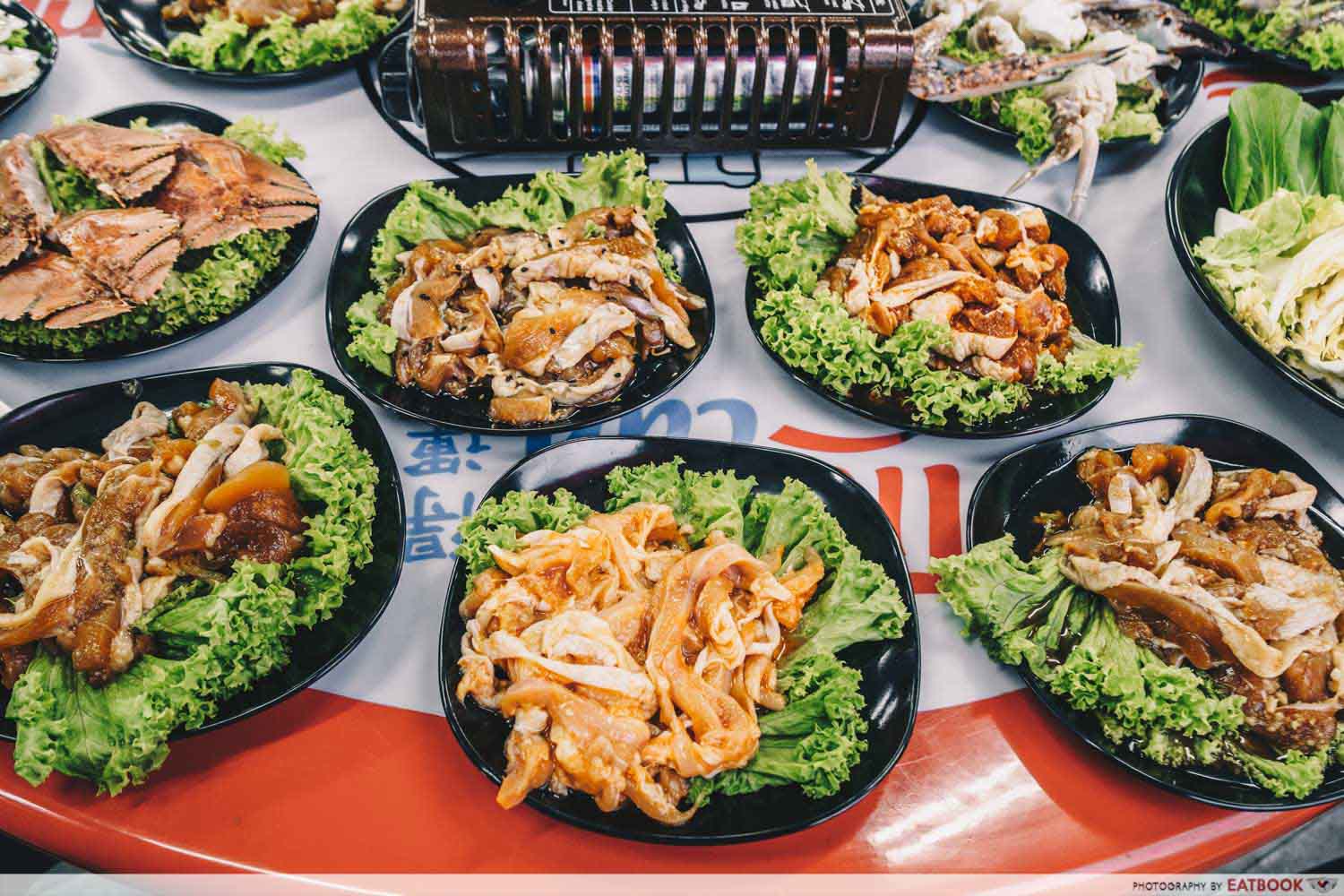 The chicken comes in four varieties when you get the premium upgrade. Spicy Chicken, Honey Chicken, Soya Chicken, and Garlic Chicken. The thing that caught my eye the most, however, was the Soju Yuzu Chicken ($3.50). I had to look over the menu a few times to make sure I was reading it right and knew immediately I'd have to try it. Do note that this chicken is not included in the buffet.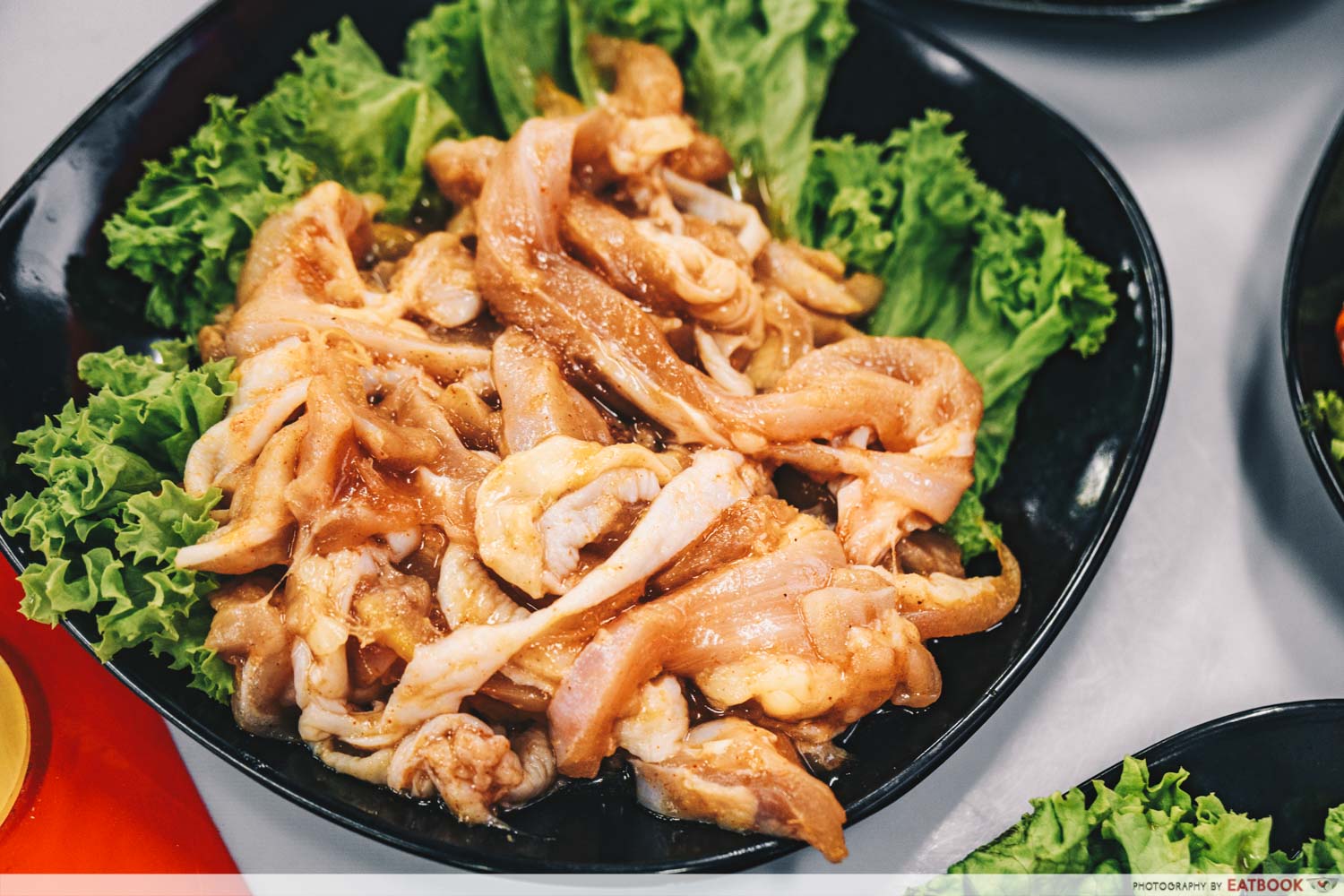 There were thin slices of yuzu between the lightly coloured marinated meat. Unlike the other plates of chicken that came in brown and red hues, the soju yuzu chicken was a vibrant orange. That alone was enough to make it stand out among all the others. But despite the paler colour, it wasn't lacking in taste.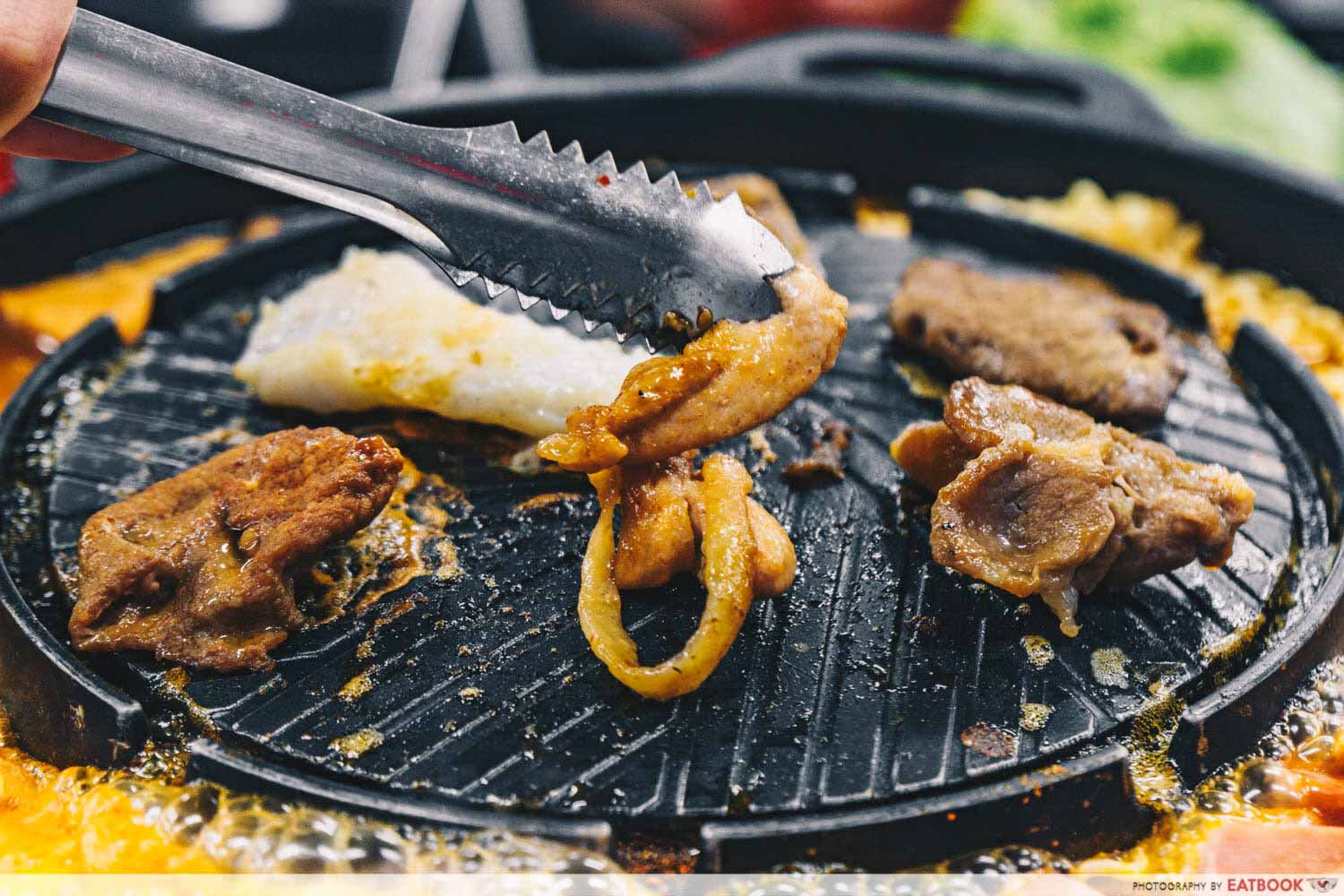 The meat took on a yellow hue once fully cooked. While the soju taste wasn't obvious, I immediately noted the zest of yuzu. It was sweet and sour, with a refreshing natural citrus taste rounding everything off evenly. It was a unique flavour that I definitely didn't expect to see. Despite seeming like a gimmick, it turned out to be delicious. My dining companion excitedly declared it his favourite meat at Seoulid.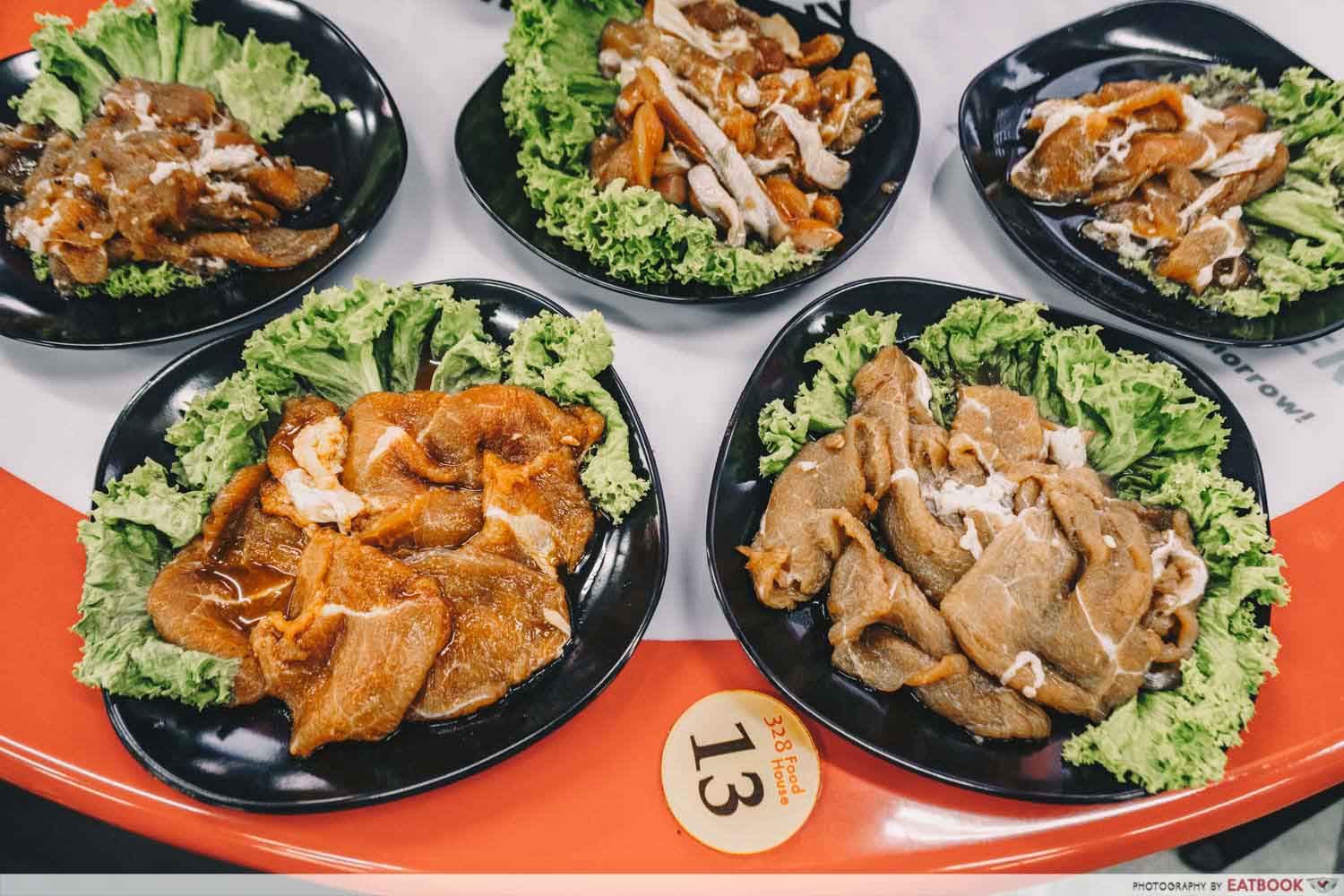 While the Honey and Garlic Pork Collar came marinated in the same flavours as the chicken, the Spicy Beef was slightly different from its poultry counterpart. It uses gochujang chilli instead of the spicy blend that the chicken is marinated in.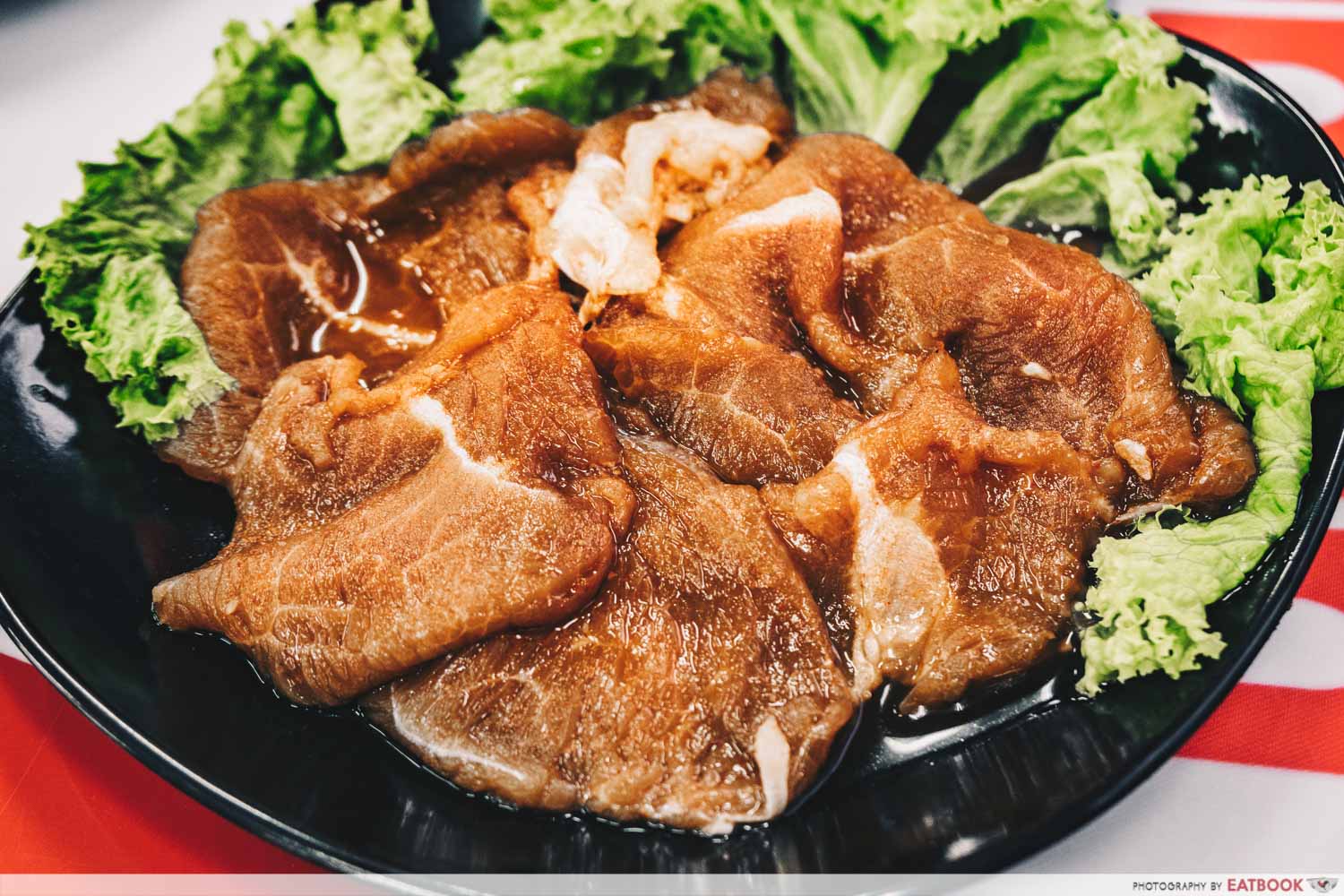 The marination left the beef with a vivid shade of red. It was mostly lean meat cut into wide slabs.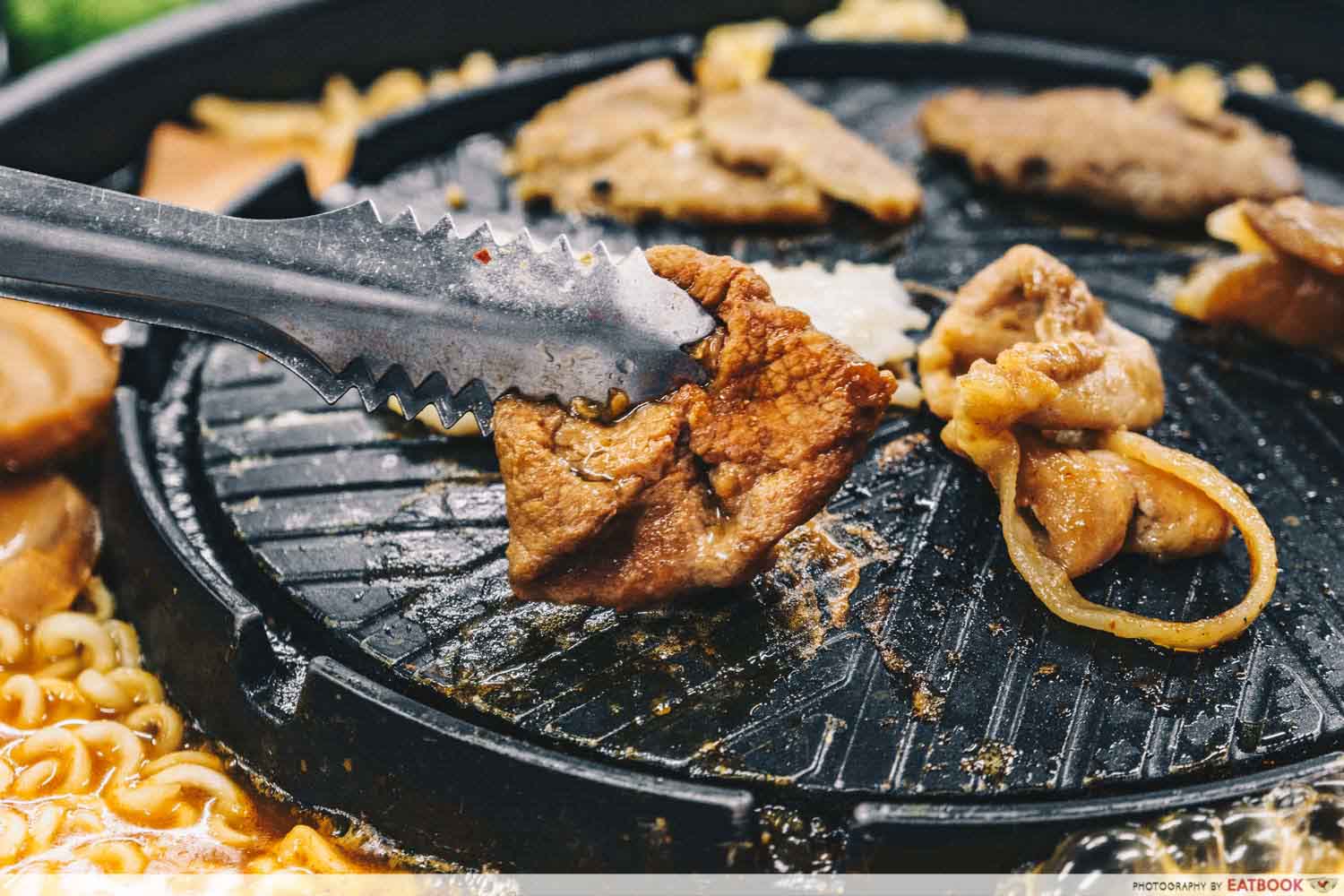 Once cooked, the beef still kept an orange shade and packed a mild spicy taste. The spice wasn't overpowering, despite what the bright colour of the meat implied. The star of the show was still the sweet and juicy beef itself, and its taste was further brought out by the gochujang marinade.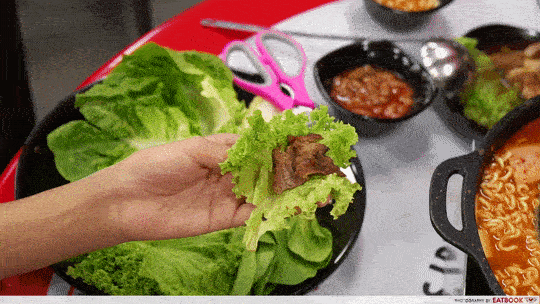 Veggies were free-flow as well, so we made ourselves some ssam. I had mine with just the leaves and meat. The crisp, refreshing lettuce evened out the mouthful of fat and richness, while providing a contrast to the spicy grilled meat.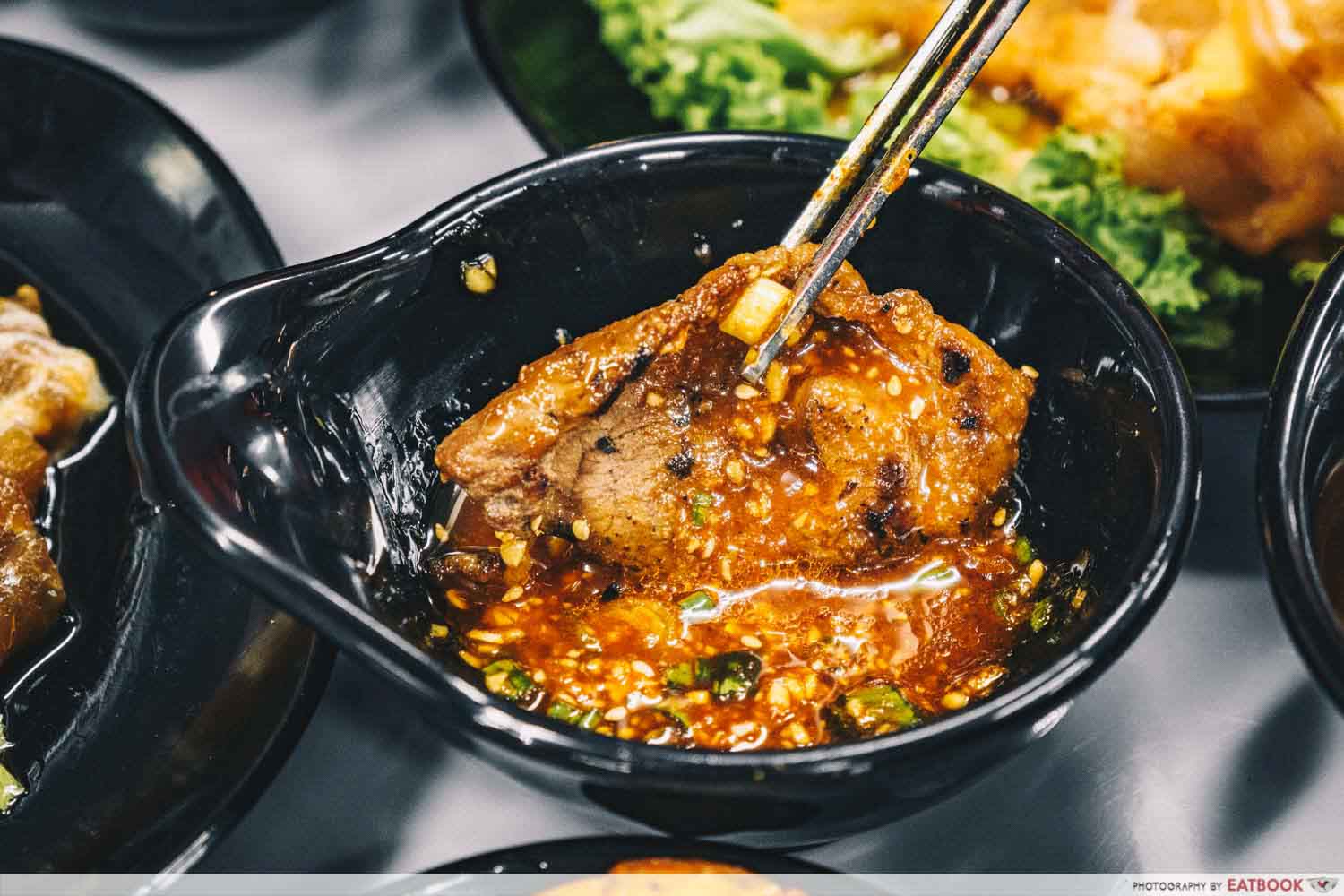 To the side of the stall's counter,  there was a free-flow spice station comprising gochujang sauce, light soy sauce, sesame seeds, chilli padi, garlic, and spring onions.
We mixed a piece of marinated, non-spicy beef into the gochujang sauce, along with bits of garlic, sesame seeds, and spring onion. The hearty mix of sauce gave the meat a far stronger flavour than the marination. Lovers of the more intense, complex taste of the fermented chilli might want to dip their beef into it for even more spice. 
The honey pork collar came soaking in a puddle of sweet sauce. The slabs were a bit smaller than the beef, but had way more fats that were waiting to be grilled up and melted.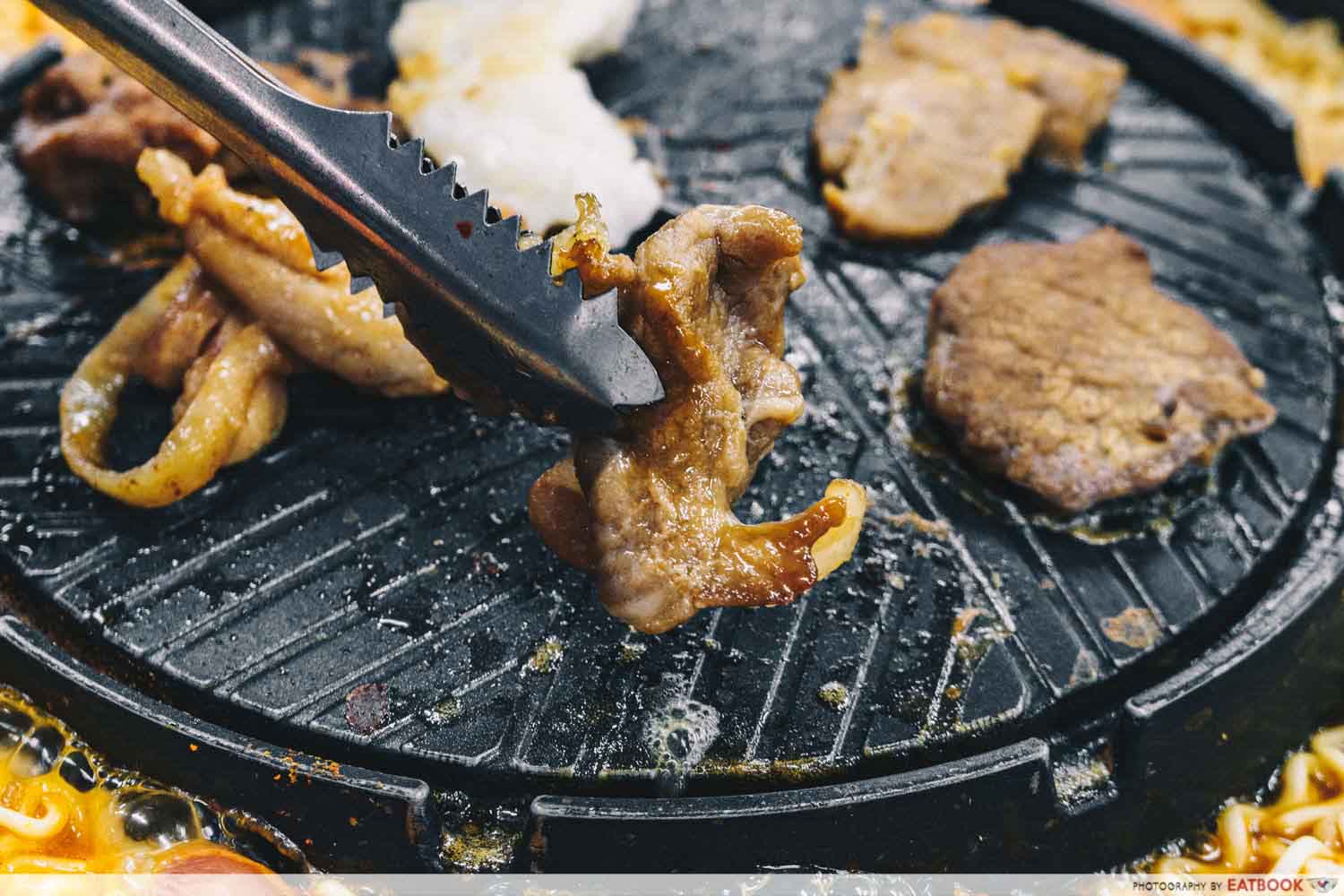 The pork collar had a sweet taste, and cooking it gave it a caramelised crust. It cooked fast and was chewy, with lots of fat that melted in my mouth.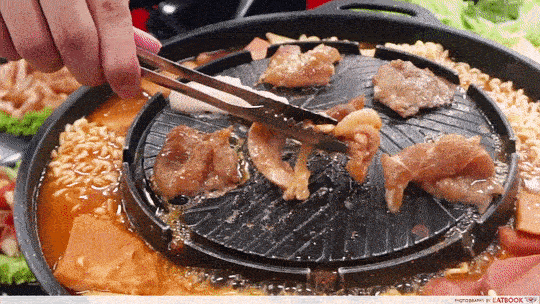 Unlike mookata places, the hotplate didn't come with lard to lather over it. Alfie mentioned to us that the meats were marinated heavily enough to be cooked without sticking to the grill. Letting the meat juices flow down into the rich soup would let the taste intensify and grow meatier over time.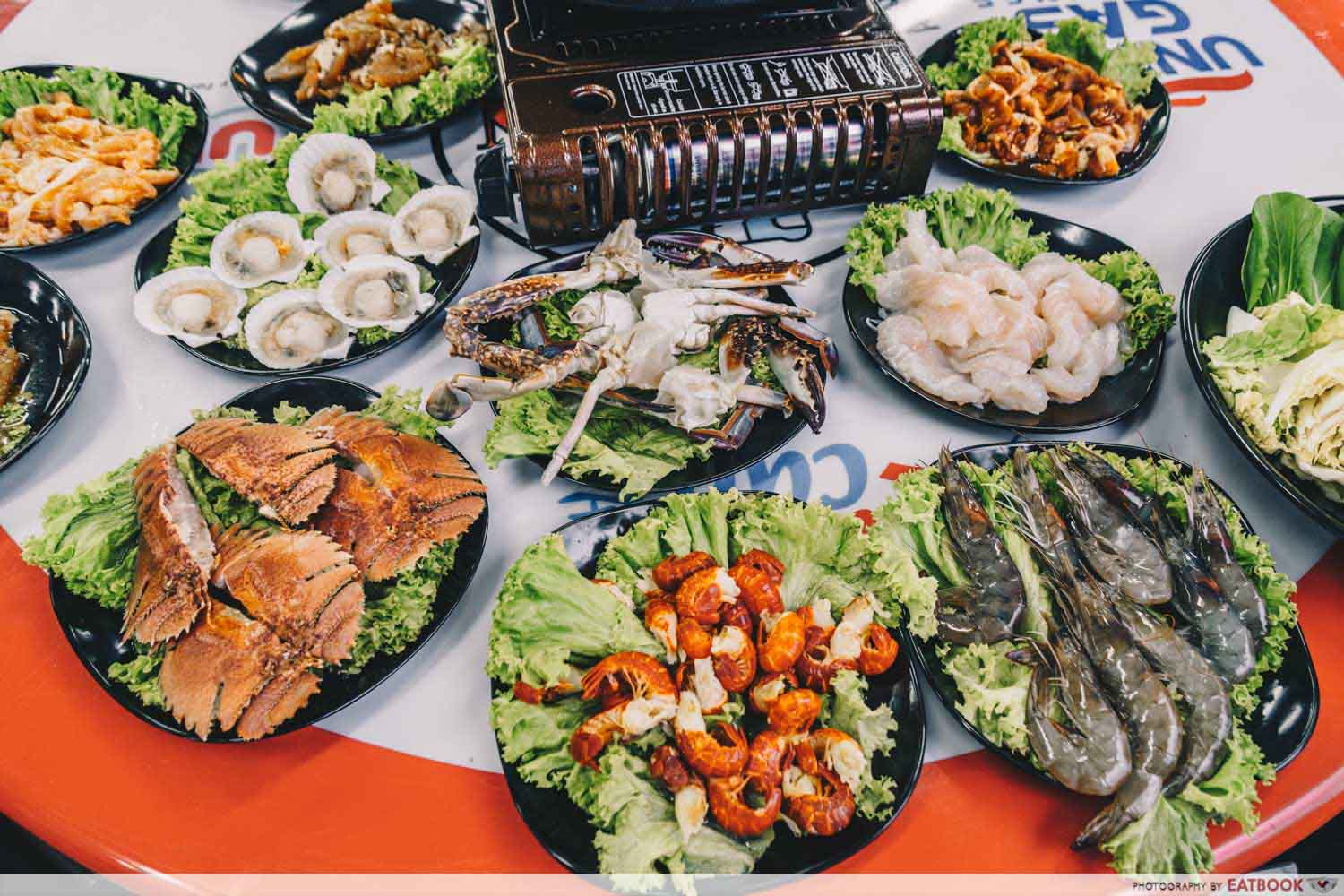 After getting a taste of the meat, it was finally time to eat the long-awaited seafood. A bountiful banquet was set out in front of us, with six different platters of delightful ocean critters. A little disclaimer: the crab and crayfish are only available on weekends when the buffet is slightly more expensive. The Weekend Buffet costs $22.80, but drops to $19.80 after 9pm.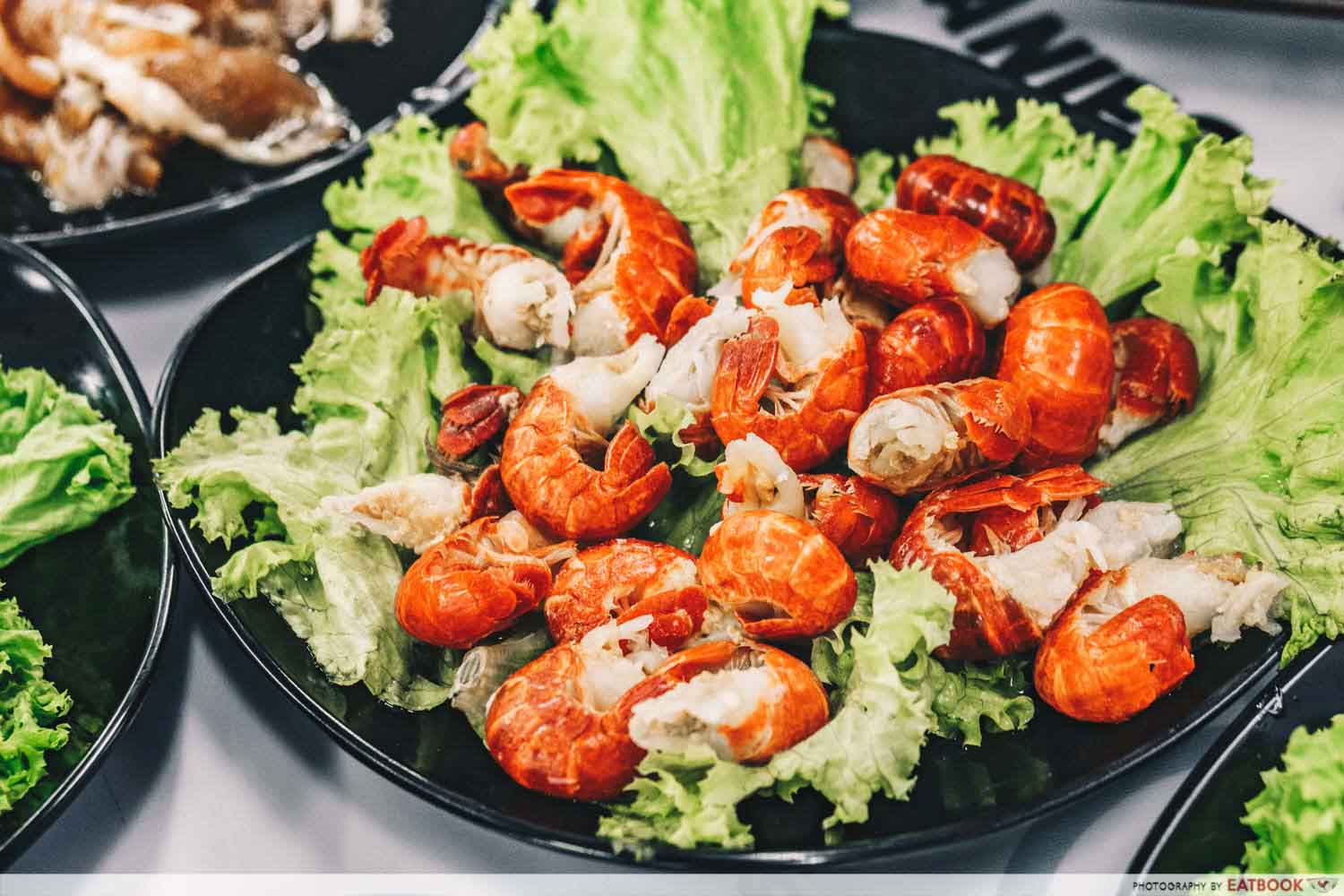 I first fell in love with Crawfish Tails on a trip to IKEA years ago. Since then, I've always looked out for them whenever they're in season. These juicy morsels are tiny, but that's no issue when it's free-flow. Don't be fooled by its bright, appetising colour, these are served raw and need to be cooked first.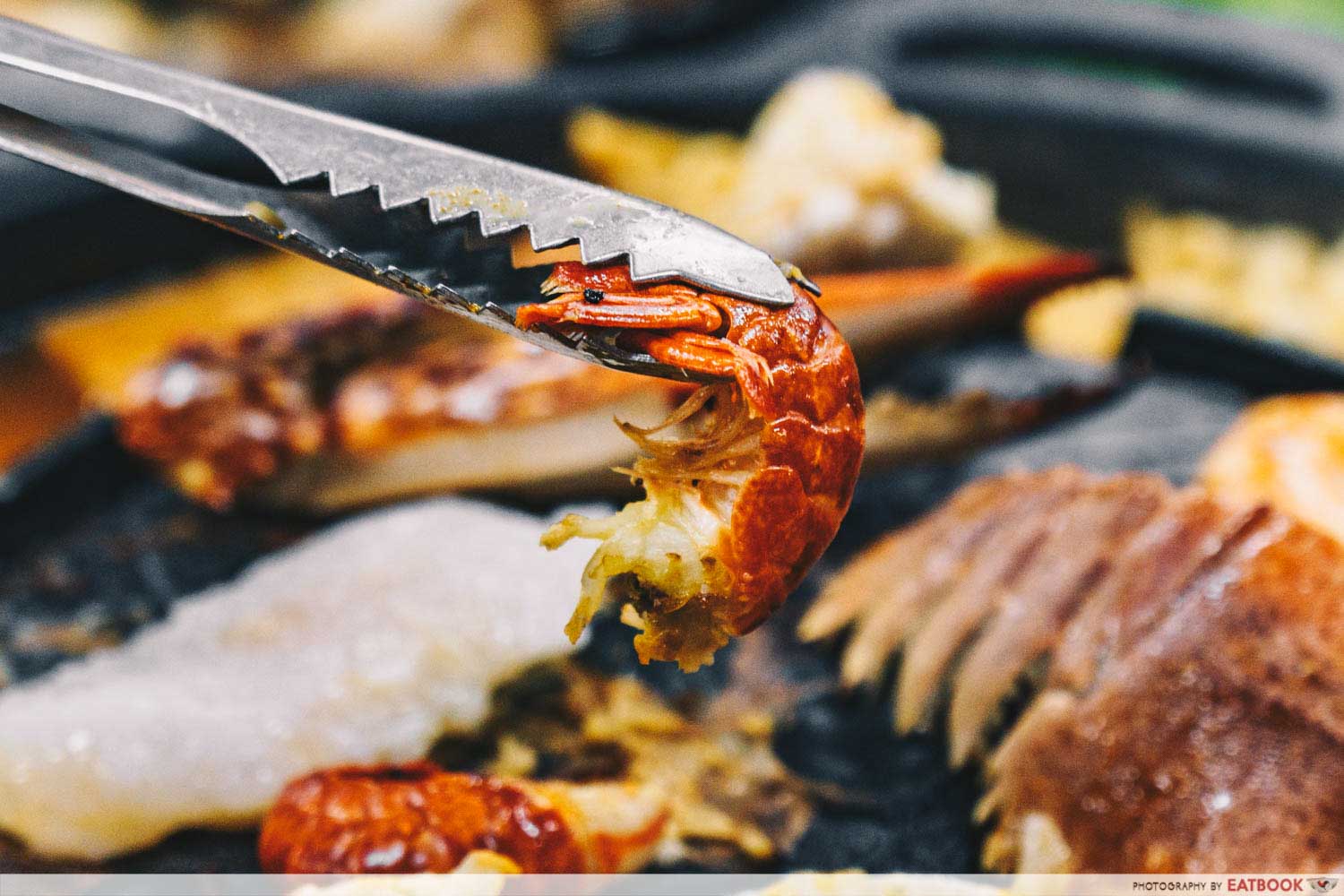 The crawfish was ready in a short while, and I eagerly cracked it open to get to its succulent flesh. You'll want to use your hands for this. Press on the sides of the shell until you see a line snap open along the stomach, and then pry it apart to reach the grilled tail meat.
Unfortunately, it isn't seasoned at all. Unlike the ones at IKEA, these aren't marinated with any sauces beforehand. While the meat was juicy, fresh, and had a satisfying snap, it was completely flavourless. It's still good-quality crawfish, and it'll most likely improve when you dip it in the chilli sauce or boil it in the soup to let the flavours sink in.
The Scallops looked fat and juicy, ready to be grilled up. Make sure you remove the black sacs before throwing them onto the heat. They were served in their shells and were easy to pluck off once they were cooked. 
Cooking scallops on a hotplate can be a little hard to figure out. Take em off the heat too early and they're undercooked. Keep them there too long, and they dry out. One thing my dining companion taught me, however, was to pour away the scallop juices and fill the shell with army stew. The shapely shells served as little saucers of their own, and the scallops were soon boiling in their own tiny bowls of soup. They were soft, sweet and delicate, yet their flavours weren't overpowered by the spice.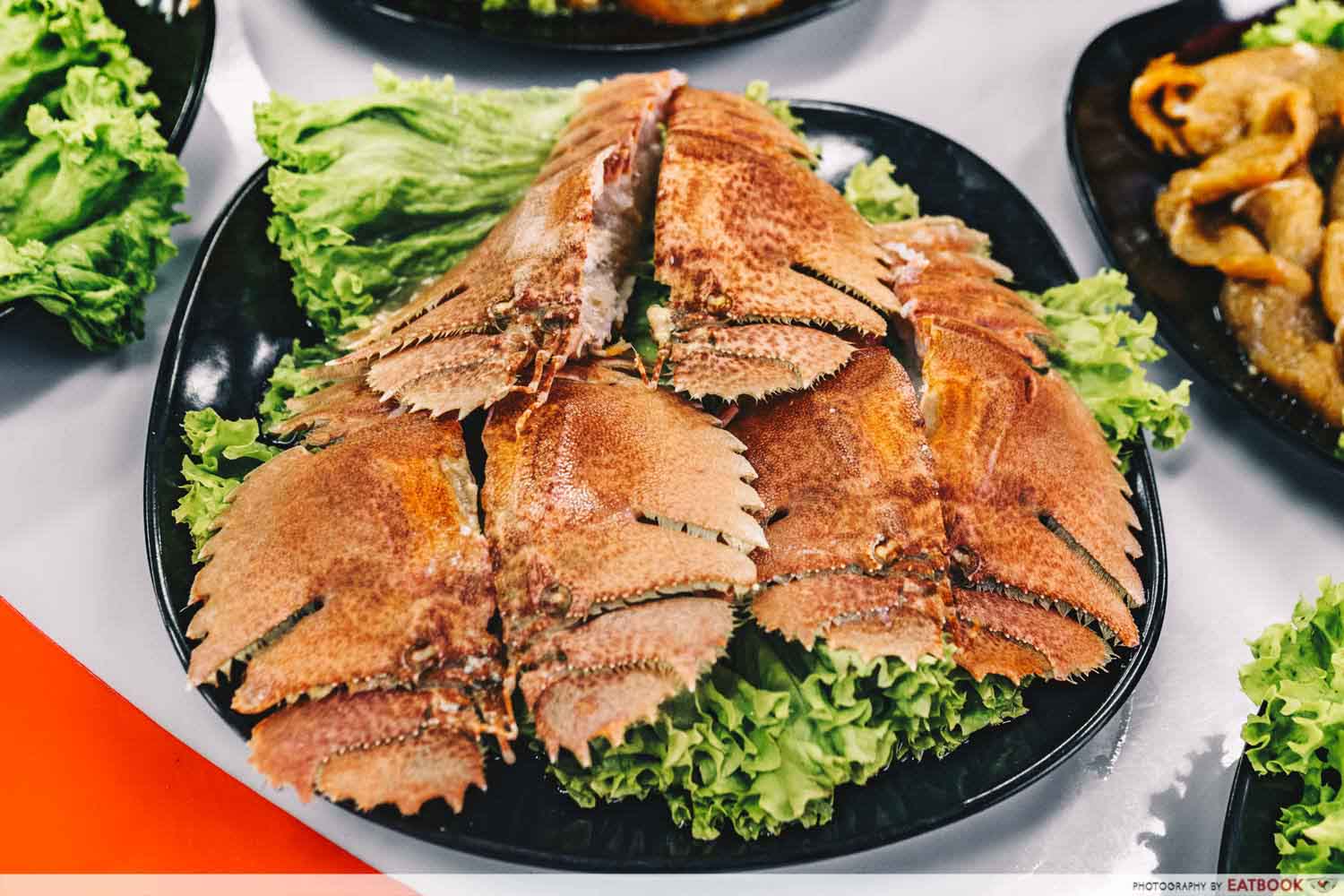 The Crayfish was a rather impressive sight. I found it a bit hard to get them to cook properly on the grill, and had to toss them into the soup instead. After boiling them, the shells took on a distinctive orange shade, and its meat was juicy and springy.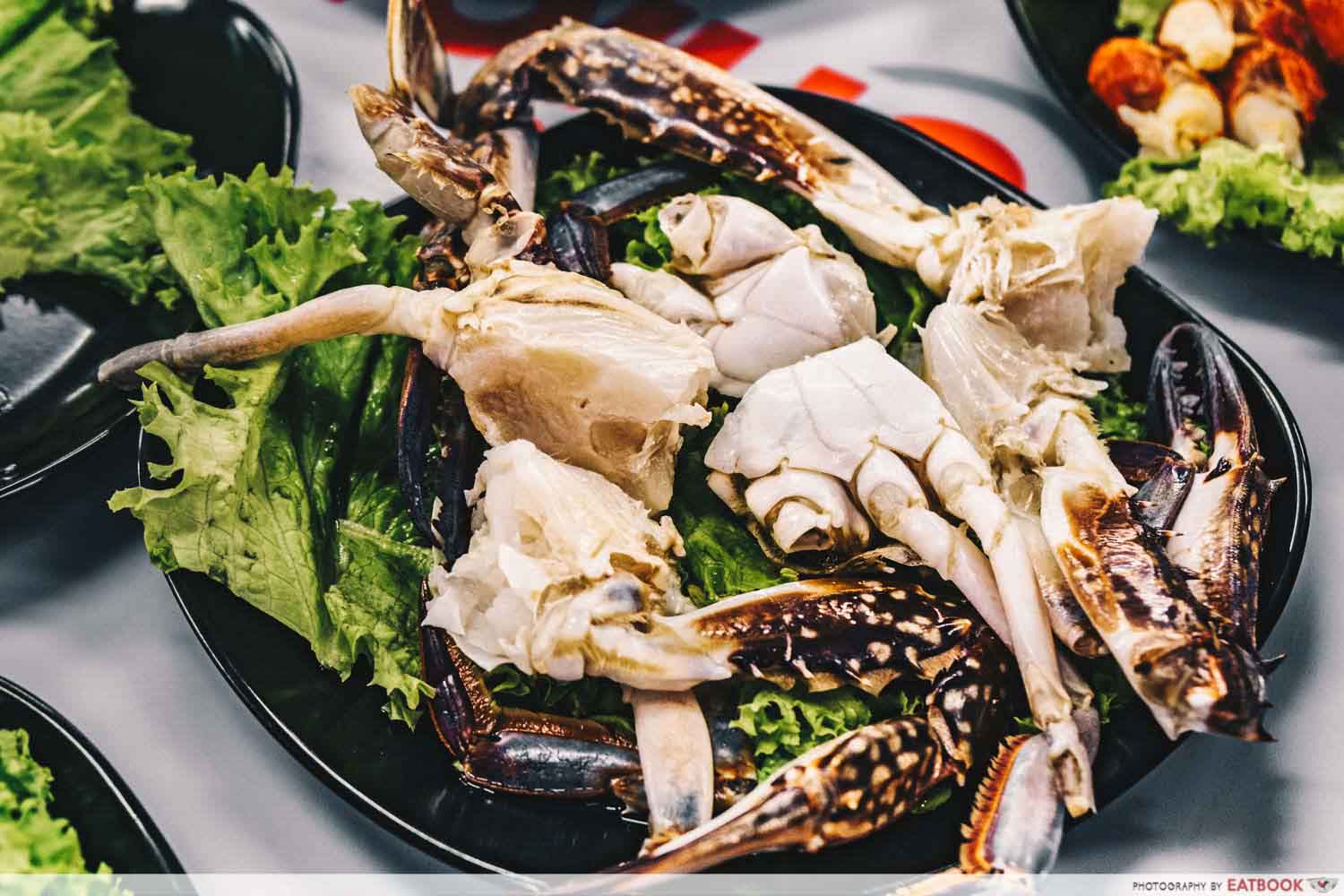 An entire flower crab was set down in front of us, conveniently chopped up and with the sweet meat exposed. Like the crayfish, the crab is only served up on weekends. The clawed crustacean was fresh and glistening, and we quickly set it on the grill and waited in anticipation.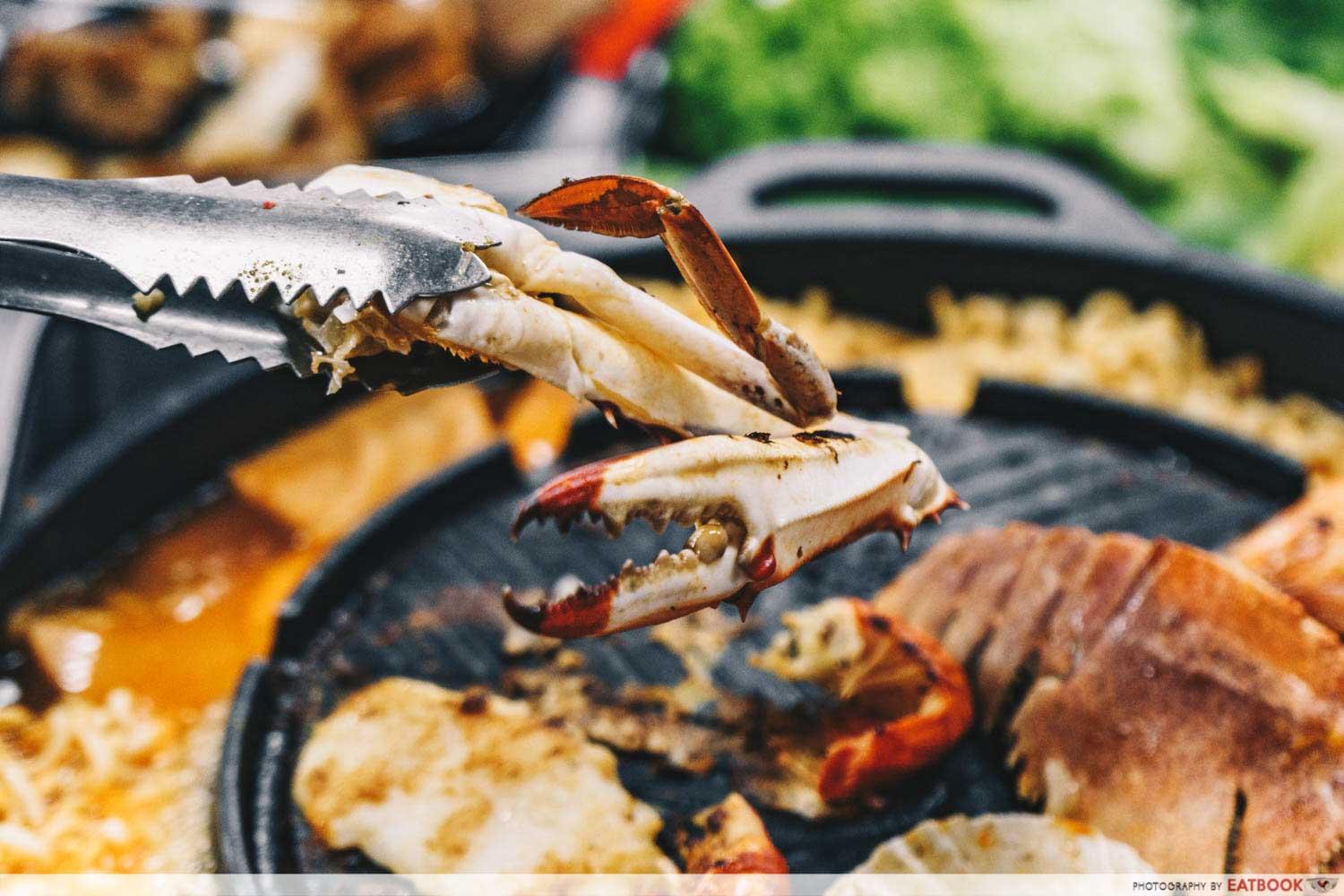 The crab was easy to crack open with my teeth, though I did get jabbed a few times while handling it. The meat within was soft, sweet, and fresh. There was no hint of spoilage or any overly briny taste. The meat inside the claw was tender and delicious. I'd definitely suggest cooking this on the grill instead of in the soup. The natural flavours of the juicy crab are delicate and might be overpowered by the spicy army stew. 
All in all, once our hour and a half was up, I felt stuffed to the brim. Considering the huge spread we had just enjoyed, including crab and seafood, the damage to my wallet was trivial. The seafood was definitely the star of the show. 
Ambience at Seoulid Korean BBQ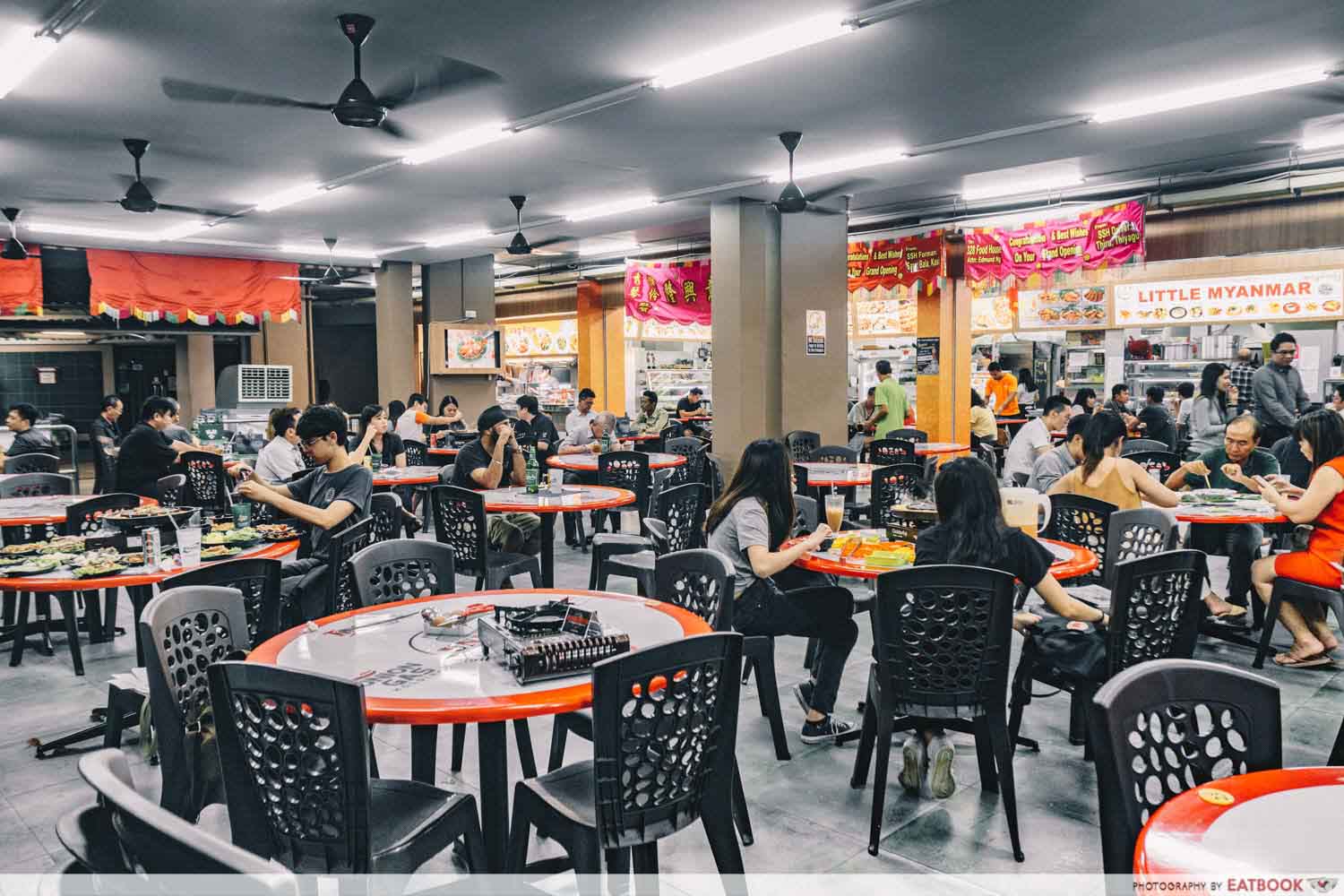 As soon as we reached Seoulid, my dining companion excitedly remarked that it was one of the cleanest coffee shops he had been in. The tables were kept clean and bright, and there were no spills or sticky floors. However, it got quite hot after grilling the meat and we found ourselves sweating profusely despite the fans.
The stall is just a two-minute walk away from Clementi MRT Station Exit C. Getting there is incredibly convenient, which means making your way back home with a heavy stomach will be easy too. 
The verdict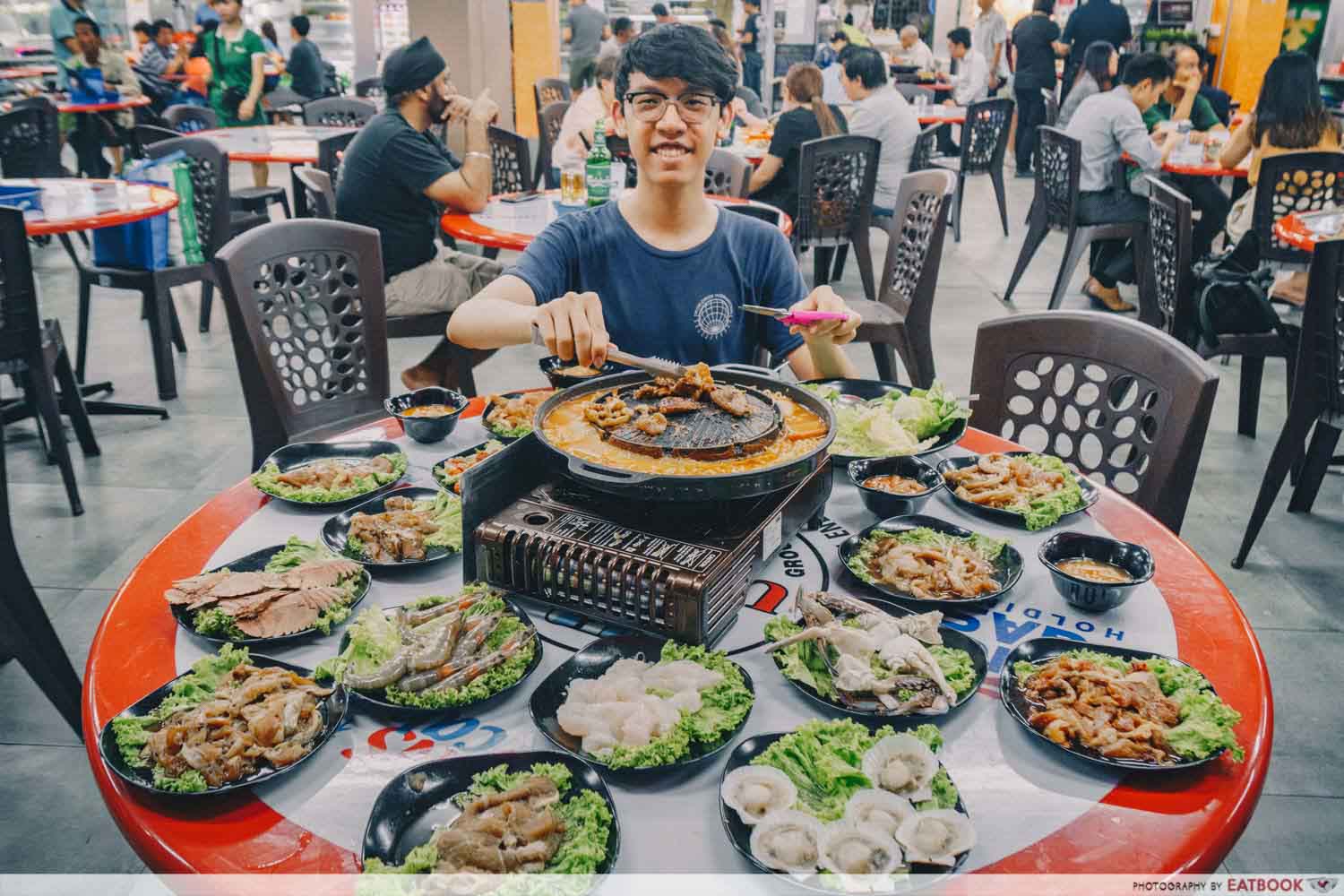 If there was some kind of fixed, specific checklist to determine a restaurant's rating, I think Seoulid would fulfil all the requirements. Good variety and tasty flavours? Check. Convenient location? Check. Affordable prices? Check. Even if you don't go for the buffet, the prices for a la carte items are decent enough on their own. 
Thoroughly impressed by the spread, I asked Alfie how they managed to keep prices so affordable while having such a wide range of ingredients. Not even my frequent KBBQ haunts or mookata joints have seafood for this cheap. 
Alfie told us that before the restaurant opened up, they spent months securing suppliers and searching for contacts that could provide high-quality ingredients. They had to make sacrifices at times and take risks to push down cost such as accepting less than ideal terms from suppliers. The fact that they'd go to these lengths for their customers shows the real passion and heart put into running the stall, and their devotion to providing quality KBBQ.
If you're hungry for more Korean food along the East-West line, check out JW Korean Food Stories! For more food at Clementi, take a look at our review of Jalapeno South-West, where you can get halal tacos and burritos!  
Address: Blk 328, Clementi Avenue 2, #01-220, Singapore 120328
Opening hours: Daily 5pm to 12am
Tel: 8368 8566
Website
Seoulid Korean BBQ is not a halal-certified eatery.
Photos taken by John Lery Villanueva.
This is an independent review by Eatbook.sg.
Summary
Pros
– Affordable
– Has a big variety of dishes
– Offers free-flow seafood
– Convenient location
Cons
– Area can get quite hot
Recommended dishes: Soju Yuzu Chicken ($3.50), Crawfish tails, Spicy Beef, Garlic Pork Collar
Opening hours: Daily 5pm to 12am
Address: Blk 328, Clementi Avenue 2, #01-220, Singapore 120328