Jalapeño South-West is a flavour fiesta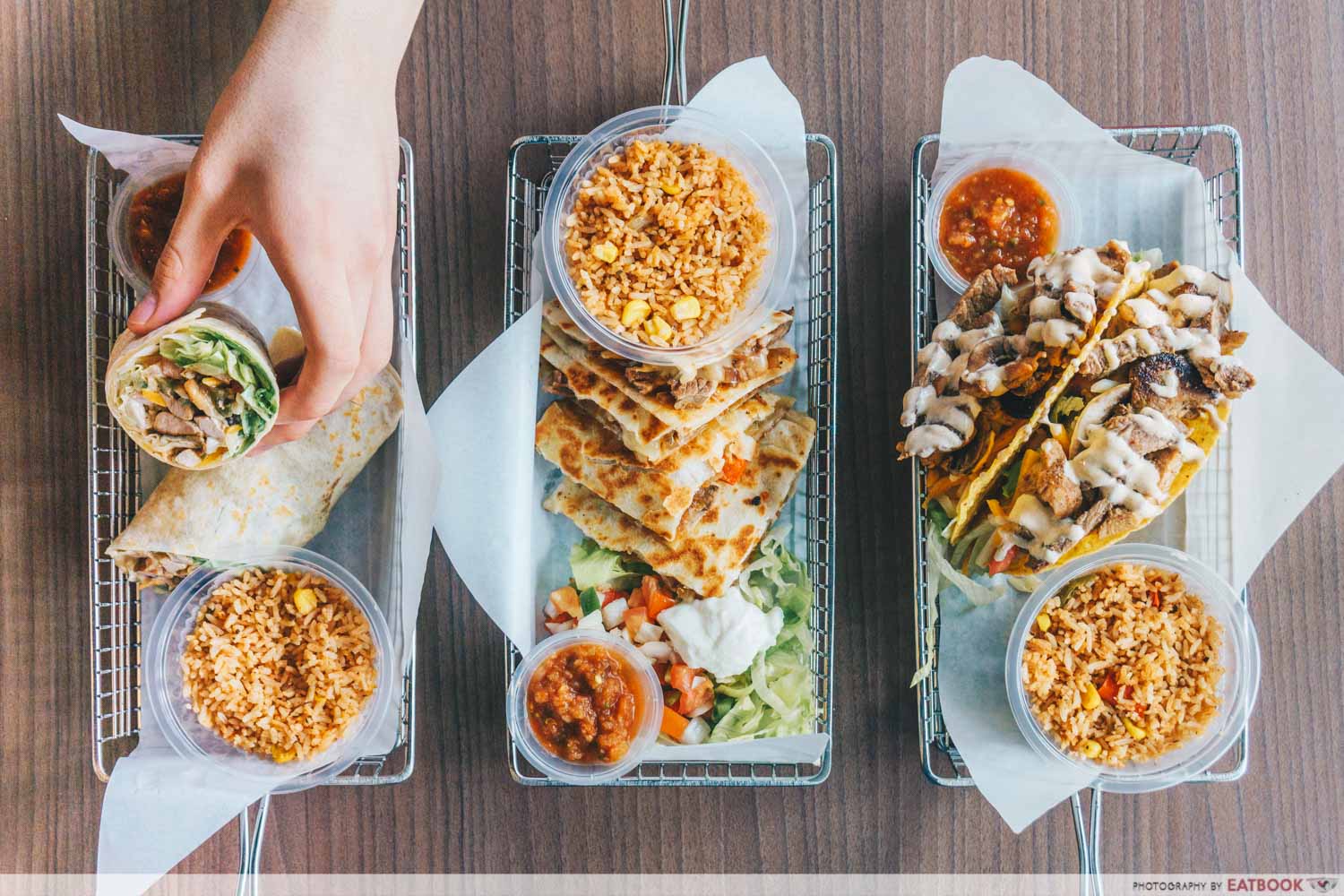 Pork dishes like carnitas and al pastor are considered cornerstones of Mexican cuisine, commonly filling up tacos and burritos. That explains why finding legit halal Mexican food in Singapore is so difficult – how do you strike a balance between authenticity and regulation?
Jalapeño South-West is a new casual diner seeking to get that balancing act just right. The warm and friendly owner shares how it's been a constant learning process for him since opening in mid-February 2019. He regularly tweaks his recipes based on customers feedback, trying to juggle between catering to local palates and serving robust flavours that are true to Mexican cuisine.
Regardless, all we were looking for was the party of explosive flavours that's the hallmark of Mexican cuisine.

Food at Jalapeño South-West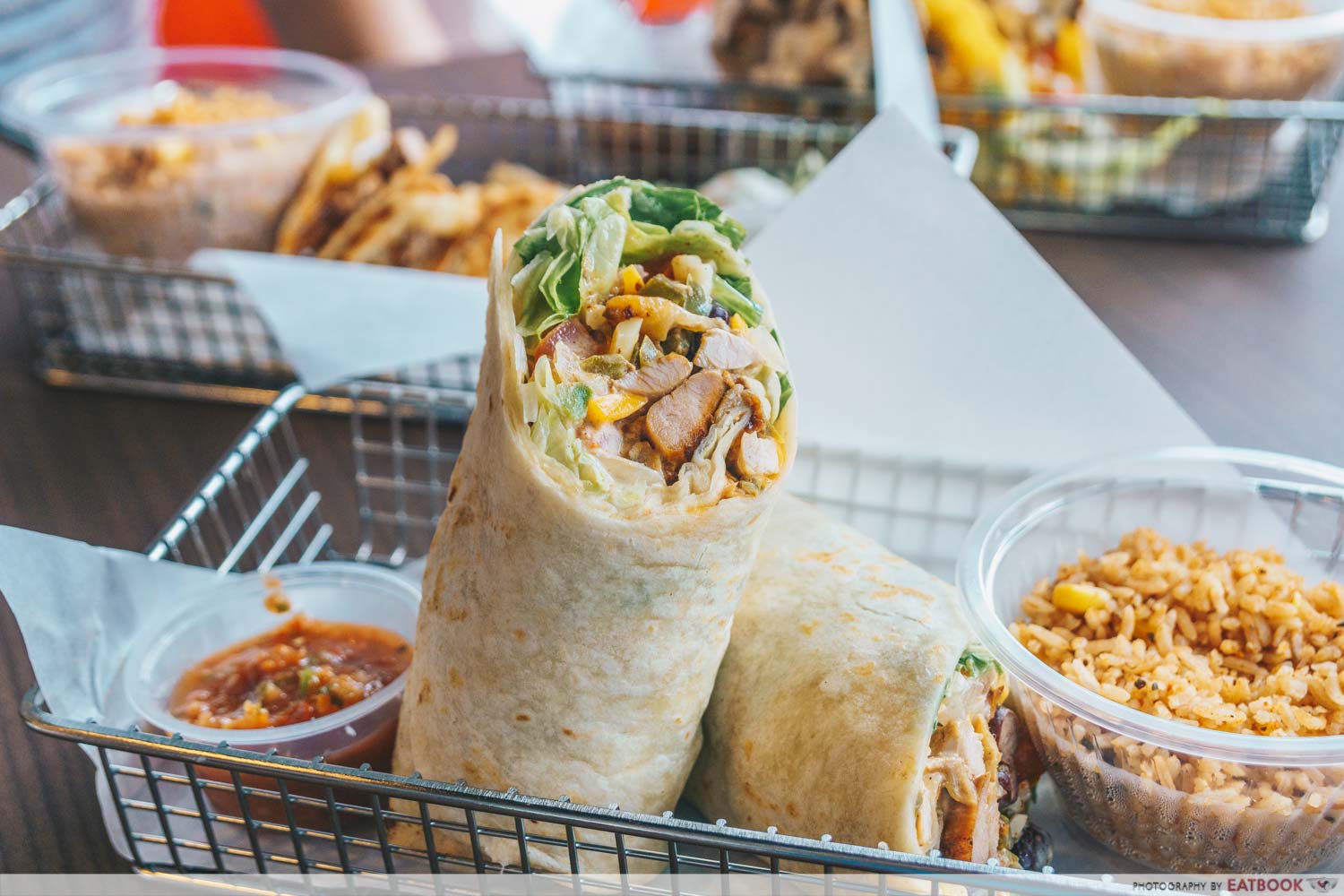 Chicken Burrito ($9.90+) is one of the most basic Mexican dishes there is, so it's a litmus test for any aspiring Mexican restaurant to prove their worth. For under $10 with salsa and a side of rice, this thick wrap is certainly good value-for-money compared to most other burritos on the market.
It was an enjoyable – if not mind-blowing – rendition. There was a generous portion of chicken, which was well-spiced and tender. A medley of fresh vegetables and sour cream gave bright flavours, resulting in a lighter flavour profile than most other burritos on the market.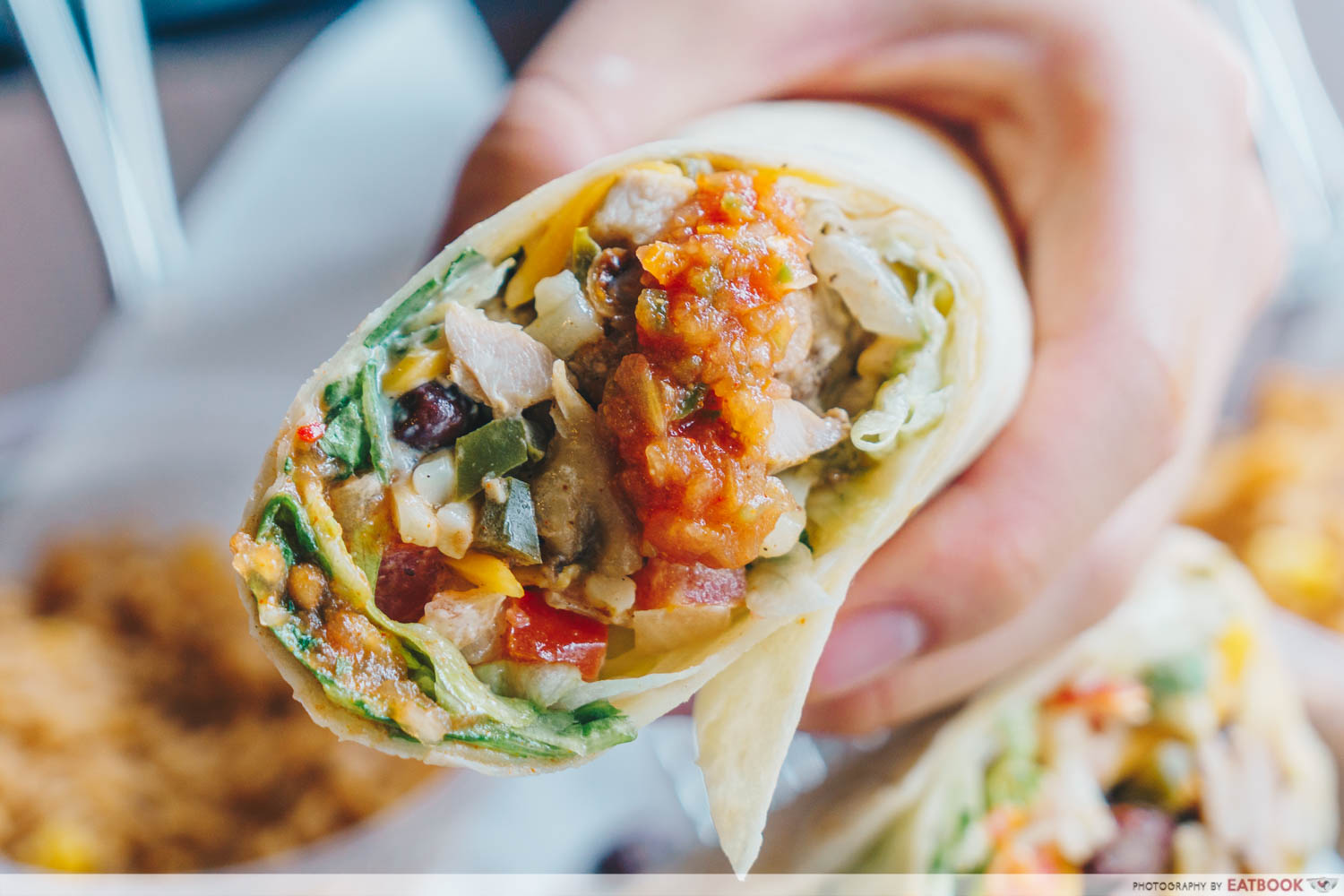 Personally, I like my burritos hearty and deeply flavourful, usually with some sort of slow-cooked meat that's tightly packed with rice. Sadly, that complexity wasn't present here, making it less satisfying than we had wished. A quick solution would be to transplant the Mexican rice into the burrito for a more full-bodied wrap.
Each main we tried was served with a side of house-made salsa picante. The owner shared how he's been toning down the spice and flavour to suit Singaporeans' palates.
While it was bright and fresh, the sharp vegetal zing from the onion and peppers was overly prominent, and the chilli heat took a backseat. I suppose you can't please everyone.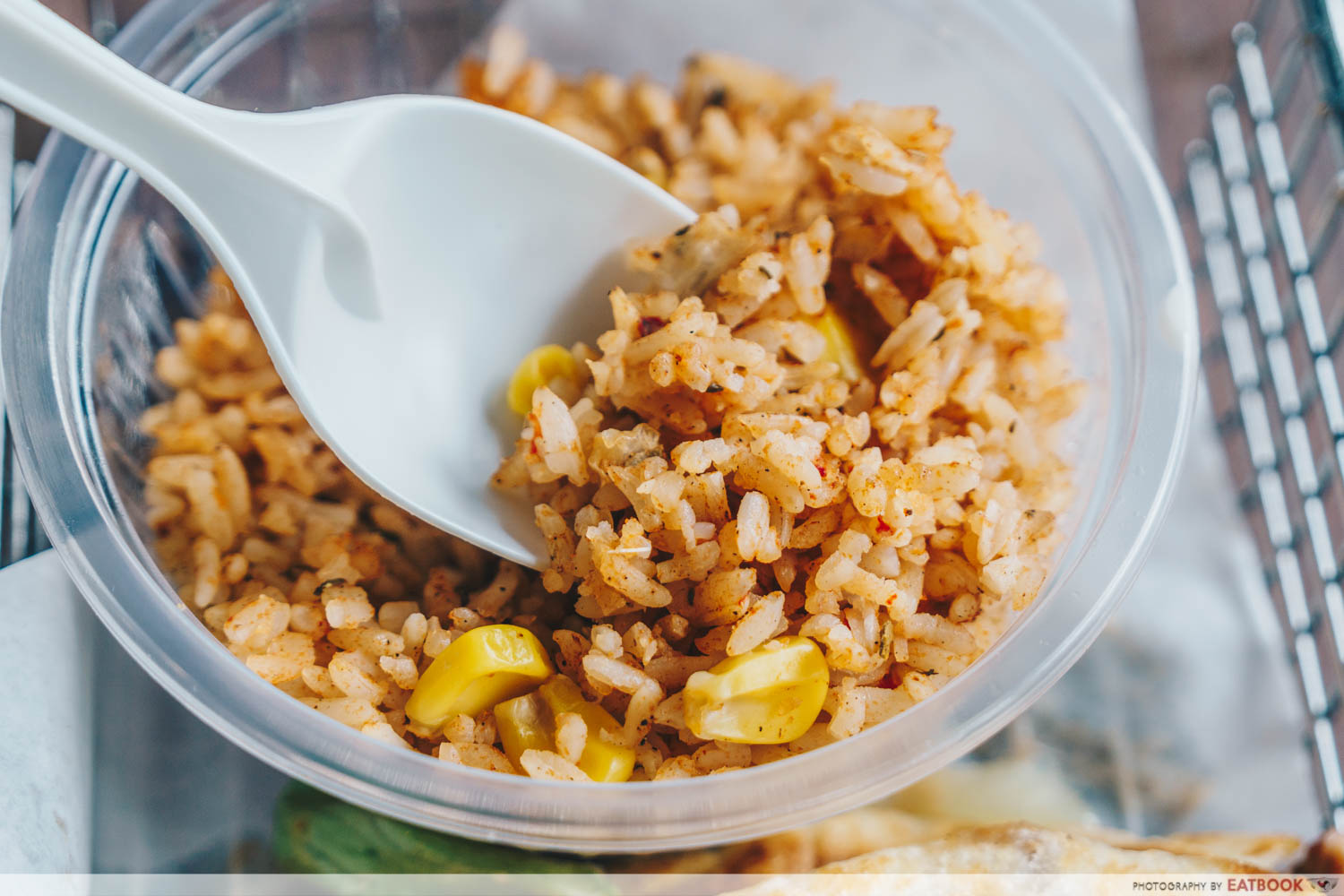 Their Mexican rice received similar toning down. However, this treatment was much more well-received here, as the grains bore a good balance between tomato and pepper sweetness as well as cayenne and oregano spice.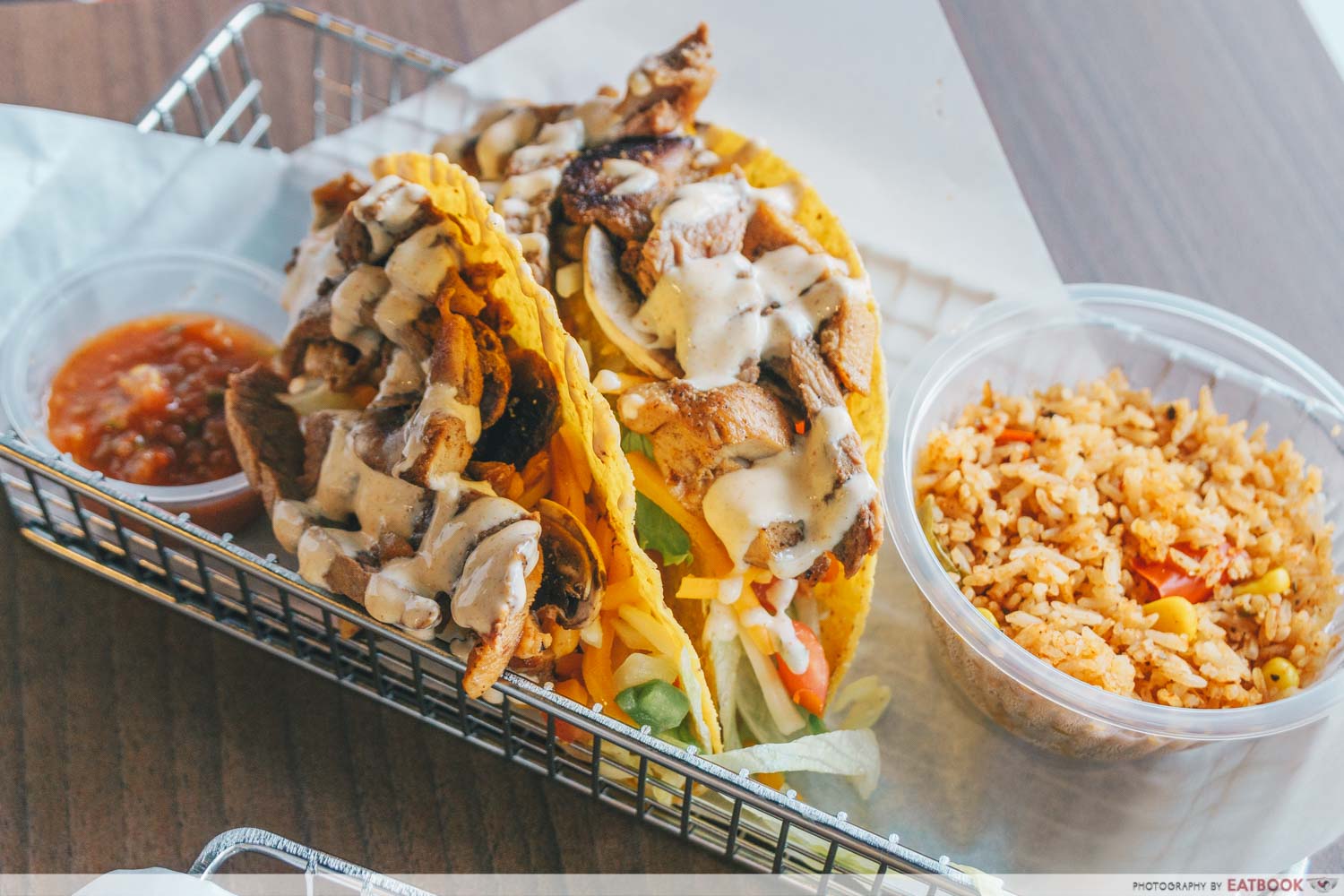 Tacos come in all sizes, with many Mexican restaurants serving dainty, tapas-esque portions that struggle to fill bellies. These Supremo Tacos ($10.90+) certainly aren't petite, piled high with ingredients and a generous zigzag of sauce. One might call it a supremely thiccc taco.
There's a choice between hard-shell corn tacos or soft flour tortillas. We chose the former, hoping for a crunchy exterior. Unfortunately, we waited too long to eat them, and the shells lose their Doritos-like crunch and taking on an unappealing soft texture. Make sure to eat these as soon as they arrive.
While there are chicken and beef options for the tacos, topping up $1 for the Supremo means you don't have to choose; stacking your taco with both types of meat.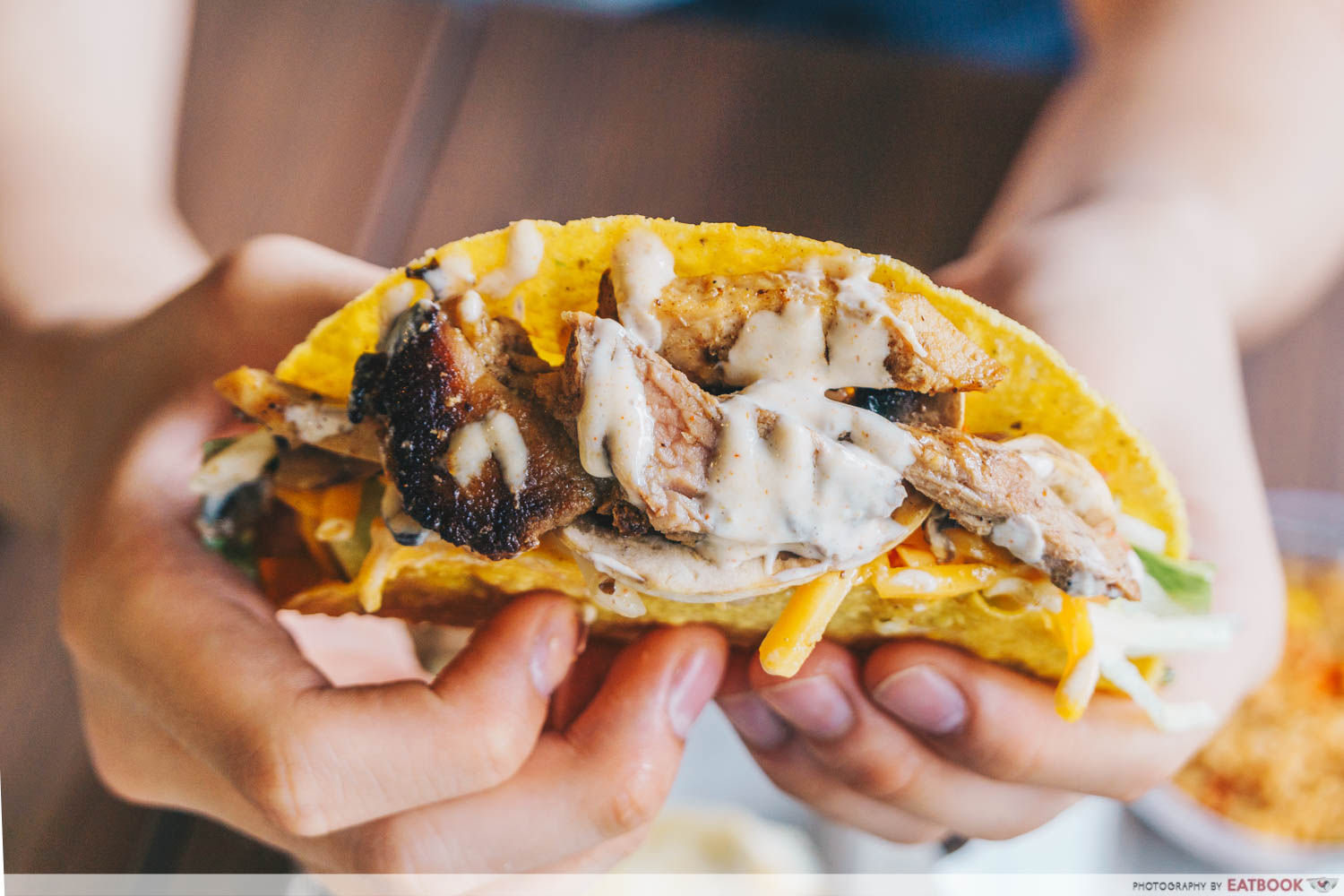 We liked different things about each meat. The beef was robustly-spiced and extremely flavourful, albeit slightly tough. Its chicken counterpart had a simpler flavour profile with good char, but managed to remain tender and juicy. As a duo, they functioned well, covering up each other's weaknesses.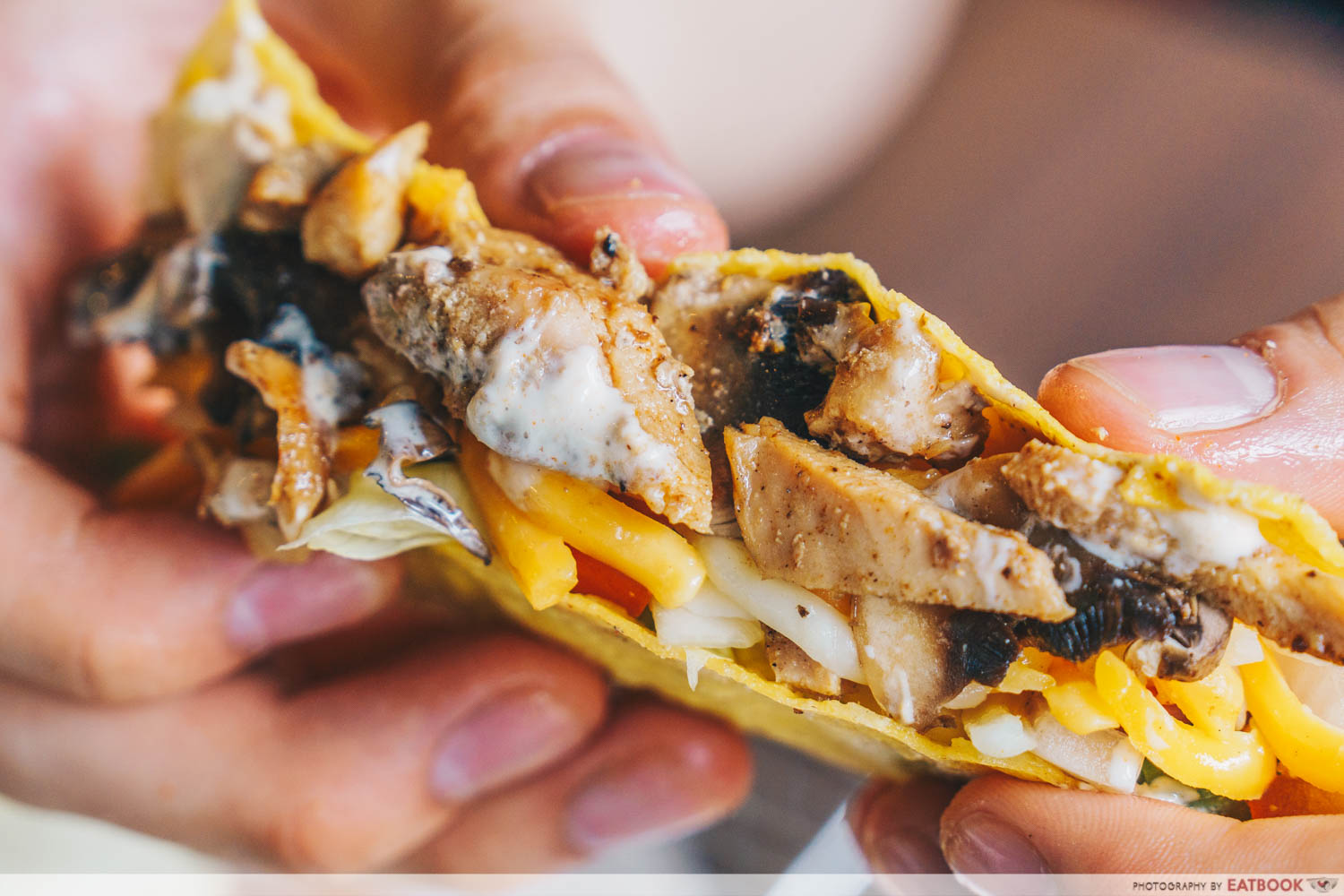 Mushrooms don't usually find themselves as a taco topping, but chopped button mushrooms make their way into these tacos. Texturally, it's a clever addition for some spongy firmness, but they left something to be desired in the flavour department. They were cooked simply, leaving them bland and dreary. A quick sauté with garlic and onions would go a long way to remedying that.
We also hoped for a slightly sharper cheese blend. While there was a visible layer of orange and white shreds, any cheesy flavour was drowned out by the robust meat and a slightly-too-thick garden of lettuce.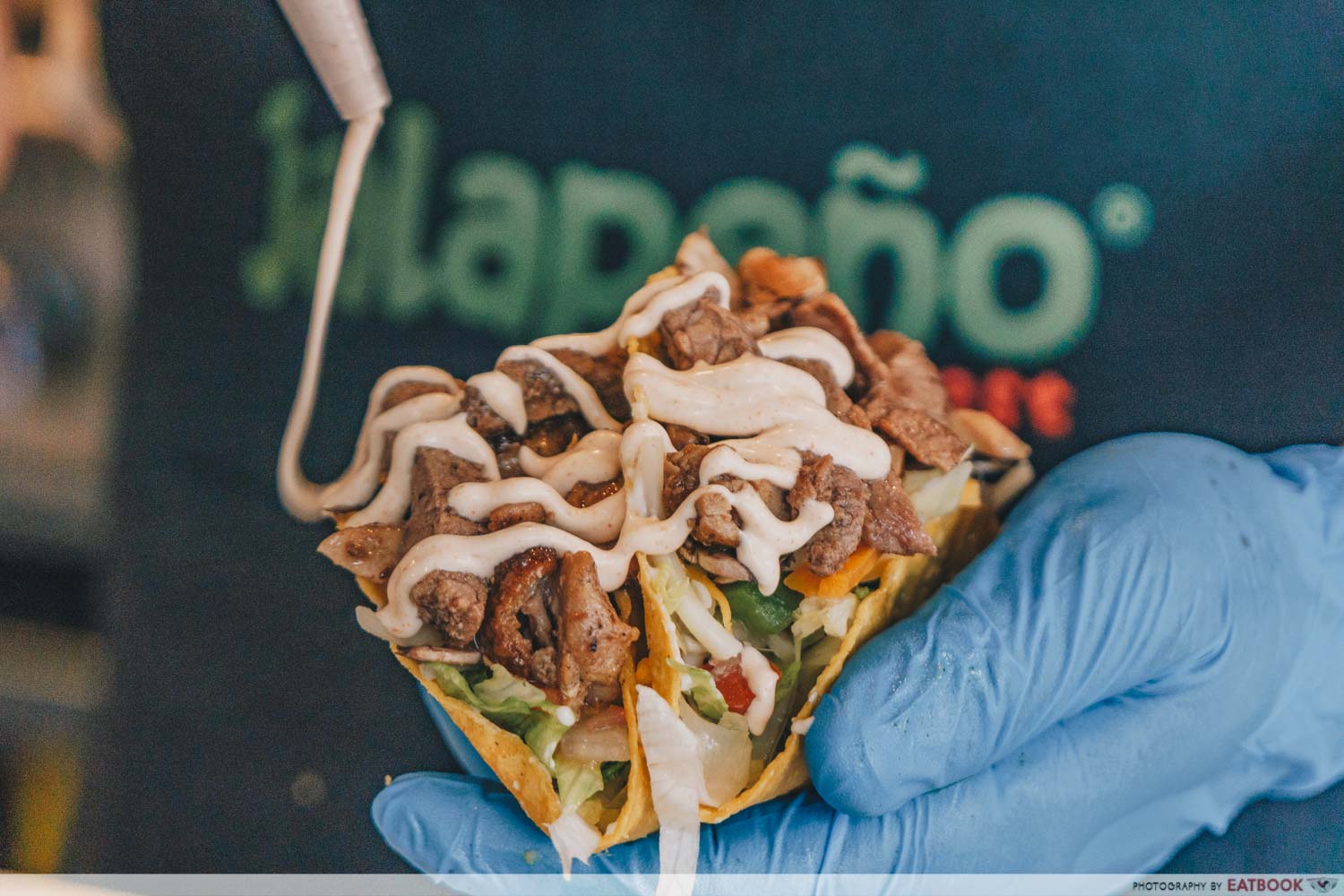 What tied the whole taco together was a liberal squirt of dressing that crowned our shells. Smoky and creamy, it spruced up the mass of vegetables and complemented the meat's natural flavour.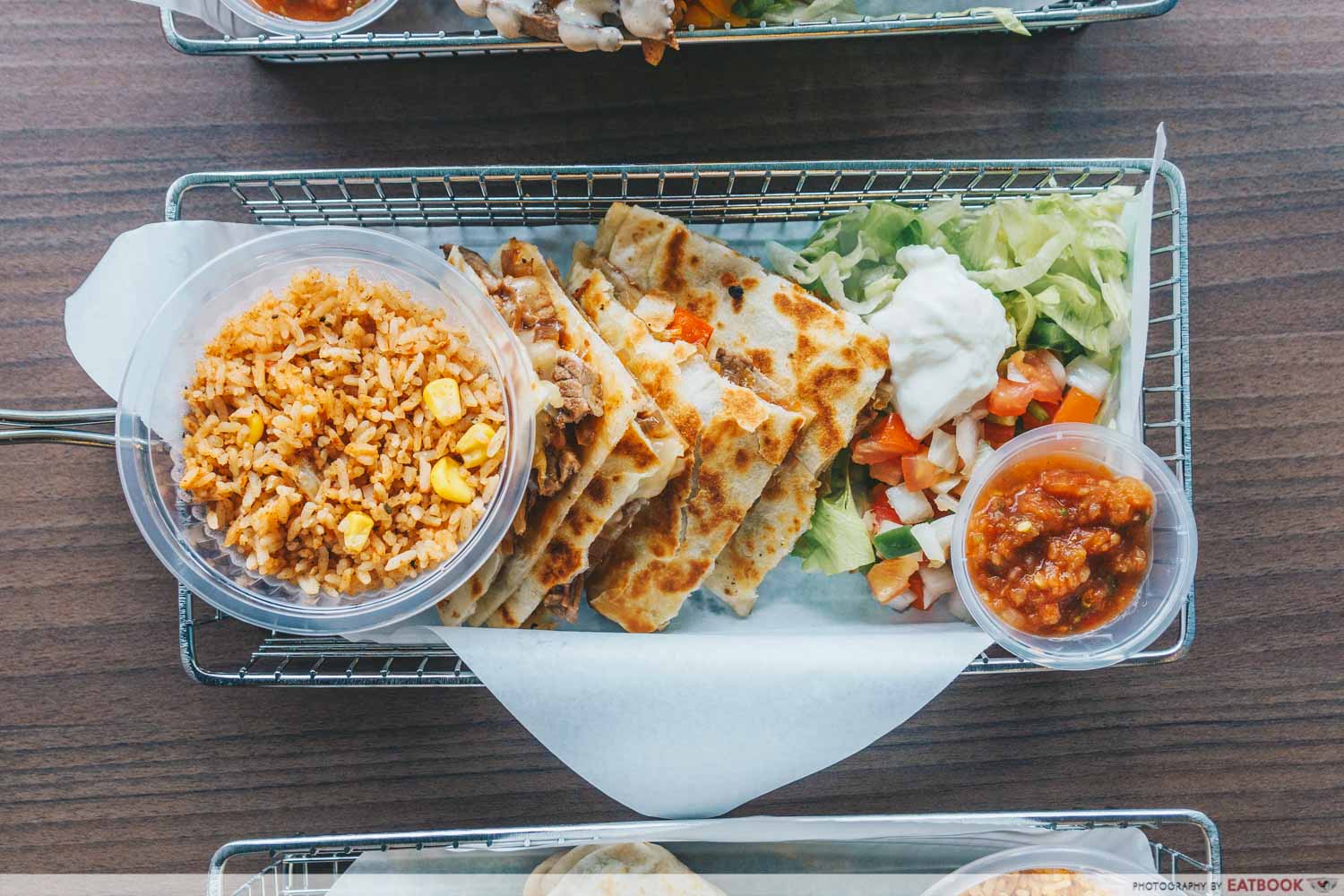 The Beef Quesadilla ($9.90+) looked like a Mexican-Indian Frankenstein, as gooey cheese oozed out of tortilla slices that seemed eerily similar to murtabak. Past its flaky appearance, there was no resemblance to the Indian supper favourite, as these flour tortillas were thinner, drier, and much less stretchy.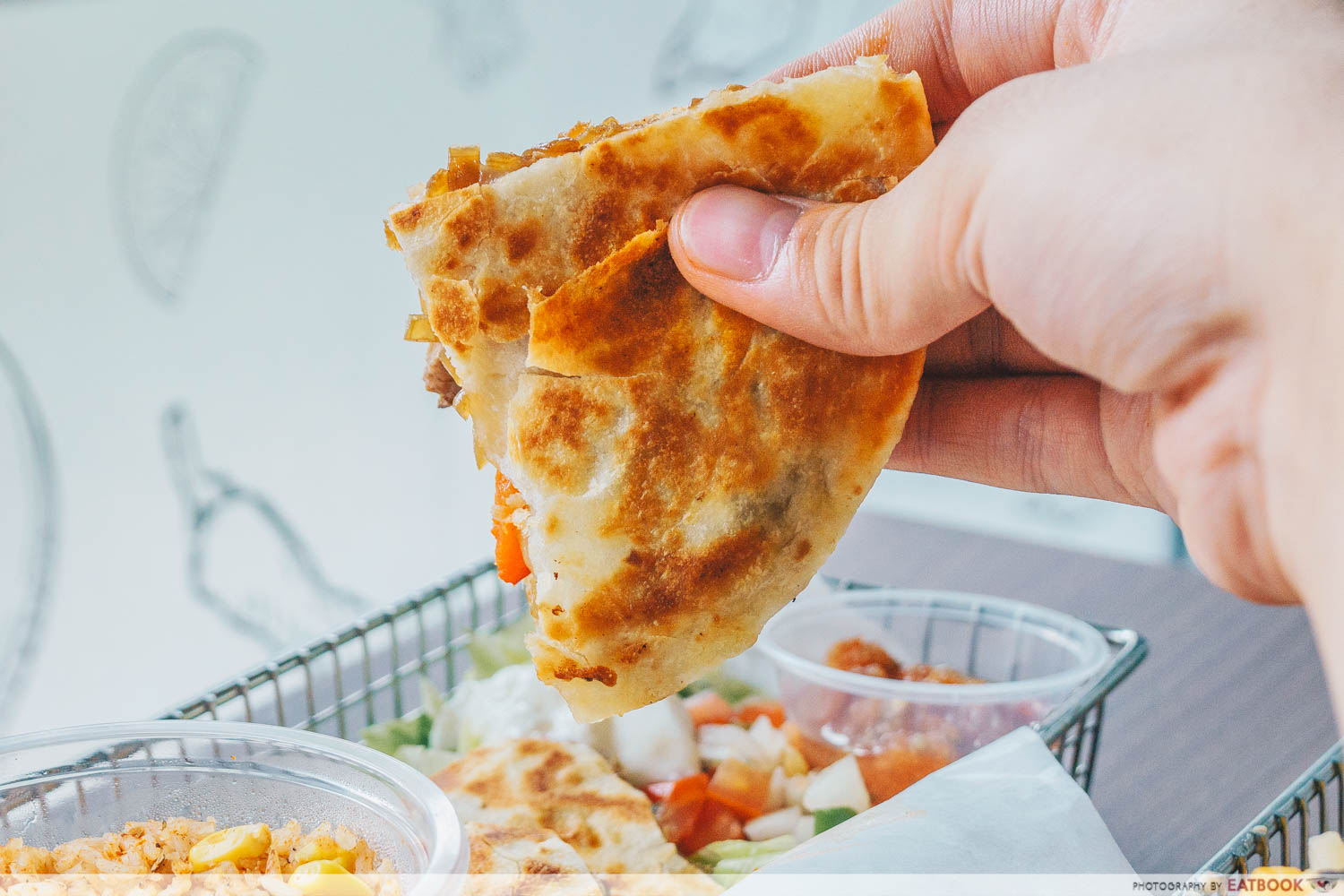 We expected an explosion of cheese upon the first bite, but were instead greeted by a burst of sweet and smoky barbecue sauce. Doused in the sauce were meaty strips of smoked beef similar to those in our burrito, along with caramelised bell peppers and onions.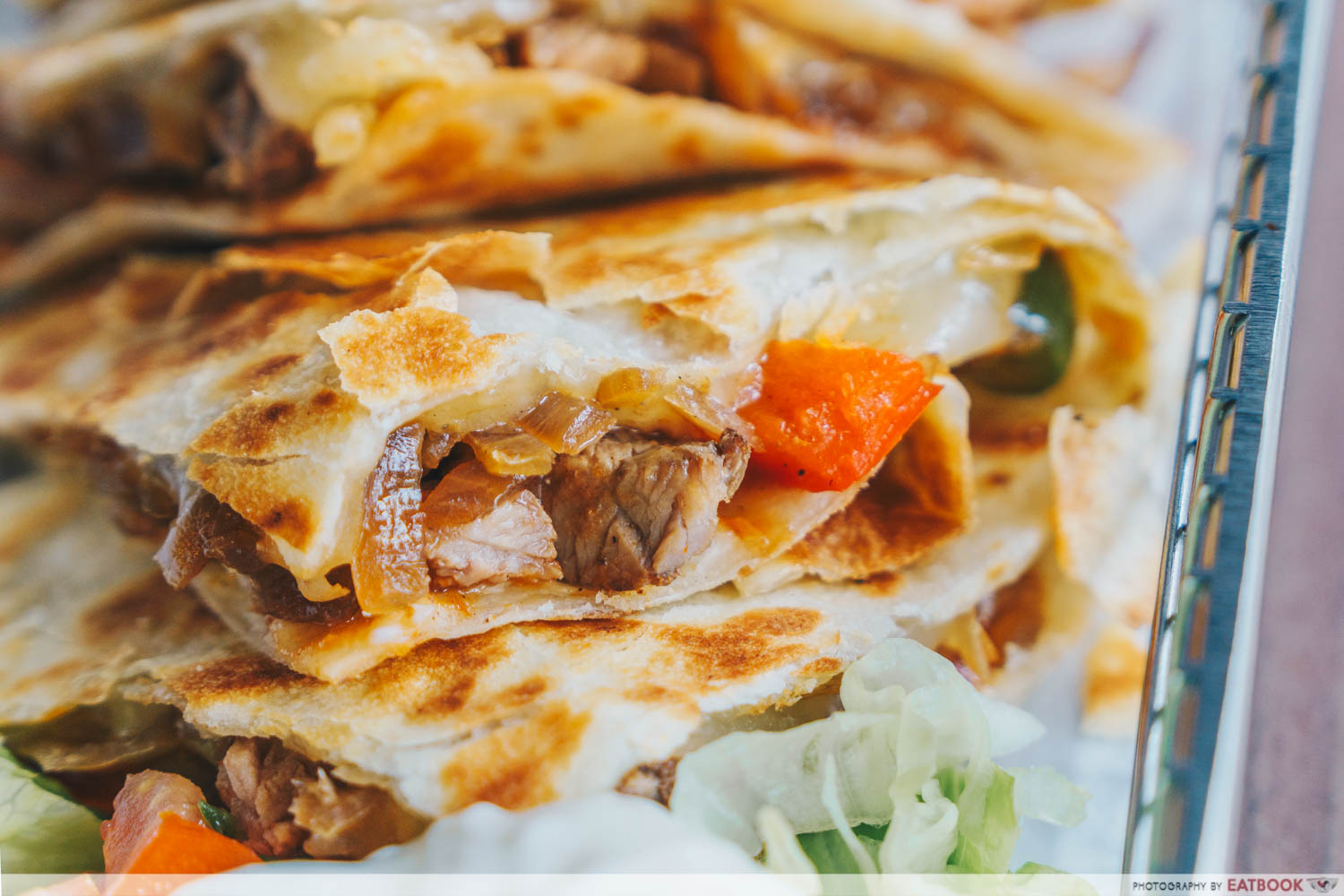 Again, the beef was slightly too chewy for our liking, despite being juicy and having good flavour. Still, we wouldn't opt for chicken here. The beef's potent meatiness holds up better against the strong barbecue sauce, while absorbing its flavour in a way chicken's more delicate nature can't.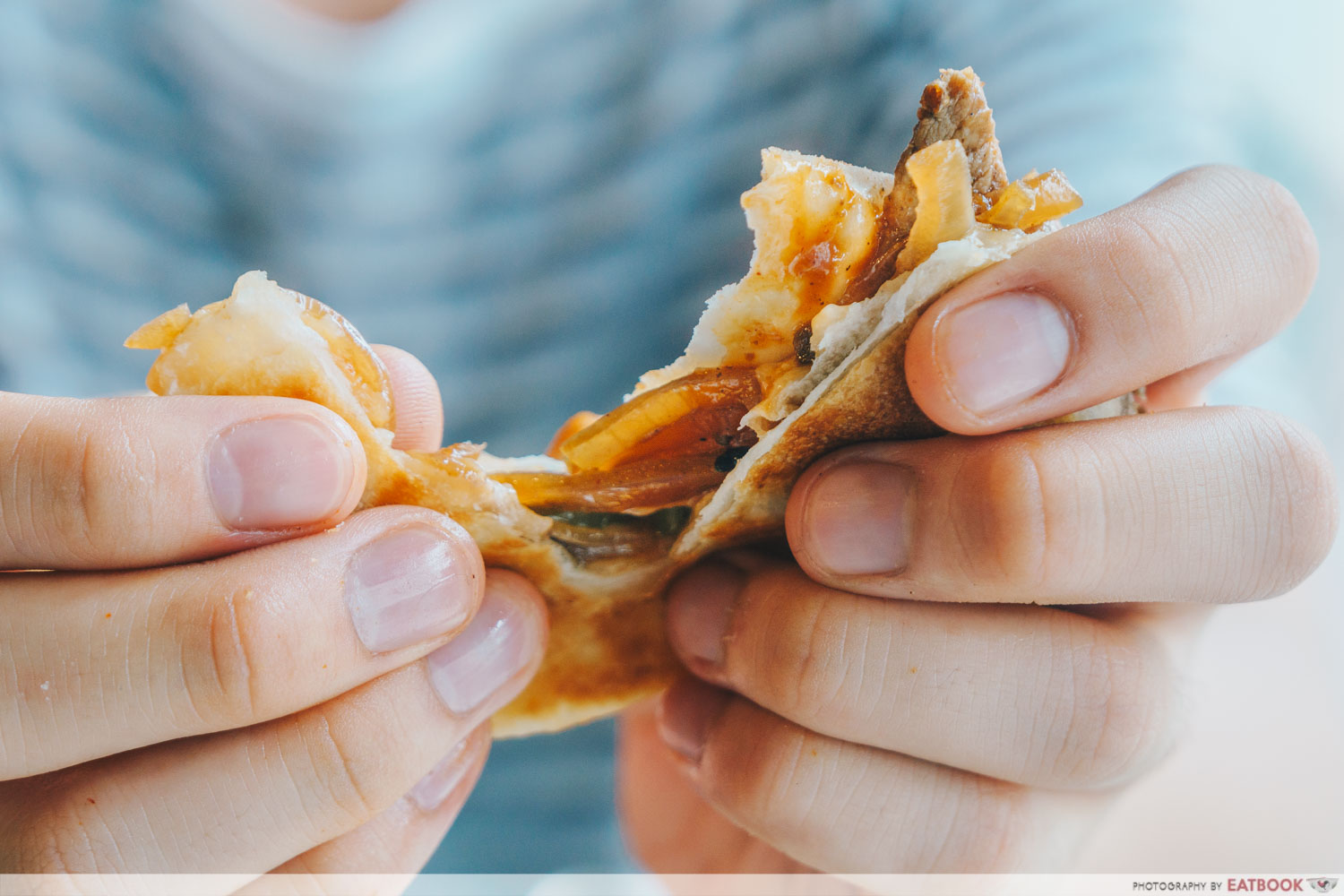 Meat aside, the peppers and onions proved to be unexpectedly important additions, imbuing our rich tortilla parcels with natural sweetness and some variation in texture.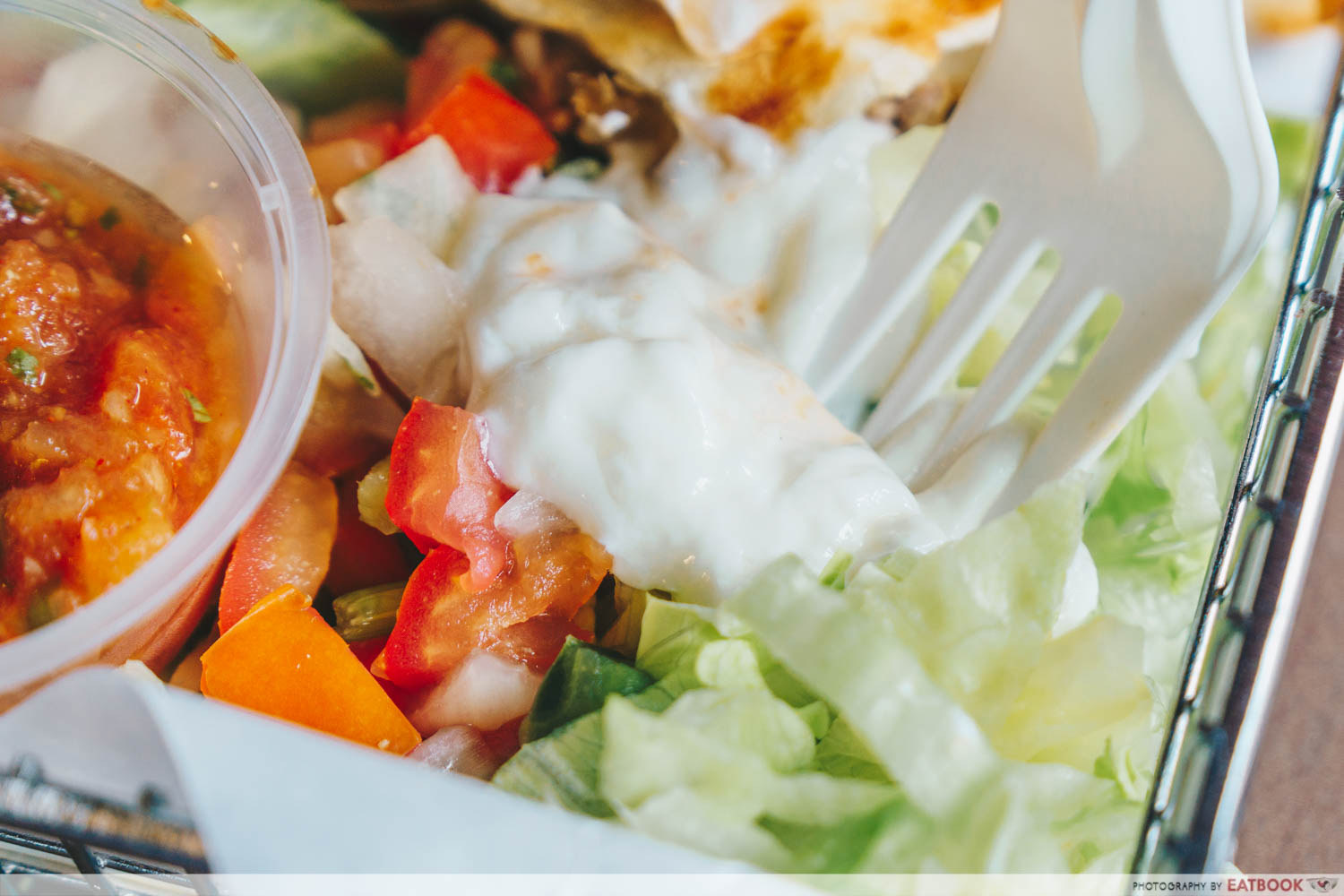 These explosively flavoursome triangles are pretty easy to wolf down, but became rather salty as we were midway through our second piece. To combat that, have your quesadillas with your pick of salsa, lettuce or sour cream – each serving comes with a healthy amount of all three. We enjoyed it best with the sour cream, with its tart creaminess mingling well with the indulgent quesadilla while staving off its jelak tendencies.
Ambience at Jalapeño South-West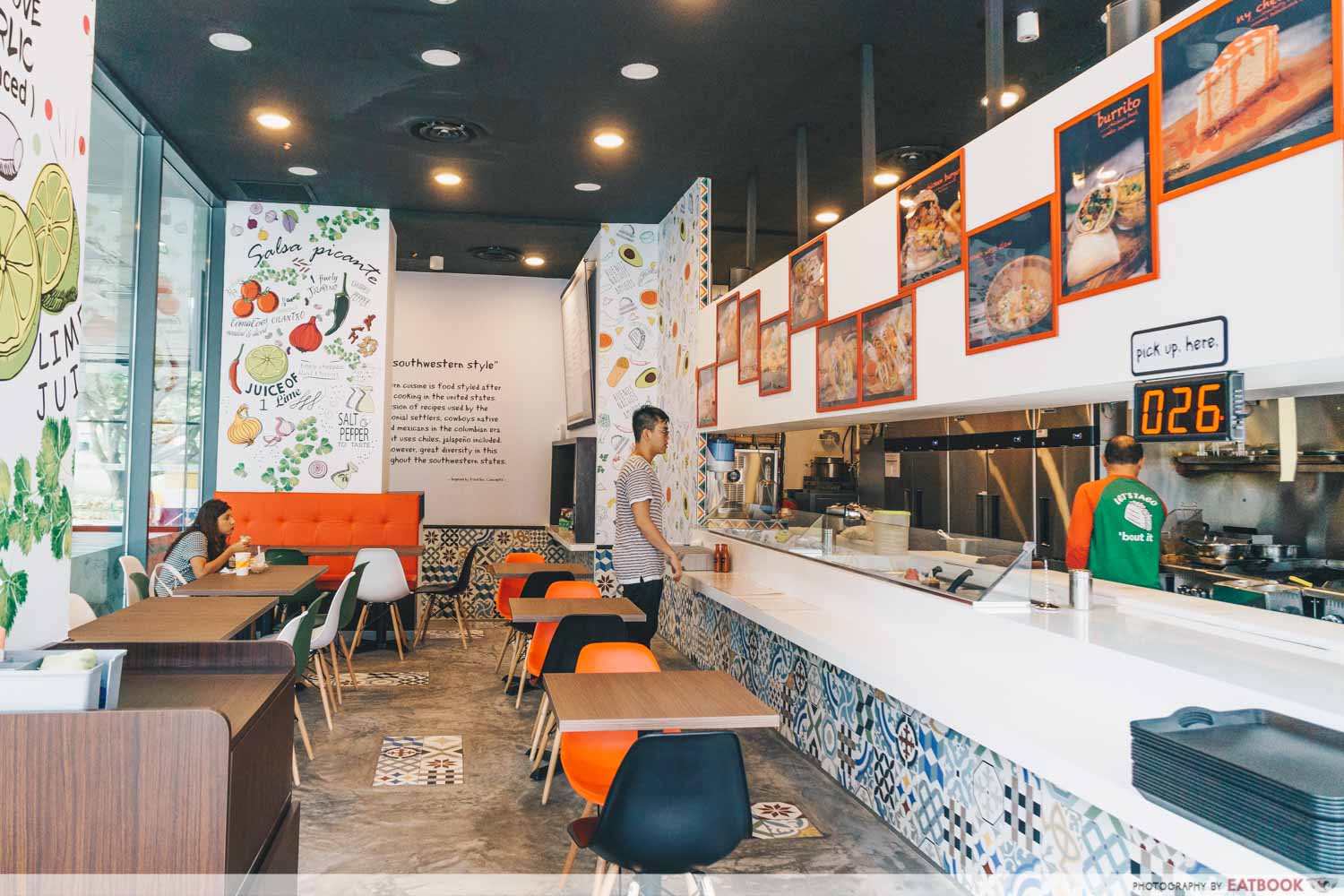 A short walk from Clementi Sports Hall, this brand new Mexican restaurant is a good spot for a post-badminton meal, or if you're simply tired of eating at the nearby Clementi Mall.
Bright colours, cute illustrations and the friendly owner create a light-hearted, welcoming atmosphere that matches the bold and fresh flavours in each dish. An open kitchen means you can watch your tacos and burritos getting made fresh – a blur of sauces and ingredients piling on like clockwork.
The verdict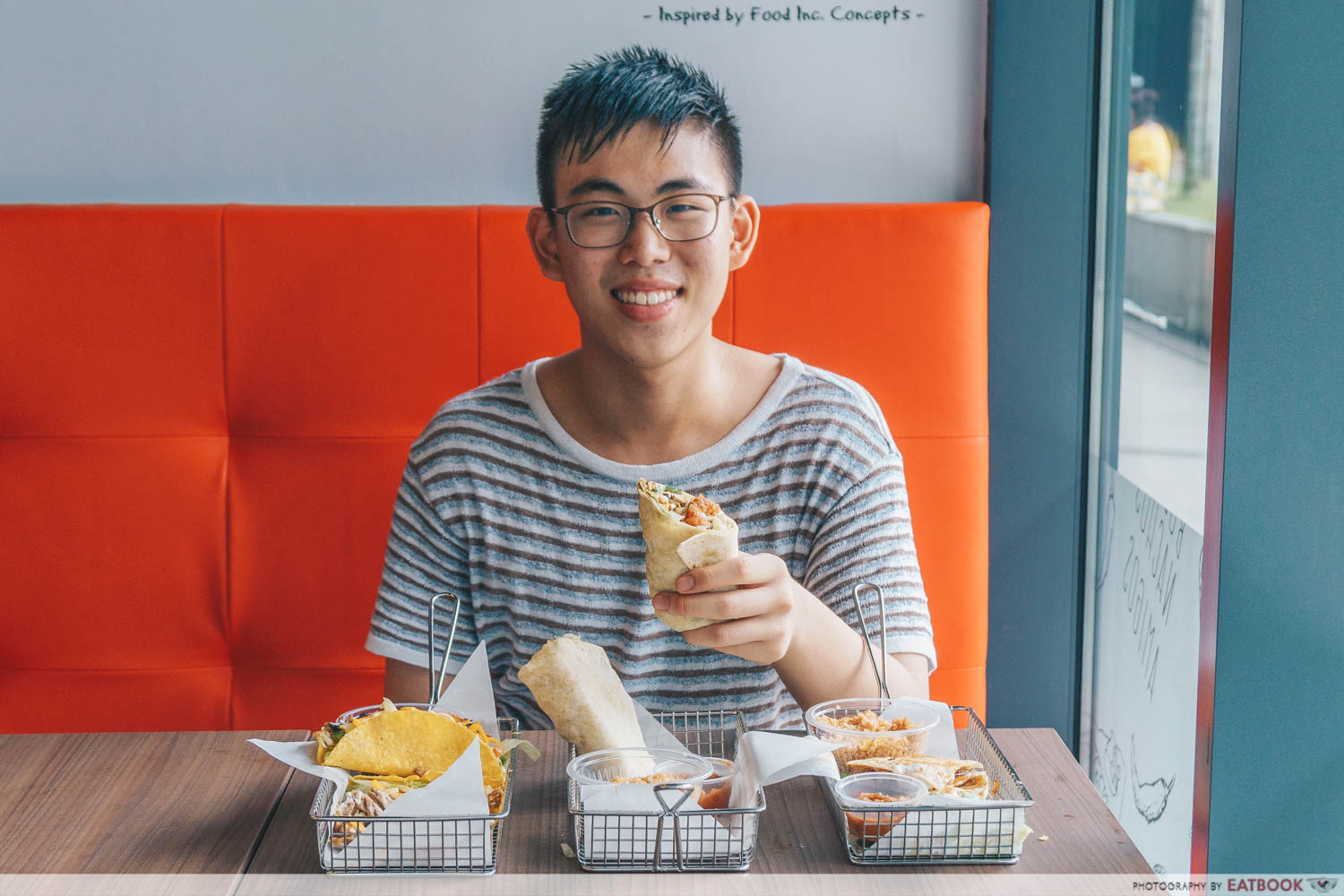 Jalapeño South-West has plenty of promise. It fills a niche in the market of Mexican food for Muslims and serves affordable food that's packed with flavour. Even more importantly, the owner's passion for his food and commitment to continually improving his recipes are plain to see.
The restaurant is still new. So while a couple of aspects of their dishes didn't quite hit the mark, there's enough that's good to make us confident that they'll gradually grow and improve. That's enough for us to consider coming back.
While this Clementi joint isn't currently halal-certified, certification is in the works, so watch this space for updates.
The fiesta never stops in Mexico, so keep on feasting with our list of 10 Mexican restaurants and our review of Vatos Urban Tacos! For more food in Clementi, check out our reviews of Huang Tu Di Xi An Xiao Chi and KToast.
Let us know your favourite spots for Mexican food in the comments below. 
Address: 321 Clementi Avenue 3, #01-09, 321 Clementi, Singapore 129905
Opening hours: Daily 11am to 11pm
Tel: 6272 7123
Website
Jalapeno South-West is a Muslim-owned eatery.
Photos taken by Leong Kit Shan.
This is an independent review by Eatbook.
Summary
Pros
– Bold flavours
– Hard to find Muslim-owned Mexican food
– Affordable for Mexican food
Cons
– Salsa is too watered down
– Beef was slightly tough
Recommended dishes:Beef Quesadilla ($9.90+)
Opening hours: Daily 11am to 11pm
Address: 321 Clementi Avenue 3, #01-09, 321 Clementi, Singapore 129905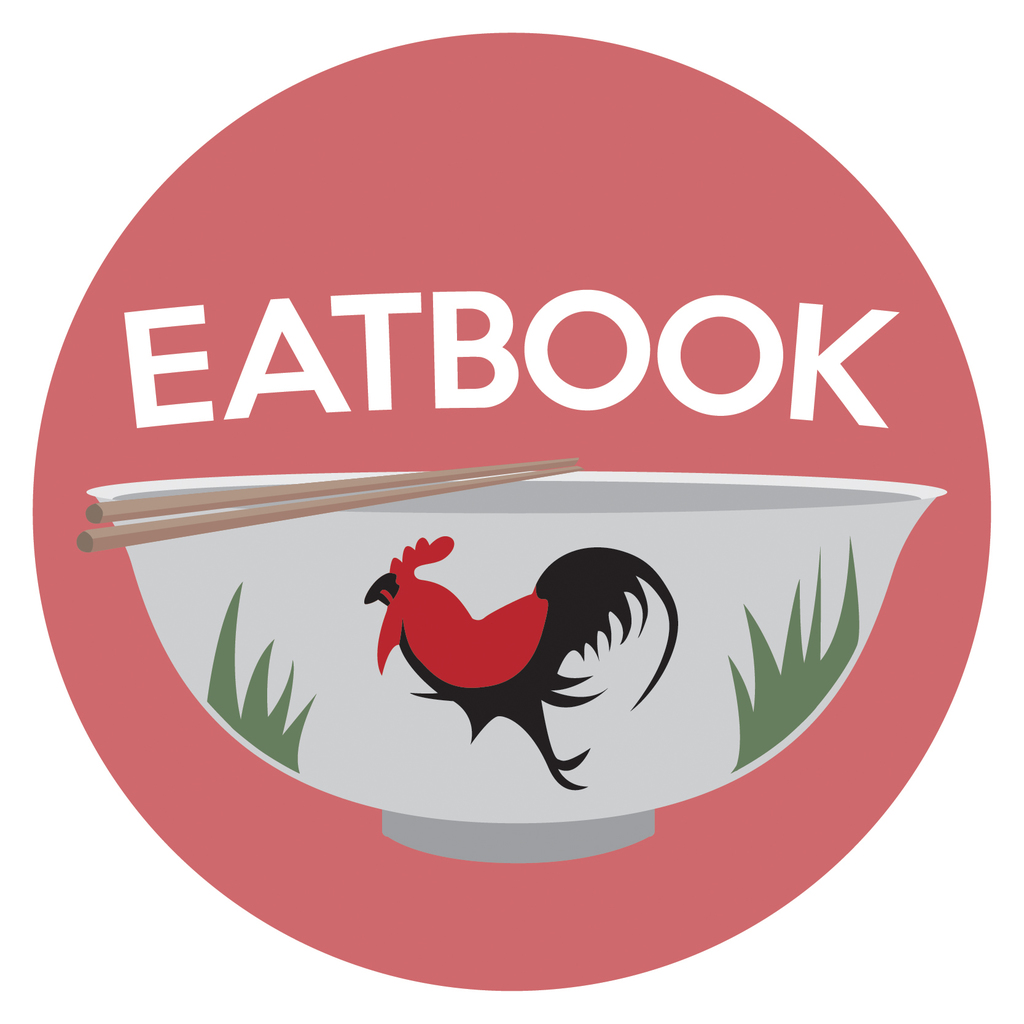 Drop us your email so you won't miss the latest news.