---
Best Mexican restaurants in Singapore
---
Mexican food has been on the rise in Singapore for quite some time now. Creamy guacamole, zesty salsa, and sumptuous, spicy meats—Mexican cuisine excites every area of the palate, with its breadth of punchy sour, spicy, sweet, and salty flavours. If you haven't tried Mexican cuisine yet, say "hola!" to a new world of flavours at these Mexican restaurants in Singapore that dole out affordable tacos and burritos.
Do note that many of these eateries have influences from the Americanised version of the cuisine, also known as Tex-Mex. That is why you may see ground beef or hard shell tortillas, and yellow cheese featured in some of their tacos—these ingredients are not found in authentic, traditional Mexican tacos.
Before we begin, here's a glossary of common Mexican meats to get you up to speed:
Carnitas: Braised, pulled pork shoulder cooked until ridiculously tender with a series of seasonings such as cumin and orange juice.
Barbacoa: Lamb or beef steamed until tender and dripping with fat. Traditionally, the meat and organs of the whole animal are wrapped in agave leaves and cooked in a giant metal pot.
Carne Asada: Mexican steak, distinguished by an intense marinade, typically cumin, chiles and citrus juice
---
1. Muchachos
---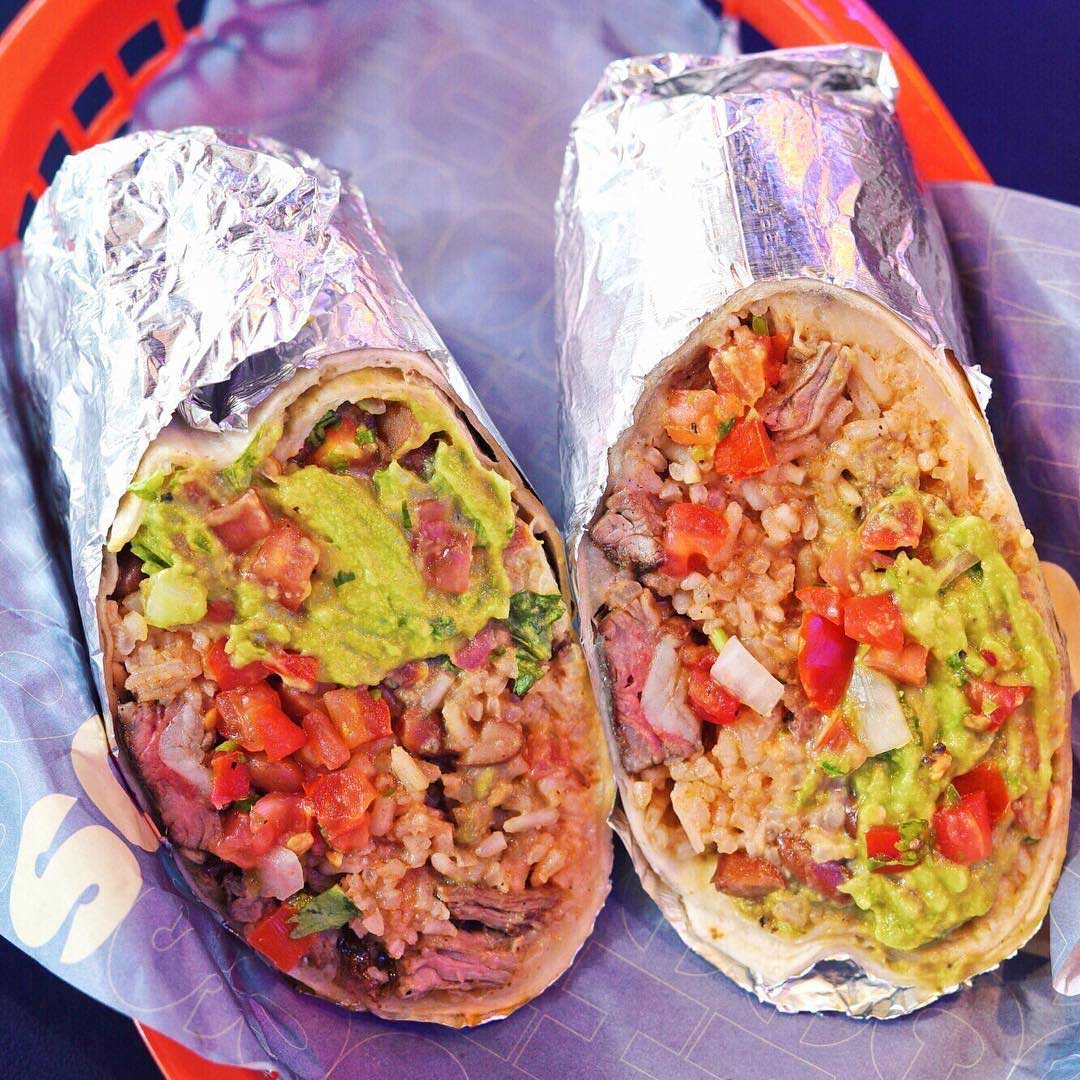 Image credit: @muchachos.sg
Originally a nondescript hole-in-the-wall joint at Keong Saik Road, Muchachos' dazzling burritos have propelled them to a considerably cushier spot at the foot of Frasers' Tower, directly opposite the famous Amoy Street Food Centre.
Naturally, all the classics are available, in the form of juicy Carne Asada ($15.80 for burrito, $6.30 for taco, $15.80 for quesadilla), alluringly spiced Carnitas ($14 for burrito, $5.60 for taco, $14 for quesadilla) and flaky, tender Pescado ($14 for burrito, $5.60 for taco, $14 for quesadilla). If you're feeling adventurous, take a stab at the Lengua ($17.50 for burrito, $7 for taco, $17.50 for quesadilla), which comprises meltingly soft beef tongue that packs incredible flavour.
We recommend going for their burritos if you've got the requisite stomach space. It's what they've built their name with; each burrito is packed with lively salsa, earthy beans, and fragrant rice that isn't too mushy.
Address: 182 Cecil Street, #01-01, Frasers Tower, Singapore 069547
Opening hours: Mon-Sat 11am to 9pm
Tel: 6513 0215
Website
Muchachos is not a halal-certified eatery.
---
2. Vatos Urban Tacos
---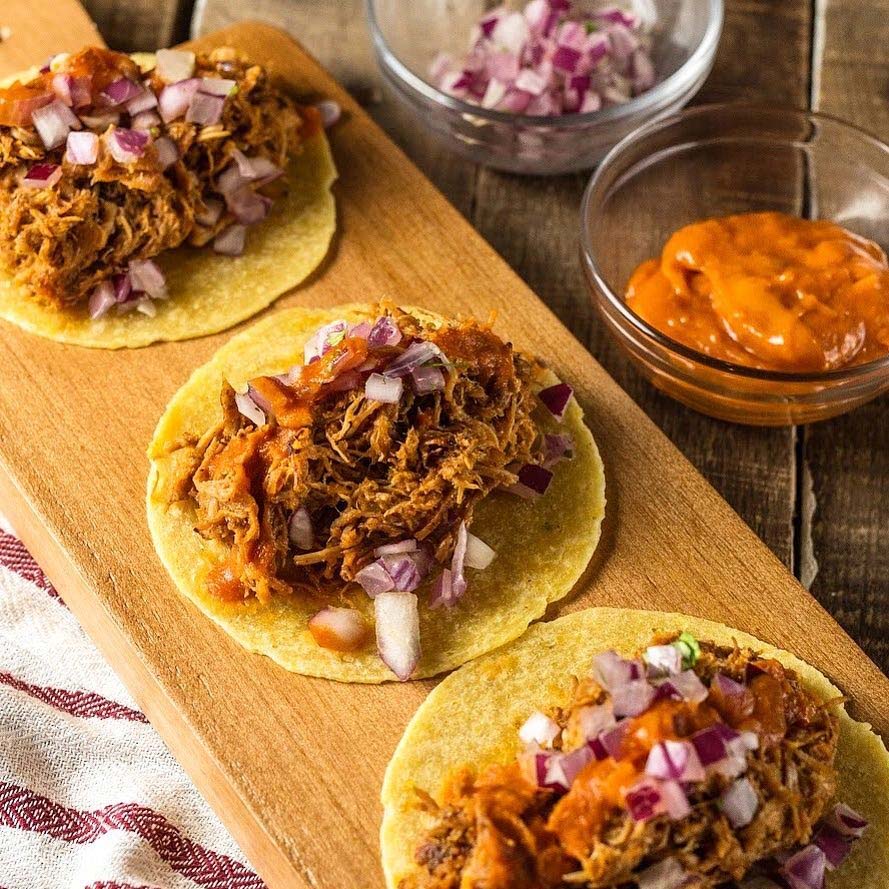 Image credit: @vatossg
Korean and Mexican cuisine seem like diametric opposites, but Los Angeles native taqueria Vatos Urban Tacos proves that opposites attract. Their headline act is the Korean Pork Belly Taco ($14++ for two, $20++ for three), which snuggles fatty strips of gochujang-marinated pork belly and sharp pickled onions into a soft house-made tortilla.
This South Beach bar-cum-restaurant is no slouch when it comes to the classics either. They whip up a formidable rendition of the Carne Asada Taco ($18++ for two, $25++ for three tacos), where heavily spiced strips of meaty steak sit atop their corn tortilla.
Check out our full review of Vatos Urban Tacos!
Address: 36 Beach Road, #01-03, South Beach Quarter, Singapore 189766
Opening hours: Tue-Fri 12pm to 3:30pm, 5pm to 10:30pm, Sat-Sun 12pm to 10:30pm
Tel: 6385 6010
Website
Vatos Urban Tacos is not a halal-certified eatery
Vatos Urban Tacos Review: Hipster Korean-Mexican Food Worth Your Money
---
3. Papi's Tacos
---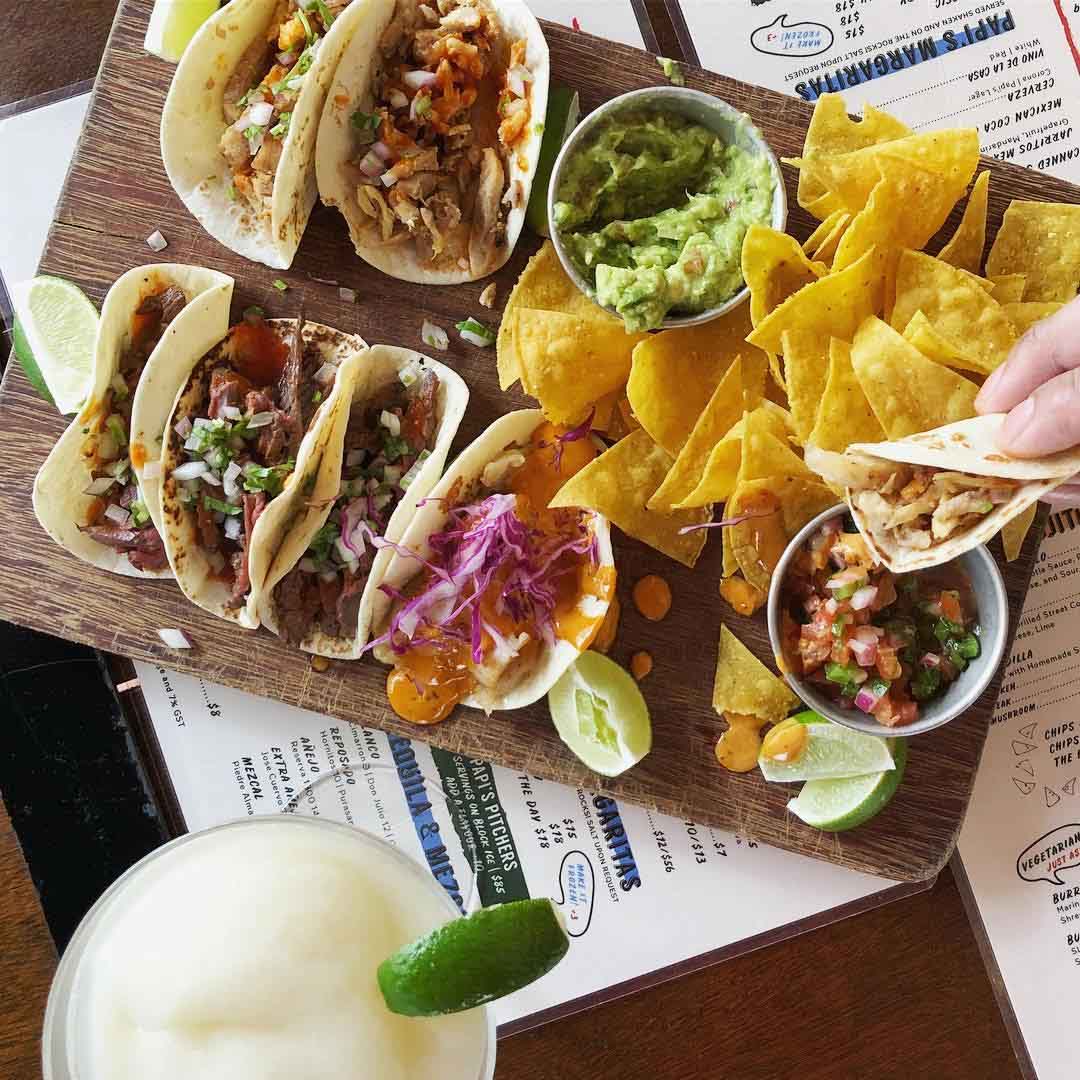 Image credit: @papistacossg
There's something special about a native chef making his own dish. That's the pedigree Papi's Tacos has, as it is helmed by Executive Chef and native of Tlaxaca, Mexico, Mauricio Espinoza.
This 16-seater diner exudes a laid-back vibe, as Mexican-themed pop art posters line the walls. Just as noteworthy are their tacos, especially the Tacos De Pescado ($13++ for two, $19++ for three tacos), which features grilled dory fillets slathered with smoky chipotle aioli. Tacos Al Pastor ($11++ for two, $16++ for three tacos) is ubiquitous on the streets of Mexico, with tender marinated pork cooked kebab-style. It's simple food that bursts with flavour.
Address: 39 Seah Street, Singapore 188395
Opening hours: Sun-Thurs 12pm to 2:30pm, 5pm to 10:30pm, Fri-Sat 12pm to 2:30pm, 5pm to 11pm
Tel: 6258 0701
Website
Papi's Tacos is not a halal-certified eatery.
---
4. Lower East Side Taqueria
---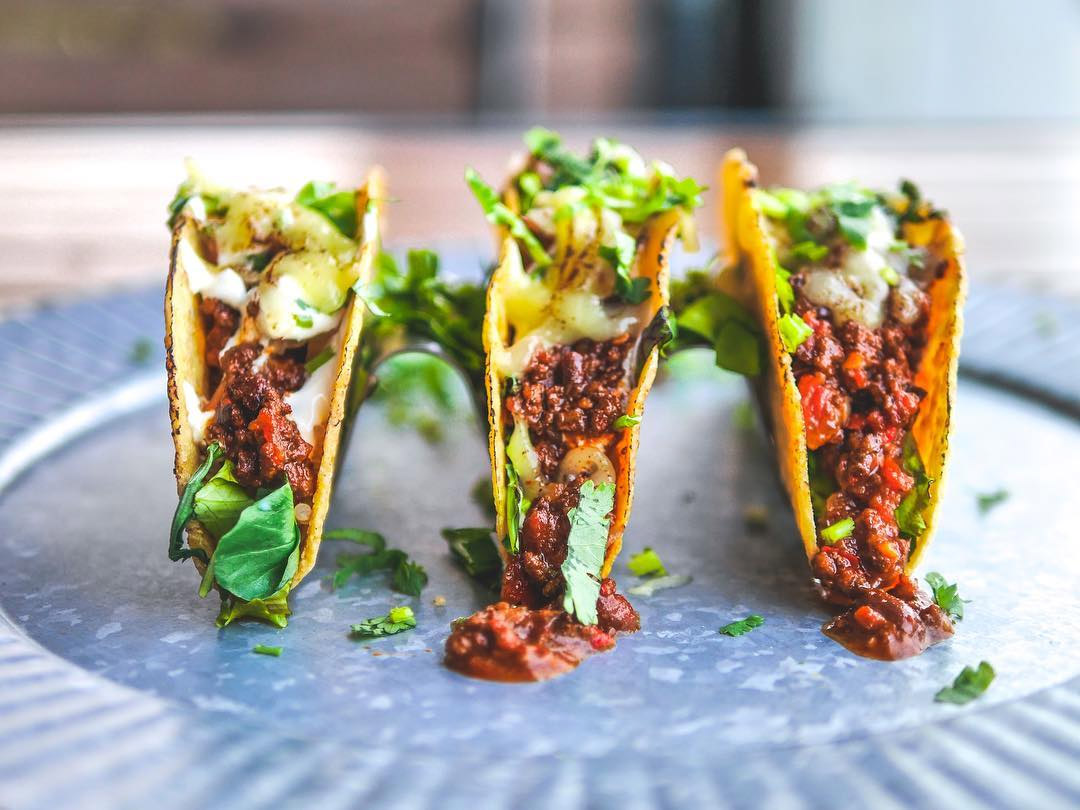 Image credit: @lowereastside.sg
Stylish eatery Lower East Side Taqueria crafts tacos bearing the metropolitan influences of its namesake New York City borough, Lower East Side. It's a nice place to unwind by knocking back some tequila shots while feasting on robust Mexican food.
Urban Jamaican ($18.50++) imparts Caribbean flavour to the taco, in the form of generously spiced jerk chicken. If you aren't afraid of getting your hands—and possibly your shirt—dirty, check out the sloppy Chilli Beef Taco ($16.50++). Tex-Mex chilli con carne slithers out of each crunchy tortilla shell, bursting with smoky and meaty flavour.
Address: 19 East Coast Road, #01-02, Singapore 428746
Opening hours: Sun-Thurs 12pm to 11pm, Fri-Sat 12pm to 1am
Tel: 8772 4878
Website
Lower East Side Taqueria is not a halal-certified eatery.
---
5. Afterwit Mexican Taqueria
---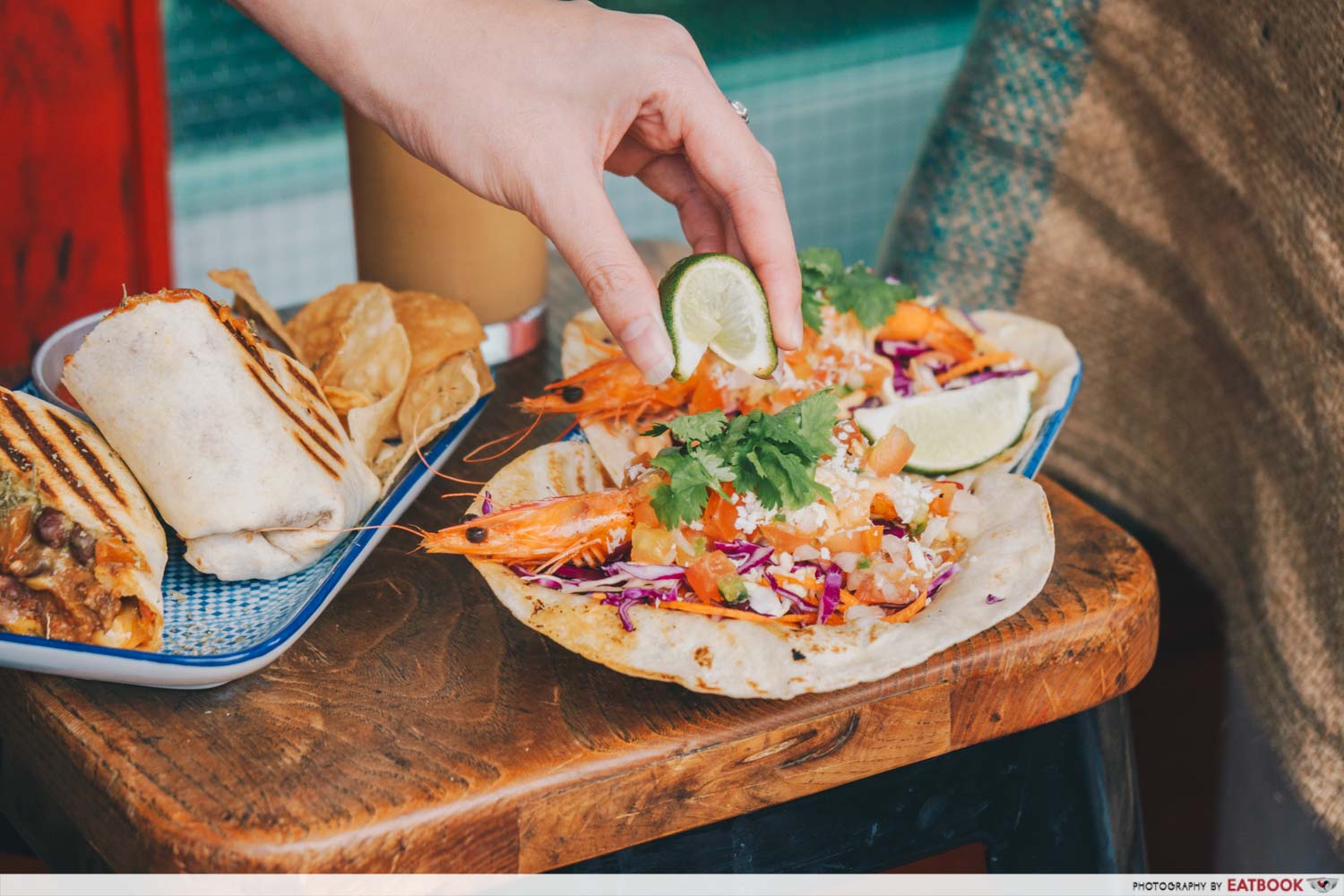 A great halal Mexican option is Afterwit Mexican Taqueria. This no-frills North Bridge joint has Mexico-inspired decor and green walls, but the menu encompasses a multitude of fusion flavours.
There's the Vietnamese-inspired Banh Mi ($16++) taco, which has the same pickled vegetables in banh mi sandwiches and your choice of chicken, beef or lamb, with a side of chipotle sour cream. Another great fusion is the Tofu Sanchez ($14++) taco, which pairs marinated tofu with corn salsa and more. If you'd like something heartier, there's the classic Quesadillas ($19++) to fill you up.
Address: 778 North Bridge Road, Singapore 198746
Opening hours: Daily 12pm to 10pm
Tel: 8786 1948
Website
Afterwit Mexican Taqueria is a halal-certified eatery.
---
6. El Cocinero
---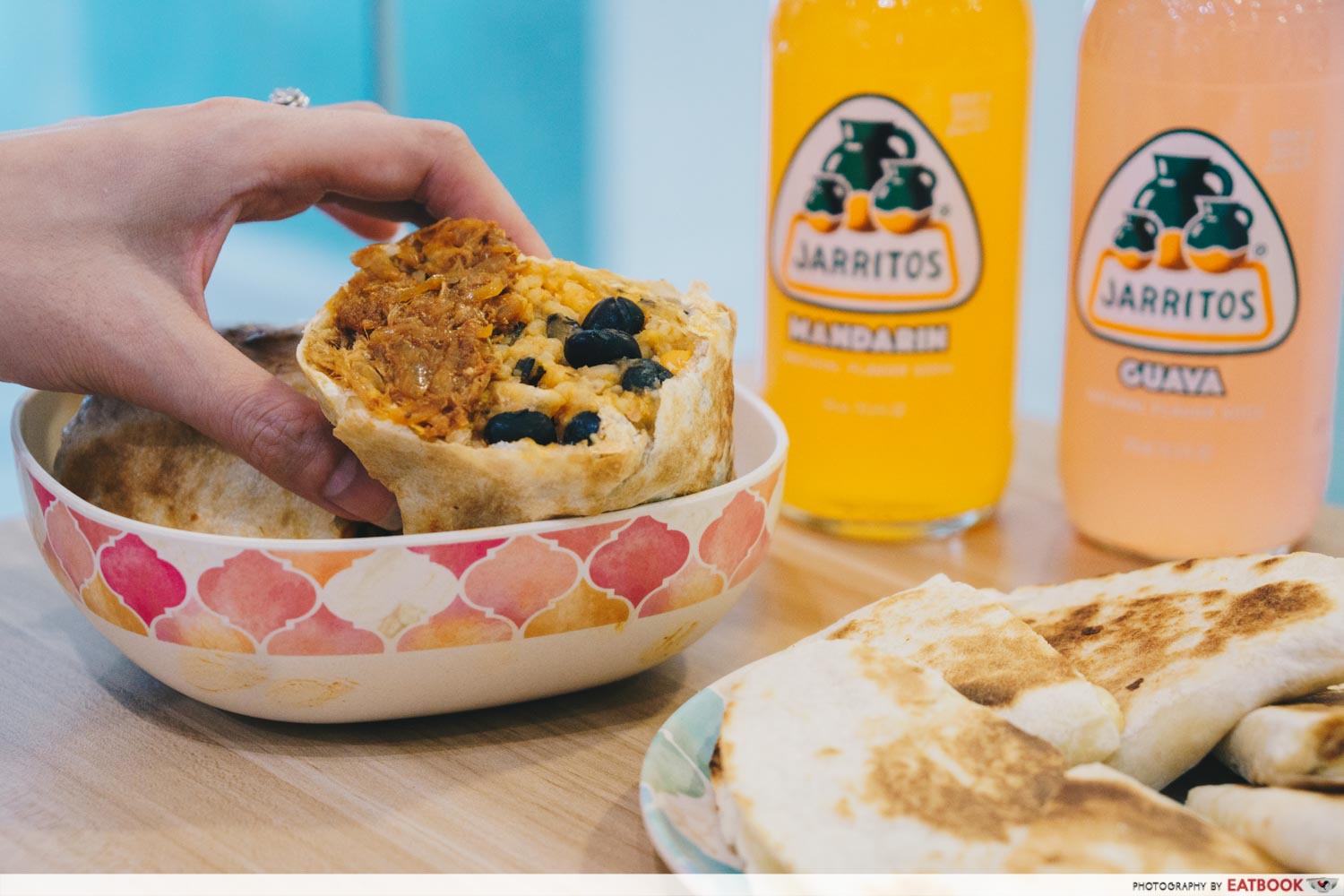 El Cocinero is a gem in the heart of Novena. Nestled snugly in a quiet apartment block, this humble cantina serves up some supremely affordable, authentic Mexican grub. Their taco selection is headlined by the smoky and juicy chicken Tinga ($8.90 for three tacos) and luscious classic Carnitas ($9.50 for three tacos). Each taco is topped with sharp diced onions, piquant salsa, and earthy coriander to give a fresh edge to your tortilla-licious experience.
Burrito fanatics aren't left out, especially with the fantastically filling Beef Picadillo Burrito—an absolute steal at $11.50. Make sure you have an empty stomach, because this gargantuan burrito is stuffed with ground beef and potatoes, on top of the usual portion of rice and beans. A layer of gooey melted cheese is also slapped on for an undoubtedly sinful meal.
Address: 275 Thomson Road, #01-45, Novena Regency, Singapore 307645
Opening hours: Daily 11am to 9pm
Tel: 8307 5163
Website
El Cocinero is not a halal-certified eatery.
---
7. Huevos
---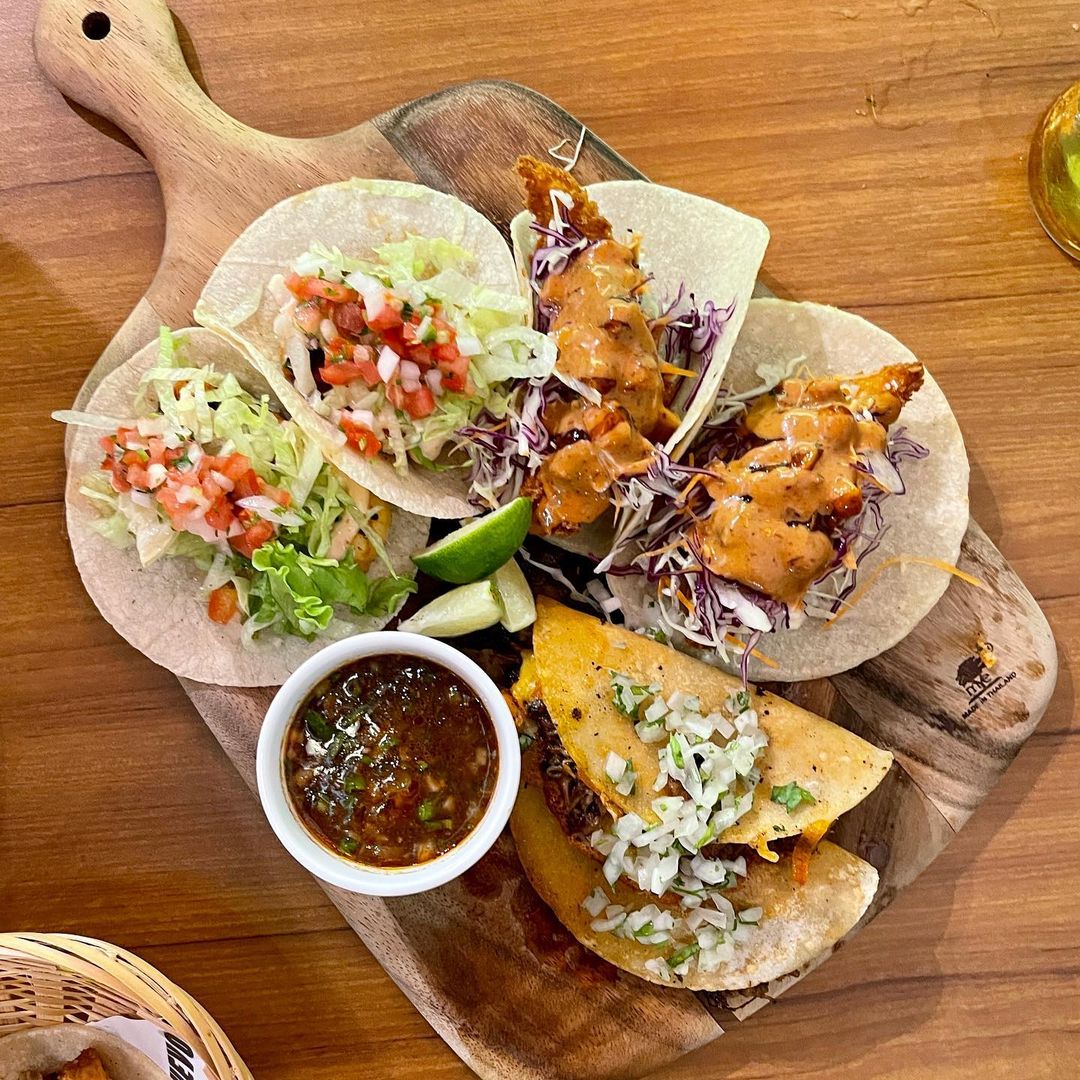 Image credit: @gohsiokpeng
Huevos is a super popular Mexican joint that people love for many reasons. Their Instagram-worthy quesadillas and tacos aren't just easy on the eyes—they're jam-packed with all sorts of tasty ingredients and spices that blend together perfectly to create that classic, bold Mexican flavour.
For $10+, you can get a set of two Huevos Carnitas Pork Tacos, which feature a simple but tasty mix of slow-cooked pulled pork, onions, and shredded coriander, with a refreshing picante verde sauce in a white corn tortilla. Make sure to give the beloved Baja Fish Tacos (from $12+) a try, as they feature generous portions of crispy and succulent codfish deep-fried to a golden perfection.
Read our Huevos review.
Address: 803 North Bridge Road, Singapore 198771
Opening hours: Tues-Sun, 11am to 3pm, 5:30pm to 10pm (Closed first Tuesday of each month)
Tel: 8484 4825
Website
Huevos is not a halal-certified eatery.
Huevos: Popular Mexican Eatery With Legit Tacos And Carolina Reaper Hot Sauce
---
8. Cha Cha Cha Mexican Restaurant
---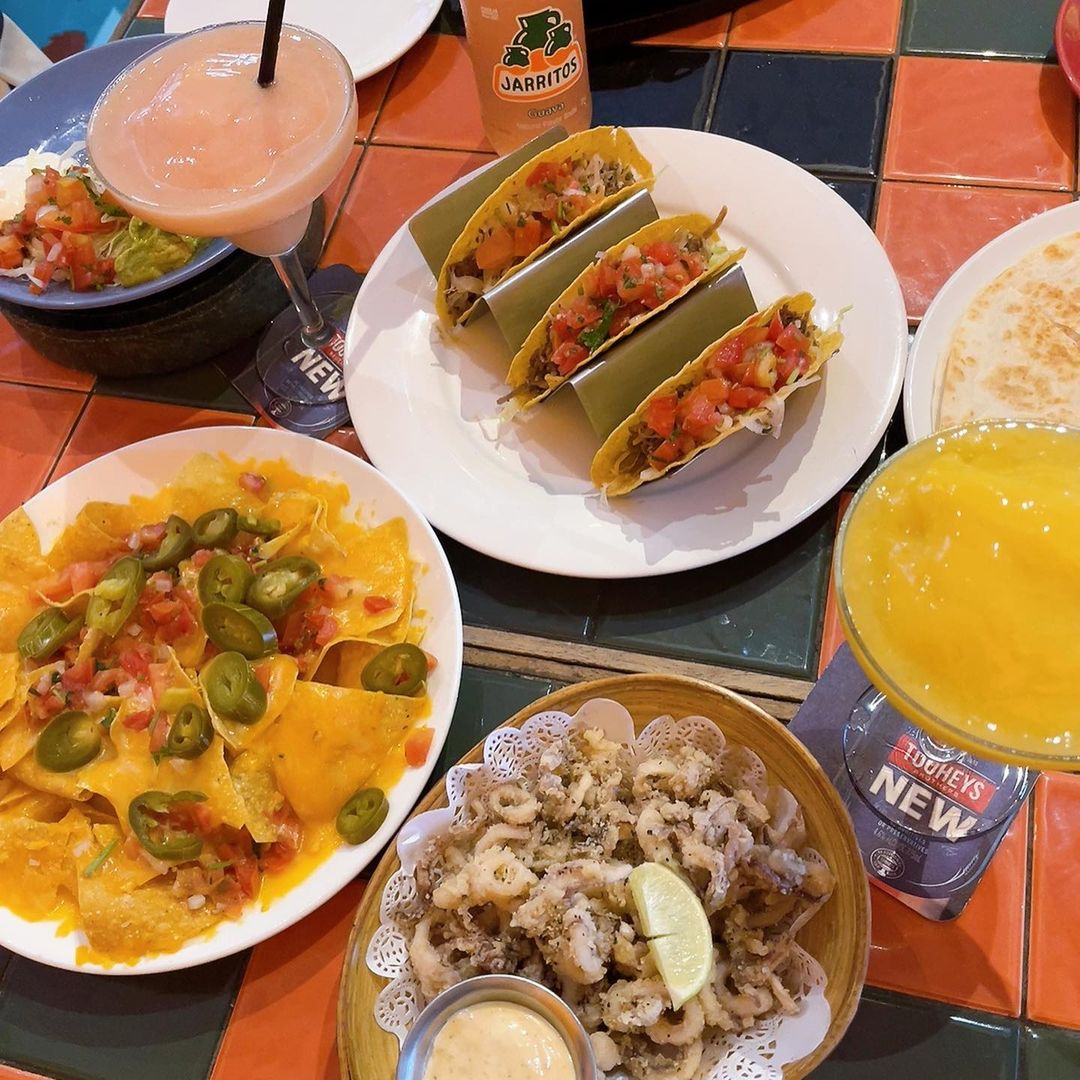 Image credit: @singajapanfoodie
Probably the oldest eatery of its kind in Singapore, Cha Cha Cha Mexican Restaurant has been serving its delectable fare since it opened in Holland Village.
Its menu is chock-full of Mexican classics, such as the Pulled Pork Nachos ($15++), which are served with melted cheese, jalapenos, and pico de gallo, and Fish Tacos ($17++), served with lettuce, cheese, pico de gallo, and your choice of tortillas. For mains, the Pollo Al Chipotle ($19++) is a good shout, as it consists of delicious fried chicken thighs served with chipotle sauce, corn salsa, and cilantro rice.
Address: 32 Lorong Mambong, Singapore 277690
Opening hours: Daily 11:30am to 12am
Tel: 6462 1650
Website
Cha Cha Cha Mexican Restaurant is not a halal-certified eatery.
---
9. Chimichanga
---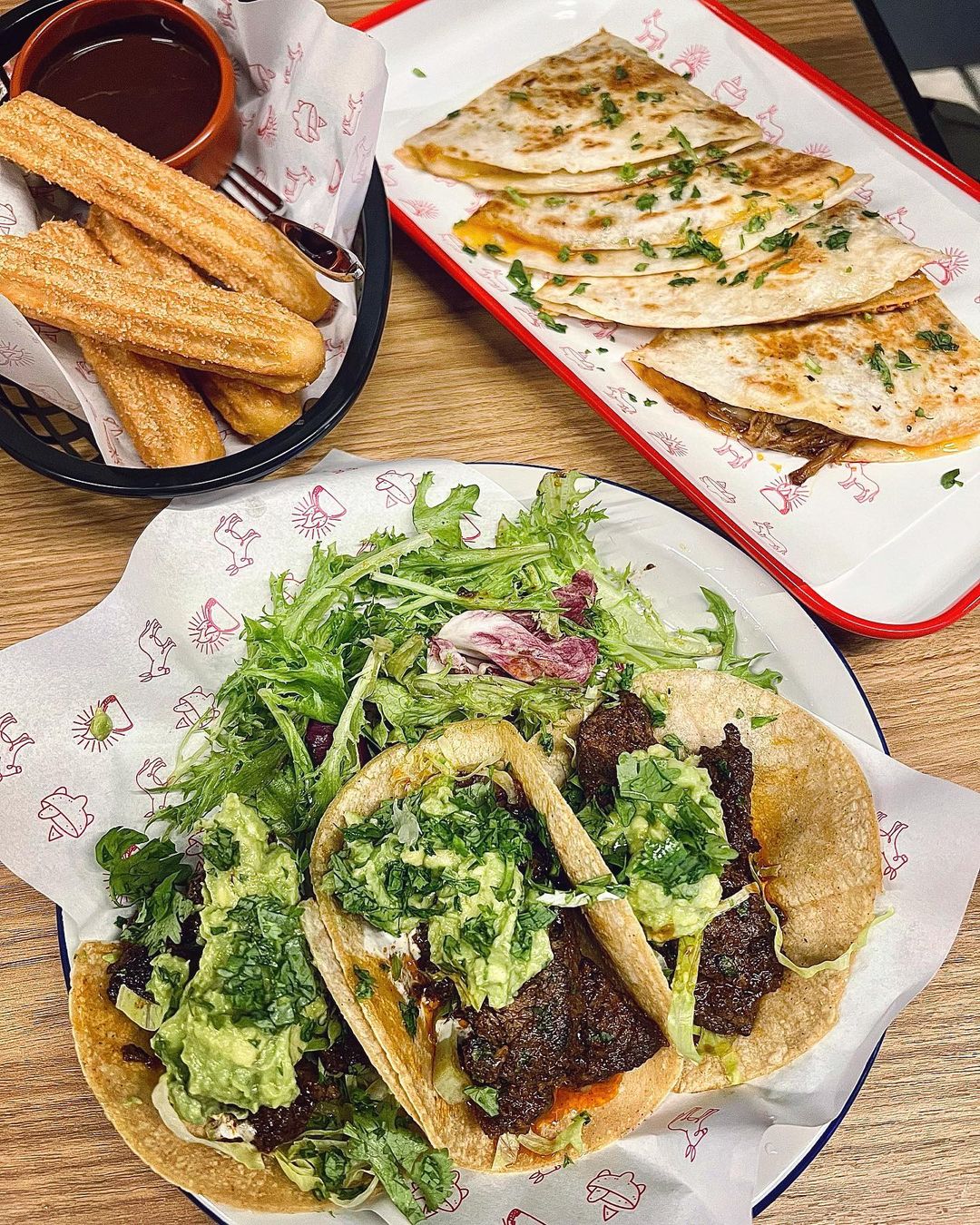 Image credit: @gailovecats
With three locations across the country, Chimichanga is one of the more recognisable entries on the list. And yet, all three outlets have maintained a very high score on Google Maps, which is testament to its consistent quality. A taste of the Carne Asada Tacos ($14++) tells you exactly this—filled with skirt steak streaks, guacamole and more, it's what you'd want from a taco. For a more filing meal, try the Chipotle Chicken ($14++), which gets you spicy and smoky chicken along with an amarillo rice bowl.
Website | Full list of outlets
Chimichanga is not a halal-certified eatery.
---
10. Los Amigos
---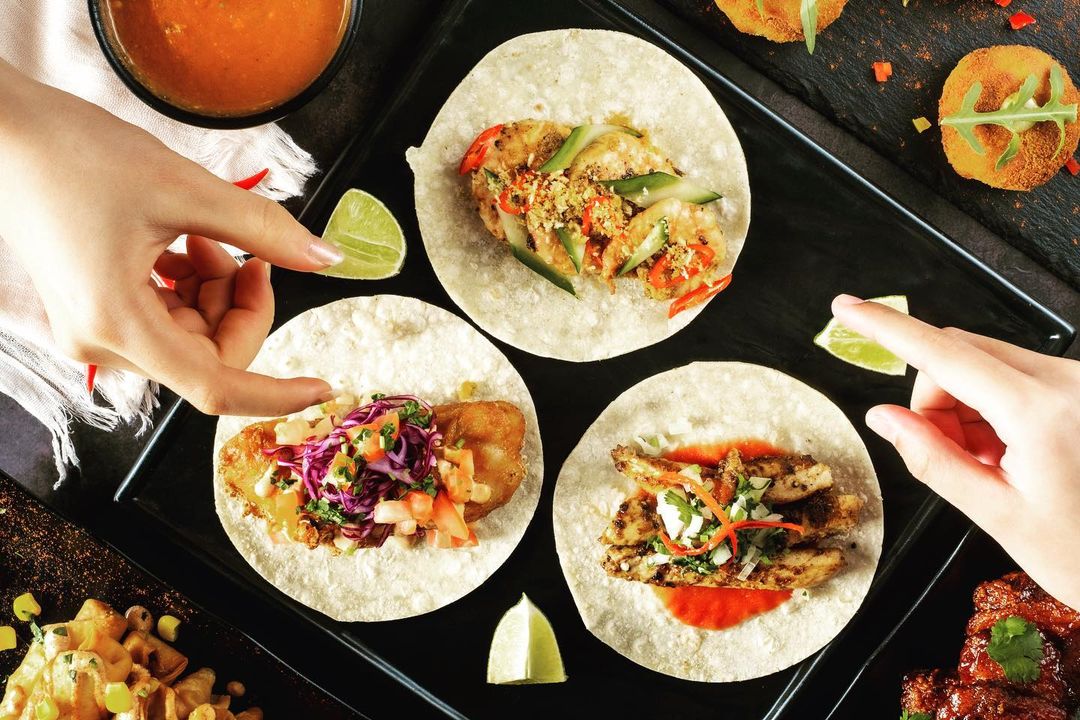 Image credit: @losamigos.sg
Los Amigos claims to serve unpretentious, everyday Mexican comfort food that's best shared with friends, and looking at the menu and the acclaim it has received, that certainly seems to be the case.
Its Prawn Tacos ($16+), for instance, features juicy and fresh prawns with pico de gallo, salsa, and sour cream, wrapped in soft shell tacos—a classic done right. For a more DIY experience, get the Fajitas ($22+), which lets you combine grilled meat, bell peppers, various sauces, and tortillas to stunning effect.
Address: 85 Circular Road, #01-01, Singapore 049437
Opening hours: Mon-Fri 12pm to 12am, Sat 5pm to 12am
Tel: 8298 8583
Website
Los Amigos is not a halal-certified eatery
---
Where to eat the best Mexican food in Singapore
---
With heaps of bold flavour and immensely satisfying meats, it's no surprise that Mexican is as popular as it is nowadays. Head to these joints to expand your culinary horizons and just maybe, you'll end up jumping on this tasty Latin American bandwagon.
If explosive flavours are your thing, check out our list of affordable Thai food or our article on Indian restaurants in Singapore.
12 Affordable Thai Food Places With Mains Below $15 For Your Next Clique Outing
Feature image adapted from @muchachos.sg, @papistacossg, @lowereastside.sg, @gohsiokpeng, @singajapanfoodie.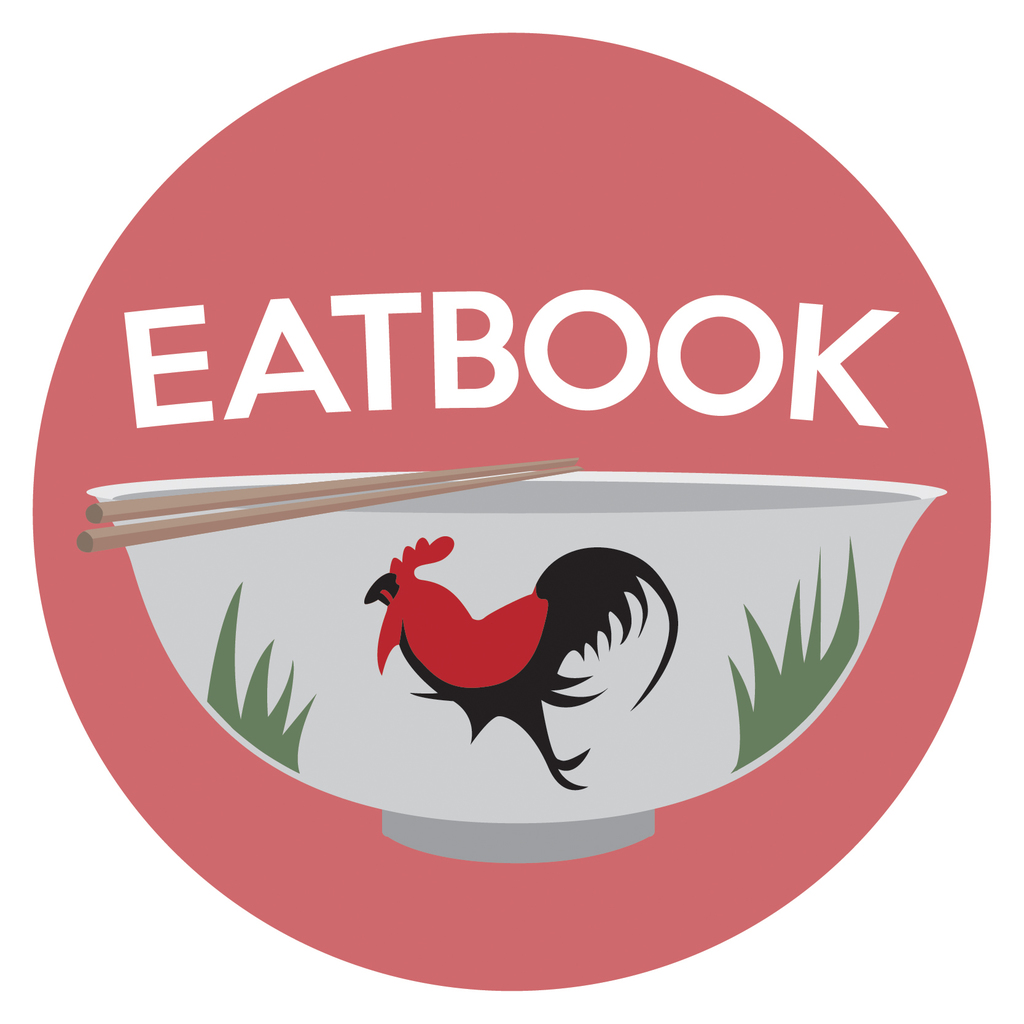 Drop us your email so you won't miss the latest news.