Huang Tu Di Xi An Xiao Chi serves authentic Xi'an cuisine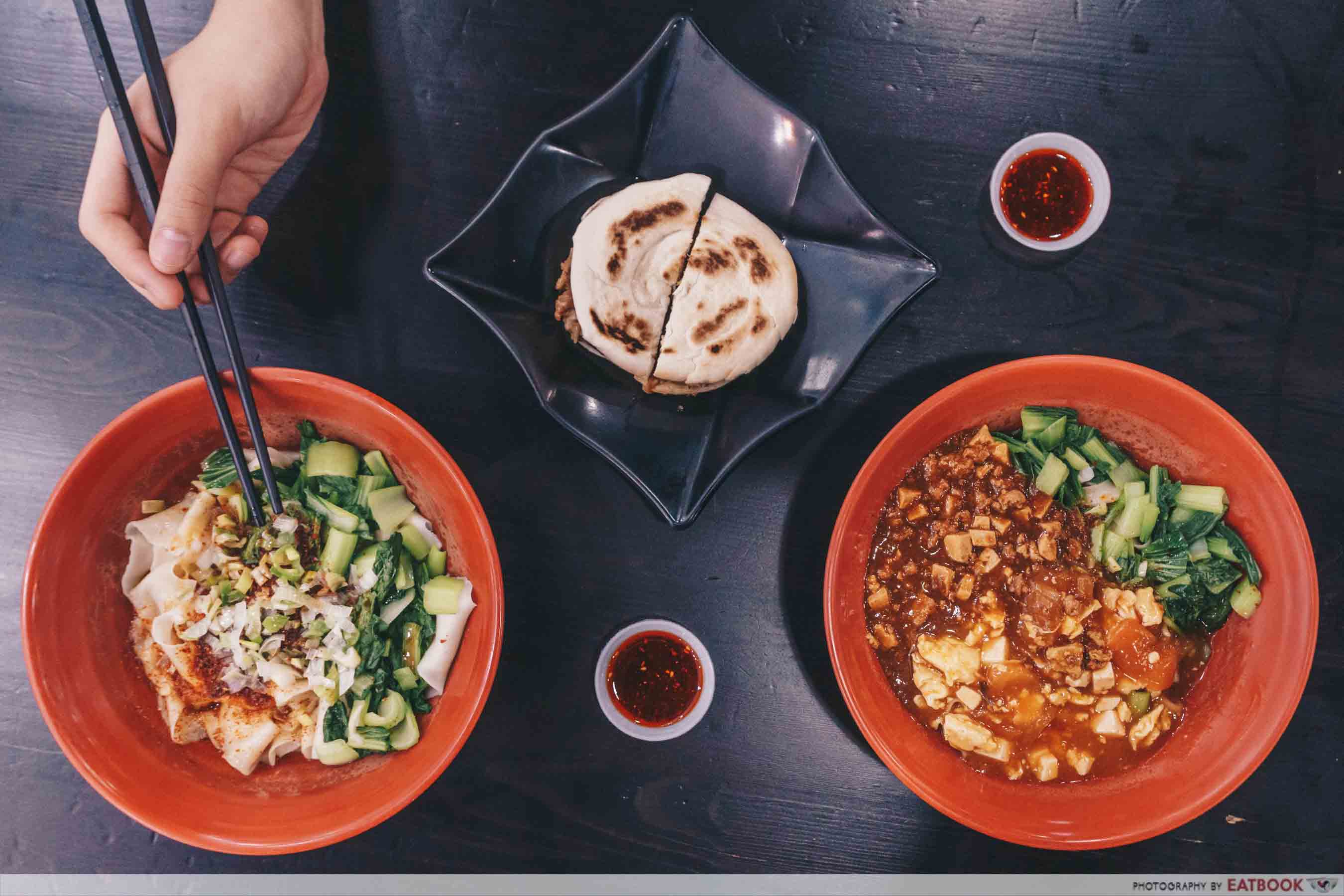 Singaporeans are well-acquainted with many sectors of Chinese cuisine: Hainanese, Shanghainese, Teochew, Hokkien and Sichuan to name a few. Xi'an cuisine is a lot more difficult to come by though, and most Singaporeans would struggle to name dishes from that region.
Huang Tu Di Xi An Xiao Chi is renowned amongst Chinese nationals in Singapore, serving up fiercely authentic Xi'an cuisine that doesn't compromise on flavour.
Helmed by a Xi'an native, this unassuming restaurant focuses on bringing the region's powerful flavours to our shores. 
Food at Huang Tu Di Xi An Xiao Chi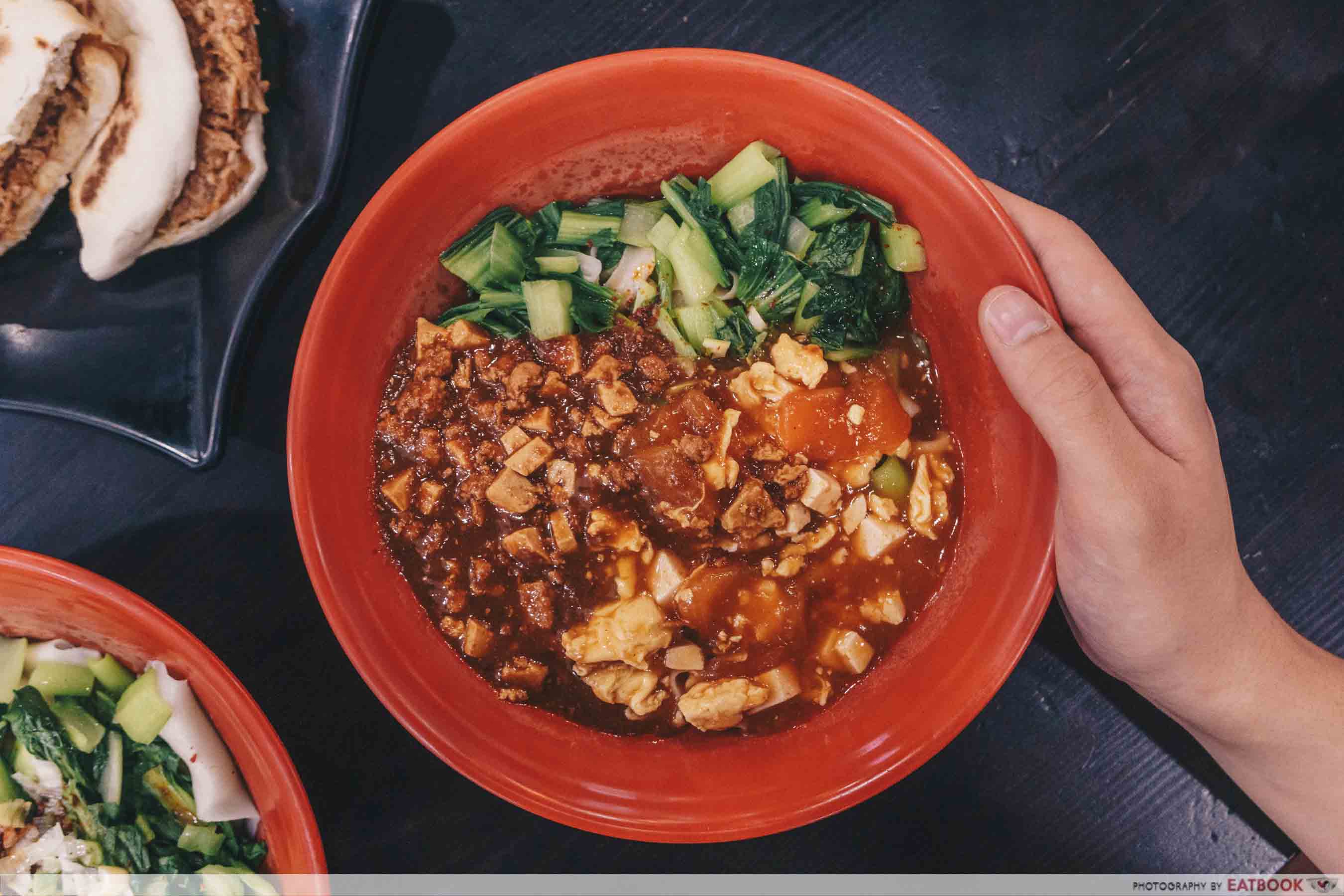 Their signature 3-in-1 Biang Biang Noodle ($6.80) was a technicolour treasure trove. Scarlet tomato and egg sauce, deep brown zha jiang mian meat sauce, leafy green vegetables, and ashy red chilli paste formed a blanket over pale-white, hand-pulled noodles. With the triumvirate of meat, tomato and chilli sauces, we expected explosive flavours from this bowl.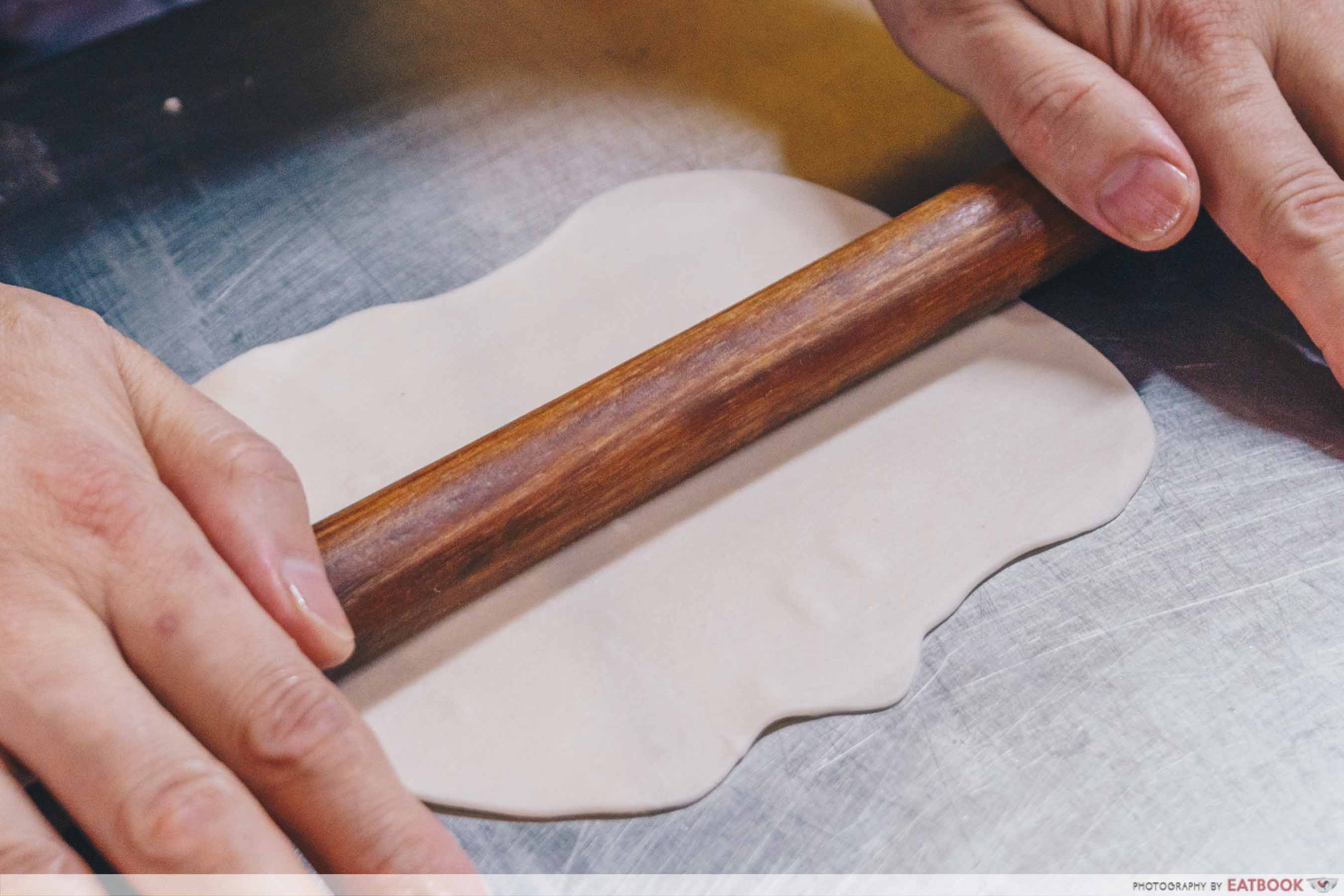 Biang biang mian are a Xi'an signature, comprising hand-pulled and hand-torn noodles made solely from flour and water. They are named after the sound the noodle dough makes when getting slapped against the counter while being pulled – a move that is supposed to release tension and prevent the dough from breaking.
The portion of noodles is generous. Plus, considering the effort required to make three types of sauce, this bowl is a bargain.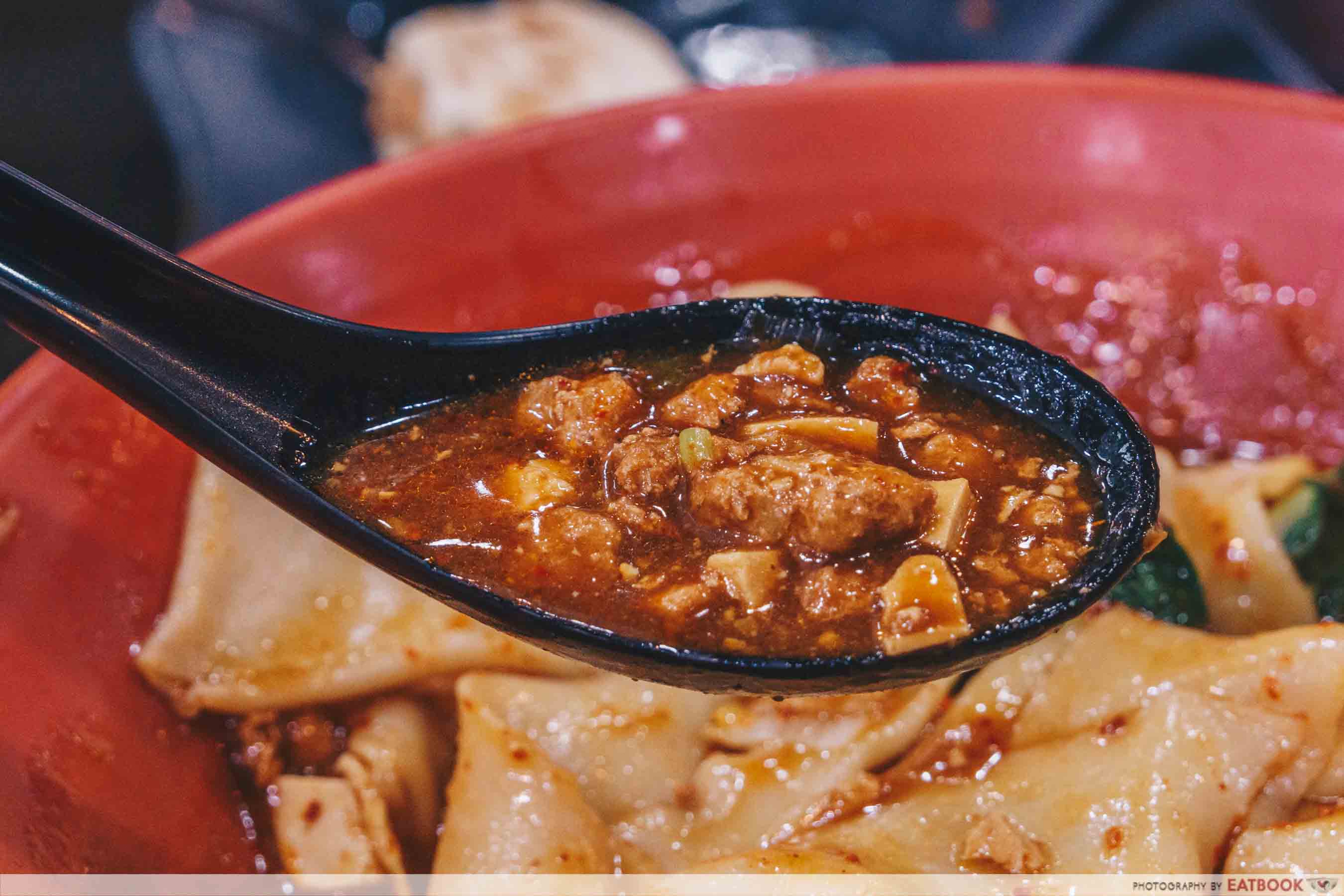 Authentic, rustic Chinese food is known for its in-your-face, assertive flavours rather than its subtlety. And yet the trio of sauces didn't clash and overwhelm our palates, working harmoniously instead. They created a complex meld of sweet, sour, spicy and meaty flavour that never threatened to become overbearing – an impressive feat considering the multitude of components.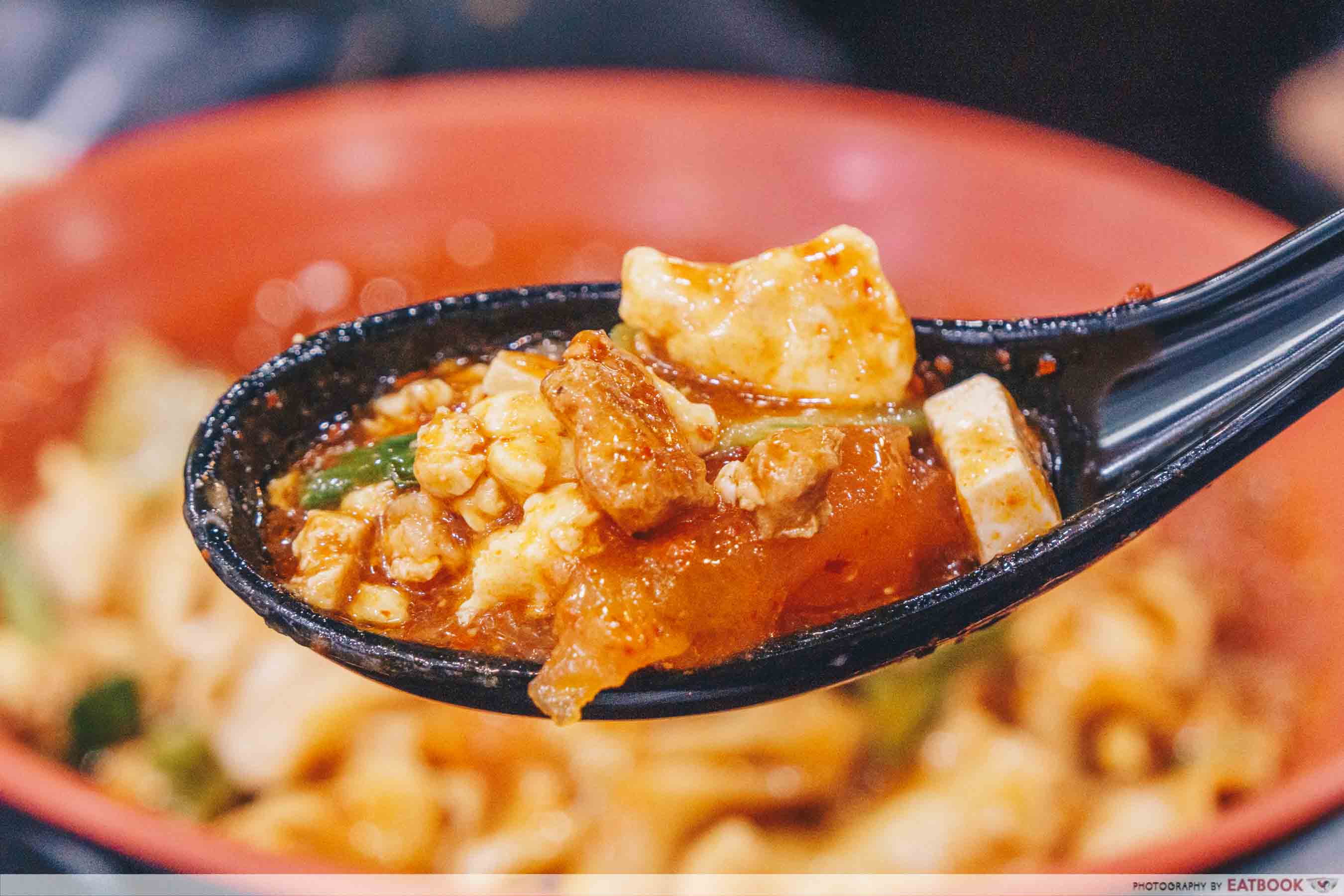 A sweet-sour tang from the tomato and egg sauce was most prominent. Following on its heels were the meat sauce that provided a robust body, with chilli paste imparting licks of heat. Despite its intimidating appearance, the chilli didn't blow our heads off with heat, and was a background player.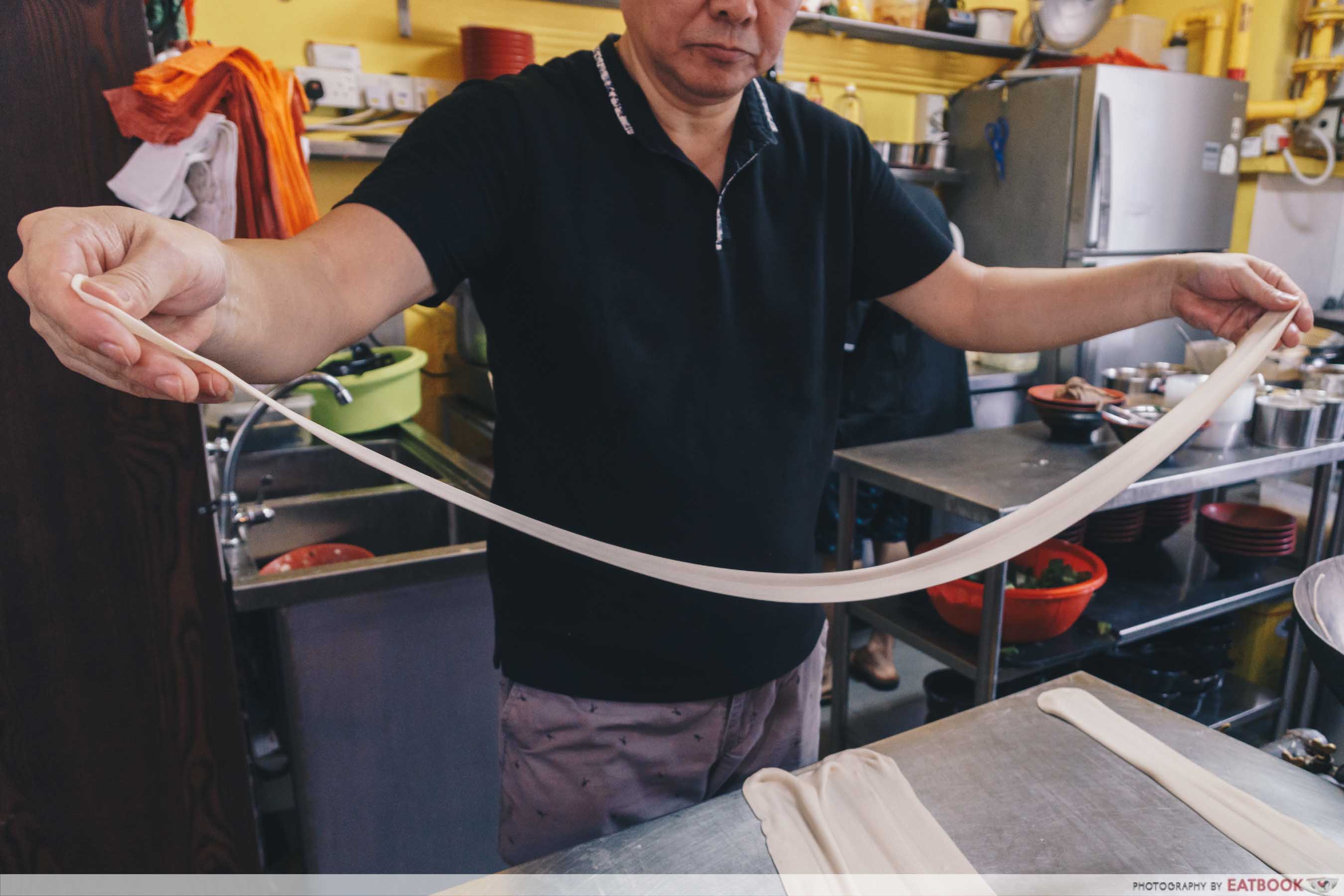 Watching the making of biang biang mian is quite a spectacle. It requires immense skill and practice to deftly stretch, manipulate and smack the noodles. The result is silky smooth, al dente noodles with a good chew. I'd compare it to a thicker, less elastic version of kway teow.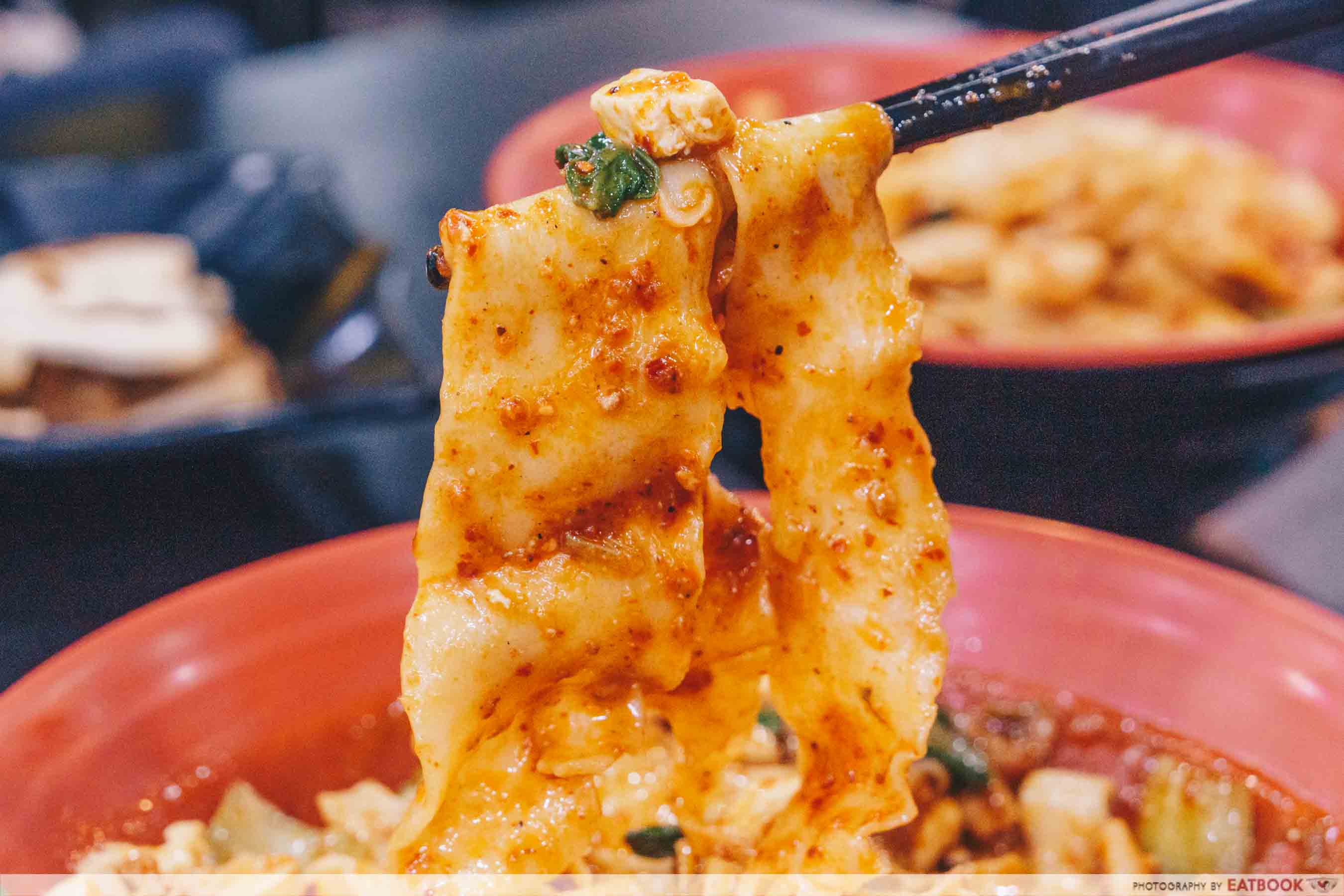 The amalgamation of sauces had a mildly gooey consistency, which ensured that the freshly-made noodles remained moist and judiciously-coated throughout. Meanwhile, crunchy fresh xiao bai cai were a simple, yet welcome topping, granting contrasting textures in the bowl.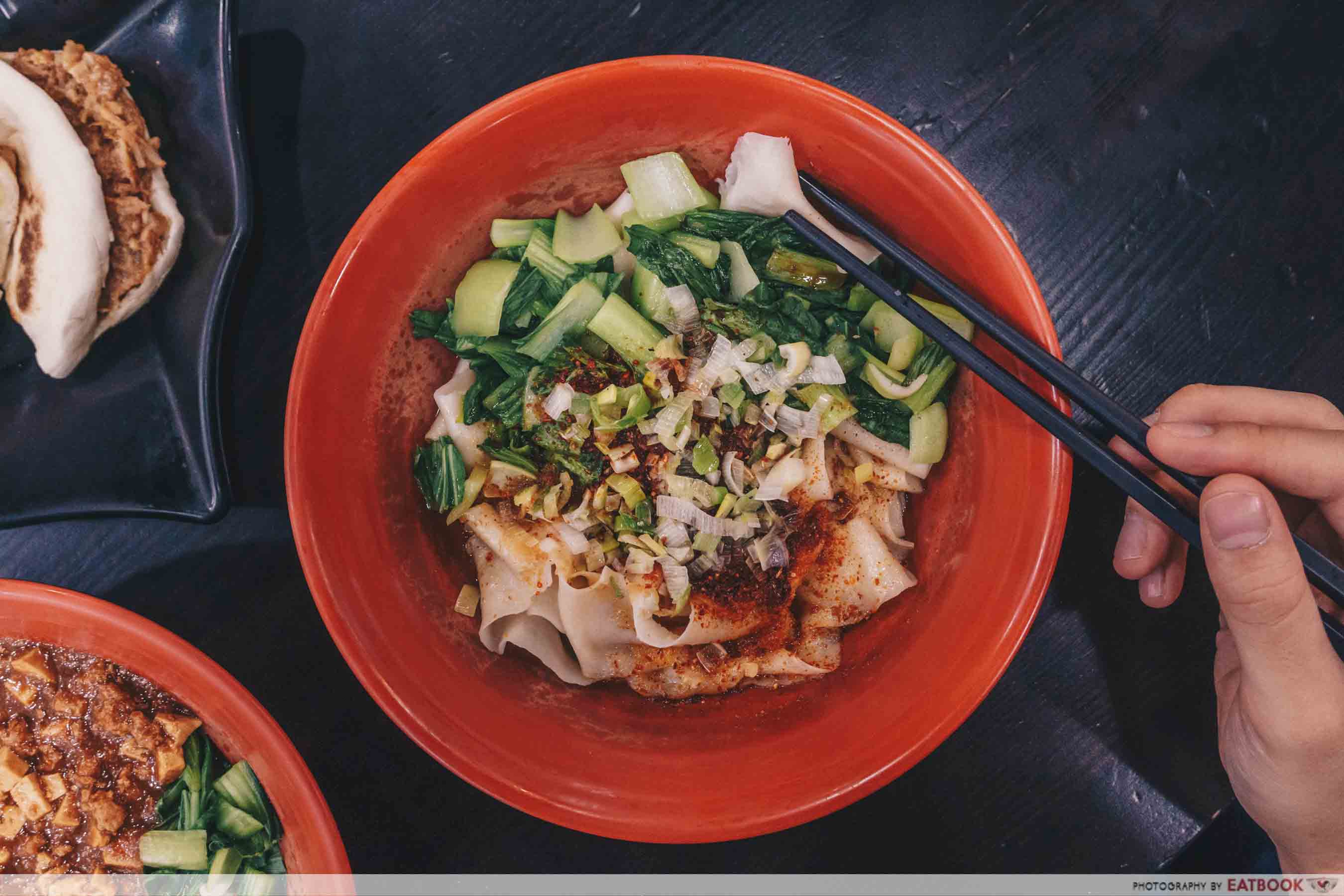 I strongly dislike oily food, so imagine my apprehension when I saw the chef douse our Oil Spilled Noodles ($6.50) with a generous ladle of oil, resulting in a dramatic, bubbling spectacle. My trepidation was compounded by the angry mound of chilli atop the bowl, which seemed like it could have a nuclear effect on my digestive tract.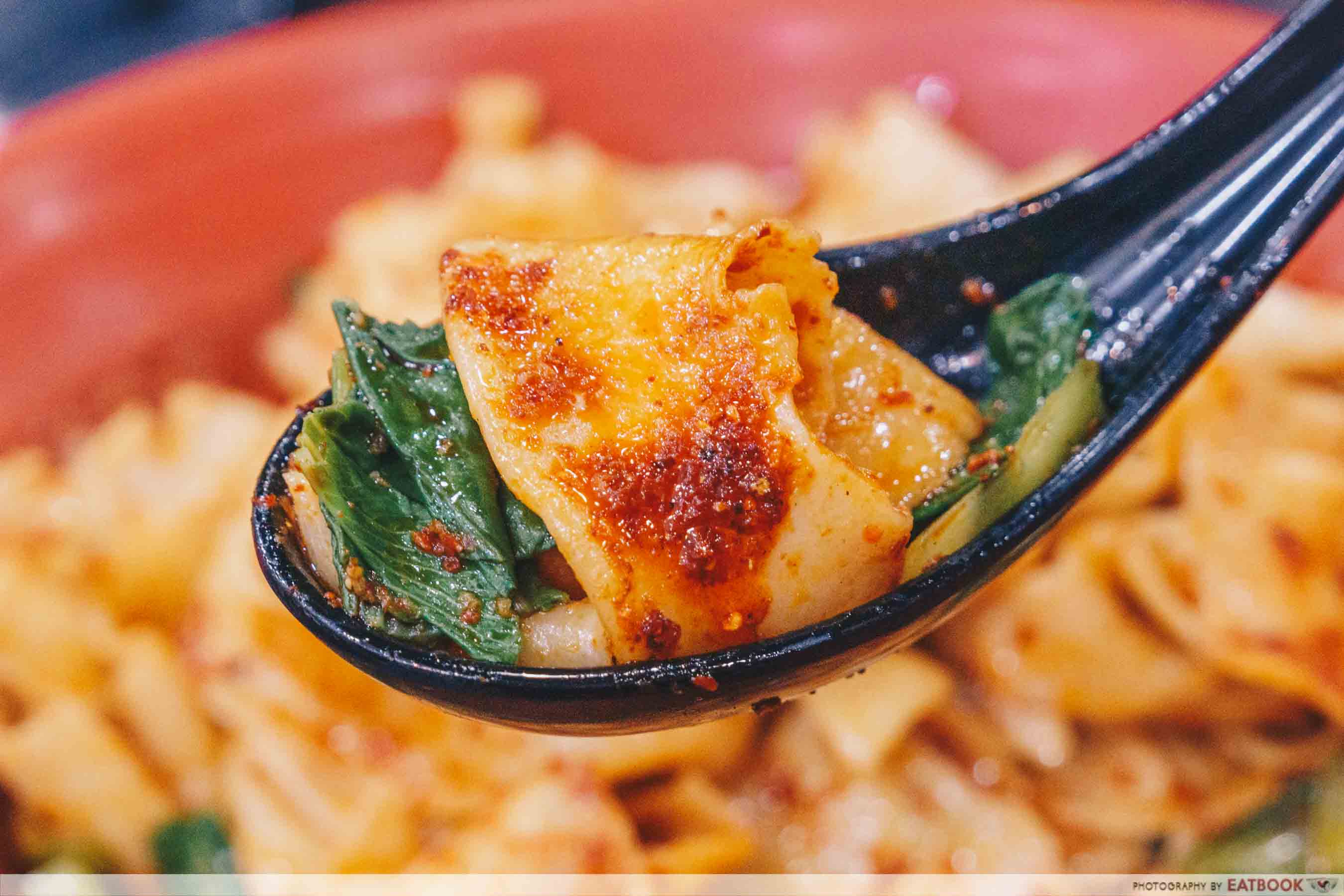 If the house-made chilli paste was overshadowed in our first bowl, it certainly grabbed the spotlight with both hands here. Fragrant with roasted tea-esque notes, I thoroughly enjoyed the generous coating of chilli on each strand of fresh noodles.
Heat-wise, it induced beads of sweat on my forehead, but didn't have any lasting effects on my tongue or stomach. Those who opt for zhong la ma la should cope with this handily.
Despite these noodles being showered with oil, I never got that off-putting, throat-coated-with-oil feeling that comes from eating a heap of fried food.
Instead, it was wonderfully aromatic, perfuming the whole dish and ensuring the noodles weren't too dry. It imbued the noodles with an inexplicable edge that sets them apart from your typical spicy la mian.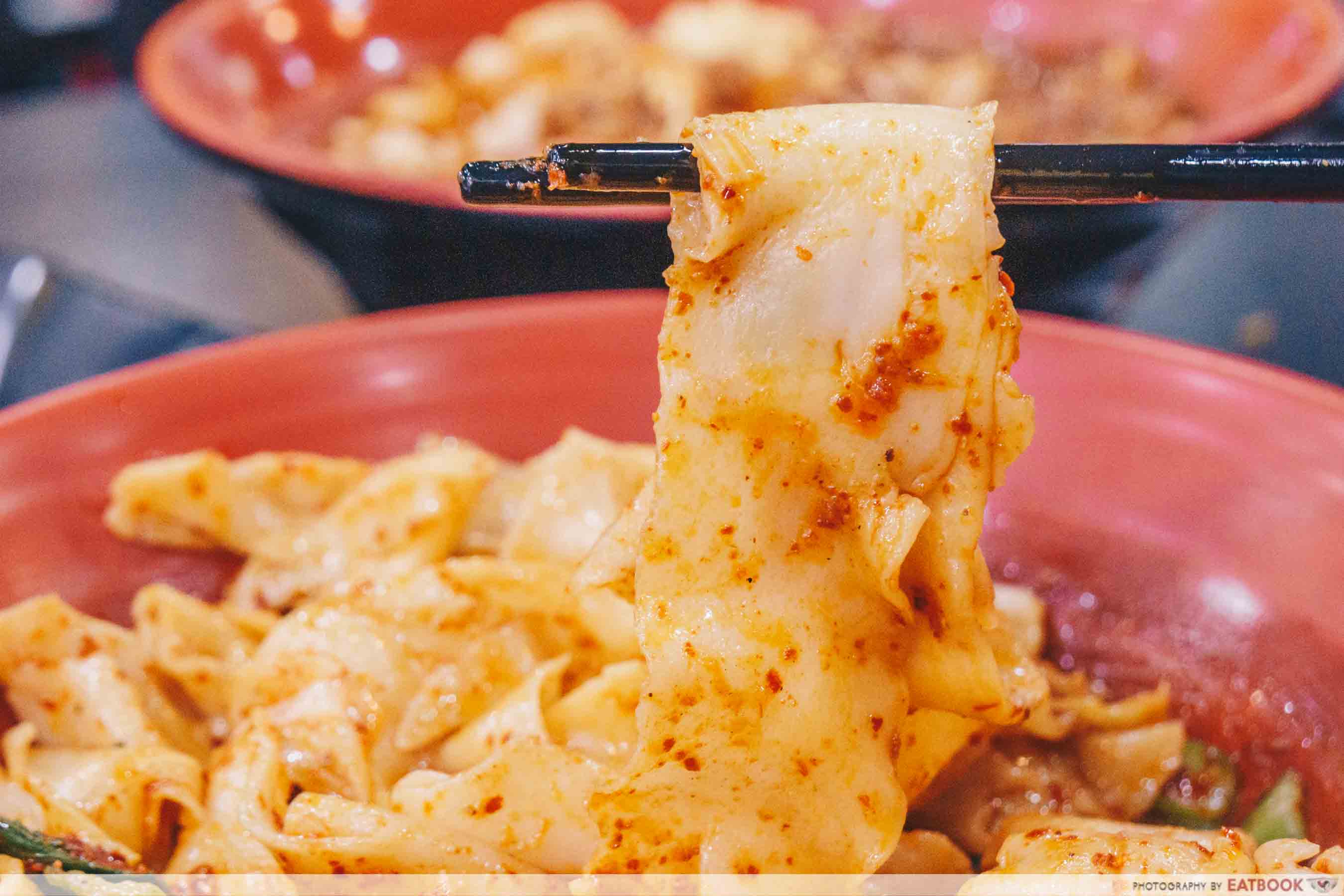 This bowl featured the same smooth and firm biang biang mian as earlier, acting as a good canvas for the punchy marriage of chilli and oil to shine. Be sure to plunge in as soon as your noodles come though; they clump together to become unpleasantly thick and floury if you wait.
With bold, potentially jelak flavours from the oil and chilli paste, fresh greens played a crucial role. They punctuated the fragrant, spicy barrage of handmade noodles with sparks of freshness, and was certainly this bowl's unsung hero.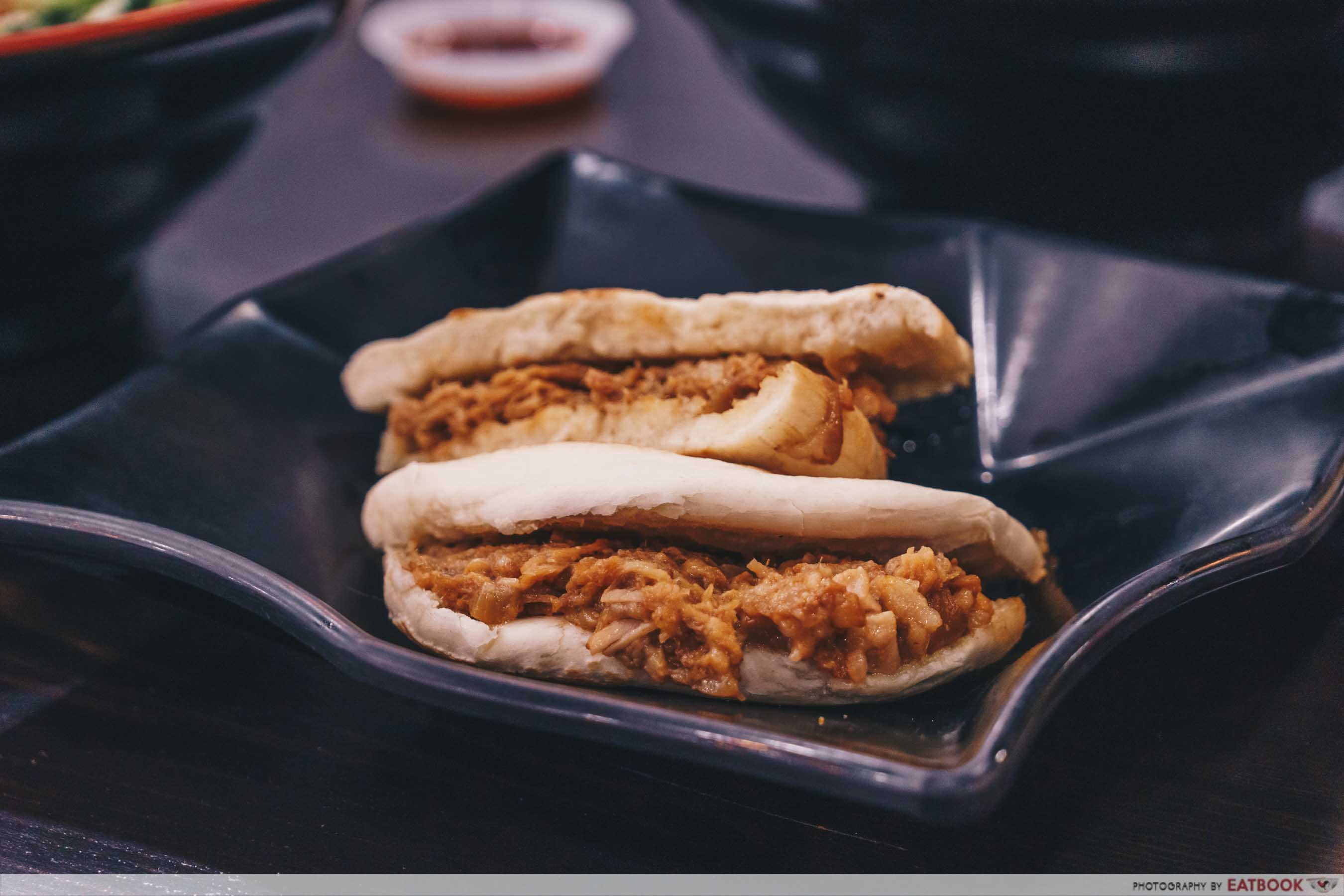 Most Singaporeans are unfamiliar with these Meat Buns ($4), known as rou jia mou. Reminiscent of a Middle Eastern pita pocket, these flatbread come stuffed with shredded pork.
We had mixed feelings once the buns landed on our table. The meat was dripping with fat, pooling on the plate. Despite my aforementioned concerns about oiliness, it was also a sign that the meat was irresistibly juicy and moist.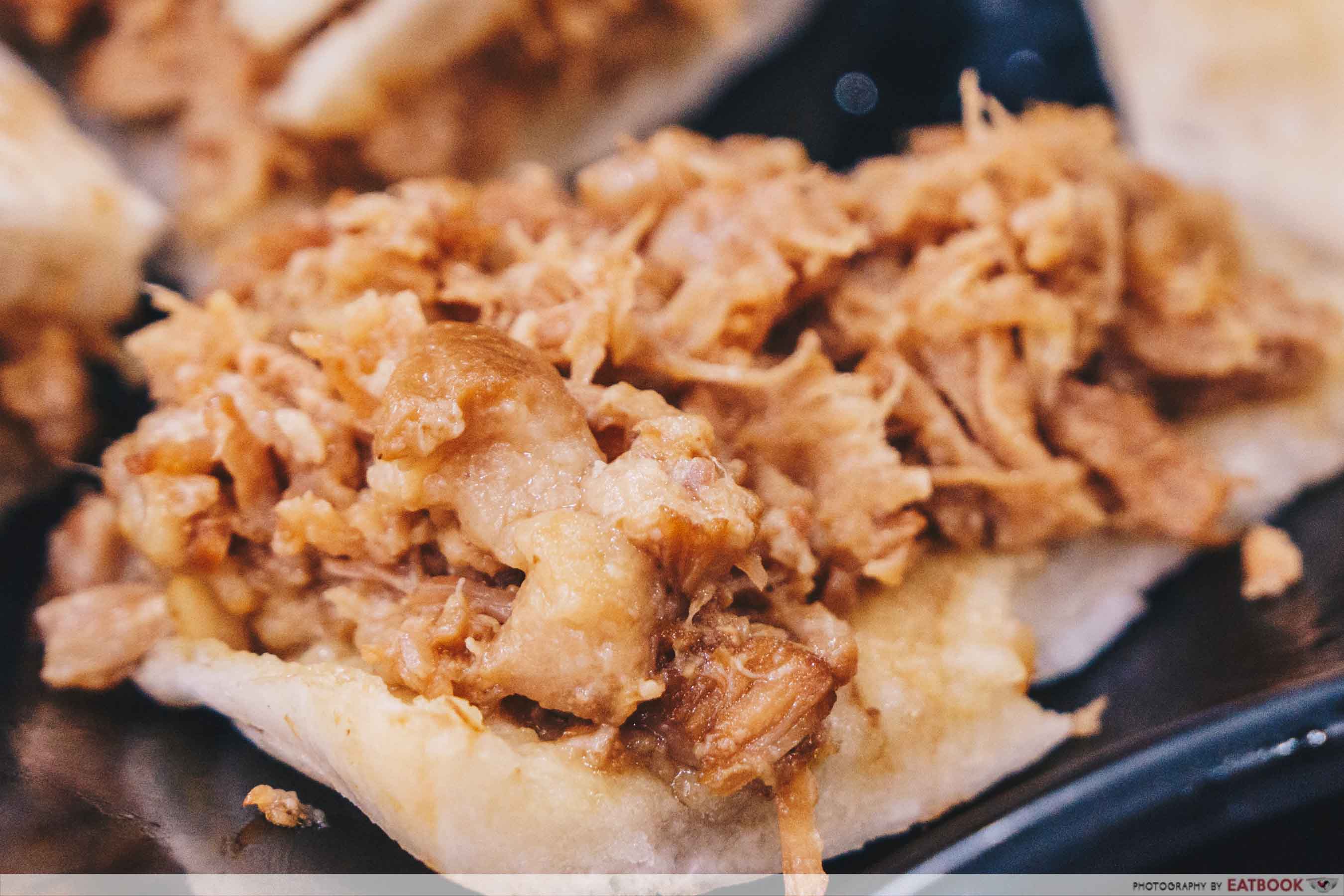 I'm not a fan of pulled pork. It's often too fibrous and stringy, becoming a chore to eat after a while. Nonetheless, we never encountered that issue with this Chinese interpretation, with the meat as fatty and unctuous as its appearance suggested.
Indulgent, undeniably meaty and slightly salty, these buns are to a carnivore what a lighter is to an arsonist. I suggest you hit the gym after eating these.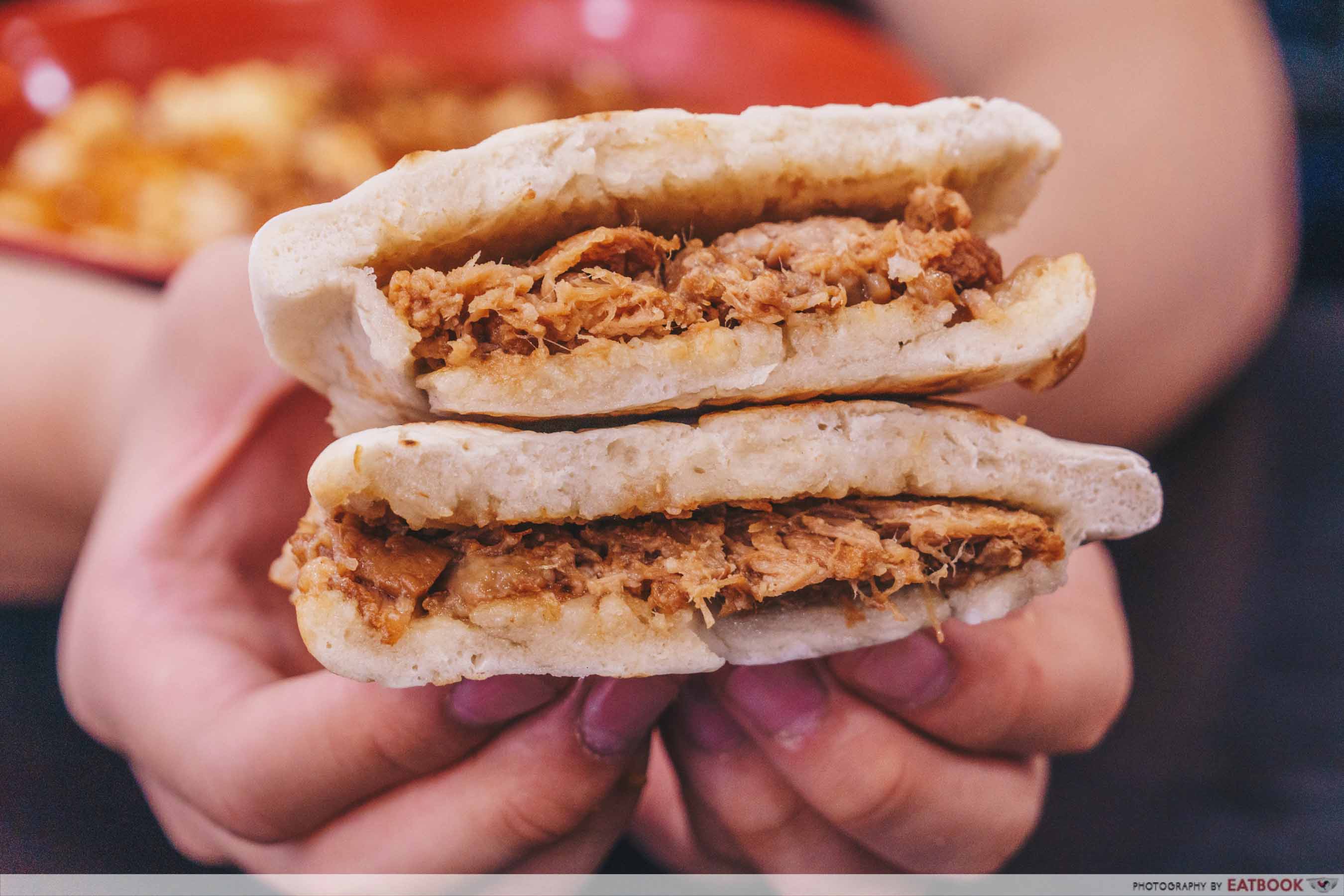 The bun was like the spawn of a pita pocket and mochi bread. It had a dense, soft and lightly chewy crumb, along with a mild, sweet taste. This sweet touch provided a good counterpoint to the luxurious meat it sandwiched.
However, it was a tad too dense for us, and a lighter texture would have alleviated some of the dish's richness.
Ambience at Huang Tu Di Xi An Xiao Chi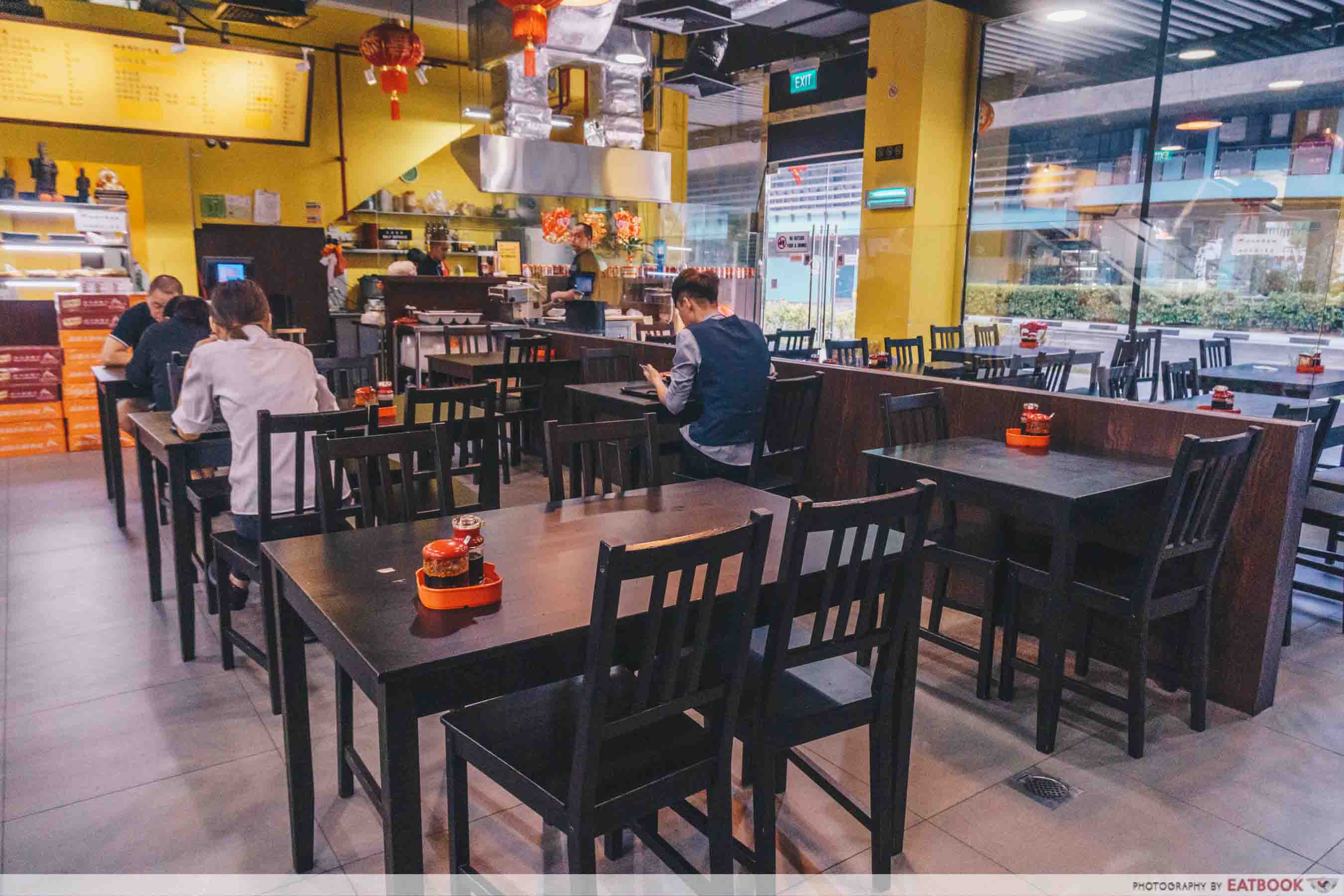 This no-frills eatery is tucked in the corner of Grantral Mall, the under-the-radar neighbour of Clementi Mall. While there's quite a bit of seating space, expect it to fill up with loyal patrons during lunch and after working hours.
There's a glut of schools and army camps around Clementi, so students and soldiers can turn here for a hearty meal after a rough day. In fact, my first time here was drowning my sorrows on a night out during NS.
The verdict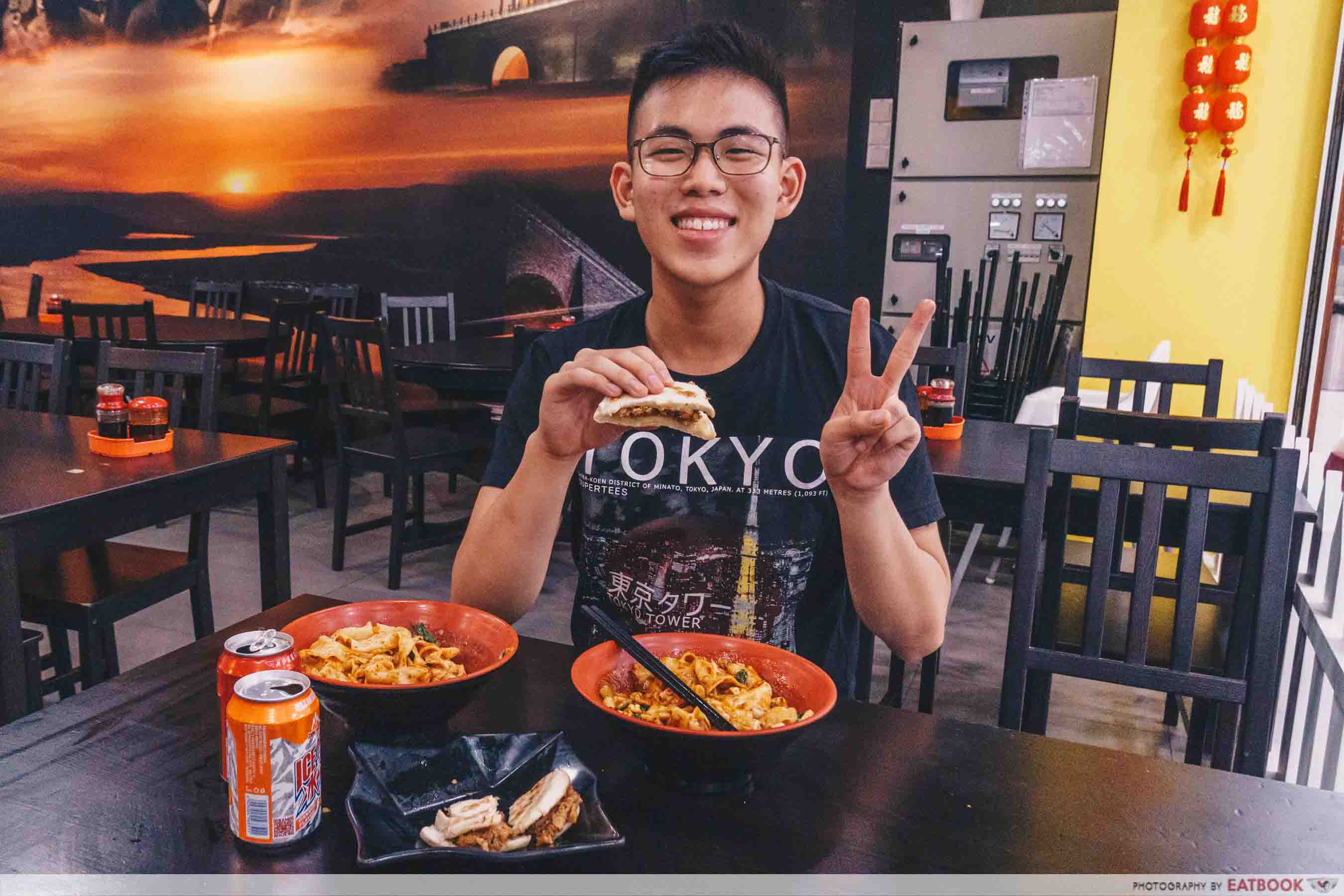 Before eating at Huang Tu Di Xi An Xiao Chi, I had the impression that authentic Chinese food was too salty, too oily, and too heavy-handed in general. Thankfully, they've managed to balance catering to the Singaporean palate without sacrificing the authentic Chinese taste, crafting deliciously flavourful yet well-balanced meals.
This humble restaurant has long been popular amongst the mainland Chinese community in Singapore. Now, it's time for native Singaporeans to discover these delightful Chinese dishes.
For more authentic Chinese food cooked by legit Chinese nationals, look at our review of Niu Zou La Mian.
Niu Zou La Mian Review: $5 Halal Handmade La Mian With Braised Beef At Ubi
Address: 3151 Commonwealth Avenue West, #01-13/14, Grantral Mall, Singapore 129581
Opening hours: Daily 11am to 10pm
Tel: 6902 5480
Photos taken by Rae Fung.
This is an independent review by Eatbook.
Summary
Pros
– Robust, but not overwhelming flavours
– Affordable prices
– Accessible location
Cons
– Some dishes were a tad oily
Recommended dishes: Oil Spilled Noodles ($6.50), 3-in-1 Biang Biang Noodles ($6.80)
Opening hours: Daily 11am to 10pm
Address: 3151 Commonwealth Avenue West, #01-13/14, Grantral Mall, Singapore 129581