---
Japanese food at 100AM
---
We're coming to that time of the year when travellers would flock to Japan to feast on the bounties of summer and be awed by stunning autumn landscapes. While it's sad that we can't travel to Japan this year, itadakimasu by PARCO in 100AM brings the best of Japan's food to us with exclusive dine-in deals that'll make the food taste even better!
Eatbook readers can present this article to the staff at the eateries to claim the respective deal, subject to terms and conditions.
Please note that opening hours may differ due to restrictions.
---
1. Numazu Uogashizushi
---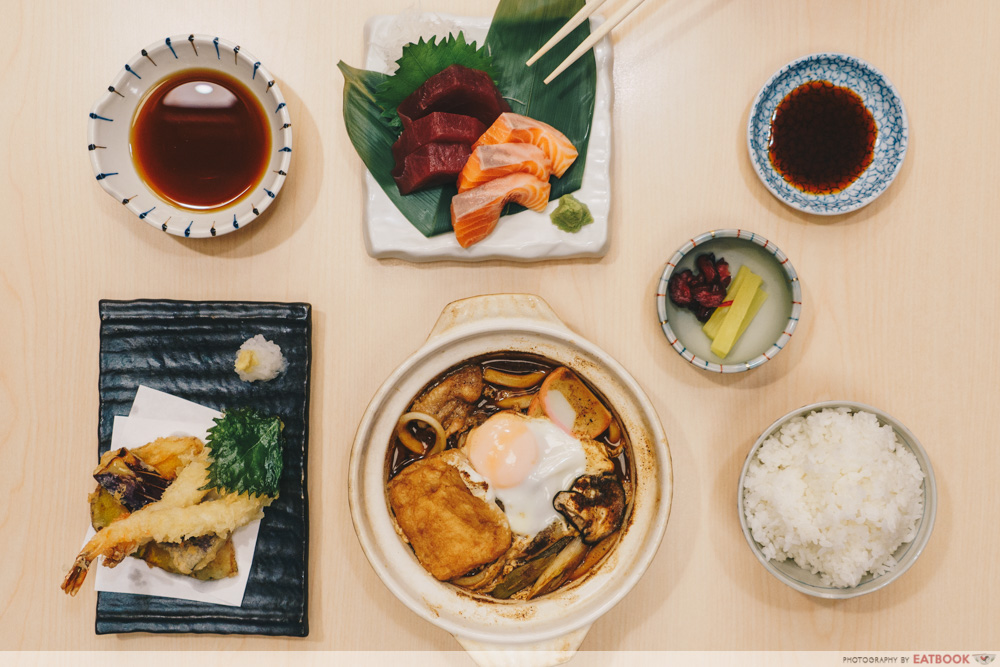 Numazu Uogashizushi's 100AM outlet brings with it more than 40 years of experience serving sushi in its native Shizuoka. The seafood served is flown direct from the Numazu Fish Market, where they are one of the few sushi restaurants with exclusive auction rights to the freshest fish each day. We had thick, fresh cuts of salmon and aged maguro sashimi in the Miso Nikomi Wazen ($35) set, which also featured a claypot of stewed miso udon with mixed tempura and a bowl of Japanese rice.
If the sashimi and tempura weren't enough to tempt you, you can be sure you're getting a good deal with the claypot miso udon. It comes with a good serving of hearty, thick udon, assorted mushrooms, chicken, and a wobbly egg too! Have it with the rice for a comforting and most satisfying meal.
Unit number: #03-K1
Opening hours: Mon-Sun 11am to 3pm, 5:30pm to 9pm
Tel: 6444 0868
Website
---
2. Shabu Shabu Gyu Jin
---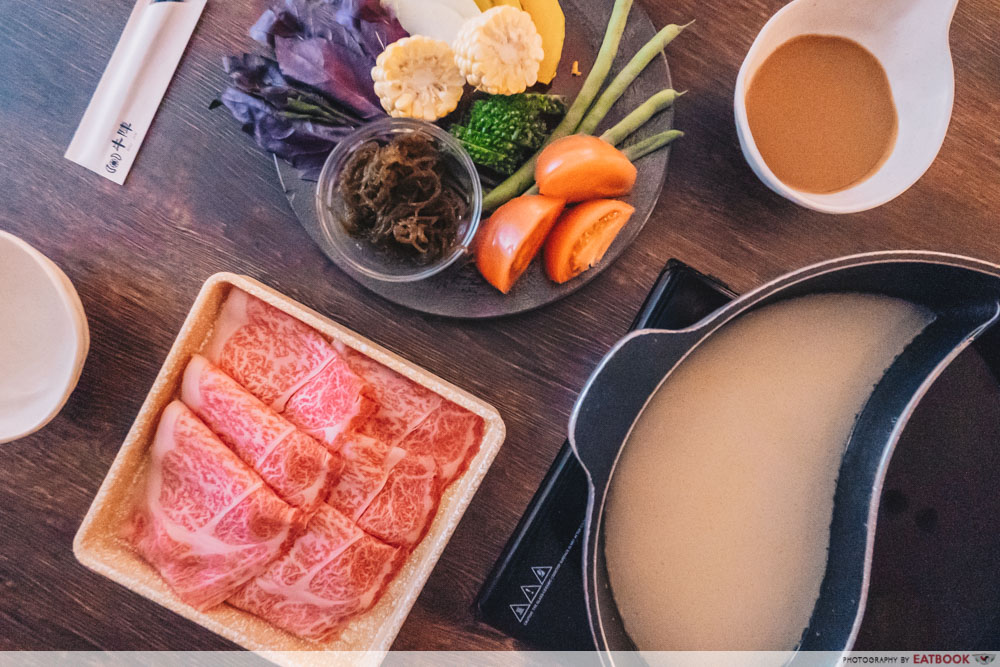 Hotpot fans can enjoy unlimited premium A5 Japanese Black Wagyu, regular Japanese, Australian and Angus beef, pork and chicken at this shabu shabu buffet for $67.90 at Shabu Shabu Gyu Jin, with two dashi soup bases and sides of vegetables. Bring your kids along to the 60-minute Lunch Buffet Supreme Japanese Wagyu, because 7 to 12 year-olds enjoy discounted rates at $41.90, while younger tots between the ages of three and six get to dine with you for just $4.90!
Read our review of Shabu Shabu Gyu Jin here.
Unit number: #03-10
Opening hours: Mon-Fri 11am to 3pm, 6pm to 10pm, Sat-Sun 11am to 3pm, 5:30pm to 10pm
Tel: 6538 1820
Website
---
3. Yakiniku Heijoen
---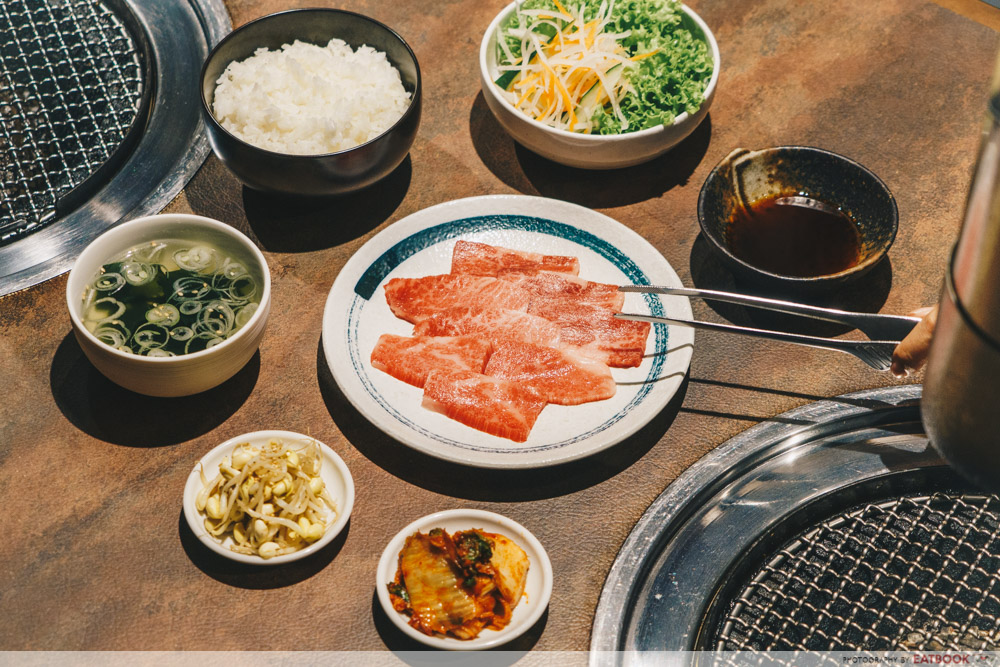 Founded in Tokyo way back in 1970, Yakiniku Heijoen is a purveyor of kuroge wagyu, a prized category of beef. It is specially aged and marinated in an original sauce that is specially concocted in-house. Here's a great lunch deal that you shouldn't miss: the Heijoen Kalbi Set ($24.90) comes with eight slices of prime A5 wagyu ─ that's the top marbling score for Japanese beef ─ cooked over a hot charcoal grill at your table.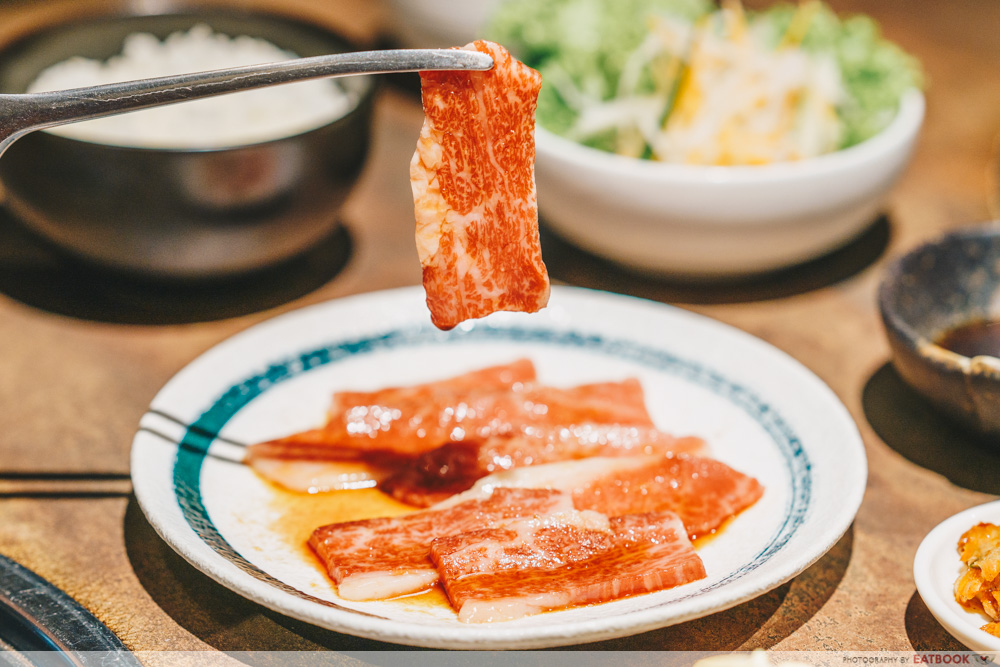 The set comes with kelp soup, Japanese rice, and Korean-inspired sides of marinated beansprouts and kimchi. I recommend eating this together with the grilled beef to balance out the richness of the melt-in-your-mouth meat. In case you needed your daily dose of greens, this meal also comes with a bowl of fresh salad to detract from the heaviness of the grilled beef.
Unit number: #03-11
Opening hours: Mon-Fri 11am to 3pm, 6pm to 10pm, Sat-Sun 11am to 3pm, 5:30pm to 10pm
Tel: 6538 2981
Website
---
4. YAYOI
---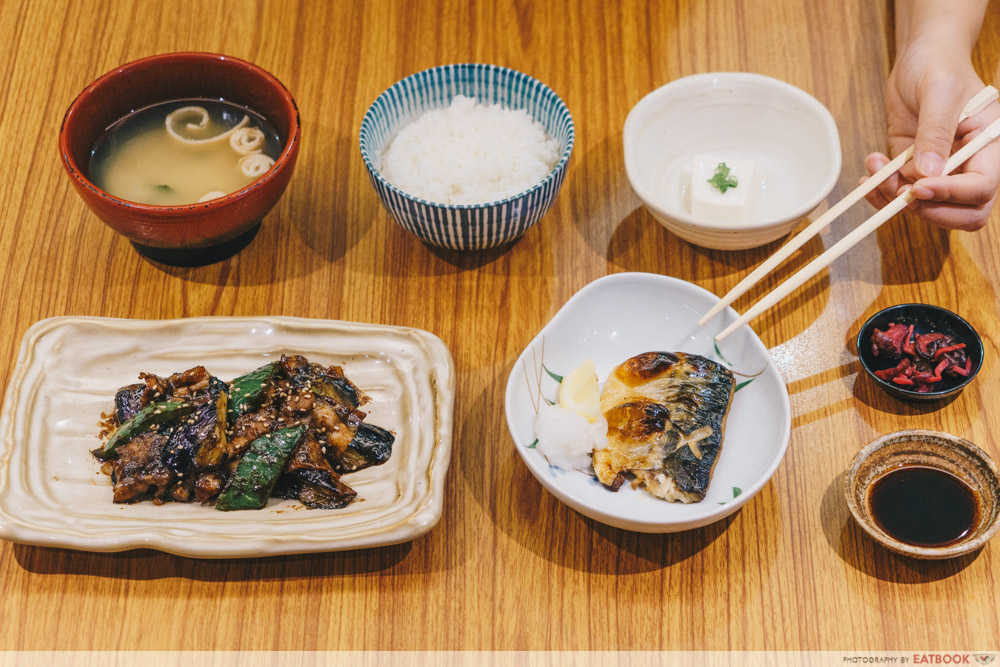 YAYOI is known for its Teishoku, or set meals, that are characteristic of Japanese everyday dining. Teishoku is centred around the humble bowl of rice, often featuring a main dish of meat or fish, a secondary main of vegetables, pickles, and soup ─ a healthy, balanced meal that is comfort food for the Japanese.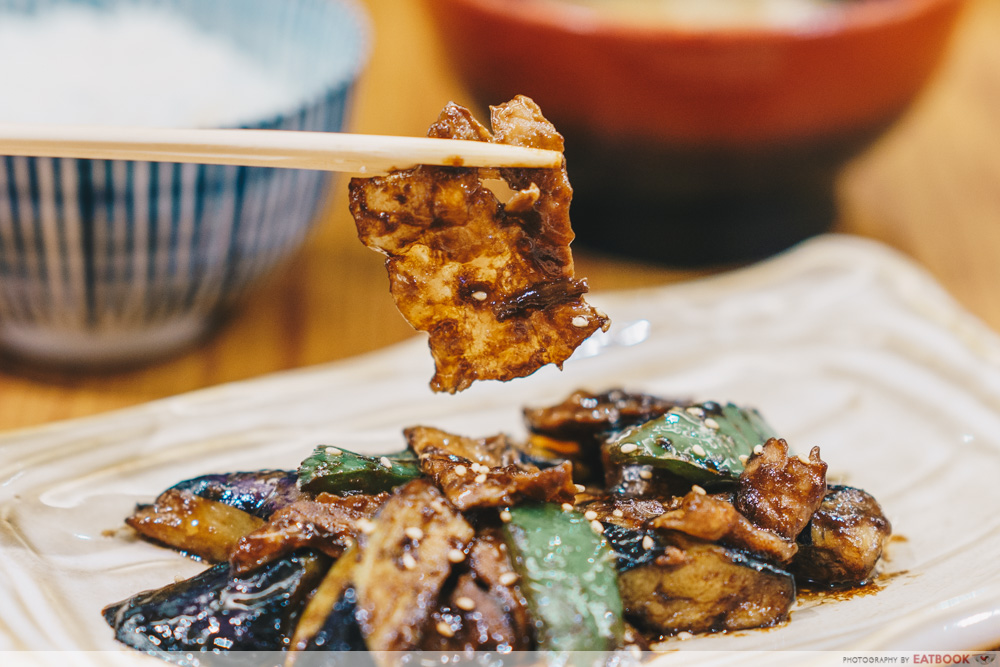 We had the Nasu Miso & Saba Teishoku ($16.90), a set meal that comes with salt-grilled saba and a dish of eggplant, pork slices and green peppers stir-fried with miso. It may seem a little strong when you have it on its own, but the savoury, caramelised miso went extremely well with the plain rice. It makes a simple meal if you want something other than salad.
Unit number: #03-12
Opening hours: Daily 10:30am to 9pm
Tel: 6694 8809
Website
---
5. Saboten
---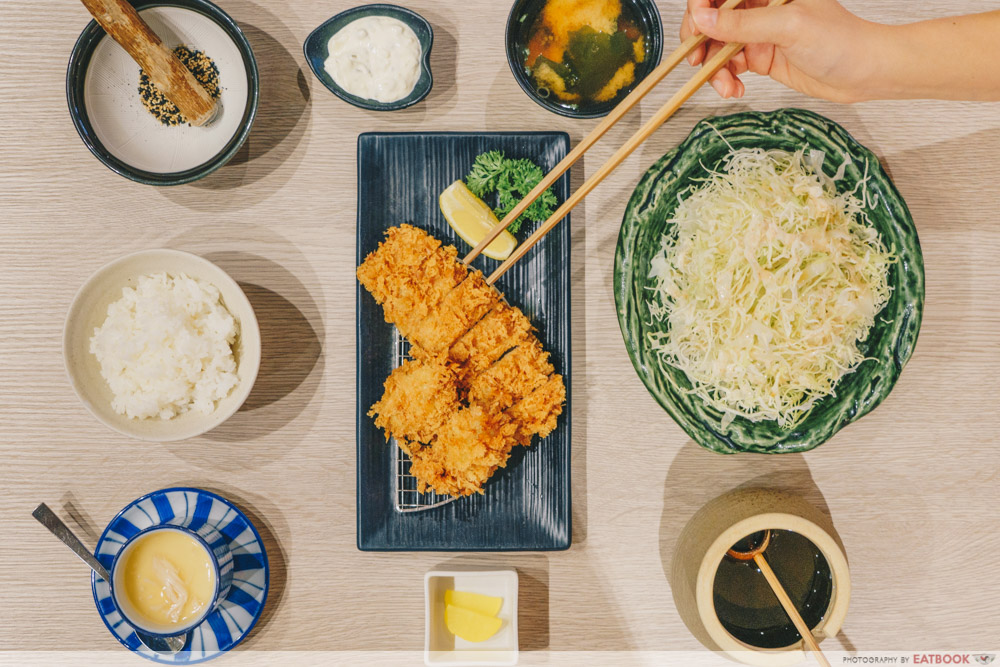 Yet another traditional Japanese institution, Saboten has been serving tonkatsu since 1966. This tonkatsu specialist uses a select breed of pig for their signature loin katsu, and freshly grated breadcrumbs for all of their fried items. From now till 31 March 2021, come to Saboten for the Hiroshima Large-Size Oyster Festival and sink your teeth into these plump, creamy molluscs that are harvested in Hiroshima Bay.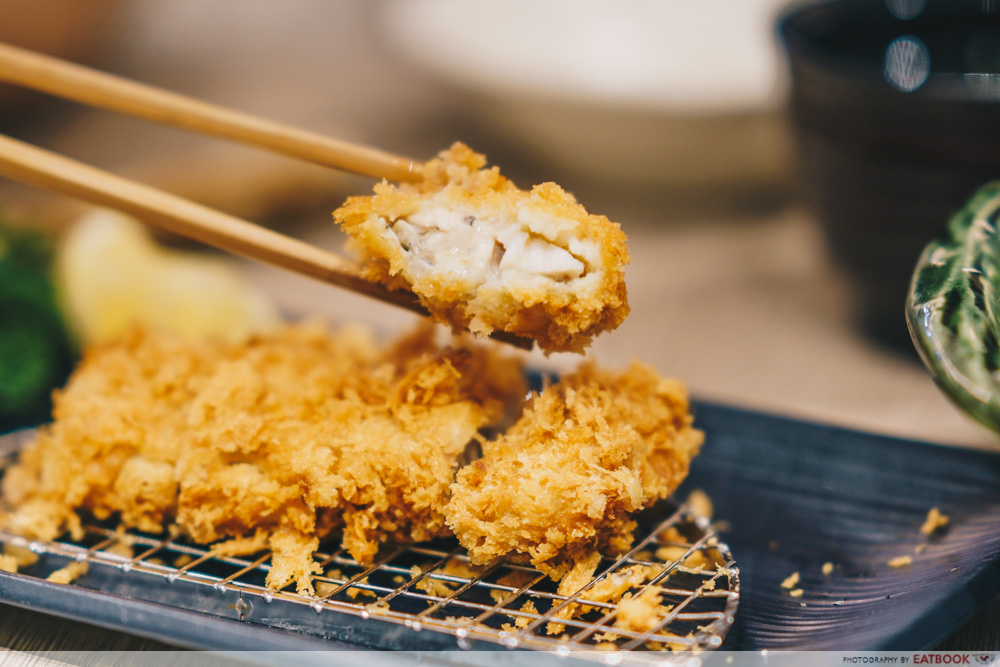 For $33.50, the Oyster & Tenderloin Set comes with a side of chawanmushi and free flow of 100% Uonuma Koshihikari Japanese rice imported from Japan, miso soup, as well as shredded cabbage that you can have with the katsu. If you needed more reasons to visit Saboten, they're now offering dine-in customers a $20 return voucher with a minimum spend of $60 (before service charge and GST), which is available until fully redeemed.
Unit number: #03-13
Opening hours: Daily 11:30am to 10pm (last order at 9:15pm)
Tel: 6904 4032
Website
---
6. SABAR
---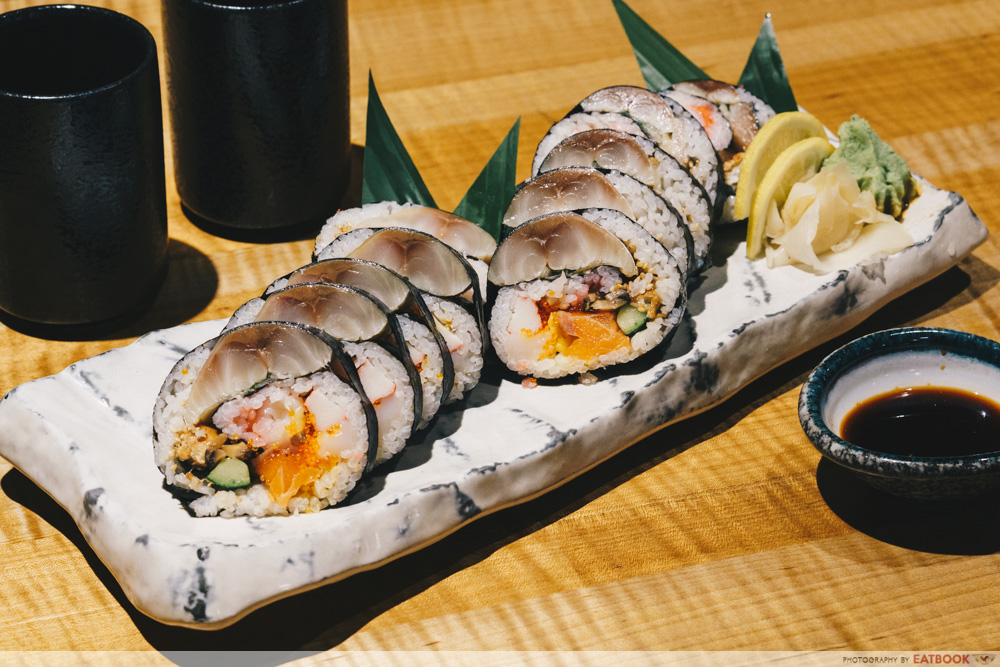 SABAR is a word play on the mackerel, saba, that appears in every dish on this bar's menu. Only top quality wild-caught toro saba from the North Pacific Coast of Japan is used here, and the SABAR Jumbo Maki ($38) definitely celebrates this fattier, tastier saba. The monster-sized roll comes in 10 huge slices. It features Shime Toro Saba, which is cured in a vinegar that's blended in-house, and 12 other fillings including salmon and hotate sashimi!
See if you can stuff the entire slice of this maki in your mouth at once, because while I couldn't, my dining companion says it's an explosion of flavours that go perfectly together. If you're dining here alone, go for half a roll at $23.80.
Unit number: #03-14
Opening hours: Daily 11:30am to 9:30pm
Tel: 6443 8827 
Website
---
7. Ramen Keisuke Tori King
---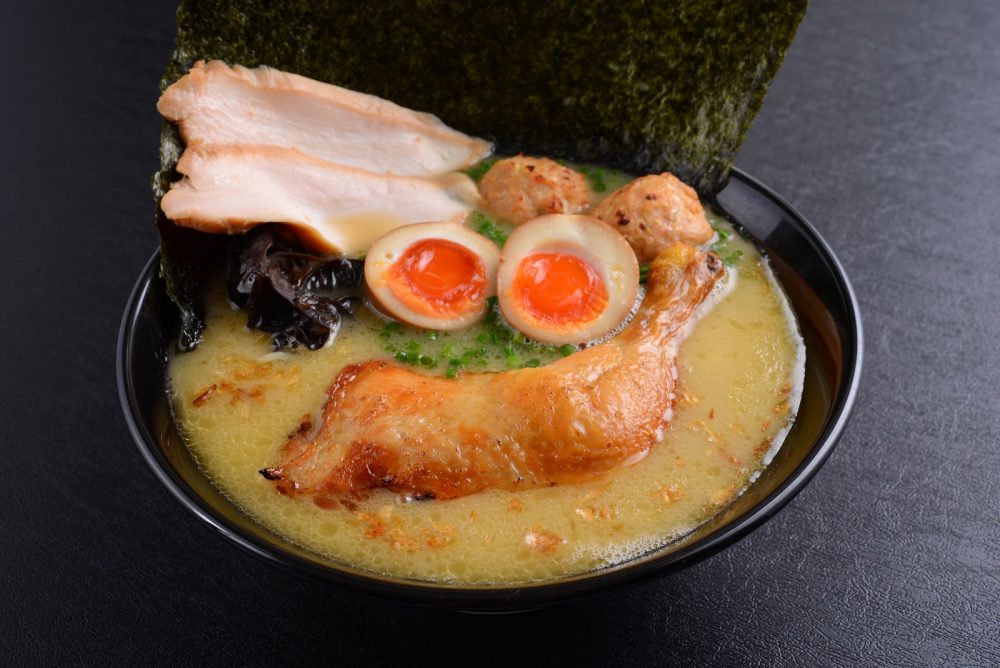 Image credit: Ramen Keisuke Tori King
Ramen Keisuke Tori King celebrates chicken in its rich chicken broth, boiled for eight hours with chicken bones and chicken feet. The Tori King Ramen (Rich Soup) (from $12.90) comes with a whole, grilled, chicken leg in a collagen-rich soup base. Top up just $6 for the Special option to get two pieces each of chicken chashu and roasted chicken meatballs, seaweed, and a flavoured ramen egg for $18.90.
Treat yourself and your skin, and bring the kids along, because every adult's order entitles you to one free kid's ramen bowl for kids under 10 years old. This dine-in promotion is valid until further notice, so hurry on down before the deal ends!
Unit number: #03-15
Opening hours: Daily 11:30am to 9:30pm
Tel: 6604 6861
Website
---
8. Ma Maison Kitchen
---
"Ma maison" is French for "my home", and walking into Ma Maison Kitchen feels just like you've entered a warm, cosy home. They're another grand dame in the Japan food scene, with more than 30 years serving Japanese-Western cuisine under their belt.
Here at Ma Maison Kitchen, the Beef Stroganoff with Omurice ($16.80) is the hot favourite amongst Japanese diners. Omurice, for many of them, is the dish of their childhoods. It's jazzed up at Ma Maison Kitchen with house-made beef stroganoff, made with a demi-glace that's stewed for precisely 28 days under the strict quality control of the group's head chef.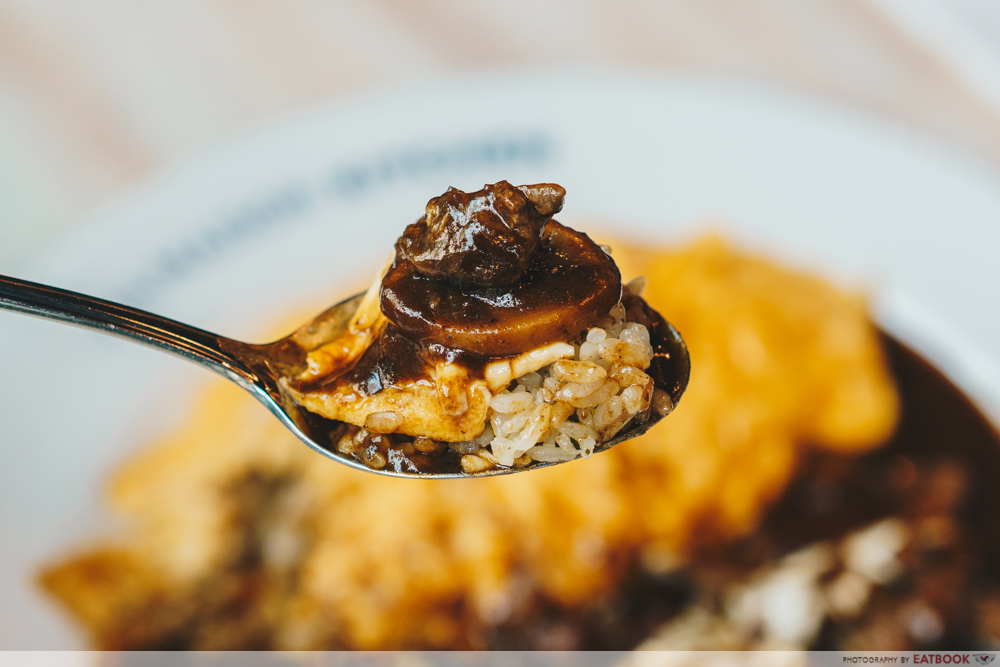 The silken omelette sits on garlic butter-fried rice, the highlight of which is the garlic butter that is also made in-house. Even my dining companion, who doesn't eat beef, wiped this plate clean. 
With its homey ambience and cosy nooks, Ma Maison Kitchen at 100AM is perfect for your next date night destination. Furthermore, get a $20 return voucher with any minimum spend of $50 before service charge and GST for use at Ma Maison Kitchen, only available for dine-in customers until this promotion is fully redeemed.
Unit number: #02-11
Opening hours: Daily 11:30am to 10pm (last order at 9:30pm)
Tel: 6694 7383
Website
---
9. Menya Kokoro
---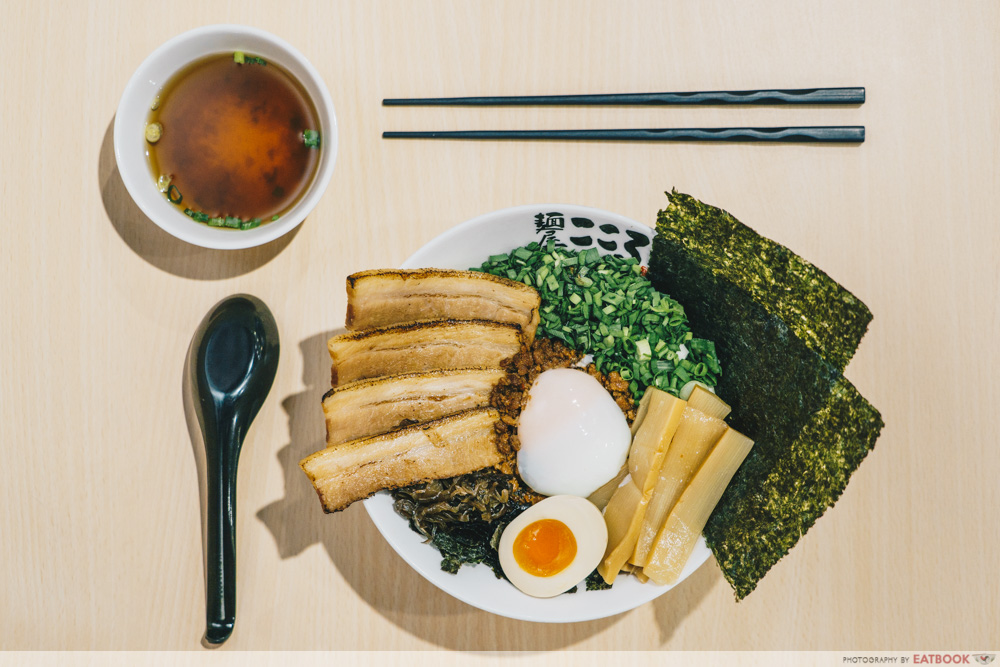 Japan's most popular mazesoba chain, Menya Kokoro, needs no further introduction. Translated, mazesoba literally means "mixing noodles", and that's precisely what you need to do when your bowl is served to get the noodles evenly coated in the luscious meat sauce.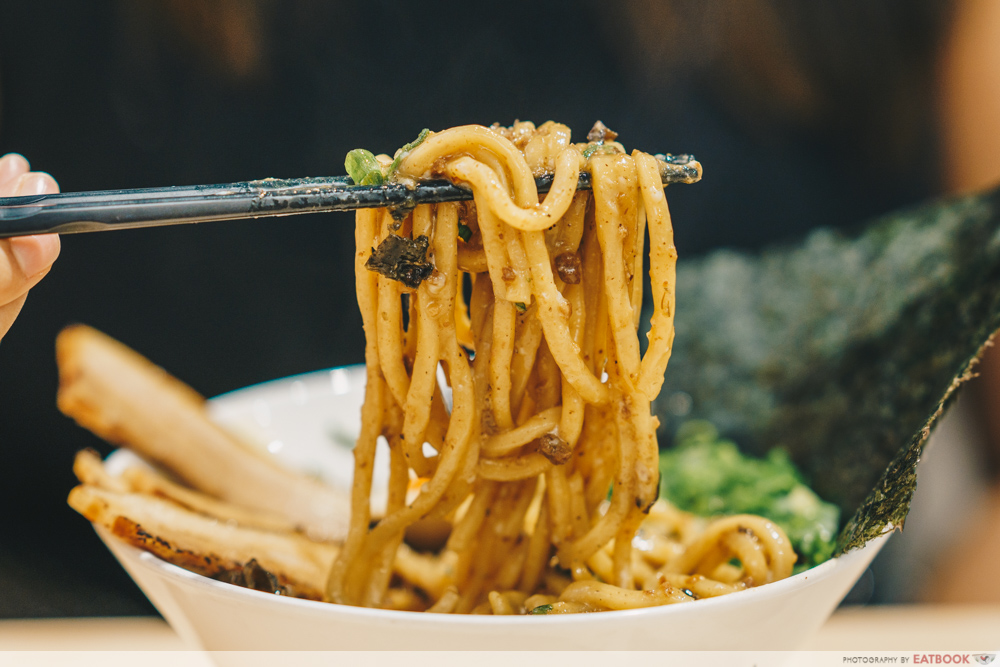 The Zenbu All-In Mazesoba (from $15.30) is so packed with ingredients that mixing it up gets a little bit tough. First world problems aside, the thick, chewy noodles are ideal for the rich gravy. Head down to Menya Kokoro quick, because the first 100 dine-in orders at Menya Kokoro are entitled to a complimentary value add-on worth $3.90 from the menu with every order of one Zenbu All-in Mazesoba!
Unit number: #02-10
Opening hours: Sun-Thurs 11am to 3pm, 5pm to 10pm (last order at 9pm), Fri-Sat 11am to 10pm (last order at 9.30pm)
Tel: 6443 1727
Website
---
10. EMMA
---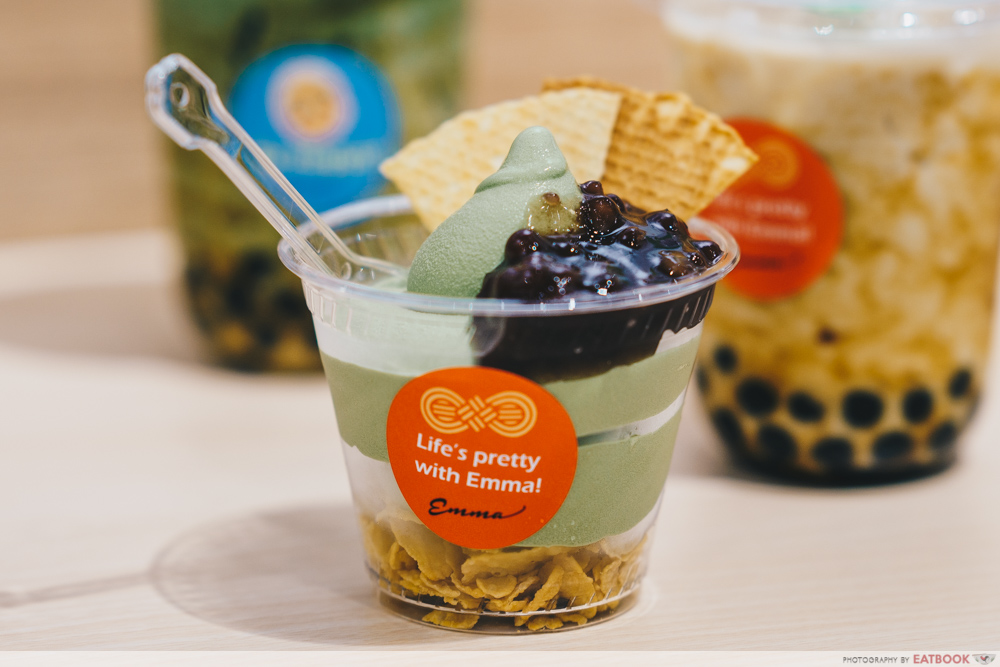 EMMA's soft serve inspires crowds of locals to line up at its seven outlets in Japan, even today. A similar popularity extends to its 100AM outlet. Their soft serves are made with premium Japanese milk, among other high-quality Japanese ingredients that give it its signature rich and creamy texture.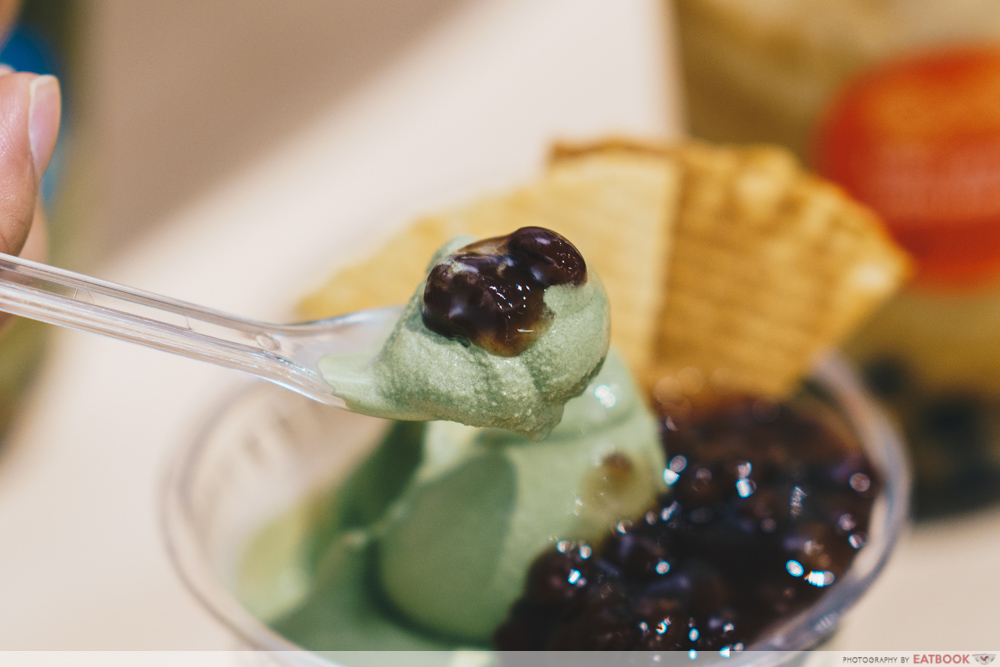 The Sundae Matcha ($4.50) is a classic pairing of matcha and azuki, a harmonious blend of slightly bitter green tea and the soft, nutty sweetness of red bean. While sweet, the azuki is not overly so. Dig all the way to the bottom of the cup and be rewarded with the cornflakes that provide an element of crunch to the otherwise-smooth sundae!
Unit number: #02-10
Opening hours: Sun-Thurs 11am to 9pm, Fri-Sat 11am to 9:30pm
Tel: 6443 1727
Website
---
Enjoy a taste of Japan in Singapore
---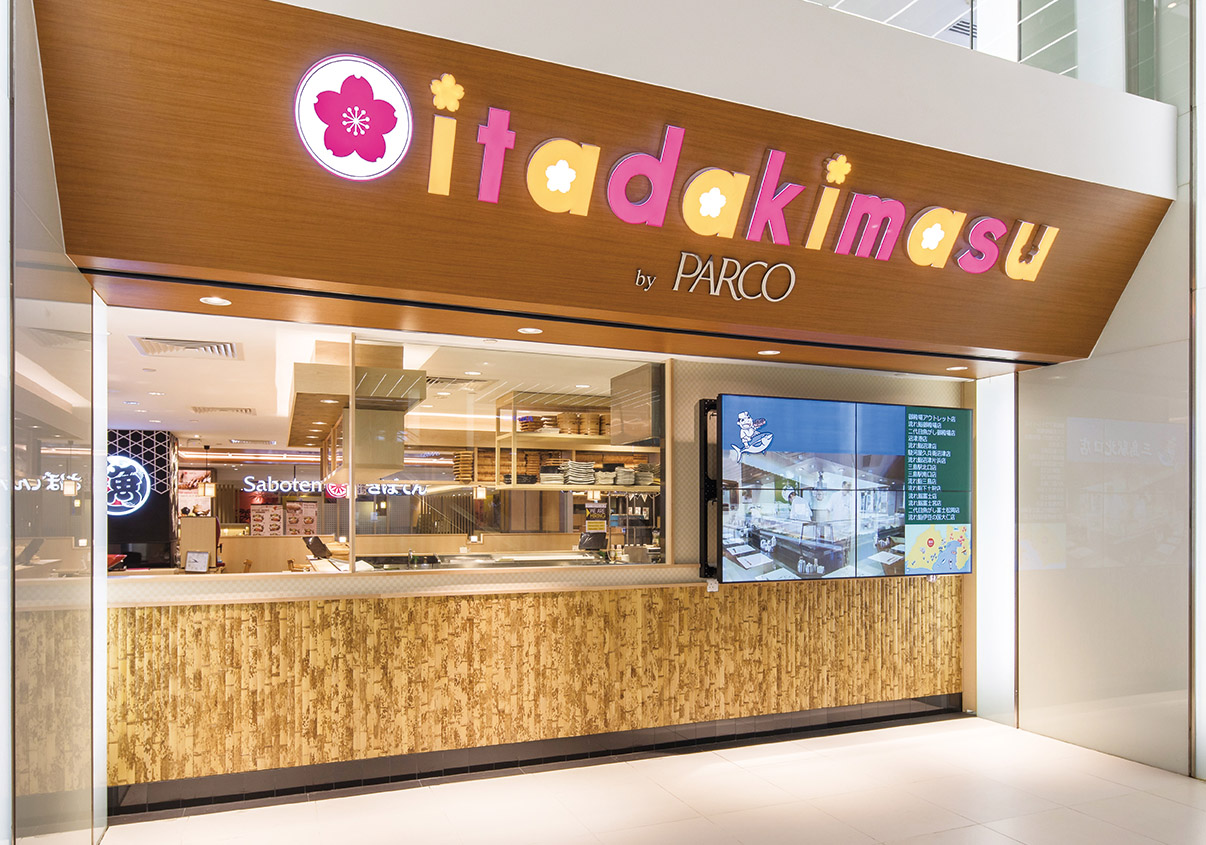 Image credit: itadakimasu by PARCO
Japanese food will always hold an unbeatable place in my heart, and itadakimasu by PARCO in 100AM spoils us for choice with the many Japanese dining experiences housed under one roof.
With so many exciting experiences to choose from, and the attractive return vouchers up for grabs, head to 100AM soon to get your hands on these deals, which are while stocks last! 
Keep up to date with the latest deals and seasonal specials at itadakimasu by PARCO in 100AM by following them on Facebook and Instagram!
Address: 100 Tras Street, #02-10/11, #03-10 to 15 and #03-K1, 100AM, Singapore 079027
Nearest MRT Station: Tanjong Pagar (EW15), Exit A
Photos taken by Clement Sim.
This post was brought to you by itadakimasu by PARCO.