Chow Zan serves affordable local desserts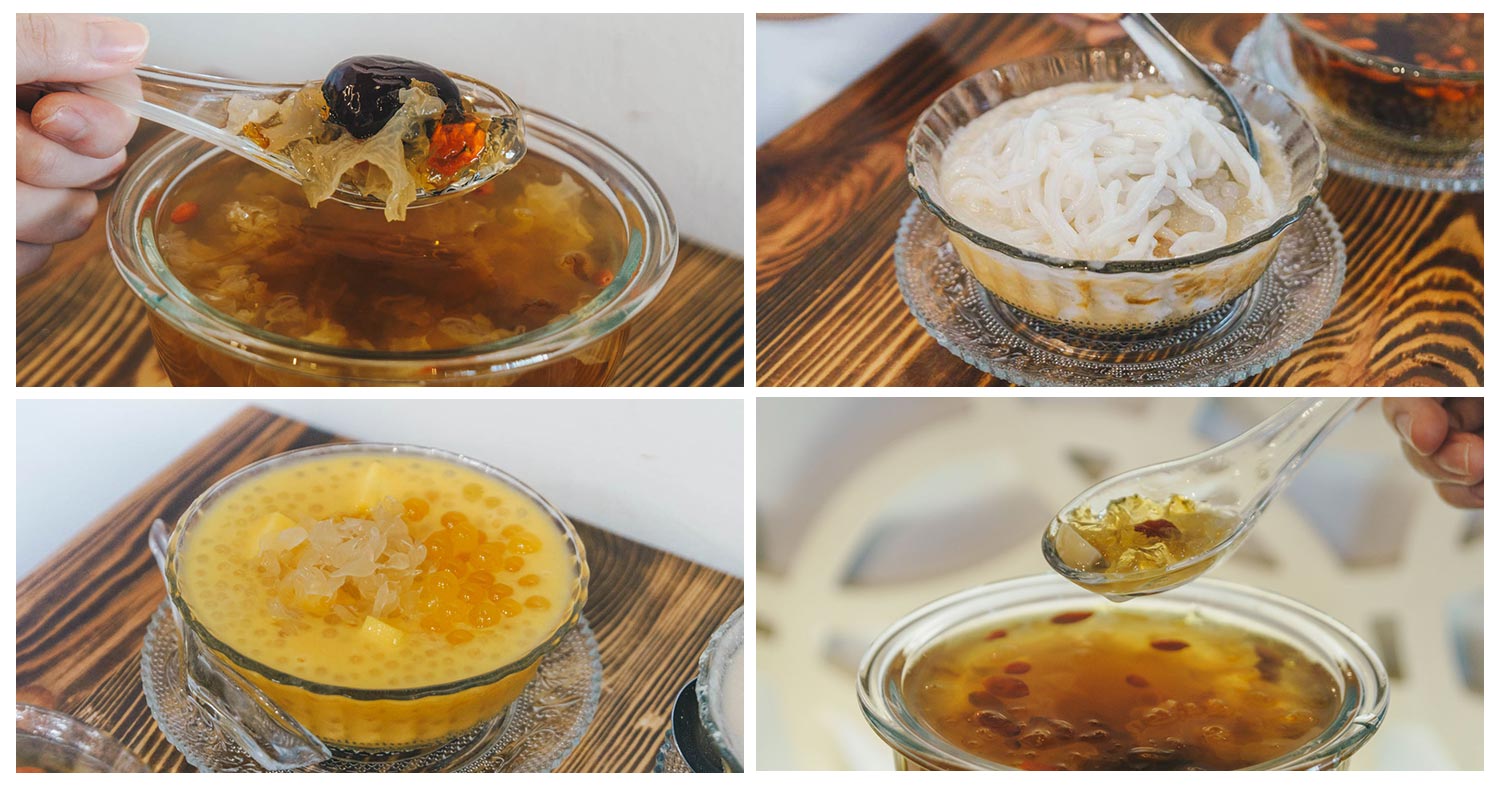 There's just something very nostalgic about relishing in local traditional desserts, specifically the Chinese tang shui. Perhaps because they were what we had before international desserts and flamboyant creations penetrated the market. I consider these local desserts to be a gem in Singapore's gastronomic scene, purely because they have been around for so long and yet, are still widely adored by people across generations. Recently, we visited a modest-looking store that is lodged between a row of contiguous shophouses near Bugis: Chow Zan Dessert. They provide an extensive menu of conventional old-school desserts and contemporary ones that are 'chowzan', which means 'highly deserving of praise'. 
Apart from classic choices such as cheng tng, chendol, and sago desserts, they also serve international options including mango sticky rice as well as brownie and ice cream combos. 
Food at Chow Zan Dessert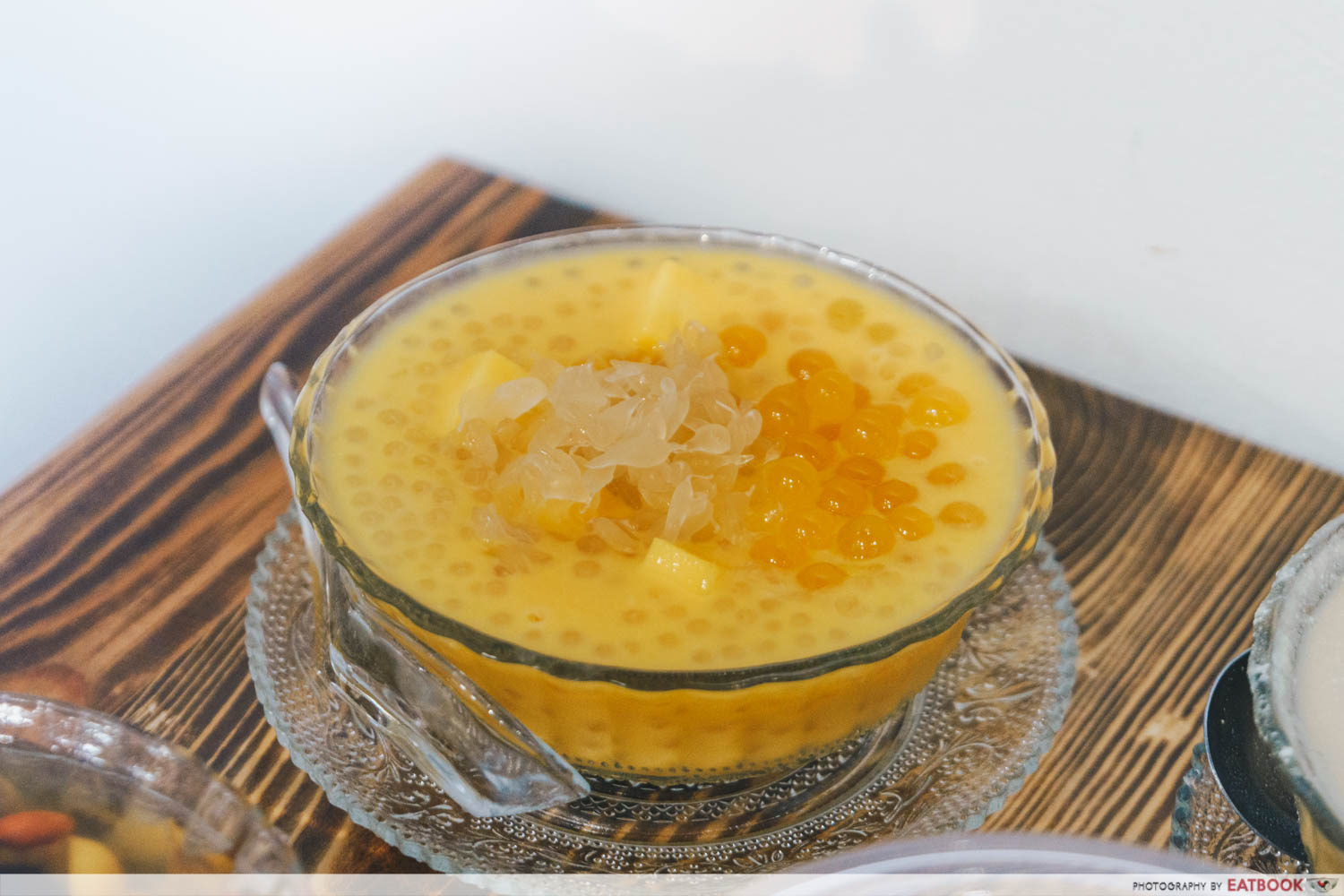 I read several reviews online, and many of them had favourable sentiments towards their mango sago. 
I have always been particularly fussy about desserts. However, the Mango Pomelo Sago with Mango Pop ($5.50) was truly a bowl of sunshine. The portion was pretty generous, and it was topped with a spoonful of mango pop, shredded pomelo flesh, and chunks of mango fruits that were slightly submerged.  
The thick, creamy base was luscious and rich. We were told that no preservatives and crushed ice were added into the mango sago unlike at some places. This probably explains why it was packed with flavour and had a natural hum of sweetness.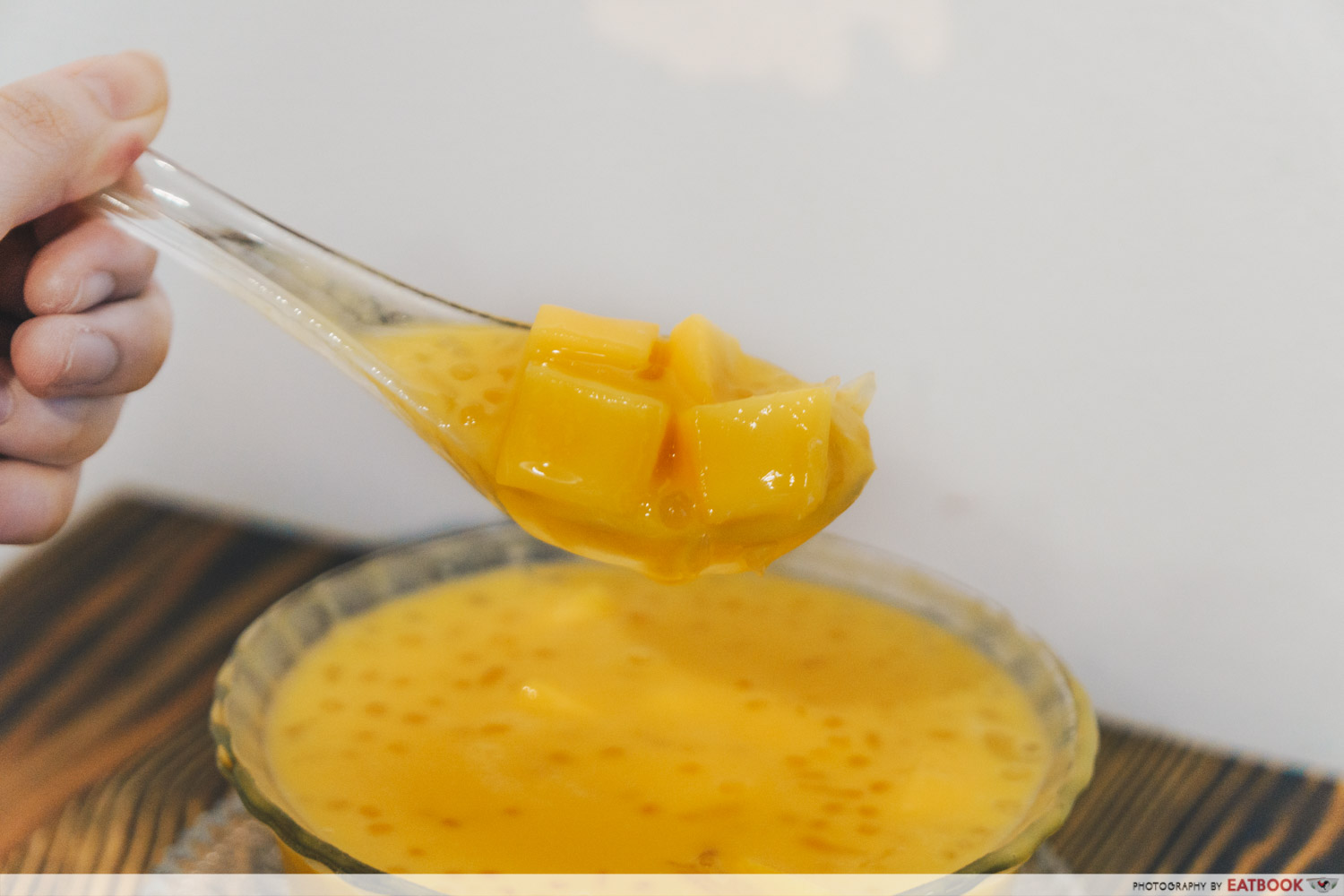 The chunks of fresh mango were incredibly tender with a tinge of tartness, while the sago pearls brought an element of chewiness with every scoop I took. However, the pomelo flesh wasn't very prominent, maybe because it was shredded into small pieces and buried by the mango flavour.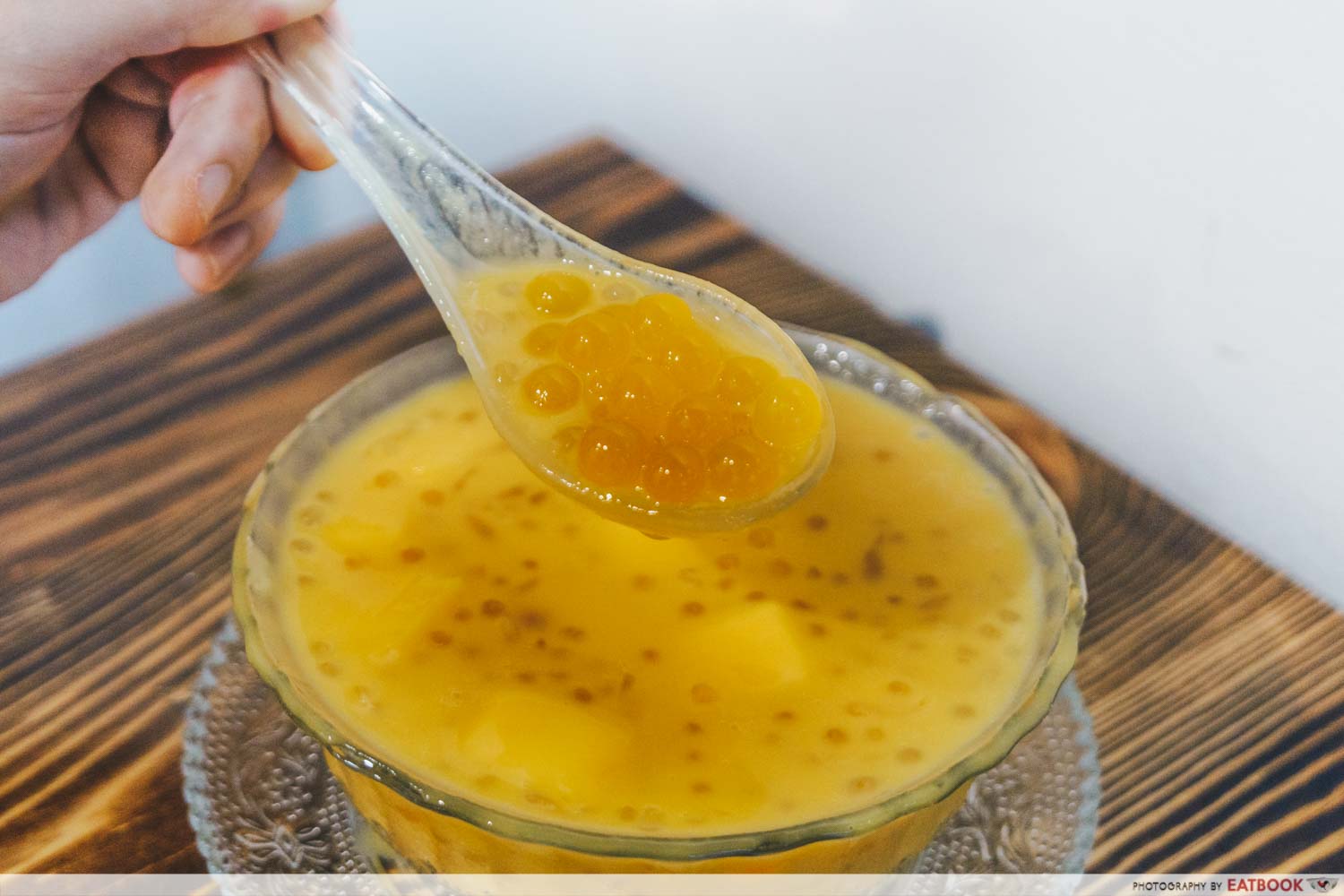 If I had to draw a parallel to the mango pop, it would be salmon roe due to its water balloon-like texture. A fruity mango essence exuded from the mango pop once it was bitten into, accentuating the overall fruity profile of the dessert.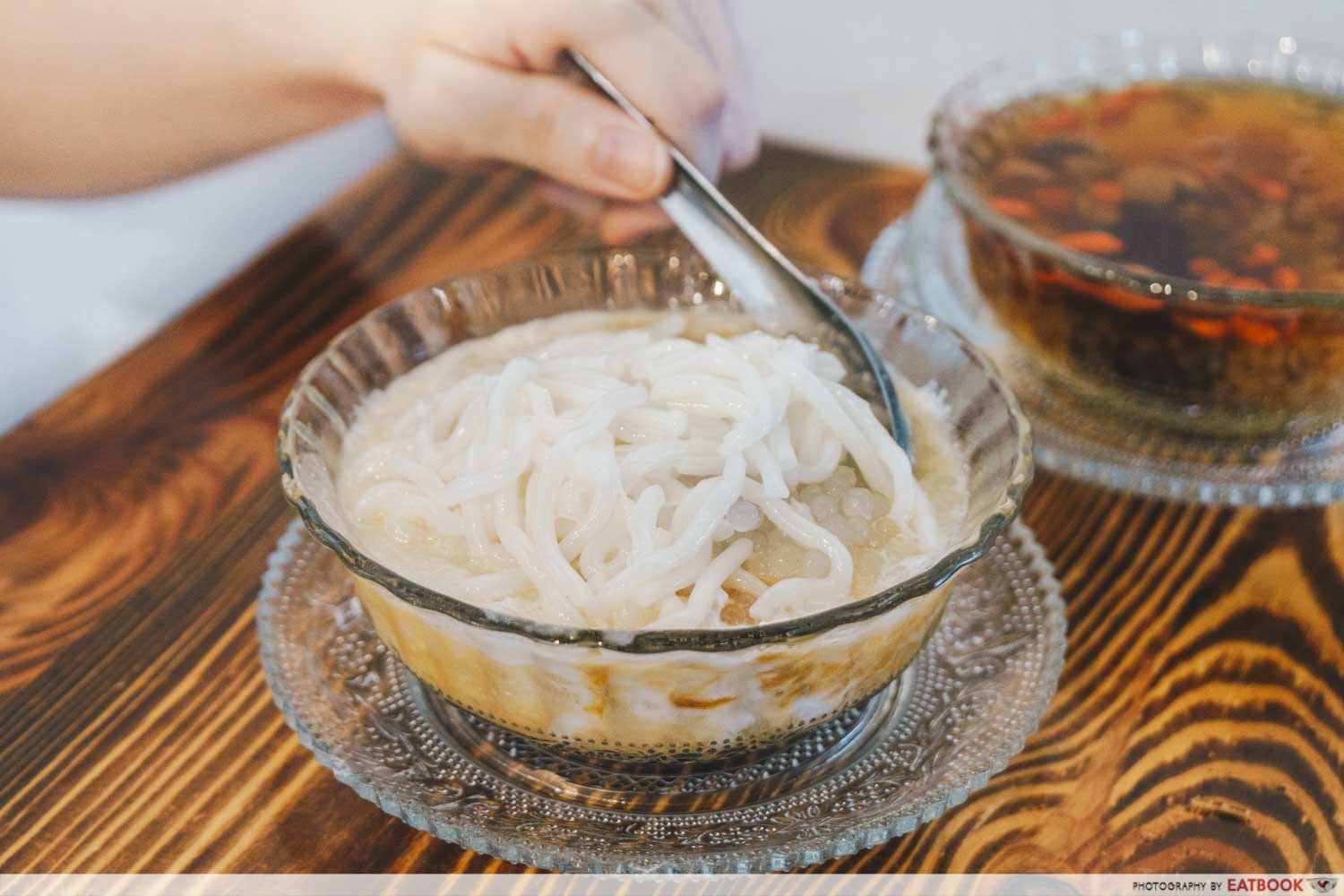 The White Chendol ($4) proudly stood as another one of their popular desserts, featuring white coconut jelly as opposed to the iconic green strands. There were also red bean and durian variations, but we decided to go with the basic one.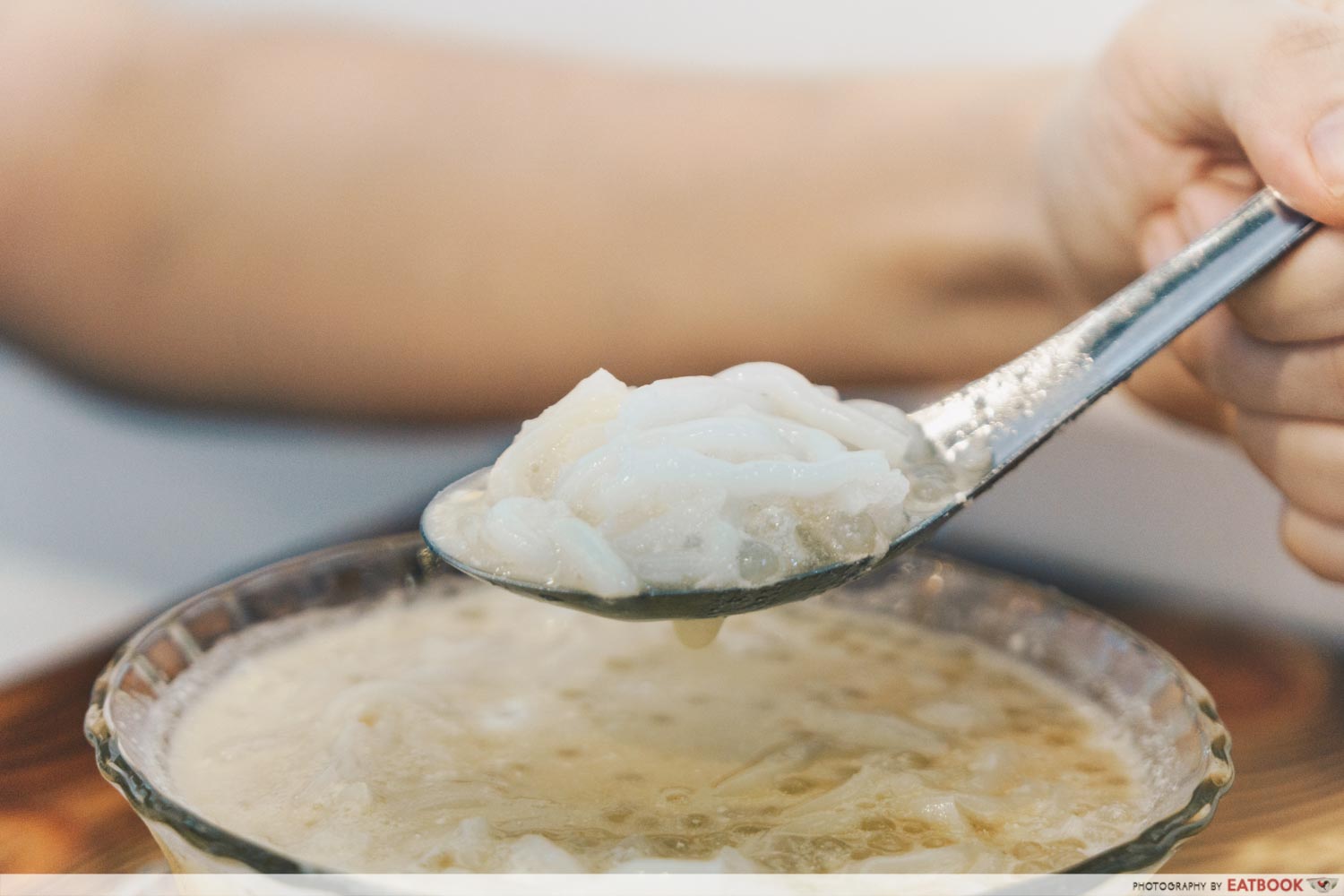 Despite its plain, ivory appearance, this tropical shaved ice dessert had flavours that weren't shy at all, evident from the potent flare of coconut and gula melaka with hints of pandan. Even after the ice was completely melted, it didn't dilute the dessert. The white jelly and sago pearls were also firm and pleasantly chewy. 
If you're one who appreciates bold flavours, this might be something you'd enjoy. Unfortunately, because of my personal taste, I found it almost cloying.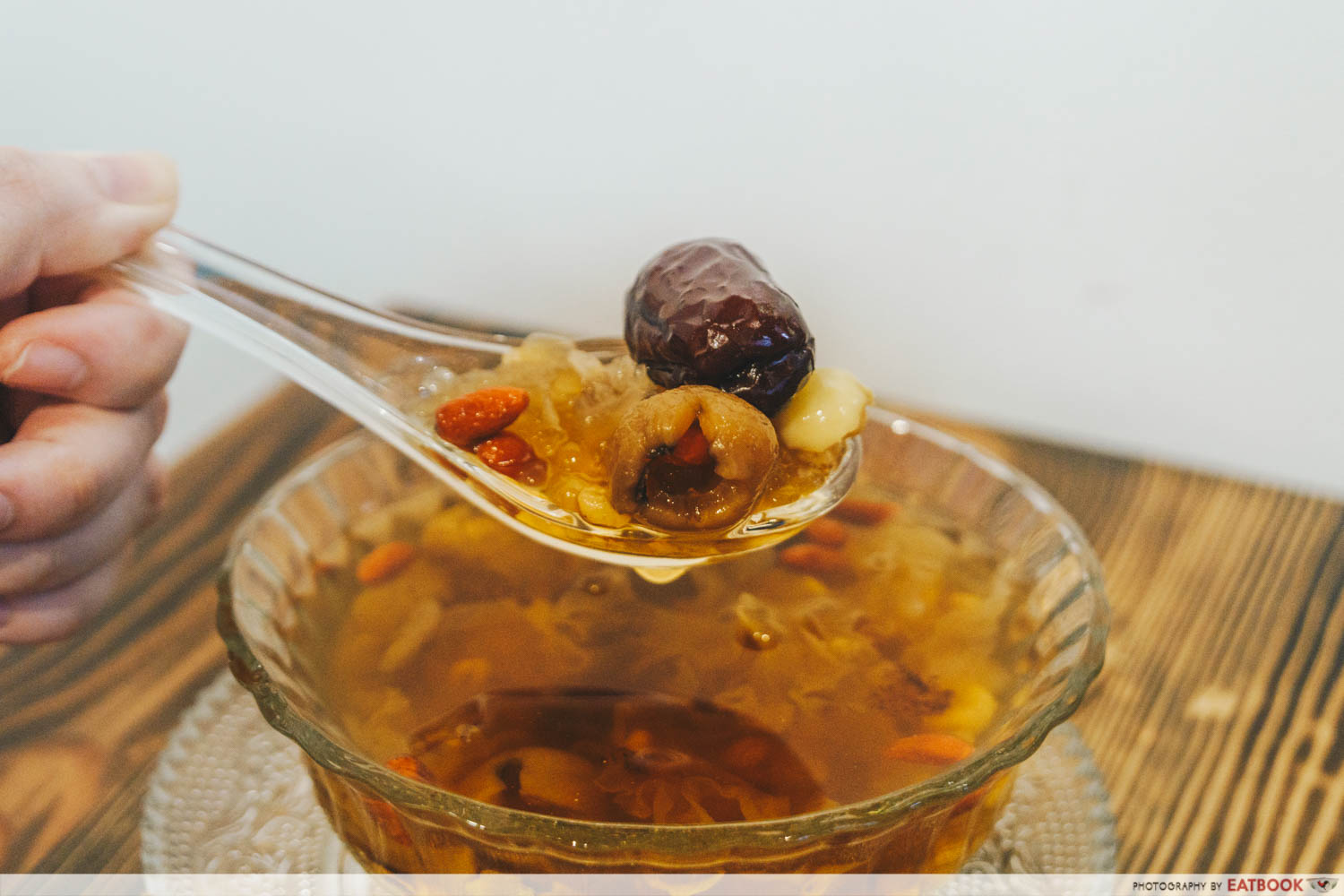 The next dessert we had is regarded as one of the must-try hot desserts at Chowzan: the Eight Treasure Cheng Tang ($4.50). Its oriental name is derived from the eight key ingredients used in this dessert including white fungus, barley, ginkgo nuts, and longan.
When it was served, I immediately noticed that it was a lot more loaded than regular cheng tng, with its ingredients almost filled to the brim. It was mildly sweet, which worked really well because it did not overpower the soup. It tasted as if the broth had been simmering for a long while to achieve an aromatic herbal note.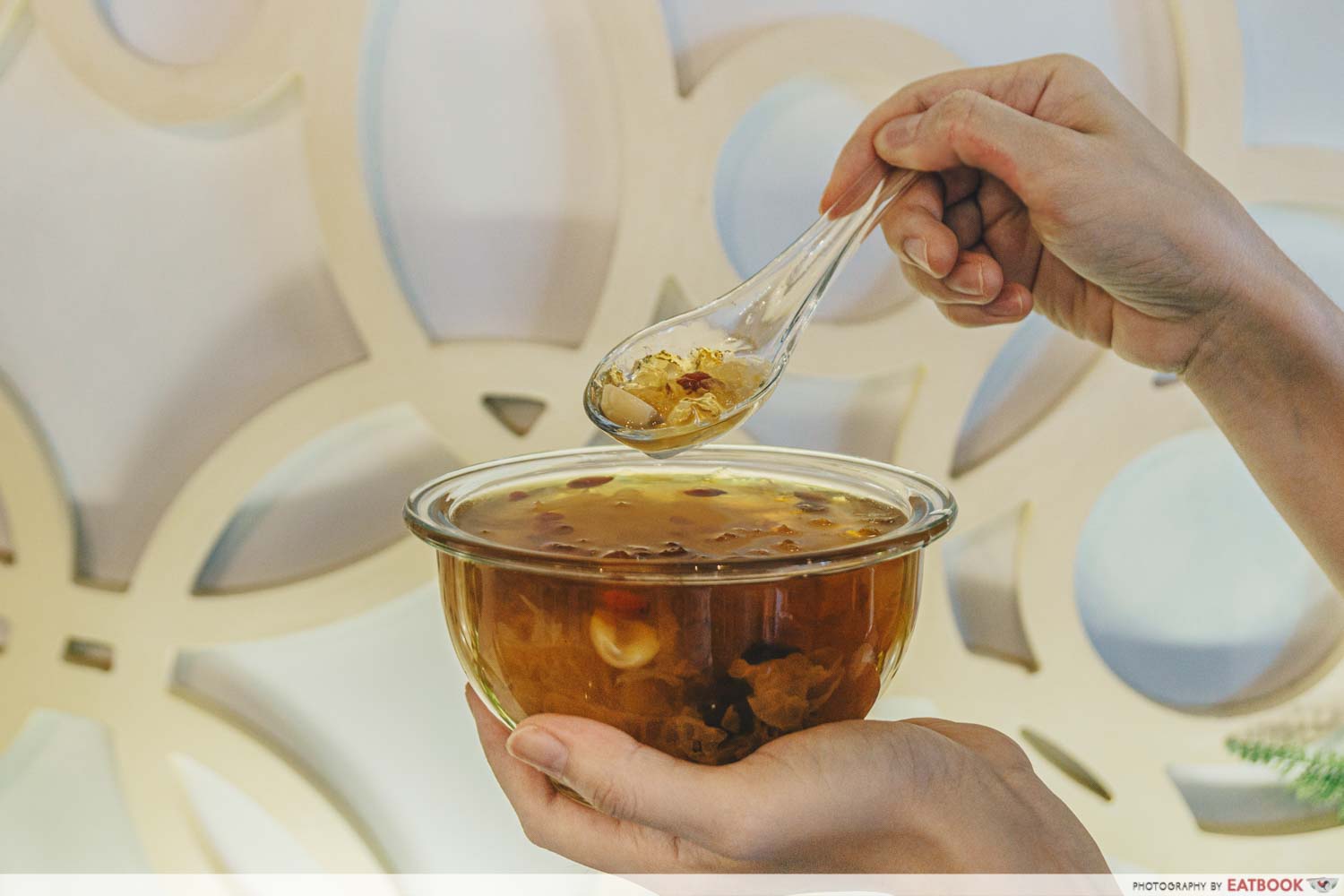 The Peach Gum White Fungus With Lotus Seed ($6) shares almost the same ingredients as the Eight Treasure Cheng Tang, except for peach gum, which is made from the sap of the Chinese wild peach tree. It is a collagen-rich component that is said to help with anti-aging and nourishment. Hence, flavour-wise, I couldn't make a clear distinction from their cheng tng.
Ambience at Chow Zan Dessert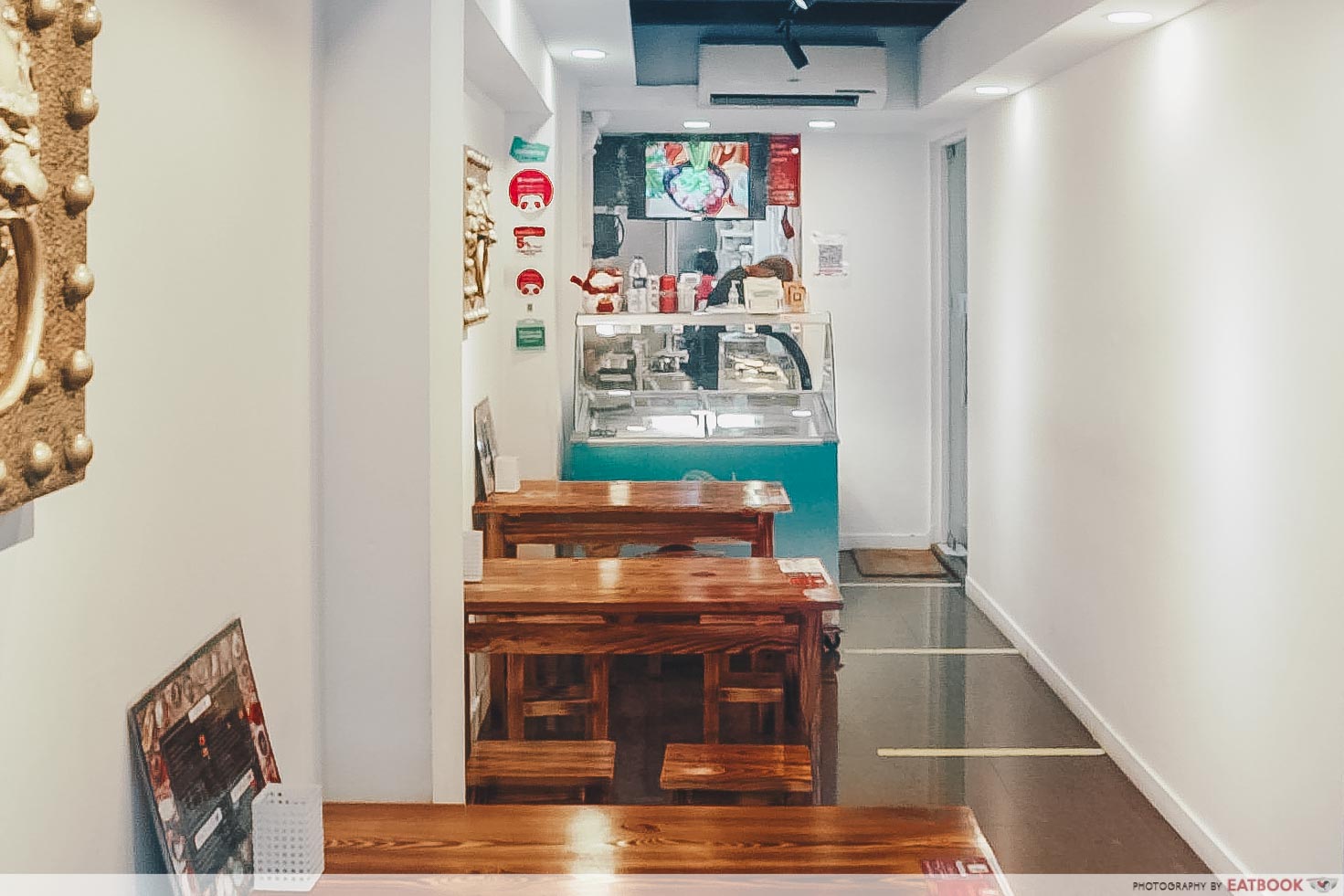 Chowzan Dessert is located along North Bridge Road, a neighbourhood that screams heritage and culture. It has a large box-like sign that protrudes out, making it easily noticeable along the street of shophouses.
When we entered the store, we were greeted with a cosy and casual interior. However, because of its elongated floor plan, it was a little cramped. The shop was brightly lit and radiated a warm tone, with the wooden tables and stools adding a rustic touch.
They do have a little courtyard at the back if you are into al fresco dining, or if you simply wish to have a more Instagrammable setting. We were told that there are more seat at the upper level to accommodate larger crowds. There weren't a lot of people dining in, perhaps due to the Phase 2 situation. However, I did observe that there were frequent delivery pickups. 
The verdict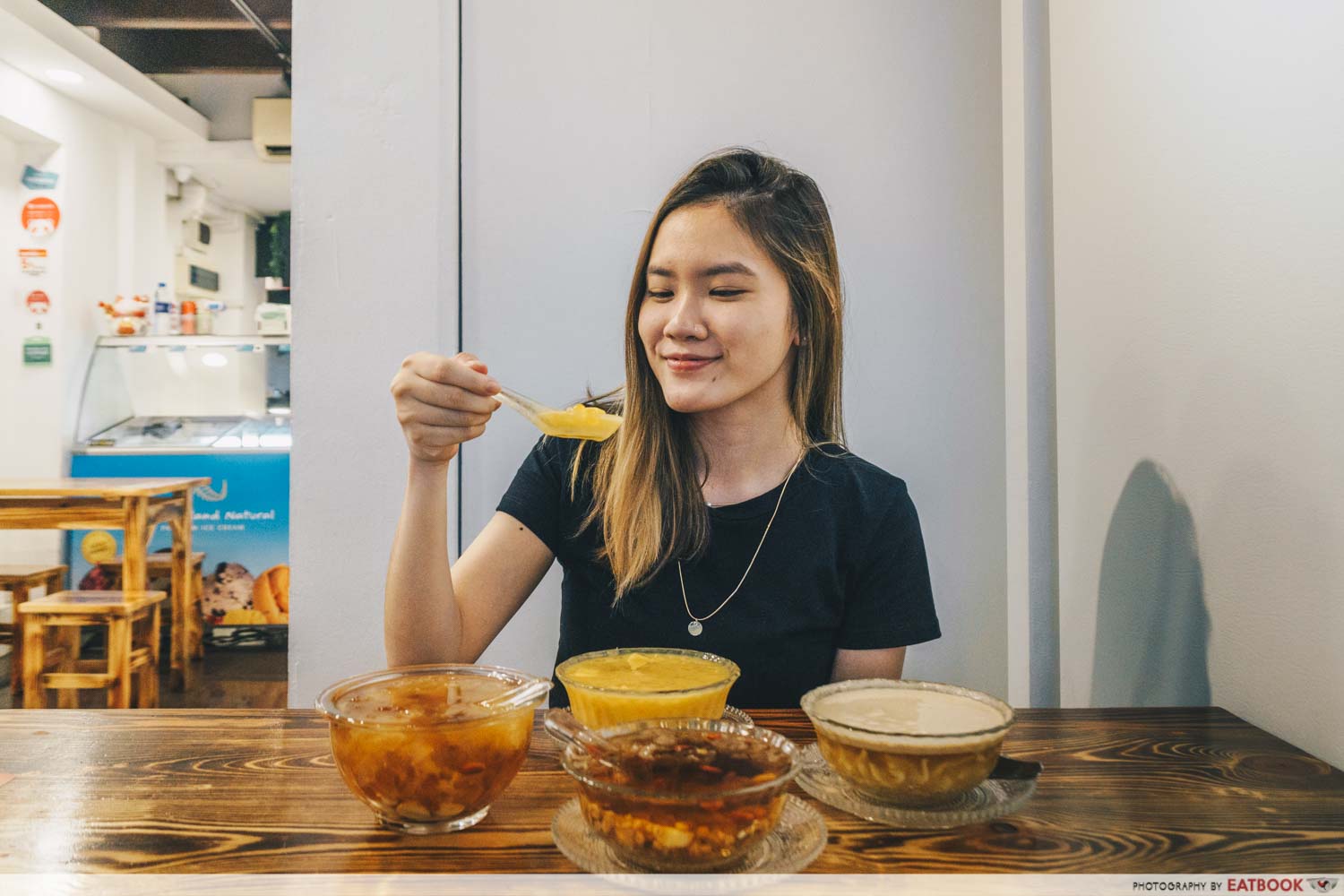 It is a great spot to socialise and unwind because of the relaxed ambience, and it could easily be one of those post-dinner places you visit with friends whenever you're in the vicinity. 
Even though the desserts weren't exceptionally mind-blowing, Chow Zan is still a cut above the rest as it serves an upgraded version of your average tang shui. The overall quality and flavour of the four desserts I tried were enough to convince me to patronise Chow Zan again. I have already planned to revisit the shop soon with my parents to grab a bowl of mango sago or perhaps, sample other desserts if I'm craving for something else. Chow Zan Dessert also provides island-wide delivery through platforms such as Deliveroo, GrabFood and Foodpanda if you choose not to dine in. 
115 Tang Shui Review: Beautiful Stone-Ground Traditional Chinese Desserts Under $2 In Chinatown
If you're looking for more old-school desserts, do check out our review on 115 Tang Shui. Alternatively, you can browse through our listicle for recommended eats @ Bugis.   
20 Bugis Food Places In Singapore Including A Halal Thai Restaurant And Vietnam Pho
Address: 801 North Bridge Road, Singapore 198769
Opening hours: Mon-Sun 2pm to 10pm
Tel: 9830 8677
Website
Menu
Chowzan Dessert is not a halal-certified eatery.
Photos taken by Carissa Teo.
This is an independent review by Eatbook.sg.
Summary
Pros
– Great desserts
– Casual and comfortable ambience
– Decent variety
– Value for money
Cons
– Selective desserts can get a little cloying
Recommended dishes: Mango Pomelo Sago With Mango Pop ($5.50), Eight Treasure Cheng Tang ($4.50)
Opening hours: Mon-Sun 2pm to 10pm
Address: 801 North Bridge Road, Singapore 198769