IG-worthy, stone-ground desserts at 115 Tang Shui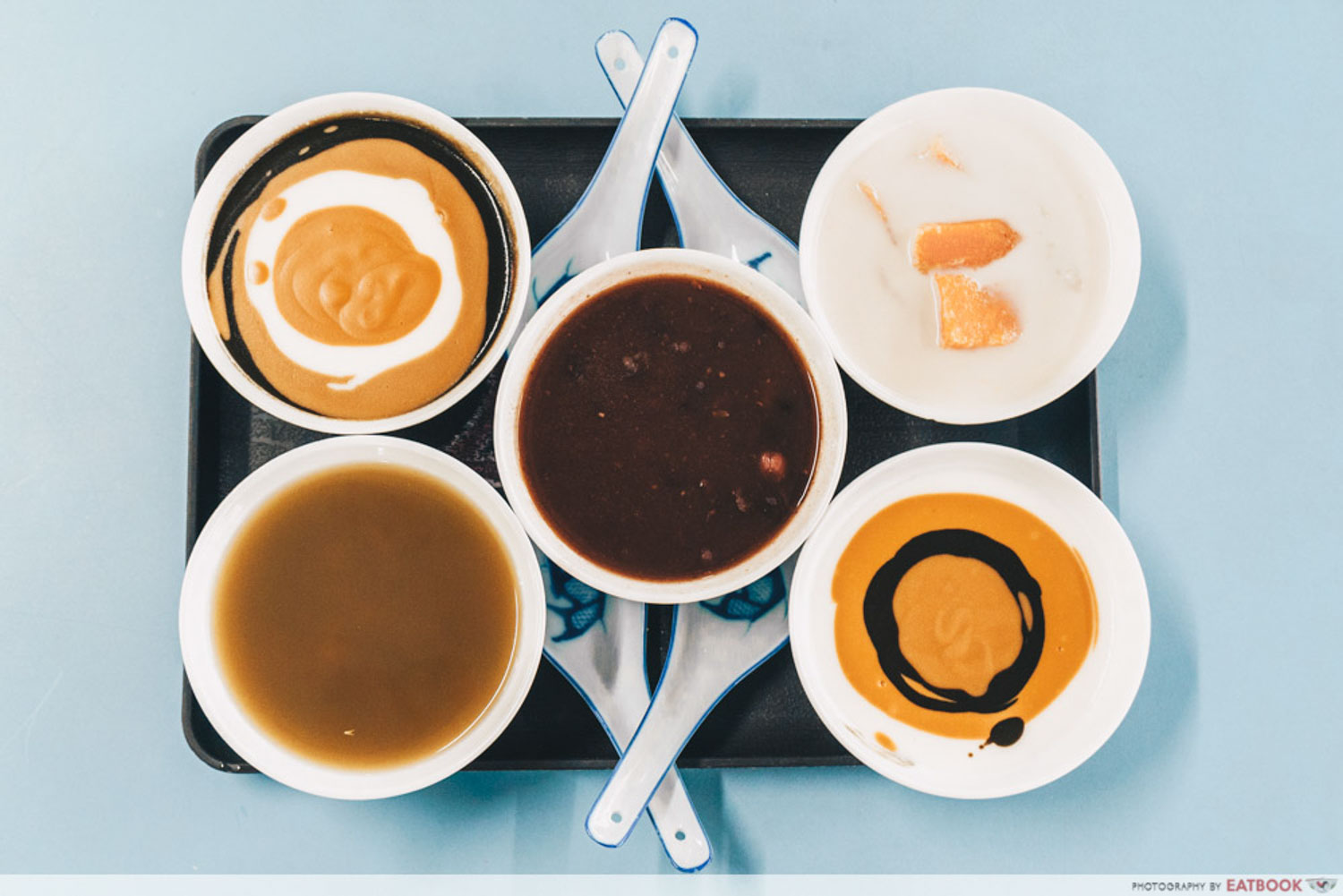 My childhood was defined by classic Chinese desserts. Growing up, I relished the occasions when my parents would cook up tang yuan to celebrate 冬至(winter solstice). As such, I have a soft spot for 115 Tang Shui—a stall which continues to prepare traditional desserts the old-school way.
Food at 115 Tang Shui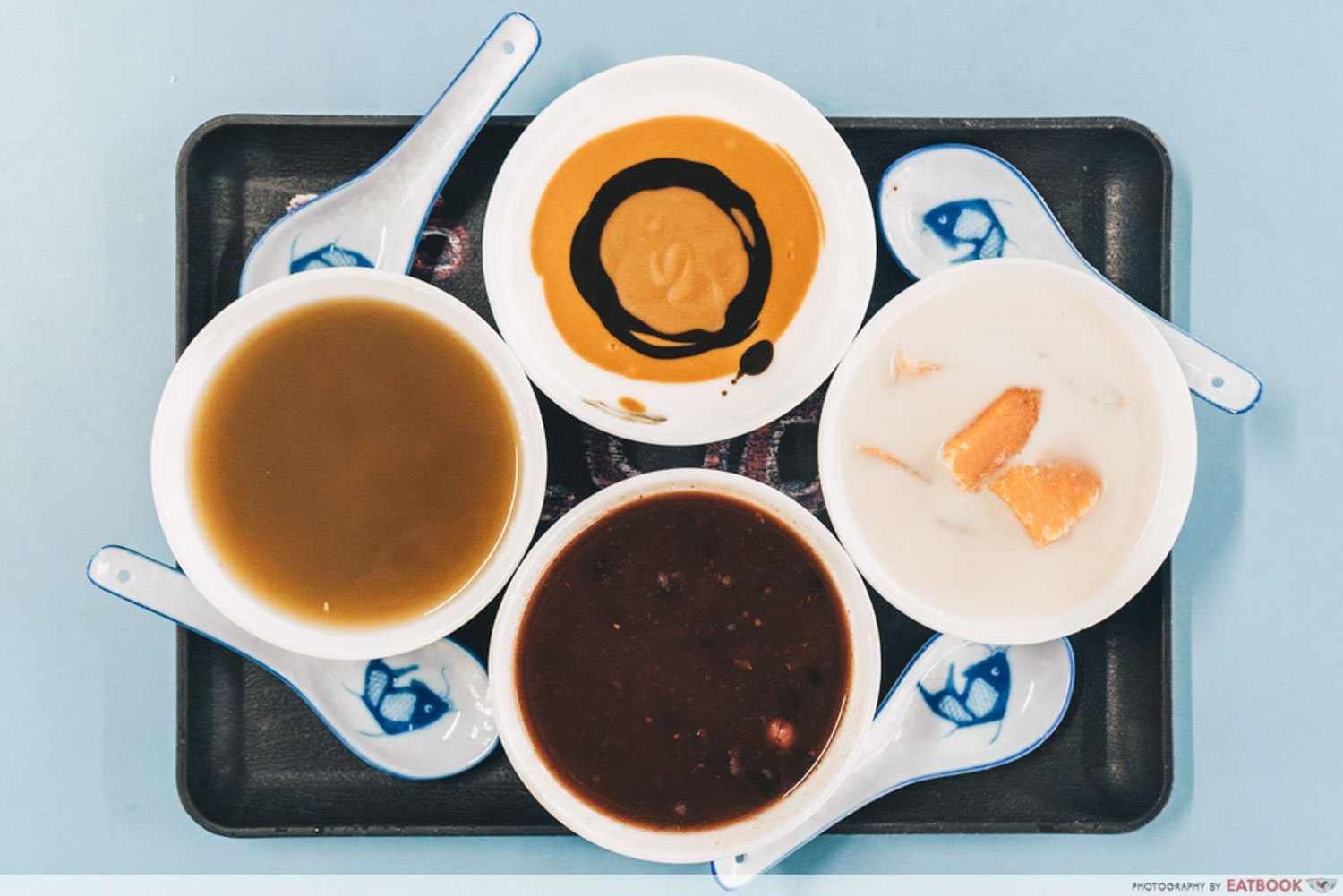 Offering quality desserts with carefully selected ingredients is a motto that 115 Tang Shui proudly upholds. Arriving at the store in the morning, I spotted the owner Tommy seated nearby, his back slightly hunched as he patiently peeled through a mound of fresh gingko nuts.
As I quizzed him about his rationale behind using fresh gingko nuts rather than wholesale pre-peeled gingko nuts, he simply replied, "No preservatives."
It's a thought that requires him to prepare his desserts from early as 3am. But it's also one he has staunchly committed to for the past 30 years.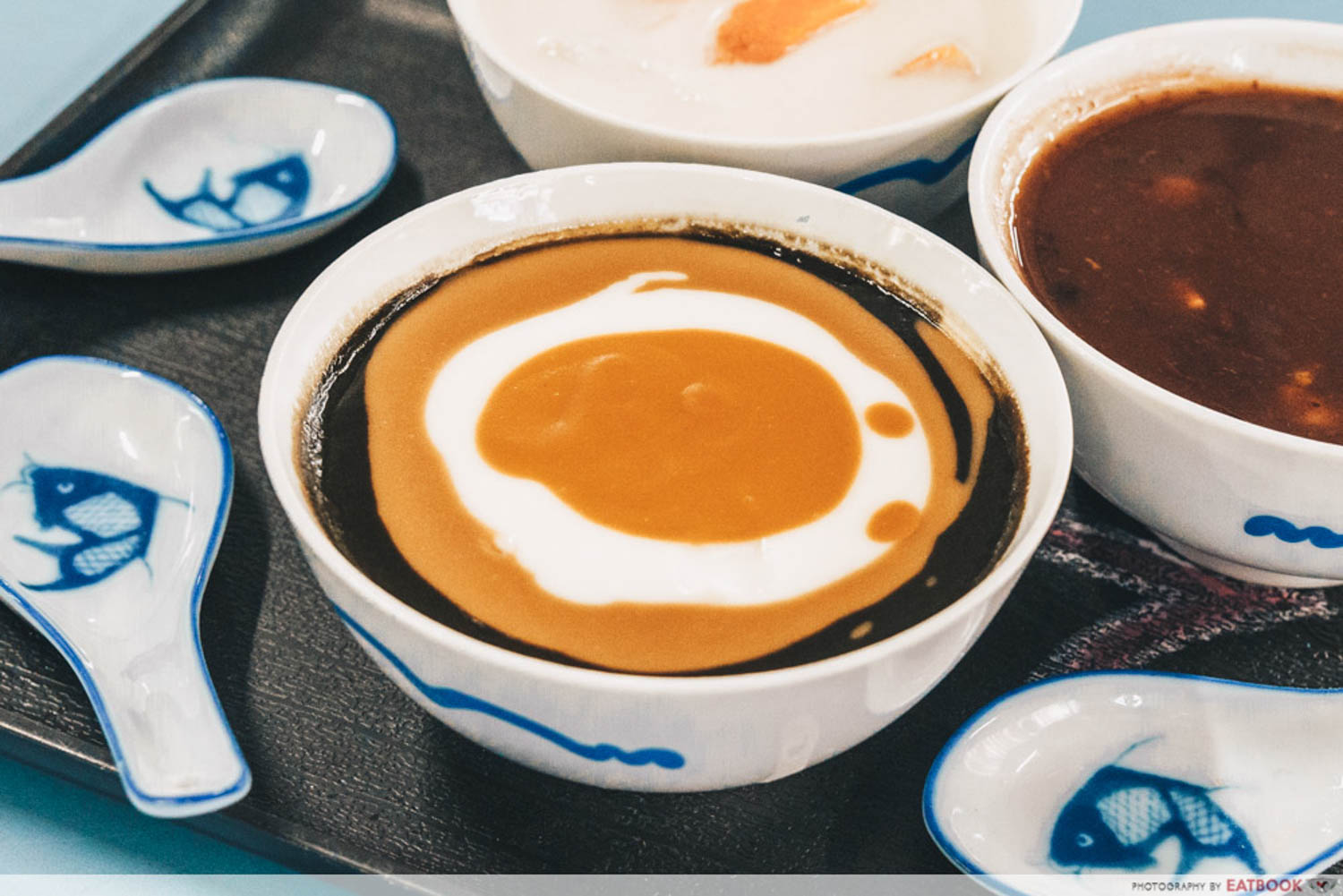 Every bowl requires painstaking preparation, none so more than their signature Bullseye ($1.90). Popular with both locals and tourists, the dessert features a mixture of walnut, peanut, almond, and sesame paste.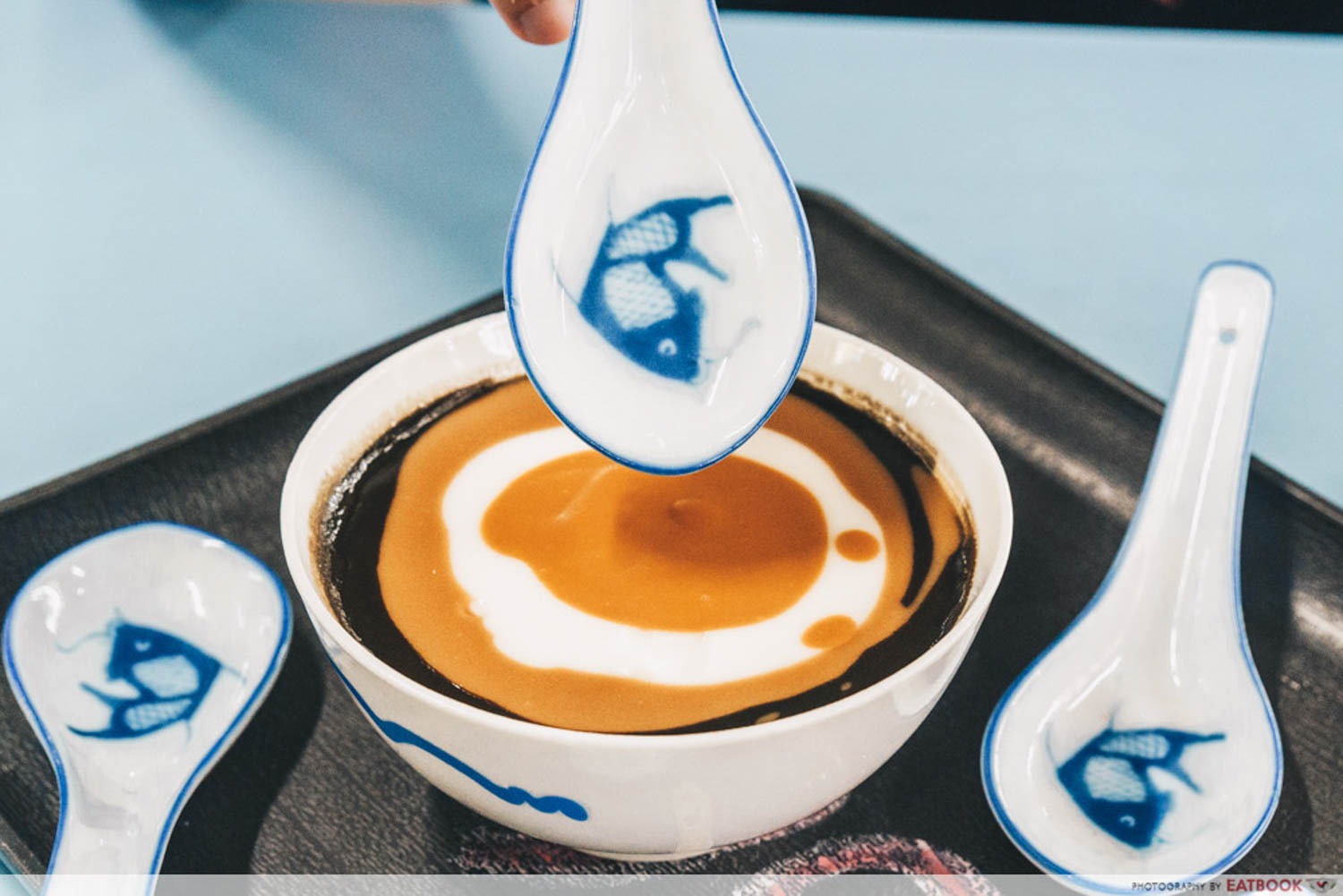 Hold your horses if you are thinking of jumbling up the different paste together. Since the walnut paste forms a large proportion of the dish, mixing the pastes together leaves you with a walnut-dominant flavour.
Instead, dip your spoon vertically into the paste and scoop upwards to savour the individual pastes, before marrying them all into a harmonious medley.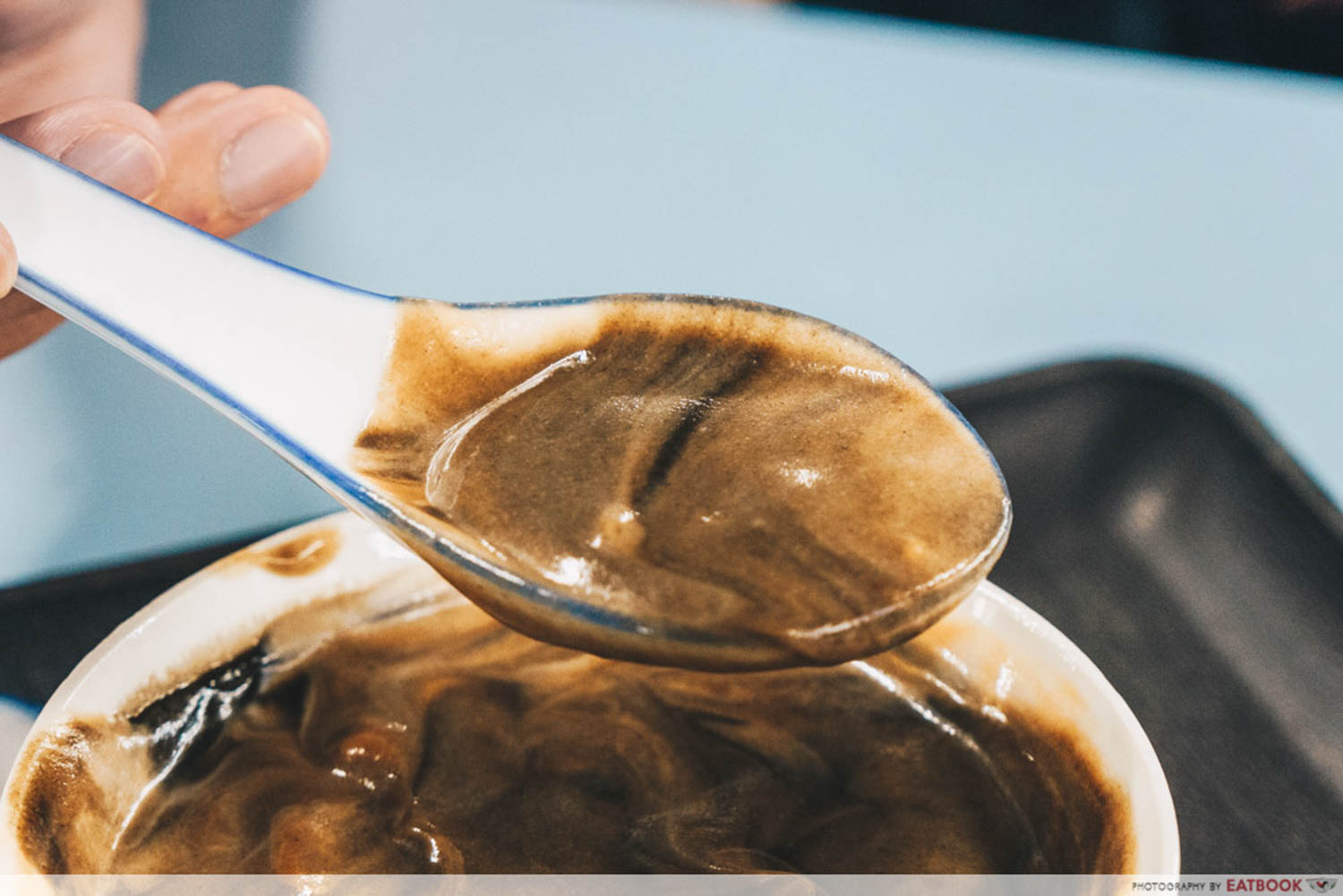 The refreshing and honeyed almond paste balanced the savoury tones of peanut and sesame, while providing room for the walnut paste to showcase its woody and sweet tang.
10 Traditional Chinese Dessert Stalls Serving Old-School Desserts At $2 Or Less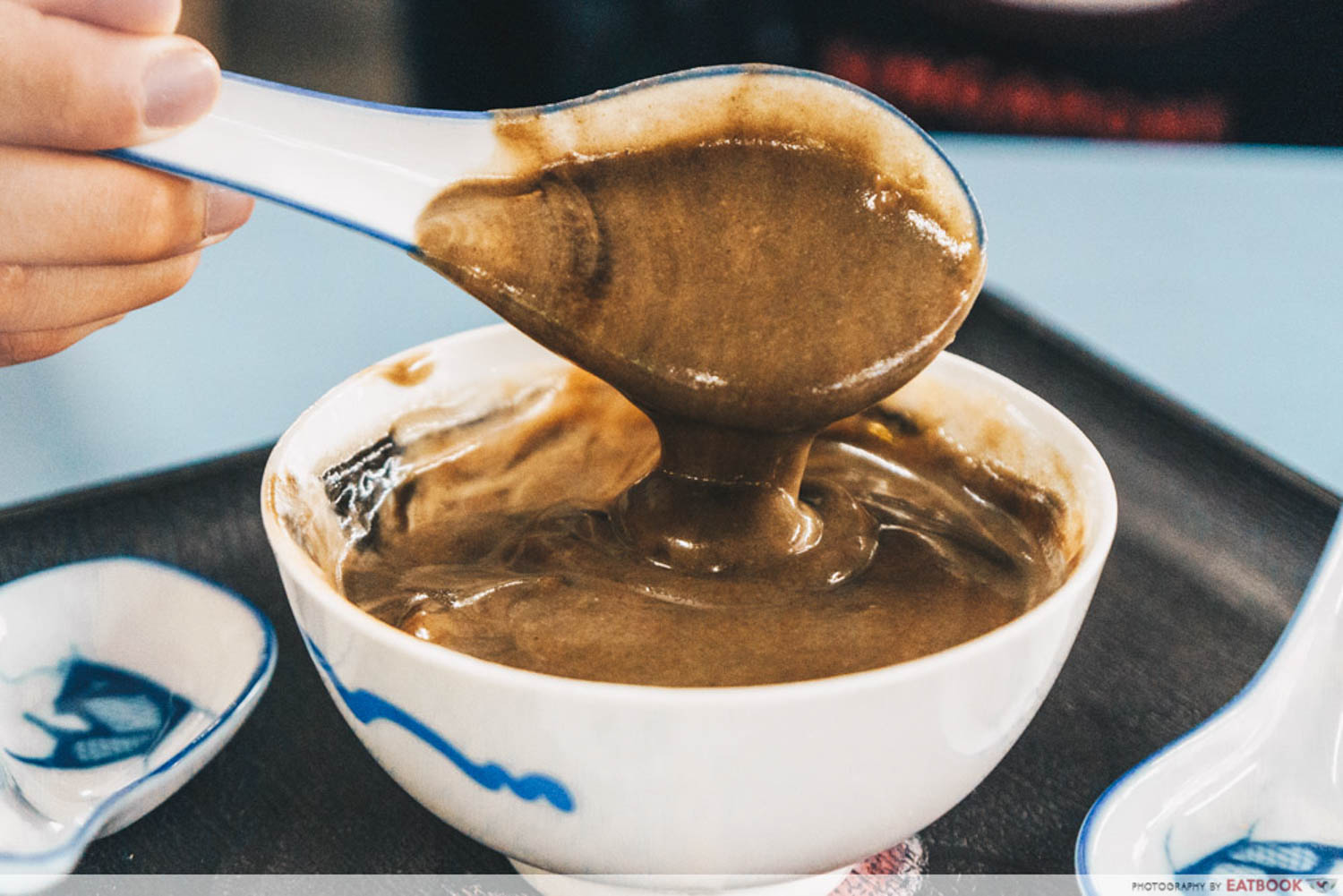 Unlike other stall-owners who simply blend their paste, Tommy crushes the nuts and seeds with a traditional stone grinder. A blended paste has a smoother consistency as blending releases the moisture locked in the ingredients and liquifies them. On the other hand, the ground paste here gave a unique blend both of silky and grainy textures which teased my tongue.
Another difference I noticed was the viscosity of the paste. Like honey dripping off a jar, the syrupy and thick paste inched down my throat.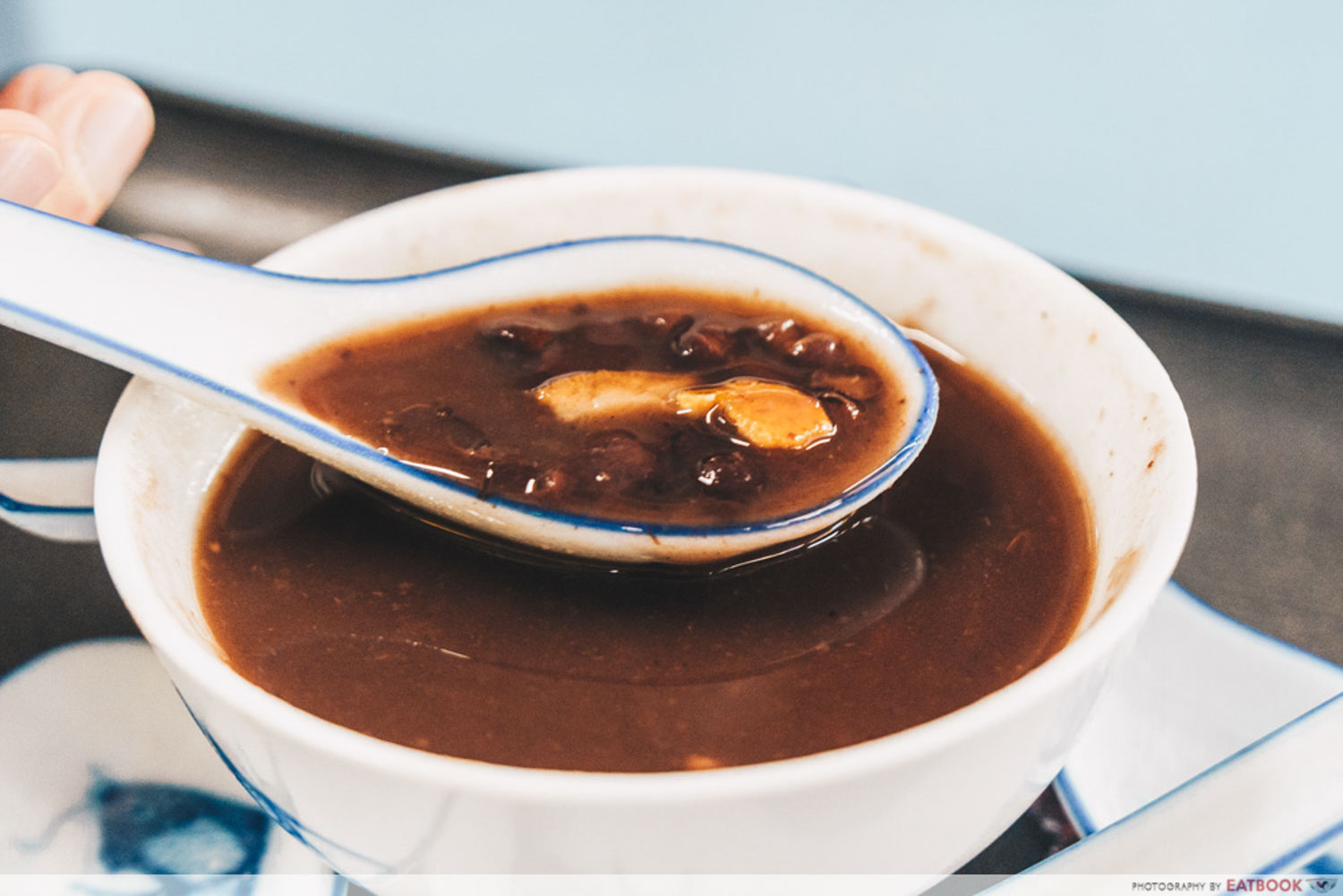 Red bean soup is one of the ubiquitous names of traditional desserts, so no trip to 115 Tang Shui is complete without trying their Mandarin Peel Red Bean ($1.50). While I found some versions a tad cloying due to the heavy-handed use of rock sugar, I enjoyed the clean taste of their red bean soup. 
The mandarin peels were also a refreshing addition as the orange zest contrasted with the sweet soup.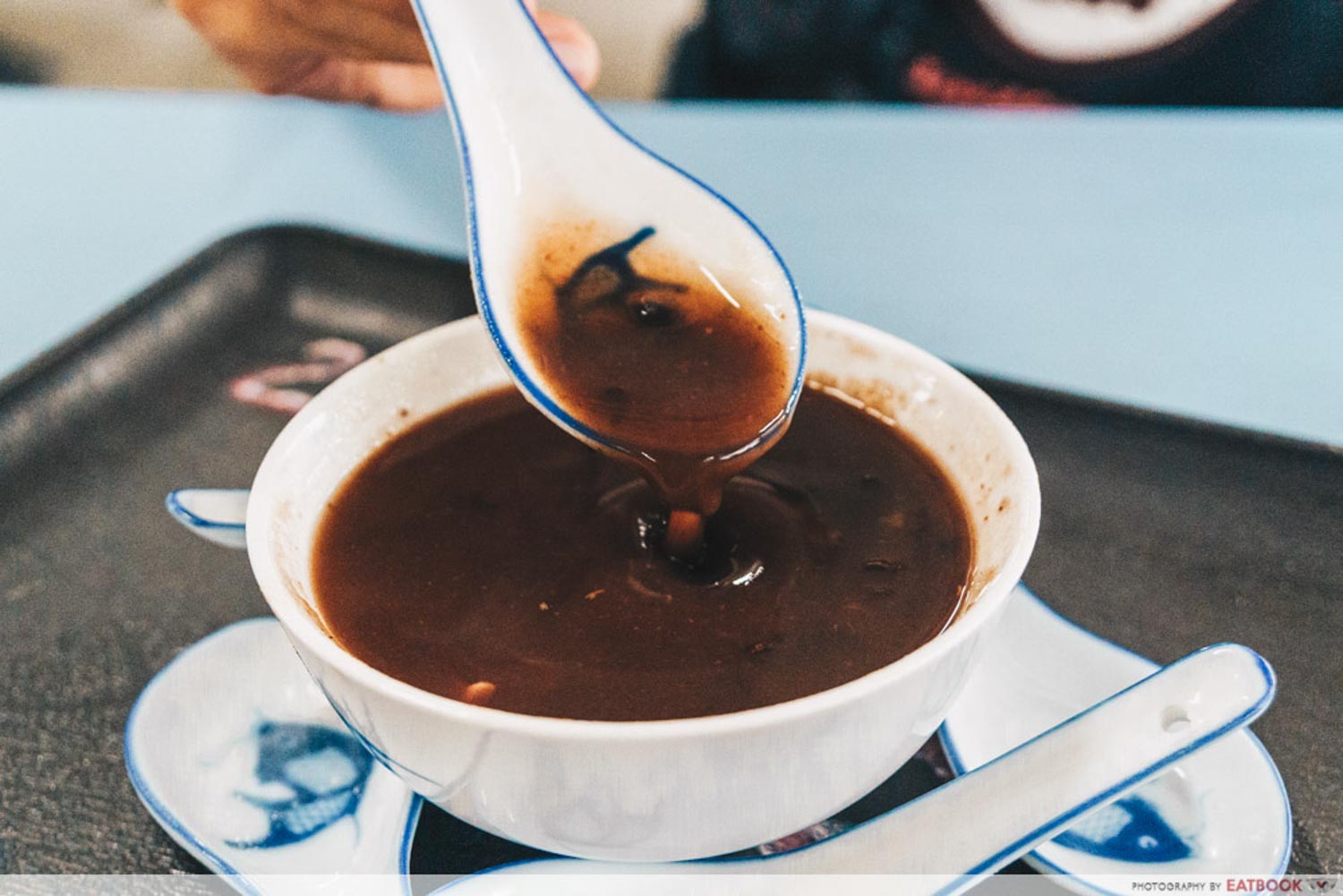 What I enjoyed the most was its one-of-a-kind consistency, which straddled between soupy and grainy. Furthermore, the black beans in the soup enhanced the mouthfeel of this dessert with their resounding crunch.
FYI, try mixing your red bean soup with the sesame paste as well! Affectionately nicknamed "红黑" in Macau, this mixture charmed my palate with its well-balanced combination of luscious and earthy flavours.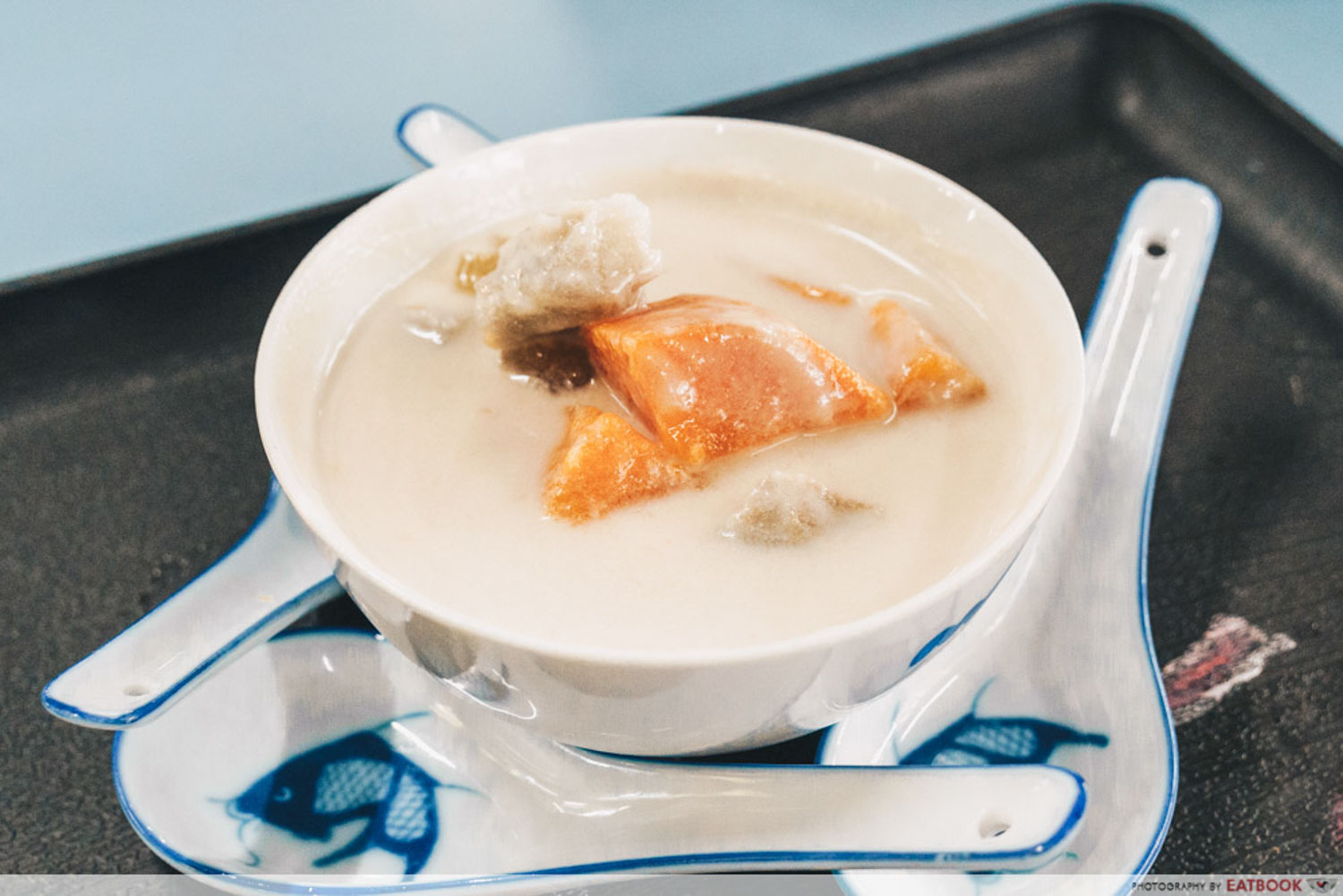 Other than traditional Cantonese desserts, 115 Tang Shui also dishes up Nanyang classics such as Bobo Chacha ($1.90). This is their most filling confection, featuring large cubes of yam and sweet potato drowning in fresh coconut milk.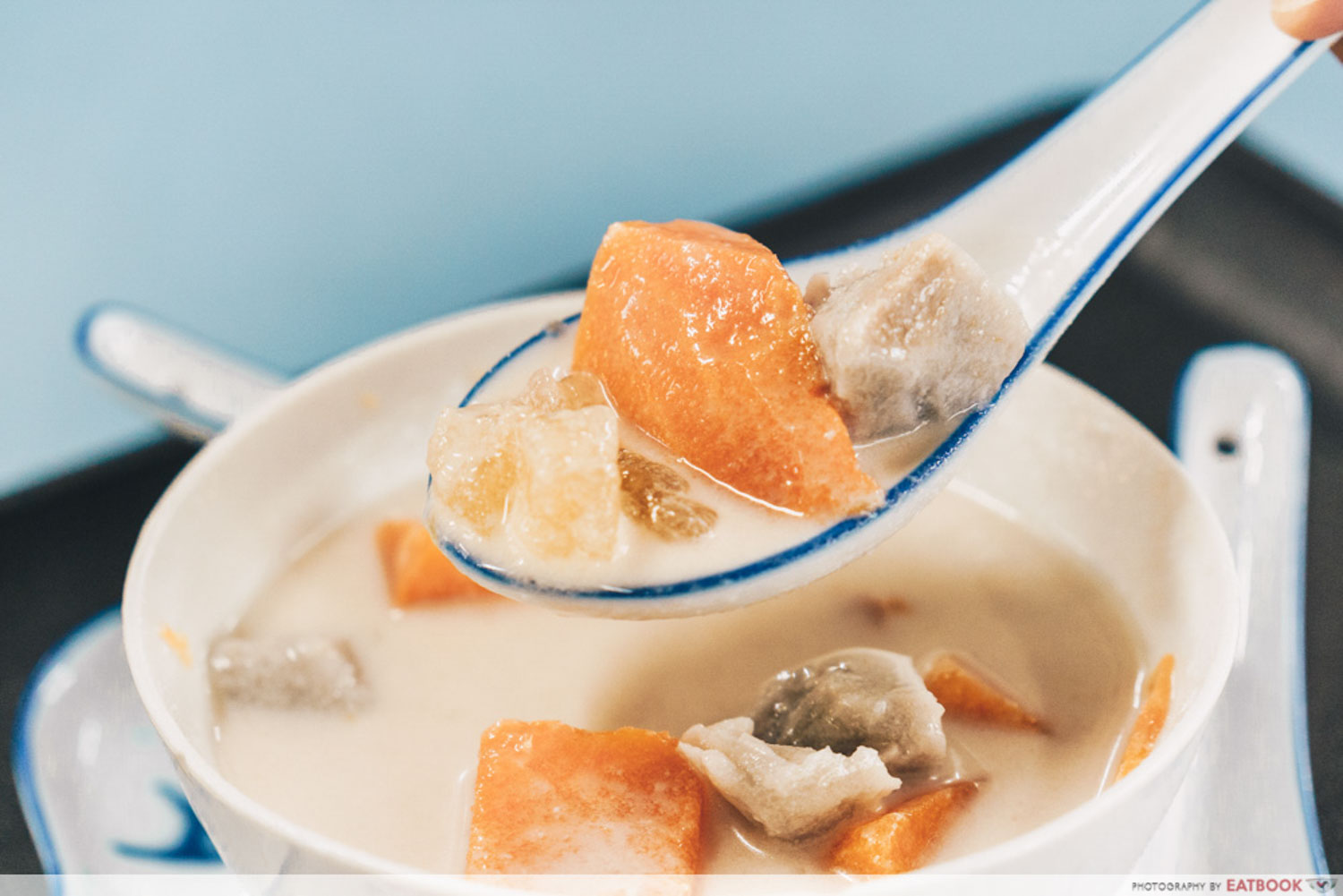 Though most stalls use factory-made tapioca flour cubes in their Bobo Chacha, 115 Tang Shui prepares theirs by dropping tapioca flour into boiling water. Teasing my tongue with their playful bounce, these tapioca jellies were a superb foil to the dense chunks of sweet potato.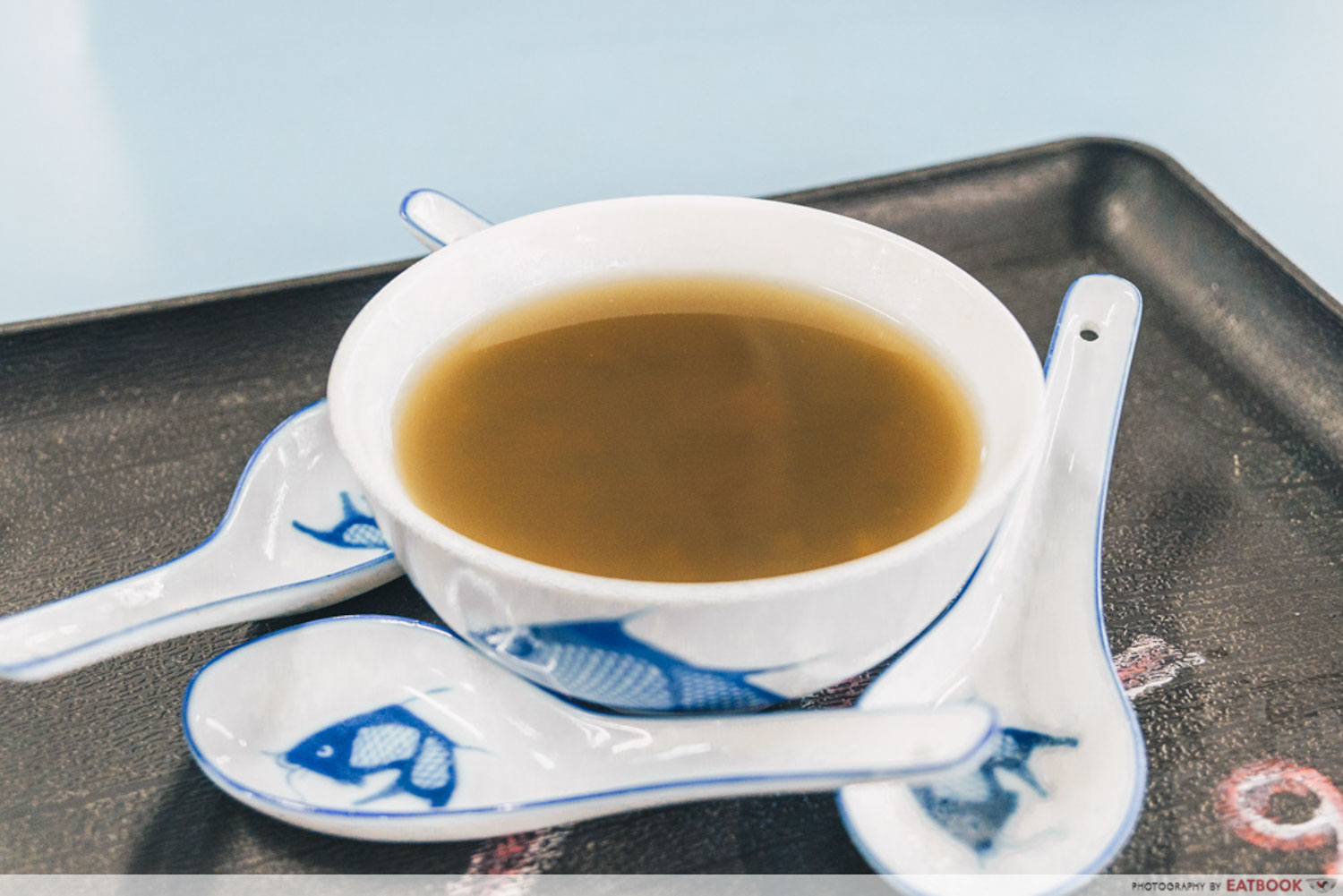 Ending off this parade of sweet treats was their Licorice Green Bean Soup ($1.90) which imparted a lingering sweet aftertaste.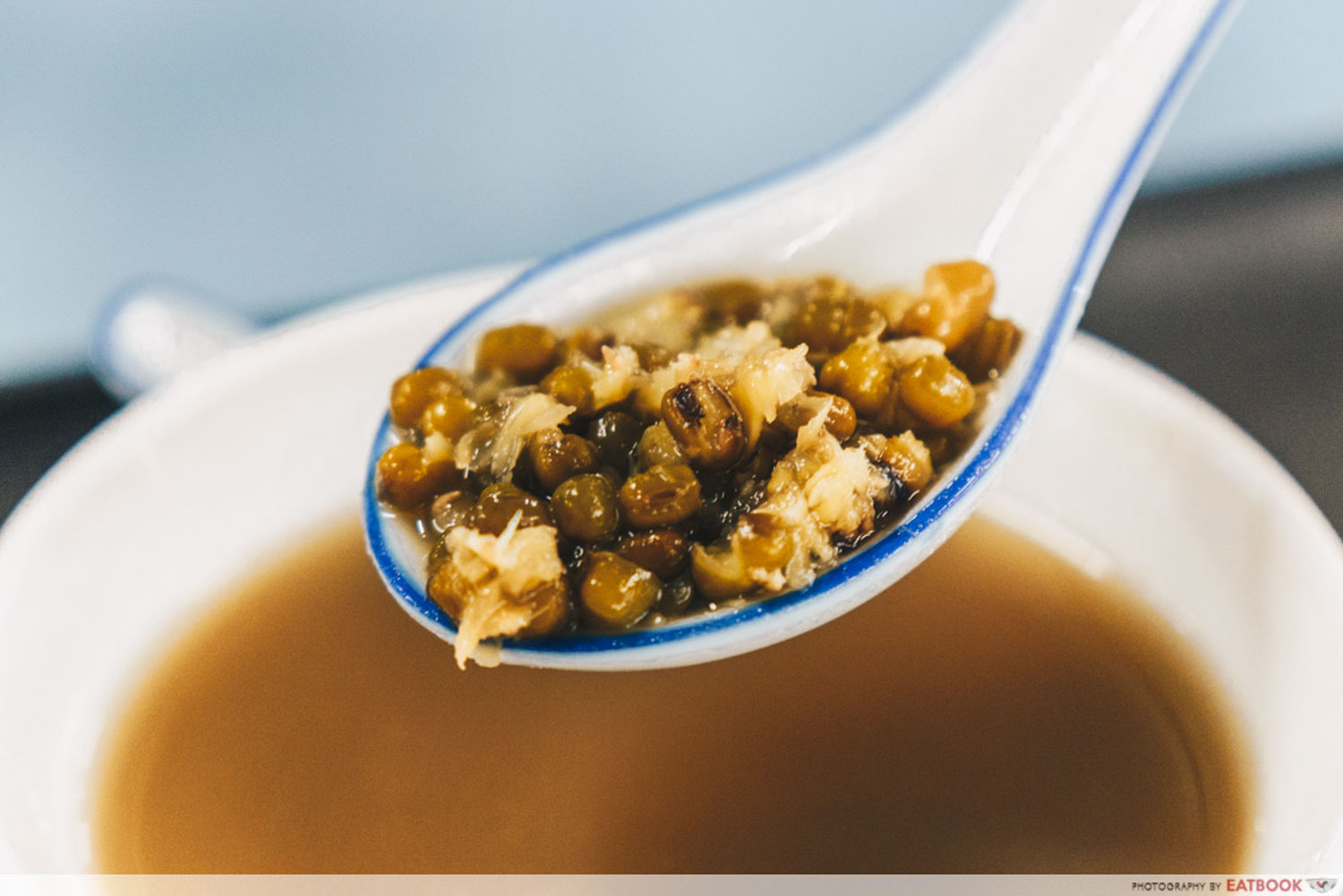 Patiently stewed, the beans were soft on the inside yet crunchy on the outside. 
BTW, we also recommend their signature Fragrant Herb Green Bean Soup ($1.90). Brewed with common rue, the soup is exceedingly difficult to find today. If it's available when you visit, be sure to grab a bowl and soak up the unique, mangoey fragrance!
Ambience at 115 Tang Shui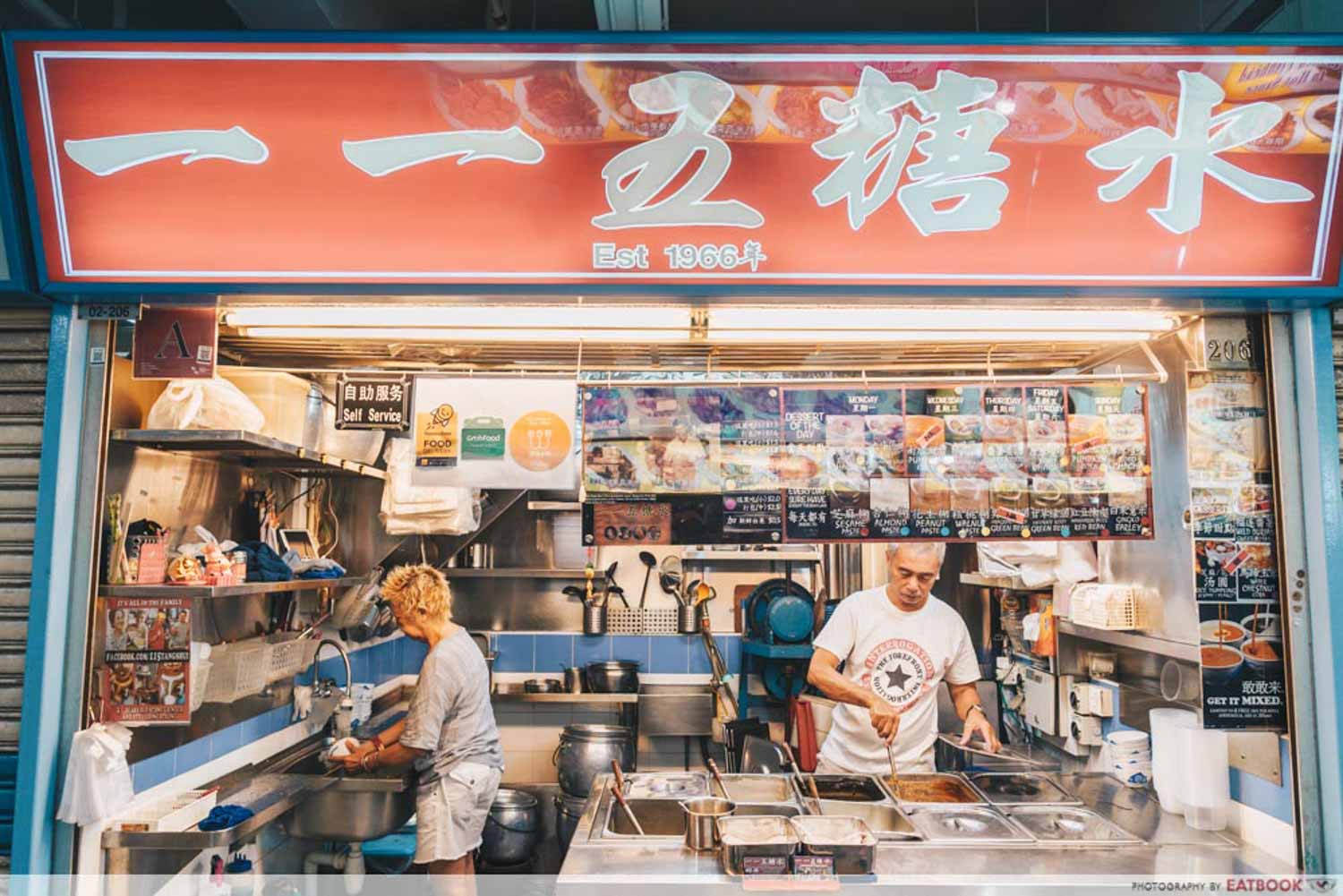 After a three-month-long renovation, Chinatown Complex Food Centre has returned with fresh air systems and new wall fans. Thanks to the improved ventilation, I certainly felt more comfortable when I visited the place.
Don't be afraid to ask around for directions as well! The hawker centre is one of Singapore's largest, and it is understandable to find yourself lost in this labyrinth of stores. 
The verdict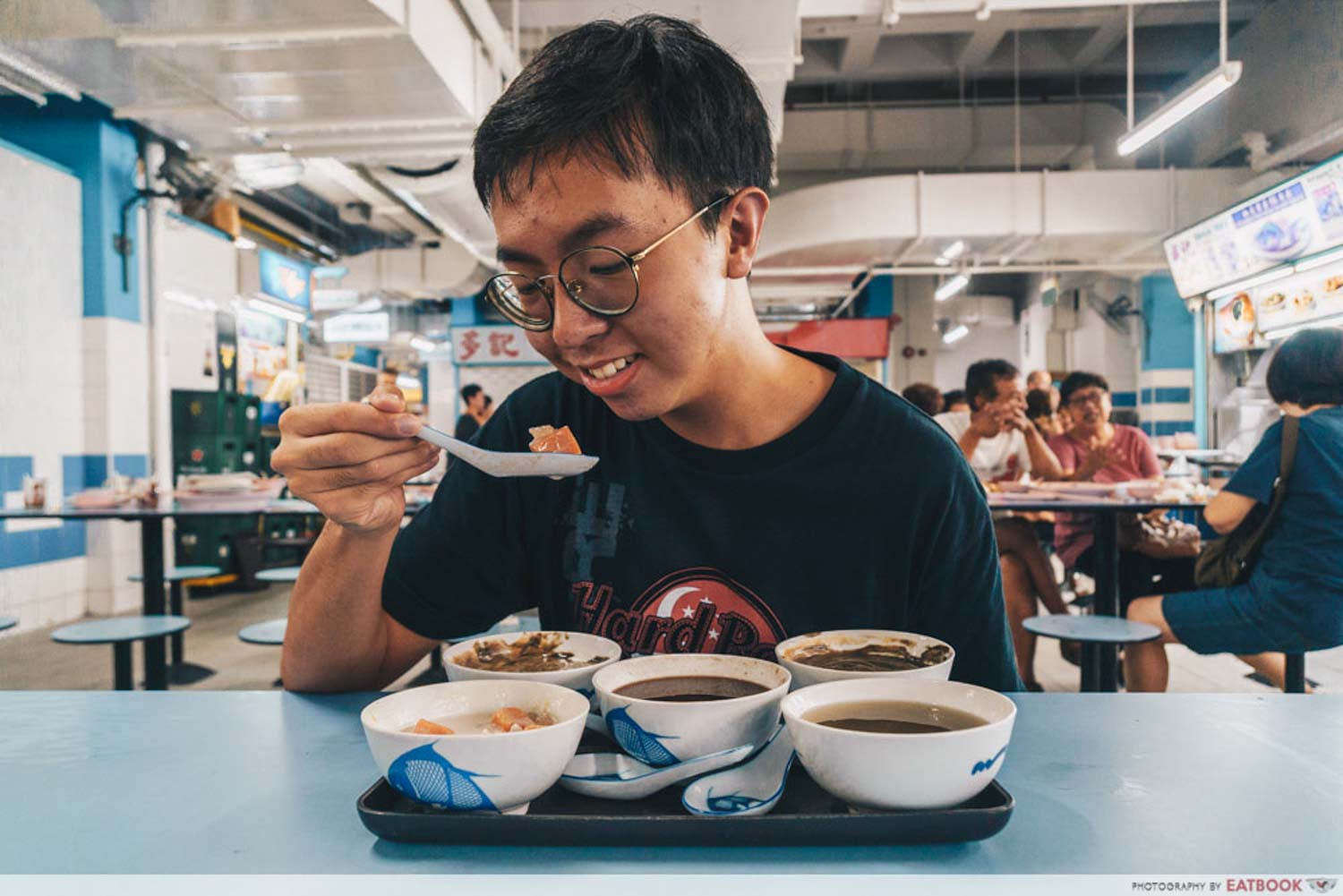 Staring at the youthful photo of Tommy plastered on the menu, I was pensive as I pondered the years he had sacrificed in dedicating himself to this business. Despite the gruelling hours, he remains committed to serving quality desserts and preserving the tradition of his craft. With that in mind, I definitely foresee myself returning here for a warm bowl of green bean soup in the future.
For more value-for-money nosh in Chinatown, check out our guide of Chinatown food gems, which includes $1 noodles and a whopping 100cm food platter!
10 Chinatown Food Gems Including Noodles At $1 And A 100cm Food Platter
Address: Blk 335 Smith Street, #02-206, Chinatown Complex Food Centre, Singapore 050335
Opening hours: Wed-Mon 7:30am to 5:30pm, or until everything is sold out.
Tel: 9641 9140
Website
115 Tang Shui is not a halal-certified eatery.
Photos taken by Heng Wei Shin
This is an independent review by Eatbook.sg.
Summary
Pros
— Stone-ground desserts
— Unique ingredients
— IG-worthy desserts
Cons
— Certain desserts sell out quickly
Recommended Dishes: Mandarin Peel Red Bean Soup ($1.50), "Bullseye" ($1.90), Bobo Cha Cha ($1.90)
Opening hours: Wed-Mon 7:30am to 5:30pm
Address: 335 Smith Street, #02-206, Chinatown Complex Food Centre, Singapore 050335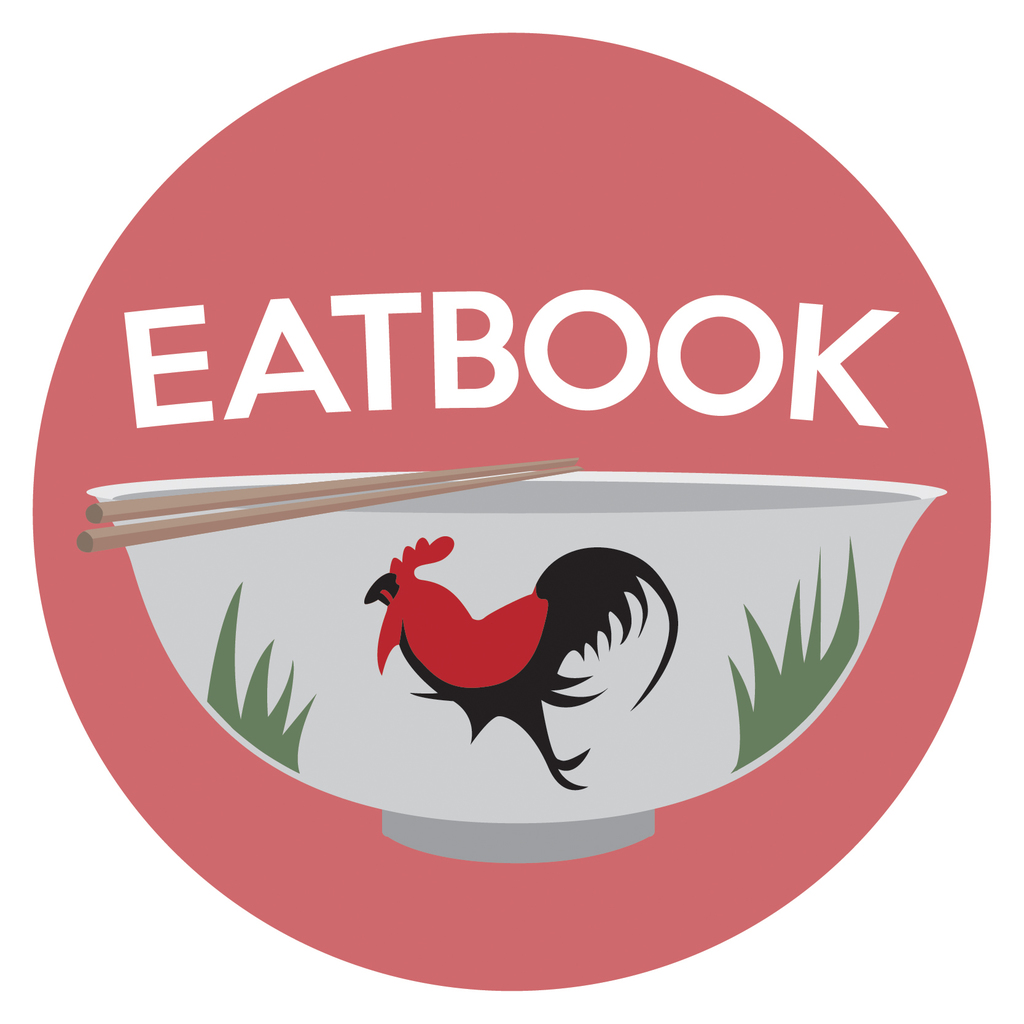 Drop us your email so you won't miss the latest news.