Jin Yu Man Tang Dessert Shop is a hipster Chinese dessert cafe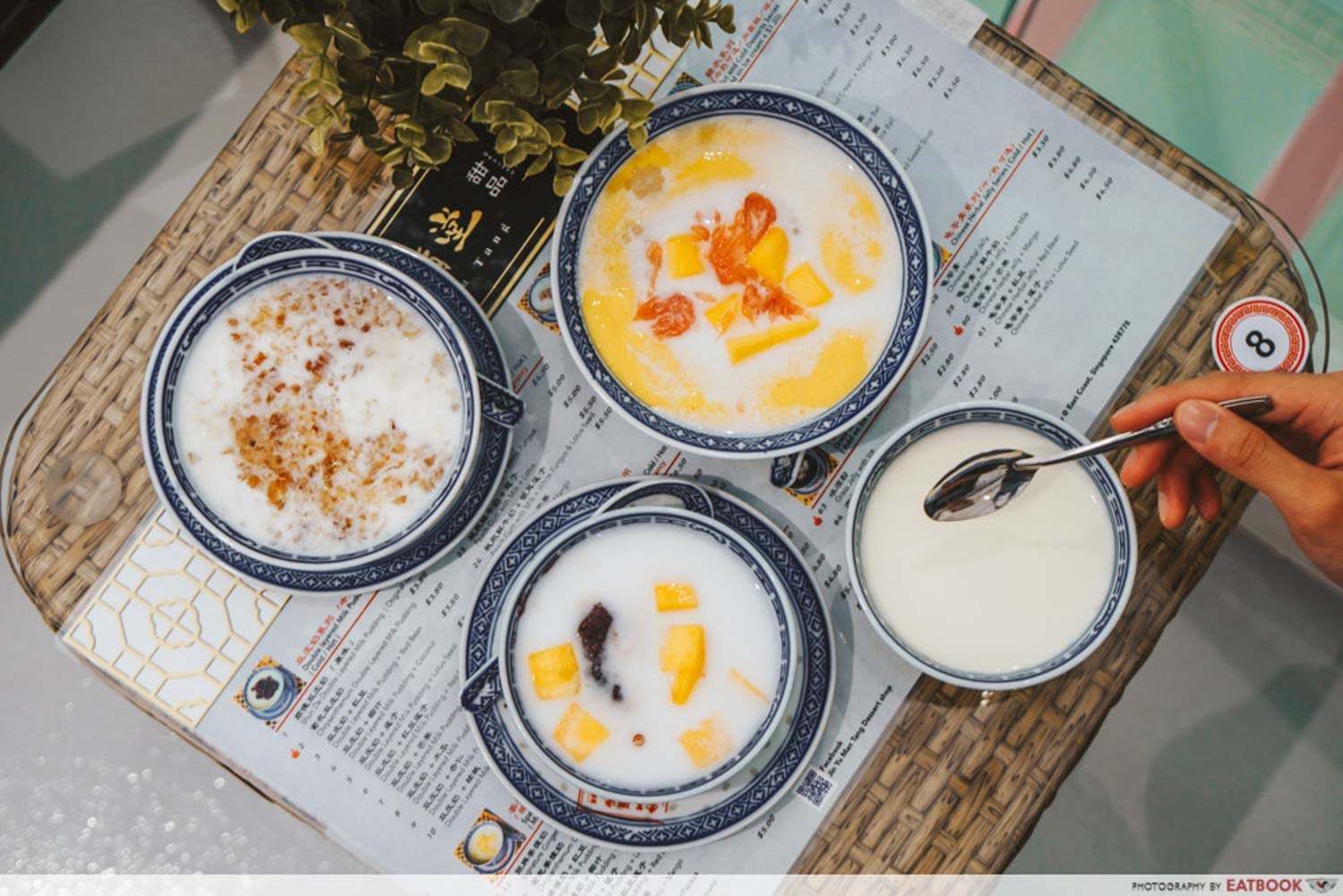 Recently opened in April, Jin Yu Man Tang Dessert Shop at East Coast specialises in Chinese desserts. With its hipster decor and quiet ambience, it's a great place to not only enjoy a sweet treat but also chill with your friends on a lazy afternoon.
Food at Jin Yu Man Tang Dessert Shop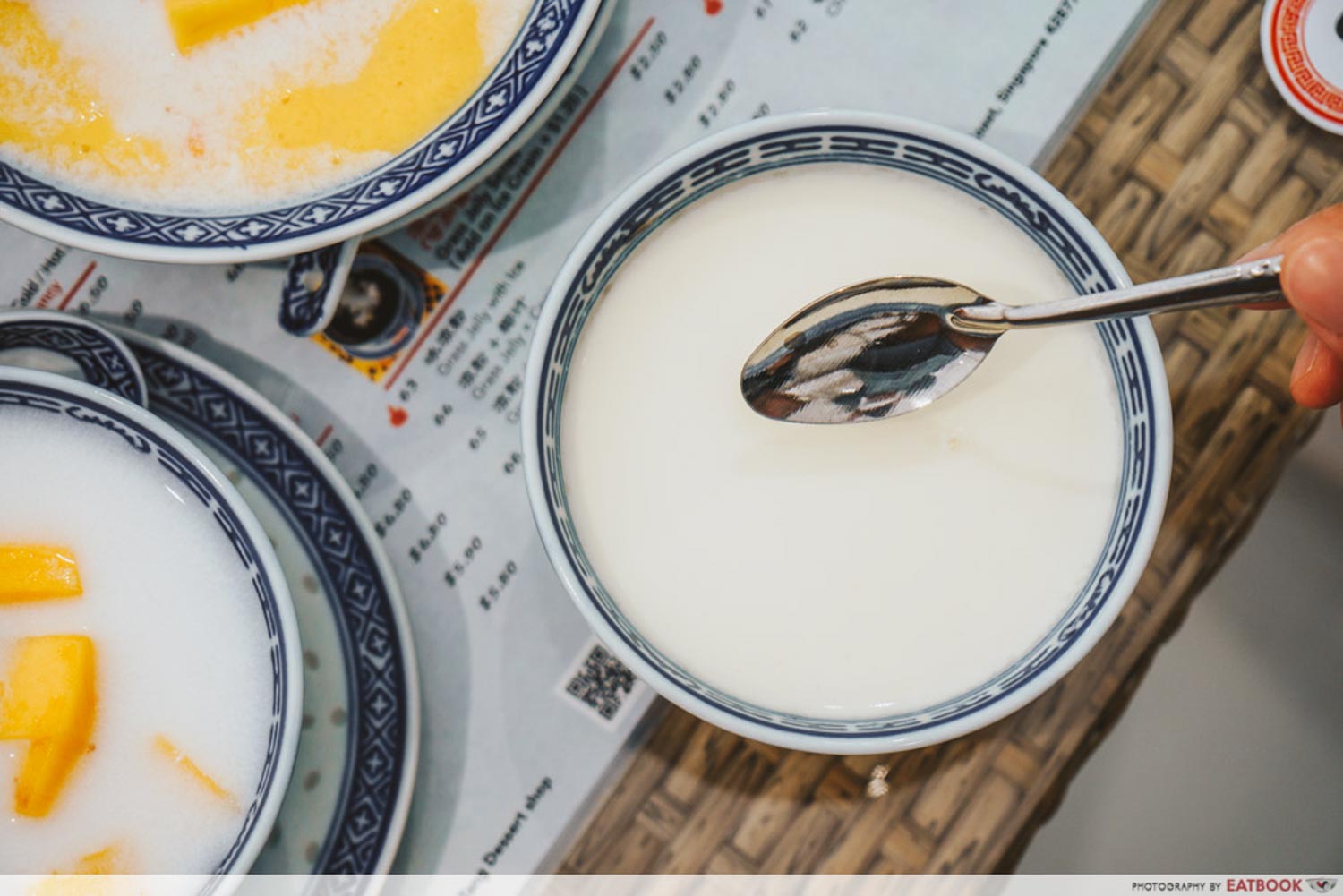 Desserts today feed our tummies and IG-feed, so it's no surprise that their Signature Ginger Milk Pudding ($4) involves some theatrics.
Get your cameras ready as a staff member deftly pours warm milk into a bowl of ginger syrup. It may seem quite straightforward, but the pouring has to be perfectly timed.
Cover the mixture with a ceramic plate and allow it to cool for four minutes. Now, the transformation begins. Kiasu as we may be, resist the urge to check on the state of the dessert. Prematurely uncovering it disrupts the cooling process and renders a watery texture instead.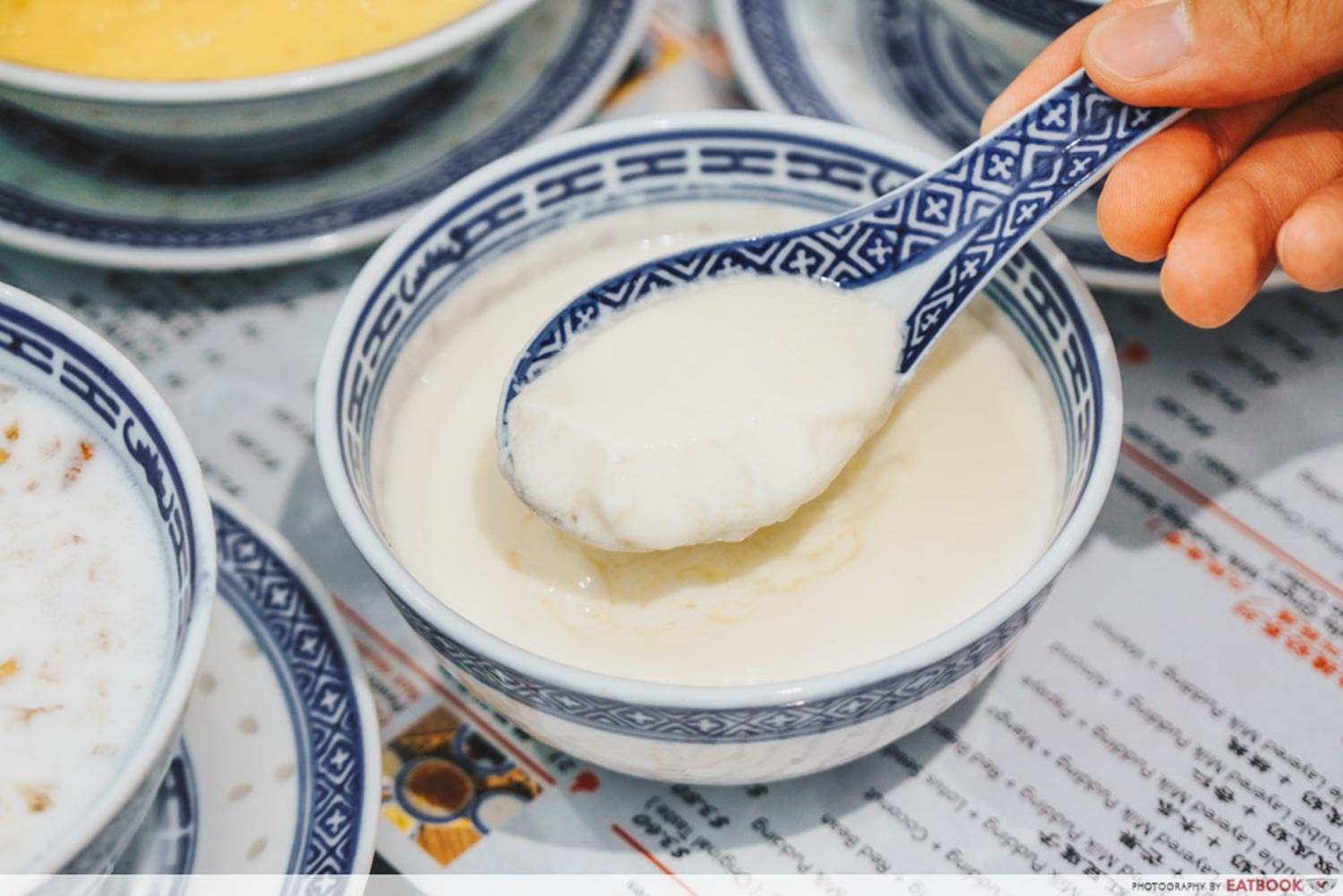 If done right, the pudding is as dreamily silky as the softest tofu. Dissolving instantly in my mouth, it coursed through my taste buds with gentle waves of milkiness. As they quickly dissipated, a musky spiciness lingered on my throat.
Admittedly, the earthy aftertaste was a flavour I'm not used to. However, it grew on me with every spoonful and I gradually appreciated how it prevented the pudding from being too jelak.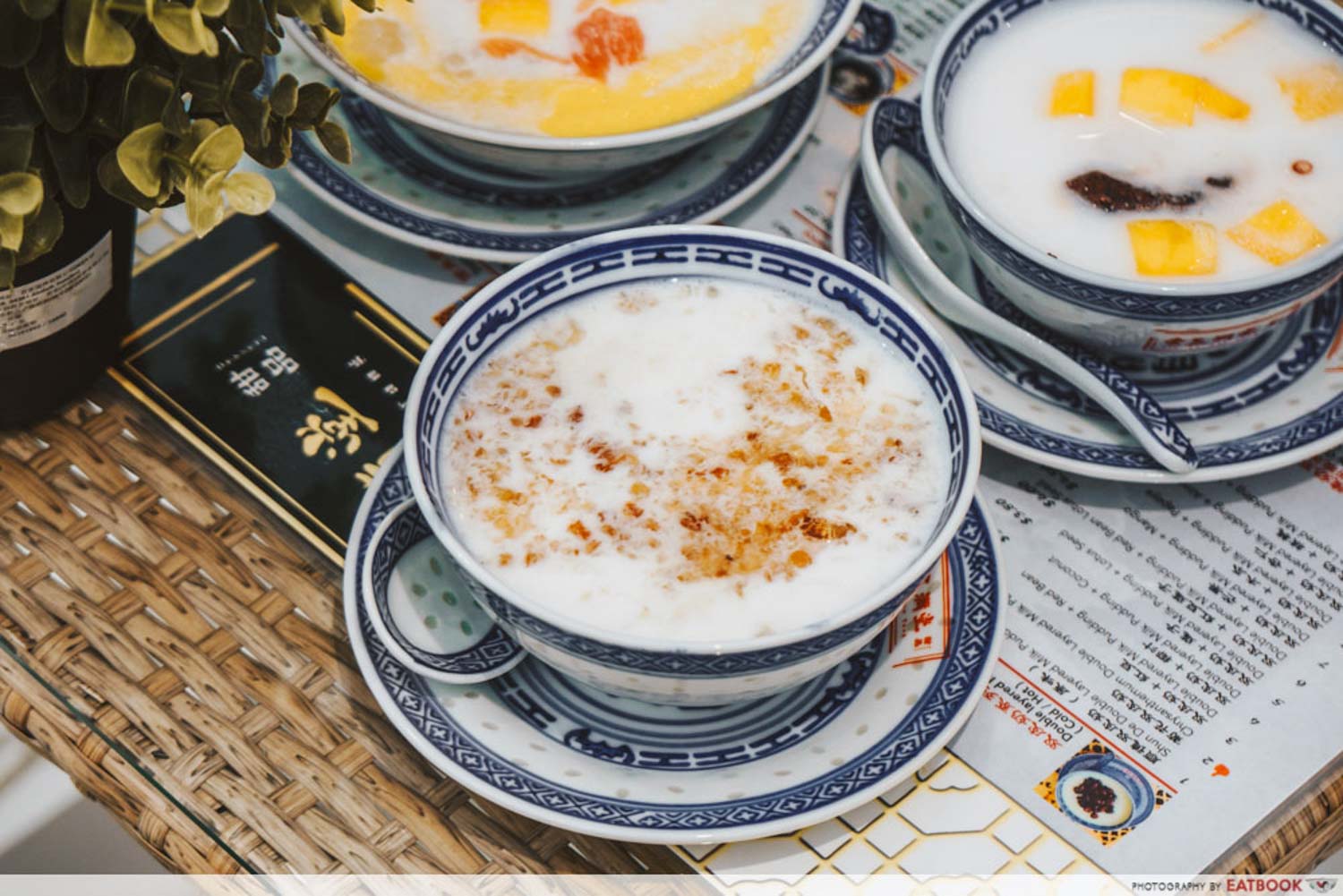 Peach gum is uncommon in Singapore, so I was def' eager to try their Peach Gum + Milk ($4.50). For those who are unaware, peach gum is resin directly harvested from peach trees. Rich in collagen, it's a natural skin supplement that is often compared to bird's nest.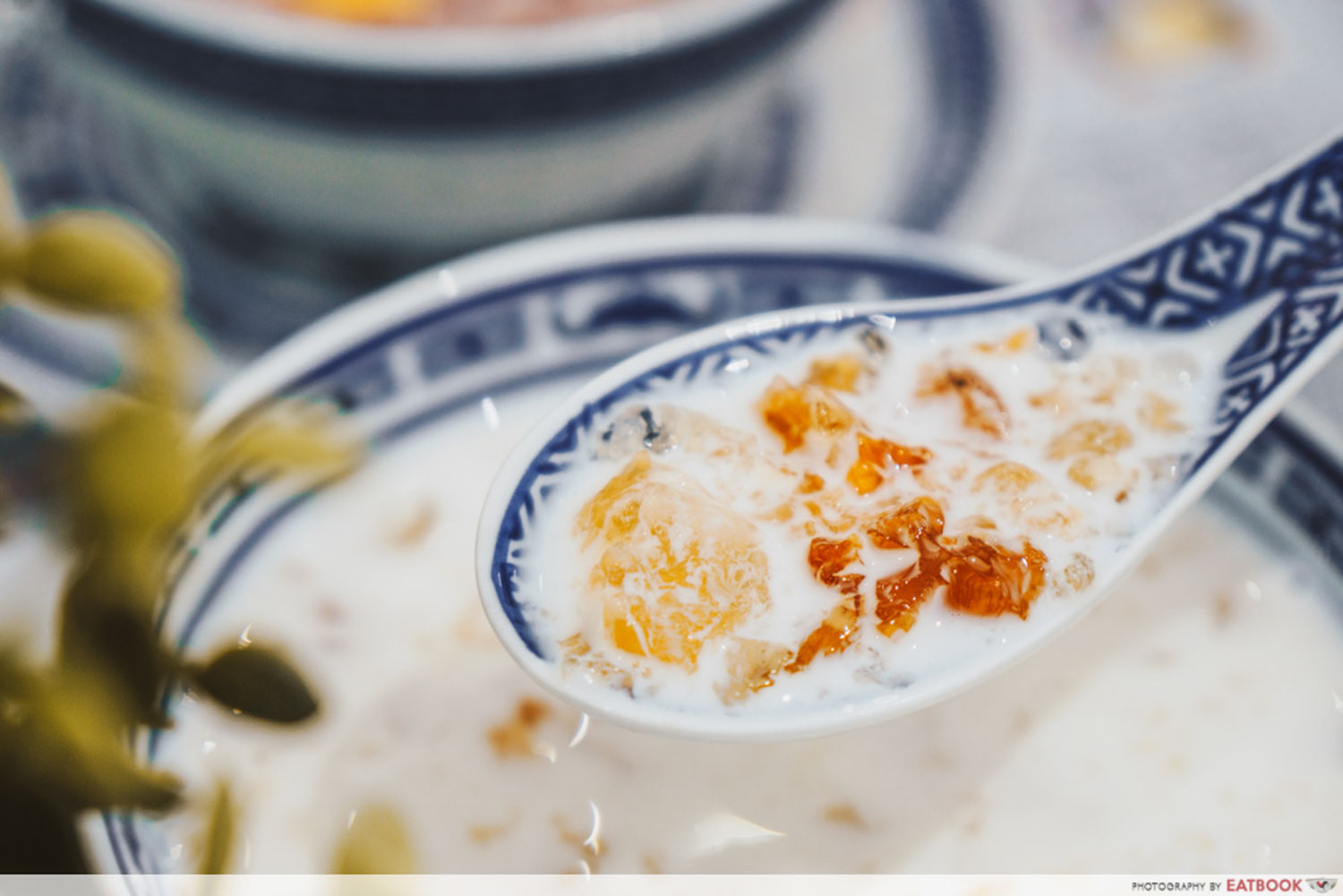 While peach gum usually carries a floral fruitiness, the ones here had a surprisingly mild taste, since their natural essence had thoroughly infused this dessert. Peachy accents permeated the milk inside out, complementing the creamy notes of the milk.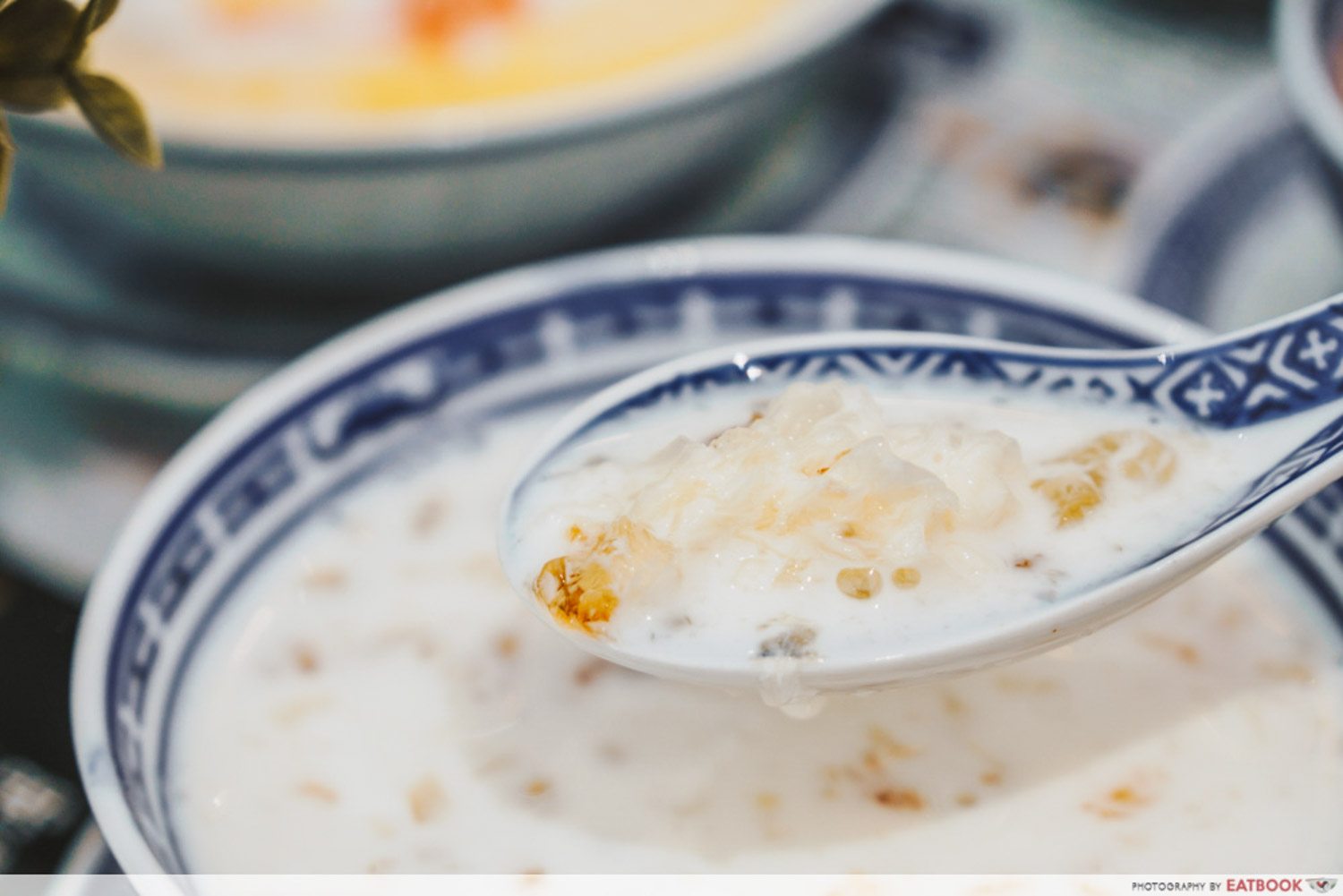 Be sure to top off this dessert with White Fungus ($0.50)! Briefly soaked in water, the white fungus retained its light crunch and contrasted superbly with the jelly-like softness of the peach gum.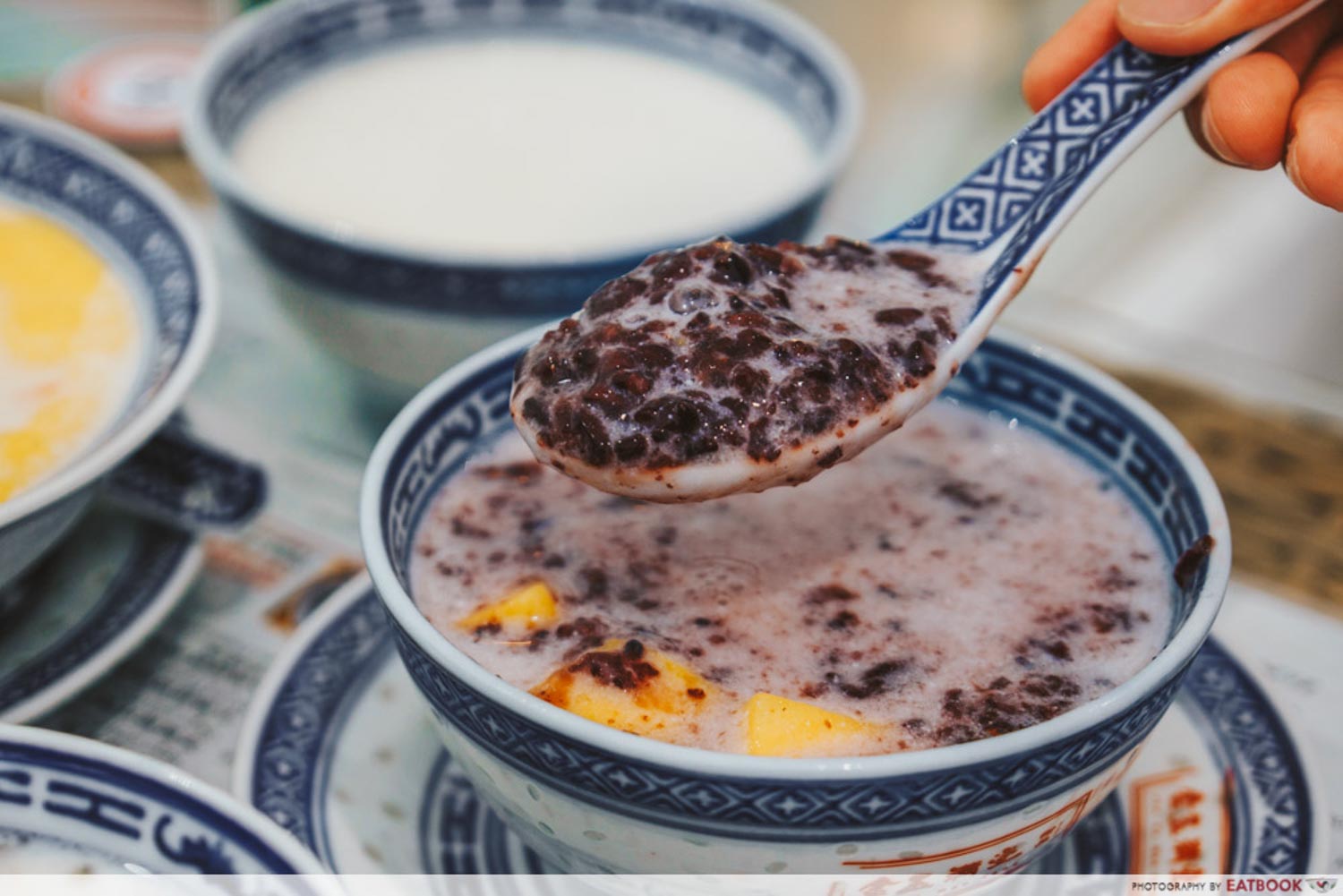 For those who gravitate towards local flavours, their Black Sticky Rice with Coconut Cream + Mango ($4.50) will be right up your alley. Otherwise known as Pulut Hitam, this dessert is prepared by boiling glutinous rice with pandan leaves.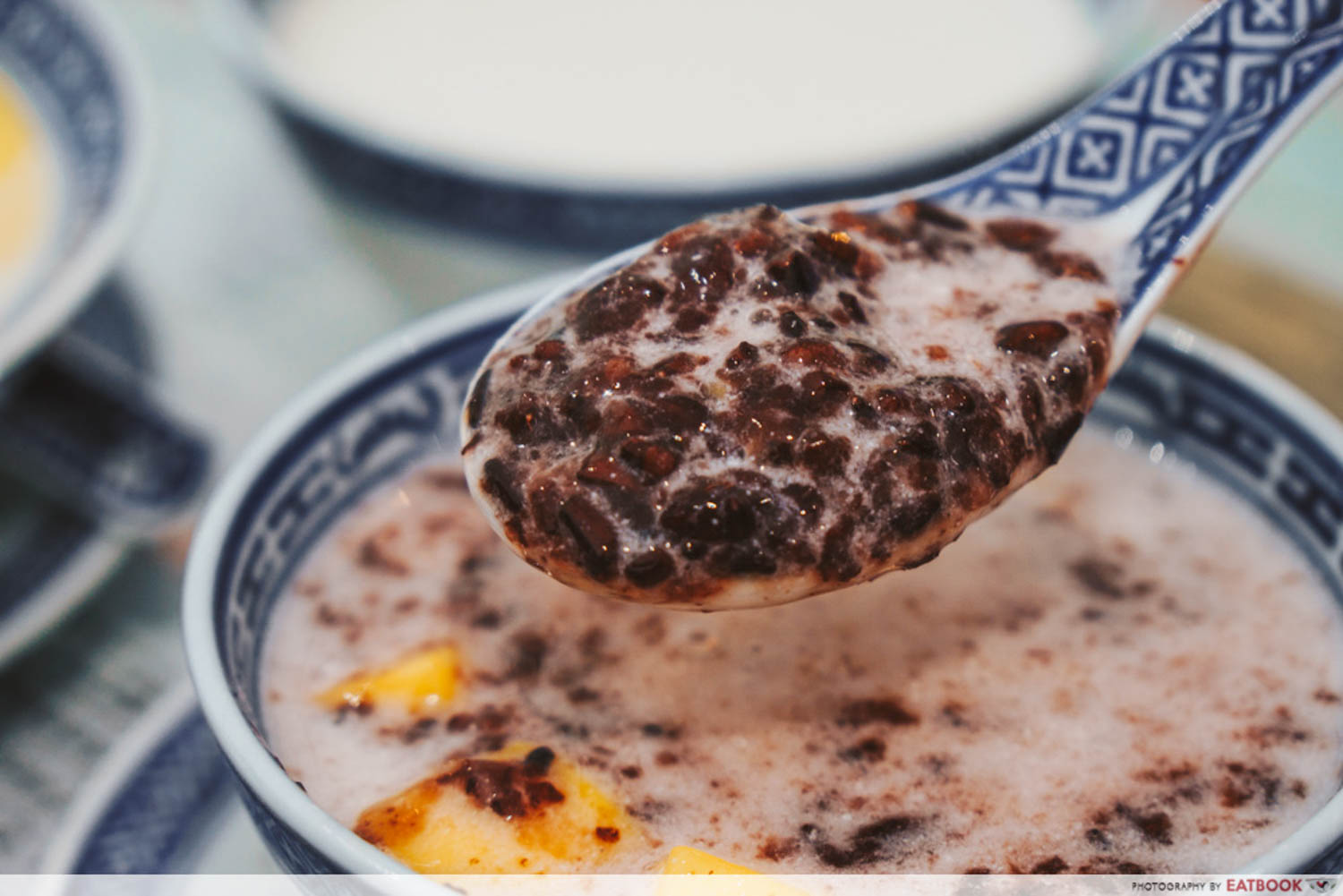 While some grains of glutinous rice coagulated into soft clumps, others preserved their grainy exterior. This created an interesting duality of textures, as every spoonful of rice supplied both chewy and firm bites.
A faint pandan scent perfumed the black sticky rice, accentuating its red bean-like sweetness. Thanks to a generous drizzle of coconut milk, a creamy and nutty aftertaste lingered on my tongue.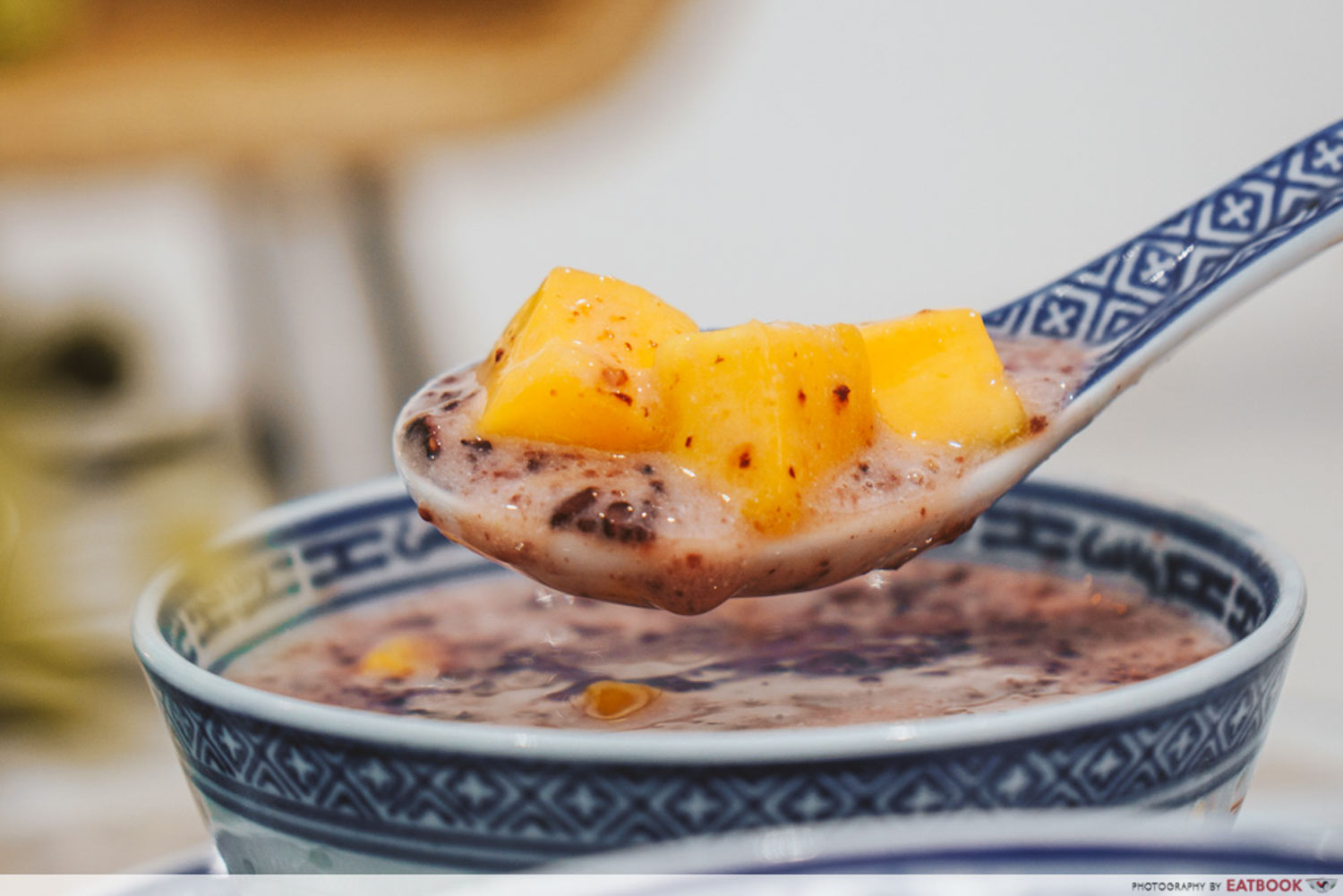 Mango and glutinous rice usually form an amazing pairing.  However, the addition of diced mangoes here backfired, as they overwhelmed the sweet glutinous rice with their tartness this time.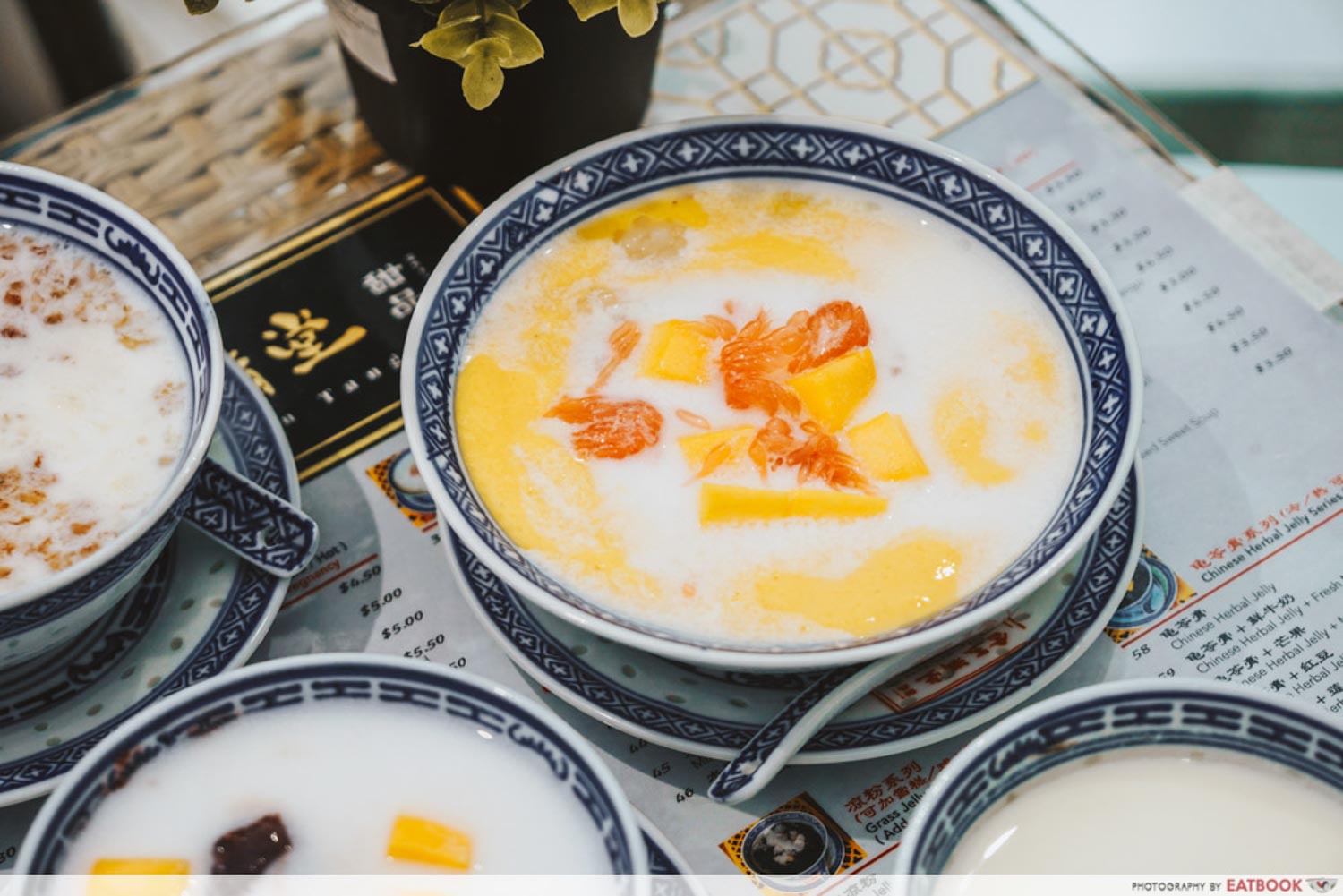 On the other hand, their Mango Pomelo Sago ($5) will appeal to fans of old-school Cantonese desserts. A blend of mango puree and milk, this classic was topped with diced mangoes and slivers of pomelo.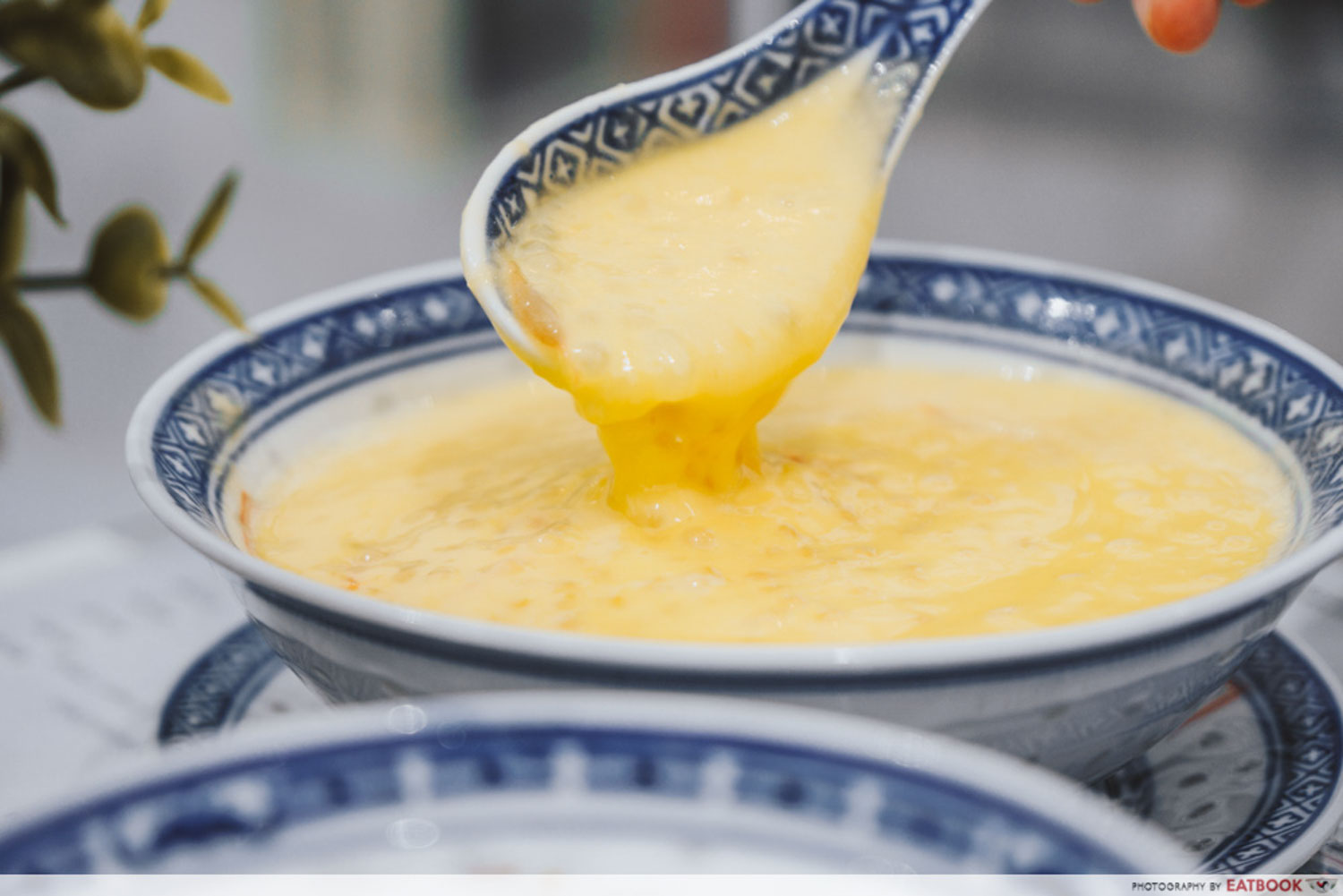 Uniformly mix the fresh milk with the mango puree and enjoy the thick mango paste gliding over your tongue. The sago pearls stashed within it added a velvety touch which enhanced the smooth texture of the paste.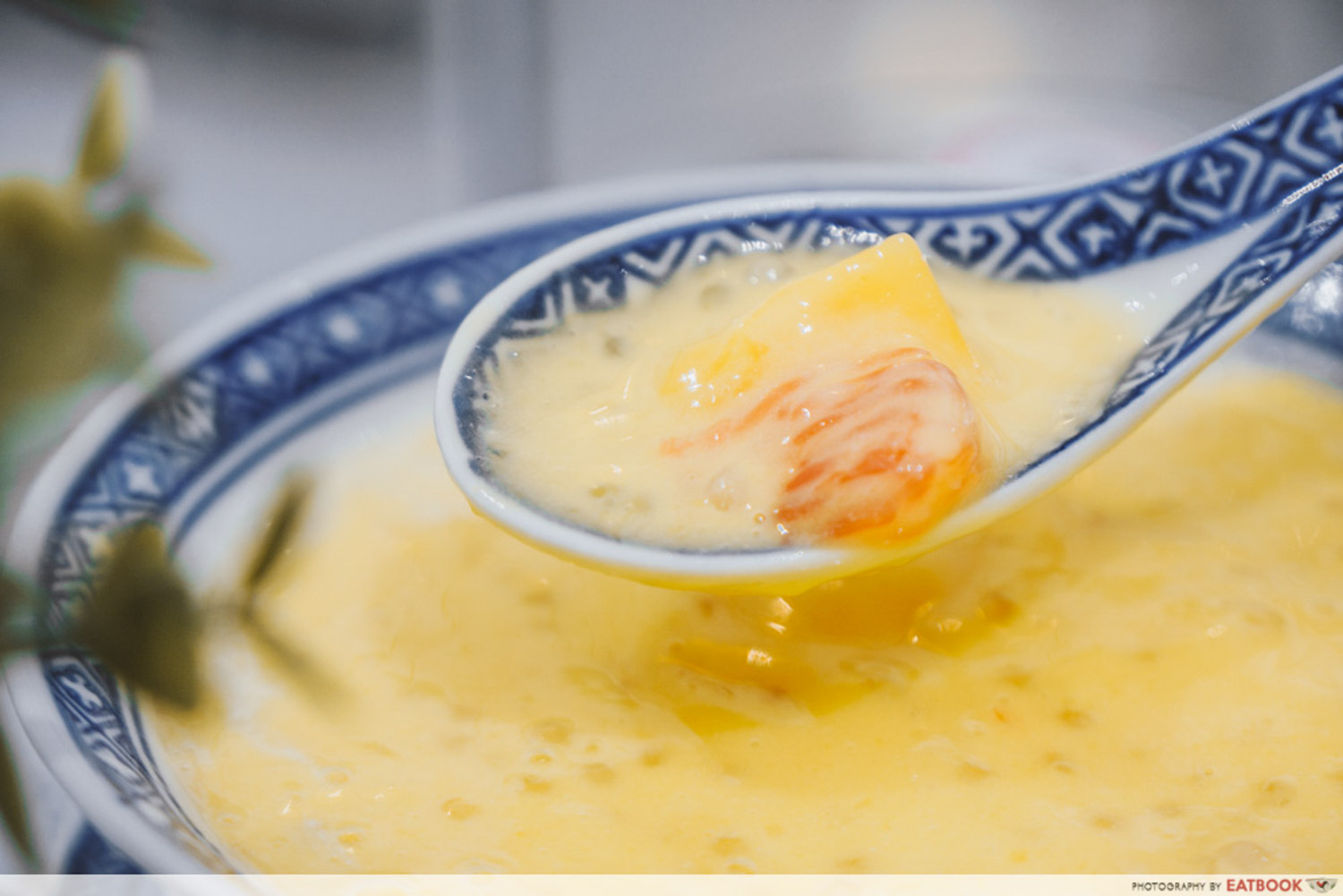 Every mouthful of this luscious paste coated my tongue with sweetness. Just when it seemed a tad cloying, the pomelo eased in and refreshed my palate with its citrusy undertones.
‌Alas, the diced mango was once again the undoing of an otherwise stellar dessert, as it outshone the other flavours with its astringency.
Ambience at Jin Yu Man Tang Dessert Shop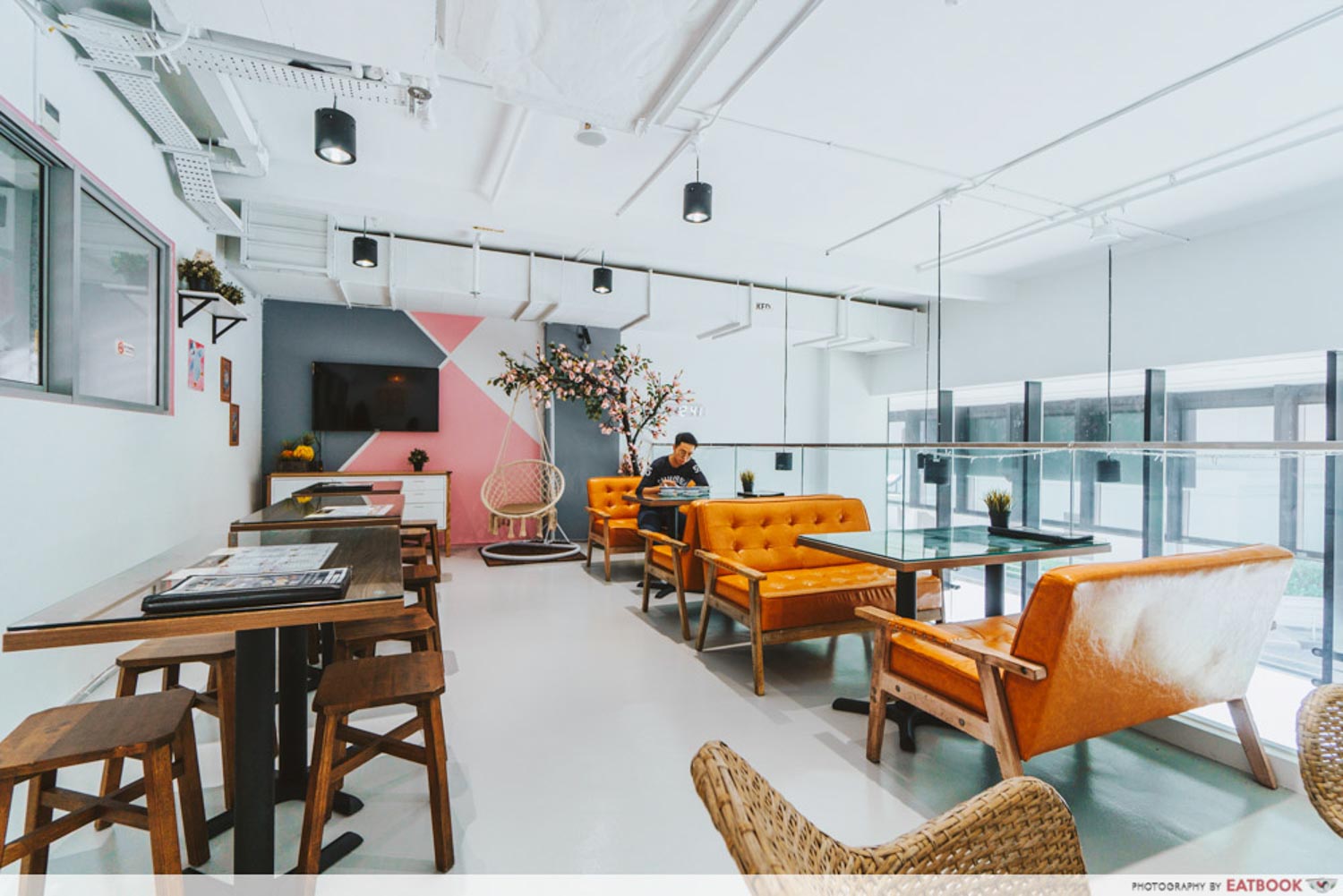 Jin Yu Man Tang is a beautiful juxtaposition of elements. Housed within its white walls are wooden tables placed adjacent to leather chairs. A hanging chair, resting quietly in a corner of the room, faces an assortment of plants.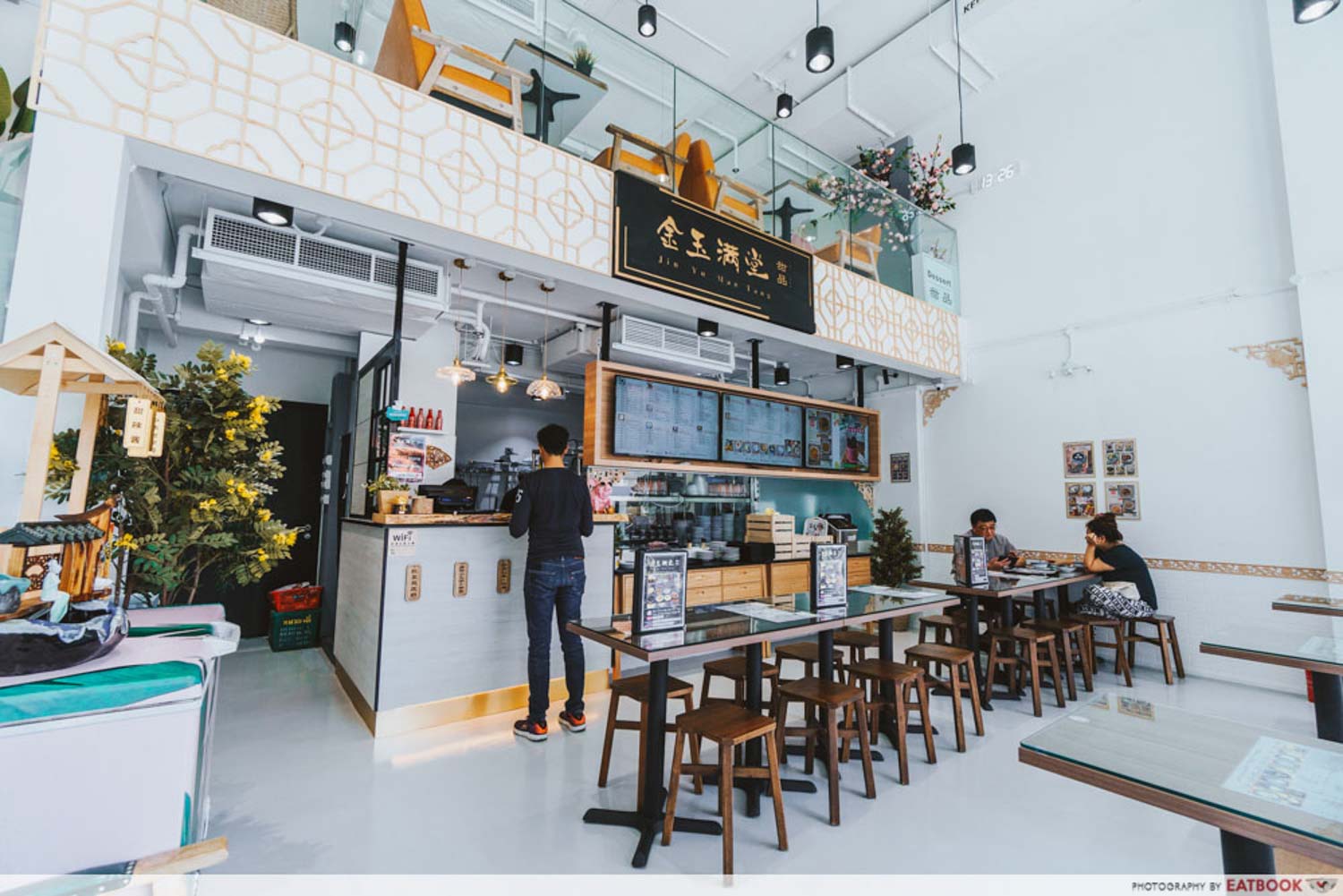 ‌It's a part chic cafe, part Chinese dessert store – a layout that shouldn't work but does. Couple that with soothing Mandopop songs and lots of natural lighting, and you've got a cosy hideout to relax at.
The only downside is its inaccessible location, as the place is a 14-minute bus ride from Dakota MRT Station. That being said, if you do make the trip down, you'll find a wealth of great food options around the area, including Bei-ing Wanton Mee and Strands and Grains.
Strands and Grains Review: Cheap And Good Western Food From $5 At Katong
The verdict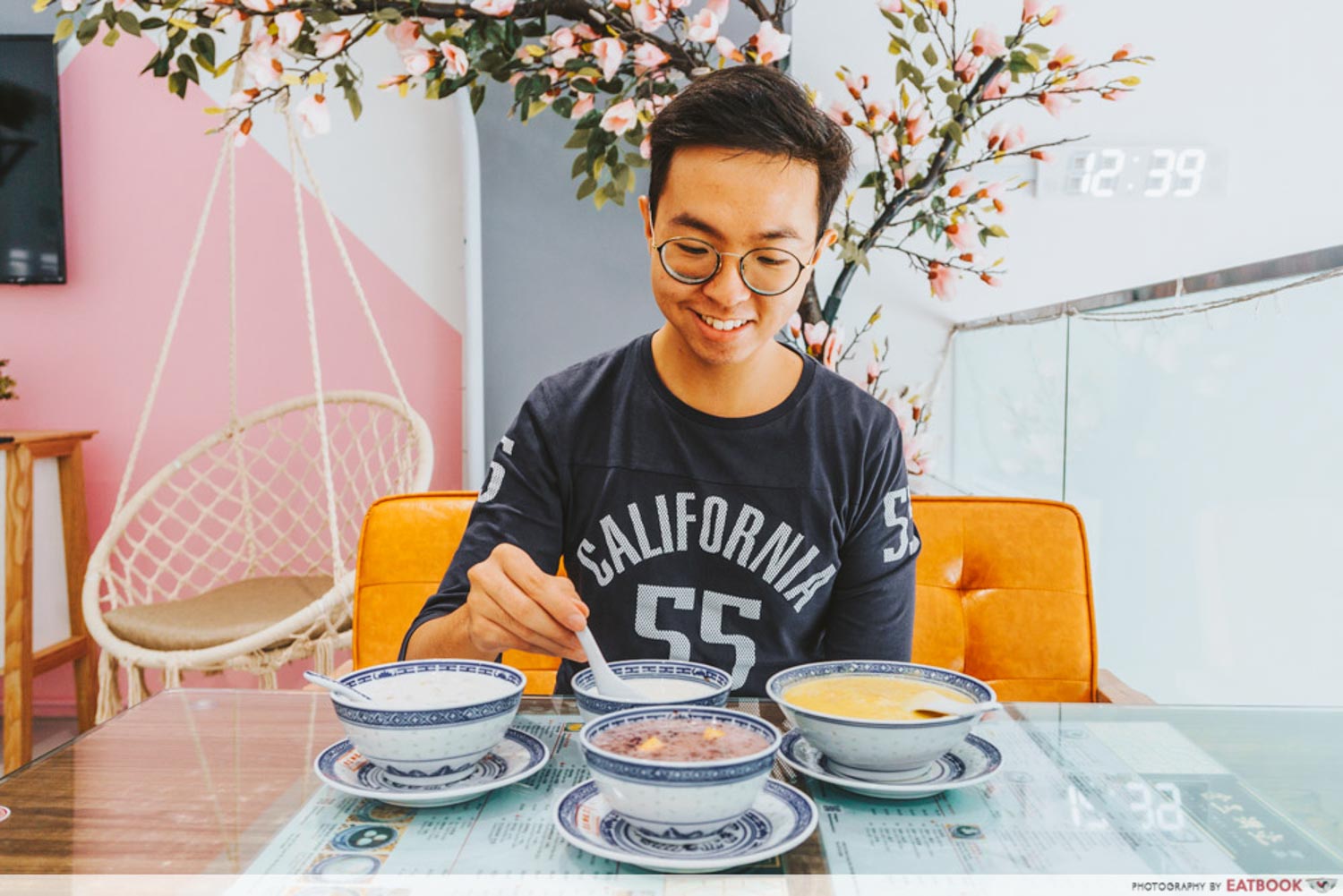 Like it or not, we do have a set perception of what constitutes cafe-worthy nosh. Drip coffee and butterfly pea drinks are worthy of the 'gram, whereas tang yuan and tau suan are often eaten in a jiffy. Perhaps we forget that a simple bowl of red bean soup takes as much preparation as a cafe dish.
Thankfully, Jin Yu Man Tang Dessert is taking a good step forward. By providing a comfortable setting to enjoy affordable and classic Chinese desserts, they are setting the groundwork for a greater appreciation for Chinese desserts.
Address: 66 East Coast Road, #01-03, The Flow, Singapore 428778
Opening hours: Daily 11:30am to 10:30pm
Tel: 6214 3380
Website
Jin Yu Man Tang Dessert Shop is not a halal-certified eatery.
Photos taken by Pepita Hope Wauran.
This is an independent review by Eatbook.sg.
Summary
Pros
— Comfortable setting
— Delicious ginger milk pudding
— Affordable prices
— Extensive dessert menu
Cons
— Inaccessible location
Recommended Dishes: Ginger Milk Pudding ($4), Peach Gum + Milk + White Fungus ($5), Black Sticky Rice with Coconut Cream + Mango ($4.50)
Opening hours: Daily 11:30am to 10:30pm
Address: 66 East Coast Road, #01-03, The Flow, Singapore 428778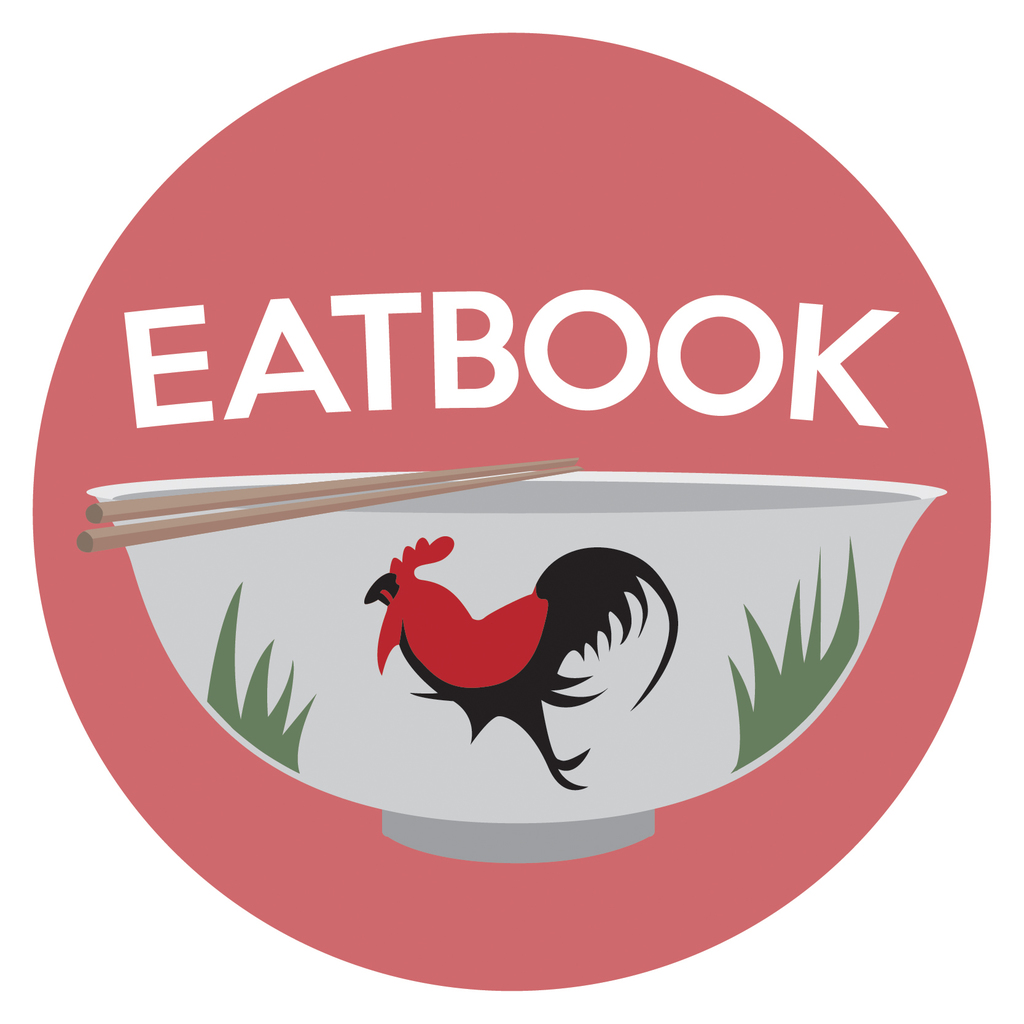 Drop us your email so you won't miss the latest news.