Head to Strands and Grains for cheap Western food

Everyone doesn't really mind ordering Western food from coffee shops, but no one really craves for it. Strands and Grains aims to change that perception by serving up quality nosh at dirt cheap prices. While the food looks typical, the taste of the dishes surpass expectations.
Food at Strands and Grains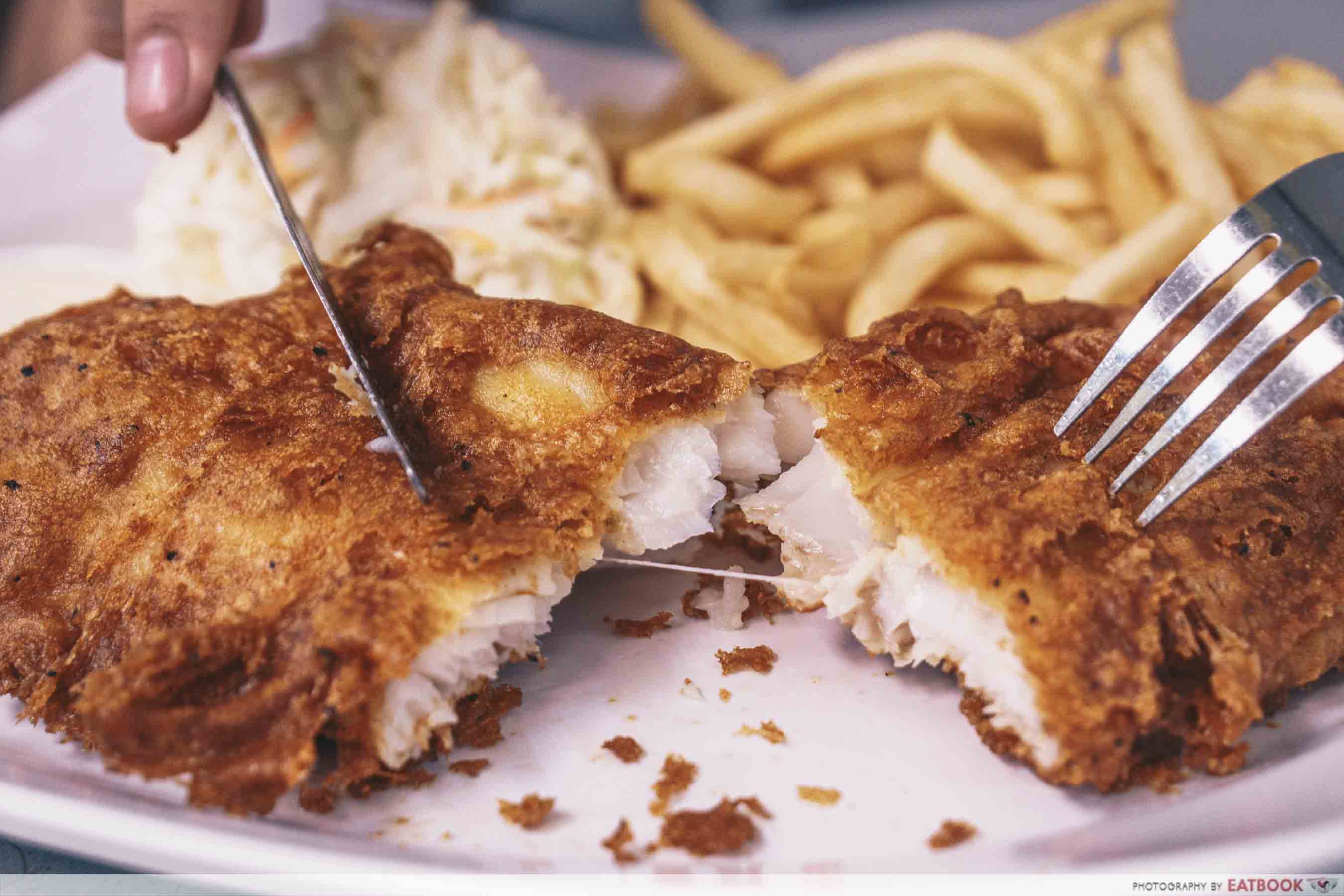 At first glance, the Beer Battered Fish ($6.50) seemed like a generous portion of fish and chips from any run-of-the-mill hawker stall. The problem with most of these fish and chips is that the batter is either overly oily or gets soggy fast.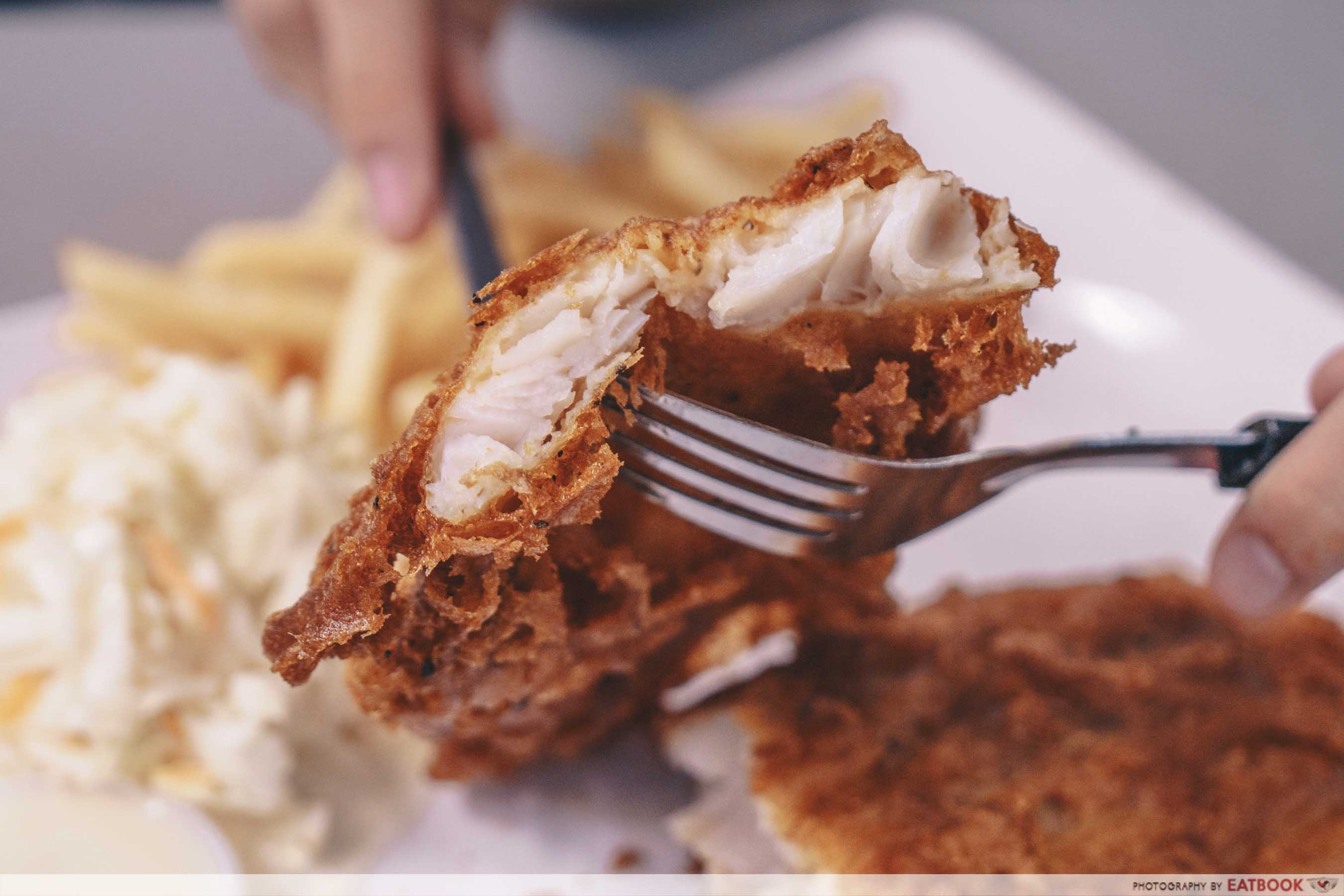 However, this batter overturned that notion, remaining light and crispy throughout and outshining the fish. Another impressive aspect was that the batter was well-seasoned, with specks of black pepper dotted throughout. As a result, it complemented and added flavour to the soft and supple fish.
The coleslaw and fries were palatable but nothing impressive. In fact, the fries became limp quickly.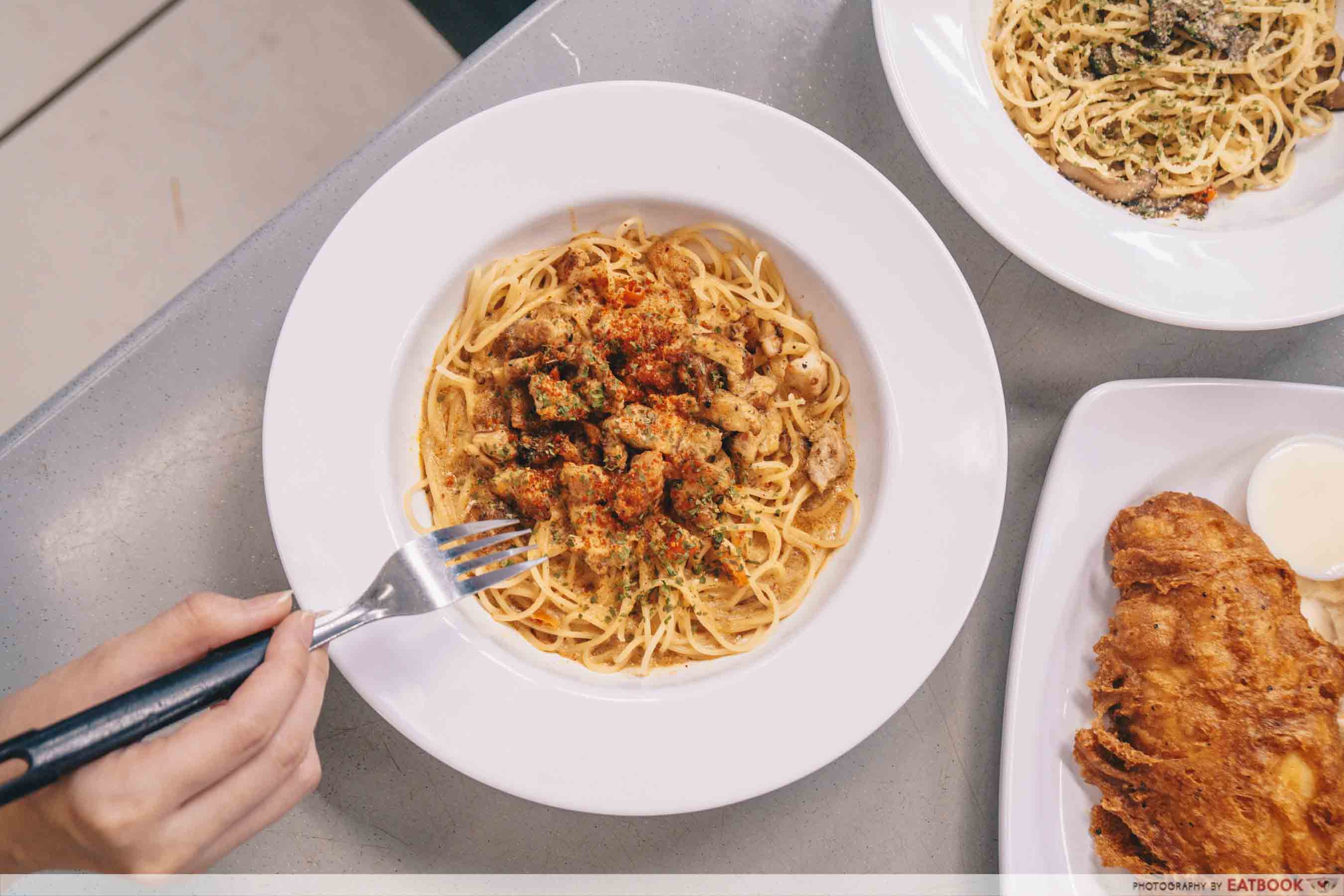 Next, we opted for one of the less traditional dishes on their menu: the Tom Yum Pasta with Grilled Chicken ($7.50). The dish features spaghetti coated in a creamy tom yum sauce, topped with small chunks of grilled chicken and a healthy pinch of chilli flakes.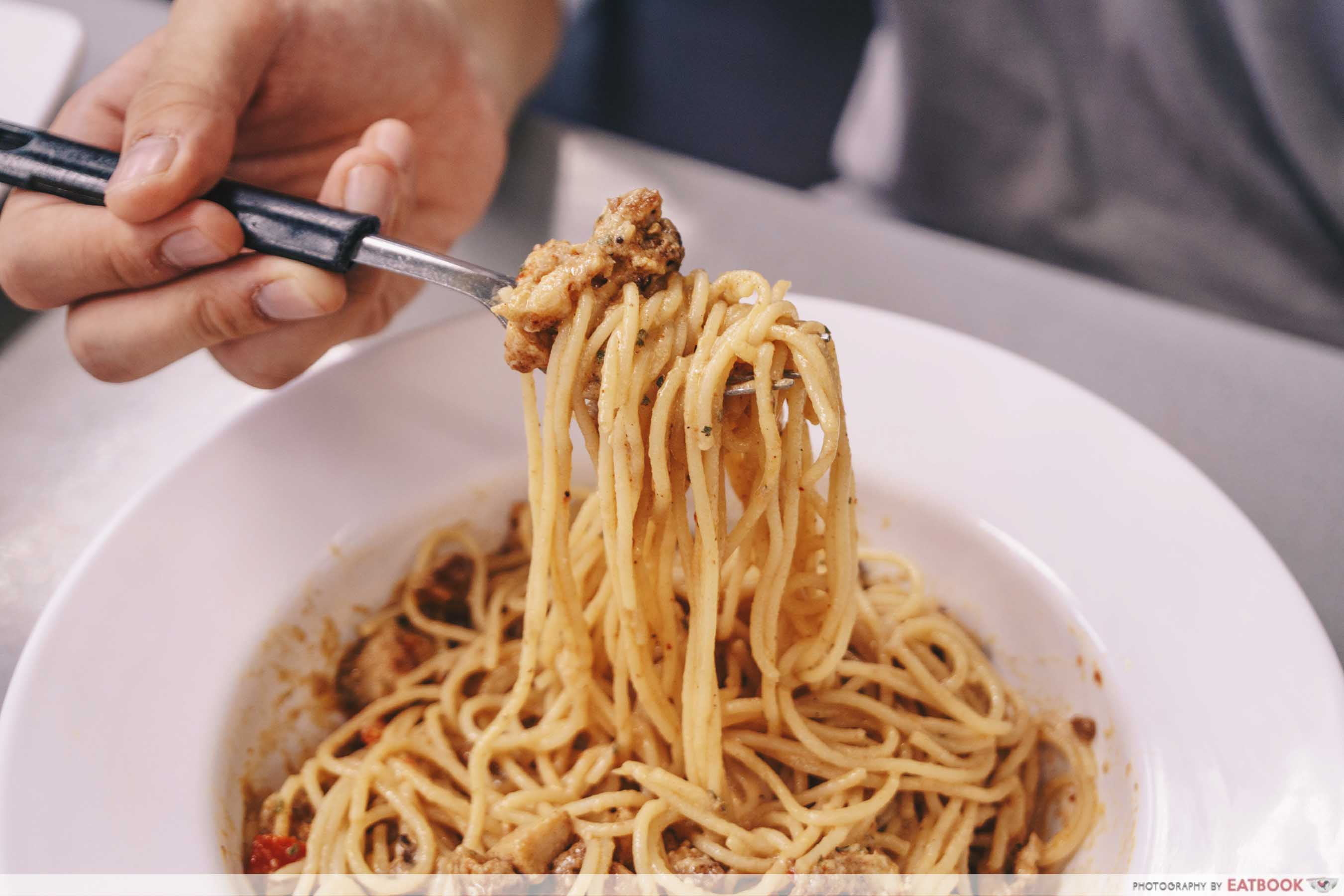 Upon digging in, I was first hit with a sour punch, followed by a mellow sweetness. A spicy kick landed later; surprisingly carrying a peppery rather than chilli-based heat. The sauce had a piquant flavour and creamy consistency, without being too heavy. We polished off the entire plate without feeling jelak.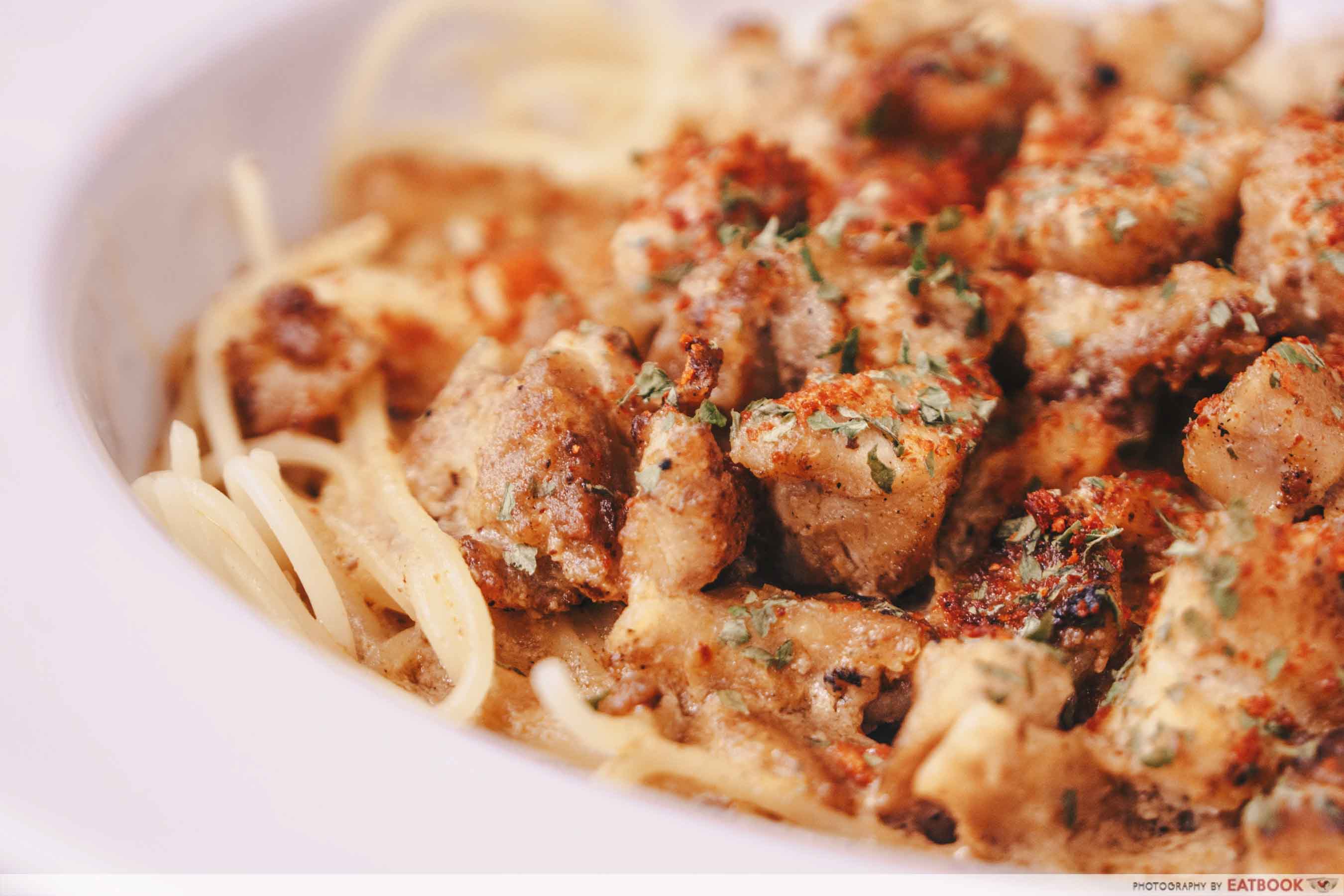 The chicken was acceptably tender and added body to the pasta. However, it could have had a stronger charred flavour.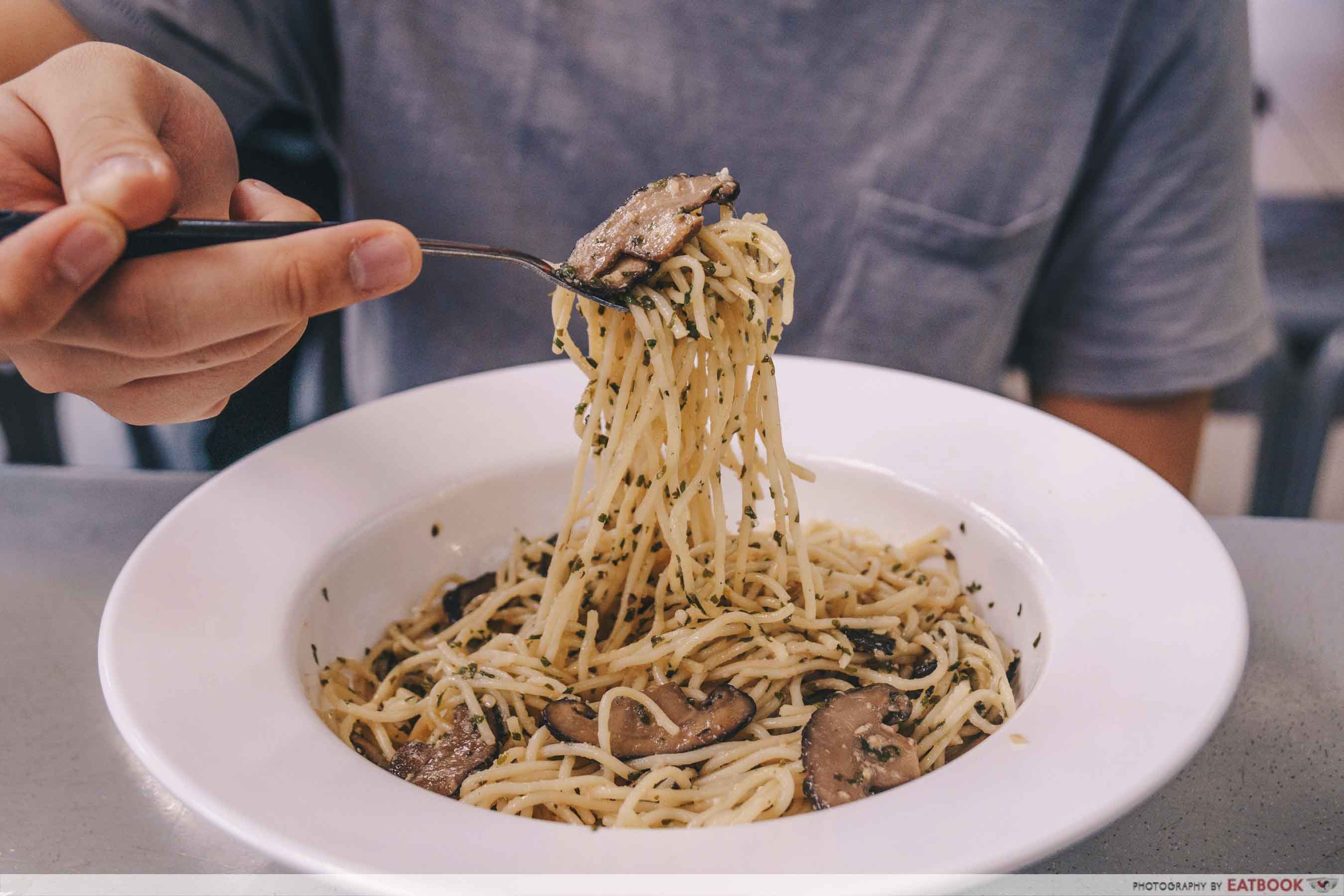 The cheapest main on their menu is the Aglio Olio with Mushroom ($5).A strong cheesy aroma wafted from it as it arrived. This translated into a potent Parmesan flavour when we dived in.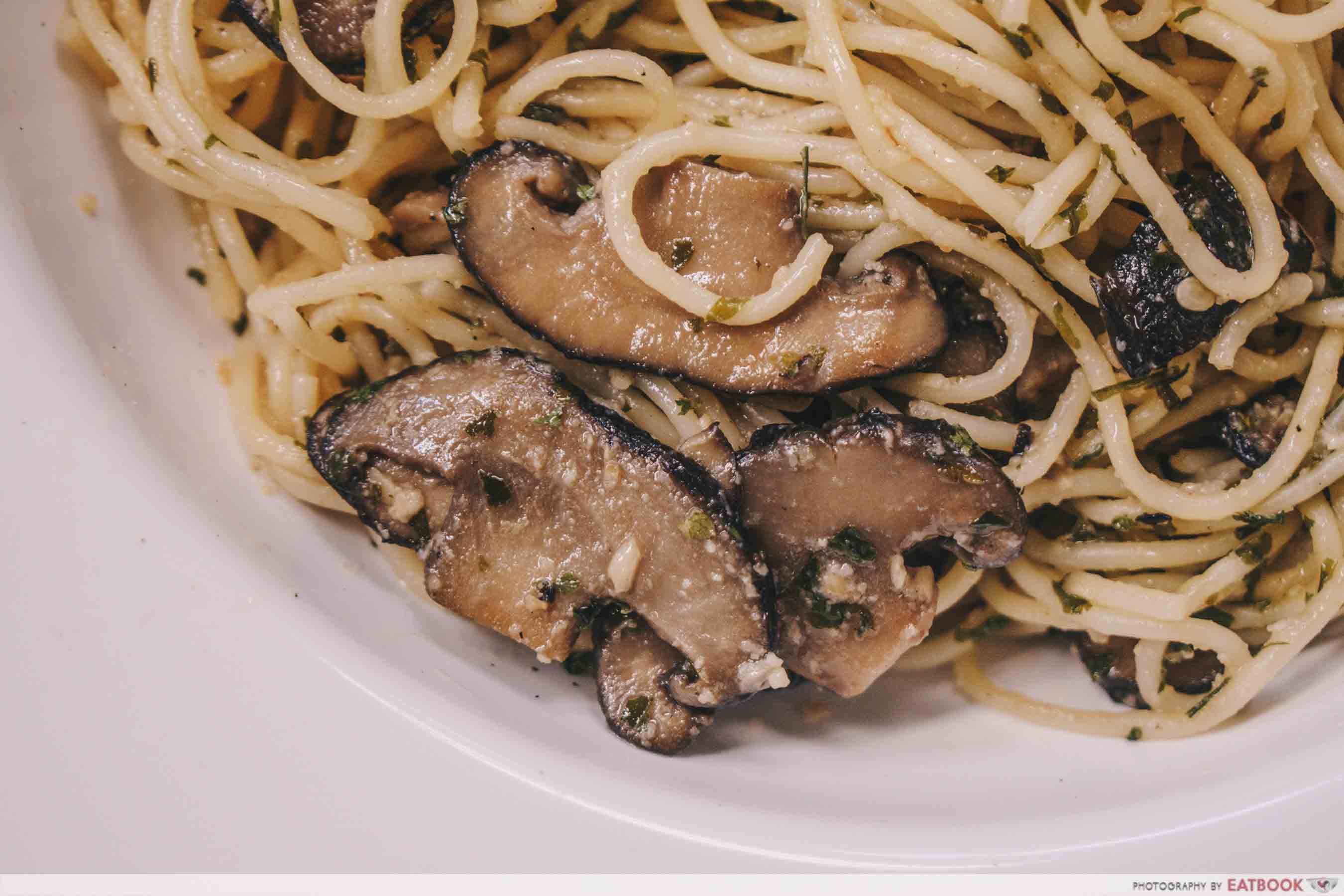 Most aglio olios are plagued with being too dry, but this was sufficiently moist. Flavour-wise, the shiitake mushrooms provided nice occasional pops of umami. While it was an adequate plate of pasta, it lacked the punchy flavours of the tom yum pasta and didn't leave us wanting more.
Ambience at Strands and Grains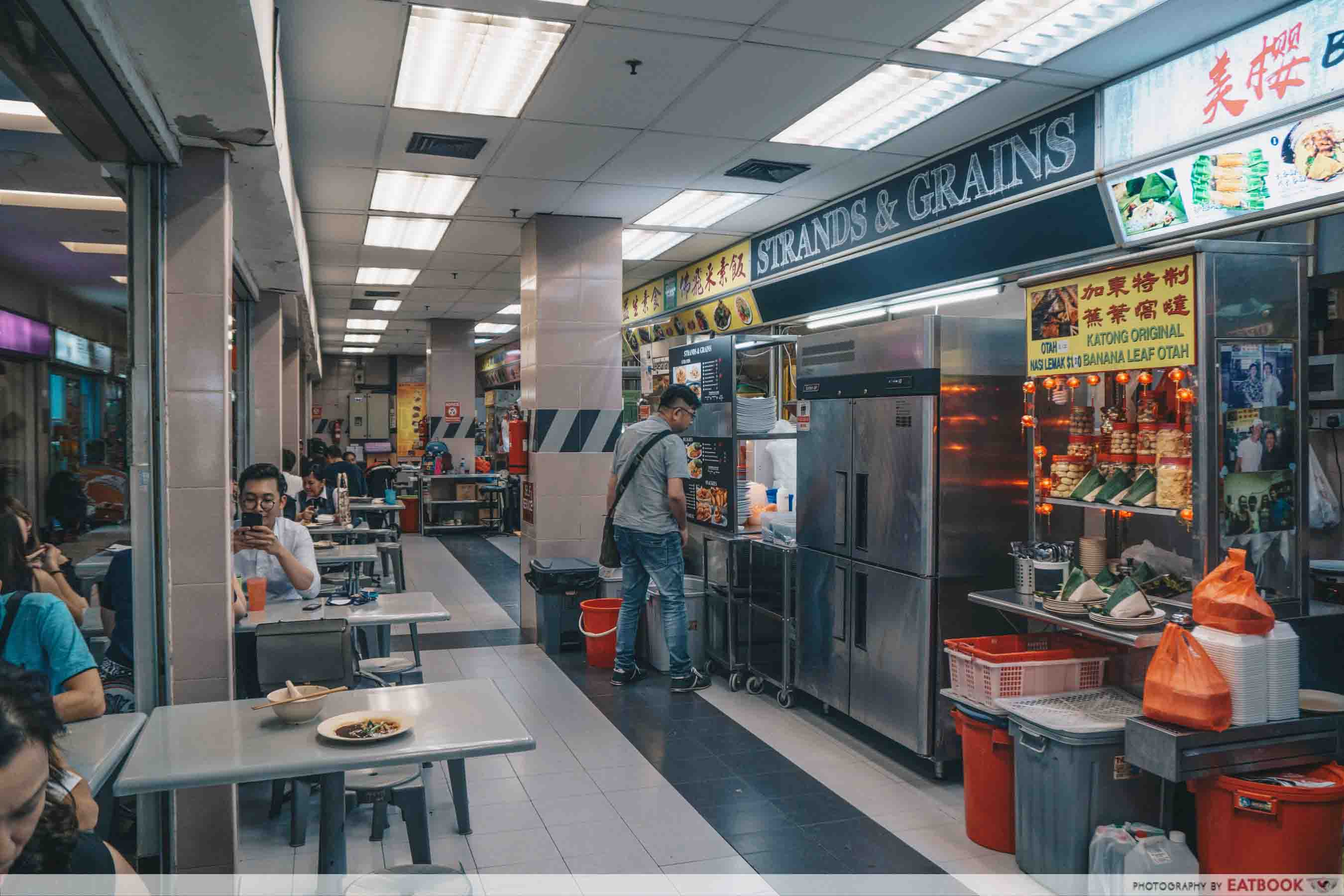 Located in the aging Roxy Square, Strands and Grains is the sort of inconspicuous stall I'd pass by without noticing. The austere coffee shop is cool and decently spacious, but avoid sitting under the ceiling vents as they're prone to leaking. Even at 3pm, the coffee shop was decently crowded, with a mixture of school kids and elderly folks. Consequently, expect a queue if you're coming during lunch hour.
The verdict
While not everything was a hit at Strands and Grains, this rustic hawker stall definitely served up tasty food with filling portions at affordable prices. A good option if you're around Katong and craving for cheap Western grub. 
If you're dining here, give their neighbour, Bei-ing Wanton Mee, a visit too! For more Western food that don't break the bank, check out our reviews of Meatsmith Western BBQ and Tan's Pasta Shop!
Bei-ing Wanton Mee Review: Crispy Tori Katsu Wanton Mee With Truffle Mayo At $6 In Katong
Address: 50 East Coast Road, #01-64, Roxy Square, Singapore 428769
Opening hours: Mon, Wed-Sat 10am to 6:30pm, Tues 10am to 3:30pm, Sun 10am to 4:30pm
Tel: 8100 0043
Website
Photos taken by Ho Jing Yi and Rae Fung.
This is an independent review by Eatbook.
Summary
Pros
– Affordable
– Large portions
– Good execution
Cons
– Hard to find seats during lunch time
– Not accessible by MRT
Recommended dishes: Beer Battered Fish ($6.50), Tom Yum Pasta with Grilled Chicken ($7.50)
Opening hours: Mon, Wed-Sat 10am to 6:30pm, Tues 10am to 3:30pm, Sun 10am to 4:30pm
Address: 50 East Coast Road, #01-64, Roxy Square, Singapore 428769