Tan's Pasta Shop in Singapore Polytechnic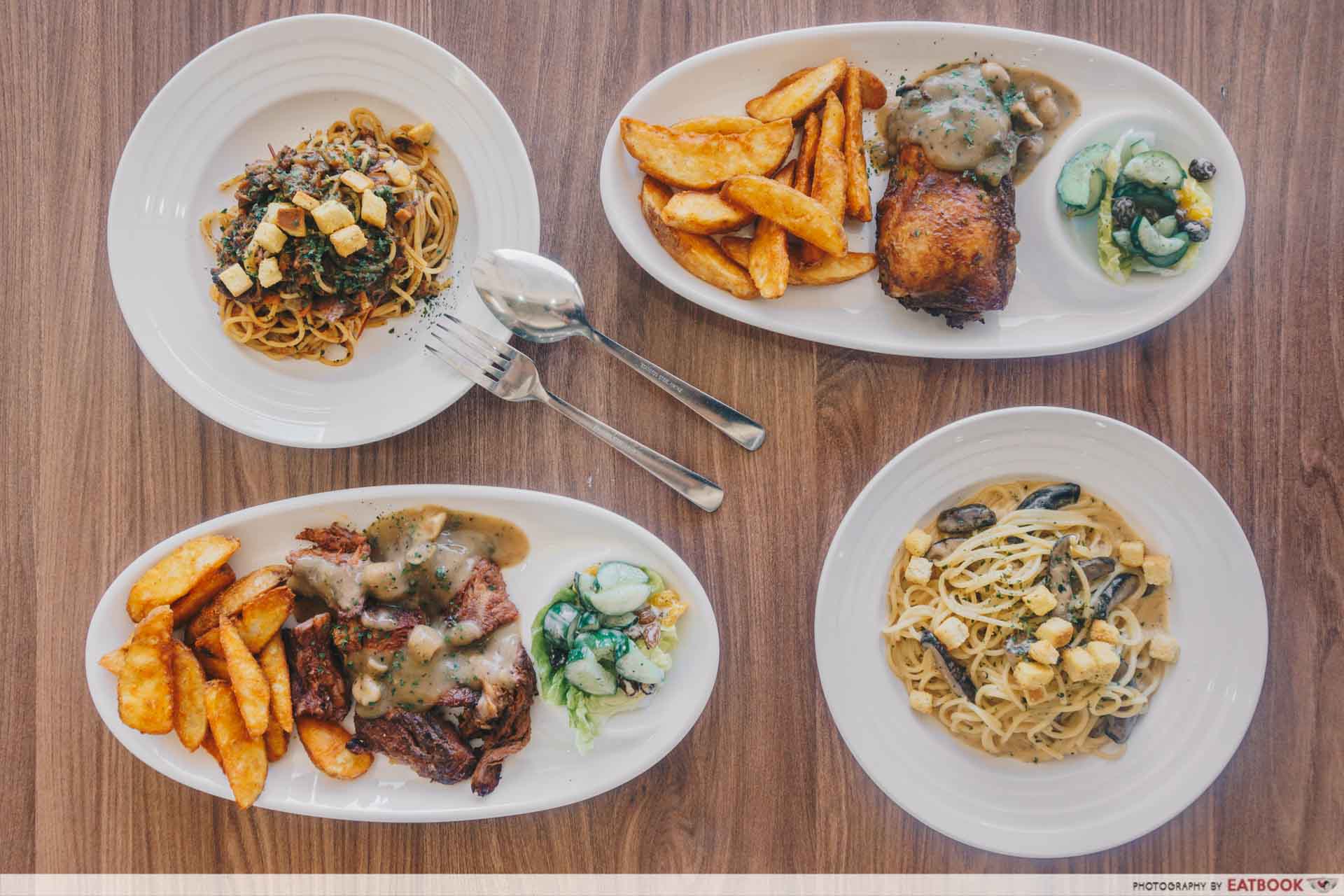 The attractive thing about food in schools is that while their portions are similar to food courts, their prices are way more affordable. Taking inspiration from TheSmartLocal's "Search For The Best Poly Food" video, we went down to Singapore Polytechnic to check out Tan's Pasta Shop.
Headed by 26-year-old chef Chee Yong, Tan's Pasta Shop offers cheap Western food including grilled meats and pasta dishes. They used to operate in 313@Somerset, but relocated to SP this year.
Food at Tan's Pasta Shop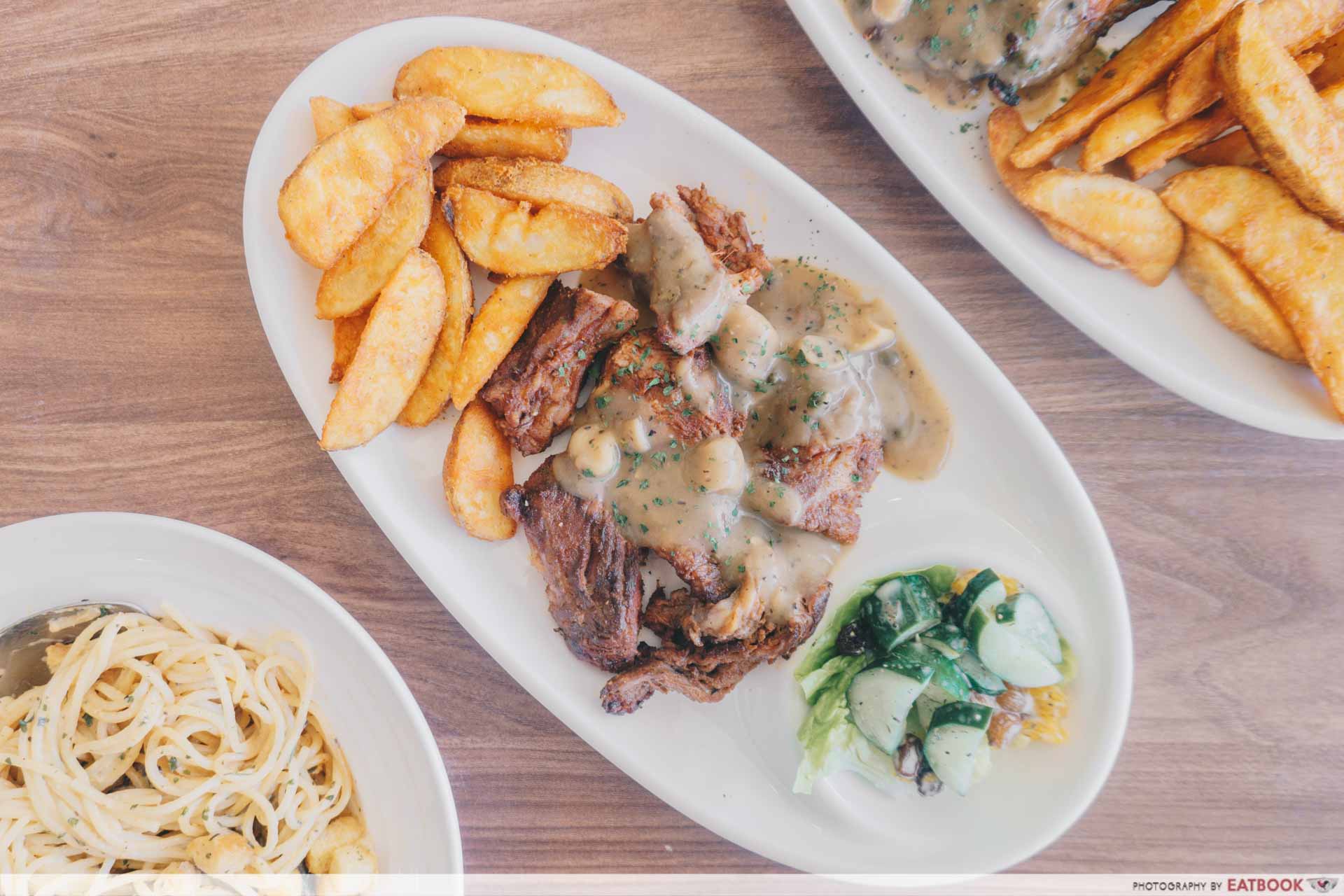 The Beef Steak ($6) featured grilled beef chunks, served with a side of potato wedges and a cucumber raisin salad.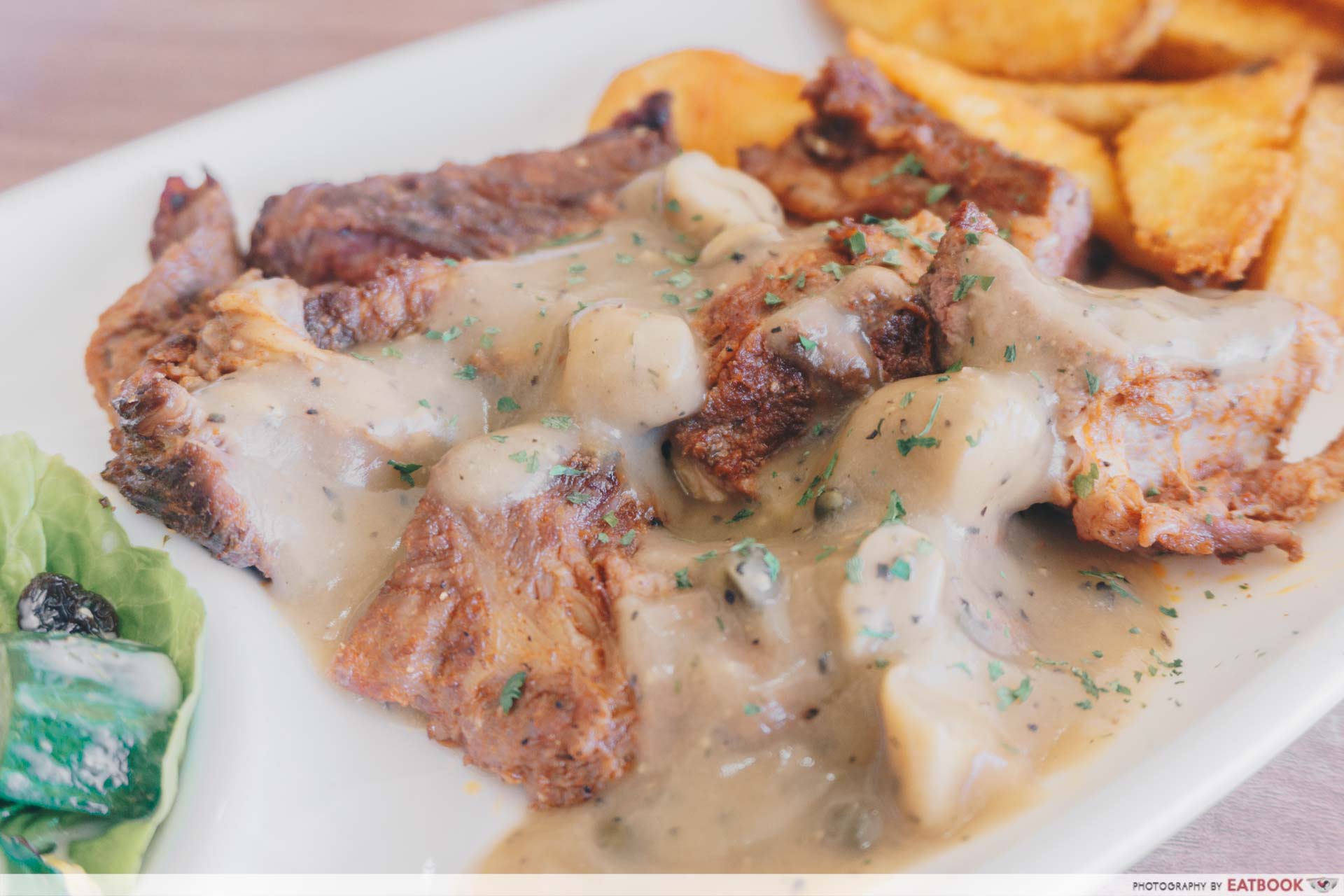 The beef chunks were blanketed with a layer of green peppercorn sauce and garnished with parsley. The white sauce reminded me of a creamy mushroom soup and had chunks of potato in it. Smooth and velvety, the slightly peppery sauce was a good complement to the meat.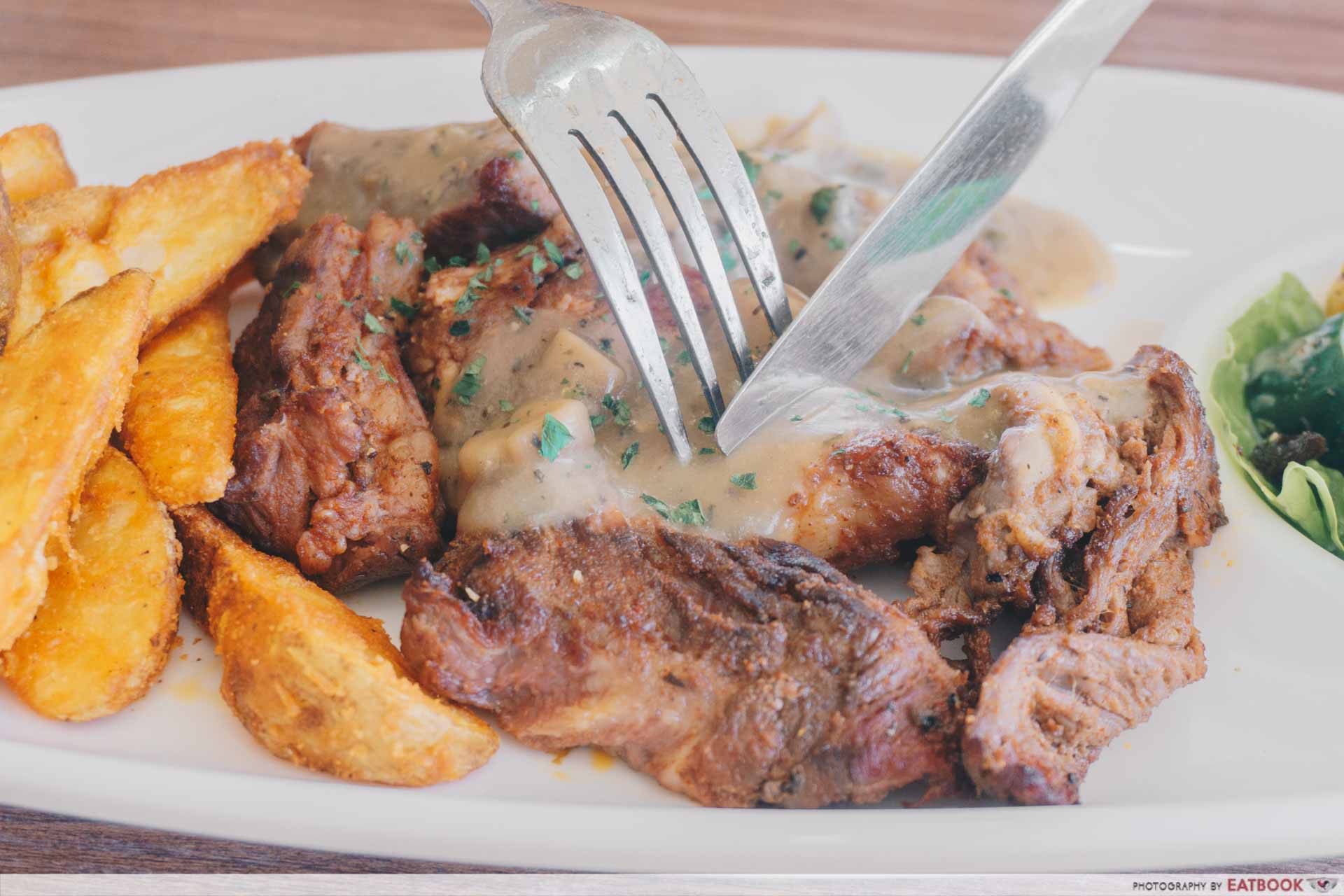 Cutting into the beef required some effort, and getting through the tendons proved to be difficult. I was disappointed as this meant beef was probably overcooked.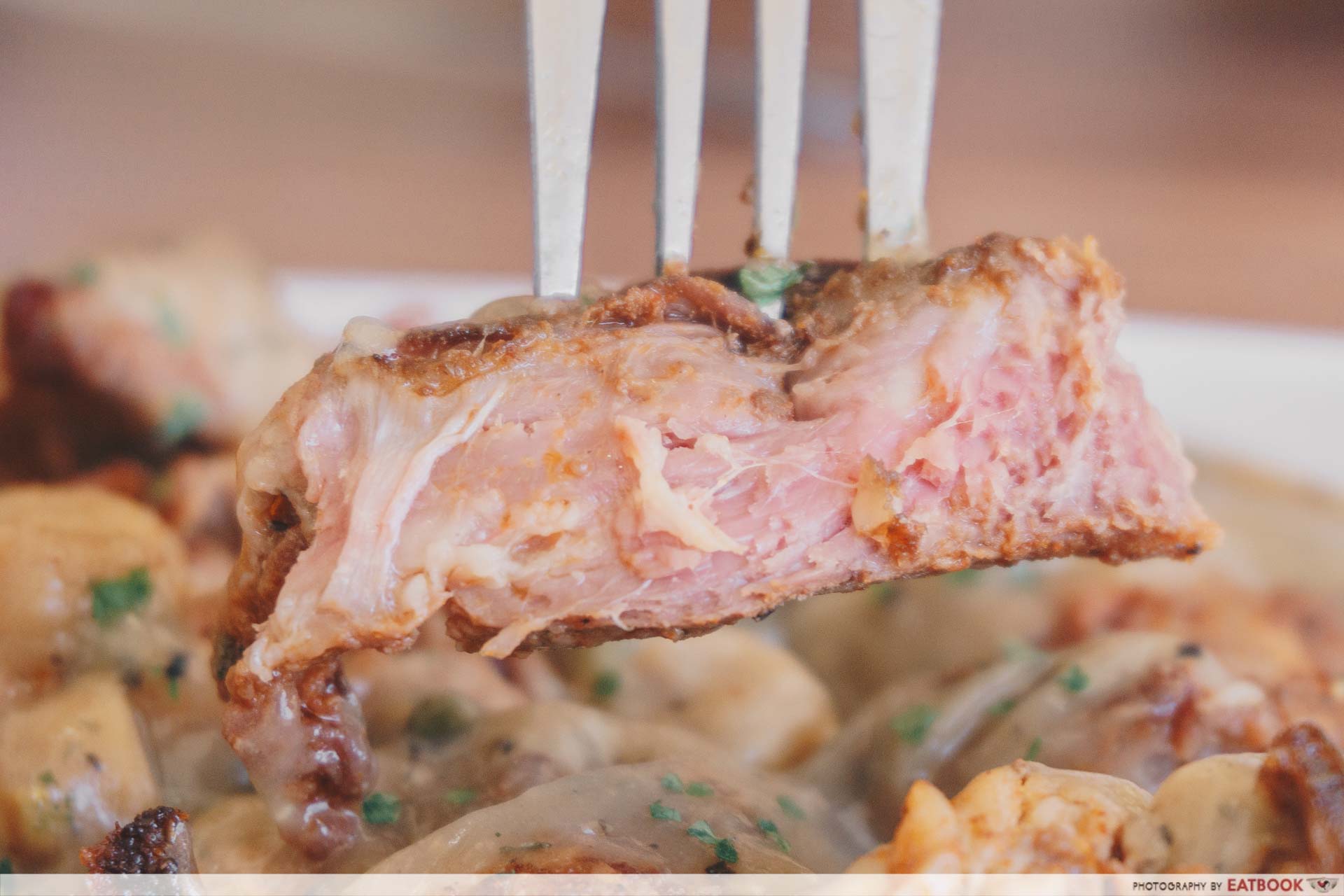 Though the meat had a nice pink, the cooking of the beef was inconsistent – probably because the beef cuts were of varying sizes. Some pieces were tough and needed much effort to chew through, while the fattier cuts were easier on the jaw.
I liked that the meat was seasoned lightly, which helped to retain the original flavour of the beef.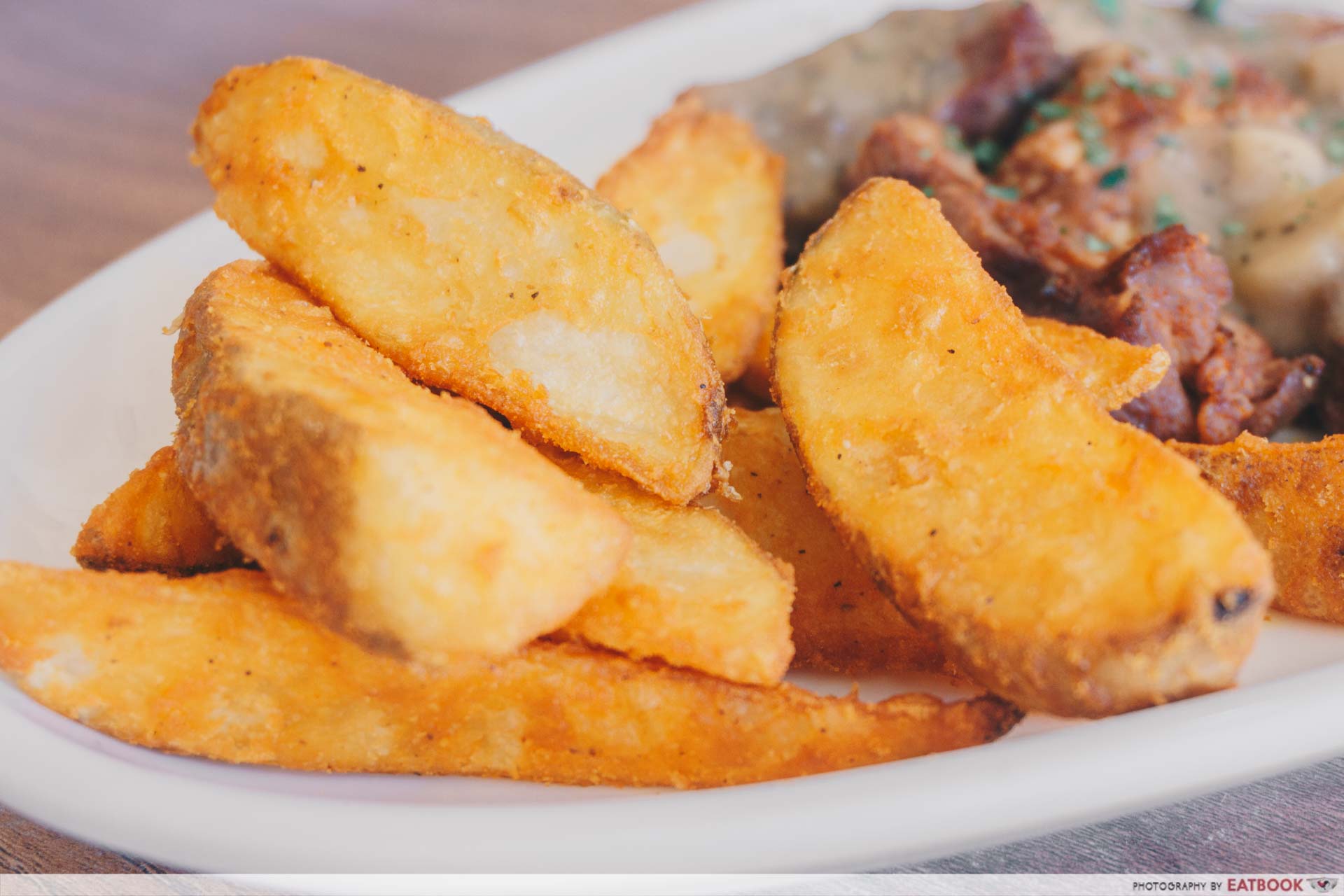 The potato wedges were fried to a nice golden brown. Crispy on the outside, and soft and fluffy on the inside – I couldn't stop at one. The wedges were well-seasoned and not too salty.
The salad was nothing to shout about. Topped with a watery thousand island dressing, the cucumbers, lettuce and assortment of raisins were forgettable.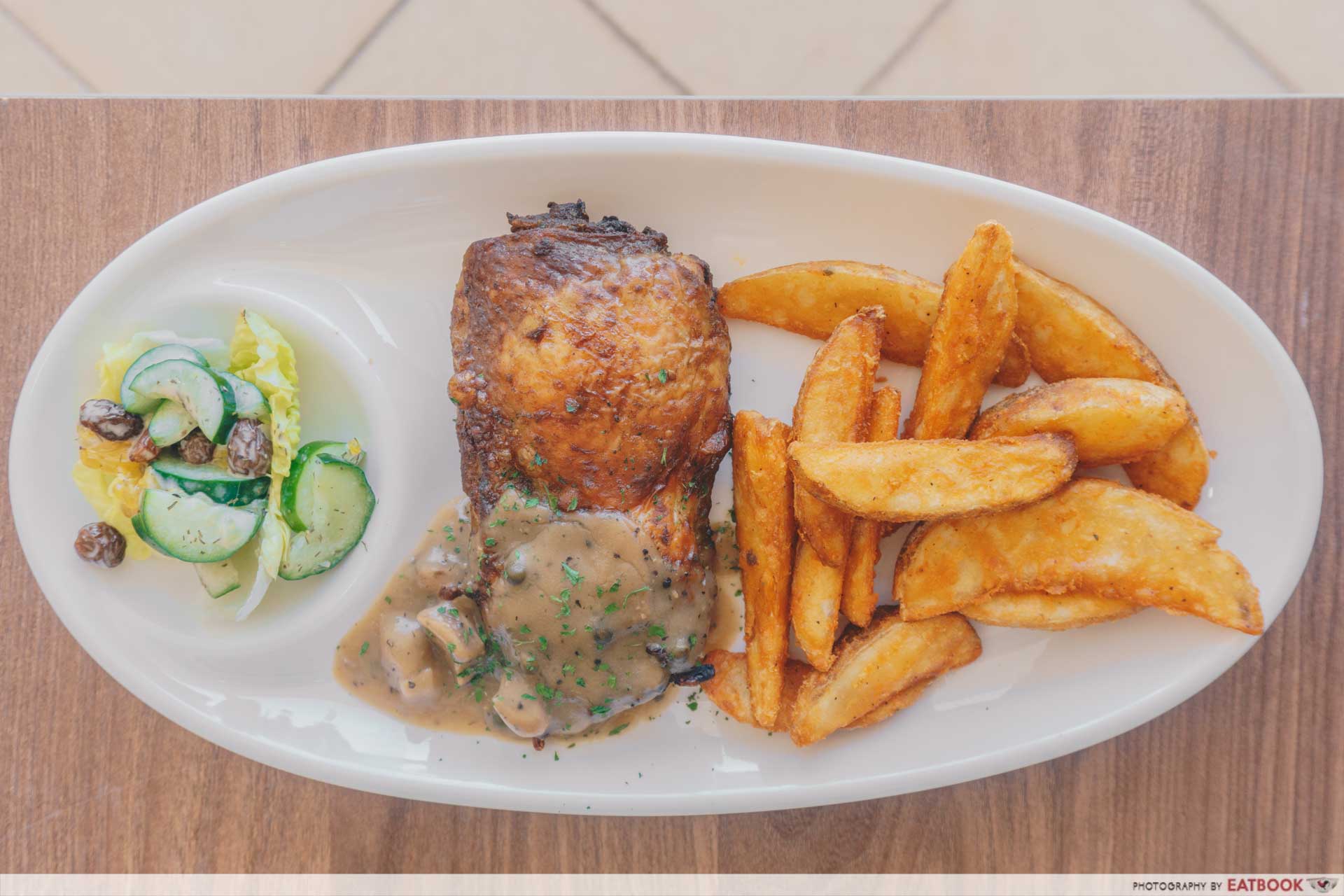 After the underwhelming beef steak, I was looking forward to the Roasted Chicken Thigh ($5) which was topped with the same green peppercorn sauce.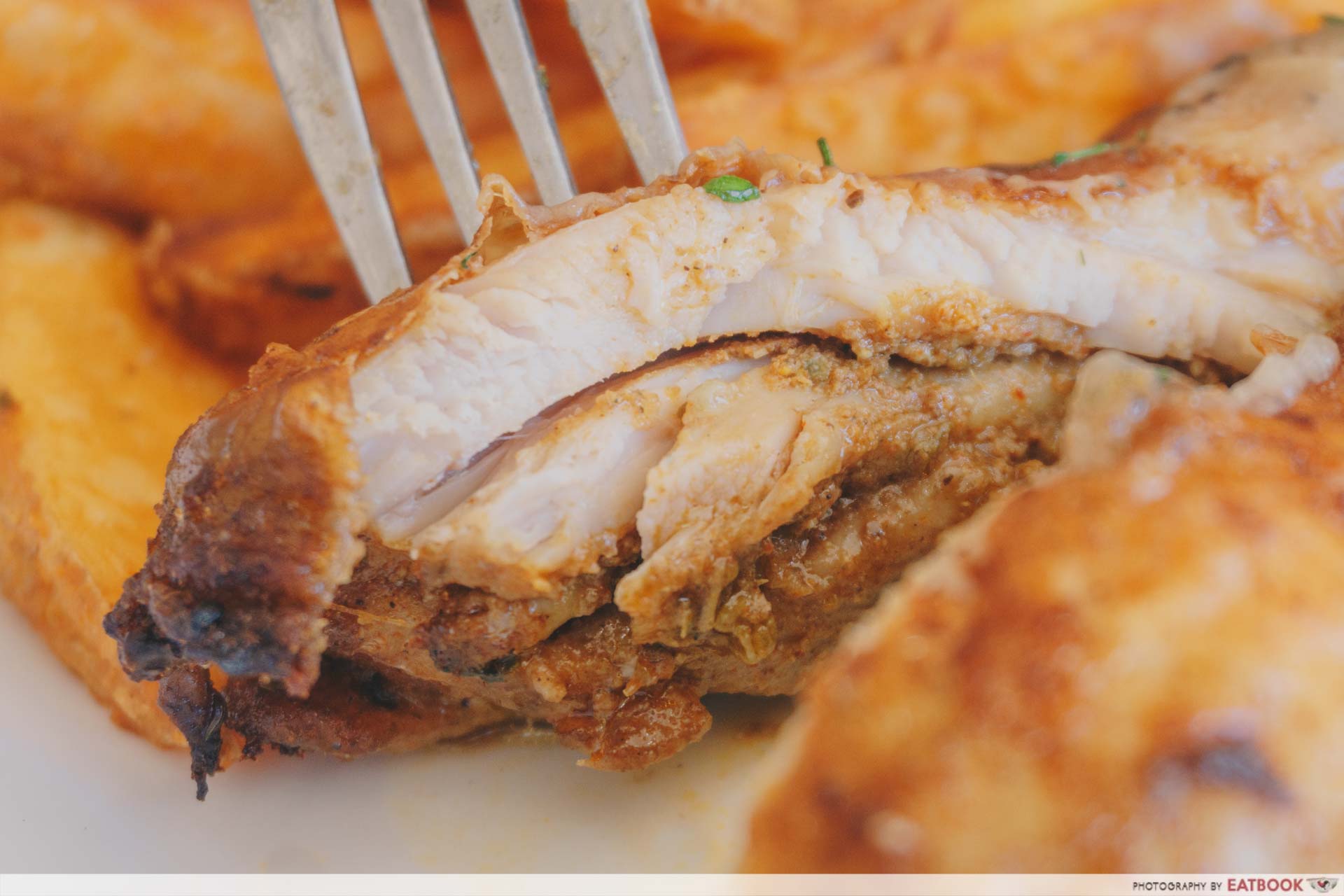 Slicing into the chicken thigh revealed tender meat, although I would have liked it to be juicier. The meat itself was flavourful with a slight peppery kick to it. The roasted skin was fragrant and had a slight char around the edges – leaving a lingering smoky aftertaste. That being said, I wish it had a lil' more heat.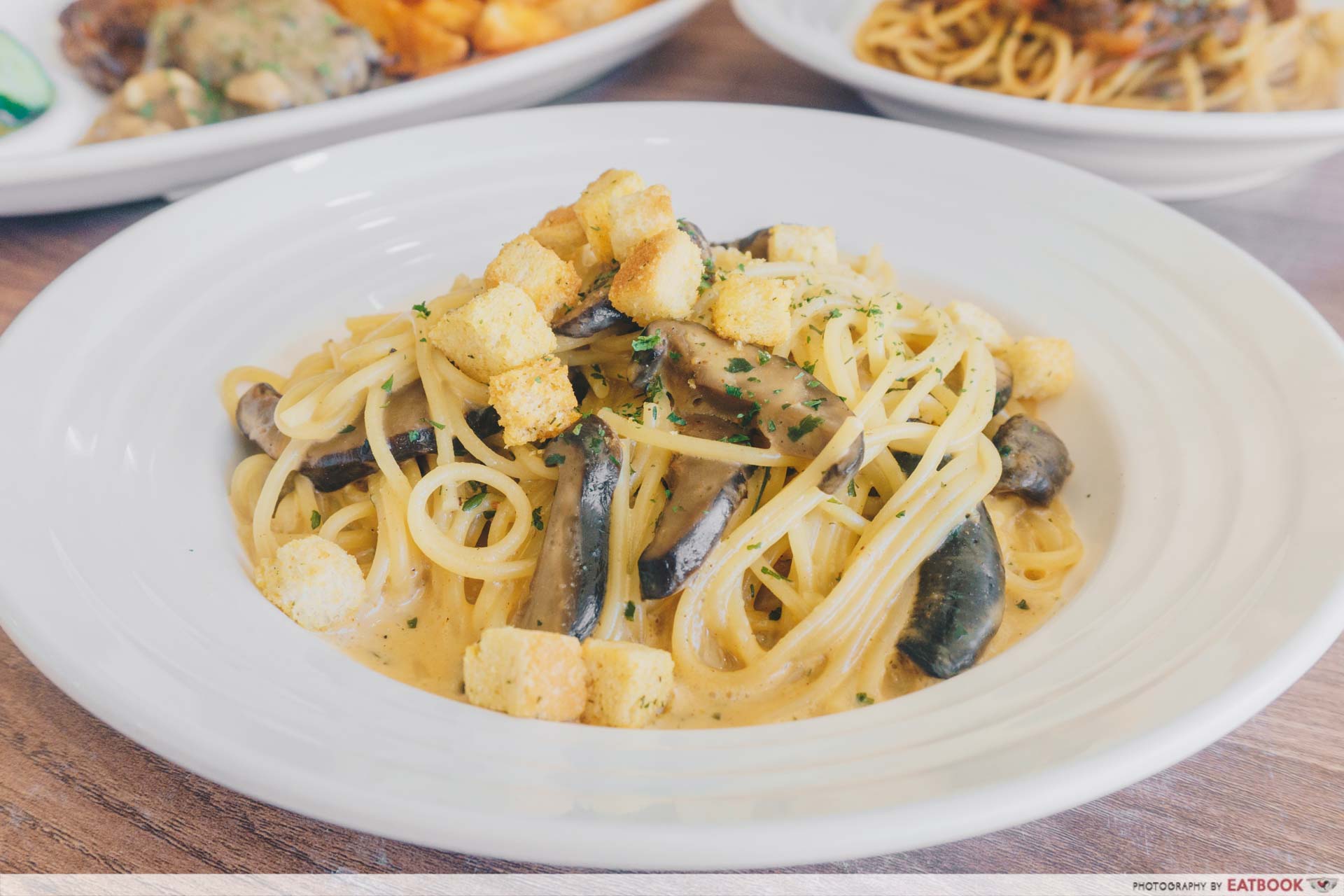 When I asked the owner what was the most popular order here, he pointed to the Four-Cheese Carbonara ($5). The pasta is tossed in a creamy four-cheese sauce with mushrooms, and topped with croutons and parsley.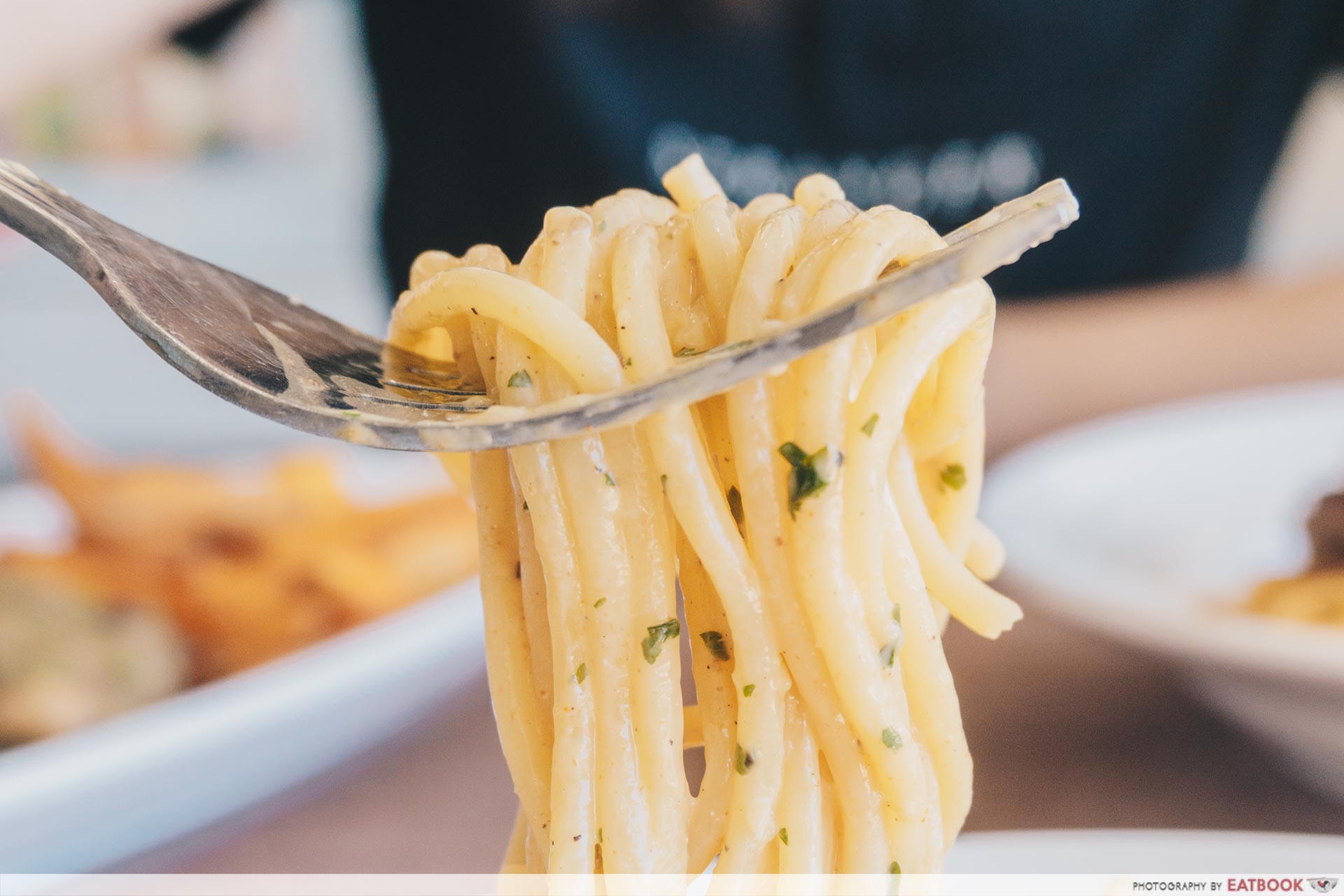 The pasta was cooked al dente and retained a good bite. Coated with a rich cheese sauce and sprinkled with parsley, the sauce was slightly jelak, and a dash of pepper could have helped cut back on the richness.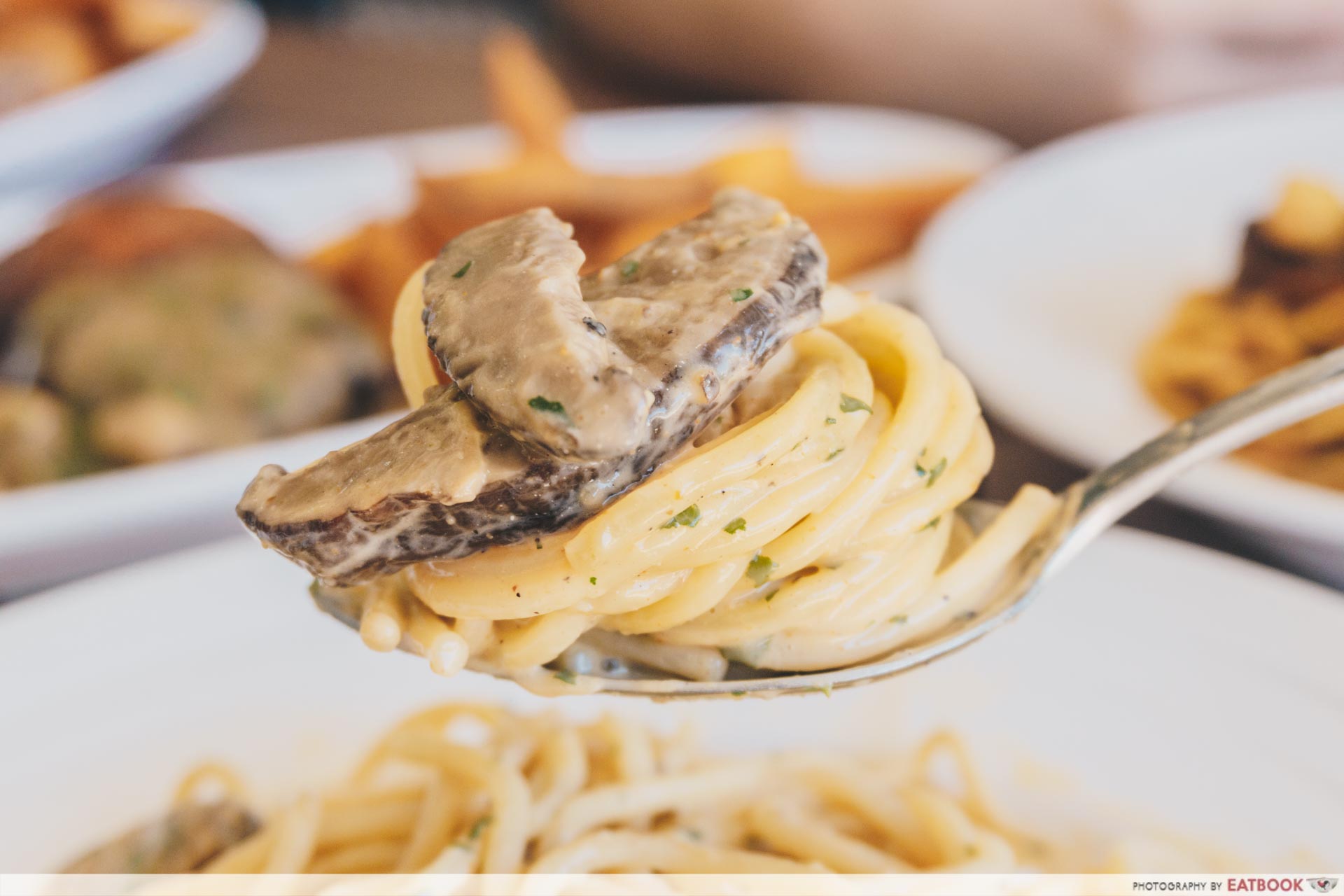 I was pleasantly surprised by how plump the mushrooms were; they gave a burst of juiciness upon each bite. A mouthful of the mushrooms and pasta left different textures in my mouth; the meatiness from the mushrooms paired with the firmness of the pasta made me go back for more.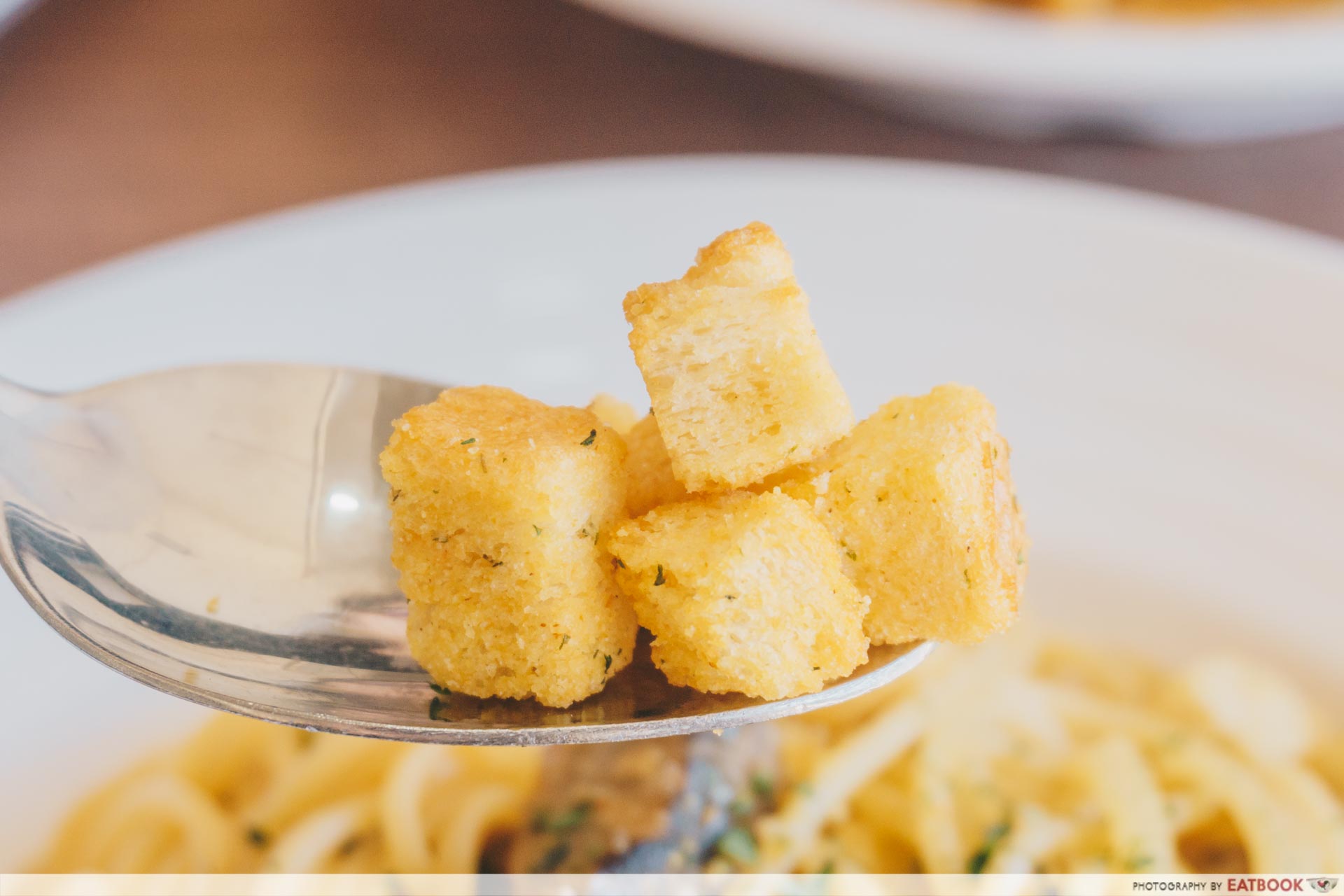 The crisp croutons added a crunchy element to the dish. I liked that the croutons had a tinge of garlicky fragrance to them, making them addictive. I only wished they added more.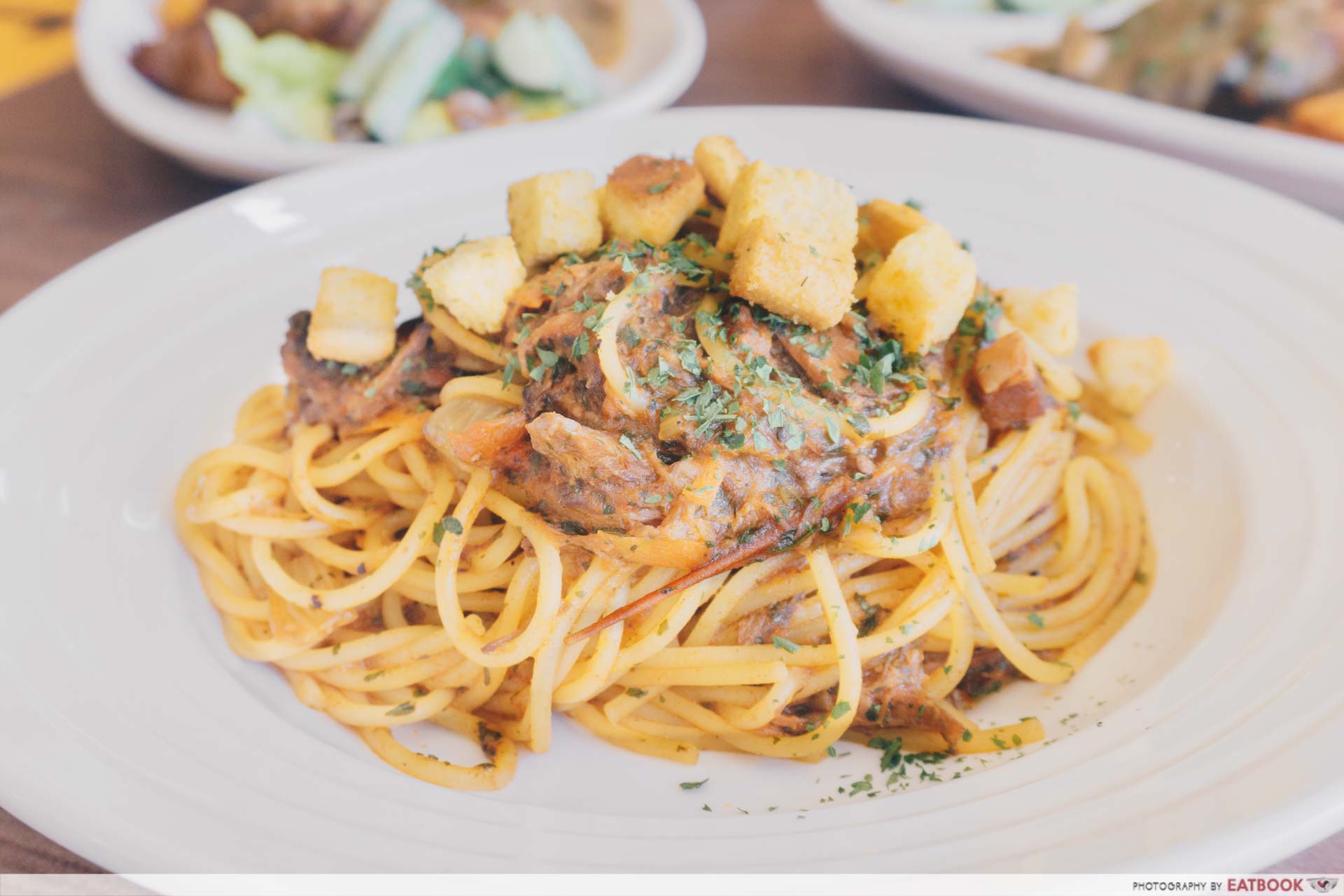 For those who prefer something lighter, go for the Angus Beef Bolognese ($5) – a tomato-based pasta option that features Angus beef and San Marzano tomatoes.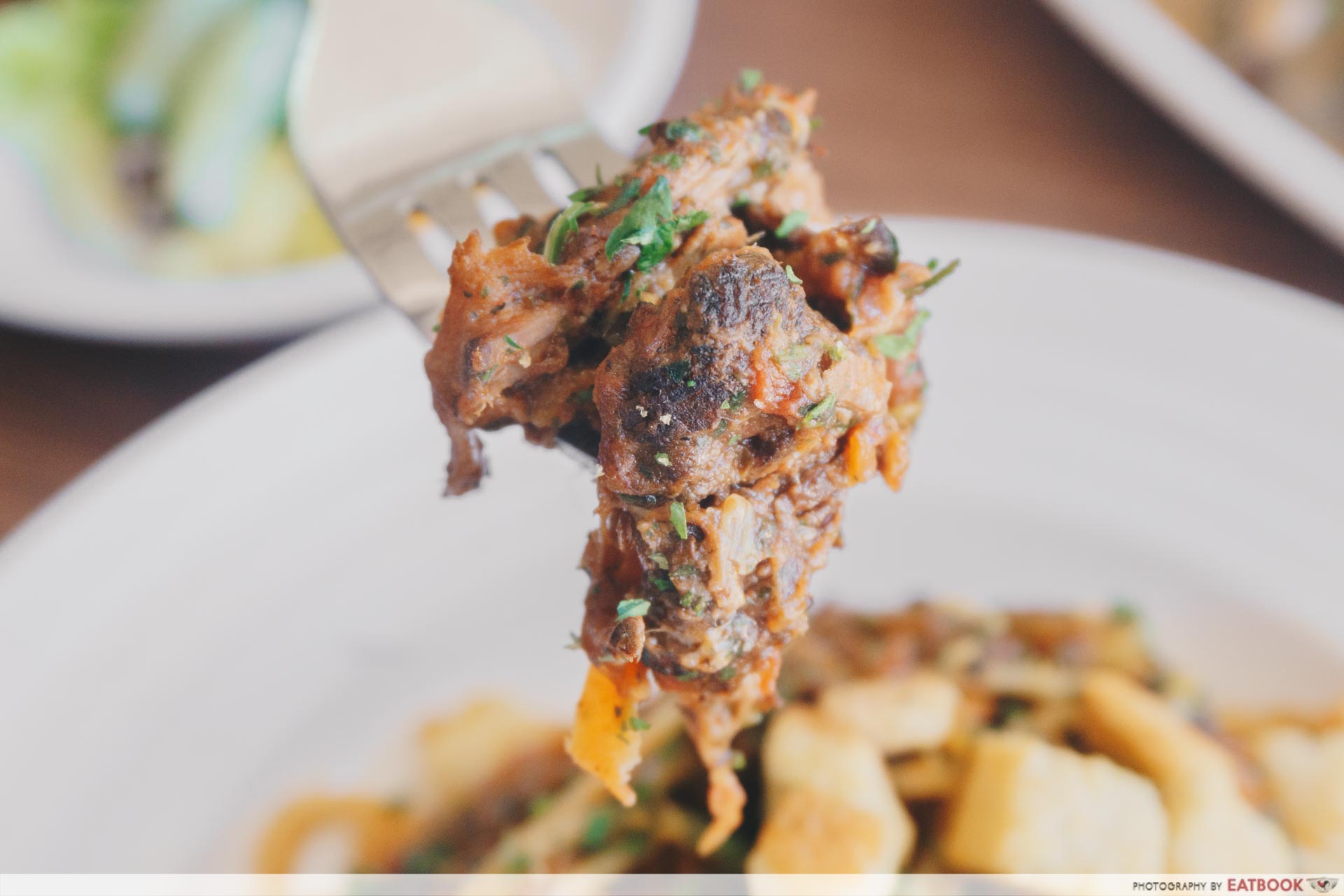 The pulled beef had a nice crusty exterior that was slightly charred. Tossed in a tomato-based sauce, the mixture of tanginess and umami from the beef was addictive. Even though the beef was not very fatty, the meat itself was soft and tender.
I initially thought the addition of parsley was just for presentation, but it added a freshness that complemented the flavours in the dish well.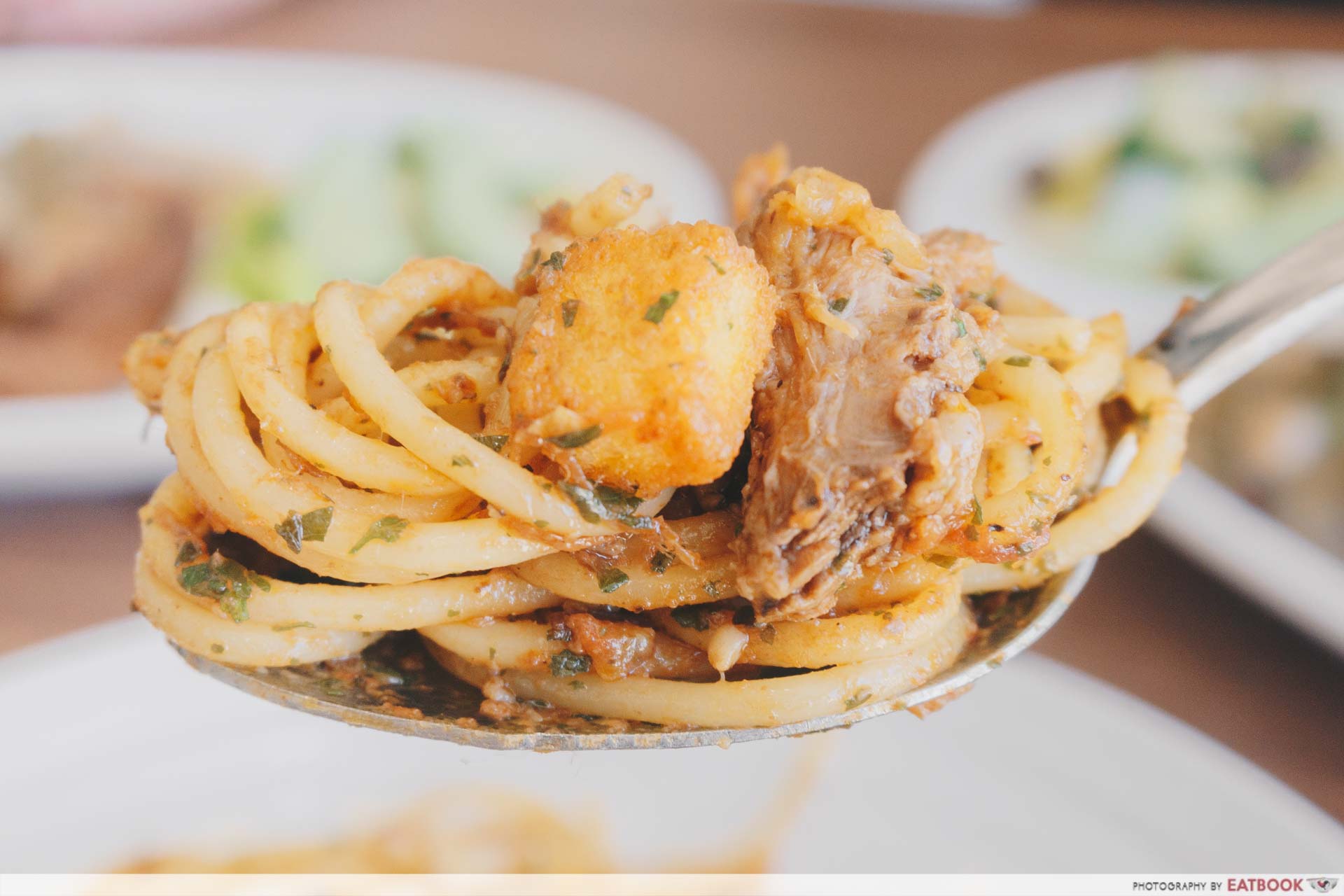 When eaten together, the combination of flavours was well-paired. There was no one element that overpowered another, and I liked that the dish kept to simple and honest flavours.  
Ambience at Tan's Pasta Shop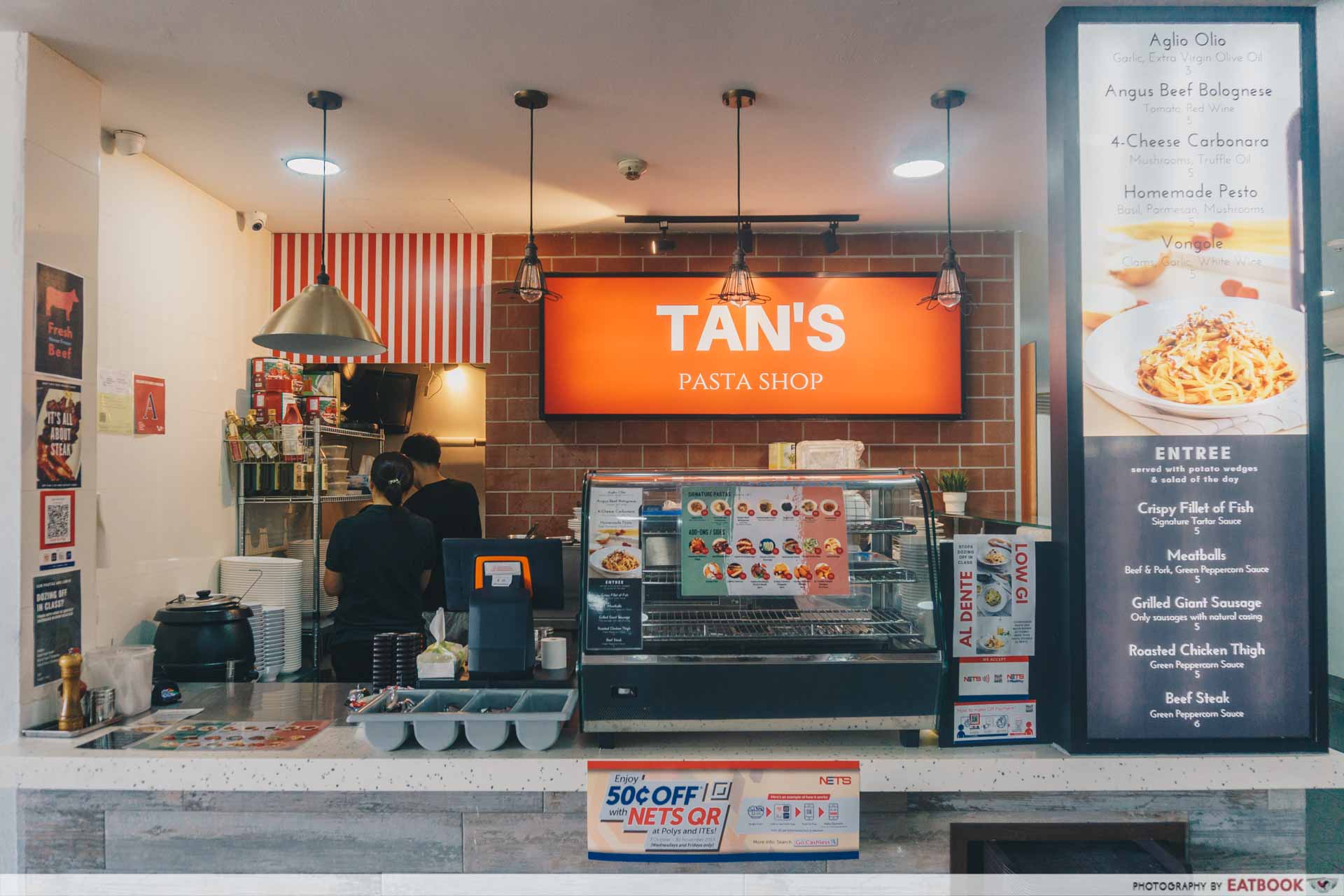 Tan's Pasta Shop is located at Food Court 3's Food Paradise in SP. It may be hard to navigate through the maze in SP if you are not a student here, so do ask around for directions. SP is directly connected to Dover MRT station, and you can hop on the train to get here.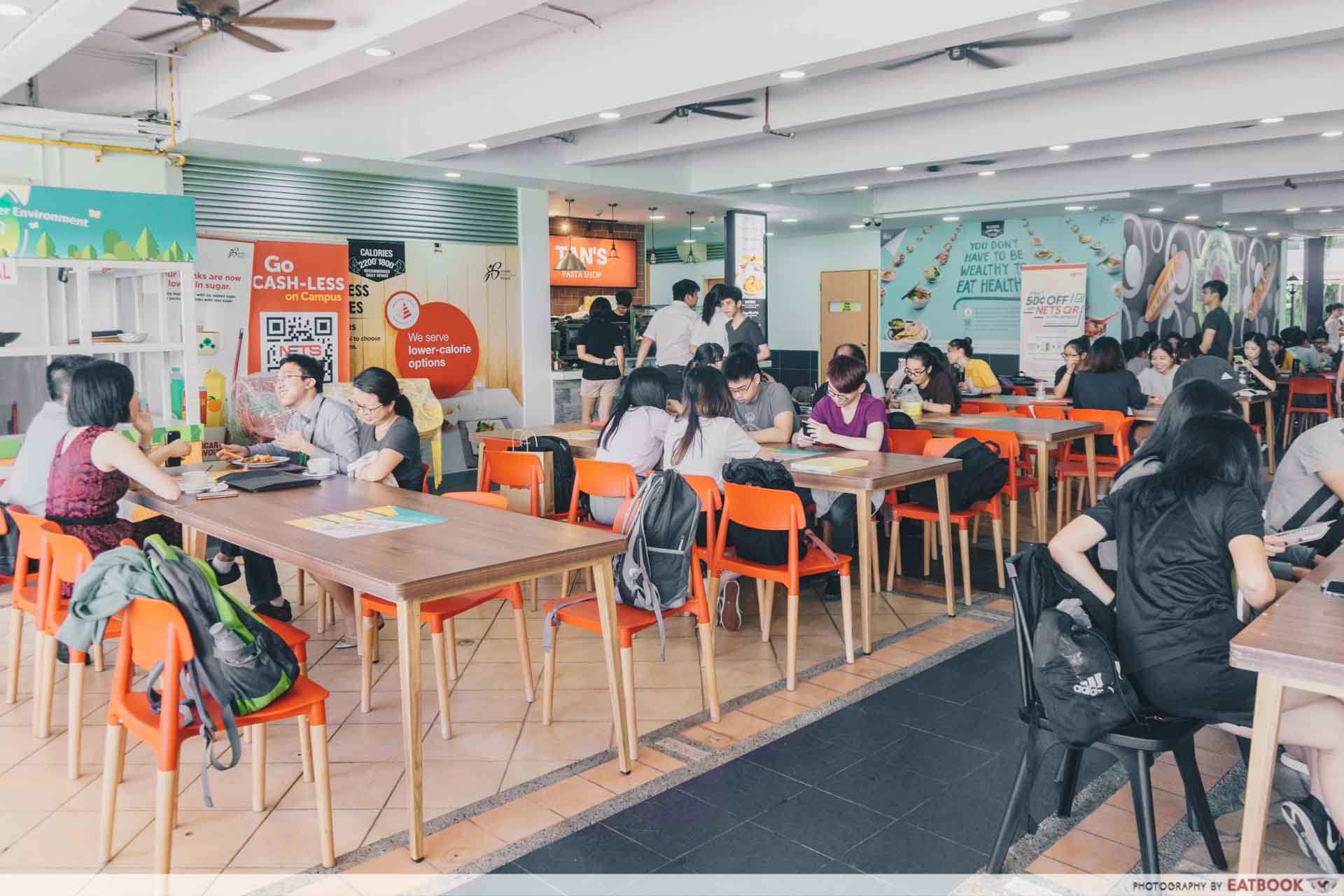 The seating area is clean and brightly lit. The numerous ceiling fans scattered within the canteen left the area cool and comfortable.  
The verdict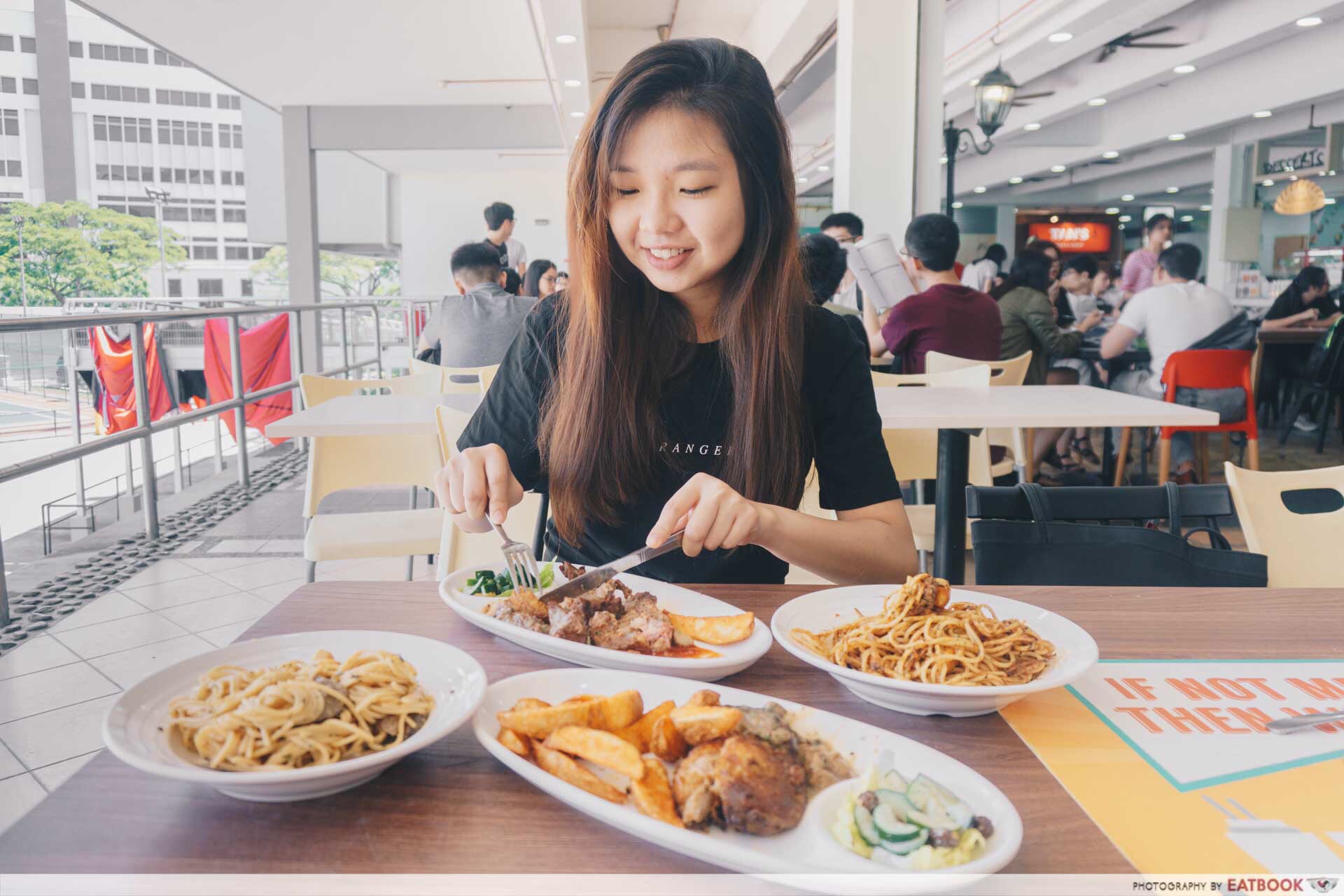 The best thing about school food has always been – and will always be – the price. While the food at Tan's Pasta Shop may not be the best I've tasted, the food here is value-for-money and come in sizeable portions. As I'm not a student here, I probably will not come down specifically for this, but I'd recommend this as a go-to fix for decent Western fare for students here.
Whether you're a clueless freshman or a lao jiao looking for something new to try in SP's huge campus, you can check out our list of Singapore Poly Food. Or if you're in the area and want to explore places outside of SP, here are some food places in Dover that are worth a try.
Address: 500 Dover Road, Food Paradise @ Food Court 3, Singapore Polytechnic, Singapore 139651
Opening hours: Mon-Fri 9:30am to 7:30pm, Sat 9:30am to 2pm
Tel: 9641 1860
Website
Tan's Pasta Shop is not halal-certified.
Photos taken by Ho Jing Yi.
This is an independent review by Eatbook.sg.
Summary
Pros
– Rich and creamy carbonara
– Delicious beef bolognese
– Cheap and affordable price points
Cons
– Inconvenient for non-students of SP
– Disappointing beef steak
Recommended Dishes: Four-Cheese Carbonara ($5), Angus Beef Bolognese ($5)
Opening hours: Mon-Fri 9:30am to 7:30pm, Sat 9:30am to 2pm
Address: 500 Dover Road, Food Paradise @ Food Court 3, Singapore Polytechnic, Singapore 139651