Tian Yi Desserts in North Bridge Road Food Centre

Nowadays, many of us Gen-Z youngsters would gladly fork out money for expensive and aesthetically pleasing desserts, especially IG-worthy ice cream and waffles places. Traditional desserts seem to be a thing of the past, but Tian Yi Desserts takes us back to our roots, selling traditional Chinese desserts like green bean soup, all sold below $3. They've been around for about 20 years, operating at North Bridge Road Food Centre.
Food at Tian Yi Desserts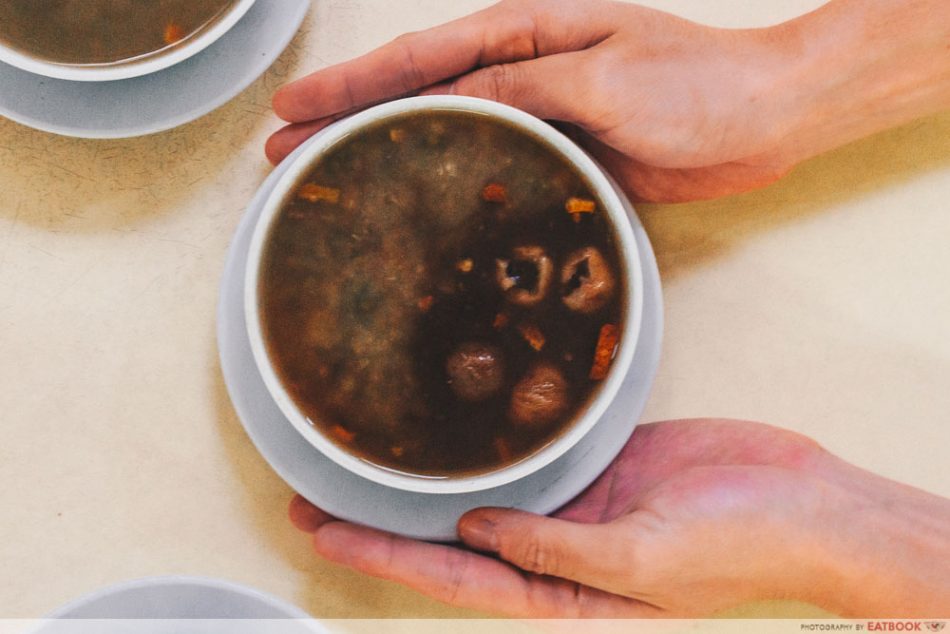 We've all had our fair share of green and red bean soups, but I'm pretty sure not everyone has had an intentional mix of both flavours that turned out well. Tian Yi's Mixed Green And Red Bean Soup ($2) is a rare gem, with over 40 different ingredients going into each bowl!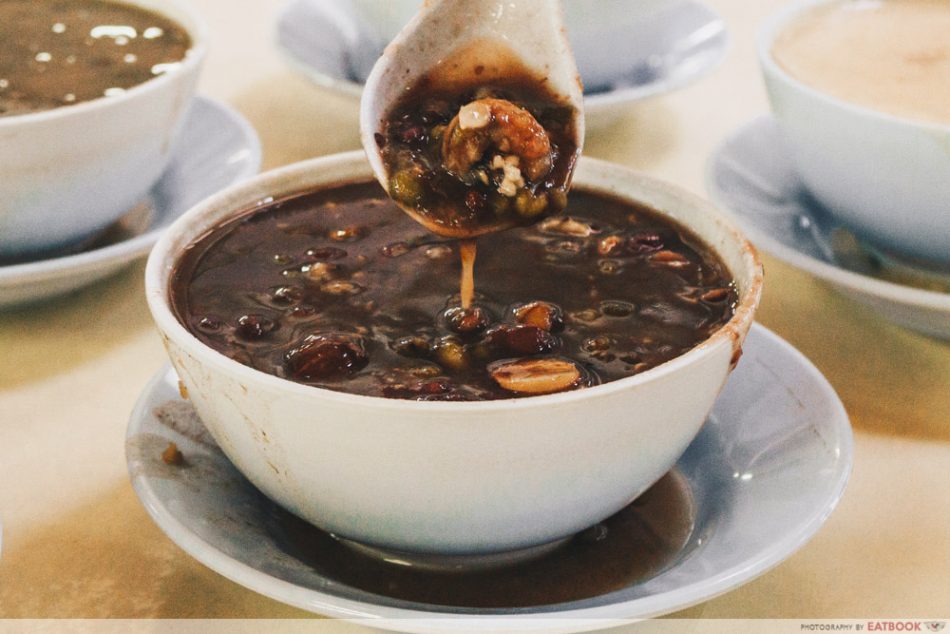 Just one spoon is enough to educate yourself on almost every single dessert topping known to man. Red beans, longan, kidney beans, tapioca balls, and barley, among other ingredients more commonly found in red bean soup, are just the tip of the iceberg. 
Then, you see green beans, orange peel, chestnuts, more sago balls, and lotus seeds from the green bean soup. The extensive selection of ingredients will leave you spoilt for choice.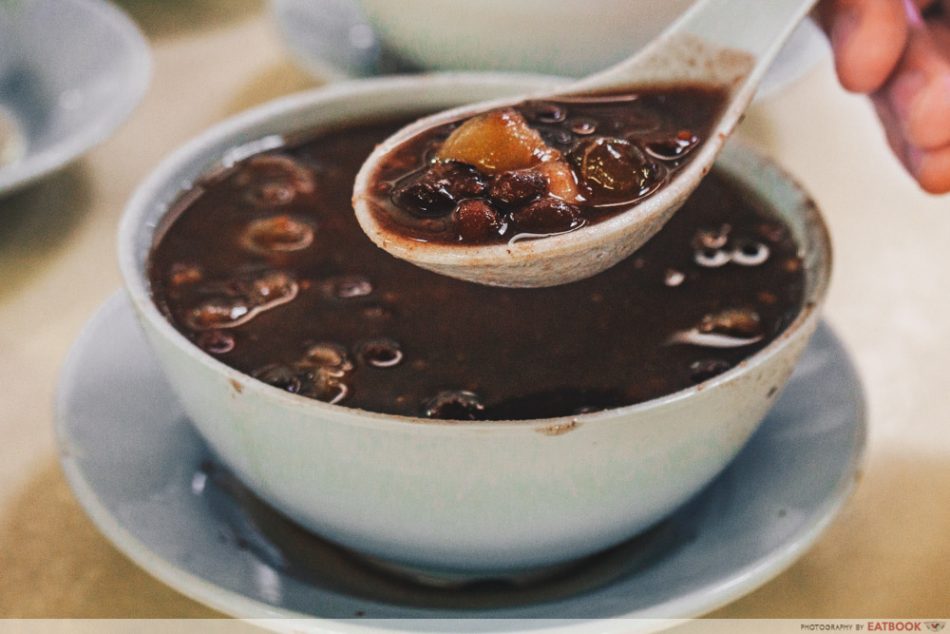 The soup isn't overwhelmingly sweet, and not overly thick either. The toppings used are very nutritious, great for the health-conscious. I find that they've managed to find a good balance in mixing both red and green bean soups, making sure each flavour doesn't overpower the other.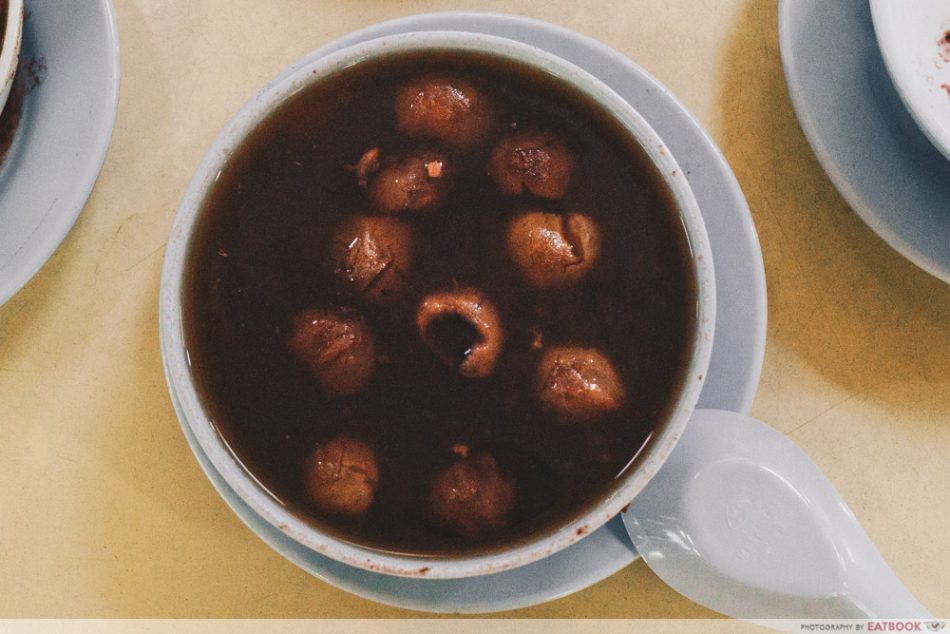 For those who aren't that adventurous, stick to the Red Bean Soup ($2). The nice mix of toppings add a range of textures, with jelly-like longan, and firm kidney beans providing some bite.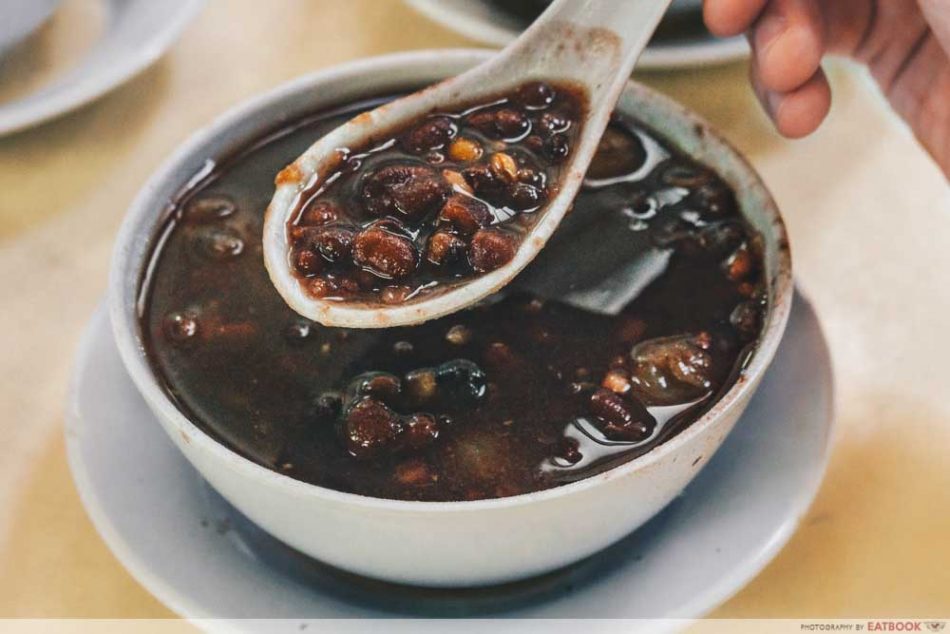 However, I feel the taste of the orange peel in this can be overwhelmingly sharp for some, giving the red bean soup a citrusy and sour note, which could come across as unpleasant.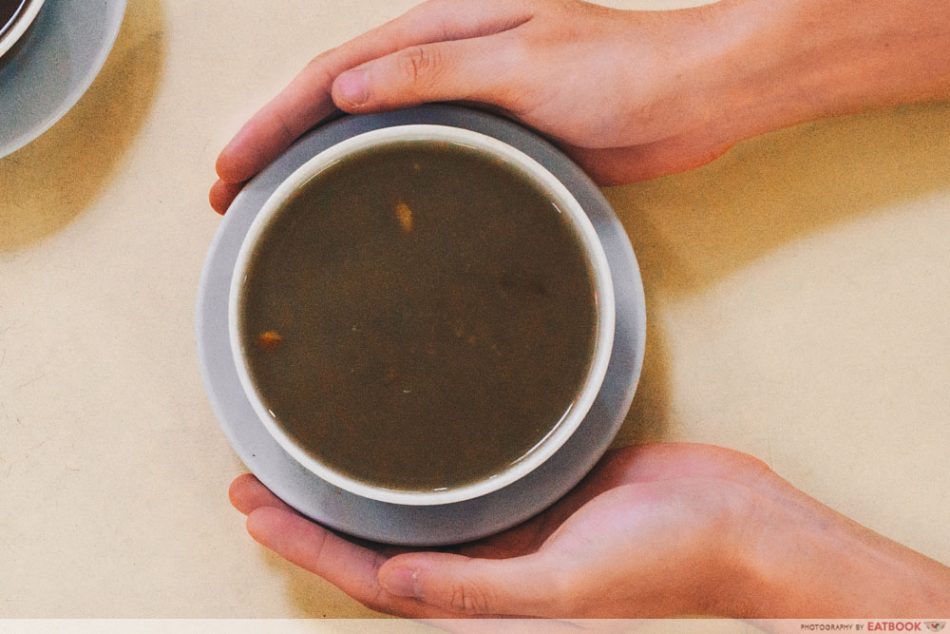 The Green Bean Soup ($2) is ideal for purists like myself. It's simpler, and tastes exactly the way you expect it to. With the soup supposed to have cooling properties, it's especially great for Singapore's humid weather.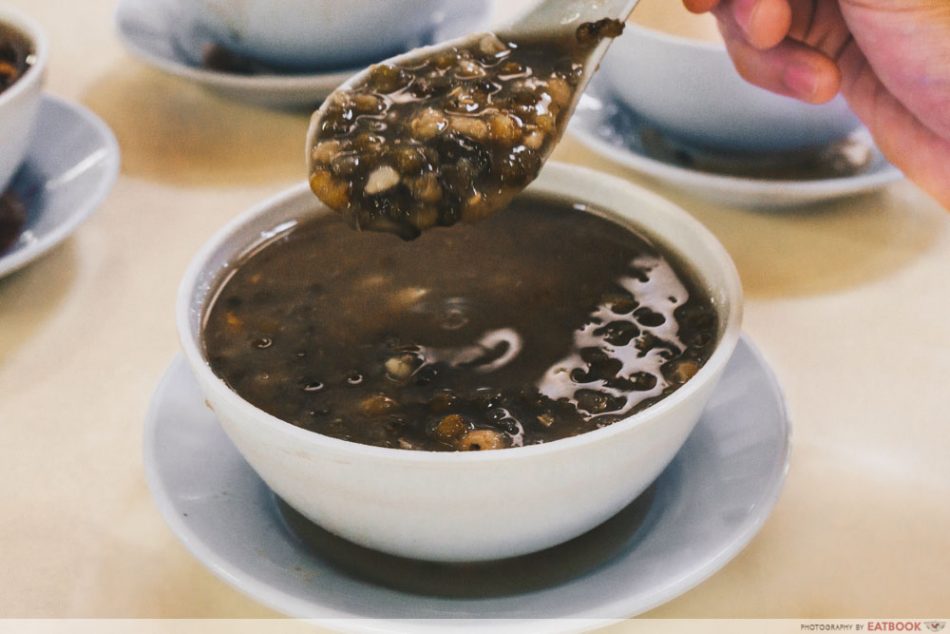 I especially liked the chewy sago balls, which were soft, and soaked up the green bean soup very well. But I found the soup a little too ingredient-heavy for my liking, with not enough of the "soup", causing the dessert to be excessively rich.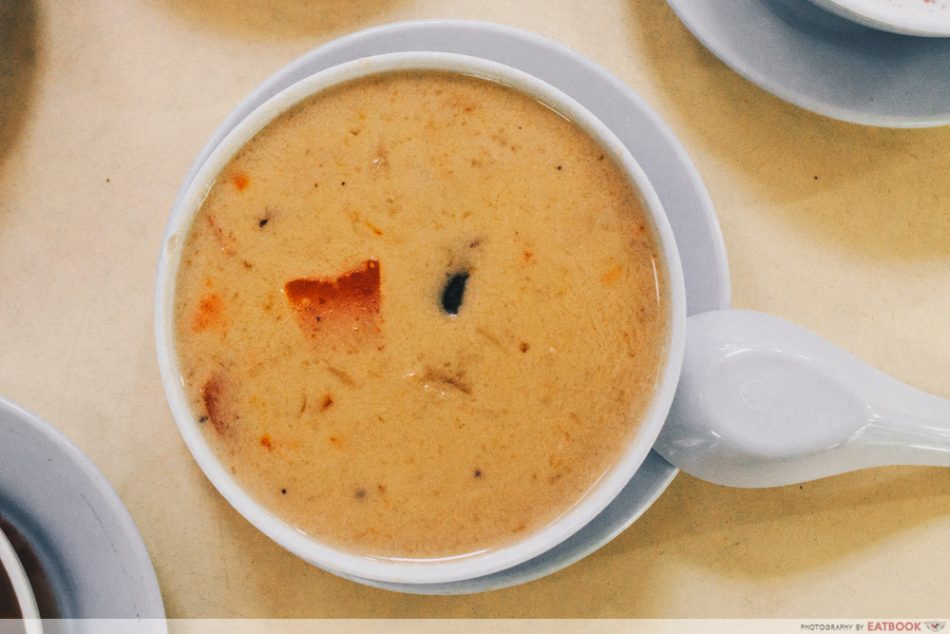 If you prefer something milkier, go for their Bo Bo Cha Cha ($2.20). It comes packed with toppings like big sweet potato chunks, yam, different-coloured tapioca jellies, and white kidney beans. It was also the most inviting-looking dessert by far, because of its vibrant colours.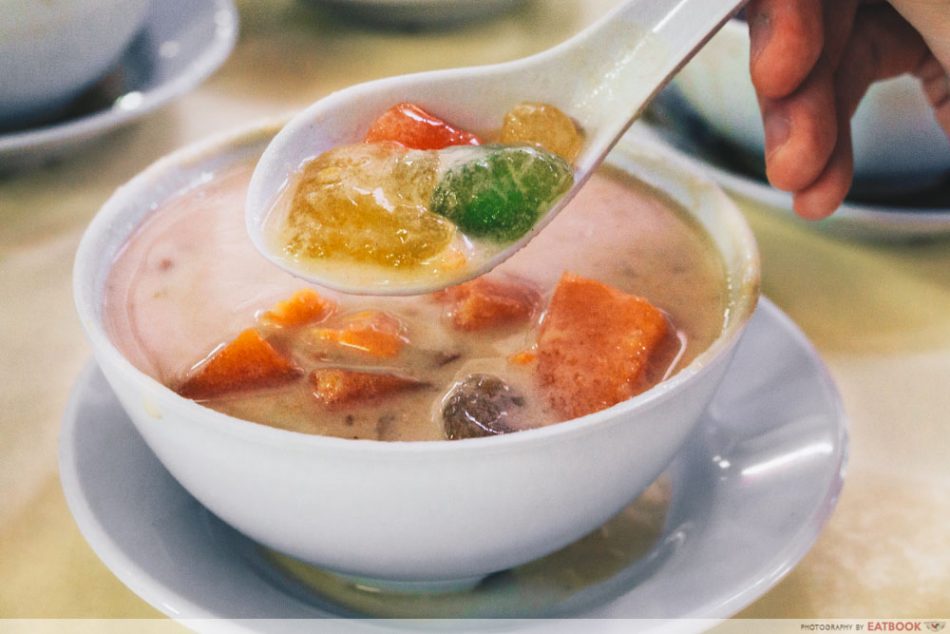 The fragrant, creamy dessert was a lot sweeter than I expected, with a smooth consistency and a strong coconutty flavour. I think the soup can get pretty cloying though, considering how rich and thick it is.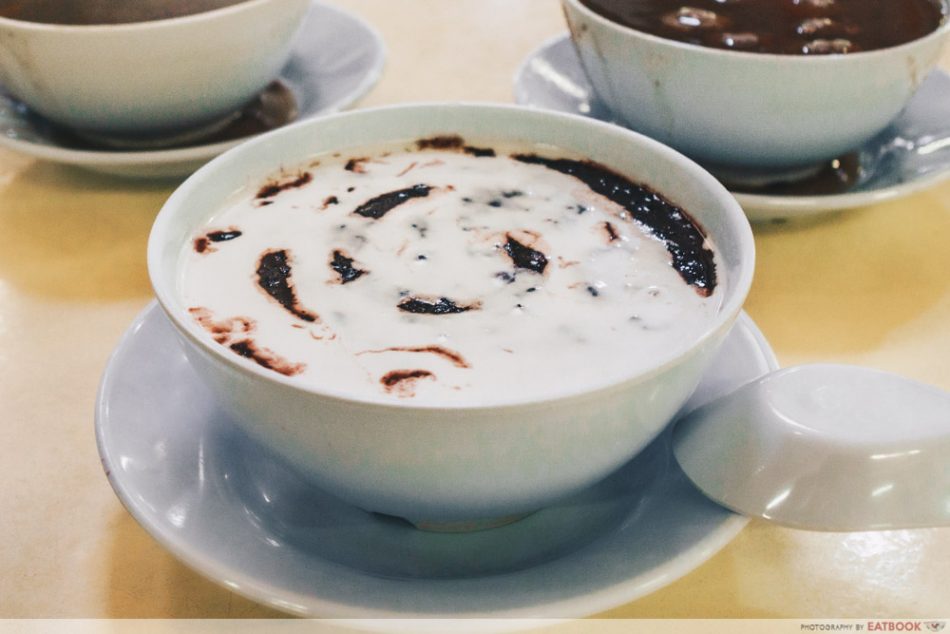 You could also consider having their Pulut Hitam ($1.70) for a sticky-sweet treat. Their rendition of the classic dessert, with purple-black glutinous rice and coconut milk, was especially gooey and sinful.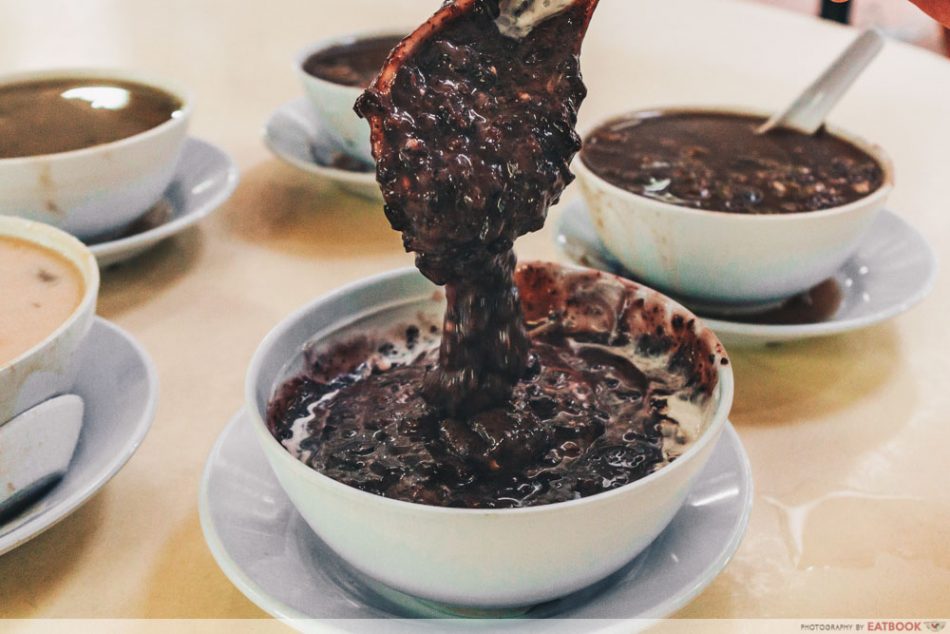 The rice was chewy and sugary, while the dash of coconut milk added a saltiness that balanced the flavours out. However, the pulut hitam does get clumpy and difficult to scoop up if it's left to sit for a while, so I'd suggest you enjoy it straightaway.
Chow Zan Dessert Review: White Chendol And Peach Gum Desserts From $4 At Bugis
Ambience at Tian Yi Desserts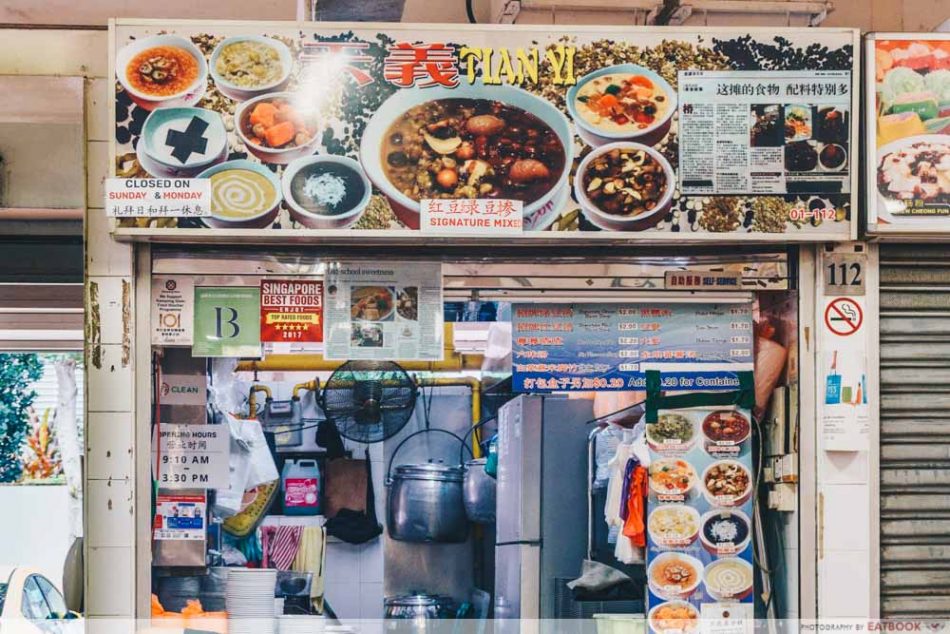 Tian Yi Desserts is located in North Bridge Road Food Centre, a stone's throw away from Lavender MRT Station. They first started out selling economical bee hoon, but later on switched to traditional desserts as it was less physically taxing on the aging lady boss.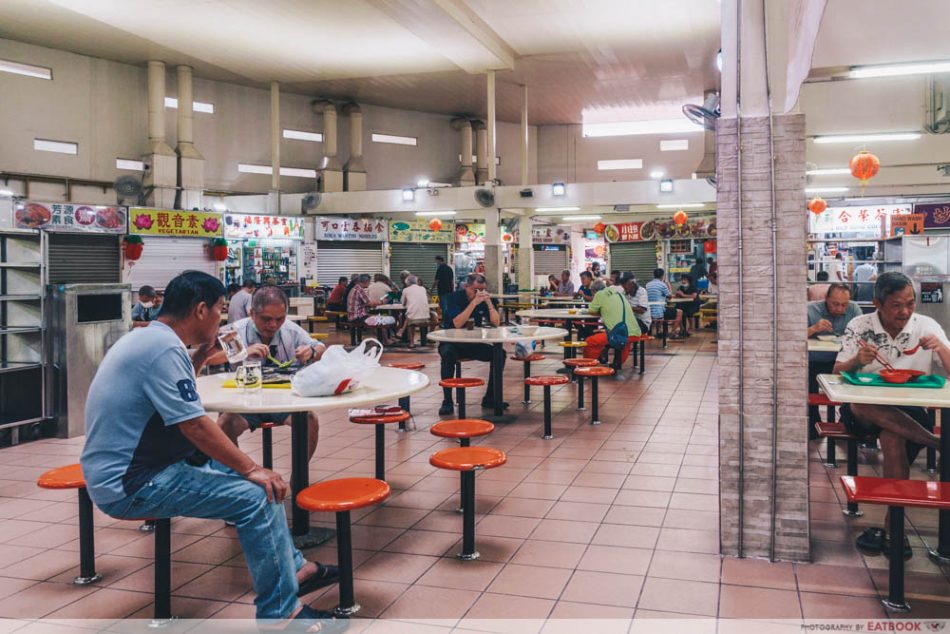 The crowd frequenting the hawker centre mostly consists of senior citizens who stay around the area, so the owners have always made it their responsibility to keep prices low and completely affordable for them and other customers. 
The verdict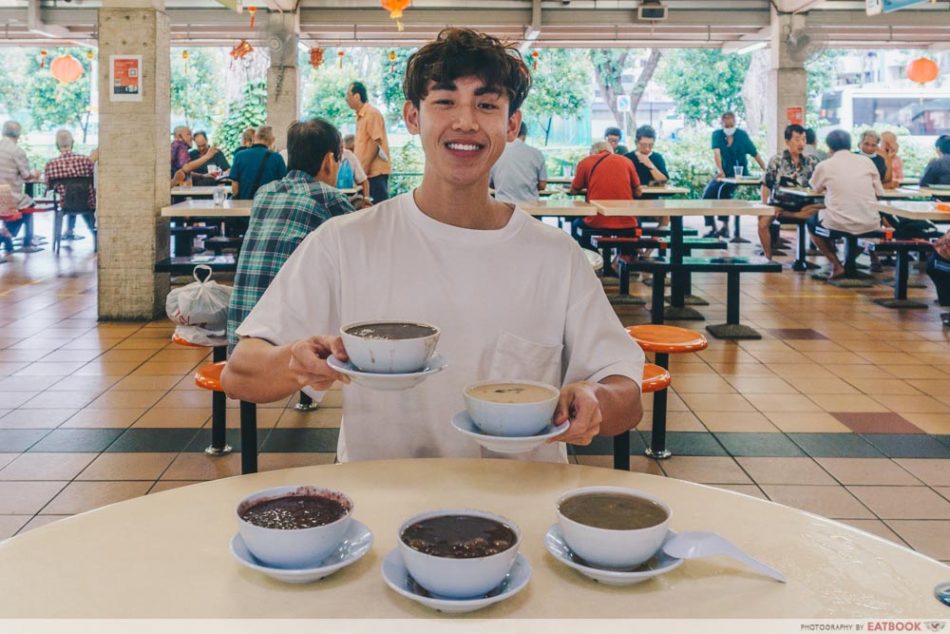 Honestly, Tian Yi Desserts is more of a nostalgia-evoking spot rather than a place we'd come back to just for their traditional sweets. The meticulous preparation of their treats is a testament to their many years of hawker experience, with their soups a memory that I'm sure most of us will hold dear.
Their Mixed Red And Green Bean Soup is not commonly found in such stalls, but works surprisingly well. With Singapore's hot and humid weather, the nourishing soups are especially comforting.
Our personal favourites would be their Bo Bo Cha Cha and Mixed Green And Red Beans Soup, but their other desserts are certainly worth a return for, considering how reasonably they are priced.
If you're looking for more traditional dessert places, check out our Chow Zan Dessert review for local sweets like white chendol and peach gum desserts at Bugis. Alternatively, read our 115 Tang Shui review for classic Chinese desserts below $2 at Chinatown.
115 Tang Shui Review: Beautiful Stone-Ground Traditional Chinese Desserts Under $2 In Chinatown
Address: 861 North Bridge Road, #01-112, North Bridge Road Food Centre, Singapore 198783
Opening hours: Tues-Sat 9am to 4pm
Website
Tian Yi Desserts is not a halal-certified eatery.
Photos taken by Nur Syamira.
This is an independent review by Eatbook.sg.
Tian Yi Desserts Review: Mixed Red And Green Bean Soup With Over 40 Ingredients In Lavender
Tian Yi Desserts Review: Mixed Red And Green Bean Soup With Over 40 Ingredients In Lavender -

7/10
Summary
Pros
– Mixed green and red bean soup is interesting
– Desserts do not go above $3
Cons
– Red bean soup has overpowering orange peel taste
– Pulut hitam can become too thick and clumpy after a while
Recommended dishes: Mixed Red And Green Bean Soup ($2), Bo Bo Cha Cha ($2.20)
Opening hours: Tues-Sat 9am to 4pm
Address: 861 North Bridge Road, #01-112, North Bridge Road Food Centre, Singapore 198783