The Better Half sells beautiful cakes and pastries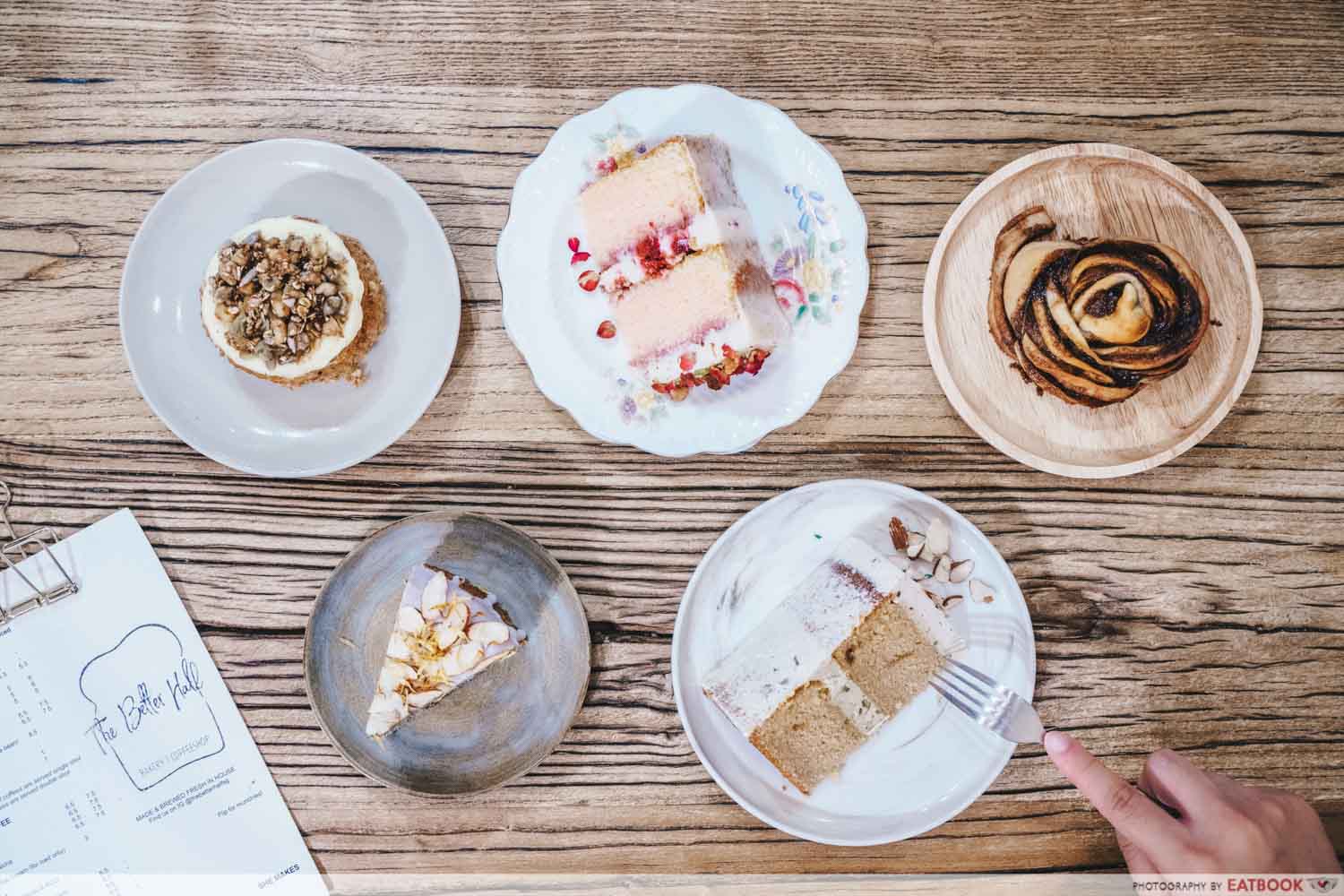 Pretty-looking things have always been my fatal weakness. Inform me of any aesthetically pleasing food in my vicinity, and I'll be there. This was certainly the case for The Better Half. After seeing their beautiful bakes on Instagram, I knew I had to make a trip down myself!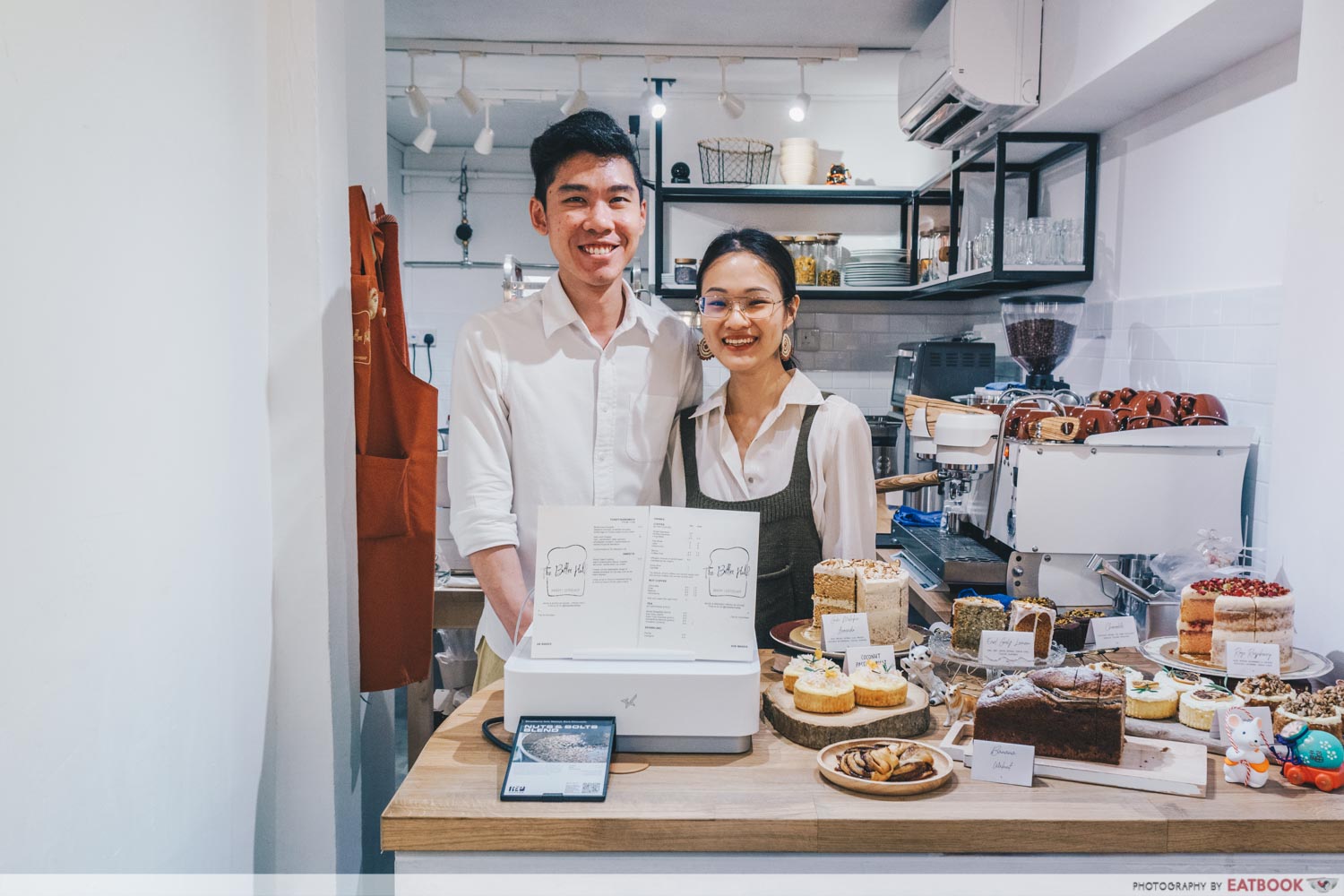 This hole-in-the-wall cafe is owned and operated by a young duo who began their baked-goods business with an online store. Seeing considerable success after one and a half years, the couple took the leap and invested in a physical unit. They now run their brick-and-mortar shop concurrently with the online store, pushing out a number of pretty pastries every day.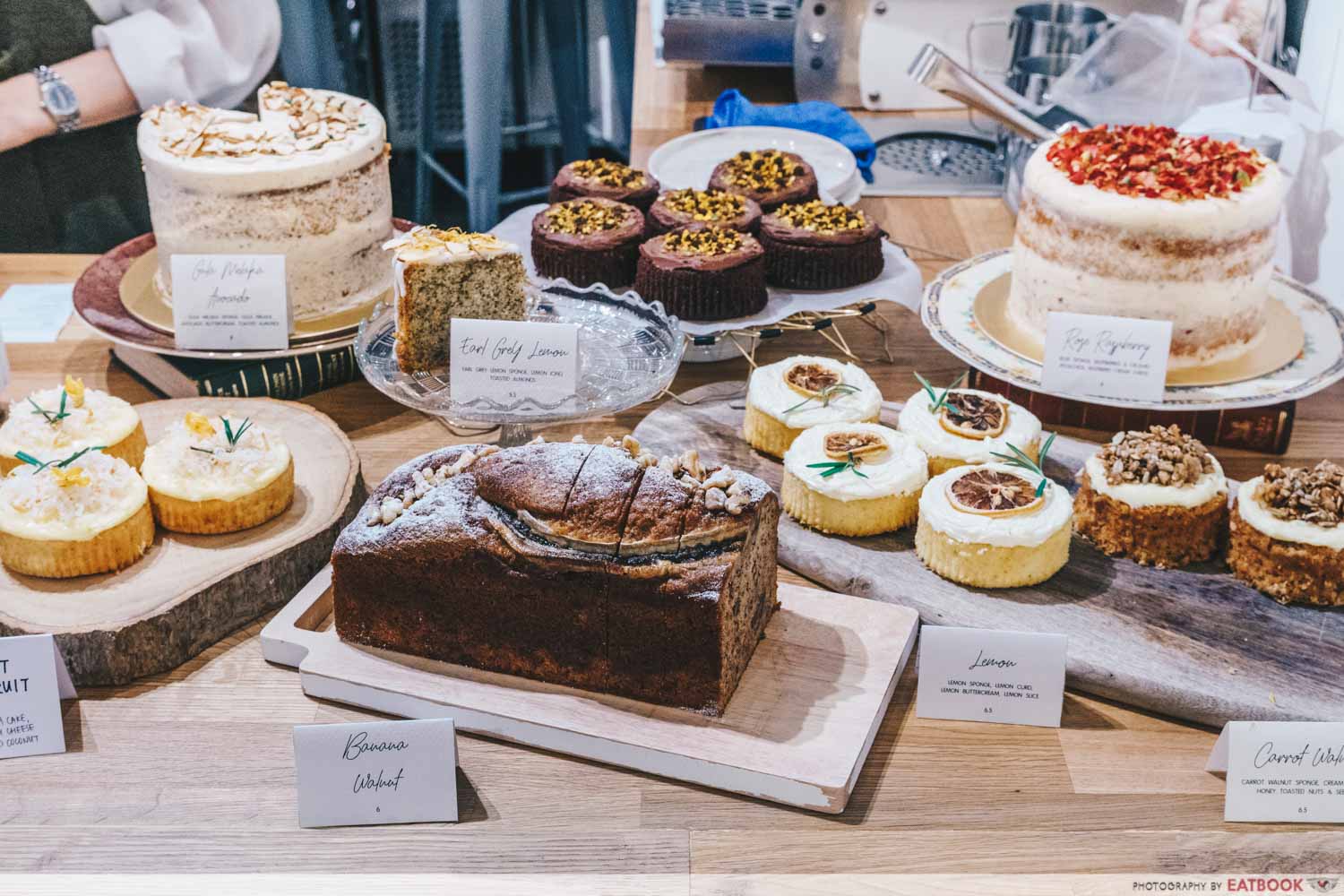 Customers streamed in and out as the pair worked tirelessly, packing pastries, brewing coffee, and refilling the cakes on display. Peering at the spread, I was amazed by the consistent aesthetics of their bakes. Everything looked like they could be taken right out of a fancy picnic party.
Food at The Better Half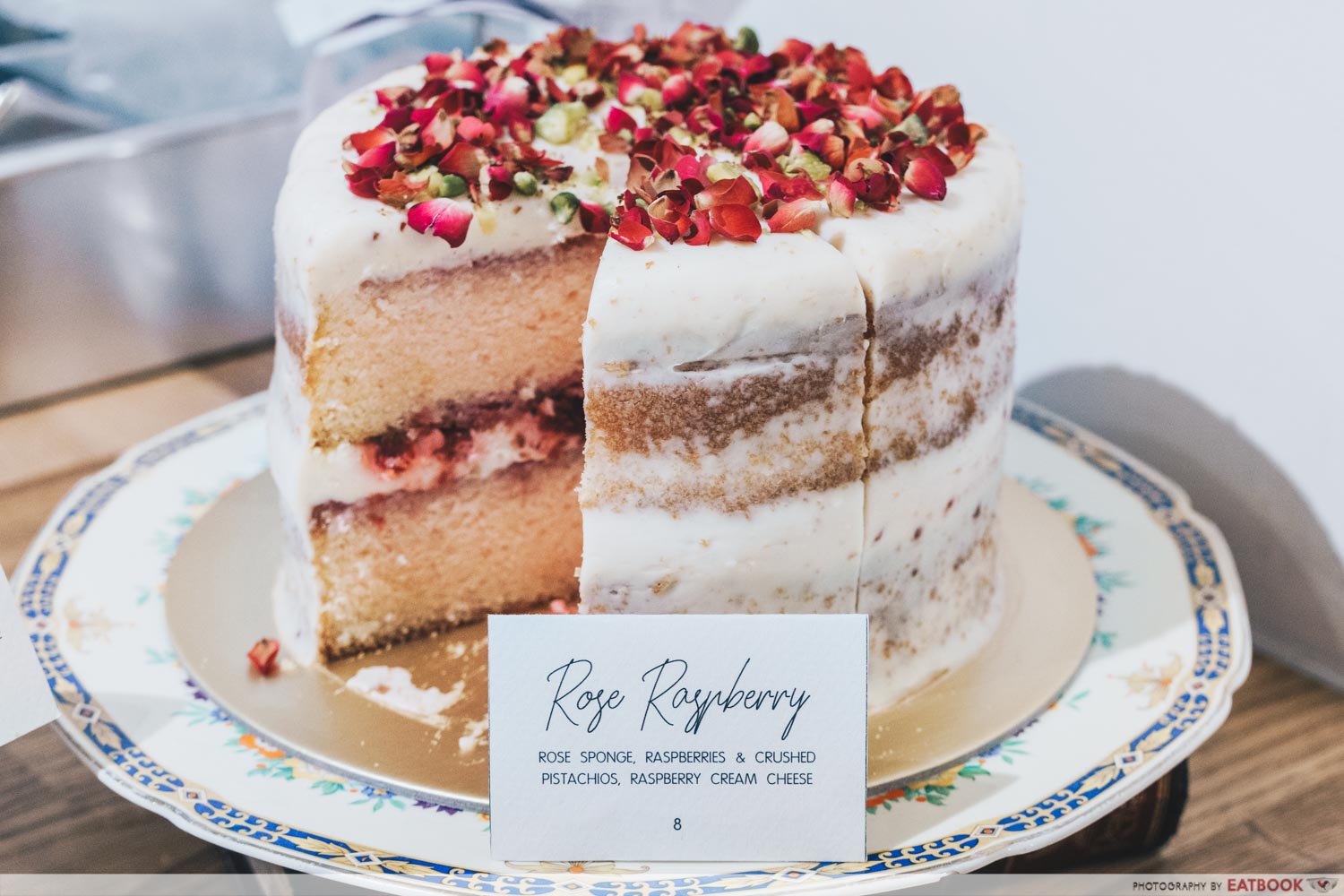 In their charming display of cakes, the vibrant pink and red flower petals adorning the Rose Raspberry ($8) cake slices were the first to jump out at me. Each elegant slice stood tall with two layers of rose-infused sponge and raspberry-swirled cream cheese frosting sandwiched between.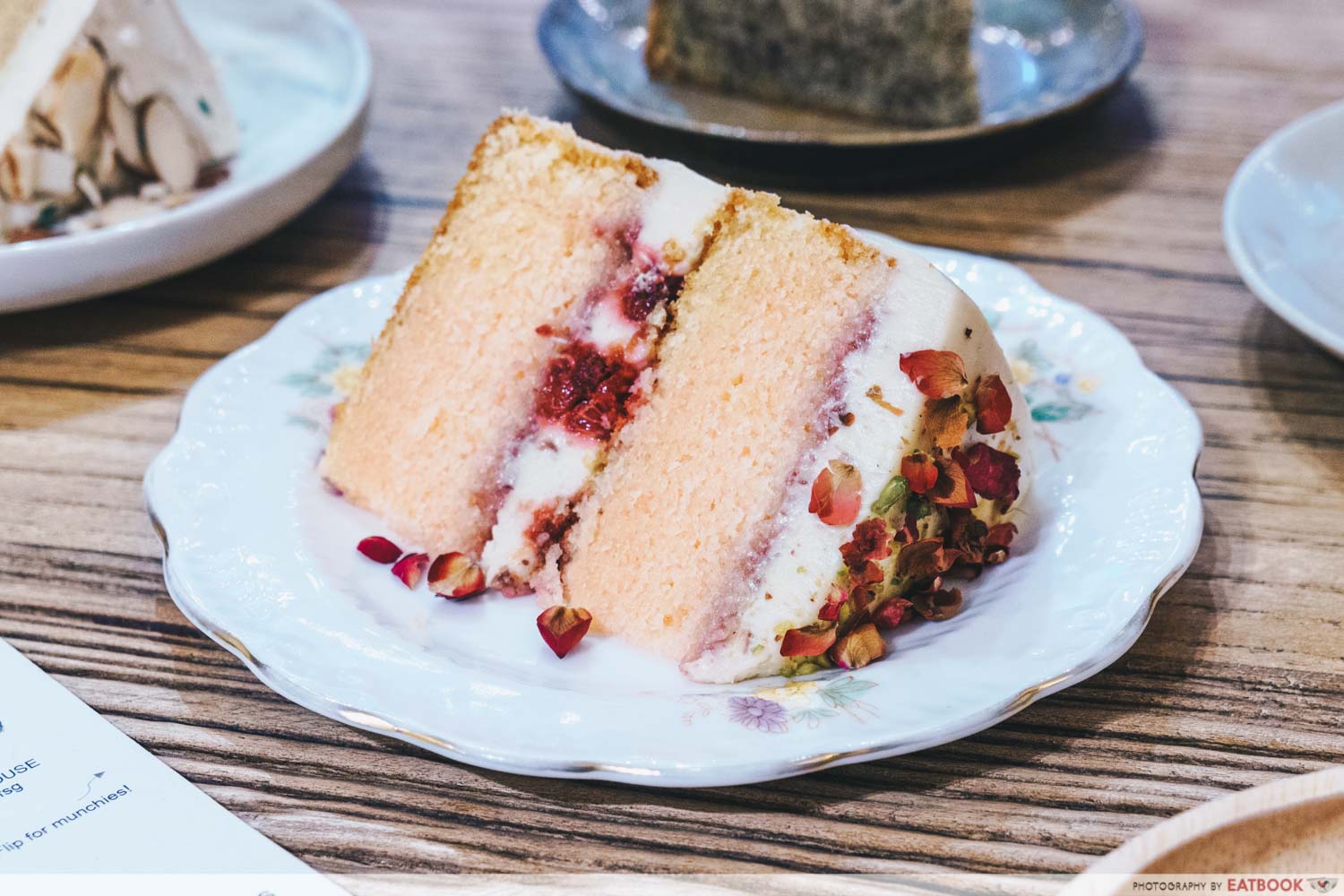 I took care to include a bit of every component in my bite: the salmon-pink sponge, cream cheese frosting, raspberry chunks, and even some rose petals. The resulting mouthful was a symphony of flavours. This lovely pink cake tastes as good as it looks.
The floral notes from the sponge were strong but not overpowering, as they were mellowed out by the mildly tangy frosting. I also enjoyed the occasional bursts of tartness from the raspberries and, surprisingly, the bitter bite of the rose petals.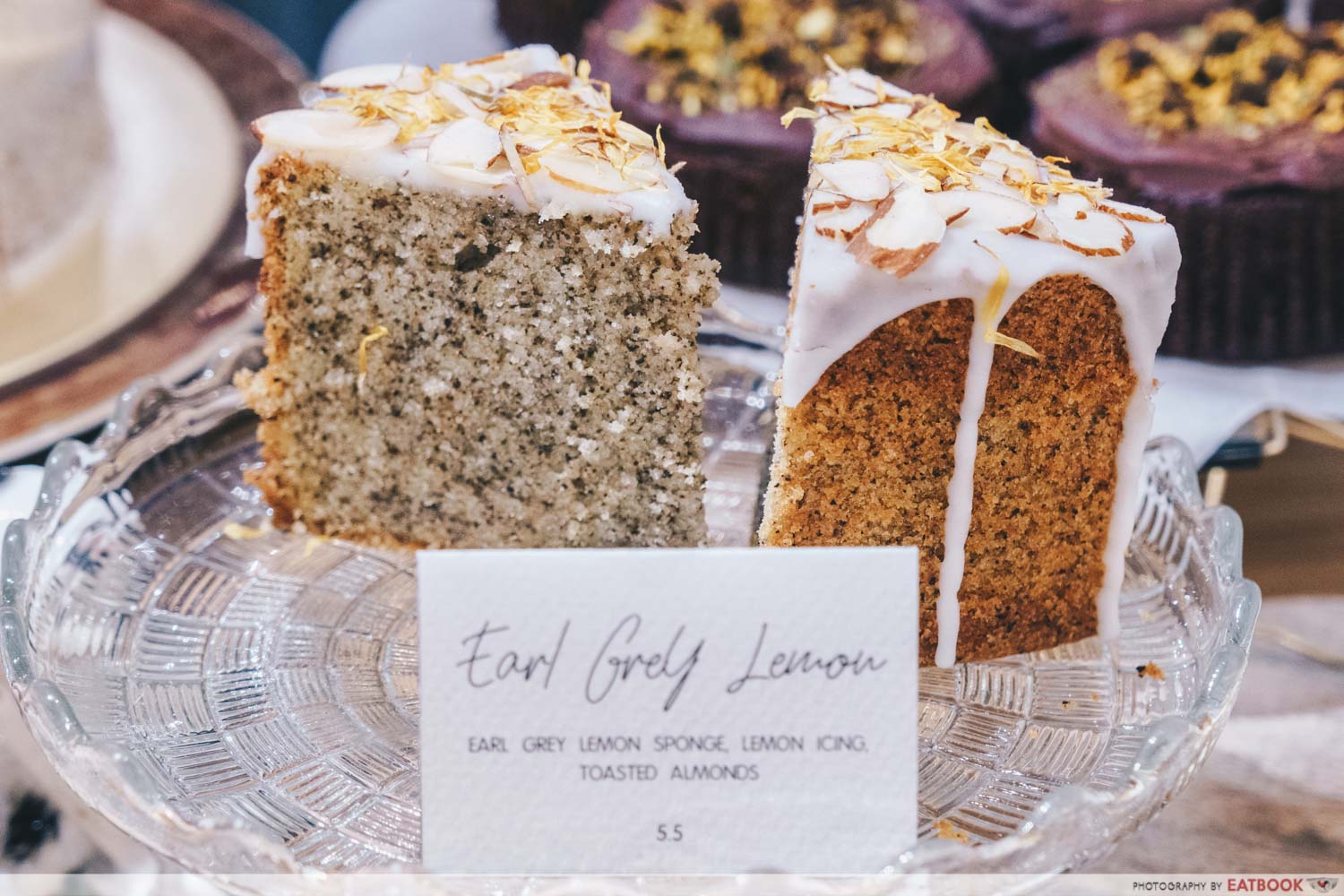 The single-layer Earl Grey Lemon cake is sold at $5.50 a slice. From its cross-section, the cake seemed to have more of a banana bread-like sponge rather than the typical dense cake texture. Each neatly-cut slice had thick hardened icing atop and running down its sides. There is also a pop of colour from the dried flower petals sprinkled onto the icing.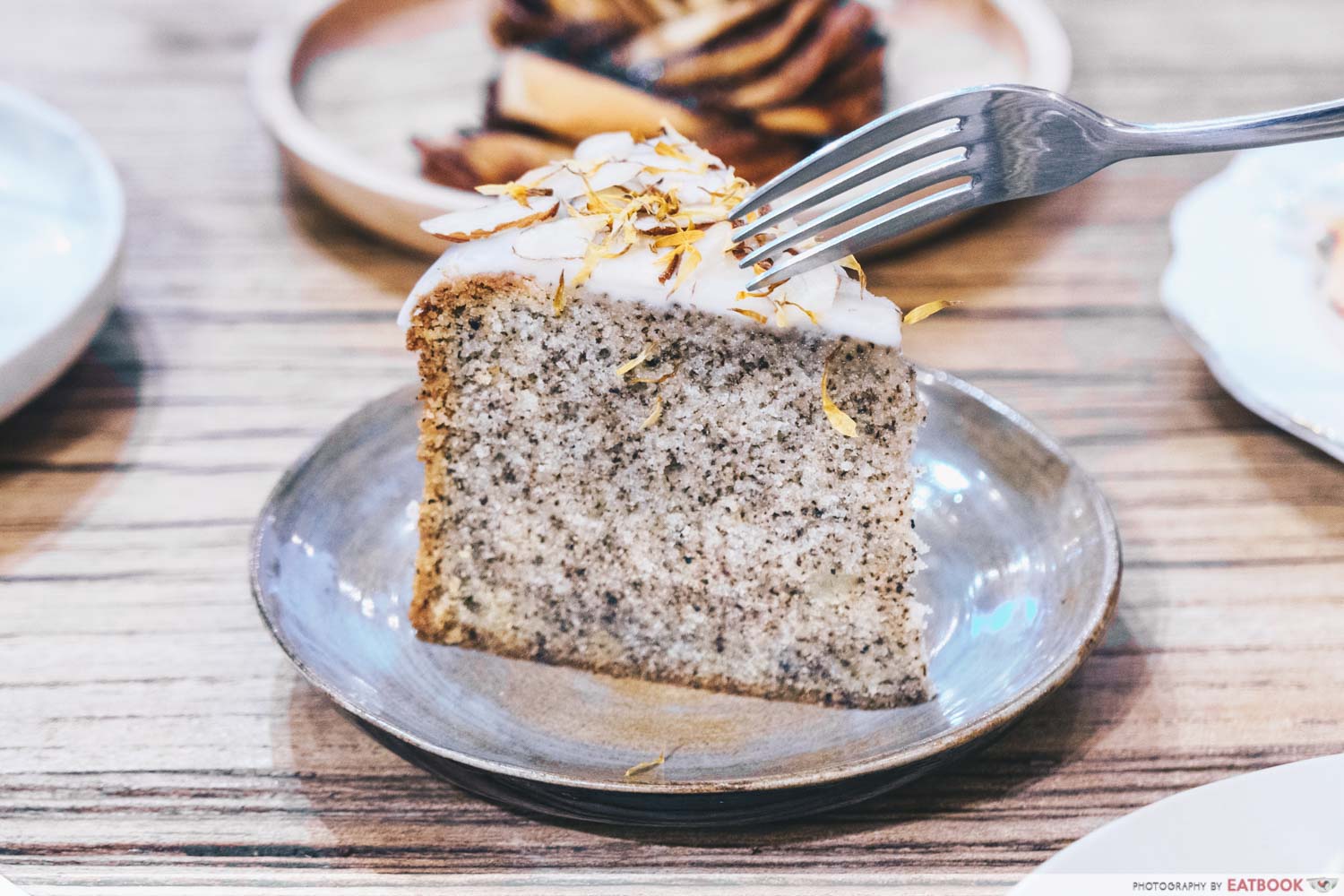 Diving into the delicate-looking slice, I noted how the strongest flavour that shone through was the sweet, lemony icing. The flavour of the sponge cake was much more subtle, and it took a couple of bites before the light Earl Grey aroma hit me. 
Texture-wise, this slice was also a little on the dry side. I wished the cake was a tad more moist. Perhaps I'm more used to layered cakes with buttercream. My favourite part of this cake was the golden crust-like layer formed around the sides which contributed a slight caramelly taste.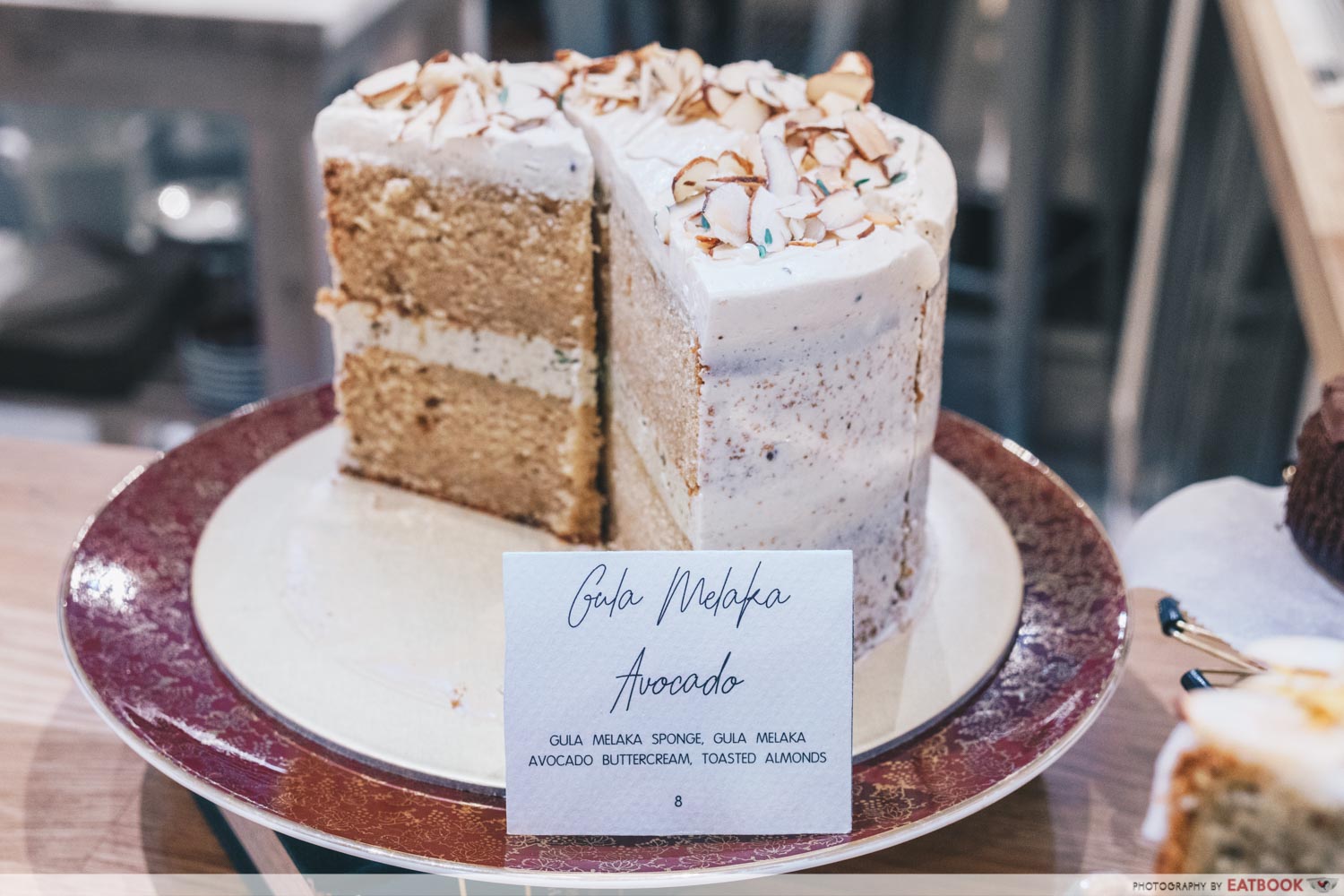 We moved on to another one of the cafe's unique cakes. The Gula Melaka Avocado ($8) slice features layers of sponge sweetened with gula melaka and smooth avocado buttercream.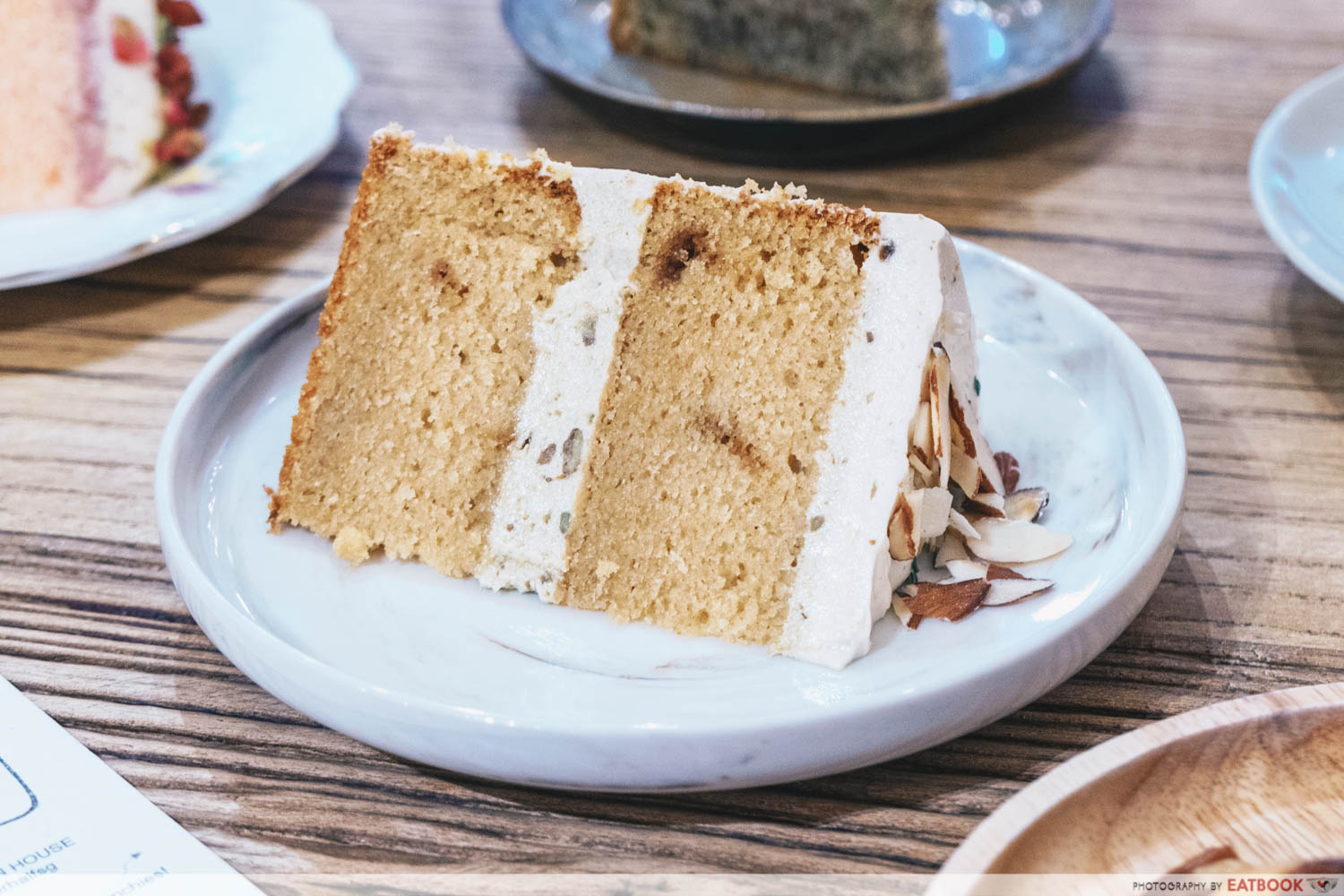 With a dense sponge, this cake was the most moist so far. I've always regarded gula melaka as the superior twin of brown sugar as it's usually less processed and carries more complex tasting notes. These deeper flavours emerged as a rich caramel taste, adding depth to the sweet sponge. 
The buttercream was pleasantly light. The swirls of smooth avocado thrown into the mix brought down the sweetness level and offered a variation in texture with its creaminess.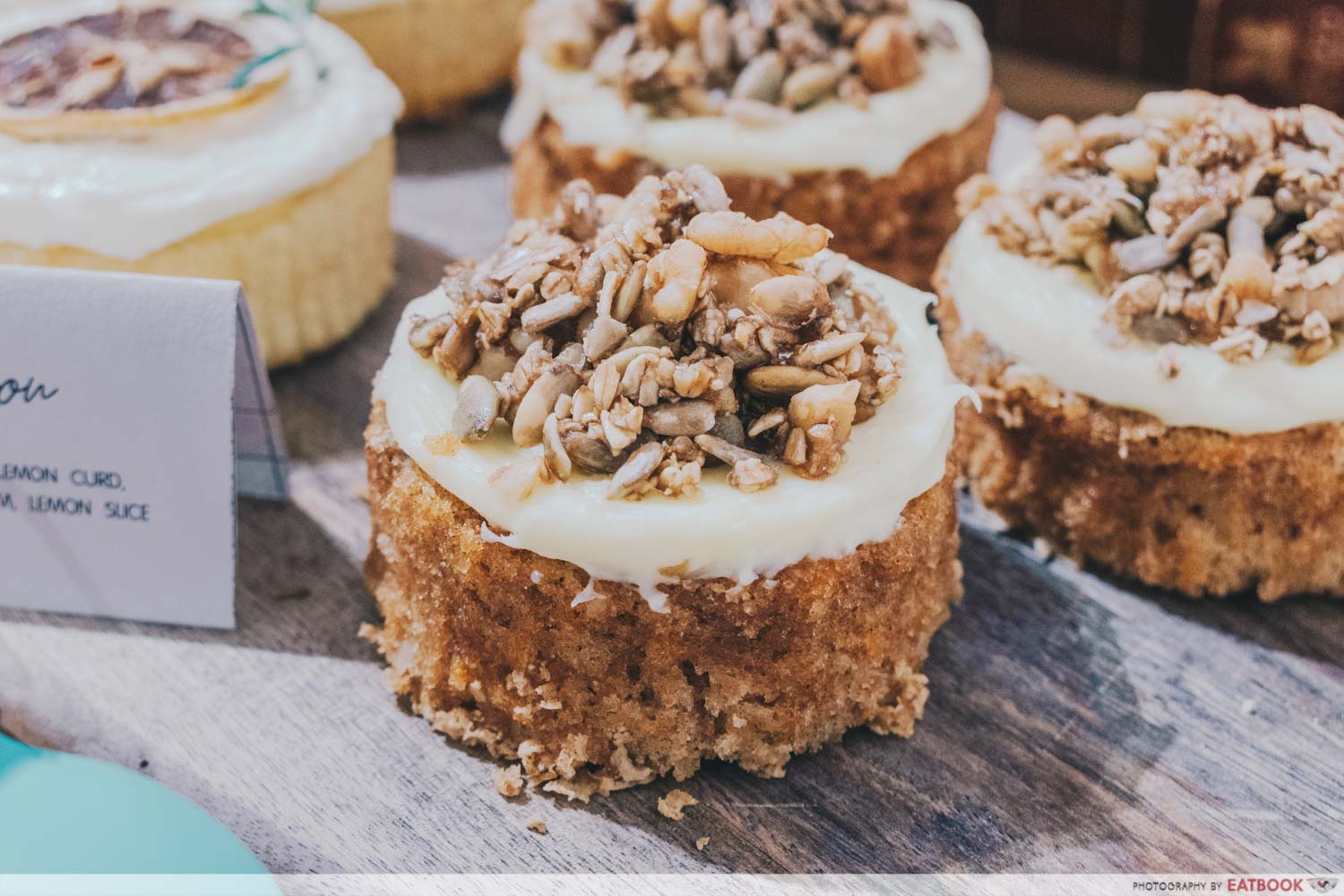 The Carrot Walnut Tea Cake ($6.50) had a different aesthetic compared to the other dainty cakes. Each crumbly round is topped with cream cheese frosting and a handful of honey-roasted nuts and seeds.
Splitting the tea cake in half, I noticed how the carrot walnut sponge had a much coarser crumb than their other cakes. The sponge was packed with finely shredded carrot, incorporating both moisture and a subtle sweetness into the batter. I appreciated the sticky assortment of nuts and seeds which were also lightly salted, as it added an earthy note to the otherwise rich frosting.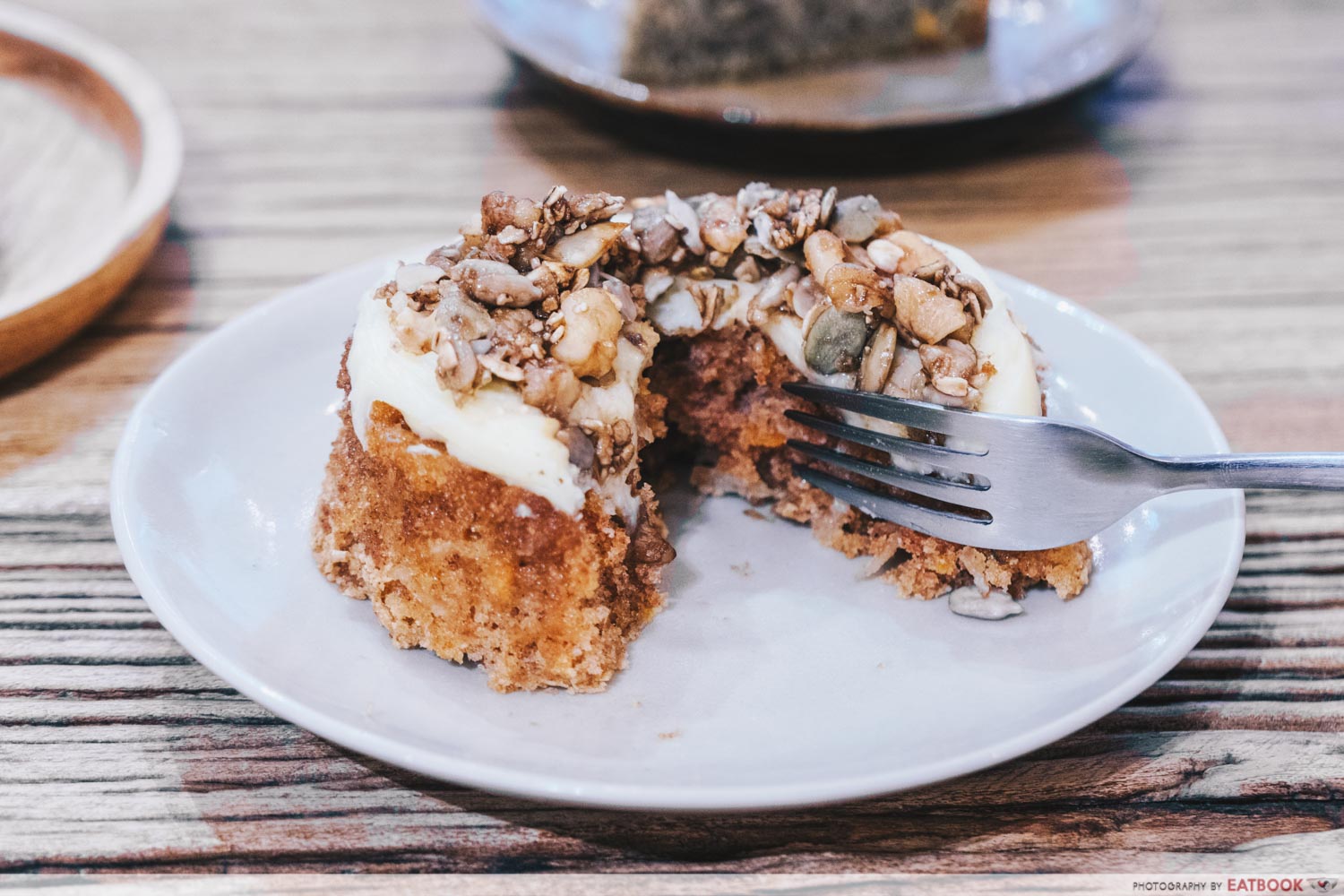 With my preference for lighter cakes, the strong mix of spices coupled with the nutty topping proved a little too heavy for my palate. My dining companion, on the other hand, liked this cake the most, favouring its comforting flavours.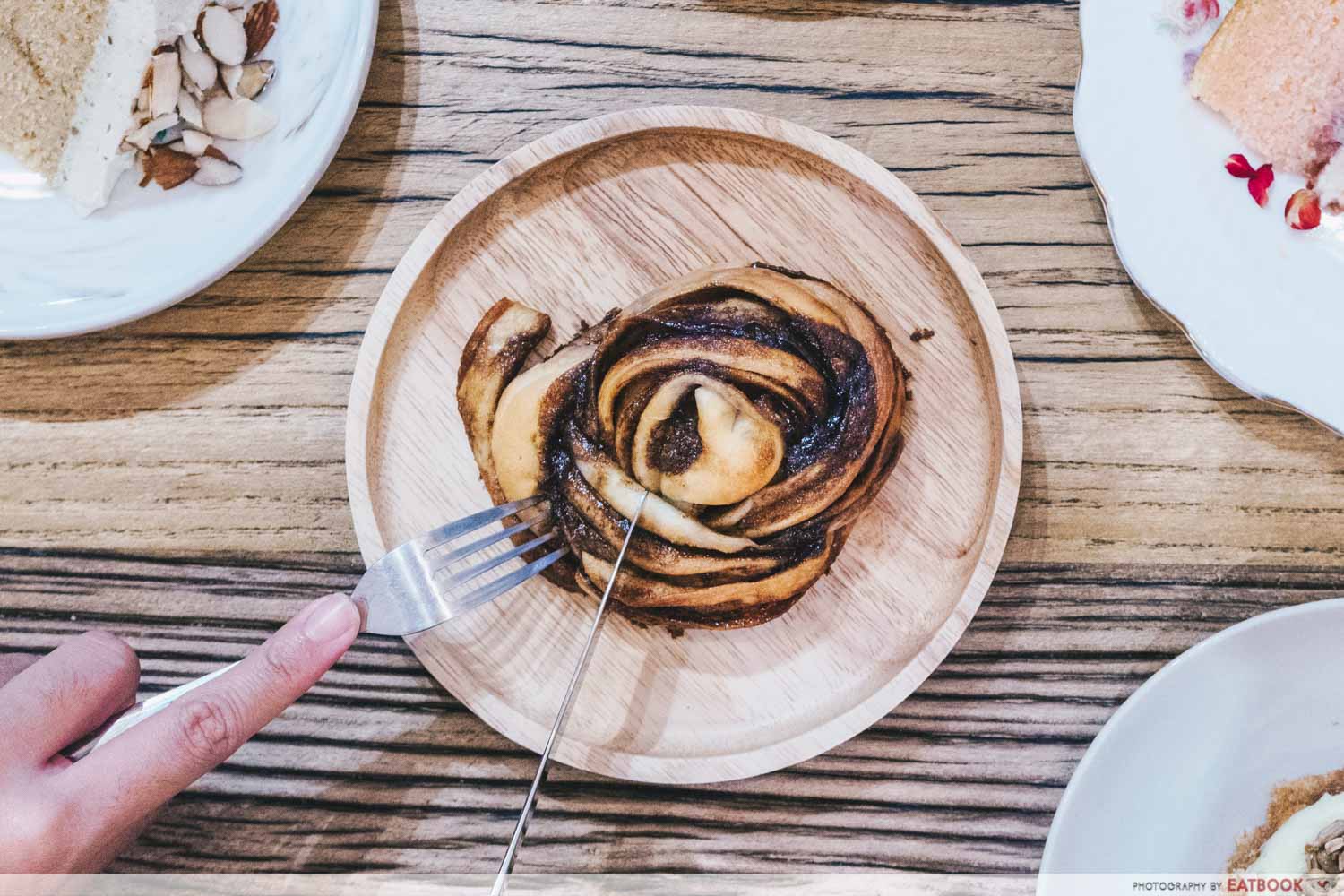 After getting our fill of cakes, we went for their Cinnamon Roll ($4.50) to take a break from all the sponge and cream. The shape of the roll was rather unique. Unlike the conventional fluffy, bun-shaped construction, the cinnamon pastry was much flatter, mimicking the shape of a large cookie.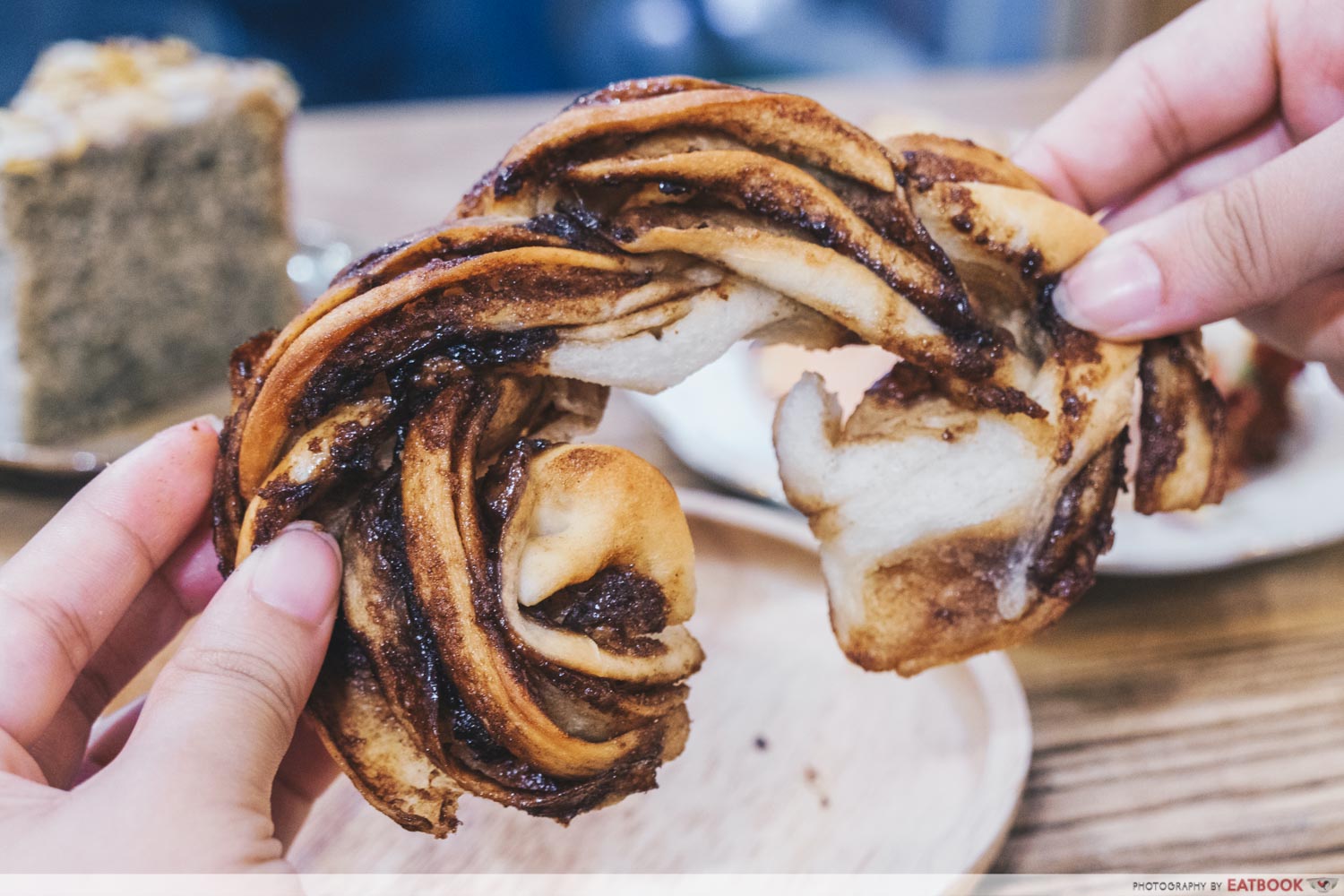 Tearing it apart released a sweet cinnamon spice fragrance. Its texture was as unique as its form. Around the outside, the thin folds of dough had been browned and baked into a crunchy, biscuity crust. Lying in the centre is a soft, pillowy dough that is buttery and chewy. After trying the cafe's take on a cinnamon roll, I doubt the conventional and one-dimensional fluffy version will ever satisfy me as much. 
Ambience at The Better Half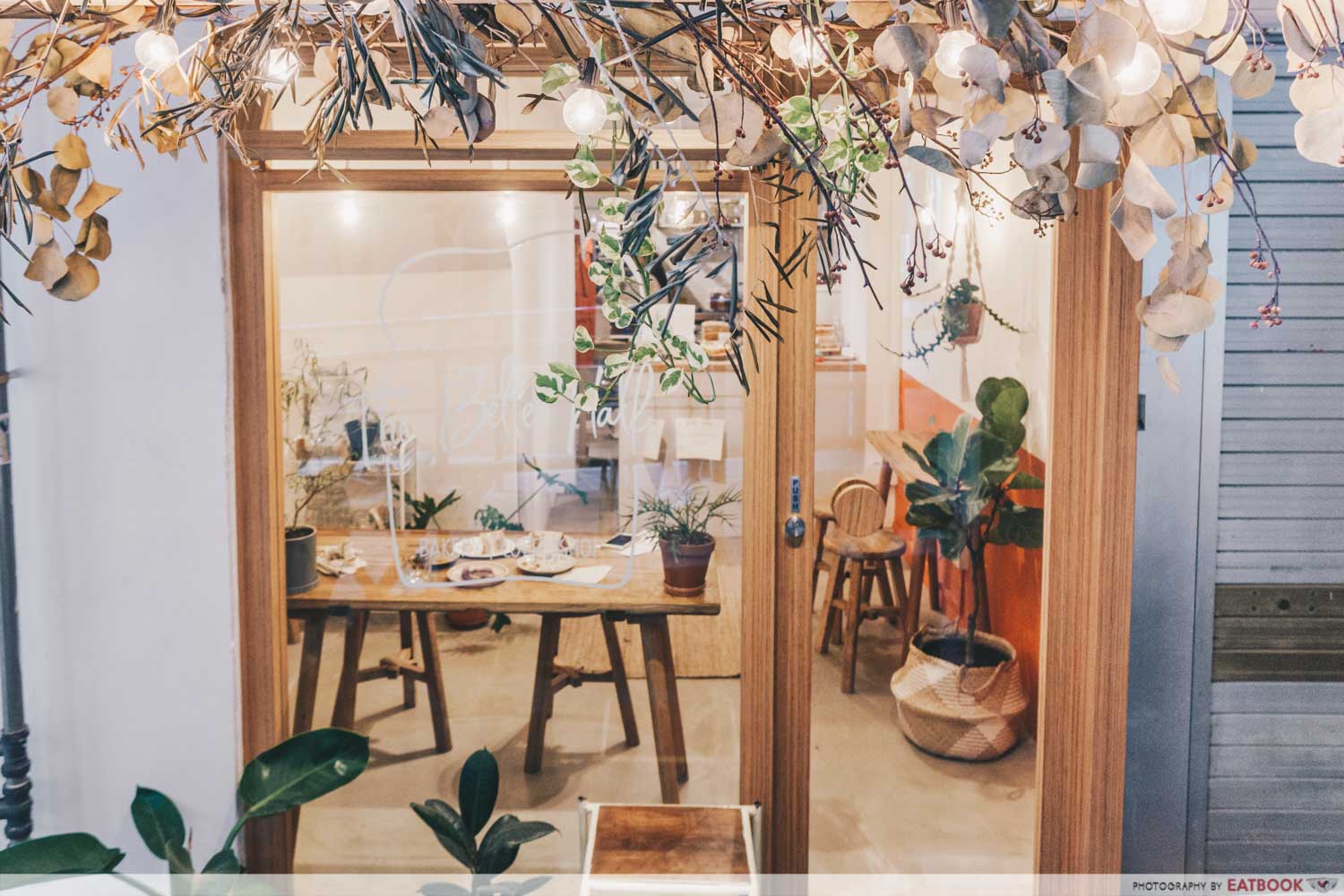 Situated only a five-minute walk away from Outram Park MRT Station, The Better Half is a single narrow unit, nestled in a limited space under a HDB block. If you're looking to chill with some coffee and pastries, it's probably best to head down during off-peak hours as the humbly sized cafe only has a total of four tables set up for dine-in customers.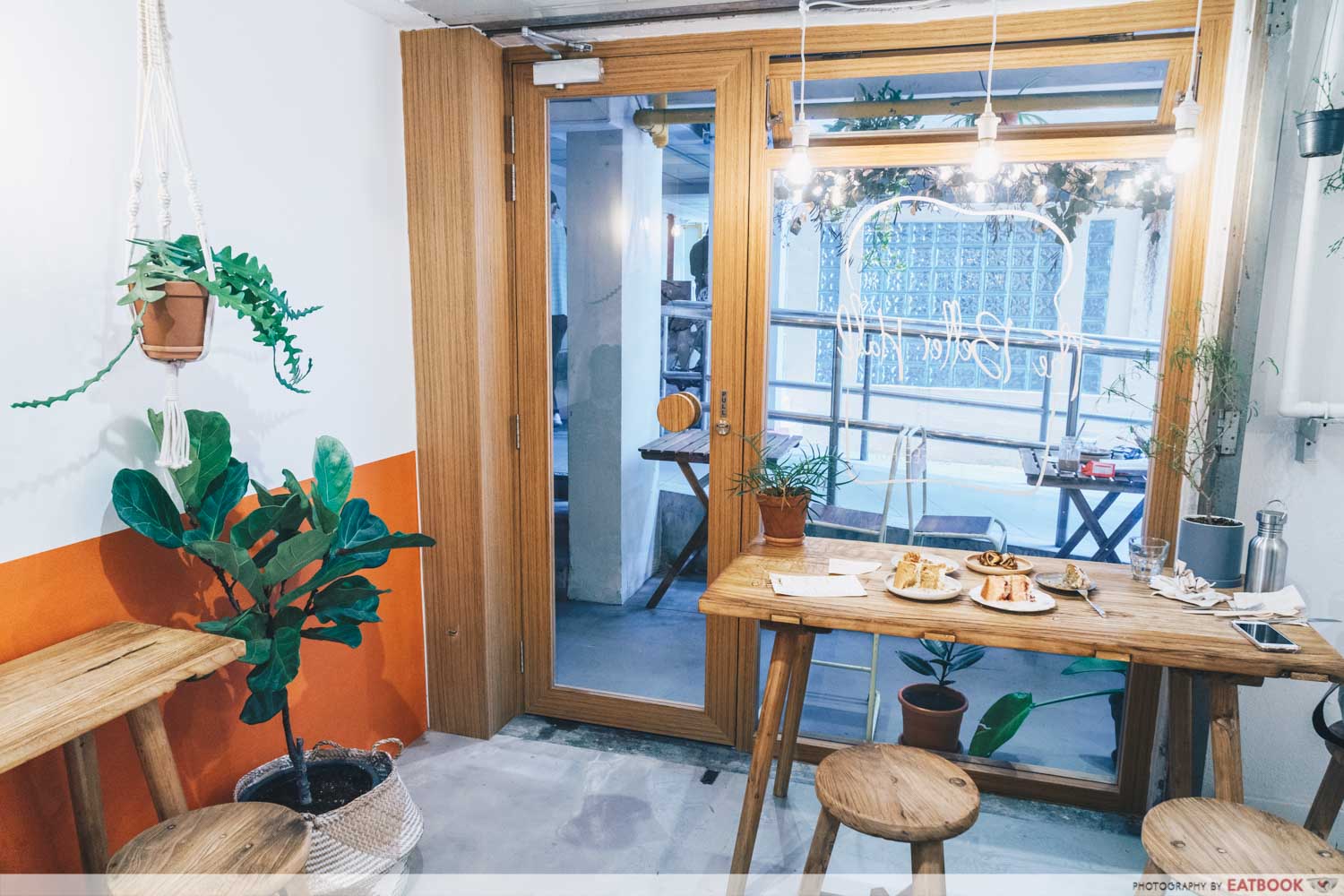 If it wasn't already clear that the owners have an eye for design, the cosily decorated cafe is another proof of that. With rustic-looking exposed lightbulbs, wooden furniture and green plants speckling the interior, the cafe exudes a warm and inviting atmosphere in spite of its quaint size.
The verdict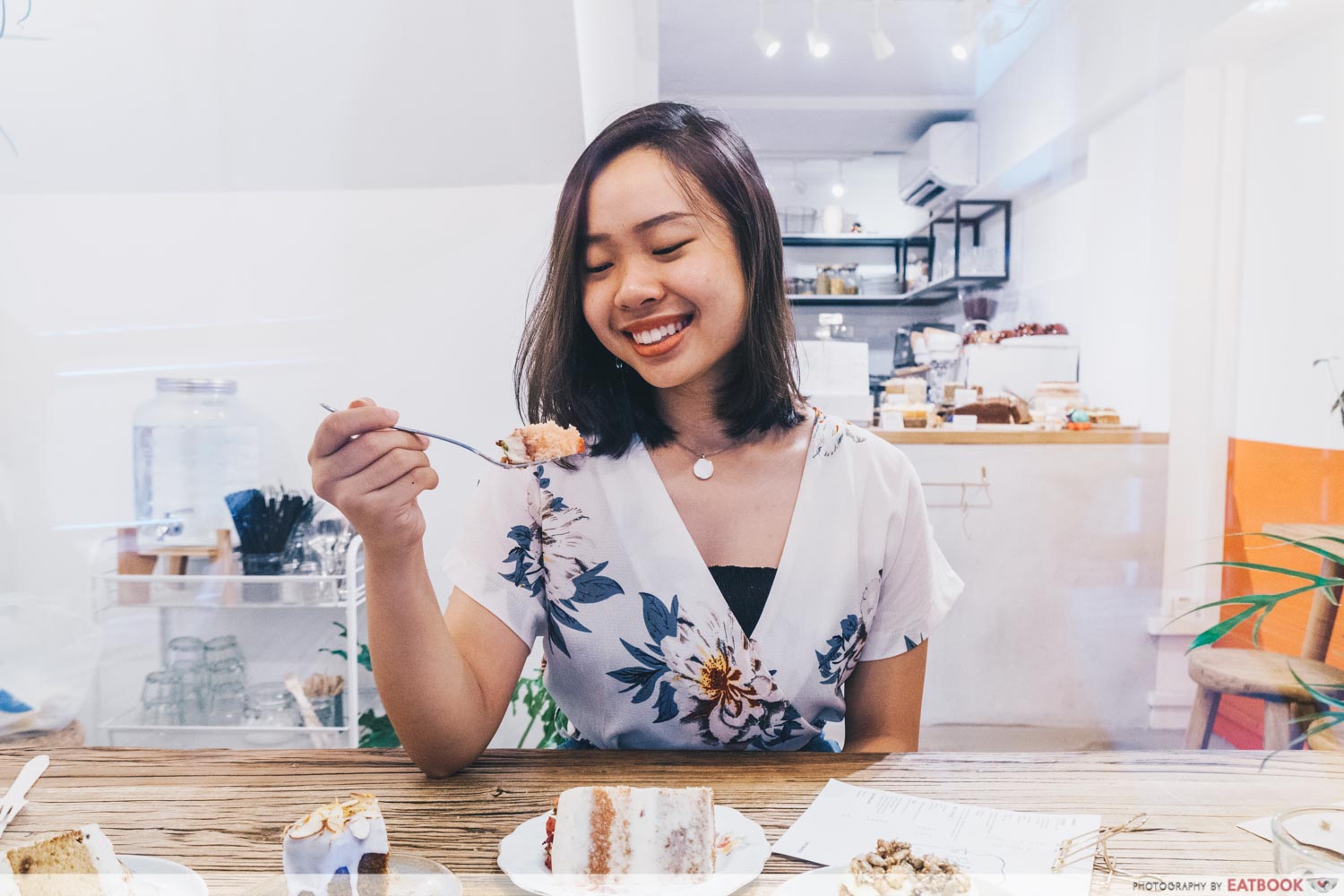 With the buttery smell of pastries and coffee permeating the cafe, I found myself slowly charmed by the peaceful ambience and lovely cakes before me. Perhaps this cafe is a testament to the joy that can be found when people make their passion into their profession. The owners have put their heart into each of their pretty pastries, and their efforts certainly show with the well thought-out flavours and the beautiful end products. However, I personally find it hard to fork out $8 for a single slice of cake on a regular basis; my visits to The Better Half will be reserved for special occasions.
If you're looking for more sweet treats from cafes under HDB blocks, check out our review of Three's A Crowd Cafe, or this list of HDB cafes in Singapore.
10 HDB Cafes Around Singapore With Chill Vibes And Affordable Food And Desserts
Address: 1 Everton Park, #01-43, Singapore 081001
Opening hours: Tues-Sun 10am to 5:30pm
Tel: 9248 7088
Website
Photos taken by Chng Jia Yan.
This is an independent review by Eatbook.sg.
The Better Half
Summary
Pros
– Beautiful cakes and pastries
– Cosy ambience
– Interesting flavour combinations
Cons
– Some flavours were a little too subtle
– Pricey
Recommended dishes: Rose Raspberry Slice ($8), Cinnamon Roll ($4.50) 
Opening hours: Tues-Sun 10am to 5:30pm
Address: 1 Everton Park, #01-43, Singapore 081001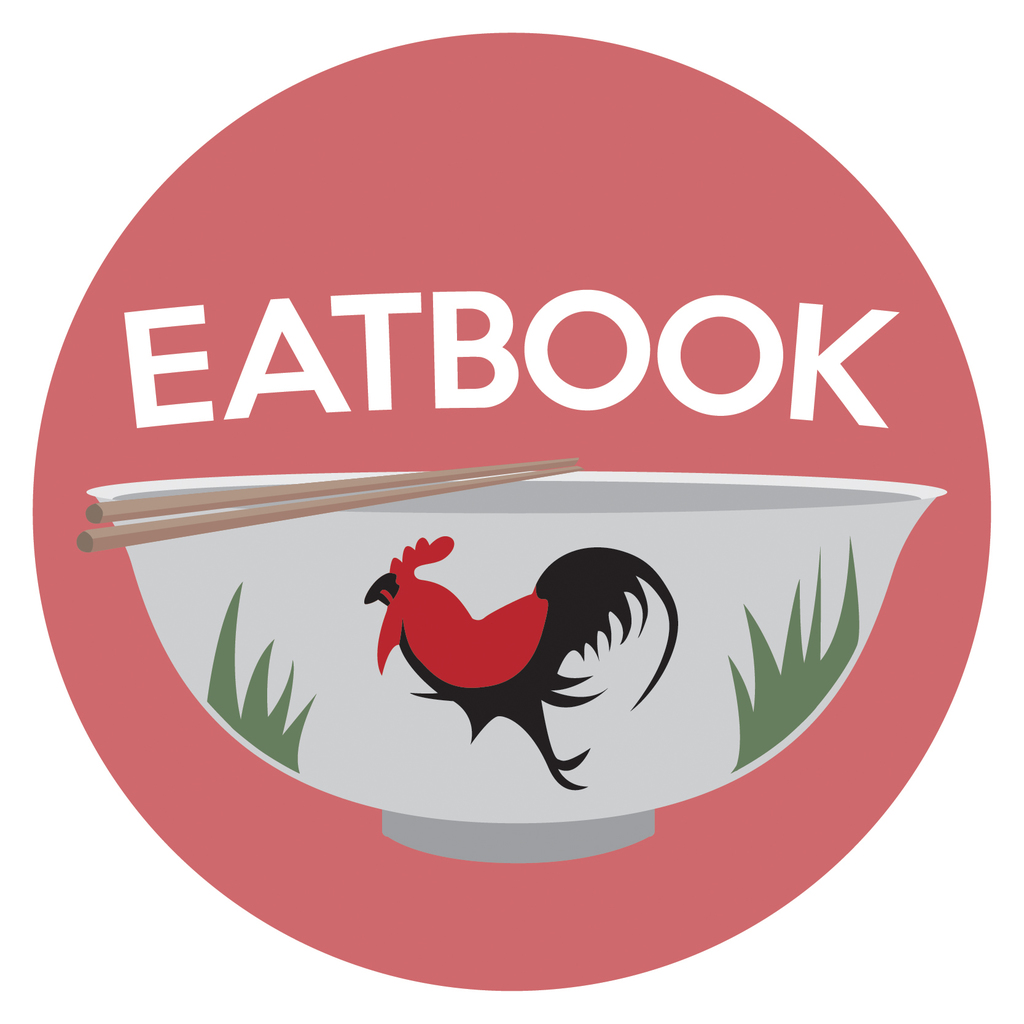 Drop us your email so you won't miss the latest news.