Madu The Bakery near Farrer Park for sweet and savoury bakes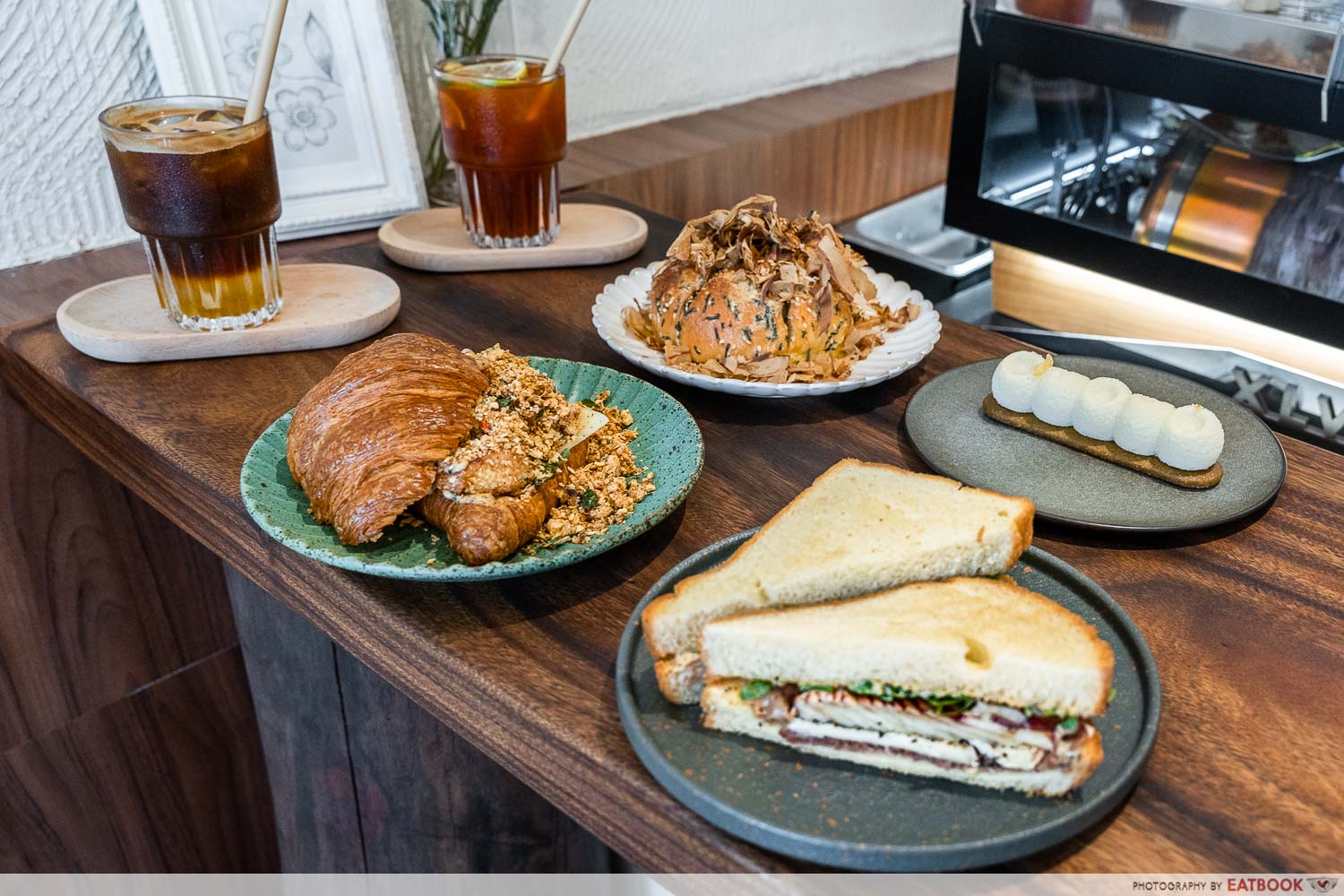 Located near Boon Keng, Madu The Bakery is a former home-based business that opened a brick-and-mortar store selling delicious croissants and savoury buns. Named after the Indonesian word for 'honey', the bakery and cafe is headed by a young baker from Medan, who churns out delicious bakes in trendy flavours such as mentaiko and even cereal prawn.
Food at Madu The Bakery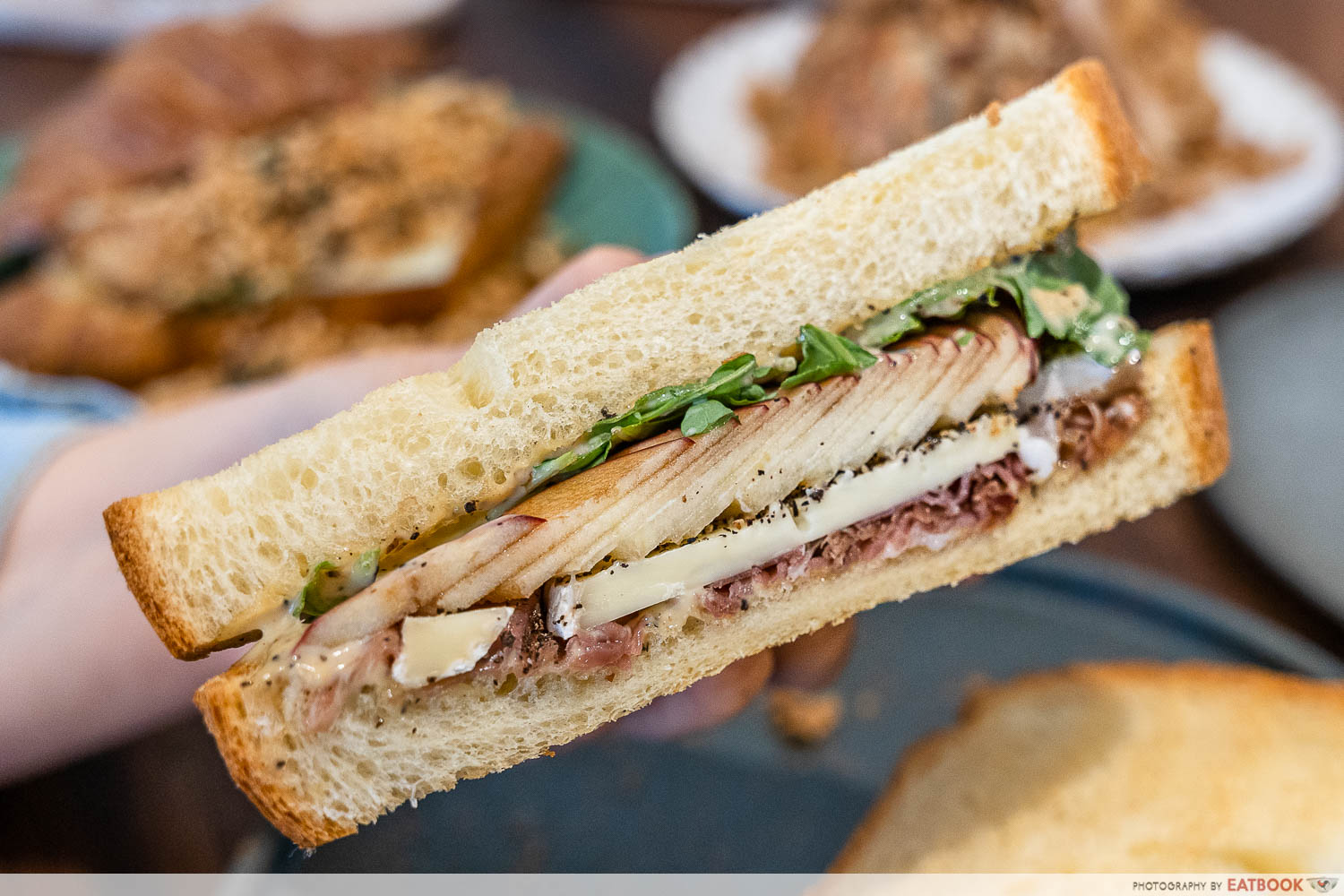 My colleague who's a big fan of the bakery insisted that I try the Apple Brie Parma ($15.90+). She watched eagerly as I bit into the soft bread, which sandwiched a layer of sweet apples, peppery arugula, and creamy brie cheese.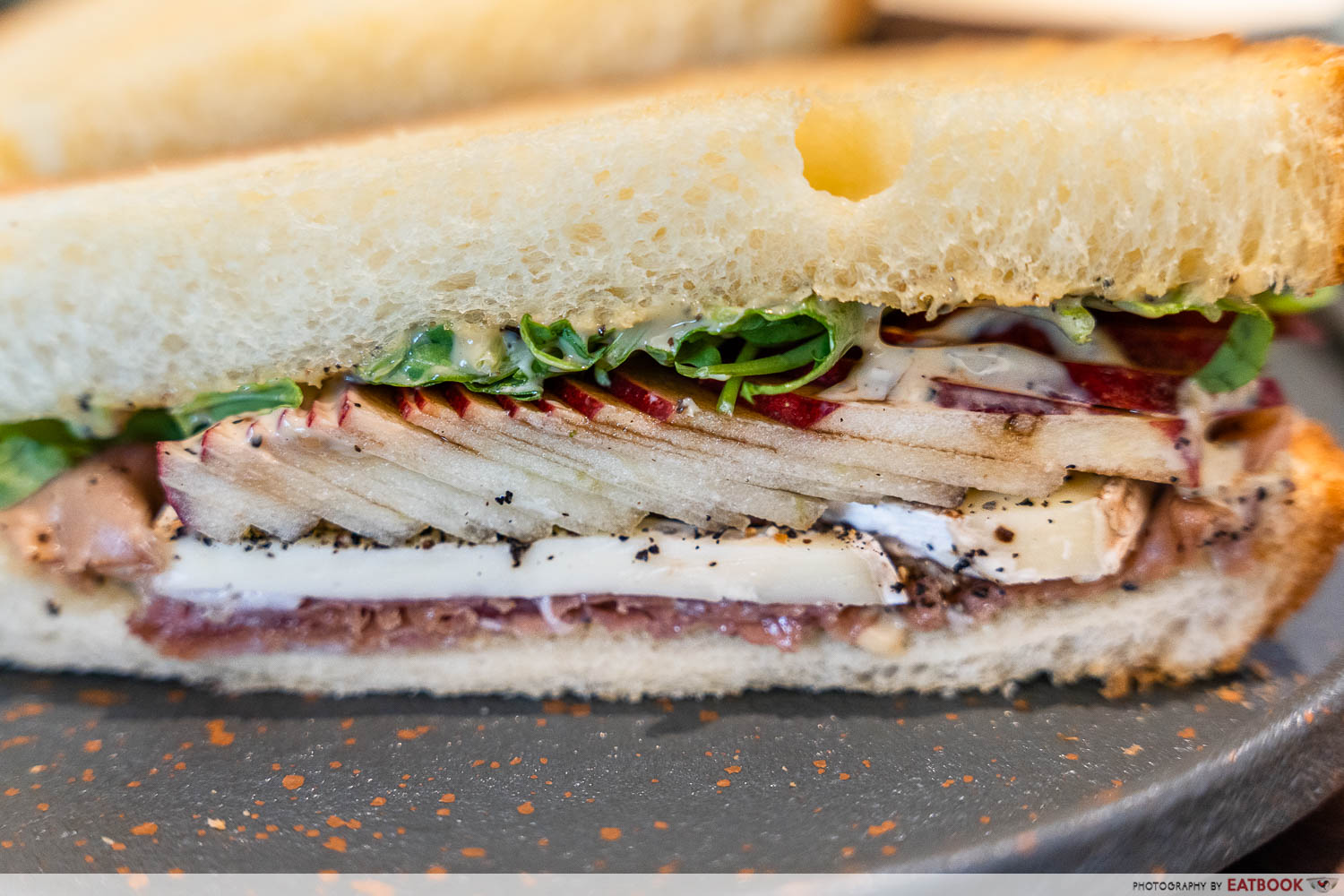 There was an interesting amalgamation of flavours, from the sweetness of the apples to the creaminess of the brie cheese and tangy balsamic vinegar. The best way to describe this sandwich is to liken it to a cheese platter, but with all the components in one bite.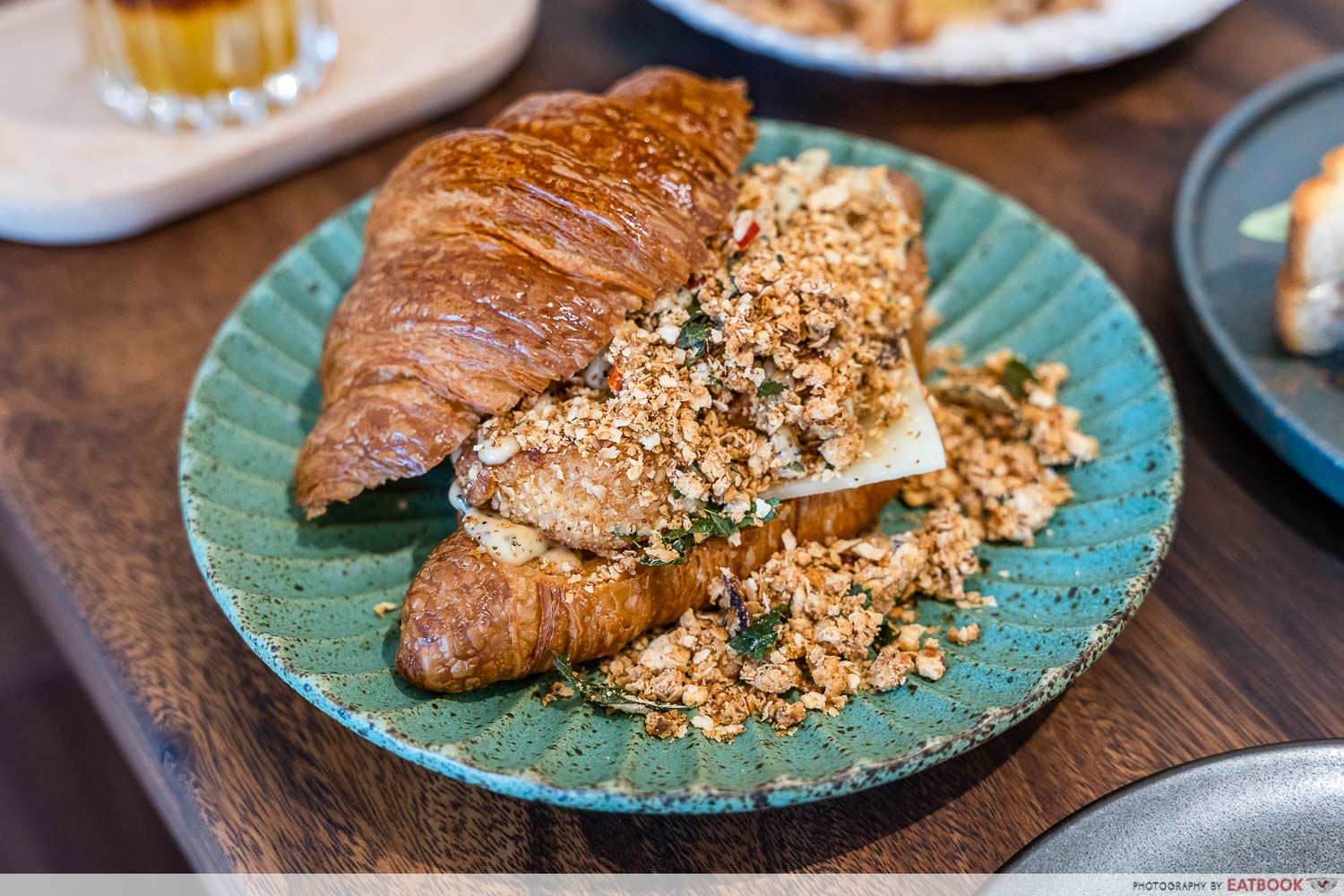 My personal favourite was the Cereal Prawn Croissant ($13.90+), which is creatively inspired by the popular zi char dish. This item saw the bakery's classic Lescure Butter Croissant stuffed with cheddar cheese, chunky tiger prawns, and crispy cereal crumbs. There was also a drizzle of tangy yuzu mayo and some chilli flakes for a spicy kick.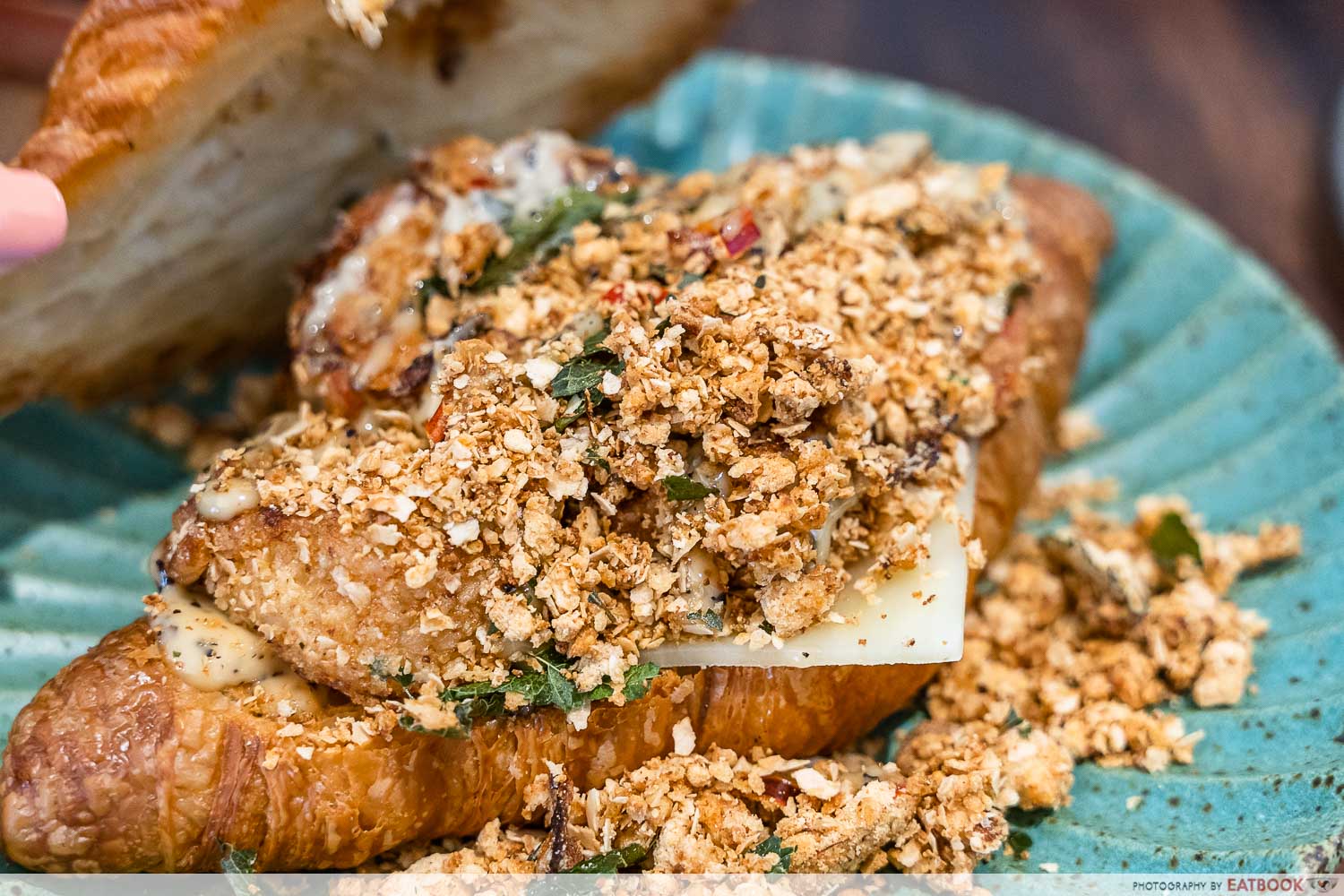 The prawns were sweet and paired well with the sharp cheese and refreshing yuzu mayo. My only complaint was that the cheese could have been melted to add some creaminess to the crunchy croissant. There were hints of spiciness as well, but nothing I couldn't handle.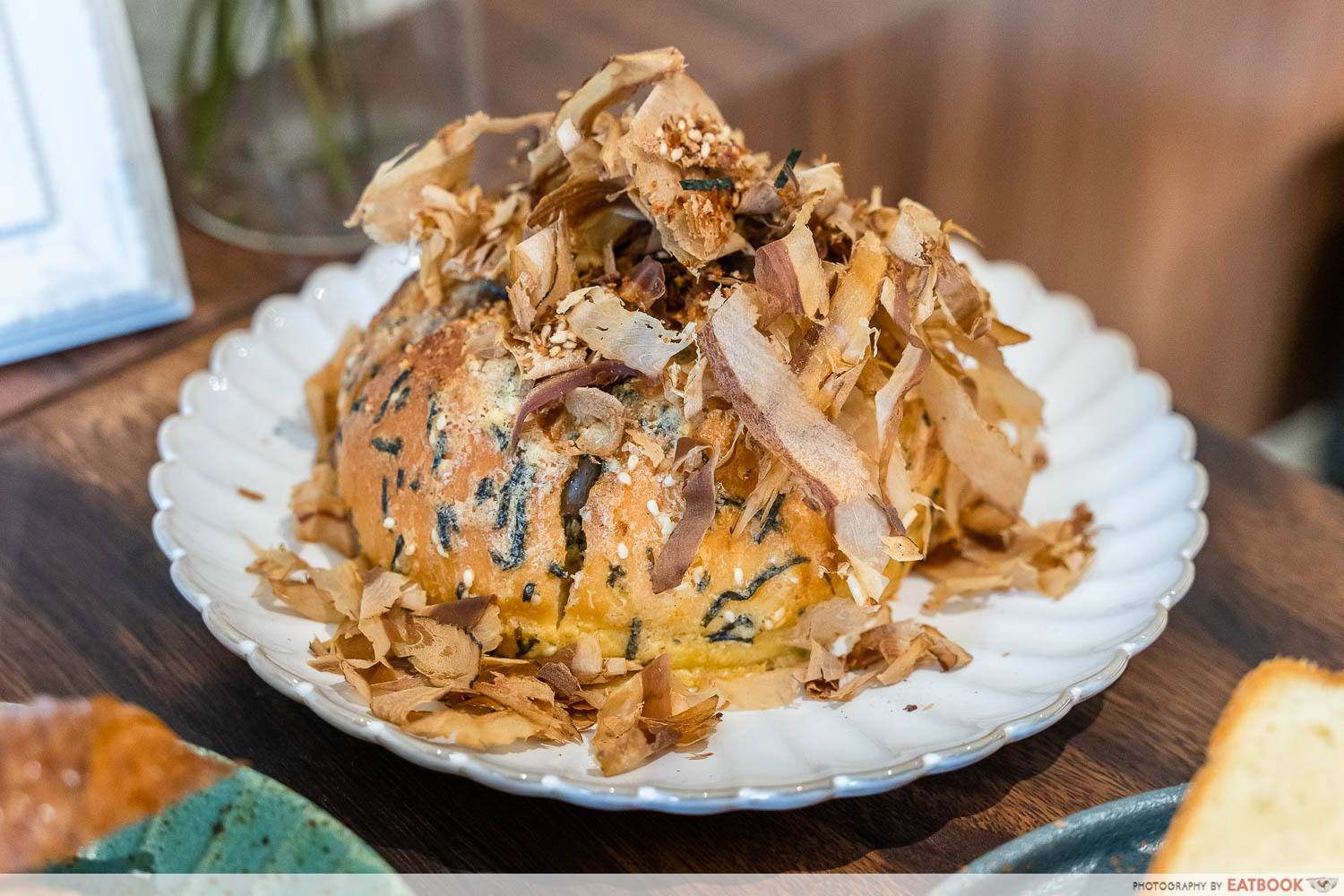 Madu The Bakery is also known for their savoury buns, which come in three different flavours: Classic Garlic ($5.50+), Umami Mushroom ($6+), and Mentaiko ($6.50+). We had the house-made mushroom brioche bun, which was covered in bonito flakes and furikake. The bun was very pillowy, but the most delicious part was its inside, which was stuffed with shoyu-glazed shimeji and shiitake mushrooms.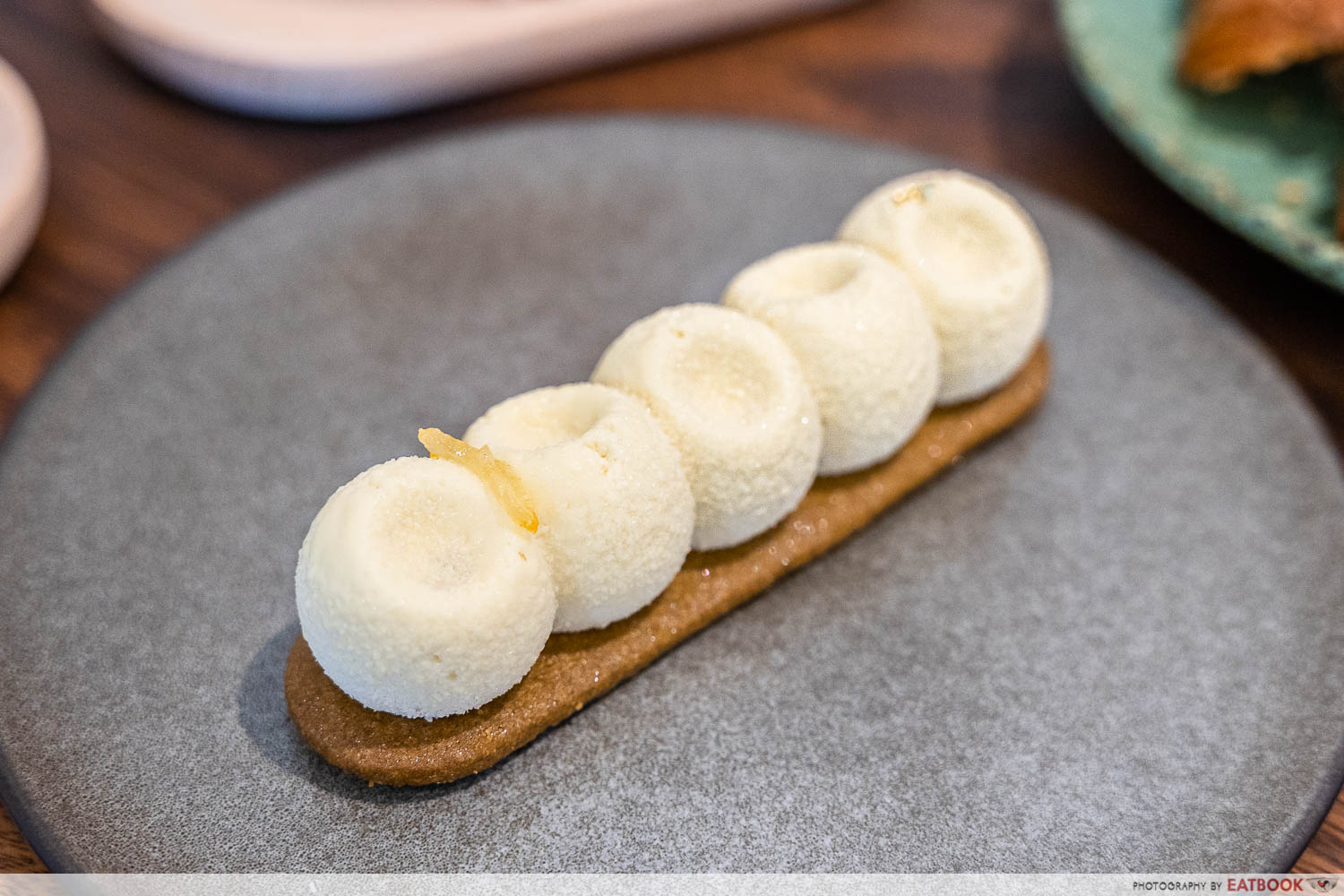 As full as I was, I was surprised that I still had the appetite for dessert. I ordered the eye-catching Yuzu Jasmine ($9+), a citrusy confection consisting of jasmine curd and yuzu mousse. The curd was encased in a white chocolate crust, which sat atop a genmaicha sable biscuit.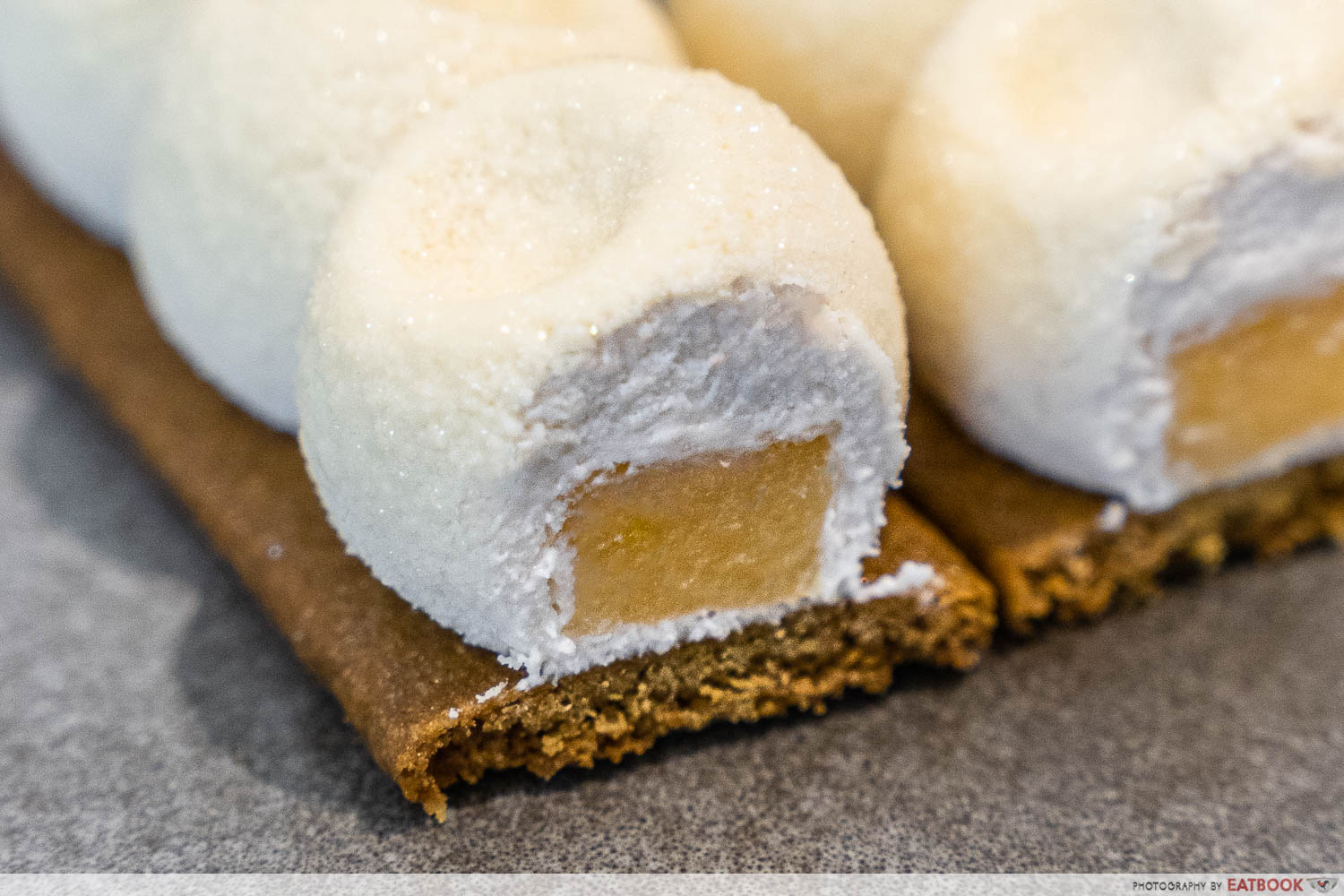 The yuzu and jasmine flavours were light and hit all the sweet spots without being overpowering. I was hoping that the sable biscuit would be more buttery but also didn't mind it that much as it offered an extra crunch. After having had a lot of savoury food with strong flavours, this dessert proved to be a refreshing way to end the meal.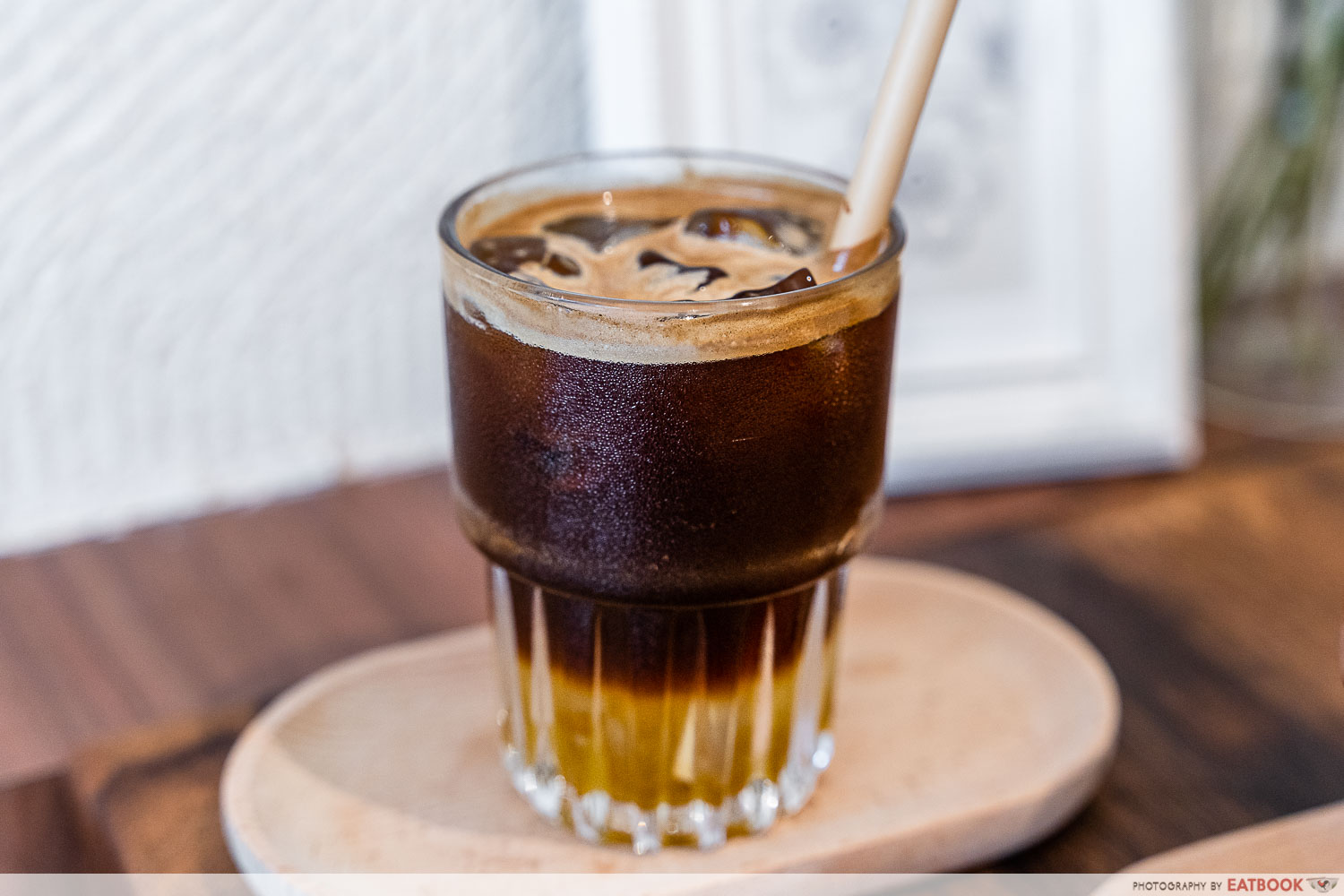 For drinks, I had the Yuzu Espresso Tonic ($5+), an aesthetic concoction with light blue hues—courtesy of the cafe's house-brewed blue pea extract. This citrusy soda was a good thirst quencher, with a dose of caffeine offering some bittersweet flavours to the zesty drink. It also had bits of yuzu fruit inside.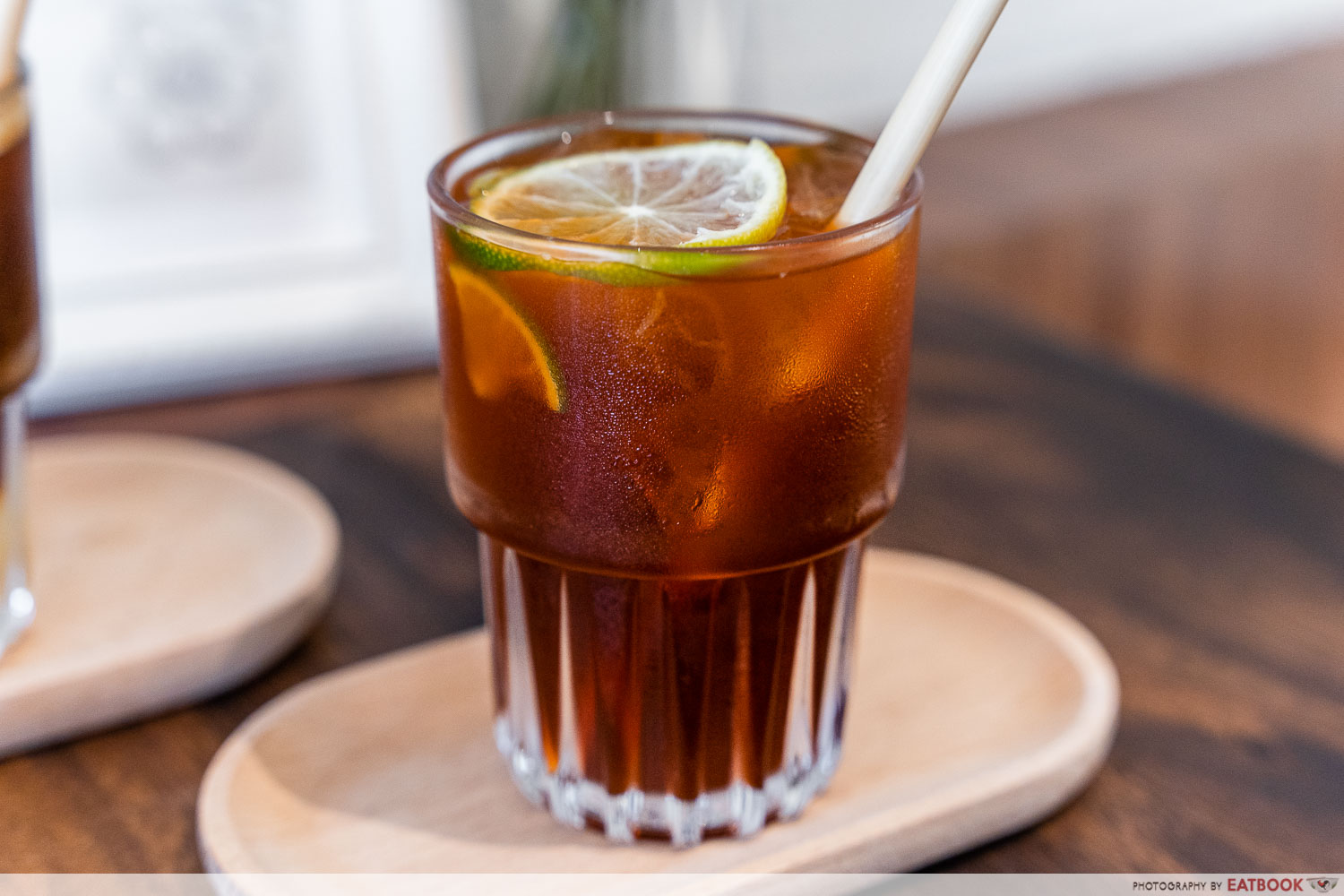 My colleague had the Madu Iced Lime Tea ($5+), which is the bakery's house-brewed Thai red tea with fresh lime and honey. This drink tasted similar to honey lemon tea, but sweeter and with a slightly bitter aftertaste from the strong tea.
The Nursery Cafe & Bar Review: New Garden-Themed Cafe In Sembawang With Brunch Food And Bar Bites
Ambience at Madu The Bakery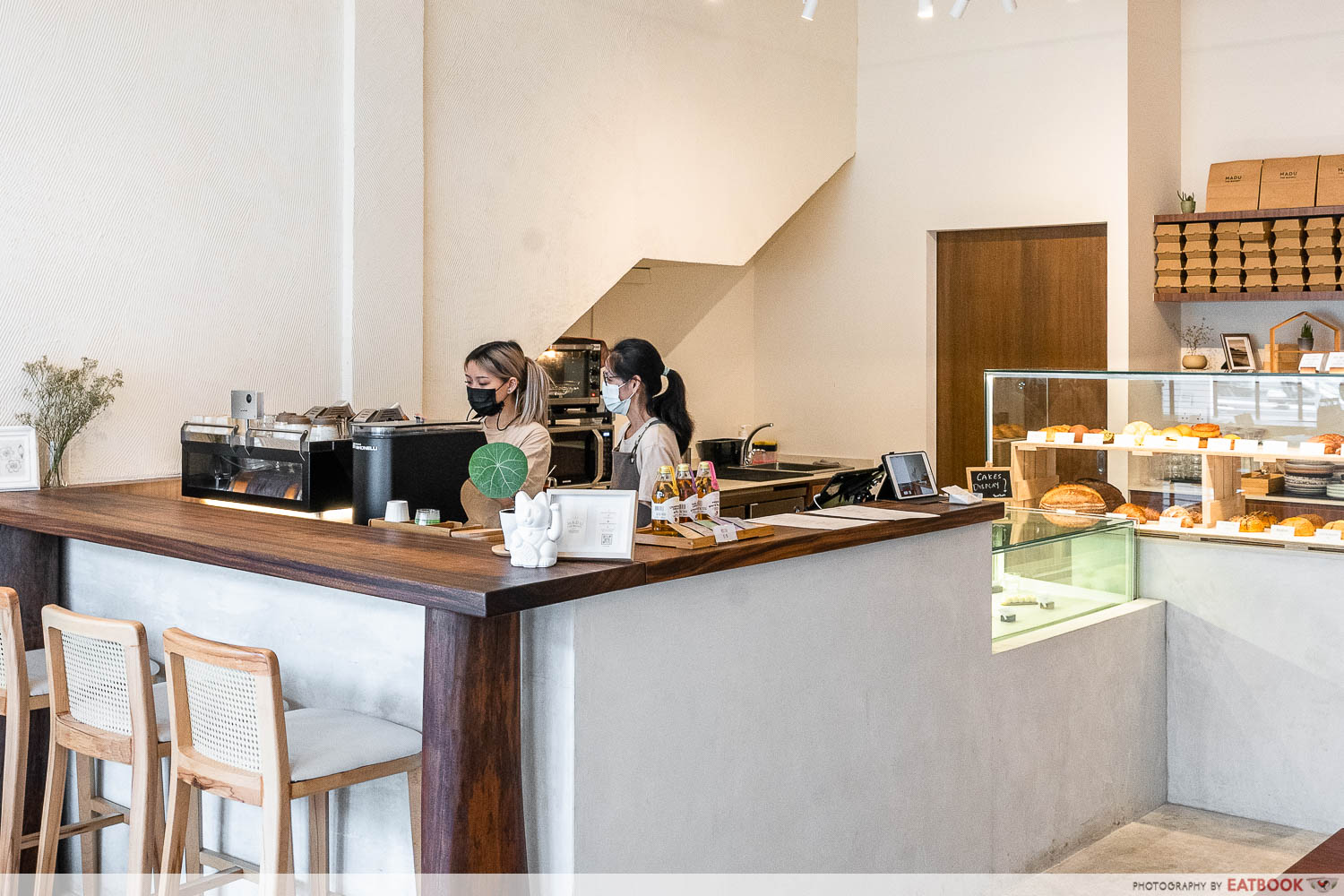 I can't pinpoint what exactly gives Madu The Bakery its overseas cafe vibes. Perhaps it's the space's resort-like aesthetic or the wooden accents and high ceiling that made me feel as though I'd stumbled into a cafe in Bali. The vibe was so relaxing that one can stay here the whole day sippin' coffee by the tree stump tabletop, or lazing on the MUJI-style couch with a good book in hand.
Madu The Bakery is a nine-minute walk from Boon Keng MRT Station or a six-minute walk from Farrer Park MRT Station.
The verdict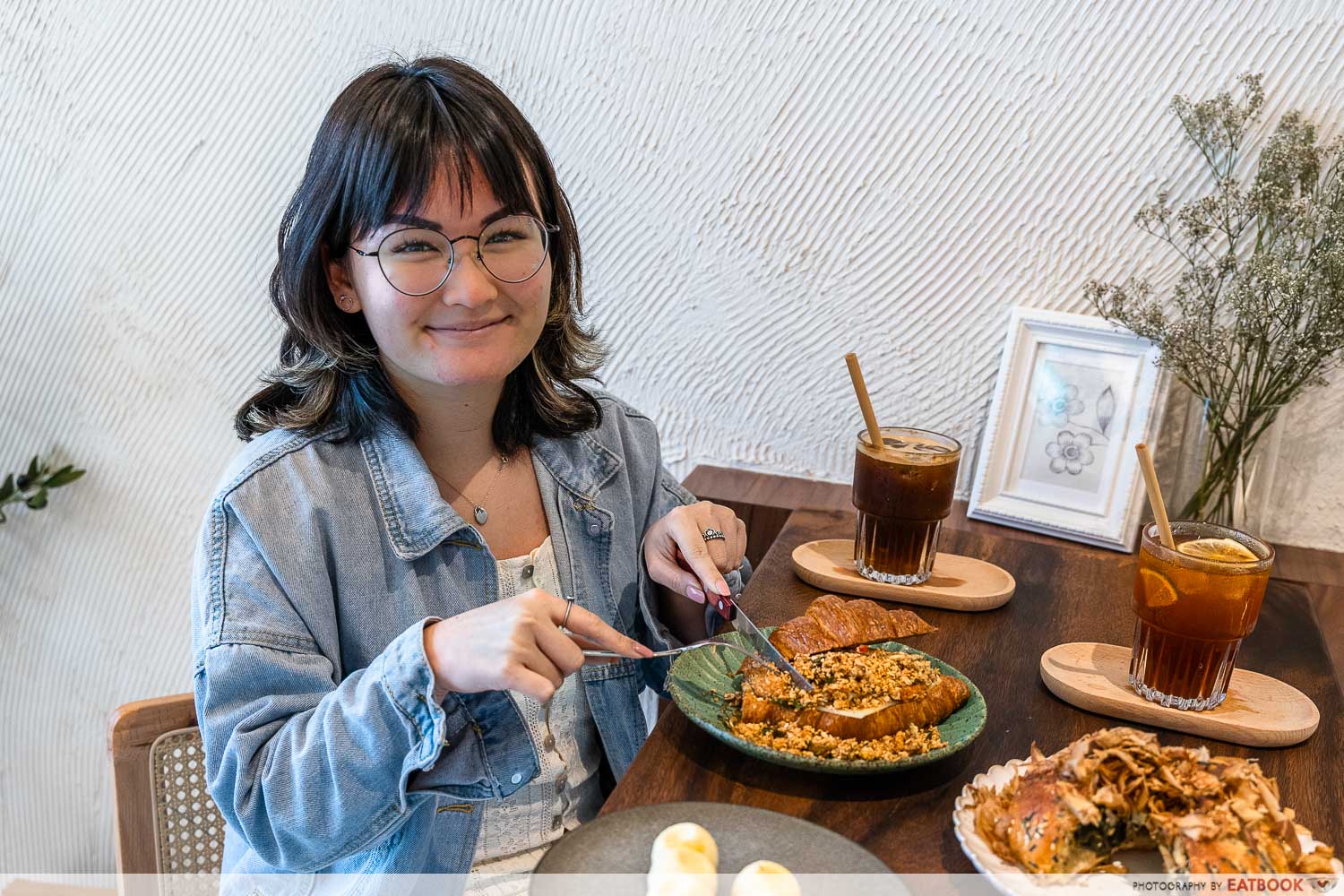 I finally understand why my colleague was so excited to review Madu. There's something about the cafe that makes it feel like home, and the food is also memorable enough to leave me craving for more—especially the Apple Brie Parma and Cereal Prawn Croissant. I'm glad my office is in Boon Keng, and even if it wasn't, I would come here just for a taste of their delicious bakes.
For more bakeries worth checking out, read up on these four bakeries that sell TikTok-viral cream croissants! Else, check out our Missus review for cheesy grilled sandwiches.
Address: 421 Race Course Road, Singapore 218668
Opening hours: Tue-Sun 10am to 8pm
Tel: 8750 7672
Website
Madu The Bakery is not a halal-certified eatery.
4 Bakeries That Sell TikTok-Viral Cream-Filled Croissants In Singapore
Photos taken by Casandra Nicholas and edited by Tan Zi Hui.
This was a media tasting at Madu The Bakery.
Madu The Bakery Review: Bakery Near Farrer Park MRT With Cereal Prawn Croissants And Shiitake Mushroom Buns
Madu The Bakery Review: Popular Cafe With Cereal Prawn Croissants And Shiitake Mushroom Buns -

8.5/10
Summary
Pros
– Good variety of sweet and savoury buns and croissants
– Relaxing ambience with overseas vibes
Cons
– Popular bakes sell out fast
Recommended dishes: Apple Brie Parma ($15.90+) and Cereal Prawn Croissant ($13.90+)
Opening hours: Tue-Sun 10am to 8pm
Address: 421 Race Course Road, Singapore 218668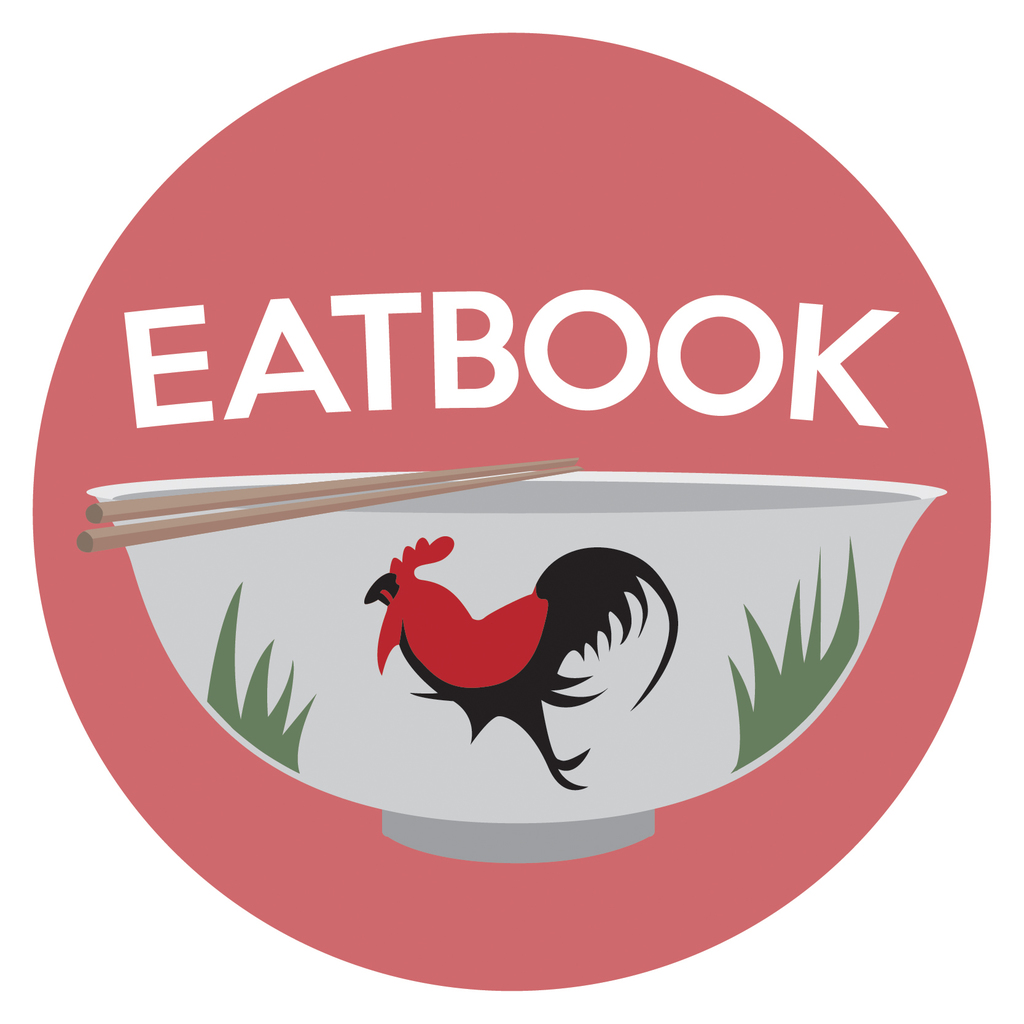 Drop us your email so you won't miss the latest news.