The Nursery Cafe & Bar in Sembawang for brunch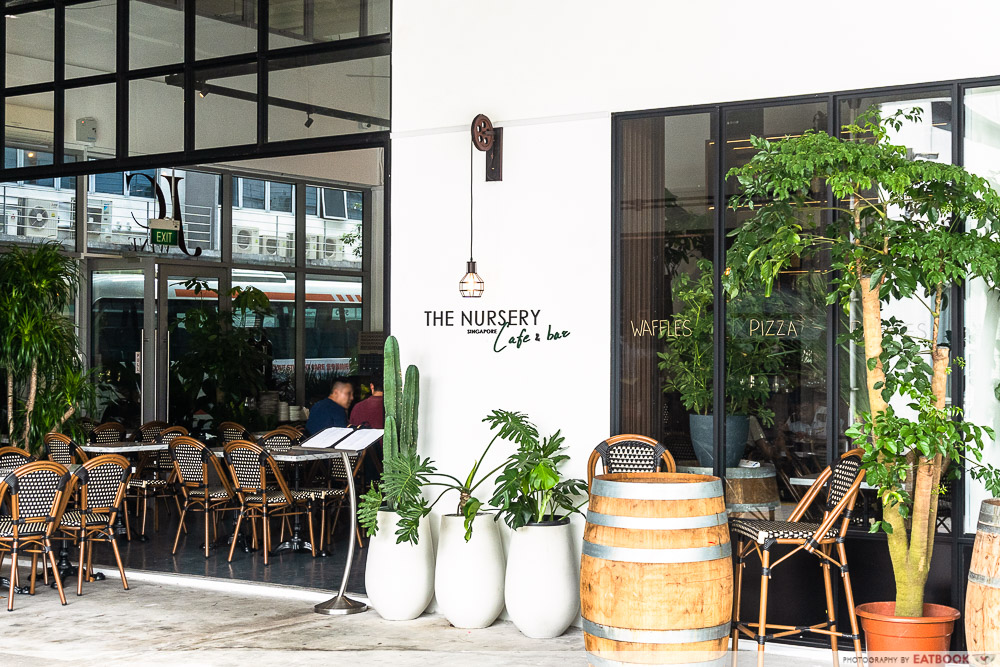 If you live in the North and love botanical cafes, we've got news for you: The Nursery Cafe & Bar is a new cafe in Sembawang serving popular brunch fare. Located at Gambas Crescent, the cafe has currently soft launched with bar bites such as pizza, pastries, and waffles.
Food at The Nursery Cafe & Bar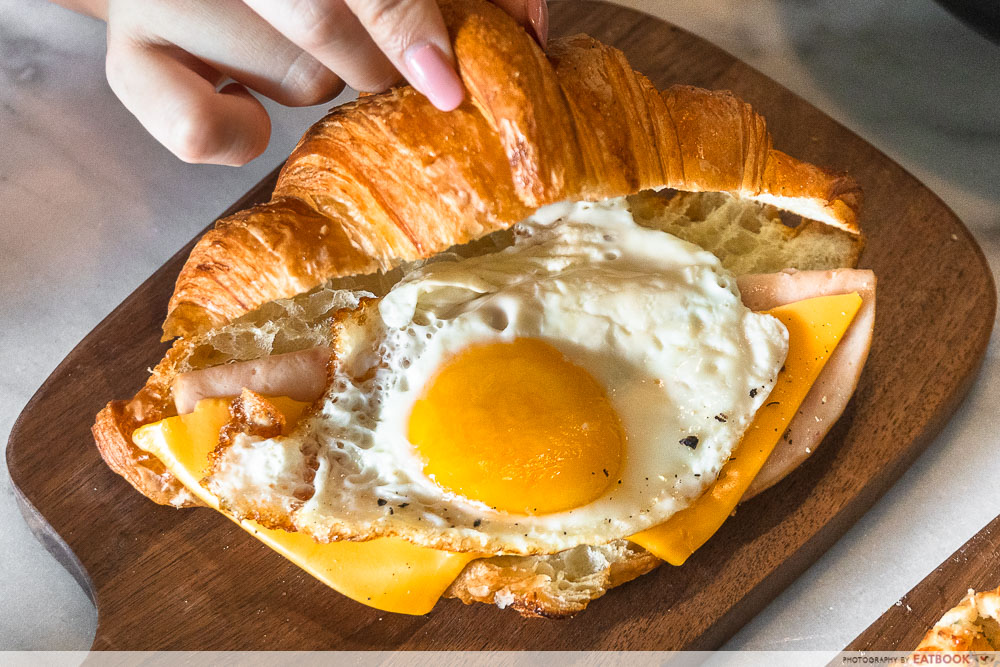 We kickstarted our appetite with the Nursery HEC Croissant (S$12.90++), which was stuffed with egg, ham, and cheese. Visually, the croissant looked quite substantial. It also felt flaky to the touch.
Unfortunately, the croissant's inner layers were on the soggy side—possibly due to the gooey sunny side up—but the egg was creamy and added savouriness to the otherwise plain croissant.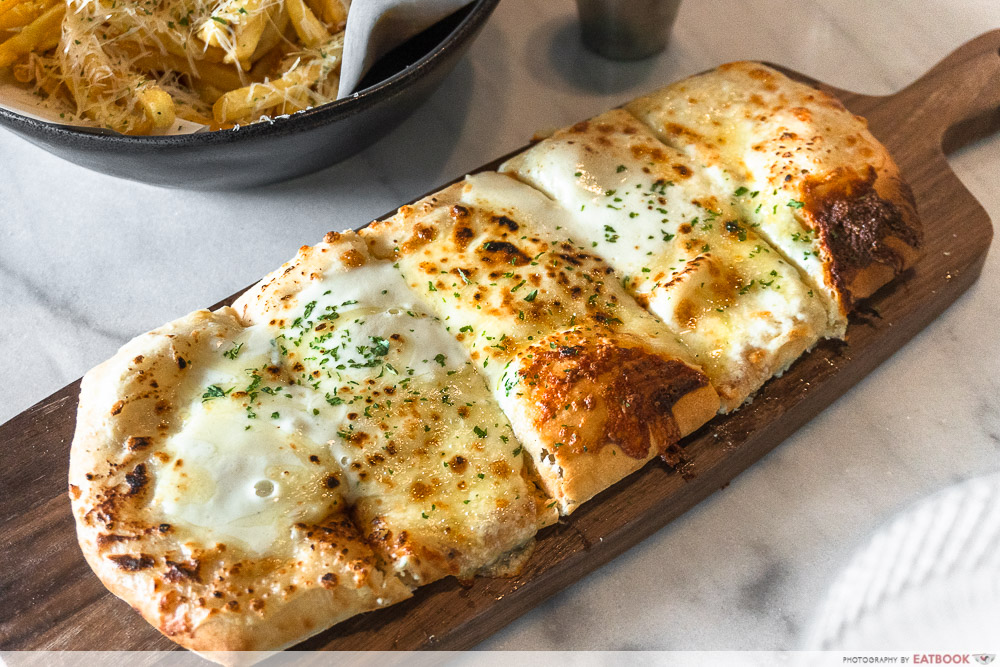 We also ordered the Four Cheese Pizza ($12.90++) to share. This was a simple-looking pizza generously slathered in mozzarella, mascarpone, blue cheese, and Gran Moravia, an Italian aged cheese similar to parmesan.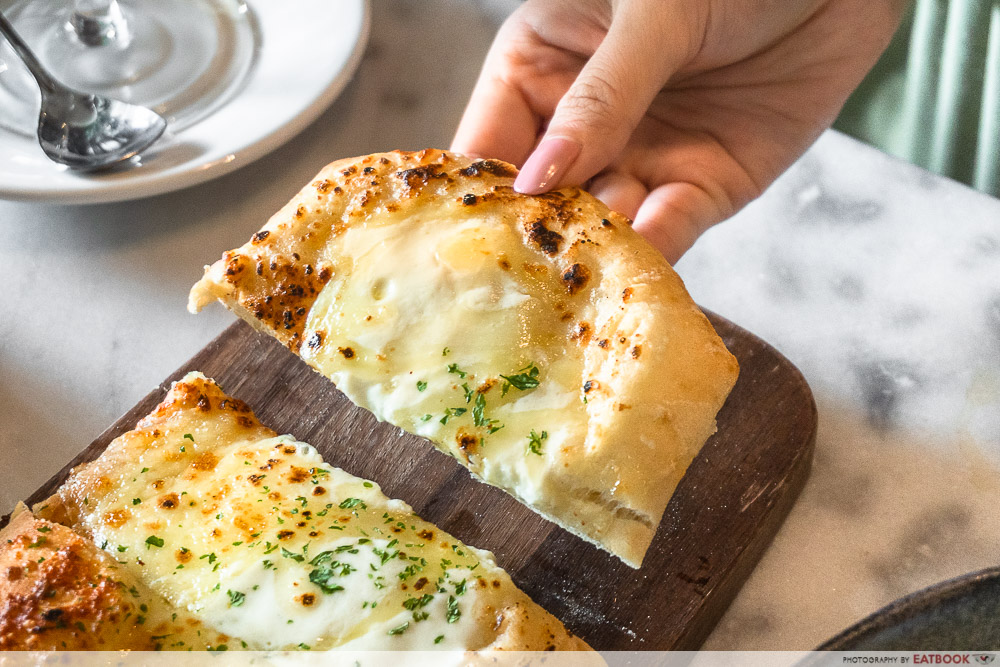 While I'm not a fan of pizza with thick crusts, I enjoyed the chewy dough here, which helped to make the cheese less jelak. Kudos to the cafe for making the pizza super cheesy and fragrant! My only issue with this pie was that some parts were hard to chew—especially the bottom of the crust.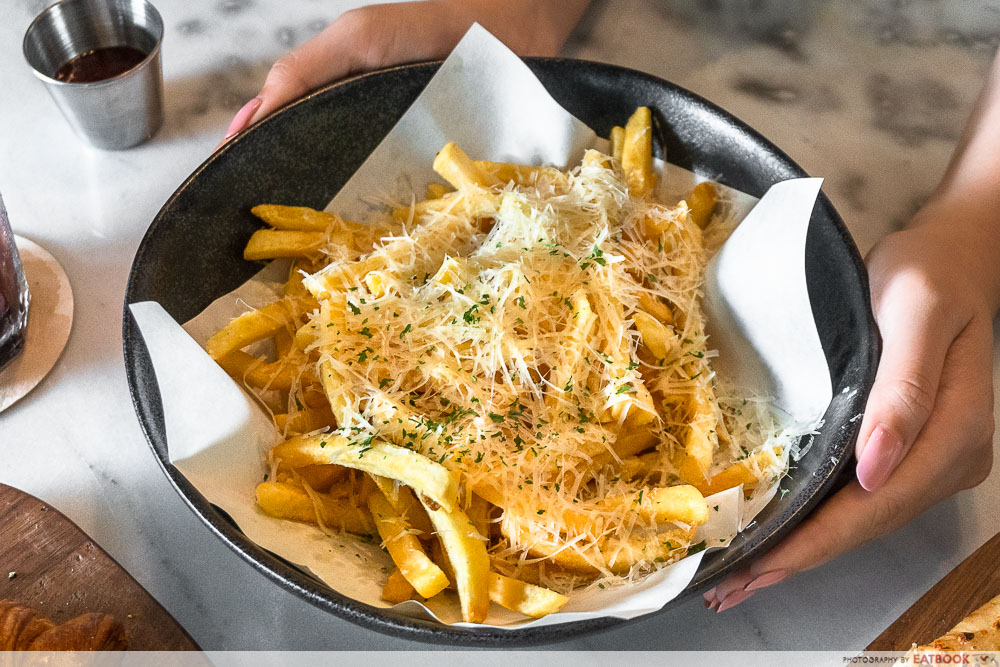 If you're still feeling peckish, go for the addictive Truffle Fries ($12.90++), which was topped with shredded cheese and had a strong truffle aroma. I especially enjoyed how they were crispy on the outside and had soft, fluffy insides.
This Hidden Garden Cafe In Fort Canning Has Gorgeous Floral-Themed Decor
To end the meal, we got the Coconut Affogato ($7++), an Italian dessert consisting of vanilla ice cream topped with an espresso shot. While the espresso was strong and slightly overpowered the coconut flavour, it was still a delicious and energising dessert.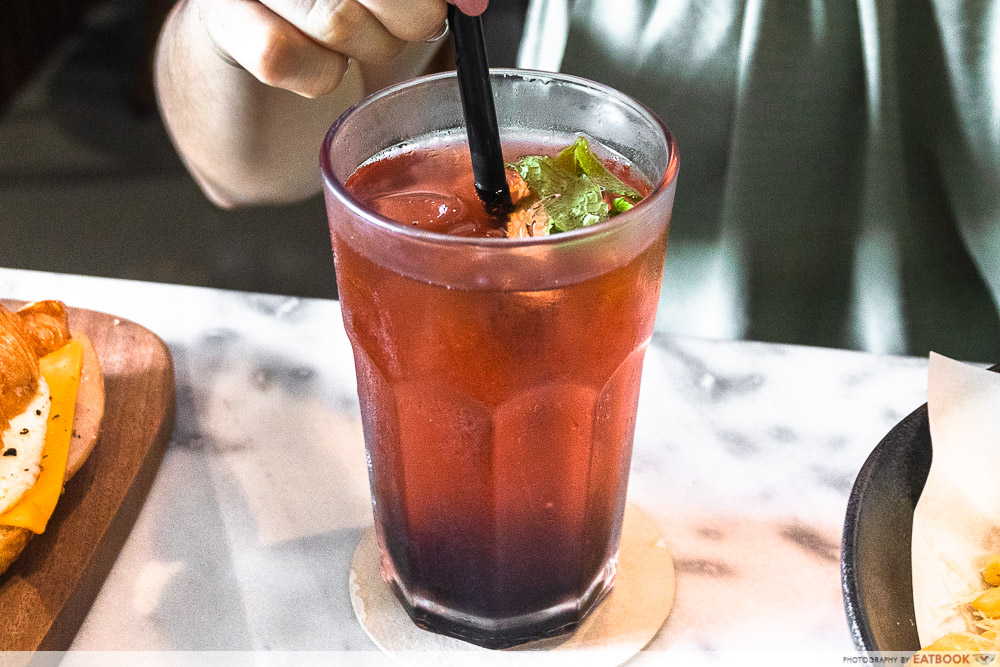 Drinks-wise, we had the Wild Berries Fizz ($5.50++) for something refreshing. This light-reddish concoction that tasted like a mix of Ribena and carbonated water was a good thirst quencher.
Ambience at Simple Cafe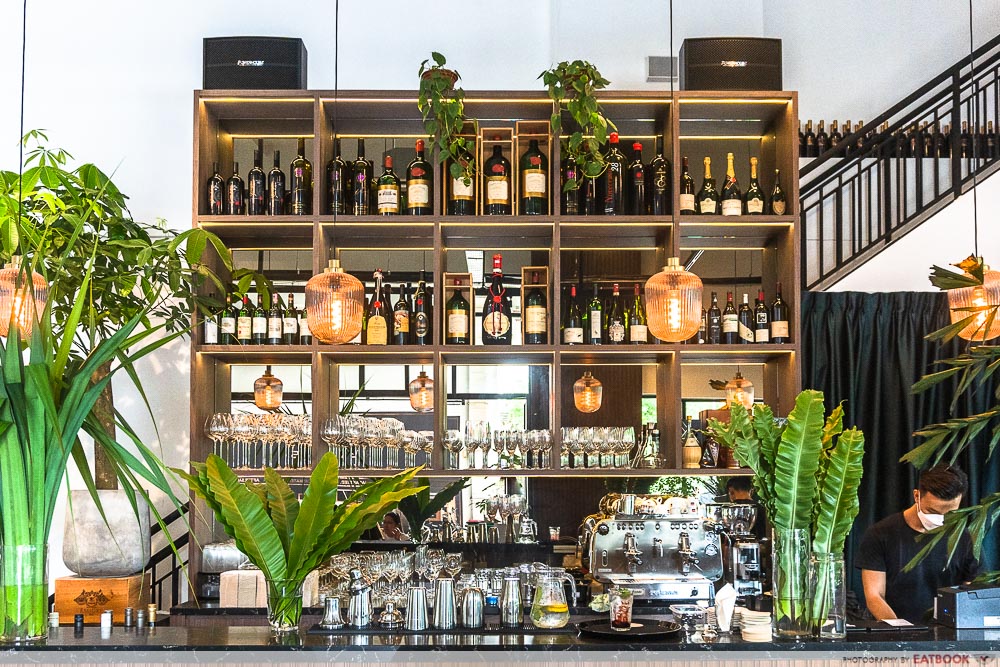 The cafe's interior exudes opulence, looking like a cross between a fancy bar and a plant nursery. Seamlessly incorporated into the space are wooden accents and faux marble furnishings, as well as rattan seats for a touch of colonial chic. At one end of the cafe is a small door that opens to the nursery with a huge collection of potted plants.
To get to The Nursery Cafe & Bar, take bus 956 or 969 from Yishun MRT Station to the Gambas Ave bus stop, and walk 10 minutes to the cafe.
The verdict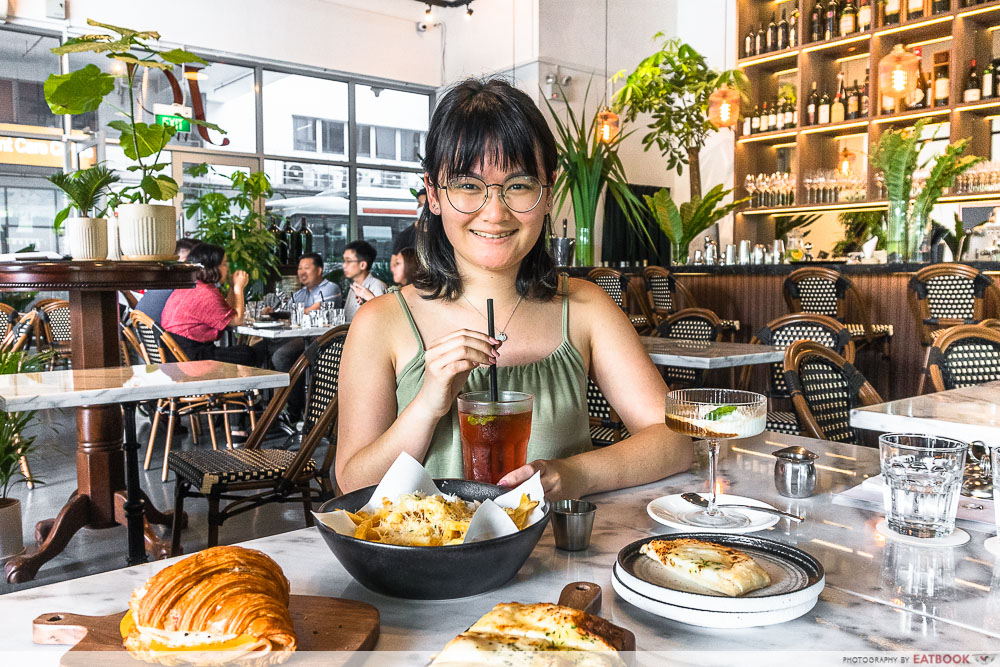 While I had an enjoyable time at The Nursery Cafe & Bar, I felt that the food was on the pricey side with nothing particularly unique for me to travel over an hour for. The cafe is also out of the way as it isn't walkable from any MRT station, but that also means that it's usually quiet, especially on weekdays. Nonetheless, I adored the cafe's gorgeous interior and can see myself coming back, perhaps after they add more items to the menu!
If you're looking for more aesthetic cafes, read our September Coffee review. Otherwise, check out our 7 Yishun food places guide for more food around the area.
Address: 7 Gambas Crescent, #01-16 ARK @Gambas, Singapore 757087
Opening hours: Mon 2pm to 10pm, Wed-Fri 2pm to 10pm, Sat 12pm-12am, Sun 2pm-10pm
Website
The Nursery Cafe & Bar is not a halal-certified eatery.
September Coffee Review: Minimalistic Cafe With Fried Chicken French Toast And Sesame Latte In Chinatown
Photos taken by Casandra Nicholas and edited by Chew Yi En.
This was an independent review by Eatbook.sg
The Nursery Cafe & Bar Review: New Garden-Themed Cafe In Sembawang With Brunch Food And Bar Bites
The Nursery Cafe & Bar Review: New Garden-Themed Cafe In Sembawang With Brunch Food And Bar Bites -

7/10
Summary
Pros
– Tasty pizza and affogato dessert
– Aesthetic ambience
Cons
– Limited mains (for now)
– Quite pricey
– Inaccessible location
Recommended dishes: Four Cheese Pizza ($12.90++), Truffle Fries ($12.90++), and Coconut Affogato ($7++)
Opening hours: Mon 2pm to 10pm, Wed-Fri 2pm to 10pm, Sat 12pm-12am, Sun 2pm-10pm
Address: 7 Gambas Crescent, #01-16 ARK @Gambas, Singapore 757087