Ambling Turtle in Katong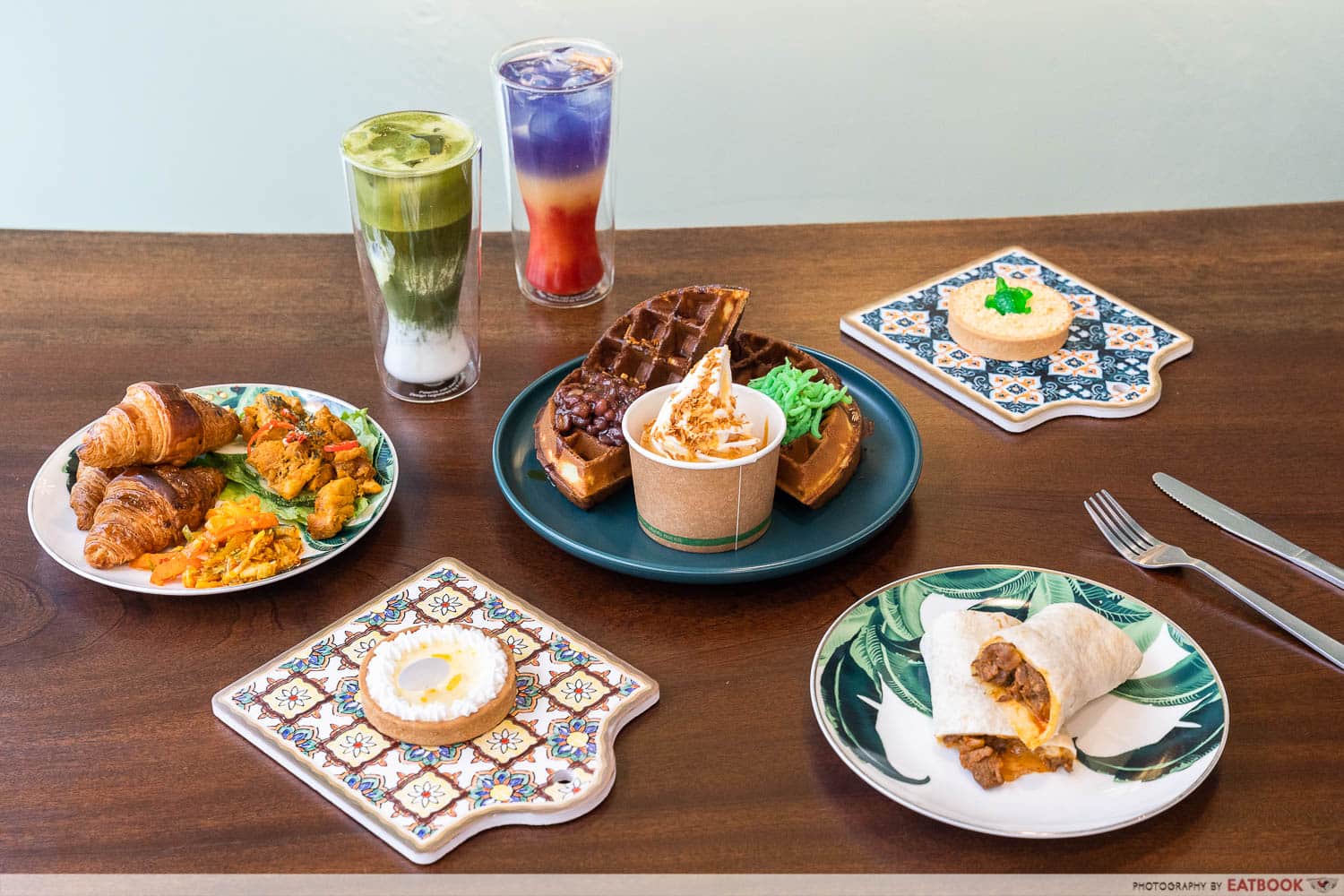 Tucked away in Katong is Ambling Turtle, a modern Peranakan cafe with a cosy wood-centric interior that makes for a beautiful backdrop for photos. They also serve IG-worthy dishes that will definitely zhng-up your Instagram feed! Here at Ambling Turtle, they offer a variety of savoury dishes to sweet treats, allowing customers to have a good range of items to choose from. 
Food at Ambling Turtle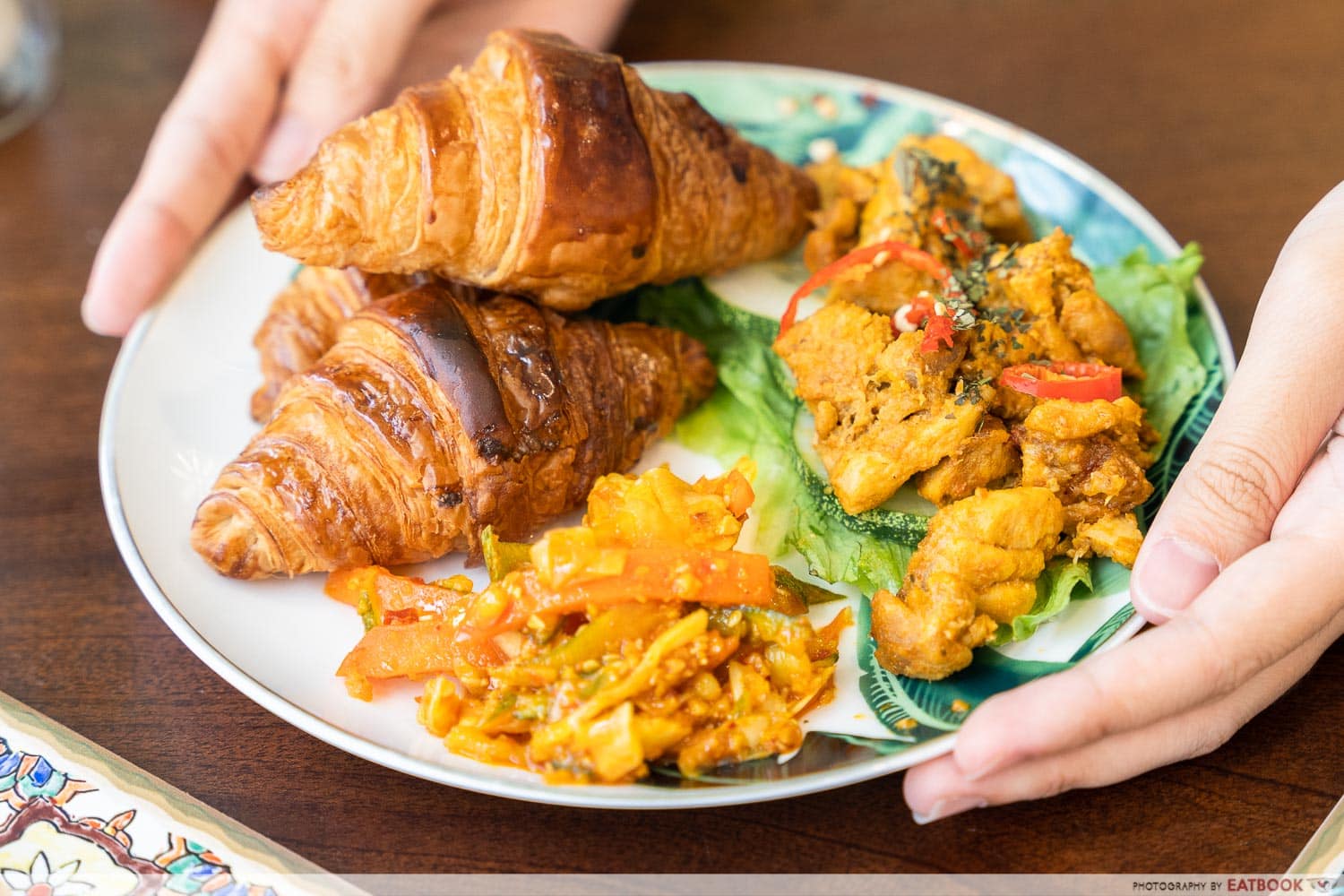 We started off with their signature Nyonya Curry Chicken Croissant ($10). This sees a portion of orange-hued chicken chunks, three house-baked croissants, and a side of achar. I was pleasantly surprised by the affordability of this dish, considering that each component is prepared only upon order.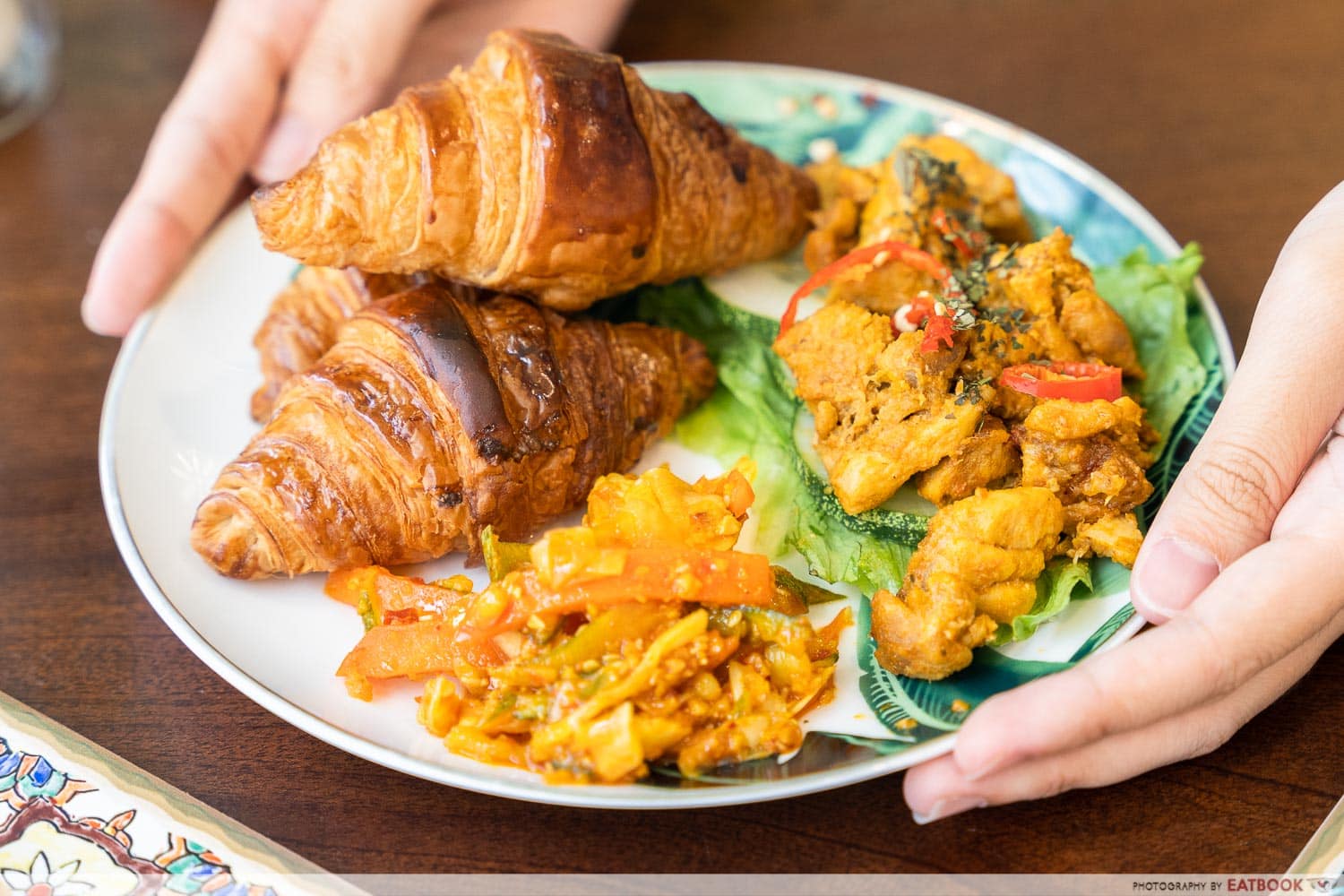 To enjoy this dish, I simply sliced each croissant lengthwise, before stuffing it with the boneless chicken chunks and achar. With trademarks of a well-baked pastry, the croissant was lightly glazed on the top, and saw a flaky crust and a soft, fluffy interior. The chicken chunks were coated in an aromatic curry-infused marinade that had a decent amount of lemak to it, without being overly spicy. 
The achar was another welcome addition to this dish, with its refreshing kick of sourish and spicy notes. This helped to prevent the chicken and croissant from getting too jelak, and made every bite extra tasty.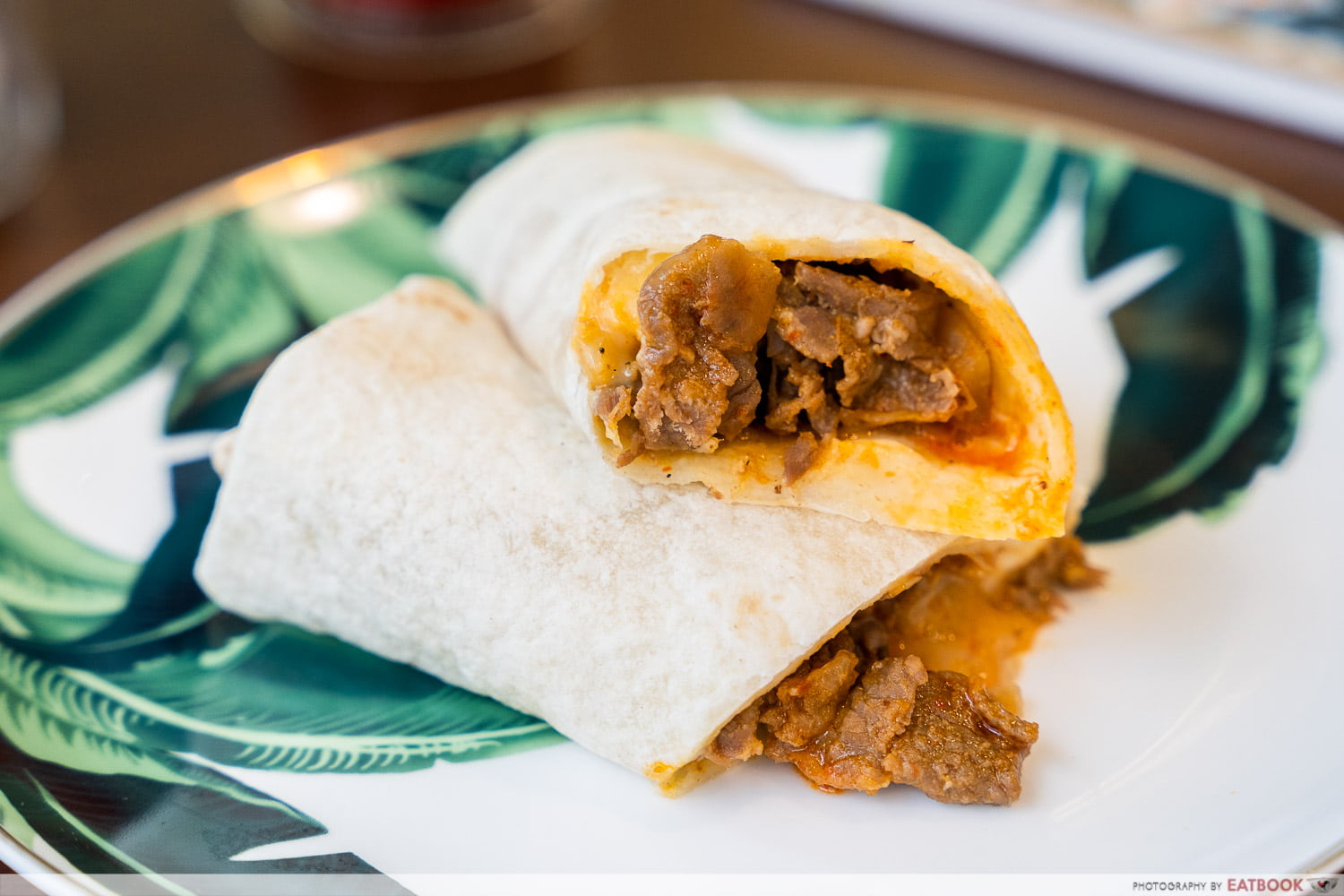 Moving along their savoury lineup of dishes, we had their Merah-Merah Beef Wrap ($6.90). This features a generous amount of marinated beef slices all stuffed within a toasted wrap. The slices of beef were savoury with a good kick of spice, complementing the plain wrap that hugged the filling. It was perfumed with a strong sambal-like flavour, and had hints of pepper throughout. 
Get this wrap at just $5 with a purchase of any drink, as part of the A.T. Breakfast Set━this is available daily, between 9am and 11am. Change up the beef wrap for other mains including their Classic Club Wrap, Butter Chicken Pie, or the Croissant Sliders.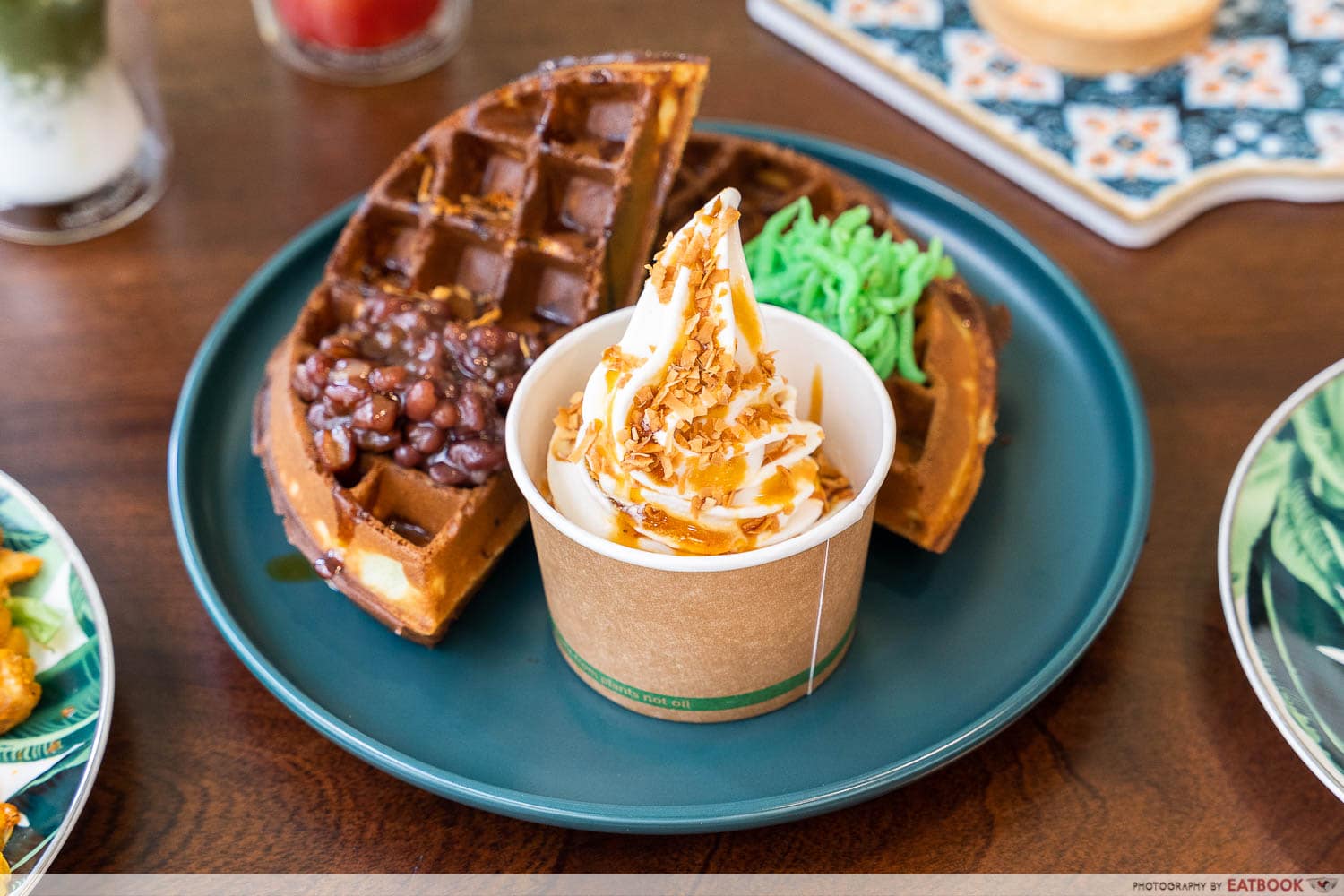 The most popular sweet item here is Go Home ($12.50), which comes with pandan buttermilk waffles drizzled with their signature gula jawa syrup, topped with azuki red beans and chendol jelly, and served with a coconut soft serve. This dish is a deconstructed version of the dessert beloved by Singaporeans—chendol—and I truly appreciated the novel spin on it here.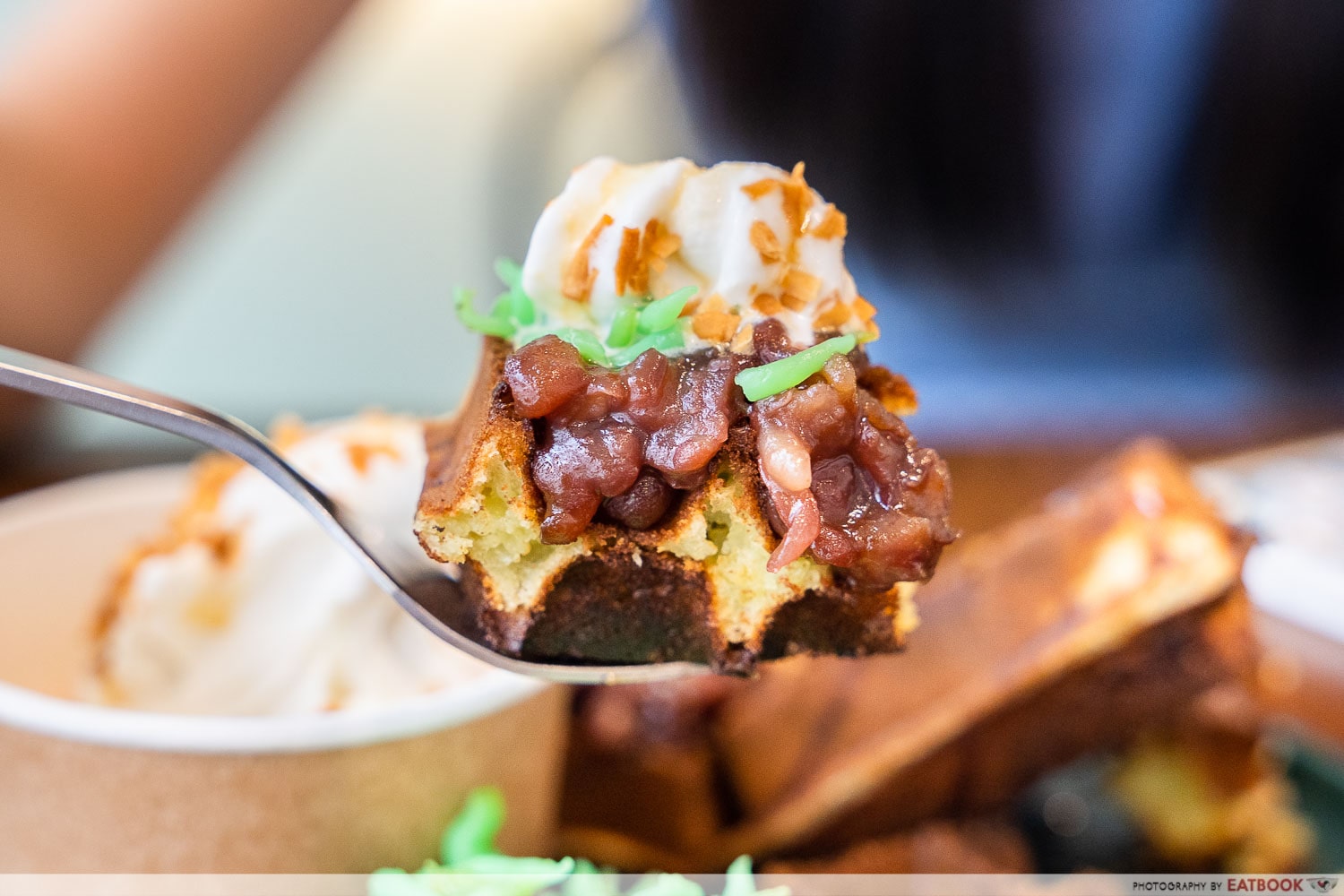 The buttermilk waffles had a crispy exterior and had a fluffy texture within. There was a strong aromatic pandan flavour that permeated the batter, complementing the light-tasting coconut soft serve. The chendol jelly and azuki beans were not too sweet, and brought additional textures to each mouthful. 
The decadent gula jawa syrup added a little twist to this popular local dessert, as it was perfumed with hints of coconutty aroma, and had a slight char in its aftertaste.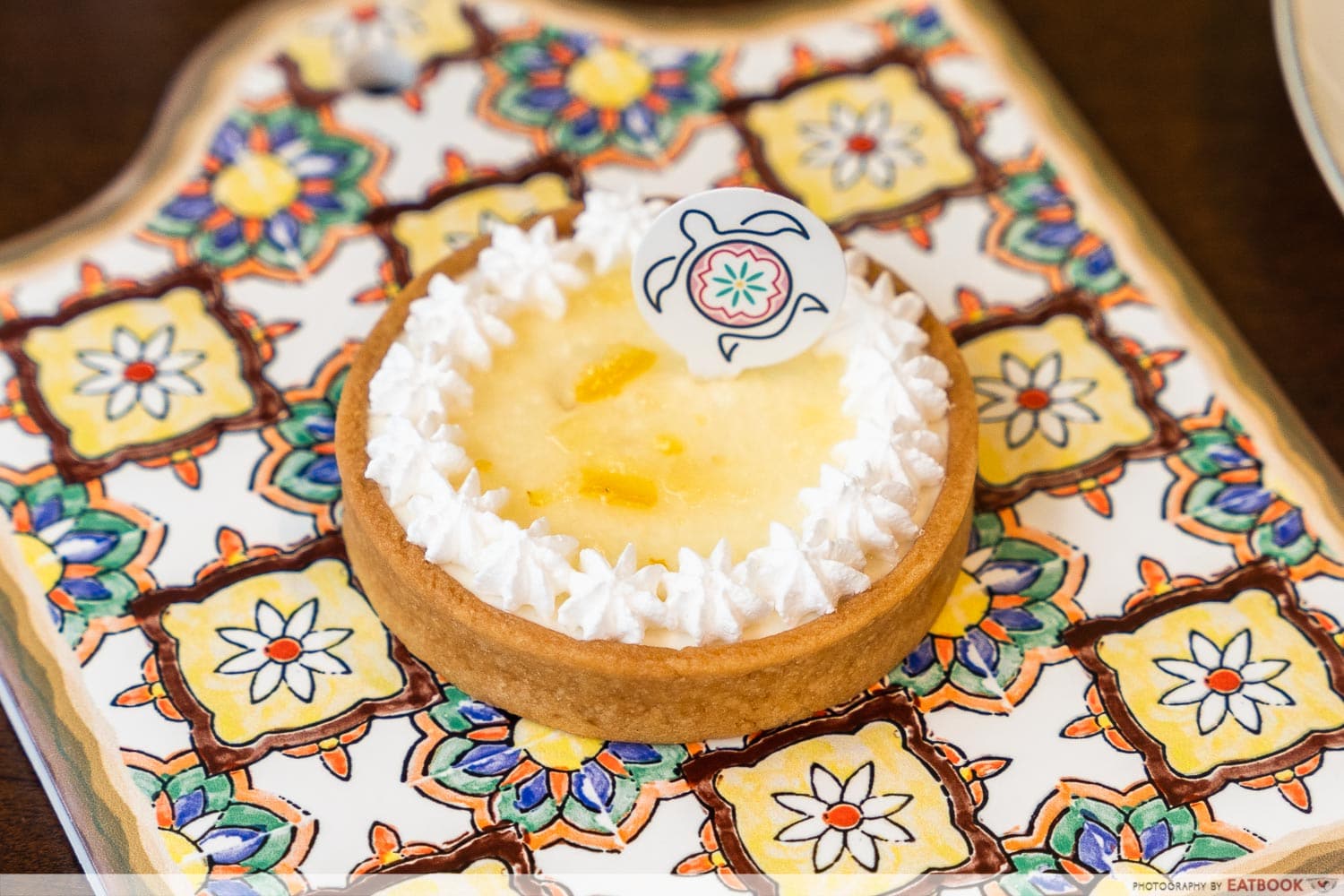 Ambling Turtle also has a range of tarts that are freshly baked daily. Yuzu Cheese ($7) is one of their mainstays, featuring a layer of tangy yuzu-infused syrup atop cream cheese, all nestled within a buttery cookie crust. With slivers of yuzu zest, the tart was heavily perfumed with a citrusy flavour that I felt was a little too overpowering.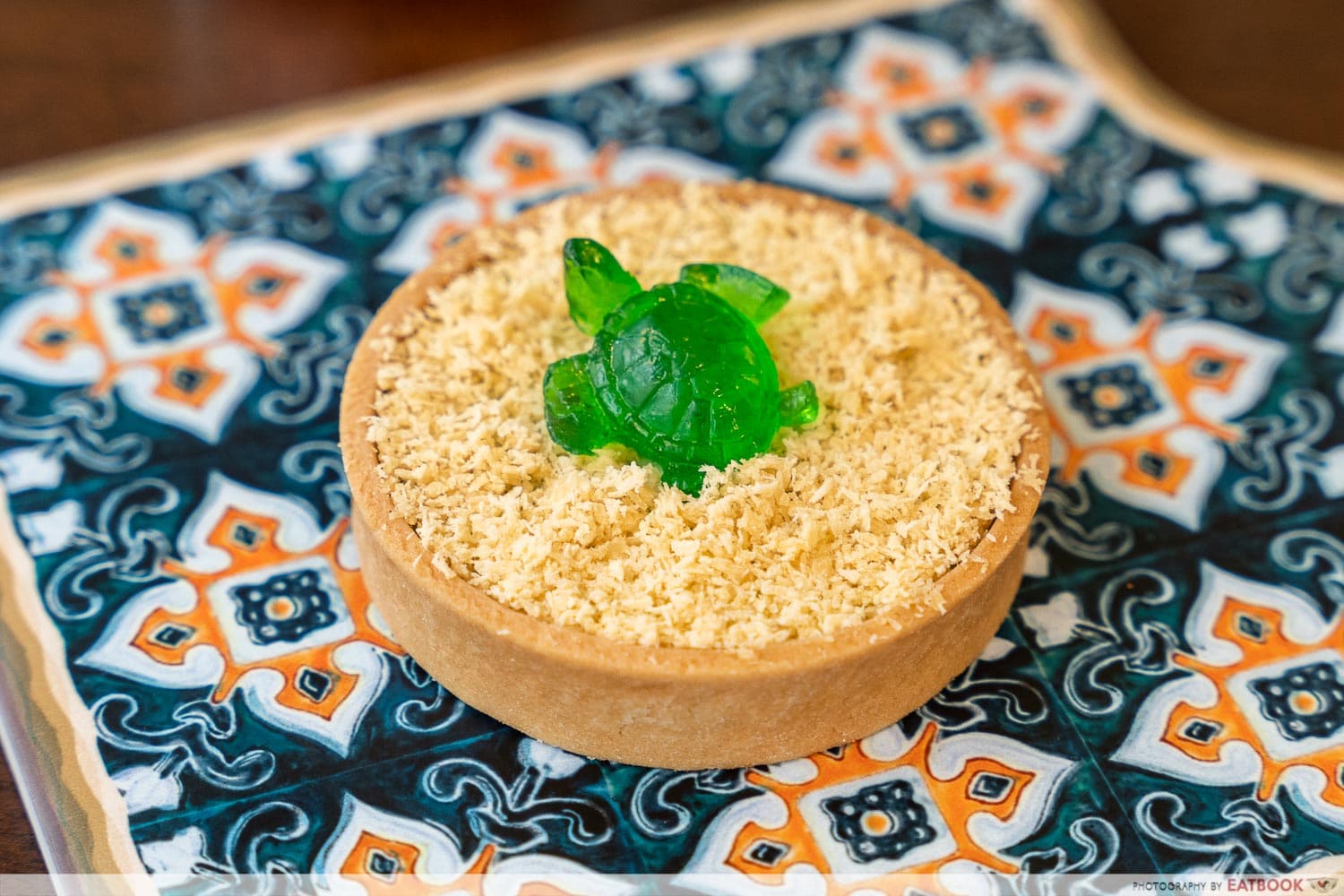 Another popular choice is the Ondeh Tart ($8), which is to look like a turtle sunbathing on a beach. This adorable tart sees a handmade turtle gummy and toasted coconut flakes sitting atop pandan custard and gula jawa. The silky pandan custard had a strong milky fragrance, while the gula melaka was thick with a toasty, toffee-like aroma. 
The coconut flakes added earthiness and crunch, contrasting against the other elements of this tart.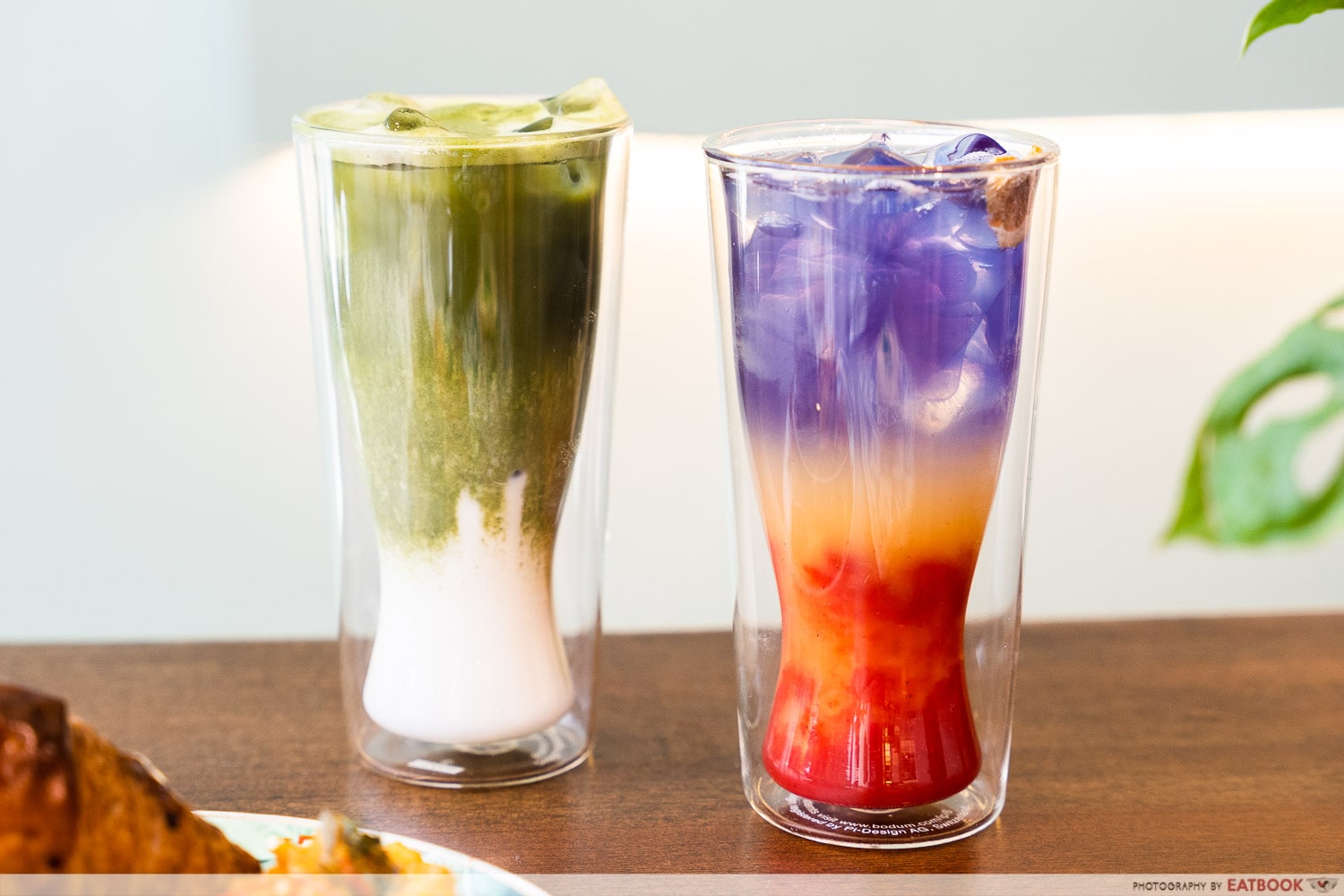 Their drinks screamed IG-worthy, with their beautifully coloured layers. The Misty Kyoto Matcha Latte ($6.50) saw hand-whisked green matcha above frothy steamed milk. There was a bittersweet earthiness, balanced with a good amount of syrup. 
The Crack Of Dawn ($7.50) simulated a pretty sunset, with its layers of strawberry coulis, orange juice, and butterfly pea tea. The addition of soda water into the mix gave it a satisfying fizz alongside the refreshing citrusy notes. 
Ambience at Ambling Turtle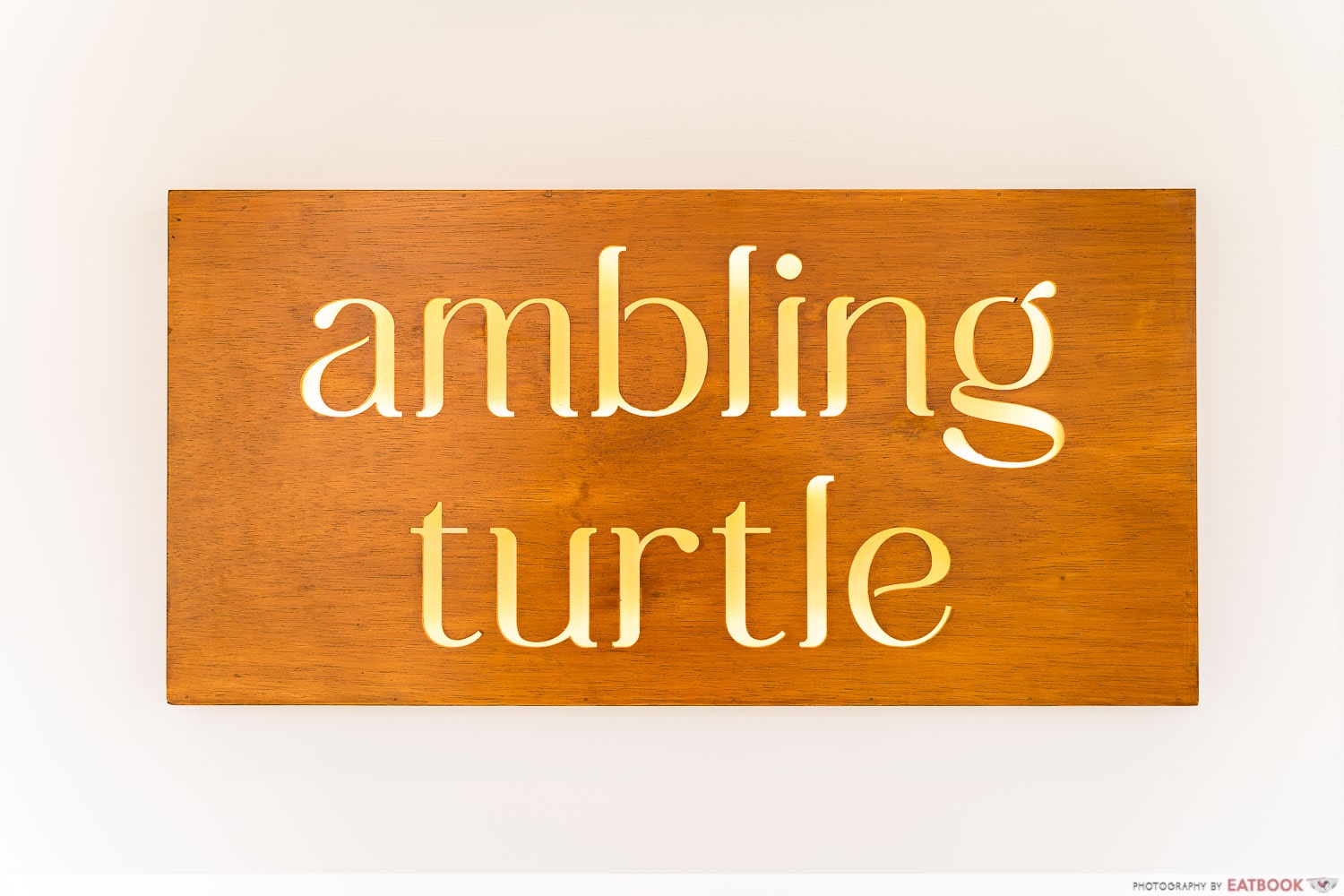 Located along East Coast Road, Ambling Turtle is slightly inaccessible as there is no MRT station nearby. However, with the upcoming construction of the Thomson-East Coast Line, diners can opt to walk from Tanjong Katong MRT Station. Alternatively, you can walk to Ambling Turtle from Marine Parade, just a stone's throw away from the cafe.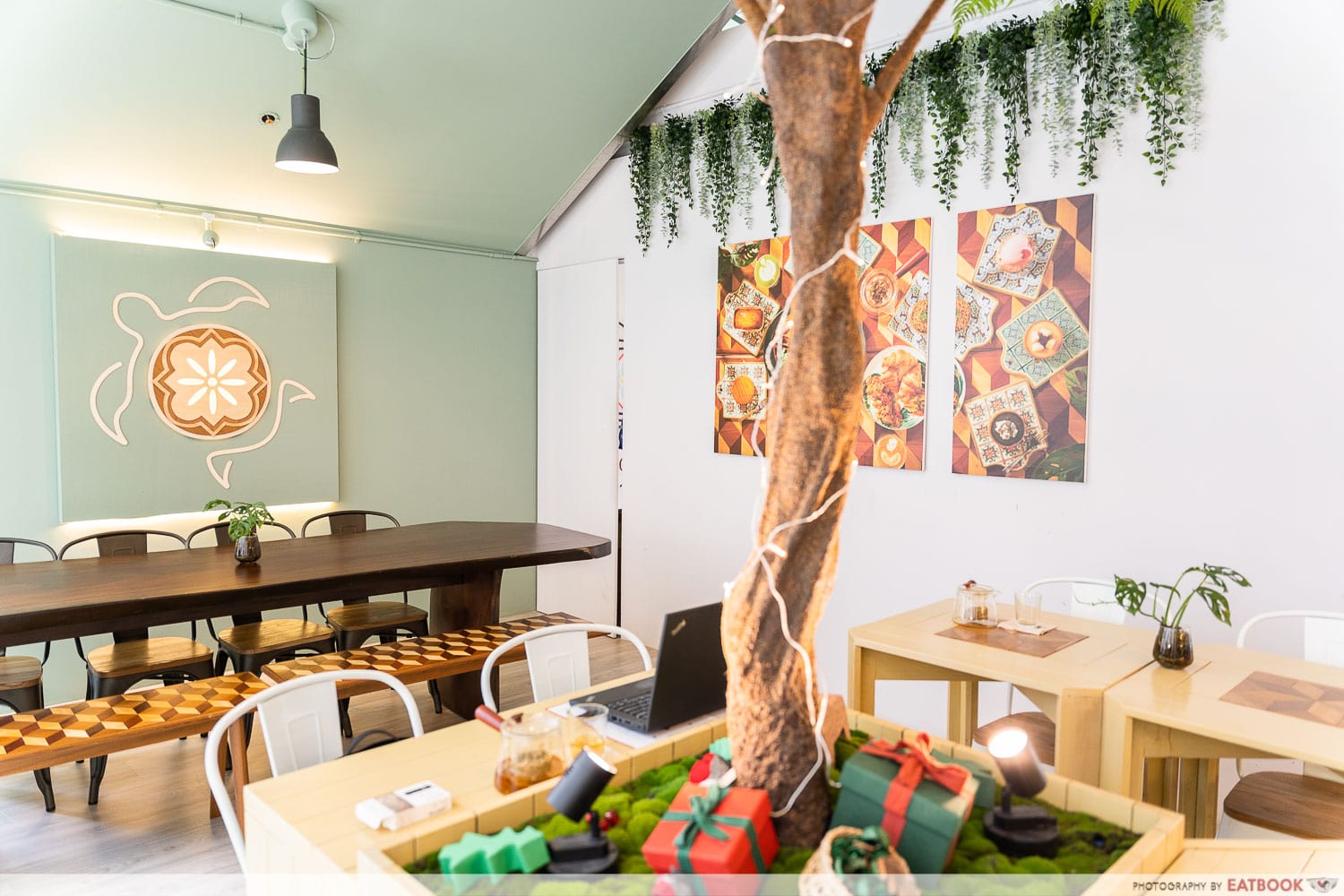 Ambling Turtle makes use of wooden furniture, potted plants, and even a large, artificial tree in the centre of the space to create a homey atmosphere for customers to feel comfortable and cosy. The two-storey cafe is relatively spacious, with well spaced-out tables so guests don't feel cramped. 
With the strong emphasis on evoking a laidback atmosphere, it's a great spot for students and office workers to relax here after a long and tiring day. 
The verdict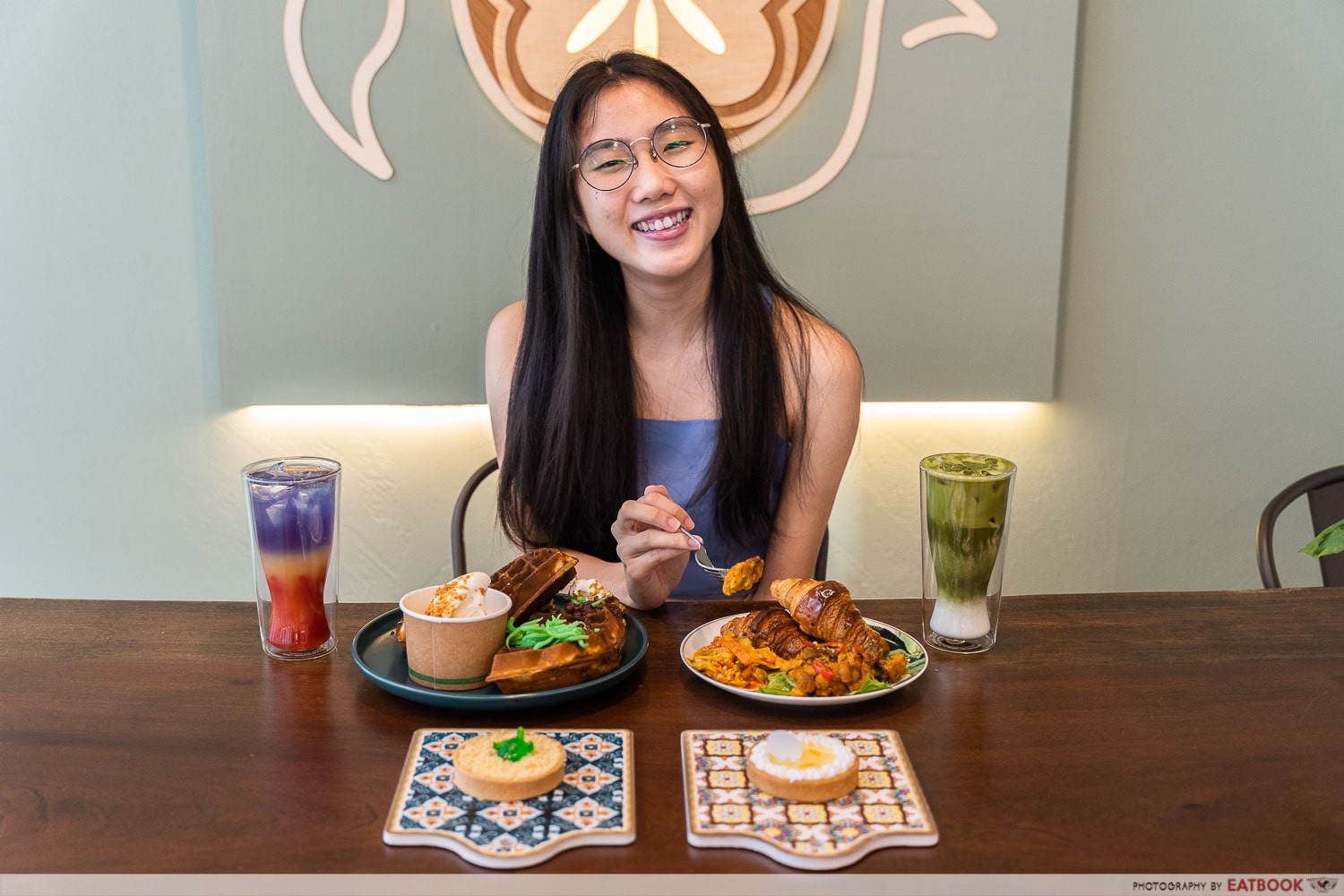 As a cafe hopper, I definitely see myself returning to Ambling Turtle for both its ambience and delicious food. I found the modern Peranakan twist quite refreshing, and I can see how it would appeal to both young and old. I highly recommend heading down for their handmade desserts and savoury treats, or for their pretty drinks on a hot day! 
Ambling Turtle is hosting a donation drive on 19 December! Customers will be able to pay as they wish for all oat milk-based coffee and tea beverages, and all proceeds will be donated directly to APSN Katong School. 
Address: 66 East Coast Road, #01-01, The Flow, Singapore 428778
Opening hours: Sun-Thurs 9am to 6pm, Fri-Sat 9am to 10pm
Website
Ambling Turtle is not a halal-certified eatery.
Photos taken by Emily Teu.
This post is brought to you by Ambling Turtle.
Ambling Turtle Review: New Cafe With Nyonya Curry Chicken Croissant, Chendol Waffles And Tarts In Katong
Ambling Turtle Review: New Cafe With Nyonya Curry Chicken Croissant, Chendol Waffles And Tarts In Katong -

8/10
Summary
Pros
– Prices are affordable
– Everything is made in-house
– Chendol waffles are unique
Cons
– Not near an MRT station 
Recommended dishes:  Go Home ($12.50), Nyonya Chicken Curry Croissant ($10), Misty Kyoto Matcha Latte ($6.50)
Opening hours: Sun-Thurs 9am to 6pm, Fri-Sat 9am to 10pm
Address: 66 East Coast Road, #01-01, The Flow, Singapore 428778