Mr Holmes Bakehouse Singapore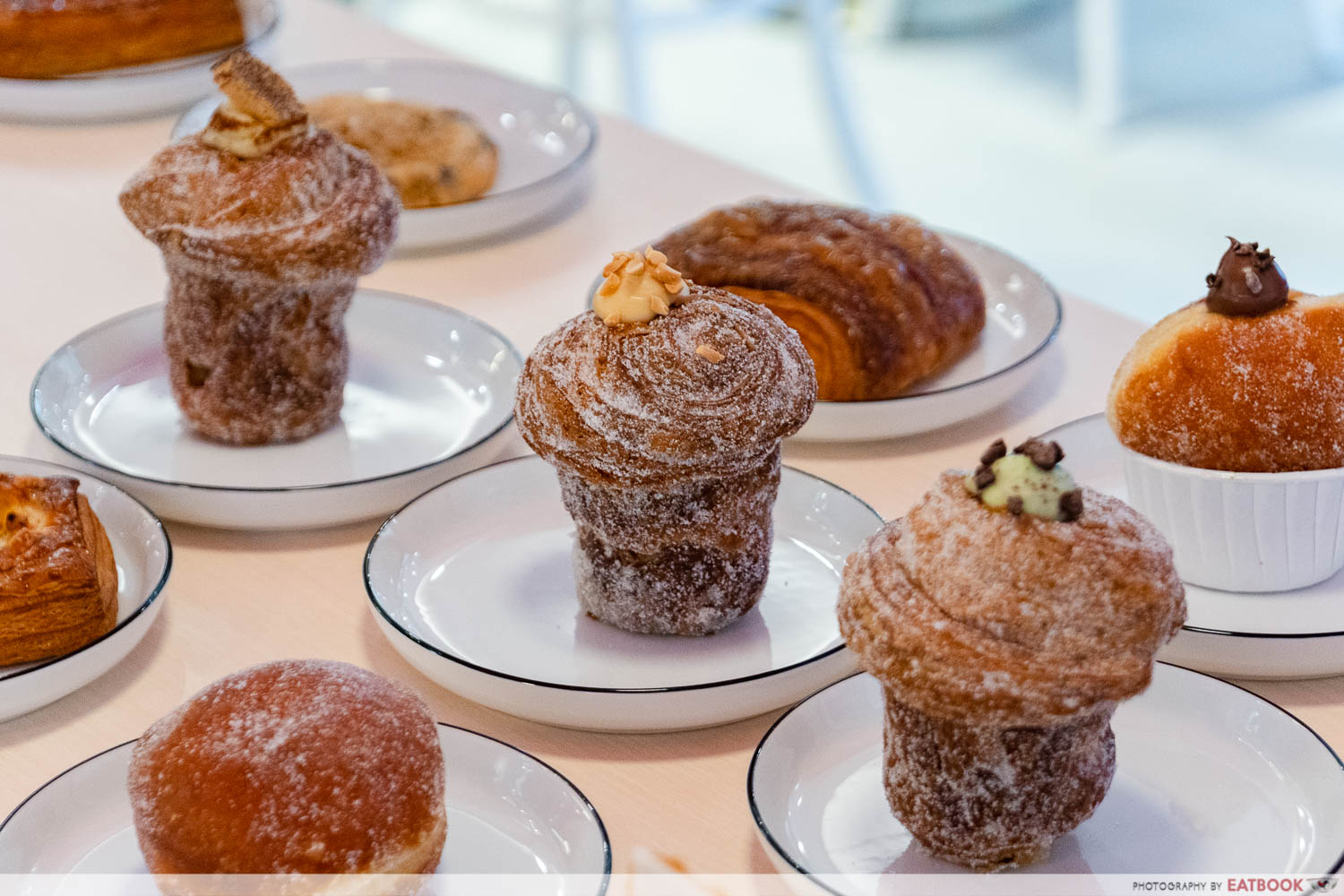 The cruffin once took the world by storm when it first hit the bake scene in 2013, but it only became an official thing when Mr Holmes Bakehouse in San Francisco popularised and trademarked it in 2014. This 12 July, Mr Holmes Bakehouse finally lands on Singapore's shores when it opens its first Southeast Asian flagship at Pacific Plaza, at 10am on their first morning of operations, and 8am daily thereafter.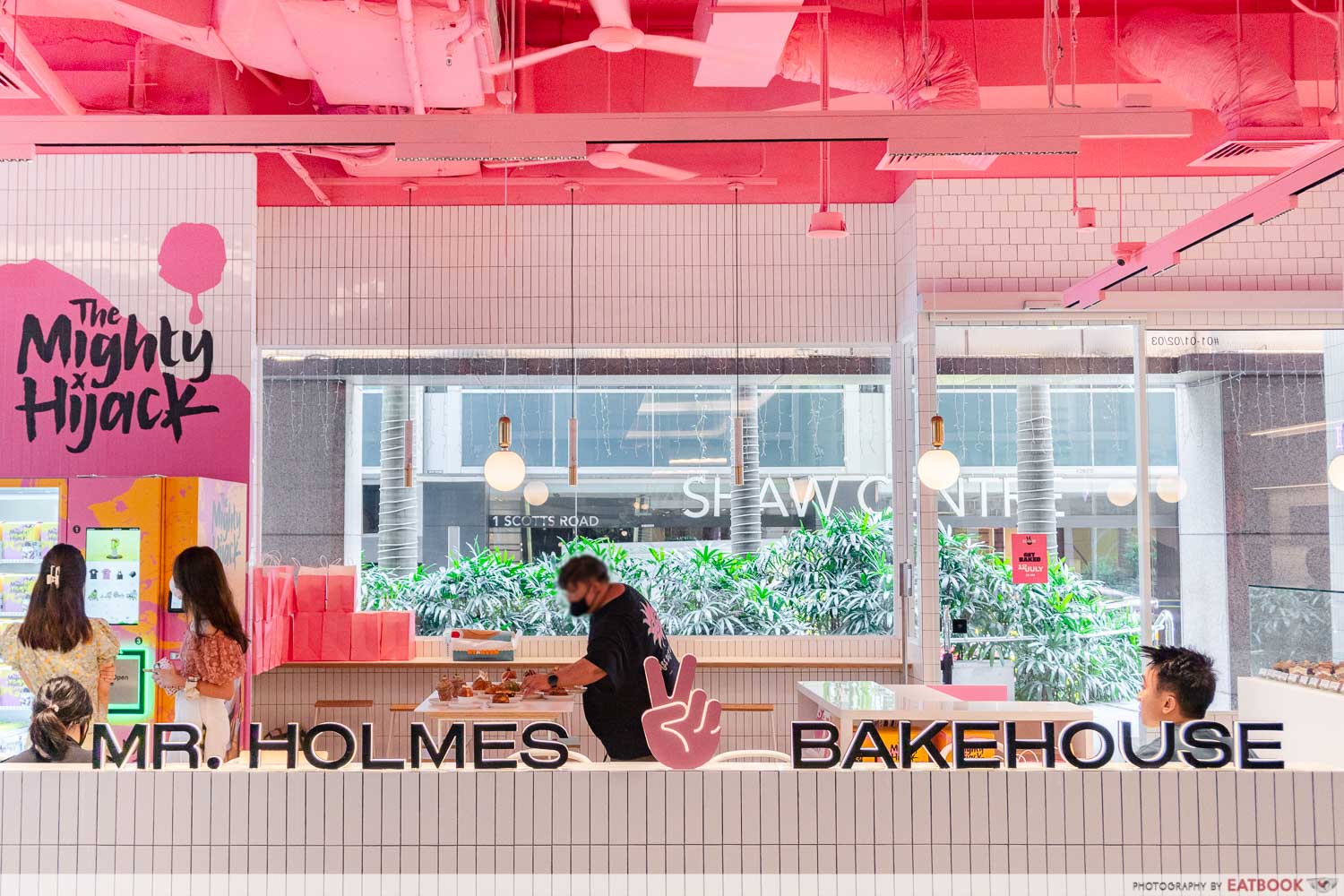 My colleague and I had the opportunity of dropping by ahead of the public launch—here's a preview of what to expect!
Food at Mr Holmes Bakehouse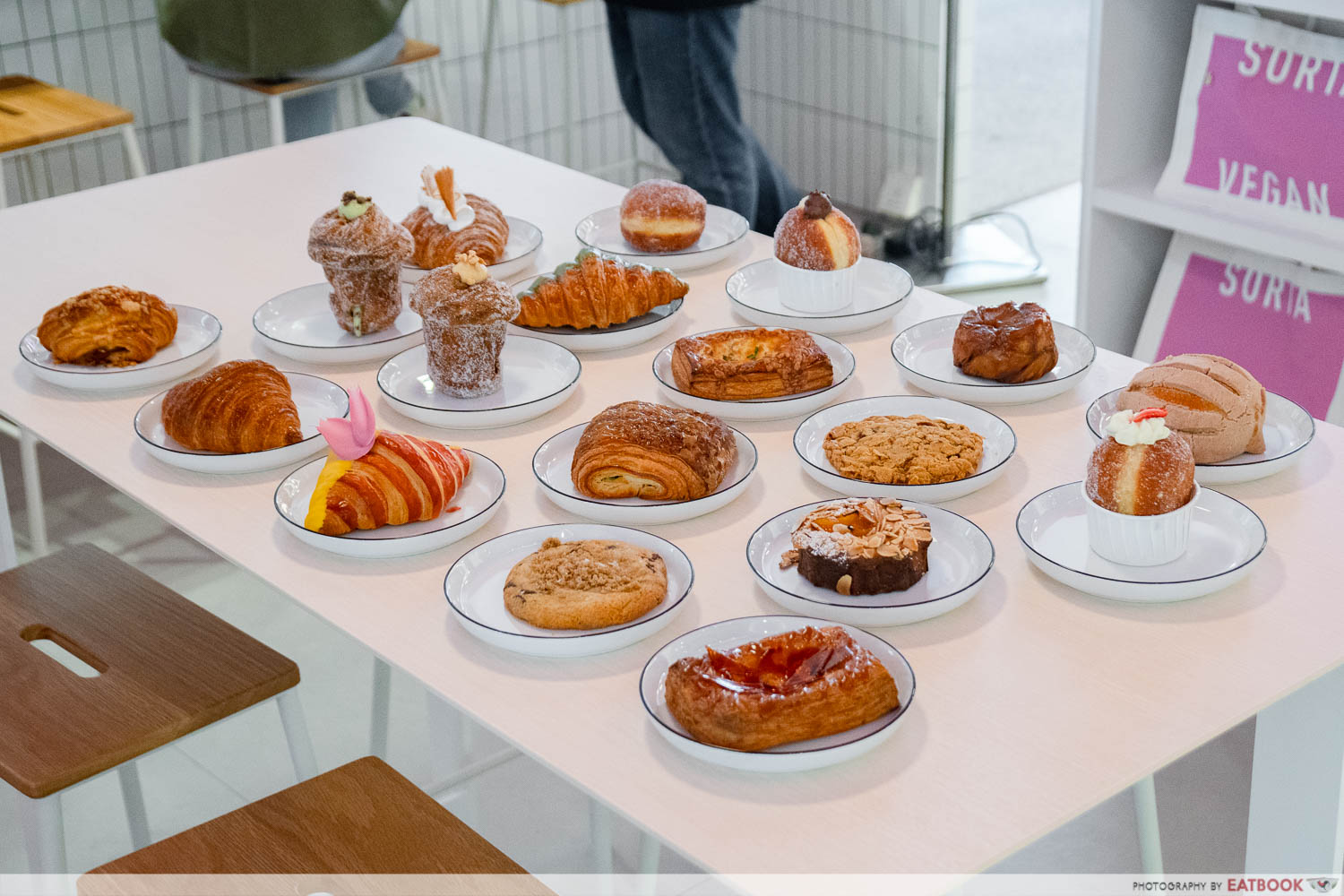 To try everything on the food menu at Mr Holmes Bakehouse at one shot is quite literally, impossible, even though it appears to be concise. You'd have to get through three cruffins, six croissants, four doughnuts, seven assorted danishes, cookies, sweet buns and such, and three sandwiches. While most of the selections right now are classic favourites, we were told that there will be seasonally rotating flavours to come.
We sampled the Peanut Butter Milkshake Cruffin ($5.80++), Strawberries & Cream ($5.80++), and Plum Yuzu Jam ($6.50++) doughnuts, and the Lemon Meringue Pie ($7.50++) and Yellowpink ($7.50++) croissants, of which my favourite was the Plum Yuzu Jam doughnut.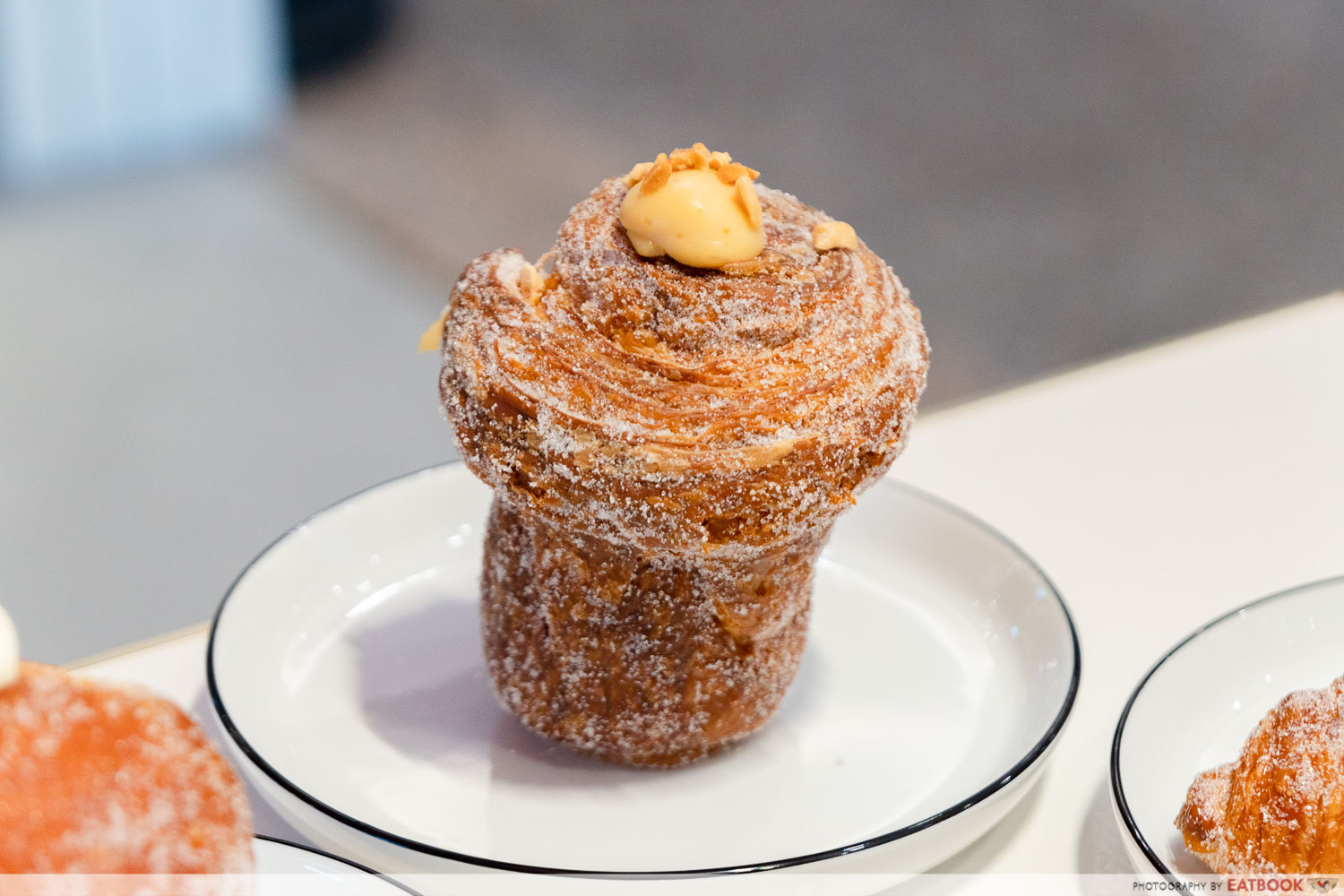 I found the cruffins and croissants visually stunning, what with the extra high cruffin tops, and the signature fancy-schmancy dressed-up pastries. I'd been dismayed when Bakery Brera announced they were making their cruffins slightly less sinful, by not sugar glazing the tops, so my joy was twofold when I discovered Mr Holmes cruffins are rolled in fine sugar to finish.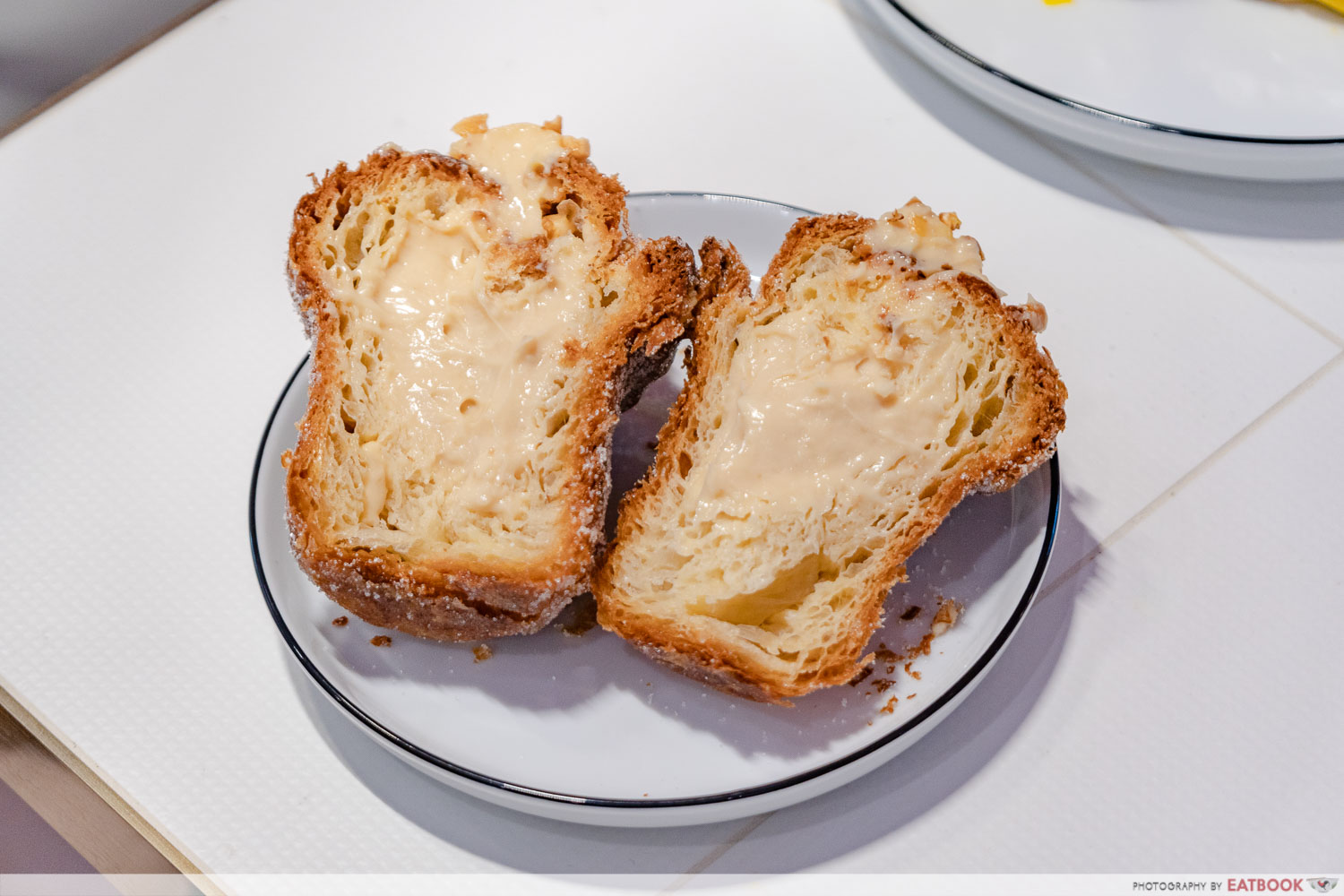 While I would personally have liked the peanut butter in my cruffin to be more peanutty, and savoury, I appreciated how generous they were with the pastry cream within.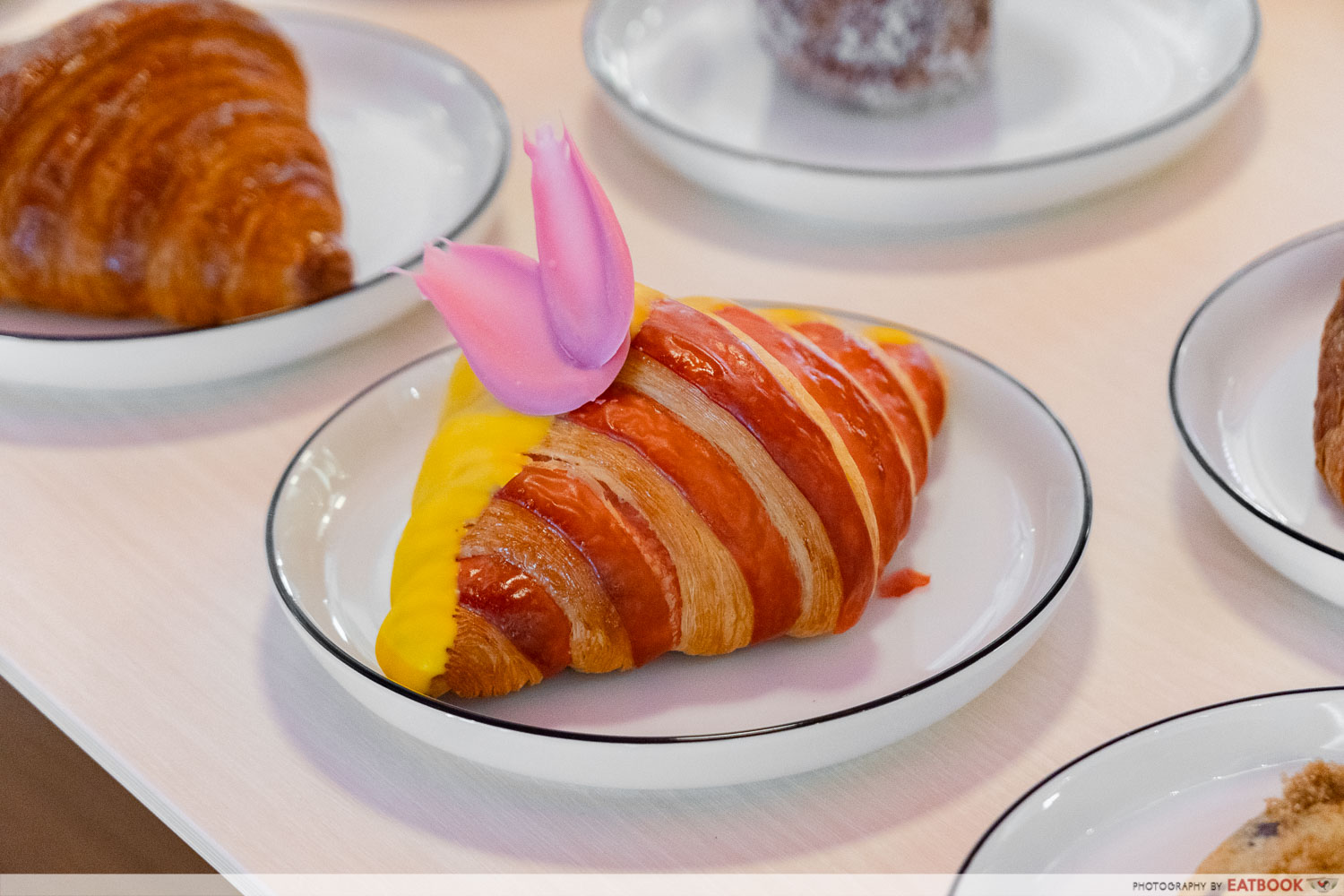 The same liberal piping went into the filled croissants, although I'm a little caught between the two we sampled. My colleague and I thoroughly enjoyed the molten mango curd in the Yellowpink croissant—a Singapore exclusive that celebrates the bakehouse's collaboration with Mighty Jaxx, a local collectibles studio, and Monixx, the character designed for this collaboration.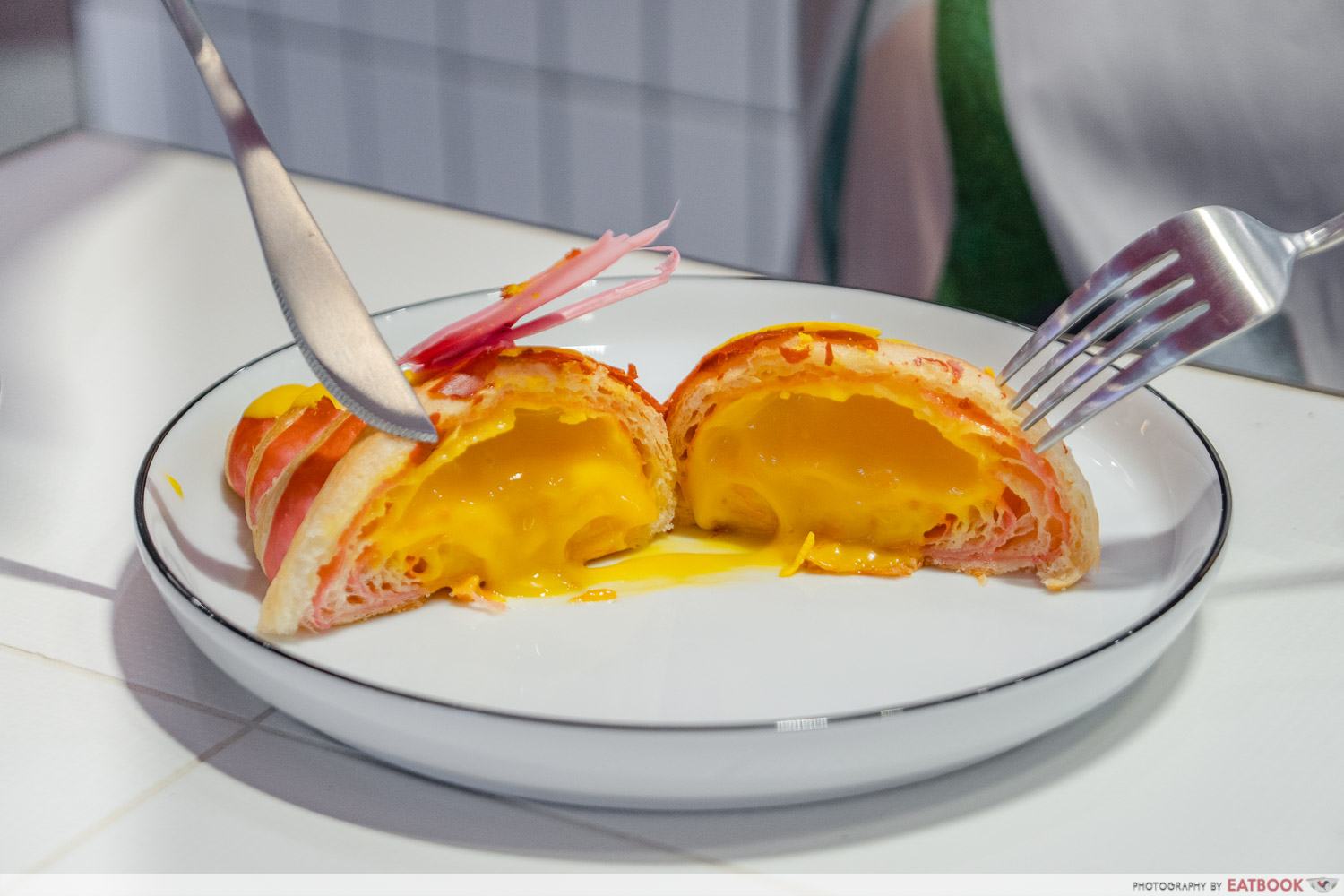 The mild sweetness of the curd was countered by the light tartness of ruby chocolate, but I found the pastry soft, rather than crisp as I prefer, probably because this is kept chilled.
On the other hand, the Lemon Meringue Pie croissant, served warm, was delightfully crisp and buttery, and rolled in lemon sugar. Here, though, we both found the lemon curd a little too tart.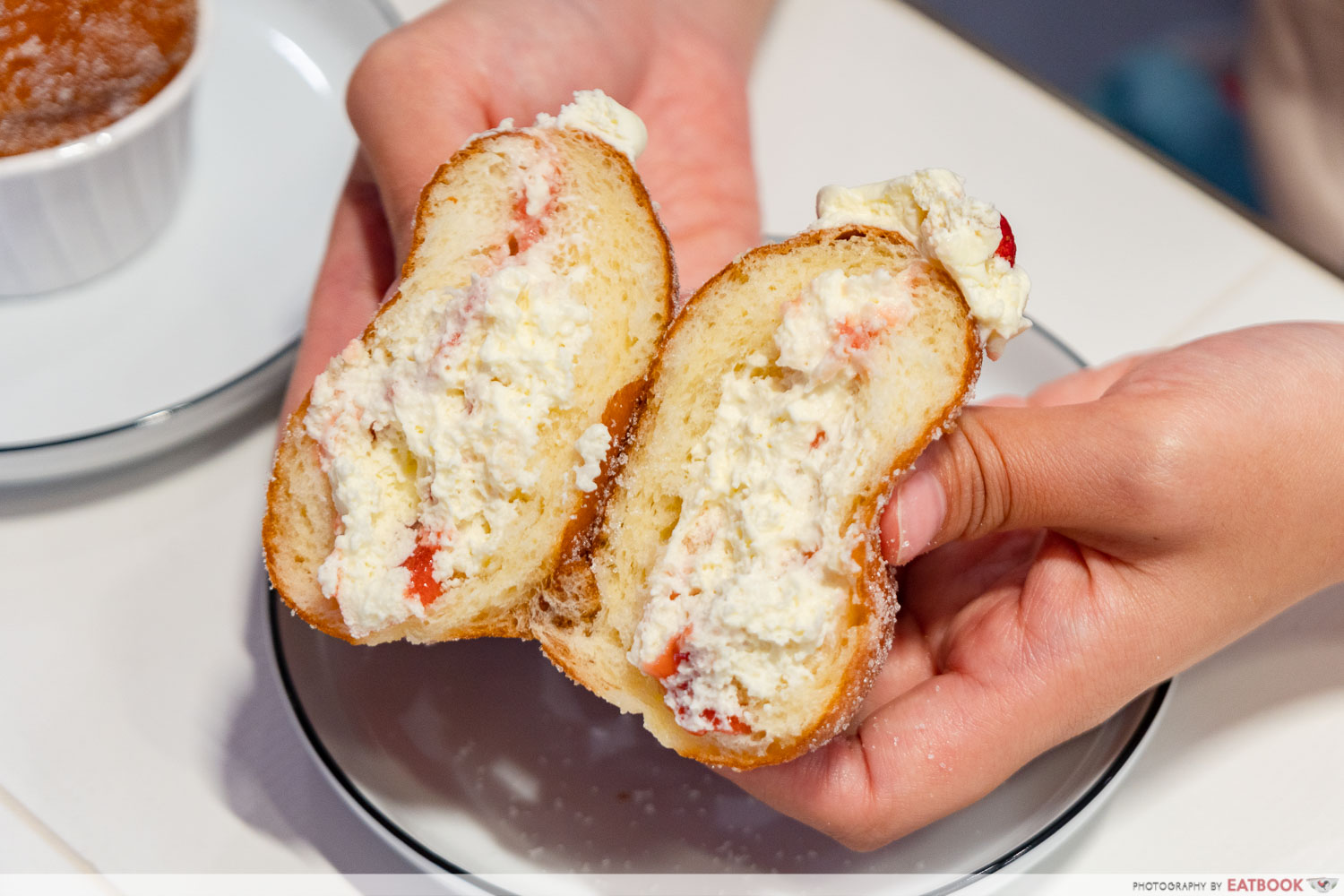 Between the brioche doughnuts, my colleague enjoyed the Strawberries & Cream, whose strawberry jam is well done.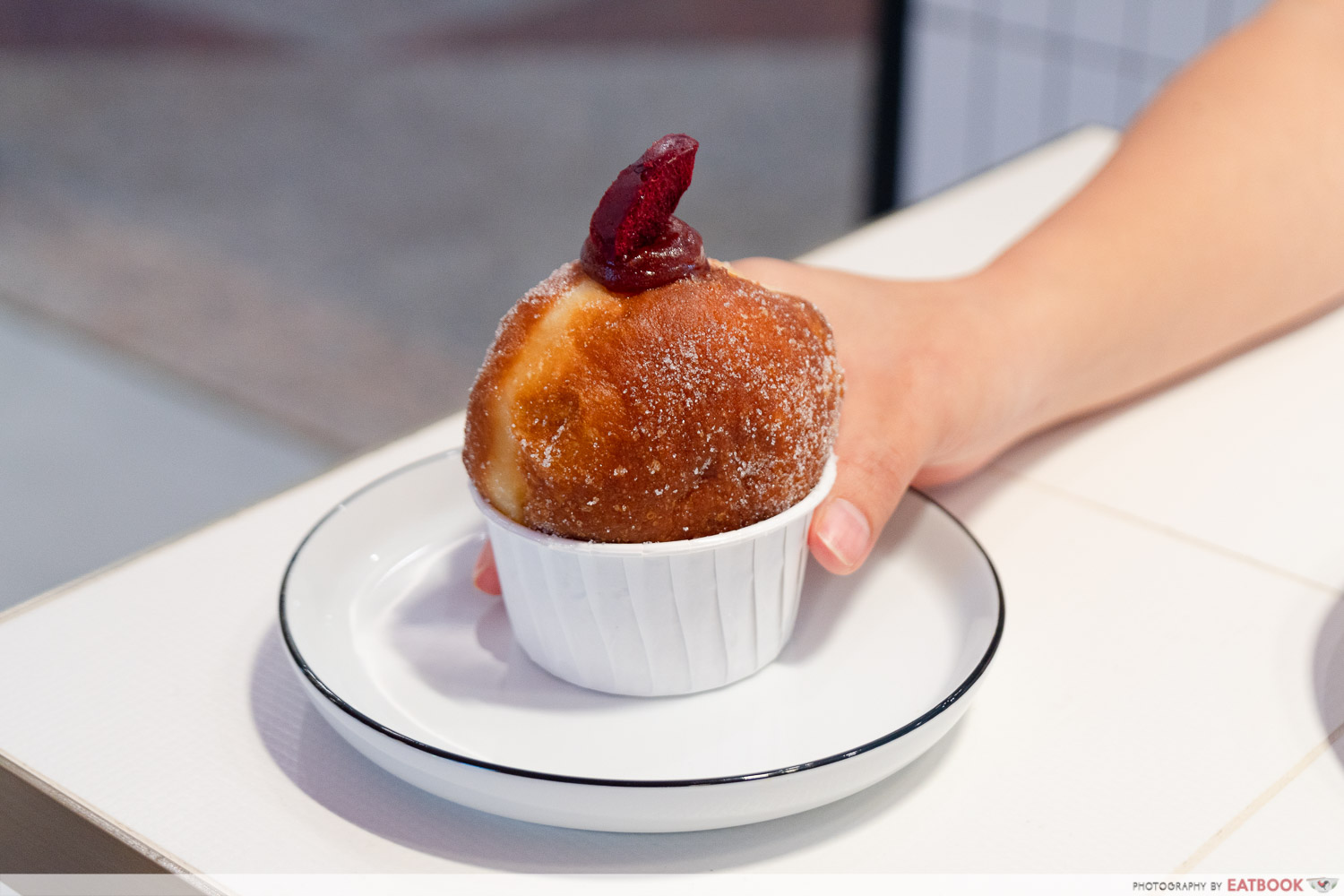 My vote goes to the Plum Yuzu Jam, though, which is a weekend exclusive. The soft, fluffy doughnut oozes with scarlet-hued plum jam, perfumed with the citrusy notes of yuzu. I found the flavours of this to be balanced just right, without being too sour nor sweet.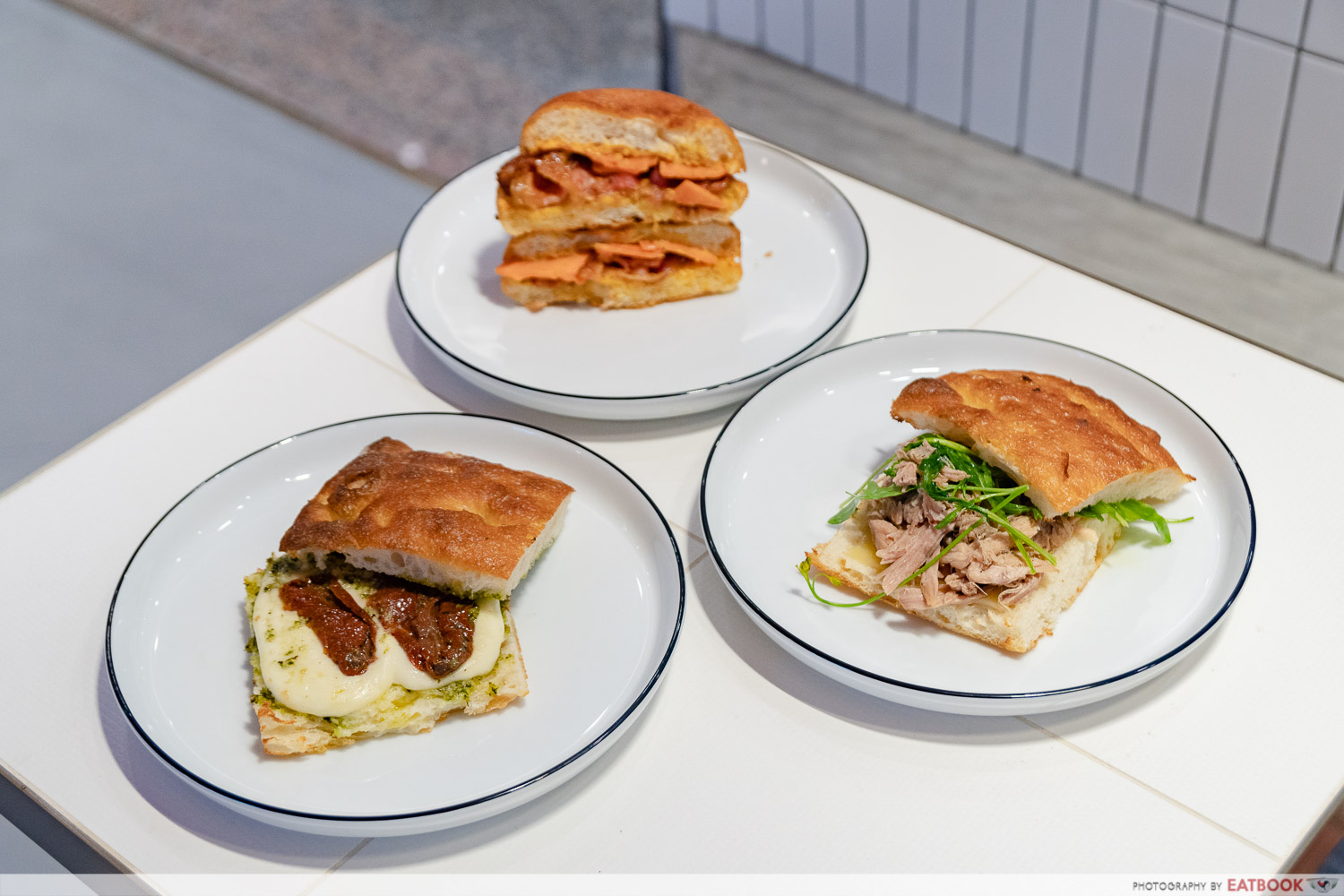 We also got to try all three of the sandwiches on the menu: Tomato & Pesto Melt ($13++), Bacon Habenero ($13++), and Pulled Pork ($16++).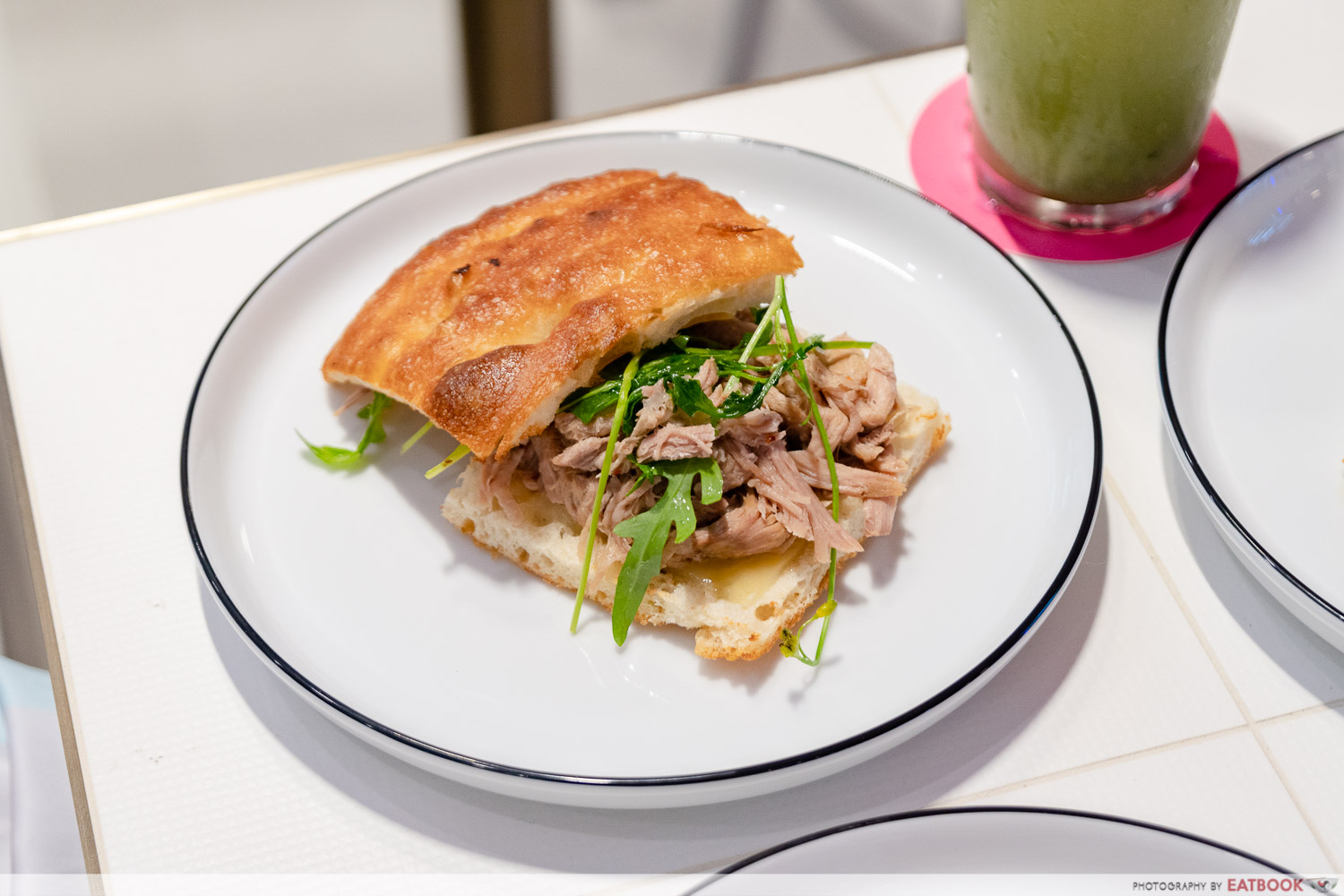 Pulled Pork and the Tomato & Pesto Melt come as focaccia sandwiches, though we found the pulled pork a little drier than we would have liked. Tomato & Pesto Melt features sundried tomatoes, and generous lashings of nutty basil pesto—a good meat-free option.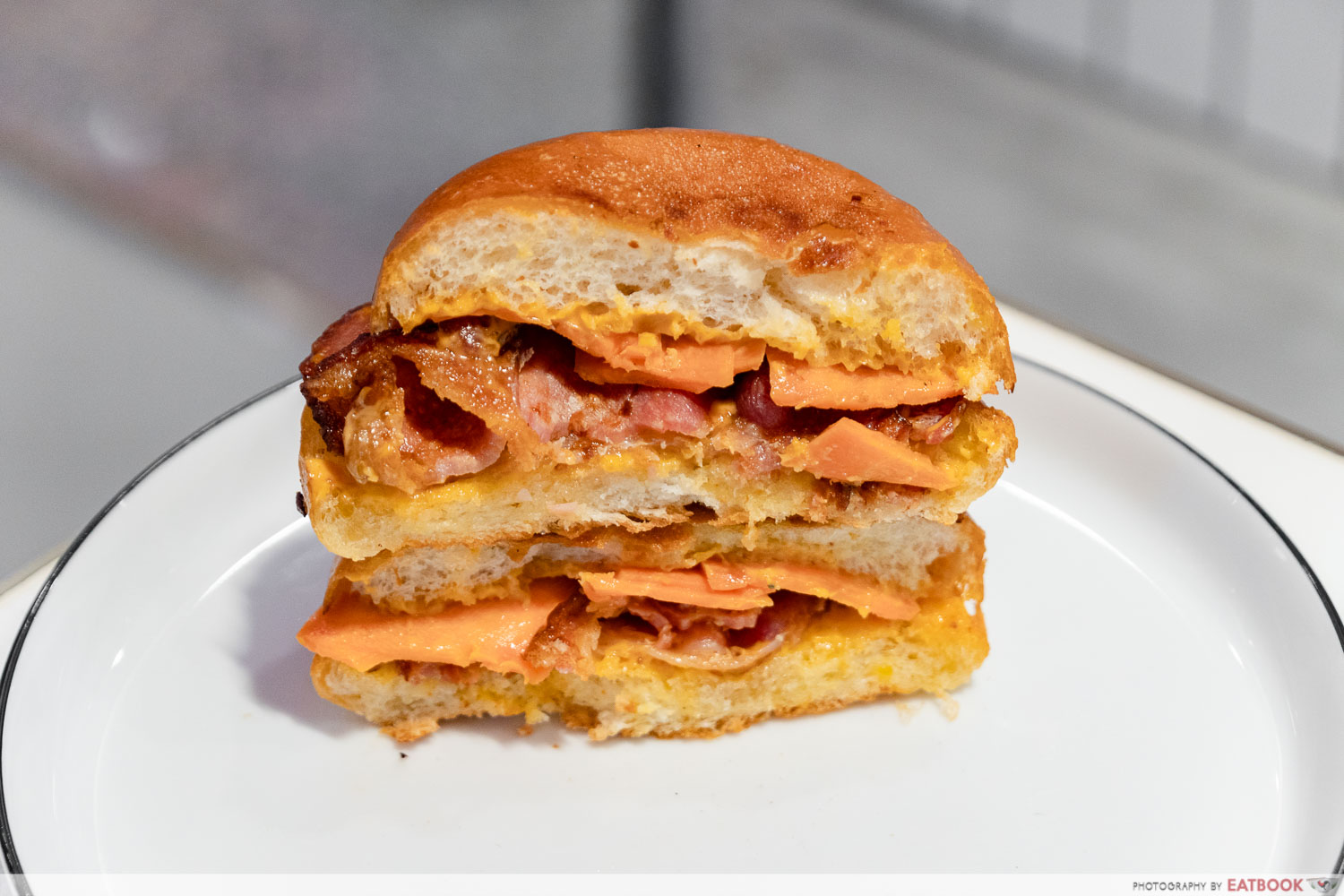 The Bacon Habenero features a soft potato bun, with a habanero mayonnaise that adds a light, smoky kick of spice. To take away from the saltiness of the habanero mayo and bacon, there's also slices of pickled carrot that cut through all that.
Ambience at Mr Holmes Bakehouse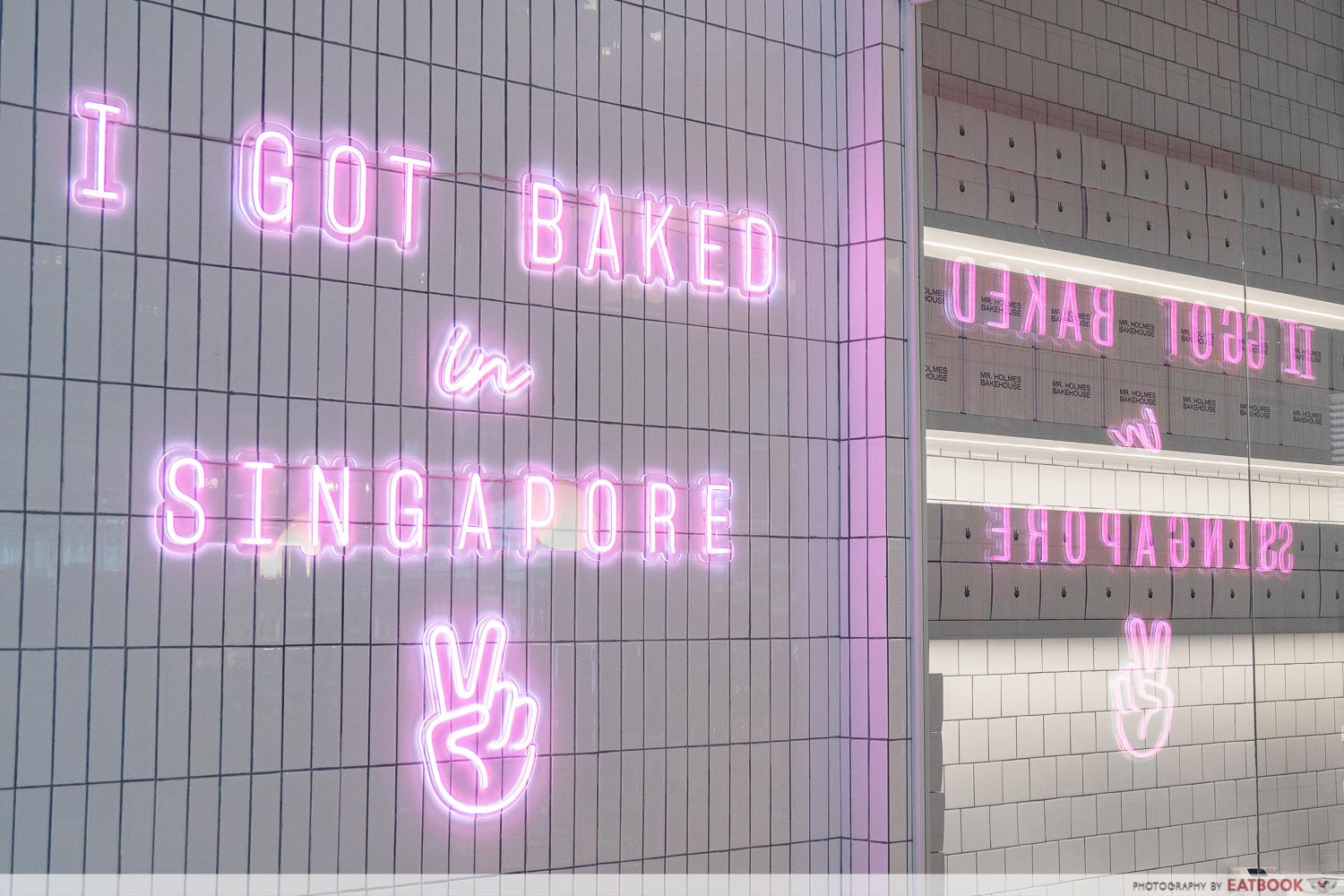 Located just off the main Orchard Road thoroughfare, between Shaw Centre and Royal Plaza on Scotts, the cafe is a short 11-minute walk from Orchard MRT Station. This flagship is done up in a custom-designed, signature scheme of pink and white, with their Insta-famous "I got baked" customised here to say "I got baked in Singapore"—a statement wall that is definitely going to flood our IG feeds come next week.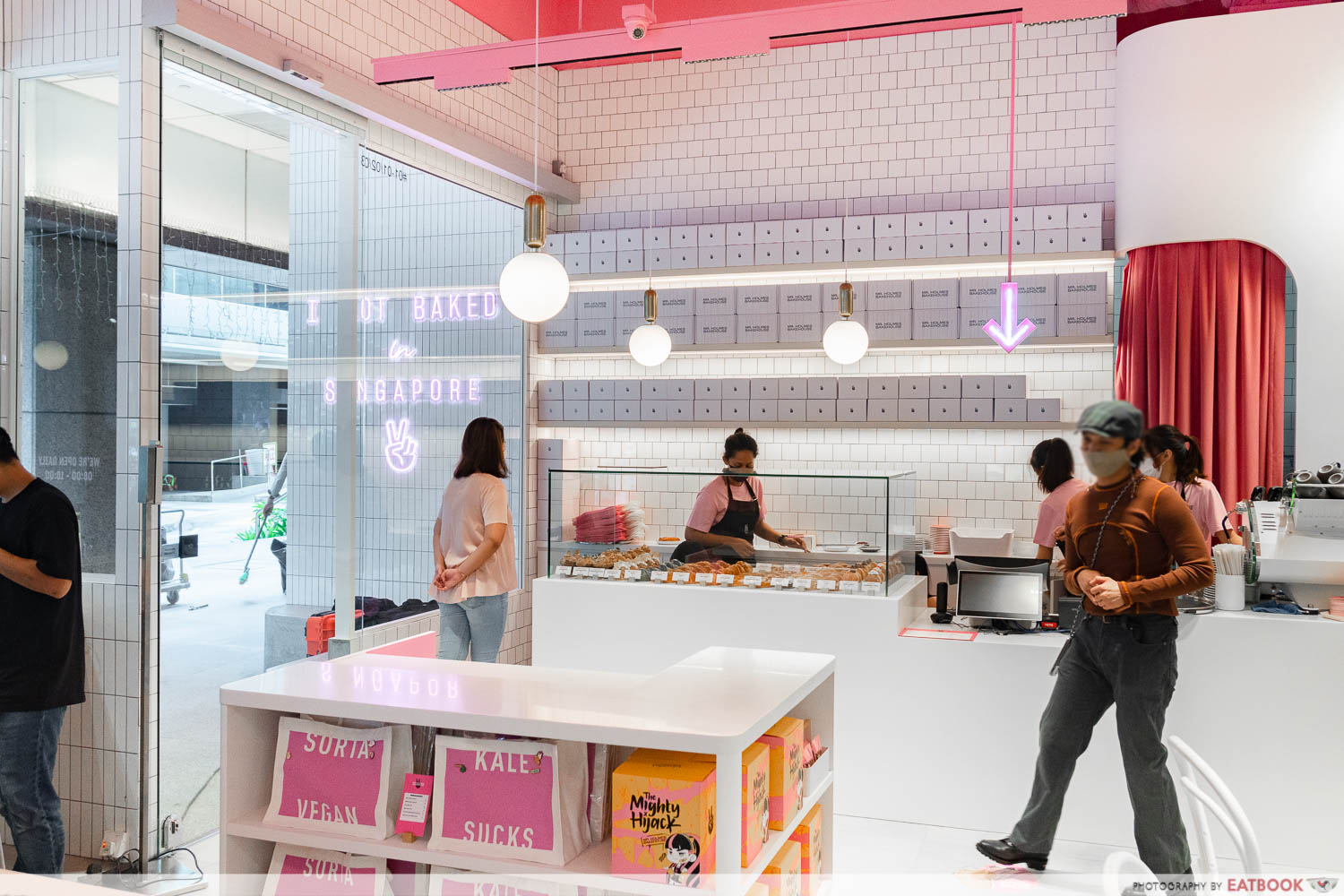 The open-seating space is lined with white-tiled walls, set against candy pink ceilings, sure to transport diners on sugary highs to a very happy place. There are 44 seats, mostly situated inside the air-conditioned comfort of Pacific Plaza. However, if you do choose to take the al fresco seats, there are ceiling fans to beat the tropical heat.
Sourbombe Bakery To Open Physical Store In Dhoby Ghaut On 8 July
The verdict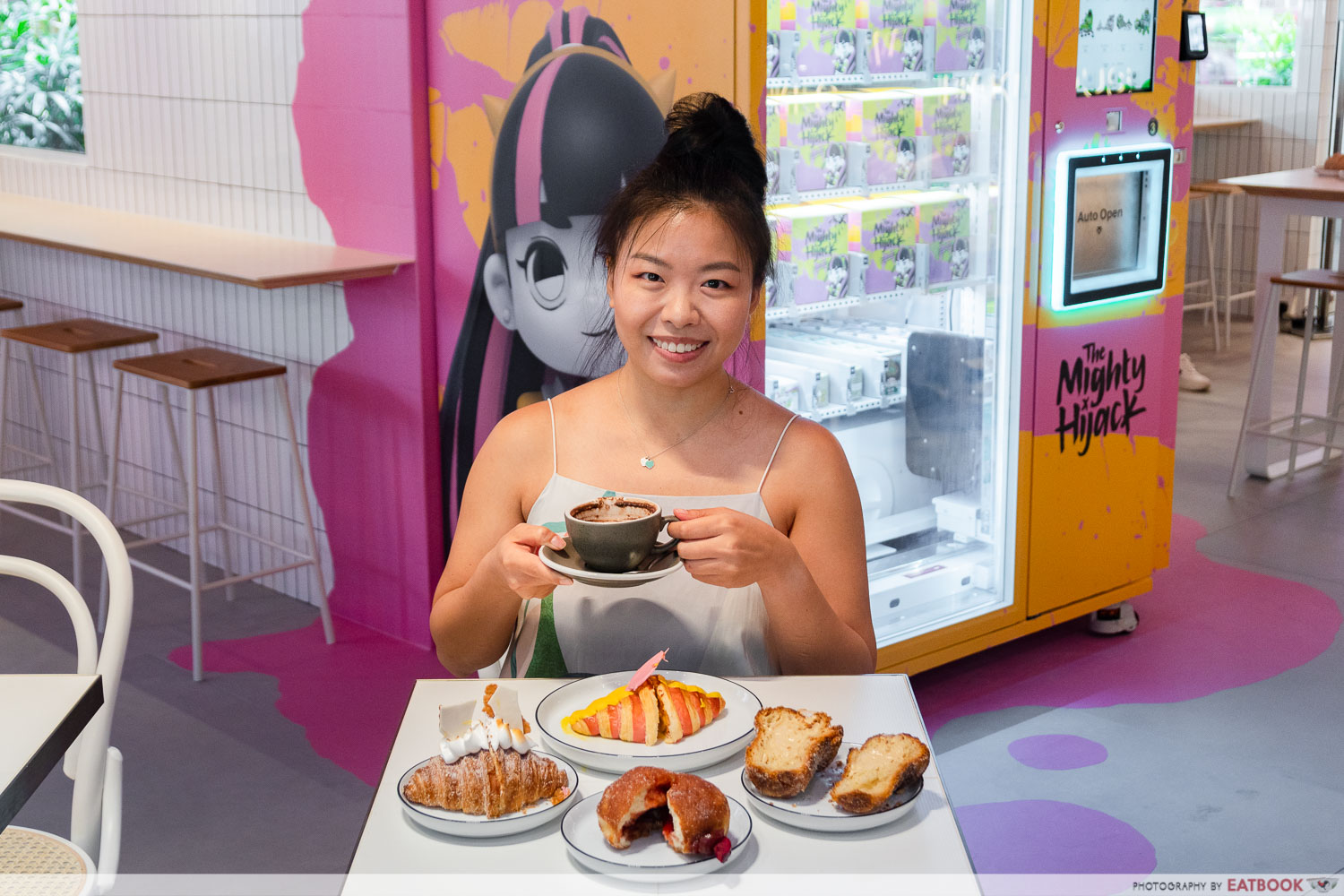 I foresee droves of incoming diners descending on Mr Holmes Bakehouse in the weeks to come, so I'll delay my return here for a bit.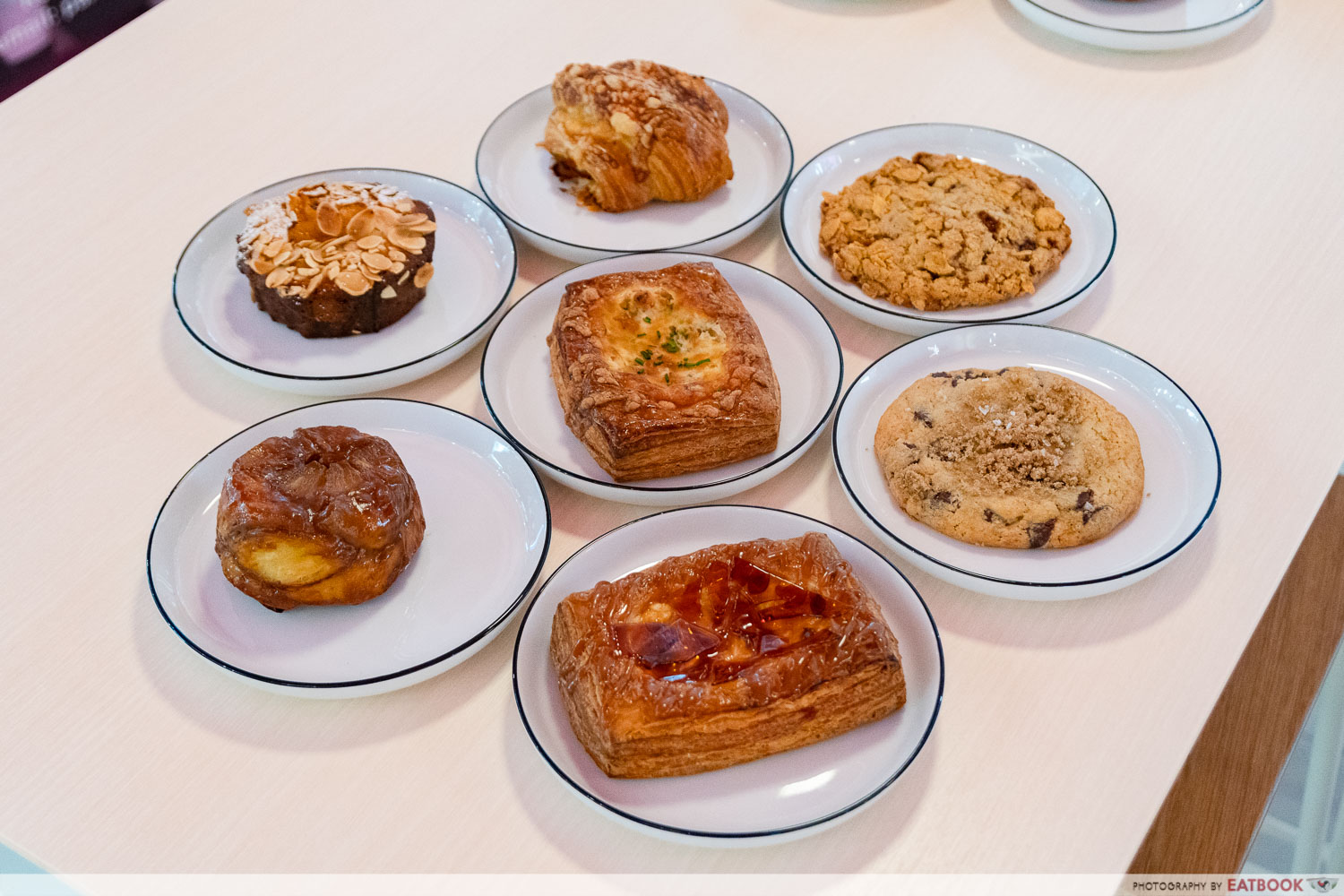 I liked that the menu had both savoury and sweet pastries, even oversized cookies, and sandwich options that aren't too basic, nor too heavy. That it's in the relatively quieter Pacific Plaza is also in its favour, for some respite from the Orchard Road bustle.
Mr Holmes has flown in some of their very own pastry chefs, who will be here temporarily to impart their skills to their local counterparts, to ensure that the pastries we get here are of the same high standards as those at the OG store in San Fran. It's to be hoped that these standards will be maintained in the long run.
At the other end of Orchard Road, Sourbombe Artisanal Bakery has also just launched its first physical store. Otherwise, check out our guide to low key food gems in Orchard!
Address: 9 Scotts Road, #01-01/02/03, Pacific Plaza, Singapore 228210
Opening hours: Daily 8am to 8pm
Tel: 6334 0308
Website
Mr Holmes is not a halal-certified eatery
10 Low-Key Orchard Food Gems To Impress Your Friends At Your Next Gathering
Photos taken by Keith Kok.
This was a media tasting at Mr Holmes Bakehouse.
Mr Holmes Bakehouse Review: Peanut Butter Milkshake Cruffin, Lemon Meringue Pie Croissant And More In Orchard
Mr Holmes Bakehouse Review: Peanut Butter Milkshake Cruffin, Lemon Meringue Pie Croissant And More In Orchard -

7.5/10
Summary
Pros
– Centrally located in the Orchard area
– Good variety of pastries
Cons
– Yellowpink croissant was soft
– Lemon Meringue Pie croissant filling was a little too tart
Recommended dishes: Bacon Habanero ($13++), Plum Yuzu Jam donut ($6.50++)
Opening hours: Daily 8am to 6pm
Address: 9 Scotts Road, #01-01/02/03, Pacific Plaza, Singapore 228210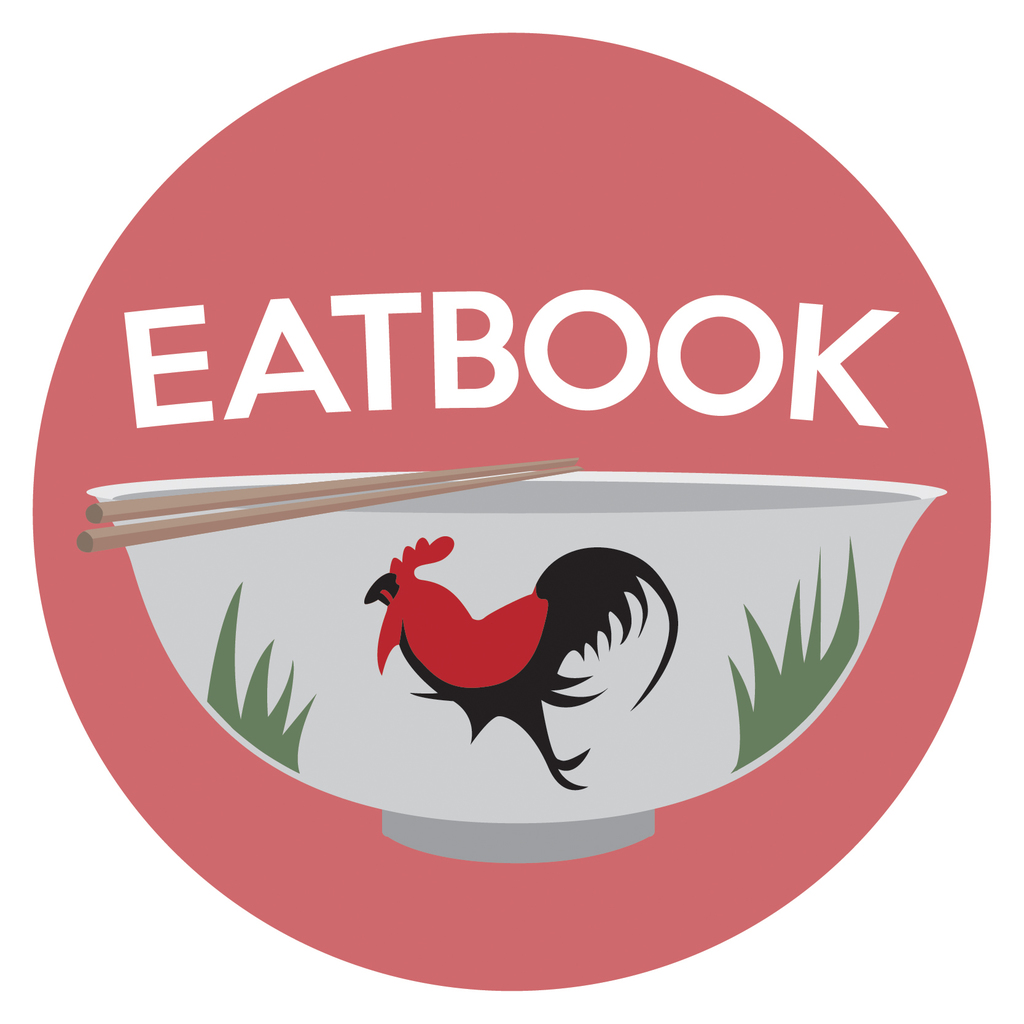 Drop us your email so you won't miss the latest news.