Celine's Gelato at Novena Regency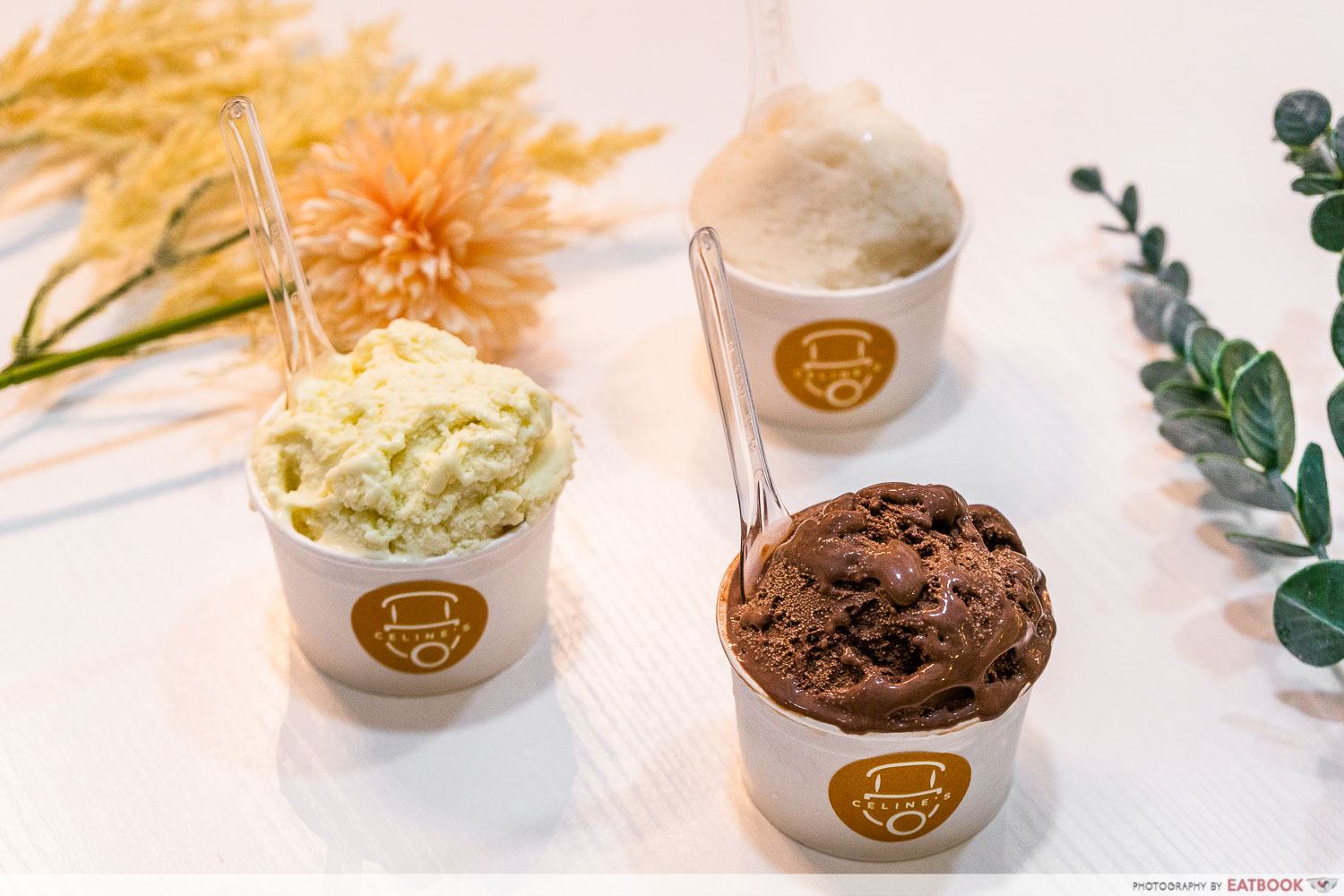 Tucked in an unassuming corner in Novena Regency, a residential and commercial building along Thomson Road, Celine's Gelato doesn't have the most outstanding location, albeit being rather central. But that's also what gives this cosy gelato hideout its charm—it's quaint and quiet with an exclusive vibe that's hard to come by these days.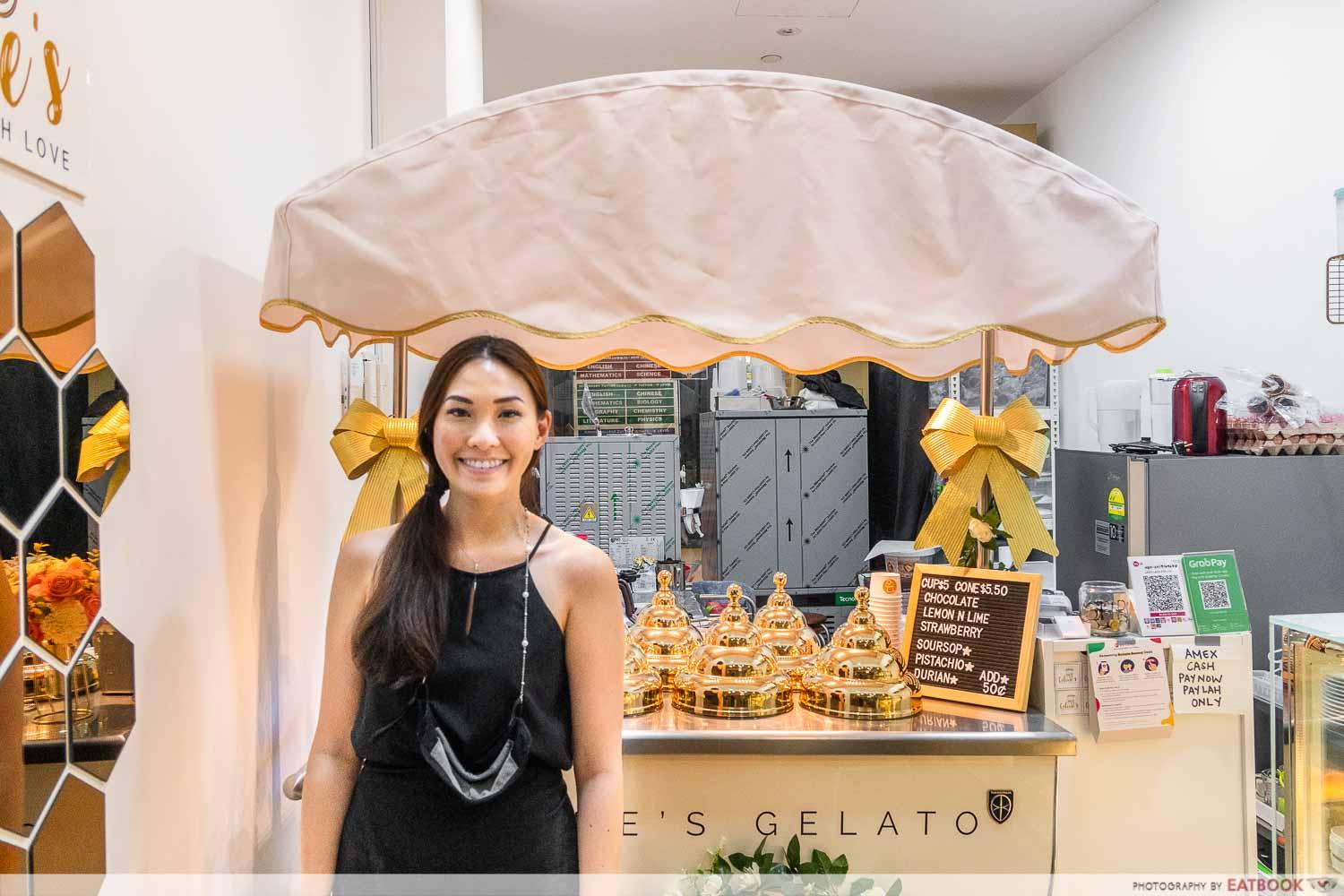 Founded by ex-air stewardess Celine, the namesake cafe takes on a no-frills concept in terms of its interiors and menu. The space is small yet comfortable, with a focus on the main attraction: a customised gelato cart fitted with a pozetti display, which is a traditional Italian way of storing gelato.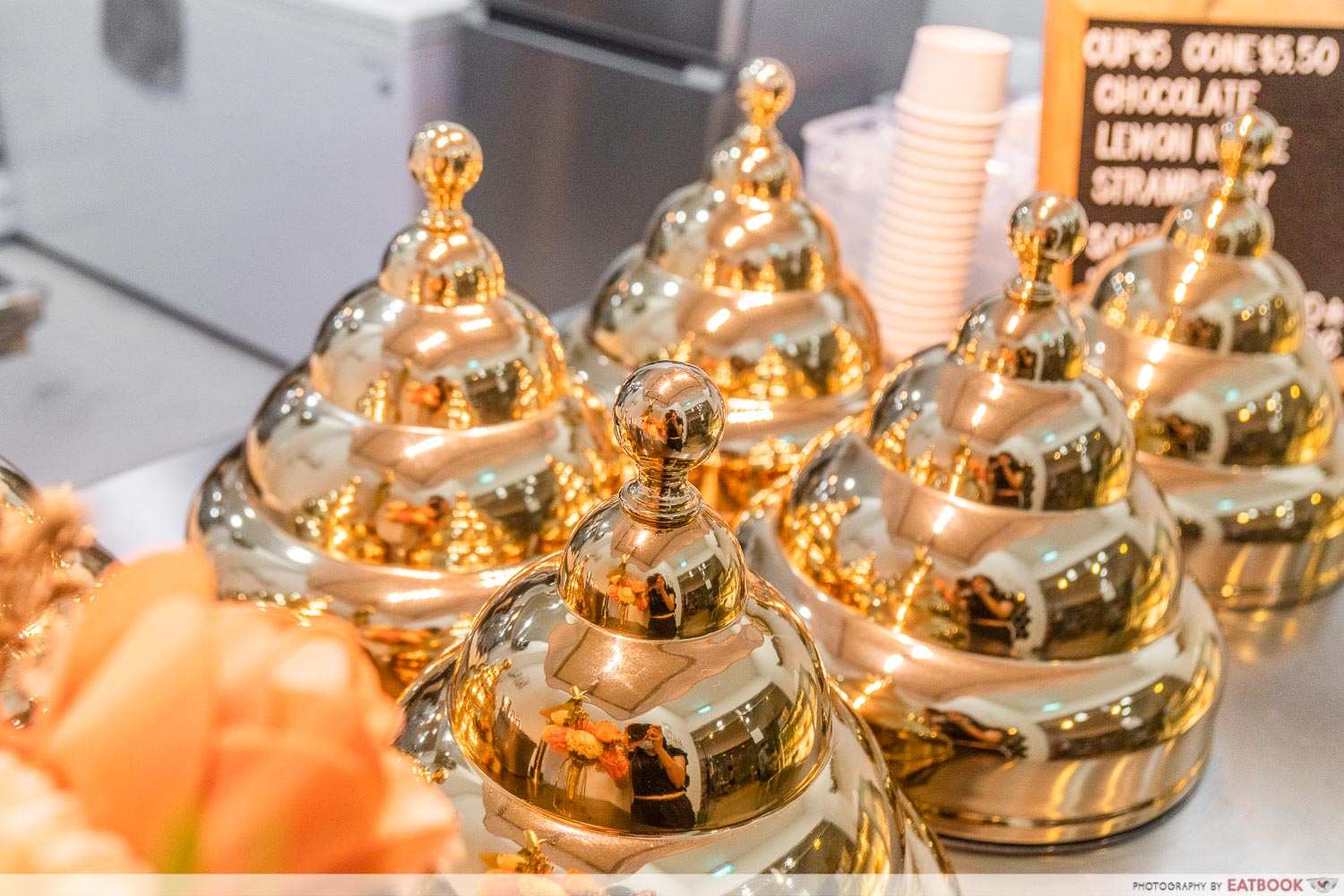 This centrepiece contains some of Celine's popular gelato flavours; she has a core menu with around six to eight mainstay flavours, alongside two new flavours that are introduced each month. Classic flavours go at $5 a scoop, while premium flavours are priced at $5.50. The gelato is served in a cup, but if you prefer having it in a cone, you can top up $0.50 for this.
Dimanche 49 Review: Gelato Cup Desserts By Pastry Chefs From Michelin-Starred Restaurants
Signatures include the Chocolate ($5), which incorporates 72% Venezuela cocoa for that ultimate bittersweet flavour. We tried this flavour on its own, and were pleasantly surprised by how rich, dark, and intense the cocoa notes were. This would definitely speak to those who love dark chocolate, as it wasn't too sweet or milky. The texture was also impeccable; it's incredibly creamy and dense, and with a slightly sticky texture.
The perfect drink to go along with this would be a cup of hot Teh O ($1.50). The cafe also serves other drinks including local Kopi (from $1.50), Milo (from $2.20), and gelato-enriched milkshakes (from $8.50).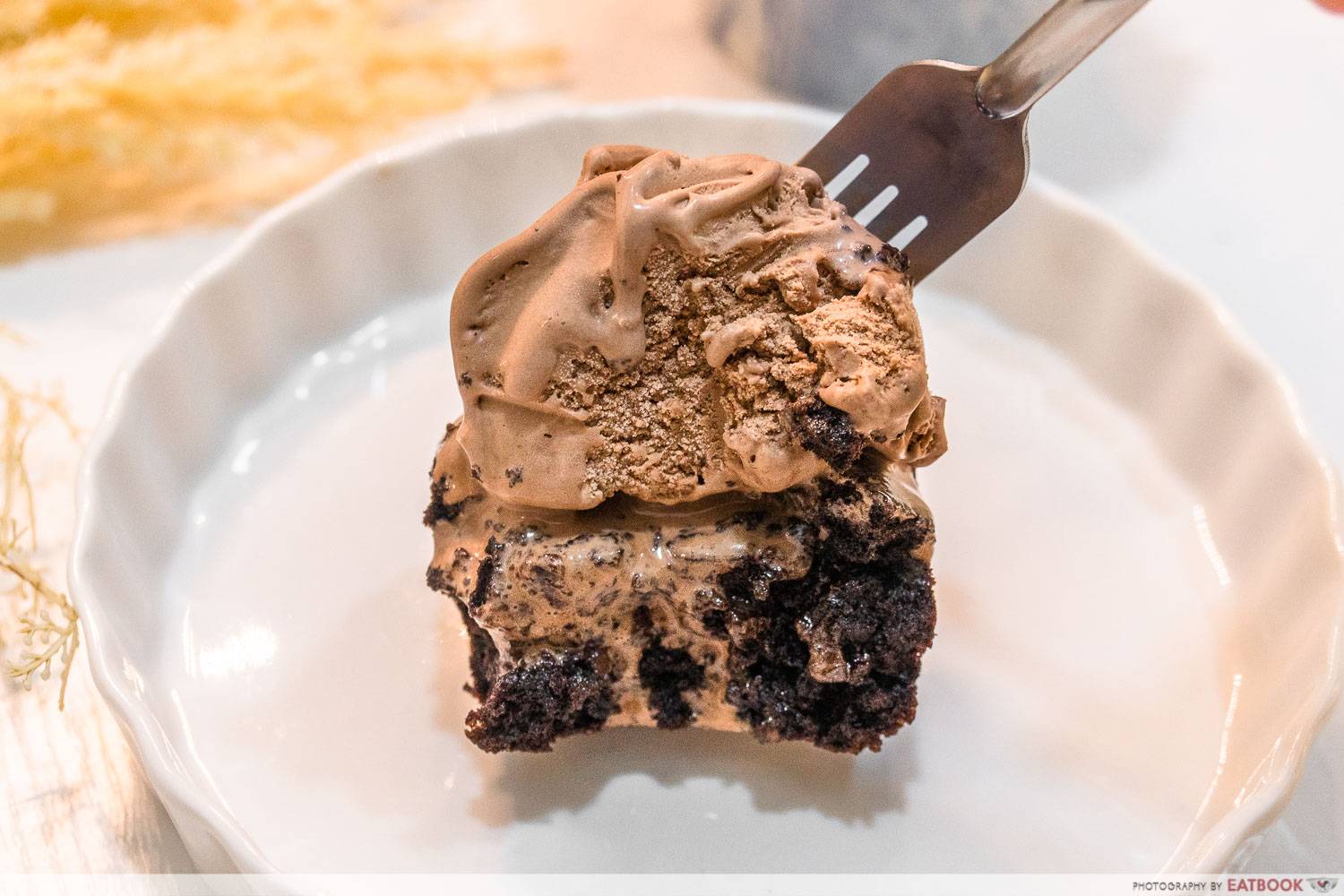 For even more chocolatey goodness, I'd recommend going for the Brownie ($5.90 a la carte or $4.90 with gelato) with a scoop of Chocolate Hazelnut ($5) gelato. I'm a sucker for hot-cold pairings, so I requested for the brownie to be warmed up for an extra gooey and warm interior.
Sweet and creamy with an almost sticky texture that was oh so addictive, this nutty gelato flavour was the perfect reference to the iconic Ferrero Rocher snack. Share this with a friend if you don't have a sweet tooth, as it could get jelak if you're having it all to yourself.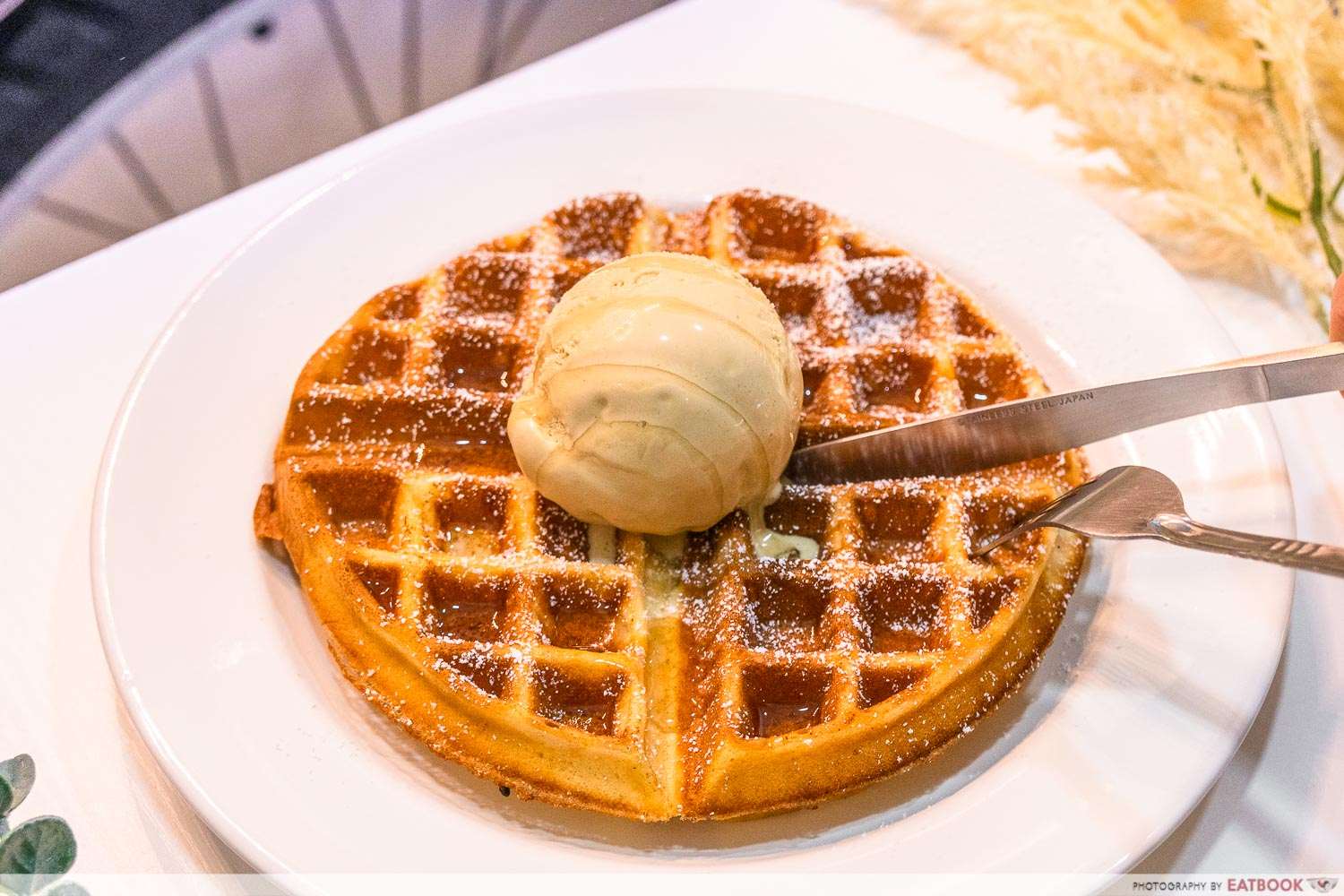 Your experience here wouldn't be complete without a serving of Waffles ($4 a la carte or $2.80 with gelato). Light and fluffy with a good crisp on the edges, these made-to-order waffles are a must-try. Although they weren't the best cafe waffles I've had, the buttery fragrance added a much-needed savoury element to the sweet lineup. Not to mention, they're priced at just $2 when you order a scoop of gelato, which makes them extremely worth it!
Amuse Dessert Co: New Store By The Dark Gallery With Truffle Basque Cheesecake Ice Cream, Pastry Boxes And More
If you prefer something with a local flair, go for their refreshing Soursop ($5.50) flavour, which was light and tangy with bits of real fruit. There's also the Durian ($5.50) gelato, which uses premium D24 durian for a rich and aromatic flavour in every bite. We could smell it the moment Celine lifted up the pozzetti cover, so I'd recommend this only for those who are crazy over durian.
For those in the mood for cake, check out the cafe's lineup of fresh bakes including Matcha Cheesecake ($8), and Cream Cheese Apple Crumble ($9). They're baked by Celine every morning at the premise, so you're getting uber fresh goodies!
Ambience at Celine's Gelato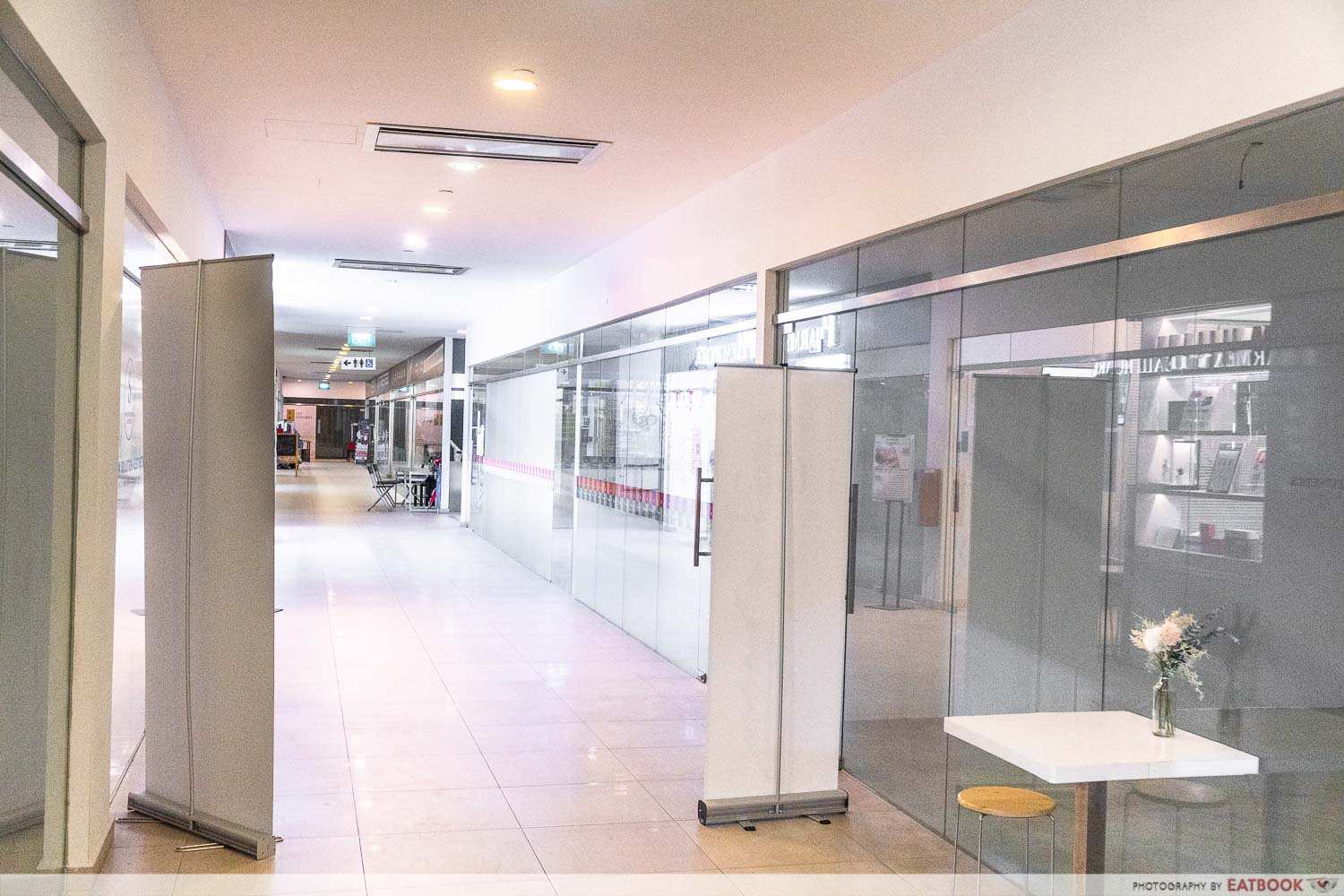 Celine's Gelato is located along a quiet row of shops in the residential building, which is a brisk five-minute walk from Novena MRT Station. The decor is kept simple with minimal fuss, as with the other businesses in the area. While it's not an ideal spot for lengthy conversations as the seats aren't the most comfortable, it's a fun pitstop for a casual gelato date if you're in the area.
The verdict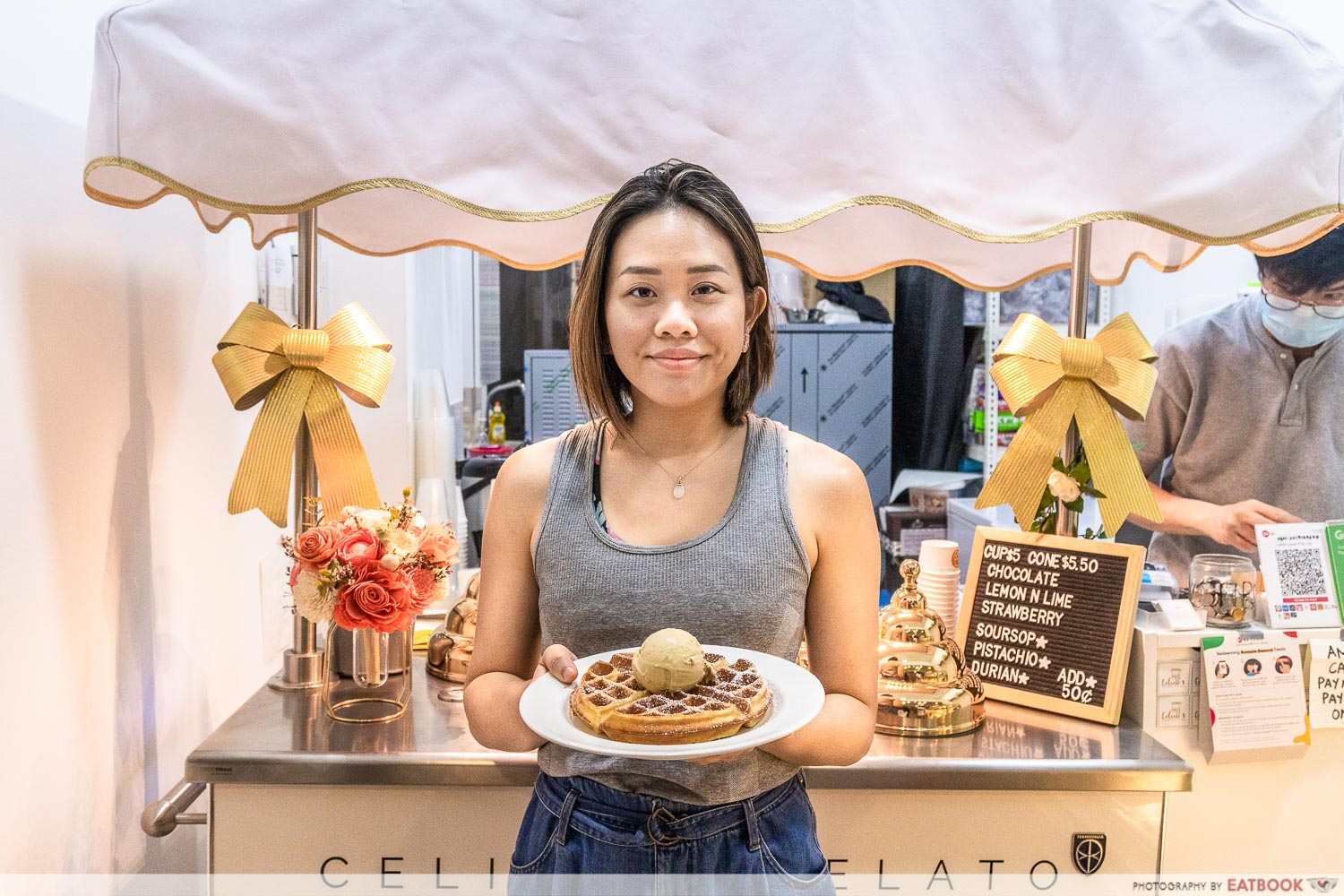 Celine's Gelato scores for its cosy setting and central location without the typical bustle of the city crowd. The housemade gelato, fresh bakes, and affordable drinks warrant a second visit—even though I don't live that nearby. Some of the offerings lean towards the sweeter side, so you might want to pop by with friends to share the calories!
If you're looking for more food around the area, check out our OG Lemak review for nasi lemak in Newton. There's also our Thomson Plaza food guide for a wider variety of options!
Address: 275 Thomson Road, #01-30, Novena Regency, Singapore 307645
Opening hours: Mon-Sat 10am to 8pm
Website
Celine's Gelato is not a halal-certified eatery.
15 Thomson Plaza Food Places For 1-For-1 Chirashi Don, Cheap Dim Sum Buffet And More
Photos taken by Emily Teu.
This is an independent review by Eatbook.sg.
Celine's Gelato Review: $2.80 Waffles And Fresh Bakes Including Matcha Cheesecake
Celine's Gelato Review: $2.80 Waffles And Fresh Bakes Including Matcha Cheesecake -

7.5/10
Summary
Pros
– Gelato was consistently good
– Prices were affordable
– Quiet yet central location
Cons
– Some flavours were too sweet 
– Limited seating 
Recommended dishes: Waffles with gelato (from $7), Chocolate gelato ($5)
Opening hours: Mon-Sat 10am to 8pm
Address: 275 Thomson Road, Novena Regency, Singapore 307645