Aroma Kampung serves 45 nasi padang dishes at its buffet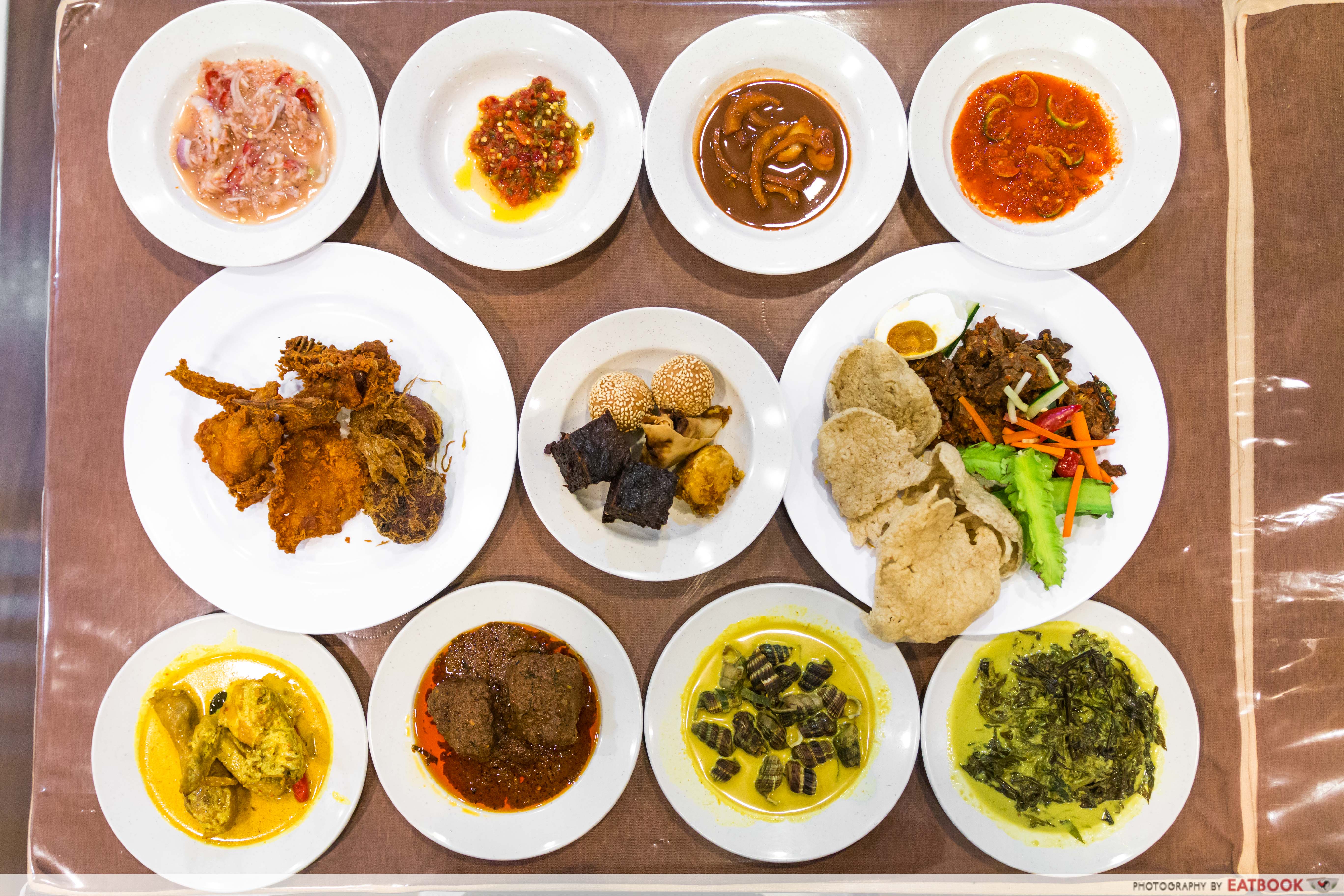 I have always had an inner vendetta against nasi padang stalls at food courts as I don't like the idea of being overcharged. I remember clearly being charged over ten dollars for a plate of white rice, a measly amount of sambal sausage, kang kong, and sweet and sour fish. You guys should have seen my face when the cashier told me the price. Stunned, I reluctantly paid for it. If I could, I would put back some ingredients or dine somewhere else to get better value.
With that being said, we stumbled upon Aroma Kampung – a Muslim-owned restaurant which offers nasi padang buffet at nett prices. We decided to check it out to see whether it's worth the price!         
Food at Aroma Kampung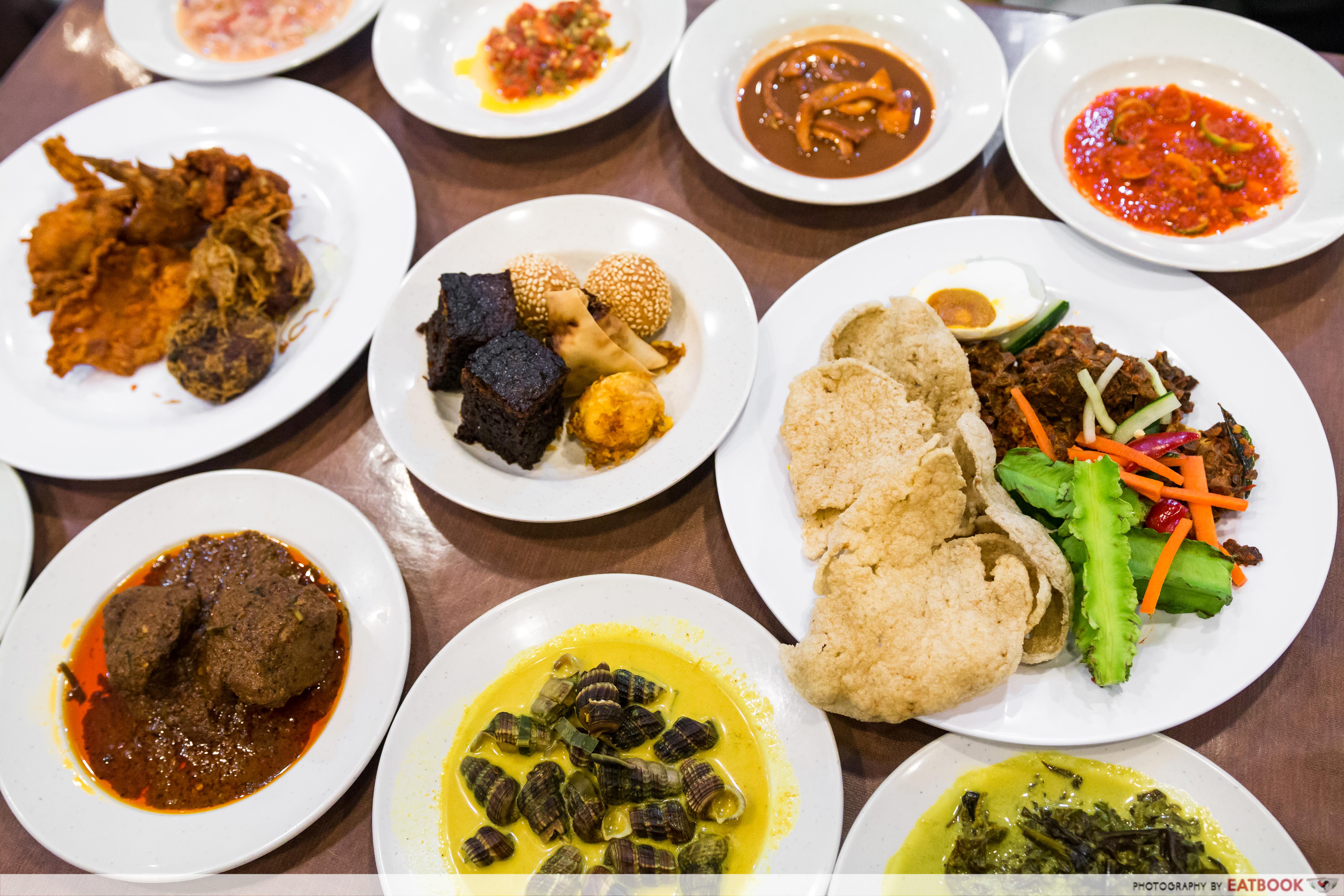 For adults, the buffet is priced at $25.90 (Mon-Thur) and $27.90 (Fri-Sun). Whereas for children aged seven to 12 years-old, it goes at $15.90 (Mon-Thur) and $17.90 (Fri-Sun). Their food is prepared in buffet trays situated at a corner of the restaurant. With over 40 nasi padang dishes, it was a food galore. Impressed by the array of dishes available, we decided to get hydrated first before getting our food. Hot and cold drinks such as teh peng, bandung, and kopi are part of the buffet, but not canned drinks and fruit juices.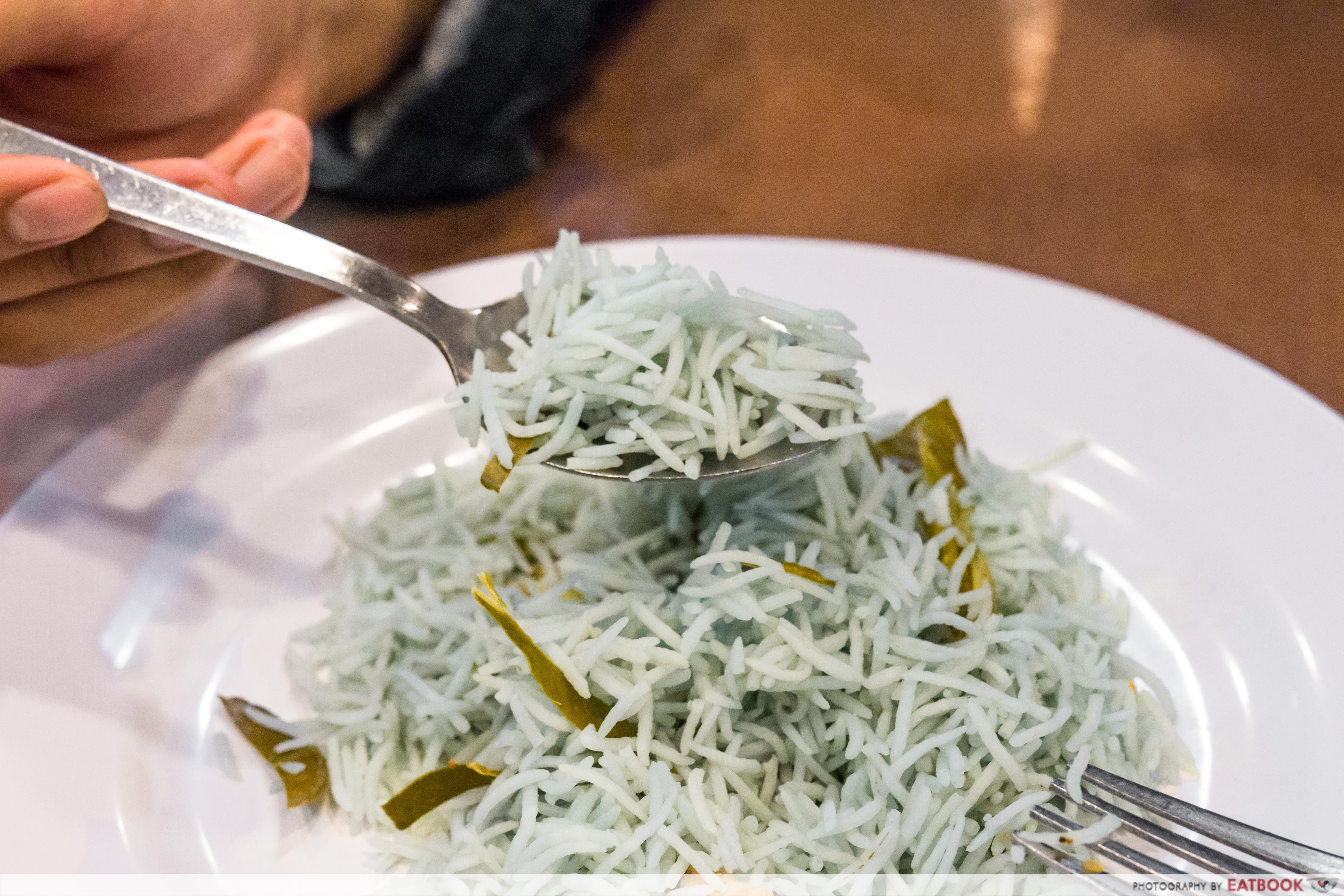 They had two types of rice available – white rice and nasi kerabu. Basmati rice is used for the nasi kerabu and it is cooked with butterfly pea flowers which stains it with a natural blue colour. Upon scooping the rice onto our plates, we could smell a subtle floral scent from it which we found quite interesting. Texture-wise, it would have been better if it was slightly moist. I still preferred the white rice, which was steaming hot and moist – how I like my rice to be.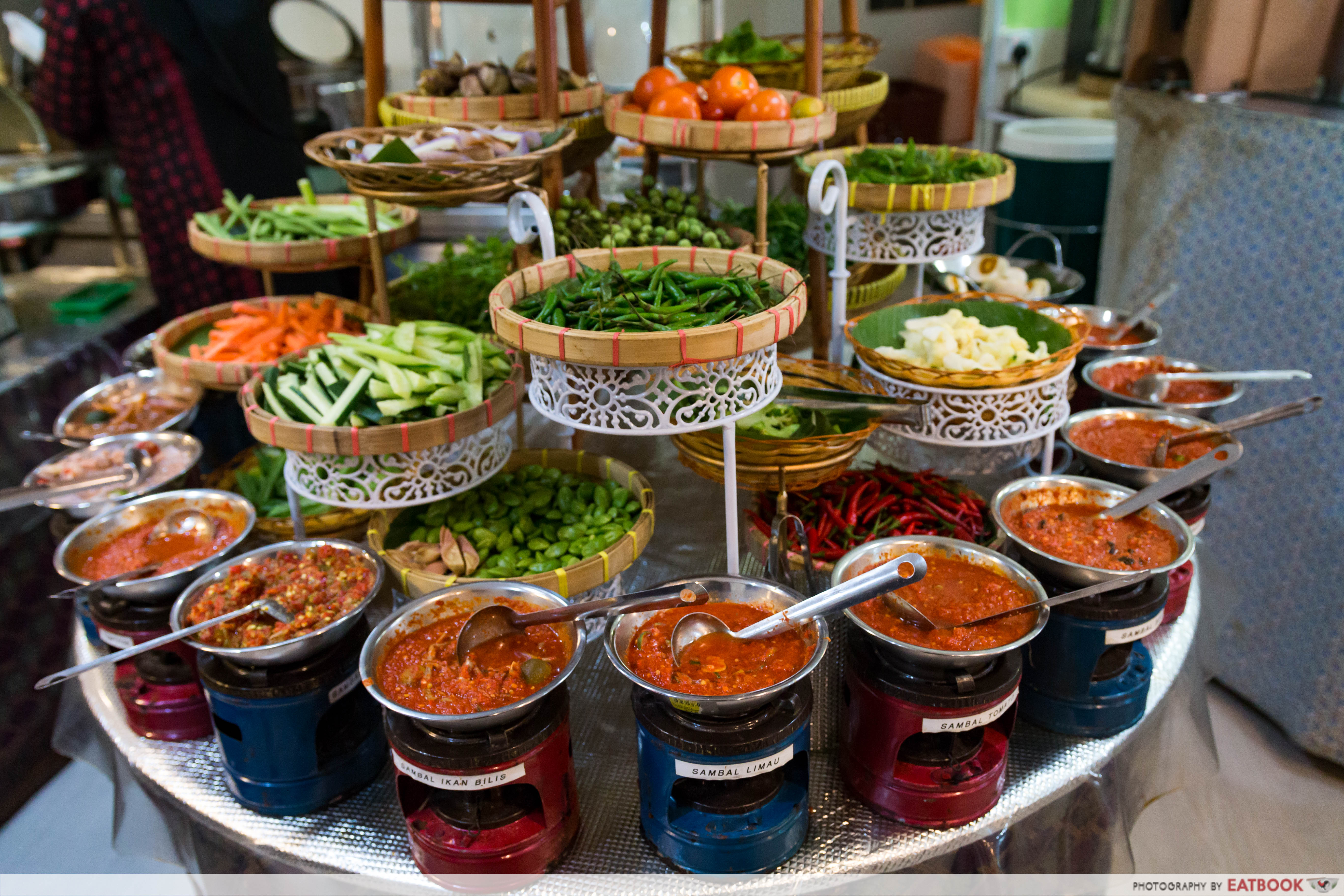 We were also fascinated by their ulam (salad) and sambal tower. They had a variety of ulam such as arugula, winged beans, chilli padi, and petai. If my parents were here they would have probably taken one of everything. Laid around the tower were the sambal chillis – kosong, kecap, petai, ikan bilis, limau, belimbing, budu, mangga, tempoyak, selasih, tomato, and cincalok. We only took four that we found most interesting, namely sambal limau, belimbing, budu, and cincalok.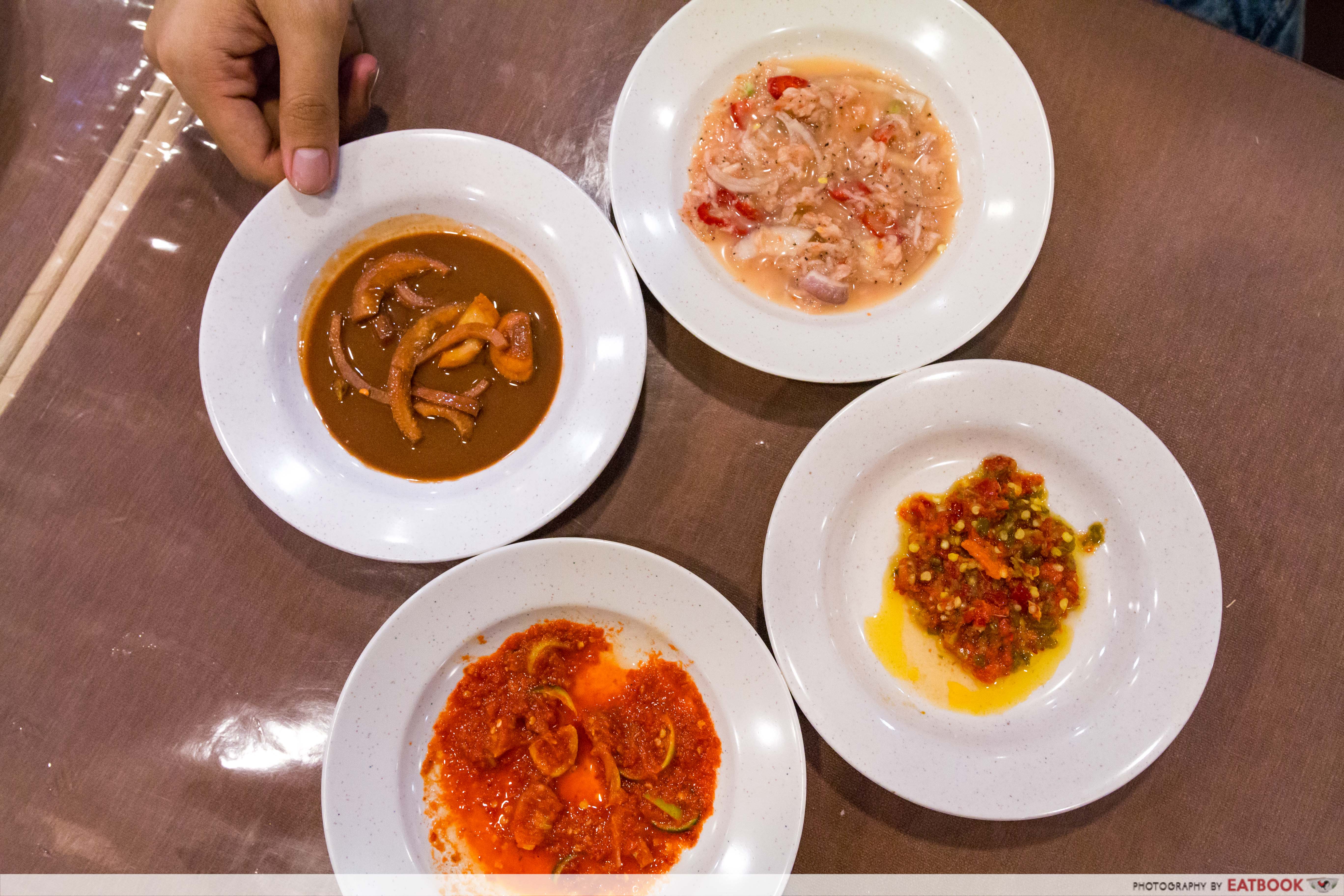 The sambal limau had thinly sliced limes mixed into the sambal, which gave it a zesty flavour. This was a great dip for deep-fried food as the sourness of the lime helped to cut the greasiness. Next, we had the sambal budu which consisted of fermented anchovies sauce. It had an acrid taste which can be enjoyed with ulam and rice. I'm not a fan of this as the smell was a little off-putting.
Sambal belimbing consisted of bilimbi fruit, which gave a tangy flavour to the spicy sambal that I really liked. I literally dipped every bit of meat I had into it. Lastly, we braved ourselves to try the cincalok. It is a fermented shrimp sauce that has a pungent smell. You should have seen our unglam expressions when we tried it. It was too salty and sour for my liking – tasted almost rancid. I would say it is an acquired taste as other customers around me seemed to enjoy it. I requested for a cup of bandung right after in an attempt to resuscitate my taste buds.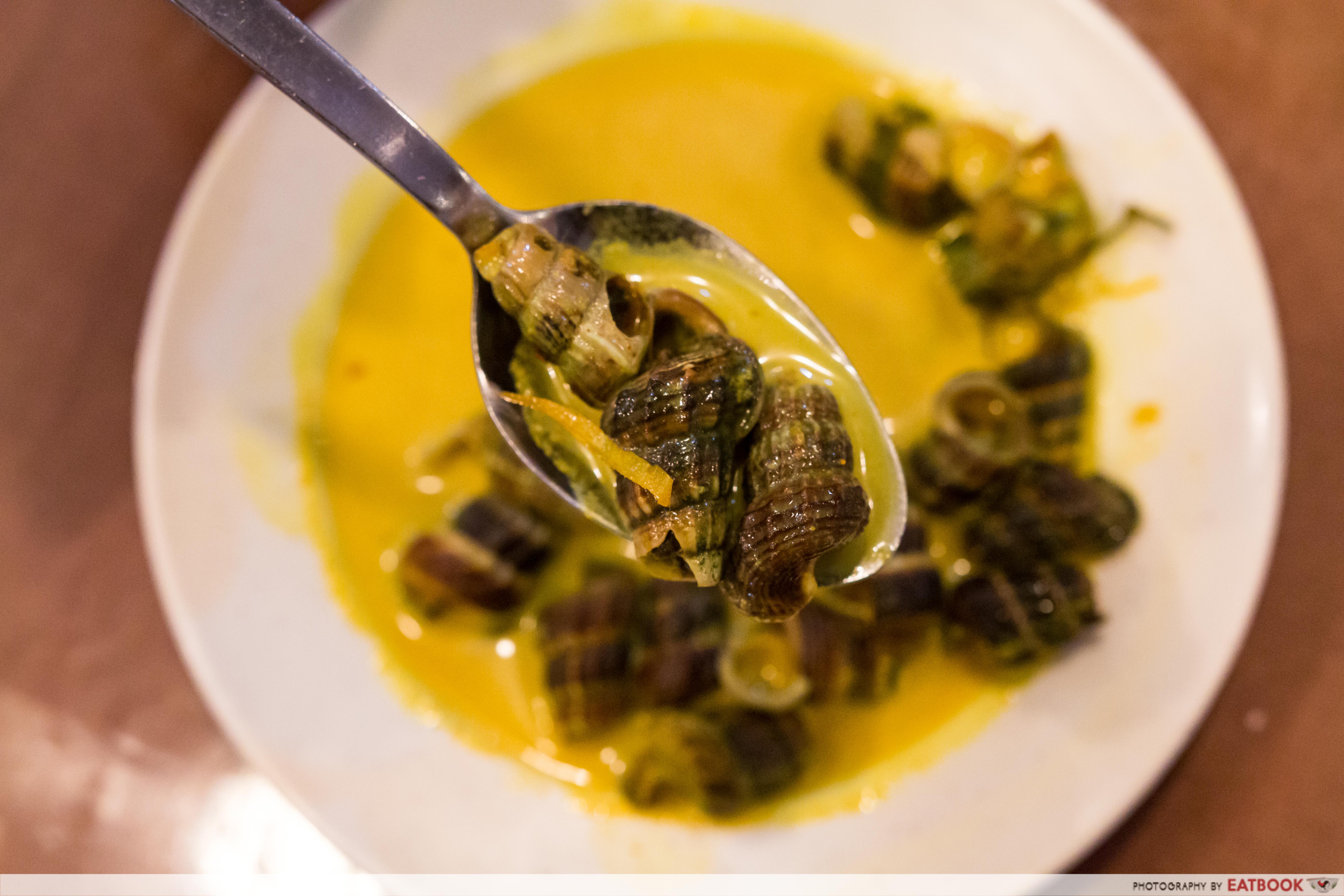 We decided to try Siput Sedut Lemak Chilli Padi, an all-time favourite dish loved by many. Siput means snail and sedut means to suck. The back of the shell was chopped off so that we can suck out the snail flesh easily. The flesh was chewy and a little slimy. It tasted almost like clams but with a stronger aftertaste. The lemak chilli padi gravy gets its yellow-orangey colour from turmeric powder. It was quite jelak after a while as it was ladened in coconut milk. It would've been better if it was spicier. Just a tip – remove the operculum before swallowing the flesh as it might get stuck to your roof of your mouth.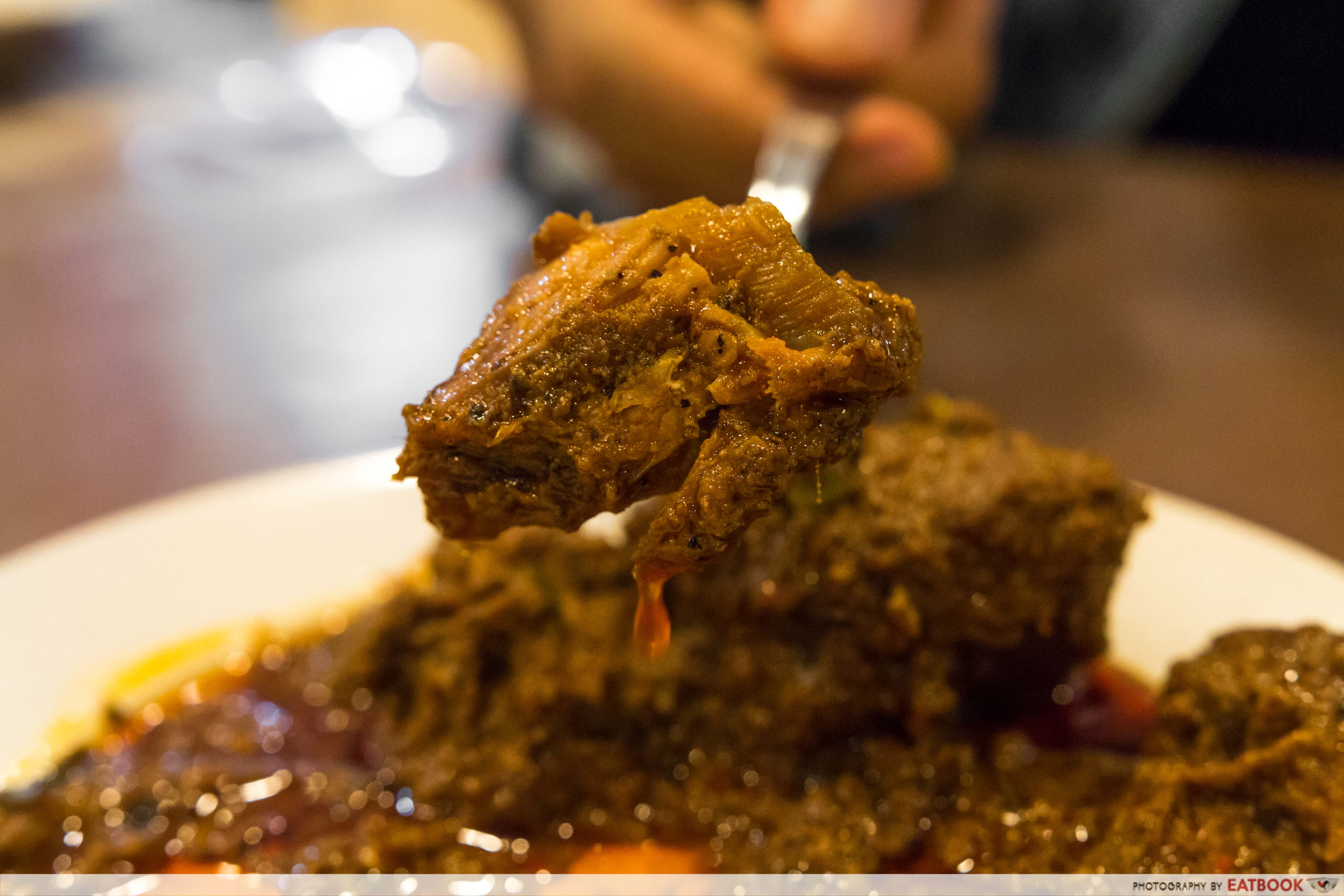 We couldn't give Beef Rendang a miss as nasi padang feels incomplete without it. We were amazed that the beef was served in huge chunks. The rendang was quite oily so we had to drain the oil when scooping it onto our plate. As promising as it looked, the texture proved otherwise. The meat was tough and we had to use some strength to tear it apart. Albeit its tough texture, the meat was marinated well. Unlike regular rendang gravy, theirs had a fibrous texture to it from grated coconut. We got a little tired from tearing and chewing so we couldn't finish the beef rendang.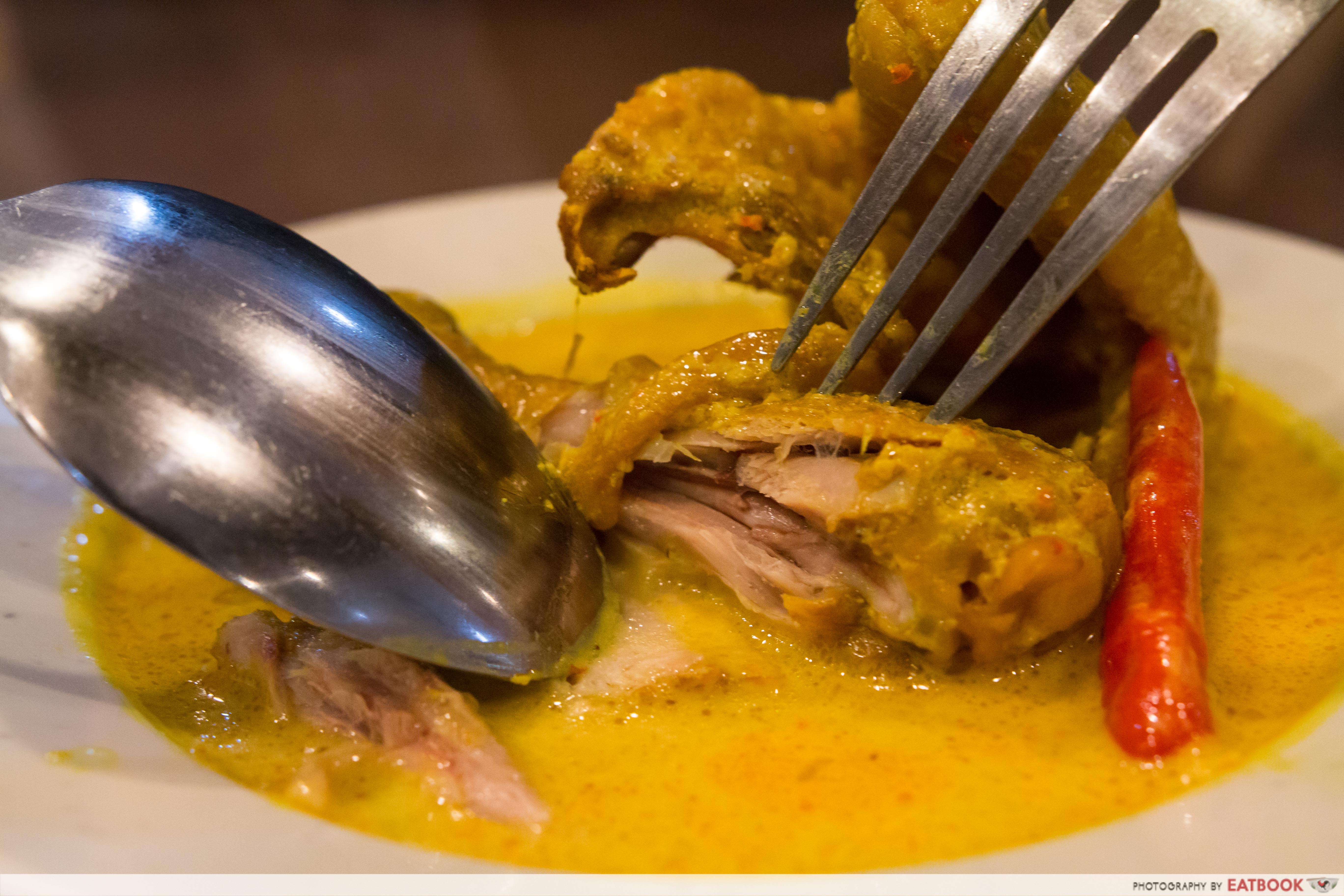 I love Ayam Lemak Chilli Padi and I would always pester my mom to cook it. I knew I had to try theirs and I was not disappointed at all. The gravy was salty and spicy the way I like it. The chicken meat was tender and thoroughly absorbed the gravy, making the meat very flavourful. Try dipping the meat into the sambal limau and your taste buds will thank you for that. I had to drench my rice with the gravy which added an extra oomph.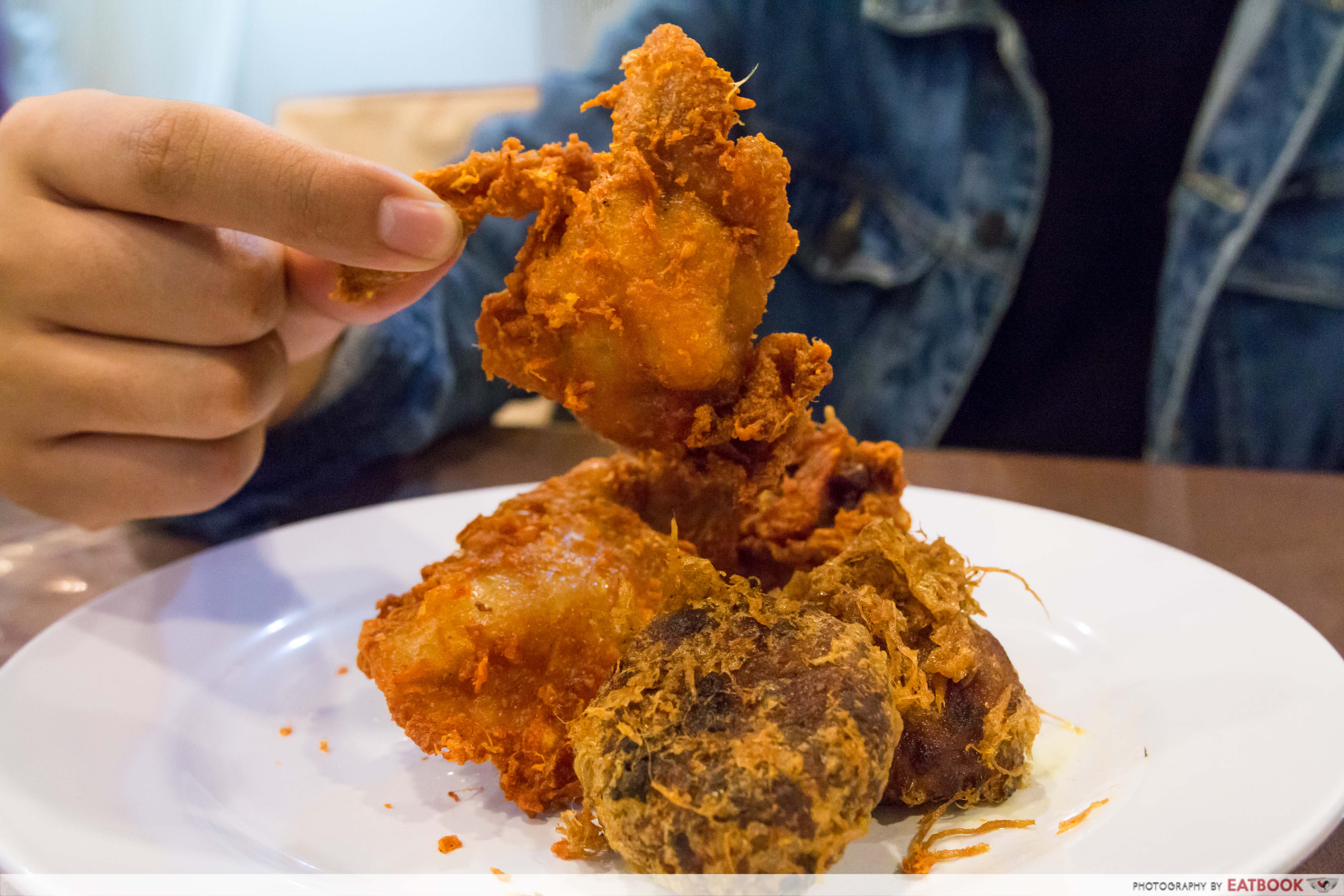 Apart from gravy-laden dishes, they also had a deep-fried food station with dishes ranging from chicken and fish to tempeh. We had their Deep-fried Chicken, Deep-fried Chicken Skin, and Begedil. The chicken batter was nicely seasoned and not too greasy. It was so crunchy the customers around me started looking at me, or probably because we took too much food. Its crunch was so addictive I simply had to get more chicken skin and betray my diet. Eat it with the rice, lemak chilli padi gravy, and sambal belimbing.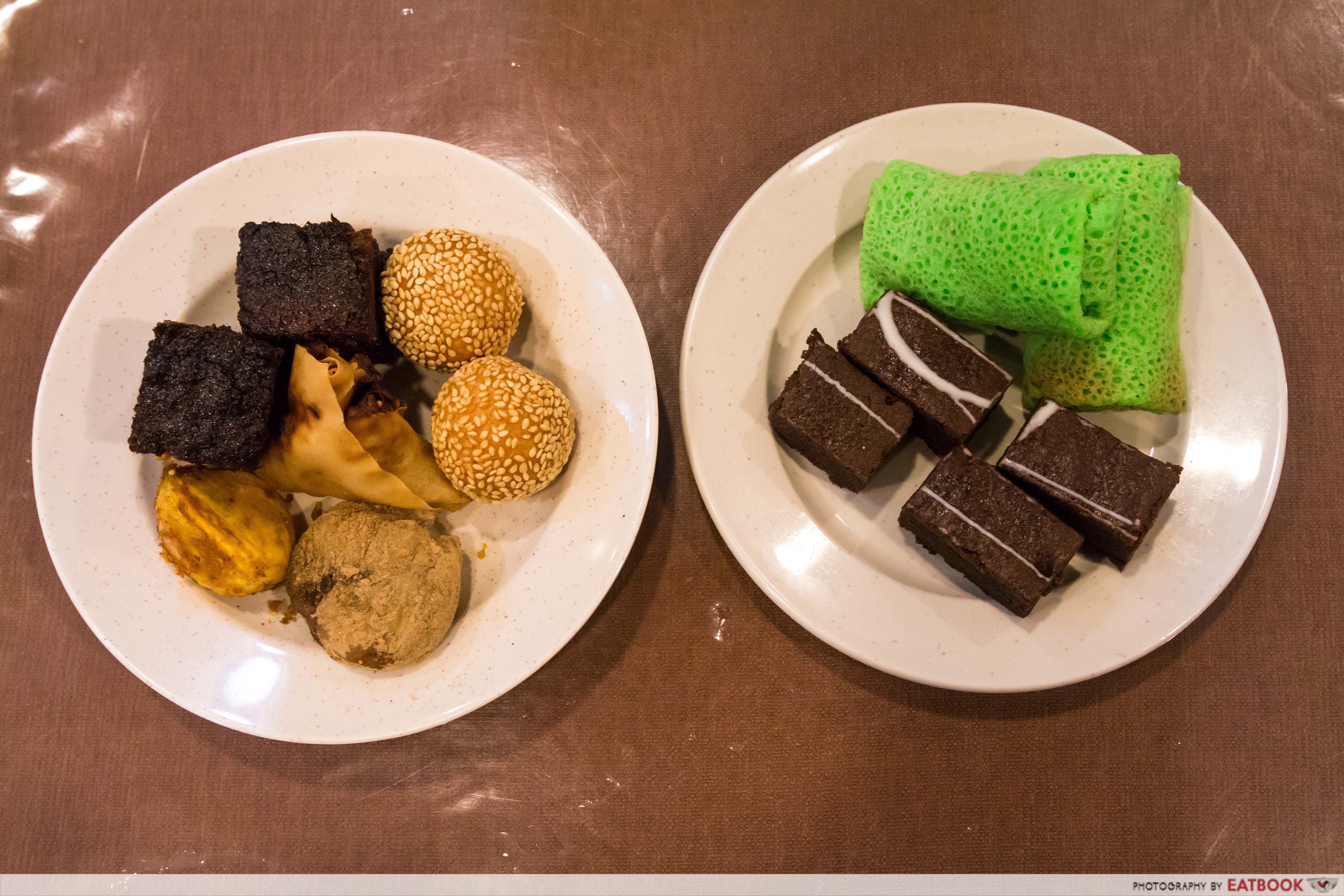 Their dessert section might not be as impressive as the main dishes but it was still decent. They had desserts such as Kuih Dadar (rolled coconut crepes), Kuih Bom (sesame ball with red bean filling), and Kek Gula Hangus (burnt caramel cake). The kuih dadar was light and fluffy, and the coconut filling was mixed with gula melaka making it sweet and savoury. I personally like red bean in general so I might be biased with their kuih bom but the skin was a tad too thick. The red bean filling, however, was quite sweet and nutty and the sesame seeds gave a gritty texture.   
Ambience at Aroma Kampung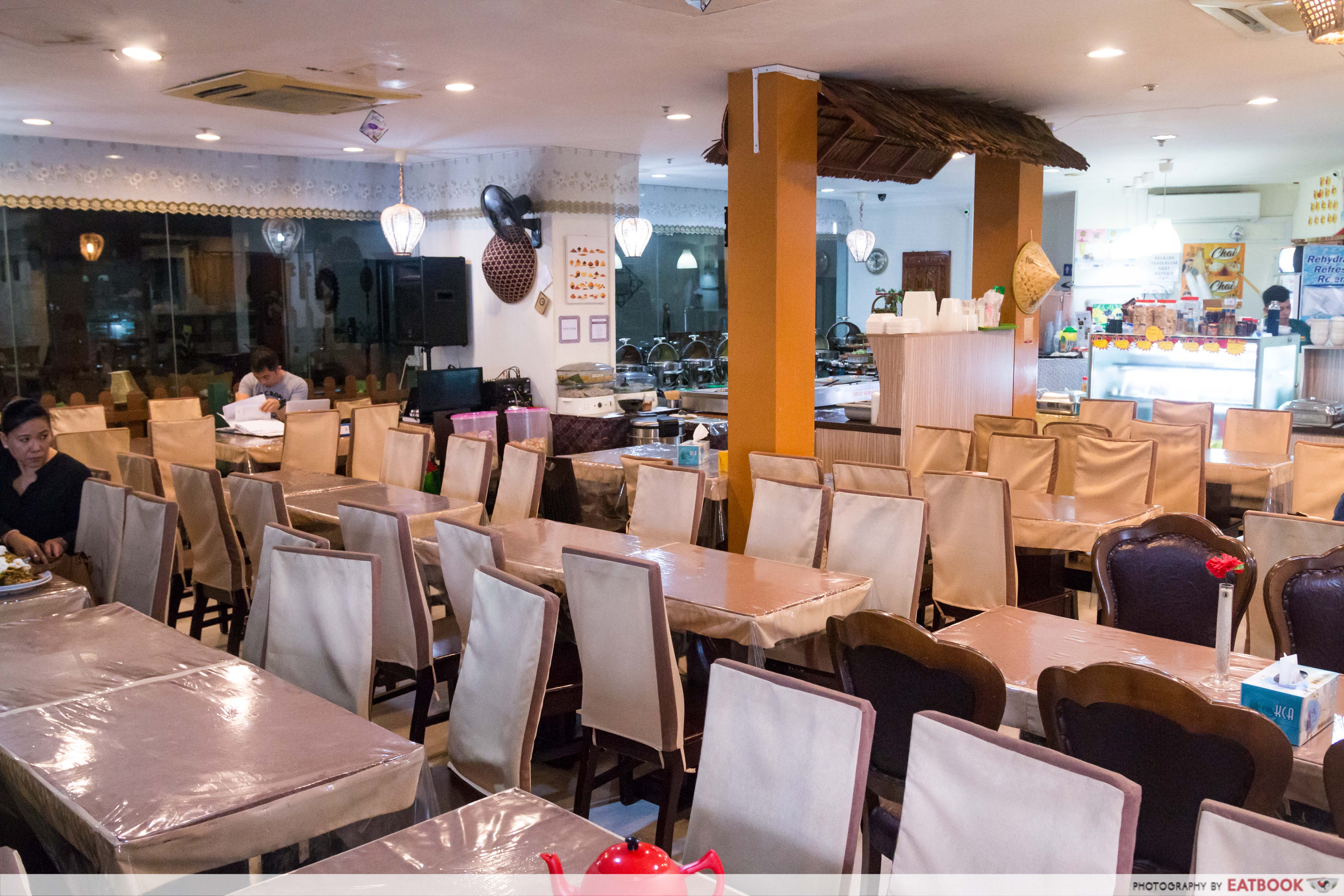 The restaurant is located at Joo Chiat Complex, which is about a five-minute walk away from Paya Lebar MRT Station. The restaurant caters to weddings as well so don't be too surprised if you see a wedding dais in front of the restaurant. Even though it is fully air-conditioned, the food station is located away from the dining area so your clothes won't reek of petai. You can either walk-in or call them in advance for reservations. Do anticipate some dining-in-the-dark experiences as the restaurant had a few power trips when we were there. I liked that they decorated the interior with traditional antiques as well, giving it some kampung vibes. The staff members were all very friendly and helpful, making our experience even more joyful.   
The verdict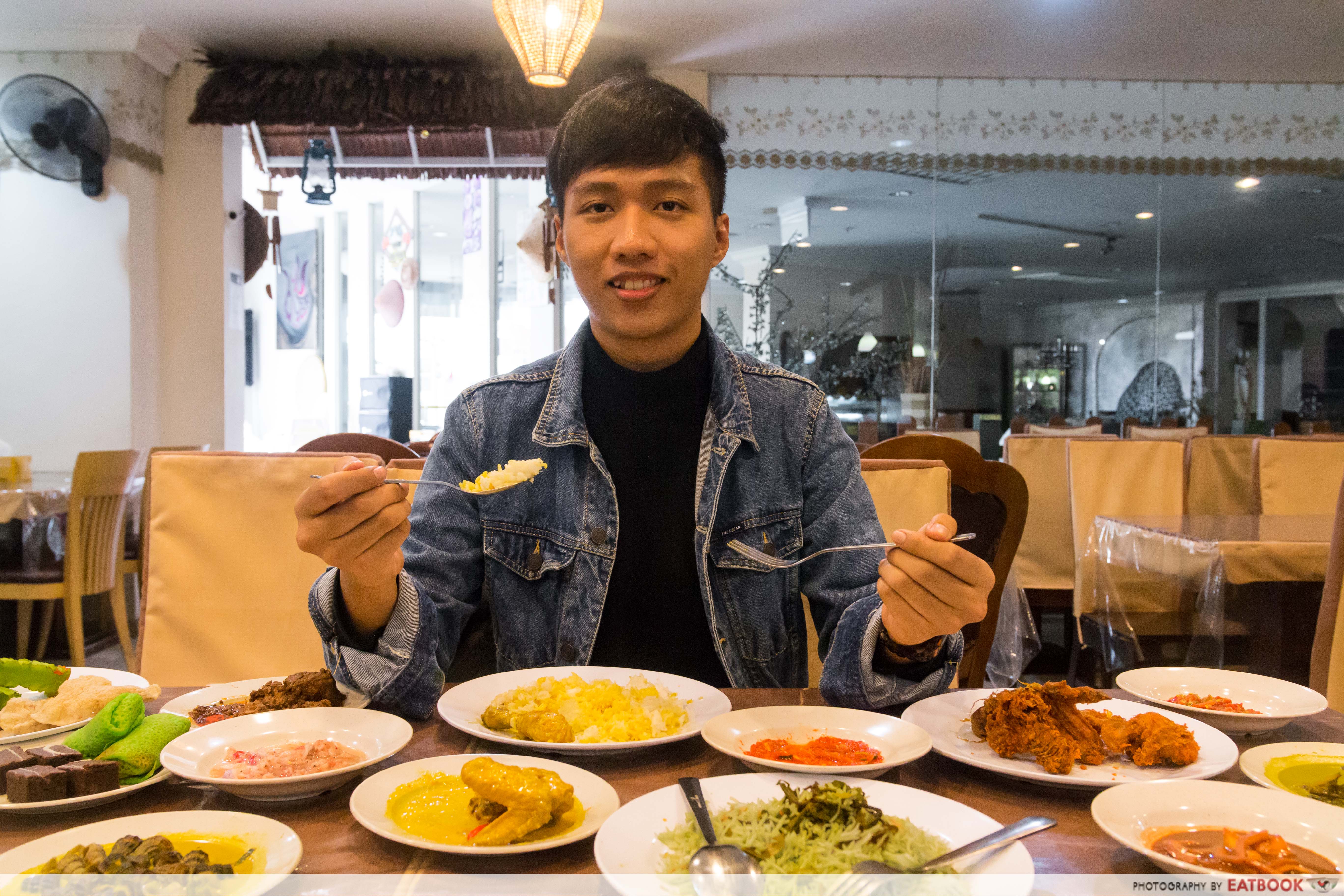 All in all, our experience was an eventful one. I must say that their quality control must be quite stringent to maintain the standards of over 40 dishes every single day. Price-wise, it was relatively wallet-friendly and everything was at nett prices. The dishes were great and there were plenty of choices available for everyone. I would definitely bring my parents here one day and eat to our hearts' content. For more value-for-money halal noms, check out these budget halal food places at Orchard or Enak's giant nasi ambeng! 
Address: Blk 2 Joo Chiat Complex, #03-1111, Singapore 420002
Opening hours: Daily 10am to 7pm
Tel: 8753 1500
Website
Aroma Kampung is a Muslim-owned eatery.
This is an independent review by Eatbook.sg.
Summary
Pros
– Huge variety of dishes
– Salad and sambal tower
– Free-flow drinks
– Nett prices
Cons
– Squeezy dining area
– Tough beef rendang
Recommended Dishes: Nasi Kerabu, Ayam Lemak Chilli Padi, Sambal Belimbing, Deep-fried Chicken Skin
Operating Hours: Daily 9am to 7pm
Address: 2 Joo Chiat Complex, #03-1111, Singapore 420002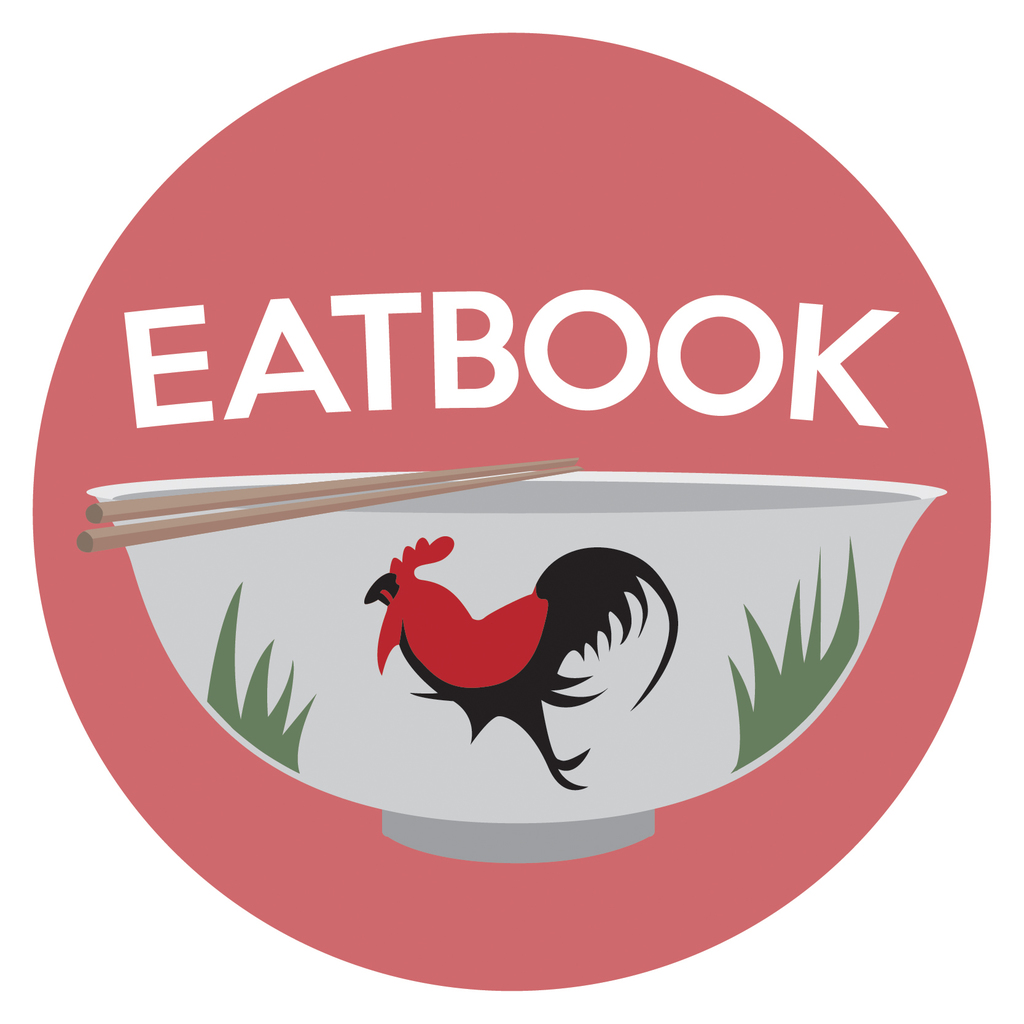 Drop us your email so you won't miss the latest news.