Bebek Goreng Pak Ndut serves Indonesian crispy duck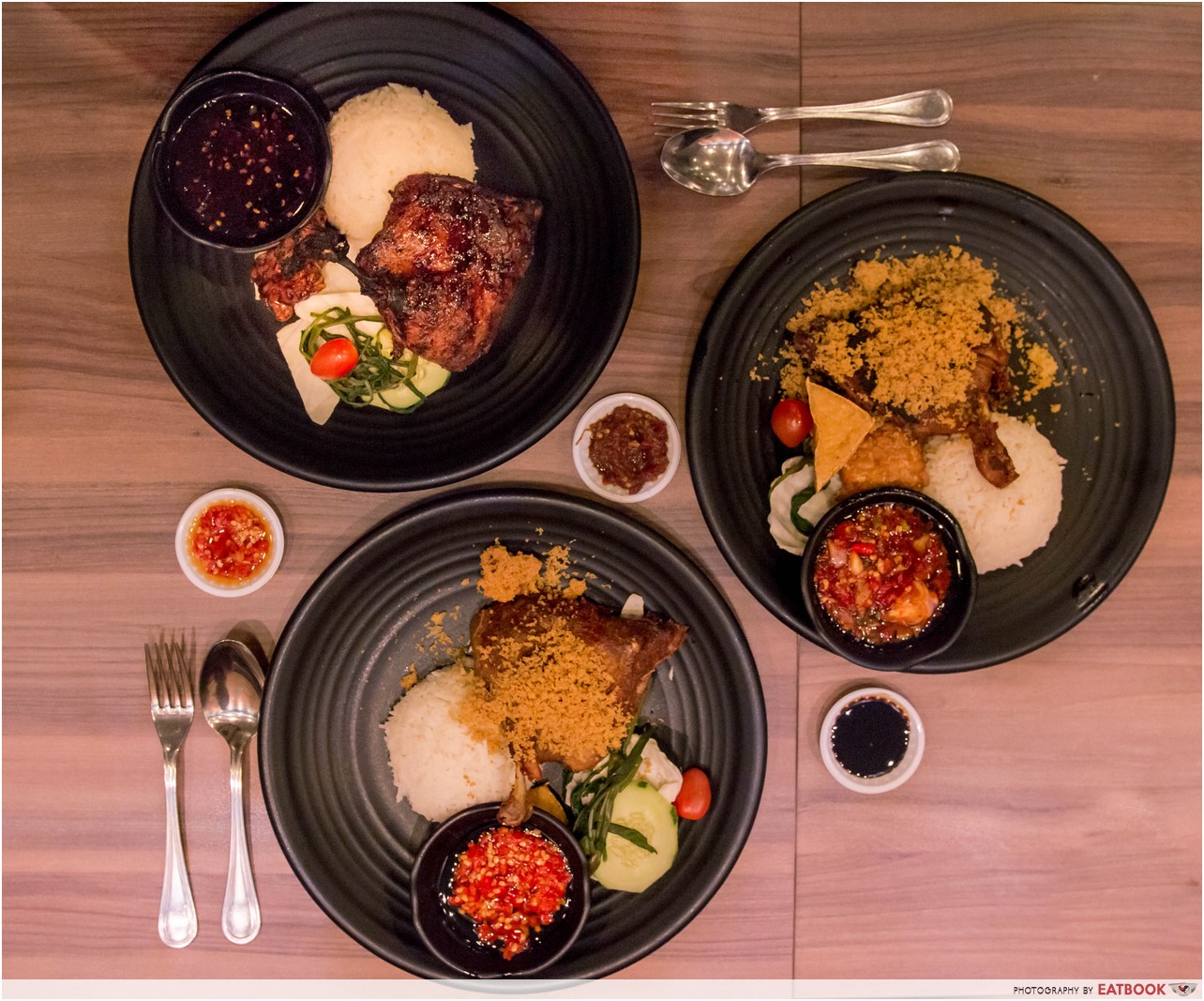 As embarrassing as it sounds, I have never tasted duck meat before in my entire life until last year when I was in Indonesia. While we were travelling en route to Mount Bromo, our Grab driver recommended their local bebek goreng – fried farm-grown duck served with rice and sambal hijau (green sambal). We were not disappointed at all and a sudden realisation dawned upon me that I have been missing out in life.
It is difficult for us to find halal-certified duck meat here in our homeland and I was overjoyed when I stumbled upon Bebek Goreng Pak Ndut. I had to give it a try, and see if it comes close to what I had back then.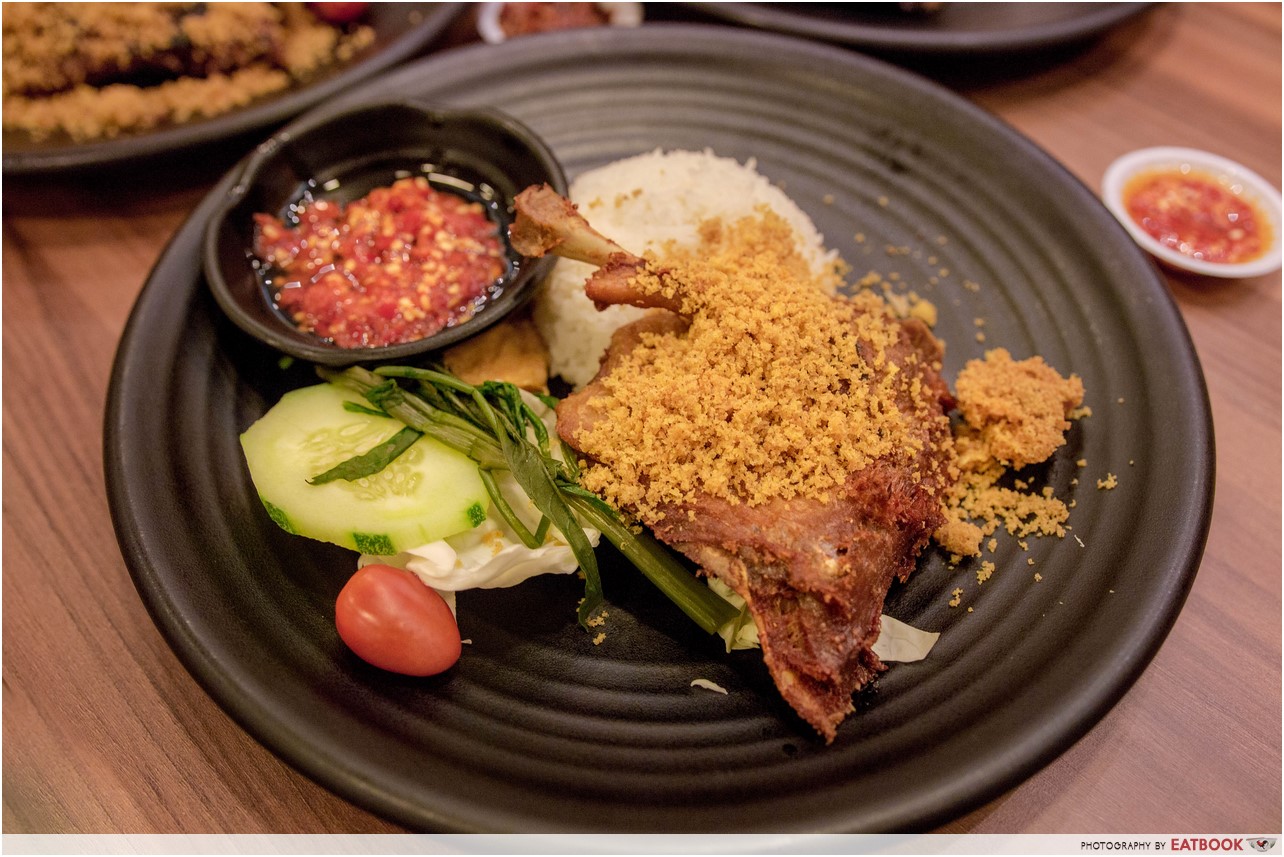 We are all familiar with nasi ayam penyet but bebek goreng is the highlight here. We decided to get Original Crispy Duck Rice ($9.90). You can choose between breast or thigh meat for your dish and I chose the latter – I simply can't live without drumsticks. Served on a big plate of plain rice was tahu tempeh goreng, house-made sambal, and a deep-fried duck thigh topped with a generous amount of kriuk (flour crumbs). I couldn't tell if the plate was too big or the portions were too small – probably the former.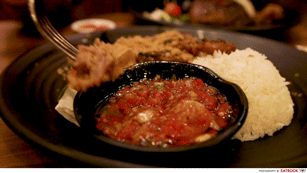 The duck was marinated in a blend of spices and deep-fried, giving it a luxurious golden-brown colour. I'm not kidding when I say the skin was really crispy and flavourful. The kriuk added another level of crunch to the dish – it was damn shiok. Aside from that, I loved that the duck meat was super tender as I could tear its meat apart from its bone with ease. It wasn't gamey, and its flavour and texture were akin to deep-fried chicken. I started asking myself if I was having chicken or duck meat. Dip it into their special house-made sambal for a fiery kick, and it helps to cut through the greasiness of the meat as well.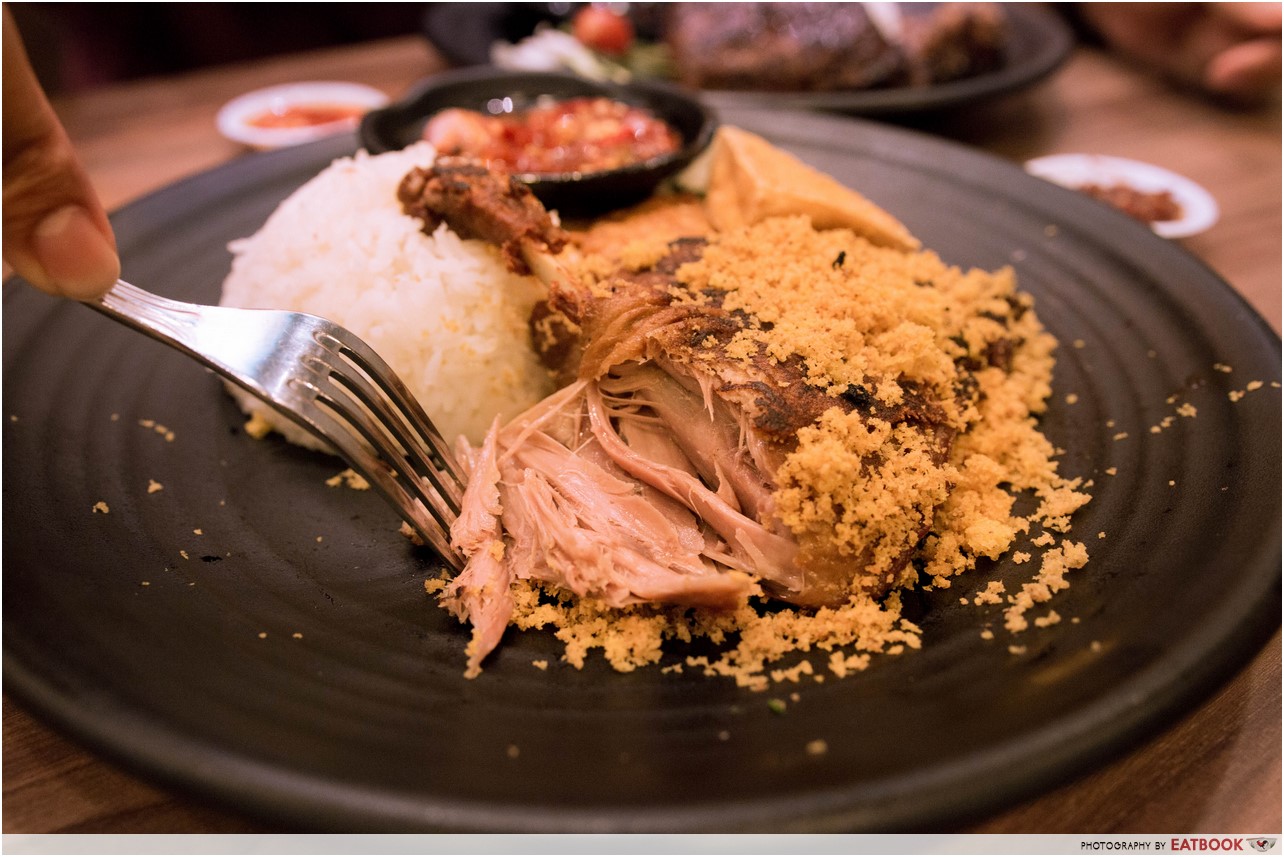 Sangan Crispy Fried Duck Rice ($10.50) is slightly different from the original one. The duck meat is pan-fried without using oil. The meat was tender, savoury and had a little smokiness from the slight charring on the skin. It was slightly greasy from its own fat which added more flavour to the meat. It was served with sambal matah (raw sambal), which added a unique flavour. However, the meat was slightly dry and it would have been better if it was served with a bowl of soup. It left my throat parched at the end and I found myself itching for a glass of water.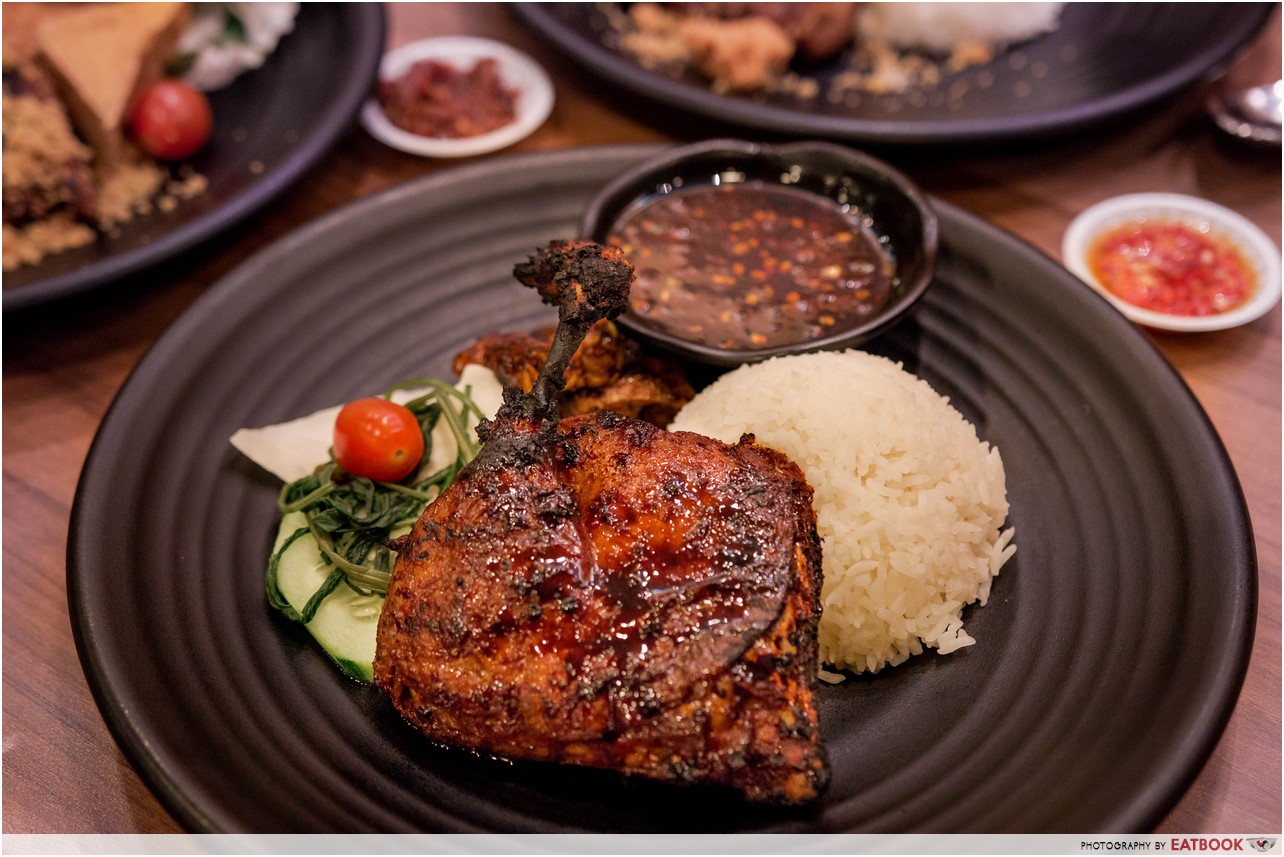 Make way for Grilled Duck Rice ($9.90) – it may look unassuming but let's suspend our judgements for now. Marinated in their house-made sauce and grilled over flames, the duck had just the right amount of charring. The meat was seasoned nicely, making every part of the succulent meat evenly flavourful. The skin was sweet, tangy and very smoky – just the way I like it.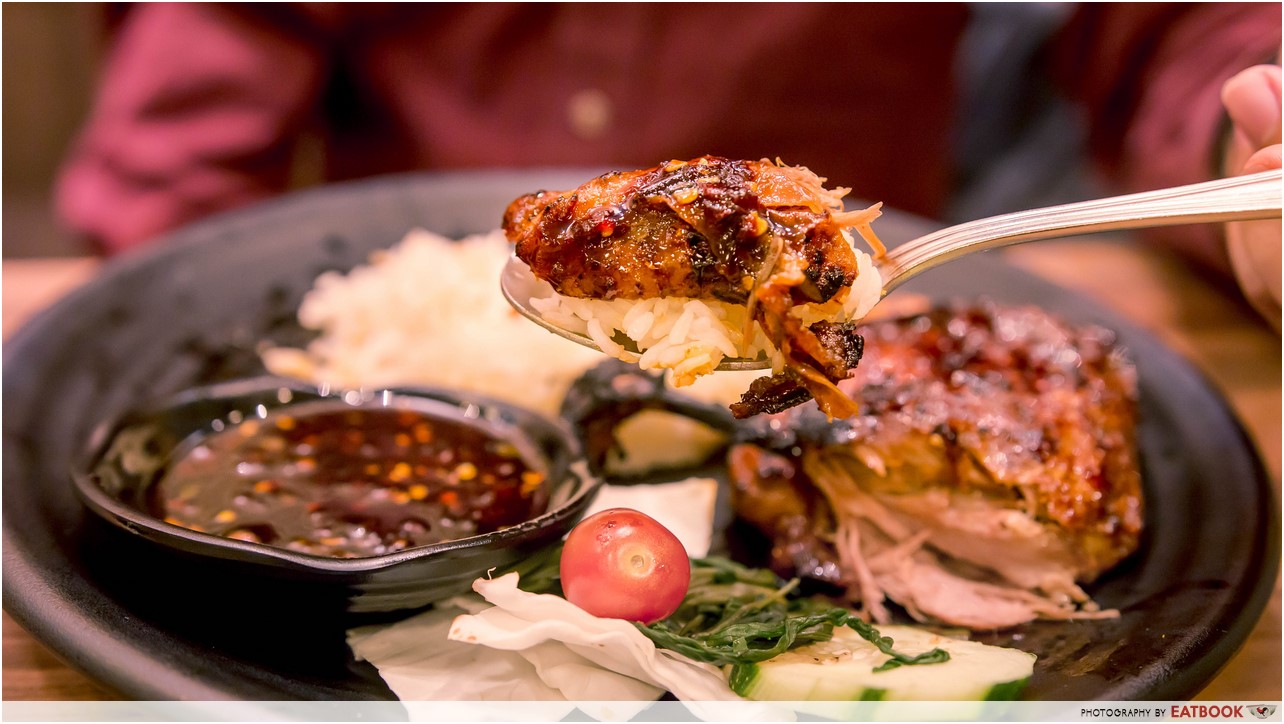 Dip it into the bowl of luscious sambal manis for more sweetness, which paired really well with the smokiness of the duck meat. The spiciness only kicked in at the back of our throats right after we swallowed. Before I knew it, I had already finished the duck meat, and was left with its measly bones. My plate looked like it was ravaged by a school of piranhas.
Ambience at Bebek Goreng Pak Ndut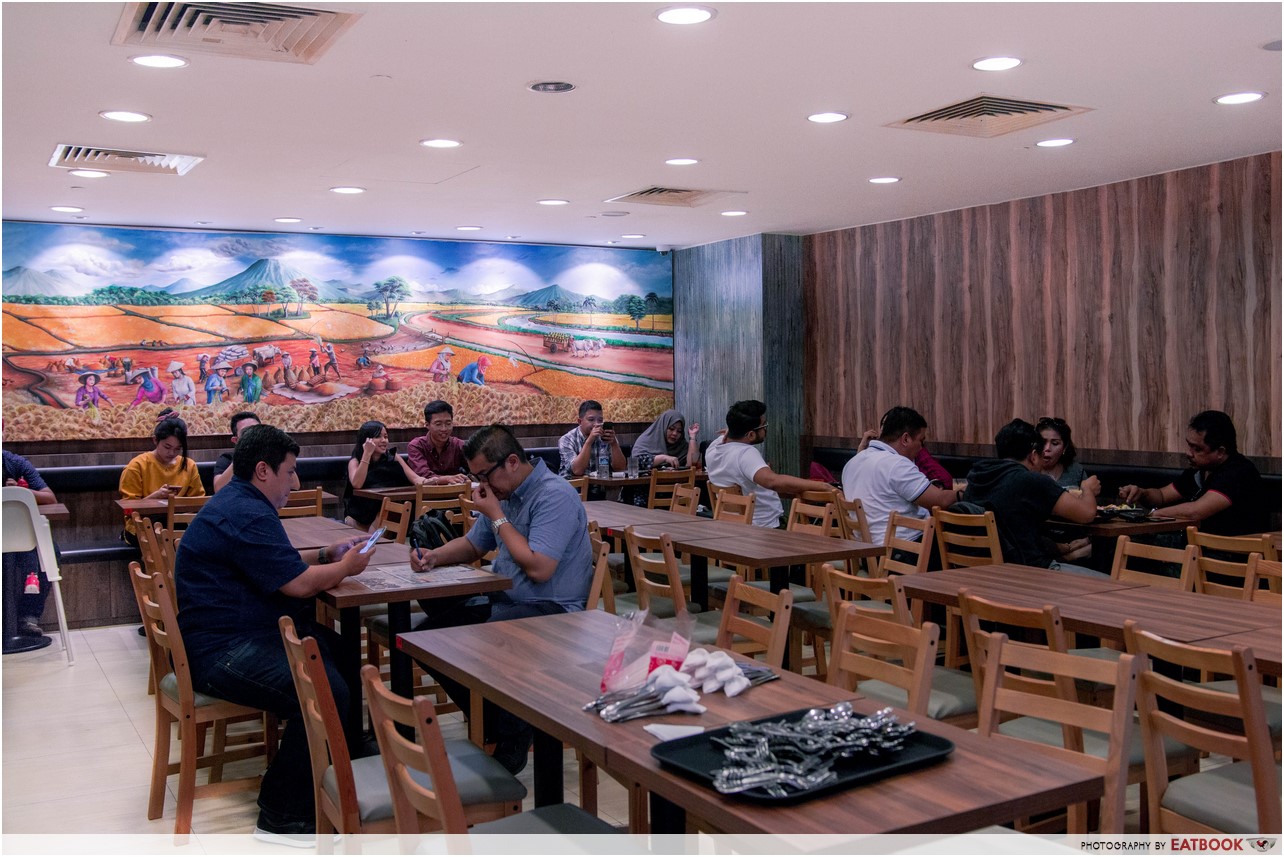 The restaurant was quite spacious and they have plenty of tables available. The staff members were really polite and warm, especially the old lady who served us that day. The restaurant is fully air-conditioned so you can enjoy your meal comfortably.   
The verdict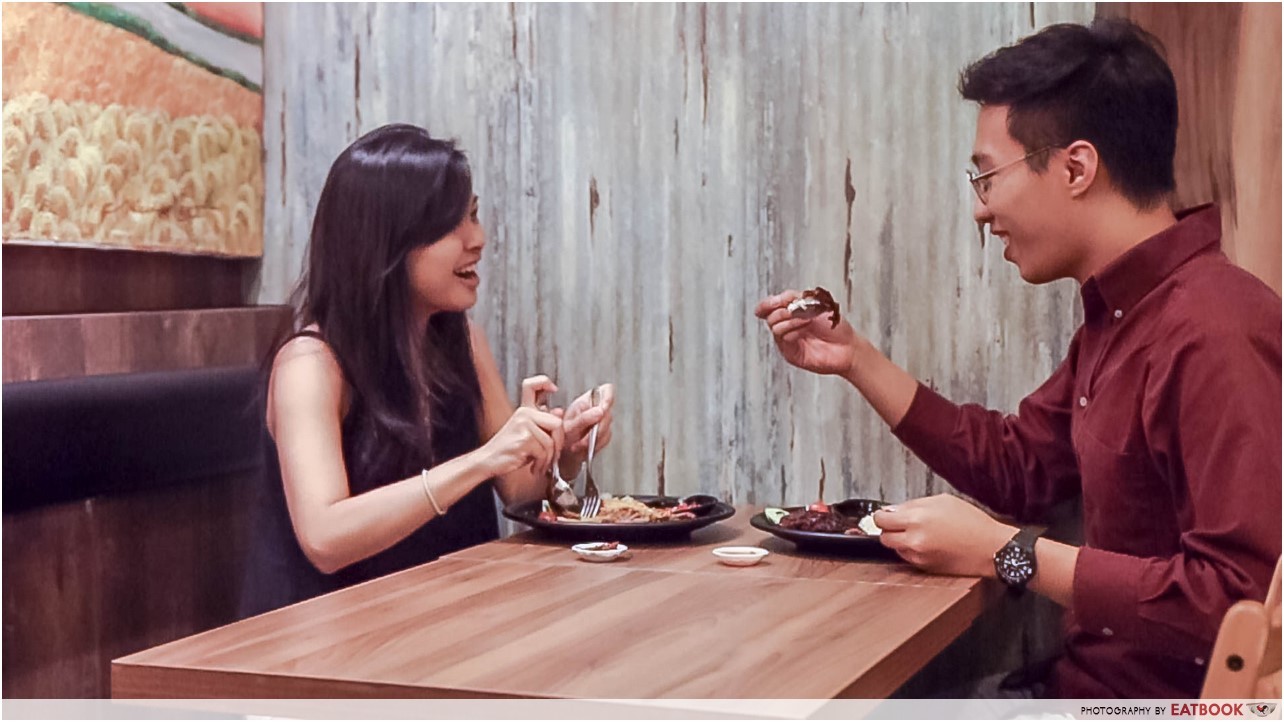 Overall, their dishes were on par with what I had back then or even better. They also have another outlet at Tampines 1, which makes it more convenient for East-siders like me. Everything is in nett prices so don't worry about incurring any additional costs. If I ever crave for some duck meat and amazing sambal in the future, Bebek Goreng Pak Ndut will definitely come to mind. For more affordable halal food at Orchard, check out this list of budget halal food places!
Address: 304 Orchard Road, #01-42/43/44, Lucky Plaza, Singapore 238863
Opening hours: Daily 11:30am to 9:30pm
Tel: 6734 4787
Website
Bebek Goreng Pak Ndut is a halal-certified eatery.
This is an independent review by Eatbook.sg.
Summary
Pros
– Nett prices
– Delicious duck meat
– Air-conditioned
– Stellar sambal
– Friendly staff
Cons
– Some dishes get sold out early
Recommended Dishes: Original Crispy Duck Rice ($9.90), Grilled Duck Rice ($9.90)
Operating Hours:
Daily 11:30am to 9:30pm
Address: 304 Orchard Road, #01-42/43/44, Lucky Plaza, Singapore 238863