Get cute lava choux puffs at Car Born Cafe
Update: Car Born Cafe has closed down.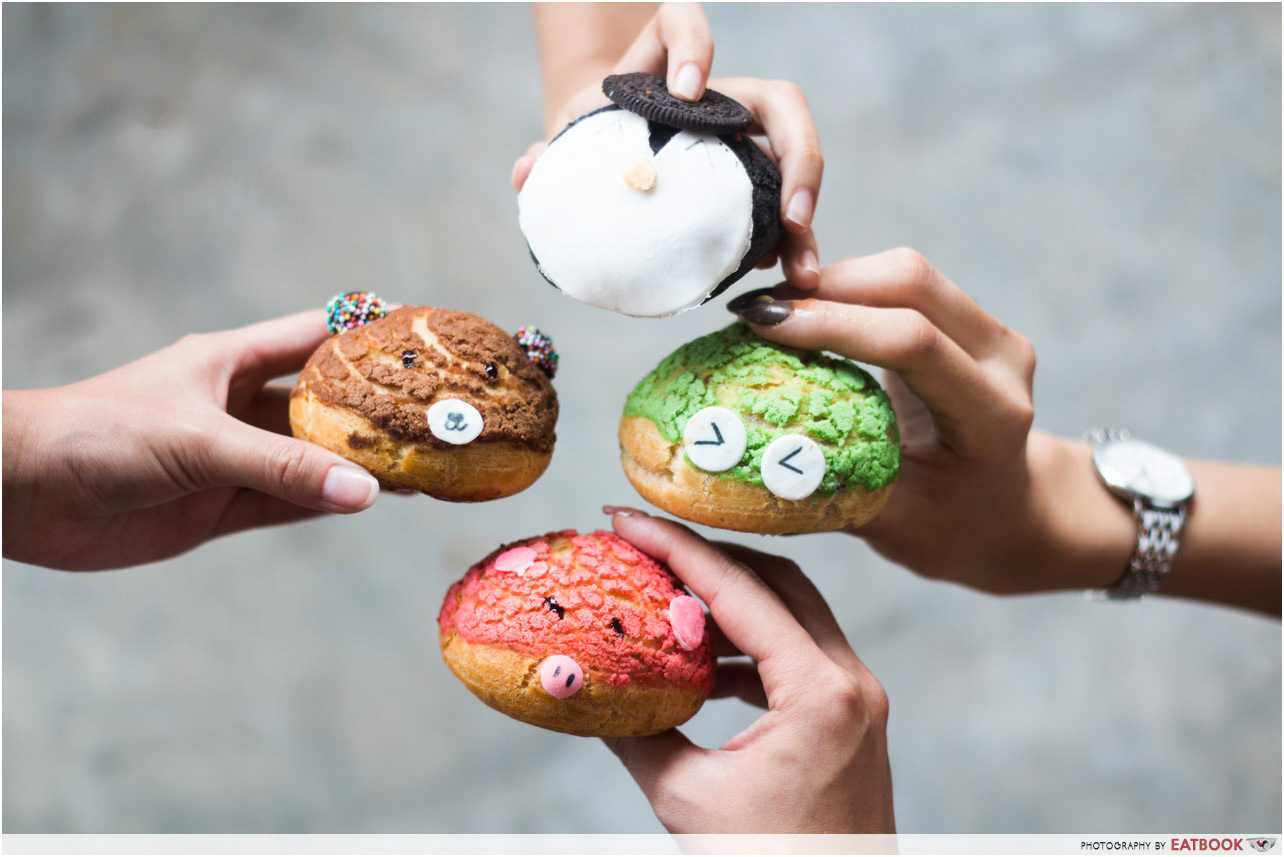 As much as we love the Hello Kitty, Pompompurin and Gudetama cafes that are taking over Singapore, dining at these theme cafes takes a toll on our wallet. But if you can't stop yourself from nomming on kawaii food, then Car Born Cafe across the border makes a good solution.
The theme here is cars – duh – and the desserts offered are super adorbz. For those who want some theatrics to go with their meal, they've also got flaming, melting and smoking dishes to rev up your Instagram game.
Food at Car Born Cafe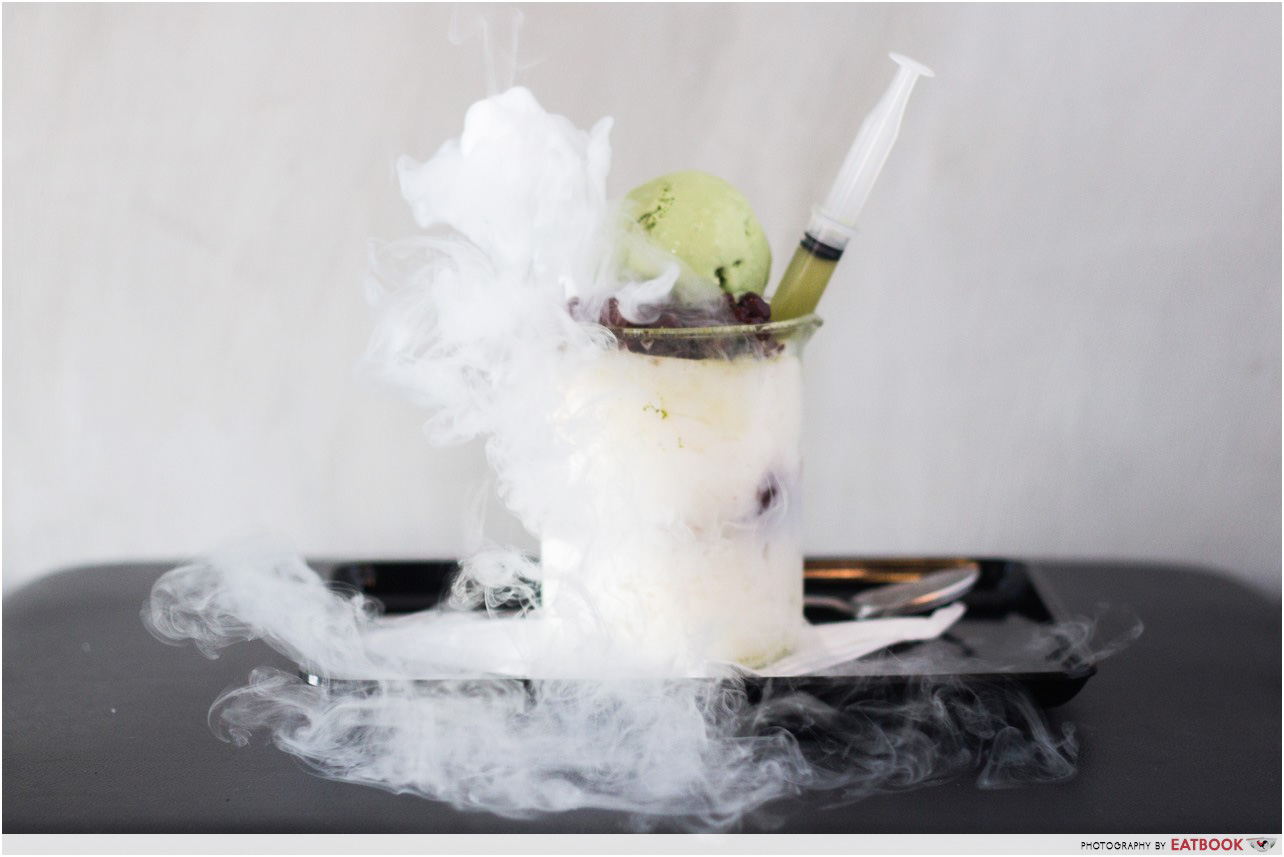 Like kids at a magic show, we eyed every move the waiter took from setting our Matcha Bingsu Volcano (RM19.90/~S$6.55) down to pouring liquid nitrogen into a test tube filled with dry ice to create this smokin' spectacle.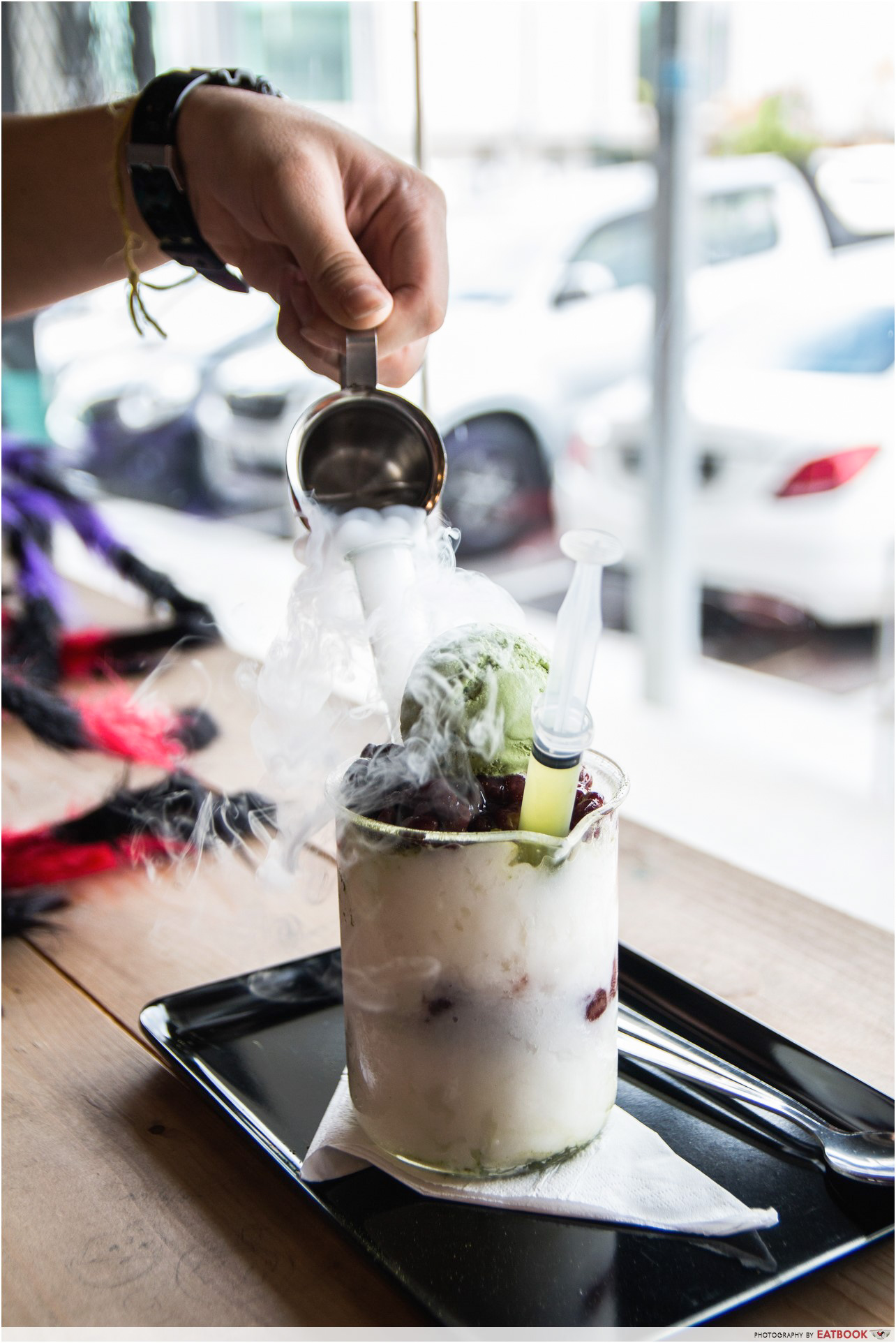 Unlike typical bingsus, this one wasn't packed with ingredients. The powdery-fine ice was interspersed with dollops of adzuki red beans, which added a sweet contrast to the plain ice. However, the flavour of the ice-cream tasted more like milk than matcha, and made me feel a tad cheated.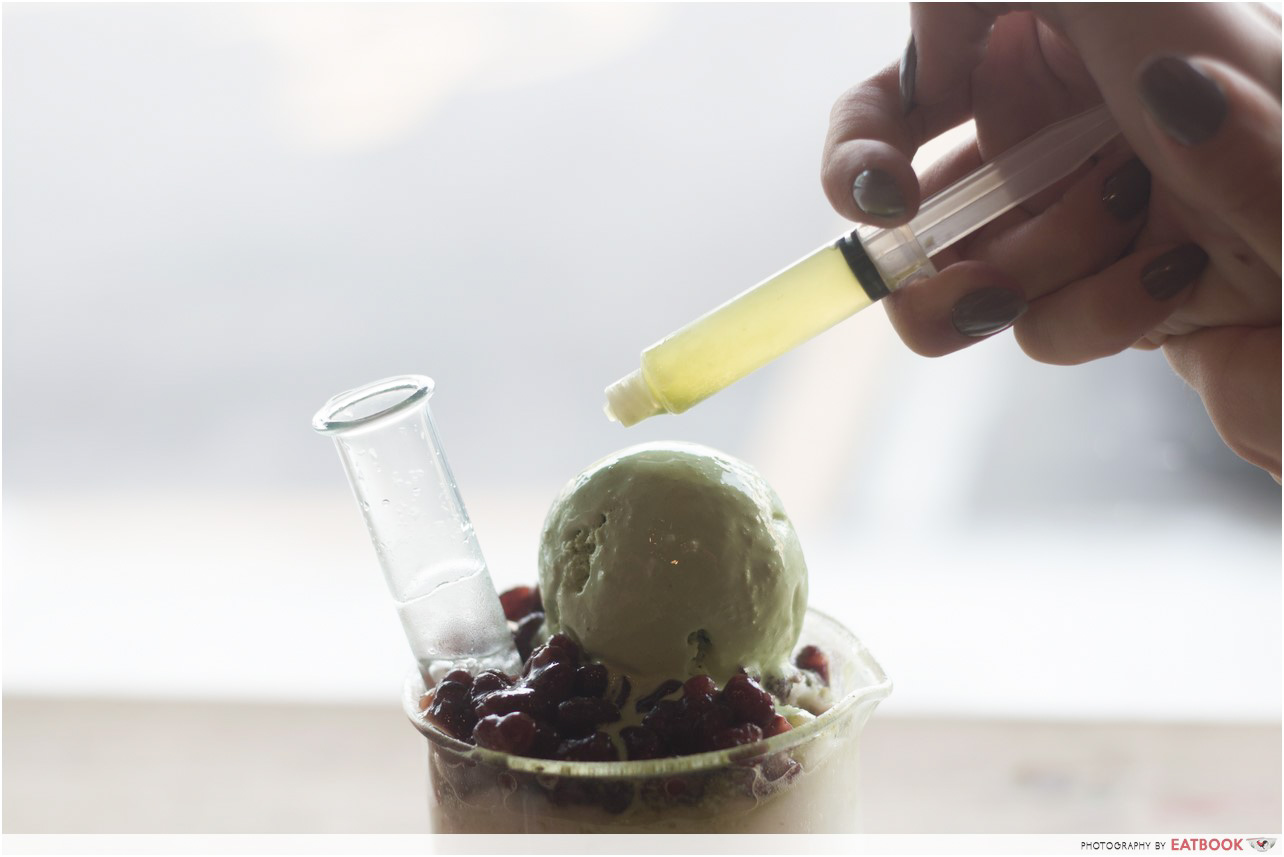 The watery syrup in the syringe, which was frozen and could not be pushed out at first, was equally disappointing. As awesome as it looks in pictures, this bingsu lacks in both taste, portion and amount of ingredients.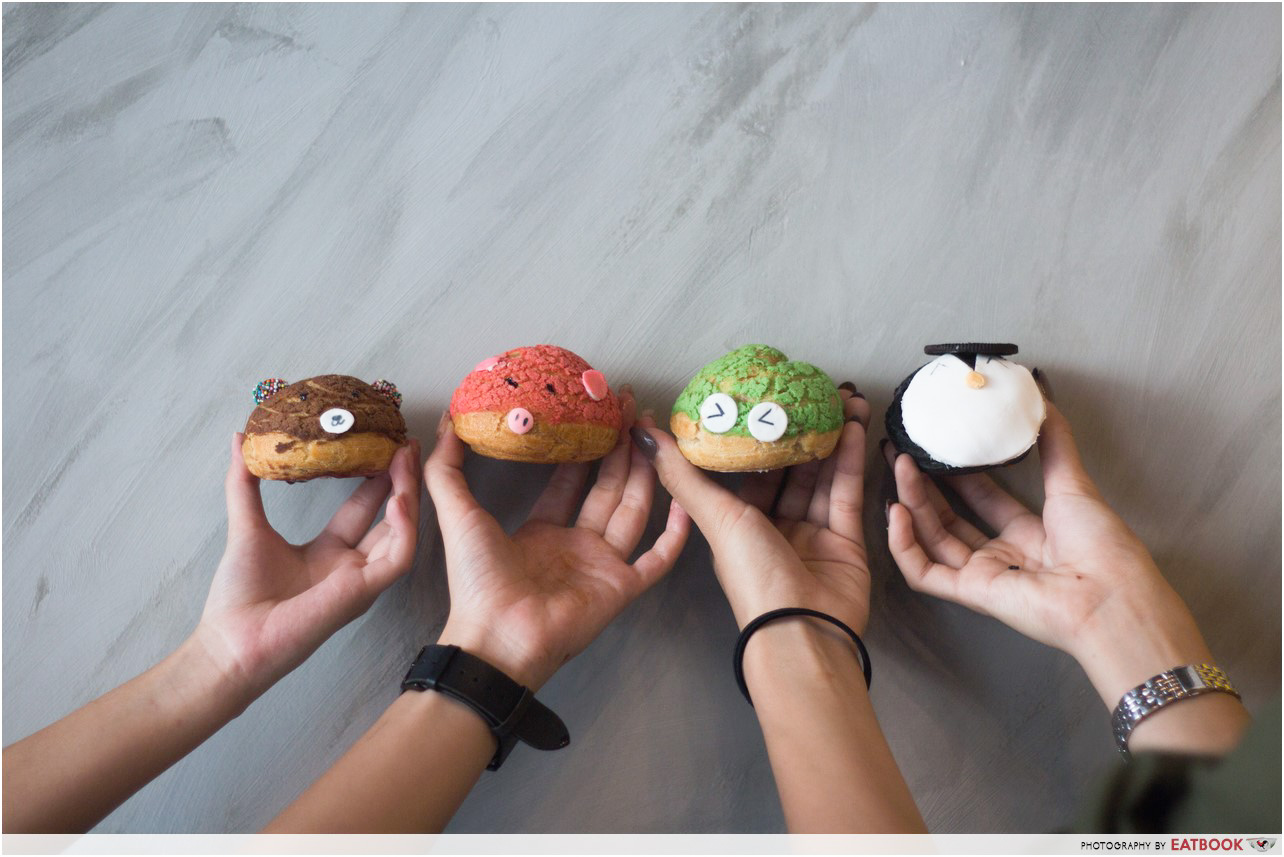 When I first spotted adorable animal choux puffs on an Aussie Instagrammer's feed, my heart sank because I knew I had no way of getting my hands on them from Sydney. Turns out, a replica wasn't as far away from home as I thought.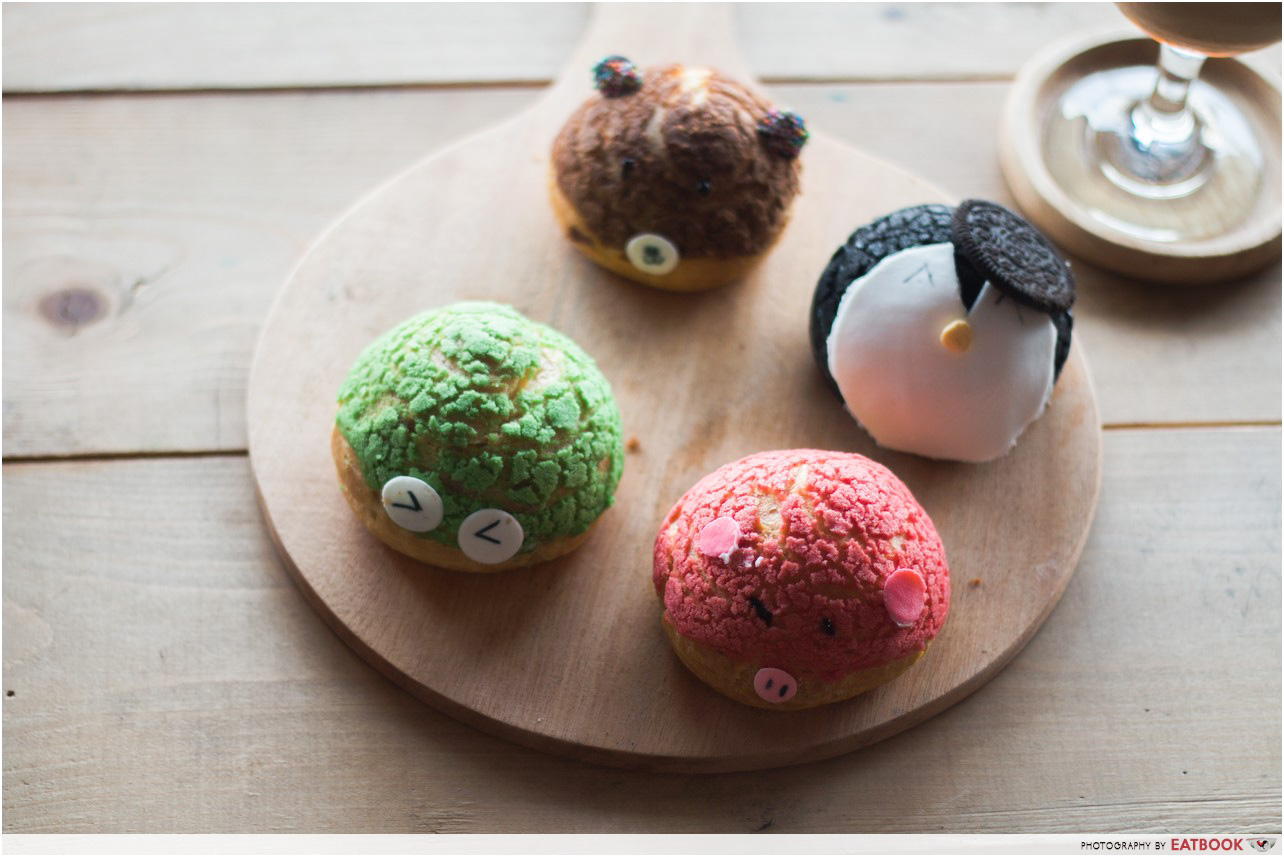 This set of  Lava Choux Puffs (RM18.90/~S$6.20) was generously filled with flavours of salted egg yolk, Nutella, matcha and salted caramel. Out of the four, the Nutella-filled bear was my fave. It holds a rich, oozy Nutella core that made me feel like I was eating the hazelnut spread straight out of the jar. Unlike the bingsu, the green matcha puff had a strong bittersweet matcha flavour that I was looking for.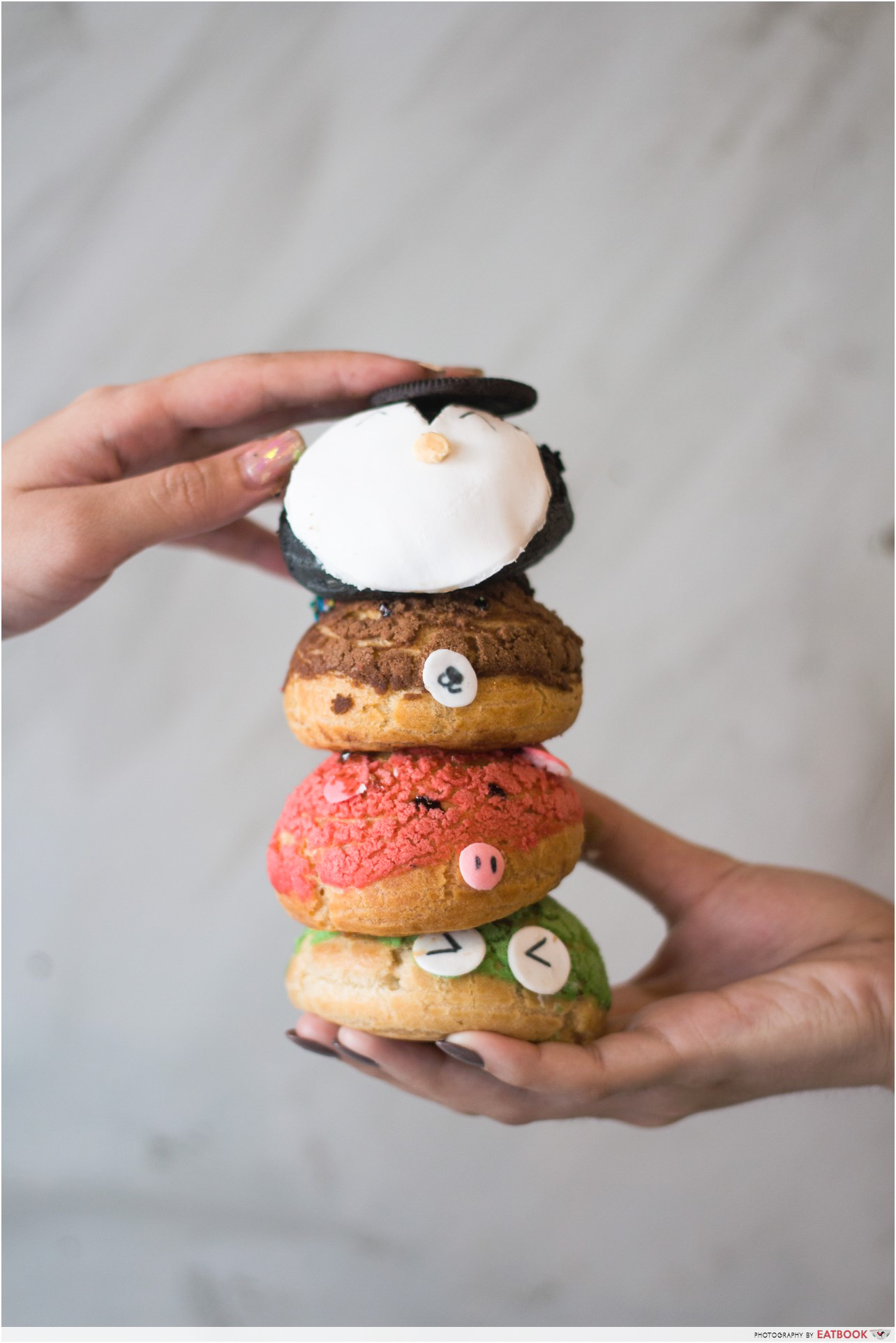 The other two puffs didn't work for me as the salted caramel one was too sweet, and the salted egg yolk puff didn't go well with the rest of the sweet puffs. I also wished the puffs were served warmer and crustier on top.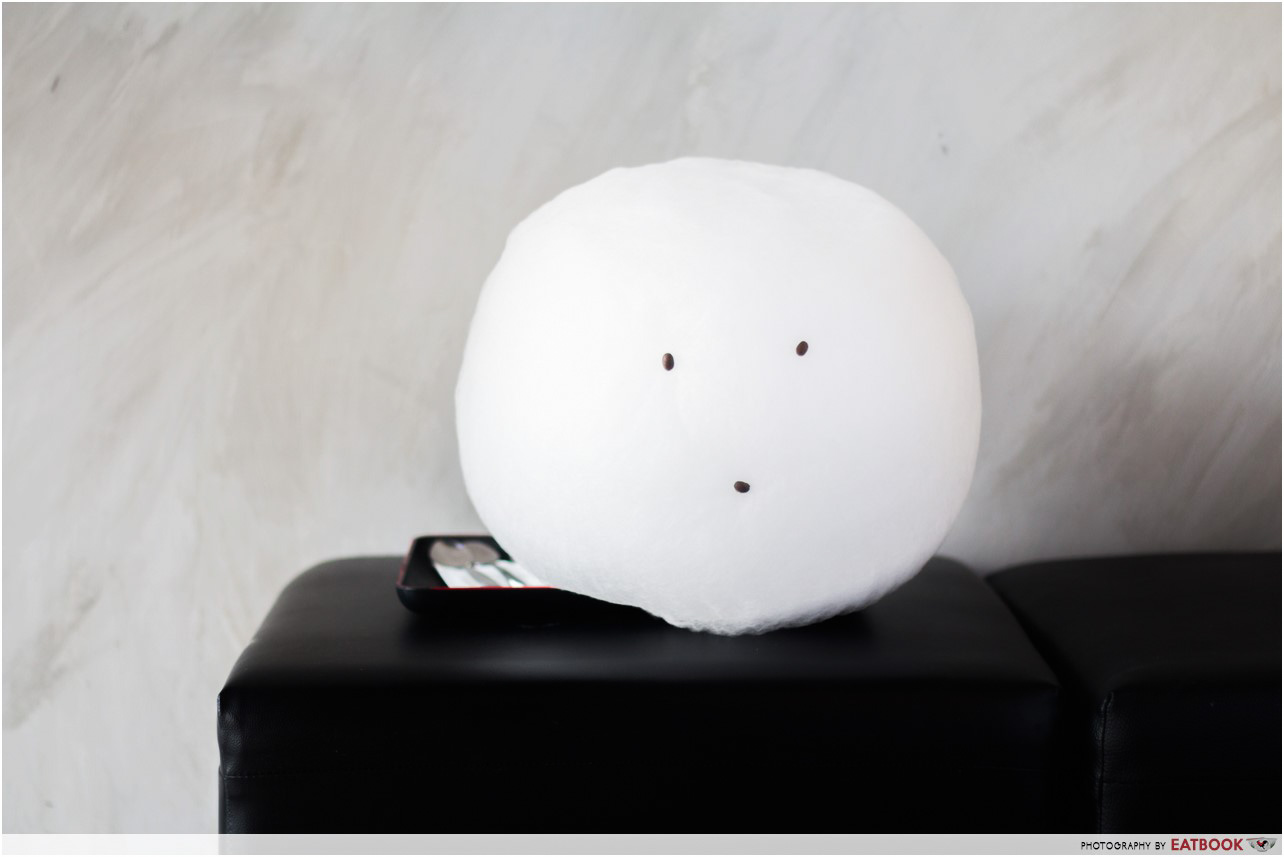 There's been a trend going on in JB that includes hanging cotton candy sticks over a cup of coffee, but Car Born decided to create their version in reverse with Cotton Candy Affogato (RM16.90/~S$5.60).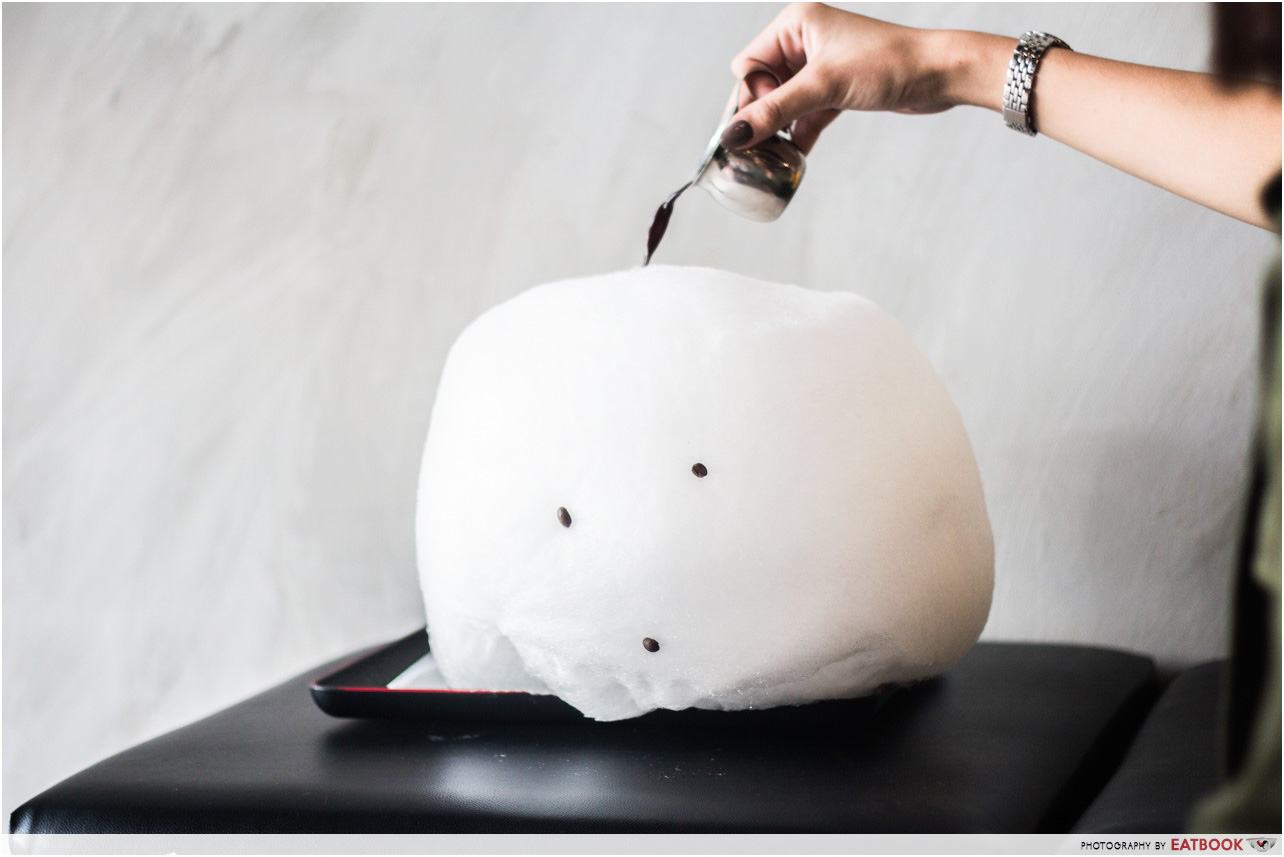 You'll be given a shot of espresso to pour over this large ball of cotton candy. And once you're done, a bowl of cornflakes, fruits and vanilla ice-cream will be revealed.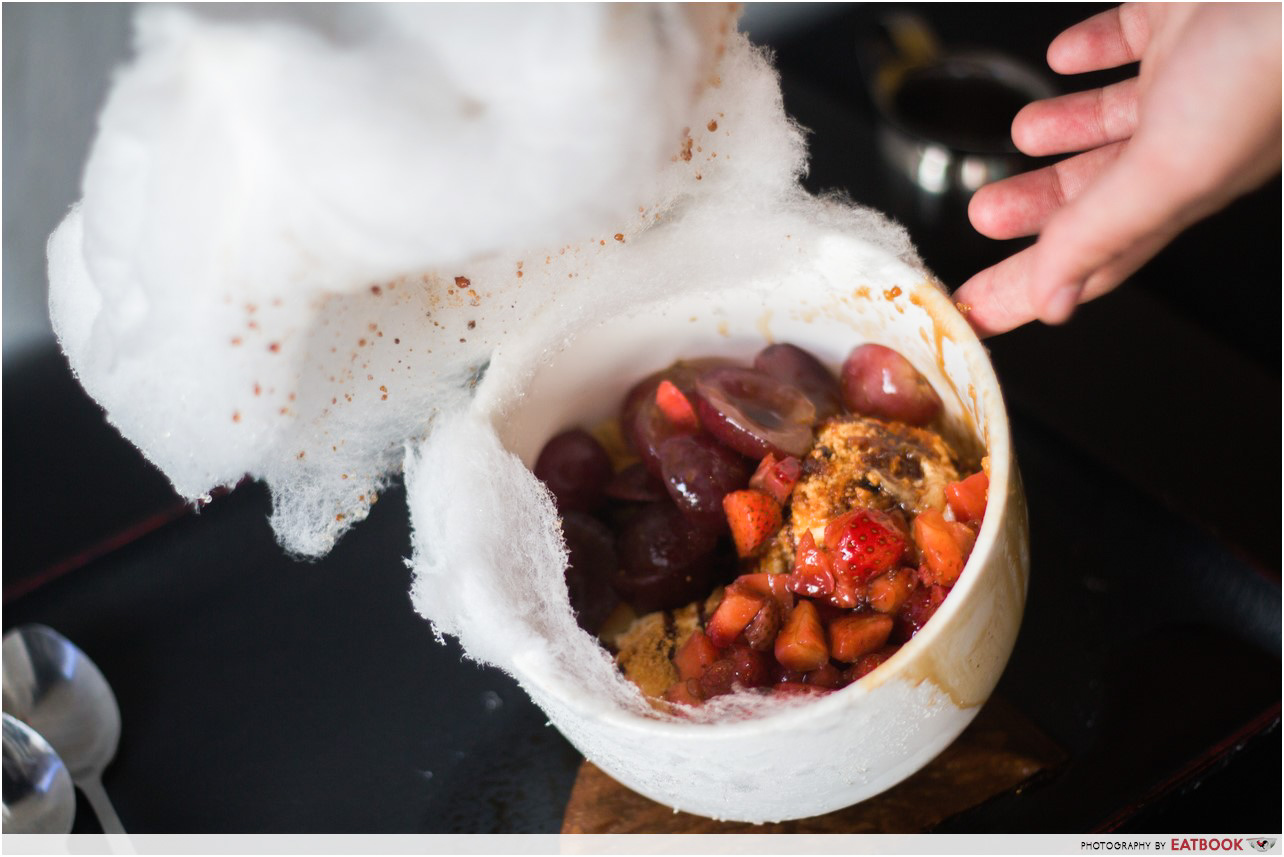 While the cotton candy didn't make much of difference in taste, the mix remained quite enjoyable as the strawberries, grapes and raisins weren't sour, but fresh and sweet. The espresso gave a warm touch to the creamy ice-cream, and it felt as if I was having my breakfast cereal, morning coffee and dessert all in one.
This dish may be eye candy, but it can get hard to handle because the cotton candy sinks quickly and gets really sticky, really fast. So be sure to pour your espresso in fast! And aim your espresso shot towards the middle or it might just end up spilling all over.
Coffee at Car Born Cafe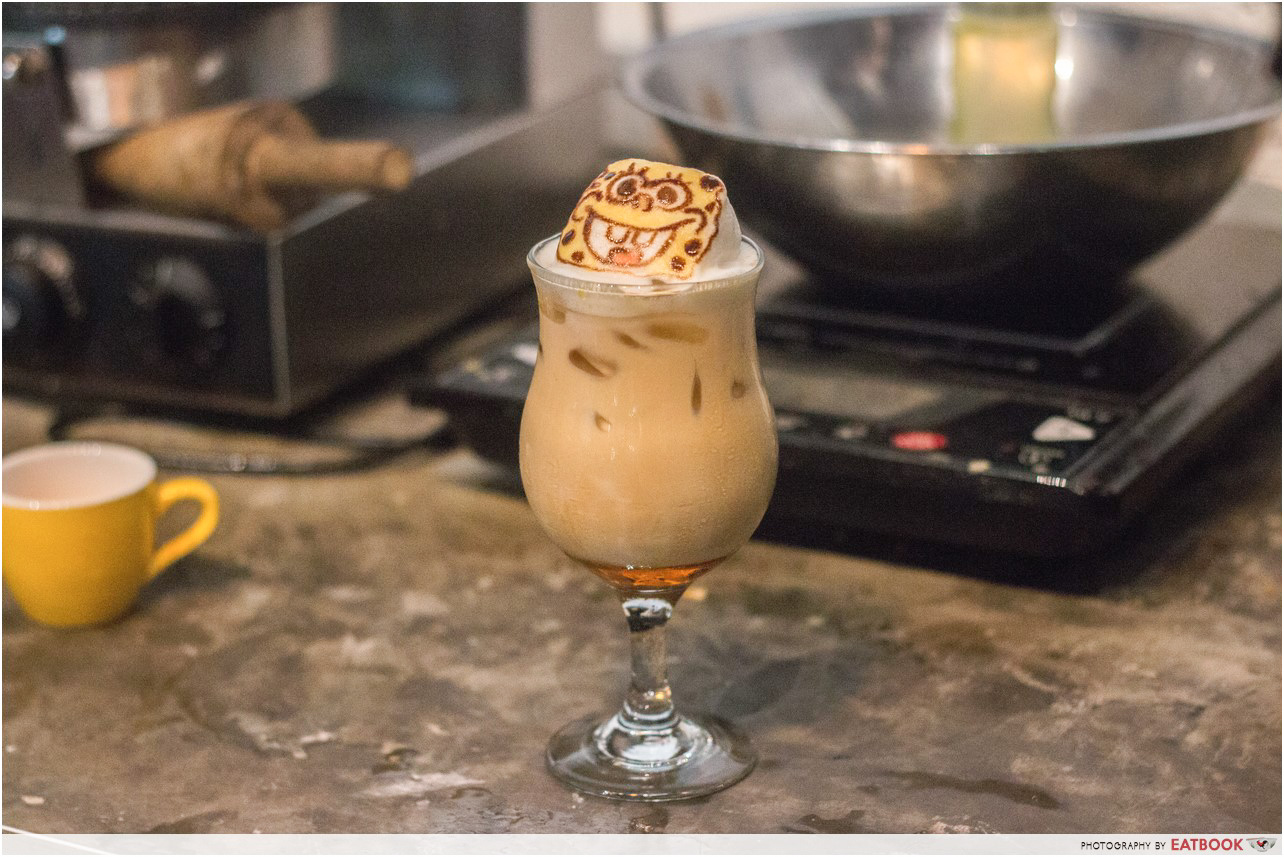 A highlight here is their baristas' ability to create 3D latte art. Titled Speciality of 3D (RM16.90/~S$5.60) on the menu, you get to choose a cartoon character for your hot or cold latte, mocha or chocolate.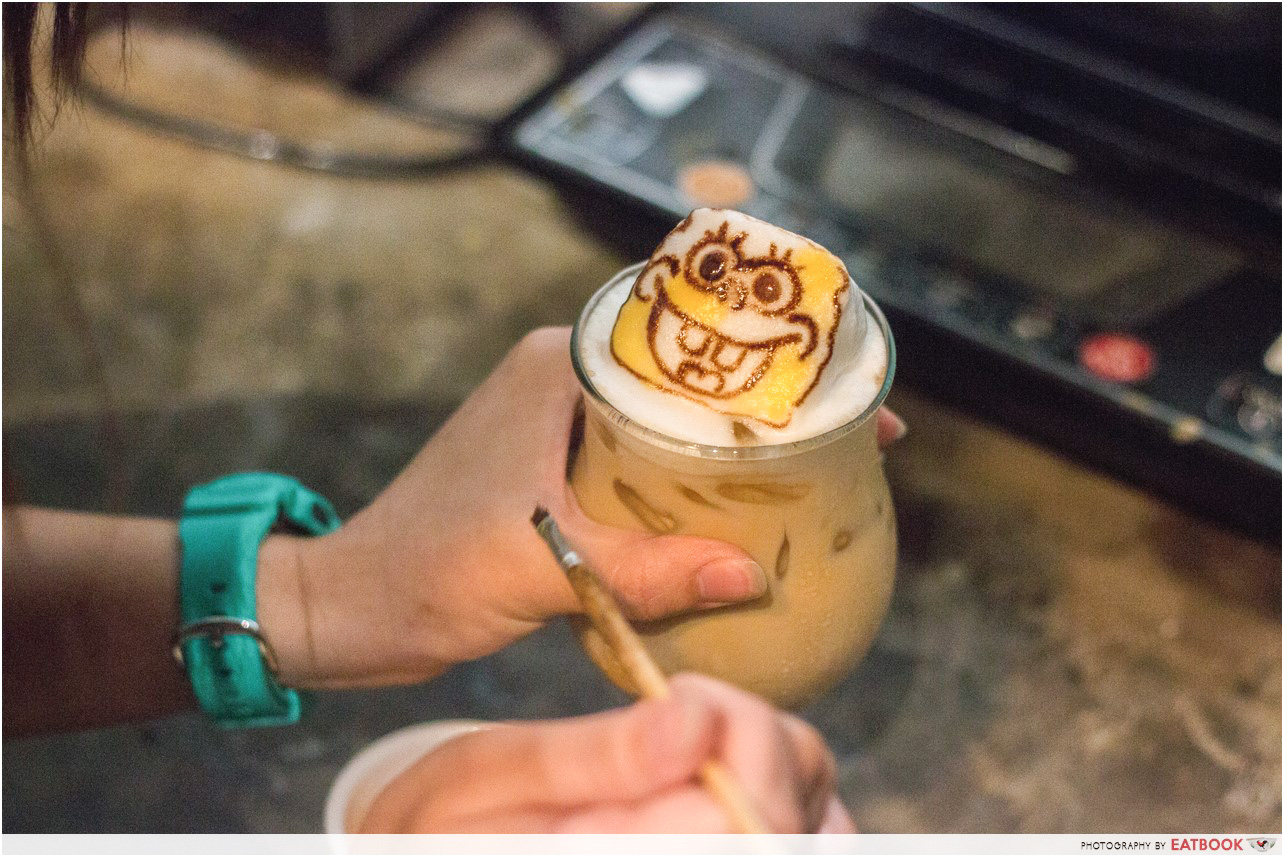 We requested for Spongebob to go with our Iced Salted Caramel Latte before heading behind the scenes to check out how it was done. Although their menu already showcases previous works ranging from Jigglypuff to Gudetama and Big Hero 6, I was still surprised by how well the baristas hand-painted the character.
The coffee itself wasn't overly strong or acidic, with a salted caramel syrup that tasted like honey with a hint of bitterness. 
Ambience at Car Born Cafe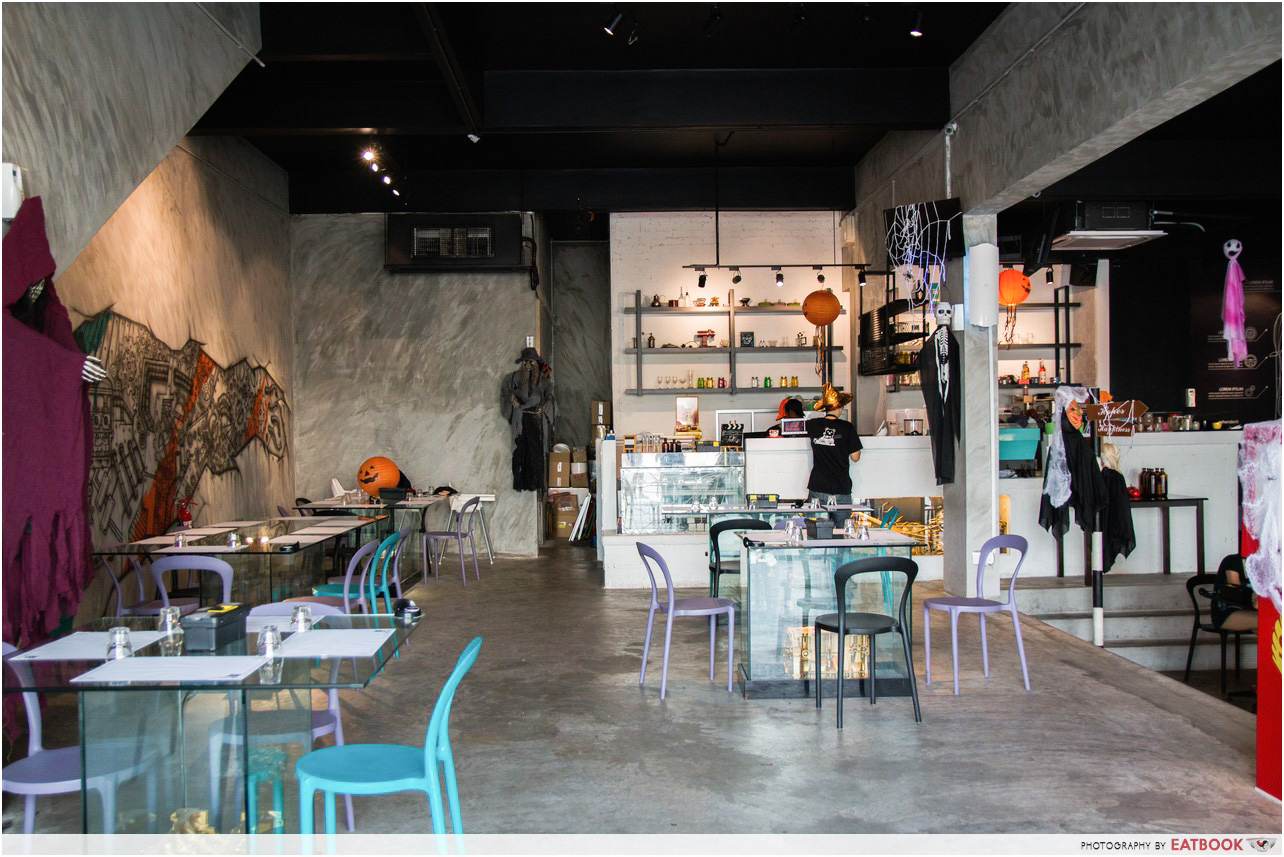 Even though the decor here is centred around cars, don't expect to walk into a mechanic's workshop. The vibe here is clean, industrial and leaning towards minimalistic. Tool boxes are used to hold cutlery and there's even a car you can hop into.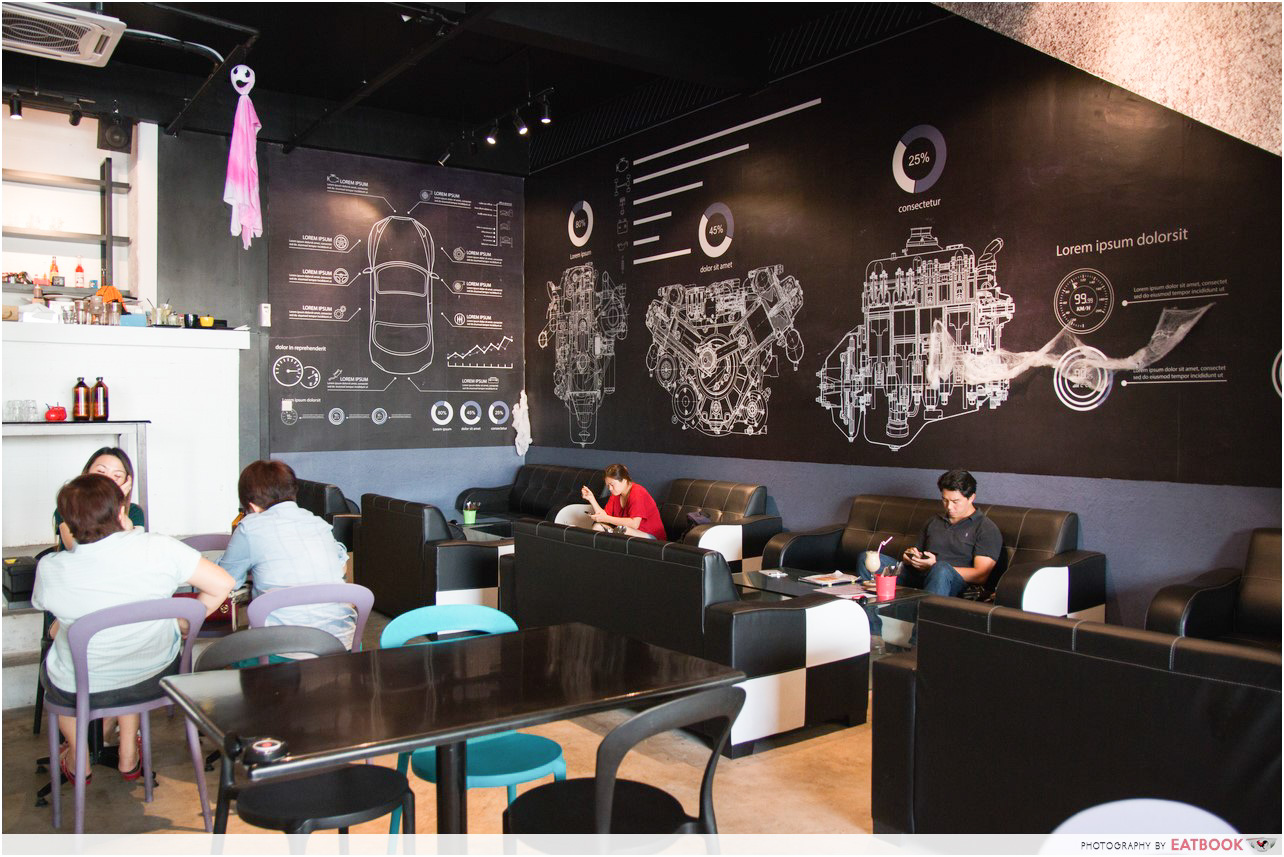 It was quite empty even though we came during lunch time on a weekday. Our food was served promptly and the servers were both friendly and patient in meeting our requests, from topping up the dry ice in our bingsu to allowing us to step behind the counter to snap photos of them creating latte art. They definitely helped make our stay a comfortable one, despite us taking far too long with our photos and making too much of a mess to be considered their best customers.
The verdict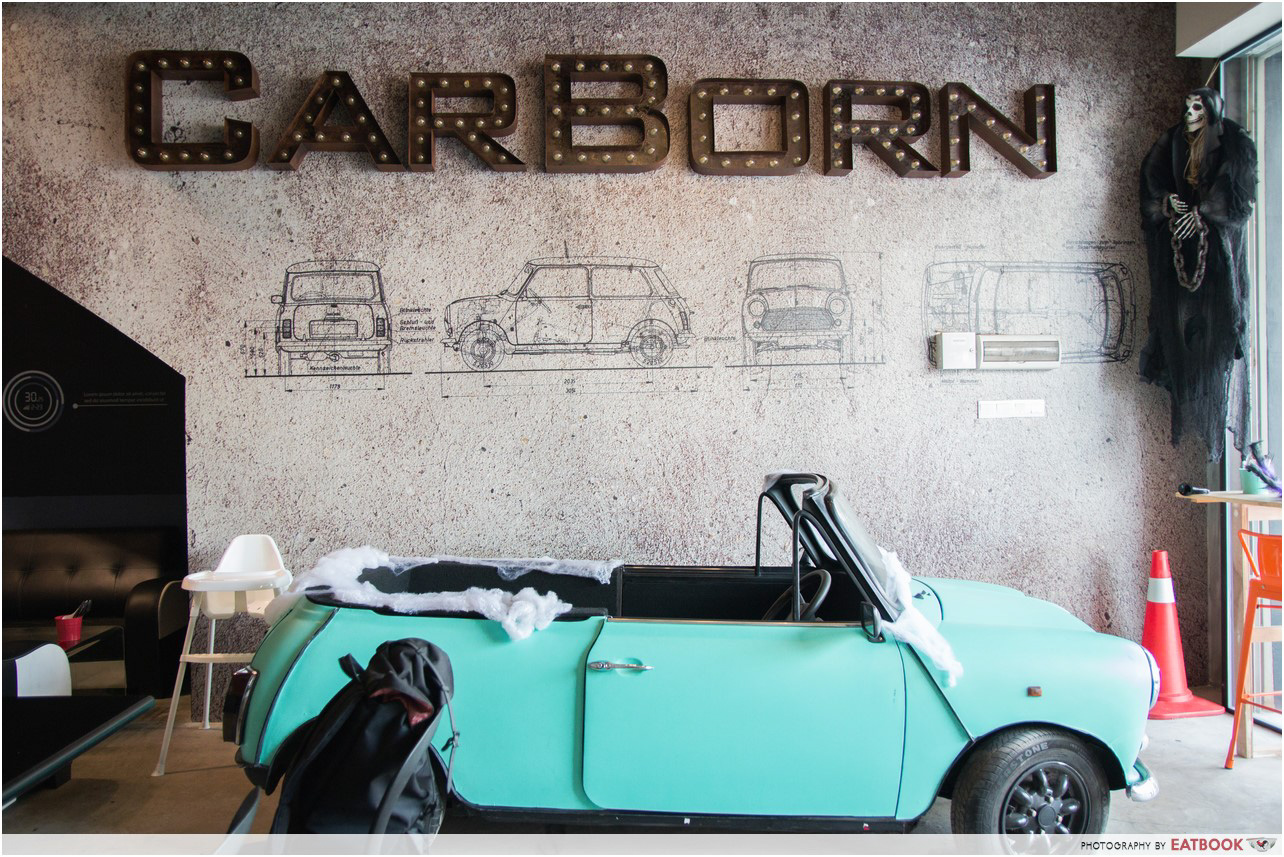 The world is split into two: those who avoid gimmicky stuff and those who, despite how the food actually tastes, would be willing to fork out cash for the money shots. Car Born Cafe is considered a gimmicky cafe for sure, but they offer menu items you can't get anywhere else. So don't come here expecting your taste buds to be pampered, but feel free to drop by if cute food shots are what you're looking for.
This is an independent review by Eatbook.sg.
Summary
Pros
– Unique dishes
– No service charge
Cons
– Low quality food
– Inaccessible without driving
Recommended Dishes: Lava Choux Puffs (RM18.90/~S$6.20), Speciality of 3D (latte art) (RM16.90/~S$5.60)
Operating Hours:
Tuesday – Friday 2pm to 12am
Saturday – Sunday 12pm to 12am
Tel:
+60 7-298 0130
Address: 44-46 Jalan Pendekar 13, Taman Ungku Tun Aminah, Kampong Skudai Laut, Johor, Malaysia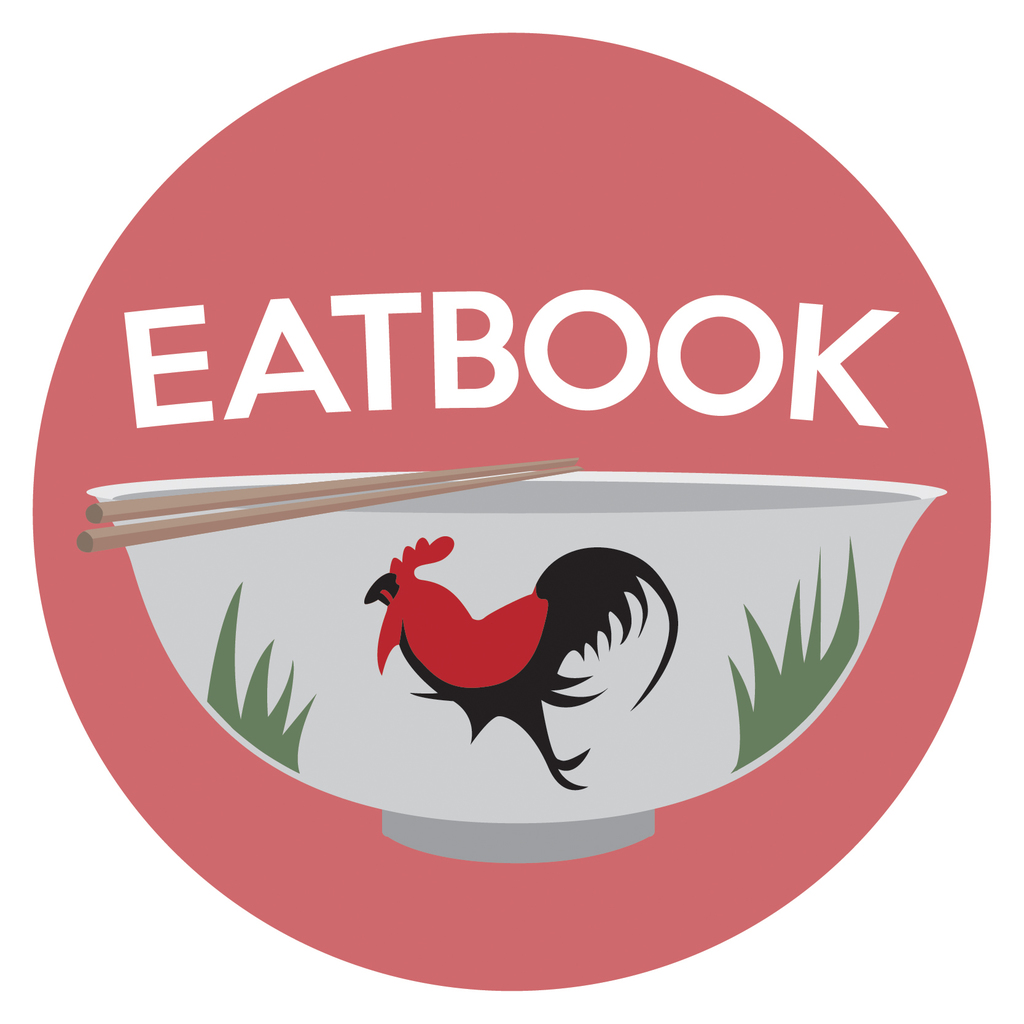 Drop us your email so you won't miss the latest news.