---
About Chao Zhou Porridge
---
Update (4th April 2019): Chao Zhou Porridge has permanently closed down.
Both my parents are Teochews, so I've grown up having Teochew porridge at hawker centres and stuffy little coffee shops. Although I love Teochew porridge, our weather just doesn't agree with eating steaming hot porridge in a non-air conditioned setting.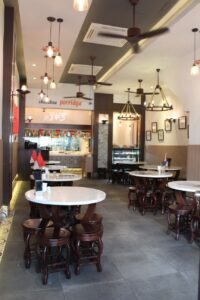 Thankfully, the air-conditioned Chao Zhou Porridge makes the idea of eating Teochew porridge so much more appealing now. Despite the modern facade, the restaurant still maintains the traditional flavours of Teochew cuisine in their dishes.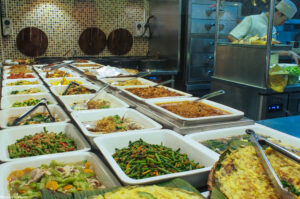 Our meal was a series of hits, but there were some misses. Some of their dishes are definitely works in progress that will need more fine-tuning. However, most of them were authentic and worthy of a revisit
---
Menu Highlights
---
Steamed Meatball with Porridge Water – $5.50
---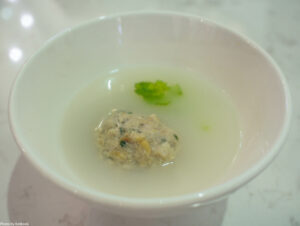 This unique starter features a bouncy meatball in a broth of milky porridge water that carries the gentle fragrance of rice. The addition of tung chai (Tianjin preserved vegetable) gave the meatball a crunchy mouthfeel and a distinct Teochew taste. Price-wise, this is one of the most expensive dishes on the menu, and I would hesitate to fork out this amount for just one meatball.
---
Big Sotong with Homemade Sauce – $6.90
---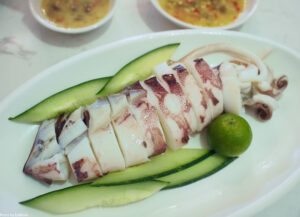 Steamed squid is one of my favourite dishes to order when I'm having Teochew porridge, and Chao Zhou Porridge has nailed it. The squid was tender and sweet, and tasted amazing together with the homemade spicy soybean sauce. The savoury, spicy, and tangy notes complements the delicate protein impeccably. If there's one dish you should try at here, this is it.
---
Clams in Soy Sauce – $6.90
---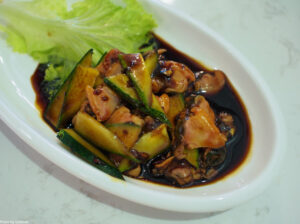 I'm not usually one for cockles, so I was taken aback by how much I enjoyed this. These juicy little bites were fresh and sweet. The dark soy sauce that was infused with garlic and chili was a great touch as it enhanced the briny notes in the cockles.
---
Braised Delight Platter – $16.90
---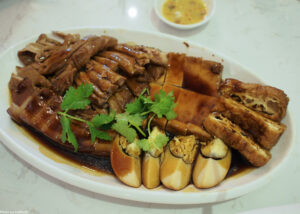 One of the dishes that could be improved on was this Braised Delights platter consisting of an assortment of duck meat, pork belly, large intestines, egg, bean curd, and taupok. The gravy for this platter happens to be the sticky, starchy type, which I personally do not enjoy. Other than that it was also too sweet, and lacked the fragrant lardy aroma that this traditional dish should have. The pork belly could also be more tender.
---
Chao Zhou Steamed Mullet – Seasonal Price
---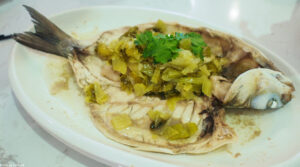 If there's one thing Teochews are known for, it's their love for steamed fish. Chao Zhou Porridge did an excellent job with this meaty fish. The soft tender protein paired well with the crunchy salted vegetables, making this one of the crowd-pleasers of the day.
---
Preserved Radish Omelette – $2.50, $4.50
---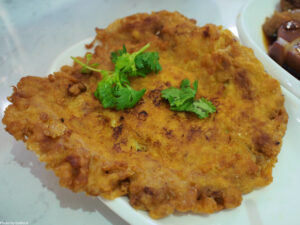 While the preserved radish omelette was fluffy with just the right amount of preserved radish, it was slightly too oily.
---
Chao Zhou Fried Kway Teow – $8
---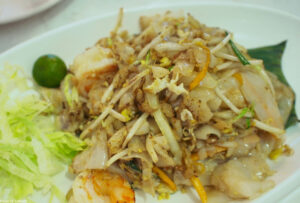 Playing on the nostalgia of the older generation Teochews, Chao Zhou Porridge decided to put this classic Teochew dish on the menu. However, the general consensus was that this could have been better. I enjoyed the charred aroma of the chewy flat noodles, but unfortunately the fragrance of the preserved radish was lacking.
Summary
Pros:
Authentic but comfortable place for Teochew Porridge
Several outstanding dishes
Cons:
Some items are too pricey
Dishes like the omelette and kway teow need fine tuning
Recommended Dishes:
Clams in Soy Sauce – $6.90
Big Sotong – $6.90
Steamed Mullet – Seasonal Price
Opening Hours:
11am – 5am
Address: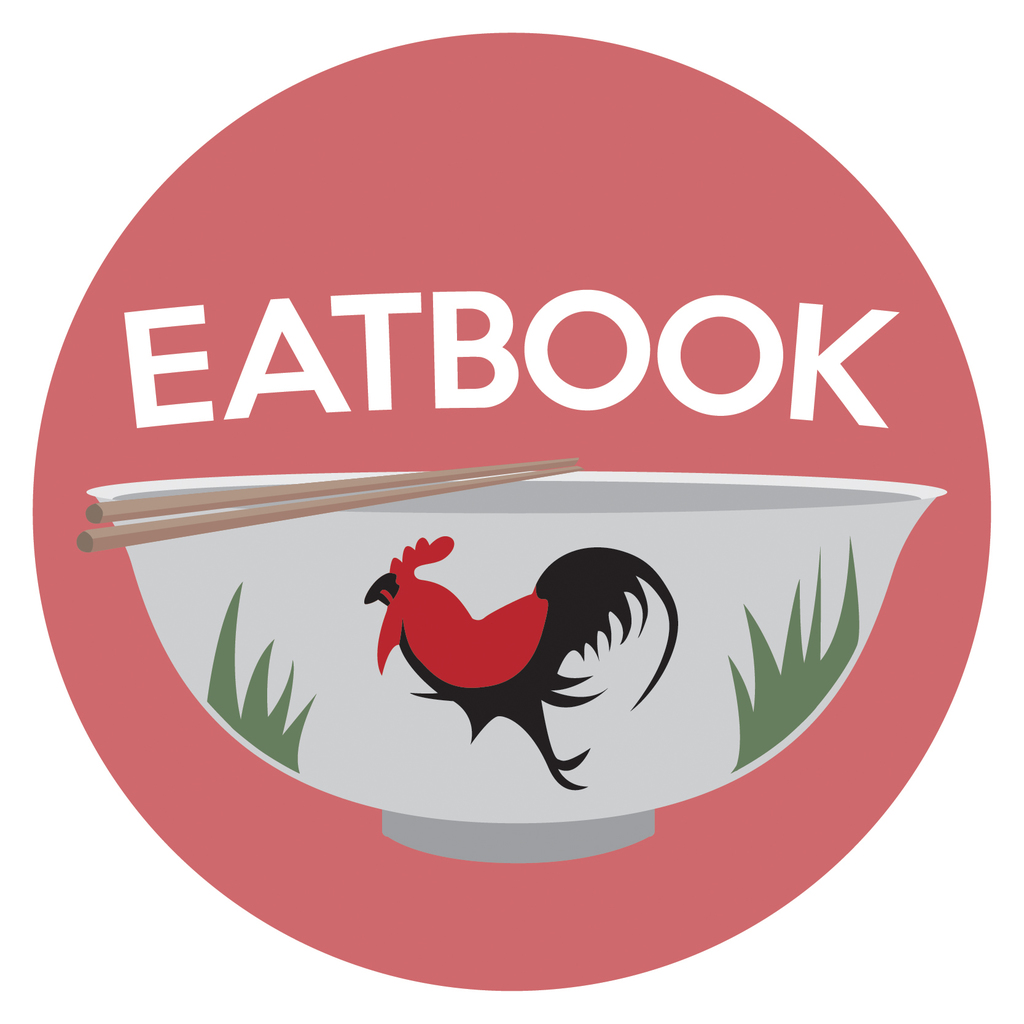 Drop us your email so you won't miss the latest news.