---
Super cheesy air fryer recipes
---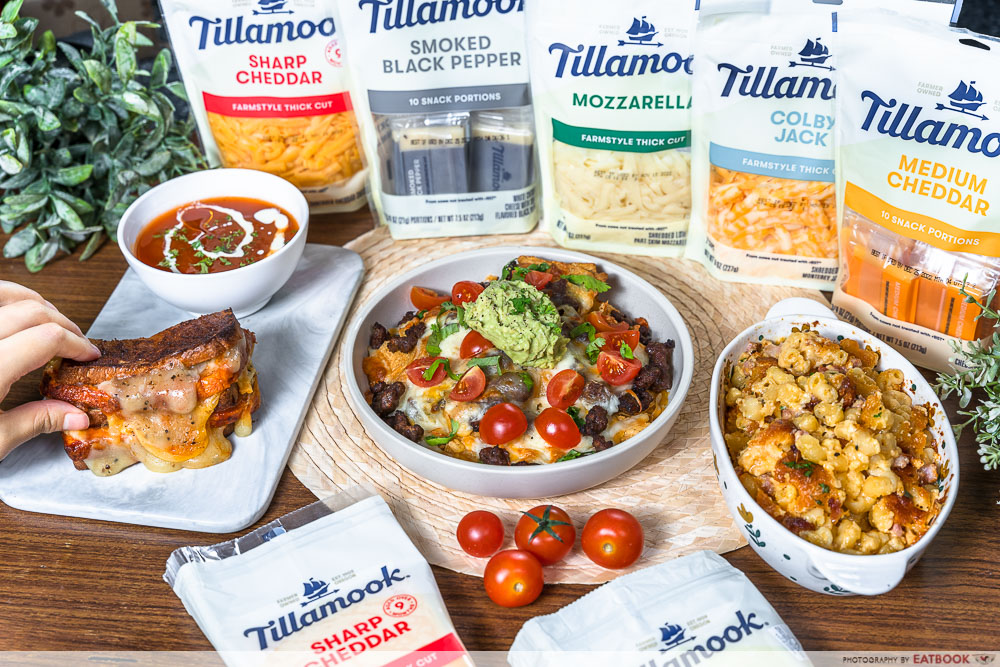 Hands up if you've ever developed acute cravings for cheese-laden food whilst scrolling through TikTok and Instagram late at night. I empathise━those oozing, luscious cheese pull shots are pretty irresistible. Here's some good news: you can easily satisfy those cravings with these super cheesy air fryer recipes, made in under 15 minutes!
---
1. Triple Grilled Cheese
---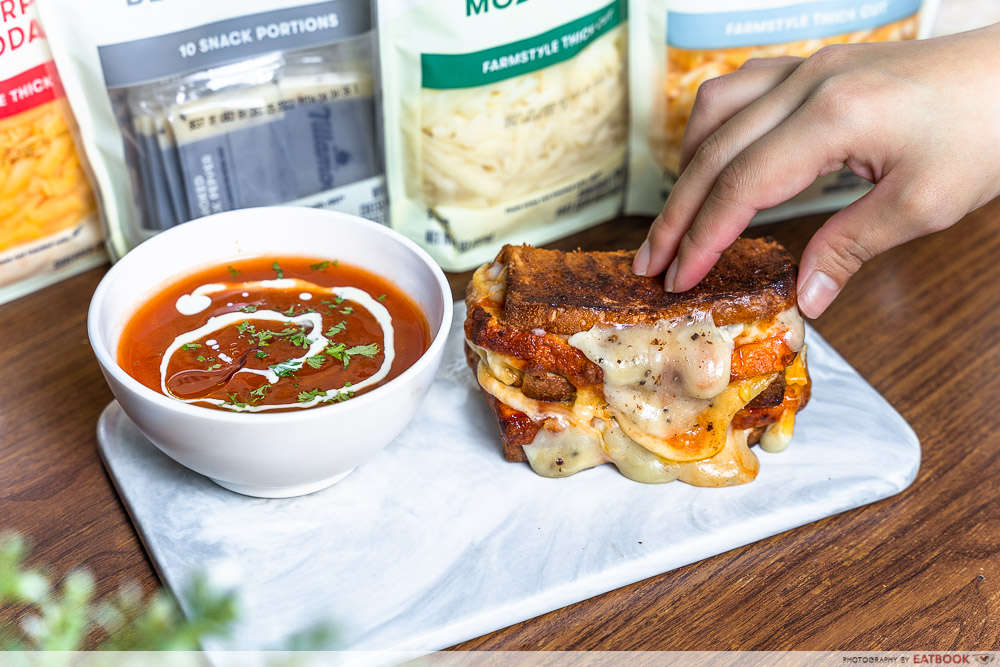 You'll most often catch grilled cheese on cafe menus accompanied by tomato soup. It's a classic combination that dates back to post-World War Two America, where the tangy canned soup became a convenient vitamin-rich upgrade to complete a cheap, nutritious━for those times━meal.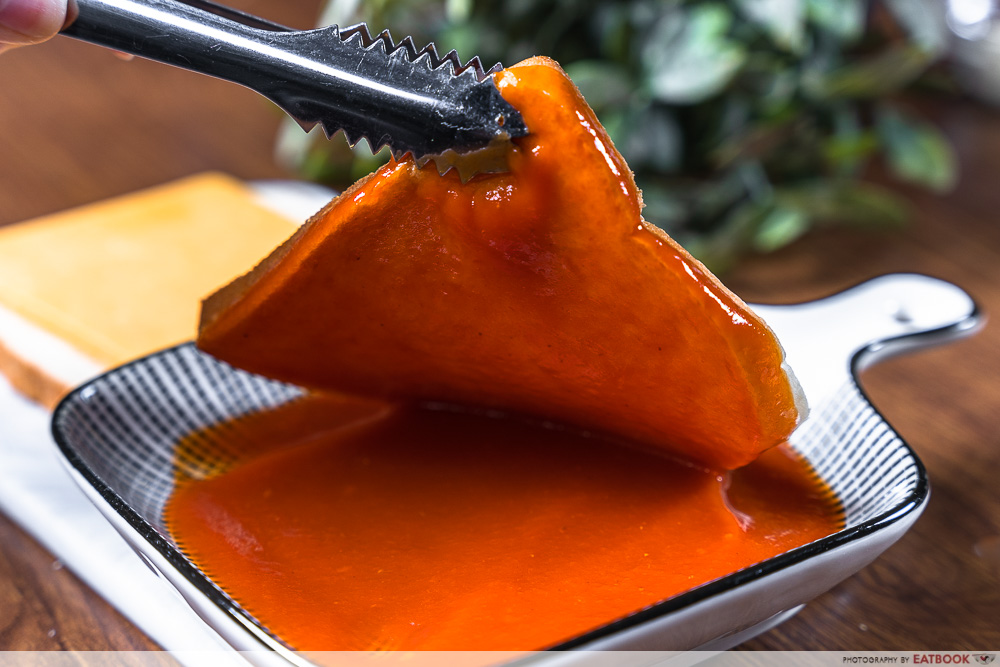 Rather than preparing a pot of soup and a sandwich, combine it all into a single triple-decker indulgence by soaking one slice of bread in canned tomato soup, and jazzing it up with not one or two, but three cheeses.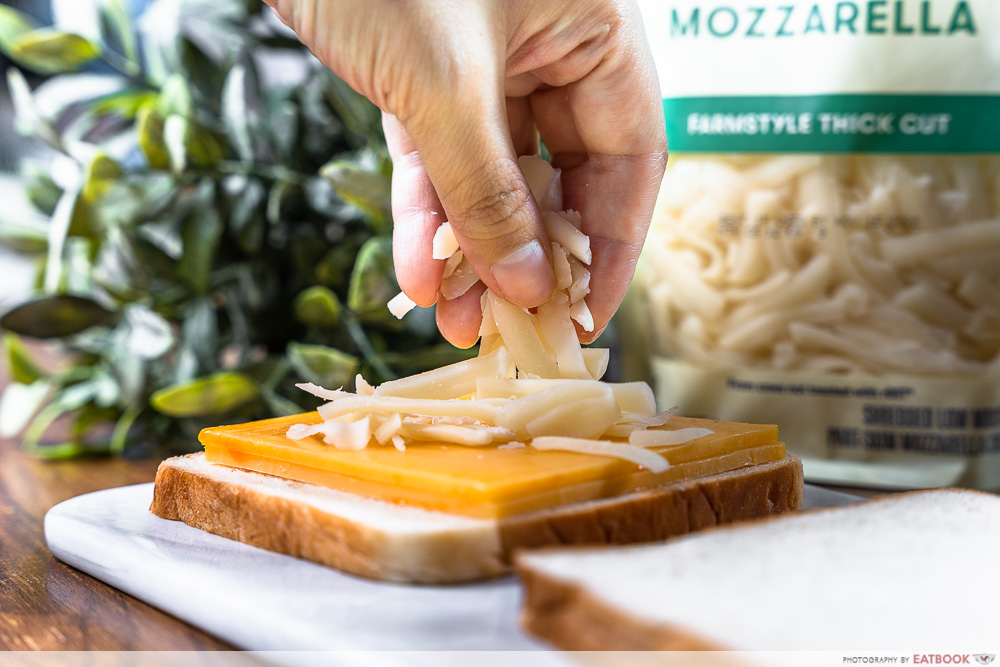 Then, work on the layers of cheese. Go with whatever you have in your fridge, and your preference for flavours, but mozzarella and cheddar are highly recommended for an ultra stretchy, tasty sammie. 
Nothing beats using 100% real cheese, so don't stinge with processed cheese. If you didn't know, American brand Tillamook has been making cheese with the same recipes since 1909. All their products are made without preservatives, using the best-quality milk from happy cows, bred without artificial growth hormones.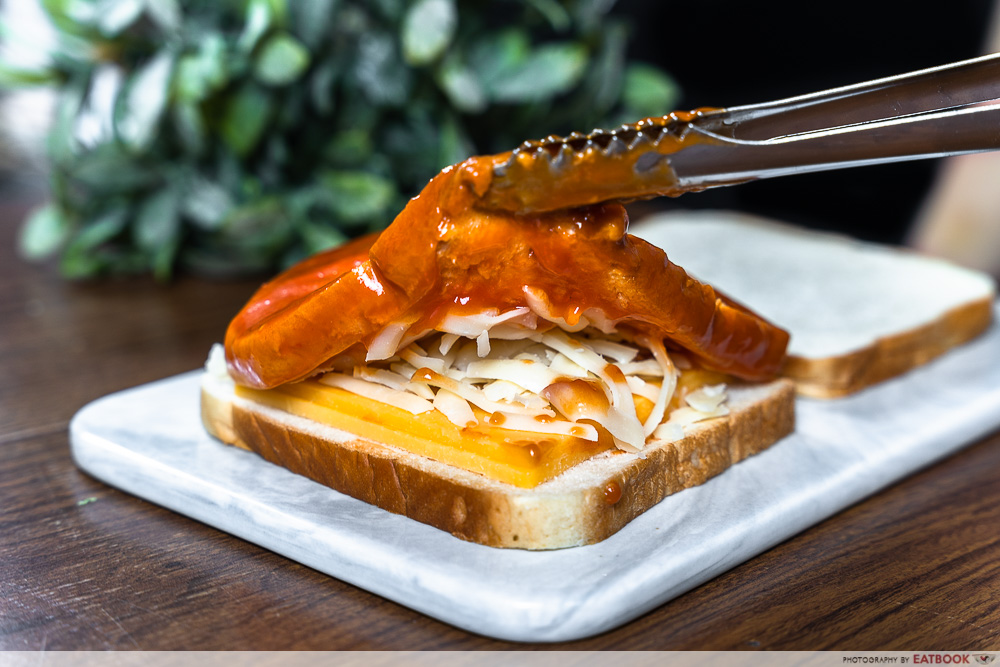 Their cheeses are award-winning, and are naturally aged for bigger, bolder flavours. They also come in thick, farmstyle slices and shreds so they're extra melty, and taste even better.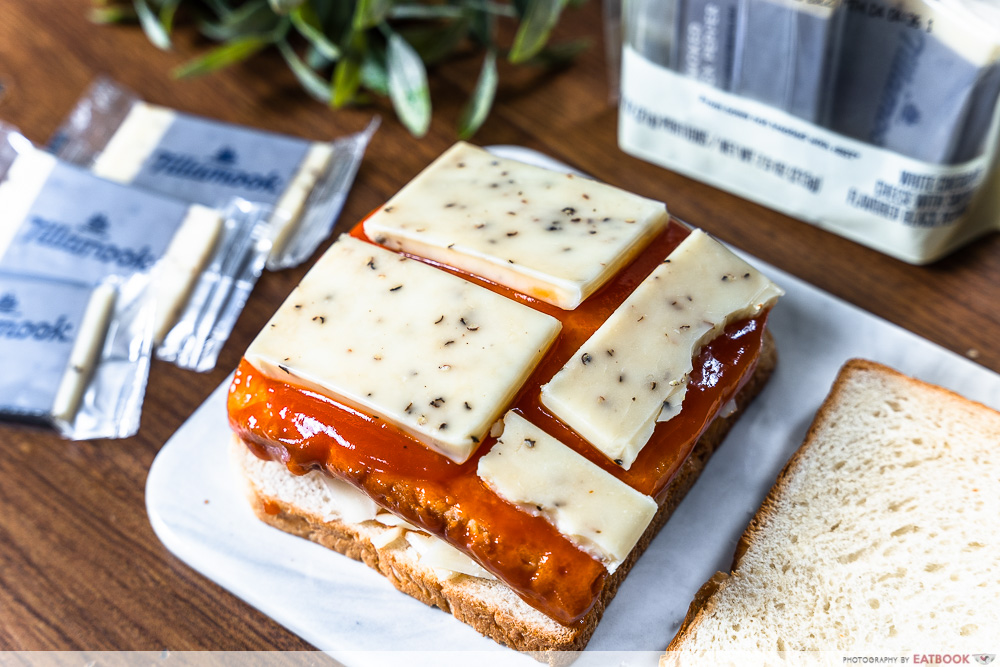 Besides regular sliced and shredded cheeses, they've got convenient snack portions for on-the-go munchies, though they make for great additions to your food too━the Tillamook Smoked Black Pepper Snack Portion saves you the extra step of adding pepper to this tomato soup combo!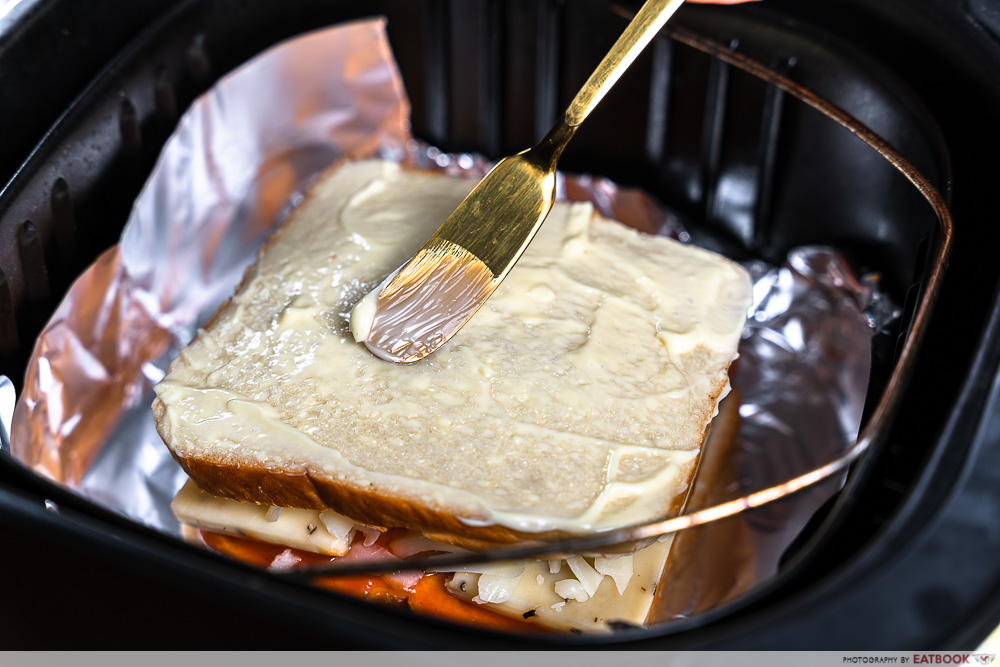 If you've been spreading butter on the outsides of your grilled cheese sandwiches, switch to mayonnaise instead. Its higher smoke point, plus the magic combination of egg yolks and oil, make for tastier, easier browning. Fair warning: this doesn't work with low-fat mayonnaise.
Yield: 1 sandwich
Cooking time: 12 minutes
Ingredients:
3 slices of bread
½ can of tomato soup
2 tbsp hot water
3 slices of Tillamook Smoked Black Pepper Snack Portion
2 slices of Tillamook Sharp Cheddar Farmstyle Thick Cut
100g shredded Tillamook Mozzarella Farmstyle Thick Cut, or as desired
2 tbsp mayonnaise
Directions:
Preheat air fryer to 170°C.

Mix hot water with tomato soup, then soak a slice of bread equally on both sides.

Layer sliced cheese and mozzarella on a slice of bread. Follow with the soaked bread, mozzarella, and another layer of sliced cheese. Spread mayonnaise on the top, then air fry for 6 minutes.

Flip, spread mayonnaise on the other side of the sandwich, and air fry for another 6 minutes.

Slice and serve.
*Air fryer models may differ in their heating capacities, so it's best to check on your sandwich every 3 minutes.
Recipe adapted from I Am Homesteader.
---
2. Cheesy Loaded Nachos
---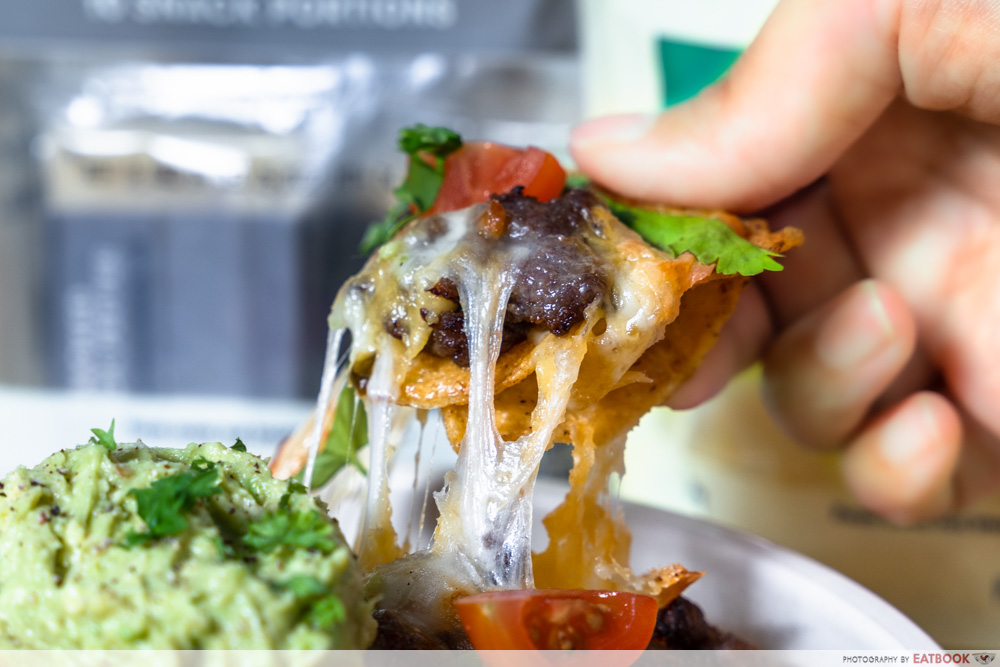 Impress your family, date, or even just treat yourself to something more than plain ol' nachos and cheese dips on Netflix-and-chill nights. This super cheesy loaded nachos recipe goes with whatever toppings you desire: if you think it works with nachos and melty cheese, you do you.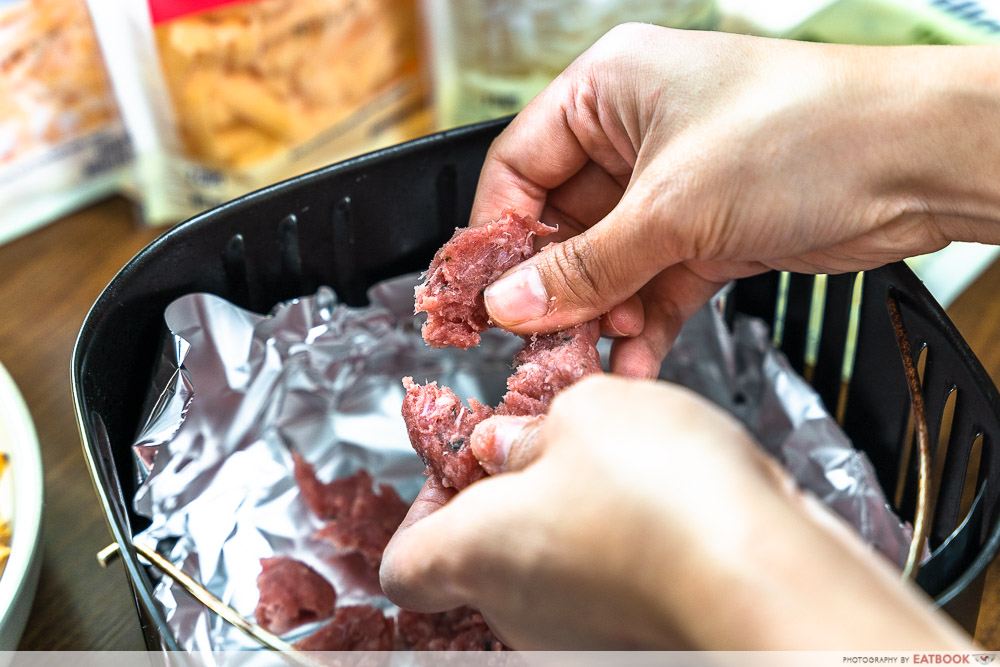 Here, we've gone with Italian meatballs, easily obtainable from the meat section at the supermart. You could also remove the casing of any fresh sausage and pinch apart the meat in the same way━chorizo would be great with this. Otherwise, cubed luncheon meat or sliced chicken franks work too.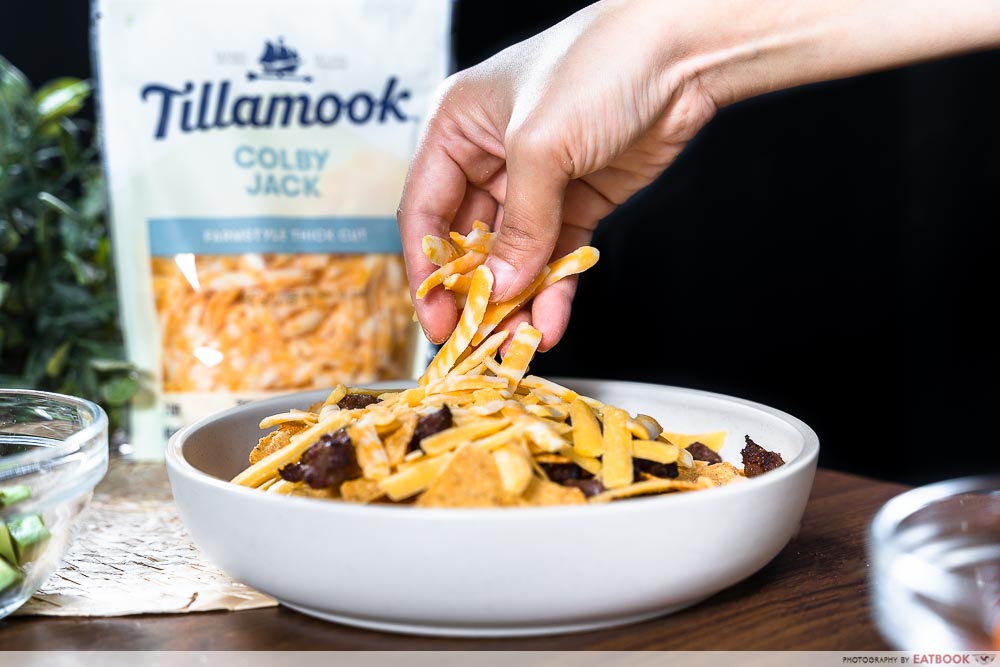 Mozzarella is the all-time favourite when it comes to melty cheeses, with its milder flavour making it a more palatable option for those who aren't fans of the dairy product. For a little more flavour, there's Colby Jack: a smooth, creamy, and extra melty blend of two cheeses marbled together. If you're going big, then Tillamook's Sharp Cheddar Farmstyle Thick Cut shreds would do the trick.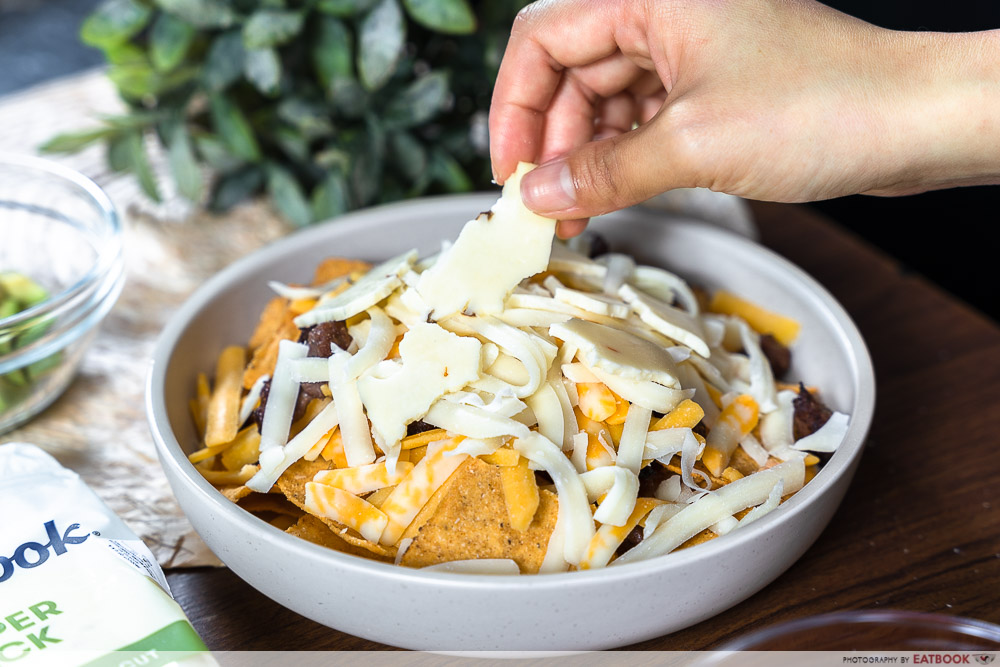 Instead of popping open a jar of jalapenos for that classic Tex-Mex flavour, stock up on Tillamook's Pepper Jack Farmstyle Thick Cut slices, speckled with jalapeno peppers for that touch of spice, without the experience of biting into the actual chilli.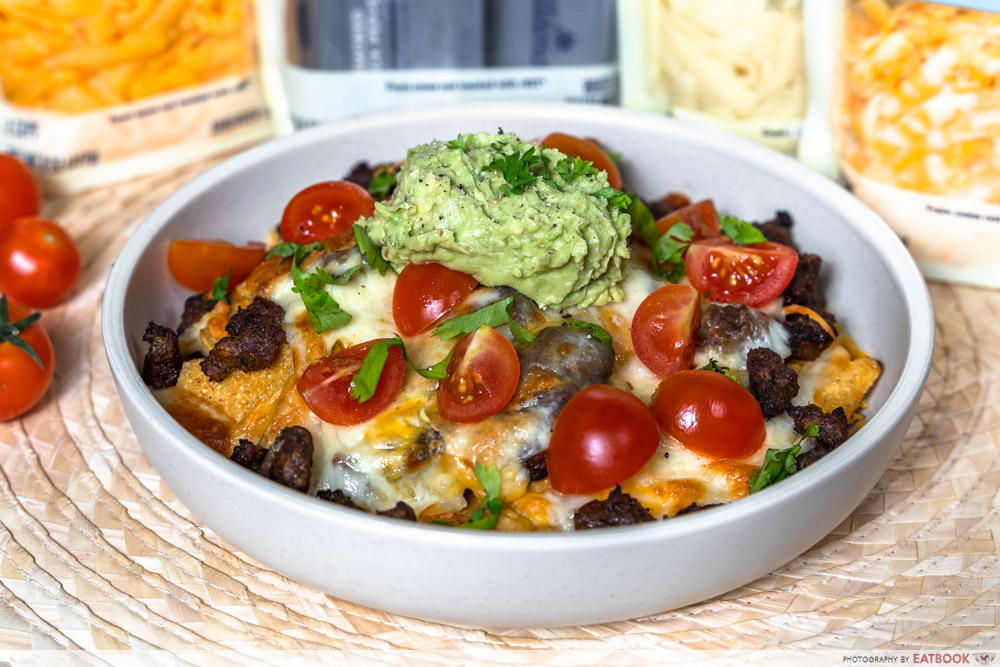 For the quickest bursts of fresh colour, finishing your plate of cheesy loaded nachos doesn't get easier than tomatoes and mashed avocado, plus coarse-chopped cilantro leaves. 
Yield: 2 servings
Cooking time: 10 minutes
Ingredients:
150g nachos
200g fresh Italian meatballs or desired meat
40g Tillamook shredded Mozzarella Farmstyle Thick Cut, or as desired
40g Tillamook Pepper Jack Farmstyle Thick Cut slices, or as desired, quartered
40g Tillamook shredded Colby Jack Farmstyle Thick Cut, or as desired (optional_
40g Tillamook shredded Sharp Cheddar Farmstyle Thick Cut, or as desired (optional)
½ avocado, mashed
7 cherry tomatoes, quartered
Cilantro, chopped
Directions:
Pinch apart sausage or meatballs on aluminium foil and air fry at 170°C for 5 to 7 minutes.

Arrange nachos on a heat-proof plate that fits in the air fryer basket. 

Top with cheeses and cooked meat. Air fry for 4 minutes, or till cheese has melted.

Garnish with toppings and serve.
---
3. Air Fryer Mac & Cheese
---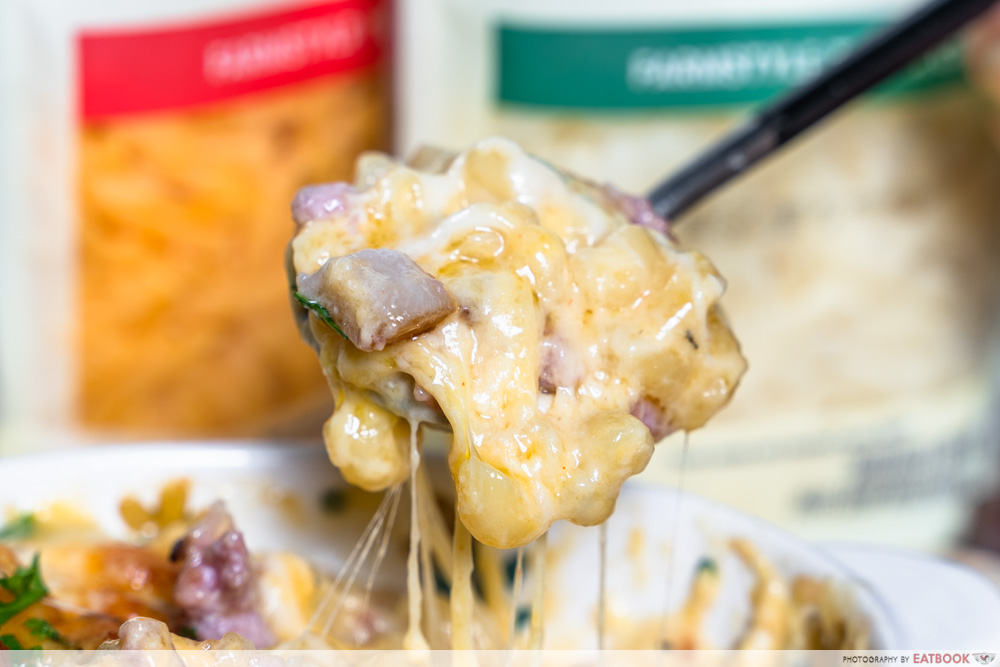 Conventionally, making macaroni and cheese on the stove calls for quite the process. You might have tuned out at 'making a roux', but this air fryer recipe lets you skip all of that, but yields a mac and cheese that's just as great.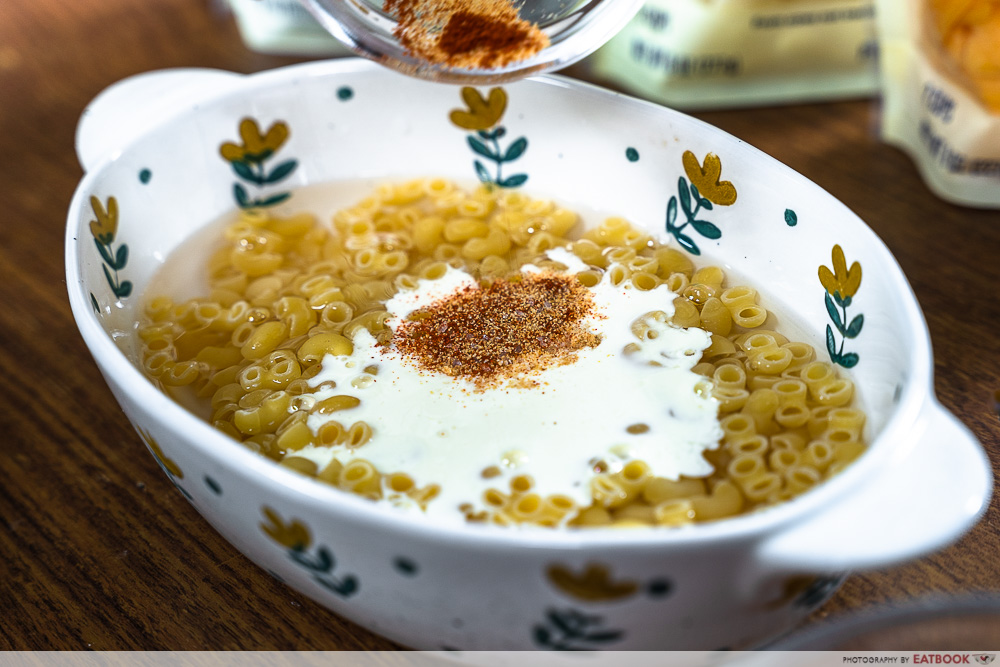 This recipe uses uncooked macaroni, and has a 20-minute cooking time, but if you have leftover boiled macaroni in the fridge, that cuts the cooking time down to 12 minutes! Simply leave out the water if you're using boiled macaroni, and do two six-minute rounds in the air fryer. You can also extend the cooking time if you want the cheese to brown more.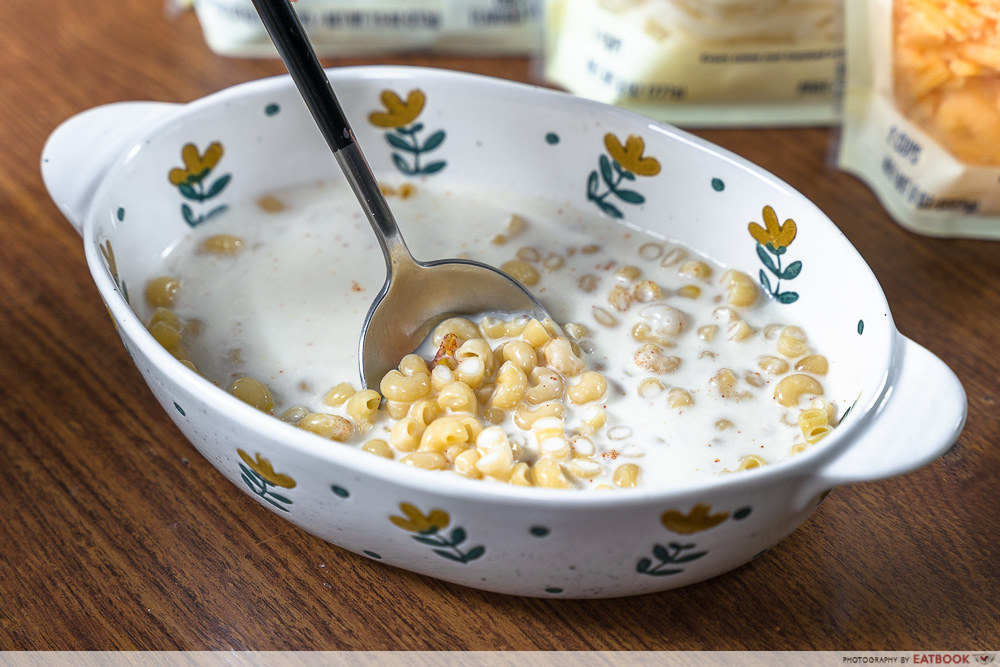 We've added paprika and garlic powder for that touch of smoky savouriness, but you can omit these, or play with other alternatives, including onion powder, chilli flakes, cayenne pepper, and more.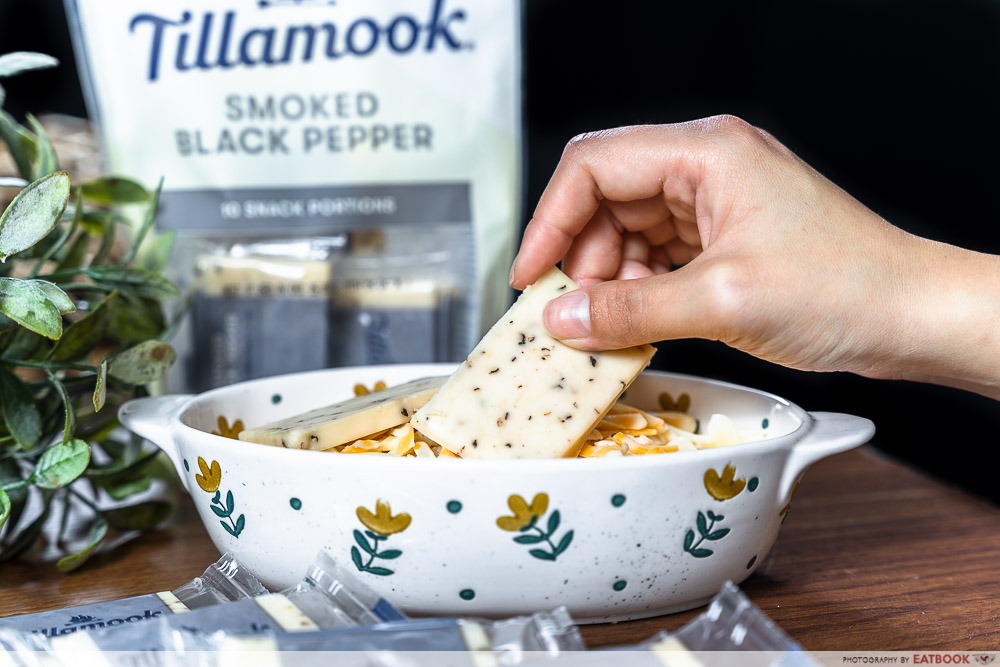 Tillamook's Smoked Black Pepper cheese ticks three boxes at once: cheesiness, smokiness, and pepperiness. It's a handy snack, and a nifty must-have in the fridge too.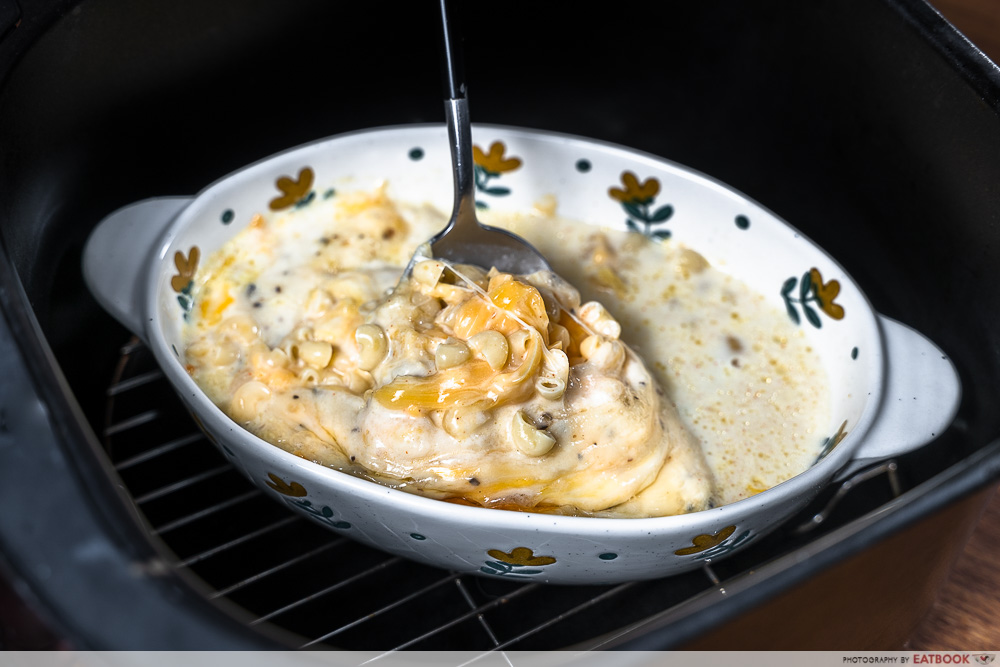 Typically, shredded cheeses contain cellulose preservatives, an anti-caking agent that prevents clumping. However, these anti-caking agents mean pre-shredded cheeses don't melt as well. Tillamook's unique Farm Style Thick Cut shreds, however, are dusted with potato starch, and mimic hand-grated cheese, melting beautifully into the dish.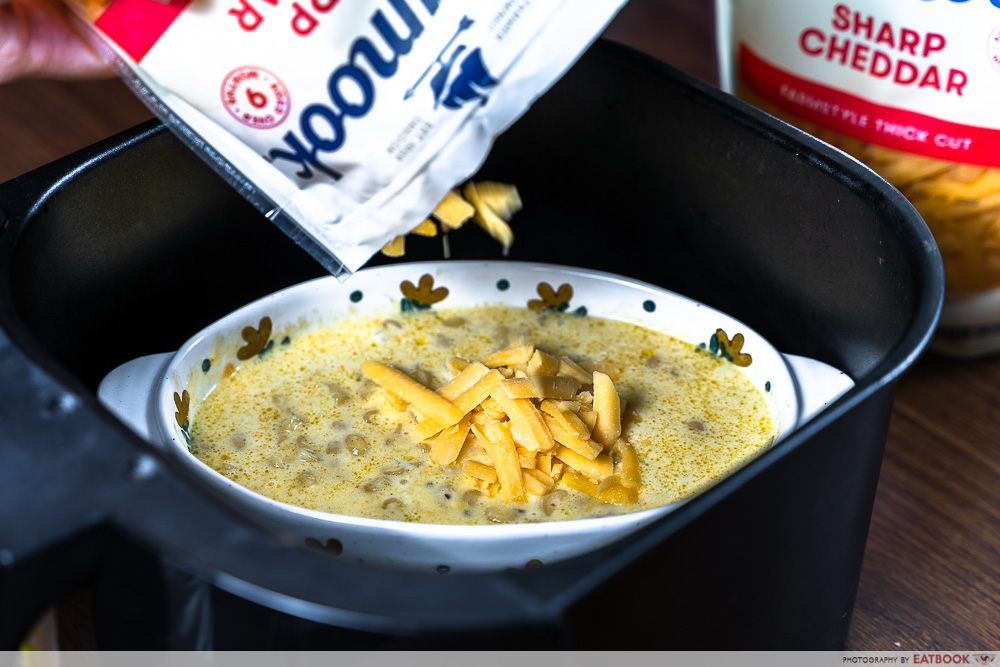 Cheddar gives mac and cheese that absolutely cheesy edge, so go with Sharp Cheddar━shredded or sliced works just fine. Pair this with whatever other cheese you fancy!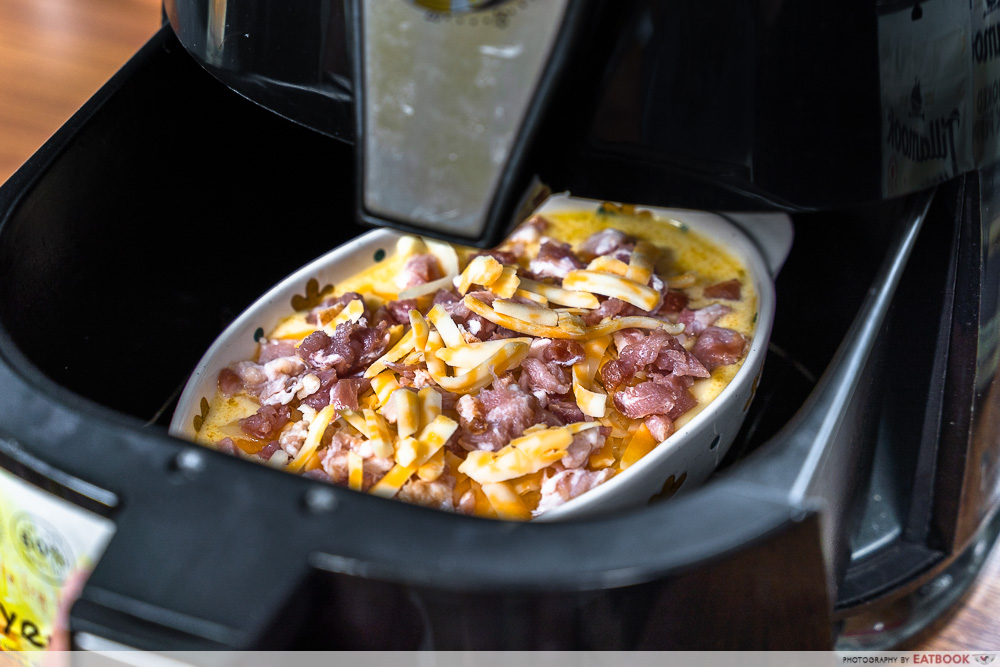 Laying the bacon on for the last six minutes of cook time allows it to brown, while the bacon fat renders into the macaroni and cheese for a super tasty finish. If you have fried shallots on hand, mix them in before serving━you won't regret it.
Yield: 2 servings
Cooking time: 20 minutes 
Ingredients:
¾ cup elbow macaroni
½ cup water
¼ cup heavy cream
½ tsp salt
1 tsp paprika
½ tsp garlic powder (optional)
¼ tsp mustard
70g shredded or sliced Tillamook Sharp Cheddar Farmstyle Thick Cut
70g shredded Tillamook Mozzarella Farmstyle Thick Cut
3 slices Tillamook Smoky Black Pepper Snack Portion
50g shredded Tillamook Colby Jack Farmstyle Thick Cut (optional)
Bacon, diced, as desired
English parsley, chopped
1 tbsp fried shallots (optional)
Directions:
Preheat airfryer to 170°C.

Combine macaroni, water, cream, salt, garlic powder, paprika, and half the cheeses in an oven-safe casserole. 

Air fry for 7 minutes, then stir. Air fry for another 7 minutes, and add remaining cheese and bacon. Air fry for 6 minutes.

Mix in fried shallots if using, and top with chopped parsley to serve.
---
Cheesy air fryer recipes with Tillamook
---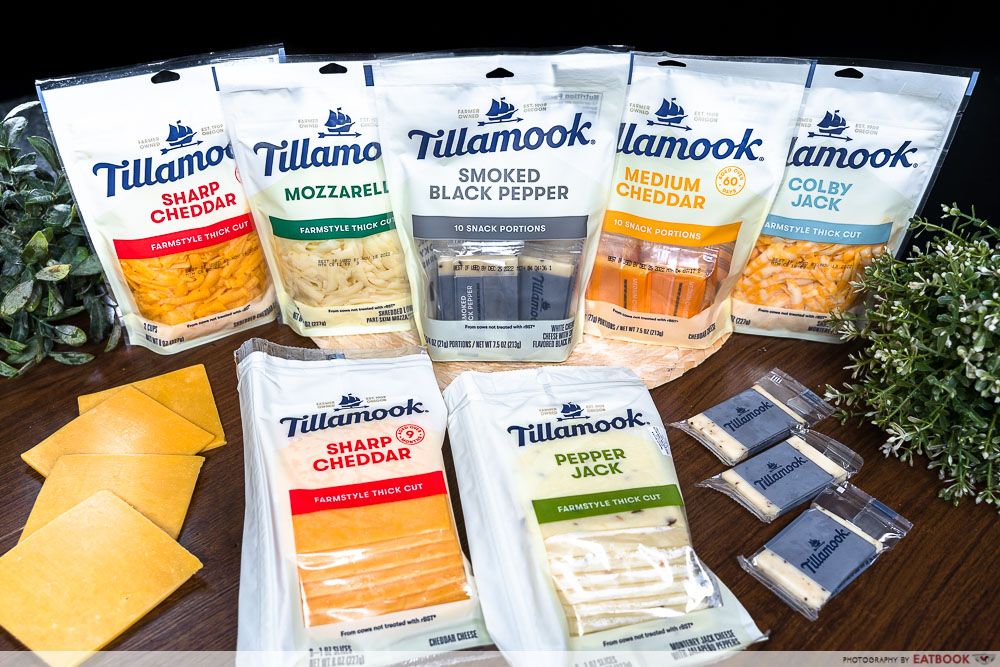 If you've been eating processed cheeses till now, give Tillamook's 100% real cheeses a try. The farmer-owned brand means your Tillamook cheeses are produced by some of 80 farmer families in Oregon who've been doing this for more than 100 years. For the environmentally conscious among us, you'll also be happy to know that they uphold a closed-loop system, where nutrients and organic matter are returned to the soil; they turn the cows' manure into energy, too!
Keep your fridge stocked with Tillamook cheeses: they're full of flavour, protein-packed, convenient, and versatile. They're available at FairPrice and Cold Storage; otherwise, get them online at RedMart too.
Photos taken by Chew Yi En.
This post was brought to you by Tillamook.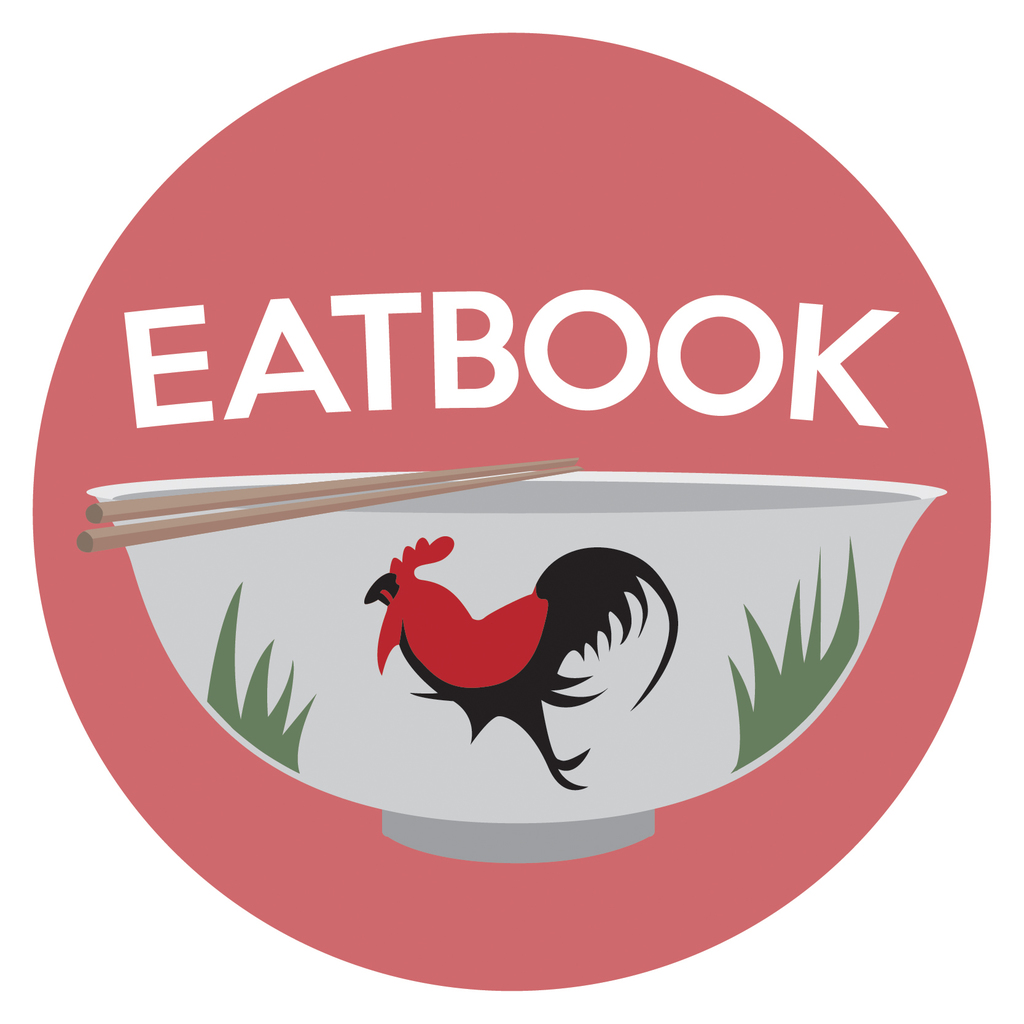 Drop us your email so you won't miss the latest news.