Chope dining deals for November 2022
A new month means new opportunities to dine out with the ones you love. To help you along, Chope has released a whole slew of dining deals, including discounts on their cash vouchers at popular eateries so you can enjoy more food at a cheaper price, as well as 1-for-1 deals on omakase menus, sushi sets, and much more in between. Save effortlessly when you dine out by purchasing these vouchers and making your reservations on Chope.
To help you along, we've shortlisted some eateries great for family meals during the school holidays, or for special occasions.
1. Nic & Tom Eatery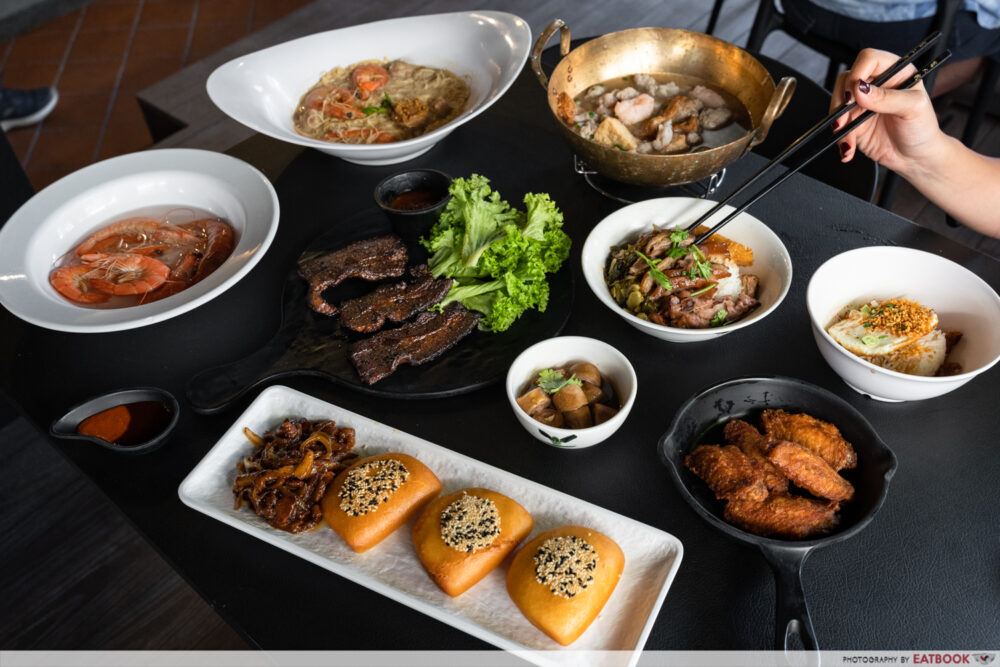 Nic & Tom Eatery became quite the viral sensation when they first opened in Serangoon Gardens, thanks to their seafood cheese bee hoon and other affordable, comforting eats. They've since moved to a new location in Chinatown, boasting the same beloved menu. If you've yet to give them a try, check out the hype for yourself and save while you're at it. Currently, you can enjoy 50% off a cash voucher with a value of $10, which means you pay only $5 for $10 worth of food. 
Feast on their signature Abalone Cheese Bee Hoon ($15.90++), where a cheesy white sauce and a bed of springy bee hoon is topped with a medley of seafood, including lobes of abalone. Another hot item here is the Pig Trotter Rice ($5.90++), starring slow braised pork trotters with tender meat and just the right amount of fat. 
Get 50% off Nic & Tom Eatery here.
Address: 6 Sago Street, Singapore 059011
Opening hours: Daily 10am to 10pm
Website
Nic & Tom is not a halal-certified eatery.
2. Takeshi-San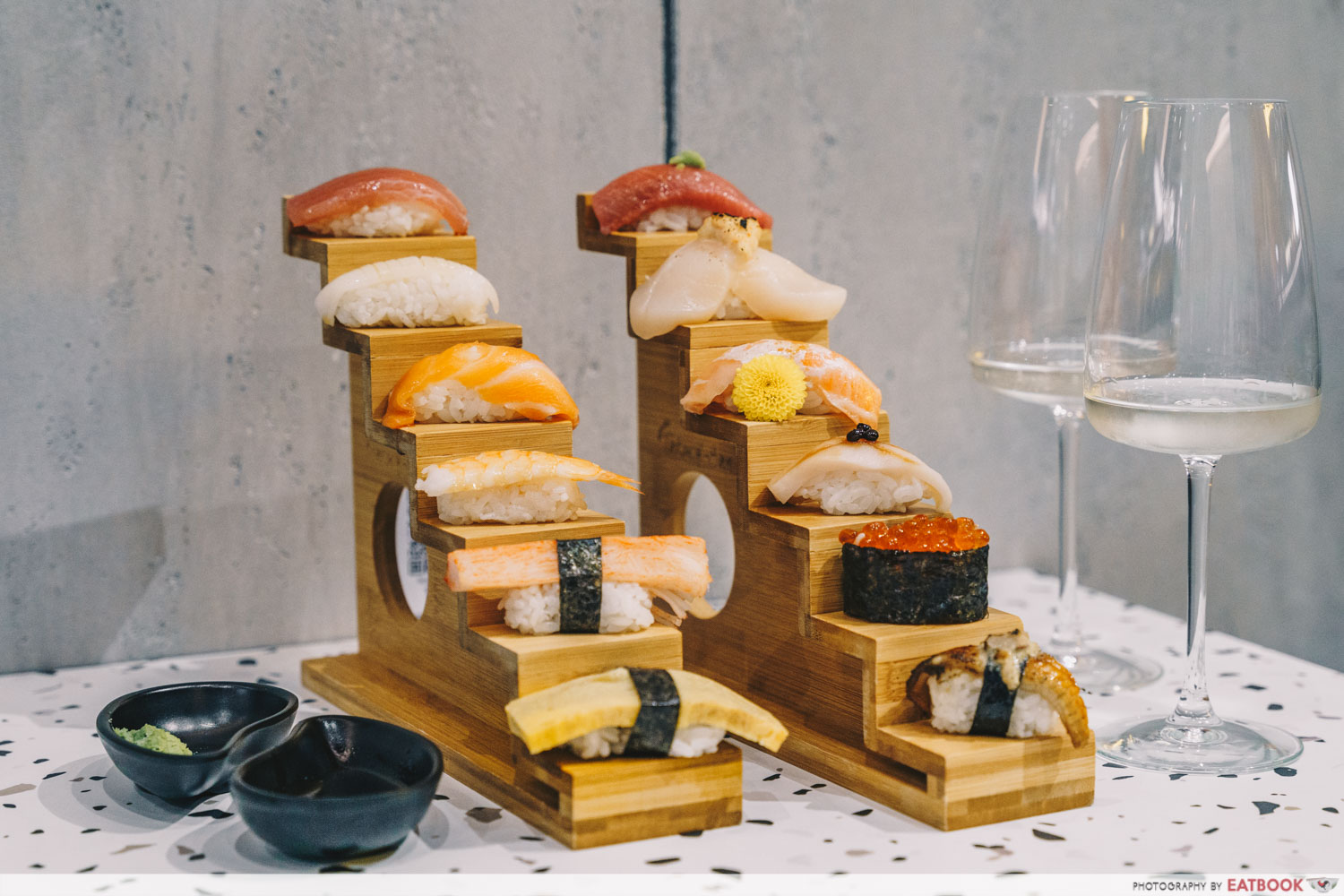 Based in Holland Village, Takeshi-San is known for their unique spin on sushi. The Kaidan Set is an especially popular pick with customers, as it offers six types of premium sushi, served on a wooden "stairway" for visual impact. Typically priced at $29.90++ a set, you can now get two Kaidan Sets for the same price with Chope's 1-for-1 deal. The deal also allows you to try both their Kaidan sets, so you can order a serving of their famed Mentai Kaidan and Salmon Kaidan to share, with six pieces of premium nigiri in each.
Get 1-for-1 on Takeshi-San's Kaidan Set here!
Address: 38 Lor Mambong, Singapore 277694
Opening hours: Mon-Thurs 11:30am to 2:30pm, 5:30pm to 10:30pm, Fri-Sat 11:30am to 12am, Sun 11:30am to 10:30pm
Tel: 8875 1515
Website
Takeshi-San is not a halal-certified eatery.
3. New Ubin Seafood CHIJMES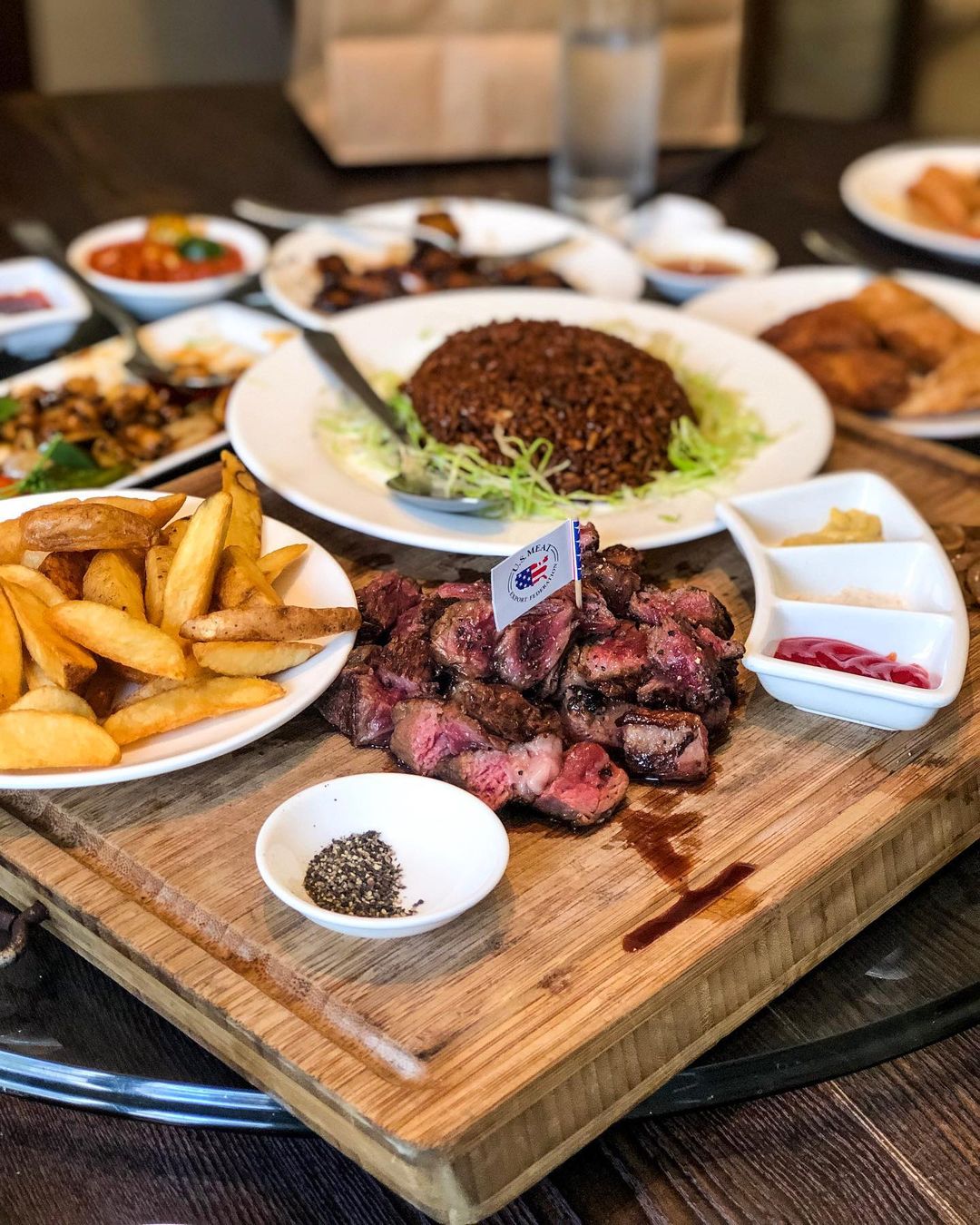 Image credit: New Ubin Seafood
New Ubin Seafood is a zi char institution in Singapore, beloved for its hearty, comforting dishes suffused with wok hei. The eatery has a loyal customer base who often swing by for house specials such as their smoky USDA Black Angus Choice Ribeye (from $46++), Live Sri Lankan Crab (from $44++), and Boss Bee Hoon ($14++). 
If you count yourself a fan or are just waiting for the right moment to give them a try, then this is your calling card, as Chope is offering 20% off cash vouchers to dine at New Ubin Seafood. This means you can purchase a voucher to enjoy $50 worth of food for just $40, or $100 worth of food for only $80. Vouchers for their other outlets at Zhongshan Park and MYMCA Stevens are available too!
Get 20% off dining vouchers for New Ubin Seafood here!
Address: 30 Victoria Street, #02-01B/C, CHIJMES, Singapore 187996
Opening hours: Mon 5:30pm to 10pm, Tue-Sat 11am to 3pm, 5:30pm to 10pm
Tel: 9470 6870
Website
New Ubin Seafood CHJIMES is not a halal-certified eatery.
4. Walking on Sunshine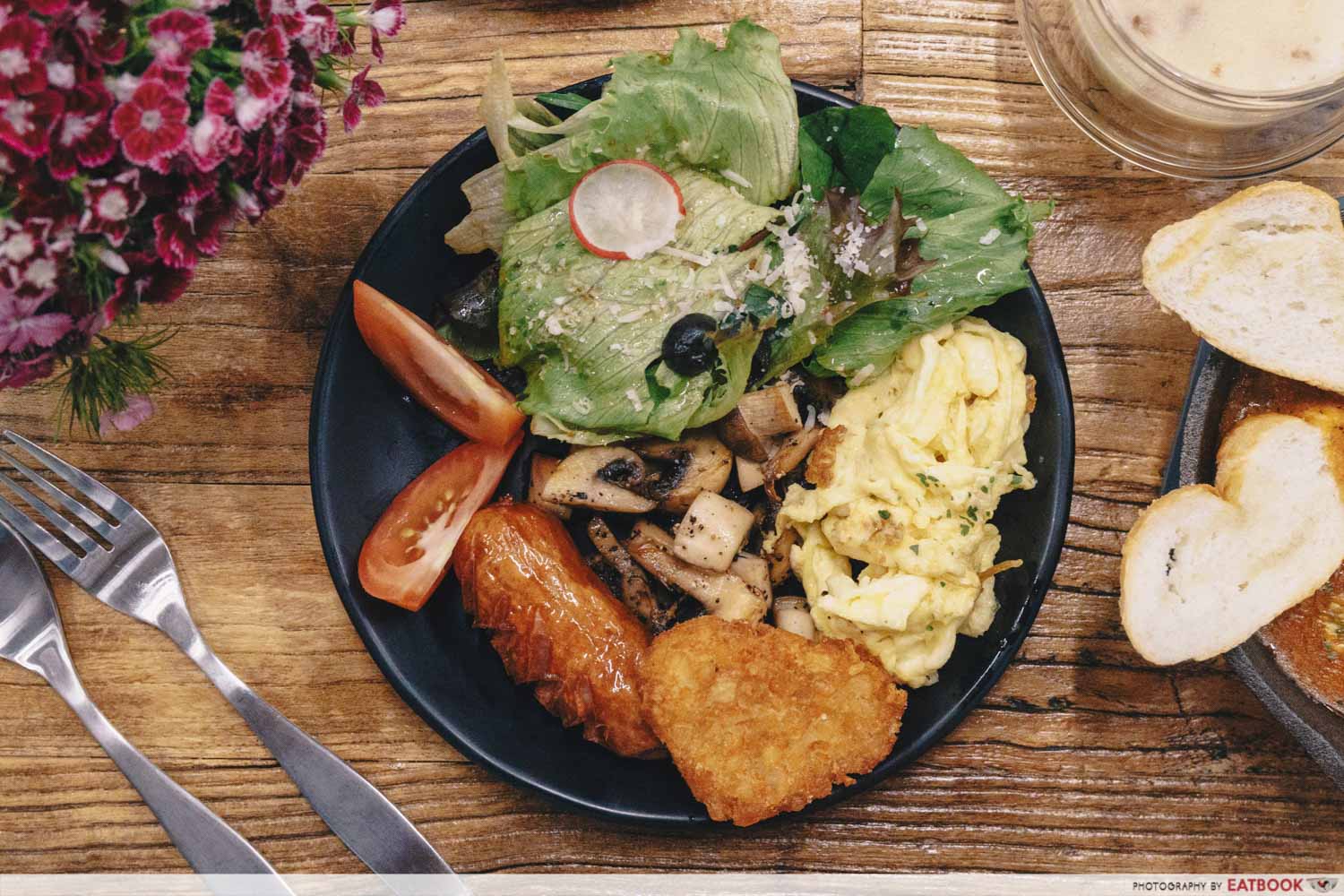 Korean cafe and beauty salon Walking on Sunshine is a gorgeous place for your weekend brunch fix. The space is all floral botanicals and lush wood tones, offering diners a serene respite from the rush of Orchard Road. The next time you're there, get a Chope voucher to save on your order. Currently, Chope is running a promotion for 20% off their cash vouchers, so you can pay $16 for $20 worth of food and drink, or $40 for a cash voucher with $50 value. The menu here is distinctly Korean-inspired, with Kroffles (from $6.90++) in a variety of flavours, to Sweet Potato Latte (from $7++), and all-day brunch sets from $19++. 
Get 20% off Walking on Sunshine cash vouchers here!
Address: 181 Orchard Road, #03-07, Orchard Central, Singapore 238896
Opening hours: Sun-Fri 10am to 8pm, Sat 10:30am to 8pm
Tel: 8877 8800
Website
Walking on Sunshine is not a halal-certified eatery. 
5. PAZZION Cafe Takashimaya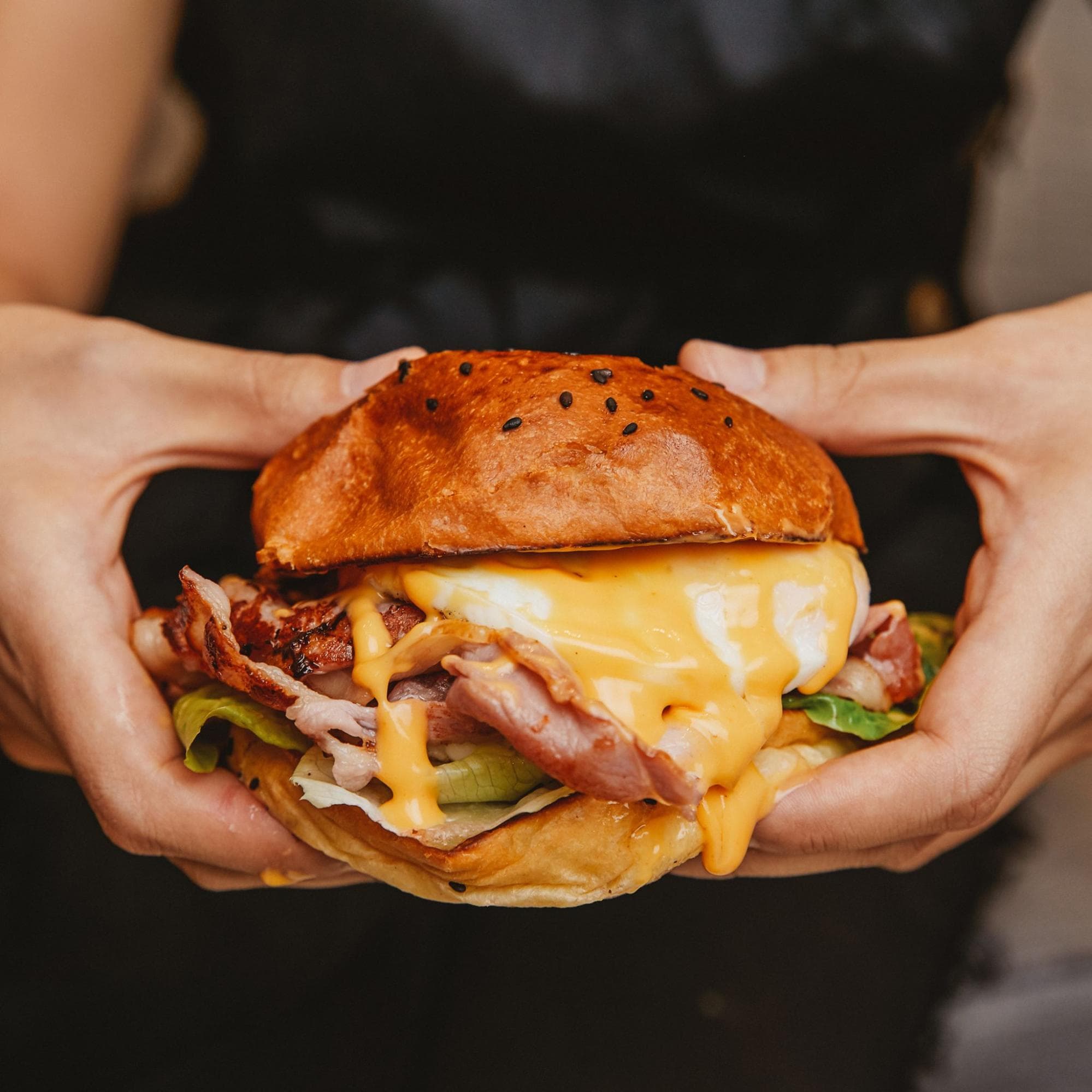 Image credit: PAZZION Cafe
PAZZION Cafe's convenient location in town makes it a great place to catch up with friends, whether over a quick coffee and snack, or a full-on meal. Whichever way you decide to swing, note that you can now get 33% off cash vouchers for PAZZION Cafe, where you pay only $20 for $30 worth of food and drink. Here's all the more reason for you to dig in and enjoy their fusion fare while you save big. Highlights on the menu include their super indulgent Chocolate Granola French Toast With Berries ($20++), served with kaya spread and a thick dark chocolate sauce, as well as their Hearty English Pancakes ($20++), comprising fluffy pancakes, vine tomatoes, sausages, bacon, and Cajun baked potatoes.
Get 33% dining vouchers at PAZZION Cafe here!
Address: 391 Orchard Road, B1-39/40, Takashimaya Shopping Centre, Ngee Ann City, Singapore 238872
Opening hours: Mon-Thurs 10am to 9pm, Fri-Sun 10am to 9:30pm
Tel: 6876 9142
Website
PAZZION Cafe is not a halal-certified eatery.
6. Baba Chews Bar And Eatery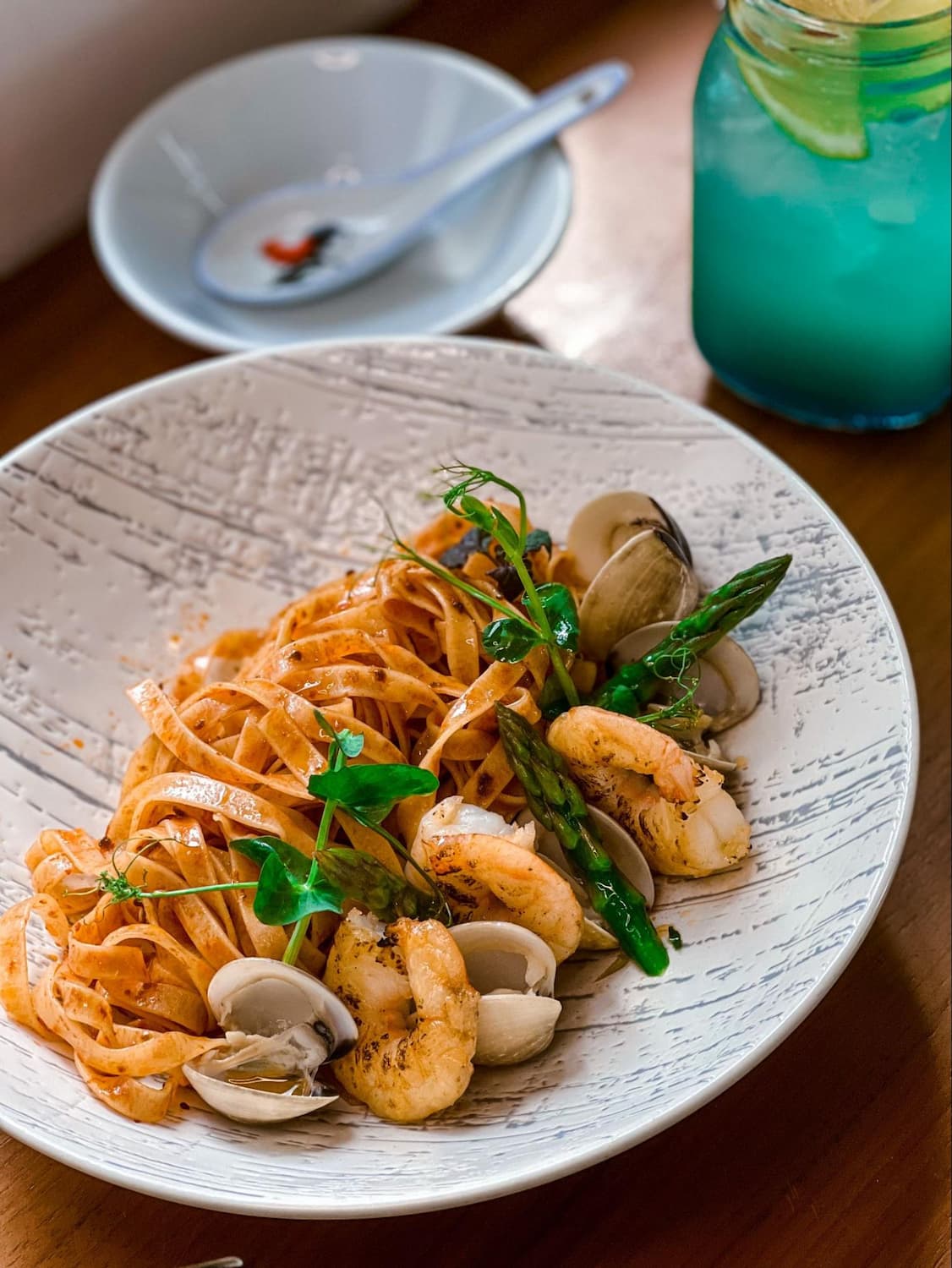 Image credit: Baba Chews 
Mod-Sin bistro Baba Chews Bar And Eatery is best known for their Peranakan-inspired brunch fare and cakes. Head down to enjoy a slew of 1-for-1 deals on a variety of their signatures, when you purchase these deals off Chope. Get 1-for-1 on their Prawn Oil Kombu ($28.25, U.P. $56.50), a riff on aglio olio, with tagliatelle tossed in a rich prawn head oil, served with shrimp and clams. Also, the Granchio, a chilli crab-inspired pasta dish, is also available as part of the 1-for-1 deal, now priced at $27.07 (U.P. $54.14). Do note that these are only redeemable on Saturday and Sunday, between 12pm to 9:30pm.
Get 1-for-1 deals at Baba Chews Bar and Eatery here!
Address: 86 East Coast Road, Katong Square, Singapore 428788
Opening hours: Daily 6:30am to 10:30pm
Tel: 6723 2025
Website
Baba Chews Bar & Eatery is not a halal-certified eatery.
7. Hororok Soups And Stews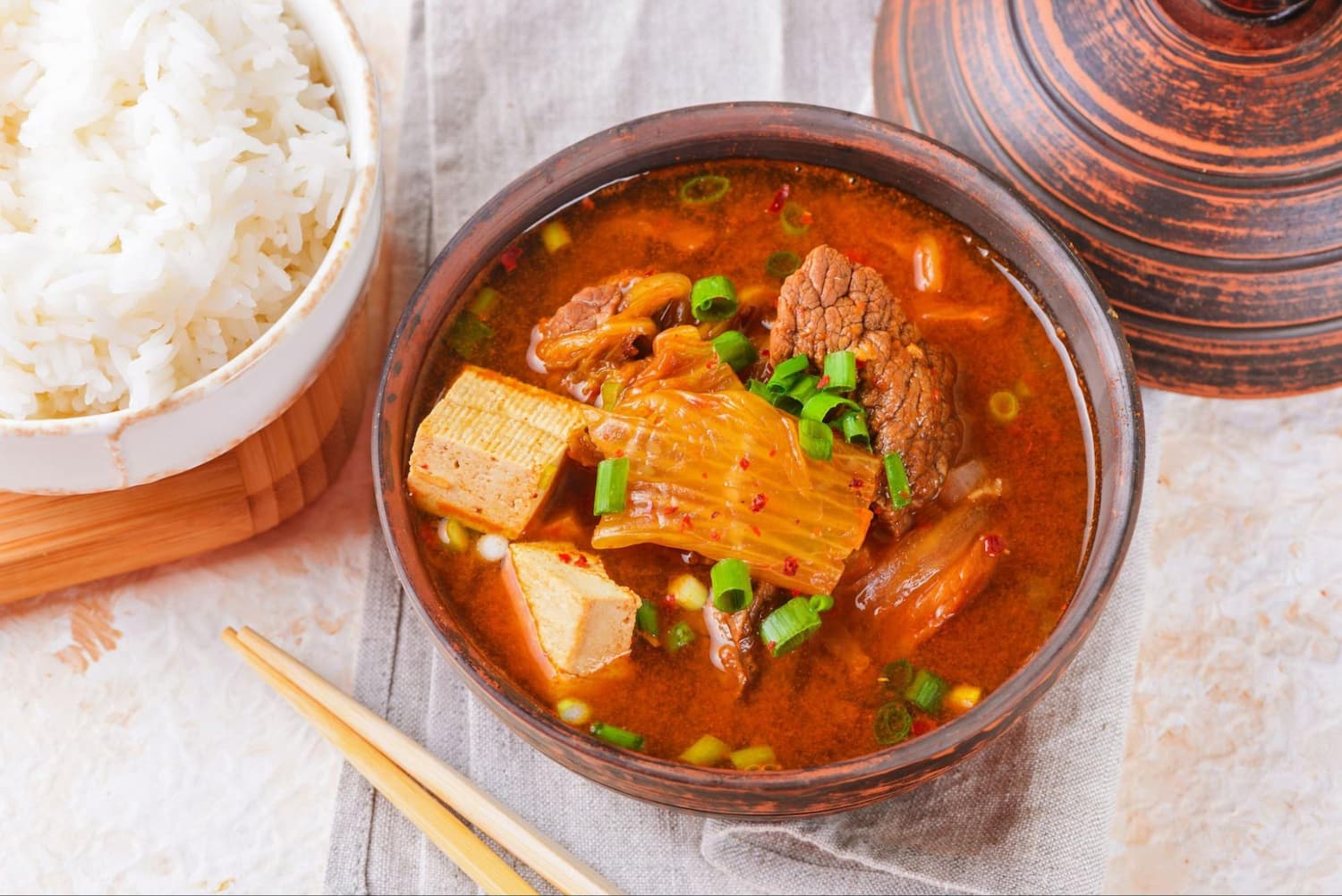 Image credit: Hororok Soups and Stews
Feel like you're in a K-drama when dining at Jjigae specialty restaurant, Hororok Soups and Stews. Located in International Plaza, the eatery has a broad menu of cosy, build-your-own stews, which you can enjoy as set menus with a drink and ice cream for dessert. Typically, a Korean Stew Set will set you back $17.40, but Chope has 1-for-1 vouchers so you can get two sets for that price, making each portion just $8.70! Jio your dining kakis and head down for this affordable meal. You can choose from four different soup bases—army stew, kimchi stew, bean paste stew, and chilli paste stew—as well as your preferred carb to go with your drink and dessert.
Get 1-for-1 Korean Stew Sets at Hororok Soups and Stews here!
Address: 10 Anson Road, #01-17, International Plaza, Singapore 079903
Opening hours: Mon-Fri 10am to 8:30pm, Sat 10am to 3pm
Tel: 9049 9926
Website
Hororok Soups and Stews is not a halal-certified eatery.
8. JIDAI Restaurant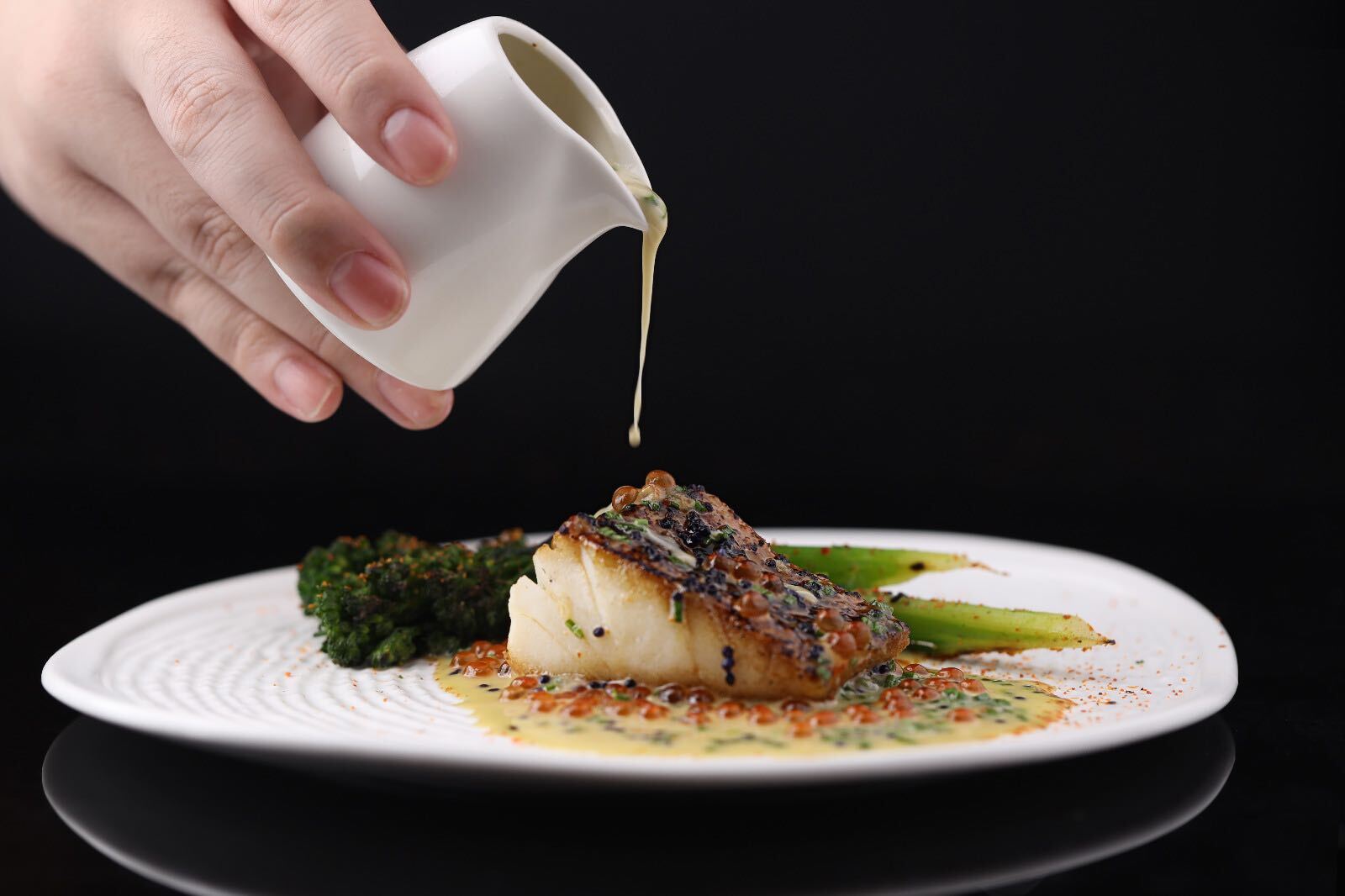 Image credit: JIDAI
Japanese-French fusion restaurant JIDAI is helmed by Chef Darwin Wong, who also runs the mod-European restaurant Beurre. This fine dining destination is perfect for special occasions and date nights, made especially sweeter with their 1-for-1 Omakase deal exclusively on Chope. Typically priced at $371.94 for two, you now pay just $185.97 for two diners to enjoy a degustation menu of nine courses, where premium seafood is the star. JIDAI Restaurant also has an extensive menu of sakes should you like to have your omakase with a boozy pairing, though beverages are, of course, charged an additional fee.
Get 1-for-1 Omakase at JIDAI here!
Address: 9 Circular Road, Singapore 049365
Opening hours: Tue-Sat 12pm to 3pm, 5pm to 10:30pm
Tel: 8189 1849
Website
JIDAI is not a halal-certified eatery. 
9. Upin Hot Pot Orchard Gateway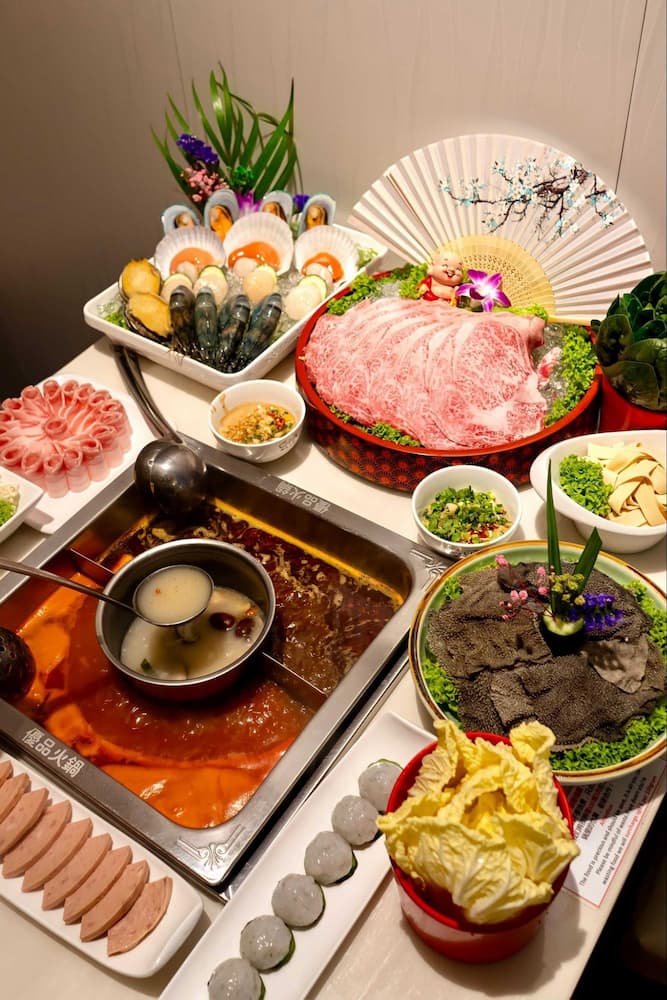 Image credit: Upin Hot Pot
As the fastest-growing hotpot brand in Singapore, Upin Hot Pot has multiple outlets islandwide and is best known for its house-made Signature Tomato Pot, an umami tomato soup base. In addition, there are five different other bases you can order, from Sichuan Spicy soup to Herbal Chicken. You can also get a medley of other ingredients to go with your hotpot, from meats to offal, and greens to seafood. Satisfy your steamboat cravings by heading down for their Hot Pot Buffet, and enjoy 15% off when you purchase the deal, applicable exclusively at their Orchard Gateway outlet. Prices vary between lunch and dinner, weekdays and weekends, but prices typically start at $26.83 for all-you-can-eat hotpot. With the voucher, however, prices are now reduced to just $22.80!
Get 15% off hotpot buffet deals for Upin Hot Pot here!
Address: 227 Orchard Road, #04-19, Orchard Gateway, Singapore 238858
Opening hours: Daily 11am to 12pm
Tel: 6288 5550
Website
Upin Hot Pot is not a halal-certified eatery.
10. Little Caesars Pizza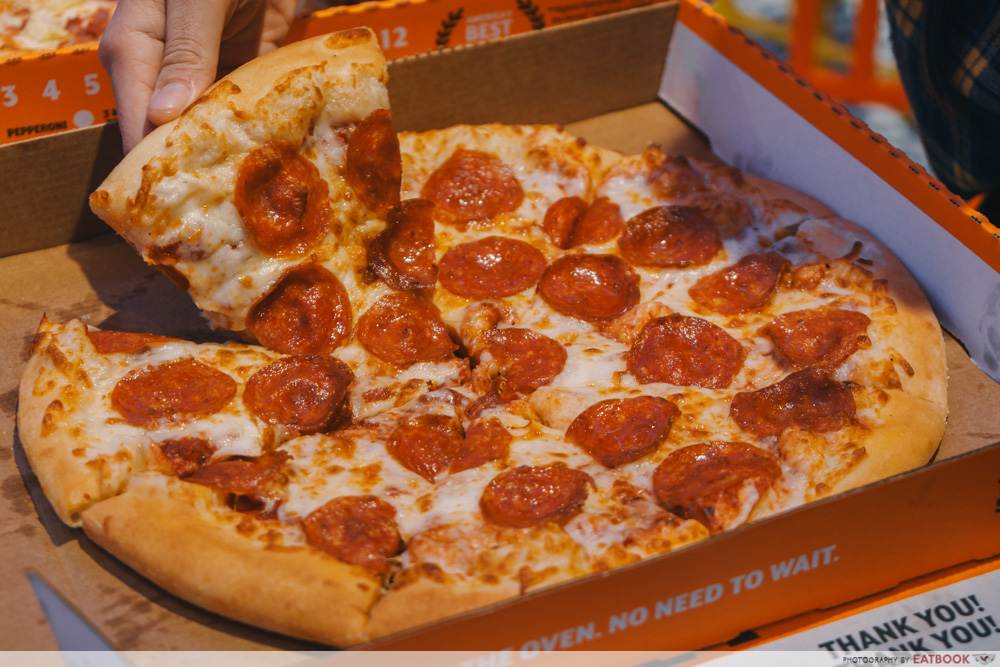 Famed American pizza chain Little Caesars Pizza is already known for their affordable pizzas, but with Chope's cash vouchers, you get to enjoy their pies and sides at even more of a steal. Chope is offering 10% off their $25 cash vouchers, so you can get them for just $22.50, or 35% off their $20 cash vouchers, now available at just $13. Applicable at all Little Caesars outlets islandwide, you can now sink into their piping hot 12" pies that are priced from just $7.99, at even more of a steal. The Pepperoni ($8.90) is a perennial classic, but we also recommend their 3 Meat Treat ($15.90). Make it a stuffed crust pizza when you add just $4.90.
Get up to 35% off cash vouchers for Little Caesars Pizza here!
Website
Full list of locations
Little Caesars Pizza is not a halal-certified eatery.
November food deals with Chope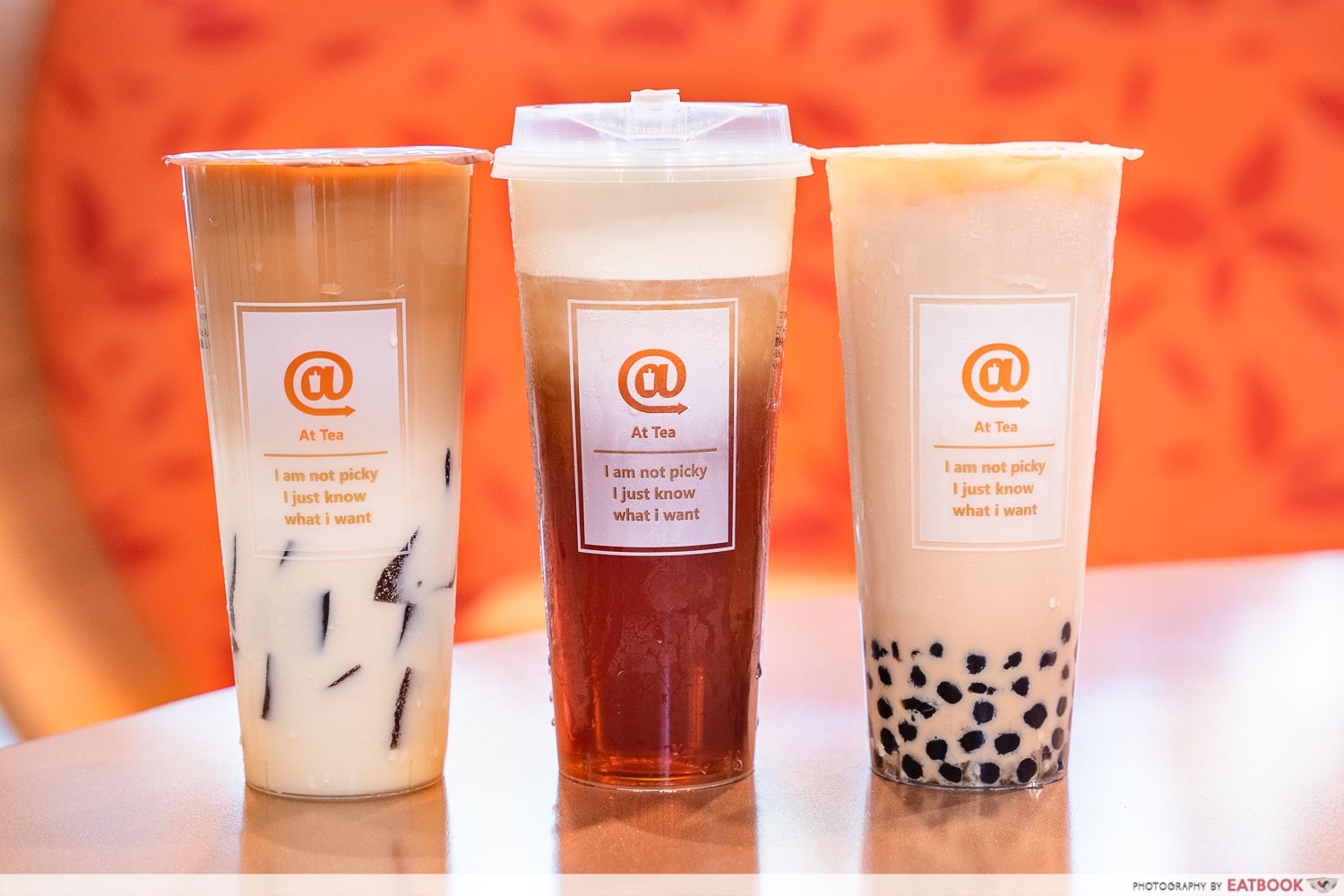 Check out all these food deals and save big on your next meals with Chope. Beyond these restaurants, the platform is also offering discounts on everyday eats, ranging from 1-for-1 milk teas at AtTea for only $5.50, 1-for-1 Thai milk teas at Tuk Tuk Cha for $3.80, and 20% off cash vouchers to dine at Japanese matcha dessert house, Matchaya.
Featured image adapted from PAZZION Cafe and New Ubin Seafood
This post is brought to you by Chope.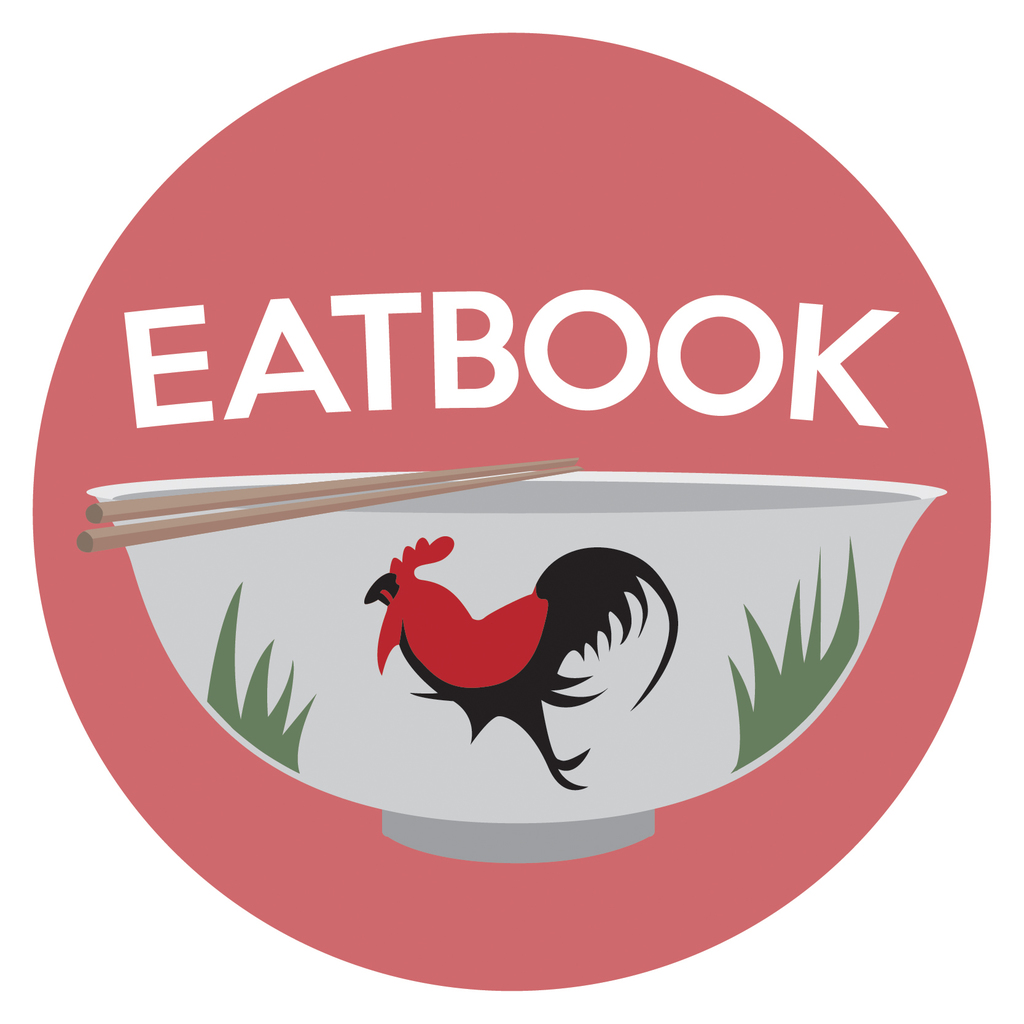 Drop us your email so you won't miss the latest news.