---
ChopeDeals Birthday Flash Sale
---
As someone who loves saving on food, ChopeDeals has become one of the main platforms for me and many other Singaporeans to snag food discounts. In celebration of their ninth birthday, they will be holding a one-day birthday flash sale on 24 September 2020. Whether it is 1-for-1 desserts, up to 66% discounts or set meals from $9.90 with over 250 exclusive deals to be available, there's definitely something for everyone.
If you're keen on snagging even more discounts, look out for their flash deals at 12pm, 6pm, and 9pm on 24 September 2020, which go as low as $0.90. Below are some of the deals you can expect to find during the flash sale.
---
1. R&B Tea
---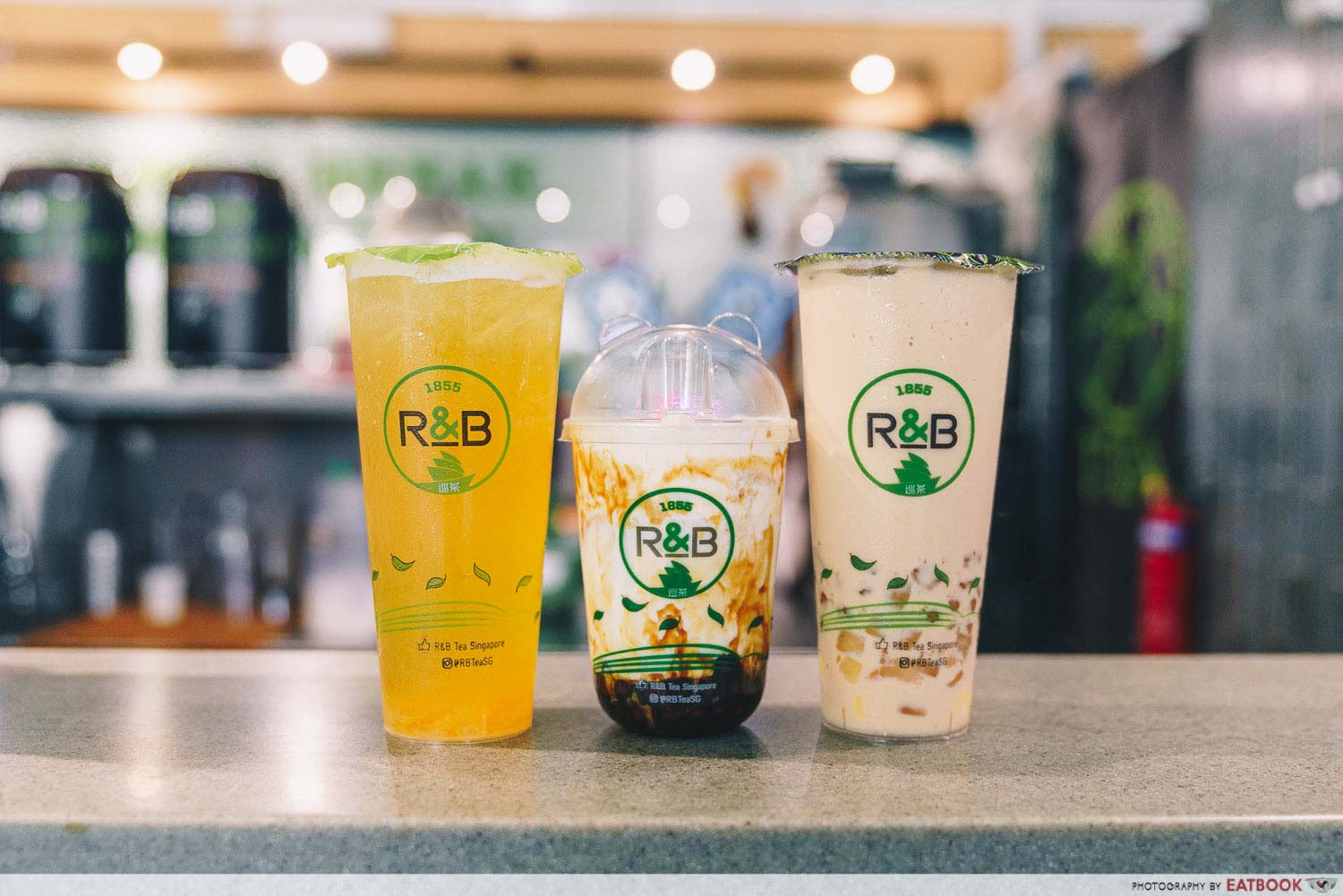 As Singaporeans, we're all about that BBT craze. If you're a fellow BBT lover, you'd know that R&B Tea has aced their brown sugar milk game with their Brown Sugar Boba Milk With Cheese Brulee. Comprising cream cheese, chewy brown sugar pearls, and topped with caramelised brown sugar, this drink is available for just $3 (U.P $4.80) at all outlets thanks to ChopeDeals.
Alternatively, check out their other signature drinks on discount too. Quench your thirst with the refreshing and citrusy Honey Yuzu in Large at $3 (U.P $4.50) or, for those who love multiple toppings in your BBT, go for the All In Milk Tea in Large, also sold for $3 (U.P $4.80), generously topped with golden pearls, pudding, aloe vera, and konjac crystal balls.
During the flash sale, these teas will go as low as $0.90, so keep your eyes peeled.
Get $3 Signature Bubble Tea at R&B (Multiple outlets available).
---
2. Steeped Tea Bar
---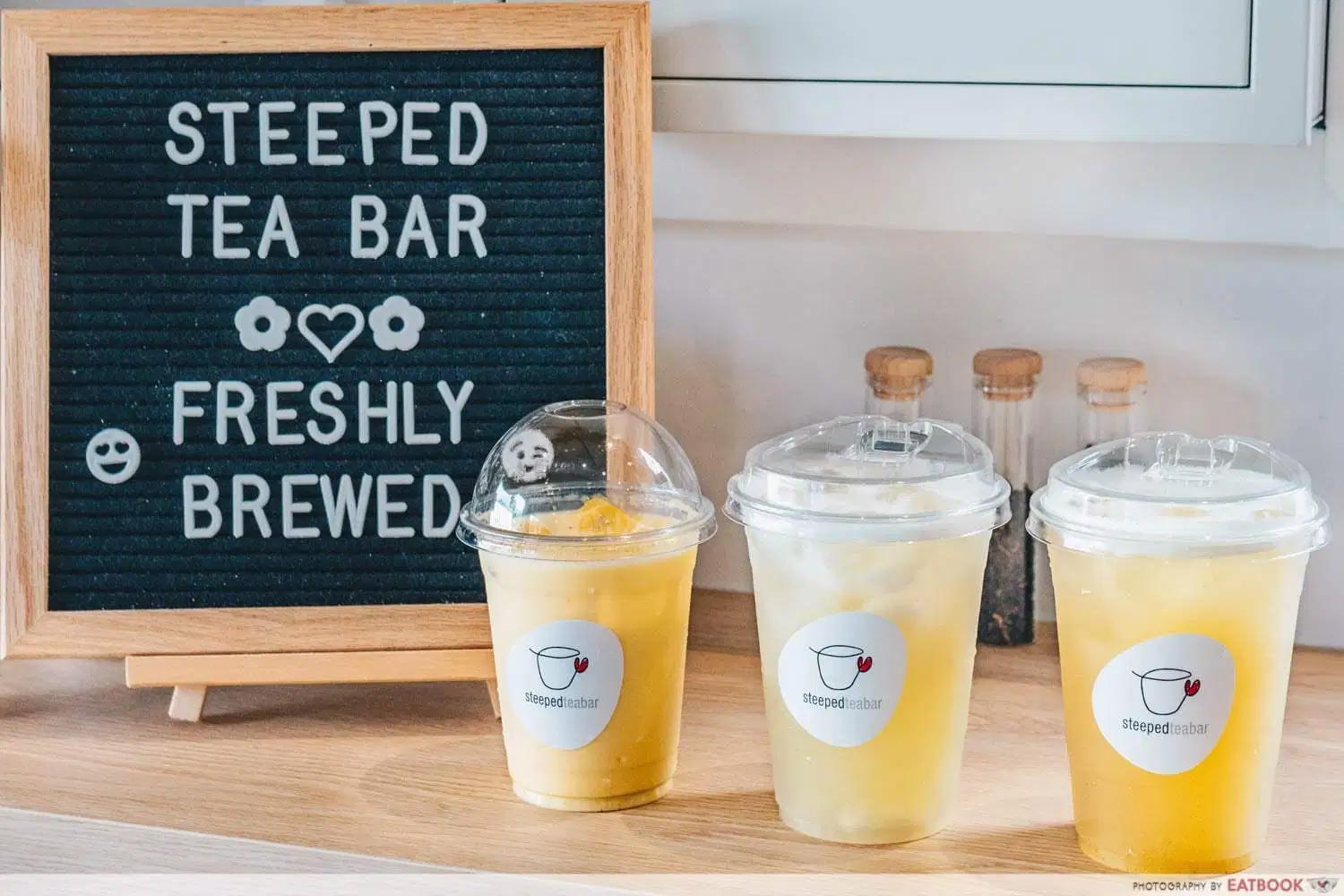 I can rarely say no to a 1-for-1 offer, especially when it's for refreshing, fruity beverages. If a cup of fruit tea is what you need to fight Singapore's sweltering heat, look out for the 1-for-1 teas at Steeped Tea Bar. With a huge selection, including plain tea, tea latte, tea mocktail, and floral tea mocktail, Steeped Tea Bar makes deciding on your 1-for-1 drinks tough.
For a fruity drink, try the Mango Fruit Latte, made extra creamy using Hokkaido milk. Otherwise, if you're feeling fancy, go for one of their tea mocktails, maybe the Pear High Mountain Oolong. Grab one of their bakes to munch on as you enjoy your 1-for-1 teas too, if you fancy.
Get 1-for-1 Signature Tea at Steeped Tea Bar.
Address: 2 Tan Quee Lan Street, #01-01, Singapore 188091
Opening hours: Tue-Sun 11:30am to 7pm
Website
---
3. Slappy Cakes
---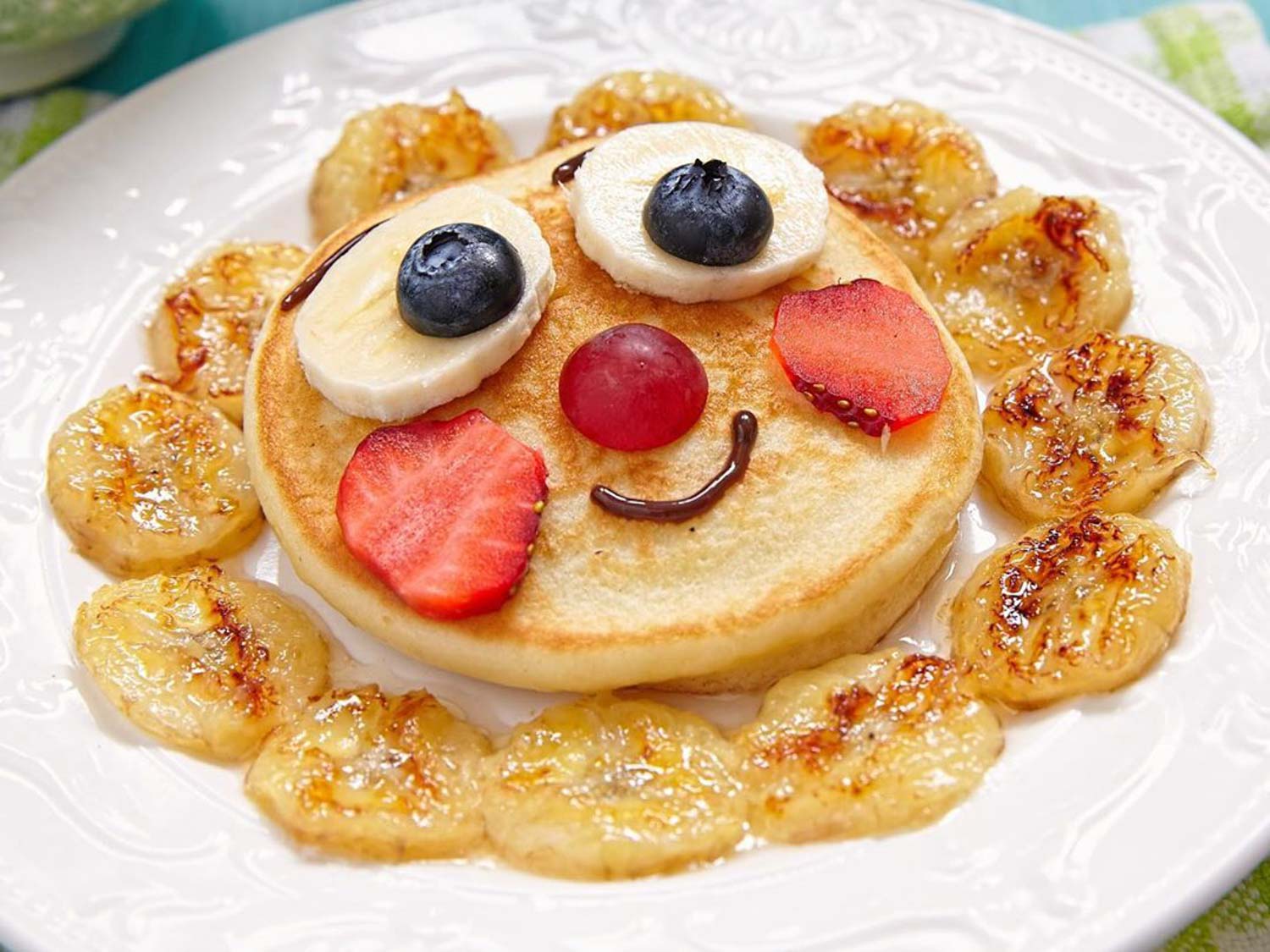 Image credit: Slappy Cakes Singapore
If you have been to Slappy Cakes, you'd remember the fun of doodling with colourful bottles of pancake batter. Now you can enjoy your little pancake masterpieces at a 30% discount by purchasing their discounted cash vouchers. Bring your loved ones along and get the $100 voucher at just $70. These vouchers can be used all-day, except for the eve of and day of public holidays, so go wild and have fun creating edible pieces of art.
Get 30% cash vouchers at Slappy Cakes (Plaza Singapura and The Grandstand).
---
4. The Dark Gallery
---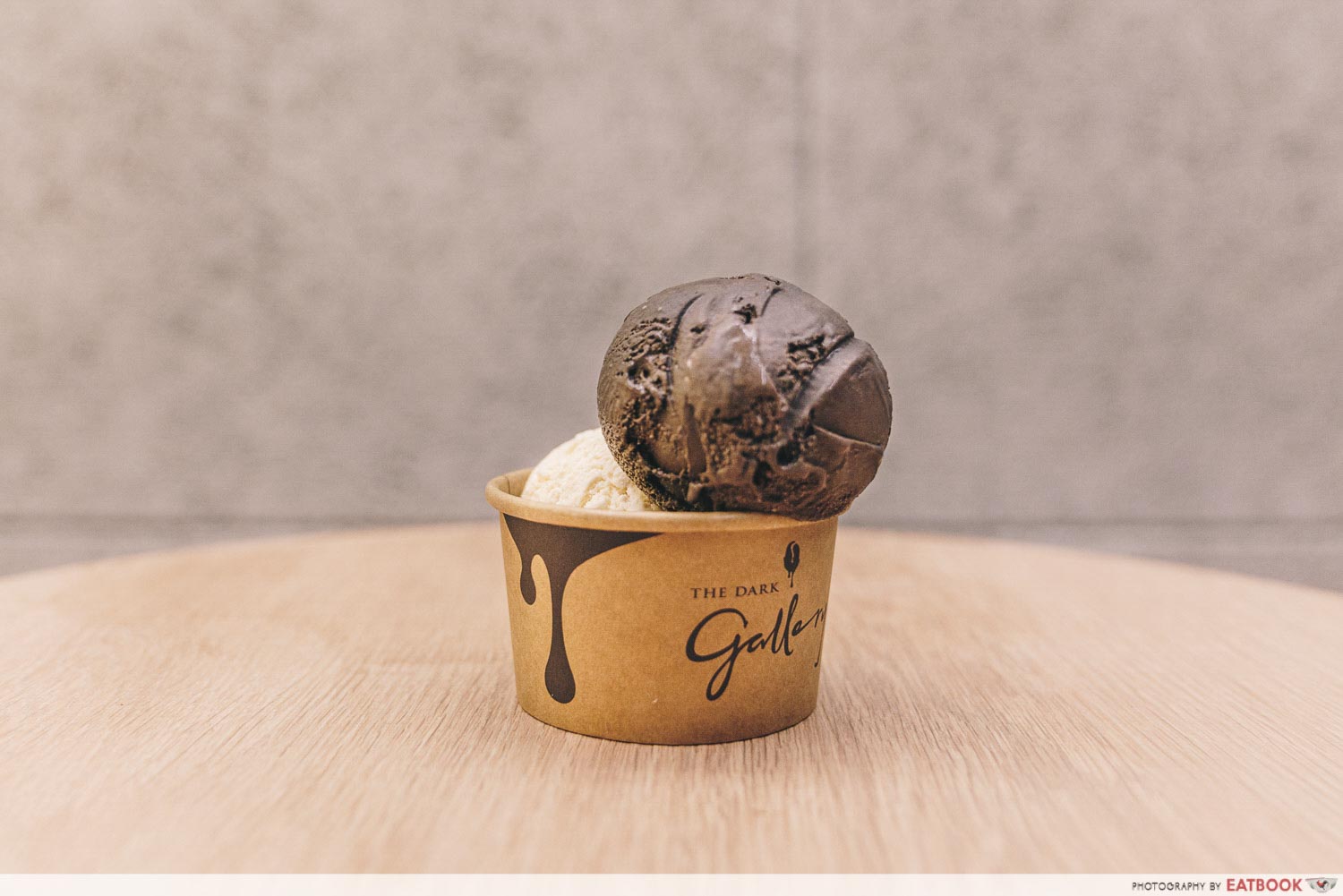 Dark chocolate lovers will definitely know of The Dark Gallery which is home to a huge variety of chocolatey desserts including ice cream, brownies, and cakes. For those craving an indulgent dessert, look forward to the set menu deal with a Double Scoop Artisanal Ice Cream at just $6.50 nett, over 30% off their usual price of $9.50.
Choose between a variety of flavours including the bittersweet 80% Signature Dark Chocolate and the milkier 32% Dulcey White Chocolate. We like the Sea Salt Butterscotch best, which was slightly savoury and light, great for a nice after-meal treat.
Get double scoop artisanal ice cream at The Dark Gallery.
Address: 107 North Bridge Road, #01-14, Funan Mall, Singapore 179105
Opening hours: Mon-Fri 12:30pm to 9pm, Sat-Sun 12:30pm to 9:30pm
Tel: 6908 4086
Website
---
5. Plain Vanilla
---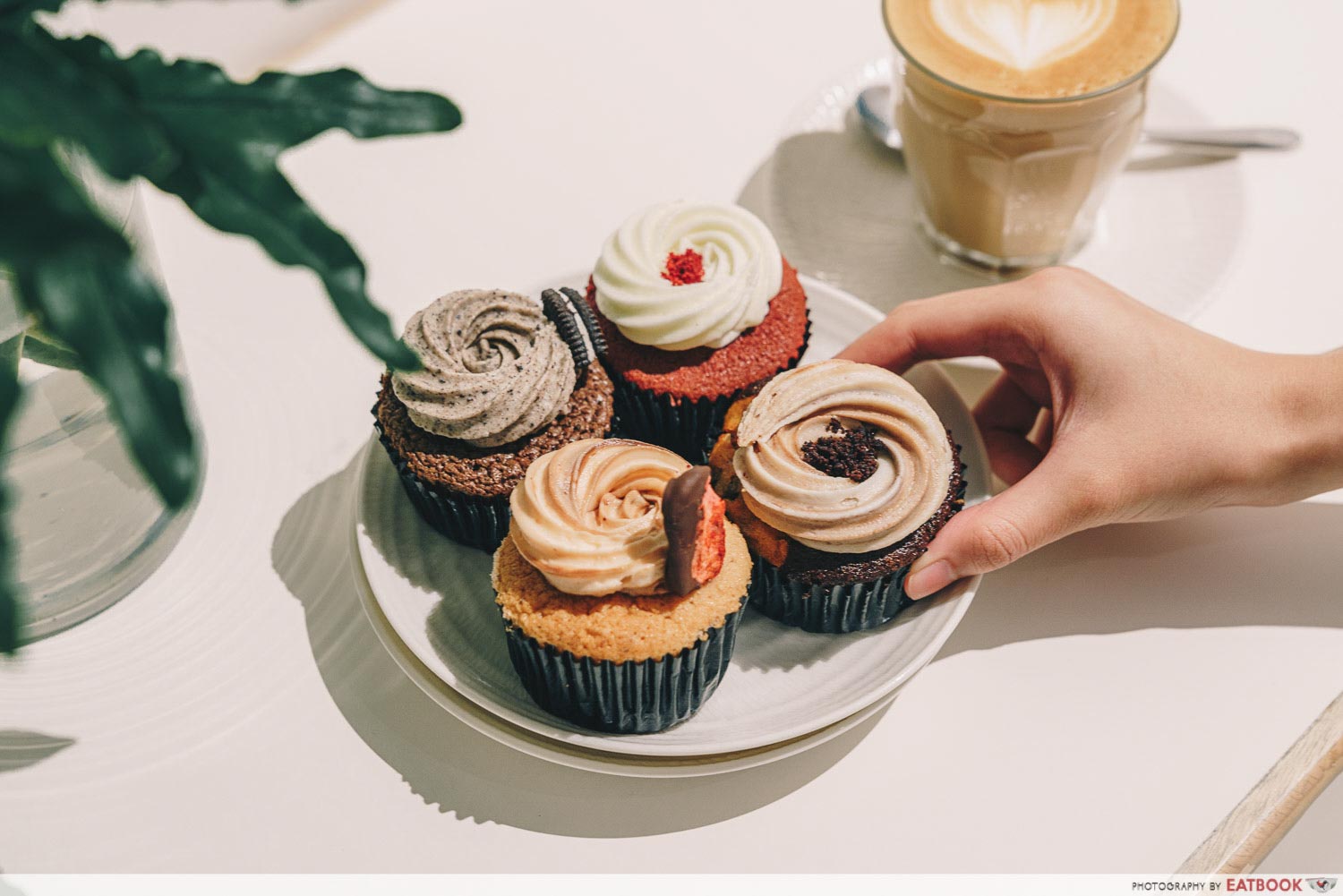 Plain Vanilla has always been my go-to for my dessert fix. Best known for their cupcakes, which come in an array of different flavours, Plain Vanilla has one of my favourite cupcakes on their menu—the Carrot Cupcake—a moist carrot-walnut cake topped with cream cheese frosting and finished with a walnut. These are now available with a 2-for-2 deal at both their ION Orchard and Telok Ayer outlets.
Pick any four cupcakes, originally priced at $4.20 each, to enjoy this offer. Go for the Red Velvet Cupcake if cream cheese frosting is your thing. Otherwise, chocolate lovers can go for the Chocolate Ganache Cupcake, topped with little crunchy cocoa nibs.
Get any 4 cupcakes at Plain Vanilla at $8.40 nett.
Address: 2 Orchard Turn, #B1-06, ION Orchard, Singapore 238801
Opening hours: Daily 11am to 8pm
Tel: 8299 9422
Website
---
6. Windowsill Pies
---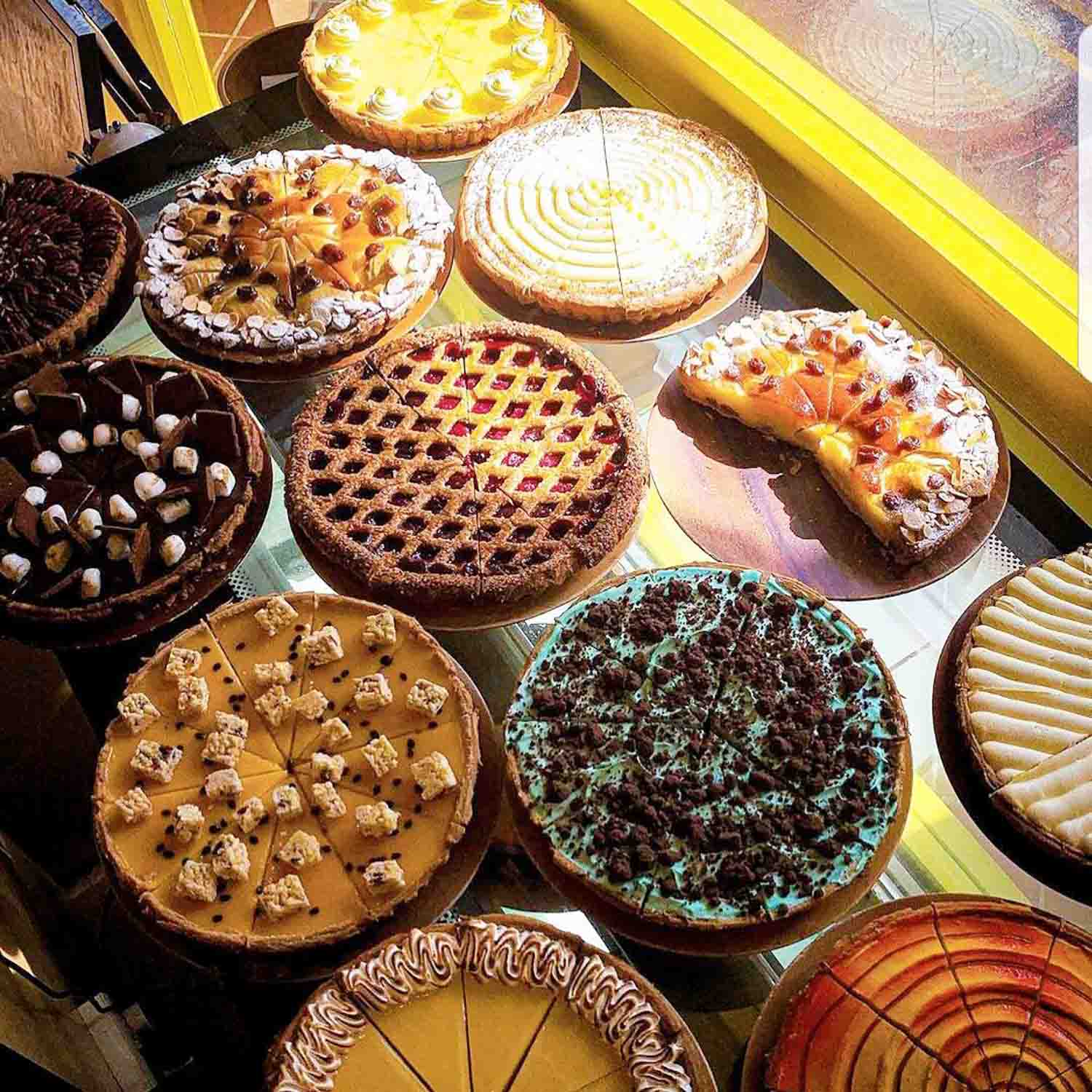 Image credit: Windowsill Pies
Pecan pies are my absolute favourite desserts. As such, I was absolutely ecstatic to find out that Windowsill Pies will be having 1-for-1 pies on ChopeDeals' Birthday Flash Sale. Apart from the buttery Pecan Pie, fruitier options such as the tart Strawberry Lemon Pie and tangy Morello Cherry Pie are up for grabs as well. If you're all for some extra texture, the mint chocolate Grasshopper is topped with chunks of chocolate cookie for crunch.
Get 1-for-1 pies at Windowsill Pies at $8 nett.
Address: 17 Haji Ln, Singapore 189210
Opening hours: Daily 11am to 5pm
Tel: 9772 5629
Website
---
7. Coocaça
---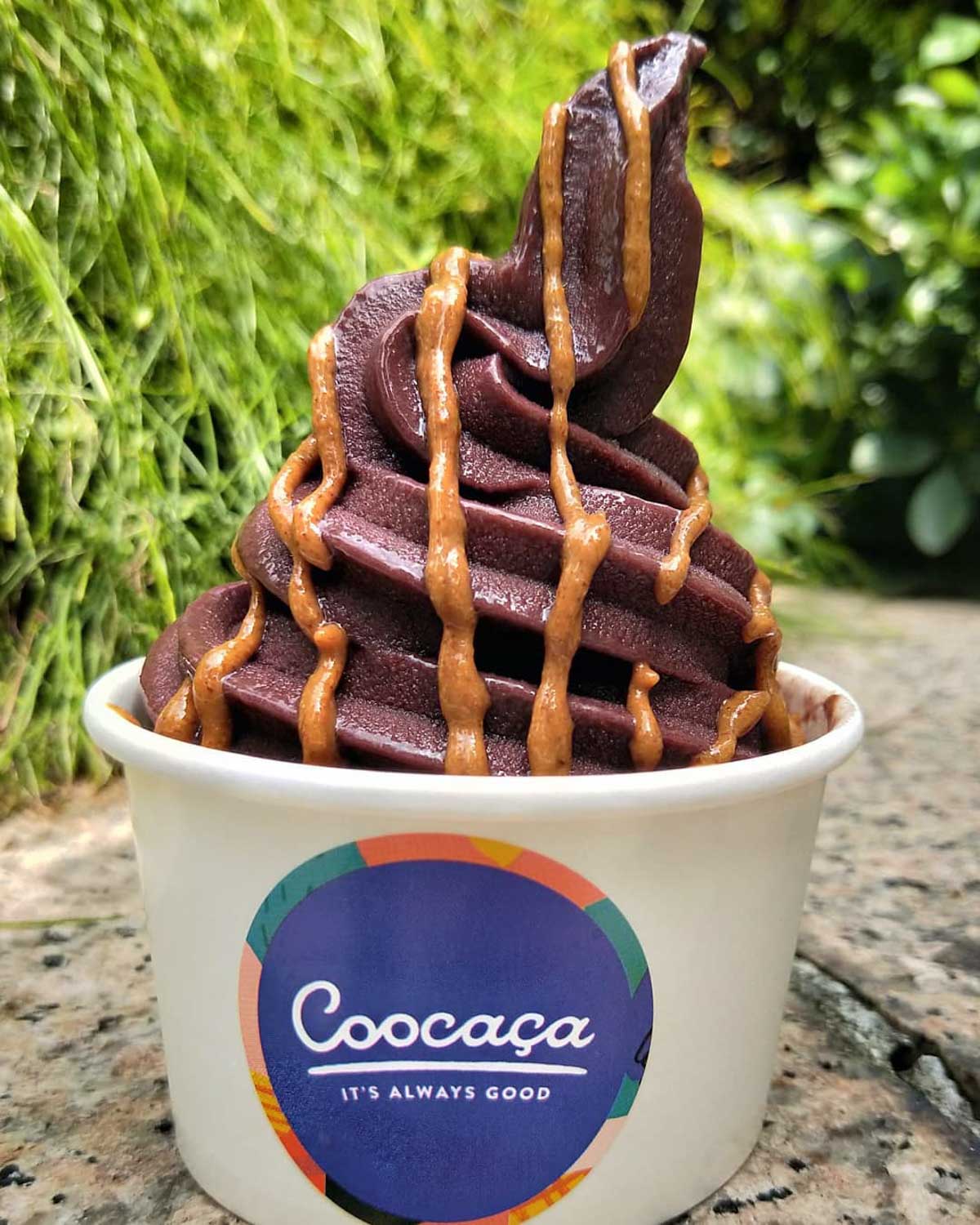 Image credit: @genqmlee
Whether you're one of our more health-conscious readers, or simply love refreshing acai bowls, ChopeDeals has you covered with 1-for-1 Small Softserve at Coocaça. Decide between Acai or Yoghurt for your soft serve. If you simply can't choose between the two, go for the Twist, which literally gives a twist of both acai and yoghurt.
Originally priced at $6.50, each cup of soft serve also comes with housemade granola and two toppings of your choice, including fresh fruits, chia seeds, flax seeds, and sauces such as almond butter.
Get 1-for-1 small softserve at Coocaça at $7.20 nett.
Opening hours: Daily 11am to 9pm
Website
Full list of locations
---
8. W Acai
---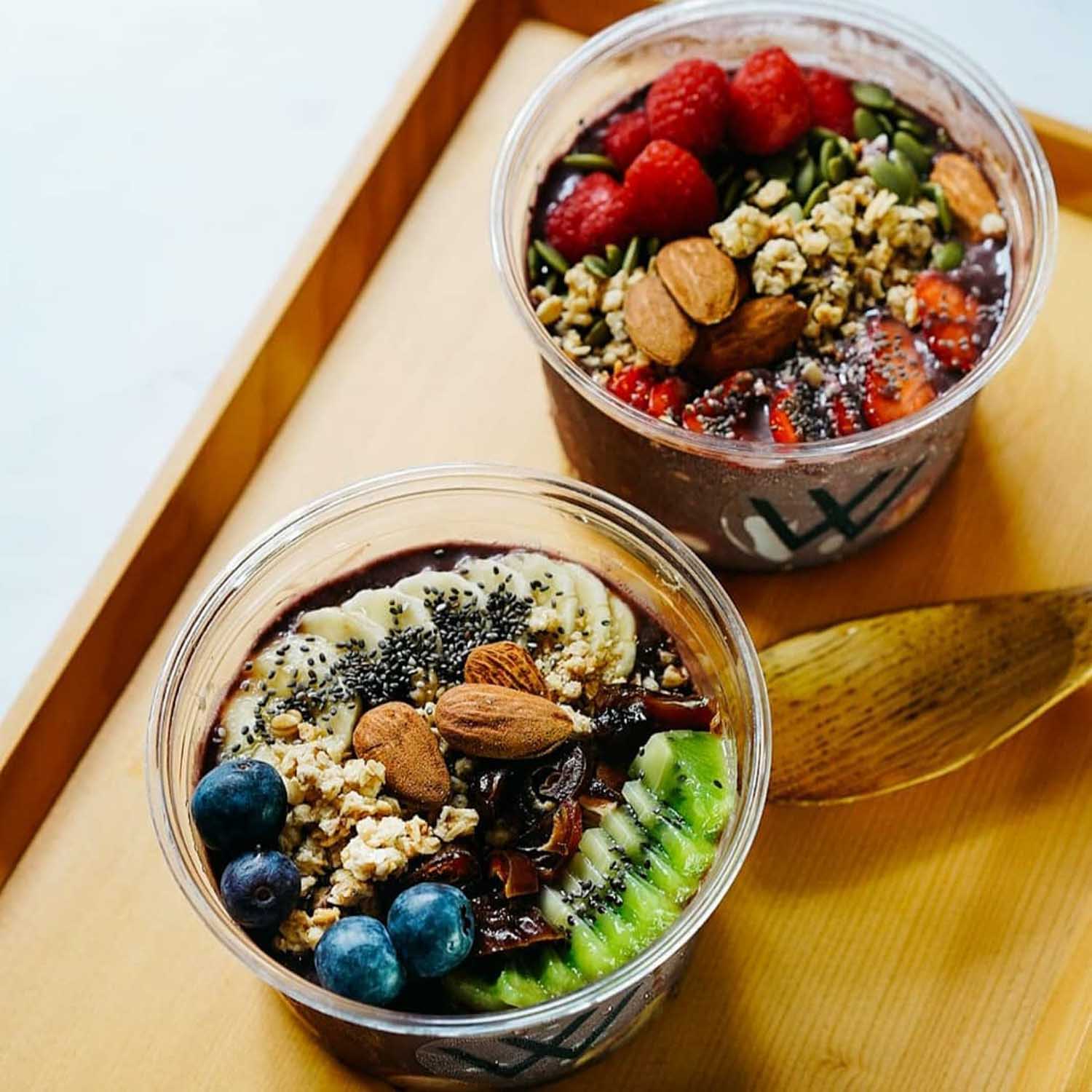 Image credit: W Acai
If you prefer to enjoy a larger bowl of acai, complete with a drink, the 1-for-1 Acai Set at W Acai is for you. The set comprises a medium acai bowl and your choice of a drink, including cold brewed green tea, hot black coffee and more for just $13 (UP: $26). Enjoy the Supermodel, which stars a medley of fresh berries, pumpkin seed, granola, and almonds sprinkled over a bed of smoothly blended acai. Otherwise, treat yourself to some caramelised dates with the Kung Fu Master, which is topped with dried dates, kiwi fruits and more.
Get 1-for-1 acai set at W Acai at $13 nett.
Opening hours: Daily 10am to 9pm
Tel: 9616 1166
Website
Full list of locations
---
Enjoy great savings with ChopeDeals
---
With over 250 exclusive deals to look forward to, we have barely scratched the surface of the discounts you can find.
If you're keen to score even more deals, gear up for ChopeDeals' Birthday Flash Sale by grabbing extra discounts during their presale from 21 September to 23 September 2020:
$2 ChopeDeals discount code with a minimum spend of $30.
$10 ChopeDeals discount code with a minimum spend of $120.
These extra discounts will only be usable from 21 September to 24 September 2020.
So for those who are excited to grab these 1-for-1 deals and discounts, make sure to mark your calendars for ChopeDeals' presale and Birthday Flash Sale.
Photos taken by Edmund Wong.
This post is brought to you by Chope.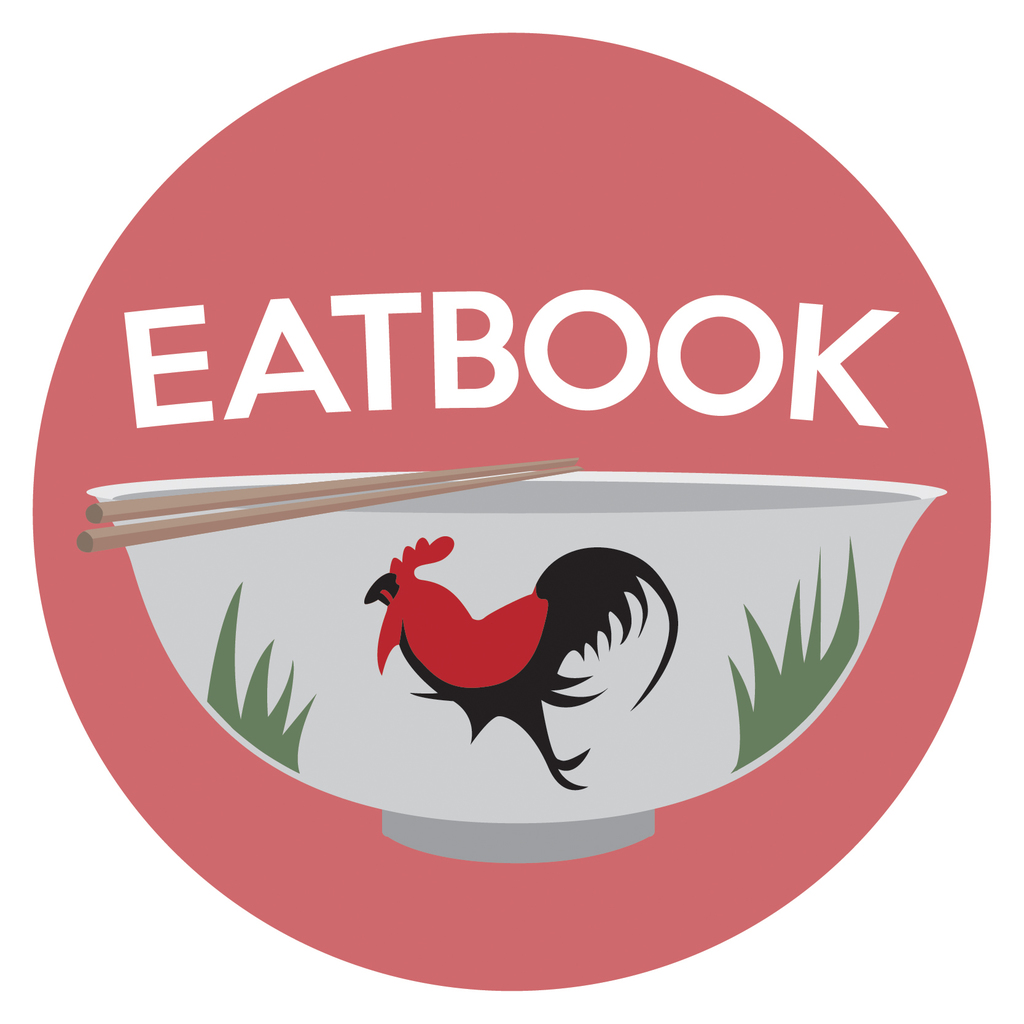 Drop us your email so you won't miss the latest news.