---
Cream puffs but better
---
Growing up, my favourite treat was a box of 6 for $2 durian cream puffs from the bakery below my block. Not because I love durian, but because its eggy, chewy choux (pronounced "shoo") pastry and creamy filling would always satisfy my cravings for sweets.

Now that I'm an adult, or at least try to be, cream puffs still hold a special place in my heart. And even though the bakery no longer exists, there are many other places that sell similar but more atas choux pastries filled with cream. Here is a list of 10 places puff lovers like me can get their fix.
---
1. The 1872 Clipper Tea Co.
---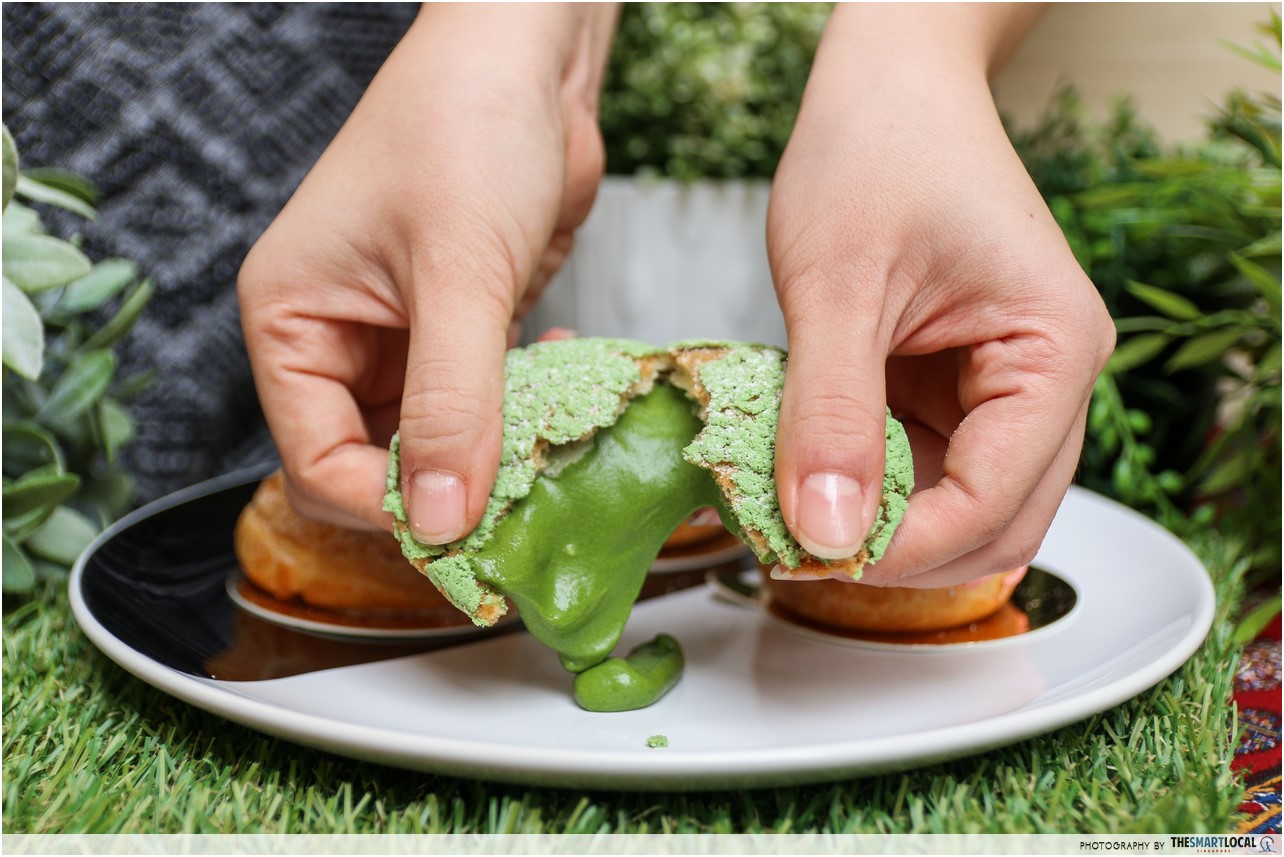 What's genius about The 1872 Clipper Tea Co.'s Tea Puff ($3.20 for 1, $12 for 4) is its ultra generous lava filling. Bursting with flowy cream that fills your mouth at first bite, these puffs come in 5 flavours – vanilla, matcha, earl grey, rose and milk tea – and are made to satisfy all lava dessert lovers.
Address: 2 Orchard Turn, #B4-07, ION Orchard, Singapore 238801
Opening hours: Mon-Sun 10am to 10pm
Tel: 6509 8745
---
2. Pulse Patisserie
---
Most famous for their Salted Egg Yolk Cream Puff ($12 for 6), Pulse Patisserie has made a name for itself in the choux puff scene. The tiny puff is has a cookie crust top that gives it a crisp texture, and a sweet salted egg yolk filling that pours right out. While you won't look glam eating this, you'll feel awesome if you're a salted egg yolk fan.
Address: 180 Depot Road, #01-06, The Interlace, Singapore 109684
Opening hours: Mon, Wed-Fri 11am to 7pm, Sat 9am to 7pm, Sun 9am to 5pm
Tel: 8339 4648
---
3. Neato
---
Neato serves a range of savoury mains, but they're mostly known for custard puffs. Matcha Custard Puff ($1.80 for mini, $3.50 for regular) is a hot favourite here, with rich matcha filling that oozes out when you bite into it. For something sweeter, go for Malted Milk Custard Puff ($1.50 for mini, $3 for regular). 
Address: 175 Bencoolen Street, #01-55, Burlington Square, Singapore 189649
Opening hours: Mon-Fri 10am to 6:30pm, Sat-Sun 1pm to 6:30pm
Tel: 9848 5445
---
4. Couquette by Ollella
---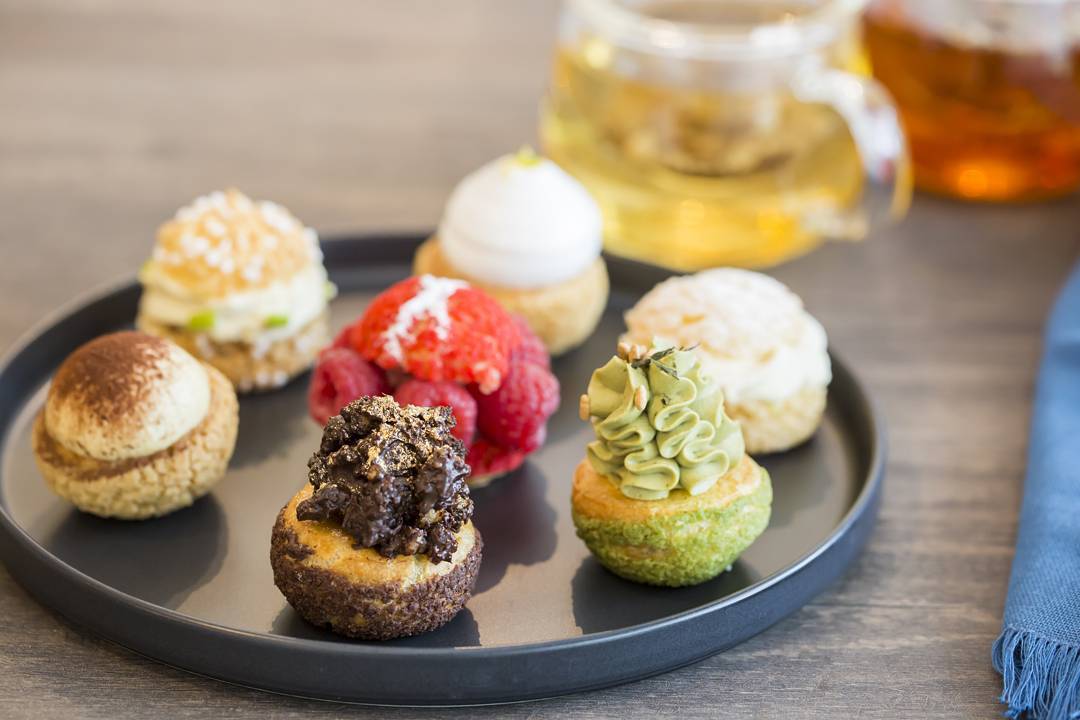 Source

Almost too pretty to be eaten, the pastries at Chouquette by Ollella are tiny pieces of art. Dark Chocolate Chouquette ($4.50) is made with 70 percent chocolate cream, cookie crusted choux pastry, and topped with a mountain of chocolate crumble. Also look out for their choux tarts, which are tiny cream puffs seated atop a crumbly tart base.

Address: 3 Petain Road, #01-01, Residences@Somme, Singapore 208108
Opening hours: Mon, Wed and Thur 12pm to 6pm, Fri 12pm to 9pm, Sat-Sun and PH 11am to 9pm
Tel: 6291 4076
---
5. Angela May Food Chapters

---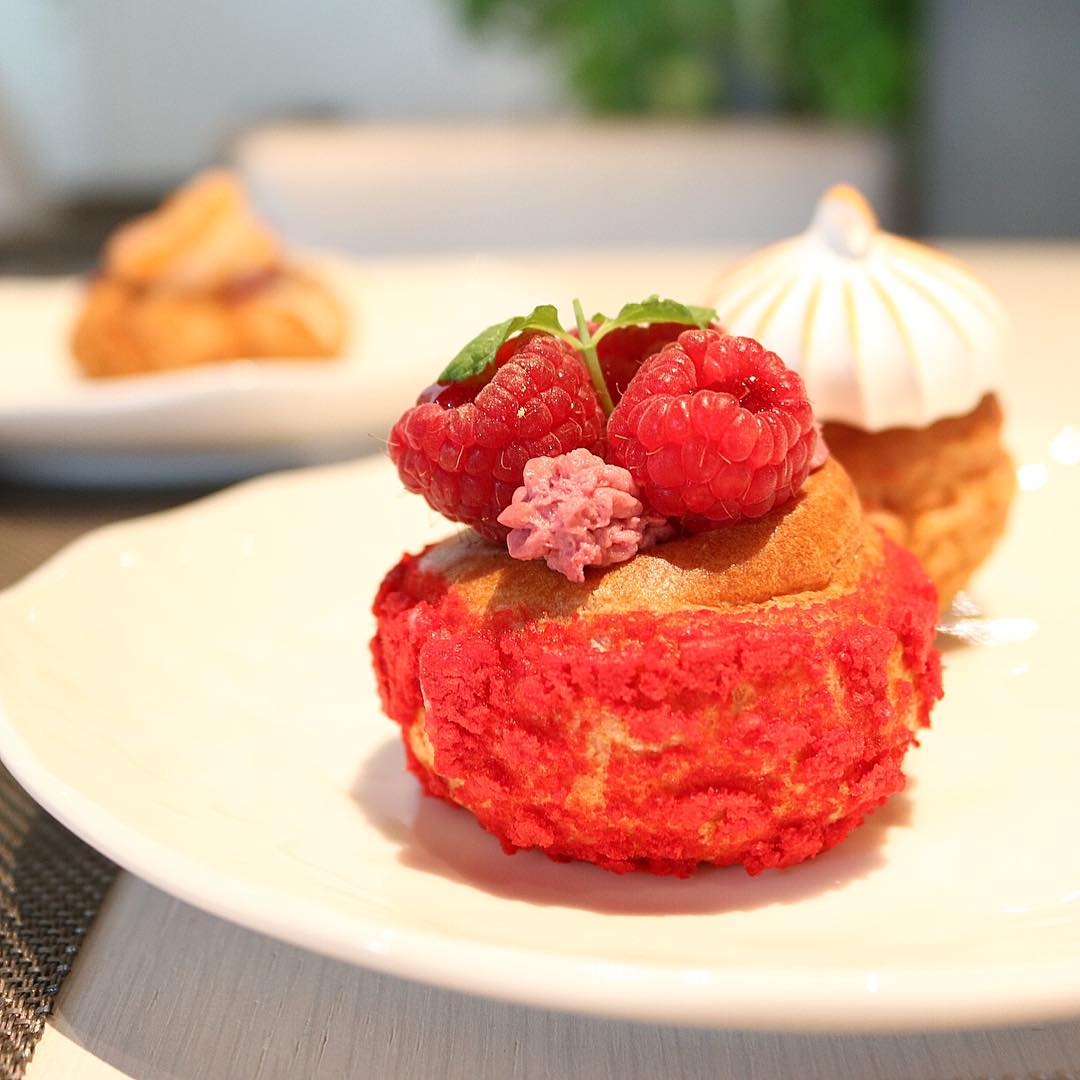 Source

If you're up for some choux puffs in a classy setting, go to Angela May Food Chapters. Their range of sweet and savoury choux pastries comes in delectable flavours, including Raspberry Champagne ($4.80) and Tomato Ricotta ($5.90). Indulge in their High Brunch ($39) or High Tea ($39) sets that come with choux pastries and other small bites.

Address: 260 Orchard Road, #02-02, Robinsons The Heeren, Singapore 238855
Opening hours: Mon-Sun 10:30am to 10pm
Tel: 6681 7440
---
6. Mad About Sucre
---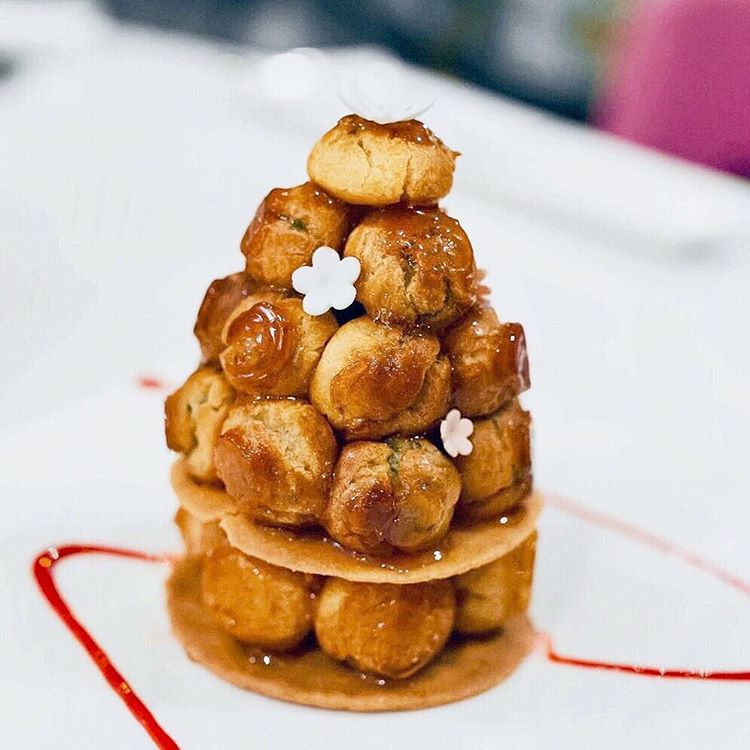 Source

Reserved for a true choux puff devotee, Mad About Sucre's Piece Montee ($13.80) is a tiny tower of mini choux pastries filled with matcha and vanilla cream. Glazed with French caramel, this decadent tower of sweetness can be pre-ordered in larger sizes – great as a substitute for birthday cakes.

Address: 27 Teo Hong Road, Singapore 088334
Opening hours: Tues-Sat 12:30pm to 10pm, Sun 12:30pm to 5pm
Tel: 6221 3969
---
7. Ciel Patisserie
---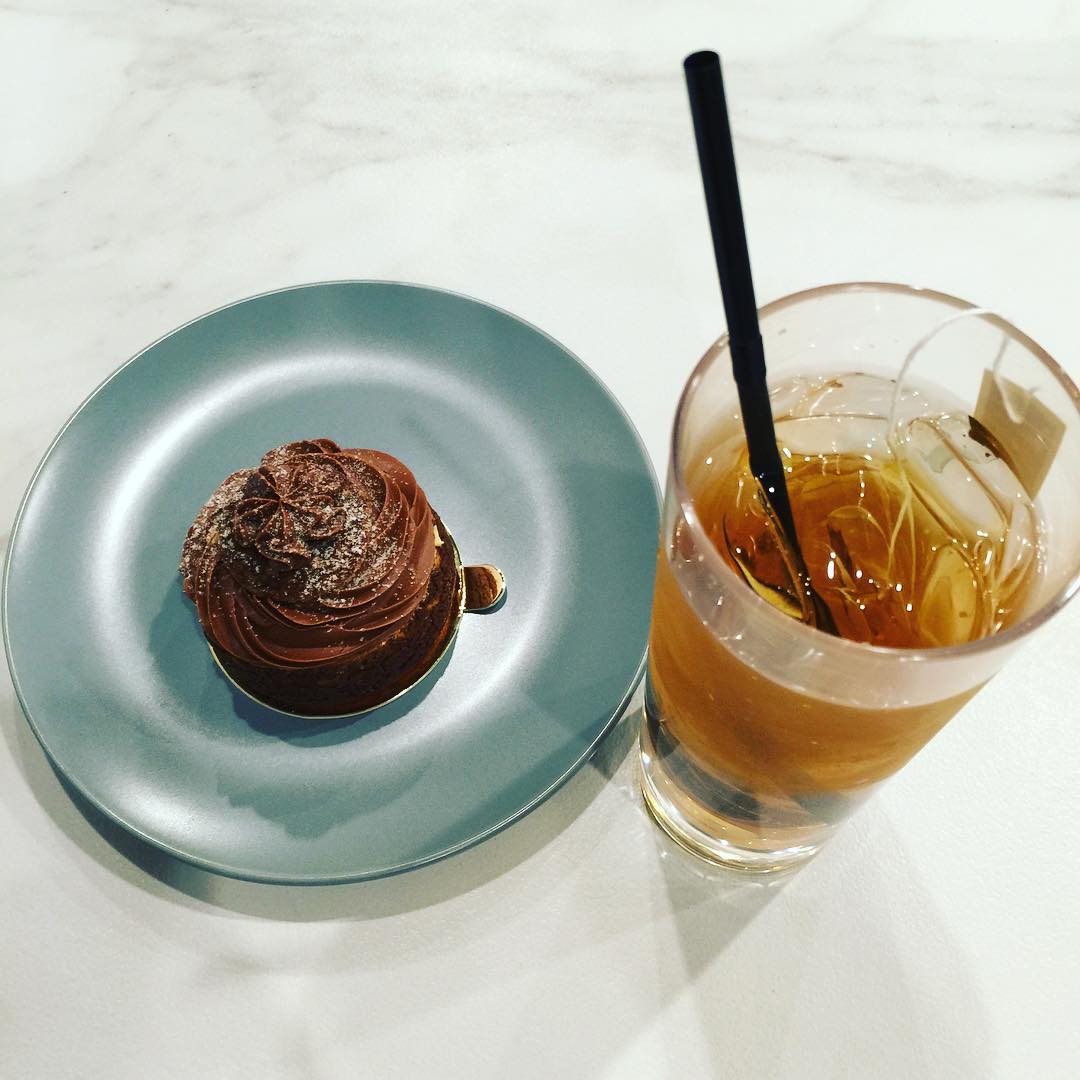 Source

Ciel Patisserie has long been known for their cakes, but they've got a new addition to the menu. Coco ($5.80) is a chocolate choux pastry wrapped in cookie crust and filled with salted caramel and dark chocolate cream. There's also a little chocolate truffle in the middle that'll give you a sweet surprise – literally.

Address: 146 Jalan Bukit Merah, #01-1090, Singapore 160146
Opening hours: Tues-Thur 11am to 8pm, Fri-Sat 11am to 9pm, Sun 3pm to 9pm
Tel: 6352 2132
---
8. Chateraise
---
This is for the loyal fans of old school cream puffs. Double Fantasy Cream Puff ($1.90) from Chateraise is filled with Hokkaido cream and egg custard, and keep an eye out for flavours like sweet potato and matcha from time to time. At less than $2 each, this palm-sized pastry is definitely value for money.

Address: 350 Orchard Road, B1F, Isetan Scotts Supermarket, Shaw House, Singapore 238868
Opening hours: Sun-Thur 10am to 9pm, Fri-Sat 10am to 930pm
---
9. Les Délices
---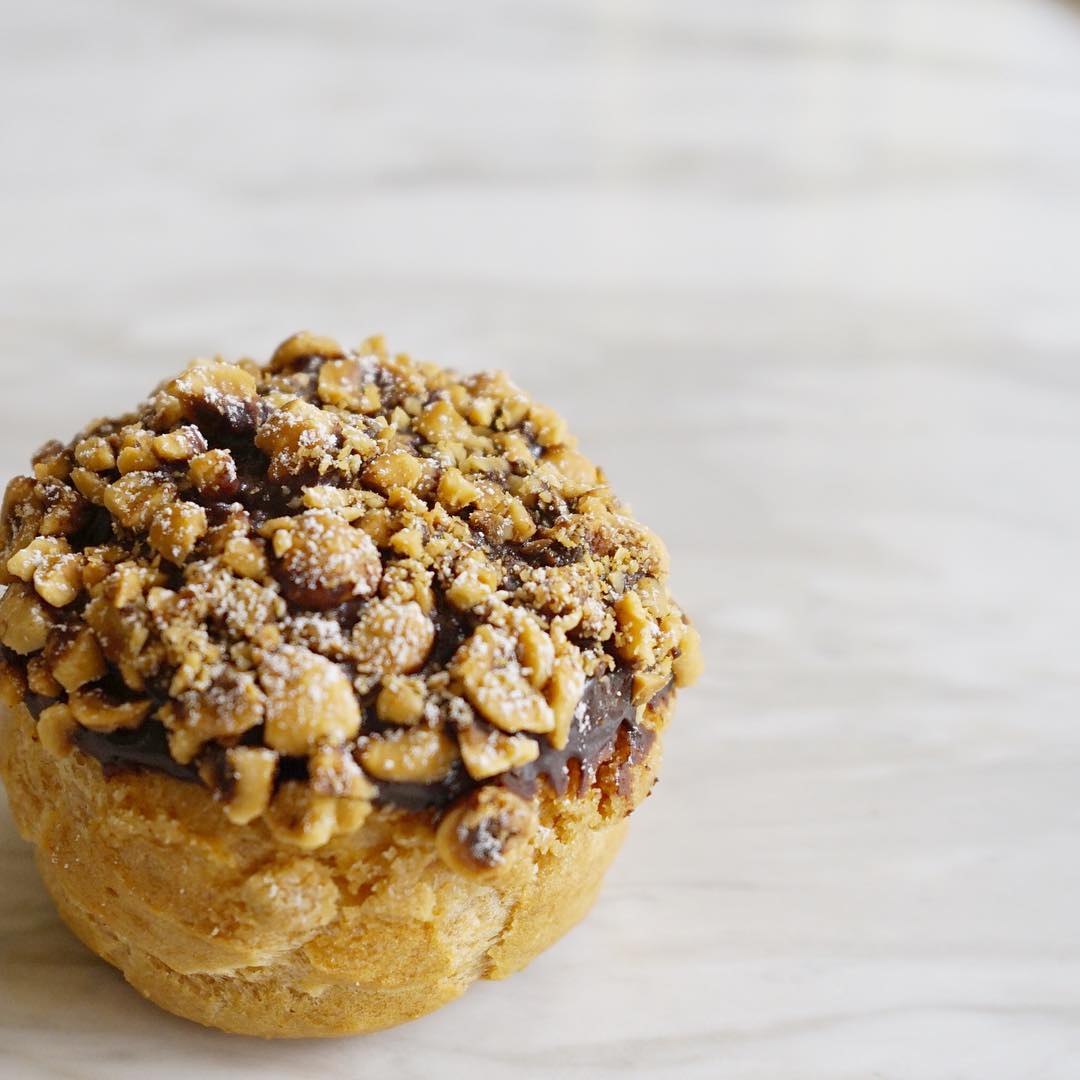 Source

Les Délices (pronounced "le-di-lease") specialises in choux puffs, and they've got flavours like Thai Milk Tea Choux ($5.90) and Nutella Chocolate Choux ($5.90) to appeal to your sweet tooth. What's special about this quaint cafe is they pair your dessert with tea to enhance the flavour of the pastry.

Address: 333 Kreta Ayer Road, Singapore 080333
Opening hours: Mon 12:30pm to 5:30pm, Tues-Thur 12:30pm to 10pm, Fri-Sat 12:30pm to 10:30pm
Tel: 6536 8087
---
10. Pantler
---
Chou a la Crème ($4.50) at Pantler may be pricier than the average, but it's worth your penny. This light puff pastry is not only filled with cream, but also crunchy nougat covered in chocolate. Pantler is conveniently located in the CBD, which makes this puff a great way to motivate yourself on dreary days – i.e. all Mondays.

Address: 198 Telok Ayer Street, Singapore 068637
Opening hours: Mon-Fri 8:30am to 7:30pm, Sat 10:30am to 5:30pm
Tel: 6221 6223
---
It's a choux win
---
No matter what kind of choux puff you love – flowy, tiny, chewy or pretty – these 10 places should cover them all. Drop a comment below if you've got any other cream puffs to recommend!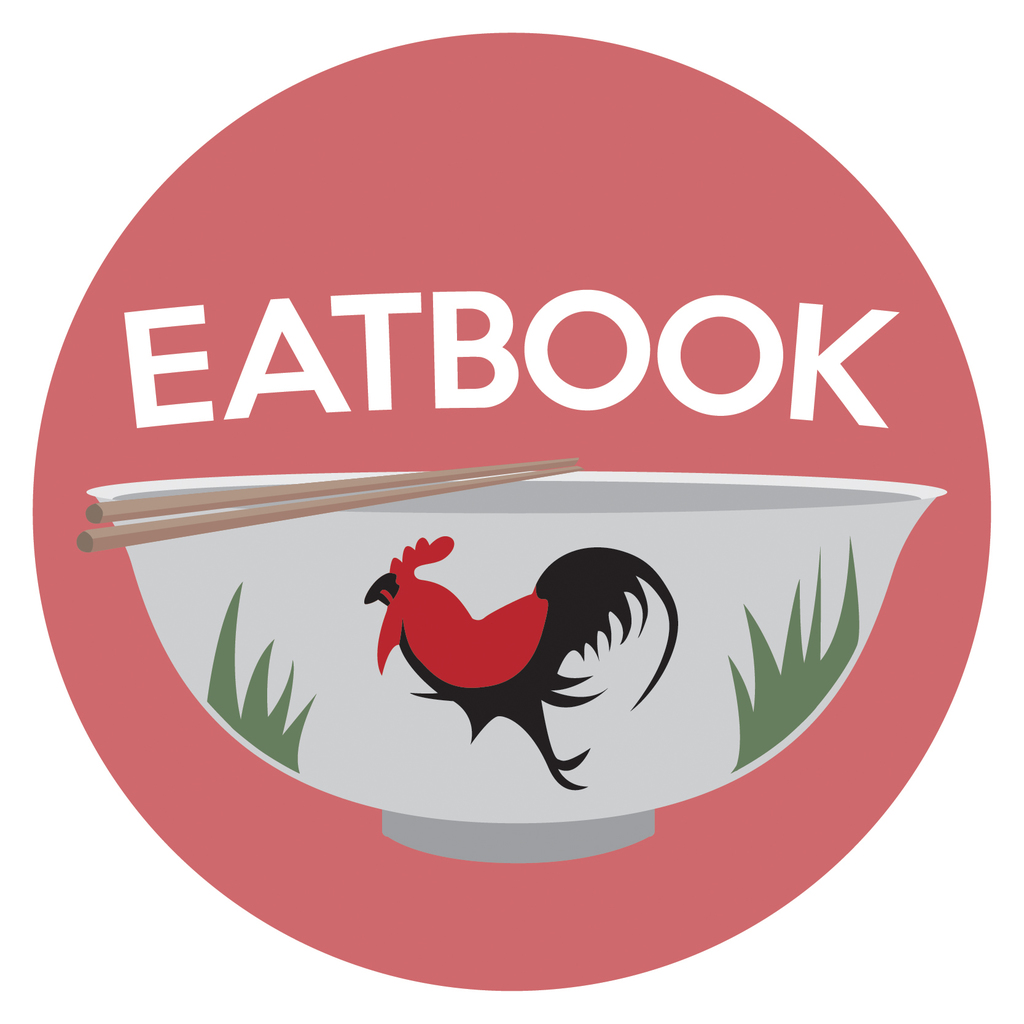 Drop us your email so you won't miss the latest news.