The Helmsman Of The Halia's European Fare With An Asian Flair
The elegantly-furnished Halia at Raffles Hotel is the sister restaurant to the award-winning Halia at Singapore Botanic Gardens. Named after the Malay word for ginger, The Halia at Raffles Hotel serves up contemporary European cuisine with an ingenious twist, infusing the flavors of Asia into its signature chilli crab-inspired dishes and other delectable offerings.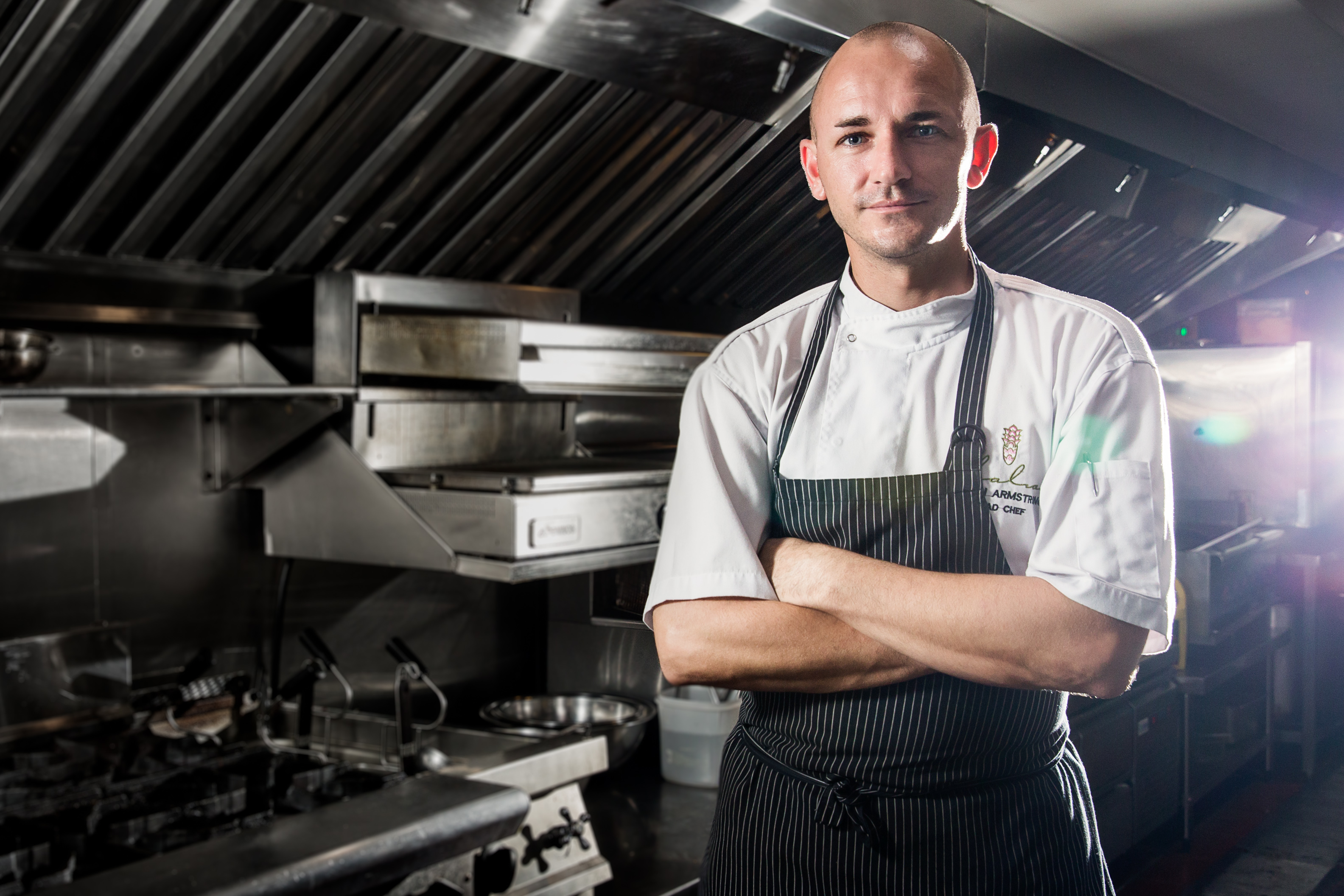 Executive Chef Ciaran F. Armstrong has been at The Halia since 2012, and he has been the maestro behind The Halia's gastronomic greatness. EatBook was given an opportunity to find out more about the reasons behind the Halia's success.
EatBook: It's the first time a customer comes to The Halia. What are three must-orders? The catch is you can only pick three. One appetizer, one main and one dessert.
Chef Armstrong: For us, it would actually be small, large and sweet. We don't follow the regular entree, main and dessert concept. The concept of The Halia's menu is based around communal dining, so we would like to encourage people to order multiple dishes and sample more things. Our "Little" plates would be more of your regular appetizer or entree type of dishes, and the Large plates can range from dishes that are more substantial, to those that are a little lighter on the palate.
The item on the menu that is a definite must-try, is the chilli crab, which is featured in both the small and large plate sections. In the "Little" section, we have the Chilli Crab Dip, and in the "Large" section, we have our signature Halia Chilli Crab pasta.
For dessert, it's the Sticky Toffee Pudding. This has been a favorite amongst our customers, so much so that we're going to bring this dish to the other Halia restaurants.
EatBook: What makes The Halia's toffee pudding special? Why do so many people keep coming back for it?
Chef Armstrong: I can't say for sure, really. It's a very old recipe, and we execute it well. But for me, personally, it's brings a sensation that I really enjoy when I eat desserts, in the combination of hot and cold. So, you have hot date pudding: it's quite sticky, it's very moist, it's warm. And then, you have the cold ice-cream, which sauces the pudding as it melts, and it contrasts with the warm pudding in your mouth. When something is too hot or too cold, you can't really appreciate the taste. But when it's at an ample temperature, you can get more flavour.
EatBook: So the recipe is a classic recipe, with no changes?
Chef Armstrong: This Sticky date pudding recipe is from a recipe that I got from one of my old bosses, probably more than 10 years ago. So I've had it for maybe around 12 years now, but my old boss has probably been cooking it for 30 years or so. It's a very simple pudding, but then again, most things that are good and satisfying, are simple. We try not to overcomplicate it, and to just deliver flavour.
EatBook: Could you share how ginger is incorporated into The Halia's signature Ginger Nougat Parfait dessert?
Chef Armstrong: First, we'll grate the young ginger. Then, we'll make a caramel that we'll add the ginger to when it's reached the right temperature, and cook out the harsh spicy notes of the ginger. So when it's mixed with the caramel, you get a little bit of spice and all the fragrance, without the full-on overpowering heat that most people associate with raw ginger. So it's quite mellow. Then, we mix the ginger-infused caramel with almonds, and the brittle is then chopped up and mixed through the ice cream, so the dessert becomes textured with the crunchy nuts and the candied ginger.
EatBook: What inspired you to create this dessert?
Chef Armstrong: *laughs* This dessert has actually been here longer than me.
Eatbook: Can you comment on how Instagram has changed the way that Singaporeans choose their food?
Chef Armstrong: I don't have instagram myself, but it's definitely a big culture here in Asia. It does have it's plus and minuses. Usually when a good photo is posted on Instagram, it encapsulates what the restaurant intends for it to do, and so it definitely entices people and makes them think: "Wow, that's pretty interesting, that's pretty nice."
We do a lot of the photos ourselves, here at the Halia. We've noticed that pictures are our way forward, and that better quality photos are pulling in customers. It's definitely something that catches their eyes.
The reason why I don't use instagram, is because for me, it's taste first, and presentation second. I mean, it's pretty hard to taste food from a photo. But maybe some day, I'll have Instagram.
EatBook: What would you say is the Halia's most Instagrammable dish?
Chef Armstrong: It's definitely the Chilli Crab pasta. This dish has been a signature of The Halia's for about 8-9 years now. It's such a simple dish, but there's a lot of complex ingredients that goes into the process of making it.
The paste itself takes a good labour-intensive day to make. It's all fresh ingredients: spices like ginger, galangal, lemongrass, and of course there's the chilli, garlic, shallots and so on. These ingredients are made into a really flavorsome sauce that's incredibly aromatic, from all the fresh spices. It's not overly-spicy; just enough to excite your tastebuds. The sauce is also thickened with egg, in the style of traditional chilli crab sauce, which allows it to evenly coat the thin strands of spaghettini.
Eatbook: What is the future of food tech in Singapore?
Chef Armstrong: I feel that a service such as Deliveroo is a great step ahead. There are a lot of times when I'm busy and don't feel like travelling to get something to eat.
Before, there wasn't much choice and variety out there either, mostly just fast food and junk food.. If you order from a place like ourselves, you get food that's completely fresh with no added chemicals or preservatives. We treat food properly, and hopefully that comes across to our customers who use Deliveroo; It lets them know they can get restaurant-quality food in their own homes, whether it's for a dinner for two, or a party of 10 or more. It's something pretty exciting, even for myself. I'm hoping that more Deliveroo spots open up around my area soon.
For The Halia, it's a interesting new project, and we're looking forward to customers getting good-quality food delivered to their door. Hopefully this will entice people to try our restaurant as well. Eating takeaway is one thing, but the full in-house dining experience is a whole different thing. The bottom-line is, we're just hoping to have as many people as possible try our food. That's all we ever aim for.
EatBook: What is your favorite restaurant and favorite dish in Singapore?
Chef Armstrong: This is quite a hard one. But if I had to pick an ultimate favorite, it would have to be Paradise Dynasty. Dim sum and Chinese-style restaurants are something that resound with me, and is another factor behind why we started the whole family-sharing communal dining concept at The Halia. I've been in Asia for about 10 years now, and I miss my family back home. So, whenever I eat dim sum, whether I'm just with my other half or with extended family, it's all about sharing, and having a varied spread on the table. I'll always order a couple of dishes, and one that I'll always order would be the chilli dumpling noodles. I don't really know its name.
EatBook: You mean the hong you chao shou (Sichuan Chilli Oil Dumplings)?
Chef Armstrong: I'll take your word for it. (laughs)
I'd like for people to eat the way I like to eat. There's definitely a lot of love that goes into creating a dining experience that I feel like I'd personally enjoy.. Food brings people together, and in every culture you'll see that they have their own forms of communal style eating, like dim sum or mezze or tapas, so here at the Halia, we're trying to get people to share. Sharing is caring, right? This way, you get to experience a whole lot more, beyond the ordinary entree-main-dessert courses.
EatBook: What is your favorite activity to do in Singapore during your free time?
Chef Armstrong: Drink beer. (laughs)
During my free time… It's usually running or cycling. I've got a canal just around my estate. Usually whenever I'm done with work, that's where I'll be if the weather is good. I'll cycle up and down the canal, and then I'll do some running near Pandan Reservoir. It's good stress relief, and an excellent way to keep fit at the same time. Other than that, I don't have free time to do much else. Most of my free time is mainly reading cookery books, and writing menus. Maybe watch some football.
EatBook: If you could time travel back to the day that you first stepped into the kitchen, what advice would you give to your younger self?
Chef Armstrong: Don't take shortcuts. There's no fast way to become a good cook or a good chef, it takes a lot of hard work and dedication. Also, to learn to relax a little bit. Try to make room for other things, other than just work. Ultimately, work hard. Be humble. And remember where you came from . Don't give up as well, because it's a long journey.
For me, it's a never-ending journey; constantly learning, finding out new things, and solving old problems.
Visit The Halia Today!
Halia at The Singapore Botanic Gardens
Address:1 Cluny Road, Ginger Garden @ Singapore Botanic Gardens, S(259569)
Tel:  +65 8444 1148
Opening Hours:
Mon – Fri: 12:00 pm – 9:30 pm
Sat – Sun: 10:30 am – 9:30 pm
Halia at Raffles Hotel
Address: 1 Beach Road #01-22/23, Raffles Hotel, S(189673)
Tel: +65 9639 1148
Opening Hours:
Mon, Wed – Fri: 12:00 pm – 2.:30 pm; 6:00 pm – 9:30 pm
Sat: 12:30 pm – 10:00 pm
Sun: 11:00 am – 9:30 pm
Closed on Tues
Website: www.thehalia.com
Check out their online menu here!