---
CNY hotpot hacks
---
Unpopular opinion: Chinese New Year is tedious, and the added festive restrictions only add to that fuss. Don't get it twisted—I am completely in support of being civic-minded through the CNY rush, but we all know having to plan multiple rounds of reunion dinners with various groups of eight can be a whirlwind. Being in this boat, I decided to cut the chaos, and go with hotpot meals for all my gatherings.
Hotpot is easy, convenient, and a sure crowd-pleaser. If you think outside the box, there are many ways in which you can enjoy restaurant-level steamboat meals at home, and you don't even have to splurge. Before I get into sharing how to turn your CNY hotpot into a Haidilao-tier affair at home, here's your stress-free lobang for the occasion: use Amazon Singapore.
You definitely have heard of the e-commerce giant, but they also have a new Amazon Fresh service available that helps ease your festive shopping woes. Previously known as Prime Now, Amazon Fresh is an ultra-fast grocery service that is exclusive to Amazon Prime members.
Amazon Fresh has a CNY page that is a one-stop shop for all your prep needs. A handful of clicks, be it on your mobile or desktop, is all it takes to score value-for-money deals on ingredients, snacks, alcohol, cookware, and so much more. Apart from variety and price, Amazon Fresh also has free two-hour delivery windows when you spend above $60. You can even add on stuff to your existing order after it has been placed!
Rounding off the goodness is the fact that Amazon Fresh 25% off deals on all hotpot essentials from 25 January to 26 February 2021. The broad selection of items you can get off the platform can help level up your CNY hotpot game at home, so you have little excuse but to plan memorable steamboat meals in February, using my hacks below.
---
1. Turn your hotpot into a fusion meal
---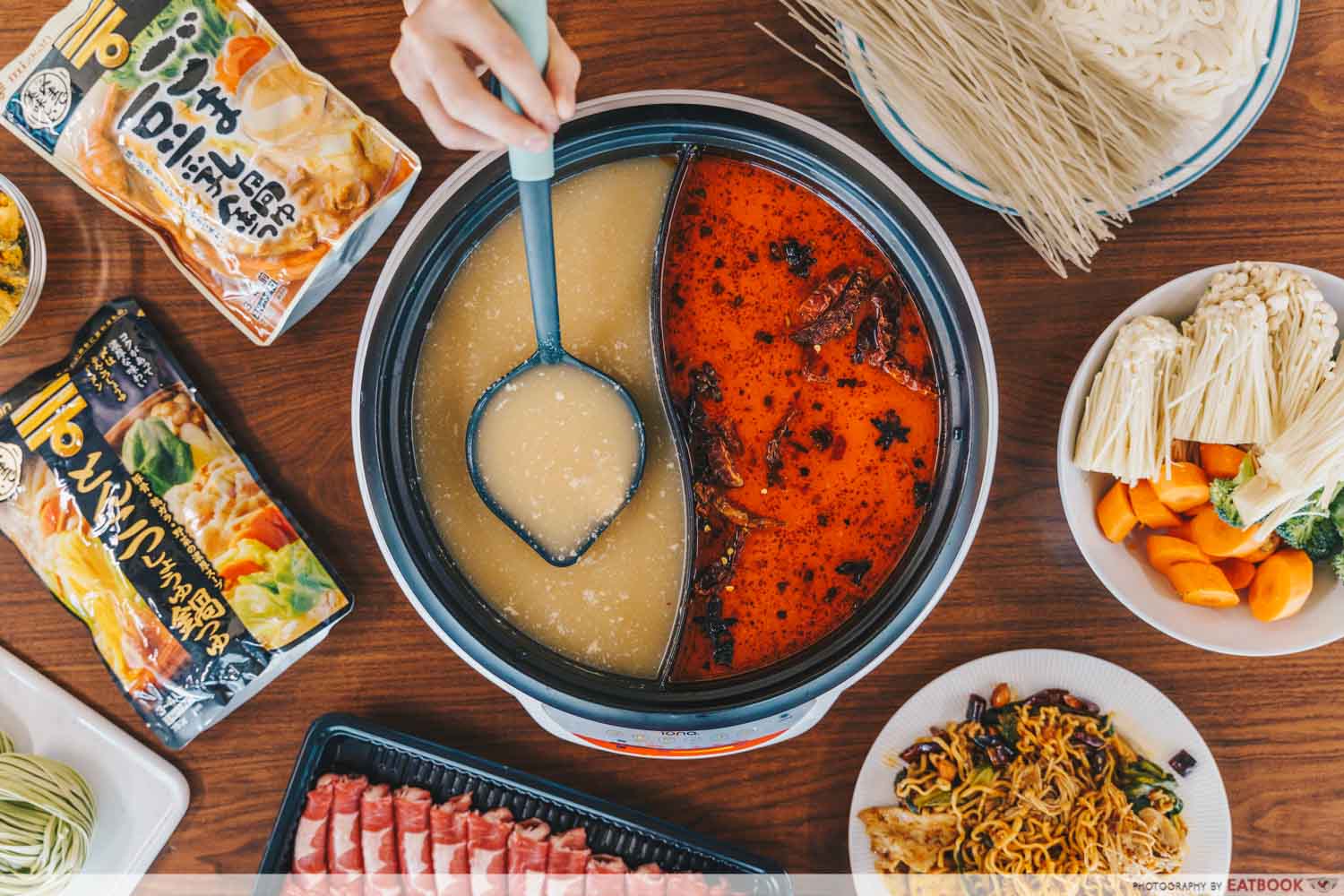 These days, hotpot broths are no longer limited to just plain old chicken and mala. You have so many options for premade broths on Amazon Fresh that span different cuisines, so the world and hotpot is your oyster. I like to use Japanese broths instead of my usual soups, especially those from Mizkan. They have flavours like the rich Pork Bone & Soy Sauce ($6.25), the aromatic Sesame & Soy ($6.35), or the sweet Yosenabe ($6.96).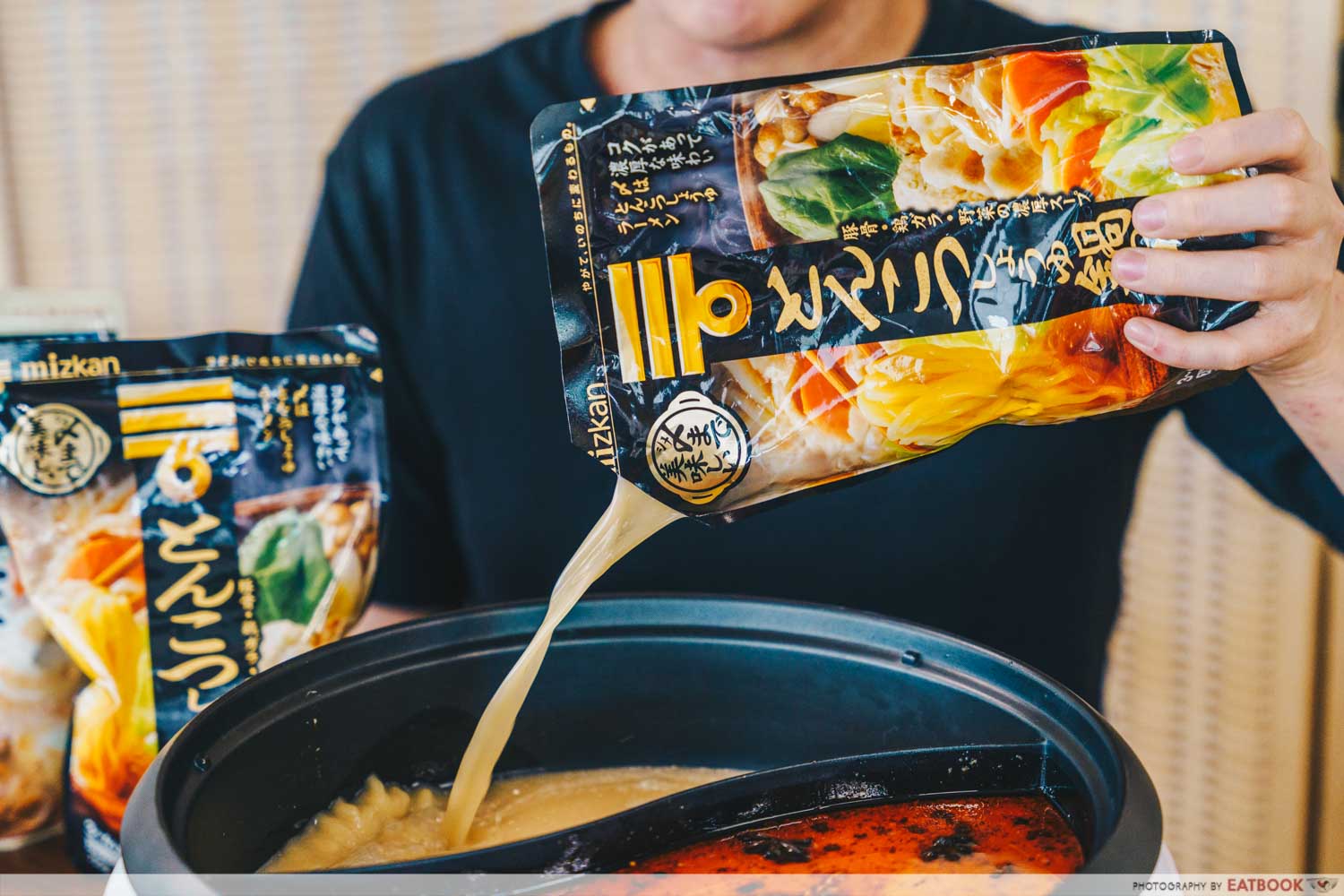 Having this alongside the usual Chinese-style soup takes the variety of flavour on the table a notch up. If you're not a fan of Japanese soups, try premade laksa, tom yum, ginseng broths—whatever you fancy.
---
2. Use CNY ingredients to create a more luxurious hotpot
---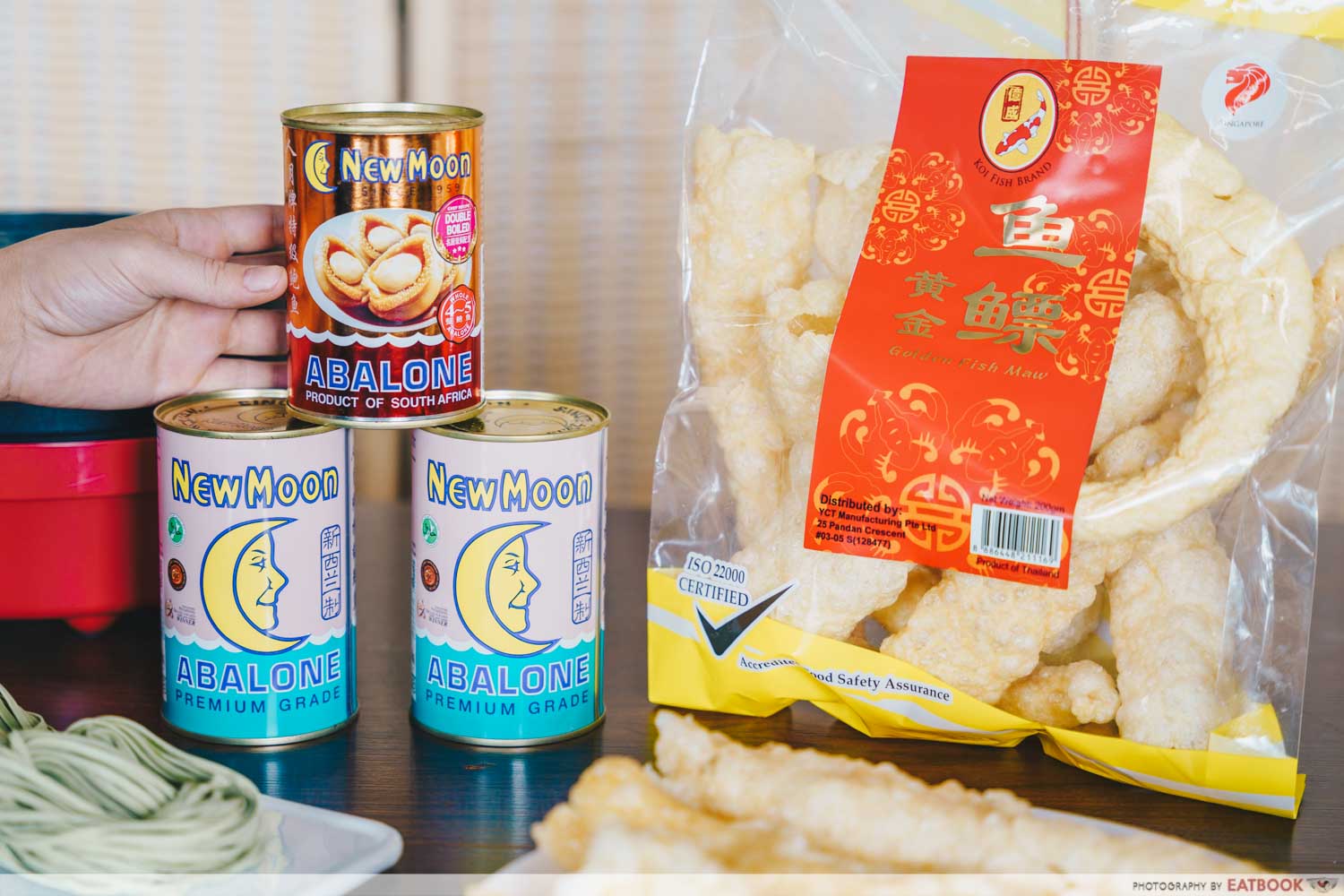 Fish maw, abalone, razor clams, and the like aren't just pencai material. Simply having them on the table as ingredients to enjoy in your hotpot gives the meal an instant festive uplift. Amazon Fresh has a myriad of these festive ingredients available, from New Moon New Zealand Abalone cans (from $32.80), to Koi Fish Brand Golden Fish Maw ($9.80).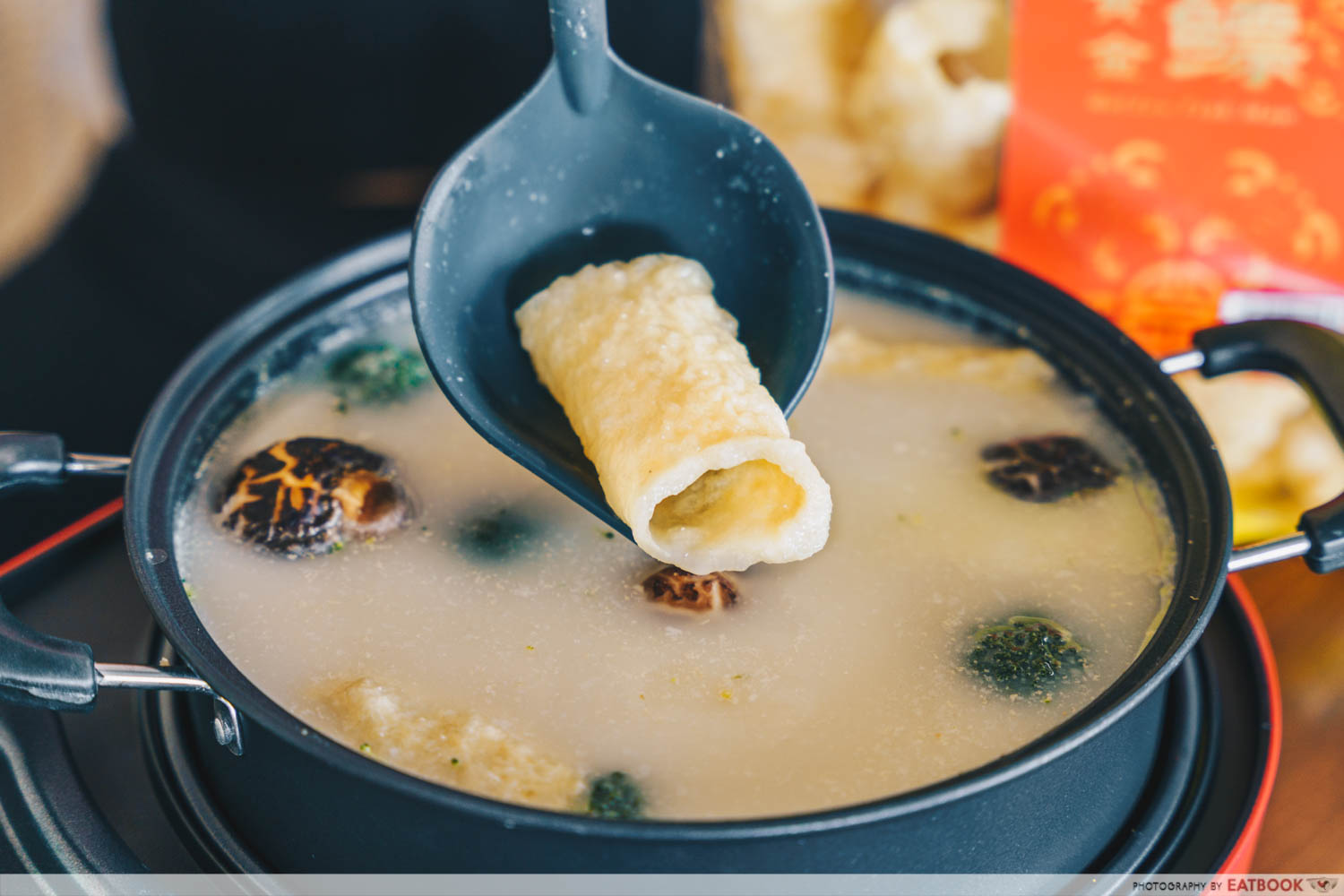 Serve these for your guests to cook in their hotpot broths of choice—I recommend collagen soups, as the silky, fatty quality of such broths enhances the luxury #feels of every spoonful.
---
3. Get a two-in-one hotpot
---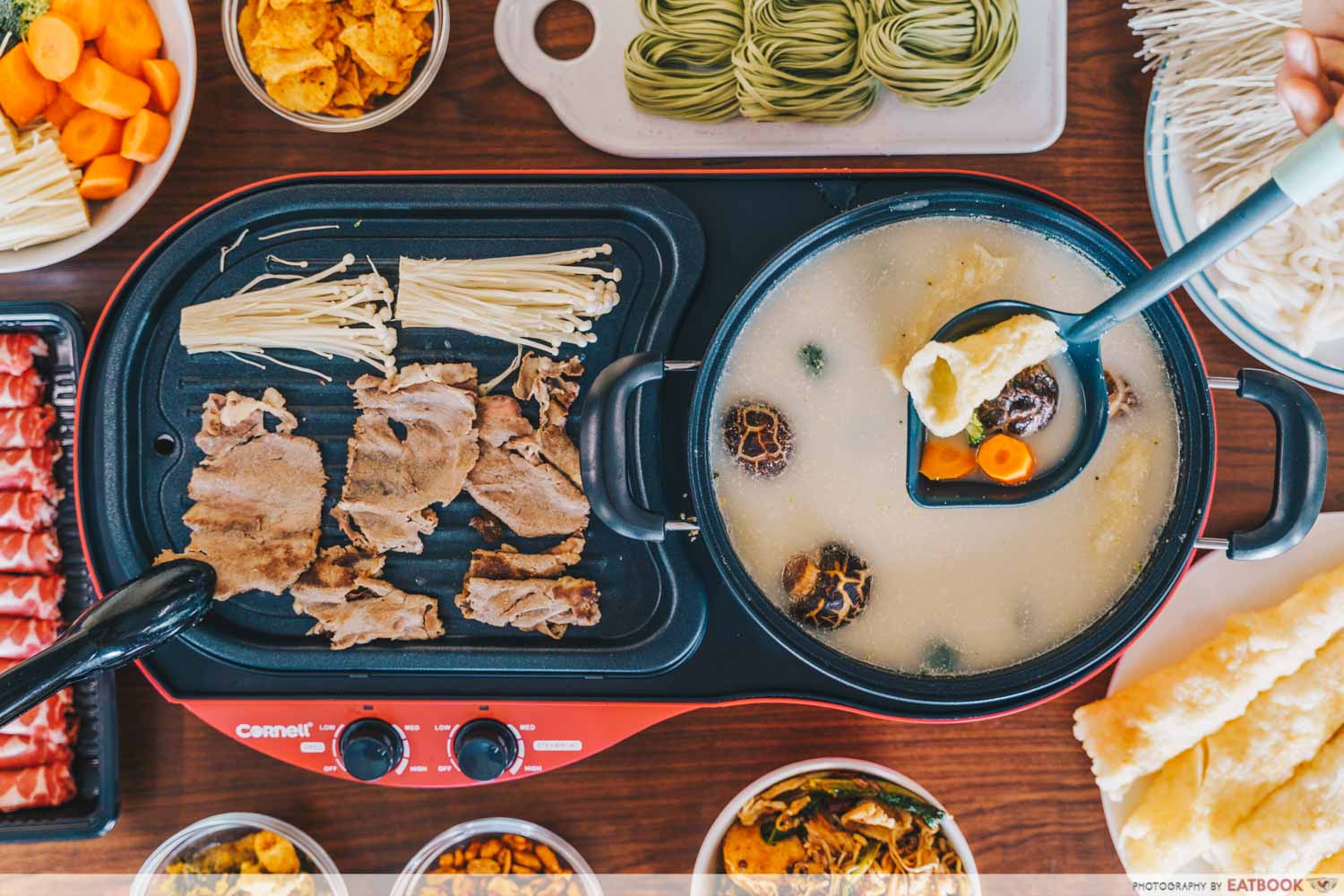 Most households tend to have a dual hotpot, where soups are presented as a yin and yang. For more variety, though, I'm fully sold on two-in-one hotpot and grill units, like the Cornell 2-in-1 Table Top Grill and Hot Pot ($75).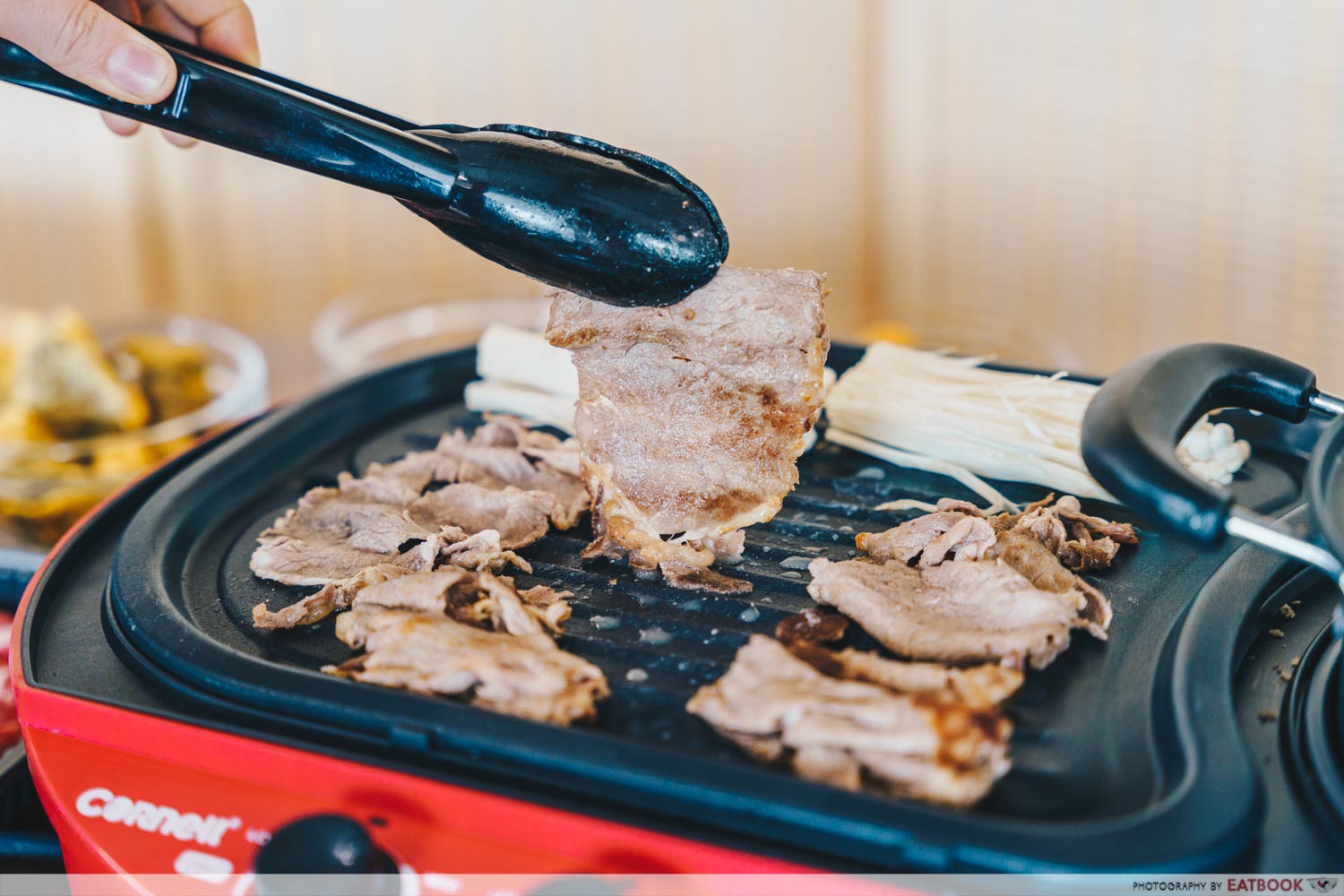 With K-BBQ, mookata, yakiniku and other barbecue experiences becoming so popular, a multitasking product like this definitely gives you the best of all worlds. This, and other induction cookers are available on Amazon Fresh, applicable for the same two-hour delivery option. This fact is also handy if your trusty home hotpot chooses to break down on D-day. 
---
4. Serve up small bites so people can munch while they wait for the broth to boil
---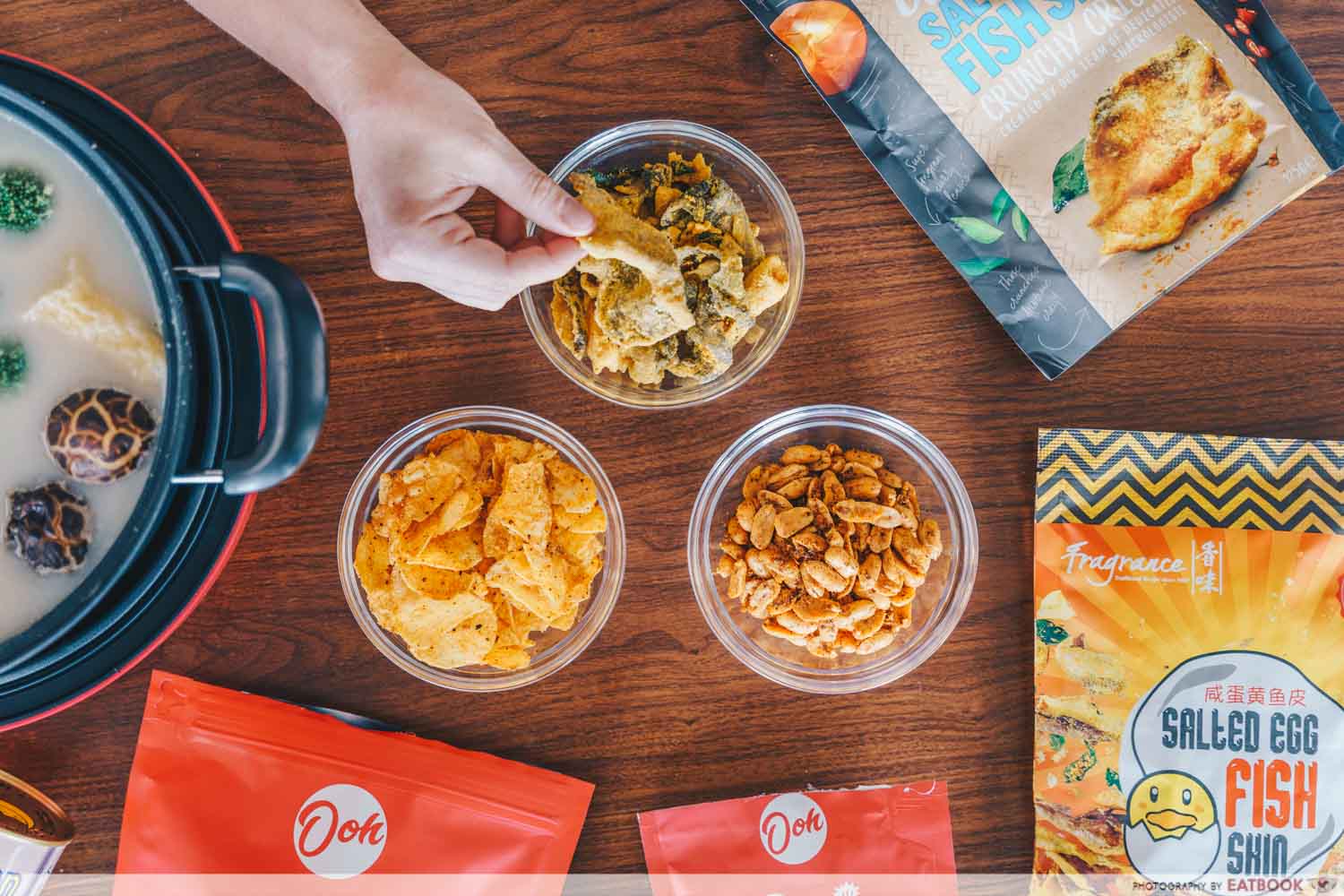 When hangry, I get fed up each time guests overload the hotpot with ingredients at the start of the meal, so it takes a while to heat up. To mitigate this, I got inspired by the snack bar at Haidilao, where you have light, localised bites to line your stomach before the meal starts.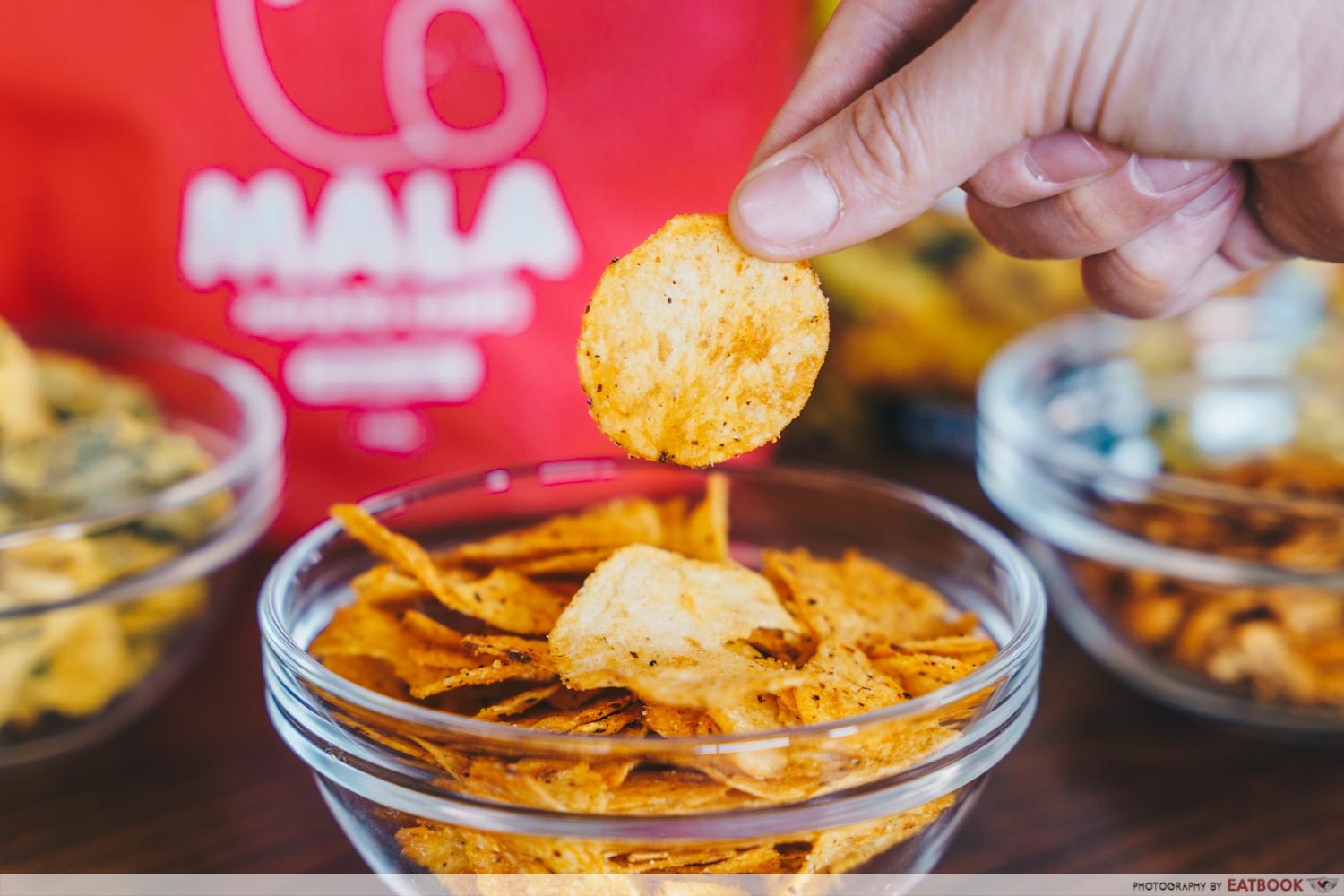 There are plenty of snack options on Amazon Fresh, from a selection of salted egg fish skin snacks from brands like Golden Duck ($6.75), and Fragrance ($5.13). Alternatively, check out the Mala Potato Chips ($6.75) and Mala Peanuts ($3.90) from Ooh SG. 
---
5. Make mala xiang guo as a side dish
---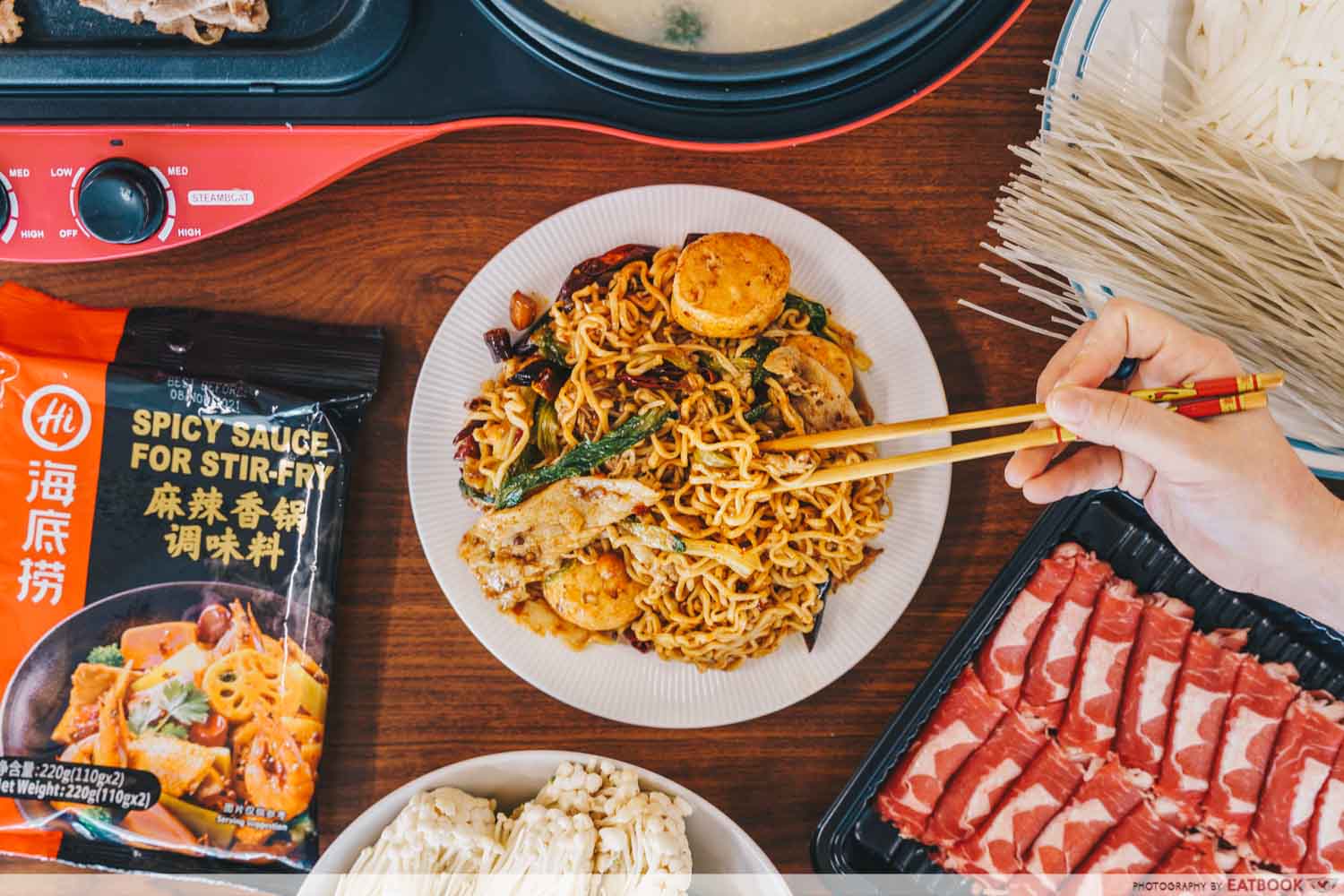 The endless struggle of hotpot is buying too many ingredients, and having stuff leftover that you're not sure what to do with. Instead of saving these leftovers as a problem for tomorrow, gather whatever is left behind after your prep is done to make a super simple mala xiang guo.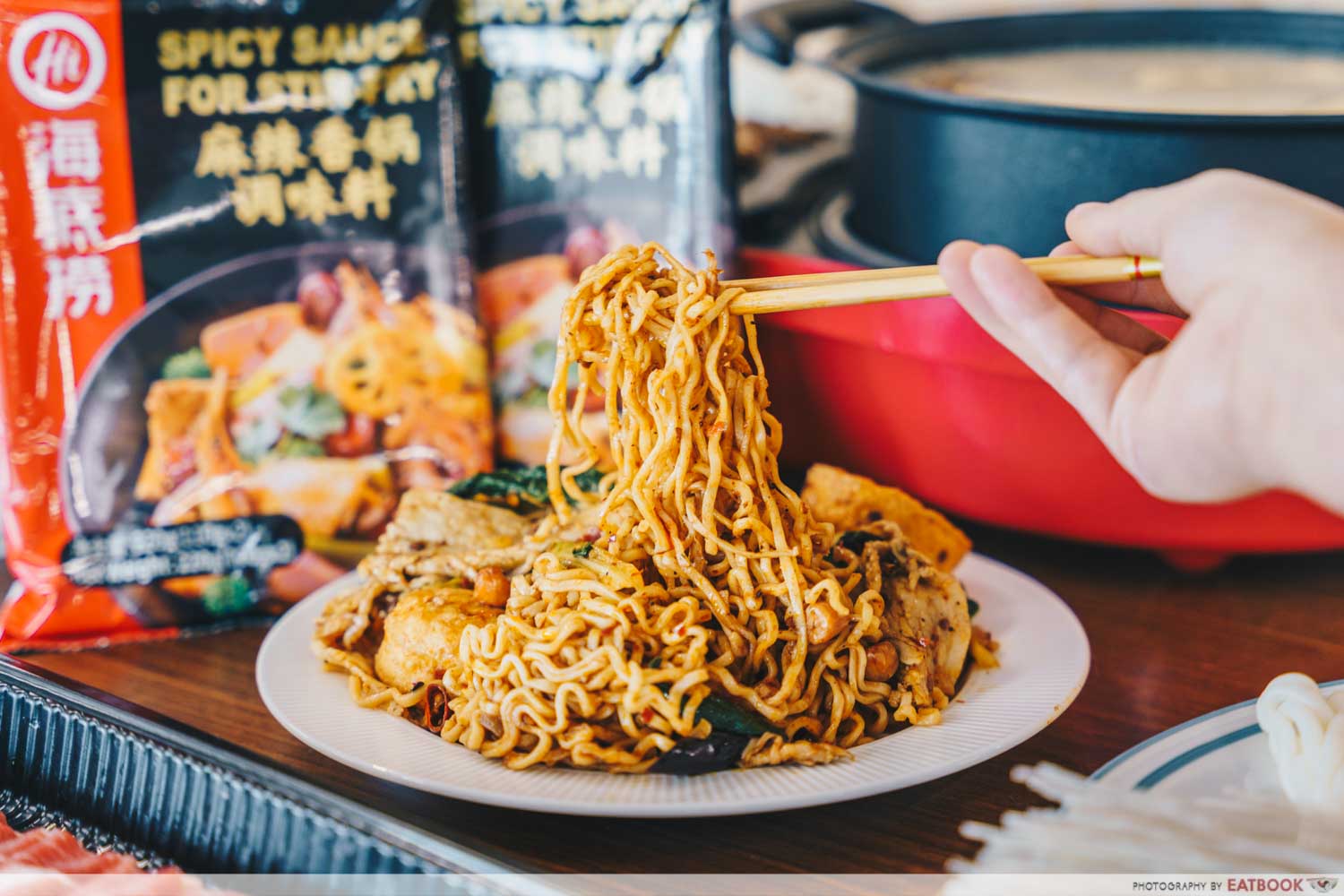 Besides the wealth of ingredients found on Amazon Fresh, you can also look to Amazon.sg to find other ingredients you'll need for your hotpot dinner. I found this Haidilao Stir-Fry Sauce that lets you recreate mala xiang guo at home in minutes. These are available on Amazon.sg for just $3.80.
---
6. Have a mix of carb options
---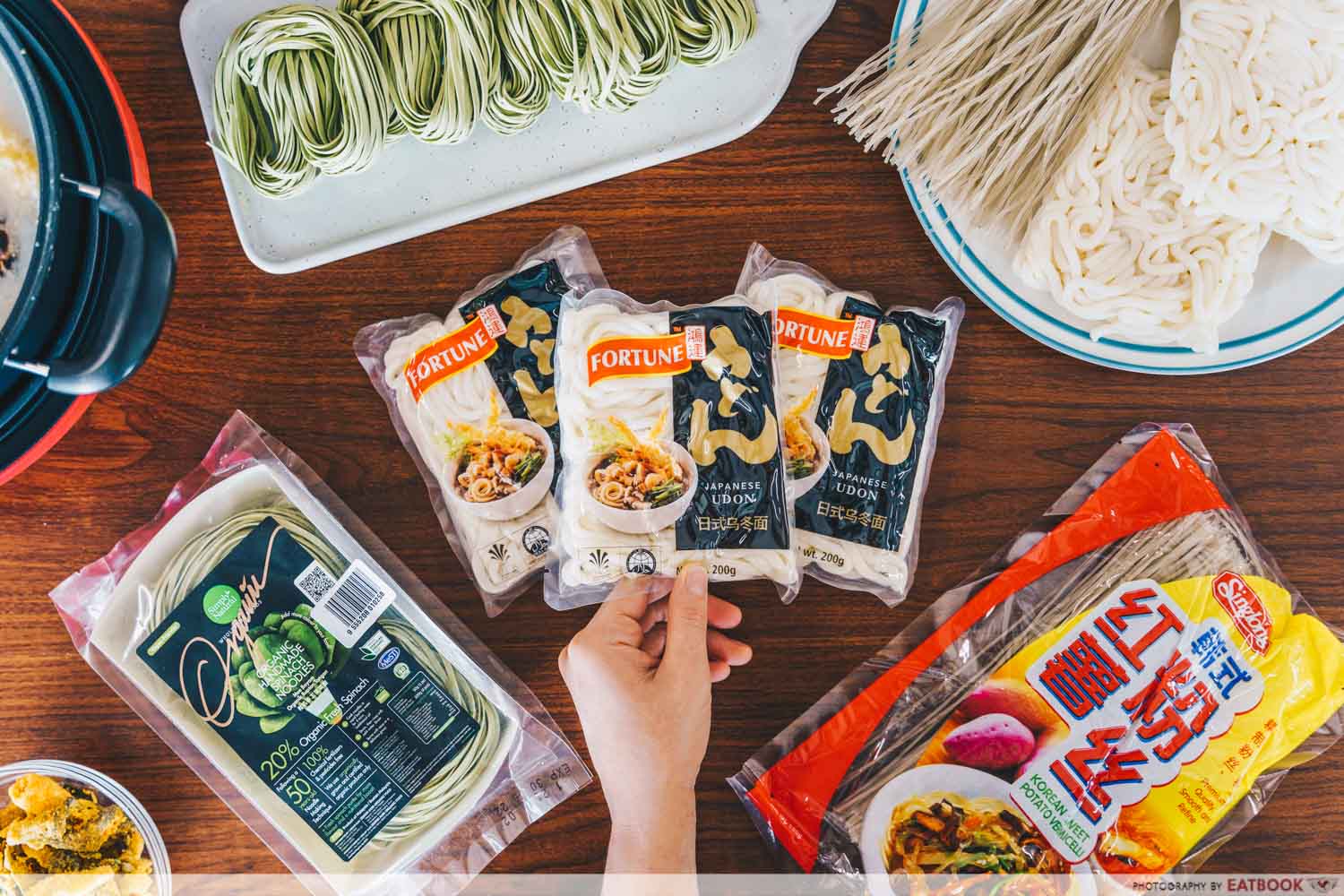 When you go to a hotpot restaurant, you have the option to enjoy your meal with rice, udon, noodles, and more. It's super easy to recreate this variety at home, thanks to Amazon Fresh's lengthy range of noodles and rice available from different cuisines, and for affordable prices too.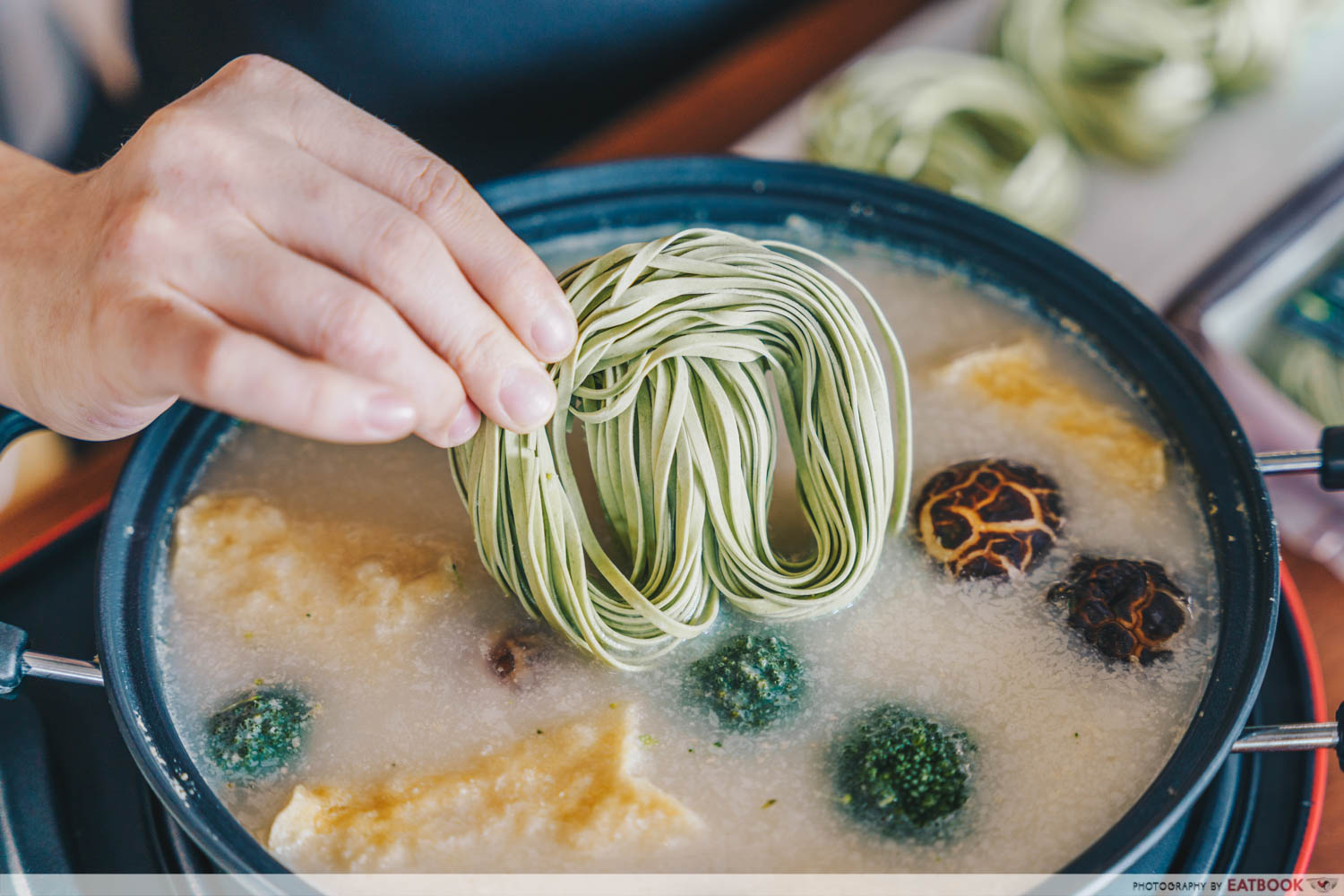 My go-tos are Fortune Udon Noodles ($2.95 for a pack of three), Sing Long Korean Sweet Potato Vermicelli ($1.35), and Simply Organic Handmade Spinach Noodles ($4.35), but you really can go wild, as the platform has such an extensive rice and noodle section.
---
7. Have individual ladles for each diner
---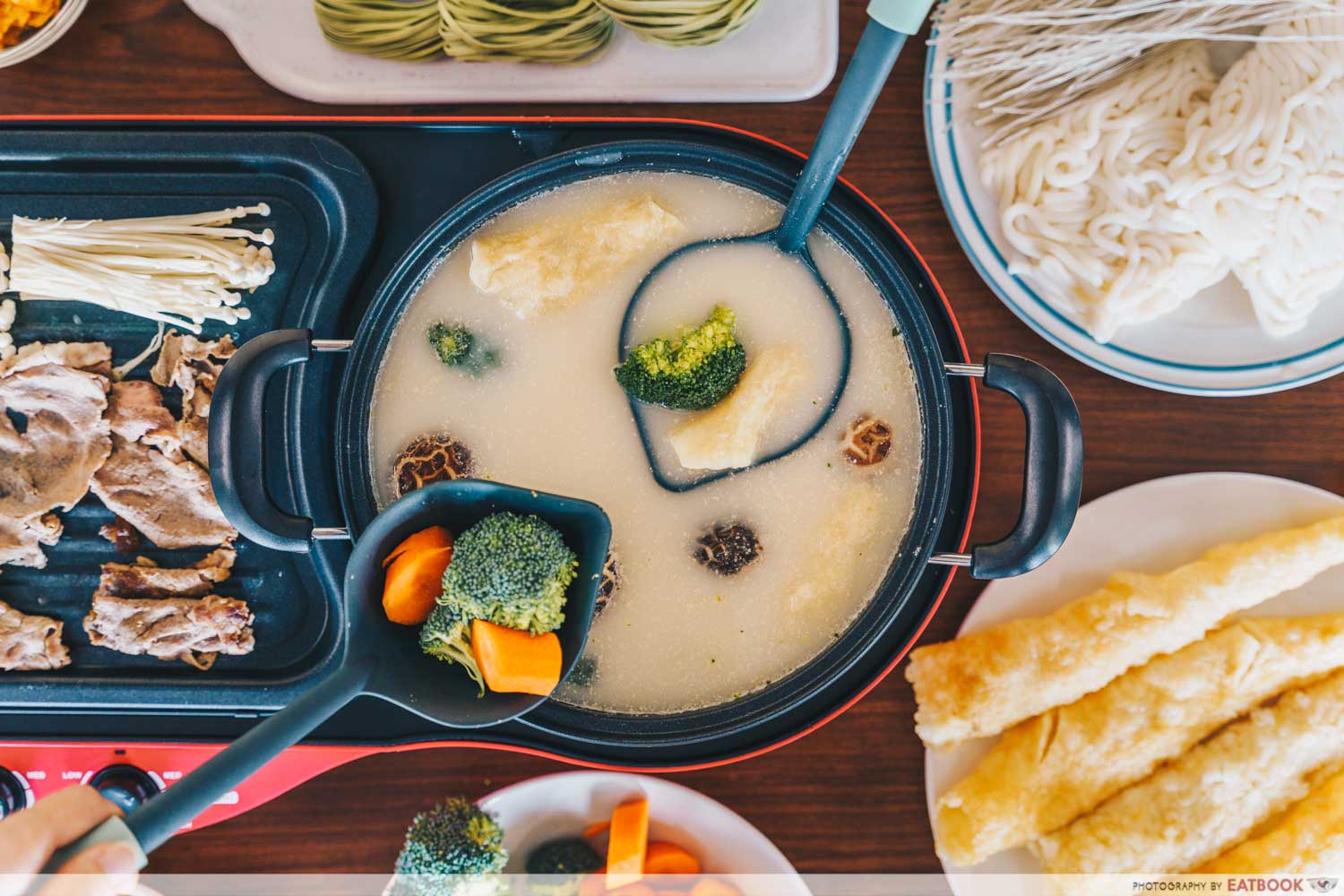 Keep things hygienic at the dinner table and let every diner have their own ladle to use as a serving spoon. Hygiene is more important than ever, and this is an easy way to enforce it across the table. A recent gem of a find on Amazon Fresh was the Brabantia Tasty+ Soup Ladle Plus Scraper Tool ($11.80), an ultra-lightweight and durable ladle that has a pointed tip, making it great for getting into the edges of your hotpot to clean up oil and soup froth too.
---
CNY hotpot ingredients delivery
---
Elevate your home steamboat experience for your numerous reunion dinners by introducing these small hacks to your meal. Guaranteed to make an impression, these tips also round off to create a more satisfying meal. For more inspiration for your CNY meals, you can also look to the Amazon Fresh recipes page.
If you decide to shop on Amazon.sg, you're in for a stress-free experience, making your CNY a breeze overall. To top it off, if you have or are planning to get an Amazon Prime membership, priced at just $2.99/month, then you unlock a whole host of benefits. These include the use of Amazon Fresh, free one-day delivery on Amazon.sg or the Amazon Shopping app.
Apart from using these services to better your CNY duties, sharing is caring, so spread the gift of time-saving and convenience with your loved ones by sending Amazon.sg Gift Cards to your loved ones. You can even use these in place of cash ang pows over CNY! These are available at 7-Eleven, Cheers, and online.
Photos taken by Lim An.
This post is sponsored by Amazon Singapore.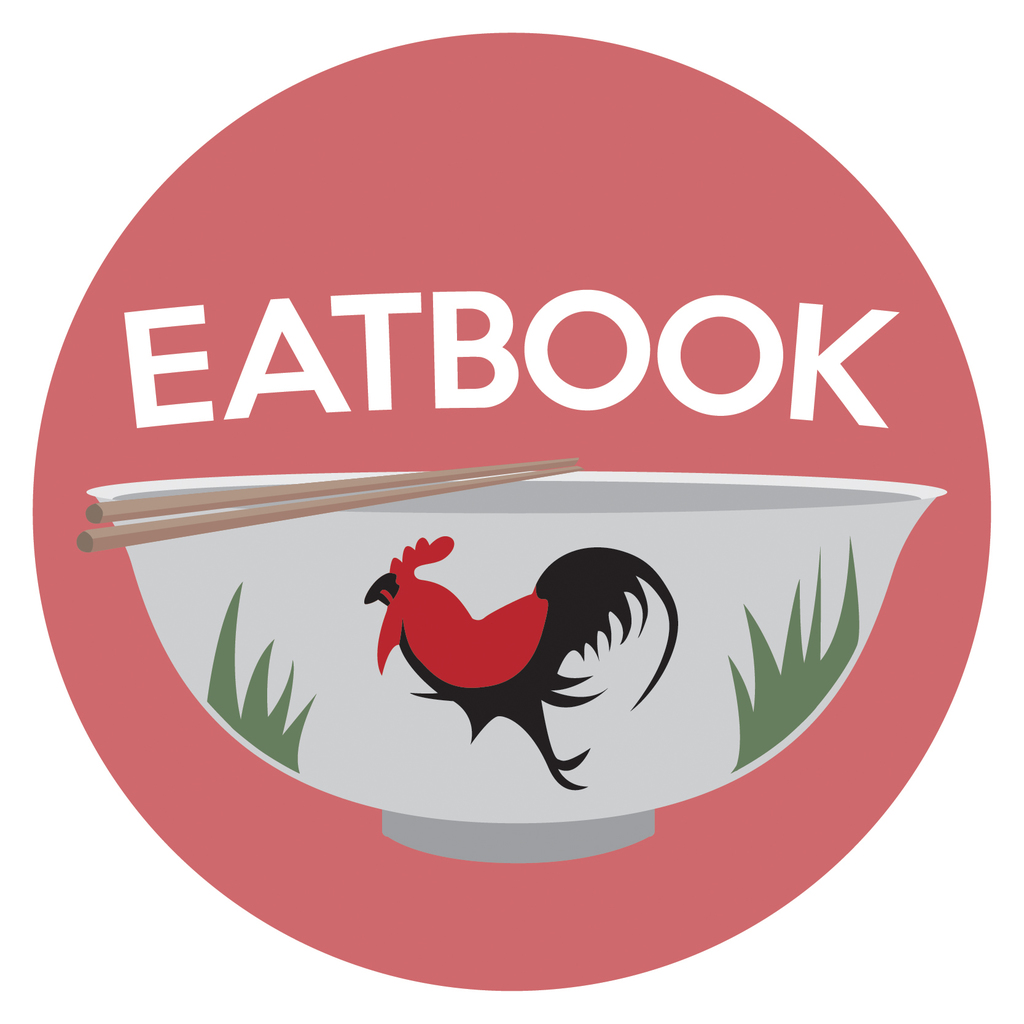 Drop us your email so you won't miss the latest news.