---
About Colony 
---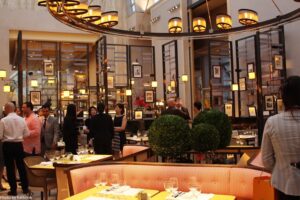 Ritz Carlton has once again proven that it's a notch above everyone else in terms of elegance with their newest food concept, Colony. Featuring 8 different live kitchens that each represent distinct food narratives of our local culinary heritage, Colony aims to impress their patrons with the best food in Singapore.
The decor of Colony features a charming mix of vintage and custom-made furniture, which makes you feel almost as if you've travelled across time to a different era. With so many local, Western, Indian, Chinese and Malaysian dishes to choose from, you probably won't know which ones to start with. But fear not, we'll give you some tips on what to tackle at each live kitchen:
---
Highlights
---
The Ice Bar
---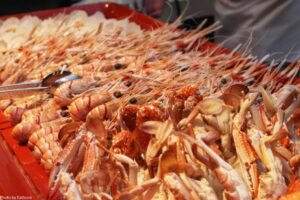 No buffet is complete without an extensive selection of cold seafood. The team behind Colony has outdone themselves with this vast array of poached live prawns, king crab legs, half shell scallops, black mussels, and 4 different types of sashimi.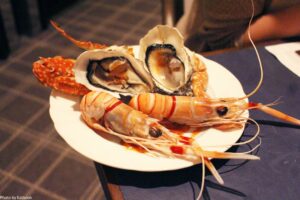 They also offer freshly shucked oysters from France, which are delightfully sweet and briny. Besides seafood, The Ice Bar serves a huge range of imported cheese, cold cuts, and small canapes.
---
The Grill and Rotisserie
---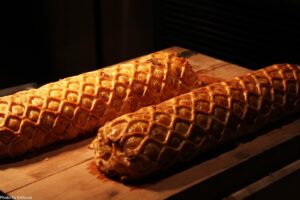 Appetisers typically take the centerstage at buffets, but the amazing selection at Colony's Grill and Rotisserie will have you cutting back on the seafood in order to stomach all these rich meats.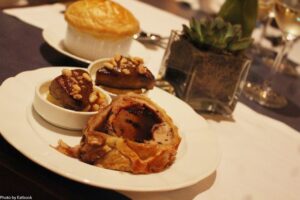 From beef and stout stew, to spicy miso pork belly, and grilled satay, there's every kind of protein at this live kitchen. Give the overcooked beef wellington a miss and head straight for the pan-seared foie gras. Served together with crispy pine tarts and a touch of acidity, this fatty piece of perfection would hold its own even if it weren't at a buffet setting.
---
The Steam Basket
---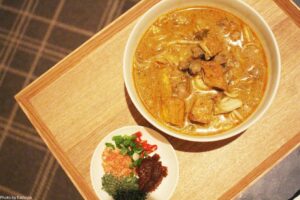 Not only does The Steam Basket offer freshly steamed dim sum like scallop dumplings, har gao, and liu sha bao, you can also order Colony's signature Lobster Laksa. The mildly spicy curry broth is just the right amount of rich and savoury, and won't leave you feeling too satiated.
---
The Wok
---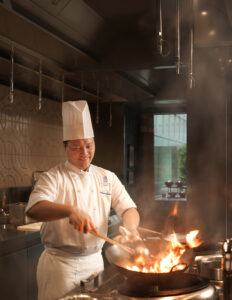 Fans of local hawker fare can get their cravings fixed at The Wok, with the XO seafood fried rice, chili crab, and black pepper crayfish.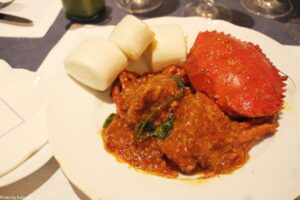 I found the chili crab sauce a little too sweet, although the crabs they used were of a decent quality. The stand out dish here however would be the unsuspecting wok-fried thai basil pork, which is an exact replica of what you would find on the roadsides of Bangkok.
---
The Tandoor
---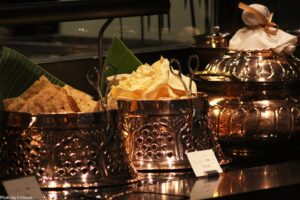 Colony also has an excellent assortment of Indian dishes at The Tandoor, where they serve naan, curries, stews and chutneys.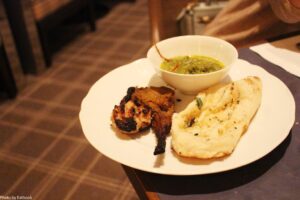 I was absolutely smitten by the palak paneer – a creamy spinach and cottage cheese stew that was hearty but not too rich. Their meats, like the lasooni lamb and tandoori chicken, were also seasoned beautifully. Unfortunately, they were slightly overcooked and turned out to be rather dry.
---
The Fruit Stall
---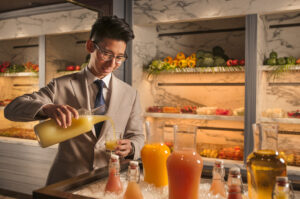 One of the highlights of my dinner at Colony was getting to customise my own cold-pressed fruit juice at The Fruit Stall. They have a juice-of-the-day but if the combination doesn't work for you, you can choose your own selection of fruits which they will juice for you on the spot.
---
The Bakery
---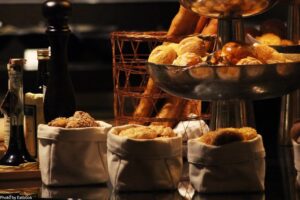 Colony also boasts an extensive variety of breads, pastries, muffins, and sandwiches at The Bakery. Their latest creation, the upper crust, is a brilliant combination of a cookie crust and a muffin base which gives you that satisfying contrast of textures. It currently comes in four different flavours, but our favourite has to be the pandan coconut kaya.
---
The Patisserie
---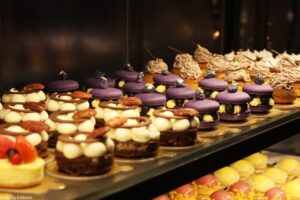 One of the most visually impressive kitchens would be The Patisserie. They have everything from nonya kueh, to ice cream and exquisite looking pastries. There's even a live station where a chef will whip up Asian-style pancakes for you!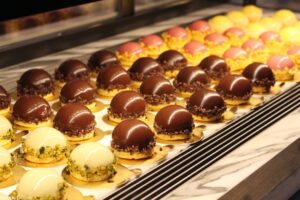 However, most of the pastries we tried were disappointing to say the least. They were either overwhelmingly sweet, had flavour pairings that didn't go well together, or were just simply average. We would recommend just sticking with ice cream and fruits, and go all out at the other 7conservatory kitchens instead!
---
Experience the best of the sea at Colony!
---
Colony brings an interesting concept to the dining scene with its muti-faceted approach to your typical buffet. Make your reservations now!
This post was brought to you by Colony. 
Summary
Prices:
Breakfast: $45++
Lunch: $58 ++
Dinner: $78++ on weekdays / $88++ on weekends
Sunday Brunch: $188++
Pros:
Extensive selection of food
Good quality seafood and meats
Customisable fruit juice
Nice ambience
Cons:
Mediocre dessert kitchen
Recommended Dishes:
Poached live prawns
Pan-seared foie gras
XO seafood fried rice
Alaskan king crab legs
Oysters
Sashimi
Opening hours:
Breakfast: Daily, 630am – 1030am
Lunch: Mon – Sat: 12pm – 230pm
Dinner: Daily, 630pm – 1030pm
Brunch: Sun: 1230pm – 330pm
Address: