A different kind of hotpot at Congee Legend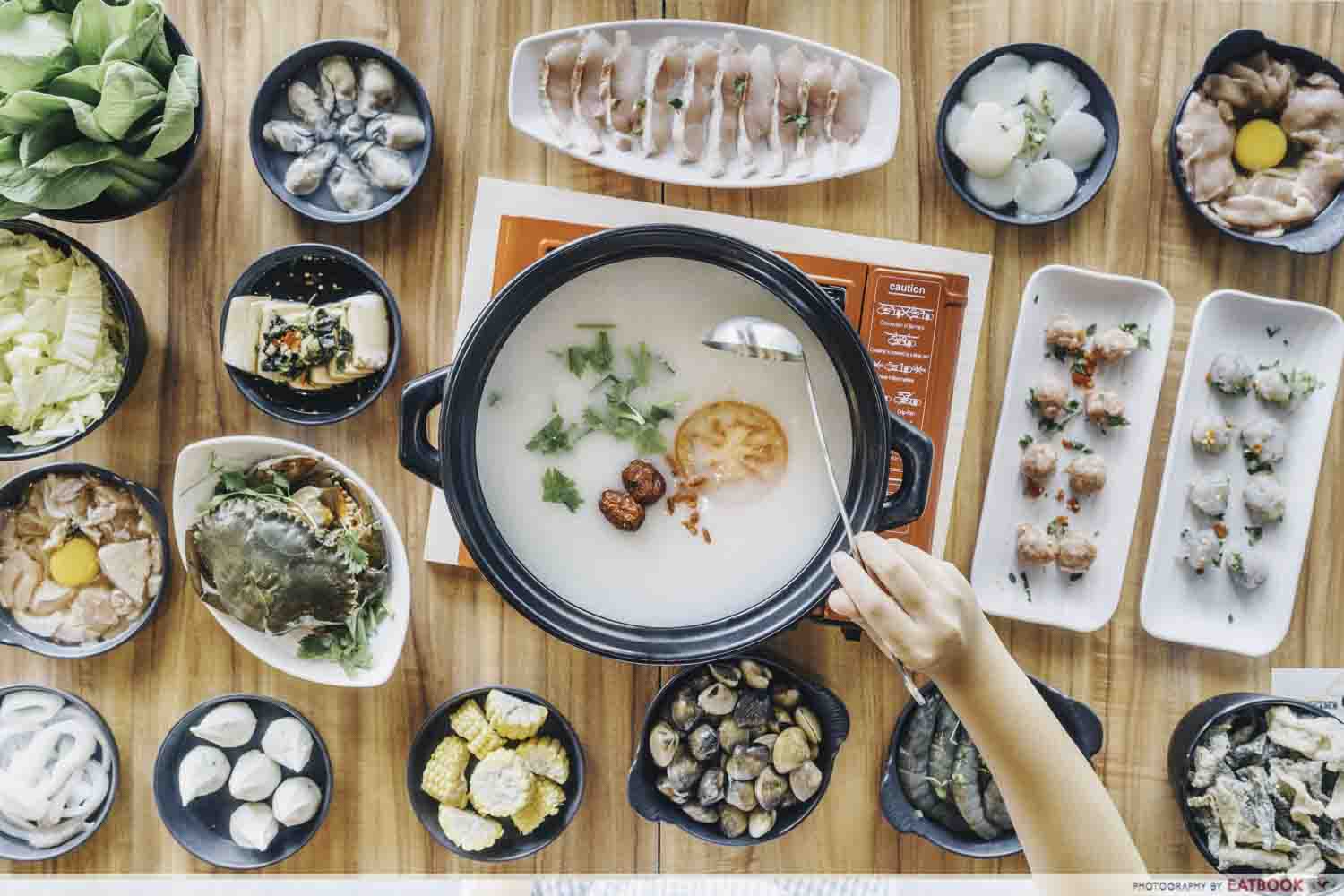 Hotpot is always a good idea. I can dunk in my favourite ingredients and fish them out in mere minutes, making it a simple yet fun meal. The only thing stopping me from having hotpot more often is the mess which comes with it. For those who also hate making a mess at home, Congee Legend takes both the washing and prepping of a meal out of the equation for you.
Instead of the usual tomato or chicken broth, they offer a really unique and nutritious congee-based broth which is rarely found in Singapore.
Food at Congee Legend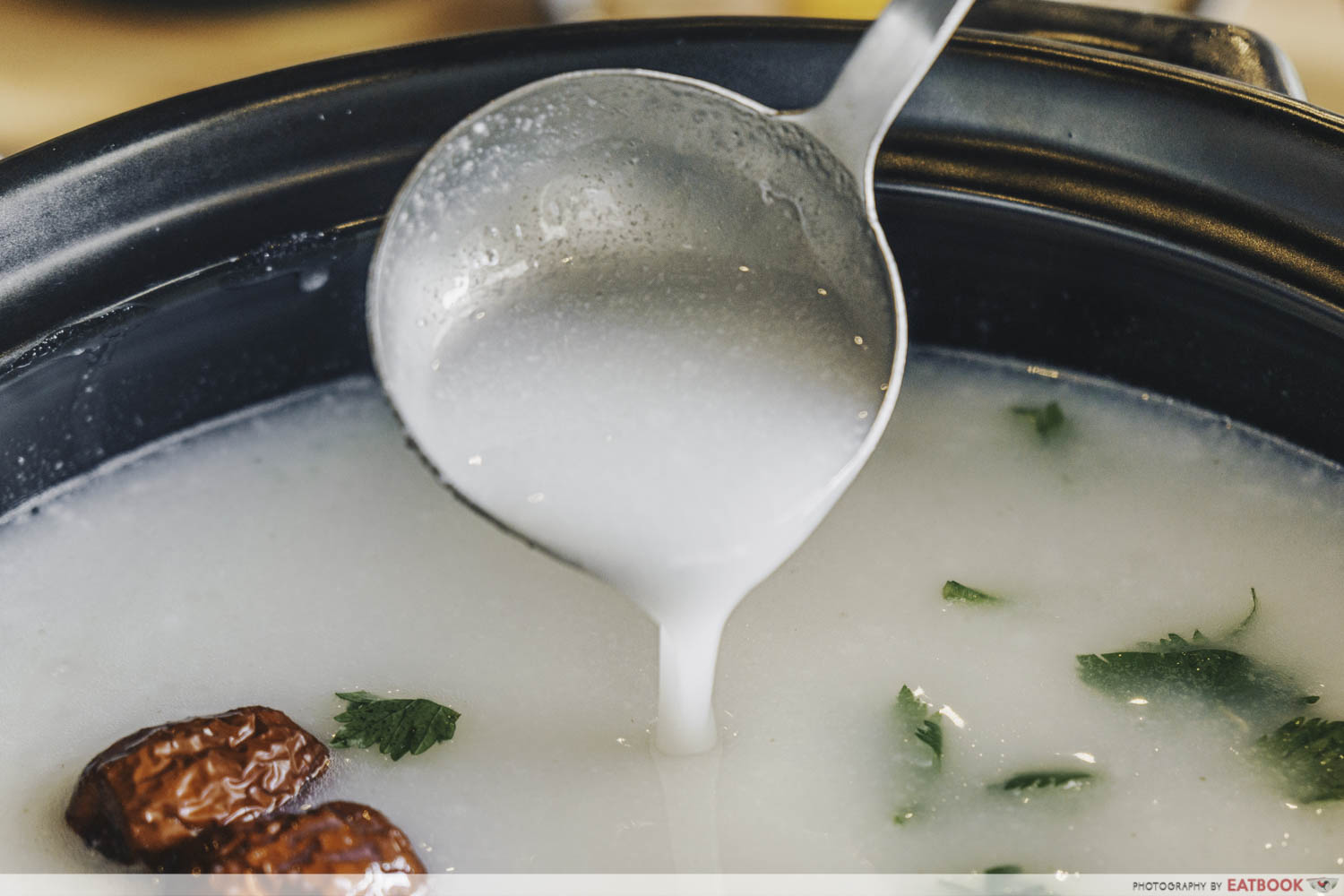 Congee Legend doesn't offer the typical broths you find at Chinese hotpot restaurants. The Guangdong-style Porridge Base ($3++ per person) they serve is more of a gruel, which is made up of rich, house-made chicken stock and a runny congee that is free from rice grains. Gentle on the stomach, this texture is achieved by blending up the grains into a smooth consistency, making it a great broth to slurp up along with your hotpot ingredients.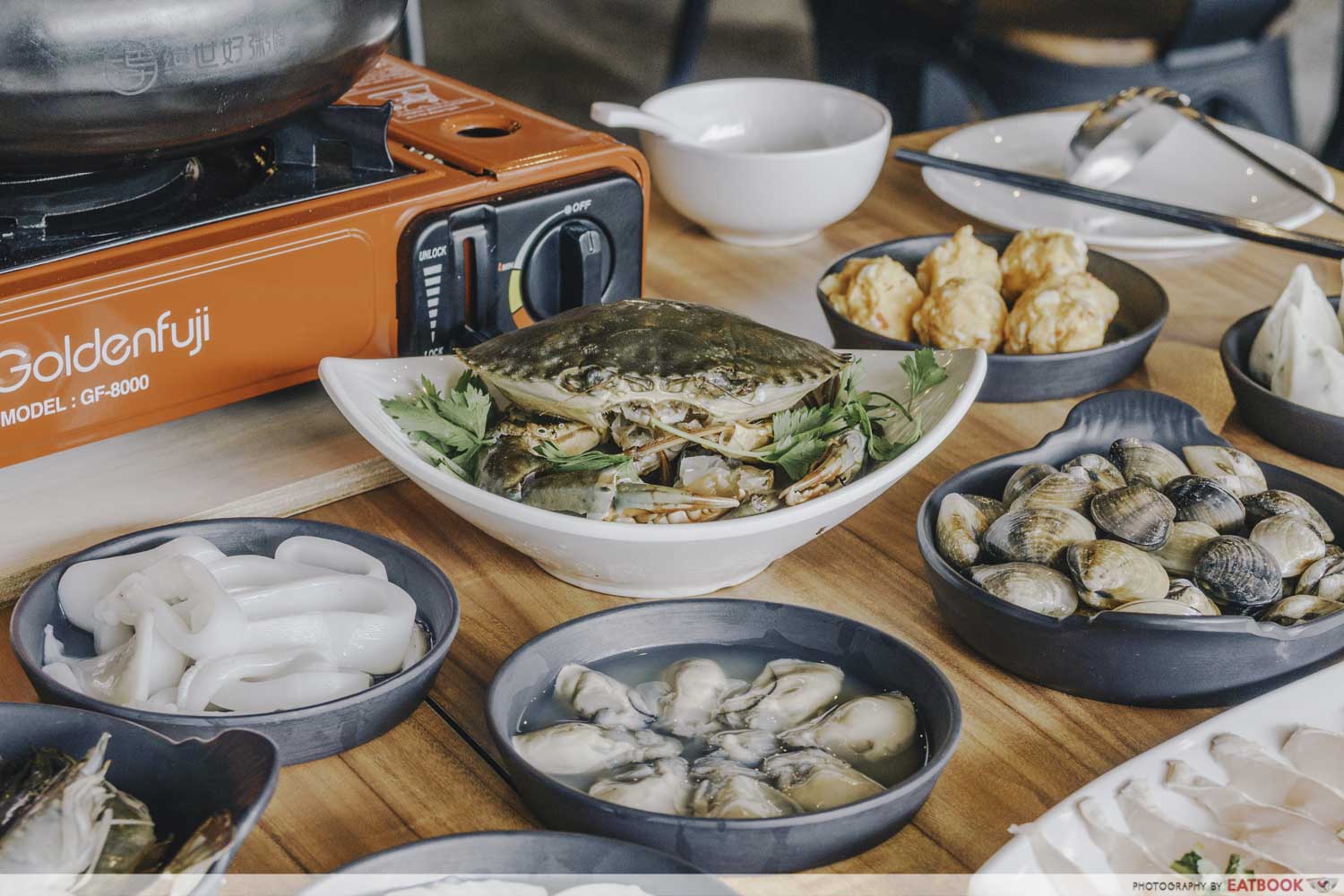 There are 50 items on the menu to choose from, featuring seafood, meat, vegetables, and other hotpot essentials such as Fishball with Roe ($5++) and Quail Egg ($4++). 
Their spread of seafood was the most impressive for me. Imagine plump Oysters ($5++), thickly sliced Squid ($6++), fresh Scallops ($8++) and more. The portions were substantial for the price tags they had.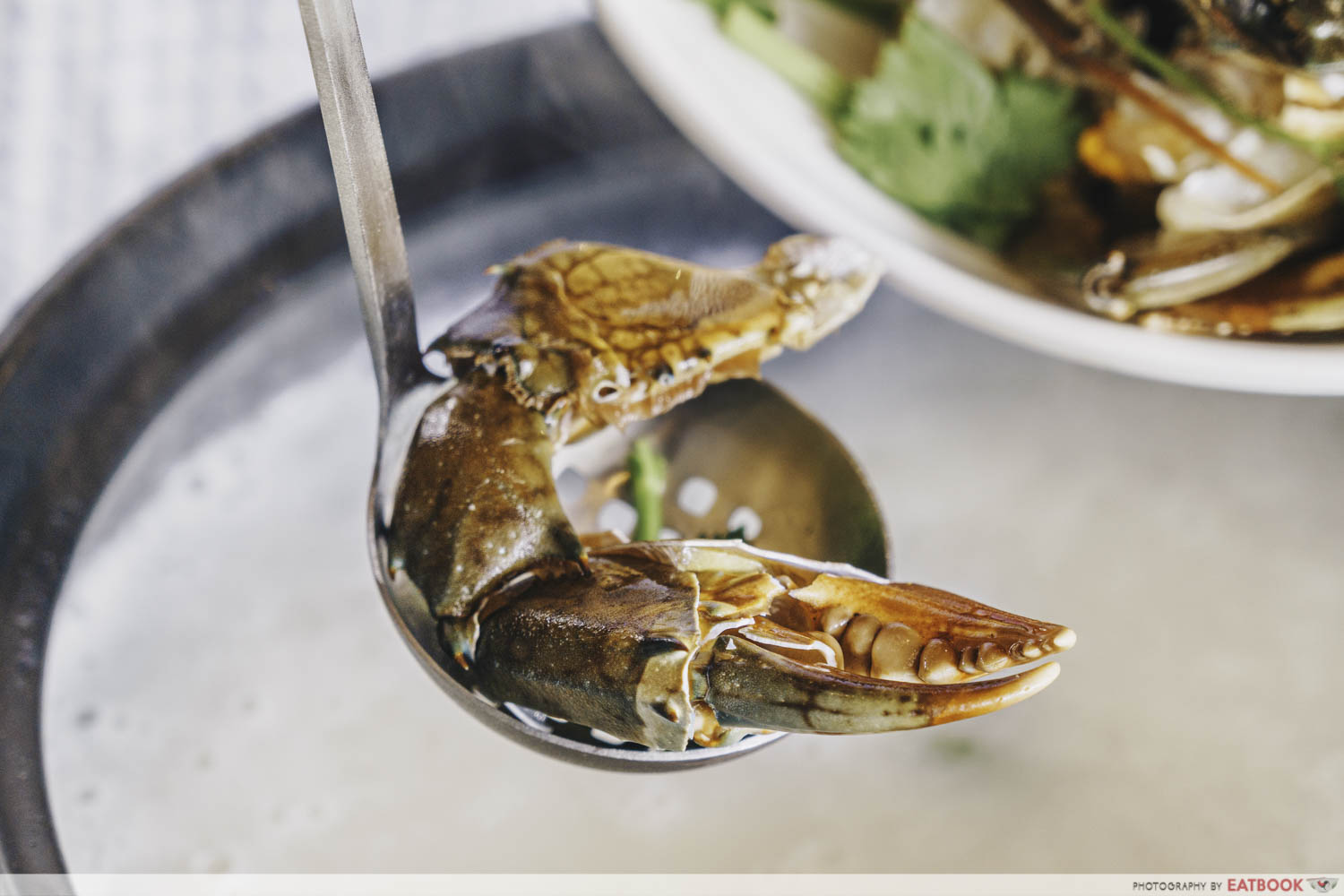 A must-order for me, however, was their Seasonal Crab (seasonal price). Seafood surprisingly cooked well in the congee, and the slightly savoury gruel further highlighted the natural sweetness of the crab meat. Boiling the crab and other seafood into the pot first is also recommended by the staff, as it gives the broth added flavour.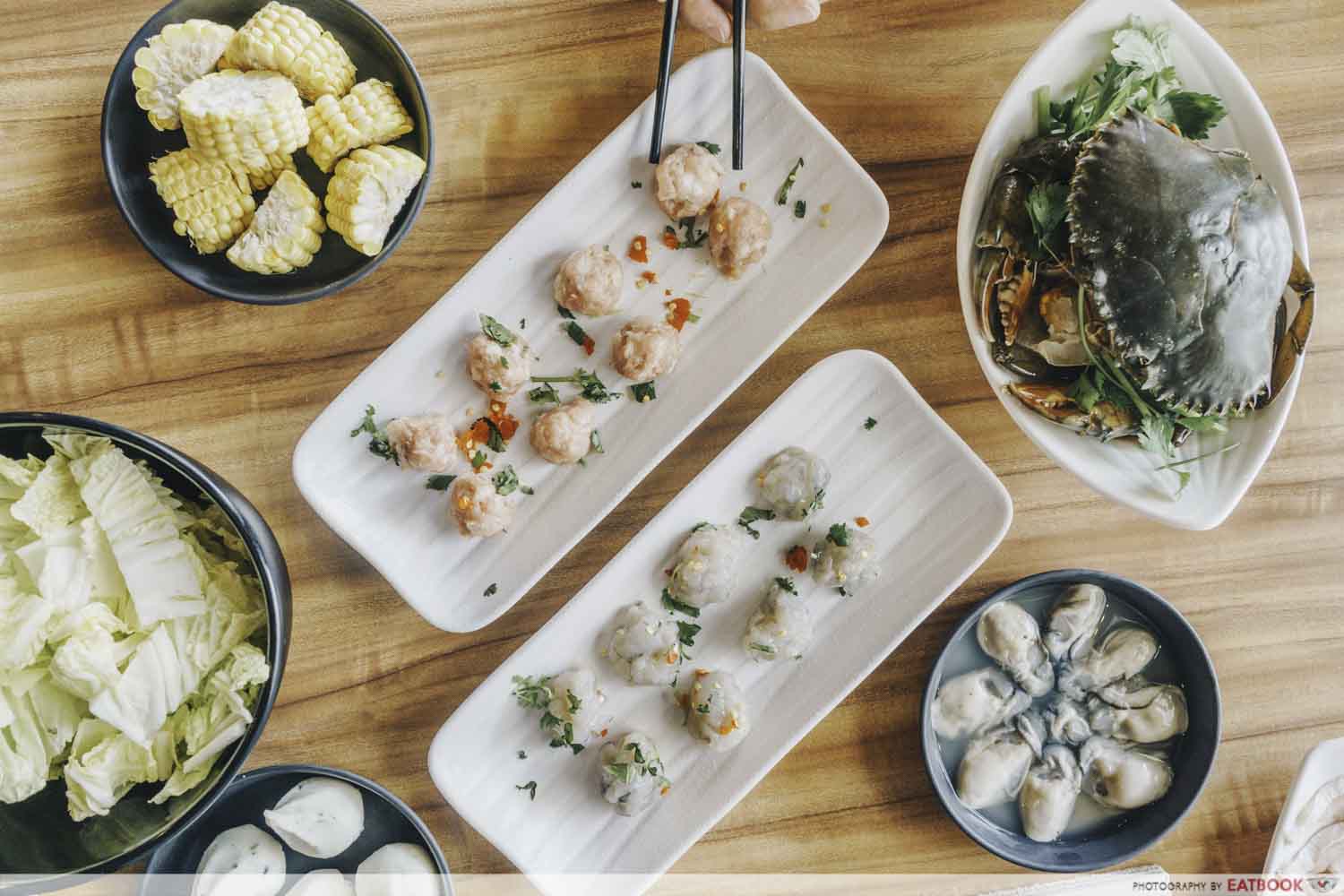 Other than run-of-the-mill ingredients such as Fishball ($4++), Cheese Tofu ($4++), and Lobster Ball ($4++), I recommend ordering the Homemade Meat Ball ($7++) and Prawn Paste ($7++). These are made in-house and are free from preservatives you might find in store-bought ones.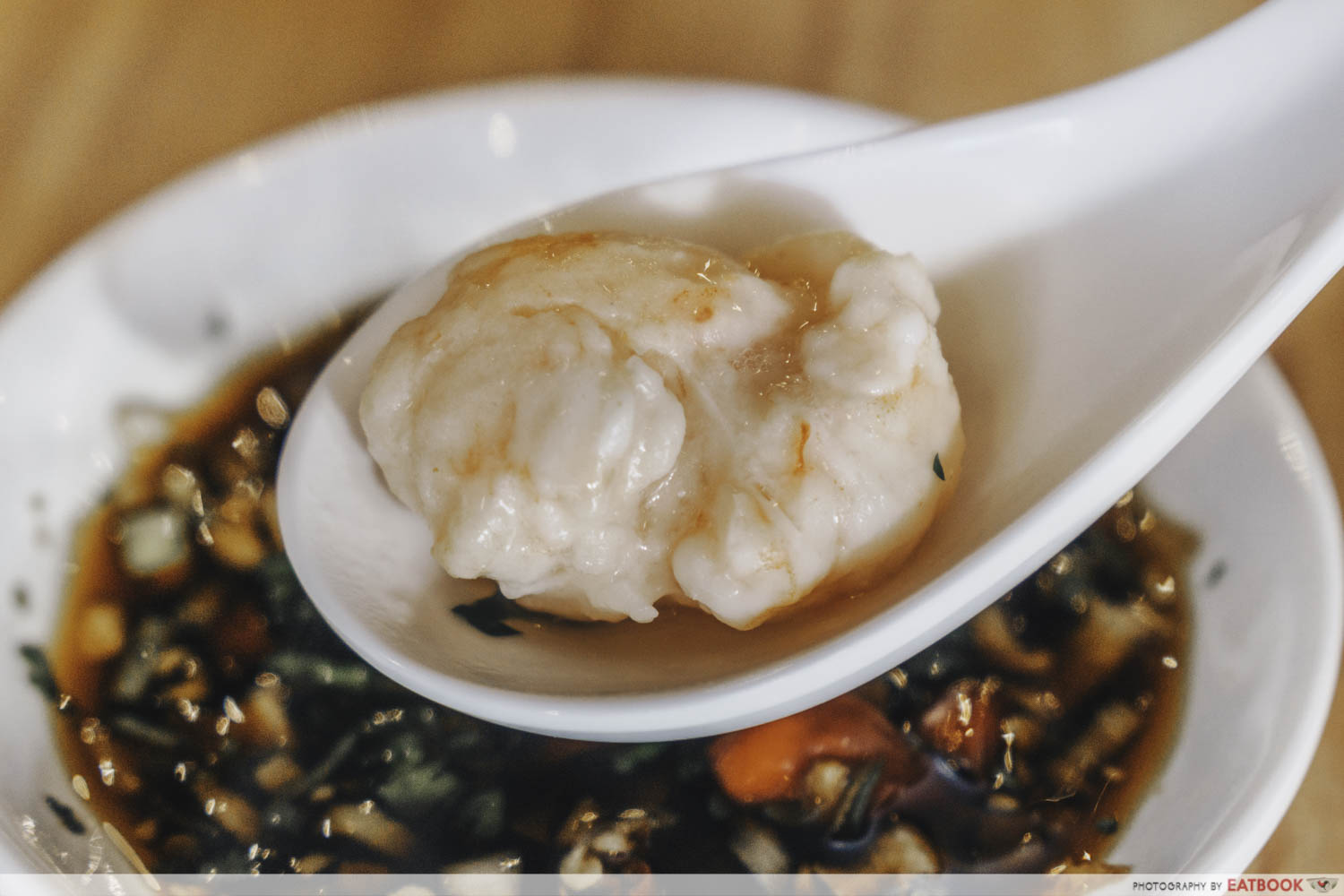 I had to stop myself from popping the orange orbs of Prawn Paste continuously into my mouth. Dipping them into Congee Legend's salty and spicy mix of light soya sauce, chopped chilli, spring onions, garlic, and ginger, made the QQ balls even more addictive.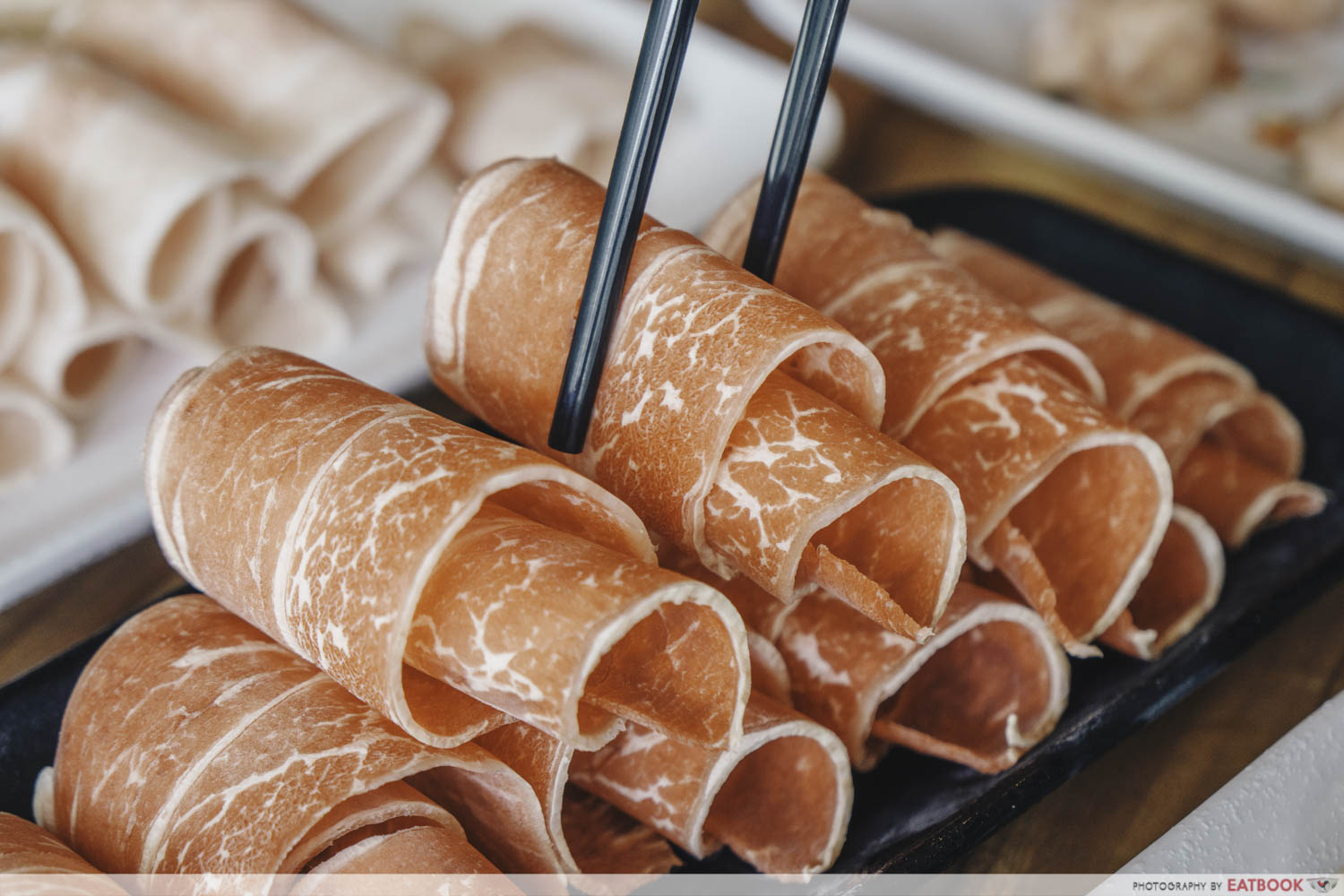 It might not look the case, but the beef and Pork Belly ($7++) slices cooked surprisingly well in the starchy porridge base. With a few swishes in the pot, these meat slices were ready to be savoured.
Come after payday and get spendy on their Beef Karubi ($18++) slices, which is a fatty cut from the short ribs of the cow. Marked with marbling, the slices were tender and juicy. Relish the pure, beefy flavours, untainted by the simple porridge base, or dip it once again in the delectable light soya sauce.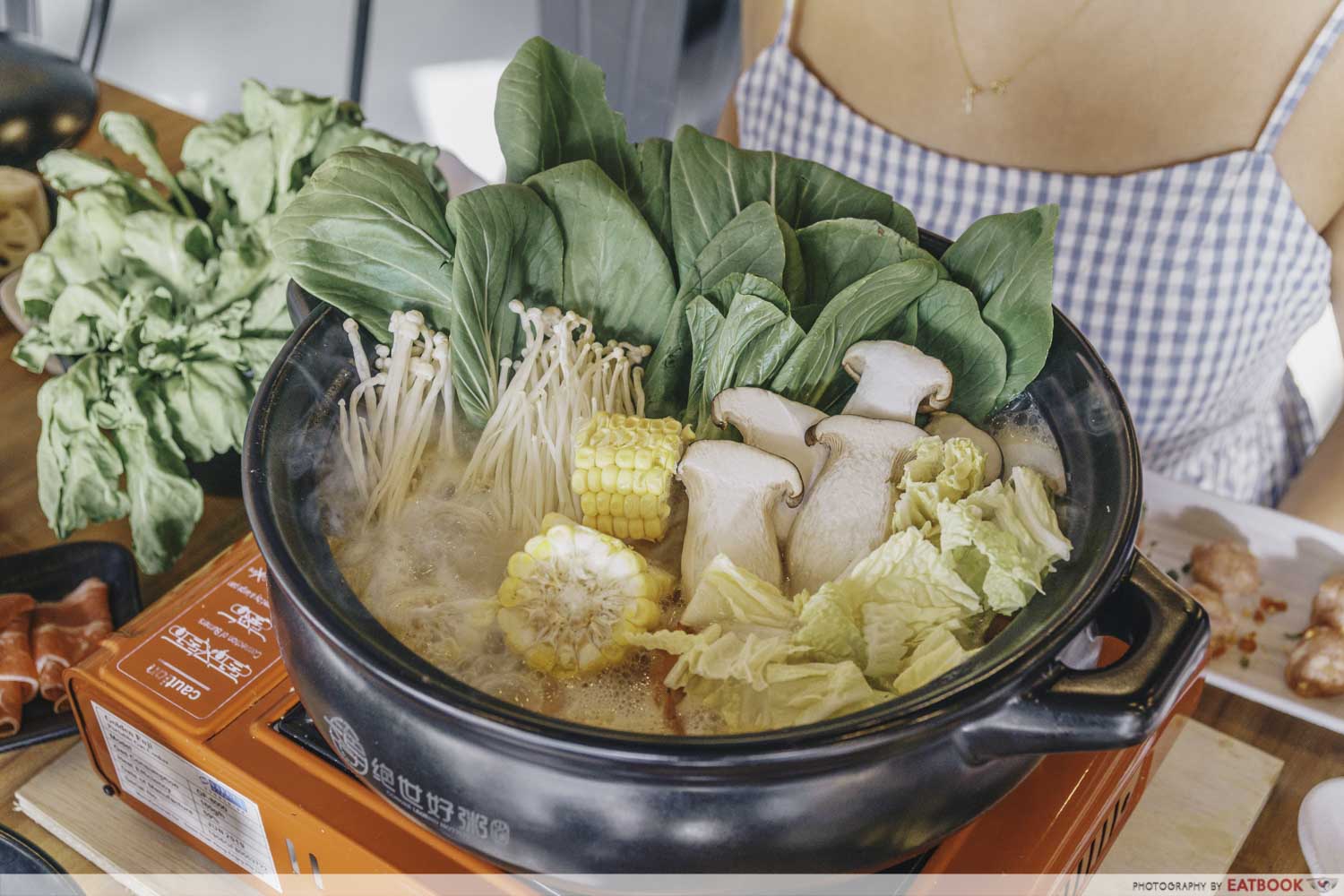 Plastered on the walls were the recommended ways to enjoy the Congee Legend hotpot. Dig in by starting with the seafood, meats, and lastly the vegetables. We followed suit and filled up the bubbling pot with vegetables including Chinese Cabbage ($3++), Corn (3++), Golden Mushroom ($3++), and King Oyster Mushroom ($4++). 
I might be more of a meat than vegetable kind of girl, but these crunchy greens are essential for its texture in the porridge base. Load the pot up with them for a healthy and hearty high-fibre dinner!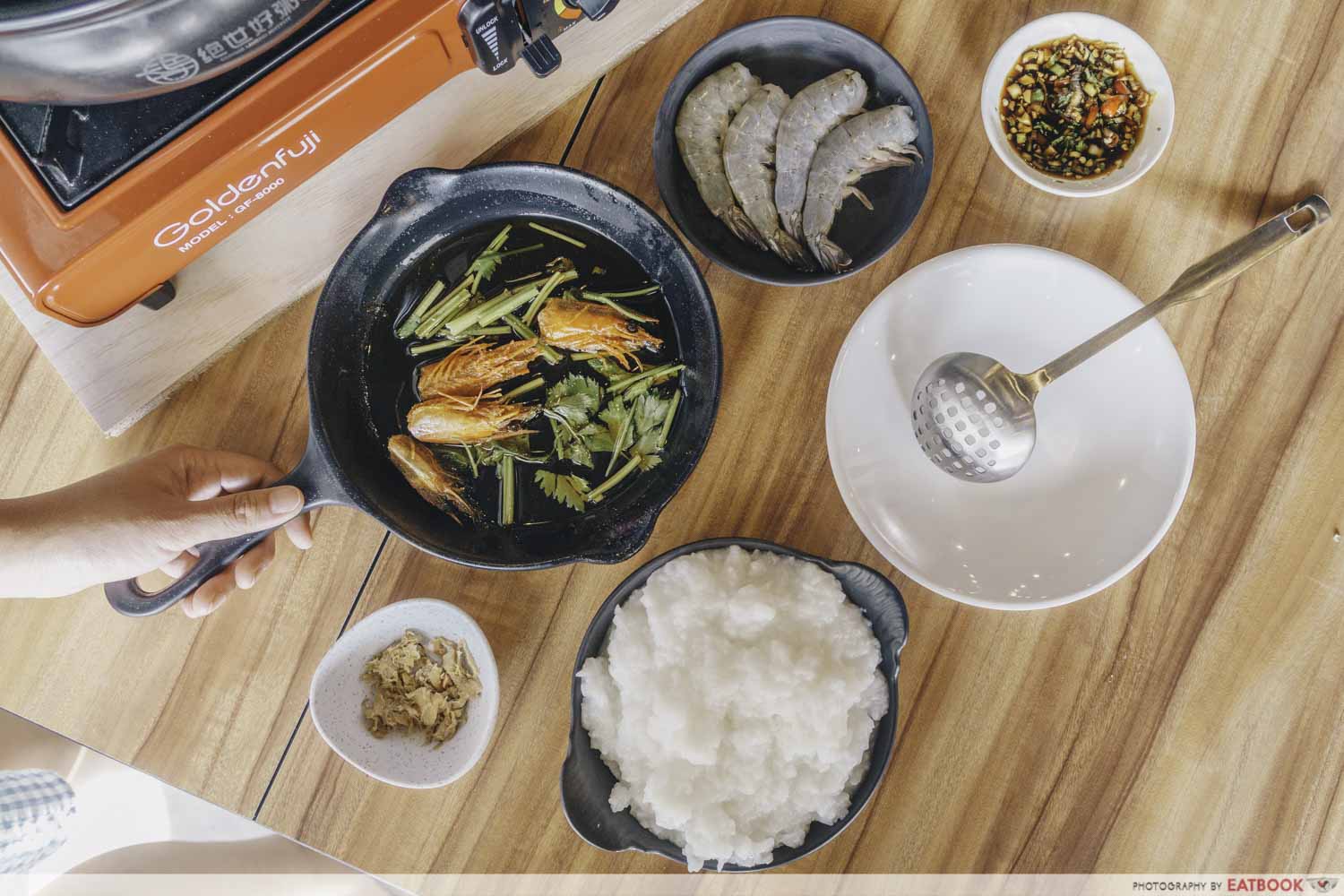 Last but definitely not least, order their Signature Prawn Porridge ($4++ per person) to end the meal with a bang. This set comes with a bowl of porridge, two large prawns per person, chye poh, and a pan of fragrant prawn oil.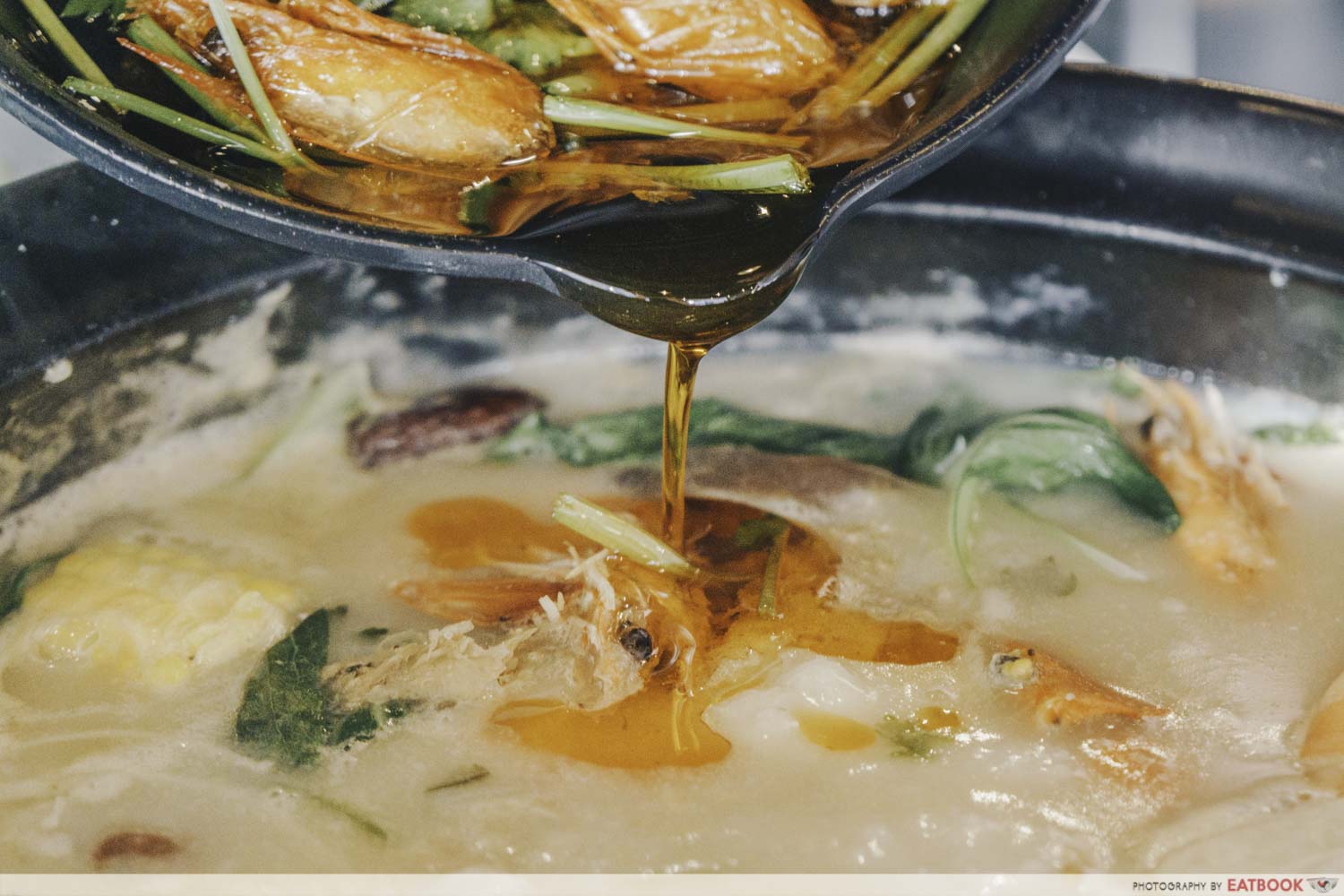 Ladle the porridge and prawns into your bubbling hotpot and drizzle the prawn oil before mixing them all up. 
Here's a tip: leave the chye poh as a topping for your personal bowl of prawn porridge instead of throwing them into the hotpot like we did. These crunchy and salty bits surprised us in flavour as we finished bowl after bowl of the aromatic and umami-filled prawn porridge. Sadly, I suspect most of the chye poh actually disappeared into the abyss of the huge pot.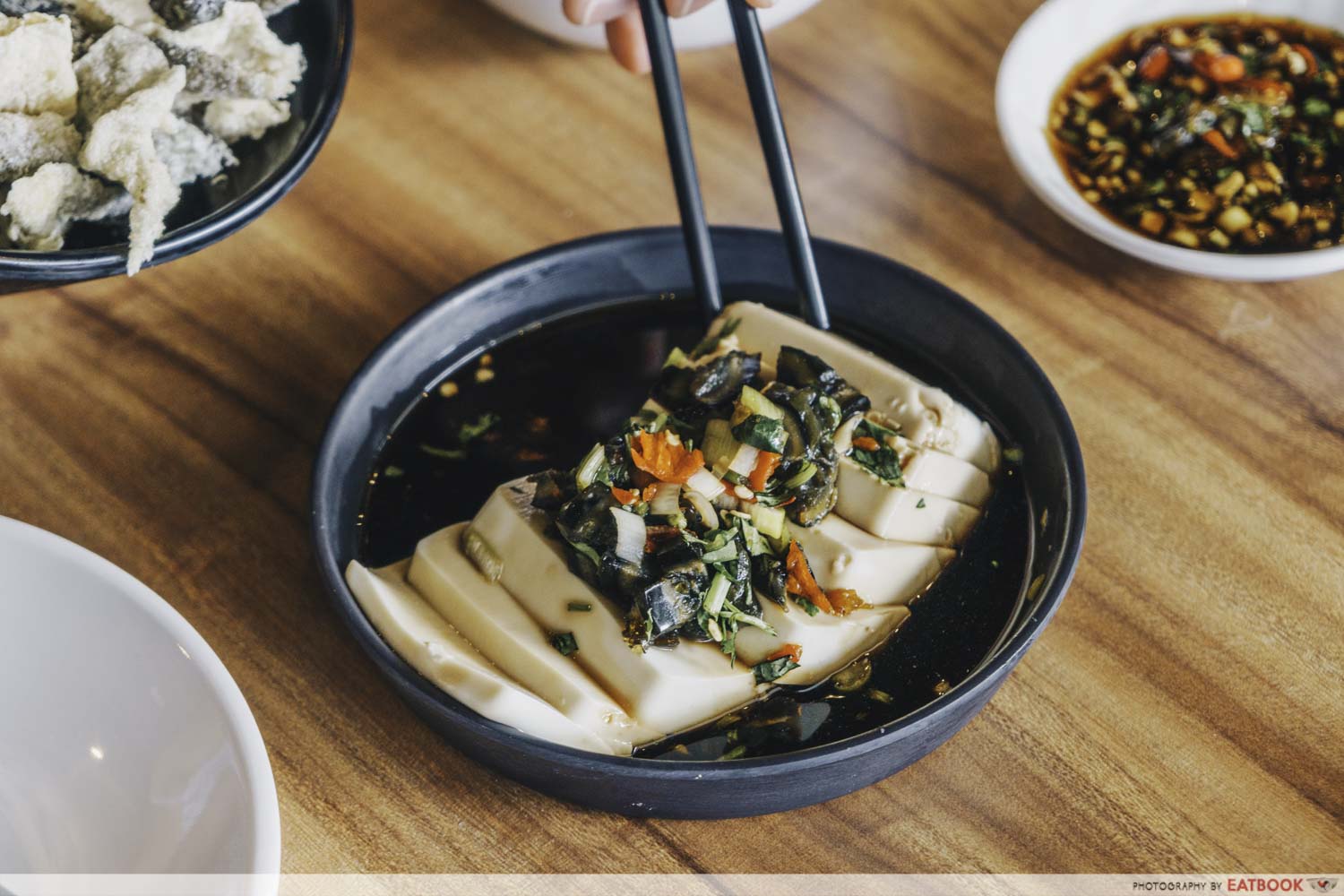 There are also two new cold dishes on the menu, namely the Century Egg Tofu ($4++) and Fried Fish Skin ($5++). These worked as great appetisers for me as we waited for all the seafood to simmer slowly in the porridge base at the start. Spiked with cut chilli and soya sauce, the tofu was also a piquant start to the warm meal. 
Ambience at Congee Legend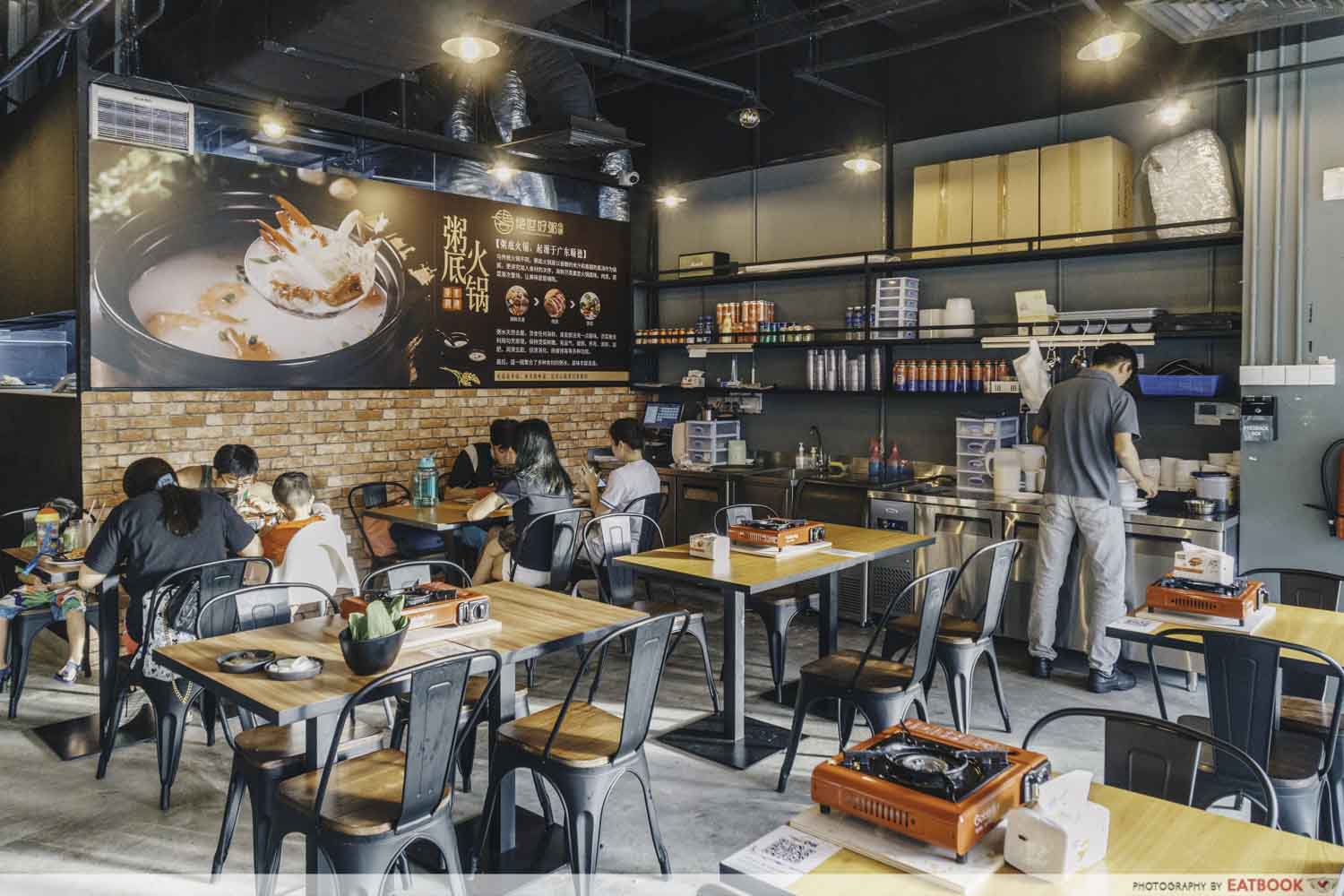 Unlike the hotpot eateries you find on the streets of Bugis or Chinatown, this place is more apt for a quiet and comfortable meal, suitable for pairs or even a big group. I suggest coming down early, or giving the restaurant a call as the tables were all filled by the time we were done with our dinner on a weekday.
The verdict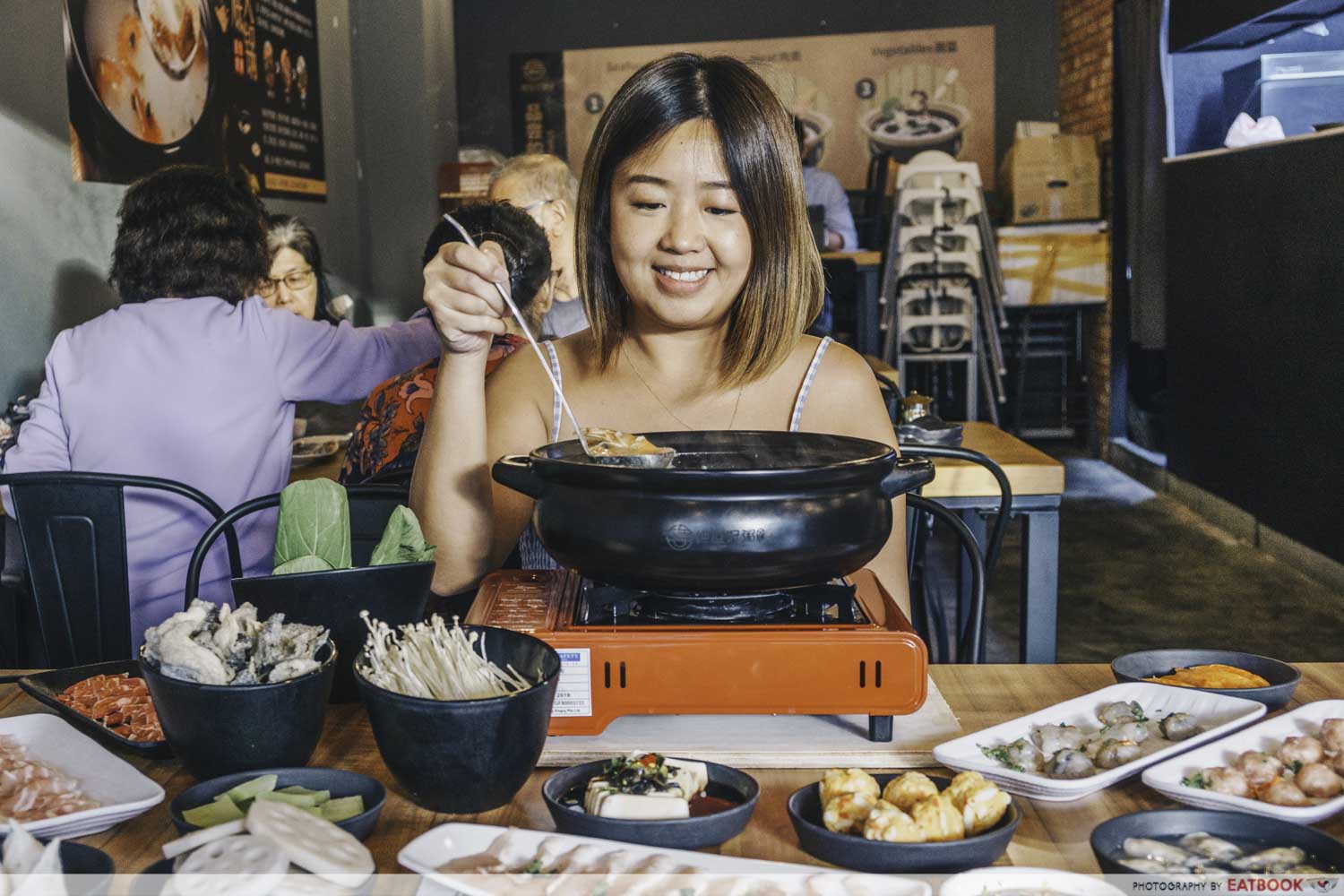 Congee Legend is the place to head to when you're not in the mood to cook, but are still looking for a wholesome and casual meal with the family. Similar to regular hotpot, the congee hotpot lets you enjoy the dishes your way, or the suggested way of dunking in seafood, meats, vegetables, and lastly the prawn porridge. This hotpot restaurant is surely a spot I would think of especially when it's sweater weather or when I'm craving something hearty to warm my stomach. 
Address: 737 Geylang Road, Singapore 389648
Opening hours: Daily 5pm to 5am
Tel: 9115 6524
Website
Congee Legend is not a halal-certified eatery.
Photos taken by Kerrianne Goh.
This post is brought to you by Congee Legend.
Congee Legend
Summary
Pros
– Wide variety of ingredients
– Prices are reasonable
– Good service
Cons
– Small portions for a few ingredients
Recommended dishes: Signature Prawn Porridge ($4++), Beef Karubi ($18++), Crab (seasonal price)
Opening hours: Daily 12pm to 10pm
Address: 737 Geylang Road, Singapore 389648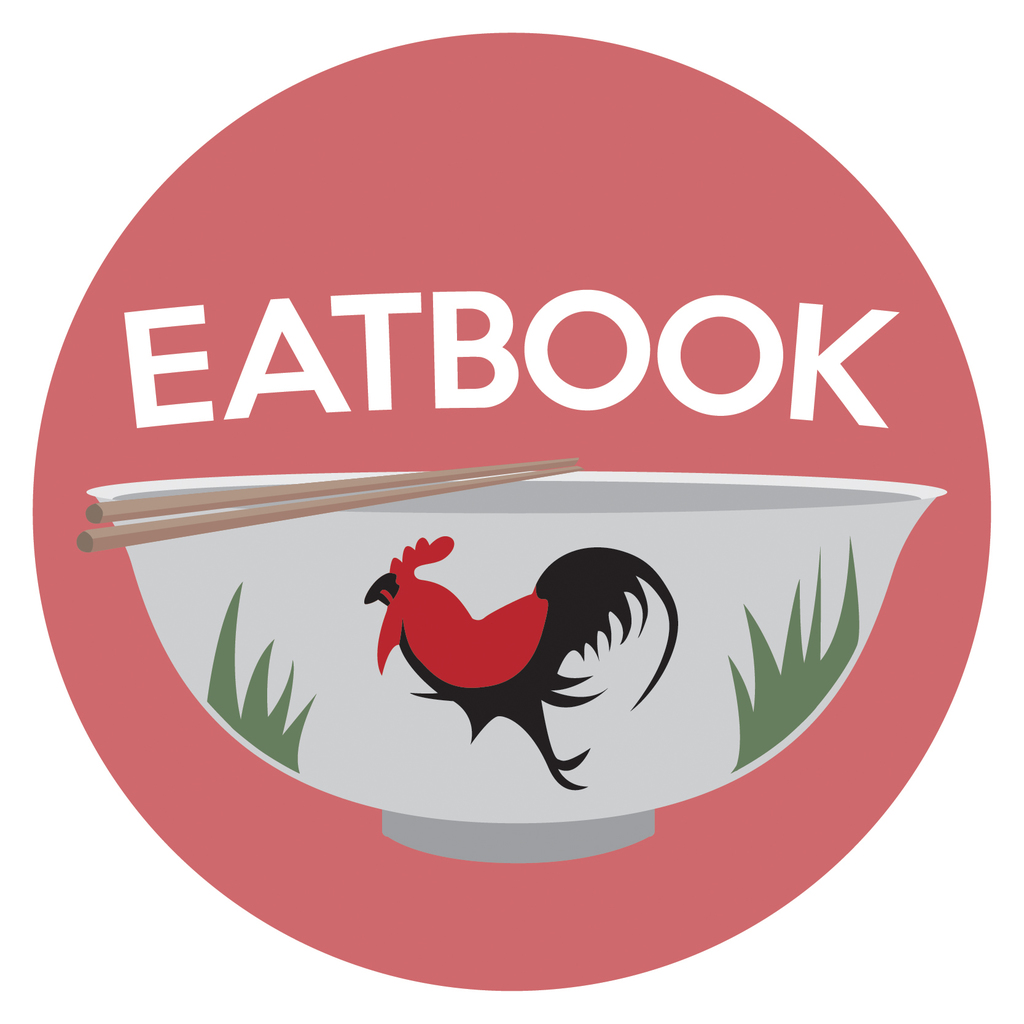 Drop us your email so you won't miss the latest news.