Crystal Jade has special Parents' Day set menus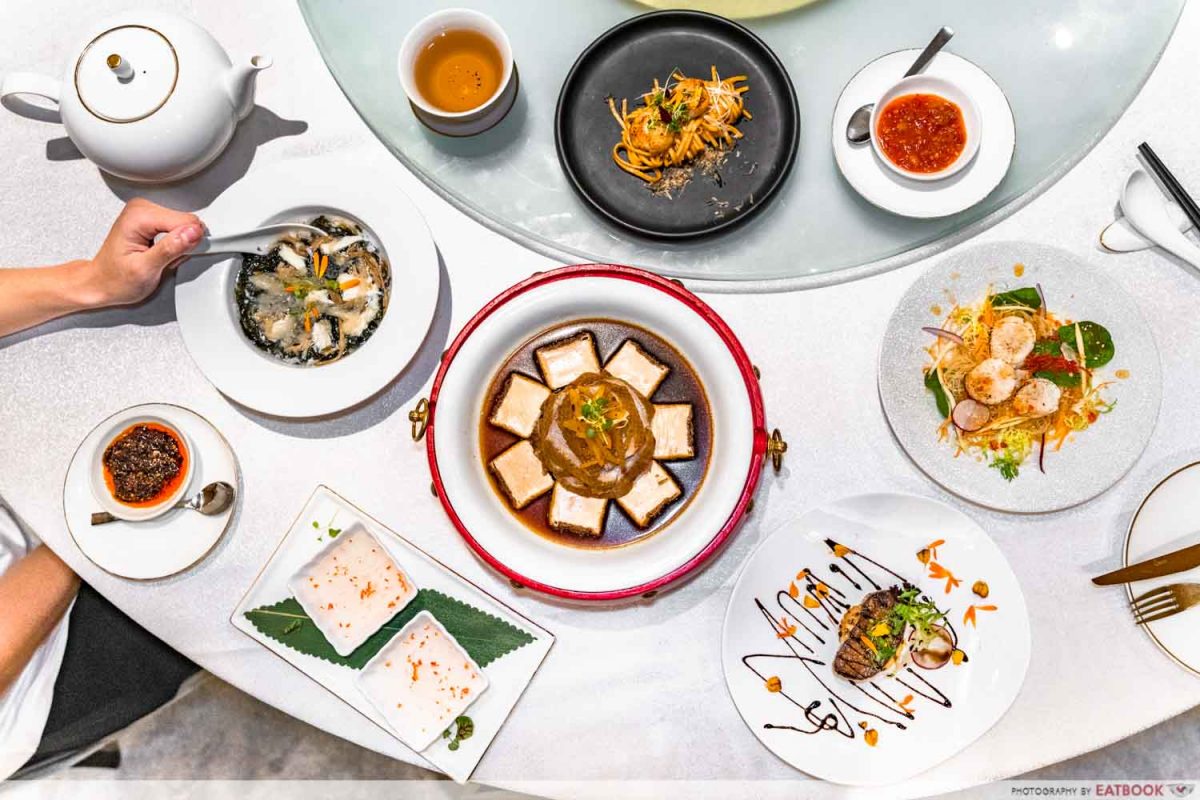 I know pretty much nothing in the world can ever be enough to repay what our parents have done for us, but treating them to a quality meal at a Crystal Jade Group establishment could go some way towards showing our gratitude for them. The restaurant group has curated a selection of dishes specially for Mother's Day and Father's Day this year, with each of their restaurants offering a unique menu of their own.
Available from 29 April to 30 June, these set menus are primed to let you and your parents savour a multitude of their delicacies. Don't worry, if you're looking to order individual dishes, they have a separate a la carte menu for Parents' Day too. 
For that exclusive fine-dining experience, we'd recommend Crystal Jade Golden Palace in particular for their classy menu options and atmosphere as well.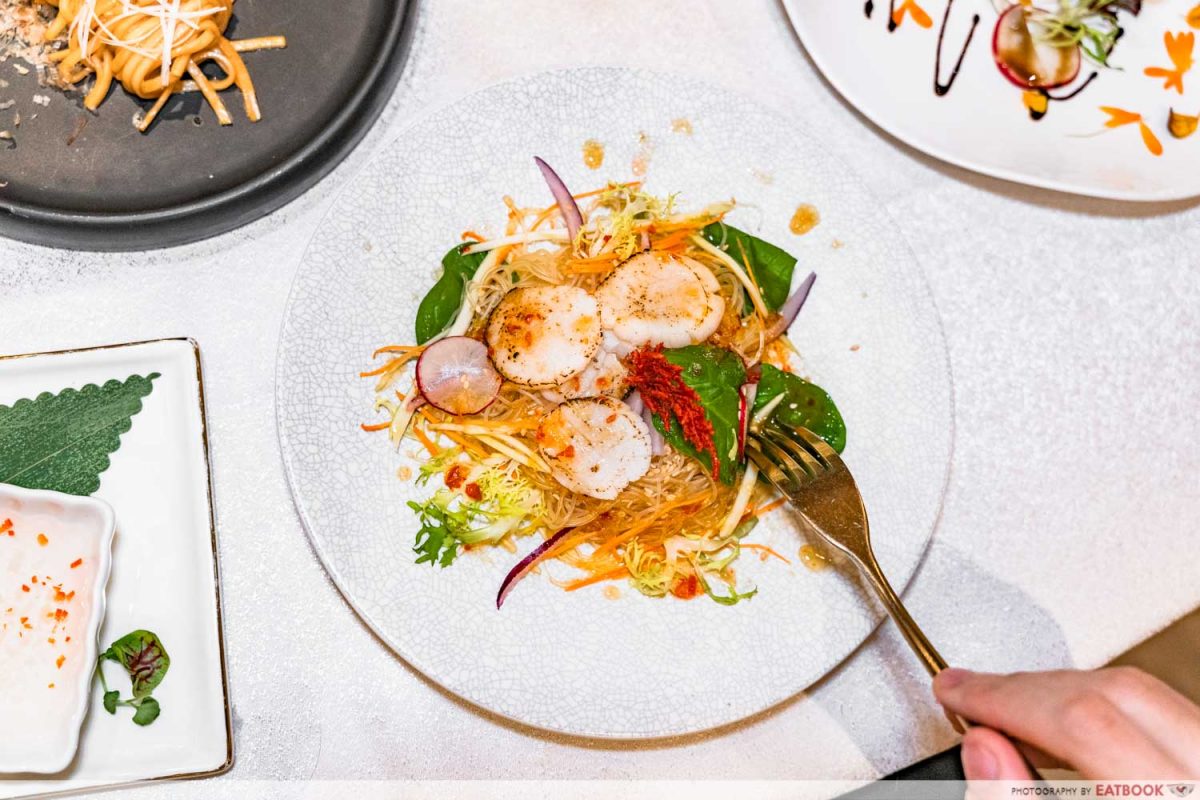 Exclusively available at the Golden Palace outlet in Paragon mall, their sets start from $388++, a six-course meal feeding four people. For starters, this particular set starts off with the Flame-Seared Australian Scallop With Thin Vermicelli Salad In Thai Chilli Sauce, cleansing your palate with a refreshing sweet-sour combination.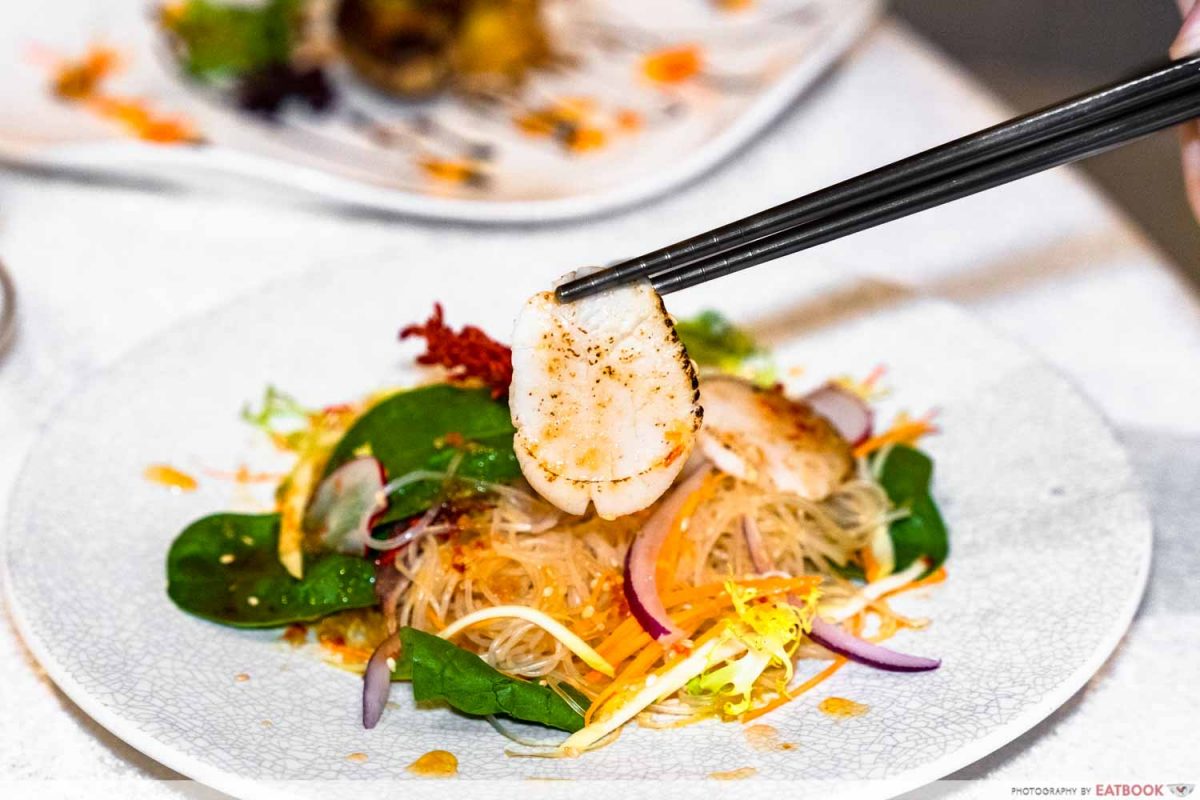 Fresh, juicy scallops sit atop a bed of light vermicelli noodles, doused in a tangy Thai chilli sauce that complements the dish well. 
Other than that, look forward to highlights like Steamed Sea Perch With Aged "Cai Bo" In Supreme Soya Sauce among others.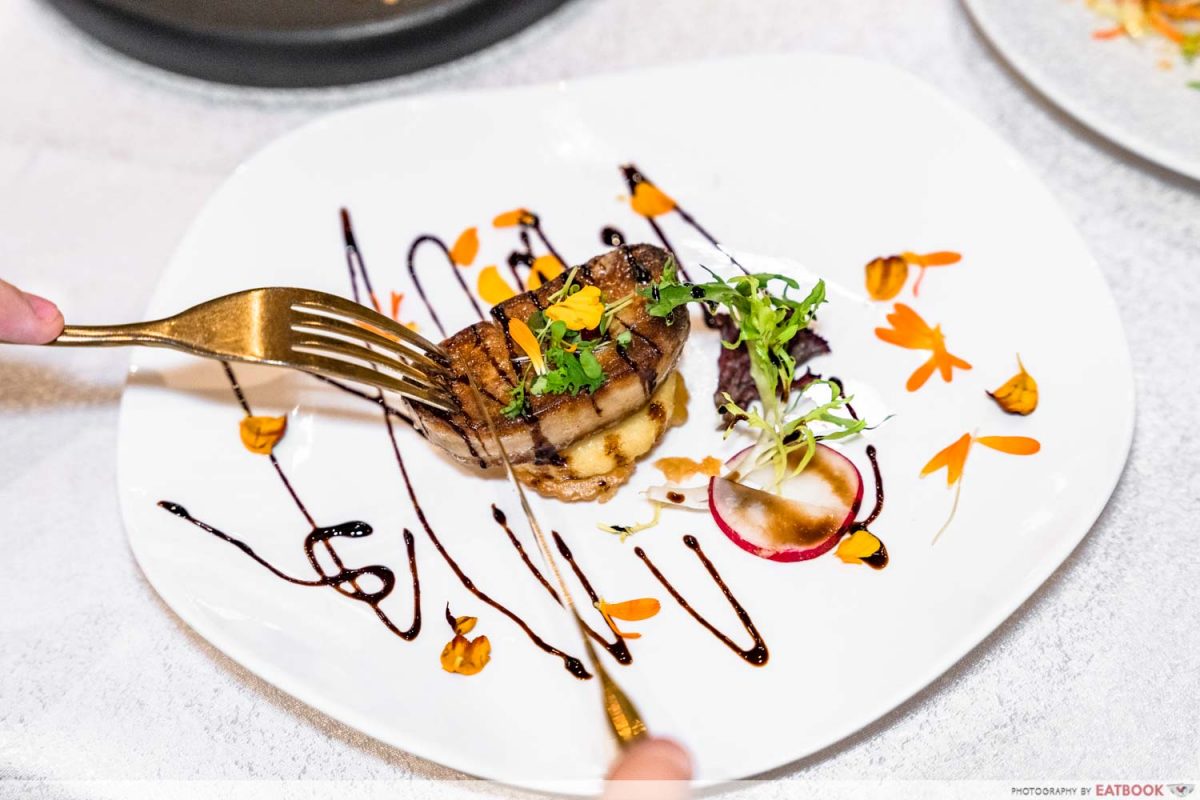 If you're looking for a little more of a splurge, check out their $508++ set, also a six-course menu for four people. A standout dish would be the Pan-Fried Foie Gras With Caramelised Apple.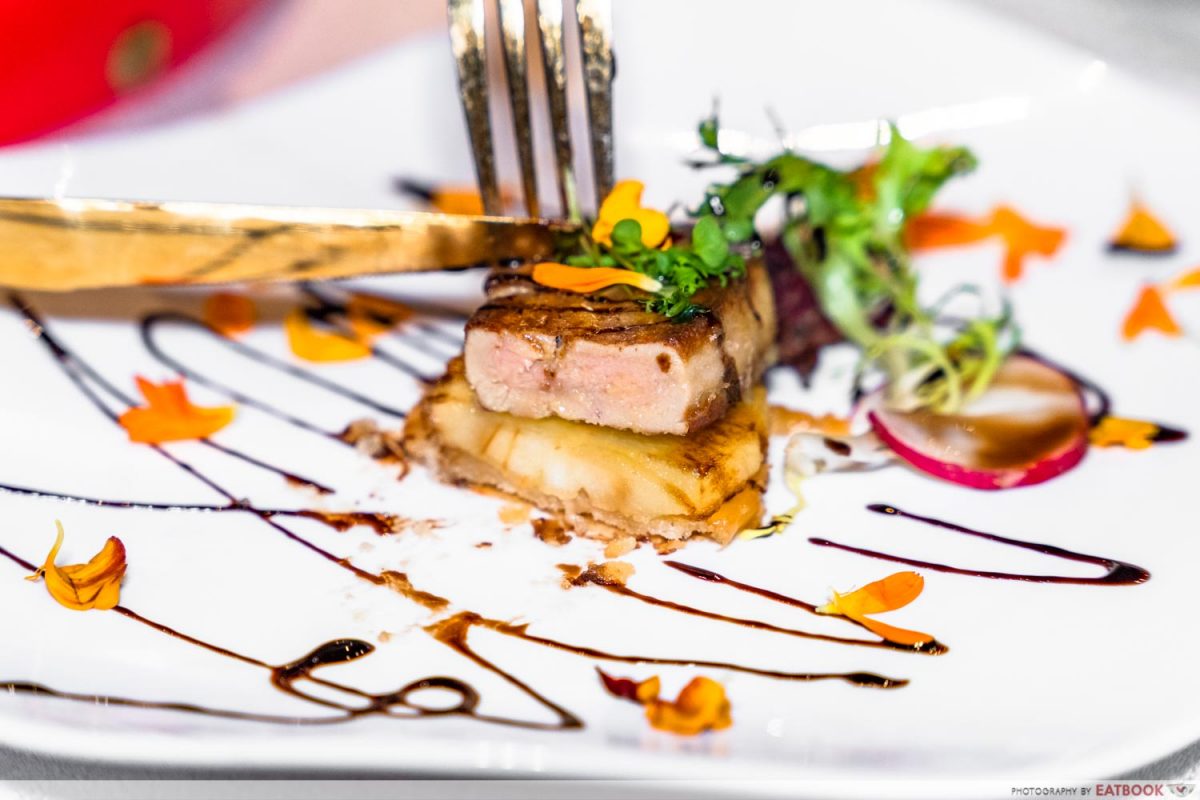 Creamy and decadent, the foie gras is almost melt-in-your-mouth smooth, complementing the sweet dark sauce well. The caramelised apple adds a nice crunch and tinge of sourness to balance out the other savoury flavours in the dish.
Also, you'll get the chance to savour the Braised Irish Duck In Teochew Style, their version of our well-loved lor ark. The pieces of duck were boneless and really succulent. The salted vegetables and tau kwa added more depth of flavour, complementing the mildly fatty duck and light sauce to go along with it.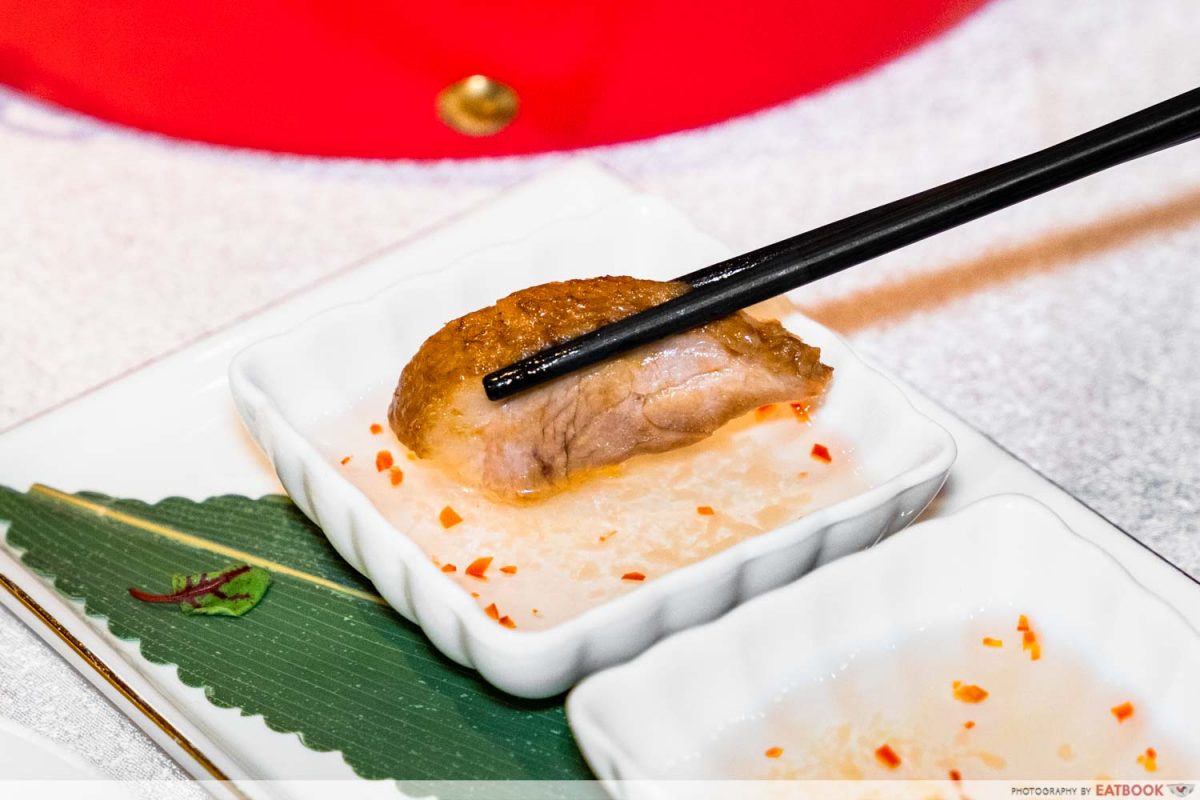 The dish is served with their house-made vinegar chilli dipping sauce, introducing a slight acidity  that pairs well particularly with the duck.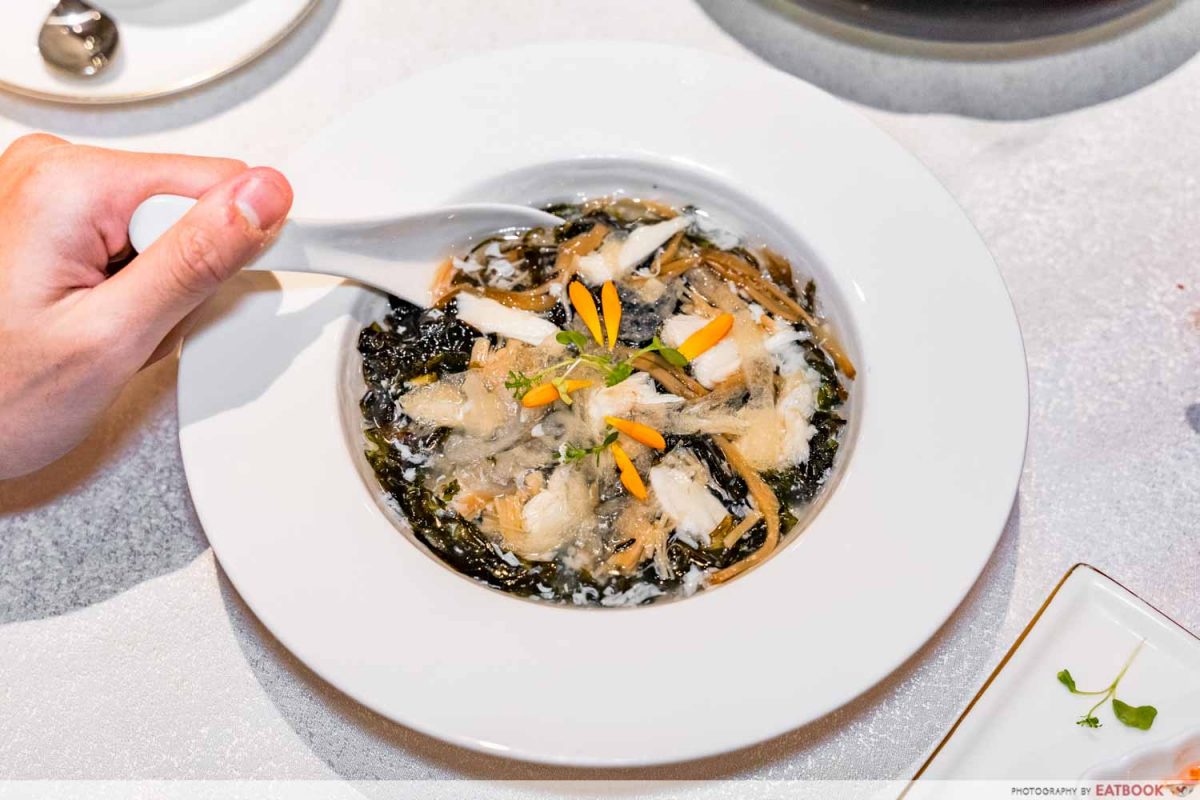 For those with slightly larger families, consider going for the $908++ set menu, with an eight-course selection for eight people. A crowd favourite in this set will be the Fish Maw And Fresh Crab Meat With Seaweed In Thick Soup. 
That being said, with the new government measures in place, all of their set menus feeding six people and above will be available for takeaway instead.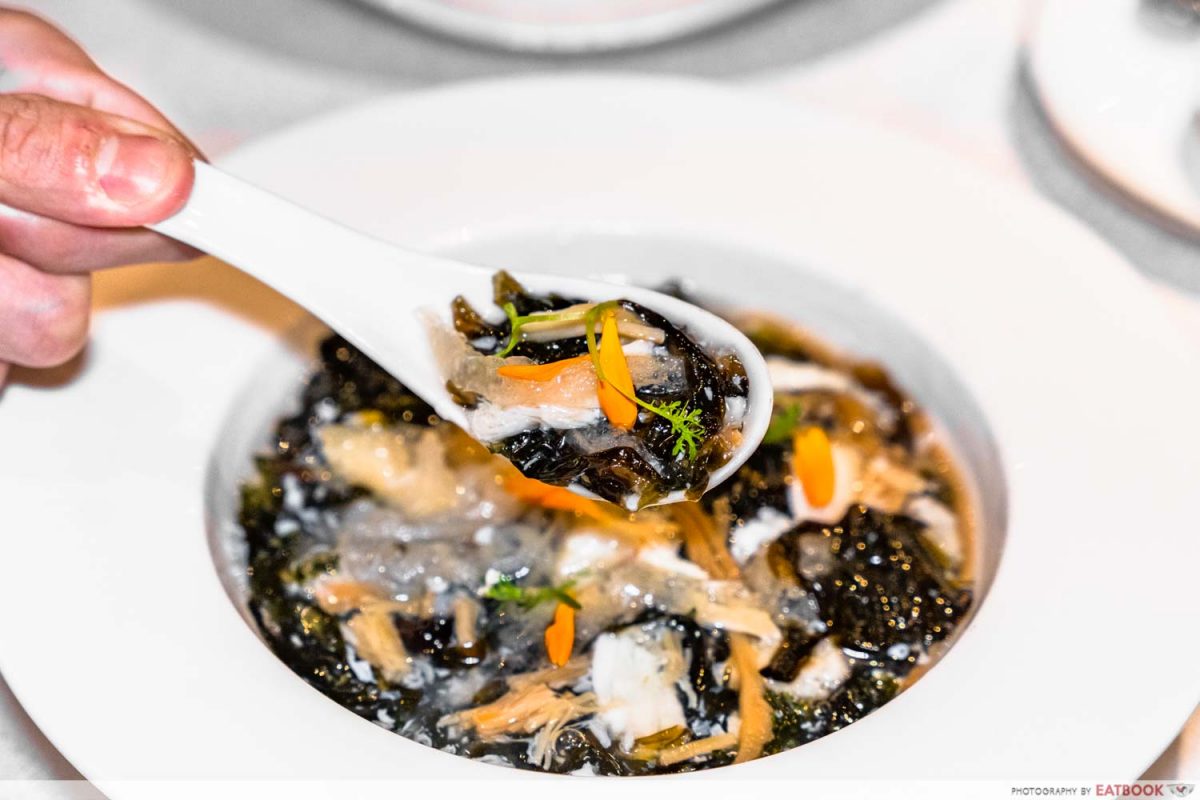 The soup is gao and gooey, chock full of ingredients that make it flavourful. The fish maw adds a spongy texture, absorbing the soup well. Other interesting accompaniments in the set itself would include Sautéed Scallops With Fresh Asparagus And Lily Bulbs, and Sautéed Sea Prawns In Creamy Butter Sauce, ideal for seafood lovers.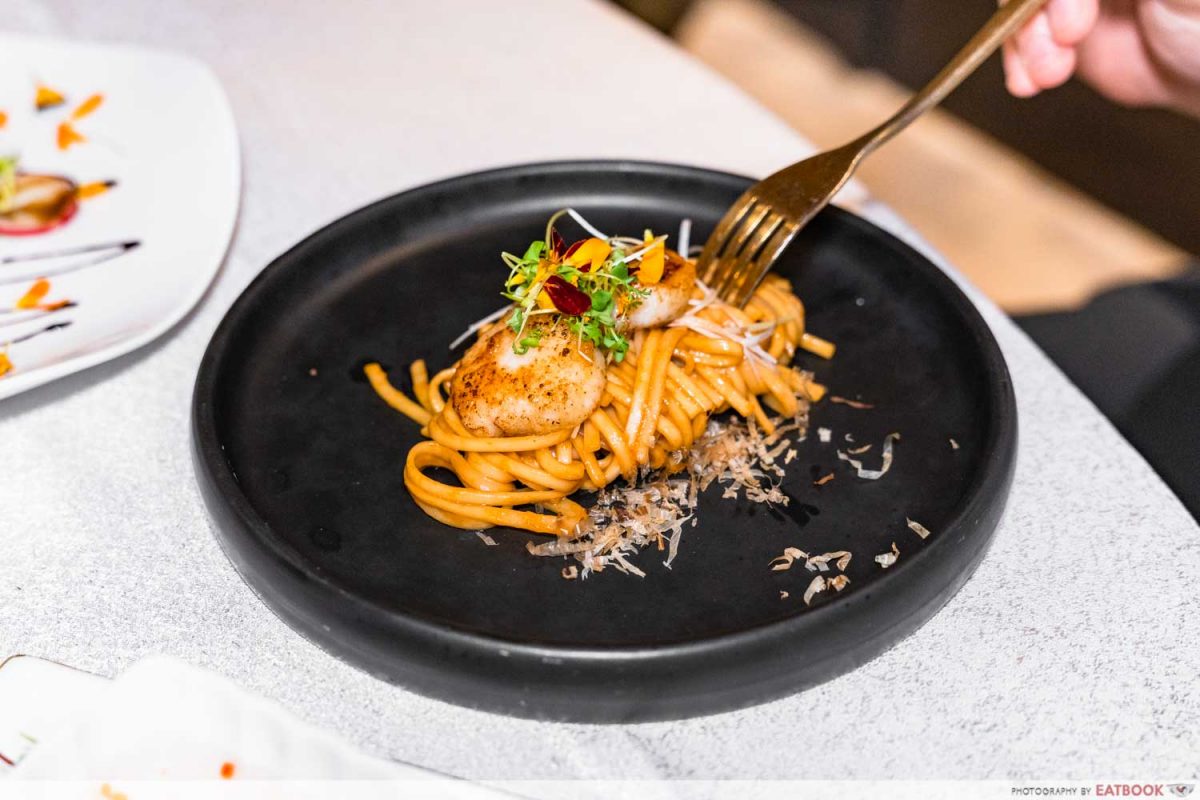 If you feel like showing your appreciation by going all out for your parents, why not opt for their $1608++ set for even more huat-ness, with an eight-course assortment catering to eight people. With that, you can look forward to premium delights such as the Stir-Fried Ramen With Scallop, that very much has Italian influences with its pasta-like presentation.
Their dry ramen noodles were chewy and springy the way I liked them, well-coated with a rich, slightly salty sauce, reminding me a lot of Japanese yakisoba. Seared scallops added butteriness and a delicate sweetness to the noodle dish. 
Also, expect dishes like Chilled Yellow Cream Crab In Teochew Style and Braised Australian Sea Cucumber With Scallions to further complete your meal in the set.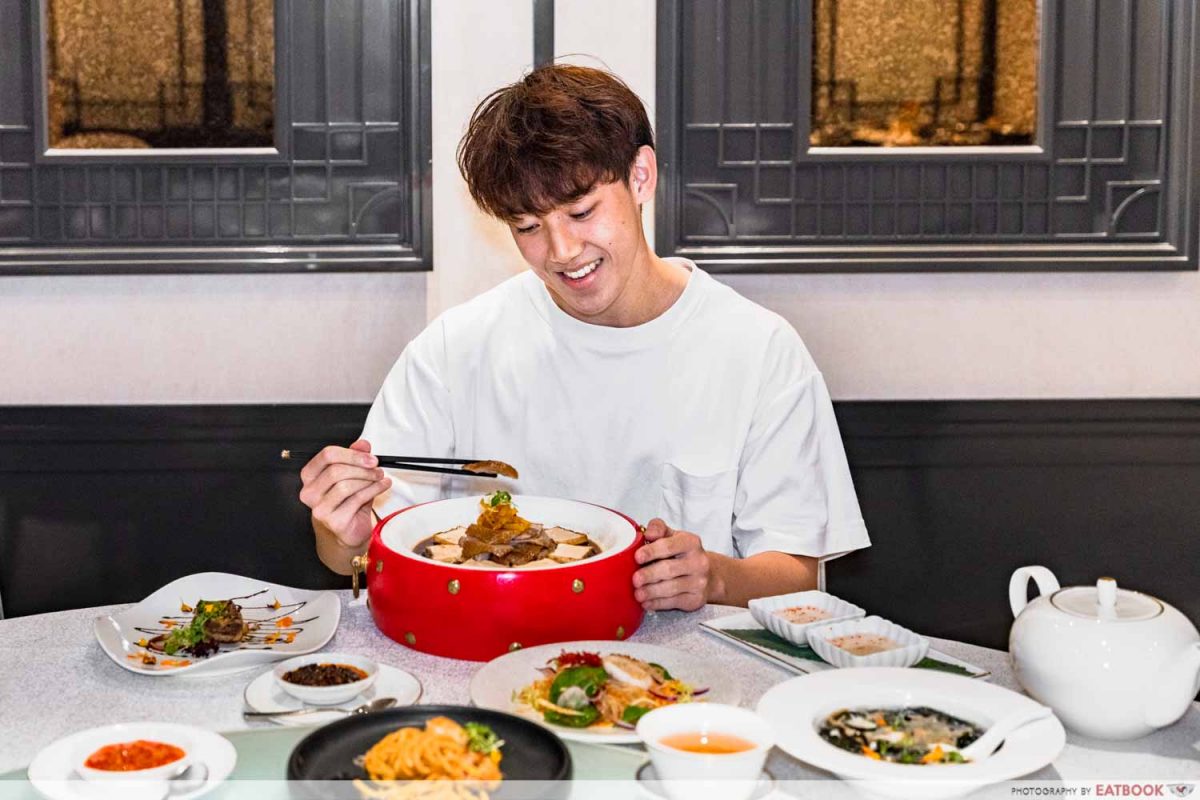 For every order of a Parent's Day set menu, you'll get a complimentary can of premium Bi Luo Chan, Eastern Beauty, or Dragon Well tea, that's usually priced at $38.80, only at the Crystal Jade Palace, Golden Palace, and Dining IN outlets.
Even if you've missed out on the Mother's Day promotions, their Father's Day promotions still stand. Make an early-bird reservation from 24 May to 4 June, to dine-in at the aforementioned outlets on either 19 or 20 June, and get 15% off the set menus if you're a Jadeite, Citi, or UOB Cardmember.
Also, for those who rather dabao and eat at home, they're running a 20% off their Parents' Day Celebration Special Take-Home Set, a five-course meal feeding five people, priced at $218. This promotion only applies to Jadeite, Citi, and UOB Cardmembers too, as long as you order from 24 May to 4 June. This offer is redeemable on both their e-store and physical stores, only at Crystal Jade Hong Kong Kitchen, La Mian Xiao Long Bao, and Jiang Nan outlets.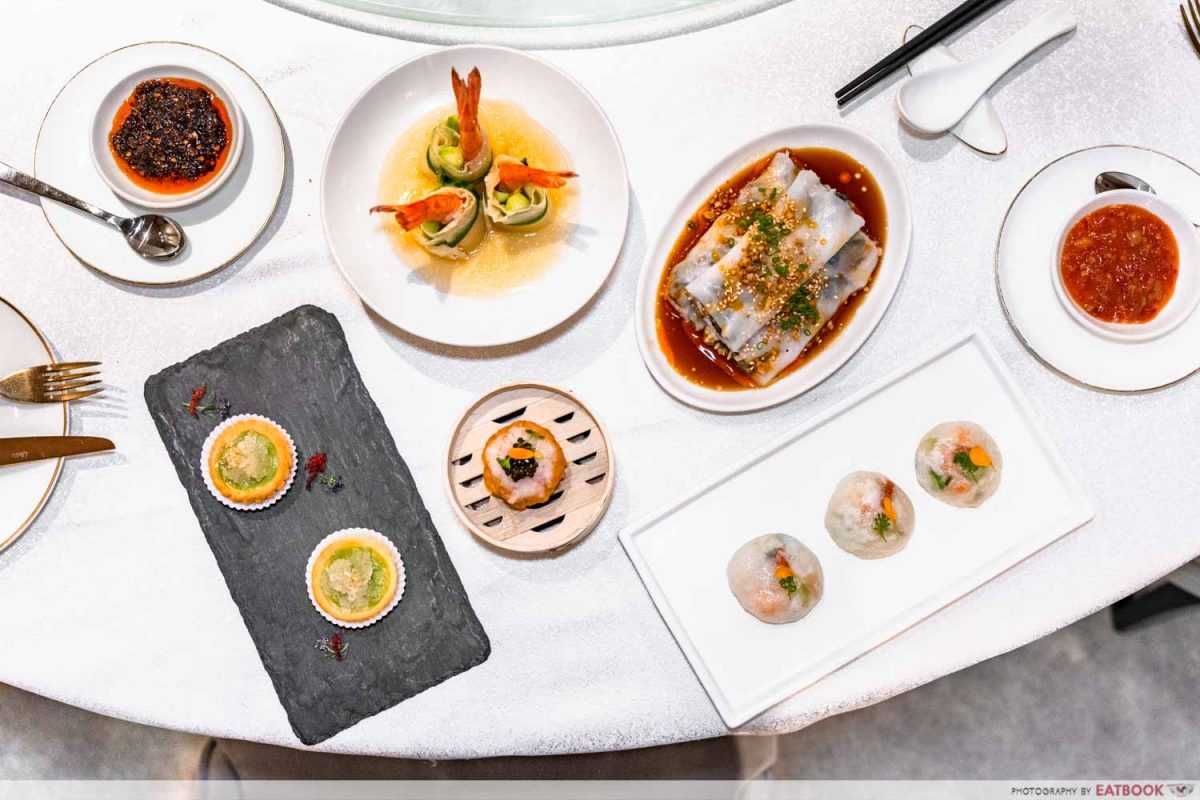 Aside from their set menus, Crystal Jade also has an assortment of new a la carte dim sum dishes to whet your appetite. If you're feeling fancy, go for their Steamed Soft Quail Egg Siew Mai Topped With Caviar ($9.80++ per piece) or Baked Mini Egg White Tart With Kaya Topped With Bird's Nest ($9.80++ per piece), with a minimum order of two tarts.
Those who adore the fresh taste of the sea can opt for the Steamed Cocktail Prawn And Winter Melon Wrapped In Beancurd Skin ($10.80++ for three pieces) or the Steamed Crystal Dumpling With Assorted Seafood And Conpoy ($8.80++ for three pieces). If not, the Steamed Rice Roll With Poached Chicken And Century Egg In Szechuan Style ($10.80++) is one for fans of spice.
Available from 10 May to 30 June, Jadeite, Citi, and UOB Cardmembers also get to enjoy this assortment of dim sum at discounted prices, up to 35% off.
Photos taken by Chew Yi En
This post was brought to you by Crystal Jade Singapore.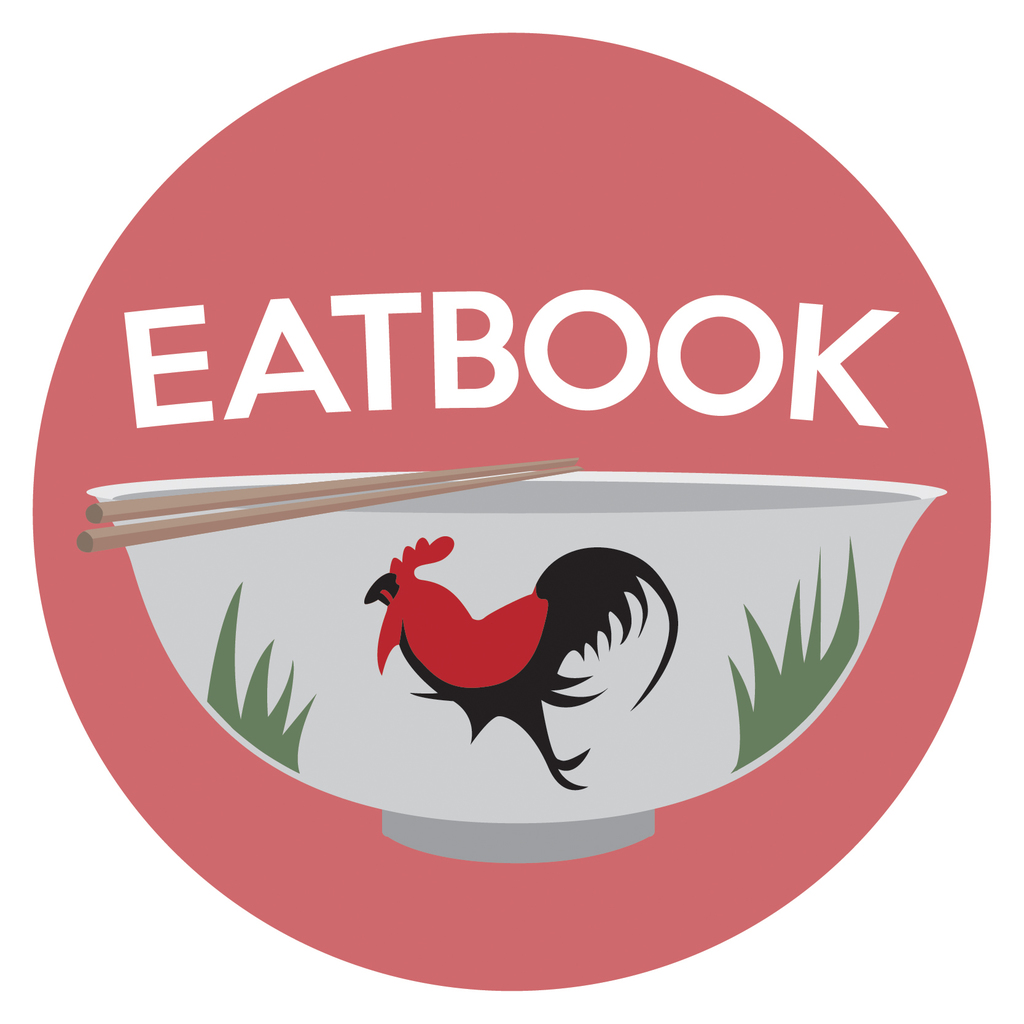 Drop us your email so you won't miss the latest news.