Sip on coffee at dal.komm while waiting for your Song Joong Ki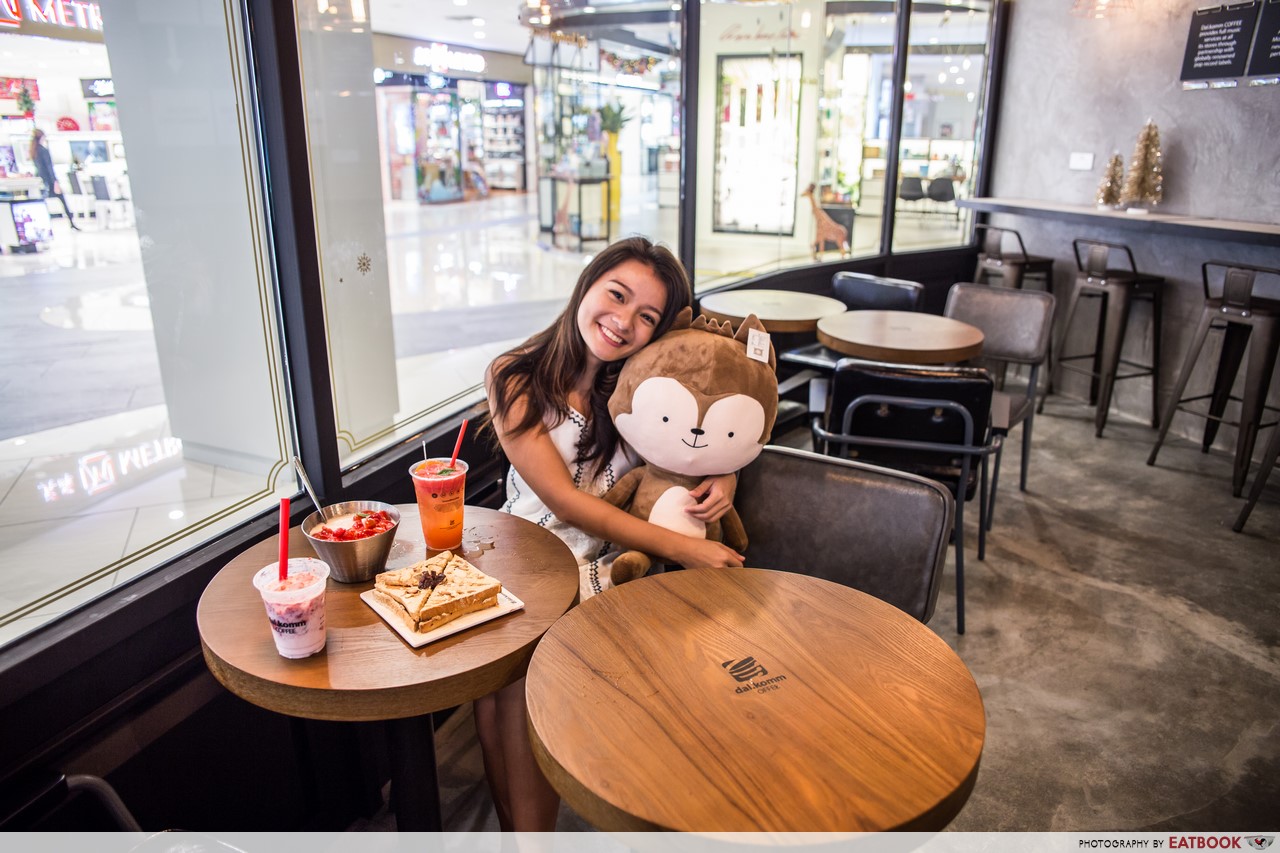 While I wouldn't say I'm a crazy K-drama fan, I do enjoy occasional bingeing sessions on dramas all my friends are talking about. Needless to say, Descendents of the Sun (DOTS) is one of those shows I was stuck in a marathon with.
So when I heard dal.komm COFFEE, a Korean cafe that hosted one of the scenes in DOTS, launched its first outlet in Singapore, I got my shoes on immediately without my shoelaces tied (of course) to relive some of my favourite Joong-ki oppa scenes.
Drinks at dal.komm COFFEE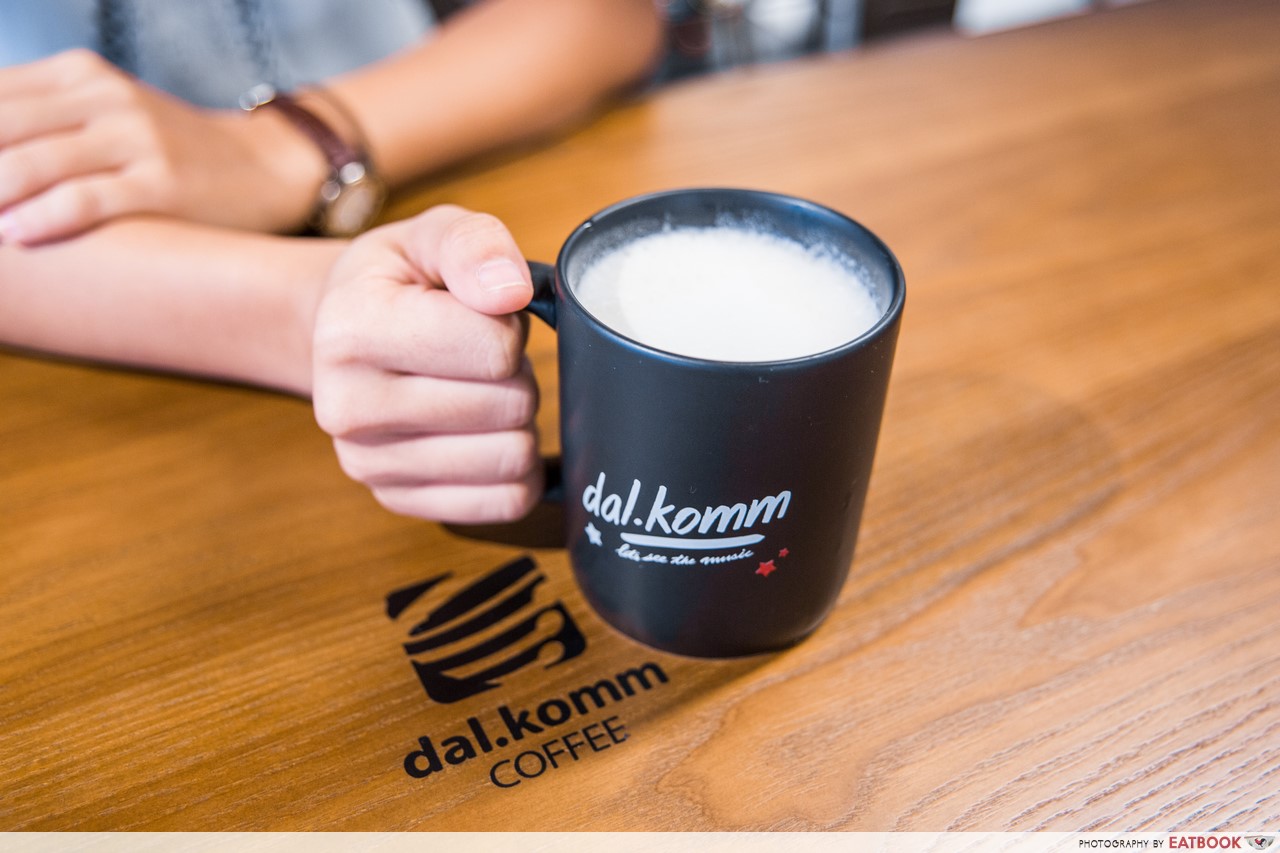 Starting with something more uncommon is Hot Sweet Potato Latte ($7, $7.50 for iced). I was expecting a cup of bright orange latte, but it came to us all white and foamy like a cup of warm milk.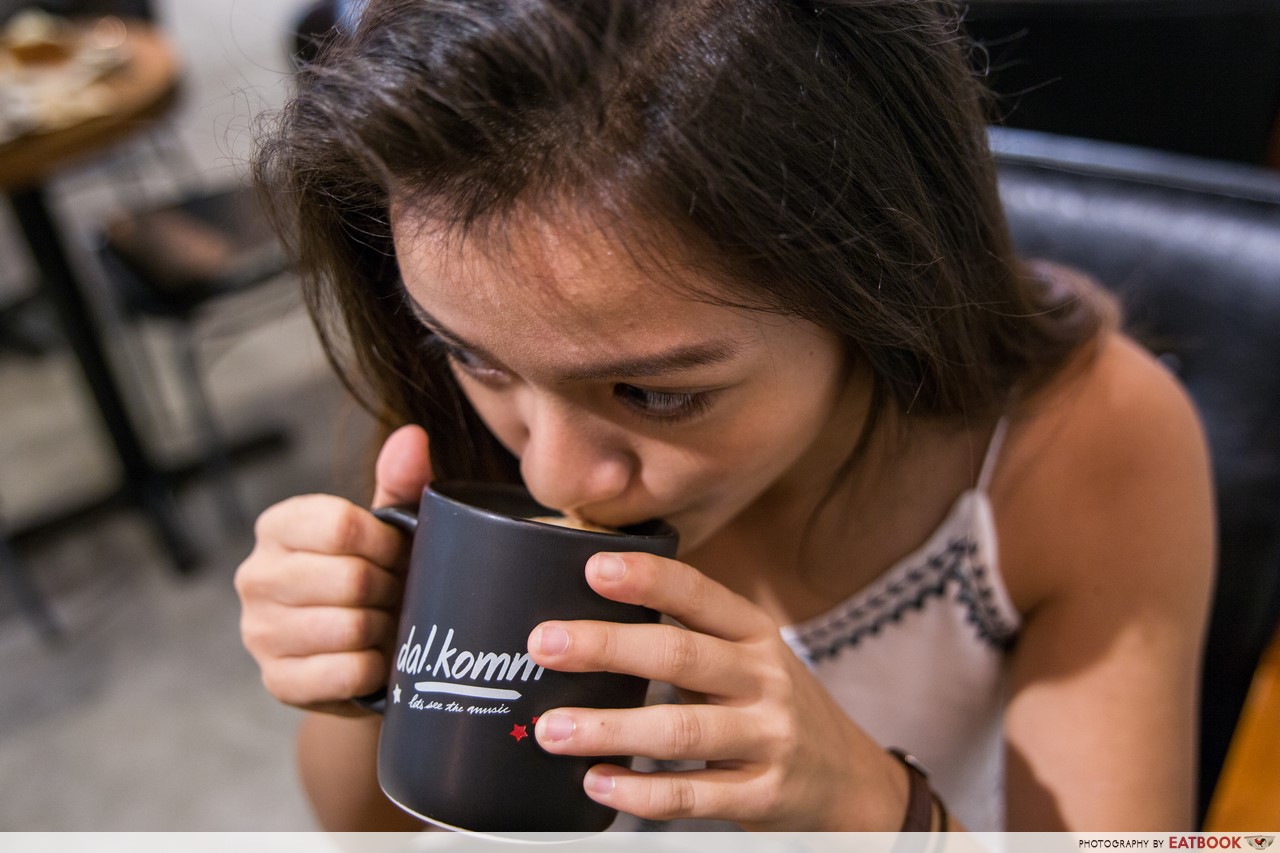 Made with milk infused with sweet potato powder, I was impressed by how the sweet potato flavour stood out so strongly while the milk was light and smooth in consistency. Though it was a little too sweet for my liking, this was the drink that lingered on my palate.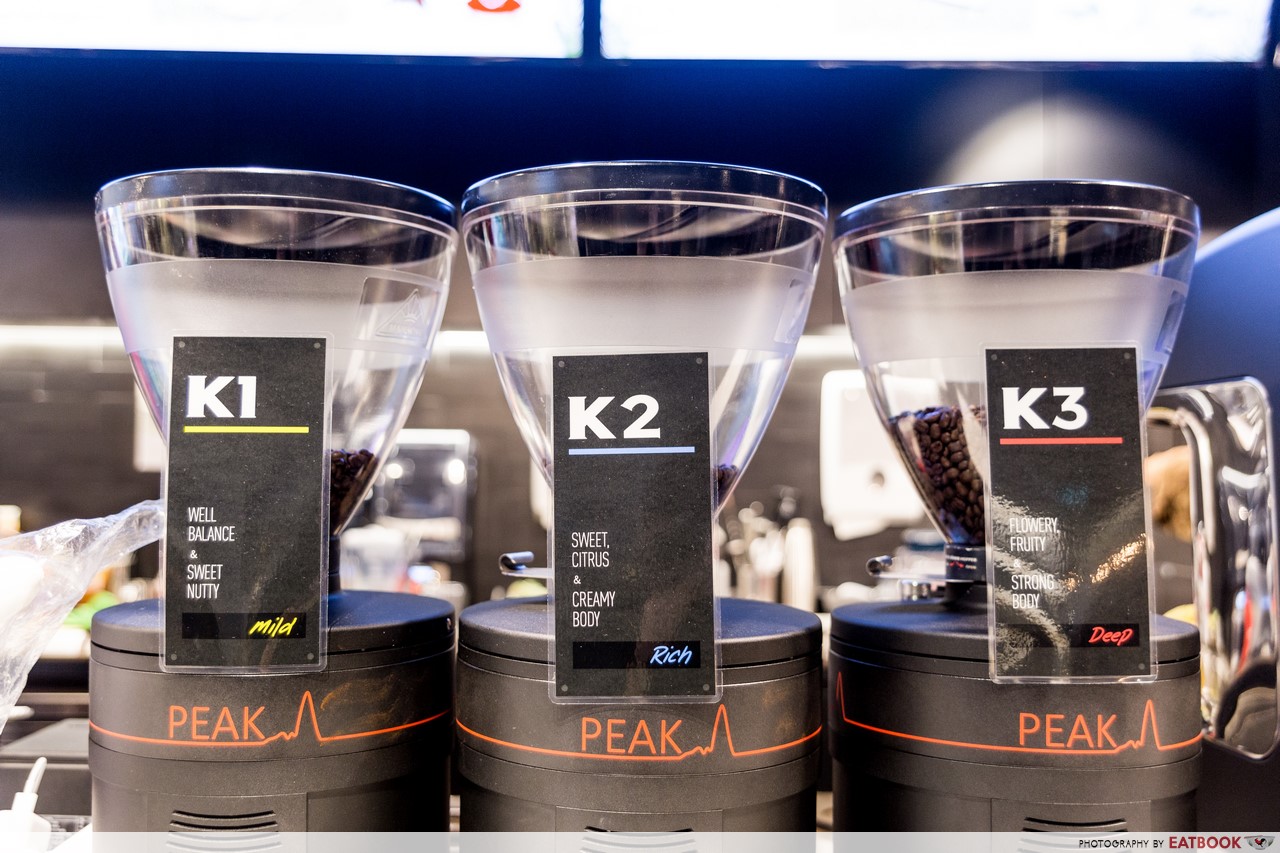 Being the coffee lover or, to be accurate, coffee addict that I am, I was all ready to get my daily dose of caffeine. What's special about dal.komm is you can customise your cuppa with a choice of three blends, namely K1, K2 and K3, and have them in an Espresso ($4.50), Cappuccino ($6) or Caffe Latte ($6).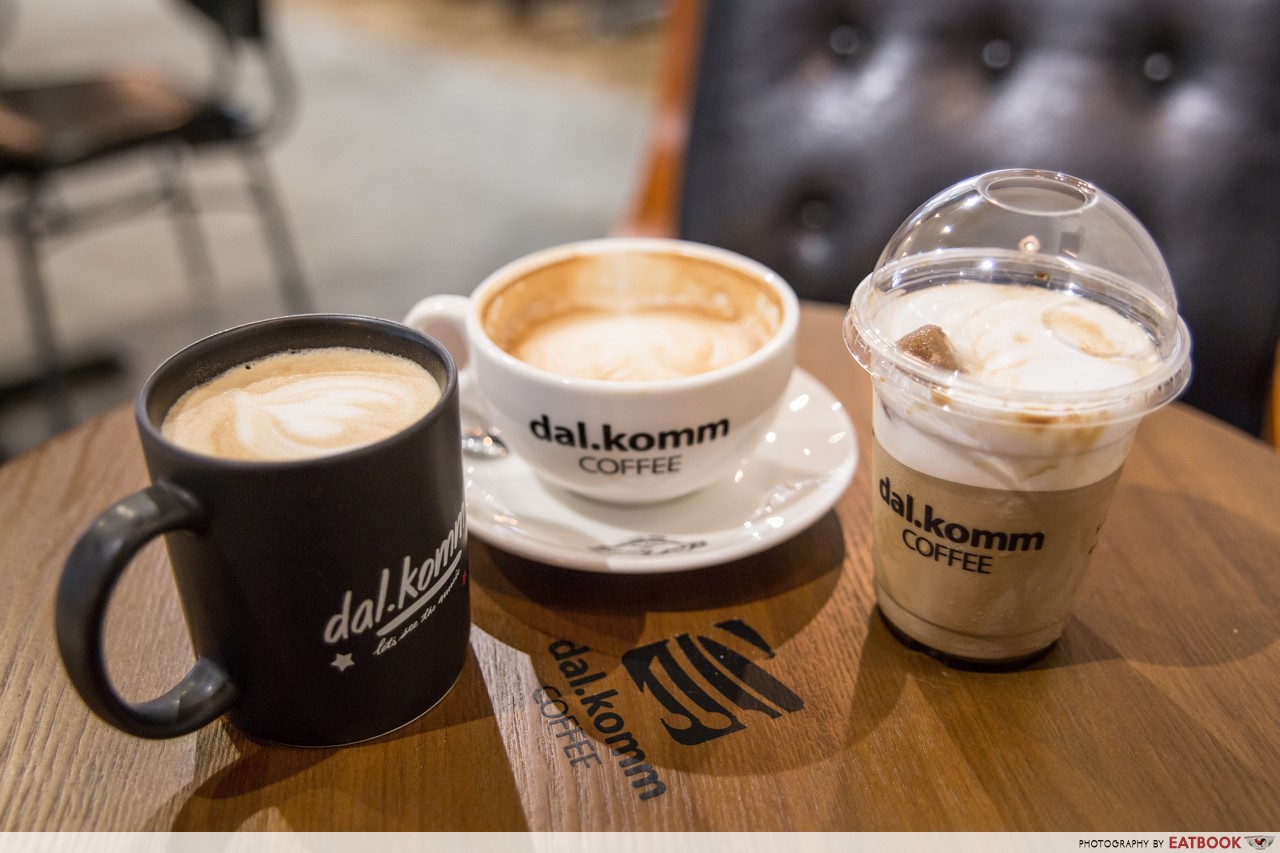 We got ourselves K3 Caffe Latte ($6), K2 Cappuccino ($6) and Coffee Cube ($8.50).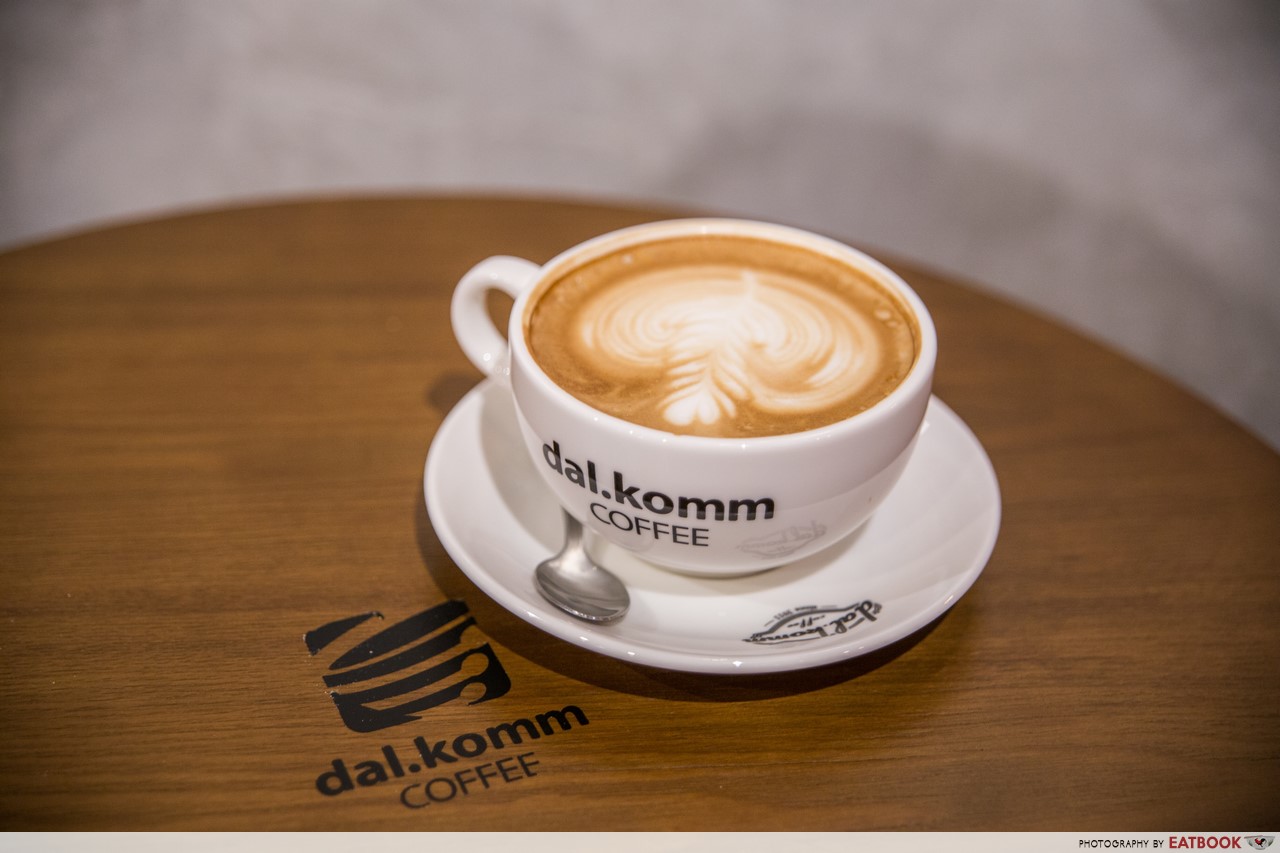 K2 Cappuccino ($6) is one worth mentioning. As K2 is the lightest roast of the three with a sweet and citrusy flavour, I was surprised to find this a better fit for my taste buds than the K3 latte. K3, the most full-bodied blend, turned out to be pretty tame in the latte.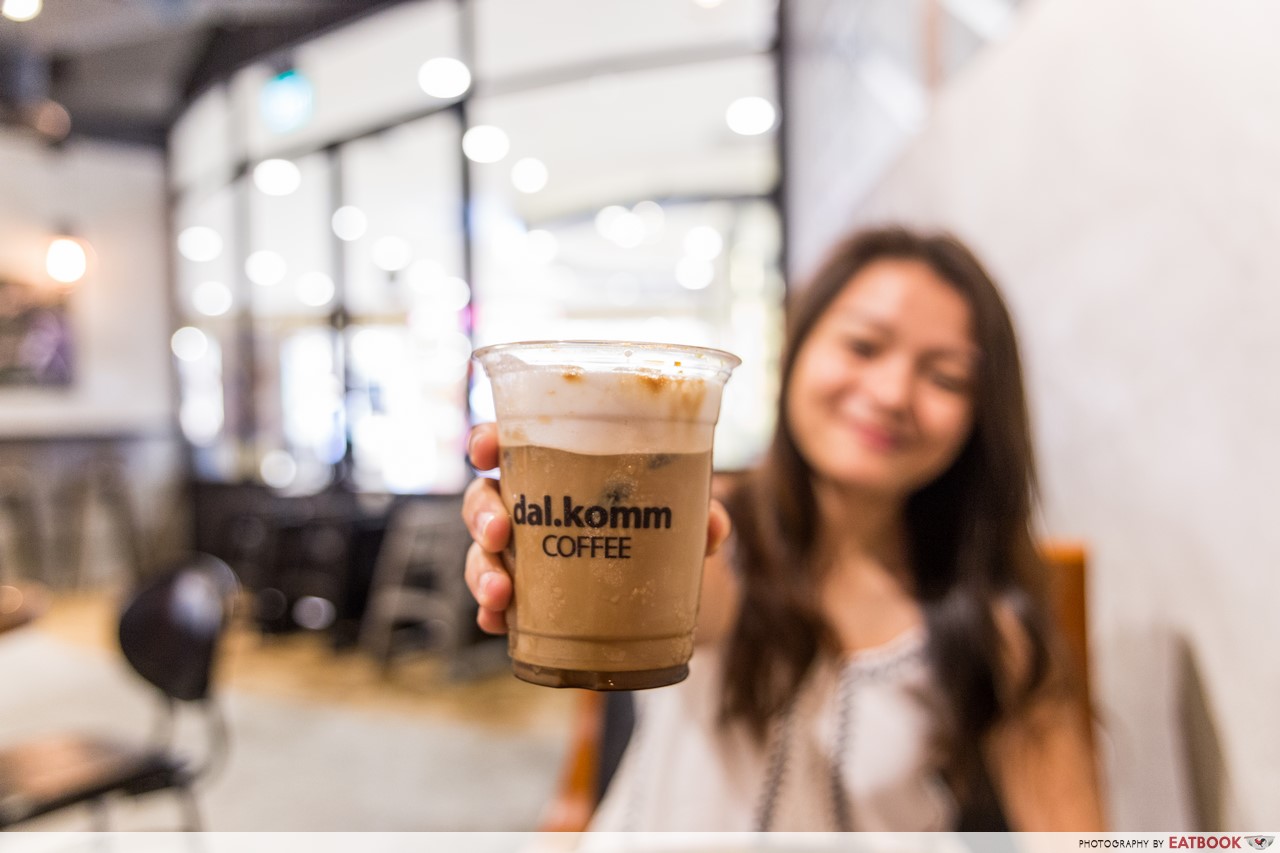 For those who prefer their coffee cold, try Coffee Cube ($8.50). With blocks of frozen K1 espresso in cold milk, you can enjoy the coffee at your own pace without worrying about how diluted it would get.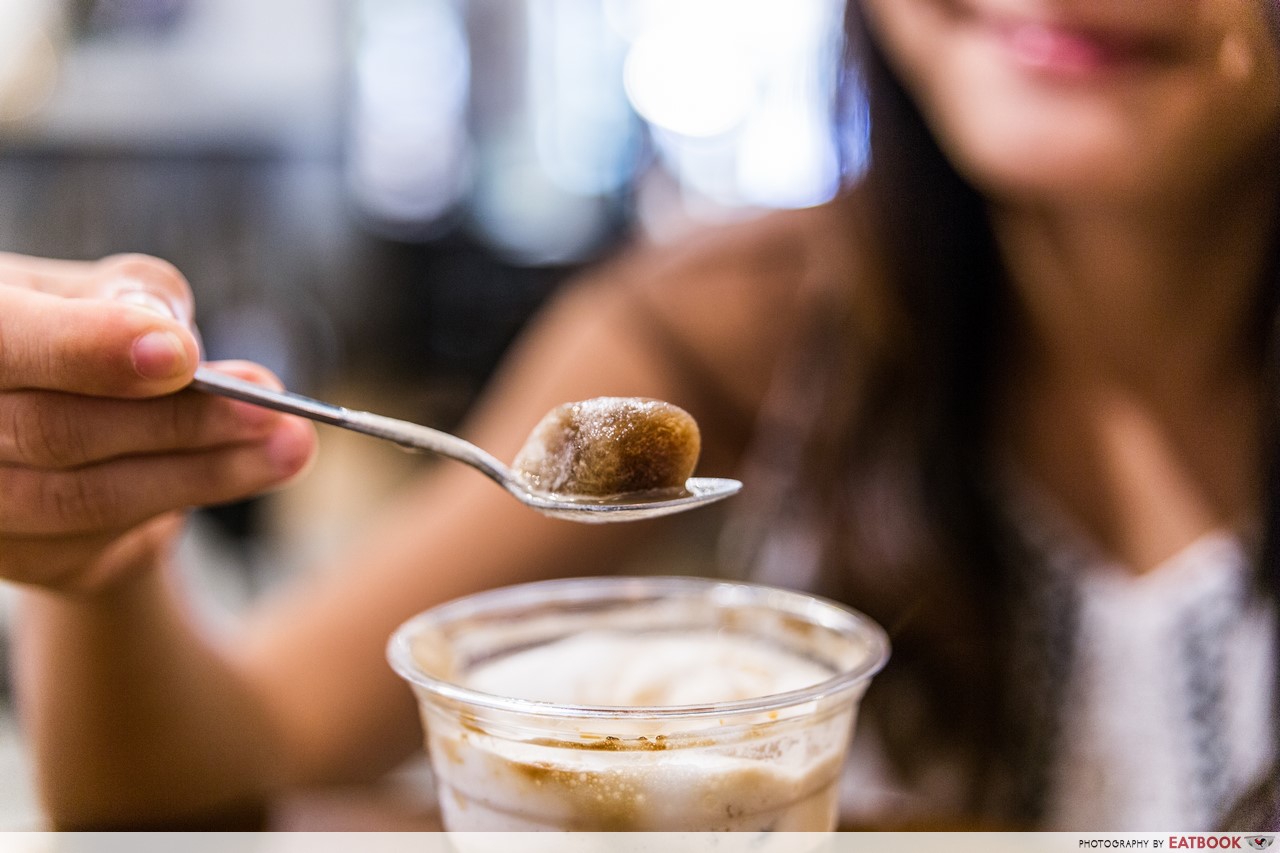 The drink was really creamy with a hint of chocolate. I absolutely loved how the intensity of the coffee gets stronger as the espresso cubes melt. When you can't decide between latte or iced milk coffee, this is the perfect choice. The first few sips were milky with a mild coffee flavour just like a latte. As the espresso cubes melt, the drink transformed into a creamy and fragrant iced milk coffee.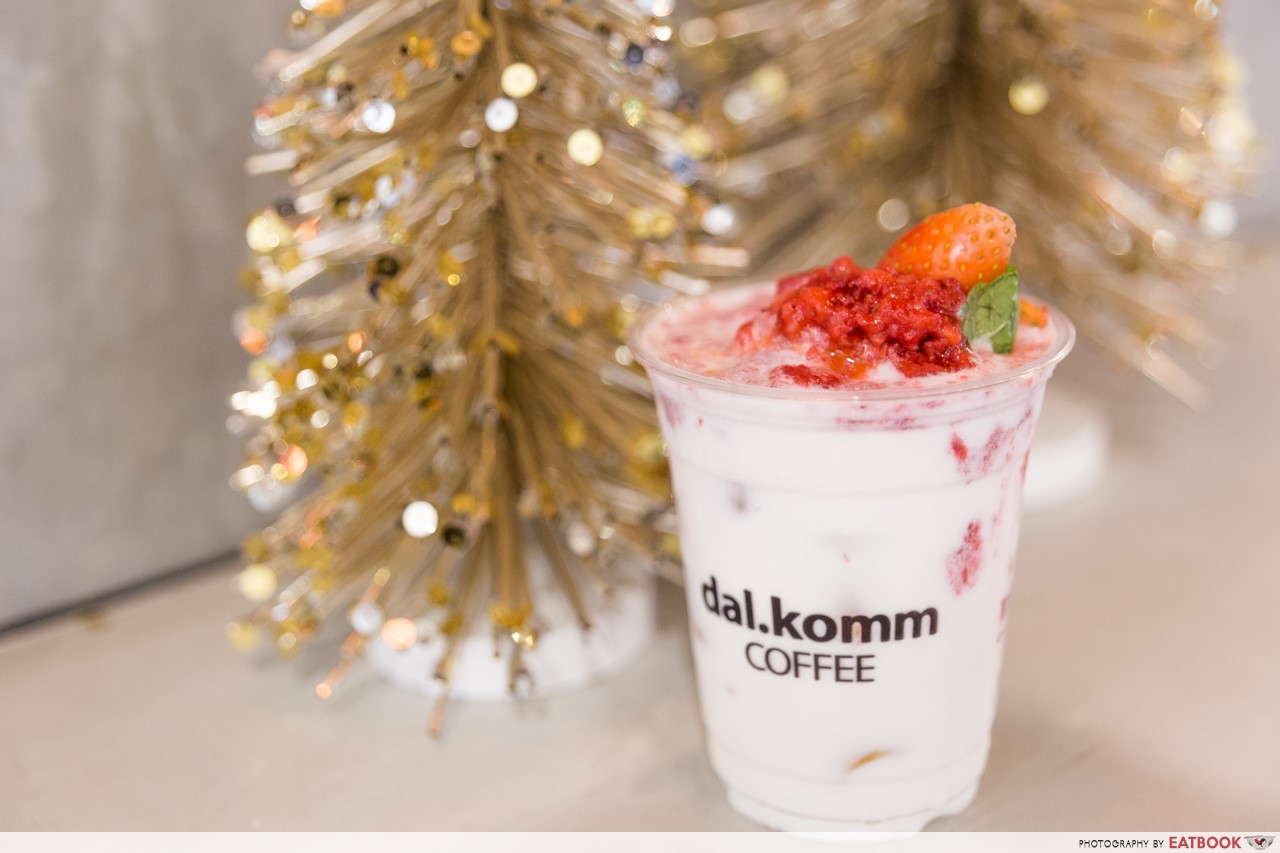 Last but not least, if you need a non-caffeinated drink to end the night, Strawberry Cube ($8.50) would be perfect.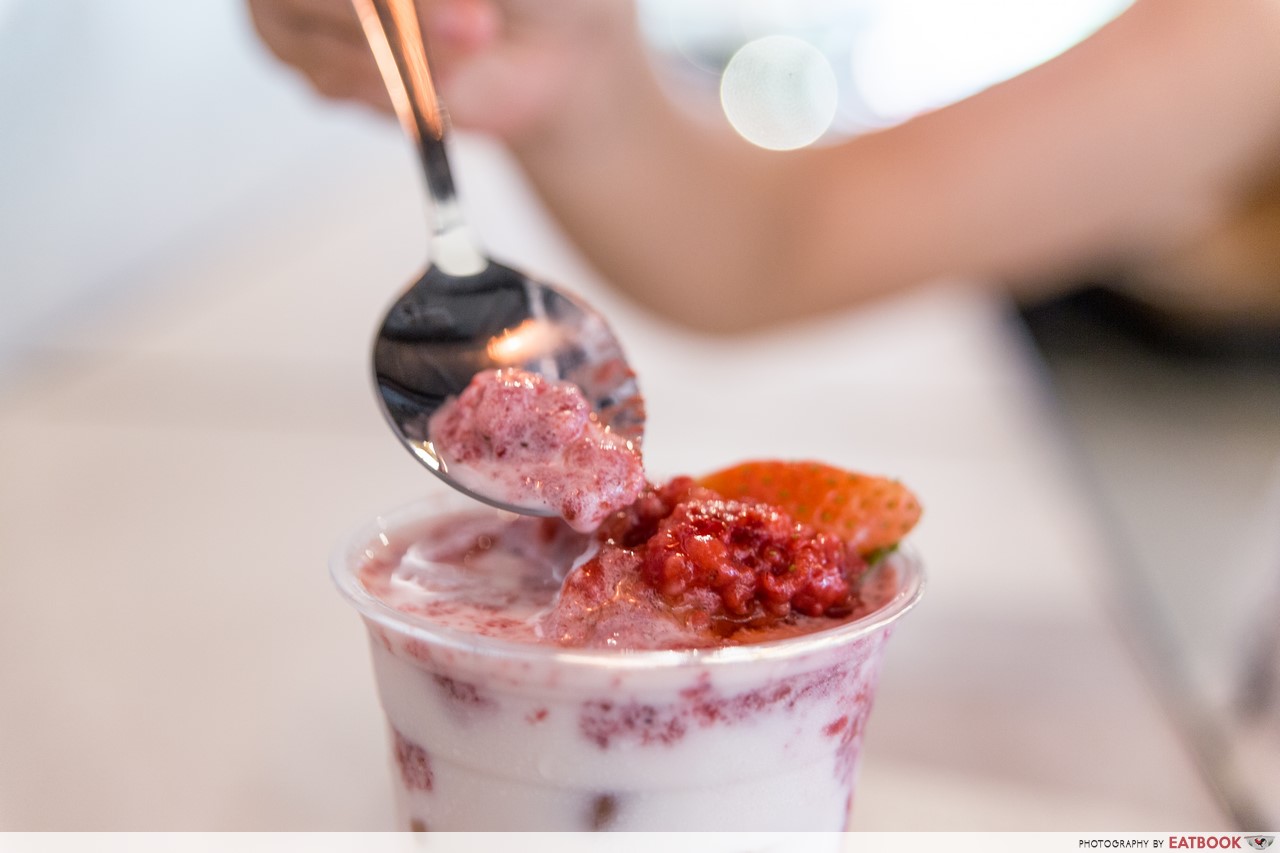 With crushed and frozen strawberries atop iced milk, this drink aced the balance between the tartness and sweetness. The crushed strawberry and smooth milk also created a delectable contrast in textures.
Dessert at dal.komm COFFEE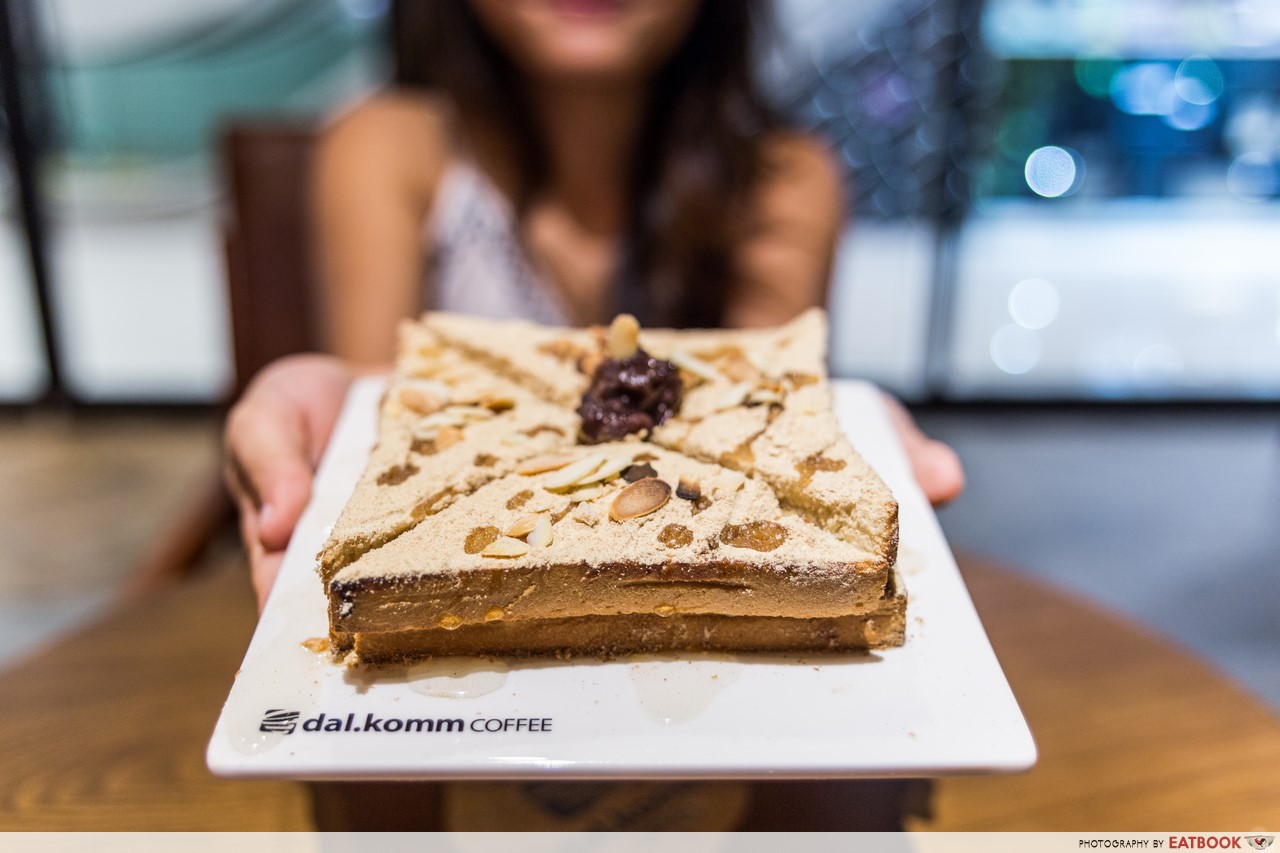 My love for injeolmi is stronger than my love for Song Joong Ki. Sorry oppa, food has always been my priority. What went really well with my cup of coffee was Injeolmi Toast Red Bean ($8.50). This is a toasted sandwich filled with Korean rice cake and red bean paste, coated in soybean powder and honey.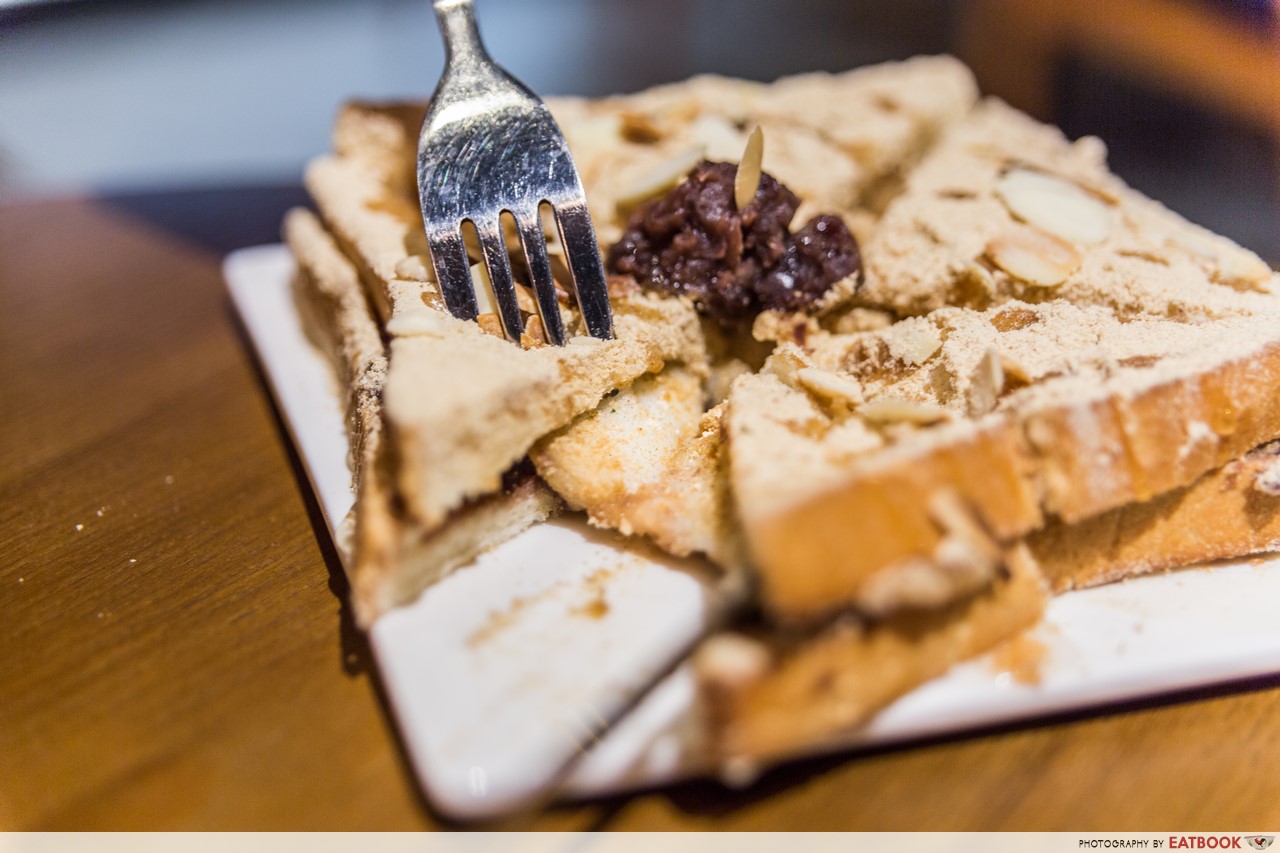 The slightly crispy yet fluffy toast and the sweet, chewy and slightly sticky rice cake made a good mix of taste and texture. It may sound like there are too many strong flavours going on in this dish but it was actually quite balanced.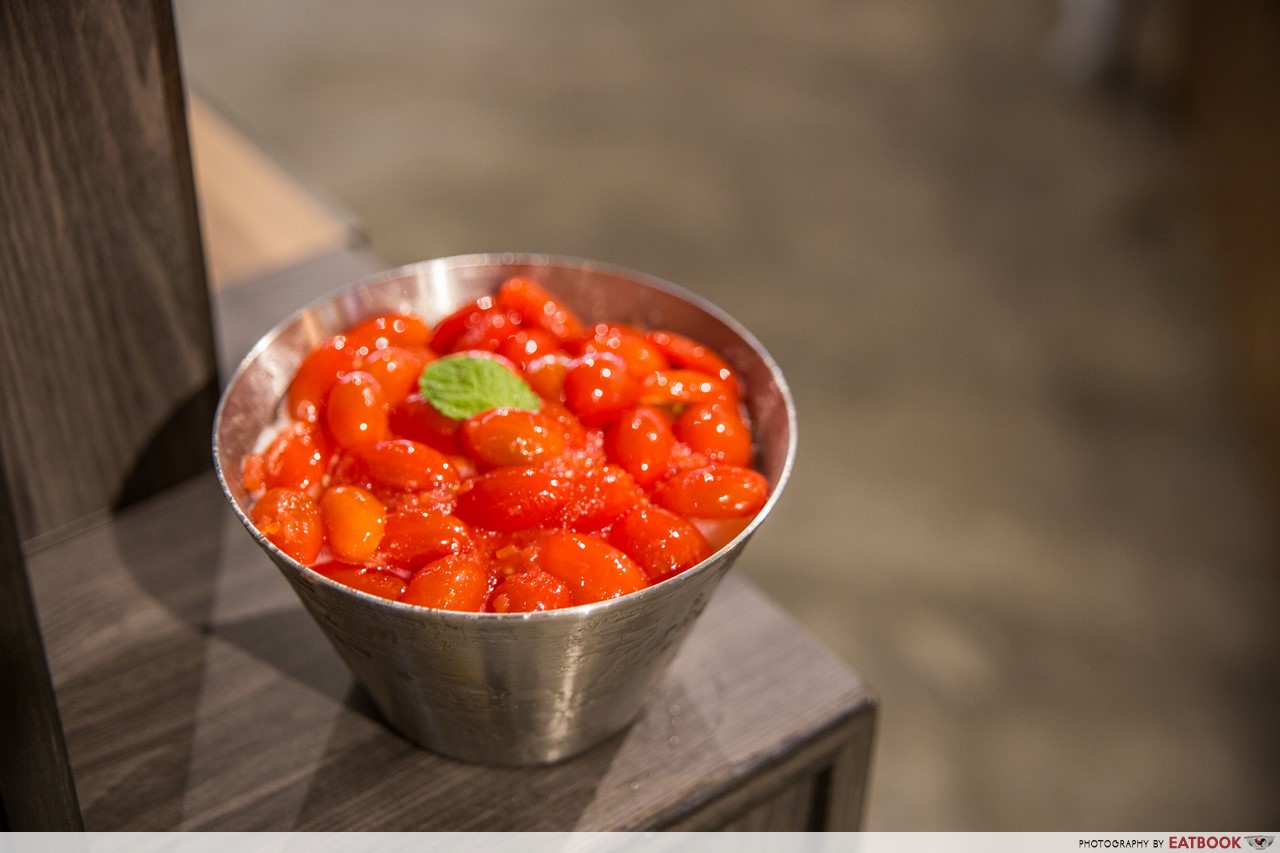 I've had 1762352 bowls of bingsu but never Cherry Tomato Bingsu ($15.90 for large).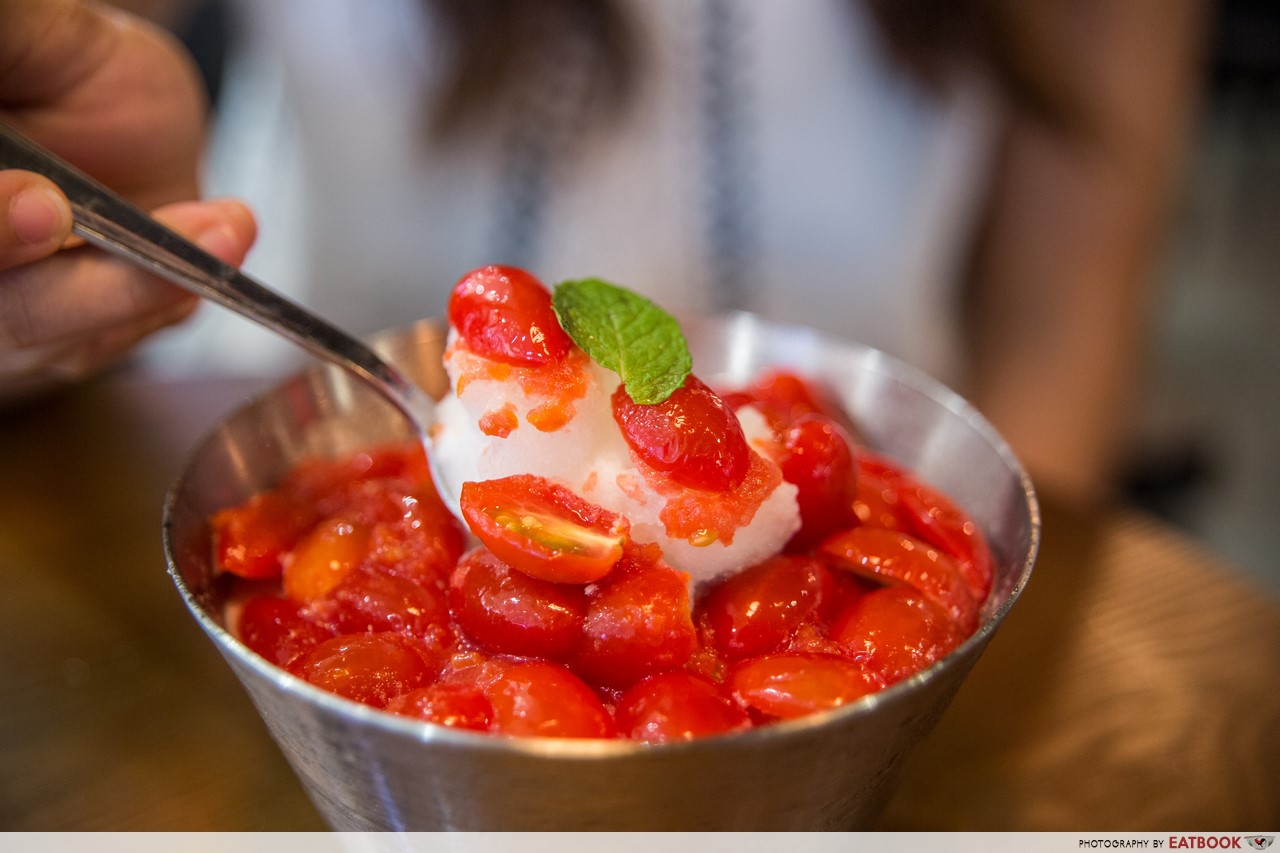 The cherry tomatoes complemented the soft and smooth shaved ice really well. It kept the dessert refreshing and tangy to balance out the house-made sweetened milk poured over the shaved ice. I found myself rummaging through the bowl for more cherry tomatoes. This makes a nice change from the usual injeolmi or mango cheesecake bingsu!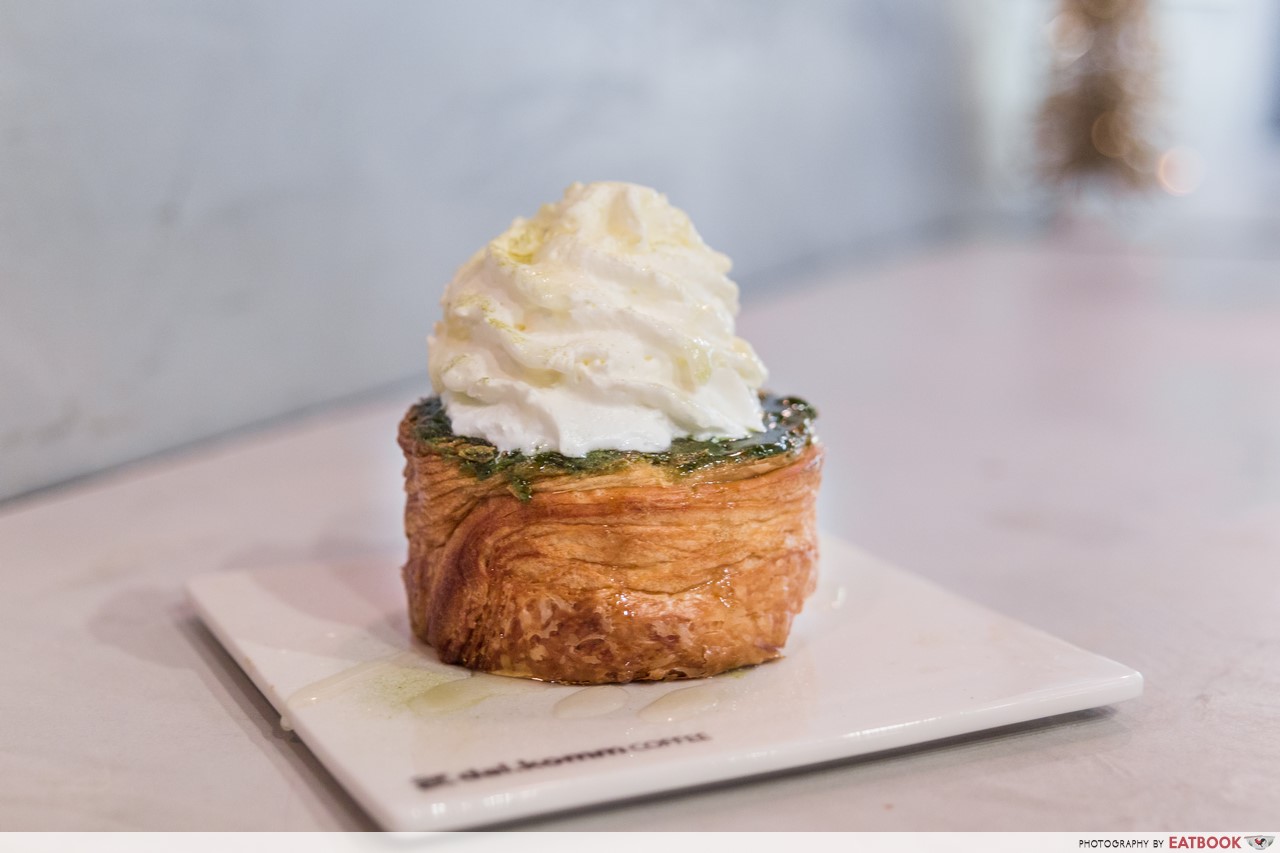 Say hi to the cool kid in the pastry world, Cruffin Matcha ($11.50). This is the kind of dessert that is worth one square on your Instagram feed and also a few notes from your wallet.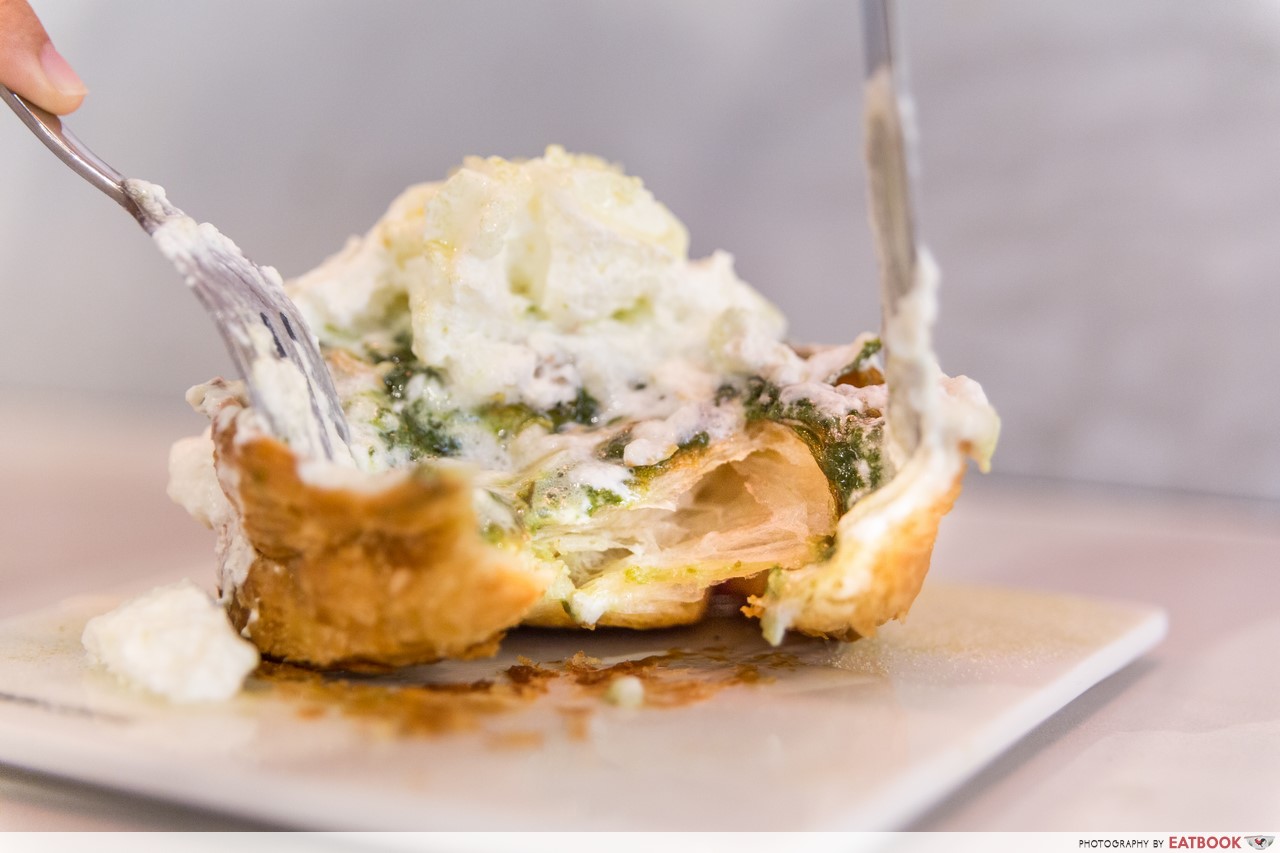 For the unfamiliar, a cruffin is basically a croissant baked in a muffin mould and filled with cream. This particular one at dal.komm didn't have much matcha flavour because the overly milky whipped cream overpowered the matcha curd glazed on top of the pastry.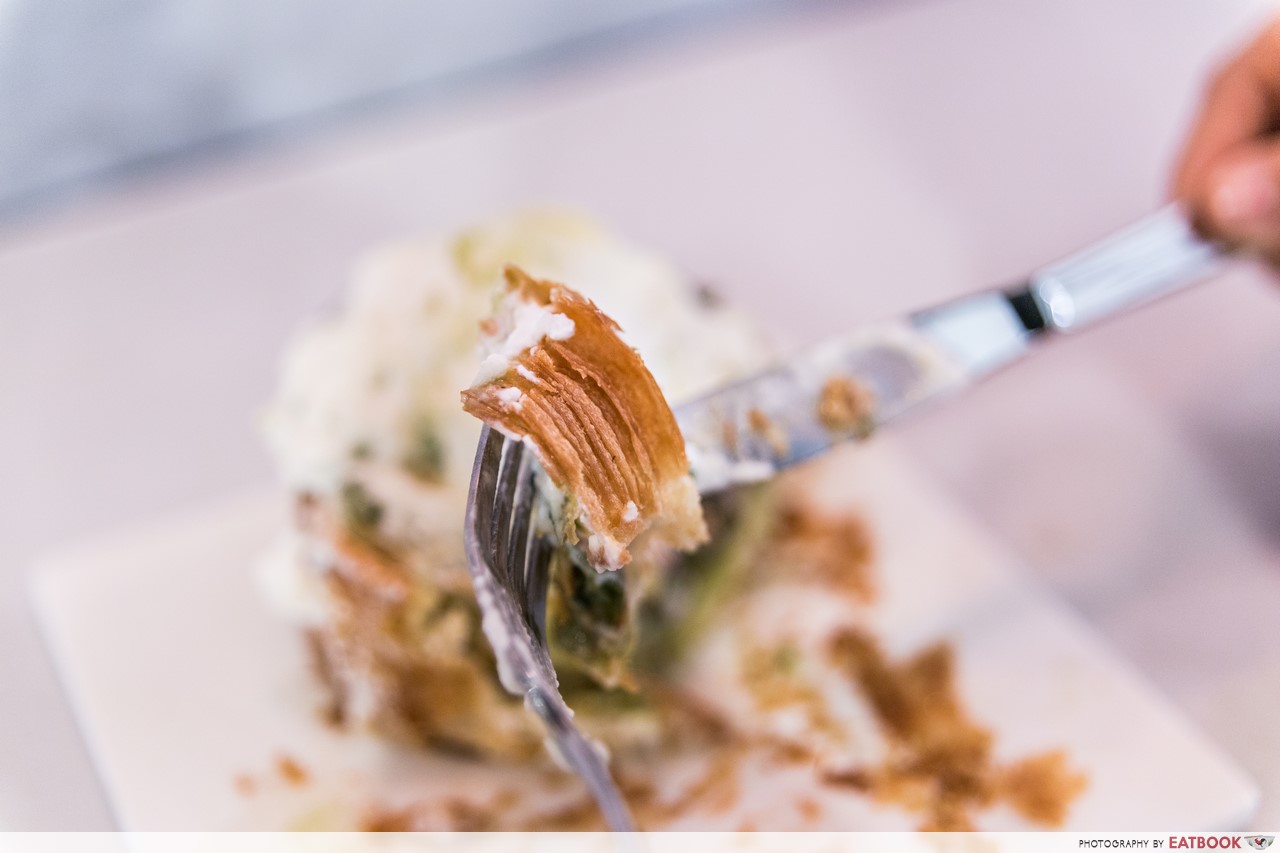 I did, however, like how the cruffin was sweet and savoury. The croissant was really flaky and fluffy on the inside, and slightly crispy on the outside. While it didn't make it as a matcha cruffin, it was a pretty good cruffin nonetheless.
Ambience at dal.komm COFFEE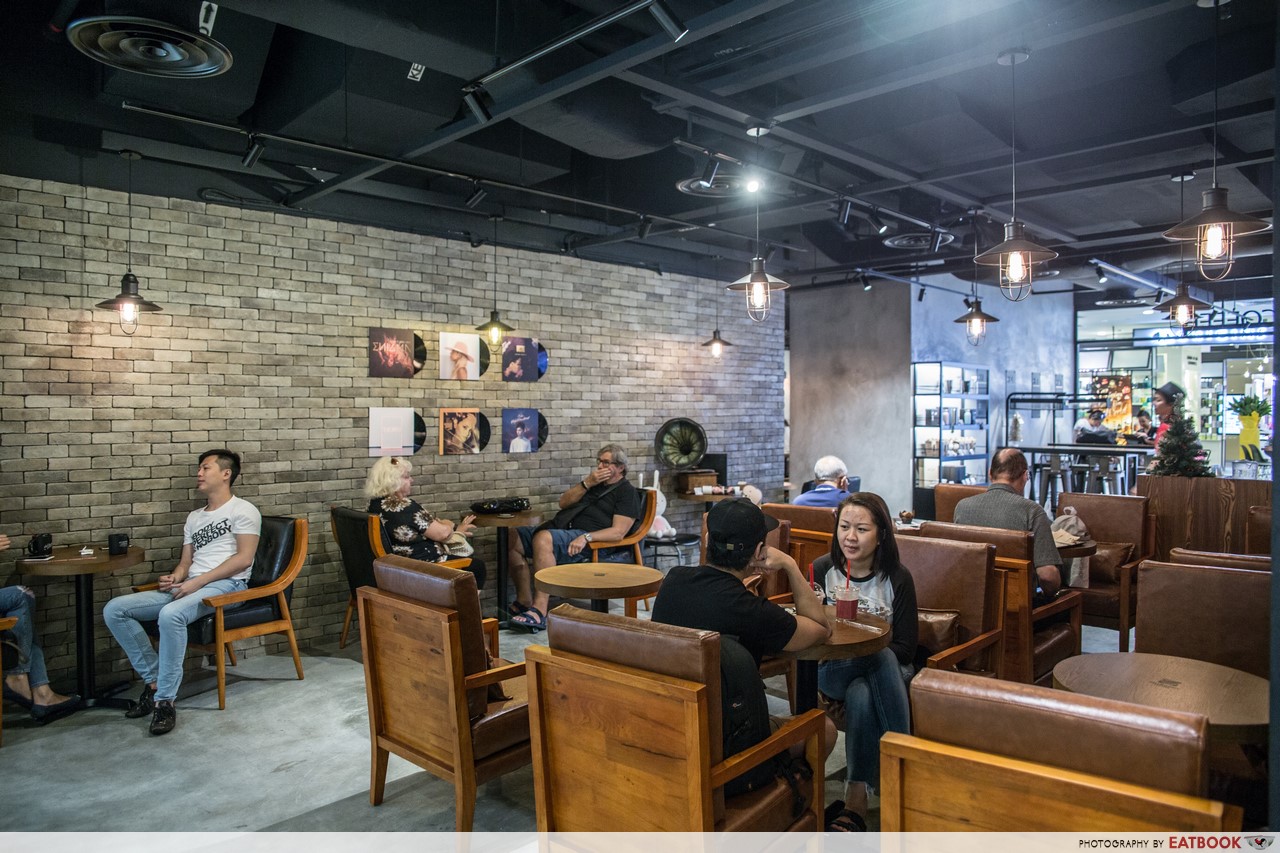 The first thing I noticed when I stepped into the cafe was how spacious it was. This is two to three times bigger than a regular cafe and the perfect place to grab a coffee for a HTHT.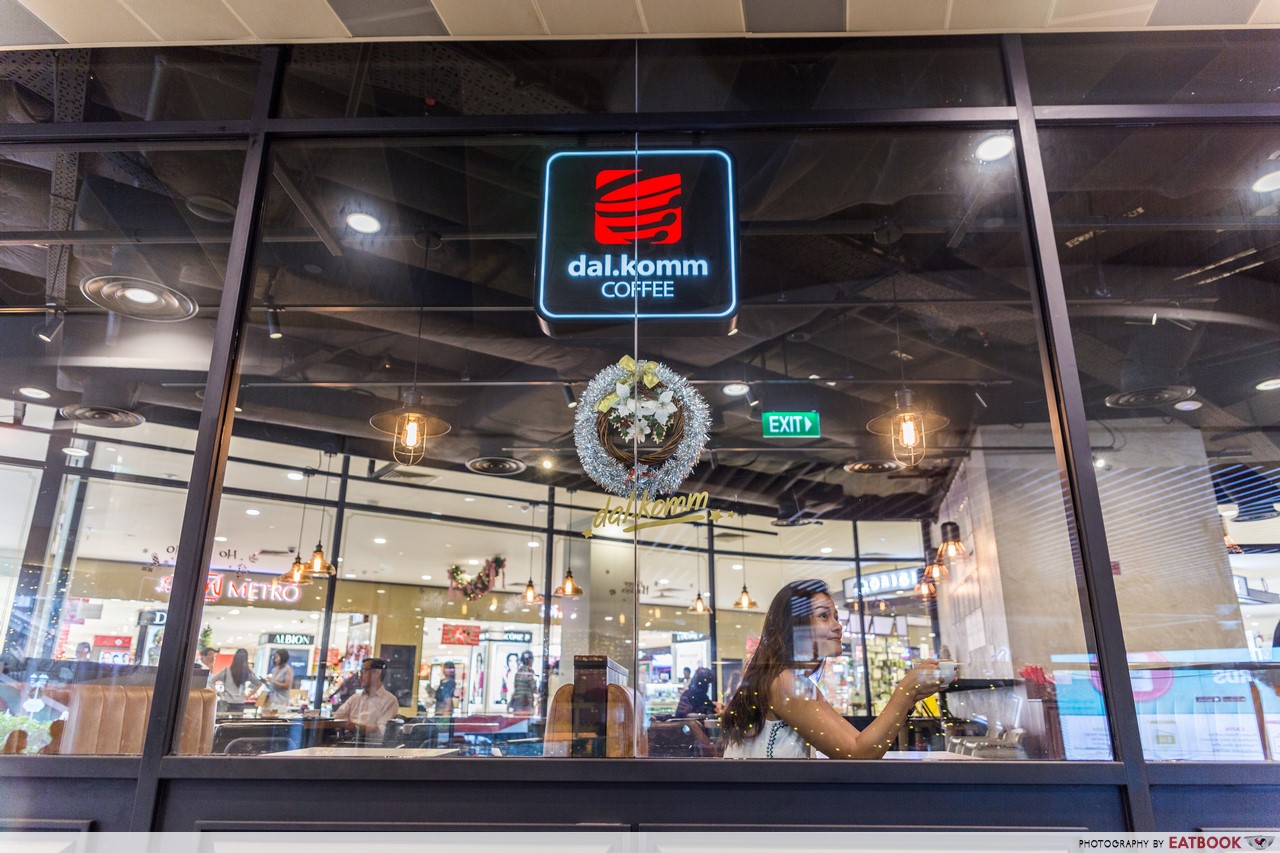 As someone who watched her favourite DOTS episodes at least thrice, I was expecting a lot more from dal.komm in terms of re-creating a Joong-ki oppa experience. I do remember the scene where Captain Yoo and Dr. Kang had a serious talk over their differences in a cafe but it didn't stand out to me right away.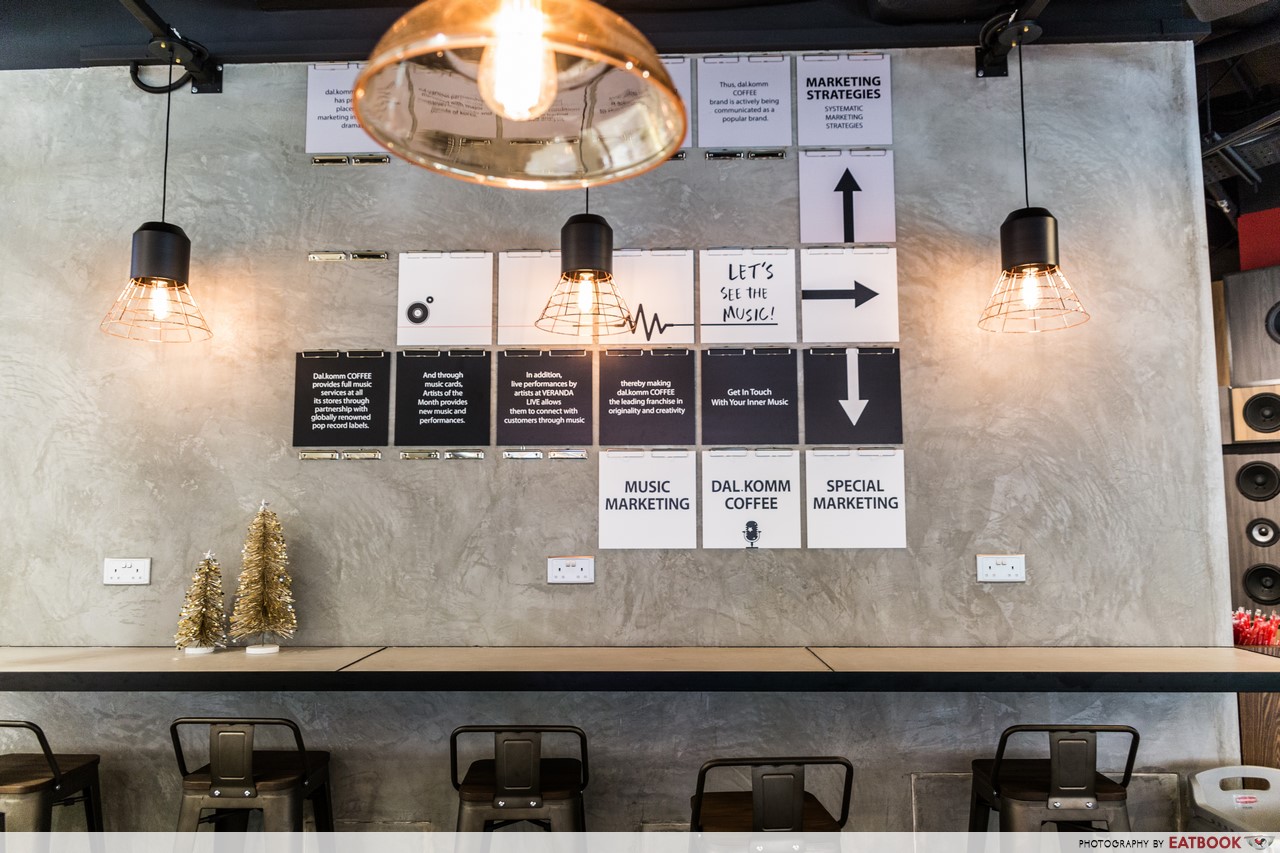 Composed with textured walls and a contemporary industrial setting, dal.komm has a chill and relaxed vibe to perfect your Satur-date. Dal.komm COFFEE also works closely with Korean artistes so you can look forward to seeing some of your K-idols dropping by here for a meet and greet.
Merchandise at Dal.komm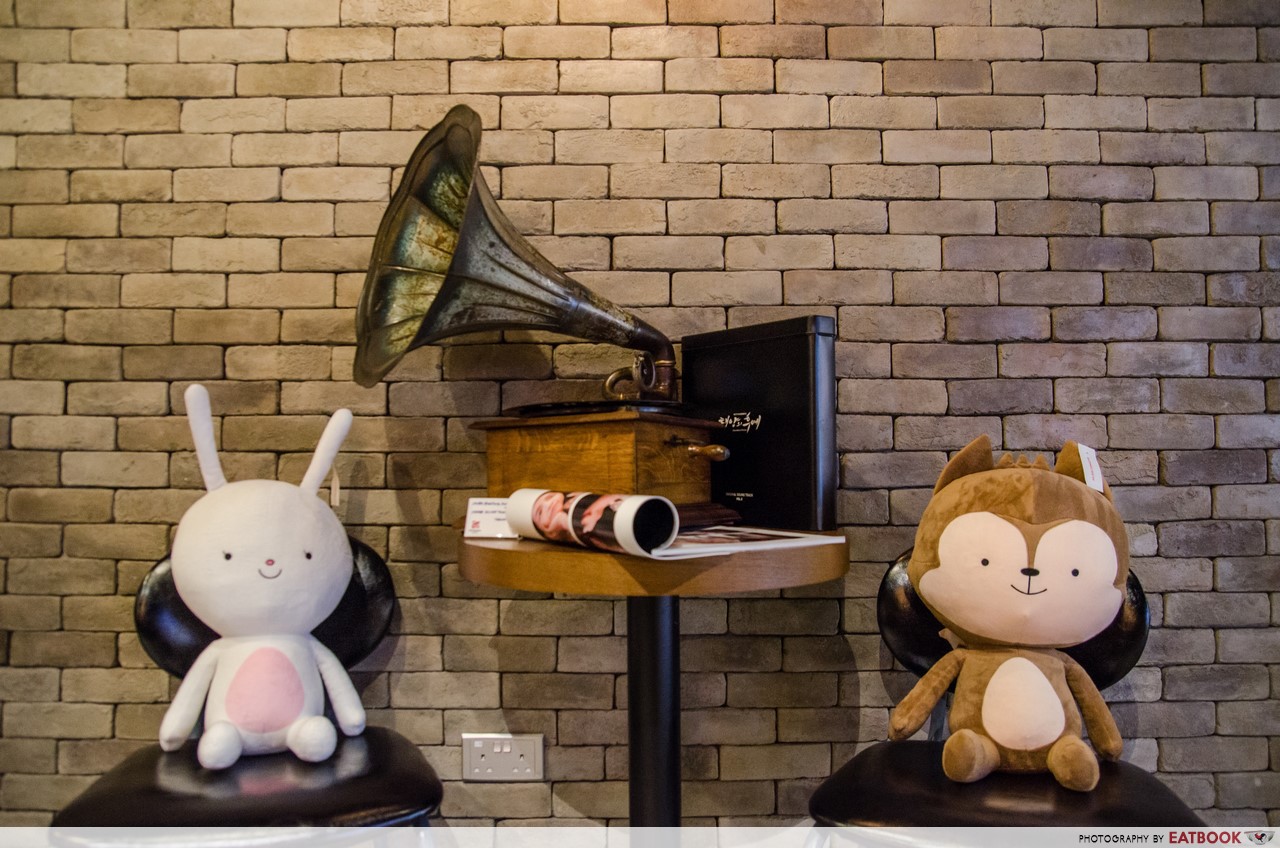 The ambience didn't make the fangirl in me go crazy, but the plushies did. *inner scream*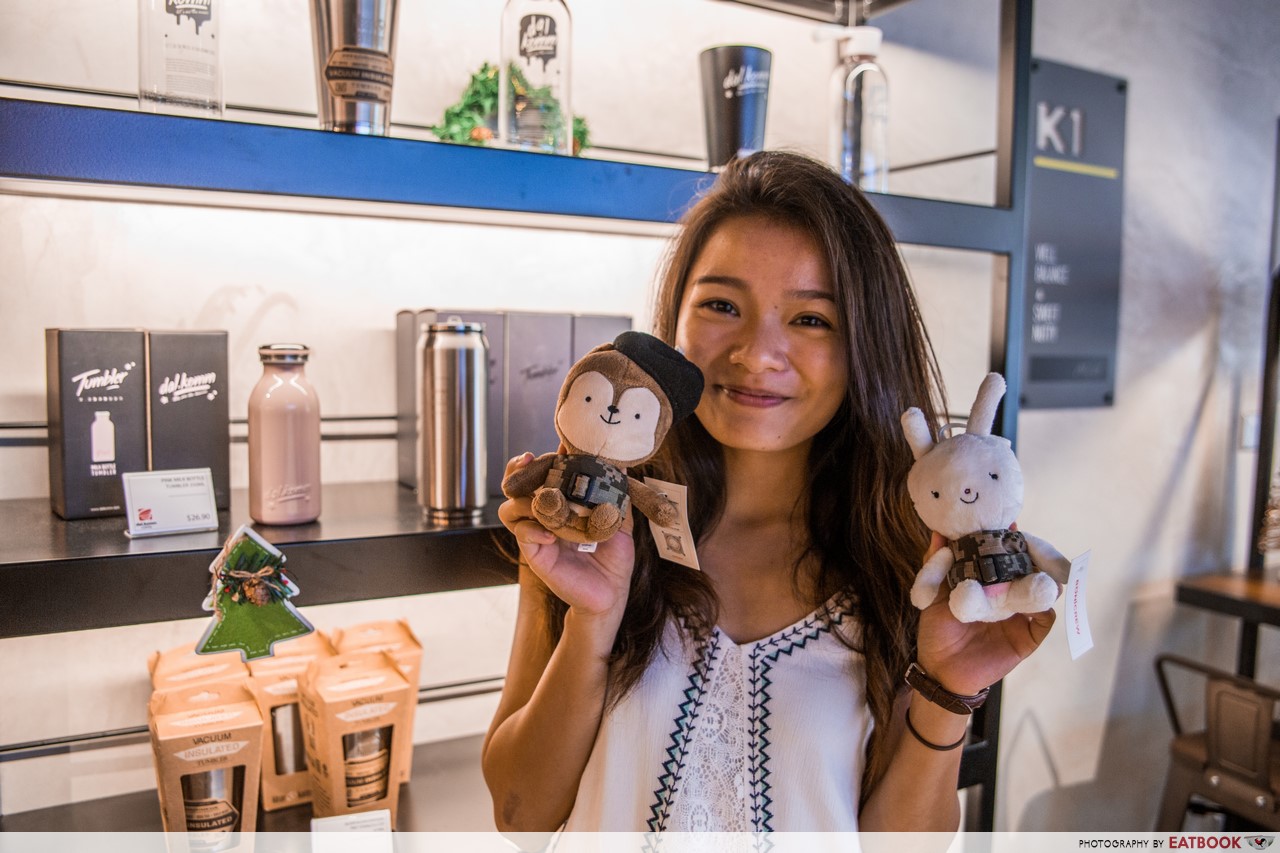 You can get a small wolf or rabbit for $29.90 each or the huge ones at $89.90 each! Apart from the iconic plushies, they sell tumblers and mugs too!
The verdict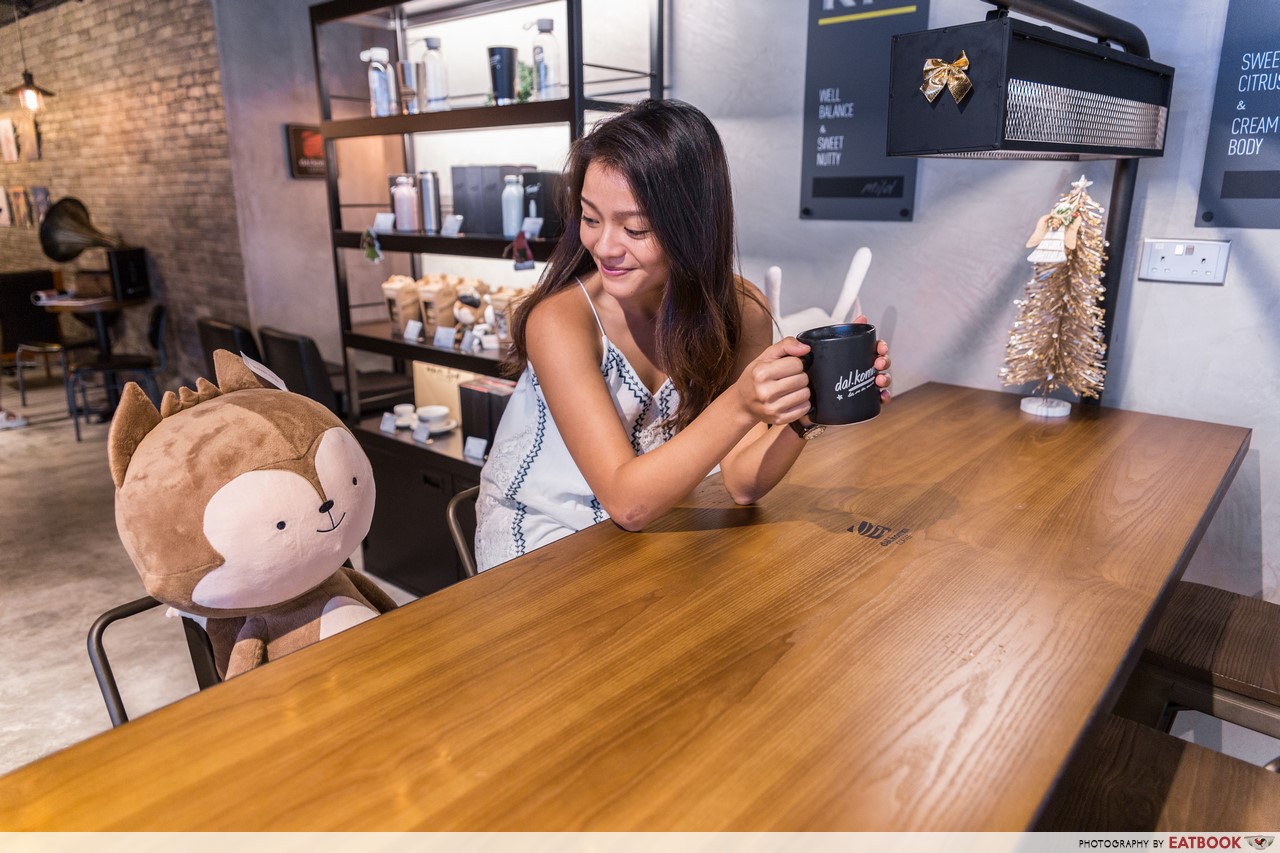 I would visit dal.komm again as a coffee lover but not as a DOTS fan. This definitely brought me back in time to my summer exchange in Korea where I spent most of my days mugging at a cafe. Also, instead of having your table literally 3cm next to a random stranger's at many cafes in Singapore, this would be one you'd feel comfortable pouring your heartfelt thoughts out at.
This is an independent review by Eatbook.sg.
Dal.komm Coffee Review: DOTS Fans Can Now Live Out Your Joong-Ki Oppa Fairytale
Summary
Pros
– Large and spacious
– Convenient location
– Nett prices
Cons
– Expensive
Recommended Dishes: Hot Sweet Potato Latte ($7), K2 Cappuccino ($6), Strawberry Cube ($8.50), Injeolmi Toast Red Bean ($8.50), Cherry Tomato Bingsu ($15.90 for large)
Operating Hours:
Monday – Sunday 10am to 10pm
Address: 176 Orchard Road, #01-01/06 and #01-102/103, The Centrepoint, Singapore 238843